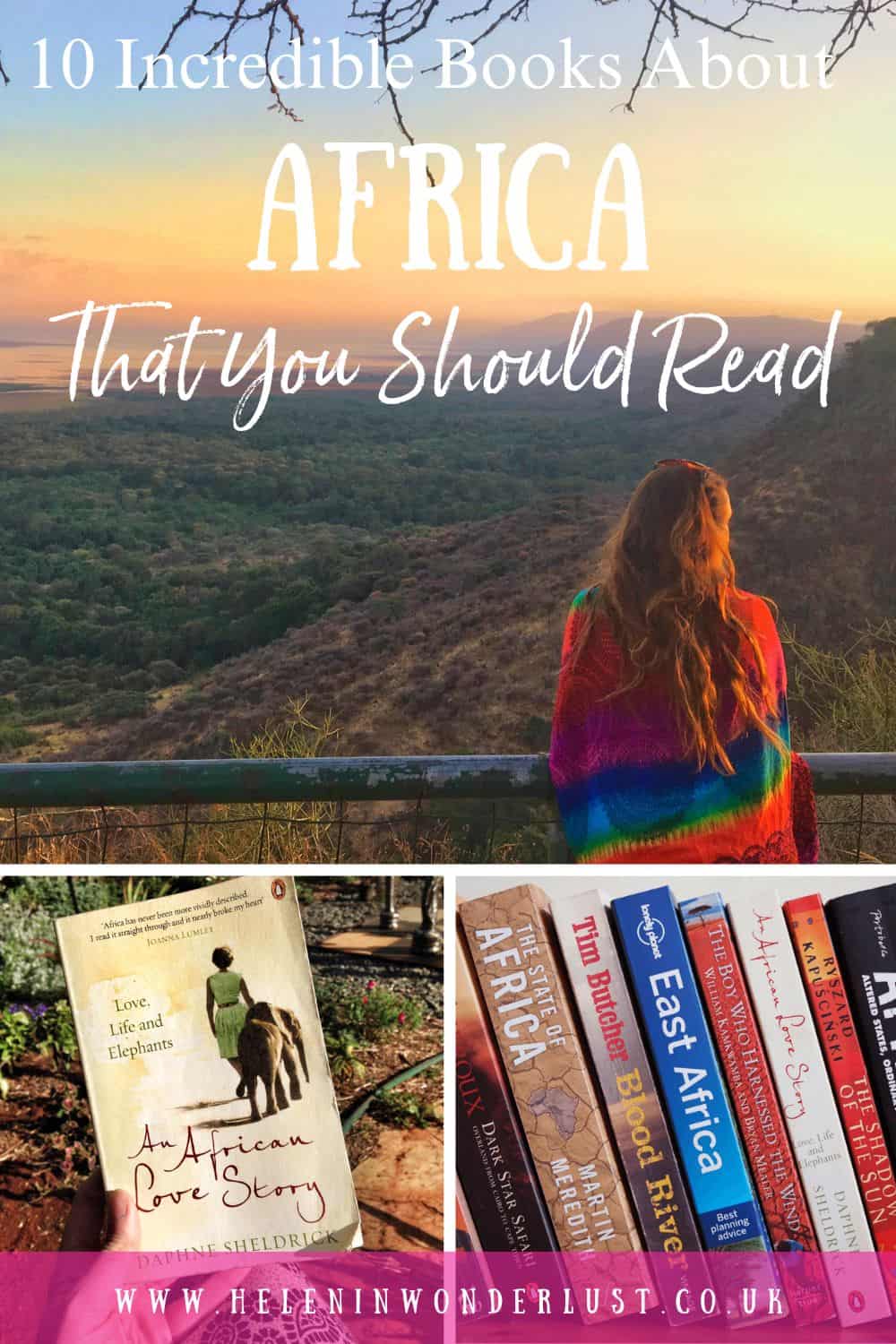 Last updated on April 16th, 2023 at 01:53 pm
Last Updated: April 2023
Africa is everything. It's beautiful, cruel, nurturing, heartbreaking, and often a contradiction of everything you've ever seen in the mainstream media.
Whilst it's good to read practial information about Africa (and I have lots of that on this site), reading true stories, biographies, and fiction books about Africa is a great way to get an insight into this fascinating, misunderstood, and often misrepresented continent.
So here are some of my favourite books about Africa – some will make you weep, some will fill you with joy and compassion and others will just make you question humanity.
Please Note: Some of the links in this post are affiliate links, which will earn me a small commission at no extra cost to you. Affiliate sales help with the running costs of this site, so thank you for your support!
---
Incredible Books About Africa That You Should Read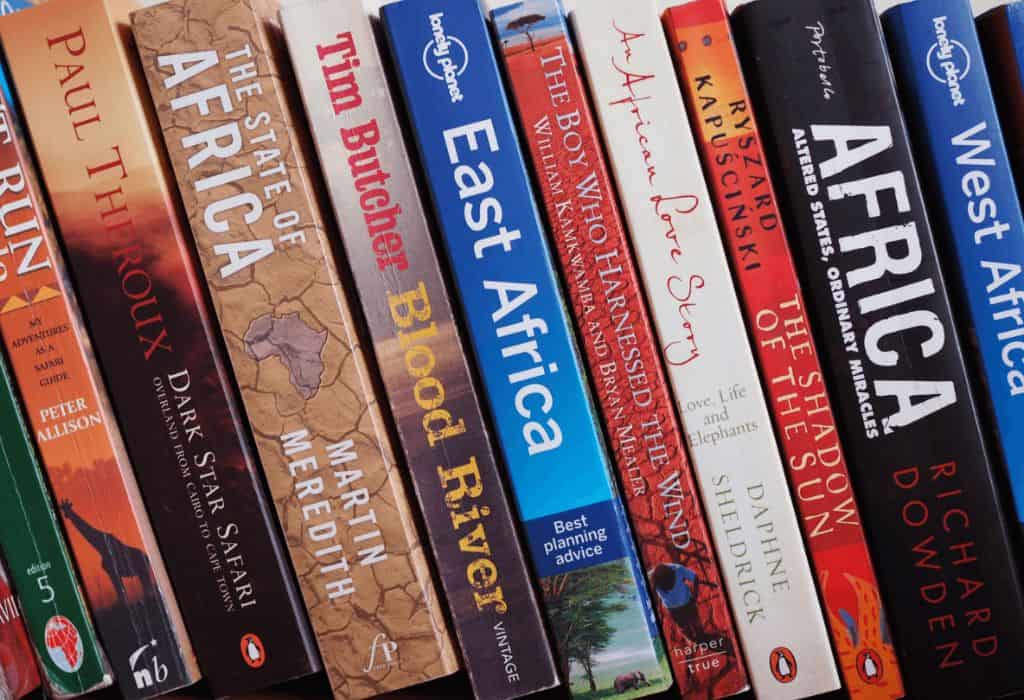 An African Love Story: Love, Life and Elephants by Daphne Sheldrick
"Life is for the living, not the dead, who belong to the past and are at peace and beyond all further pain and suffering 'somewhere in the great somewhere."
I've read this twice and it very quickly became one on my favourite books about Africa, in fact, it's one of my favourite books of all time. It's the extraordinary story of the life of Dame Daphne Sheldrick and her husband David, a warden of Tsavo National Park. Together they were a formidable pair, soul mates, protecting Kenya's wildlife. The way she describes Africa is simply breathtaking but be warned, this book had me in tears. Very embarrassing during a very crowded (and bumpy) bus journey between Dar es Salaam and Arusha. Buy An African Love Story: Love, Life and Elephants here.
A Long Way Gone: The True Story of a Child Soldier by Ishmael Beah
"Some nights the sky wept stars that quickly floated and disappeared into the darkness before our wishes could meet them."
Ishmael Beah was a normal boy, from a normal village before he was forced to be a child soldier during the civil war in Sierra Leone. The book is written from the perspective of his 12-year-old self which makes it even more poignant. It follows his journey from the time his childhood was ripped away from him, to his subsequent rehabilitation back into society. Some of the things he did in order to survive are unthinkable for most people, let alone a child. Another painful read, but if you want to get a true insight into some of the issues that are affecting modern-day Africa, I suggest you read this powerful story. Buy A Long Way Gone: The True Story of a Child Soldier here.
The Boy Who Harnessed the Wind by William Kamkwamba and Bryan Mealer
"I went to sleep dreaming of Malawi, and all the things made possible when your dreams are powered by your heart."
Willam Kamkwamba was born in a village in Malawi. He had the idea to construct a windmill which later brought electricity and water to his village, transforming the lives of those around him. The book explains the culture and politics of Malawi at the time, and takes us on William's personal journey of adversity, through famine, poverty, and corruption. This is one of the most inspirational, humbling books about Africa, a real against all odds book that everyone should read once in a while to remind ourselves that it is possible. Buy The Boy Who Harnessed the Wind here.
Half of a Yellow Sun by Chimamanda Ngozi Adichie
"You can't write a script in your mind and then force yourself to follow it. You have to let yourself be."
Set in 1960's, this is a novel about intertwining lives during the Nigerian Civil War. This is one of the best books about Africa I've ever read and it's very powerful, and beautifully written but harrowing in places. Buy Half of a Yellow Sun here.
We Wish to Inform You That Tomorrow We Will Be Killed With Our Families by Philip Gourevitch
"What distinguishes genocide from murder, and even from acts of political murder that claim as many victims, is the intent. The crime is wanting to make a people extinct. The idea is the crime."
I was deeply affected by my experience visiting the Rwanda Genocide Memorial in Kigali, so a book about the slaughter of almost a million people is never going to be easy reading, but it is incredibly important that we understand what happened. The book looks at the why people did what they did and failings of the international community in the run up to and during the Rwandan Genocide of 1994. Buy We Wish to Inform You That Tomorrow We Will Be Killed With Our Families here.
Out of Africa by Karen Blixen (aka Isak Dineson)
"You know you are truly alive when you're living among lions."
Probably one of the most famous books about Africa, this is Karen Blixen's account of when she ran a coffee plantation in Ngong Hills. Out of Africa gives a wonderful insight into what life was like in colonial times. Whilst things are somewhat different now, the affects of colonial rule still very much impact and influence modern Africa, especially Kenya, and the way in which foreigners such as myself are perceived. Buy Out of Africa here.
Long Walk to Freedom by Nelson Mandela
"No one is born hating another person because of the color of his skin, or his background, or his religion. People must learn to hate, and if they can learn to hate, they can be taught to love, for love comes more naturally to the human heart than its opposite."
I remember when I first heard that Nelson Mandela had passed away. I was in my kitchen scrolling through my phone when the news popped up. I rushed in to tell my husband and my voice just broke and I began to cry. Nelson Mandela was a freedom fighter, South Africa's first black president, and is arguably the greatest leader of modern times. I couldn't put The Long Walk to Freedom down, riveted by the story of this extraordinary man and those who fought with him against apartheid. This book teaches us many lessons about the strength of the human spirit and standing up for equality. Inspirational and humbling. Buy Long Walk to Freedom here.
The Elephant Whisperer by Lawrence Anthony
"They taught me that all life forms are important to each other in our common quest for happiness and survival. That there is more to life than just yourself, your own family, or your own kind."
This is the true story of South African conservationist Lawrence Anthony. Like An African Love Story: Love, Life and Elephants, it's a book that will give you amazing insight into elephant behaviour, it will make you laugh at times, but also bring a little tear to your eye. His love of his elephants and wildlife, as well as his conservation work, is truly inspirational and I can't wait to read his other book, The Last Rhinos. Buy The Elephant Whisperer here.
Africa: Altered States, Ordinary Miracles by Richard Dowden
"I hope Africans will recognize their continent and themselves in these pages, but I write chiefly for outsiders, those who have not been to Africa but would like to know more about it. The best way to find out is to go, not as a tourist in a bubble of Western luxury and safety, but as a traveller to meet people and engage with them. It is easily done. But beware. Africa can be addictive. Les fous d'Afrique, the French call them, those who become mad about Africa."
This is probably my favourite of all the more general African history books. Richard Dowden has worked in Africa for the last 40 years as a teacher, journalist and documentary film maker. He expertly intertwines his own journey with the turbulent history of the continent. His views are reflective of my own, from when I arrived on the continent, slightly naive, to the way I see things now. The book is an incredible and insightful read and displays much compassion for Africa and Africans. A must read for anyone interested in Africa and her history. Buy Africa: Altered States, Ordinary Miracles here.
The State of Africa: A History of the Continent Since Independence by Martin Meredith
"What has always impressed me over the years is the resilience and humour with which ordinary Africans confront their many adversities. This book is intended as testimony to their fortitude."
I read this book my on my first African overland in 2009 and it has really helped me to understand why somethings are as they are. This book explains the history of many of the African nations from the time they began to gain independence from Europe in the mid 20th century, and the lead up to it. The book is both optimistic and realistic, taking the reader on a journey through the continent, and the people and circumstances that have shaped it. The subject matter is huge, dictators, war, famine and corruption, however Martin Meredith manages to cover it very well in relatively few pages, without being patronizing or preachy. Buy The State of Africa: A History of the Continent Since Independence here.
Any other great books about Africa that you'd recommend? Leave them in the comments below!
---
Pin This Post For Later