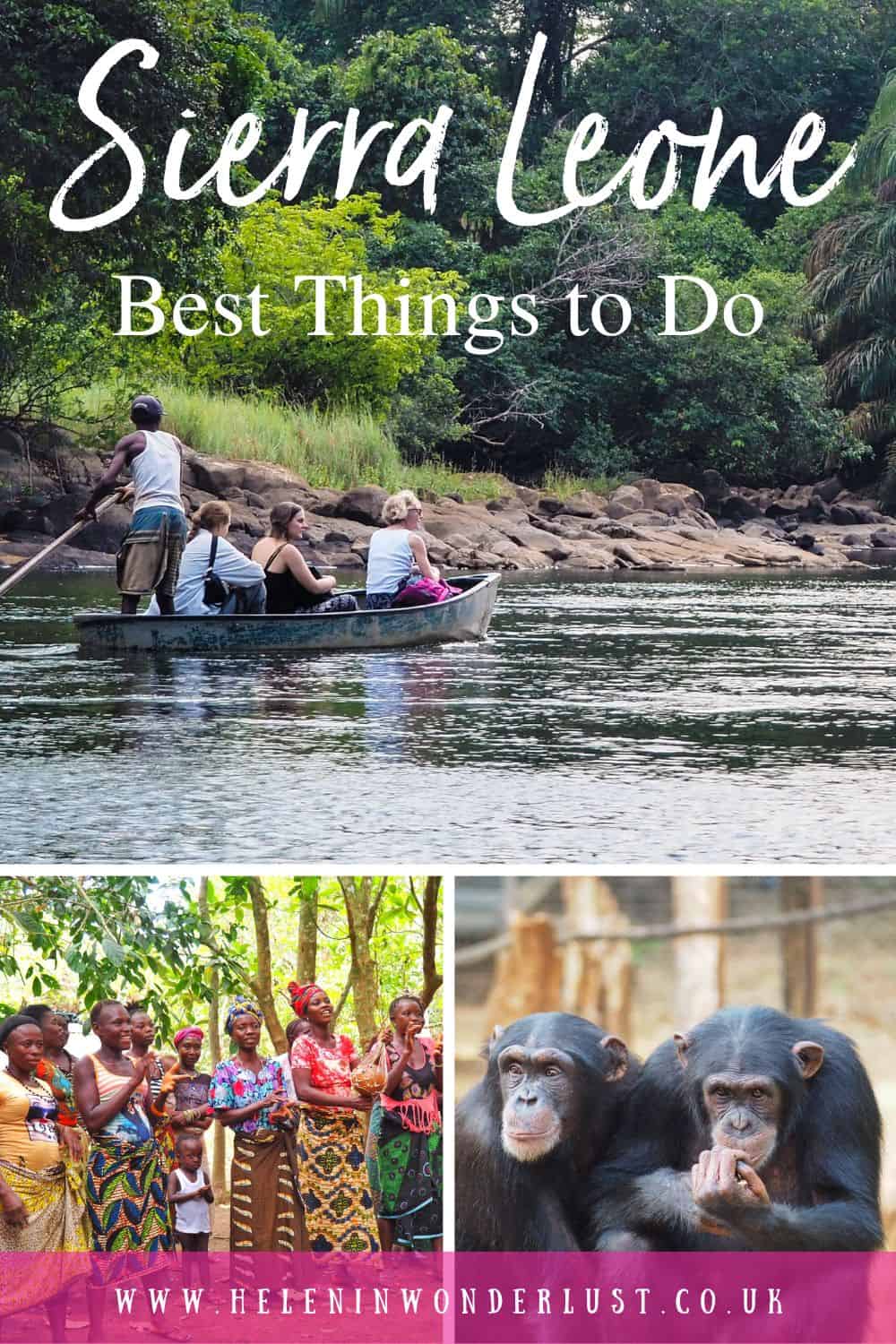 Last updated on April 7th, 2023 at 10:09 pm
Sierra Leone had been a bucket list destination of mine for years before I finally got to visit in 2019 and it was everything I hoped it would be and more.
It wasn't the war-torn country everyone seemed to think (and vocalised to me frequently before my visit), but a vibrant and exciting up-and-coming destination with plenty to keep an adventurous traveller occupied.
Plus, if you don't speak French (which I don't) it's a perfect looking for an introduction to West Africa travel, as it's one of the few English-speaking West African nations.
This post has been a while coming, but following on from my post about things to know before you travel to Sierra Leone, I wanted to share my recommended itineraries and favourite things to do in Sierra Leone, a wonderful, yet often misrepresented country.
Please Note: Some of the links in this post are affiliate links, which will earn me a small commission at no extra cost to you. Affiliate sales help with the running costs of this site, so thank you for your support!
---
The Best Things to Do in Sierra Leone (Plus Itinerary)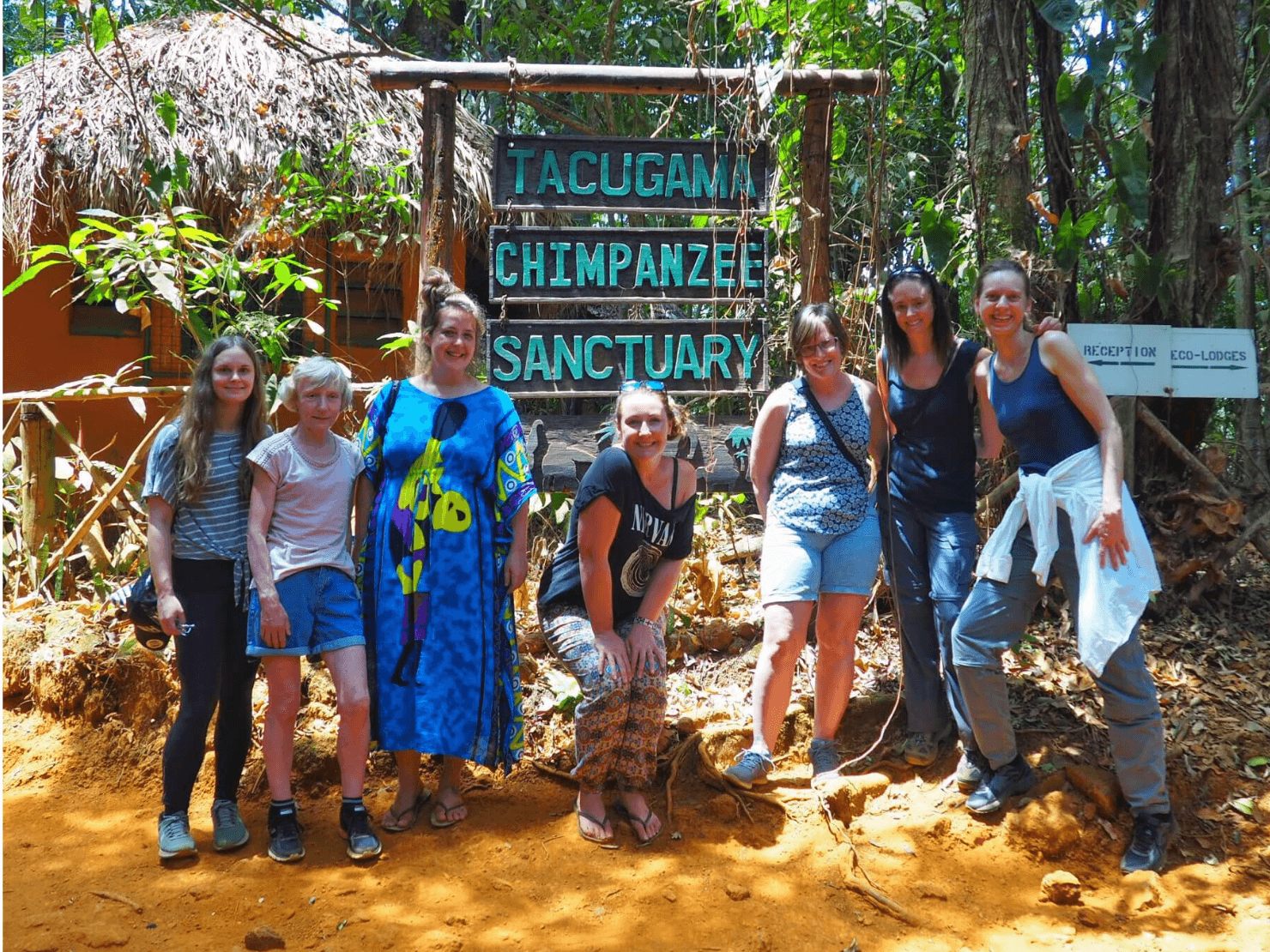 Recommended 2-Week Itinerary
My recommended itinerary would go something like this…
Day 1 – 2: Freetown
Day 3: Tagugama Chimpanzee Sanctuary
Day 4 – 5: Rogbonko Village Retreat
Day 6 – 7: Tiwai Island
Day 8 – 9: Banana Islands:
Day 10 – 12: Turtle Islands
Day 13 – 14: Freetown Peninsula
Day 15: Depart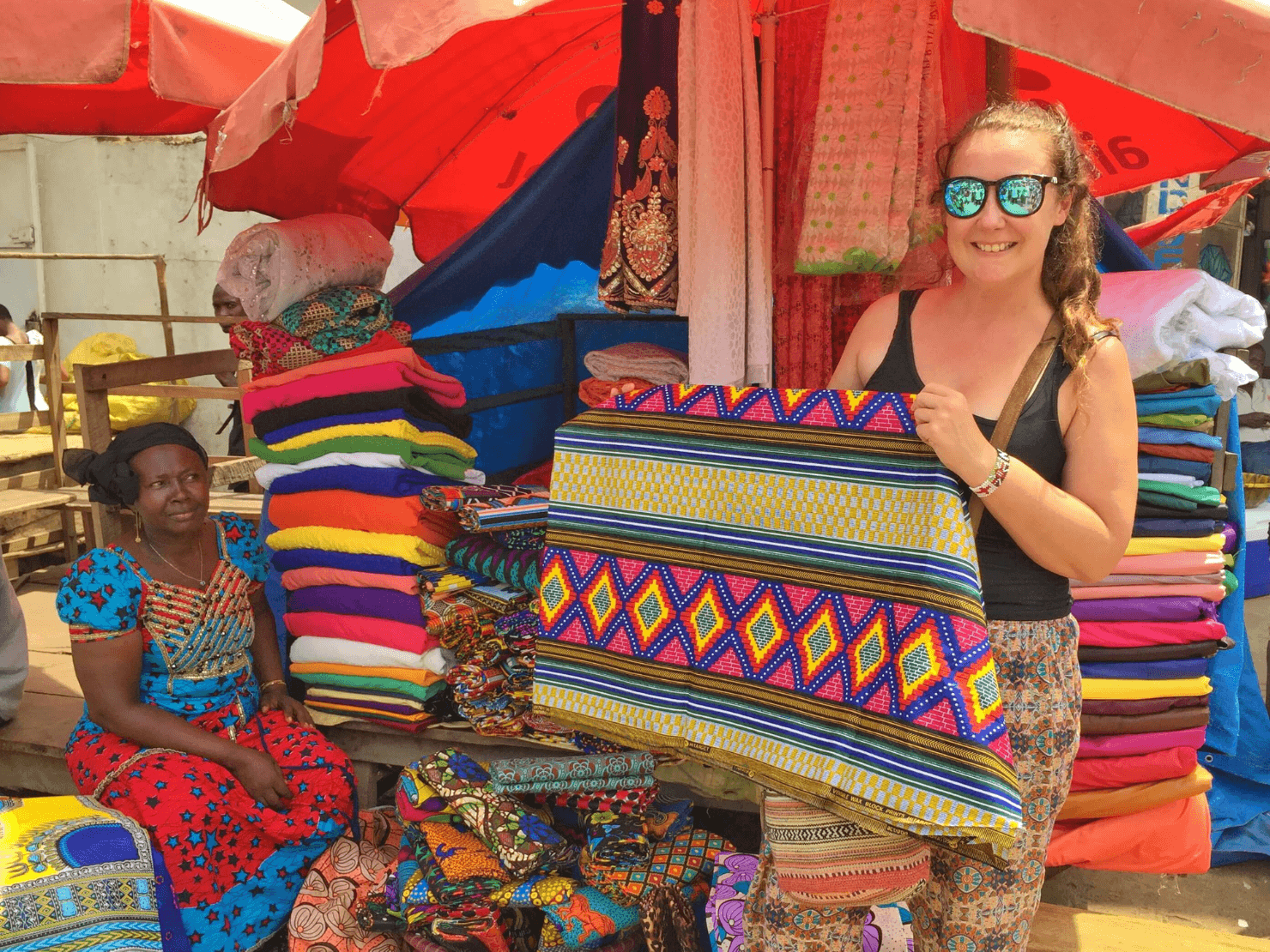 Recommended 3-Week Itinerary
If you have a little more time…
Day 1 – 2: Freetown
Day 3: Tagugama Chimpanzee Sanctuary
Day 4 – 5: Outamba-Kilimi National Park
Day 6: Kabala
Day 7 – 8: Mount Bintumani
Day 9 – 10: Rogbonko Village Retreat
Day 11 – 12: Tiwai Island
Day 13 – 14: Gola Rainforest National Park
Day 15 – 16: Banana Islands
Day 17 – 18: Turtle Islands
Day 19 – 20: Freetown Peninsula
Day 21: Depart
Immerse Yourself in the Culture in Freetown
You're most likely to start or end your trip in Freetown, especially if flying in, so you should definitely check out this cool, pretty and interesting city.
The city got its name because it was one of the places that many slaves were rehomed at the end of the slave trade. This included those coming back from Europe and the Americas as well as those who were rescued from slave ships coming from elsewhere.
Because of this, Sierra Leone is very ethnically diverse, with a number of different tribes and influences from many other parts of Africa.
You can go around the city on your own, no problem, but I would highly recommend taking a guided tour of the main sights, to help you understand the complex history of the city and country.
I found Freetown to be pretty safe, however, as always, you should be vigilant in the city, especially at night.
Recommended Time: 2 to 3 nights is a good amount of time.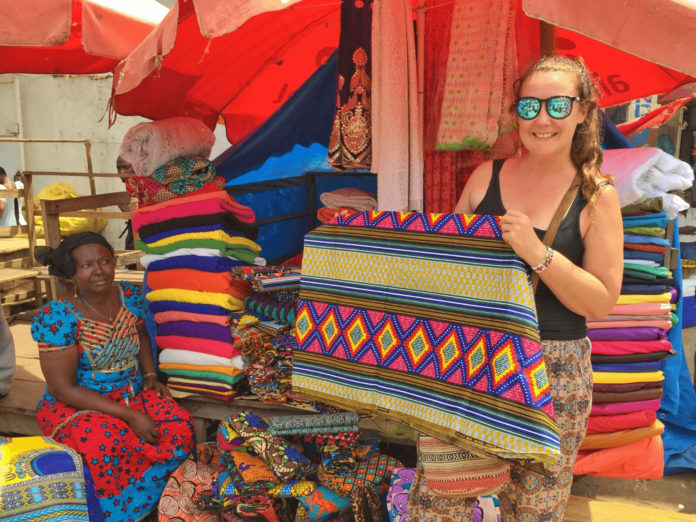 Places to visit include:
The Big Market: Here you'll find a mix of things to buy, from everyday items to fabric, jewellery, local crafts, black soap, and antique masks. Barter like crazy – the stall owners are lovely and friendly, but at the end of the day, if you're a tourist so you'll get higher prices.
Cotton Tree: This ancient tree is one of Freetown's most important landmarks.
St George's Cathedral: Built in 1817 to commemorate sailors lost at sea. We were fortunate to hear the choir practicing when we were there.
Sierra Leone National Museum: Located next to the Cotton Tree, the Sierra Leone National Museum was a good place to visit to get an insight into the history, tribes and cultures of Sierra Leone.
Lumley Beach: This is a vibrant stretch of beach in the city, where you'll find a mix of locals, expats and some tourists too. A great place for people-watching with a lot of the bars and restaurants are located along this stretch. Roy's is a popular spot for sundowners and dinner.
Bunce Island: A must-visit is Bunce Island, located in the Sierra Leone River, where you can step back in time and learn about the fort where more than 50,000 people were shipped off to the Americas as slaves. Trips can be organised via hotels or a tour agency like Visit Sierra Leone, and usually depart from Aberdeen and last from early morning to mid-afternoon.
Take Part in the Sierra Leone Marathon: Each year in May, the charity Street Child holds the Sierra Leone Marathon. Keen runners take part in the race and whilst they're there and afterward, they organise group trips where you can travel the country and learn about the work of the charity.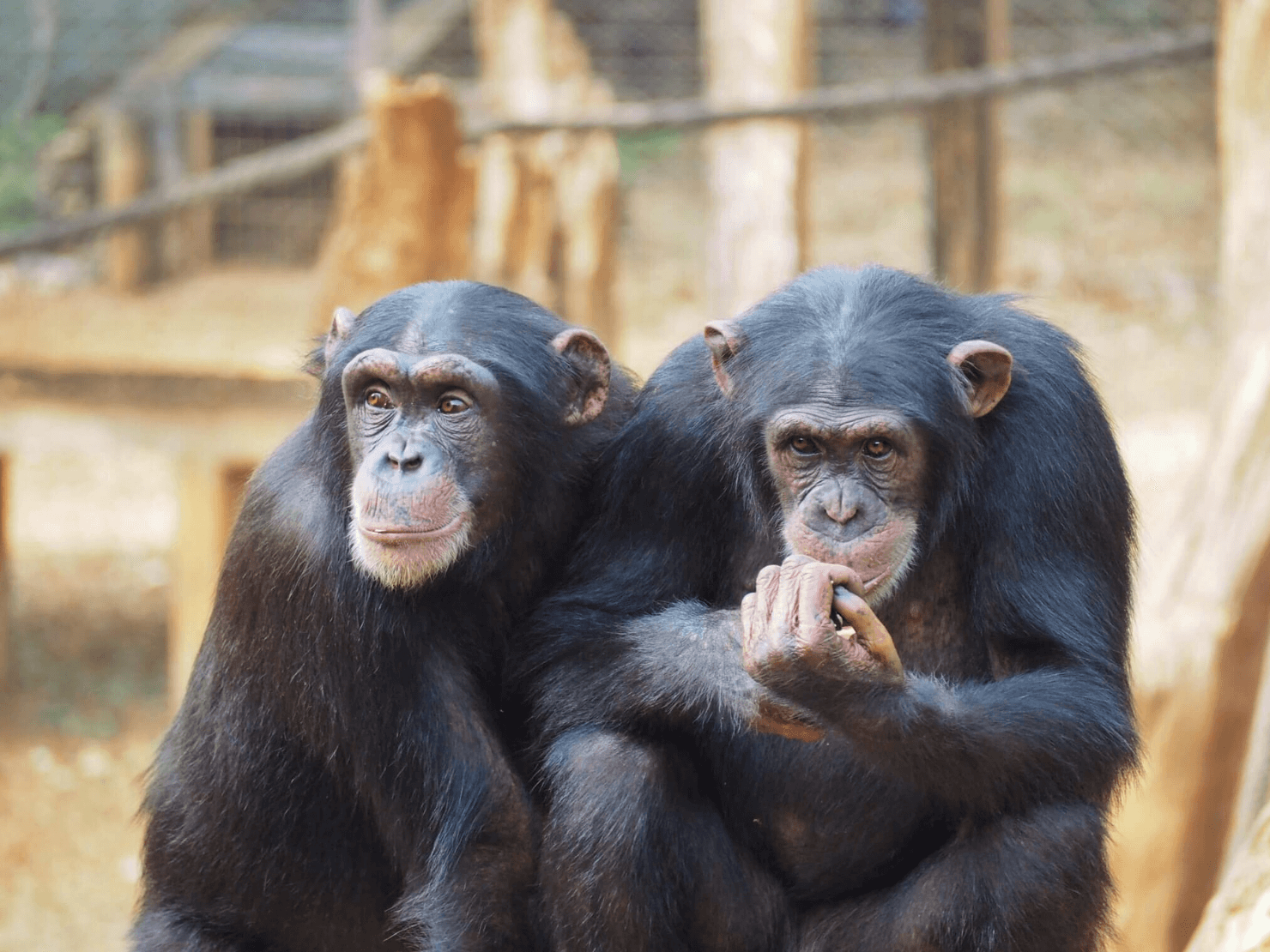 See the Cheeky Chimps at the Tacugama Chimpanzee Sanctuary
Located just outside of Freetown, the Tacugama Chimpanzee Sanctuary is a great place to go and see rescued chimpanzees.
The sanctuary cares for around 100 chimps and began as a project to help enforce wildlife laws and rehabilitate chimpanzees that had been orphaned. They have also developed a number of educational programs too with a focus on eco-tourism, sustainability, and community conservation.
They run several tours of the sanctuary per day, and you can even stay over in treehouses on the site, which was very nice, especially hearing the chimps calling out during the night.
Recommended Time: A day visit or 1 night (if you stay over at the sanctuary) is enough.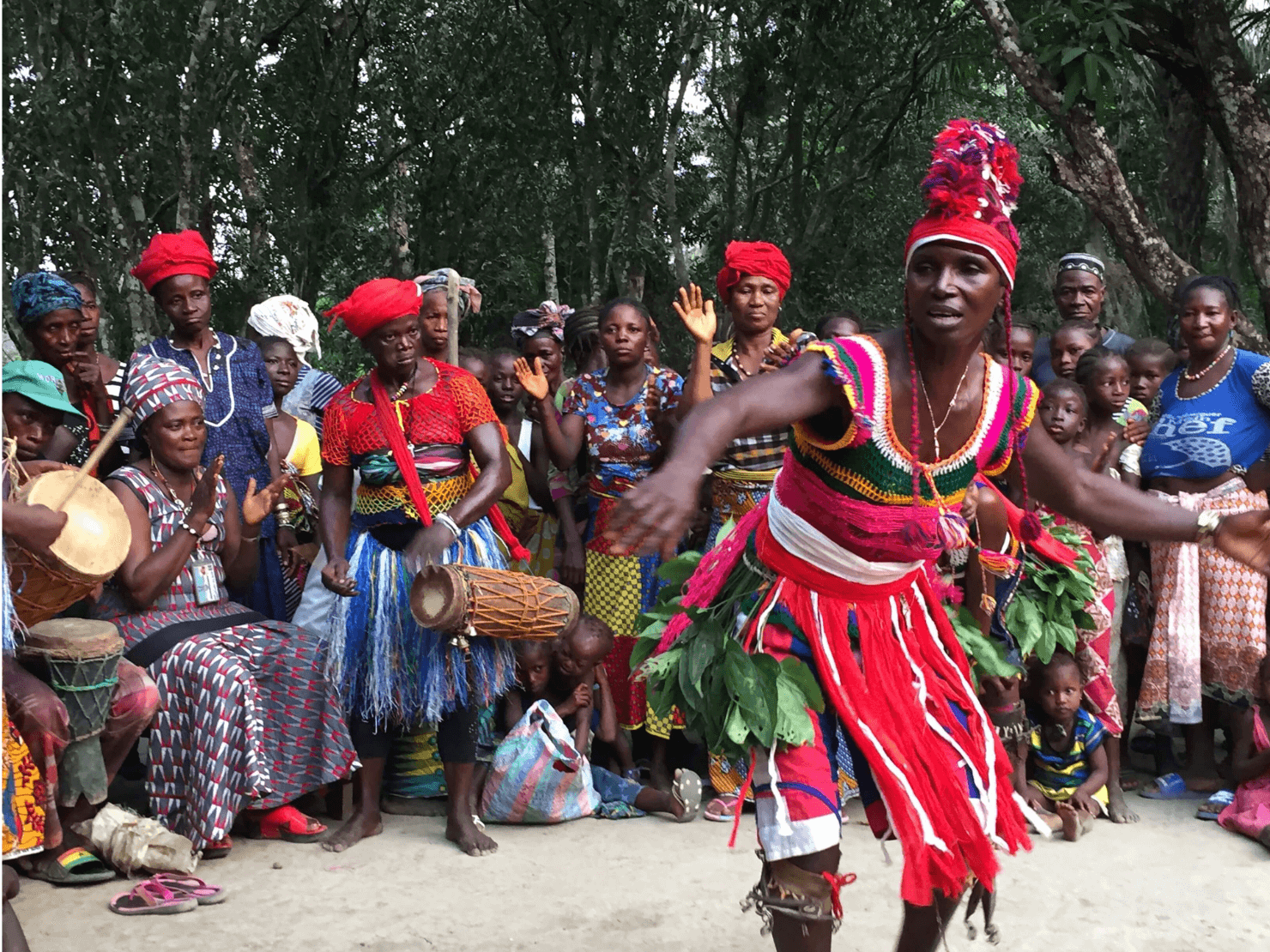 Experience Sierra Leonian Hospitality at the Rogbonko Village Retreat 
Another great experience on our trip to Sierra Leone was staying Rogbonko Village Retreat.
The village is home to the people of the Temne tribe and we stayed there for 2 nights. When we arrived we were welcomed with open arms and the whole village came out to say hi. It was wonderful, overwhelming, and unexpected.
We spent the days we were there getting an insight into village life, visiting the local school, learning about palm wine production, sleeping in traditional houses (there's no electricity), eating local food and learning about the culture. At certain times of year (during/after the rainy season), you can take rides in dugout canoes, but it was a bit too dry in March when we were there.
It was a little disorganised at times, but that was part of the charm. It wasn't too touristy and over-rehearsed, it just was what it was.
Located about 3 hours from Freetown, we made the trip out to Rogbonko Village Retreat by car (the benefits of being in a group), but you could get public transport to Magburaka and arrange a pick up from there or hire a motorbike/taxi for the last bit.
Recommended Time: I would spend 1 or 2 nights here.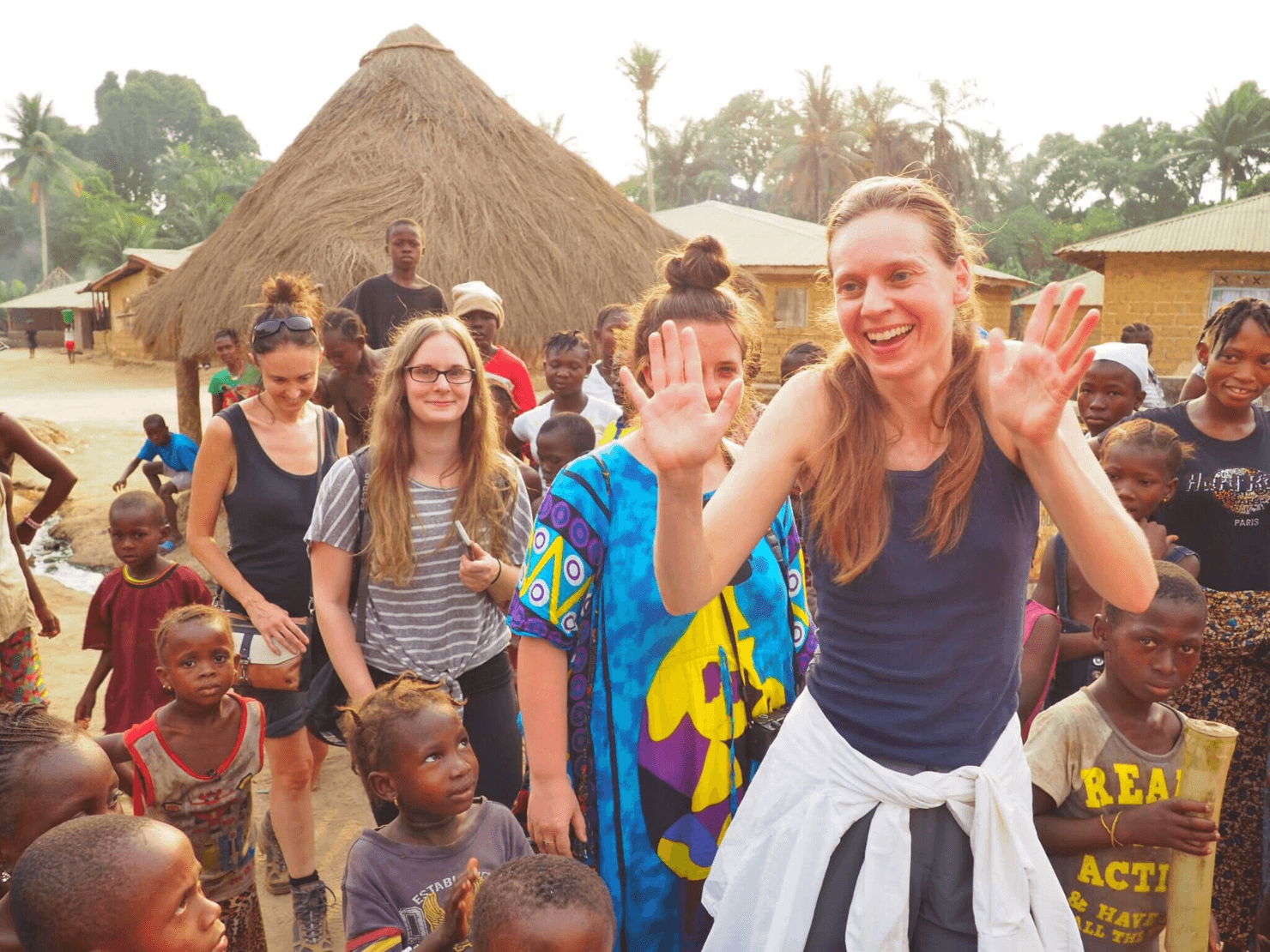 Go on Safari in the Outamba-Kilimi National Park
Located in the northwest of the country you'll find Outamba-Kilimi National Park, Sierra Leone's premier safari destination.
Whilst it doesn't quite compare with the safaris or east and southern Africa, it should be able to give you your safari fix! Here you can see animals such as colobus monkeys, chimpanzees, hippos, elephants and birds.
You can organise safaris from Freetown, or Makeni or I believe you can make your own way there and hire a guide (I haven't done this myself, so do your research before you rock up).
Recommended Time: I recommend 2 nights here.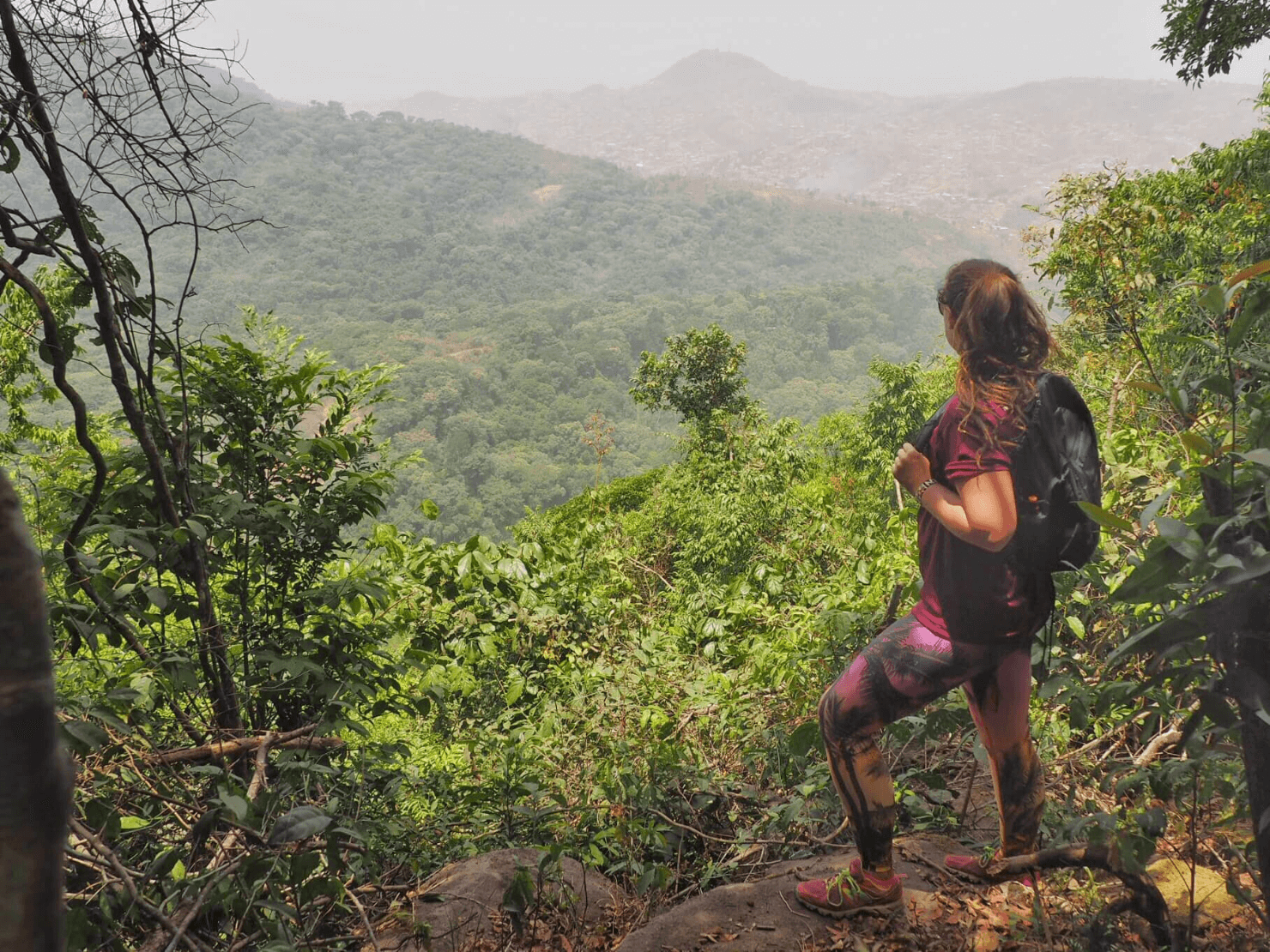 Refresh and Go Hiking in Kabala
If you're looking for an escape from the heat and humidity, head to Kabala in the north of Sierra Leone where you'll find beautiful countryside and plenty of hiking opportunities.
Head up to Gbawuria Hill for lovely views over the surrounding area, including Kabala town and the Wara Wara Mountains.
At New Year the town hosts a famous festival – so you could always time your trip with that for an extra special treat!
Recommended Time: 1 – 2 nights.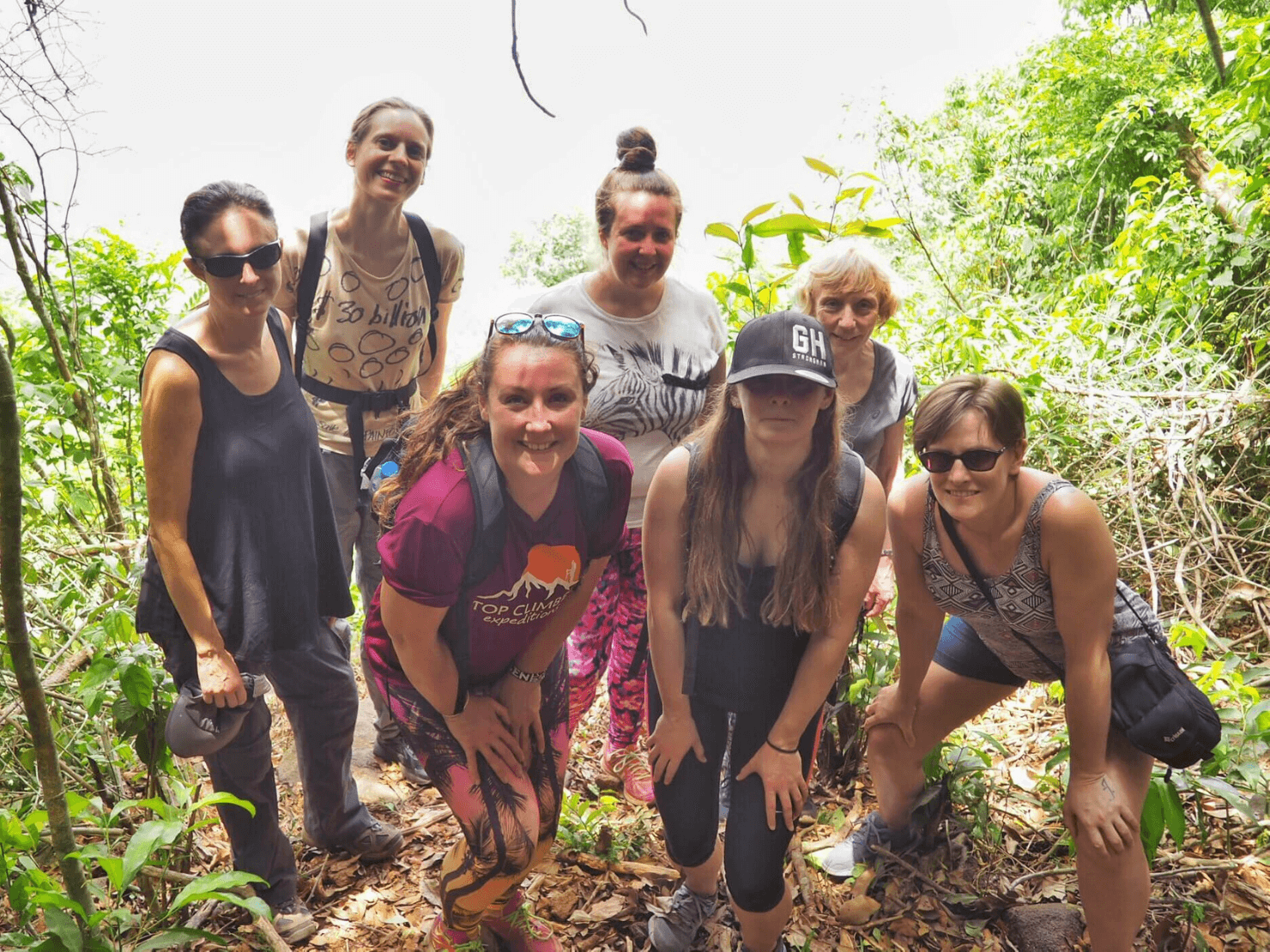 Climb Mount Bintumani
For the hikers out there Mount Bintumani, in the Loma Mountains, is Sierra leone's highest peak standing at 1,945 metres.
You can climb the mountain in a day, but many spread the climb over a few days.
You will need to speak to the local Chief before you climb the mountain to negotiate the price. For more information, check out this blog.
Recommended Time: It takes at least a couple of days to do the hike.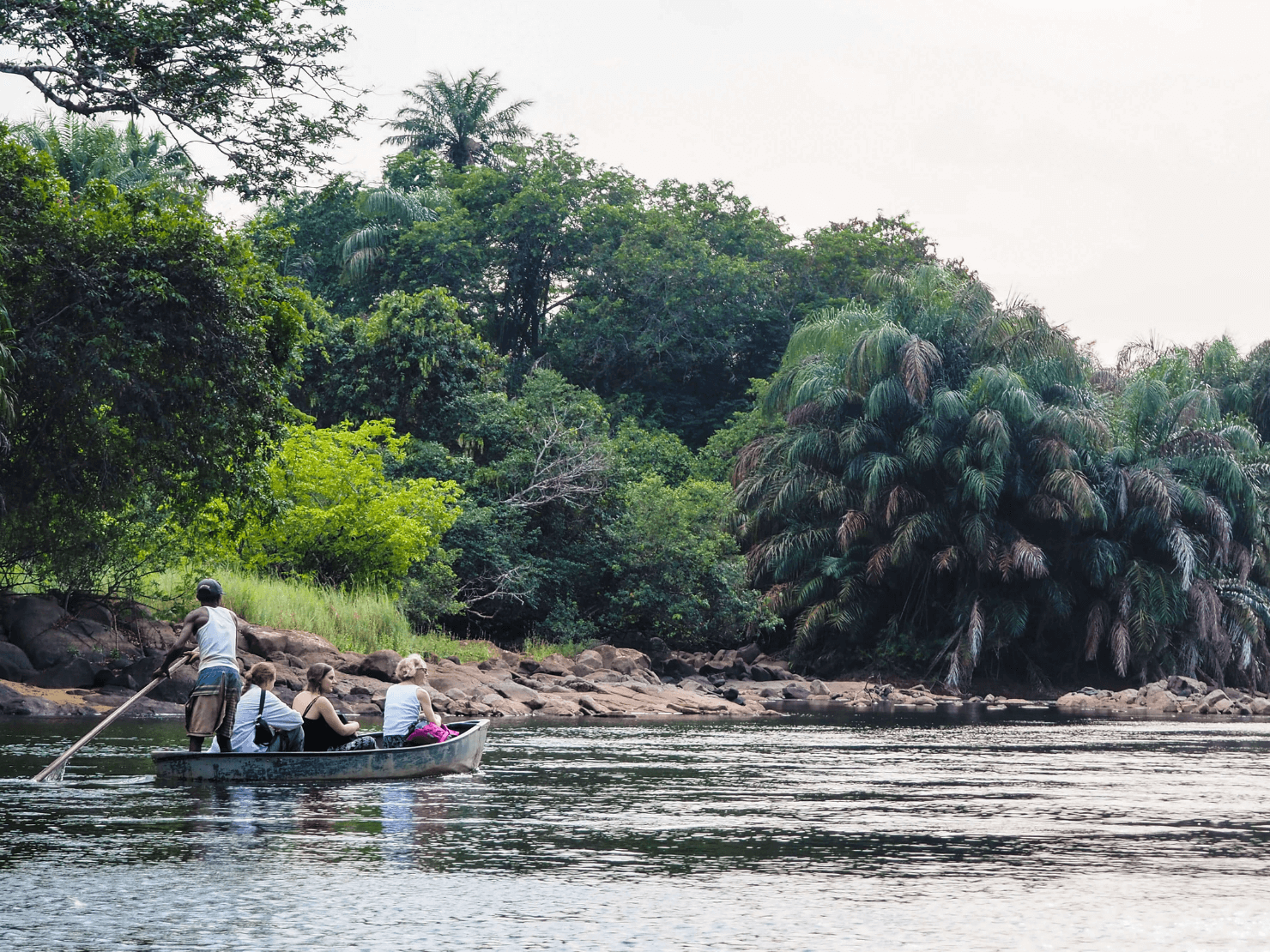 Search for Pygmy Hippos on Tiwai Island
We went to the Tiwai Island Wildlife Sanctuary to find the elusive pygmy hippo, known to roam the waters here.
Did we find one? Nope.
But, it was still a fantastic experience!
The island is an eco-project, surrounded by the Moa River and no-one lives on the island itself (except for the staff and researchers), but there are lots of villages nearby. To reach the island, you need to take a short boat trip from the mainland.
We hiked through the jungle and although we didn't see the hippos, we did see some beautiful primates, including colobus monkeys as well as bats and lots of insects, mostly flying termites, in fact, I found a few down my bra when I got undressed – well, just the wings, I have no idea where the bodies went. So, if you have an insect phobia, this may not be the place for you.
We also saw the locals scooping the termites into bowls of water and joked about 'fly soup', well it turns out they are a local delicacy and we weren't too far off-base.
The people in the nearby village of Kambama were extremely welcoming and we had the chance to visit the school and see some cultural dancing. The local tribe here is the Mende, and the dances were quite different from what we had seen at the Rogbonko Village Retreat. There was also plenty of time for us to swim in the river, lounge on the beaches and take boat tours around the island.
We camped in basic tents that they provided but there is also a research station with rooms (this was under renovation when we were there) or you can take your own. The bathroom facilities were fine (mostly flushing toilets and running water). The staff cooked local food for us.
Recommended Time: 2 nights.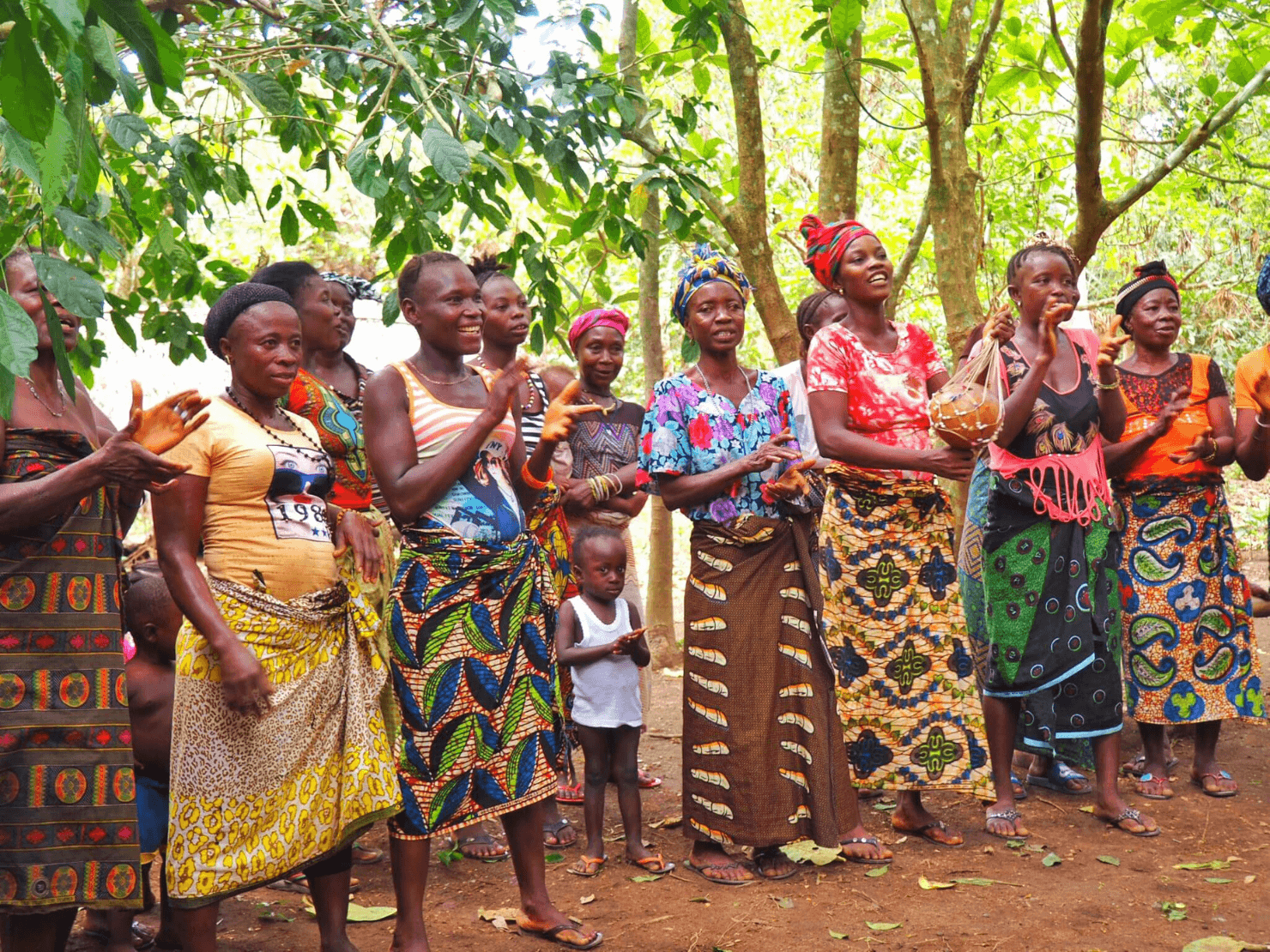 Immerse Yourself in Nature at the Gola Rainforest National Park
Lying next to Tiwai Island is the Gola Rainforest National Park. Here you'll find many animal species, including monkeys, duikers, and elusive pygmy hippos, as well as smaller mammals, butterflies, and reptiles.
There are a number of different communities that you can visit or stay with inside the park where you can get a glimpse into local life and experience various local cultural dances and traditions.
Recommended Time: 1 – 2 nights to get the full experience.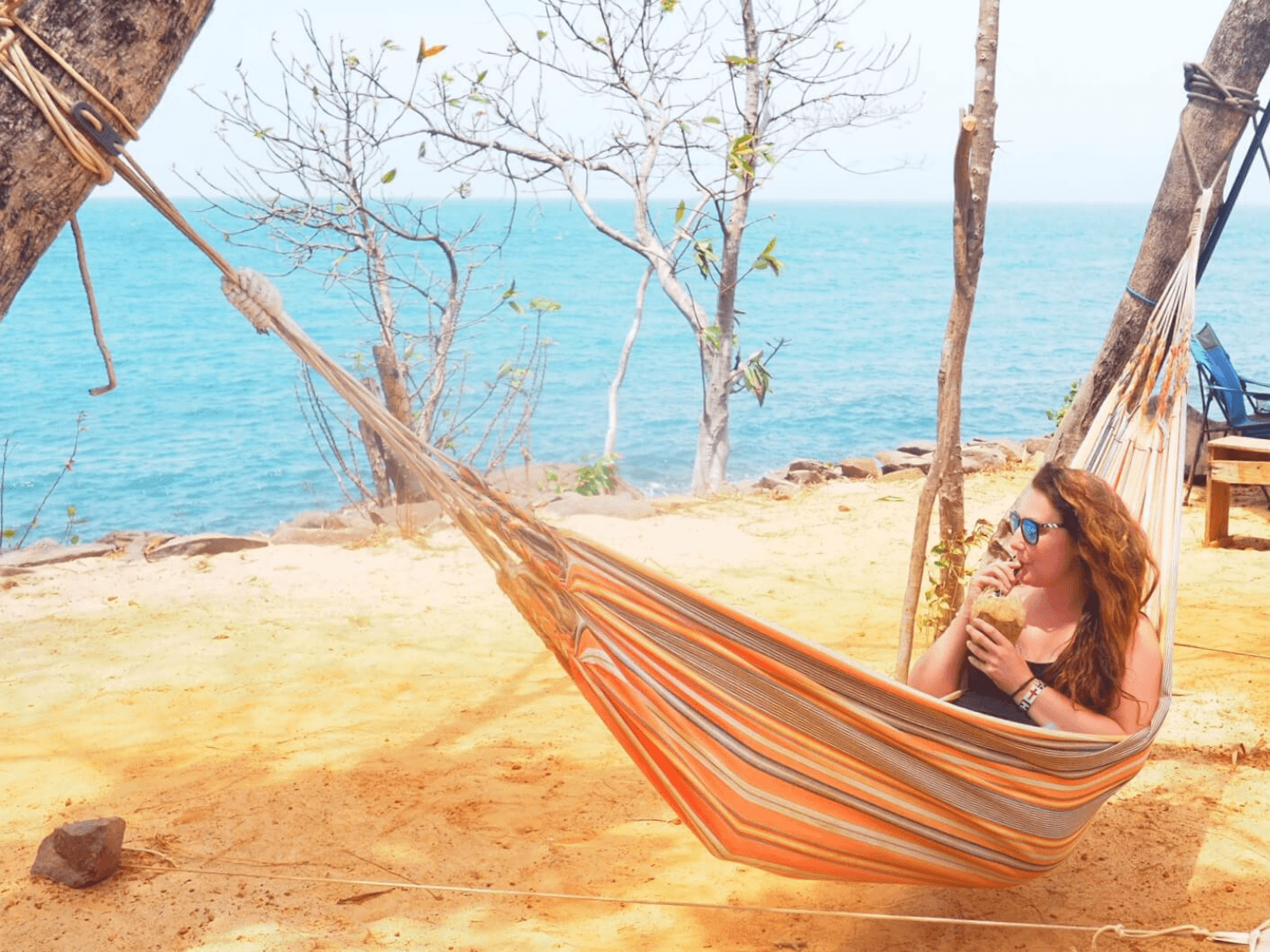 Chill Out on the Banana Islands
Not far off the coast, near the Freetown peninsular lies the Banana Islands. There are three islands, Dublin and Ricketts (which are inhabited and linked by a stone causeway) and Mes-Meheux which is uninhabited.
We based ourselves at Dalton's Banana Guesthouse on Dublin Island. This is the main backpacker hangout on the island, run by my pal Greg.
I absolutely loved waking up and pretty much rolling out of bed and into a hammock. The place isn't fancy by any means, but it's friendly and homely and a good place to meet other travellers and there are a number of activities to keep you busy.
Whilst we were here, we went on a historical tour, took a snorkelling trip to Mes-Meheux and we were invited to a boat launch by the nearby village. This was a crazy experience, with blessings from the local pastor (who also baptized us – whether we wanted it or not) and lots of throwing food and money into the boat. A true Banana Islands experience.
For those who want a bit more comfort or glamping, there's the nearby Bafa Resort. You can also go there for dinner and drinks, which we did.
Recommended Time: 1 – 2 nights, or more. I loved it here.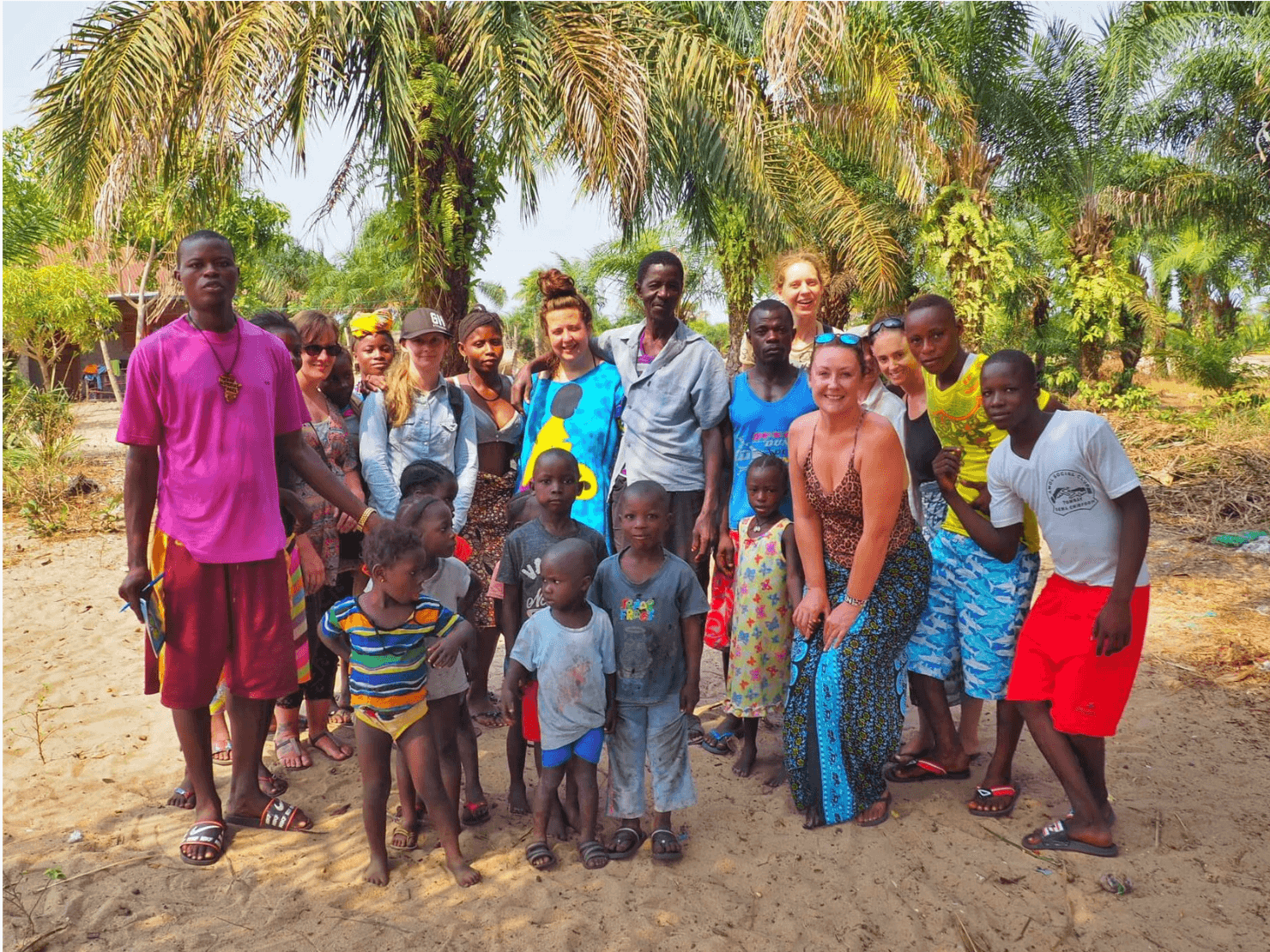 Get Away from it All on the Remote Turtle Islands
This was probably my favourite place to visit in the whole of Sierra Leone, mainly due to the sheer remoteness of the destination. The islands are almost completely untouched by tourism.
The downside is, that they are not cheap to get to as it's an absolute mission to make it over there. There are no facilities at all, you need to take everything with you and be fully self-supported. But the locals did sell us fresh fish and coconuts every day, which was amazing.
Starting on the Banana Islands, we organised our trip through Dalton's as the Banana Islands are one of the launch points for the Turtle Islands.
We made our way by small boats across the Atlantic towards the Turtle Islands. Approximately 3 hours later, land came into view (it was a welcome sight, believe me) and 4 hours later we were there (getting back is a story for another time).
We spent 3 blissful days exploring the islands, meeting the islanders and getting into 'Beef With the Chief' and sleeping under the stars. The locals would sell us fish and coconuts every day. It was awesome.
On a side note… there's no electricity and there are also no toilets. You just dig a hole and off you go, so this particular excursion might not be for everyone!
I'll write a guide to visiting the Turtle Islands soon, but just know that it was an absolute adventure in the truest sense of the word.
You can also travel to the Turtle Islands from Bonthe on Sherbro Island (some of the teachers we met there were from Bonthe) which is much closer to the Turtle Islands than Freetown or the Banana Islands, however, I don't know of any reliable or safe operators that launch from here, so can't recommend anything currently. Sherbro Island is also very difficult to get to in itself.
This was definitely one of my best things to do in Sierra Leone.
Recommended Time: As it's so remote, you will need at least 2 nights.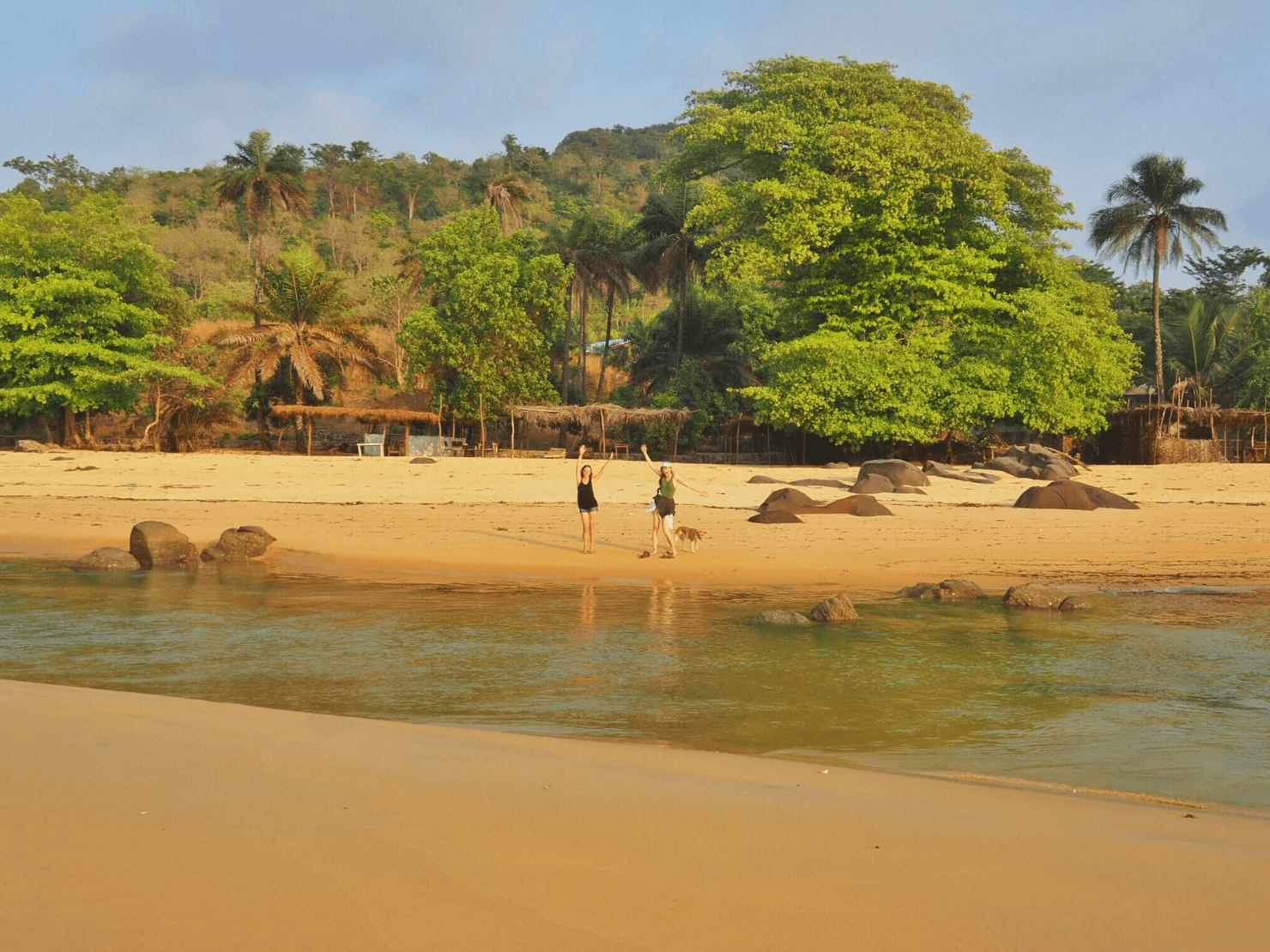 Explore the Beaches of the Freetown Peninsular
Sierra Leone is home to some of West Africa's best beaches, many of which are located just south of the capital and they're a great place to end a trip to Sierra Leone.
We only visited 3 of the beaches whilst we were there and the girls and I all had different ideas about which ones we liked the most.
Other than the beaches mentioned below, you may also want to check out John Obey, Sussex, and York (which we visited briefly, but only to sail across to the Banana Islands).
Recommended Time: As long as you can manage! This is a great place to chill at the end of your trip!
Bureh Beach
Bureh Beach was my favourite. We stayed here, using it as a base to visit the other beaches. This is the beach you can see in the picture above.
I just loved the laidback feel of the place and it's the best place to surf in Sierra Leone. I took a lesson with the Bureh Beach surf club and it was a lot of fun.
We stayed at Lumthubul Gardens which was lovely and right on the beach (most places are) and you can also stay at the Bureh Beach Surf Club too, which would be a great place for making friends, especially in the low seasons.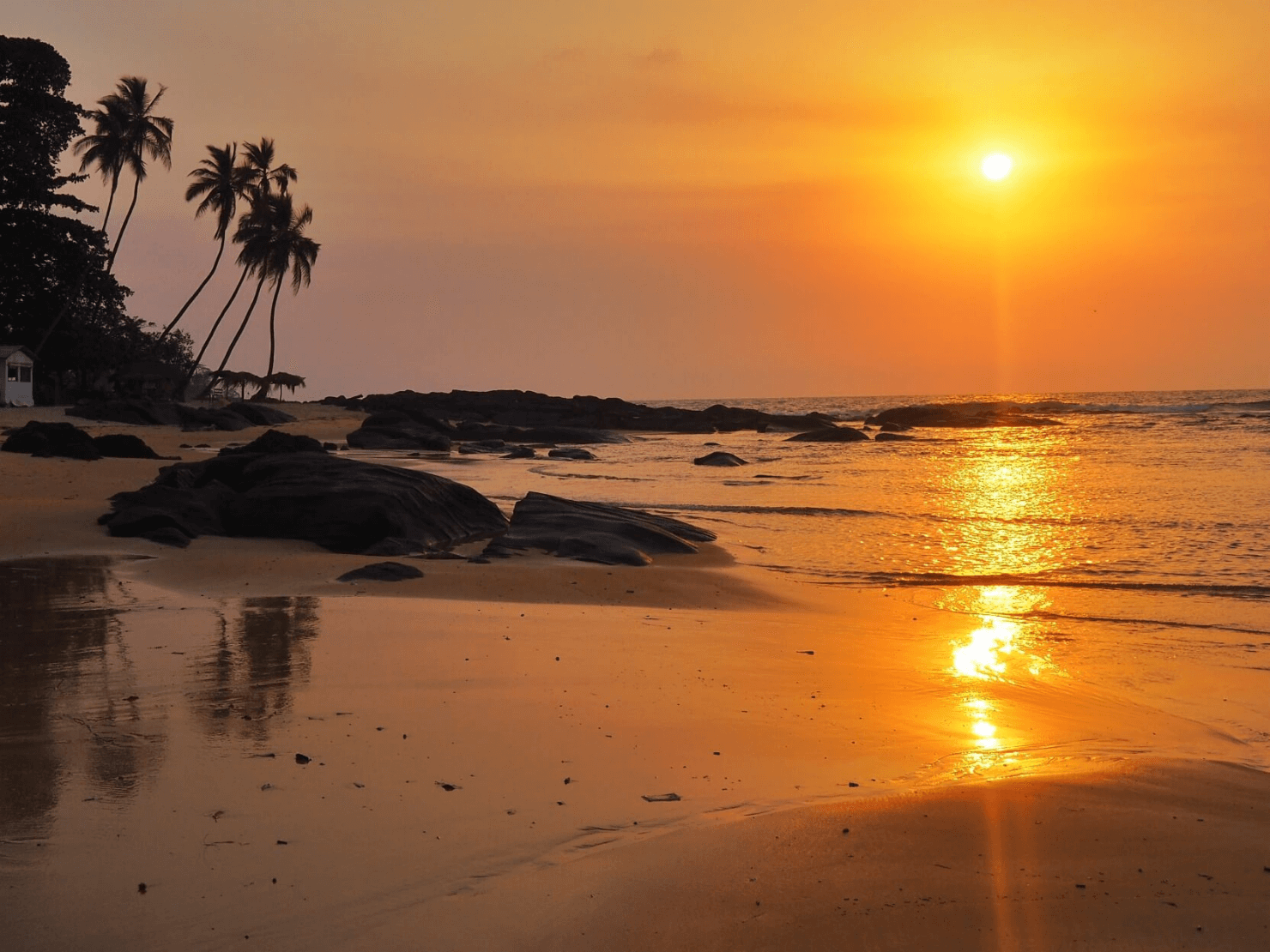 River No. 2
River No.2 Beach is quite beautiful and also the most popular. This is where many of the locals head to on weekends and holidays to party.
The beach is on a lagoon, with River No. 2 on one side and Tokeh on the other. At high tide, a small (very wobbly) boat can to take you across. This was pretty amusing and how we didn't tip right in, I'll never know.
There is a small fee to get onto the beach of 5000 Leones (about $0.50) to enter.. here are a few bars and restaurants and some curio shops.
Tokeh
Tokeh Beach was my friend Katja's favourite. She said it was 'the most beautiful beach' she'd ever seen.
This is where you'll find Sierra Leone's premier beach resort, 'The Place at Tokeh'. We didn't stay here, but we ate lunch and spent most of our last afternoon here, sunbathing, using the good internet to check into our flights, getting massages and drinking cocktails.
After 2 weeks traipsing through the jungles and living the simple life on the islands, this was a nice change. However in general, it's a bit too 'Western' for me (you wouldn't even know you were in Sierra Leone)… but it is a great place to visit if a) you have the money and b) you want to decompress after a tough work week or in our case, an expedition spanning the length and breadth of the country.
Check availability and prices for The Place at Tokeh here.
Would you be interested in visiting Sierra Leone?
---
Other Sierra Leone posts you might enjoy…
Pin This Post For Later