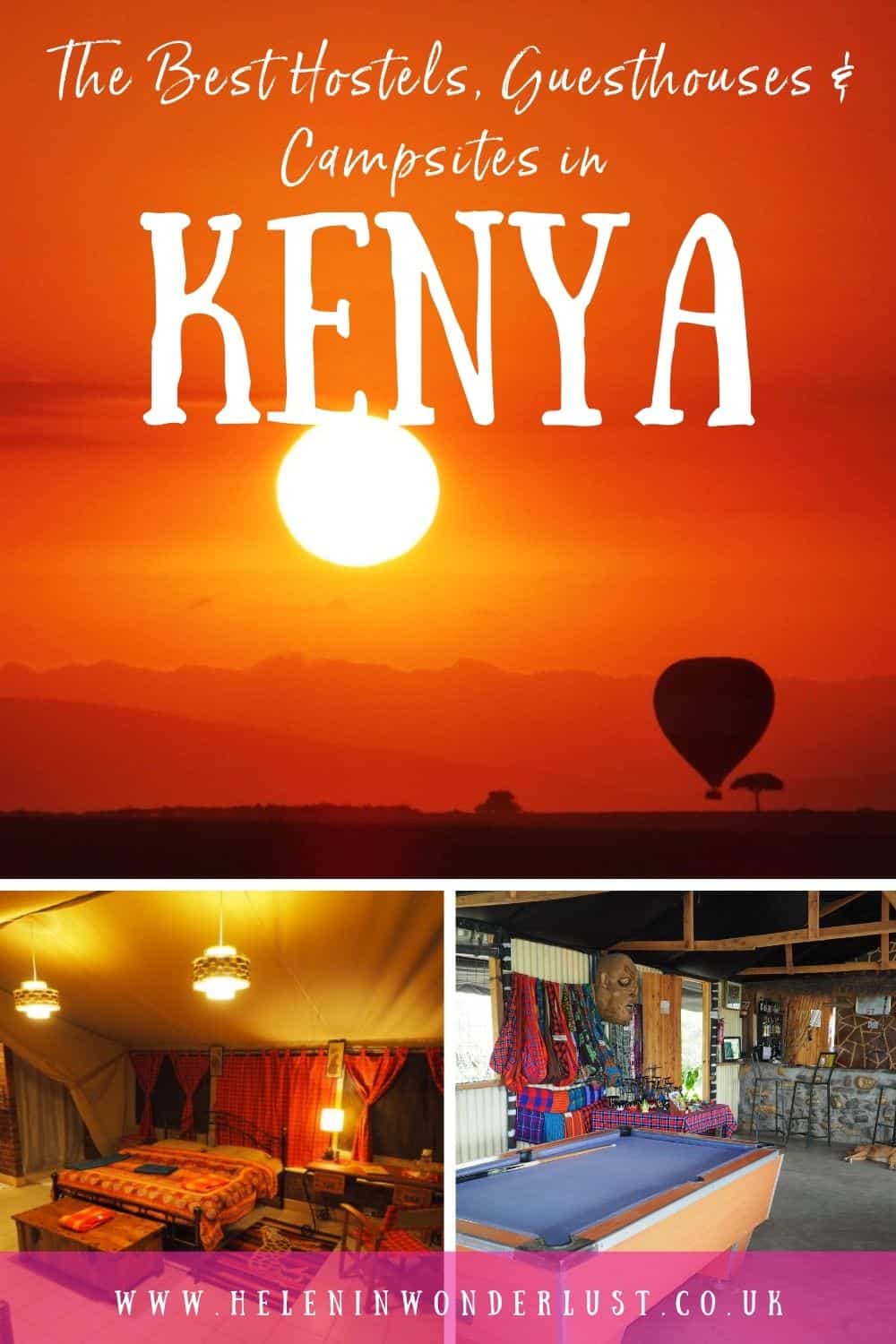 Looking for the best hostels, guesthouses and camps in Kenya? Then you've come to the right place!
Here are my favourites to help you plan your trip backpacking or overlanding trip through Kenya.
I'll keep adding to this list as I discover more places, so don't forget to bookmark this post.
Other Kenya posts you might enjoy…
Please Note: Some of the links in this post are affiliate links, which will earn me a small commission at no extra cost to you. Affiliate sales help with the running costs of this site, so thank you for your support!
---
The Best Hostels, Guesthouses & Campsites in Kenya
---
Nairobi
---
Masai Mara National Park
Kobi Farm

:

This is a new place run by my good friends Moses and Laura who used to own the Mara Explorers Camp. They have now moved to a new location, not far from their original camp. They create a wonderful atmosphere and the staff are always super friendly, plus you also get to spend some quality time with the local Maasai people. . They are still running mobile camping safaris in the Mara and around Kenya with

Mara Explorers

.

Maji Moto Maasai Cultural Camp

:

This camp lies about half way between the Maasai Mara and the town of Narok. It's a good stopover if you want to break up the 5 – 6-hour journey from Nairobi to the Mara. Again, this is a great place to learn about Maasai culture.
---
Naivasha
Camp Carnelly's

:

Fun camp near to Lake Naivasha and Hell's Gate National Park. They have rooms and space for camping, as well as a lovely bar and restaurant.
---
Lake Nakuru
Makalia Campsite

:

This is a public campsite run by the Kenya Wildlife Service. They have basic facilities, but you'll need to bring your own tent or camper as there are no rooms. They have running water and bathroom facilities.

Kembu Cottages

:

Based on a farm, this is a lovely place to stay, about 35 minutes from Nakuru town. They have 9 unique cottages and camping facilities as well as a wonderful restaurant, bar, lounge and dedicated Wi-Fi working space. The restaurant serves their own homegrown farm to table food.
---
Eldoret
Nairberi River Camp

:

This is a great stopover if you're travelling overland to Uganda. They have a pool and a great and unusual bar and restaurant which is a cave. They have rooms and space for camping.
---
Kisumu
Dunga Hill Camp

:

Located right on Lake Victoria, this is an overlander camp with fantastic sunset views. They have a popular bar and restaurant with great food and friendly staff. They have running water and bathroom facilities. The campsite is a short walk away from the beach where you can buy freshly caught and cooked fish.

Clarice Guesthouse

:

Reasonably priced guesthouse, a few minutes' drive from the town centre. They have private rooms, a garden and a restaurant.
---
Samburu National Park
Umoja Women's Village

:

This is a women's cooperative village that helps women from the Samburu tribe who have escaped from early or abusive marriages. You can stay in the village and learn all about Samburu culture. They have 12 self-contained cottages and camping facilities, as well as a bar and restaurant. They can arrange safaris and activities and this is a good opportunity to immerse yourself in Samburu life.
---
Amboseli National Park
---
Mombasa
Tulia House Backpackers

:

The main backpacker hangout is Tulia House, with dorms, a private room, a pool and a bar. There's free Wi-Fi and

Nyali Beach and Bamburi Beach are located nearby. A mix of private rooms, dorms and campsite.
---
Kilifi
Distant Relatives Ecolodge & Backpackers

:

One of my favourite hostels in Africa, this laid-back hostel and eco-lodge is a great place to spend a few days or even a few weeks. They have a pool and often have theme nights and parties. Their New Year's Eve Festival is legendary. They have private rooms, dorms, static tents and space to camp.

Salty Kite Surf Village

:

Specialising in kite surfing, this beautiful Swahili-style hostel/lodge is superbly located on stunning Bofa Beach. They have a mix of beautiful rooms, at mid-range prices.
---
Diani Beach
Stilts Backpackers

:

Set back away from the beach with jungle vibes, this is a friendly backpacker lodge, with a cosy bar and lounge area. Each night they feed the resident bush babies and you can help! They also own the Flamboyant Hotel which is a short walk away and right on the beach. They allow Stilts guests to use the Flamboyant pool which is a huge bonus. They offer tents, chalets and treehouse rooms… on stilts.

Diani Backpackers

:

A bit further down the main road, set back from the beach is Diani Backpackers. This is a friendly, popular and lively spot with a nice pool and a lively bar. They have 4 dorms, 4 private rooms and space to camp.

Footprints House

:

Right next to the beach, this is a lovely Swahili-style property with a pool and spacious rooms.
---
Watamu
Watamu Treehouse

:

This is a beautiful boutique hotel and retreat which overlooks the beach. The building itself is gorgeous, unique and the rooms are stunning and serene. I'd go as far to say that it's one of the most beautiful hotels in Kenya. They also hold yoga classes and retreats here.
---
Lamu
Shiban House

:

Friendly homestay and guesthouse in Shela. A great place to meet others.

Banana House & Wellness Centre

:

If you're after a Swahili yoga vibe, then look no further than this beautiful place. They hold daily yoga classes and retreats, which are great for meeting new friends if you're travelling alone. They also have a spa, so treat yourself.
Enjoy your time in Kenya! Let me know if you stay in any of the places mentioned and tell them Helen in Wonderlust says hi!
---
Join one of my Kenya group tours or buy my Backpacking Africa e-book!