Last updated on March 12th, 2022 at 01:29 pm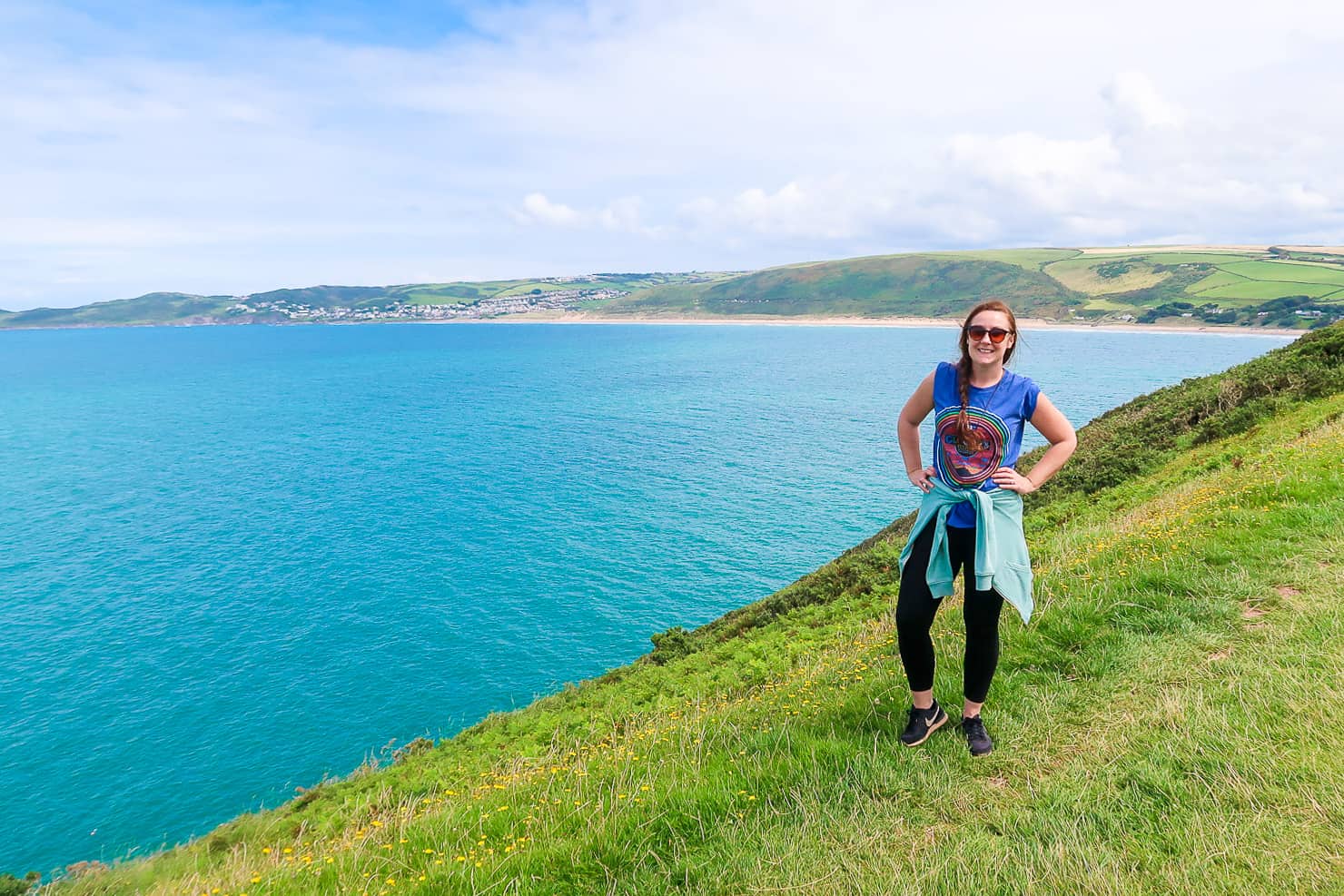 One of my favourite regions of the UK is North Devon, in South West England.
Devon is, in my opinion, the prettiest county in England (although they're all beautiful in their own way) and it's not hard to see why it's one of the UK's most popular holiday destinations, with stunning beaches, lots to do and fantastic food (oh the food).   
I've spent a lot of time in North Devon in my life and I consider it to be my second home – I even got married there. North Devon is my happy place, the place where I feel most relaxed, and think if I was ever to move away from where I live now, it would be down to Devon.
So I wanted to share some of my favourite places to visit and things to do in North Devon.
Please Note: Some of the links in this post are affiliate links, which will earn me a small commission at no extra cost to you. Affiliate sales help with the running costs of this site, so thank you for your support!
---
15 Best Places to Visit in North Devon, England

Exmoor National Park
Exmoor National Park covers a wide area that stretches from Somerset to North Devon.
Exmoor is a great place for walking and adventure activities (canoeing, mountain biking, horse riding etc) and it was also the first place in Europe to be designated a Dark Sky Reserve, making it an excellent place for stargazing.
You can also take a safari to spot deer with Red Stag Safari or take part in a National Park Ranger Experience.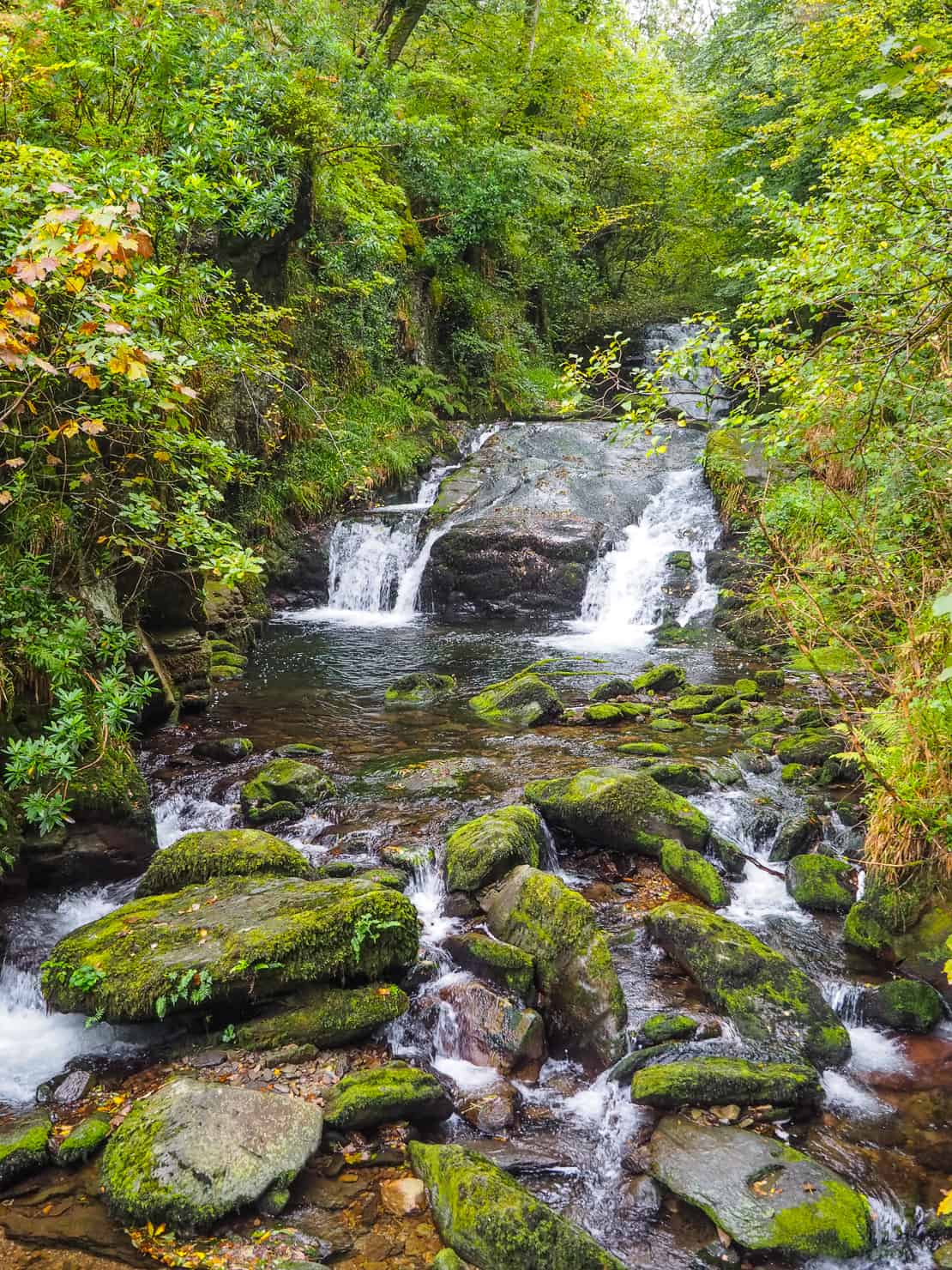 National Trust – Watersmeet
A great little stop is Watersmeet, a National Trust property that looks like a fairy glen, where you can take walks through the woods or stop for tea and cakes at the tea room and garden.
It's also a popular spot for canoeing and salmon fishing from March to September.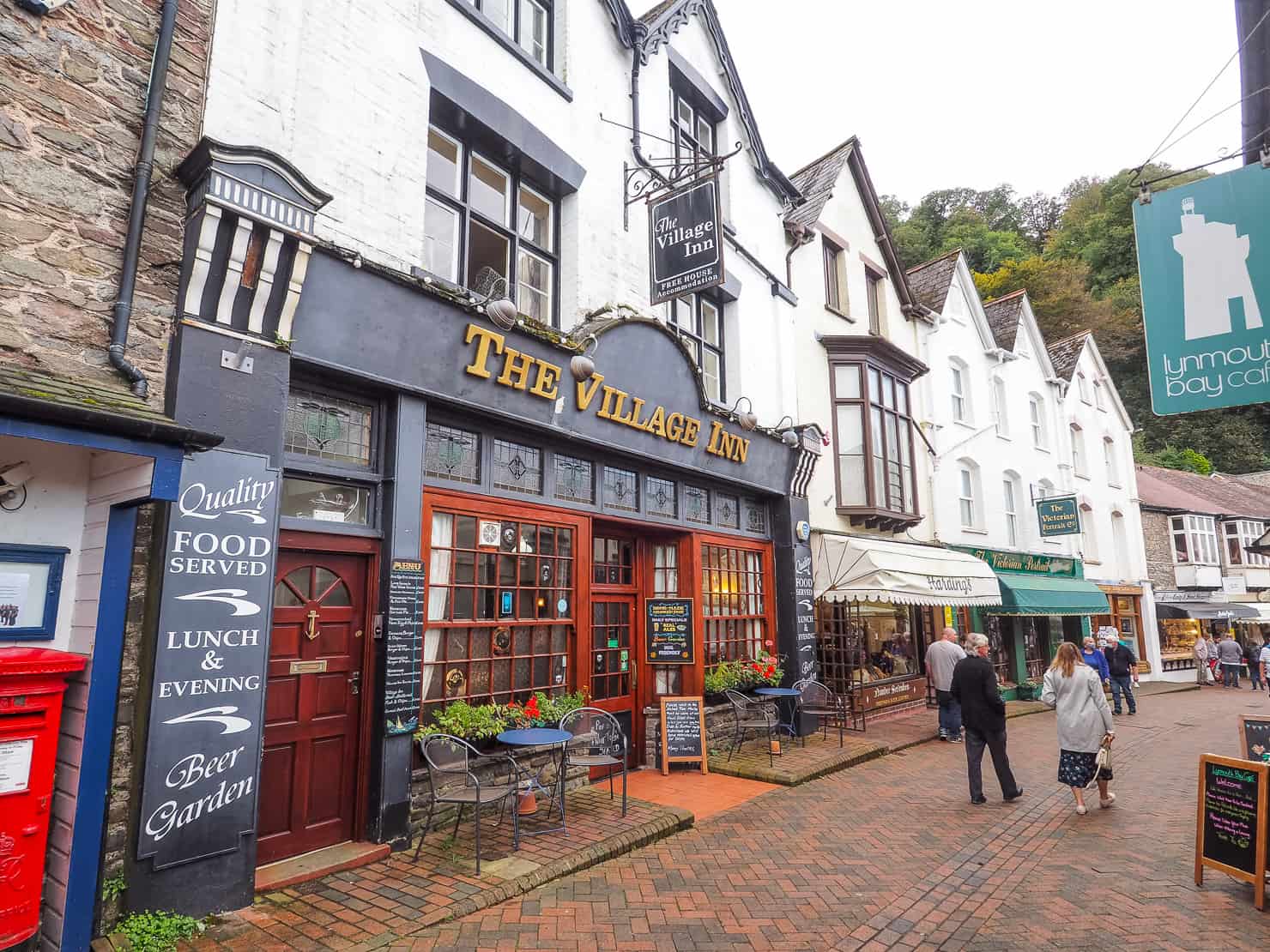 Lynton & Lynmouth
I've put Lynton & Lynmouth together, as they're basically the same place, separated only by height… and you can move between the two villages by the world-famous Cliff Railway, the steepest and highest fully water-powered Victorian railway in the World!
The villages are super pretty, with Lynmouth sitting on the pretty harbour and Lynton perched above. At low tide, the harbour drains, so if you want to see the village in its full glory, time your visit well.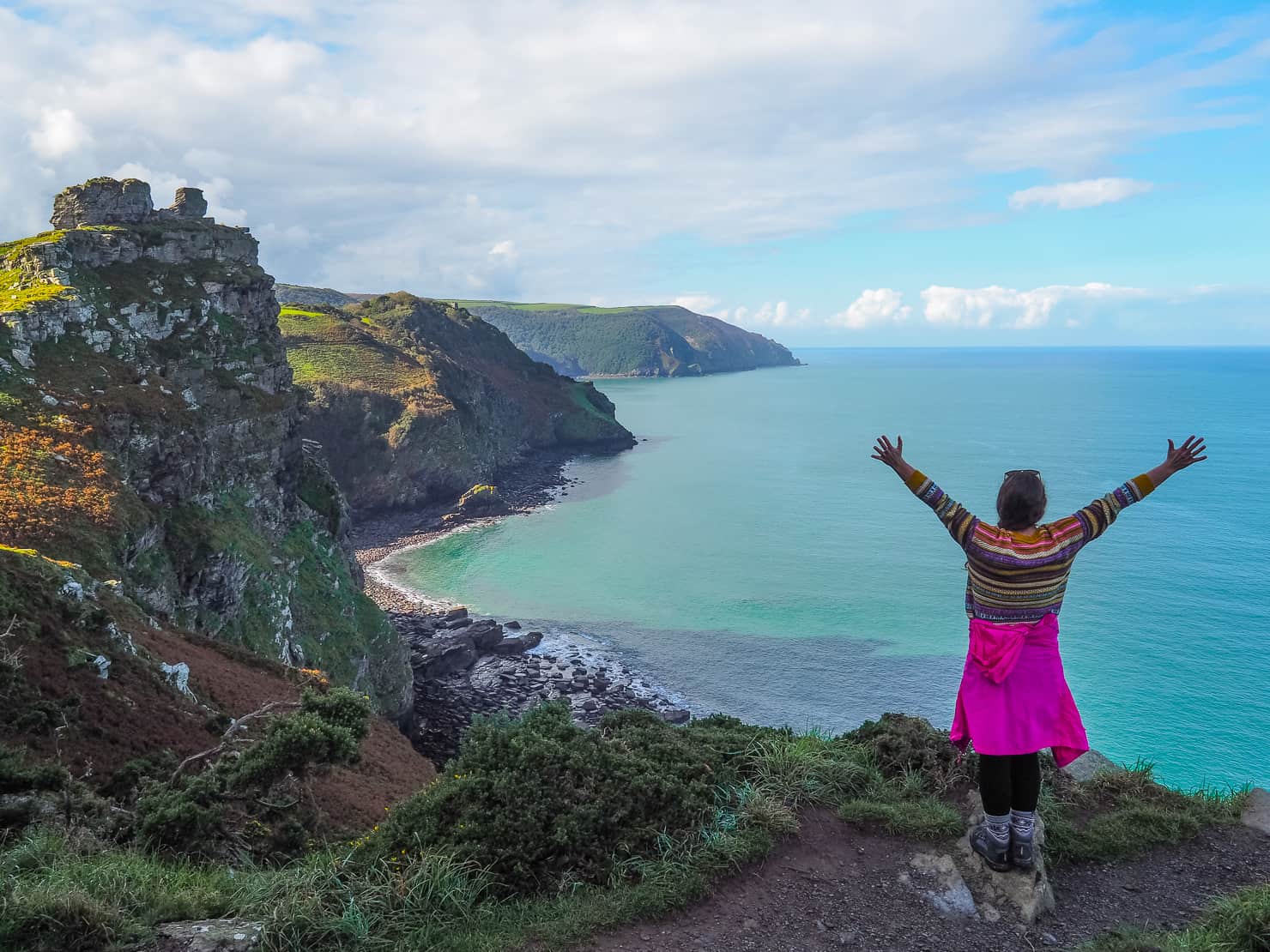 Valley of the Rocks
One of my favourite things to do in North Devon is to visit the Valley of the Rocks, which is part of the South West Coast Path – which I'd love to hike one day!
This is a wonderful walk that can be as short or as long as you like. For the views in the picture above, head right (East) along the path if coming from the carpark. 
Parking is on a Pay & Display basis and costs £2.00 for an hour, £3.00 for 2 hours, or £5.00 for the day. You can also walk there from Lynton.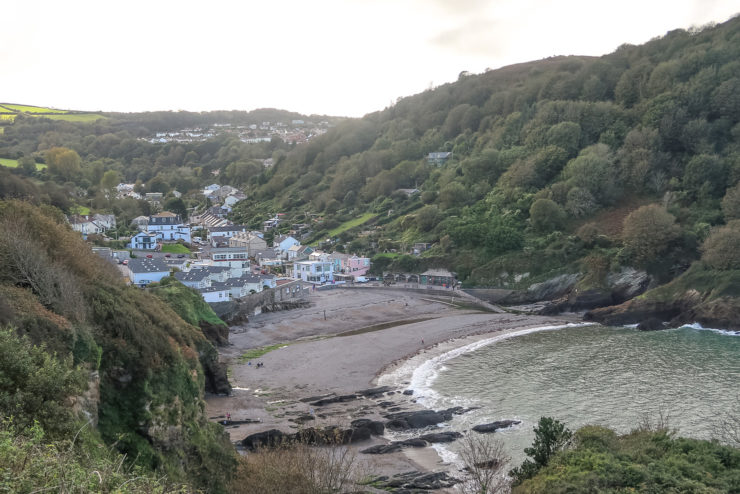 Combe Martin
Combe Martin is a popular holiday spot, with a gorgeous sheltered beach that is perfect for swimming, paddle boarding and kayaking. The village is perfectly situated to explore the surrounding areas of Exmoor and Ilfracombe and there is also a good selection of pubs, cafes, and restaurants. 
Kids (and adults) can enjoy the nearby Combe Martin Wildlife & Dinosaur Park and the Watermouth Castle Theme Park.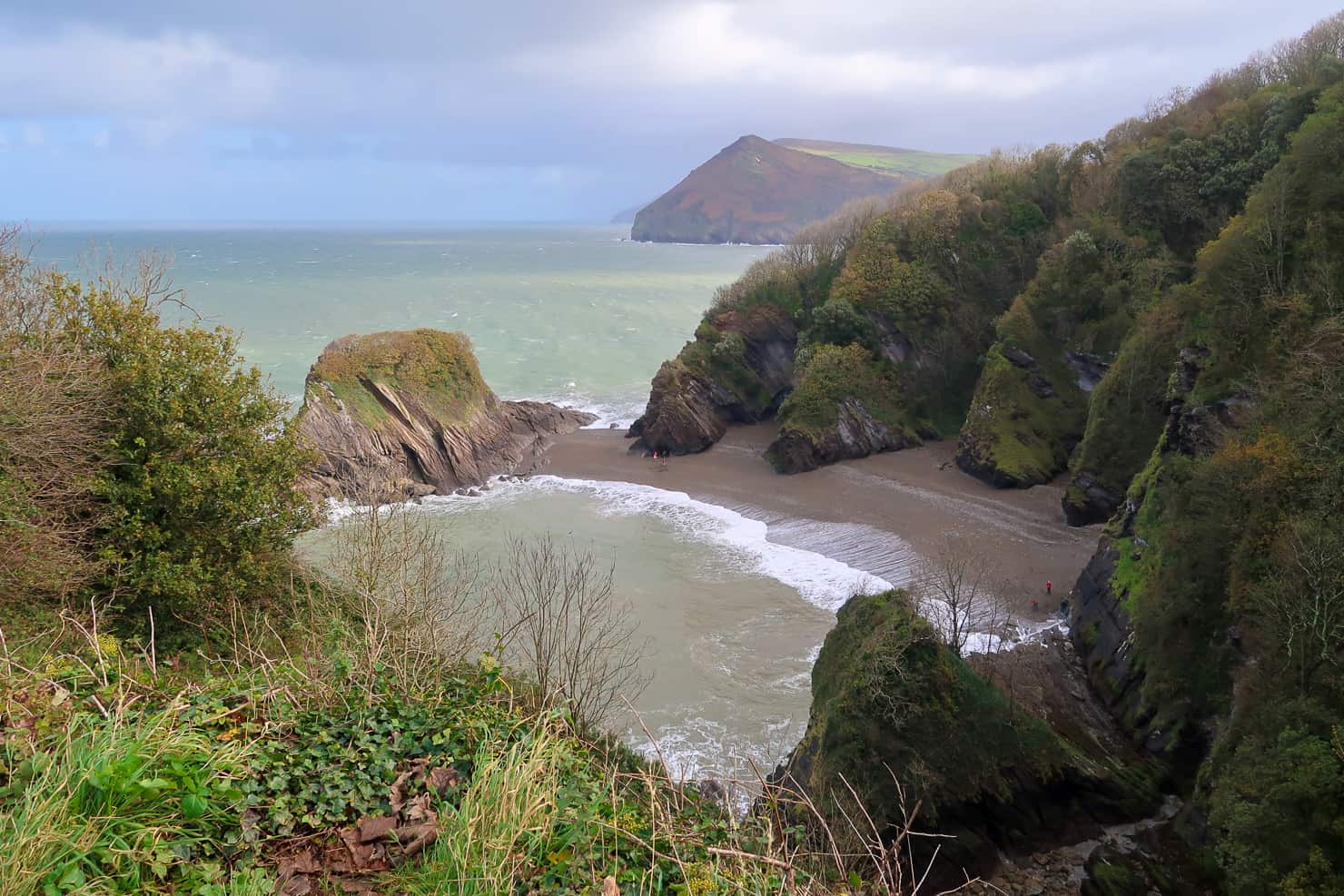 Broadsands Beach
Another of my picks for the best places to visit in North Devon would be Broadsands Beach which is a great place for a picnic or wild swimming.
To get to Broadsands Beach, you need to park near the Sandy Cove Hotel (a great place to stop for a drink with amazing views or to stay) and take the path behind the hotel. Again, this is also part of the South West Coast Path and you can't drive down it.
When you reach the sign for the beach (about 10 minutes down the path), take a right and carefully make your way down the 200 steps to the beach. Just remember that you need to come back up, so if you don't have good mobility or fitness, you may struggle and there is no wheelchair access.
If you don't fancy the steep walk to the beach, walk past the sign and take the next right, which will take you to the viewpoint above the beach (where I took the above picture). You can also walk there from the Watermouth Valley Camping Park (although if you come that way, the lookout will be the first left, not the second right). Just be aware of the tides, as the beach is much smaller at high tide (above is at low tide).
If you want to see the beach from the water, you can also take a boat trip from Ilfracombe or you can paddleboard around from Combe Martin. 

Ilfracombe
If you like a bit more 'action', Ilfracombe is a great town to base yourself in, with plenty of hotels, shops, and restaurants to choose from. 
Highlights include seeing the Verity statue created by Damien Hirst and taking part in one of the many water-based activities on offer in the town, including a trip to Lundy Island, coasteering, a rib boat SeaSafari to see dolphins and seals (I didn't see any when I went but it was still lovely), kayaking and paddleboarding.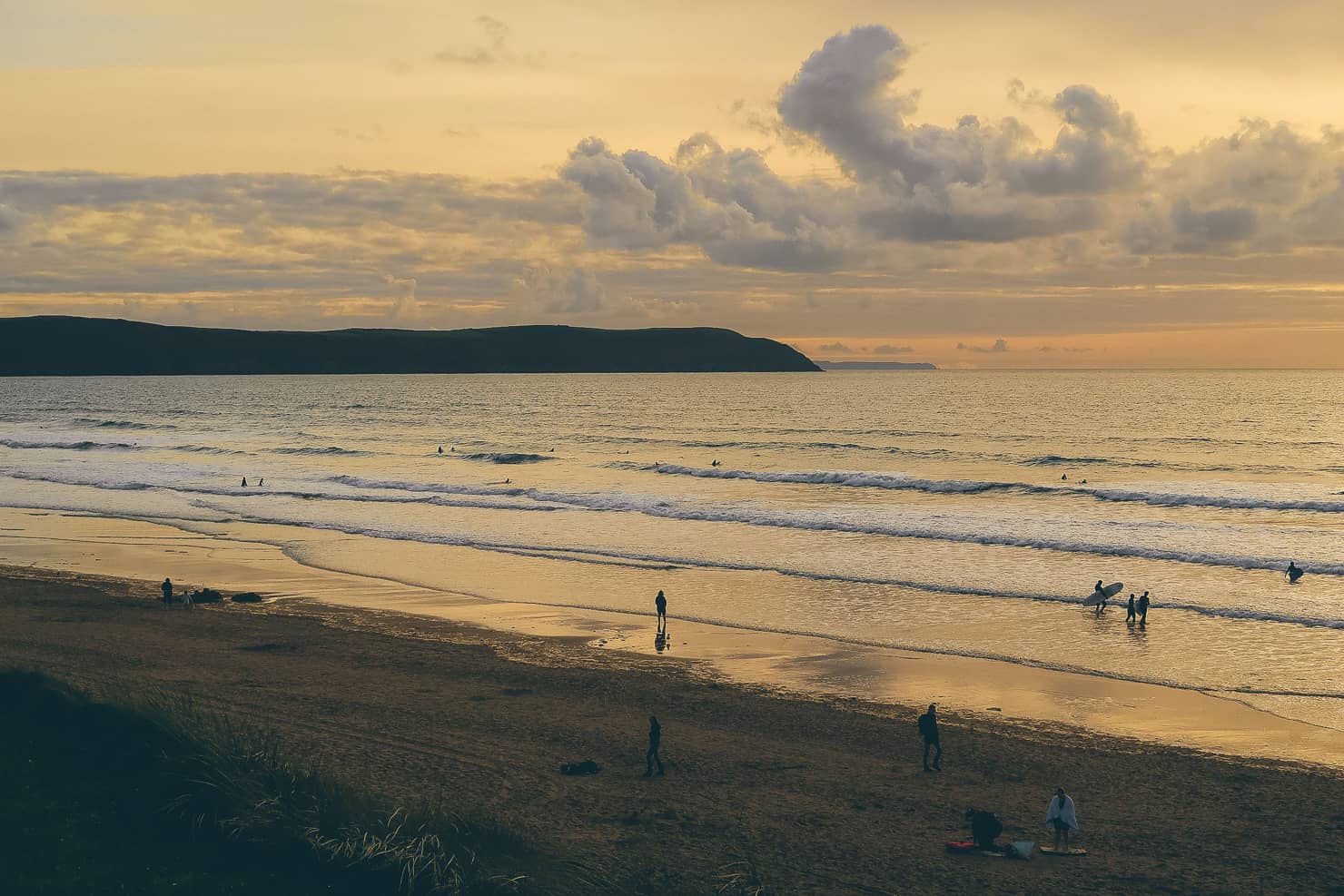 Woolacombe
Further along the coast, you'll find the lovely town of Woolacombe, which is a very typical and lovely British seaside town, with a gorgeous beach and amazing views and just along from Woolacombe is the great surfing beach of Putsborough Sands. 
I always remember driving from Croyde to Woolacombe one evening for a night out and being in awe by the beautiful sunset. You couldn't tell where the sky ended and the sea began. It looked like a painting. 
I have some great memories of partying at Marisco nightclub (or as we called it, Marisco's Disco), the UK's oldest nightclub, but it sadly closed its doors in 2020.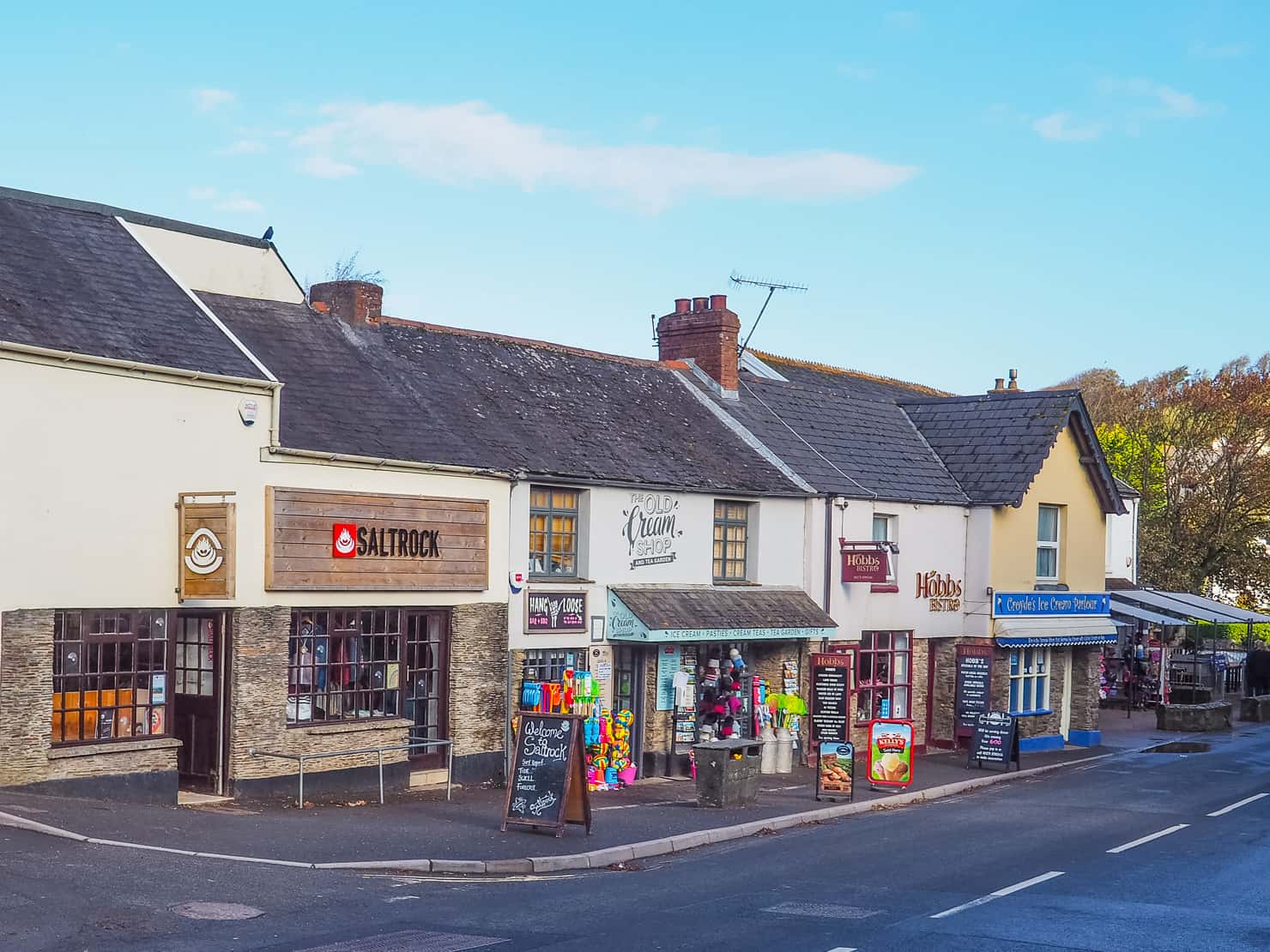 Croyde Bay
Visiting Croyde Bay is top of my list of North Devon things to do.
It is my favourite place in the entire world (outside of Africa) and I've been visiting this beautiful village for the last 40 years. I'm showing my age now, but the first time I went I was just a few weeks old in 1980 and it's also where I got married! I usually go 2, maybe 3 times every year – it's my second home. 
The beach is the main attraction and it's one of the best and most famous surfing beaches in the UK. Another big draw is the village itself which is absolutely beautiful. In the evening, many people gather at the great local pubs and restaurants which include The Thatch (try the Nacho's), Billy Budds, the Blue Groove (best banoffi pie in Croyde and I've tried them all), and Hobb's (I love their pizzas). 
I've written a full travel guide on the best things to so in Croyde Bay here. 

Saunton Sands
A short walk or drive away from Croyde is Saunton Sands, one of the most stunning beaches in the whole of the UK. The beach is backed by sand dunes, stretches for miles, and is popular with families, surfers, and kite surfers. It also allows dogs all year round. It was the place where Robbie Williams filmed his video for 'Angels'.
There is a lovely walk from Croyde village over the hill to Saunton called the 'Four Beaches Walk'. At the top, you will get amazing views over the village and the surrounding beaches. From Croyde village, take a walk up Cott Lane. After 0.2 miles you'll come to a public footpath on the right, follow the footpath up over the hill and down to Saunton.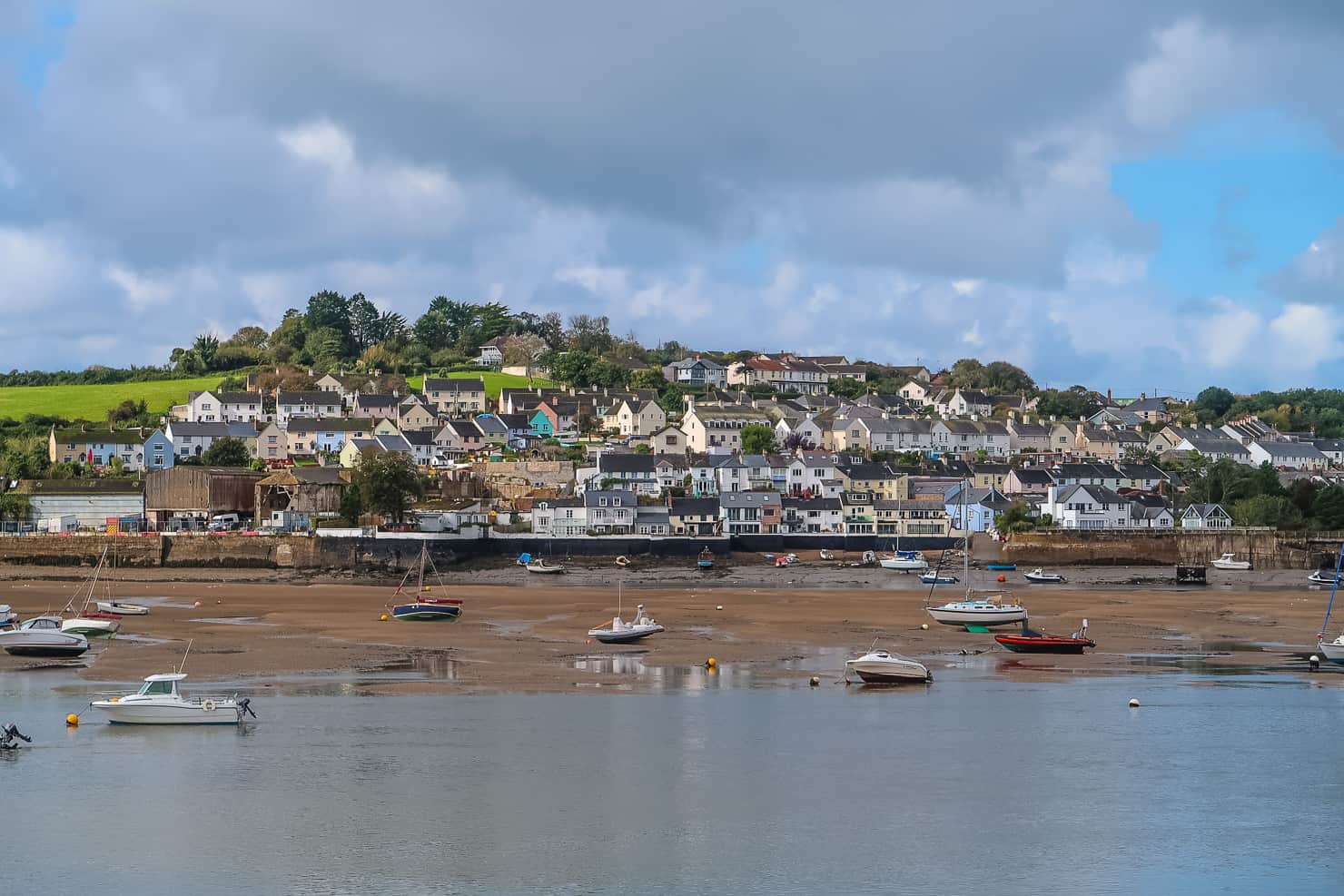 Instow
A 25-minute drive away from Saunton and Croyde is Instow, a wonderful village located on an estuary, at the point where the Torridge and Taw rivers meet. The picture above is taken from Instow, overlooking the estuary towards Appledore.
One of the main draws of Instow is the Glorious Oyster Beach Cafe, a small seafood restaurant that gets rave reviews. It was closed when I was there, but my good friends who are proper foodies LOVE it! As well as oysters, they also serve mussels, Cullen skink (one of my favourite dishes from my Scottish road trip adventures), Bajan fish cakes, posh fish fingers sandwiches (yum), scallops, and lobster.
I also really love John's of Instow a deli and cafe which is great for breakfast and lunch. There's also a John's in nearby Appledore. 

Appledore
Across the estuary from Instow is the quaint (I don't like that word much, but it's particularly apt) village of Appledore which and I'm ashamed to say that I only went for the first time in 2020 in the 40-years I've been going to North Devon.
Appledore is famous for its picture-postcard views, pretty pastel-coloured houses and for being the home of Hocking's Dairy Cream Ices, a famous Devon ice cream brand. 
A trip to Appledore wouldn't be complete without enjoying a cream tea or some fish and chips by the estuary. 

Westward Ho!
Westward Ho! is a typical British seaside holiday town, with all the usual attractions, including shops, arcades, and a beautiful sandy beach (you can see the beach in the distance on the Saunton Sands picture).
Once you're done with building sandcastles, stop by one of the great restaurants including the Pig and Olive, Tea on the Green, Pig on the Beach, and the M' Rock n' Bowl.
This colourful town is the only place in the UK to have an exclamation point in its name.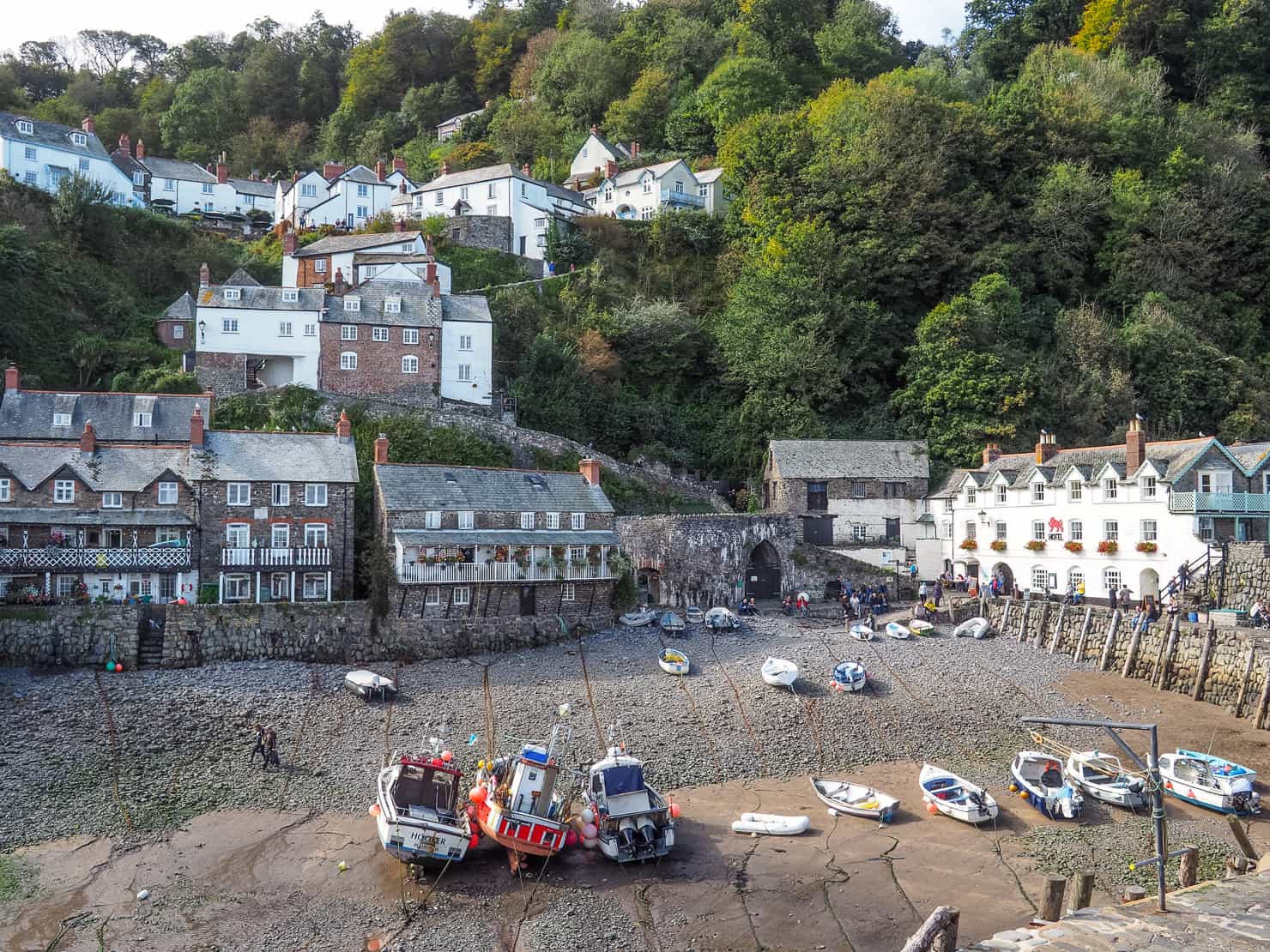 Clovelly
Clovelly is a wonderful, unusual, and ancient fishing village situated on a 400-foot cliff. The village is privately owned and they charge an admission of £8.25 for adults and £4.80 for children aged 7 to 16, but children under 7 go free. You can also buy a family ticket (2 adults, 2 children) for £22.25. Dogs on leads welcome.
It's a steep walk down to the harbour, however, you can get a ride back up to the top in their Land Rover (extra cost) if you're struggling. This service is only available from Easter to October. 
Ideally, I would suggest timing your visit with high tide, as it looks very different when the water is out (see above). Not to mention the scary drop from the harbour wall – which has no railings.
Clovelly is often used in films and doubled for Guernsey in the film 'Guernsey Literary and Potato Peel Society' starring Lily James.
Nearby you'll find the awesome Loveland Farm, an incredible eco-retreat where you can stay in a fabulous eco-pod. They also have some space for camping.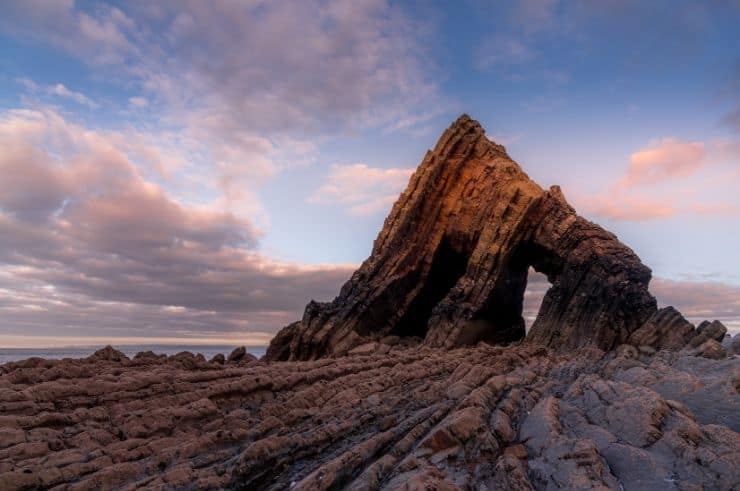 Blackchurch Rock & Mouthmill Beach
If you're after a little hike, I'd recommend making the round trip through Brownsham Woods to Mouthmill beach, which is again on the South West Coast Path (I really need to walk this), where you'll find the unusual rock formation of Blackchurch Rock.
Photographers like to visit at sunrise or sunset when the light illuminates Blackchurch Rock. The best place to park is the Brownsham National Trust car park. For details on how to get there, click here. 
I hope this gives you a good idea of some of the best places to visit and things to do in North Devon!
---
Other UK posts you might enjoy…
Pin This Post For Later