Last updated on March 11th, 2022 at 11:36 pm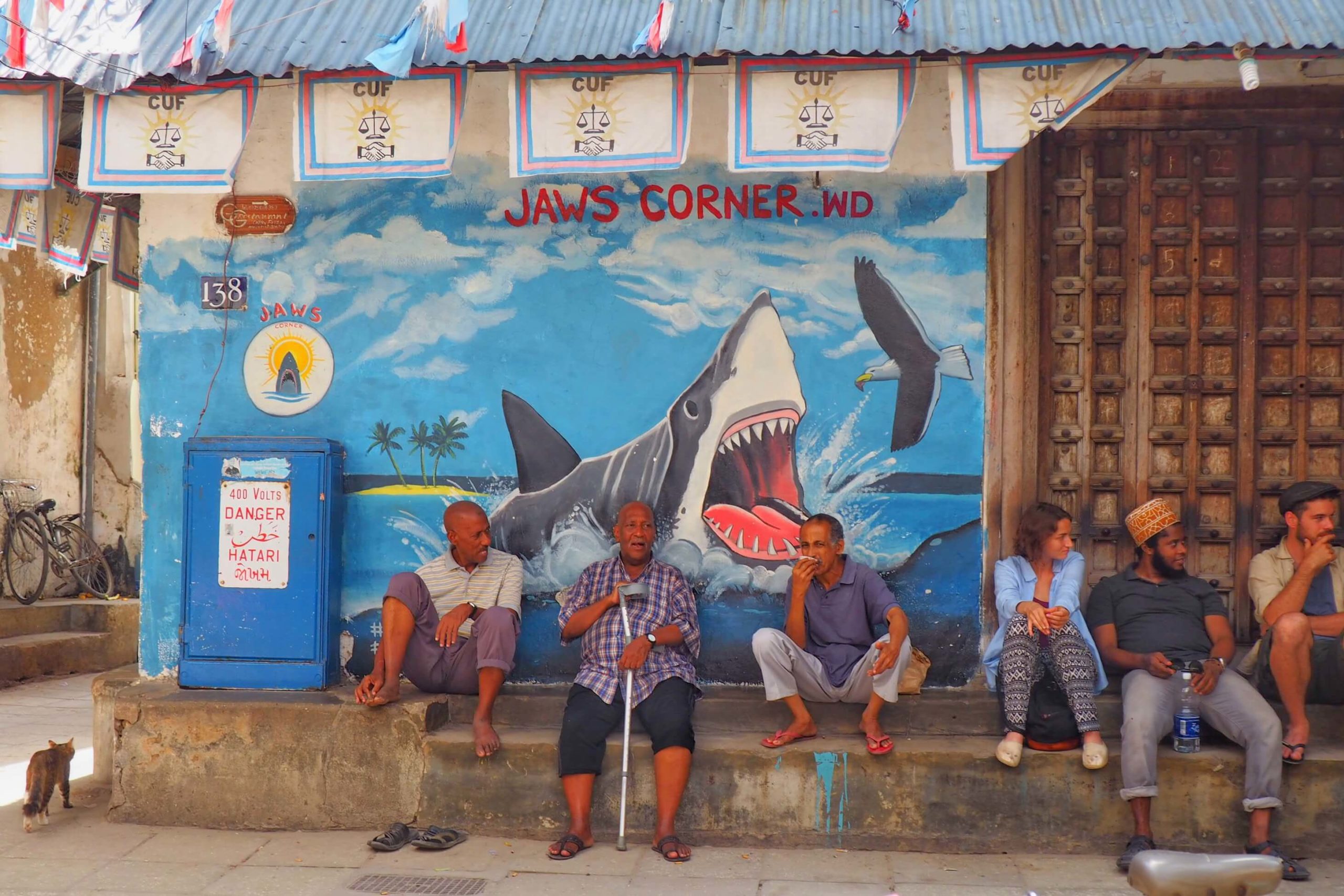 Let's start with a little bit of history (if you're just here for the best things to do in Stone Town, Zanzibar skip down a bit). 
The Zanzibar Archipelago lies in the Indian Ocean, off the coast of Tanzania. It's made up of 3 main islands (Unguja, Pemba and Mafia), plus a number of smaller islands. Unguja, the largest island is what most people talk about when they refer to Zanzibar.
The capital of Unguja is Zanzibar City, and the most famous section of Zanzibar City is called Stone Town and this is where you will find most of the tourist hotels. 
The other part of Zanzibar City is called Ng'ambo which literally means 'the other side' and the two are divided by Creek Road. You still with me?
The word Zanzibar is said to have both Persian and Arabic origins – from the Persian "Zangh Bar" loosely translating as "land of the black people", or from Arabic "Zayn Z'al Barr" which means 'Fair is this land".
Zanzibar is called 'The Spice Island' due to the number of different spices grown there and it's also famous as the birthplace of Queen frontman, Freddie Mercury.
In my mind, there's nowhere on earth quite like Zanzibar.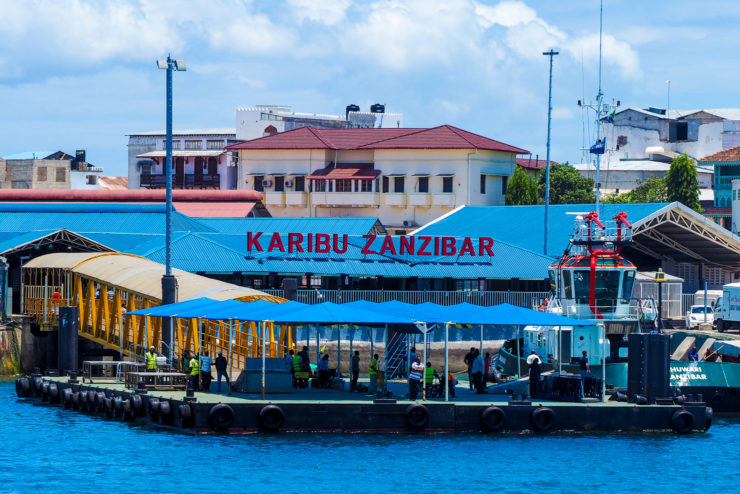 Often described as a 'cultural melting pot', owing to the various different peoples who've settled here over the ages. All of whom have left their mark in one way on this island, whether it be in the architecture, the customs, the food, the beliefs, religion or on the people themselves.
The Swahili name of Unguja means "bowl of fruits" – quite fitting really!
Zanzibar was a major trading hub, as well as the starting point for many journeys into the then 'unexplored' African interior, including those of David Livingstone and Henry Morton Stanley.
This also meant that it was at the forefront of the slave trade during its peak in the 19th century when men, women, and children were forced into slavery on the mainland, brutalized, chained, and auctioned at the slave market then shipped off to other parts of the world.
That's if they survived the journeys. Many didn't.
Nowadays, Zanzibar is a land of contrasts. It's a place where the modern world meets the old world as traditional dhows (sailing boats) line the harbour alongside yachts and catamarans. A place of beauty and decay. With dark winding alleys and beautiful open beaches. A place to pray and place to party. 
Zanzibar might not be everyone's cup of chai, but it is the place that fascinates me more than any other.
The mix of cultures and flavours, coupled with the proximity to the Indian Ocean means that Swahili cuisine is possibly the best food in all of Africa. Expect fresh fish and food cooked with traditional spices and plenty of coconuts.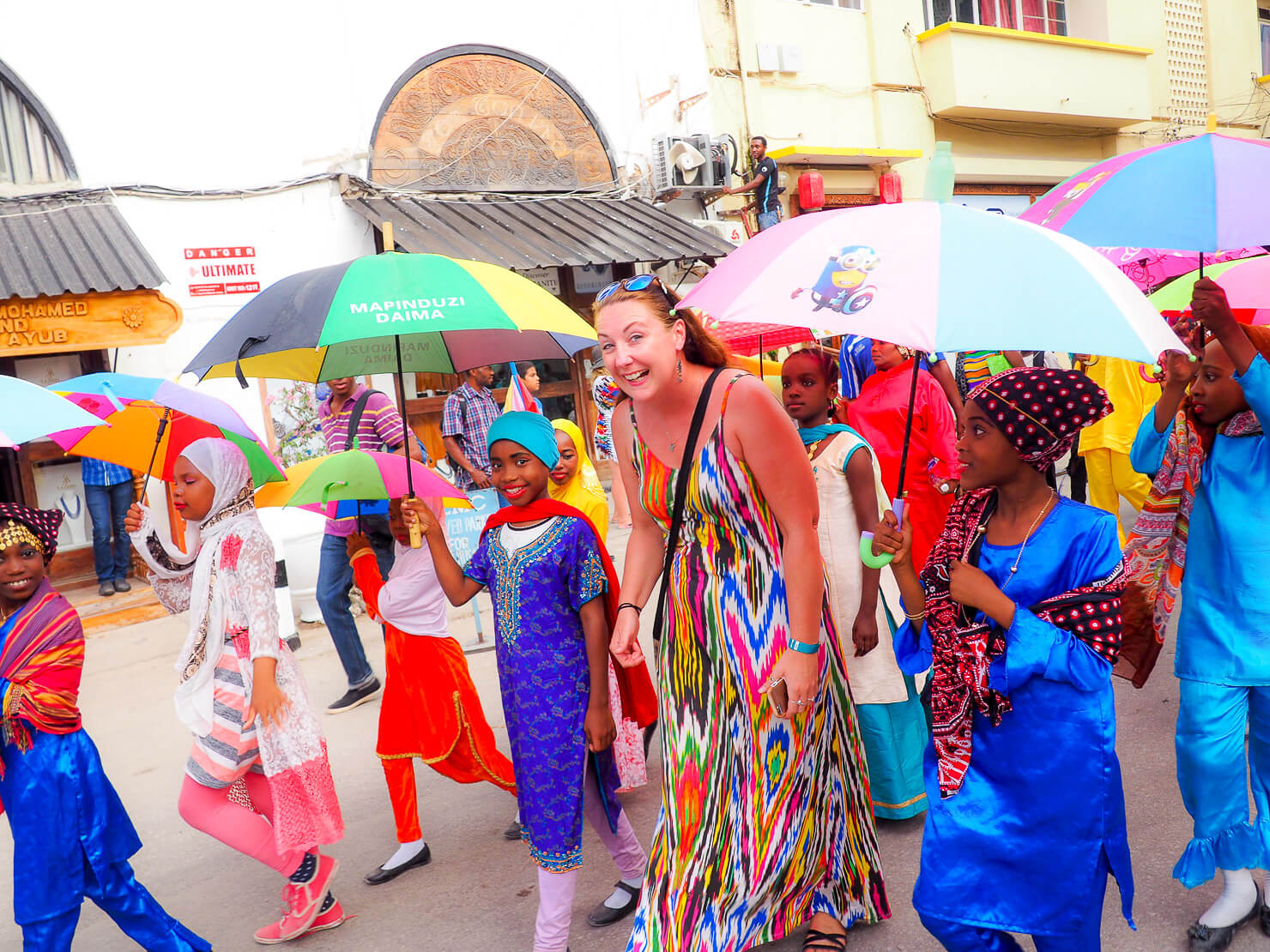 Stone Town is UNESCO World Heritage Site and the kind of place you could spend days and days wandering around. But if you don't have a lot of time, you need to make the most of it!
Wondering how long to spend in Stone Town, Zanzibar?
As a minimum, I would suggest spending at least 2 nights/2 full days in Stone Town and 2 nights at the beaches in Zanzibar. 
So here are my suggestions on the best things to do in Stone Town.
If you're looking for some great things to do on the rest of the island as a whole, also have a read of this post.
Please Note: Some of the links in this post are affiliate links, which will earn me a small commission at no extra cost to you. Affiliate sales help with the running costs of this site, so thank you for your support!
---
The Best Things To Do in Stone Town, Zanzibar

Stay at a Traditional Swahili Hotel
Now, I've stayed in many hotels in my time, but I have to say that the gorgeous Swahili hotels of Stone Town are some of my favourites.
If you ever want to feel like an Arabian princess, then Zanzibar is the place. 
One of my favourites is the Emerson Spice hotel, an old merchant's house and once home to the last Swahili ruler of Zanzibar, lovingly restored by Emerson himself.
It's the type of place that makes you feel as though you'd been transported back in time to the days when Sultans ruled or perhaps to a mythical land where genies lived in lamps. 
My favourite Stone Town Swahili Hotels include: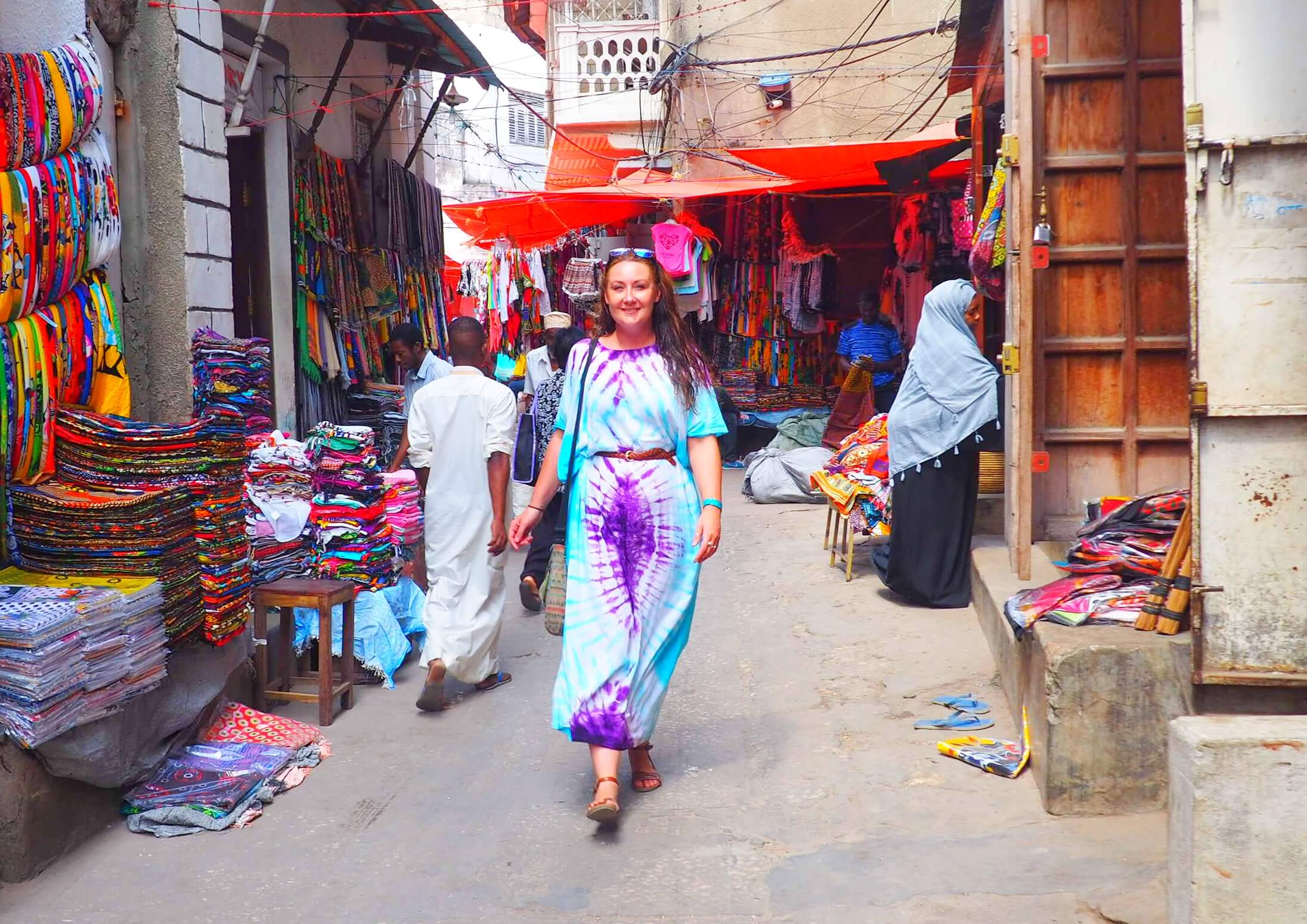 Get Lost in the Maze of Alleyways
Stone Town is the perfect place to stroll and wander, taking in the sights, sounds, and smells of the city.
On your travels you'll get a chance to see lots of different Zanzibari architecture in the form of the beautiful Zanzibari doors (one of the most impressive being slave trader Tippu Tip's house), buildings, and places of worship, highlighting Zanzibar's cultural heritage. 
This includes the Shiv Shakti Hindu temple, St Joseph's Catholic Cathedral, Christ Church Anglican Cathedral, and the many mosques (although non-Muslims are usually not permitted in the mosques).
You could easily spend hours just shopping, eating, and getting lost in the maze of alleyways, which always remind me of a smaller Marrakesh.
And don't worry, if you do get completely lost, Google Maps works very well or you can always ask a friendly shopkeeper to point you in the right direction.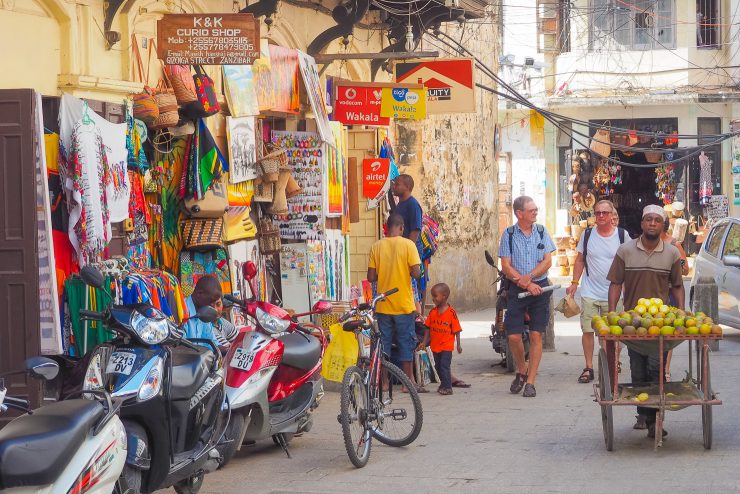 Take a Walking Tour of Stone Town
If you want to make the most of your time in Stone Town, taking a walking tour with a knowledgeable guide is a great way to do it.
They'll take you to many of the main sights in town, whilst explaining the history of the island and pointing out all of the intricate details of the architecture that you may not notice or understand on your own.
The best tours in Stone Town can be arranged through Juma at Emerson Spice Hotel or In Zanzibar by Aiysha.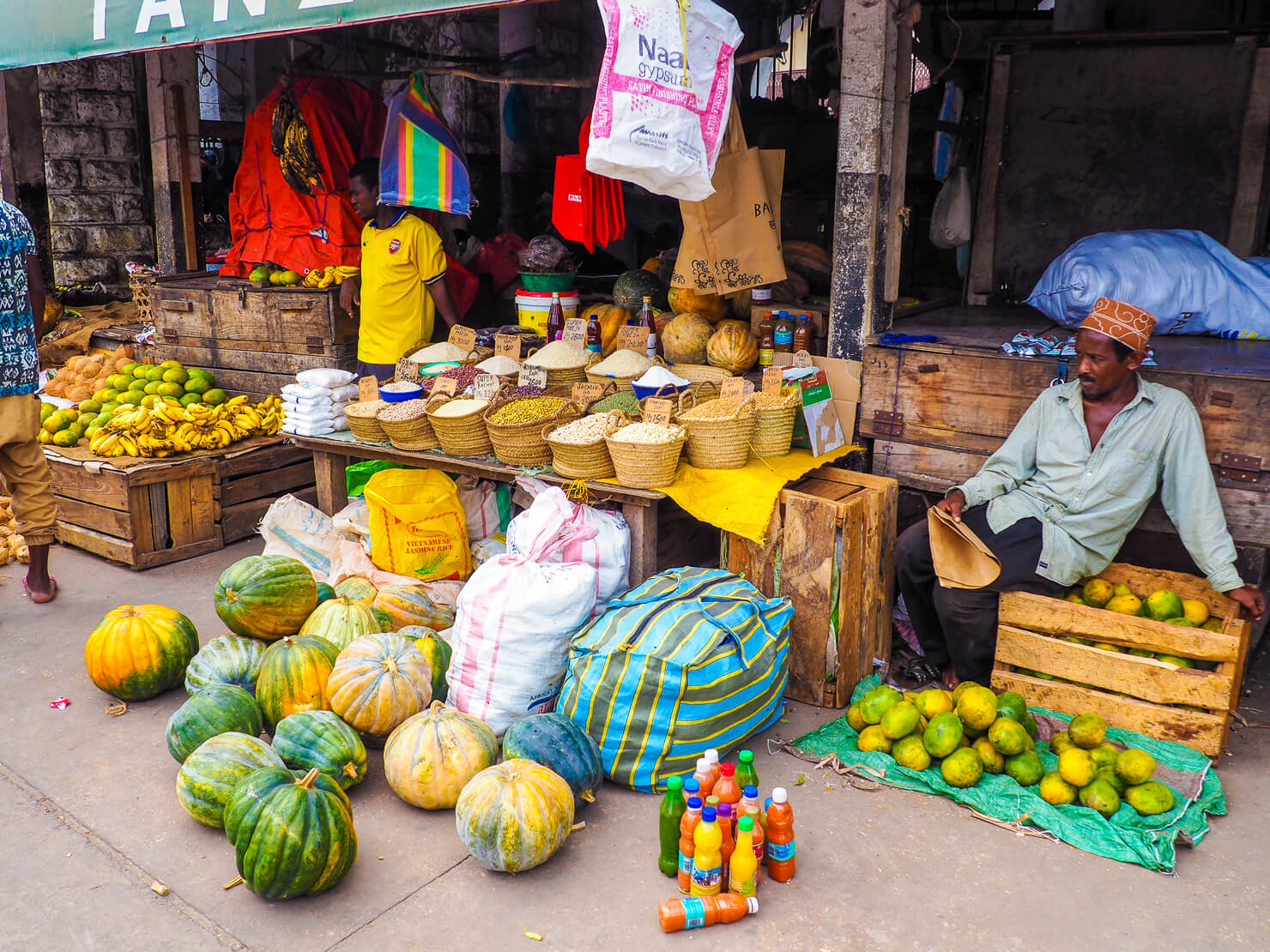 Shop at Darajani Market
If you want to experience the heart of Stone Town, Zanzibar, then visit Darajani Market.
It's a great, local experience as well as one of the best free things to do in Stone Town (well, that is if you don't buy anything).
You'll find vendors selling lots of different things, including fabric, clothing, spices, fruit, vegetables, meat and fish. Darajani Market is best in the early morning or late afternoon when you may catch the fish auction!
There are also lots of food stalls too, which is great if you're on a budget.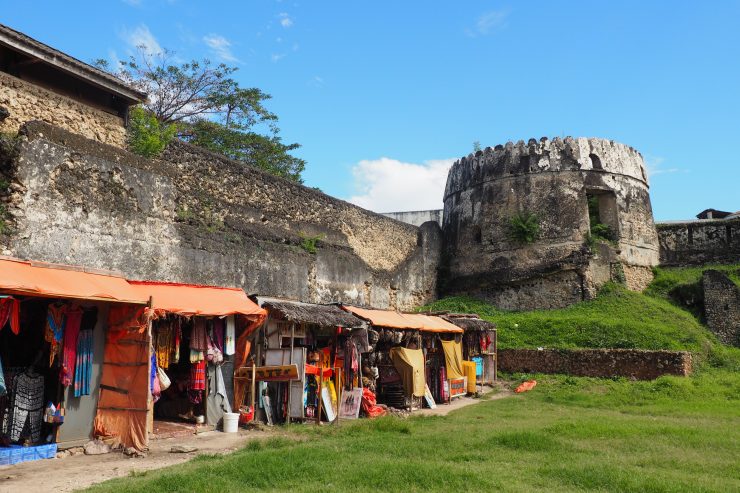 Visit the Old Fort
Zanzibar's Old Fort can be found right on the seafront.
It was originally built by the Omani people to defend against the Portuguese but these days, it contains a number of curio shops, a restaurant, and a small amphitheatre which is used for performances and events, like the Sauti za Busara (Sounds of Wisdom) festival.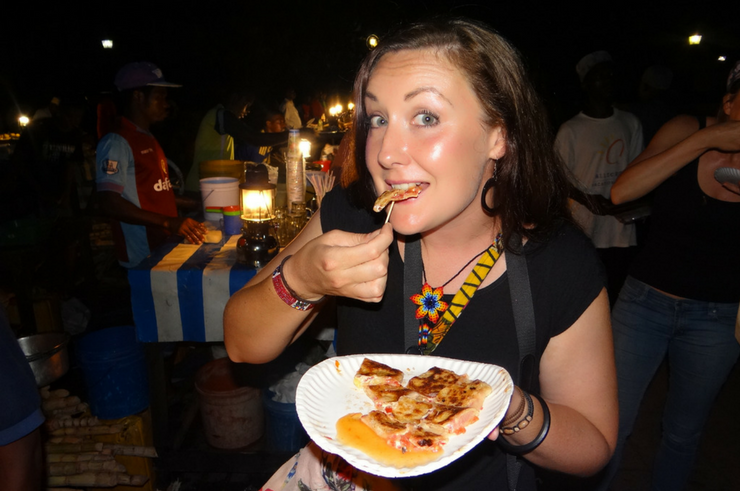 Eat at Forodhani Gardens Food Market
Another cheap place to eat in Stone Town, is Forodhani Gardens, the nightly food market.
By day, there's not usually much happening on this seafront promenade, which is opposite the Old Fort. But by night, it turns into a bustling food market with multiple vendors selling seafood and meat kebabs, samosas, urojo soup (Zanzibar Mix), fruit, grilled maize, Zanzibar pizzas, and sugar cane juice to both tourists and locals.
To find out where to find the best food (in my opinion), have a read of this post.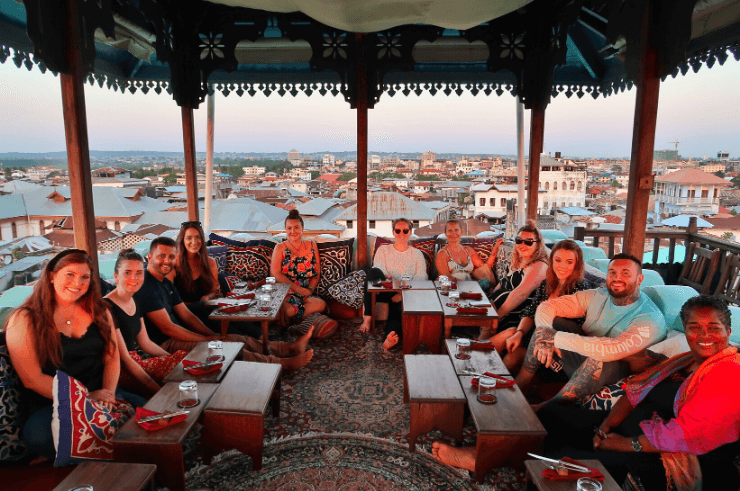 Eat at a Rooftop Restaurant
Stone Town, Zanzibar is known for its rooftop restaurants. They're great to visit at any time of day, but I love to go to watch the sunset with panoramic views over the terracotta rooftops of and listen to the evening Call to Prayer – makes it seem even more magical and mysterious.  
There are a few rooftop restaurants in Stone Town, but my favourites are Emerson on Hurumzi and the Emerson Spice Tea House. 
Emerson Spice is great for a quiet, romantic evening. The menu changes daily and is usually 5 courses, created by the chef using the daily catch of their very own fisherman and the food is pretty exquisite.
Emerson on Hurumzi is more informal and you sit on the floor in communal style and they have a band from the local music school playing local Taarab music and you'll often find people getting up to dance. The food is great and I actually prefer it to Emerson on Hurumzi, but if you're a real foodie, you'll probably prefer the Tea House.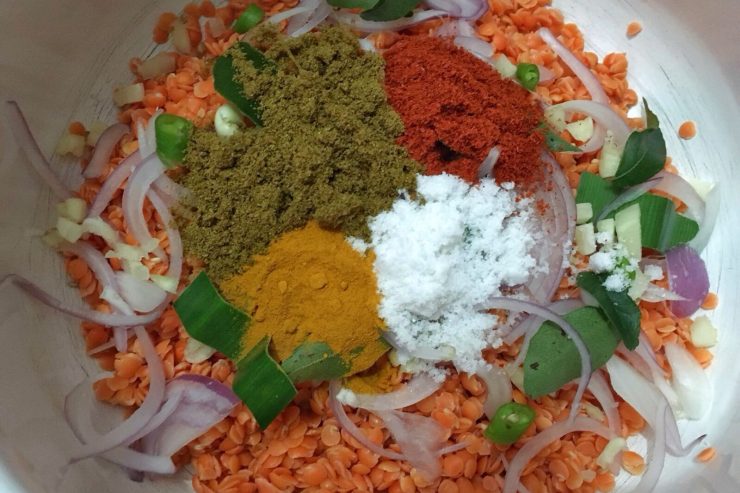 Take a Zanzibar Spice Tour
Whilst on the 'Spice Island' you can take a spice tour where you'll get to try lots of different locally grown spices,  including vanilla, turmeric, cumin, cinnamon as well as many others, used for cooking or in traditional medicines.
Your guide will explain what the spices are used for and their unique properties.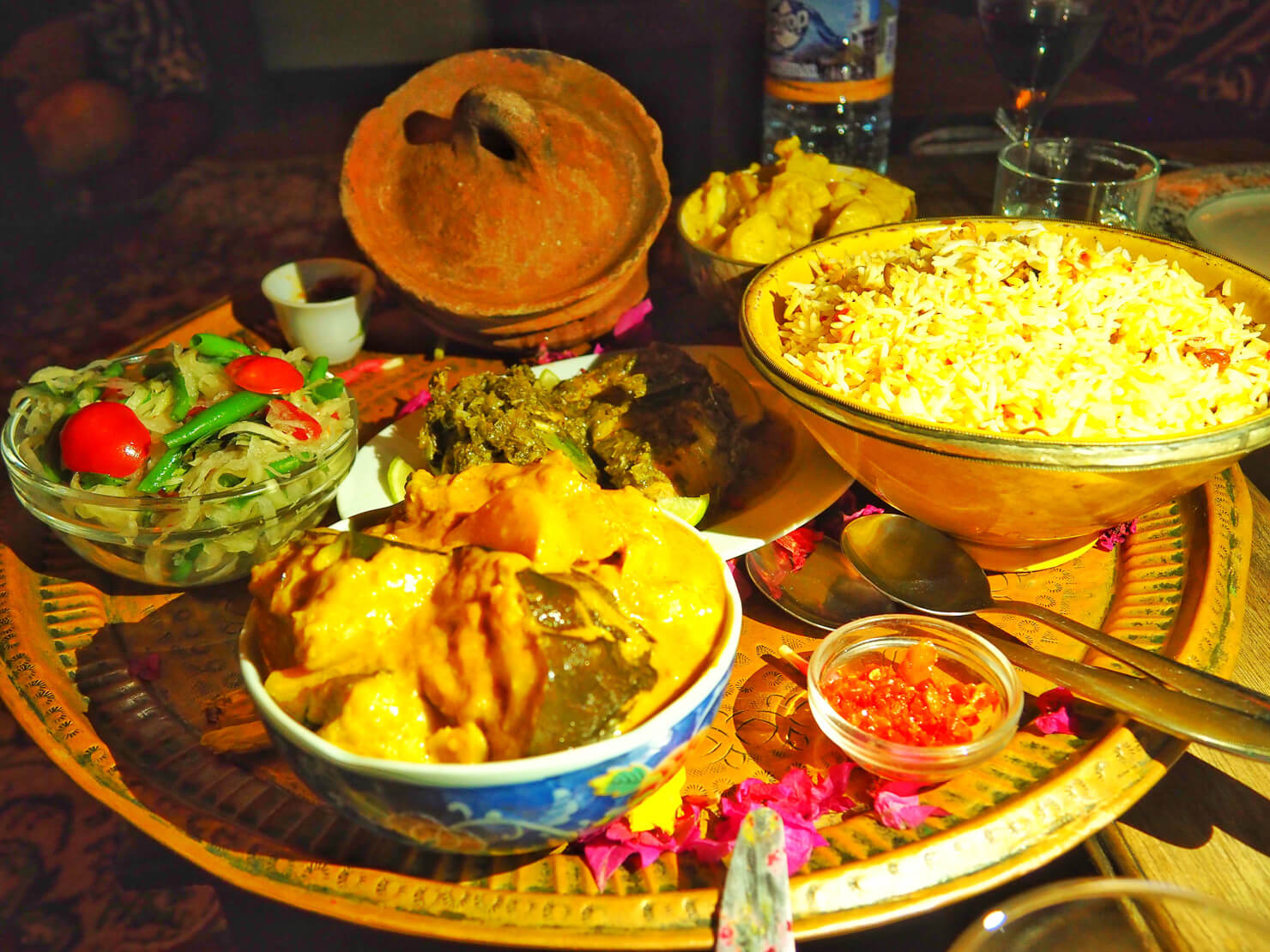 Take a Swahili Cooking Lesson
When you're in Stone Town, why not partake in a traditional Zanzibari cooking lesson. 
If you want to hit two birds with one stone, I recommend doing a spice tour with a Darajani market trip and a cooking lesson from Tangawezi Bistro in Stone Town. A lot more fun and great to see the spices through their full journey. You can alternative tours here.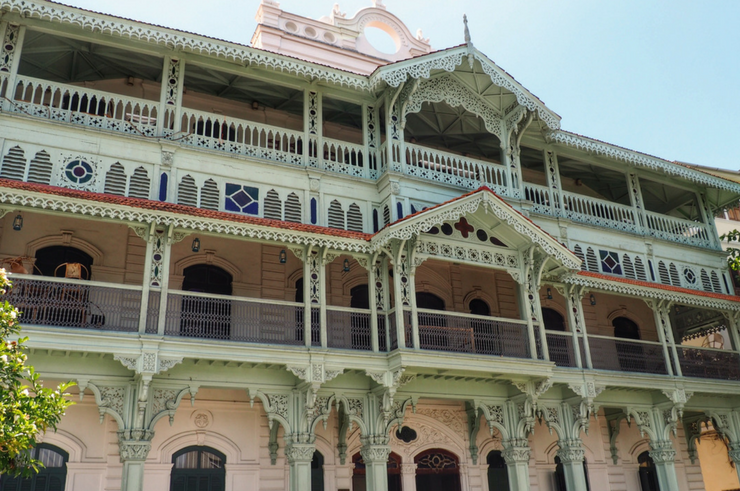 Visit the Old Dispensary
Stepping off the ferry, you'll see the impressive Old Dispensary.
Inside you'll find a pretty courtyard and a small museum and it's a great place for photography. It's also free to enter! Always a bonus! 
It was originally intended to be a hospital for the poor, but the owner died whilst it was still under construction and his widow didn't have the money to continue.
The building was later sold off and the new owner decided to use the ground floor as a dispensary, and the upper floors were turned into apartments.
After the Zanzibar revolution of 1964, the building was abandoned before being claimed by the government. It was eventually restored in the early 1990s.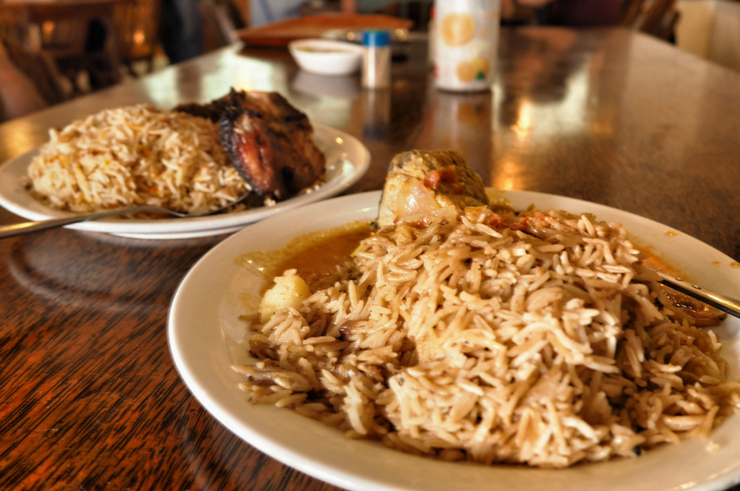 Eat Swahili Food at Lukmaan Restaurant
Lukmaan restaurant is a bit of a Stone Town institution. 
When I first visited Zanzibar, it was a tiny little restaurant with just a few tables and always filled with locals. It's since quadrupled in size and is always busy with a mix of tourists and locals.
They have a big menu of authentic Zanzibari food and lots of delicious juices.
Another great restaurant to try is the Passing Show Hotel. Many restaurants and teahouses are called hotels in East Africa. I didn't eat there on this trip, but I've eaten here before and the food is wonderful, very similar to Lukmaan.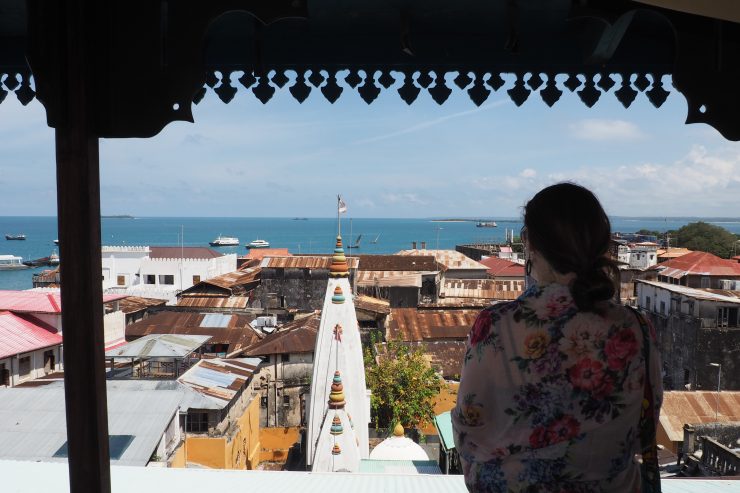 Visit the Mrembo Spa
One of my favourite things to do in Stone Town is to visit the Mrembo Spa for a facial, massage or pedicure. 
It's always a lovely experience and you'll leave looking and feeling 10 years younger (although, maybe minus a layer of skin).
They also organise some amazing workshops including cooking, batik printing, making your own beauty products, spice blending, painting and music.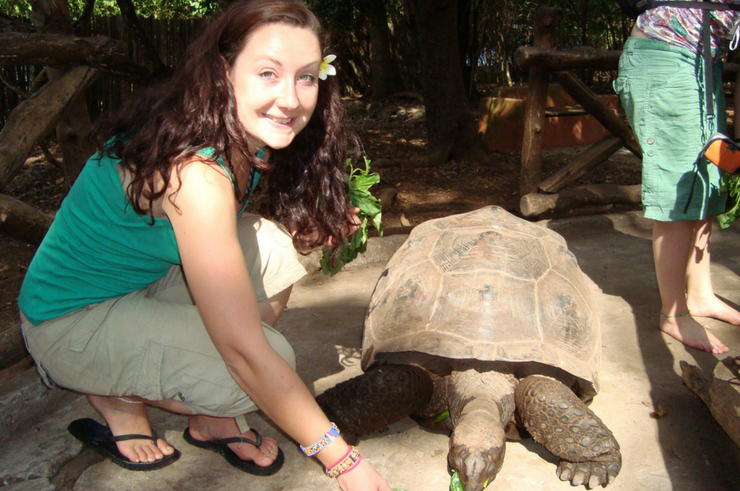 Visit Prison Island (Changuu)
I great half-day trip from Stone Town, is Changuu (Prison Island), a former slave prison which you will pass on the ferry on the way over. 
Whilst you are there, you can learn about the history of the island, go snorkelling and see the giant Aldabra tortoises that have been imported from the Seyshelles.
You can book your Prison Island tour here or organise when you arrive.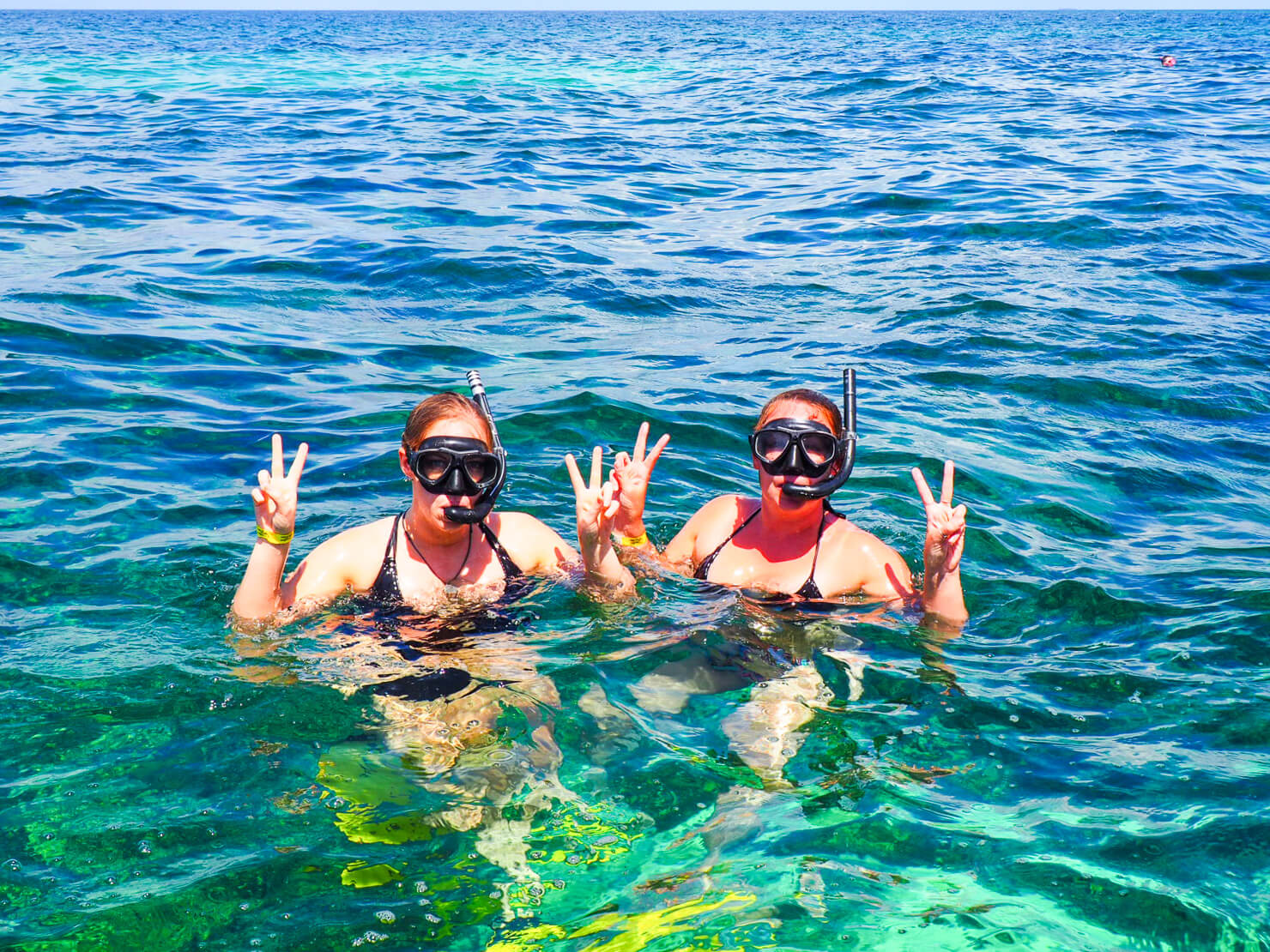 Stay on Chumbe Island
Chumbe Island Coral Park is a private island off the coast of Stone Town, Zanzibar, with an eco-lodge, private coral reef and private nature reserve.
Guests can enjoy nature walks, forest walks, snorkelling or relaxing in this sustainable eco-paradise. Check prices here.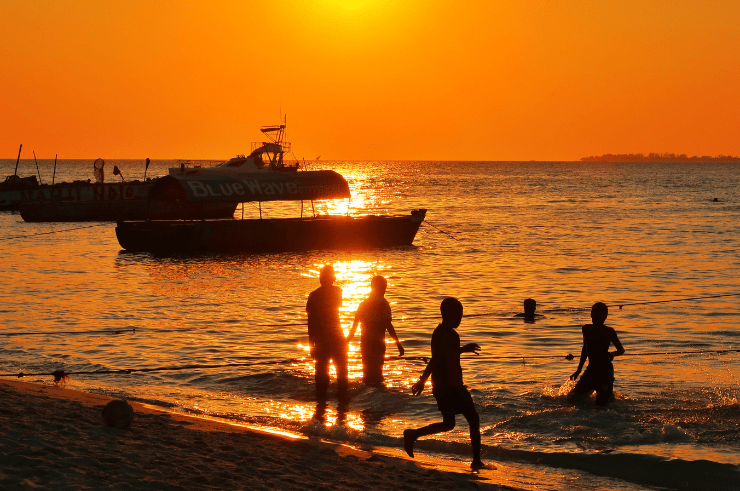 Watch the Sunset
Zanzibar sunsets are generally pretty amazing!
For the best views in Stone Town, you need to be on the west side (obviously) or up high. Otherwise, you'll see nothing.
I like to either sit on the beach near to the Livingstone Bar (or you could get a drink at the bar), where there are always lots of locals around and you sometimes find the local boys doing acrobatics on the beach. Or you could even sit on the wall at the end of Forodhani Gardens, which looks over this beach.
Alternatively, if you want views directly facing the sunset, you should go to the side with 6 Degrees South (happy hour from 5 pm to 7 pm), the Zanzibar Serene Hotel and the Africa House Hotel.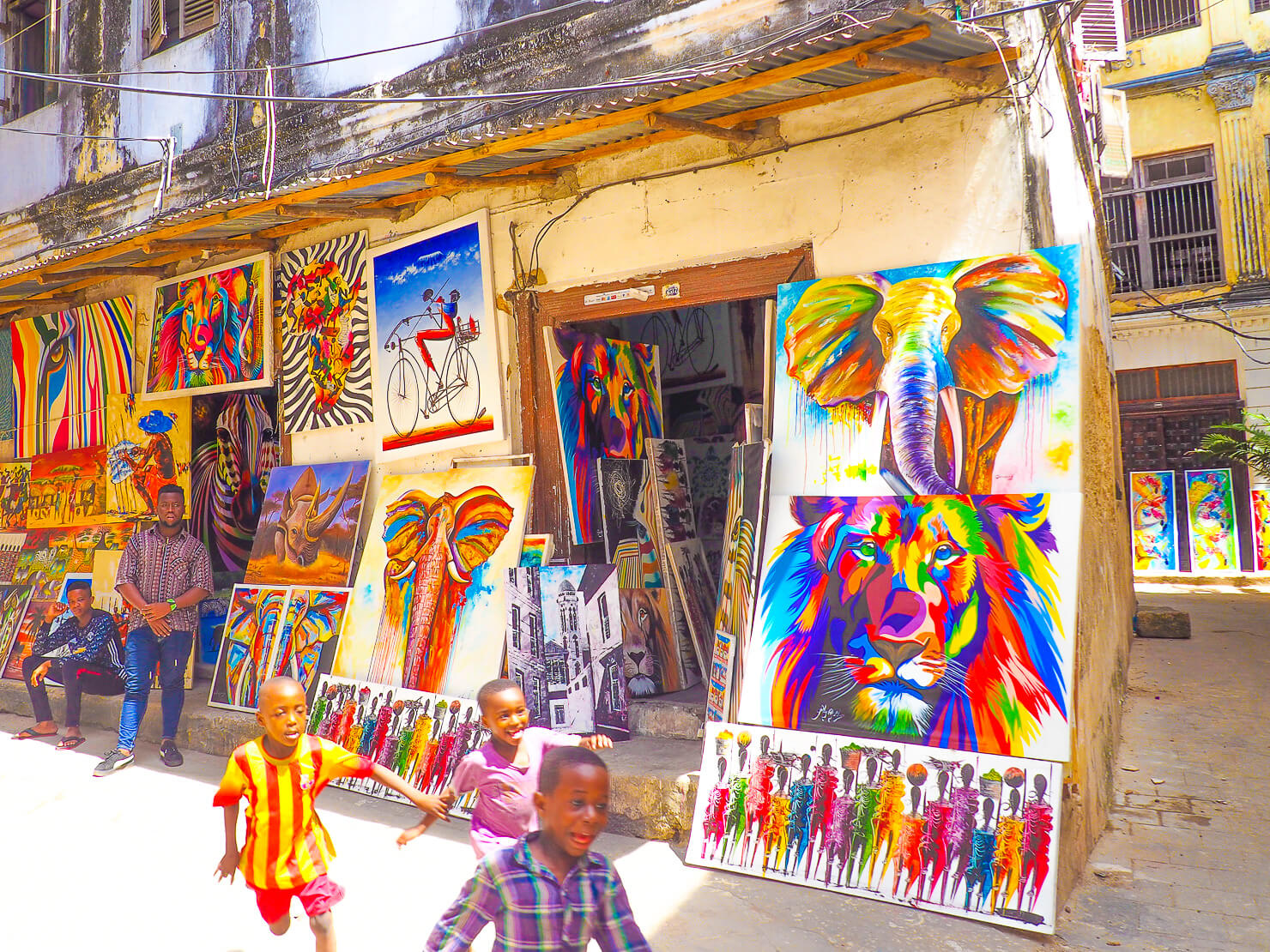 Spend Your Money at the Curio Shops
Stone Town is full of curio shops and if you like to shop, you'll love Zanzibar.
If you haven't shopped anywhere else on your trip, you can get all the souvenirs you need here, including clothes, perfumes, Zanzibar chests, jewellery, paintings, wooden ornaments and Tanzania jewellery. 
If you take a left down the street to the right of Freddie Mercury's House (Gizenga Street) and just keep walking down towards Hurumzi Street and Darajani Market, you'll find the main bulk of curio shops.
There are some fancier shops near to Jafferji House and a famous place to stop is the Abeid Curio Shop and don't forget your beauty products at the Mrembo Spa (both near to Jaws Corner).
You can bargain at most of the street stalls and smaller shops, but you'll pay fixed prices at the more formal shops on Kenyatta Road.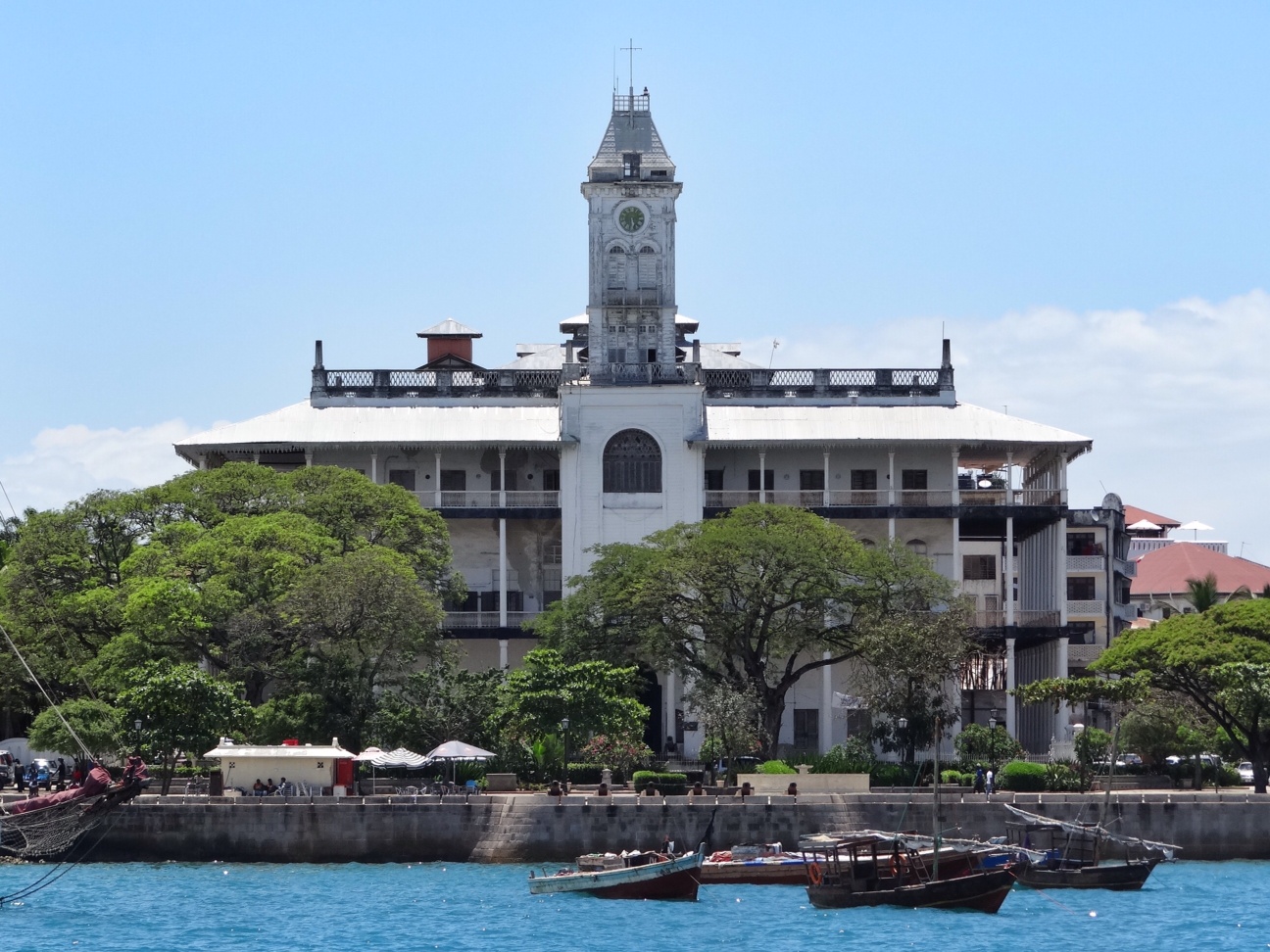 See the Ruins of the House of Wonders
The House of Wonders is on my list because it was one of the most impressive and recognisable buildings in Zanzibar.
Once upon a time it was a ceremonial palace and it was the first building in Zanzibar to have electricity (did you know Zanzibar had electricity before London?) and the first building in East Africa to have an elevator.
Sadly, much of the building collapsed on Christmas Day 2020, after being run down for many years – so it doesn't look anything like it did above (picture taken in 2014).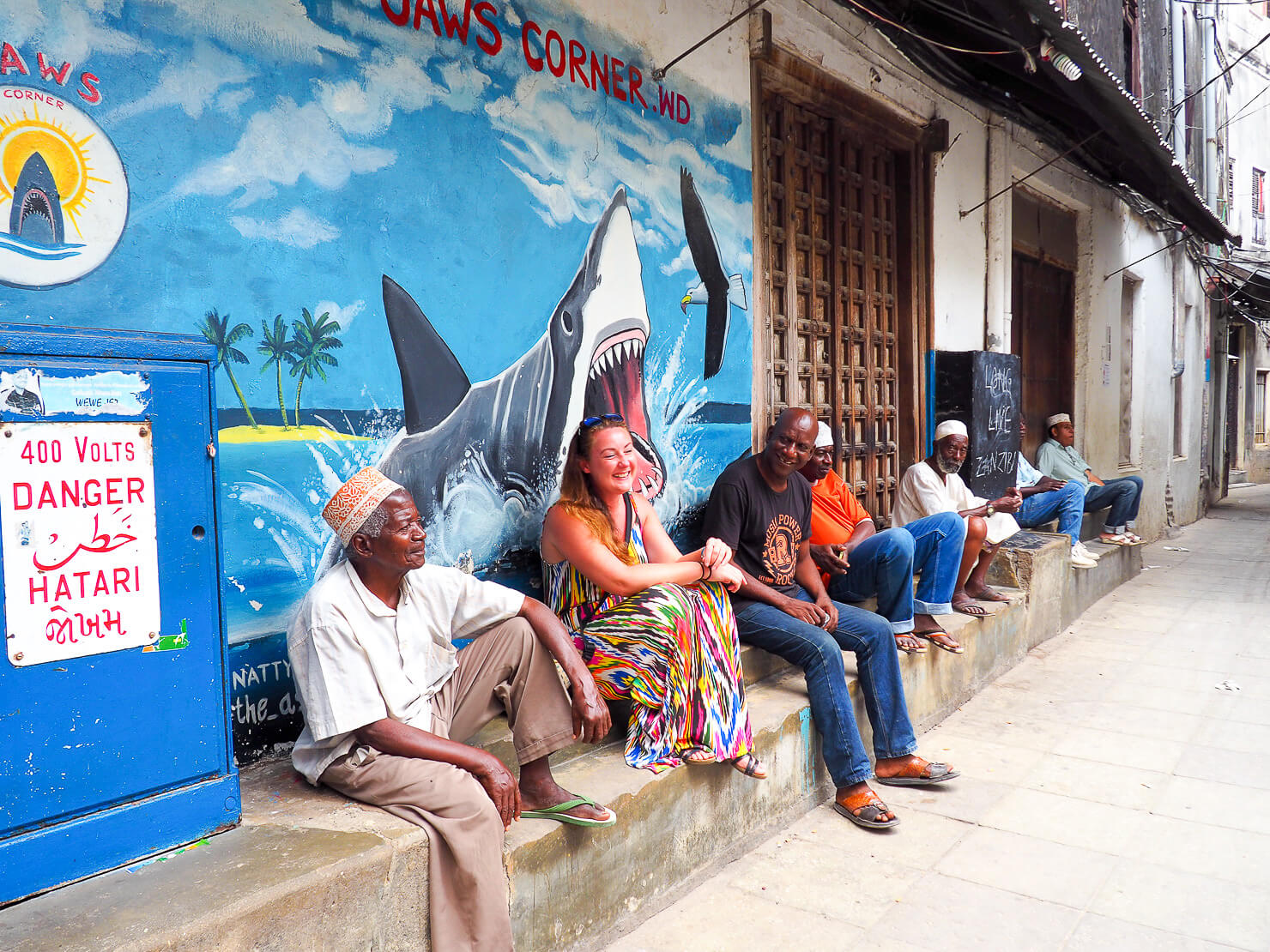 Have a Coffee at Jaws Corner
One of my favourite places in Stone Town is Jaws Corner. It's just a little cross-section of alleyways, but it's a great place to stop, have a coffee, and watch the world go by.
If you understand Swahili, you will overhear the conversations of the Zanzibari's gossiping and chit-chatting about daily life in the city.
It's free to visit and a cup of coffee and a piece of kashata (a Tanzanian version of peanut brittle) will cost you very little.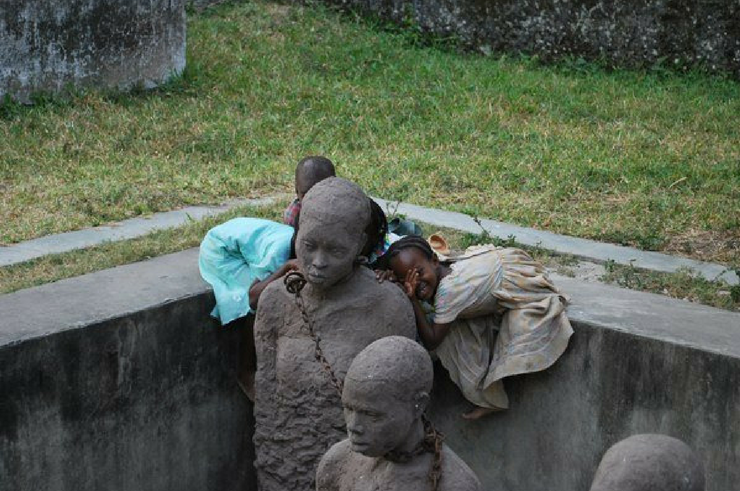 Pay Your Respects at the Slave Market
Zanzibar was a major trading hub and a central point in the East African slave trade.
The Trans-Atlantic slave trade is well documented in both movies and history, but less seems to be known about the slave trade on the other side of the continent.
The East African slave trade was brutal, with hundreds of thousands of people being trafficked through Bagamoyo and Dar es Salaam on the mainland, to be sold in Zanzibar, then shipped to the rest of the world.
You can either wander around by yourself or if you want to get the full history, you can take a specific tour like this one to pay your respects at the Slave Monument and visit the old Slave Market.
As part of the tours, you'll usually take a trip to Christ Church, a cathedral that houses a cross made from the wood of the tree that grows where David Livingstone's heart was buried in Zambia.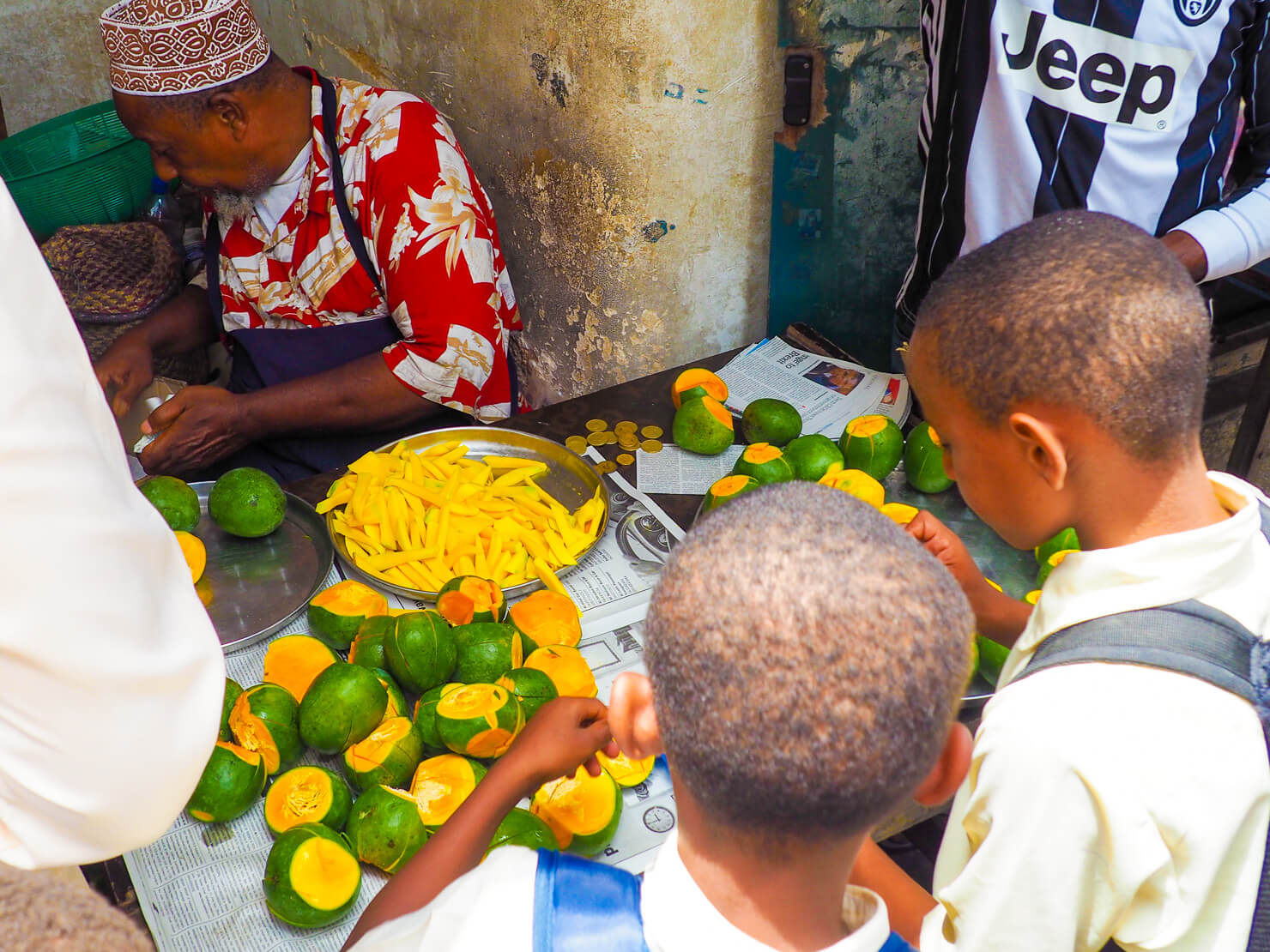 Visit Freddie Mercury's House
It's worth visiting the house where Queen Star Freddie Mercury was born. It's now been done up and is a good photo opportunity.
You'll find it on Kenyatta Road, close to the Old Fort and Forodhani Gardens.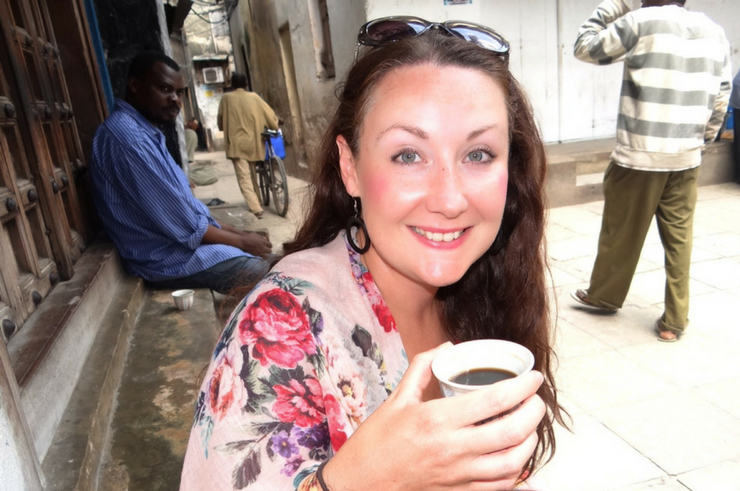 Stop for Kahawa or Chai at a Local Cafe
Try some of the famous Zanzibar coffee, or grab a cup of spicy masala chai.
There are lots of places to grab a cup of coffee (kahawa) or tea (chai) in Zanzibar, but a few of my favourites include Zanzibar Coffee house, The Zanzibar Cafe, Lazuli, and Cafe Africa Shops.
If you'd like a true Zanzibari experience, head to Jaws Corner for coffee or Babu Chai for tea. Babu means 'grandfather' and 'chai' is tea. Babu Chai is a stall, rather than a shop or coffee, and he sets up each evening at around 6pm. As well as sweet spiced tea and ginger tea, you can also buy coffee (kahawa), donuts (mandazis), chapatis with egg (chapati mayai).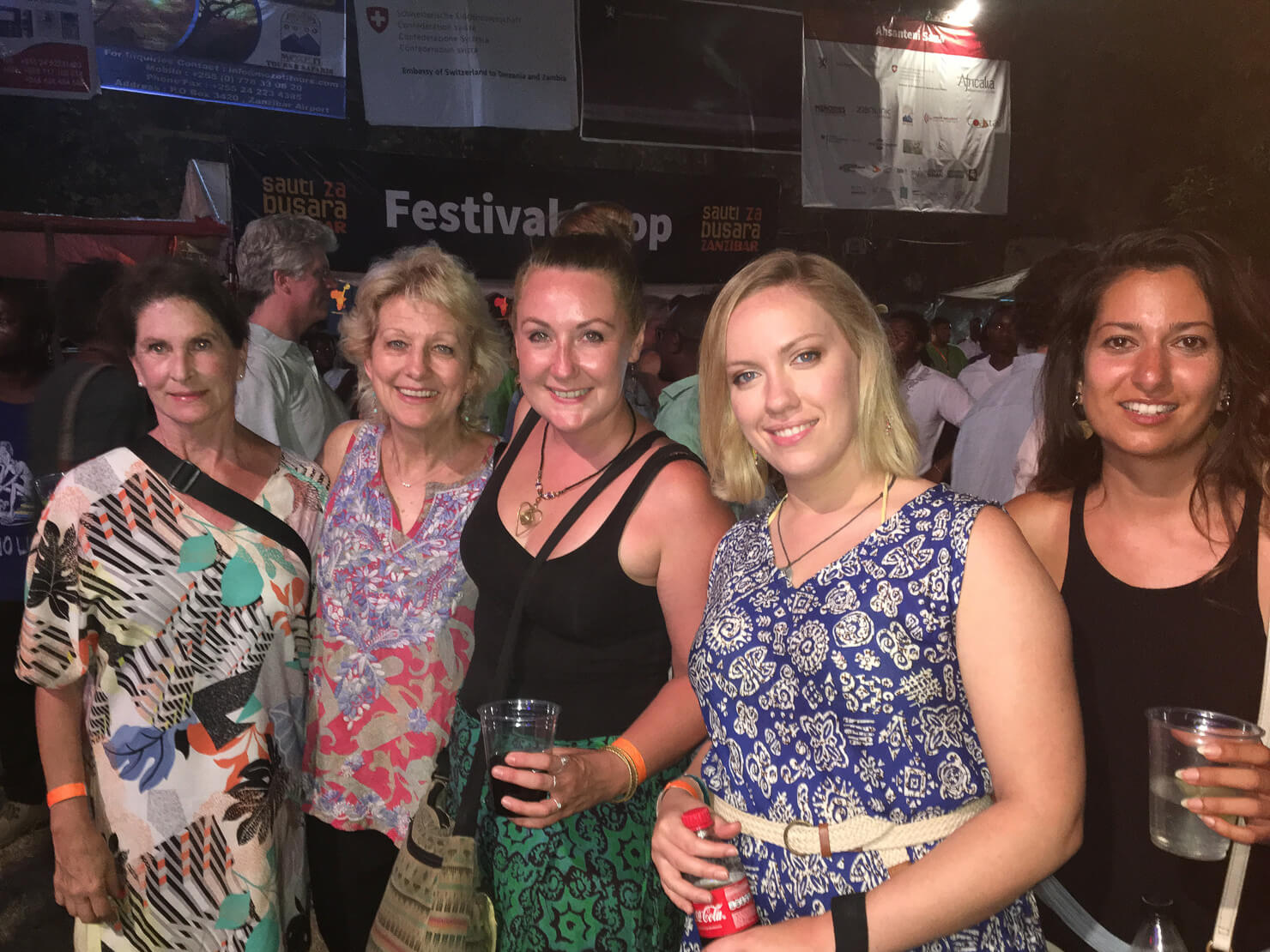 Sample the Stone Town, Zanzibar Nightlife
Stone Town isn't generally the party place in Zanzibar, but you can definitely have a good time if you go looking for it.
The Livingstone Bar is a great place to have a few beers, and you'll find many of the tourists at Mercury's Bar by the ferry.
Later on, Tatu is a popular nightspot, with DJ's blaring music over 3 (often packed) floors. Some of the bigger hotels on the seafront also have nightclubs and there are a number of clubs in the Ng'ambo (the 'other side' of Zanzibar City) although I've been to a couple and they may not be everyone's cup of tea.
There's no problem with you drinking alcohol and many Zanzibari's do – especially the younger, less religious men, but just be careful to always respect the culture.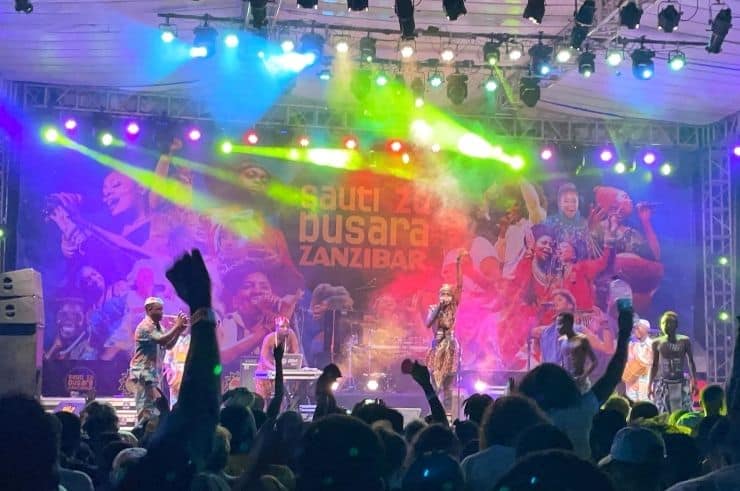 Attend a Stone Town Festival
There are a few cool festivals that take place in Stone Town each year, including Sauti za Busara, (I've attended a couple of times and it's a great, but very busy time to be in the city), the The Zanzibar International Film Festival, and a number of smaller festivals, such as the Stone Town Food Festival (although it feels like every day is a food festival in Zanzibar).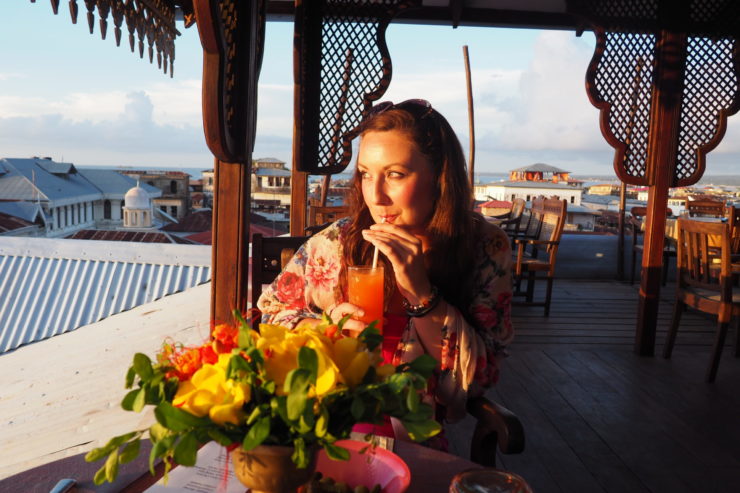 Listen to Some Zanzibari Taarab Music
If you want to hear some traditional Zanzibari Taraab music, you can either book a table at Emerson on Hurumzi or watch a performance at the Dhow Countries Music Academy.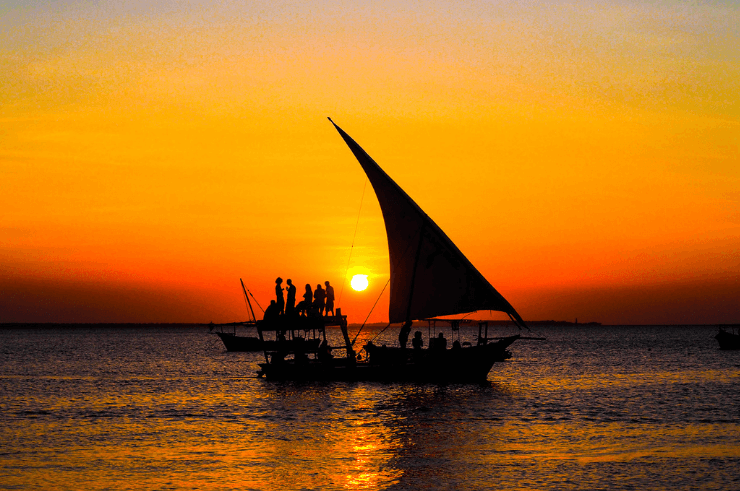 Sail on a Traditional Zanzibar Dhow
If you have the time and money, you could take a sail on a traditional dhow whilst you're in Zanzibar.
There are a number of day trips from Stone Town, including the famous Safari Blue (which leaves from Fumba, about a half an hour drive south), as well as a number of sunset cruises that leave from Kendwa and Nungwi in the north or you can take a romantic sunset sail, direct from Stone Town.
You can book your Safari Blue tour here.
I really hope you enjoyed my guide to the best things to do in Stone Town, Zanzibar and I hope you have an amazing trip!
---
Other Zanzibar & Tanzania posts you might enjoy…
Pin This Post For Later