It's 5.30am in Zanzibar. I awake to the sound of the call to prayer from the nearby mosque.
Stone Town, I've missed you.
The Zanzibar Archipelago lies in the Indian Ocean, off the coast of Tanzania. It's made up of 3 main islands (Unguja, Pemba and Mafia), plus a number of smaller islands. Unguja, the largest island is what most people talk about when they refer to Zanzibar. The capital of Unguja is Zanzibar City, and the most famous section of Zanzibar City is called Stone Town. The other part of Zanzibar City is called Ng'ambo which literally means 'the other side' and the two are divided by Creek Road. You still with me?
The word Zanzibar is said to have both Persian and Arabic origins – from the Persian "Zangh Bar" loosely translating as "land of the black people", or from Arabic "Zayn Z'al Barr" which means 'Fair is this land". The Swahili name of Unguja means "bowl of fruits" – quite fitting, both literally and metaphorically.
Zanzibar is called 'The Spice Island' due to the number of different spices grown there and it's also famous as the birthplace of Queen frontman, Freddie Mercury. In my mind, there's nowhere on Earth quite like Zanzibar. Often described as a 'cultural melting pot', owing to the various different peoples who've settled here over the ages. All of which have all left their mark in one way on this island, whether it be in the architecture, the customs, the food, the beliefs, religion or on the people themselves.
Zanzibar was a major trading hub, as well as the starting point for many journeys into the then 'unexplored' African interior, including those of David Livingstone and Henry Morton Stanley. Zanzibar was at the forefront at the slave trade during its peak in the 19th century when men, women and children were forced into slavery on the mainland, brutalized, chained and auctioned at the slave market then shipped off to other parts of the world. If they survived the journeys. Many didn't.
Nowadays, it's a place where the modern world meets the old world as traditional dhows (sailing boats) line the harbour alongside yachts and catamarans. A place of beauty and decay. With dark winding alleys and beautiful open beaches. A place to pray and and place to party. Zanzibar might not be everyone's cup of chai, but it is the place that fascinates me more than any other.
The mix of cultures and flavours, coupled with the proximity to the Indian Ocean means that the Swahili cuisine is possibly the best food in all of Africa. Expect fresh fish and food cooked with traditional spices and plenty of coconut.
Zanzibar is the perfect place to unwind after a Serengeti safari or a trek up Kilimanjaro – whether you want to eat, sleep, lay on a beach or party, I'm sure you'll find something to float your boat (or should I saw 'wow your dhow').
"Wow your dhow". I'm quite proud of that. Think it might catch on. You heard it here first…
Stone Town is UNESCO World Heritage Site and the kind of place you could spend days and days wandering around. But if you don't have a lot of time, you need to make the most of it!
This was my fourth trip to the island, and my second time on this trip and I was looking forward to a little bit of luxury after camping for the last week. We only had 2 days to explore which Matt thought was enough and was ready to hit the beaches after walking around in the heat. But I could have stayed a couple of days longer!
Knowing what I know now, here's my advice on things to do in Stone Town when you only have a couple of days to explore, including what I did and what I might have done differently.
Day One
We took the 9.30am Azam Marine ferry from Dar es Salaam to Zanzibar arriving in Stone Town at 11.30
Once we got through the madness that is the ferry terminal we grabbed a taxi to our hotel paying $5. Our hotel wasn't far, so we could have walked it however we didn't have a clue where we were going. The driver drove us as close as he could, then walked us the last few yards through the myriad of alleyways to the Emerson Spice Hotel, our base for the next couple of days.
Now, I've stayed in many hotels in my time, but I have to say, Emerson Spice is definitely one of my favourites. The hotel is a an old Merchant's House and once home to the last Swahili ruler of Zanzibar, lovingly restored by Emerson himself. It's the type of place that makes you feel as though you'd been transported back in time to the days when Sultans ruled or perhaps to a mythical land where genies lived in lamps. Arabian princess? I sure felt like one. And, yes, that's a massive bathtub in my room!
Sadly, Emerson passed away last year, and from talking to the staff at the hotel, he is greatly missed by all who knew him. He sounds like someone with a big heart, who was a lot of fun and I wish I'd been fortunate enough to meet him and attend one of his legendary parties. I have so much to write about Emerson Spice, so I'll do that in an upcoming post, but for now, let's continue our tour of Stone Town.
We were starving by this point, so we headed out for lunch to Lukmaan Restaurant as recommended by the hotel. On the way, we did what everyone does (or should do) in Stone Town – we got completely lost in the narrow alleyways. Stone Town is like a maze.
We found ourselves at Darajani Market and since we were there, took a little stroll around, because as I always say, the market is the heart and soul of any place. Bustling and awash with colour, selling everything you would expect from an East African market including food (bread, meat, fish, spices, fruit and vegetables), clothing (kofia hats, shoes, materials – kitenge/kanga) and a whole host of other things. This is the place to buy your spices! Not the touristy ones, the real spices!
Top Tips:Â Markets are always better in the morning and you may catch the fish auction! If you want to take photos of people (especially in the market), please ask before you do so. Some will say no, some will be fine with it, some will ask for payment – but it will avoid causing any unnecessary offence.
After asking directions from a local man we eventually found the Lukmaan restaurant. But not before he trailed us down the street and insisted we buy 'The Best of African Songs' CD by the Safari Sound Band from him. We did buy the CD and I can assure you that it is NOT the best of African songs but it does have the Jambo Jambo song on so it wasn't a complete waste of money.
Top Tip: Lots of people will approach you to sell you this CD and also packs of spices. If you don't want to buy 'Hapana asante' means 'No thank you'. They will insist, but just say you have it already and move on.
Lukmaan was busy when we arrived, with a mix of locals and tourists but we still managed to find a seat inside (they also have tables outside, a good spot for people watching). You go up to the counter to order, and pick from the dishes in front of you. There's a huge menu outside but we only saw this as we were leaving. I had boiled king fish in onion curry, Matt had chicken and beef and we shared plates of fragrant biryani and pilau rice. The flavours were amazing. The whole meal cost 12,500 TSH, which is less than £5. Absolutely delicious, authentic Zanzibari food and cheap as (masala) chips!
Top Tip:Â Lukmaan is open from 7am – 9pm daily. Another great restaurant to try is the Passing Show Hotel. Many restaurants and teahouses are called hotels in East Africa. I didn't eat there on this trip, but I've eaten here before and the food is wonderful, very similar to Lukmaan.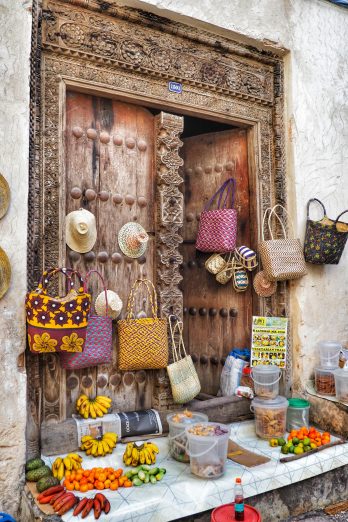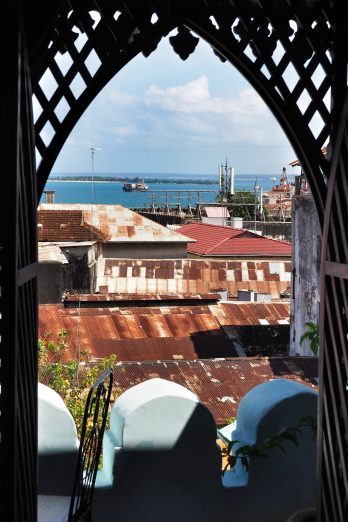 After that, we just took a bit of a stroll, getting lost again in the maze of narrow streets, Â dodging bicycles and motorbikes, stopping at the various curio shops and to marvel at the architecture. Near to the Portuguese Arch, we managed to acquire two lost South African ladies, who were looking for the seafront. Matt and I had a map, so we took it upon ourselves to escort them there.
As we walked a number of men came up to us and offered us tours of the city for various prices. We all declined. We did want a tour of the city, but taking a tour from a random person off the street could be hit and miss, so we decided to wait and ask around for recommendations.
The four of us ventured into the Old Fort. It was originally built by the Omani people to defend against the Portuguese. These days, it contains a number of curio shops, restaurant and a small ampitheatre which is used for performances and festivals. I love curio shops and the sellers see me coming a mile away. I wander in wearing harem pants, a scarf, dandlgy earrings and a bag made from kitenge and they must think 'ka-ching, this one's a winner'! They're probably right to be fair.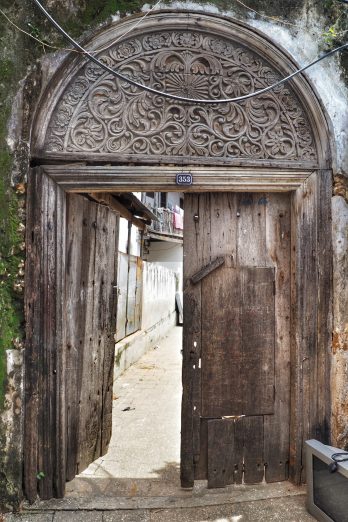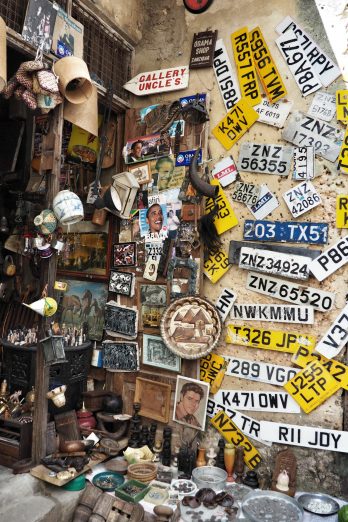 The ladies were nowhere to be seen when we were ready to leave, so Matt and I left the fort and having only bought a fridge magnet and another pair of earrings, I felt quite quite proud of myself. One of the young men who'd tried to be our tour guide was waiting outside. "Your mother went that way" he said. The two women had ditched us by this point, probably scared they'd also be hounded by the shopkeepers just by being in my presence.
Across from the fort is Forodhani Gardens, where we were planning on eating the following evening. We took a wander over. The vendors were setting up their stalls ready for the evening. By this point it was getting towards the late afternoon, so we decided to head back to the hotel as we were booked in for a 5 course meal at the Tea House Restaurant on the rooftop of Emerson Spice that evening. The restaurant is known for having some of the best views and food in all of Zanzibar. The menu changes daily, created by the chef using the daily catch of their very own fisherman, so I was very excited to experience this for myself.
I wasn't disappointed. We ate our exquisite meal, under a canopy of silk, enjoying the sunset with panoramic views over the terracotta rooftops of Stone Town. Simply wonderful.
There's far too much for me to write about now, so I'll save that for another time.
Top Tip:Â The restaurant is VERY popular, so make sure you book ahead to avoid disappointment. Head up to the rooftop for around 6pm so you can watch the sunset, with cocktails of course. Dinner is served promptly at 7pm and is a 5-course set menu costing $30 per person. Enjoy!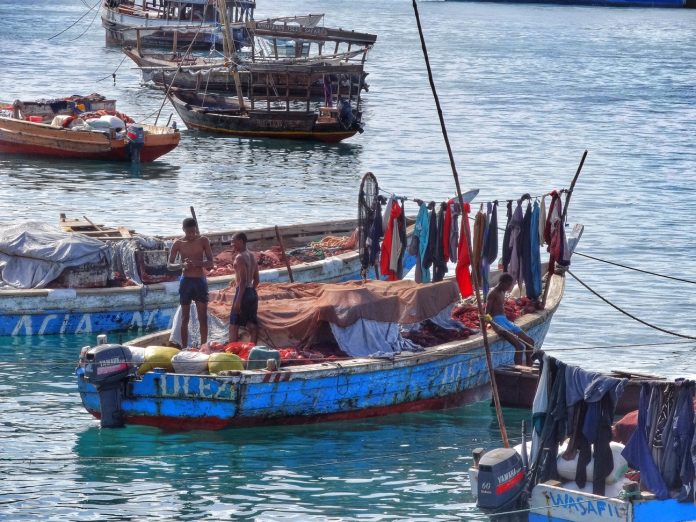 Day Two
After a leisurely breakfast at the hotel, we headed out again. Now, we probably wasted our morning a little, we didn't go on any of the popular trips that depart from Stone Town. Only having a couple of days there, we wanted to spend as much time as possible just exploring. The two things I do regret not doing is a Spice Tour and taking a trip to Chumbe Island. Most of the people I know who've done one enjoyed them. But, I guess I'll just have to go back!
Other options from Stone Town include a trip to Prison Island to see the giant tortoises, which I visited on my second trip in 2009. If you get a good tour (which I did through Absolute Africa) it can be a really good day out but I also know lots of people who were really disappointed in their trips, so we decided not to chance it and Matt wasn't that fussed on going either. Then there's things like sunset dhow cruises and dolphin tours, but we were going to the northern beaches the following day, so decided to wait and see what we felt like doing when we got there instead.
We walked down to the fabulous Old Dispensary at the dock for a look around. It was originally intended to be a hospital for the poor, but the owner died whilst it was still under construction and his widow didn't have the money to continue. The building was later sold off and the new owner decided to use the ground floor as a dispensary, and the upper floors were turned into apartments. After the Zanzibar revolution of 1964, the building was abandoned before being claimed by the government. It was eventually restored in the early 1990's.
We were getting thirsty by this point and we Knew our friends from our Absolute Africa tour were arriving on the 11.30 ferry, so we decided to pop into Mercury's Bar next to the terminal for a quick drink whilst we waited.
Top Tip: Mercury's Bar is fine for a quick drink but it's very much a tourist place.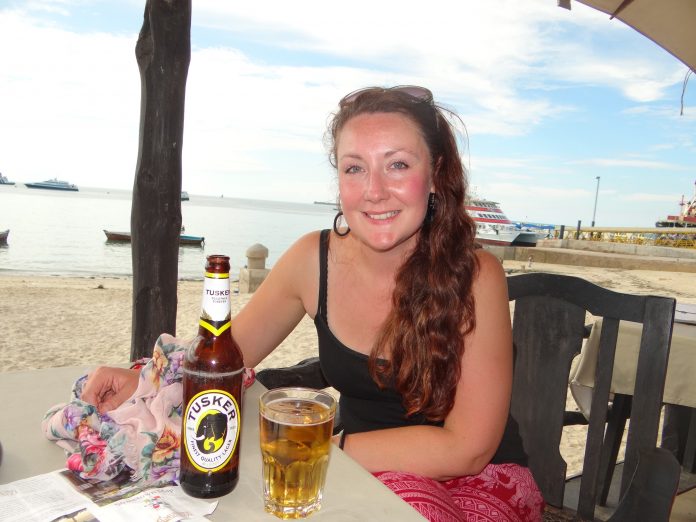 We said a quick hello to our friends and arranged to meet later that evening at the beach around 5pm. A few years back, I remember I sat with a friend in this very bar and watched as boys did capoeira on the beach at sunset and I wanted to see if they still did.
At 12.30, we were going on a walking tour that we'd arranged through Emerson Spice. Our guide was Farid Himid, a wonderfully eccentric and vocal Zanzabarian, with good English, excellent knowledge of the island and all the local gossip. Farid seems to know everyone in Stone Town and they all seem to know him (I think he's a bit of a local celeb – he showed us a picture of him and Matt Dillon) and is involved in all kinds of projects – cleaning up the island, youth work and social enterprise, plus he's a journalist too.
What Farid doesn't know about Zanzibar, probably isn't worth knowing and my head was almost about to explode from information overload by the end of the three hours.
He told us about Swahili culture and the Sultans, Queens and Princesses who ruled the island. Of war, kidnappings and politics. Of the history of the Portuguese, Arabs, Africans, Omanis, Persians, Chinese, Germans and British, who've all had a strong influence over the island at one time or another.
As we wandered he explained the significance of the intricate doorway designs, how to tell the difference between an Arab and an Indian door, and what the symbols meant, pointing out things I never would have noticed. This included a trip to perhaps the most famous door in Stone Town, the one at Tippu Tip's House, a Zanzibarian slave and ivory trader from the 18th century.
He took us to St Joseph's Cathedral and to the old Geisha House. Yes, apparently there were Geisha in Zanzibar once upon a time. He took us to the Abeid Curio Shop and showed us the beautiful Zanzibar Chests and shoes that would 'make us sexy' and told us how a woman in Zanzibar knows if her husband is cheating on her using a little golden incense burner.
He took us to the House of Wonders which is currently closed, but can still be very much appreciated from the outside. Every so often he would pull something out of his bag of tricks to demonstrate a point, whether it was an old photograph or to explain the significance of different colours and patterns of kitenge (material) that the women wear. He knew all kinds of facts – did you know Zanzibar had electric lighting before London? Nope, neither did I? Or that the shortest war in history took place in Zanzibar (it was in 1896 and lasted only 2 days)?
He took us to Jaws Corner where the men gather to chat and drink coffee in tiny cups (wiggle your cup if you want a top up). He gave us baobab seeds (ubuyu) coated in sugar and colouring, bought us a bag of spicy cassava chips (I'm in love with these now) and made us try mango with chilli and salt. We stopped by the Hamamni Persian Baths which are derelict now and cool to have a quick look at, but that's it, a quick look will do!
I could tell you everything he told us, but then I don't want to spoil it as this tour is something you REALLY need to experience for yourself.
Top Tip: A 3-hour tour with Farid cost us $30 between us. Worth every penny and I'm so glad we didn't go with any of the people who approached us on the street as I'm pretty certain that we had the best guide in Zanzibar! if you would like to arrange a tour with Farid, you can contact him via WhatApp on +255777484734.
The only places we didn't go, were the Old Slave Market/Anglican Cathedral which is a really interesting place to visit from my memory from a previous trip. So if that's somewhere you want to go, let Farid know.
The sun was getting low in the sky when we arrived at the Livingstone Bar later that day. The beach was packed both on land and in the sea. The energy levels would soar as boats came in, causing waves which the young boys could splash around in. As I'd hoped, the lads were there, although doing acrobatics, rather than capoeira this time. I watched in awe as they somersaulted their way down the beach, almost taking out a few spectators as they went. These guys are serious athletes.
Eventually I plucked up the courage to go up to them and ask if I could take some photos. They were happy for me to do so, so I took up my position and snapped away. I loved how they all cheered each other on. I got chatting to one of the guys whose name was Ninja (that's him just below, and I'm guessing not his real name, but one that suited him nonetheless). He was really keen to see the photos and called over his friends when as he spotted them in the pictures. We even swapped email addresses so I could send them the pictures!
We watched the sun go down with a few beers. Or as we call them, sundowners.
Top Tip: Another great place to watch the sunset with a cocktail is the Africa House Hotel. I went there to watch it on my second visit to Zanzibar (just before I joined the boys jumping into the sea). It is expensive but the view is good.
As it got dark, we headed to Forodhani Gardens, where each evening street vendors set up their stalls, selling seafood and meat kebabs, samosas, fruit, grilled maize, Zanzibar pizzas and sugar cane juice as well as many other East African dishes to tourists and locals alike.
Top Tip: There are a lot of stalls to choose from, so my recommendation is to take your time, have a look around the whole market before you commit. Eating where the locals are, or where's there's a bit of a queue is where you're likely to find the freshest food (and the least likely to give you food poisoning – I've heard some of the meat/seafood isn't always that fresh).
I was desperate to try a Zanzibar pizza and so chose a stall called Mr Sweet. All stalls have a big choice and I ordered a savoury cheese and tomato one. First of all, Mr Sweet flattened out a very thin piece of wet looking, almost see-through dough and then added a smaller extra piece on top. Then he added diced onions, tomatoes and a cheese triangle and wrapped over the edges. He fried it on one side, flipped in over and fried it on the other side before serving it on a paper plate with a cocktail stick and some sweet chilli on the side. I wasn't sure what to expect, but I really, really loved it. It's doesn't taste much like a pizza though.
I washed it down with a sugar cane juice – also delicious.
Our next stop was Mr Big Banana. With a name like that, you kind of have to go there, right? I was still full from my pizza, but I tried some of my friends sweet Zanzibar pizza with chocolate spread and bananas – also very, very delicious. My friend Korrin had her Polaroid camera with her and gave Mr Big Banana a picture of himself. He looked SO happy!
Next I decided to try grilled maize. I'd seen this being cooked by the roadside everywhere in East Africa and I was expecting it to be like corn on the cob. It wasn't. Instead it was hard, chewy – kind of like it had been grilled about 3 days ago, then left out in the sun. So I made all my friends have a bite and they all pulled the exact same face I did. Don't let me put you off though, you need to try it for yourself!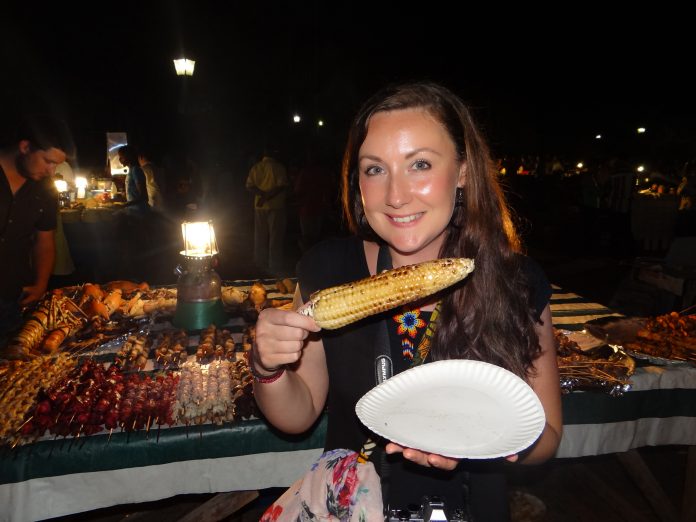 Top Tip: Sugar cane juice costs 1000 TSH for a takeaway cup (500 TSH if you drink it in a glass at the stall). A Zanzibar pizza costs around 2500 – 3000 TSH (bargain). The market starts around 5pm and finishes at about 9pm daily.
After dinner we sat down and watched the local boys running and launching themselves off the harbour wall and into the sea much to the delight of their audience – some still wearing their shoes and fully dressed. They do this every day, just for fun. What they do can't be safe, but it's awesome and very entertaining. A few years ago, I joined them and jumped off the wall too. One of my favourite travel memories ever and I still can't believe I did it! We even bumped into Farid, so Forodhani Gardens must be a cool spot to hang out!
We finished off the night with a quick drink at The Silk Route Indian Restaurant.
I'd had an amazing two days in Stone Town, and wasn't ready to leave as there were still a few things I wanted to do and see, but we were booked into The Rock the following day, so the East Coast was calling. Oh well, another excuse to go back. And I will be back, Stone Town. Oh yes, I will be back.
Essential Info:
Getting There:Â Azam Marine ferries is the company I recommend. The journey takes approximately 2 hours and ferries run at 7am, 9.30am, 12.30pm and 3.45 pm in both directions (from Stone Town and Dar es Salaam). The ferry costs $35 (one way) for an adult economy class ticket. Make sure you buy your ticket from the official ticket office, not from touts on the street. You can also fly to Zanzibar.
Entry Requirements: I paid $50 for my Tanzanian visa on arrival in Dar es Salaam, so I didn't have to pay again in Zanzibar. If you're flying into Zanzibar you'll have to get your Tanzania visa there, but it will cover you if you go to the mainland too. Have your dollars ready, and dated after 2002 and make sure the note isn't damaged (same goes for all your dollars). We filled out a Zanzibar entry form and had to show our Yellow Fever certificates. We were also temperature screened on entry (I assume for ebola).
Money: The official currency is Tanzanian Shillings (TSH), but many hotels and tourist activities accept dollars and cards but have shillings for everything else. I prefer to pay in local currency as much as I can. There are ATMs in Stone Town, but I didn't see any others around the island – don't get caught short. There are Bureau de Change facilities in Stone Town too, and lots of hotels around the island will exchange money – although we had trouble with this as it was the off season and lots of hotels didn't have much physical cash. If coming from Dar es Salaam, I suggest you change money there as you'll most likely get a better rate.
Where To Stay: We stayed at the exquisite Emerson Spice Hotel, and I cannot recommend it enough.
Where To Eat & Drink: The Tea House Restaurant at the Emerson Spice Hotel, Emerson on Hurumzi, Lukmaan Restaurant, Zanzibar Coffee House, Jaws Corner, Forodhani Gardens and the Dhow Palace Hotel.
Getting Around: With the narrow walkways, the best way to get around Stone Town is by foot. If you're travelling out of the city, taxis, share taxis and local mini busses are all options. Prices vary massively, a taxi to Kendwa can be anything from $20 to $50 (negotiate, I got one for $20 – which is cheap for that distance), a share taxi is $10 per person and a mini bus (dala dala) is less than £1. Mini busses depart from Darajani Market. Don't let anyone tell you they aren't running, they will be (I got caught out with this which is why I got a taxi).
Best Time To Visit: January/February and June to October are generally the best times to visit. March – May sees the long rains. November and December has the short rains. Stone Town was really hot and humid when we were there in November. Just a few minutes walking and we were sweating. Take sunscreen and drink lots of water.
What To Wear: Stone Town is predominantly Muslim, so for ladies, knees should be covered at all times whilst walking around town and preferably your shoulders and chest too. Dress code is much more relaxed at the hotels, restaurants, bars and at the beach resorts on the North and East coasts. Men get away with whatever they want.
Ramadan: If you visit during Ramadan, many of the restaurants will be closed during the day, but there are still a few that are open. Some of the beach bars/discos elsewhere may close too. Be extra sensitive to the dress code at this time and do not eat on the street in the day – it's offensive to a lot of people to do this. Try and attend an iftari – the evening meal once the sun sets. And stay for Eid, it's meant to be amazing!!! Eid starts on 28th July in 2015.
Hassle: People will come up to you constantly in Stone Town, offering tours, trying to sell things etc. I'd be very wary of buying anything off anyone on the street. Be polite but firm if you don't want to buy anything. People will look disappointed, but if you bought from everyone who tried to sell you something, you would end up with no money left and a load of stuff you don't want.
Safety: Muggings do happen in Stone Town, mostly in the alleyways at night. Avoid walking anywhere alone at night, but if you have to, take a taxi or perhaps get someone from the hotel or restaurant to walk you and don't linger.
Etiquette:Â Zanzibar is quite used to tourists, but some people are still quite sensitive to photography. Do not take photographs of people unless you ask them first (hence why there aren't many people in my pictures). Younger people tend not to mind so much (many have mobiles and Facebook), like the boys who were happy to be in my pictures, but a lot of older people take offence. It's fine for a general scene from a bit of a distance, but close up or in busy places like the market just be careful.
Further Reading: Take a look at my Tips for Travelling in Africa – it all applies.
Have you been to Stone Town? Do you want to go?
---
Want to go on an Epic African Adventure?
Want to go somewhere amazing with an awesome group of likeminded travellers??
Then join one of my 2018 Rock My Adventure small group tours to Kenya, Tanzania & Zanzibar, Uganda, Rwanda & the DRC, Zambia & Malawi and Morocco! More destinations coming soon!
Rock My Adventure tours are experiential and culturally immersive adventures, but without the hassle of having to find accommodation, working out how to get from A to B and booking all your own activities. They are laid-back and fun, kind of like an independent  backpacking trip (with the occasional bit of luxury) and a group of friends built in – the best of both worlds!
To find your perfect Rock My Adventure tour, click here!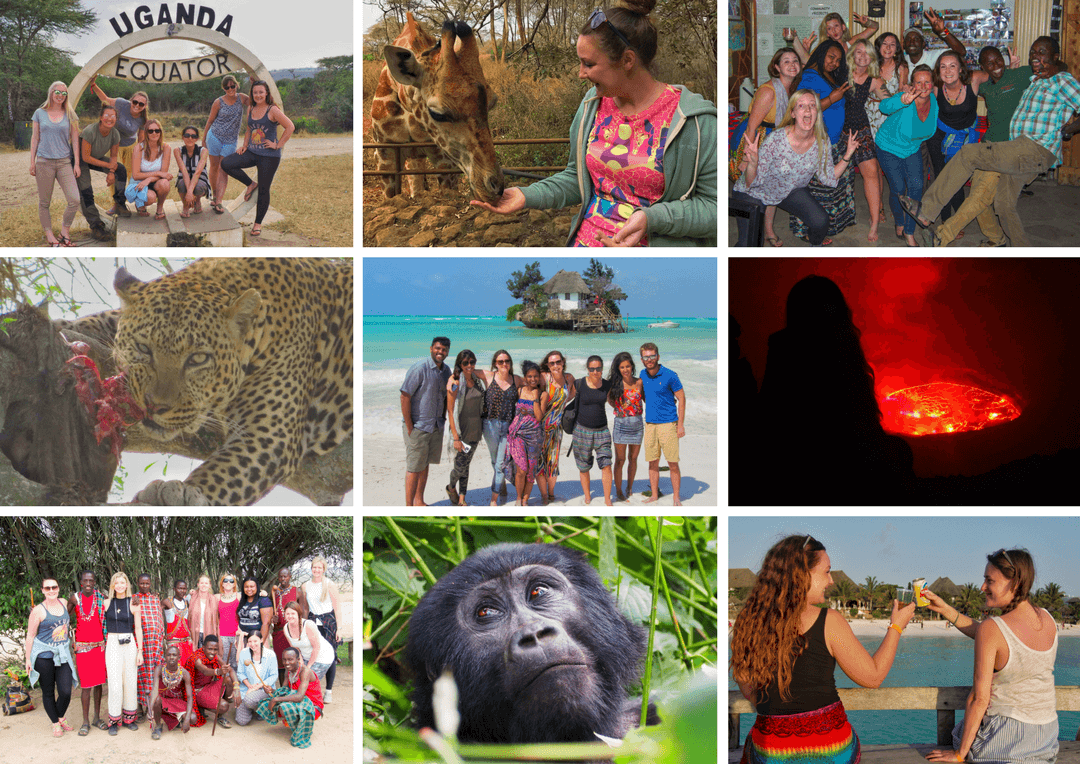 If you can't make it this time and would like to be the first to know of any future tours, you can sign up to the mailing HERE!