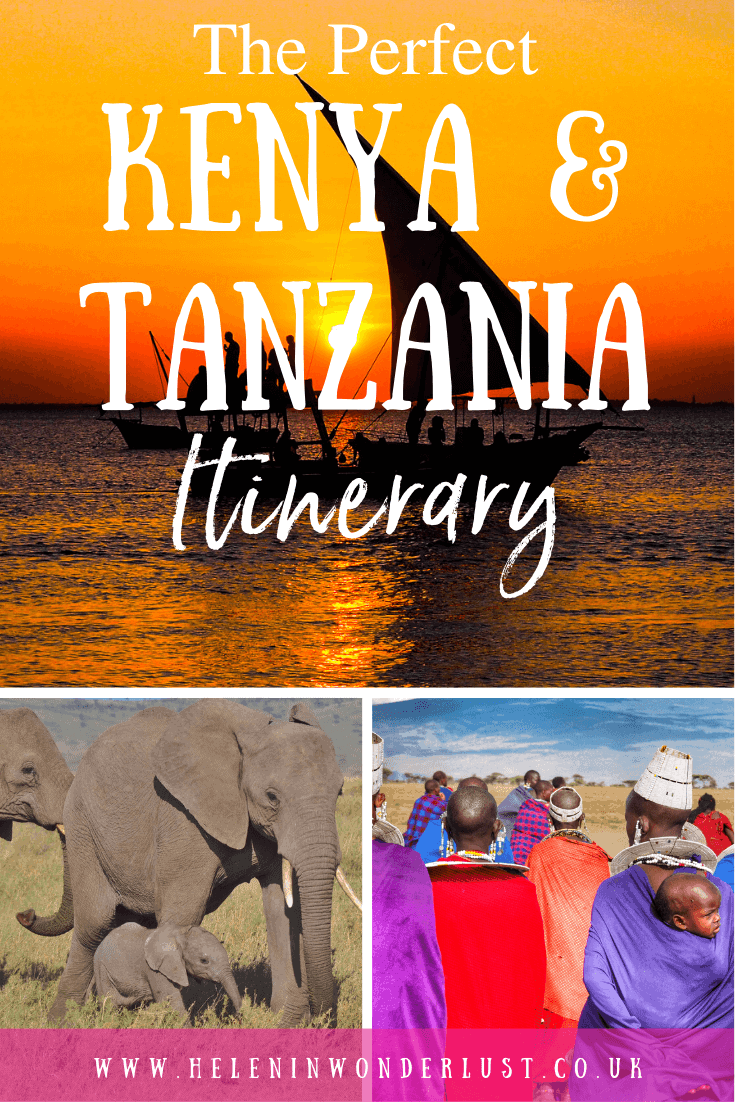 When you think of Africa, it's probably Kenya and Tanzania that are the Africa of your dreams.
But how to choose between the two? I'm often asked which is better for safari, Kenya or Tanzania? In this post, I weigh both countries up! 
But if you have the time, why not visit both?
Between them, they pretty much have everything you could want from an African adventure and a lot of people want to see both countries… in a two-week vacation.
Kenya and Tanzania are both big countries and the distances between some of the main destinations are vast. To cover all of the main highlights in both Kenya and Tanzania, I'd say you need at least 4 weeks in total.
But that doesn't mean you can't go to both if you only have a couple of weeks. You'll just have to pick and choose the places you go and flying between destinations will also save you some time.
For a 2-week trip, I'd suggest that you start your Kenya & Tanzania trip in Nairobi, working your way down to Zanzibar. I like to leave Zanzibar for last as it's beautiful and a great place to relax at the end of your trip!
However, if you have longer, or you just want to stick with 1 country, take a look at my individual itineraries for Tanzania and Kenya, as they go into much more detail!
---
The Perfect 2-Week Kenya and Tanzania Itinerary
---
My perfect 2-week Kenya and Tanzania itinerary would go something like this (and this is the route we follow on the Rock My Kenya & Tanzania Adventure): 
Nairobi, Kenya: 2 Days
Masai Mara, Kenya: 3 – 4 Days
Arusha, Tanzania: 1 Day
Serengeti, Tanzania: 2 Days
Ngorongoro Crater: 1 Day
Moshi: 1 – 2 Days
Bagamoyo, Tanzania: 1 – 2 Days
Stone Town, Zanzibar: 2 Days
Paje, Zanzibar: 2 Days
There are so many amazing places to visit and things to do in Kenya and Tanzania! You're going to love them!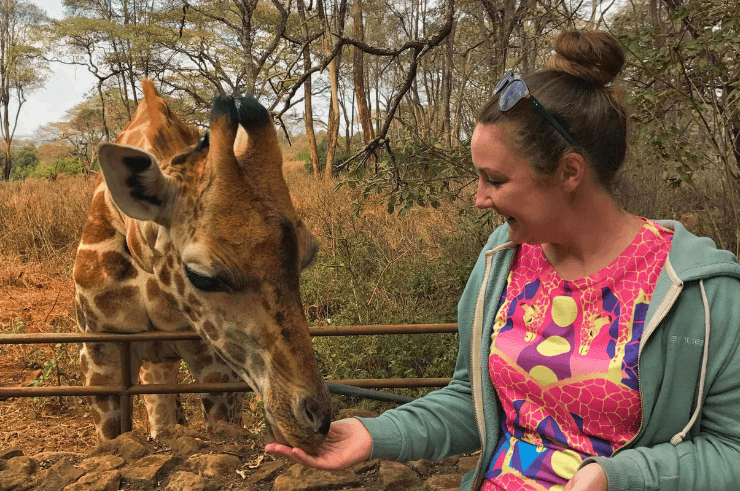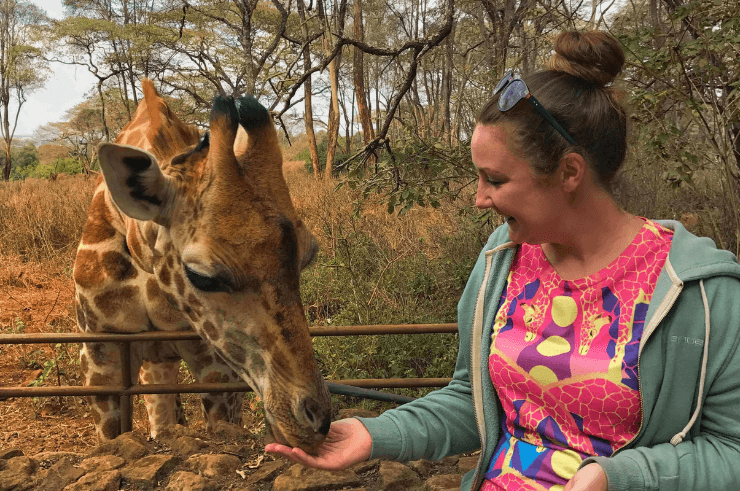 Nairobi, Kenya
Nairobi may seem a bit intimidating for a first-timer to Africa, but it's actually a great city. To be honest, the first time I visited I wasn't that impressed. I was passing through on an overland tour and it just seemed crowded, busy and congested.
It's still all of those things, but it is also vibrant, exciting and full of adventure, I just didn't see it.
Nairobi is one of the most hectic of all the African cities I've been to (Kampala and Dar es Salaam are up there too), so if you can handle this, the rest of the continent will be a breeze! Just be patient and try and relax into it.
You can either head straight out of Nairobi and come back later or spend a few days there first before you go on safari.
Nairobi also has some amazing restaurants and is known for having excellent Ethiopian food (try Habesha or Abyssinia) and nyama choma (grilled meat – usually goat). One of the most famous places to get your meat fix is Carnivore and if you go, try the signature Kenyan 'Dawa' cocktail.
Things To Do in Nairobi:
Go on safari in Nairobi National Park.
Visit the Nairobi Giraffe Centre
See the baby elephants at the David Sheldrick Wildlife Trust.
Visit the markets (there are plenty).
Take walking tour of the city. 
I'll leave it there as I've written a very comprehensive guide on the best things to do in Nairobi here.
Time Needed: 1 – 2 Days. If you are flying in, I would spend 1 night here, then have the next day to explore Nairobi and then stay another night in Nairobi before heading to the Masai Mara. Or maybe a day after the Mara.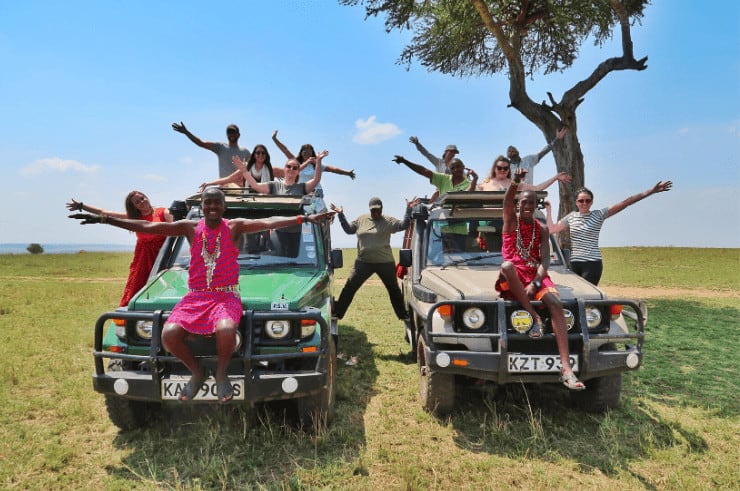 Masai Mara, Kenya
Only a 6 hour or so drive from Nairobi you'll find land safari dreams are made of, the Masai Mara! With pretty much every animal you could wish to see on an African safari, including the Big 5. You can even take a balloon ride and see it all from above, especially cool if you time it when the Great Migration is passing through – this varies slightly from year to year.
But it's not all about safari. Just outside the Masai Mara is the town of Sekenani, where you can find some cool places for dinner. I would also recommend spending some time with the Maasai tribe.
Want to experience the Masai Mara like I do – on a budget? Then have a read of this post! 
Things To Do in the Masai Mara:
Go on safari.
Go bush camping.
Spend time with the Maasai.
Take a hot-air balloon ride.
Go horse riding.
See the Great Migration.
Visit the Sekenani township.
Time Needed: 3 – 4 Days. It takes at least half a day to get to and from the Masai Mara by road, so I would suggest spending 2 – 3 nights here. You can save a bit of time by flying into Keekorok Airstrip and I believe they are considering making this an international airport… watch this space.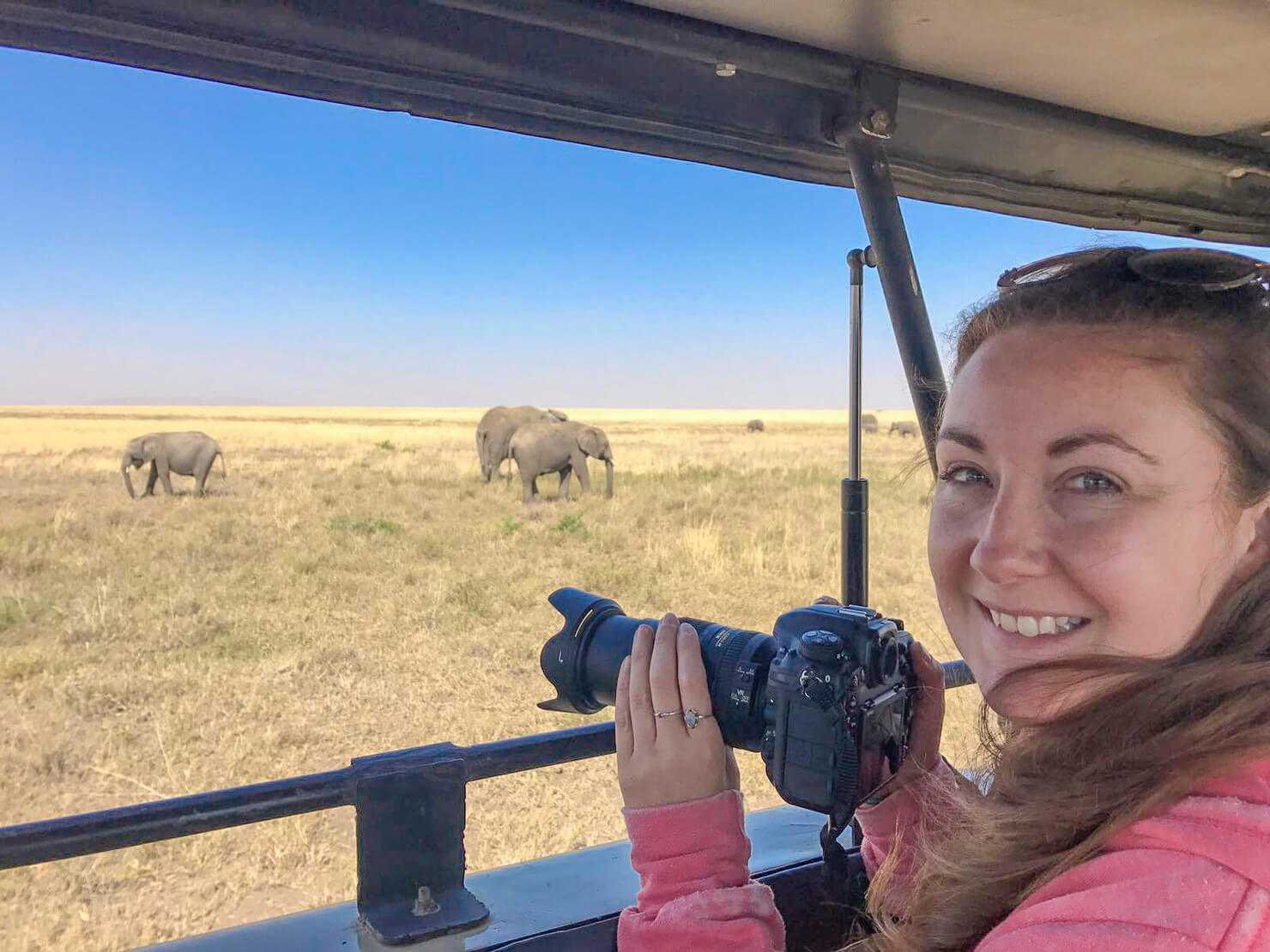 How to Travel from Kenya to Tanzania
The cheapest way to cross from Kenya into Tanzania overland is to get a bus to go from Nairobi to Arusha.
However, if you want comfort, I suggest getting a shuttle bus which takes around 6 or 7 hours. The Impala and Riverside Shuttle companies are the most popular. These cost around $15 – 20 and can be organised by most hotels, tour companies, travel agents or directly at their offices.
If you are self-driving or on a tour, you may be able to go from the Masai Mara to the Serengeti, via the Isibania border on the west side of the parks, without having to go back via Nairobi and Arusha. Unfortunately, you can't go straight from one park to the other – which would be super convenient (despite how it appears on Google Maps – there is no border control inside the parks)! You might also be able to do this by public transport too, but as I've not done it before, I wouldn't like to advise!
Alternatively, you could fly between the two. Flights from Nairobi's Jomo Kenyatta International Airport to Kilimanjaro International Airport are relatively frequent and take less than an hour, but again, expensive compared to buses. 
To save time at the borders, you can apply for your Tanzania visa in advance online through the link here, as the queues for visas can be long, especially at the airports! I've spent many hours queueing in both Kilimanjaro and Dar es Salaam airports and it's a pain – especially if you're last off the plane. But if you have your visa already, you'll sail straight through!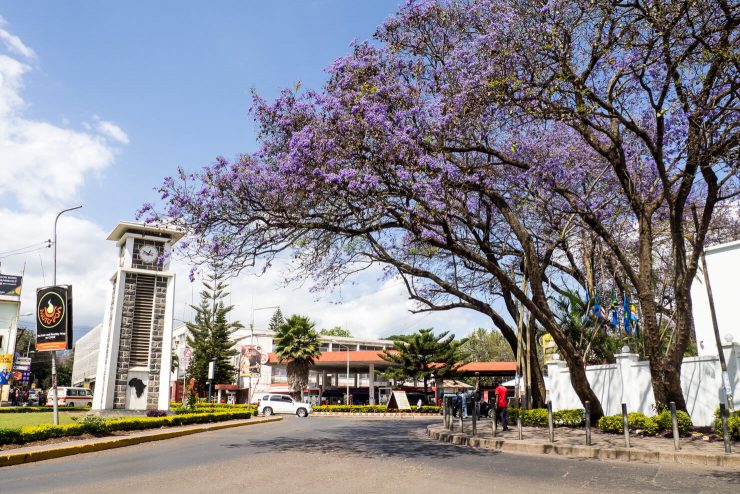 Arusha, Tanzania
Arusha is the gateway for the Serengeti and the Ngorongoro Crater, but it's also a great place in itself to regroup before carrying on with your adventures. It's pretty easy to get around and about as laid back as an African city can get, plus there are lots of nice cafes where you can get a good piece of cake and a decent cup of tea or coffee. It's pretty too, with purple jacaranda trees lining many of the roads.
READ MORE: 22 Awesome Things To Do in Arusha, Tanzania
Things To Do in Arusha:
Climb Mount Meru.
Book a Northern Circuit safari, if you haven't already.
Swim and chill at the Mount Meru Hotel.
Party at the bars and clubs.
Eat chips mayai (chip omelette) and chicken from one of the street vendors.
Get clothes made at one of the local tailors.
Go shopping at the Maasai Market.
Eat nyama choma at Khan's BBQ.
Time Needed: 1 – 2 days. More if you plan to climb Mount Meru.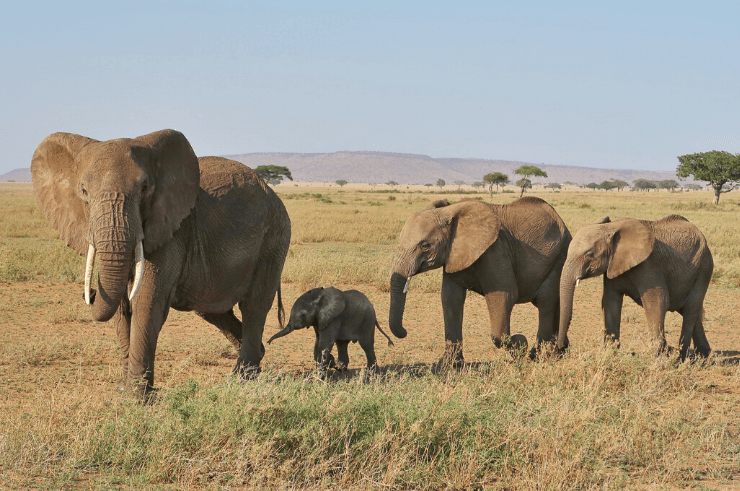 Serengeti National Park, Tanzania
If you only have a short time, you can do a 2-night, 3-day safari to the Serengeti and Ngorongoro Crater. This is a short trip and involves quite a bit of driving, but you will still see a lot! 
Serengeti National Park is one of the best safaris you will ever go on and has been my luckiest place for lion spotting. It used to be my favourite place for leopard-spotting but my trips to Botswana have blown that out the window.
Where you stay will depend on your safari operator. Some will use the basic camping within the park and others will be super luxurious tented camps or lodges. The prices can vary wildly from a few hundred dollars to a few thousand for a 2 – 3 day safari.
I would suggest going on an organised safari, rather than self-driving (or hitchhiking as I saw one person trying to do). You'll get a lot more out of it if you do.
Have a read of this post, which explains how to find a Serengeti & Ngorongoro Crater tour to suit your budget.
Want to experience the Serengeti like I do? Then you can always join one of my awesome Rock My Adventure group tours! 😉
Things To Do in the Serengeti:
Go on safari.
Take a hot air balloon ride.
Camp out in the wild.
Time Needed: 2 – 5 days.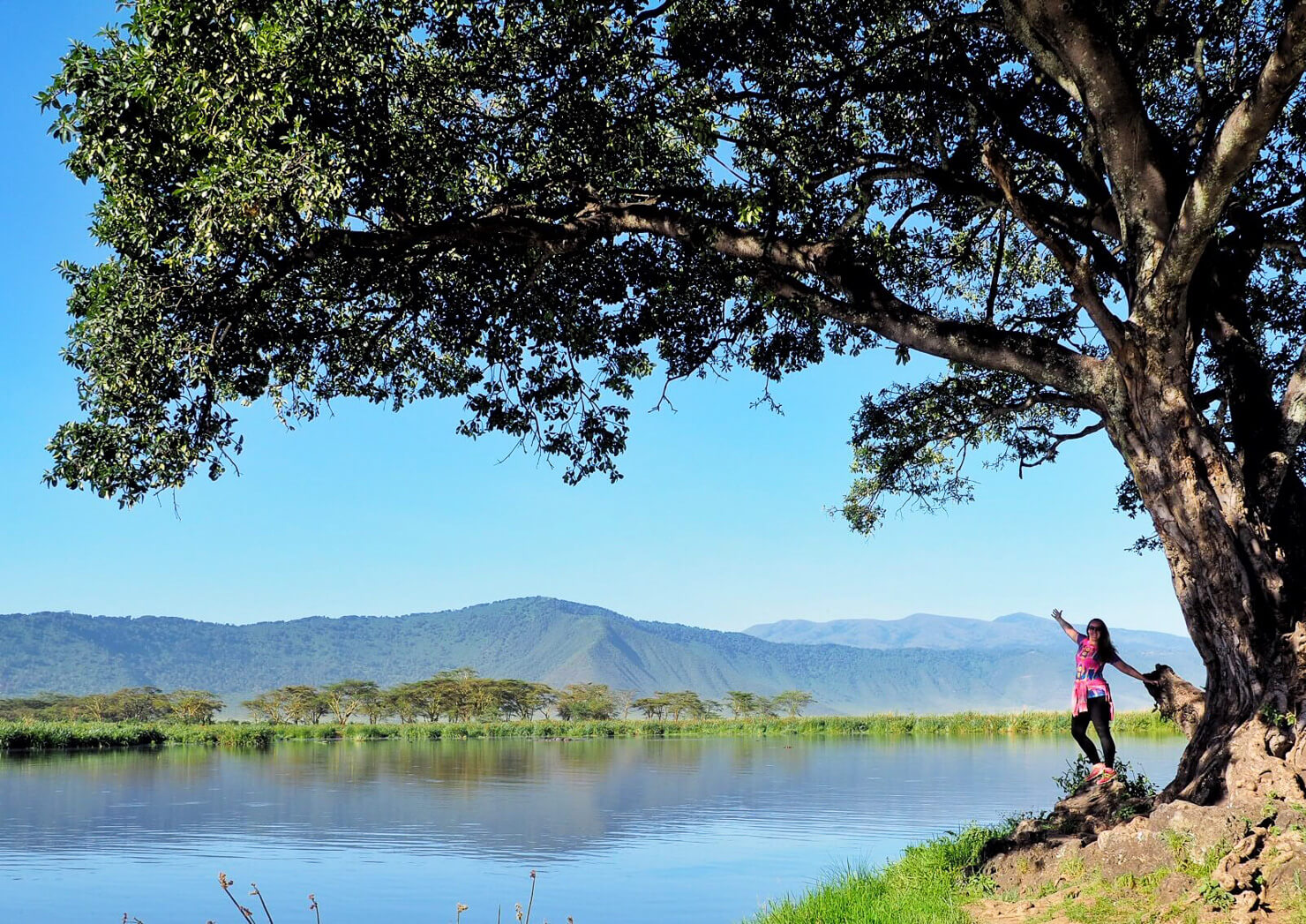 Ngorongoro Crater, Tanzania
You can combine your trip to the Serengeti with a Ngorongoro Crater safari. It's on the way, so it would be a massive shame not to see it and it is stunning, so the views alone make it worth it. This is the one place where I've seen an endangered black rhino. Make sure you start early to catch the animals being active in the morning!
Things To Do in the Ngorongoro Crater:
Go on safari.
See the wildebeest calving & migration.
Time Needed: 1 – 2 Days. If you spend the night at on the crater rim, you will usually do a game drive in the crater in the morning, then head back to Arusha around lunchtime, arriving in the early evening. So you only really need 1 night on the crater rim and half a day in the crater.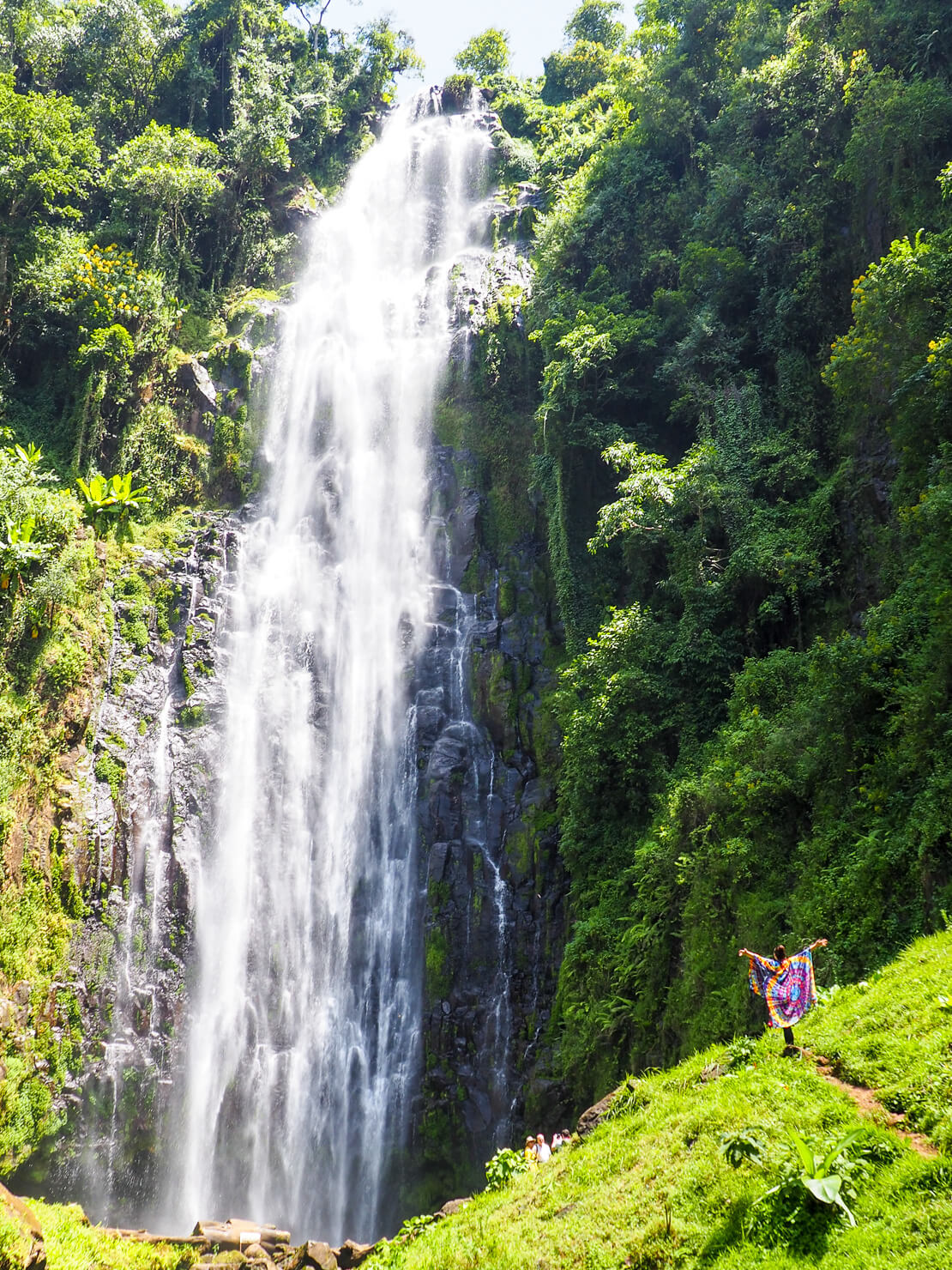 Moshi, Tanzania
Moshi usually serves as the starting point for any Kilimanjaro expedition and is a great place to spend a couple of days before and after your climb.
It's a lovely town, a bit less hectic than Arusha and with Kilimanjaro as the backdrop, it's beautiful too.
There are plenty of great day trips to take from Moshi (you can also do these from Arusha too, but they're a bit closer to Moshi), including a trip to Materuni village for a coffee tour and see the Materuni Waterfalls (one of my favourite places in Tanzania)and experience the hospitality of the Chagga people.
Another favourite of mine is the Chemka Hot Springs (also known as Kikuletwa Hot Springs) a popular picnic and swimming spot for both locals and tourists. This is a great place to spend an afternoon.You'll also be able to visit Maasai villages in the region between Moshi and Arusha. I prefer visiting the villages here to those in the Ngorongoro Conservation Area.
READ MORE: 24 Awesome Things To Do in Moshi, Tanzania
Things To Do in Moshi: 
Climb Kilimanjaro.
Visit the Maasai tribe.
Swim at the Kikuletwa Hot Springs.
Take a coffee and waterfall tour in Materuni village.
Eat pizza at IndoItaliano.
Visit a Women's Co-Operative.
Time Needed: 1 – 2 days. More if you plan to climb Mount Kilimanjaro.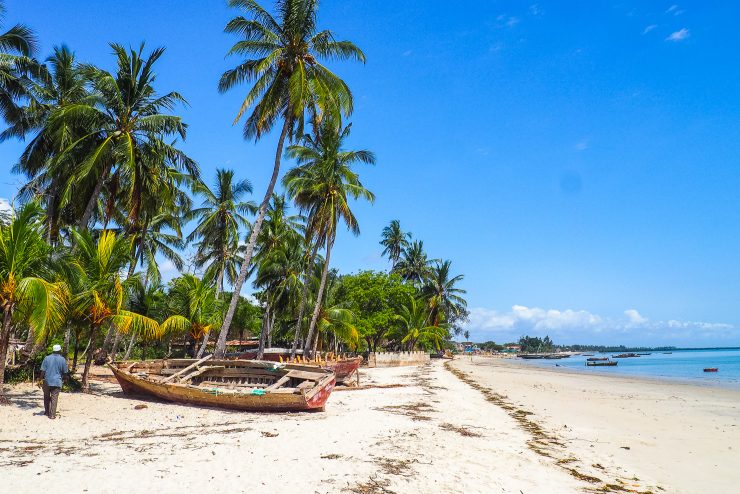 Bagamoyo, Tanzania
If you're looking to see a bit of the less touristy, off the beaten track Africa, then I definitely recommend heading to Bagamoyo.
Bagamoyo is full of history, as it was once the major port of Tanzania and played an important role in the slave trade. Bagamoyo also has a specialist arts college, so it's a really cool place with a lot going on. There's a chilled-out hippy vibe and lots of Rastafarians, however most people still live very traditionally and it is, above all else a fishing town.
Be sure to take a trip to the beach in the morning to watch the sunrise and see the fishermen bring in their catch, walk around the town admiring the (crumbling) architecture and shopping at the Bagamoyo Art Market. I recommend the food at Corner Bar or Poa Poa.
One of my favourite hostels in Tanzania is Firefly in Bagamoyo. This is a cute place, perfectly situated in the main part of town, near the beach and close to Poa Poa restaurant. 
Tourism is slowly coming to Bagamoyo, so go sooner rather than later. Now you can even get a direct ferry from Bagamoyo to Zanzibar. Book through Firefly hostel.
Things To Do in Bagamoyo: 
Visit the Bagamoyo Art Market.
Hang out at Firefly.
Help with a beach cleanup.
Do some yoga.
Taking a cycling tour of the old town and learn about the Slave Trade.
Visit the fish market (go very early in the morning or late afternoon).
Taking a Swahili cooking class.
Go to an event at the Bagamoyo College of Arts.
Visit the Kaole Ruins.
Chill on the beach.
Time Needed: 2 – 3 Days. Bagamoyo is a great place to stay and I much prefer it to Dar es Salaam. I'd give yourself at least 2 nights.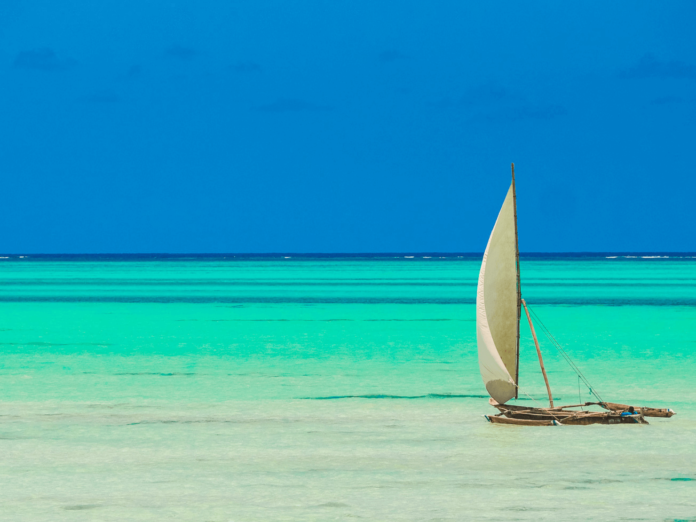 Zanzibar, Tanzania
Finish your trip on the magical island of Zanzibar.
Actually, 'Zanzibar' is made up of lots and lots of islands, but the most famous one, which people usually mean when they refer to Zanzibar is Unguja. The capital of Unguja is Zanzibar City, and the most famous section of Zanzibar City is called Stone Town.
Stone Town is, in my opinion, one of the most fascinating places in the world, a true melting pot of cultures. With winding alleyways, unusual buildings and a ton of things to do there. Spend time getting lost, taking a tour with my pal Farid, watching the local boys doing acrobatics on the beach and eating delicious foods (like a Zanzibar Pizza above) at Forodhani Gardens, or take a day trip to Prison Island or on the famous, Safari Blue boat.
If you only have 2 weeks for your Kenya & Tanzania itinerary, it will be difficult to get two Zanzibar beach destinations into your itinerary, so if I were to choose just one, I'd probably go to Paje as it's pretty but lively.
Paje, famous for windsurfing and white sandy beaches. There's plenty of good nightlife to be had too. From here, you're in a good place to get to the Rock Zanzibar, as well as Jambiani, another beautiful village and beach.
But if you have time, I would definitely try and squeeze in Nungwi or Kendwa. These are two of Zanzibar's loveliest beaches, up in the far north of Zanzibar. Whichever you go to, you will have a great time and the party tends to move around, with various bars holding the main party on different nights of the week. Saturdays at Kendwa Rocks are legendary.
Whilst you're there, try the delicious fresh seafood and if you like being on the water, you can go snorkelling or diving around the Mnemba Atoll or take a sunset cruise on a traditional dhow.
Things To Do in Zanzibar:
Explore historical Stone Town.
Learn about the Slave Trade.
Relax on the beaches.
Go shopping.
Eat at the Forodhani Gardens food market.
Party at the beach bars.
Take a trip on a traditional dhow.
Swimming & snorkelling.
Scuba diving.
Kendwa Rocks Full Moon Party.
Take a village tour.
Visit the Rock Restaurant.
I'll leave it there as I've written a very comprehensive guide on the best things to do in Zanzibar here and the best things to do in Stone Town here.
Time Needed: 4 – 7 Days. Although I love Zanzibar and you could easily spend more time here.
Read More About Kenya & Tanzania…
Kenya & Tanzania Group Tours
Please Note: Some of the links in this post are affiliate links, which will earn me a small commission at no extra cost to you. Affiliate sales help with the running costs of this site, so thank you for your support!