The Rock Zanzibar is one of the most iconic restaurants in the world and after 5 long weeks of overlanding, camping and public buses through Kenya and Tanzania, the day I'd been waiting for finally arrived, so you can imagine my disappointment when I awoke in Stone Town to rain and dark grey clouds. But we weren't booked in until lunch so I was holding out hope that the weather would improve.
A guy we'd met the day before had arranged a share taxi to take us to our next accommodation, New Teddy's Place in Paje, a little way along the coast from The Rock.
It was still raining when we arrived, so we grabbed some breakfast and then took a walk to try and change some money, something we stupidly hadn't done in Stone Town. The mini market was out of cash but they told us to try Paje by Night, another hotel on the beach.
They had no cash either. It was low season and it seemed everyone was paying by card. We only had a few shillings and dollars but luckily New Teddy's and The Rock both accepted cards, so we'd probably be ok until we got to Kendwa the following day.
Just then, the heavens opened and I witnessed one of the most torrential downpours I've ever seen. The day was not quite turning out as I'd hoped, so we did the only sensible thing – ordered beers, relaxed and waited for the rain to subside.
After the rains, we walked back to New Teddy's and the sky began to brighten. We were due at The Rock in about half an hour, at 2pm. I knew it wasn't far (about 10 minutes away by car), so when we'd arrived earlier, I asked about getting a taxi to the restaurant, and they'd said it was no problem, the taxi drivers were sitting in the bar, sheltering from the rain.
I wandered in and began talking to the barman "Mambo! Can we get a taxi to The Rock? How much is it?"
"$50 there and back." Said one of the taxi drivers sitting on a bar stool.
"It's only costing us $50 to go to Kendwa tomorrow, that's that's an hour and a half away and the driver is coming to get us from Stone Town."
He raised his eyebrows. "Well how much do you wanna pay?"
"A fair price. $50 is too much and you know it."
Eventually we agreed on $30. Whilst we drove, he asked if we'd like him to take us to Kendwa the next day instead.
"I'll do it for $50." Sorry mate. You've tried to rip me off once today already, you're not getting my business again.
By the time we arrived at the Michanwi Pingwe beach, the weather had started to improve, and my mood with it. The tide was out and the grey skies meant the sea was a slightly paler blue than the turquoise of my dreams and in the pictures I'd seen online, but the setting was stunning nonetheless, surreal almost to see a restaurant, on an actual rock just a few metres off the shore. We paddled out, being careful not to slip on the stone walkway, although I had been hoping we'd need to take the boat across.
After climbing the stairs, we were greeted warmly by the restaurant manager and shown to our table. The restaurant was pretty, adorned with flowers and everything you would expect from a restaurant in the ocean. It was busy with expats and holidaymakers, including quite a few families and had a relaxed and lively atmosphere.
We shared a lobster tagliatelle to start (which was really delicious) and for mains, Matt ordered The Rock Special, a plate filled with lobster, cigal, jumbo prawn, fish filet and calamari and I had the catch of the day – king fish.
The food was tasty, the fish was fresh and I enjoyed it, but I didn't go there for the food alone. I went for the unique experience of eating dinner in an super cool location and I was not disappointed.
Afterwards, we took our drinks out on the terrace to enjoy the view and take some photos. Following the rains, the cushions had been taken off the seats and it was really humid (and sweaty) but that didn't spoil the posing fun.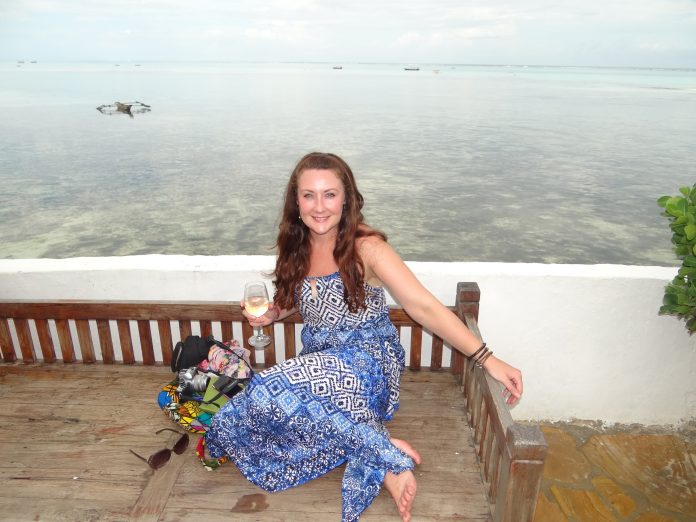 The tide being out may not have given us the best view of The Rock from the shore, but it did create the most wonderful mirror effect in the shallow water.
By the time we left, the clouds had cleared and the sun was just starting to set, bathing The Rock in a pretty golden glow.
As I was posing for a photo, a little boy ran up to me an latched onto my legs and just stood there
We headed back to New Teddy's and finished off the evening with a few more drinks. It was the low season so it was pretty quiet, with only a few guests, but I can imagine it gets pretty lively at weekends and when the wind is up, as Paje is a hotspot for kite surfing. We sat at the bar, listening to reggae and the faint sounds of the sea, whilst chatting to the guys behind the bar and a couple of German girls who were waiting for them to finish their shifts so they could all head out to party.
The next morning, we were heading over to Kendwa to meet up with our Absolute Africa friends, but not before taking a few pictures of Paje and New Teddy's. Everything looked a lot nicer in the sunshine.
If you're visiting Zanzibar's east coast, The Rock Zanzibar is definitely worth a visit!
Essential Info
Paje is around and hour and a half away from Stone Town. A share taxi costs approx $10 per person, a private taxi is around $50 and a dala dala is just a few shillings.
We paid $30 from New Teddy's Place to The Rock in a taxi (with a bit of negotiation). There were a few taxis outside the supermarket so you could probably get something a little cheaper. It is literally a 10-minute drive! If you have more time and you're on a budget you could wait on the road for a dala dala to come along.
Get money in Stone Town before you go, as there are no ATM machines in Paje and you can't always change money.
The Rock Zanzibar gets busy, so I would advise booking in advance
Try to time your visit with high tide. The restaurant looks so much prettier when surrounded by water.
Remember sunset is early around 6 – 6.30, so you need to be there earlier if you want to see it in daylight.
Would you like to have lunch at The Rock Zanzibar?