Last updated on July 11th, 2021 at 08:16 am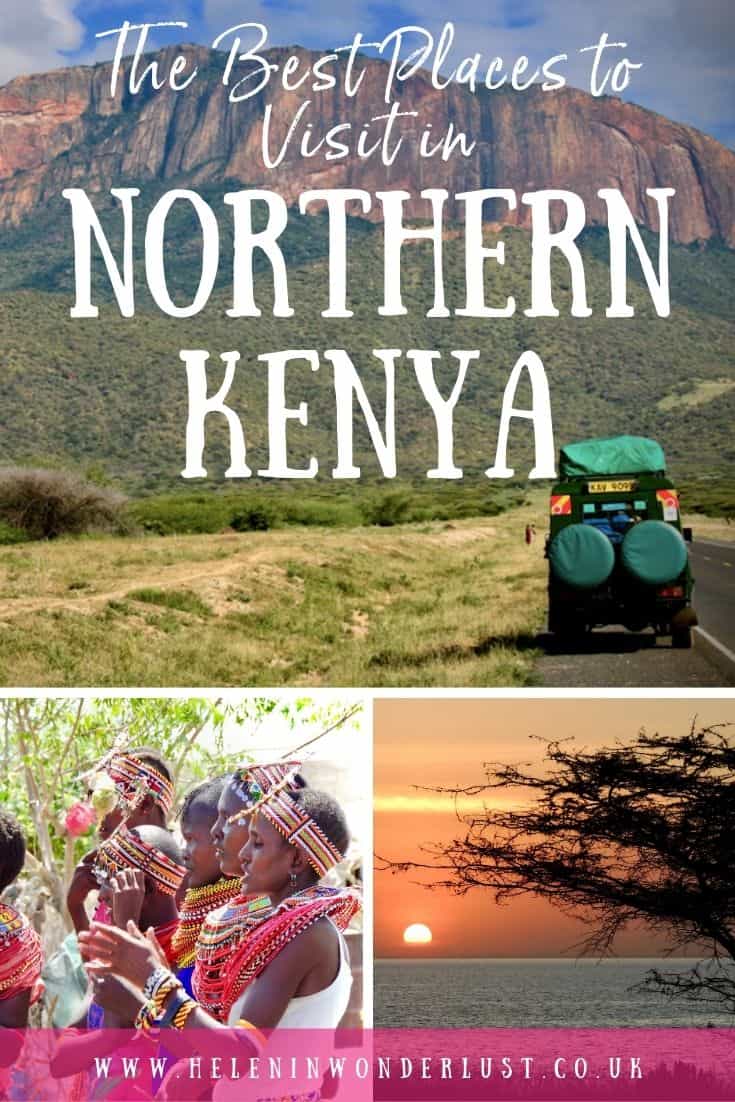 In Kenya, most travellers will usually only get as far as Samburu National Park, but there is another whole world waiting to be discovered beyond that!
This is probably the only area in Kenya where you can drive all day and see only one or two other vehicles (if you're lucky) so it's great for travellers wanting to get off the beaten path and away from the crowds!
Ever since our first trip to Lake Turkana in 2014 we have wanted to go back to find out more, so together with our team of guides, myself and my husband Moses made the journey to Kenya's far north and now we can let you in on some of the highlights of Northern Kenya!
It's certainly not the easiest place to travel but it's definitely worth the effort and for those of you who like comfort, there are luxury lodges too.
This is a guest post from my friend Laura (thanks Laura), owner of the wonderful Mara Explorers Camp & tour company.
---
10 Unique Places to Visit in Northern Kenya
---

1. Ngurunit
Let's be honest, you've probably never heard of Ngurunit and neither had we until we started researching for our latest trip up to the north of Kenya! We also thought Ngurunit would just be a stopover to break the journey on our long trip up to Lake Turkana however it turned out to be one of our favourite locations on the whole trip and we wish we'd spent more time here!
Firstly Ngurunit is located in the most beautiful scenery of the Ndoto Mountains, in the shadow of Mount Poi and next to the Ngurunit River. Let's clear one thing up right now, if you want luxury then Ngurunit is probably not for you, since there is only one operational campsite, Lasamu, in the whole town with (very) basic facilities but it's owned and run by a local guy called Steven who has a great knowledge of the area and relationship with the local community.
We were lucky to visit after the rains (in January) so we took a guided hike up one of the mountains for around an hour to reach a part of the river where it's possible to swim in rock pools and water slide down natural flat rocks. It was incredible and we TOTALLY recommend this! It's also possible to hike any of the mountains in this area with a guide, even Mount Poi which takes a person of normal fitness two days to go up and down.
Steven can also arrange camel rides, just for one hour or for a whole day or even a two-day trek with an overnight stay in the bush if that's your thing! Alternatively, you can just hang around and relax at camp, shower in the neighbouring river, walk around and chat to the local Samburu villagers and kids or ask Steven to organise you some warrior singing and dancing!
We only stayed 1 night on our last trip but we would definitely recommend 2-3 nights here.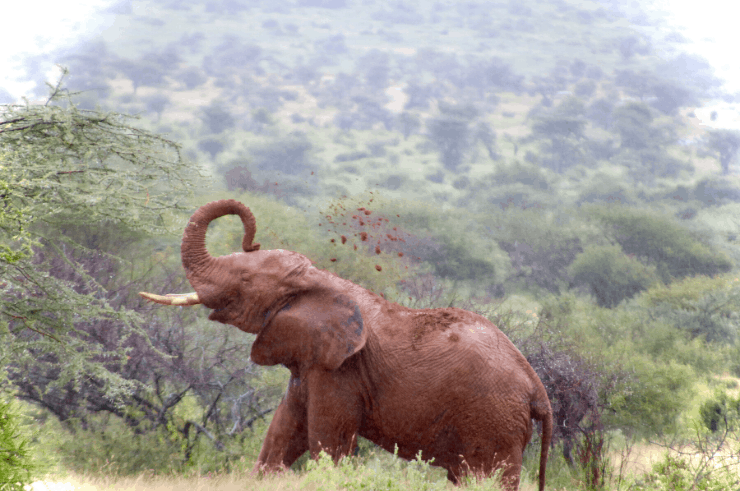 2. Reteti Elephant Sanctuary
We learned about Reteti Elephant Sanctuary by chance as we passed the signboard on our journey north.
Located in the Mathews Ranges within the Namunyak Conservancy this is the first community-owned Elephant orphanage in Africa. Rescued orphaned and abandoned elephants are cared for by the Samburu community before they can be released back into the conservancy.
It's possible to visit the sanctuary between 8.30 a.m. And 10 a.m. or 11.30 a.m. and 1 p.m daily but pre-booking at least a week in advance is a must. During your visit, you are asked to wear green if possible and you will be paired with a keeper who will accompany you the entire time to tell you about their work and answer any questions.
From a special viewing platform, you can also watch the elephants come in from their walk to receive their bottles and then have mud hole playtime. The conservation fee for the visit is $20 USD per person for foreign visitors and 150/- Kenyan Shillings for Kenyan residents, find out more here.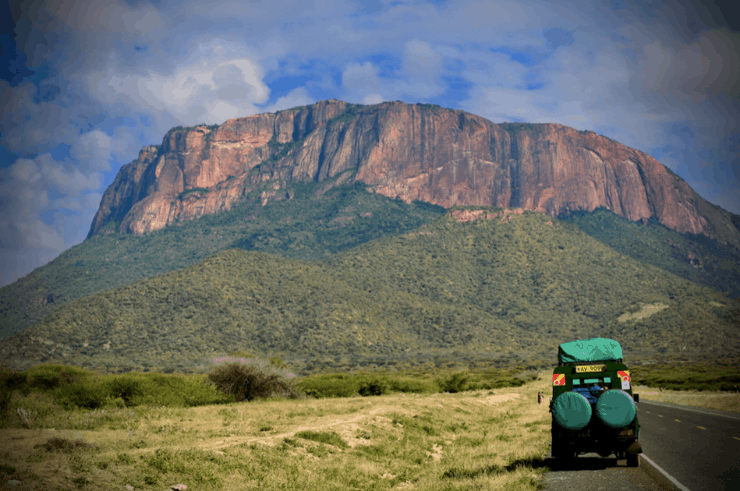 3. Hike Mount Ololokwe
When you make the drive north of Archers Post from Samburu towards Marsabit you will get the best views of the magnificent Mt Ololokwe (2000m). The road is fairly devoid of traffic once you start heading north so photo stops and selfie opportunities are abundant.
We chose to base ourselves at Sabache Eco Camp for this hike, another stunningly located but very basic campsite although there is also an accommodated area of the camp available for those who don't want to rough it so much! We were informed by the local Samburu guides at camp that normally tourists of reasonable fitness take 4 hours to hike up and another 3.5 hours to hike back down, although they said for themselves they can hike it in just 1-2 hours.
Of course, since we were accompanied by our Maasai guides from Maasai Mara this immediate became some kind of unspoken challenge and at 6am the following day our 'hike' turned into more of a 'race' to see who could get up to the top the fastest. In the end, we made it up with a respectable 3 hours (some of our group were closer to two hours) and back down in 2.5 hours but we would suggest 4 hours up and 3.5 hours down would be a better aim unless you want to spend the rest of the day and the following day barely able to move!
Like the rock pools in Ngurunit this was certainly another great 'team-building' activity for us and the view of the sunrise halfway up was stunning. Unfortunately, we were there during some apparently freak and unusually wet cloudy weather, so when we got to the top we nearly froze to death, and even to see the person a few meters away from us was a challenge so we made a hasty descent. But according to our guide, we were just unlucky and that rarely happens and the views from the top should be incredible!
Sabache Camp is a great place to hang out for a few days and also partake in some other activities they offer or which can be done in the surrounding areas such as bird watching, camel trekking, visiting the Reteti Elephant Sanctuary and you can also camp on top of Mt O'lolokwe, which would be amazing in good weather 🙂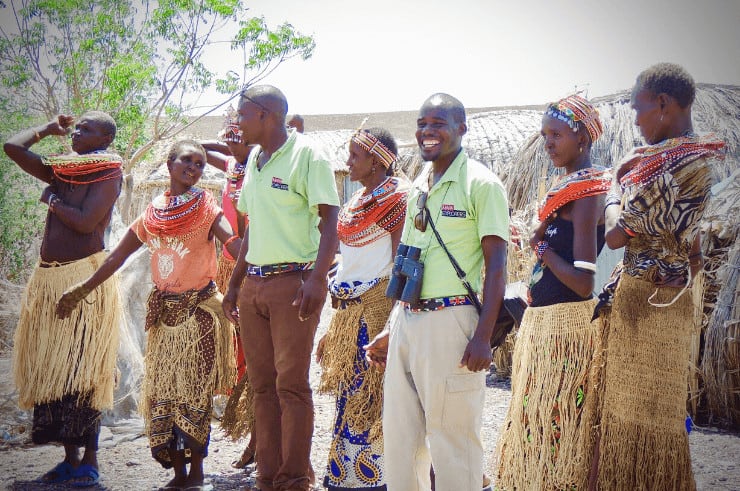 4.
Marsabit
Marsabit, while not large, is the last major town you will encounter before reaching Moyale and Kenya's border with Ethiopia and is mainly a Borana settlement. Located on the side of a 6300 sq km shield volcano it serves as the main hub for the northern Kenya towns and villages where it's possible to get fuel, supermarket, and local market supplies.
It's flanked by Marsabit National Reserve on one side and Marsabit National Park on the other. It's a great place to explore local markets and grab some local food and chai in JeyJeys Centre before heading into the National Park, which is worth a visit if you like birds and butterflies. Apparently, 30% of Kenya's entire butterfly population is found here, and we can believe it, they are everywhere!
A highlight here is camping or having a picnic overlooking Lake Paradise amongst the birds and butterflies as you hope to get a glimpse of some of the other wildlife such as elephants coming for a drink at this crater Paradise Lake.
There is also a great stopover camp on the edge of town if you are looking for something with electricity, cold beers and cheap room upgrades, run by a Swiss and Kenyan couple, called Henry's Camp.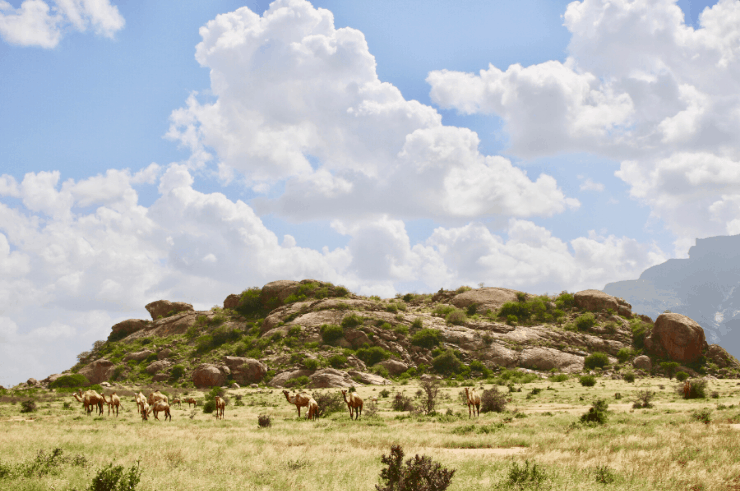 5. Kalacha
Kalacha was another location that we thought would just be a stopover en route from Sibiloi to Marsabit to break up the long drive since it didn't appear to throw up any activities during online searches or any decent places to stay, but it turned out to be an adventure in itself.
Google wasn't far wrong on the decent places to stay part as we discovered on our arrival at the AIC guesthouse and campsite, although the enthusiastic host ended up making up for it later with his local knowledge and willingness to try and assist with whatever he could!
He took us to a great spot on the edge of the Chalbi desert where there is an oasis and we stayed to watch the sunset over the distant mountains with sundowner drinks and snacks down (bring your own).
6am also found us piling into one of our vehicles with him to go and see rock art around 15kms from town, this place came as a total surprise, there was rock art literally everywhere inside! On our return we stopped over at the Catholic Church which had incredible artwork inside, before wandering around the shops in the town which is surrounded by homes of the Gabbra tribe as we made our way back to camp for breakfast.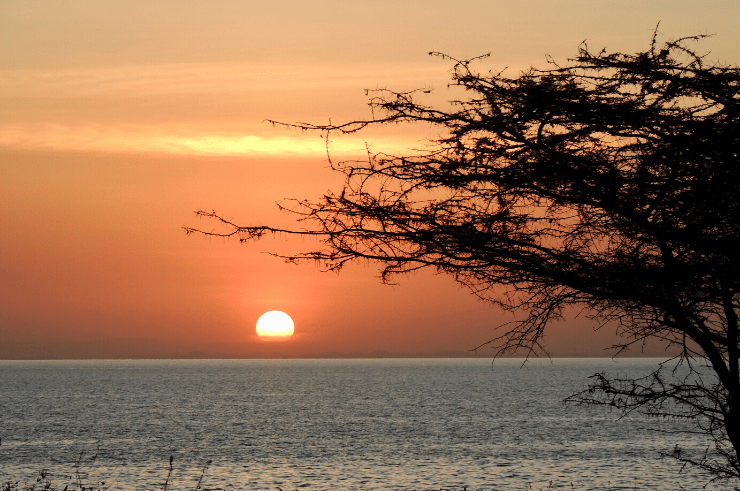 6. Lake Turkana 'The Jade Sea'
The final push of the drive to the town of Loyangalani on the shores of Lake Turkana is quite back-breaking but the view of 'The Jade Sea' as you come over the hills makes it all worth it!
Loyangalani is a strange kind of town in the middle of nowhere that has been put on the tourist map in Kenya due to being the base for the annual Lake Turkana Cultural Festival. Unfortunately, this festival is very hard to plan around since the organisers don't release dates until late and then often change them.
However, Lake Turkana is worth a visit, festival or no festival! The heat and humidity here is pretty high, so doing activities early morning and late afternoon is the best idea! We tried to book at Malabo Resort but on getting no response and remembering that last time their campsite had no trees for shade we took some advice from other travellers and turned up at Palm Shade, after some initial shock at seeing a group of 10 guests arriving the manager/cook/barman/general all-round helper Gabriel (GG) got us checked in to the campsite and sorted us with cold sodas.
This guy was a legend, helping us to find fuel, repair our puncture, locate fresh fish from the lake to cook for dinner, show us around and give us advice about the area. Another example of the staff being able to turn an average place into a great place! Palm Shade Resort did also have upgrade rooms and bandas (huts) but given the fact they don't have air conditioning, personally, we found camping a better option!
During our 2 nights here the highlight was a visit to the El Molo village. The El Molo are the smallest tribe in Kenya, at one point having only 99 of them remaining, They have now started to intermarry with Turkana and Samburu to avoid their tribe being lost for good but they have some interesting history and beliefs which they share with you during the visit.
From Loyangalani it's also possible to go fishing, visit the Desert Museum (best to combine this with sunset), and hike to see rock art (best done early morning before it gets unbearably hot).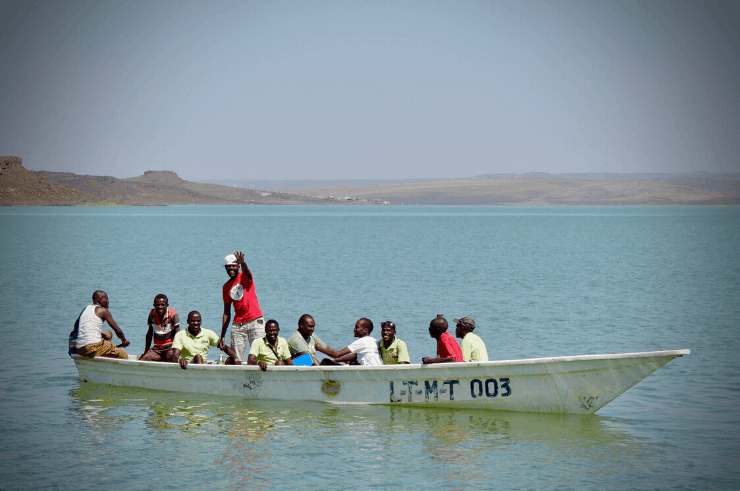 7. Sibiloi National Park
Up near the Ethiopian border, Sibiloi National Park is the 'Cradle of Mankind'!
This place has some of the best bush camping spots and most likely you will have the whole park to yourself since only a handful of tourists make it this far each year.
Our highlights here were showering in Lake Turkana, the amazing sunsets, camping in a dry river bed, checking out some giant petrified trees, seeing Dassanech children herding their livestock with AK 47's, checking out all the bones and fossils which have been located in this area, bird watching and using the bush campsite toilets, which for some reason don't have doors!
The only downside to Sibiloi is the soaring temperatures, during the drive there the gauge did hit 43 degrees and you can forget about having cold drinking water (by now everything gets hot), phone and internet network is also ex!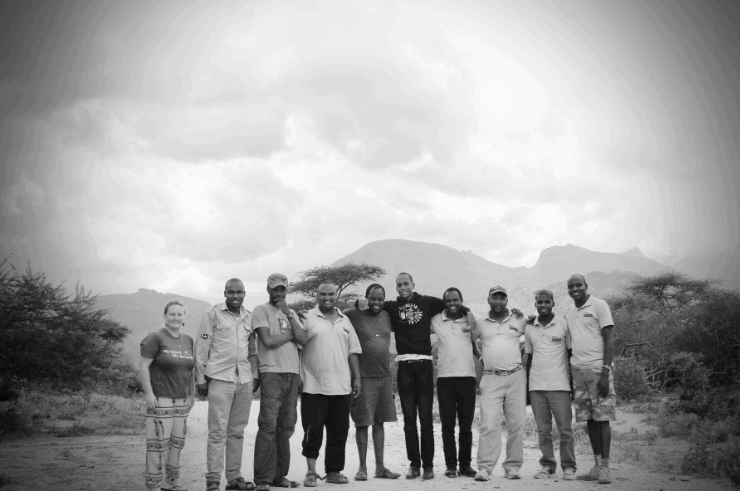 8. Hike
Mount
Kulal
Okay, we have not yet done this ourselves as this trip we didn't have the time, having 10 of us from one company all taking time off work meant that we had to be pretty strict on fitting in our trip to under 14 days and since Mt Kulal is another destination with next to zero information available online we decided not to risk it!
Mount Kulal is 2285m and as you drive to Loyangalani you will see it appear on your right from quite some distance away. Apparently, this is a tough hike, comprising of two summits joined by a narrow ridge with wind, dust, heat, and altitude to contend with, but the views from the top over the lake and the Chalbi Desert are almighty, we'll get back to you on that once we do it!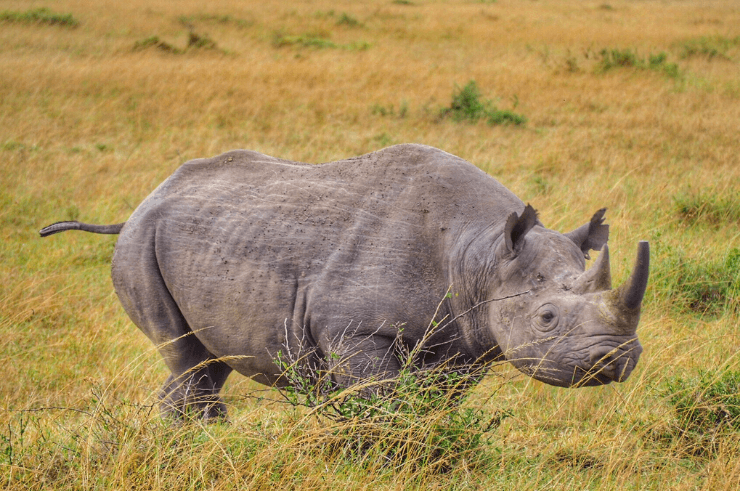 9. Sera Conservancy & Rhino Sanctuary
Sera Conservancy is part of the Northern Rangelands Trust group of conservancies and this 350,000-hectare conservancy is also home to a 54,000-hectare rhino sanctuary which is currently home to 16 rhino.
In Sera it is possible to track the Rhino on foot along with a highly trained ranger, this is the only location in Kenya with an opportunity of this kind. Sera is also home to singing wells and all the Special Five (Gerenuk, the Reticulated giraffe, the Somali ostrich, the Grevy's zebra, the Beisa oryx) as well as Striped Hyena and wild dogs!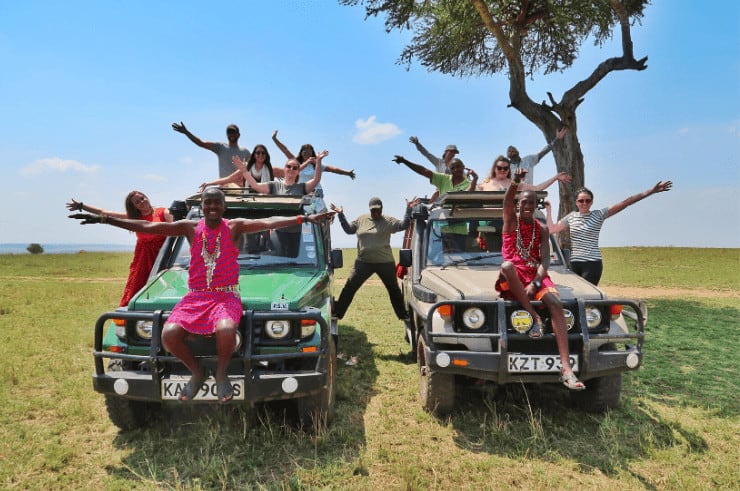 10. Come on the Rock My Northern Kenya & Lake Turkana Adventure
Hey, it's me Helen again!
Want to experience all of these places (and some more) with me and the guys from Mara Explorers? Then come on the Rock My Northern Kenya & Lake Turkana Adventure. You can find all the details and itinerary here.
Have you been to northern Kenya? Anything you'd add to the list?
Read More About Kenya & East Africa…
Kenya Group Tours
Please Note: Some of the links in this post are affiliate links, which will earn me a small commission at no extra cost to you. Affiliate sales help with the running costs of this site, so thank you for your support!