Last updated on April 14th, 2017 at 05:34 pm
As soon as I even began to think about Morocco, I knew that a Sahara Desert tour would feature on my itinerary. I wanted to ride a camel, sleep under the stars and play in the sand and experience everything in between.
Our story begins in Marrakech….
There was a knock on the riad's big wooden door. Lisa and I were already downstairs and waiting, happy to escape the hustle and bustle of Marrakech for a few days. Hassan, our driver and guide led us the short distance through the alleyways to the car and then we began our journey over the High Atlas Mountains towards the Sahara.
We snaked our way up the Tizi n'Tichka Pass, stopping to take photos at various viewpoints along the way. If this was just the beginning of the trip, I was excited about what else there was to come.
Just before lunch, we arrived at the ancient city of Aït Benhaddou, a UNESCO World Heritage Site and ksar on the former caravan route to the Sahara.
As you approach, it doesn't even look real, it looks like a film set, and it sort of is…
Aït Benhaddou where they filmed Gladiator (and Lawrence of Arabia, Game of Thrones and loads of other films)! In the Gladiator, the city doubles for Zuccabar in Mauritania (modern day Algeria). You know the bit, where Russell Crowe fights as a Gladitor for the first time and shouts "œAre you not entertained?" Pretty cool!
We were shown around the site by Mohammed, who told us about the history of Aït Benhaddou and took us to meet one of the artists who make these gorgeous traditional paintings using saffron, tea, indigo, water and an open flame. You'll have to see for yourself how they do it "" like magic!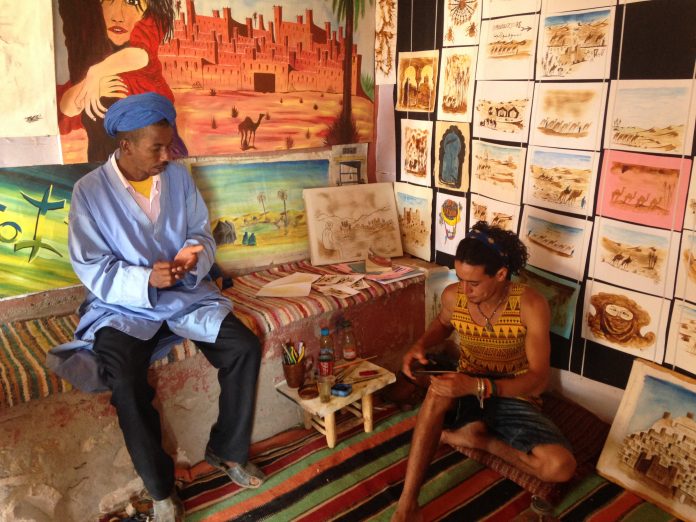 The only downside, was that it was midday, there were loads of stairs to climb and it was really hot. I was ok, but I did see one girl, sat in the shade, against a wall, head between her legs, looking like she was about to pass out – so make sure you take something to cover your head (or you can buy when there) and lots of water!
Lunch was served nearby at Riad Maktoub. Once again, I opted for tagine. Oh, tagine, I miss tagine.
After a quick paddle in the pool, we continued on, passing through Ouarzazate (you say it something like this: "œwaara-za-zet" "" took me ages to say it right which Hassan found highly amusing), Morocco's own Hollywood "" with a couple of film studios and everything!
We were heading towards the Dades Valley, where we would spend the night, briefly stopping to smell the roses (good life advice if ever there was any), in the very appropriately named Valley of the Roses. And wow, they were the sweetest smelling roses.
I don't know what I expected of Morocco, but the scenery exceeded my expectations and completely blew me away.
A welcoming pot of mint tea appeared within minutes of us arriving at Chez Pierre, our accommodation for the night. Just what I needed after a day of driving.
I had assumed we'd be staying in a pretty basic b&b type place, as the description Hassan had sent me said we were staying at 'an auberge, a small country inn', but what we got, was something entirely different. Chez Pierre was simply gorgeous, built into the mountainside, so in keeping with the surroundings, flowers everywhere and it even had a pool hidden away at the top!
That evening we were treated to one of the best meals I've ever had in my entire life. Seriously! The food was exquisite! There's no menu to choose from, they just bring you course after course of amazingness.
The following morning, after a good night's sleep, Lisa, Hassan and I continued our journey further into the Moroccan countryside. We passed ancient kasbahs, getting out of the car every so often to stretch our legs, take some pictures of the incredible views or do a little tour inside one of the buildings.
We stopped admire the magnitude of the Todra Gorge, with its huge rock face that apparently changes colour as the day goes on. Unfortunately we weren't there long enough for that, but it was impressive all the same.
We reached the town of Rissani, 'Gateway to the Sahara' and Hassan's home town, around lunch time. As we drove through the town, his friends would wave and say hello.
Hassan took us to a shop for Berber pizza and more Moroccan mint tea. Hearing there was meat inside, I secretly hoped it wasn't camel. I'll try anything once and I've eaten all kinds of unusual stuff (crocodile, kudu), but generally speaking if it doesn't moo, cluck, quack, baa or oink "" I'm probably not going to be into it. They'd served camel sandwiches one day whilst I was at the surf school in Tamraght and it just wasn't my thing. Thankfully, the pizza was beef!
After we'd eaten we were shown around the shop and taken upstairs to see the woven carpets Morocco is famous for. Lisa and I stood listened and politely nodding as carpet after carpet was laid out for us. Not being in the market for a carpet, I left empty handed.
I felt bad that I didn't buy anything from these guys who had made us this lovely lunch, but I couldn't afford it and really didn't want one anyway, so I bought a bracelet which is apparently silver, I'm not 100% convinced, but it's pretty and hasn't turned my wrist green yet.
Just a few metres away was the beautiful Moulay Ali Cherif Mosque. We were shown around by a young lad, with one of those kind faces and gentle demeanor that instantly makes you warm to him.
The mosque had so many interesting features, beautiful tiling, lanterns, even the door handles were pretty and it looked even more beautiful as the afternoon sun shone through the archways, casting long shadows on the floor.
As we left, Lisa spotted what she thought was a chicken going behind a rock. Turns out it was a baby owl who was desperate for water – it must have been 40 degrees, and the owl wouldn't last long without it.
The lad expertly picked up the owl by its wings and took it to the nearest puddle. The bird was perfectly calm and just sipped straight from his hand. The way the owl just seemed to trust him reminded me of when my friend George saved a baby impala when we were in the Masai Mara.
We got back in the car and continued on towards the desert, the Erg Chebbi sand dunes now in sight, stopping to take some more delicious sweet tea (mint of course) with a nomadic family.
We passed through the town of Merzouga, stopping at a small auberge on the edge of the desert to pick up our camels.
We were introduced to our guide Mubarak. He would be looking after the two of us whilst we spent a night in the desert. We were told to pack a small bag with just our essentials for the evening, before being given some more mint tea.
About an hour and a half before sunset, Hassan helped us tie our headscarves and then we met our dromedaries, that's an Arabian camel to you and me. My camel was called Jimi Hendrix. Lisa's was Bob Marley. I climbed aboard, making myself comfortable, before Jimi stood up, tipping me forward as I clung on for dear life whilst he got to his feet.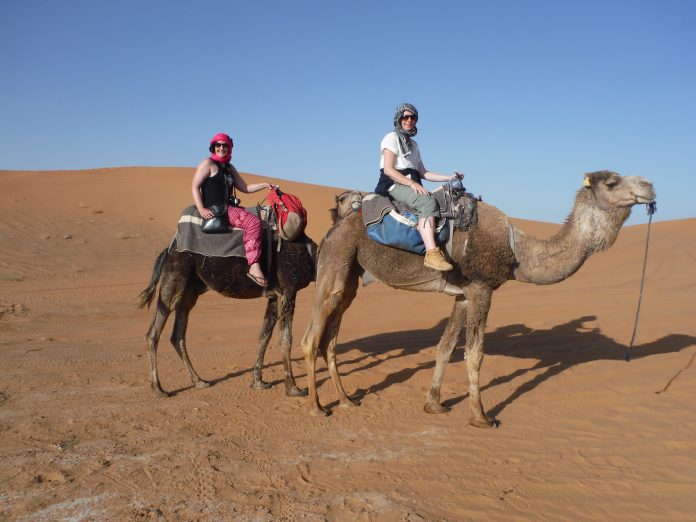 We headed off into the massive expanse of orange sand, set against a deep blue backdrop. The camels expertly navigated the dunes, silently plodding one foot after the other. I felt quite at home on my camel. It was so peaceful. I loved watching our shadows in the sand and I wondered what it must have been like for the caravans travelling for days and weeks on end through this endless desert.
We arrived at our Berber camp, and Mubarak settled Bob and Jimi down for the night. Bob Marley, the bigger of the two, always looked so serious, whilst Jimi Hendrix wore a constant wry smile.
The camp was made up of around 8 tents in a circle, each of them contained a rug, a small table and a double bed.
As Mubarak was preparing our dinner of tagine (vegetable one this time), Lisa and I headed up the sand dunes, our calves burning with every step, but it was worth it to watch the sunset, have some quiet time and play! It was beautiful.
By this point, the sand had turned to bright orange, whilst the sky turned a deeper shade of blue. We could see a few other camps nearby, and in the quiet desert, we were even able to make out snippets of conversations drifting in on the wind.


Once the sun set, we did the only sensible thing – we roly poly'd back down to camp. I found sand in places there shouldn't be sand for days…
Mubarak brought us more mint tea and I practiced the art of tea pouring. Mubarak didn't speak any English, but he had one of those smiley faces that made you want to smile every time you looked at him.
The sky was fully dark by the time dinner was ready and the stars had begun to twinkle. Dinner was delicious, in fact probably the best tagine I had in Morocco. Lisa said a few sand flies jumped in as we were eating, but I didn't even notice, too busy scraping every last bit out of the bowl!
After dinner, Mubarak whipped out some bongos and started singing for us, then another dude rocks up, we didn't find out his name, but I like to refer to him as Comedy Dave, and he has some bongos too, and the two of them start singing for us. To return the favour, I then had a go, treating the group to my bongo/a cappella version of Africa by Toto. Lisa filmed the whole thing, laughing, whilst Mubarak and Comedy Dave just looked a bit confused.
Once the show was over, I put my Berber headscarf back on, tying it in exactly the same way Hassan had shown me earlier. I asked the guys if I looked like a real Berber now. Comedy Dave, speaking a little bit of English, replied,
"œYes, we call you (pointing to Lisa) Aisha Berber, and we call you (pointing to me) Fatima Couscous".
Well, this set me off into absolute hysterics. Fatima Couscous! FATIMA COUSCOUS!!!!
I know they must use that joke on every tourist that passes through, but OMG, I almost wet my pants.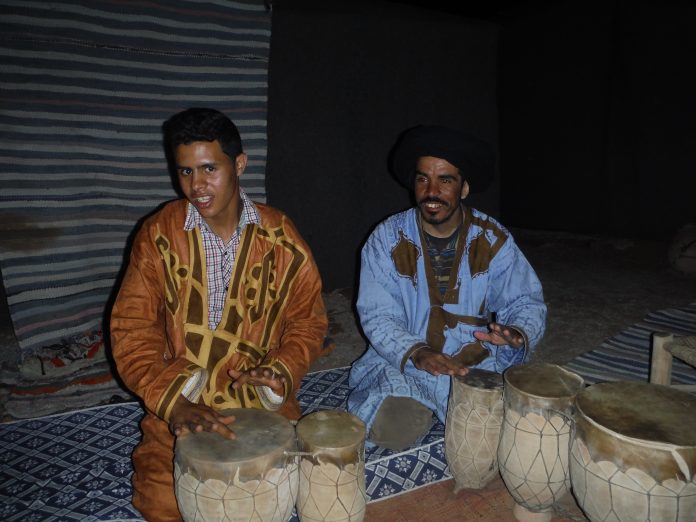 Once Comedy Dave had disappeared off into the night (where on earth did he go?), we introduced Mubarak to the game of Dobble. Explaining a card game when none of you speak the same language is kind of difficult, but Mubarak got the hang of it pretty quick and began getting really into it, winning a few games, saying "œAgain! Again!" after each game.
After about 20 rounds of Dobble (the best game ever), we turned out the lights and watched the sky, keeping an eye out for the shooting stars. Sadly I didn't see any like the one I'd seen in Tamraght, but it didn't matter, there were thousands of stars twinkling overhead and it was beautiful.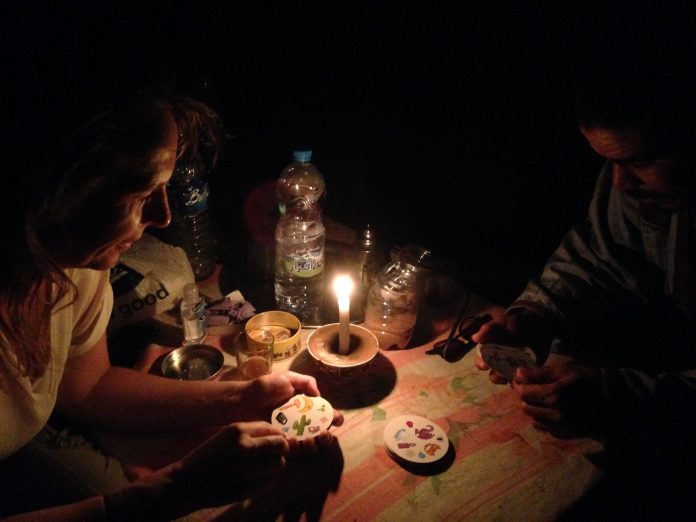 Once we'd seen our fill of stars, we went to bed. The beds were a just a mattress with a big thick blanket on top. Not quite sure about the mattress and blanket, we just slept on top of them, layering up in all our our clothes. It was cold though, and I really wished I'd brought a sleeping bag.


At around 6am the following morning, Â we hopped back onto Jimi and Bob, and rode out of the desert the same way we'd rode in, Mubarak leading us from the front.
Arriving back at the auberge, it was time to say goodbye to Mubarak. I really feel like we all bonded in the desert, so we gave him a present – Dobble! Not sure I've seen anyone look so happy. I often wonder if he's still loving the game, playing it with other tourists or his Berber pals?
After breakfast and a quick refresh, we began our long journey back to Marrakeach, up and over the Atlas Mountains again. Both Lisa and I trying not to look down at the sheer drops as we zipped around the mountains. But it was completely worth it.
I loved spending time with the Berber people, so kind, so hospitable – who also refer to themselves as Amazigh – 'the free men'. Hassan created an incredible itinerary for us – the scenery was fantastic, both in the mountains and in the desert and I got to ride a camel, and it was just as wonderful as I'd imagined it to be. Plus, I got to roly poly in the Sahara Desert! Â Does it get any better than that?
Essential Info:
We booked our private tour through Sahara Magic Tours before we arrived in country. You can however book when you are in Morocco, prices vary a lot, depending on whether you take a private or group tour.
I'd definitely recommend going on a 3-day tour so that you can see the big sand dunes of Erg Chebbi.
There is a lot of tipping involved. Other than Hassan, we had a few other guides, so remember to have some money for that.
Take very warm clothing – the desert gets really cold at night.
There is a lot of driving, on very windy roads with steep drops. It can be a little bit scary if you are afraid of heights, so don't be afraid to ask your driver to take it slow.
Remember to take water with you whenever you go on one of the small excursions, it is really hot.
A scarf to cover your head and shoulders is also a good idea. You can buy these at quite a few places – I bought my pink and purple one at Aït Benhaddou.
Read more about this Morocco:
Pin it for later!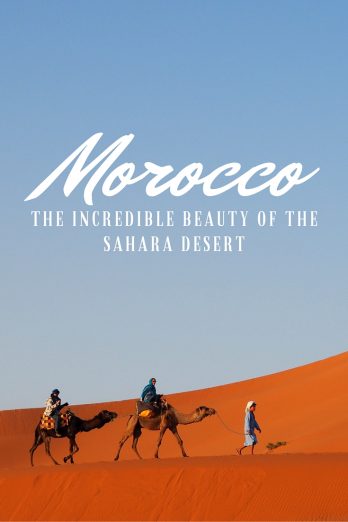 Would you like to visit the Sahara?