Last updated on February 11th, 2021 at 03:41 pm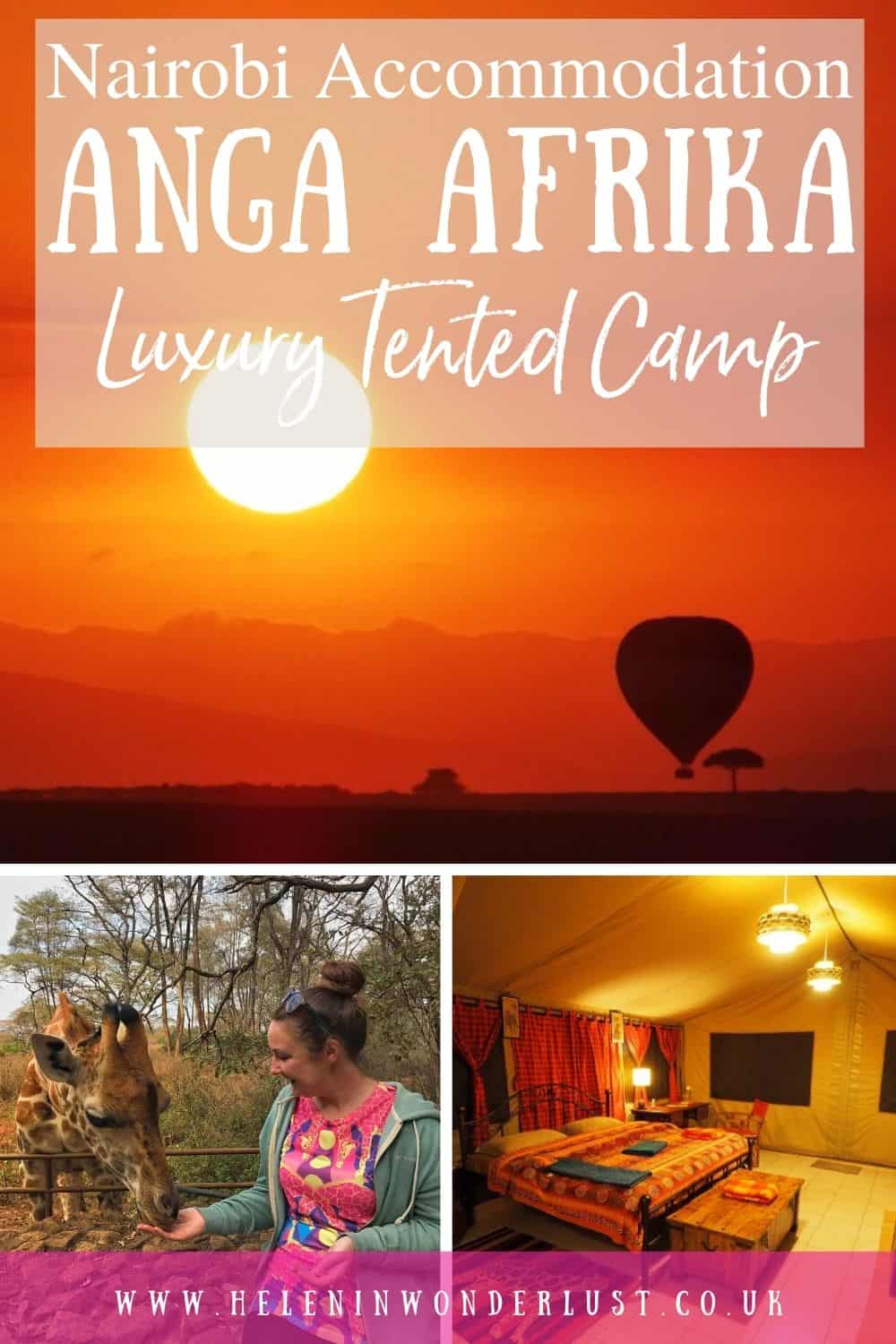 Before I head out on any Africa trip, I spend a lot of time researching the coolest and most unique places to stay in the area.
I'm really into experiential travel, and for me, the accommodation is as much a part of the experience as anything else. I love to find hotels, guest houses, apartments, hostels and camps that are a little bit different, the more creative and quirkier the better.
That's one of the reasons I love glamping, boutique hotels and eco-lodges so much, as they tend to be a little bit out of the ordinary, with loads of personal touches and run by awesome people.
So when I was researching my last trip to Kenya, I was really excited to come across Anga Afrika, a family-owned eco-camp in the suburb of Karen in Nairobi. It looked like my kind of place and so I booked in for the night.
---
Anga Afrika Luxury Tented Camp in Nairobi, Kenya
---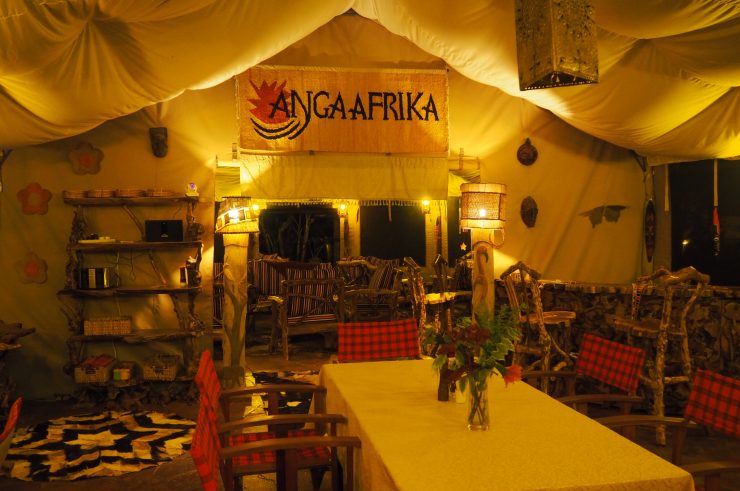 The Camp
The camp itself is lovely, serene and intimate, set within the grounds of a family home.
In the centre, there is a cosy lounge, bar and dining room with beautiful handmade furniture in true safari style and even the chairs around the camp are made with Maasai blankets. Even better, it's an eco-camp that uses solar power.
Every so often, they host retreats and events and it's the ideal setting really as the lounge is set out in such a way that makes it really sociable too.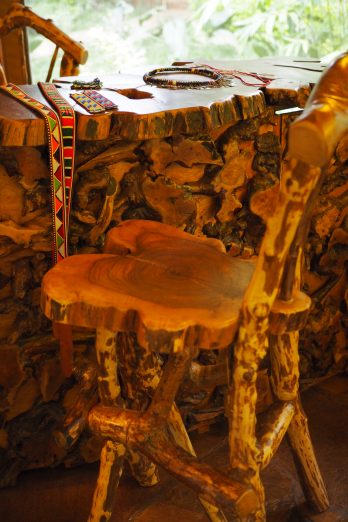 The rooms surround the communal area and lie within an exotic garden filled with banana trees and animal sculptures. And if you really want to get into the glamping spirit, there's a fire pit you can sit around and roast marshmallows.
I loved the relaxing jungle vibe and you wouldn't know that Nairobi city centre was just a few miles away.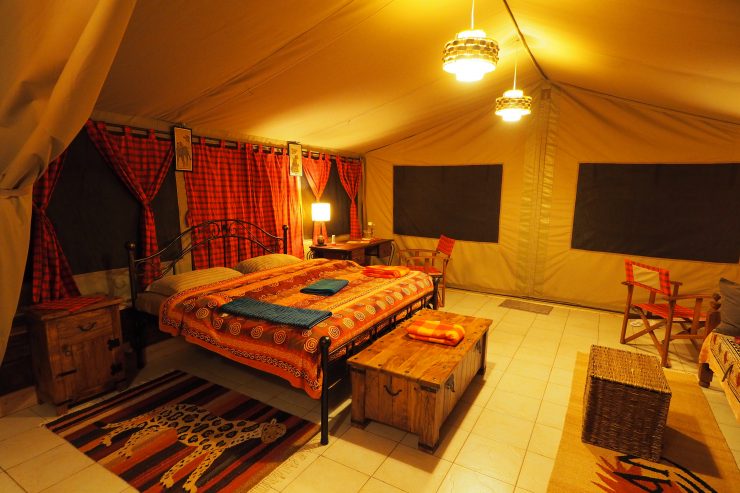 The Rooms
The rooms are actually big safari-style tents. The tents sleep up to 3 adults or they can also add a cot for children to sleep 4 and each one is named after an animal. I stayed in the Chui room and the word chui is Swahili for leopard.
The decor has a true 'Out of Africa' feel, with African print and an earthy palette. The beds are big and super comfy, perfect for relaxing after a long journey. All towels are provided, as well as bathrobes, slippers and toiletries! There's plenty of storage space (including a safe) and lots of gorgeous little touches around the room. There's a desk in the room so if you need to work, you can.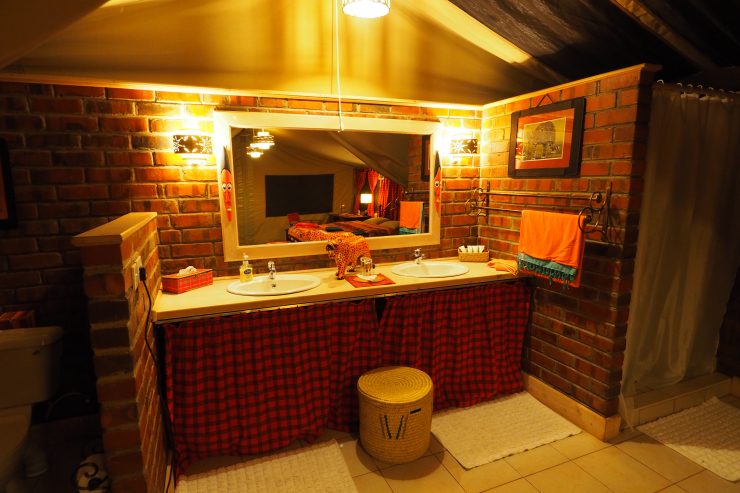 Each tent has it's own front porch too, where it would be lovely to sit out with a nice big glass of wine and a book. If I'd had more time, this is exactly what I would have been doing!
I arrived late and it was pretty cold in my room at first, however, the room had lots of blankets, a heater and they even brought me a hot water bottle, so once I was in bed, I was super cosy and had one of the best sleeps of my life.
And most importantly, the shower was lovely and hot!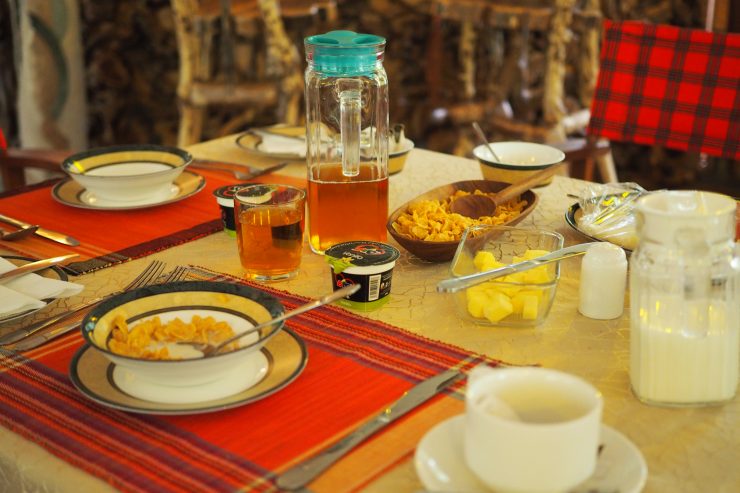 Food & Drink
I arrived too late to sample dinner in the restaurant, but I did have breakfast.
Breakfast was hearty, starting off with cereal, yoghurt and fruit followed by eggs cooked as you like, sausage and toast. There was apple juice on the table and there's a choice of Kenyan tea or coffee. As I was travelling alone, I was paired up with another solo traveller who was there for a conference and we had a nice chat over breakfast.
The bar stocks wine, beer and cocktails (not that I tried them at 9am).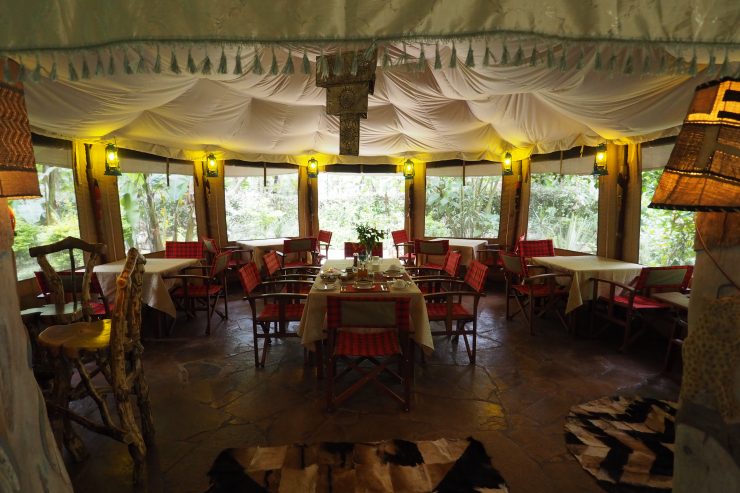 Location
Anga Afrika is in Karen, a suburb of Nairobi, out towards the Ngong Hills (if you've read Karen Blixen's 'Out of Africa' or seen the film, you'll be familiar with the Ngong Hills and the area is named after the Danish author). Karen is a relatively affluent area of the city.
The camp is around 25 minutes from the main airport and 16 miles from the Central Business District. The traffic in Nairobi can be a little bit crazy, so if you are working in the centre of town, just be aware that it may take you a while to get in and out each day.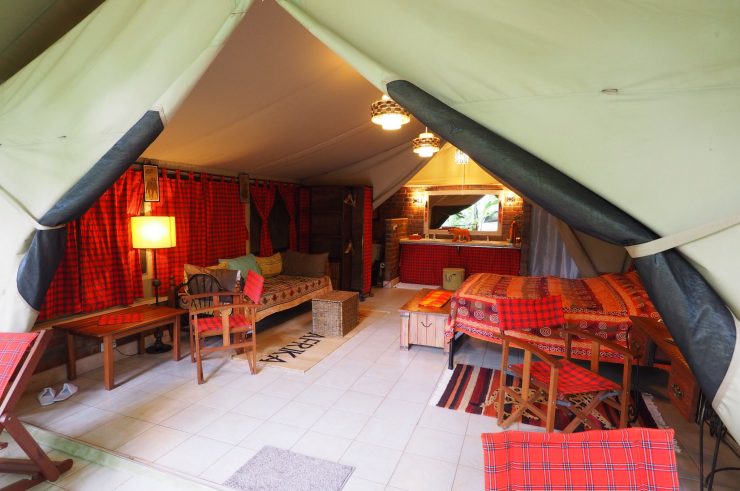 However, if you are a tourist, Anga Afrika is perfect, as it's really close to a lot of the main tourist attractions and on the right side of town to head out on a Masai Mara safari without getting stuck in the bulk of the traffic.
As with many suburban areas in Kenya, there are a lot of dogs that like to bark at night (and you may also hear the odd lion roar), so if you are a super light sleeper it might be good to bring some earplugs.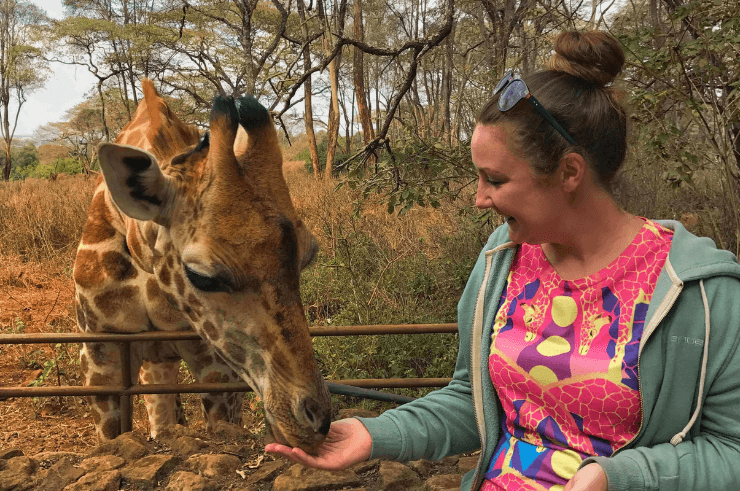 Things To Do
At the camp, you can arrange for afternoon tea and they also do honeymoon packages with couples massages and candlelit dinners.
Outside of the camp, Nairobi is a great city, often underrated, with so much to do!
Near to Anga Afrika, you'll find the Karen Blixen Museum, Kazuri Beads, Marula Studios, the Nairobi Giraffe Centre and the David Sheldrick Elephant Orphanage. If you're feeling energetic, you can go hiking in the nearby Ngong Hills and Nairobi National Park is about an hour away if you want to go on a safari.
READ MORE: 25 Awesome Things to Do in Nairobi, Kenya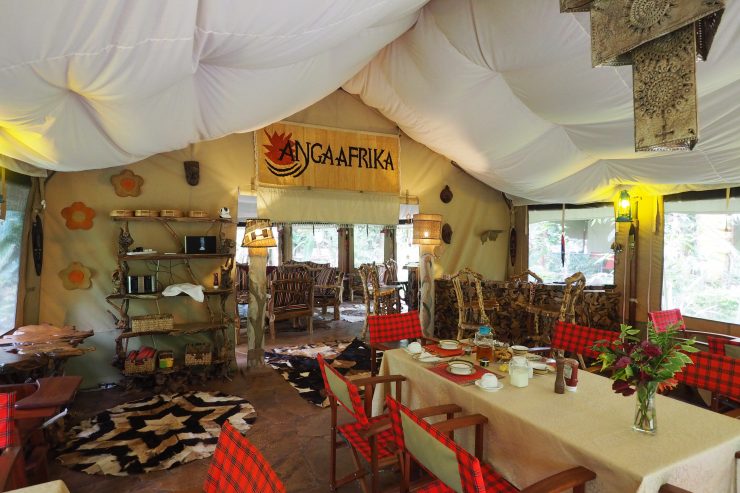 Facilities
Aside from the restaurant, lounge and bar area and the fire pit, there isn't much in the way of facilities. There's no gym or pool, but then you don't need these those things when you're in Nairobi, as there are so many better things to be doing! And when you're not off exploring the city and surrounding areas, you'll probably want to be relaxing, reading or making new friends around the campfire anyway.
They can organise a beauty therapist to come to the camp should you want a massage, manicure or pedicure – which you may need after going on safari! IÂ believe they also have a babysitting service too.
The WIFI is also good, so you'll be able to Instagram all those amazing photos you've taken on your trip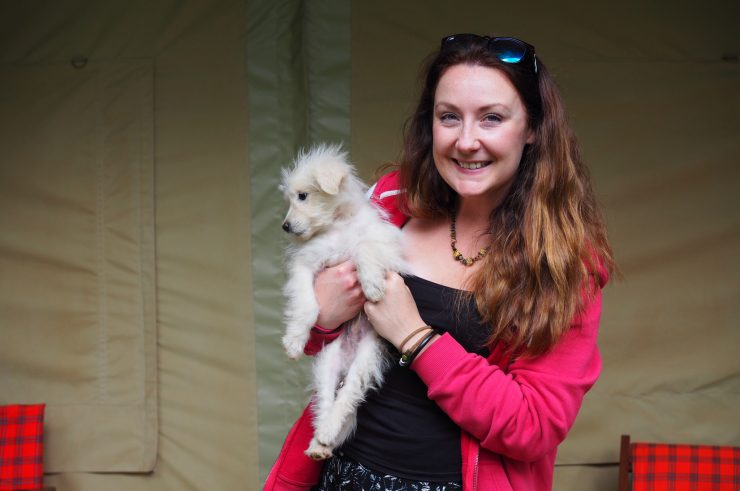 Overall
The staff and owners are really welcoming and nothing is too much trouble. I loved the relaxing setting and the way the camp is styled is perfect.
If you are looking to get away from it all or for affordable luxury, with a true African feel and close to many of the main Nairobi attractions, then I would highly recommend Anga Afrika, glamping at it's finest!
Plus, they have THE most adorable puppy called Sparky who I absolutely fell in love with!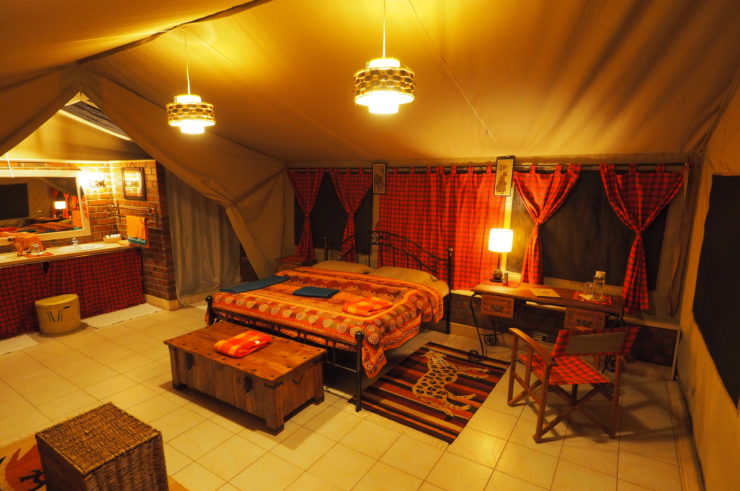 Essential Info
To make a booking visit the Anga Afrika Luxury Tented Camp website.
Rooms start at $200 per night.
A taxi from Jomo Kenyatta International Airport to the camp will cost you 3,500 KSH. Anga Afrika can organise your pick up.
I was a guest of Anga Afrika during my stay, however, they did not ask me to write a favourable review and all opinions are my own.
Read More About Kenya & East Africa…
Kenya Group Tours
Please Note: Some of the links in this post are affiliate links, which will earn me a small commission at no extra cost to you. Affiliate sales help with the running costs of this site, so thank you for your support!