Last updated on February 5th, 2021 at 03:45 pm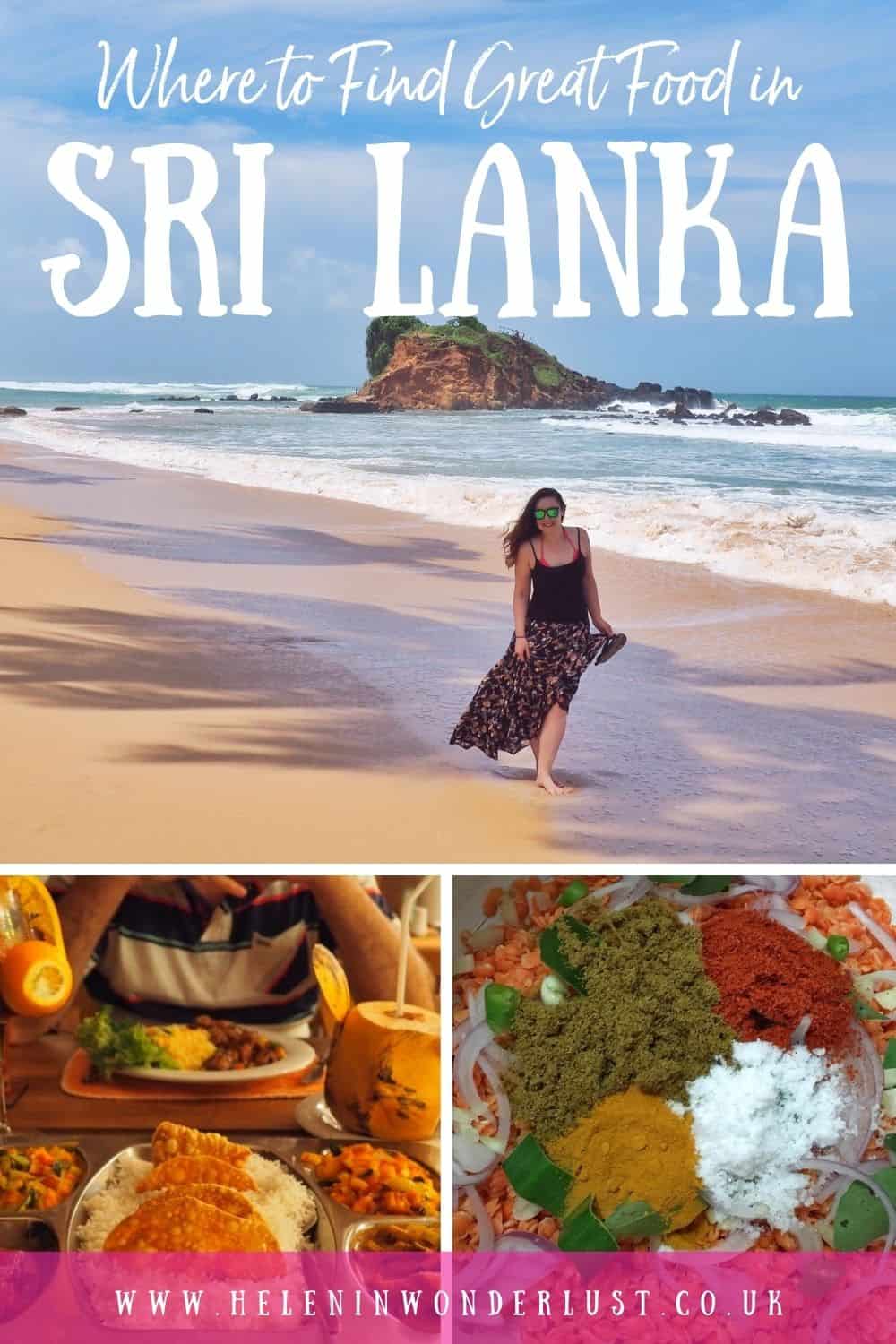 I've already talked about how much I loved the food in Sri Lanka, so I thought I'd tell you about where to find it!
Sri Lankan food is some of the best I've had anywhere in the world and it's easy to get a really great, nutritious and tasty meal, whatever your budget. I pretty much ate my way around the country, trying anything and everything so I could report back on my findings (the things I do for you guys) from local street food places to higher end restaurants and I even ate at a hotel buffet one night (in case you were wondering – very expensive and totally not worth it). There were plenty of choices in every place we went (sadly I couldn't eat in them all). Some places were better than others, but the ones listed below are the places I really enjoyed and ones I would 100% recommend!
Oh, and if you're vegetarian or vegan you'll have no problem finding great food, as there's pretty much a meat free version of everything and the flavouring often comes from spices and coconut milk!
So here's my recommendations on where to find really great food in Sri Lanka!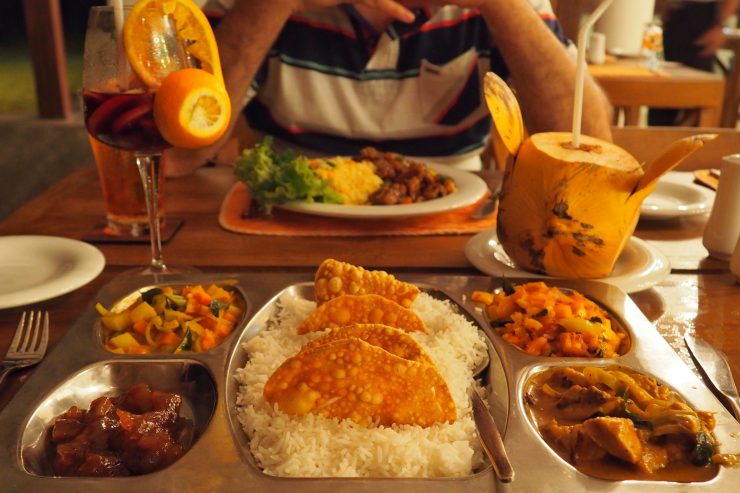 King Coconut, Negombo
This was the first place we ate in Sri Lanka and let's say the bar was set. The restaurant is large, modern and right on the beach. It's not a cheap place but it's not expensive either. They serve a range of different types of cuisines including Italian, Chinese and of course Sri Lankan. Having just arrived, I went straight for Sri Lankan chicken curry and rice, which came with vegetables, spicy pineapple, mango chutney and papadums. It was really tasty and with just the right amount of spiciness for me. To drink, I had a refreshing thambili (king coconut) which is native to Sri Lanka and super healthy! I also had a sangria, which I didn't like so much as I think it had vermouth in it, and I'm not a fan.
Dinner for 2 (including drinks) = 3,400 LKR (£17)Â
---

Chooti Restaurant, Sigiriya
This family run restaurant and shop was a great little find. Nothing fancy, just a simple roadside restaurant, with plastic chairs and tables. The food was typical home cooked Sri Lankan – cheap and tasty! The staff were lovely, as I found most Sri Lankans to be and everything was served with a smile. I had vegetable kothu which is chopped up roti (like a chapati), spices and different veg (carrots, cabbage, onion). On the side I had a big old Lion Lager.
Dinner for 2 (including drinks) = 1,000 LKR (£5)Â
---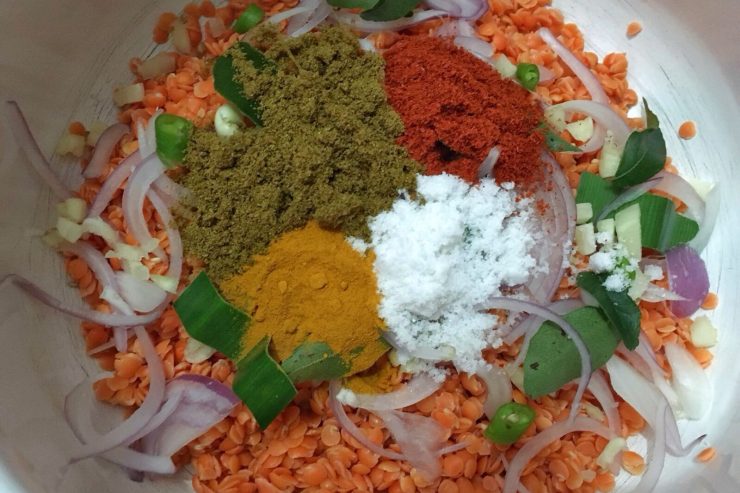 Ella Spice Garden, Ella
Having tasted so much great Sri Lankan food, one of the things we really wanted to do was take a cooking class so we could cook it ourselves at home. We had a few days in Ella and the weather was pretty rubbish so thought this would be a great opportunity for an indoor activity and one of the girls we met at our hotel said that she's heard great things about Ella Spice Garden, so the three of us booked ourselves in one rainy afternoon.
Our teacher, Chandika was brilliant. A young, entrepreneurial guy of 27, he made the class really fun and the 3 hour lesson flew by! We learned all about the various spices and learned to cook 3 curries, as well as the accompaniments of coconut sambol, rice and papadums. And the best bit was that we got to eat it all once we'd finished and it was really good – even if I do say so myself. If you are in Ella, definitely do this so you can impress your friends back home! One of the best things I did in Sri Lanka without a doubt.
Cooking lesson & dinner for 2 = 5,000 LKR (£25)
---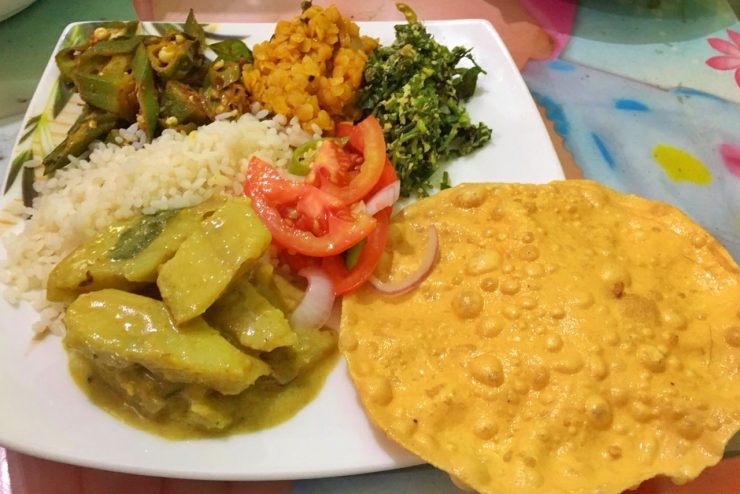 Wimala Hotel, Ella
There are tons of nice places to eat in Ella, with two of the most popular spots being Cafe Chill and Dream Cafe, which are filled with tourists day and night. However often you can find the best food at the smaller local cafes, which are often a bit harder to spot.
Not actually a hotel, this is tiny little place, which is part cafe, part shop that we just stumbled across. I knew it would be good because it was filled with locals and we were the only tourists in there. We ate here at lunch time and my friend and I shared a few veggie dishes, potato curry, salad, dhal, greens, okra and with rice and a papadum. The food was typical Sri Lanka fayre, simple, delicious and very very cheap! Definitely recommended.
Dinner for 2 (including soft drinks) = 700 LKR (£3.71)Â
---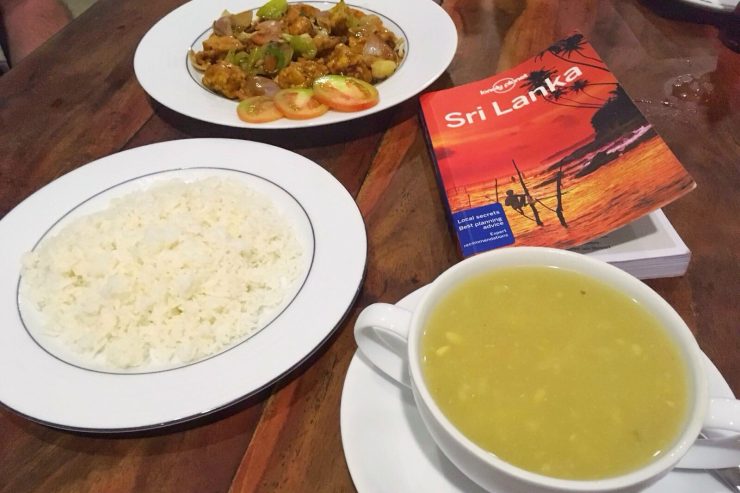 Royal Restaurant, Tissamaharama
Another Sri Lankan restaurant serving local dishes as well as Chinese food. The place was one of the busier we ate at, mostly with Sri Lankan families. The restaurant is big and bright, with a TV showing Bollywood movies on the wall, which the everyone seemed a bit transfixed by, so probably not the place for a cosy, romantic night, but the food I had was good. Actually the only food I had was a bowl of chicken and sweetcorn soup, however, it was the best chicken and sweetcorn soup I've ever had (and I've had a lot). The only downside to this place was the chairs. They were really uncomfortable and the slats on the chairs really hurt my bum! Maybe bring a jumper to sit on.
Dinner for 2 (including soft drinks) = 1,650 LKR (£8.26)
---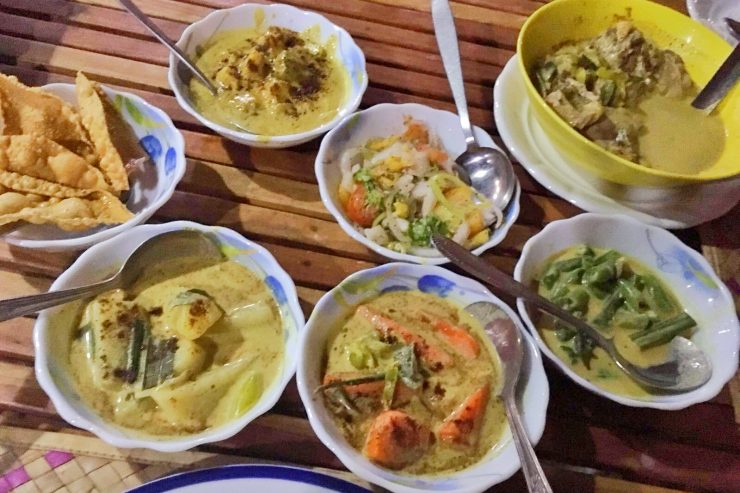 New Cabanas Restaurant, Tissamaharama
We popped in here for a drink on the first afternoon we arrived in Tissa. It was pouring down with rain and we fancied a beer to cheer us up. Turns out they don't serve beer, so we just had a soft drink and got chatting to the owner. Somehow he ended up arranging our onward transport. I swear everyone in Sri Lanka is a travel agent or a fixer. Anyway, we ended up saying that we'd pop in for dinner after our safari the following day, before we headed on to Mirissa.
The food again was typical Sri Lankan, with some Chinese dishes on the menu too. I just ordered vegetable curry again (as it's just so good) with lots of dishes, but I didn't get to try the seafood that I hear is pretty good! It's a bit more expensive than some of the similar restaurants we ate in, but still pretty cheap by any standards. The only downside to this place was that there were tons of flies buzzing around the lights above the tables, however the manager used a nifty trick and covered the bulb with a plastic bag which kind of solved the problem! It was a bit off putting at first though.
Dinner for 2 (including soft drinks) = 2,100 LKR (£10.50)
---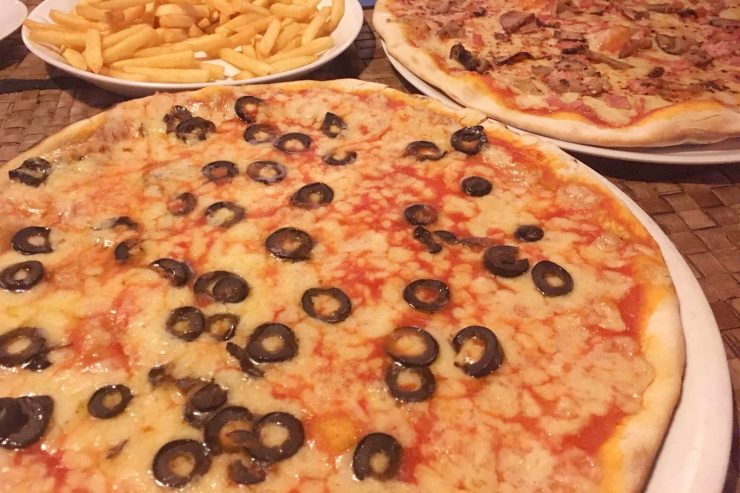 Spaghetti & Co, Hikkaduwa
Don't judge me. Actually, I don't care if you do. Sometimes you just need a pizza. After eating curry pretty much every single day for two weeks, I was curried out and needed some cheese in my life, so we headed to Spaghetti & Co so I could get my fix. The pizza was really cheesy and really good, just how I like'em!
Dinner for 2 = 3,400 LKR (£17)Â
---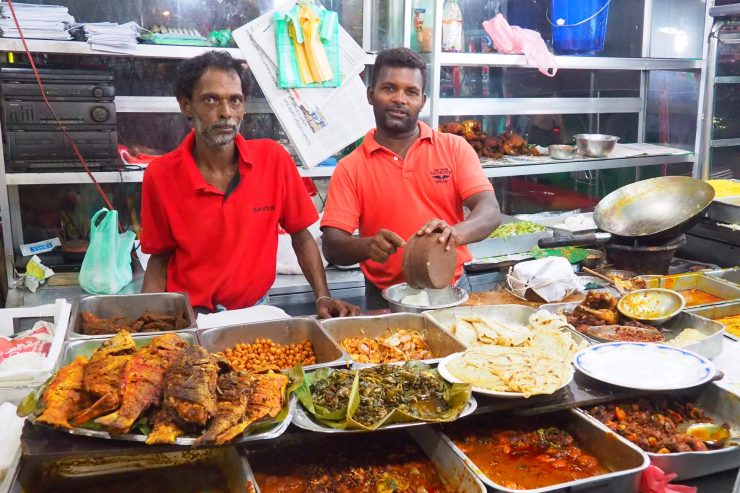 Random Street Food Place, Colombo
We went on a Tuk Tuk Safari in Colombo which was really fun (I'll be writing about it soon) and our tour guides took us to a local cafe in Pettah. Pettah is the busiest district in Colombo and the place was bustling with locals, chaotic and right on the street – I loved it. It was a typical street food type of place. We were the only foreigners there and I was the only woman in there. I asked why this was and our guides said that this was a Muslim area and the local women don't usually eat in here with the men, but I didn't feel unwelcome at all. The two teenage boys on the next table did not take their eyes off me though, which I found quite funny and a little bit weird.
I did ask the name of the place but our guides Captain Pumba and Bob Marley were like 'It doesn't really have a name' – so sorry, I can't tell you what it's called! You'll just have to take a Tuk Tuk Safari yourself! The food there was fab (although I have absolutely no idea what I actually ate), apart from the Sri Lankan speciality, hoppers and egg hoppers which I finally got to try here.
Tuk Tuk Safari for 2 (inclusive of all food and drinks) = $120
---
Have you been to Sri Lanka? Any great restaurant recommendations?