Last updated on March 23rd, 2022 at 08:09 pm
Safaris to Botswana are out of this world. The Telegraph even named Botswana 'the BEST safari in Africa' and I'd have to agree. Botswana safaris are non-short of magical.
Being out in the wild, amongst nature. I would say that Botswana is one (if not the) most relaxing and natural places I've ever been to with not much going on really, except for pockets of activity here and there.
I just re-watched Levison Wood's 'Walking With Elephants' and it made me want to go back even more. Where he went on that trip is where I take my tours and I can confirm, it really is like what you see on TV.
I've travelled Botswana on tours and on a self-drive and both are amazing, but very different experiences.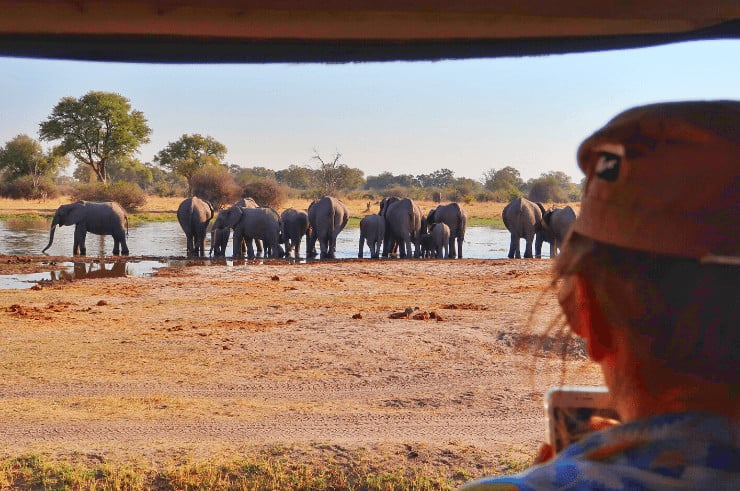 Due to where everything is in Botswana, there is no real easy way to see all of the highlights without doubling back on yourself or veering wildly off course. Which is great if you have time and money, but not so great if you don't.
But to be honest, Botswana is so amazing and there are so many great activities on offer that you will have a great time no matter where you go! So below I've listed some of the key places to visit and some suggested itineraries to allow you to plan your own trip of the back of it.
If you want some tips on how to travel Botswana on a budget, check out this post where you'll find some important info on how to get around, where to stay and how to travel – including self-driving vs taking a tour.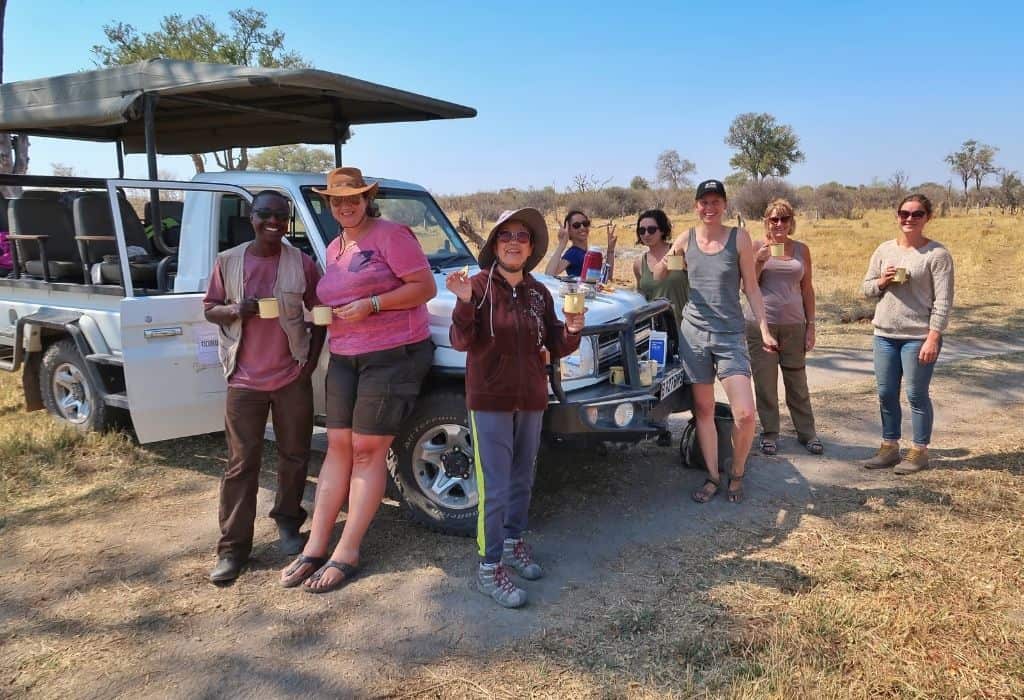 This post focuses on overland trips. The other option in Botswana is to do a fly-in safari. Doing one of these allows you to hop around from national park to national park, no problem.
But…these are always at the high-end of the spectrum and usually for those staying at pretty expensive lodges that cost a minimum of £500 per person, per night (and often much more).
The reason these lodges are expensive is due to the fact that they are very luxurious and also very remote, therefore a logistical nightmare to run. But you will have a lot of stuff included in your stay, such as transport, food, drinks and activities.
The budget outfitters tend to drive (or sometimes canoe) to the campsites and bring everything in with them. There are no hostels in the national parks.
Please Note: Some of the links in this post are affiliate links, which will earn me a small commission at no extra cost to you. Affiliate sales help with the running costs of this site, so thank you for your support!
---
Botswana Safaris – 3 Incredible Itineraries
Botswana Itinerary 1 – The Overland/Backpacking Route
This route is great if you are travelling the classic 'Nairobi to Cape Town Overland Route', via Zambia/Zimbabwe and Namibia. It's the route that most overland tours take, good for self-drivers or backpackers, if you're on a budget and don't want to use a tour company and also the route that you would take if you are travelling by public transport.
Can also be done in a non-4×4 car (although you will still need to take a tour for the Okavango Delta).
Chobe National Park & Kasane: 2 – 3 Days
Nata (Elephant Sands): 1 – 2 Days
Gweta, Magkgadikgadi Pans National Park & Nxai Pans National Park: 2 – 3+ Days
Maun: 1 – 2 Days
Okavango Delta: 2 – 3 Days
Dekar: 2 Days
Livingstone, Zambia or Vic Falls, Zimbabwe: 3 – 5 Days
From Dekar (sometimes called D'Kar – but there are two, so don't get confused, it's the one near Ghanzi) you can head back to Maun to catch your flight or you can continue towards Namibia.
From Kasane, you can hop across the border to Livingstone, Zambia or Victoria Falls, Zimbabwe. You can also easily reverse this route.
Botswana Itinerary 2 – The Off-Road Route
If you are looking for an immersive safari experience that goes into the wild, then this may be the route for you! Just be aware that you will need a 4×4 for this route and it cannot be done by public transport.
You spend a lot of time in nature and the route travels through the national parks, rather than along the main road as the above itinerary does. Again, this route can be reversed.
*Just be aware that this is a very 'wild' route, so you may need to do it in the dry season, especially if driving yourself.
Maun: 1 -2 Days
Dekar: 2 Days (if coming from Namibia you can go to Dekar first)
Okavango Delta: 2 – 3 Days
Moremi Game Reserve: 1 – 2 Days
Khwai Concession: 1 – 2 Days
Savuti: 2 Days
Chobe National Park & Kasane: 2 Days
Livingstone, Zambia or Vic Falls, Zimbabwe: 3 – 5 Days
Botswana Itinerary 3 – The Full Circuit Route 
This combines the two above routes, starting and ending in Kasane. You could start in Maun too. You will need a 4×4 for most of this route.
If starting/ending in Kasane, you can tag on Victoria Falls/Livingstone at the end or the beginning. This is the itinerary we follow on my Botswana & Victoria Falls tour.
*Just be aware that some of this route is a very 'wild', so you may need to do it in the dry season, especially if driving yourself.
You could also make a detour to see the San in Dekar.
Kasane: 1 Day
Nata (Elephant Sands): 1 – 2 Days
Gweta, Magkgadikgadi Pans National Park & Nxai Pans National Park: 2 – 3+ Days
Maun: 1 Day
Okavango Delta: 2 – 3 Days
Moremi Game Reserve: 1 – 2 Days
Khwai Concession: 1 – 2 Days
Savuti: 2 Days
Chobe National Park: 2 Days
Livingstone, Zambia/Victoria Falls, Zimbabwe: 3 – 5 Days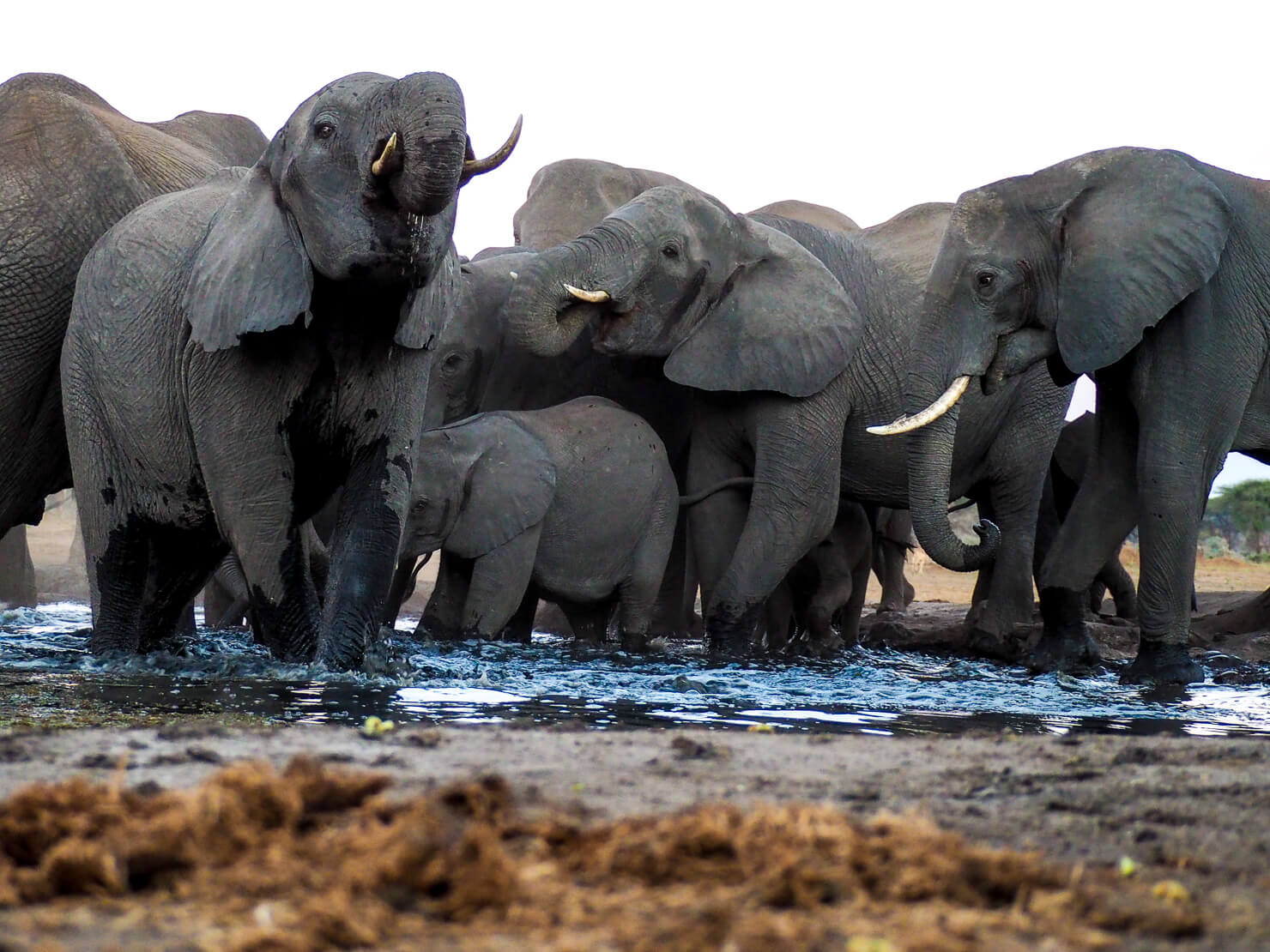 Kasane
You don't have to stay in Kasane at all, as most of the safari companies can arrange transfers direct from Livingstone/Vic Falls to Chobe National Park and back again, however, Kasane is the town closest to Chobe National Park and there is an international airport so many Botswana safaris start from there.
So, if you have a bit of time, or are coming from/going to somewhere further away than Livingstone/Vic Falls you could relax here for a night before or after your Chobe Safari.
It's also a good place to stock up on food, petrol and other supplies.
On the other hand, you also don't have to stay inside the park if you are doing a Chobe safari, so you could use Kasane as your base and take day trips into the park. There are LOTS of options.
Last time I was there, I stayed at a couple of different places. The first was Senyati Safari Camp a few kilometres outside of Kasane town, and what a great choice it was!
Senyati Safari Camp overlooks a beautiful waterhole where lots of animals congregate (especially elephants) and they have an underground bunker so you can get really close to the action!
Our chalet was number 1, which sleeps 4 and has a fantastic view over the waterhole (as does the bar and chalet number 2). As we were chilling on our porch in the afternoon, we saw lots of elephants, kudu, impala, warthogs, baboons and even a rare sable antelope galloping by, which I thought was very cool, but the best was yet to come…
Around sunset, we were sat in the bar when a herd of maybe 25 – 30 elephants came trundling into camp, including a few tiny (like really tiny) babies. Jessi and I bolted for the bunker (where the photo above was taken) and watched as they drank and played right in front of us, for a while before wandering off into the night.
They'd only been gone for a few minutes when 10 more arrived to drink. This group were a bit more feisty and I almost pooped my pants when one of the older elephants trumpeted angrily at one of the little ones.
Then as soon as they'd left, another showed up, then another, then another…you get the idea. It was bloody amazing!
I'd say that this place is even better for elephant spotting than the more famous Elephant Sands as you can get way closer and the waterhole is floodlit at night, but Elephant Sands is also awesome – bring on the elephants!
You heard it here first – this is now one of my favourite camps in Africa (yes, in the whole continent, not just Botswana).
I also stayed at Thebe River Safaris Lodge. This place was nice with a good and lively bar and relatively good wifi.
Things To Do in Kasane: Day or overnight safaris to Chobe National Park, river cruises, day trips over to Livingstone/Vic Falls, fishing trips, take a dip in the hot springs, shop at the Chobe Women's Arts & Crafts Centre and visit the old baobab tree.
Time Needed: 1 – 2 Days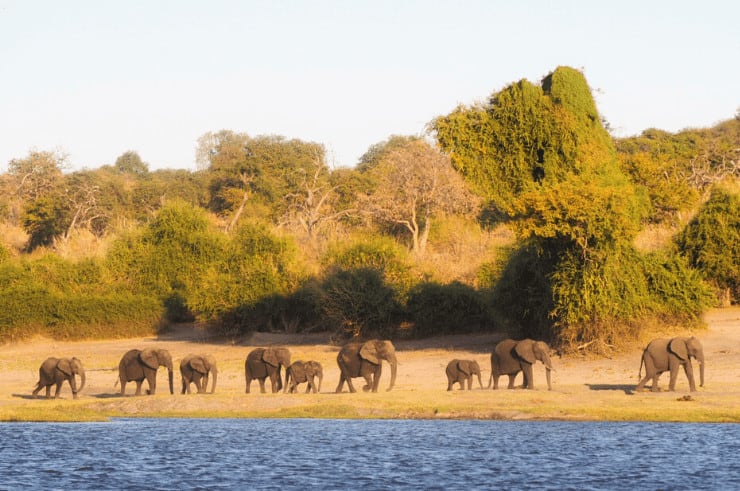 Chobe National Park (Riverfront)
One of the most popular Botswana safaris is a trip to Chobe National Park. I've been to Chobe quite a few times and it's one of my absolute favourite national parks in all of Africa and one of the best places in the world to see elephants. Definitely a staple of any Botswana itinerary.
Plus it's great for a budget safari too, as you can easily take day trips into the park with someone like Kalahari Tours.
Last time I was there was on the Rock My Malawi, Zambia & Botswana Adventure and I swear we saw about 1000 elephants over the 2 days. Seriously. It was pure magic.
But as well as the elephants, we saw a ton of buffalo, lions, giraffes and 3 leopards, including the closest leopard sighting I've ever had in my life. Seriously amazing!
There are a whole load of safari companies that offer trips to Chobe of varying lengths, some include boat trips along the river too.
Things To Do in Chobe National Park (Riverfront): Camp in the bush, take a river cruise, go on safari and take millions of pictures of elephants, leopards, lions…
Time Needed: 1 – 2 Days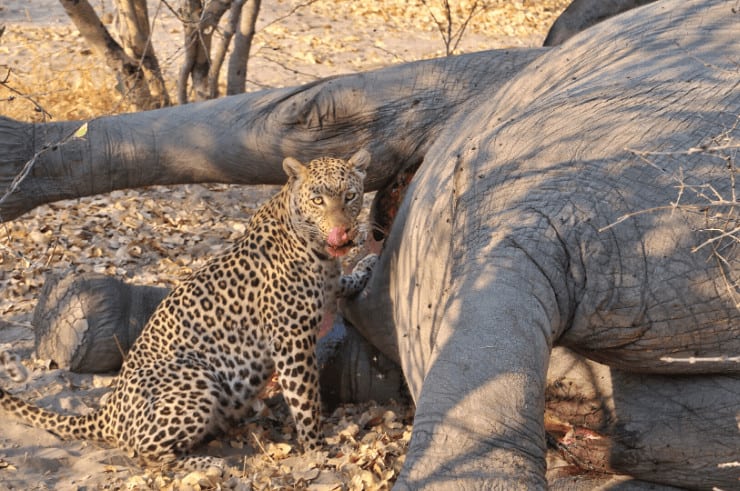 Chobe National Park (Savuti)
Savuti is part of Chobe National Park, however, it's much deeper into the bush than the Kasane part of Chobe.
On a good day, Savuti may just be the most magical safari in Botswana.
When we were there on the last Rock My Botswana & Victoria Falls Adventure, we saw a leopard eating an elephant (seriously), 3 male lions covered in blood (who had also been eating the elephant, hundreds of live elephants, a pride of lions and lion cubs, hyenas fighting over a baby elephant carcass, jackals trying to get the baby elephant carcass and 3 cheetahs. That was a pretty amazing day.
To get to Savuti you can either fly (an expensive option as you have to stay in a lodge) or you can drive in via Chobe or Moremi/Khwai and camp. You will need a 4×4 and I'd recommend having a guide.
Things To Do in Chobe National Park (Savuti): Safari, safari, safari!
Time Needed: 2 Days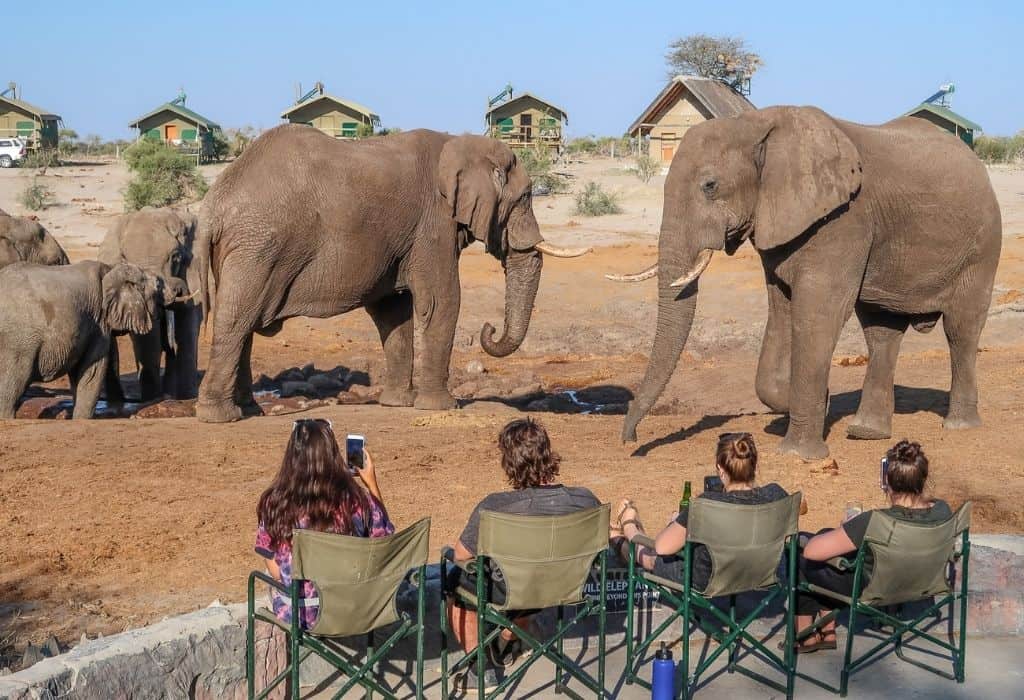 Nata (Elephant Sands)
Around 50km before the town of Nata (if coming from Kasane), you will find Elephant Sands, a lodge with a fantastic waterhole that is very popular with the local elephants. Every day (and night) elephants and other animals visit the lodge to drink.
All of the tents, campsites and the bar/restaurant face the waterhole, so no matter where you stay, you always have a front-row seat and elephants wander through the camp all the time.
We arrived at around 4pm in the afternoon and within about half an hour 7 elephants showed up. Just don't do what I did and arrive with a flat battery! I spent my time running between the charging point at the bar and the waterhole trying to get pictures and I definitely missed a few of the best shots.
After dinner, a few more elephants showed up as well as a honey badger, which is only the second one I've seen in all my years travelling Africa (the first was in South Luangwa in Zambia earlier this year).
As I was drifting off to sleep later that evening, I could hear the low rumbling of elephants just beside our tent. Just beautiful.
There is also a road taking you from Savuti to Nata, but it's a gravel road and not always open. So you can go direct from Savuti to Nata before going to Chobe, but you will have seen tons of elephants, so I'd say Elephant Sands is more of a novelty if you haven't already been camping out in the bush
Things To Do at Elephant Sands: They have game drives departing in both the morning and the evening, as well as a morning bush walk that you can join. They also offer bush braais (bbq's). Other than that, just sit back relax and enjoy the view.
Time Needed: 1 – 2 Days
Gweta, Makgadikgadi Pans National Park & Nxai Pan National Park
Did you know that the zebra is Botswana's national animal? Well, they are! And each year, they (and wildebeest) migrate hundreds of miles through Botswana in the largest animal migration in Southern Africa.
The best place to see them is in Makgadikgadi Pans National Park, which lies alongside the main road from Kasane to Maun and the best time to view the migration here is between January and March, with the animals spending the rest of the year in the more densely vegetated north.
There are a number of luxury lodges with one of the most popular places to see the migration being Meno a Kwena. Jack's Camp, Camp Kalahari and San Camp are the best places to hang out with habituated meerkats – but you can also see them on day trips from Planet Baobab (see below).
However, if you are on a budget, there are some public campsites too and safari companies usually have access to dedicated self-supported camping areas. But just check whether you need a 4×4 to get there and there is no public transport, so you'll need your own vehicle.
If you're a backpacker or on a budget self-drive without a 4×4, there's also a cool, quirky and reasonably priced lodge called Planet Baobab which is in the town of Gweta, a bit further away but they can arrange lots of excursions to Makgadikgadi Pans National Park and Nxai Pan National Park.
Things To Do in Gweta, Makgadikgadi Pans National Park & Nxai Pan National Park: Viewing the zebra migration (January to March), quad biking (June to October), hanging out with meerkats and overnight camping trips into the salt pans. Visit the local village to learn about the local Batswana culture. Take a Baobab Bushwalk.
Time Needed: 1 Day (if just stopping off in Gweta), 2 – 3+ if you want to do any activities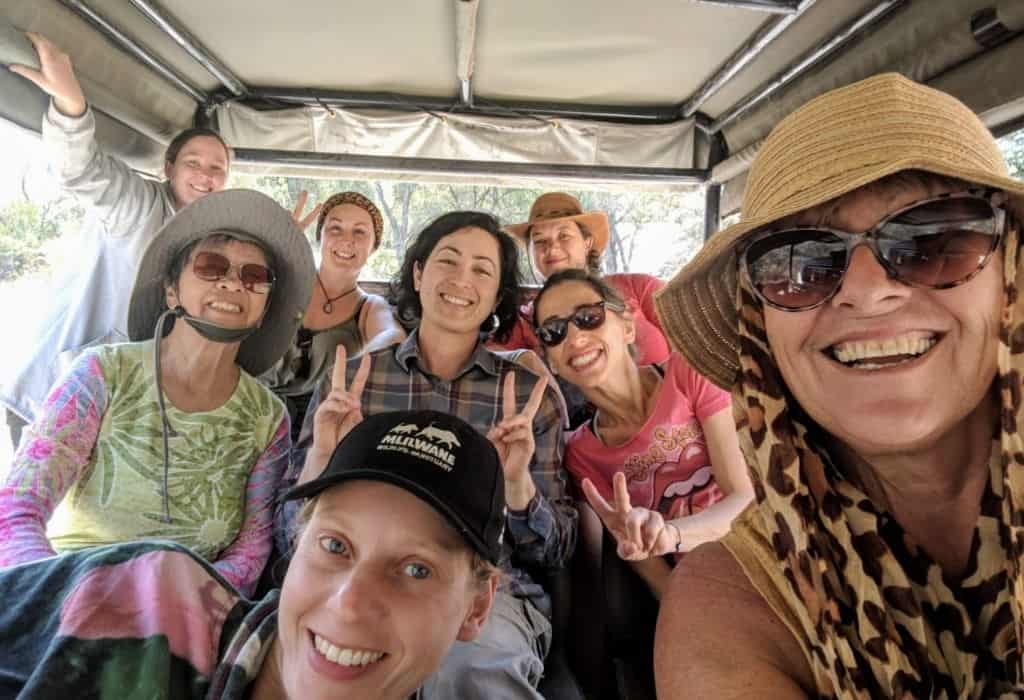 Maun
Maun is a busy town and a staple stop on most Botswana safaris, as it's the jumping-off point to safaris in the Okavango Delta, Moremi Game Reserve & Khwai (and the Central Kalahari Game Reserve too if coming from that direction – if going the other way, you may want to arrange your CKGR safari from Dekar/Ghanzi).
You can just turn up and book your safari (just be aware that accommodation books out quickly in Maun), but I wouldn't bank on you always being able to get on a safari the next day. Well, you probably can, but you'll need to ask around a bit in town.
If you are on limited time (and/or money) I would try to book your accommodation and tour to the Delta/Moremi/Khwai in advance where possible, even if just a few days before.
Whilst you're in town, stop by Hilary's for some hearty, healthy food. I had one of the specials – avocado and toasted coconut flakes on garlic bread with salad and homemade lemonade and it was delicious.
The road between Gweta and Maun is full of potholes, so please drive carefully. We saw a ton of burst tyres scattered along the roadside.
Things To Do in Maun: Go on safari into the Okavango Delta and Moremi Game Reserve, take a scenic flight over the Delta, go for a ride in a mokoro (traditional canoe) and go bush camping.
Time Needed: 1 – 2 Days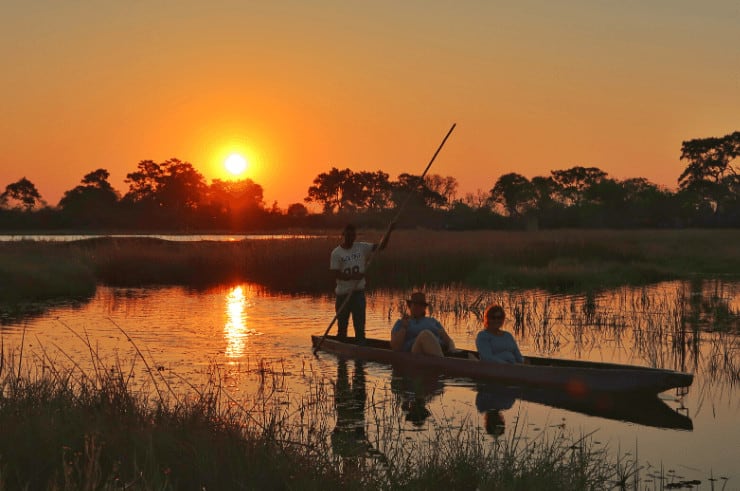 Okavango Delta
Safaris to Botswana usually include the Okavango Delta. 'The Delta' as it's usually called, is basically a giant swamp, formed when seasonal water flowing from the Angolan highlands creates a flood, which produces channels and islands which form one of the most unique landscapes and environments on earth.
It's also perfect for wildlife viewing making it one of the best safari spots in Africa.
Most people make 2 or 3-day trips, starting in Maun. These trips usually involve taking a mokoro (traditional canoe) ride into the Delta (with all your stuff) or you can also fly in if you're staying in one of the remote lodges. The lodges all offer mokoro rides.
Once there you'll either bush camp (budget) or stay in pre-built tents/lodges (mid-range to high-end).
For a budget traveller, the best option is to join a group safari. For those not on a budget, the world is your oyster as there is a whole host of beautiful and luxurious static and mobile safari camps for you to live out your safari dream.
Things To Do in the Okavango Delta: Take a scenic flight, ride in a mokoro, take a motorboat, camp out in the bush, go on a walking safari, go on a game drive, go fishing and just enjoy being in nature.
Time Needed: 2 – 3 Days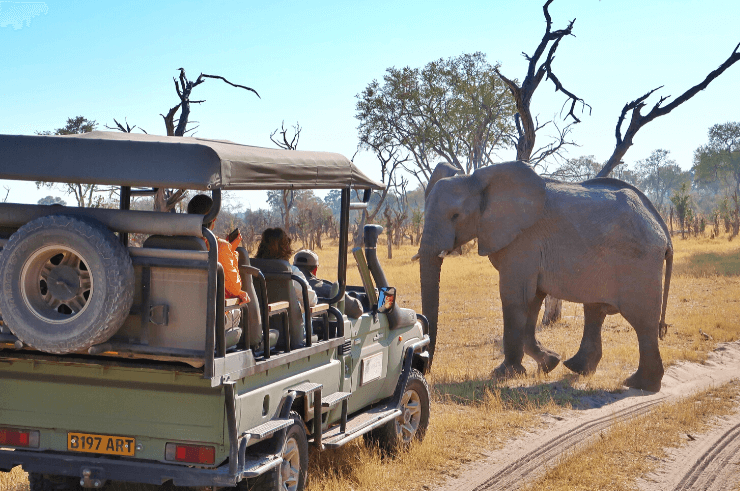 Khwai Concession & Moremi Game Reserve
In the northern part of the Delta, you'll find the Khwai Concession and the Moremi Game Reserve. I've put them both together as they are right next to each other and they can be easily combined.
Both are incredible places to see wildlife and Khwai is probably my favourite place for elephant spotting in the whole of Botswana.
The last time I was there, we saw so many elephants in Khwai and they were right there in full view of all the campsites. Literally, you can sit down with a beer and watch them bathe in the river from your private campsite.
If you are self-driving you with need a 4×4 car and I would check on the road conditions before you attempt to enter. For those with a bigger budget, you can fly into Moremi and there are a number of luxury safari lodges too.
For the budget to mid-range safaris or self-drivers, there are several campsites in both Moremi and Khwai but book in advance as they can get busy.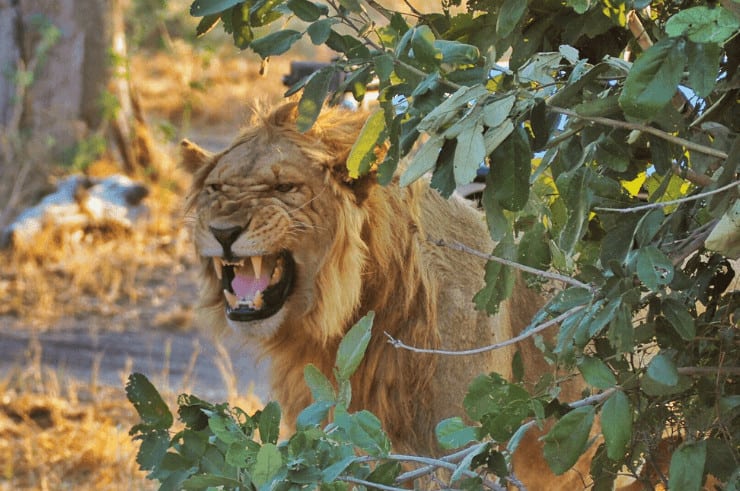 Central Kalahari Game Reserve
If you are looking for an off the beaten path adventure in the Botswanan wilderness then visit the Central Kalahari Game Reserve which lies slap bang in the middle of the country.
The CKGR is an epic and remote place which should definitely be on the itinerary of every intrepid traveller and is a great place for wildlife, with good numbers of brown hyenas, lions, spotted hyenas, leopards, cheetahs and wild dogs.
The most famous part of the CKGR is Deception Valley, where Mark and Delia Owens studied lions and brown hyenas, as detailed in their book 'Cry of the Kalahari'. The other areas are the Northern CKGR, Passarge Valley, the Western Pans and the Far South.
There are a number of waterholes in the reserve that make a great stop to watch wildlife and you're unlikely to see many other people whilst you are there.
Getting there is a bit of a mission, so you really need to be prepared, especially if you are doing self-drive (you need a 4×4) and self-supported trip. You'll need to take all of your supplies with you including water.
You have to camp at designated campsites within the reserve and the campsites they do have vary in facilities (some don't have toilets etc), so make sure you do your research before you go! For budget, try Passarge Valley Campsites, Piper Pan Campsites and Kori Campsites. For more info, see here. For something a little more comfortable (and expensive), stay at Kalahari Plains Camp or Deception Valley Lodge.
Things To Do in the Central Kalahari Game Reserve: Game drives, San Bushmen walks and quad biking. If you have the time, you can always visit the neighbouring Khutse Game Reserve.
Time Needed: 3 – 4 Days (minimum)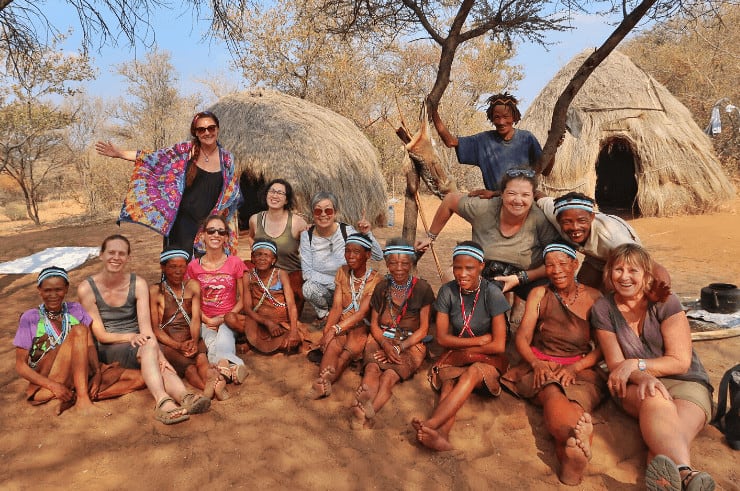 Dekar
The reason most people come to Dekar (pronounced dee-car) is to meet and spend time with the San people, one of the oldest (if not the oldest) ethnic groups on earth.
I always have a wonderful time here at the Dqae Qare San Lodge with my tour groups, we do the full day San Experience, which encompasses spending time with the San, foraging for roots, setting (fake) traps, storytelling, playing games, music, dancing/singing and learning about their culture.
In nearby Ghanzi you'll find supermarkets, petrol stations and ATM's.
Things To Do in Dekar: Spend the whole day with the San and go to the Kuru Dance Festival (held at the lodge, usually in August).
Time Needed: 2 Days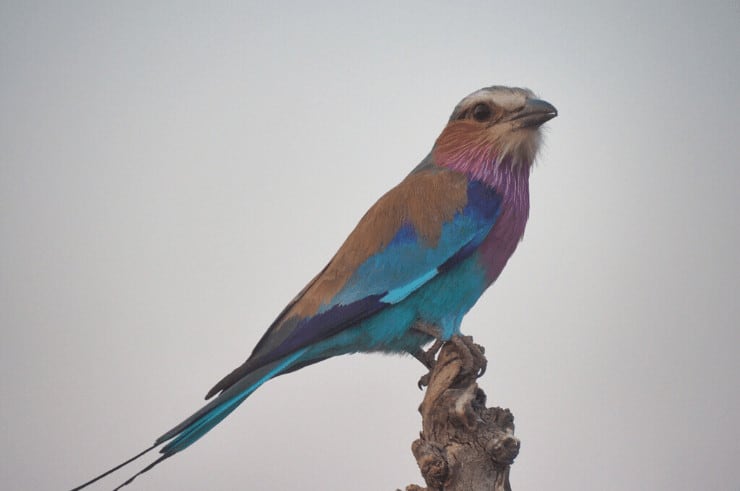 Other Places To Consider
These are places that aren't on any of the routes above but are definitely worth the detour if you have the time! Botswana is a big country with so much to see and do!
Kgalagadi Transfrontier Park: Straddling the border with South Africa, can get booked up well in advance.
Gabarone: The capital city.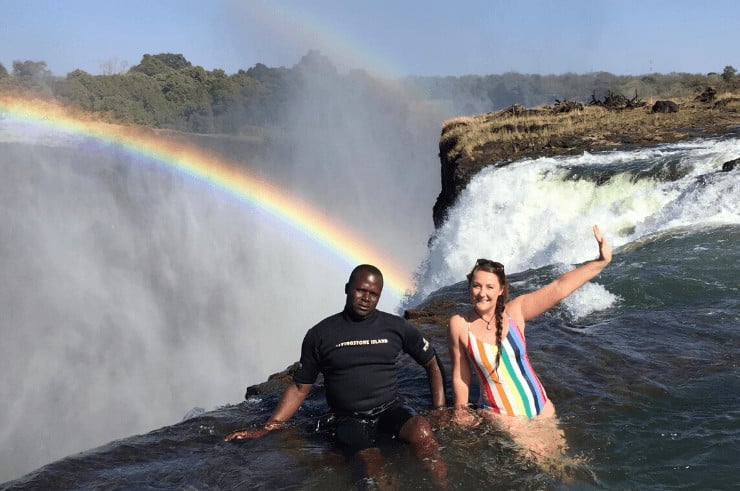 Leaving Botswana – Where to Go Next!
When you've finished your Botswana safaris, you can depart or continue on to other places in Southern Africa.
Dekar is within a day's drive of Windhoek, Namibia, so you could finish your trip there. If you are using public transport you will need to change buses at the Buitepost/Mamuno border as I believe there are no cross border services going into or out of Namibia.
If you don't want to travel the whole way to Windhoek in one go, there are places to stay near the border such as Kalahari Bush Breaks or Zelda Game & Guest Farm.
If you want to extend your trip a bit more, here are a few alternative routes:
You could drive south after Dekar, through the Central Kalahari Game Reserve (in which case you'd be better going, Maun – Dekar – CKGR) and Khutse Game Reserve down to Gaborone and then cross over the border at Pioneer Gate and end in Johannesburg, South Africa.
Or travel down through Central Kalahari Game Reserve and Khutse Game Reserve down to Kgalagadi Transfrontier Park, cross over the Bokspits border into South Africa and then drive down to Cape Town.
Or follow the same route as option 2, but instead of going down to Cape Town, you could enter southern Namibia via the Ariamsvlei border and do a Namibia road trip.
If you are doing a Namibia and Botswana road trip, you could go around the country clockwise, ending in Windhoek or drive along the Caprivi Strip (the panhandle in northeast Namibia) and end where you started in Kasane, Botswana. From there it's an easy journey to Livingstone/Vic Falls by public transport, shuttle or taxi.
Livingstone, Zambia or Victoria Falls, Zimbabwe
Many safaris to Botswana also include Livingstone, Zambia or Vic Falls, Zimbabwe.
Ok, so neither are in Botswana, but if you're flying in for a Botswana safari, you may want to start (or end) in either town, as both have good international airports and are very close to the border with Botswana (which is only a 45-minute drive away). Plus – they're home to the impressive Victoriall Falls.
You could easily spend a few days/weeks here as there's so much to do! Just make sure you have a lot of money as the activities are expensive (although there are lots of cheap things to do too).
Alternatively, if you were going the other way, you might find it easier to fly into Windhoek, Namibia and fly out of Livingstone or Vic Falls.
Things To Do Livingstone & Victoria Falls: There are so many wonderful things to do at Victoria Falls and both towns offer pretty much the same activities. Although they are sometimes a little cheaper on the Zimbabwe side, I much prefer Livingstone as it's a much less touristy (in town).
Time Needed: 3 – 5 Days (you could manage in a day or two if you just saw Victoria Falls and did no other activities, I could stay here for a month personally).
---
Other Botswana posts you might enjoy…
Botswana safaris are the best you'll find in Africa so I know you'll love it! Let me know if you have any questions in the comments below!
---
Pin This Post For Later