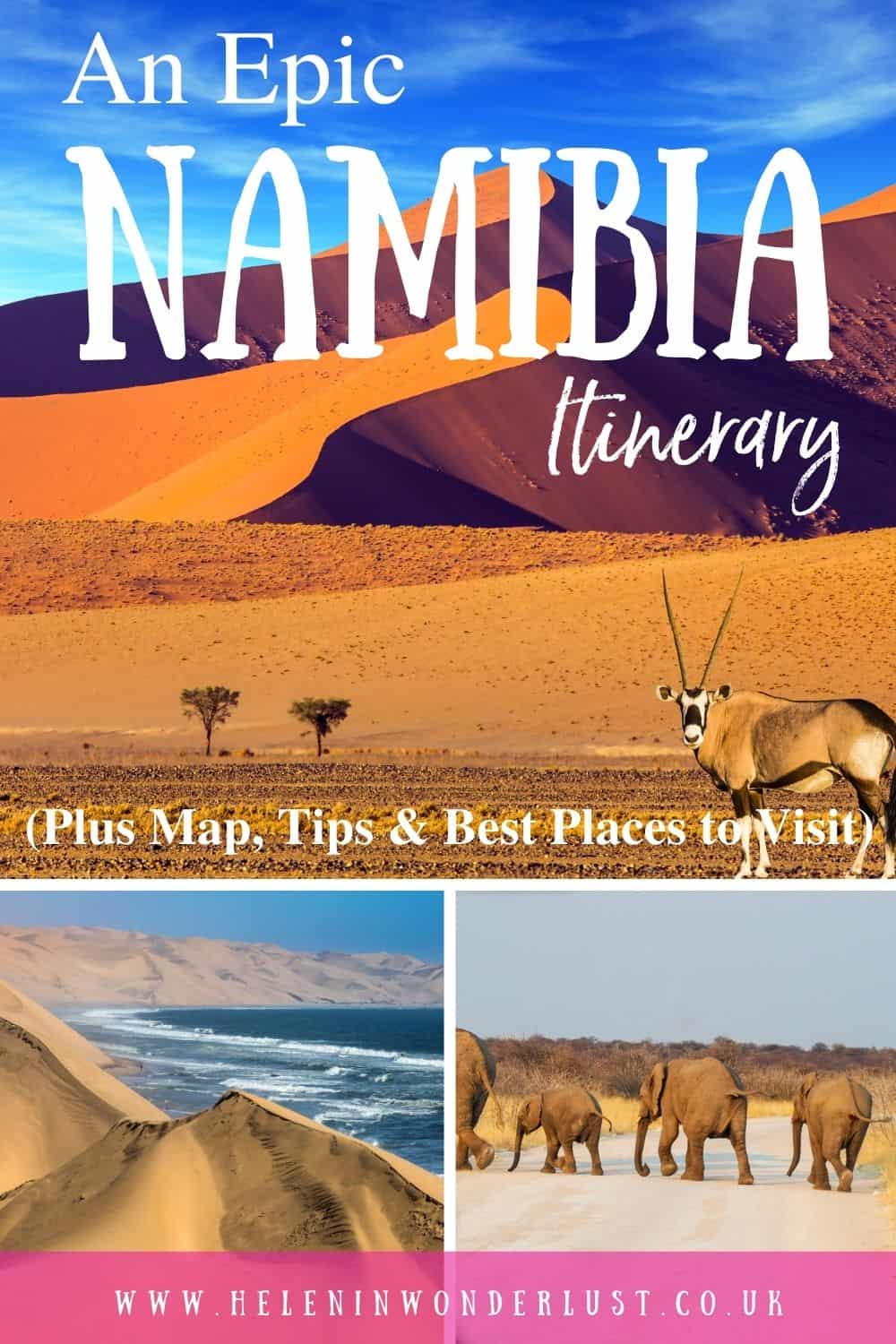 Planning your Namibia itinerary? Well, you're in for an incredible adventure!
Namibia is one of the most unusual, fascinating and vast countries I've ever been to with other-worldly scenery, ethereal, starry skies, stunning coastlines, colossal sand dunes, vast deserts, incredible wildlife and epic adventure activities! Namibia has it all!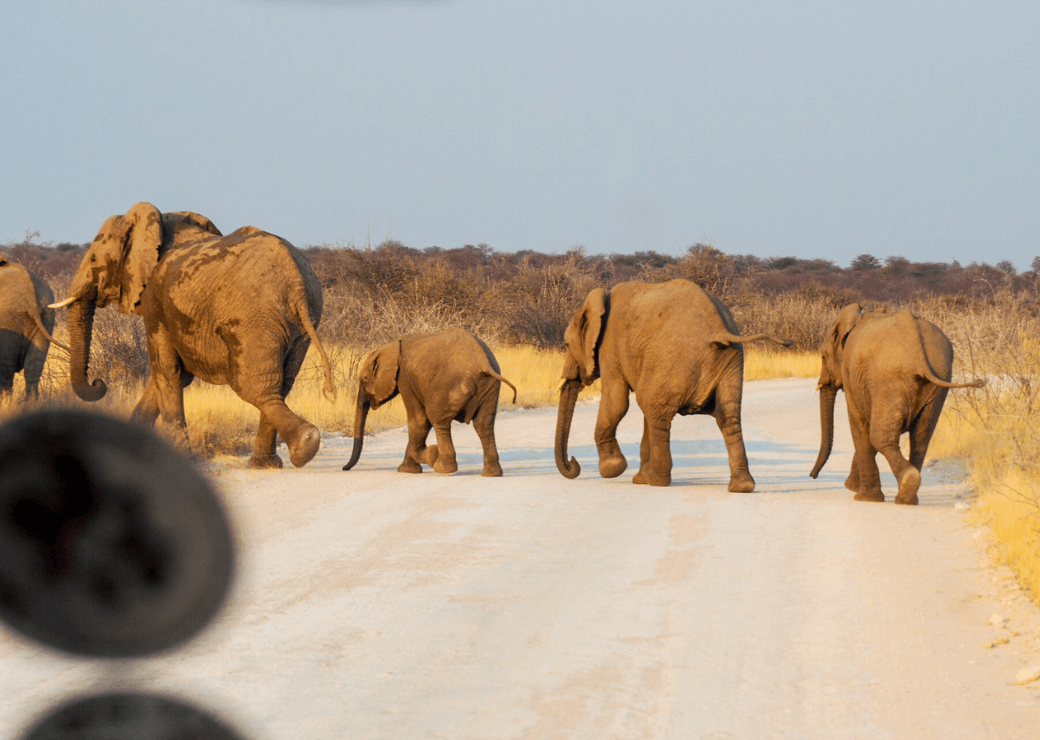 For the purposes of this Namibia itinerary, I'm going to start and end in the capital Windhoek, which is right in the middle, going around in a loop clockwise (you can also do this trip in reverse) as this probably makes the most sense as most people will usually fly in and out of Windhoek if doing a Namibia only trip.
Or if you are driving in from/to South Africa, Zambia, Zimbabwe or Botswana, you can easily adjust the itinerary to suit your plans and I've suggested a few alternative routes below.
So let's hit the road and plan your awesome and epic Namibia itinerary…
Other Namibia posts you might enjoy…
Please Note: Some of the links in this post are affiliate links, which will earn me a small commission at no extra cost to you. Affiliate sales help with the running costs of this site, so thank you for your support!
---
An Epic Namibia Itinerary (Plus Things to See & Do)
---
Under each section, I've recommended how many days I recommend spending in each place.
This is just a guideline though and you can, of course, spend a shorter amount of time (if practical and physically possible) in the area or longer if you want more downtime or have longer to spare. Flying between destinations will also help as distances in Namibia are long.
My ideal 2-week Namibia itinerary would go like this: 
Day 1 – 2: Windhoek
Day 2 – 3: The Kalahari Desert
Day 4 – 5: Namib Naukluft National Park
Day 6 – 8: Swakopmund
Day 9 – 10: Damaraland
Day 11 – 12: Opuwo (Kaokoland)
Day 13 – 14: Etosha National Park
Day 15: Windhoek/Depart
The above is the itinerary we follow on the Rock My Namibia Adventure tour. But if you have more time, you could add in:
Quiver Tree Forest: 1 – 2 Days
Fish River Canyon: 1 – 6 Days
Aus & Luderitz: 1 – 2 Days
Skeleton Coast: 1 – 4 Days
Epupa Falls: 2 – 3 Days
Waterberg Plateau: 2 – 5 Days
Caprivi Strip: 2 – 6 Days
If you were to go everywhere listed above on your Namibia itinerary, the minimum amount of time needed is about 3 to 4 weeks.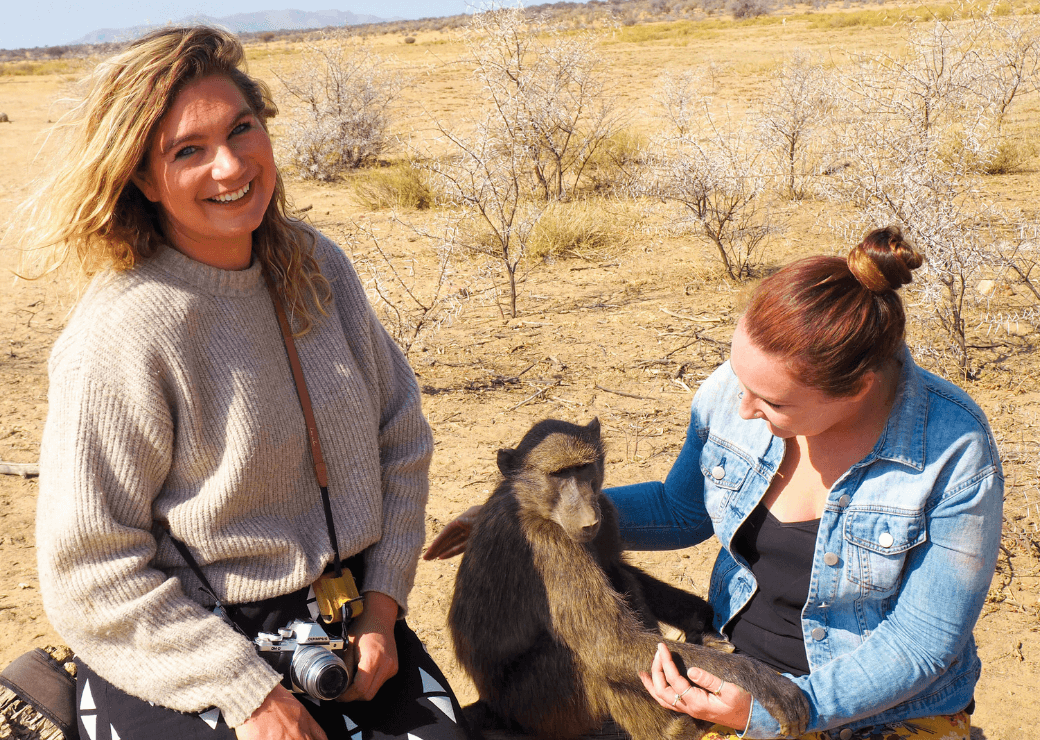 Windhoek
Windhoek is a great place to start your Namibia adventure. First of all, because there's an international airport and there are lots of rental car options and supermarkets to stock up on anything you need.
Second of all, Windhoek is one of those cities that is often overlooked in favour of the rest of this amazing country and true, it's not the most exciting city in the world, however, there are a few cool things to do if you have the time. 
Time Needed: 1 – 2 Days
Where To Stay: As I was in Windhoek for so long this year, I managed to try out a few nice places to stay. My two favourites are Urban Camp and Windhoek Gardens. Urban Camp have basic tents, luxury tents (all have electric blankets), space for camping and a great bar and restaurant. Windhoek Gardens is a cool and quirky guesthouse which also has a good bar and restaurant. Both places do amazing breakfasts. I also stayed at Chameleon Backpackers which has nice rooms, is a good budget option and it's a great place to meet people to travel with.
Things To Do:
Eat and drink at Joe's Beerhouse, a restaurant/bar and a Namibian institution. They say you haven't been to Namibia if you haven't been to Joe's Beerhouse.
Take a tour of the city to learn about the history of the country and apartheid in Namibia, visit the Katatura Township and the Penduka Women's Project.
Visit the Naankuse Wildlife Sanctuary to see the workings of the sanctuary and interact with the baby baboons. Just look at the pictures from our visit – pure joy!
Things to Know:
Whilst the rest of Namibia is pretty safe, Windhoek can be a dangerous city (it's similar to Cape Town in that respect) and muggings are common, so you need to keep your wits about you. Don't walk at night, unless going a short distance through a well-lit area and in a group. Don't carry a backpack, the locals don't so it's kind of a beacon saying 'look at me, I'm a tourist'. Try to blend in.
There are also a few ATM scams happening at the moment – if anyone tells you you need to put your PIN in twice or tries to advise you on how to use the ATM's, ignore them. ATM's in Namibia are exactly the same as ATM's at home.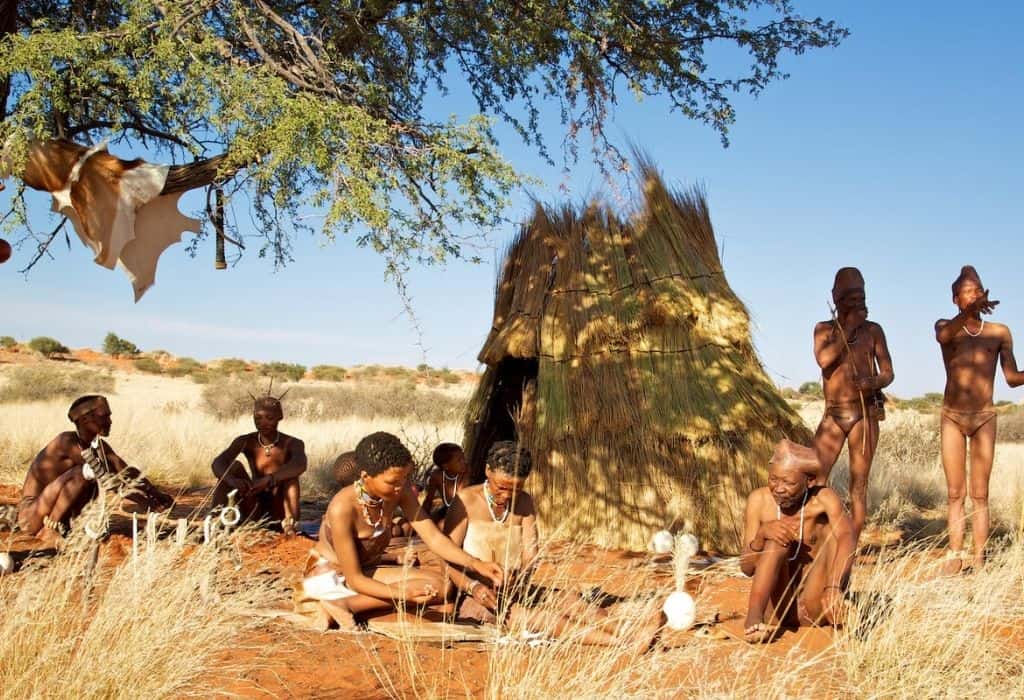 The Kalahari Desert
If you want to break up the journey down to the south of Namibia, the Kalahari is a great place to spend a night or two.
The Kalahari region of Namibia (and Botswana) is where you have the chance to meet and spend time with the San people, also known as the Bushmen, who are one of the oldest tribal groups in the world and the original inhabitants of southern Africa.
Hanging out with the San was one of the most wonderful experiences I've ever had, they were so warm and welcoming and it was fascinating to about their traditional survival skills and customs.
I even got healed by a San medicine man and I'm pretty confident I could survive in the desert for a few days without a fresh water supply – just need to dig up a water plant don't I? And thanks to my San guides, I know exactly how to do it!
Time Needed: 1 – 2 Days
Where To Stay: A good place to stay is the Bagatelle Kalahari Game Ranch and you can organise all your activities through them.
Things To Do: Stargazing, horseback safaris, spend time with the San people and game drives.

Quiver Tree Forest
Another stop on the way to Fish River Canyon is the Quiver Tree Forest, near to Keetmanshoop in the Karas Region.
Quiver trees are strange, yet beautiful trees and so named because the San Bushmen use them to make their quivers, a container used to hold their arrows and darts.
This is also a fantastic spot for photography, especially at sunrise, sunset and at night when the quiver trees make interesting subjects against the brilliant skies. I mean, just check out this incredible video by Marsel van Oosten. Just note that you need to arrange night photography trips to the forest in advance.
Just a little further away is the Giant's Playground a group of natural rock formations, boulders perched on top of each other as though placed there by giants.
You can stay very close to the forest, but if you are driving all the way from Windhoek to Fish River Canyon in one day, I would give the Quiver Tree Forest a miss as the diversion will add on too much time to your journey. If you are driving from the Kalahari to Fish River Canyon, you may be able to squeeze in a visit during the day.
Time Needed: 1 – 2 Days (1 night would be enough for most people, try and arrive in the early afternoon take pics at sunset, stay over, take pics at night, get up early for sunrise and then be on your merry way).
Where To Stay: Quivertree Forest Rest Camp is a good place to rest your head.
Things To Do: Photograph the quiver trees.

Fish River Canyon & Ai-Ais
One of the most impressive places in Namibia is the awe-inspiring Fish River Canyon, the largest canyon in Africa (disputed but generally accepted) and the second-largest canyon in the world, after the Grand Canyon.
If you just want to view the canyon, you can walk along the trail at the top from the start of the Fish River Hiking Trail to the main viewpoint.
You can easily do this in a couple of hours however it could be more with photo stops. The best time to visit is sunset and sunrise. I think I prefer sunset, which is best enjoyed with a sundowner (Amarula is my sundowner drink of choice).
If you have some time, you can take multi-day hikes into the canyon. A popular trail is the 5-day Hobas to Ai-Ais hike which is open from 1st May – 15th September, for groups of 3 or more. There are a limited number of people allowed to hike per day, so it is advised to book in advance and you may also be asked for a recent medical certificate.
This is a strenuous hike, sometimes in incredible heat and requires a lot of prep and a good level of fitness. If you do an unguided hike, you will need to bring all of your own equipment, however you can arrange guided hikes through Fish River Lodge, where all equipment is provided.
Day 1: Descend into Fish River Canyon from Hobas
Day 2 & 3: Hobas to Palm Springs
Day 4: Palm Springs to the Causeway
Day 5: The Causeway to Ai-Ais
Once you reach Ai-Ais, you will find the Ai-Ais Hot Springs. The hot water is rich with minerals that are known to be helpful to those with rheumatism and especially good to soothe those aching muscles. You can then arrange transport back from Ai-Ais.
Time Needed: 1 – 6 Days
Where To Stay: If you want a room with an awesome view, I'd recommend Fish River Lodge. If you're on a budget or camping, try Hobas Lodge and Camp which has both rooms and camping facilities. A bit further away you'll find the Gondwana properties – Canyon Village, Canyon and Canyon Roadhouse. In Ai-Ais, you can either camp or stay in the lodge at Ai-Ais Hot Springs Spa. If you're doing the hiking trail, you'll wild camp within the canyon.
Things To Do: Hiking, sundowner drinks, nature walks, relaxing at the hot springs and cycling.

Aus, Luderitz & Kolmanskop
I'm putting Aus and Luderitz together as they are pretty close together. So you can stay at one and visit the other and visit all the things in between quite easily. Aus and Luderitz are also good places to base yourself if you want to visit the ghost town of Kolmanskop.
Aus
Aus is a great place for relaxing, stargazing and admiring the scenery – the mountains and sunsets are incredible.
We didn't stay in the town itself, but at Klein Aus Vista, a beautiful farm surrounded by the Aus Mountains. Many people visit the area in June and July to see the pretty flowers that bloom around July and August. We just caught the tail end of them this time.
But another attraction here is the wild Namib Desert Horses that roam in this area known as the Garub. The best place to see them is at the Garub waterhole on the B4 between Aus and Luderitz. We stopped here and were really lucky to see quite a few horses drinking and rolling around in the sand, but they meandered off about twenty minutes after we arrived so some people who arrived later just missed them.
Whilst they are cool to see especially if you know the mystery surrounding how they came to be, don't be super disappointed if you don't see them, they do just look like regular horses.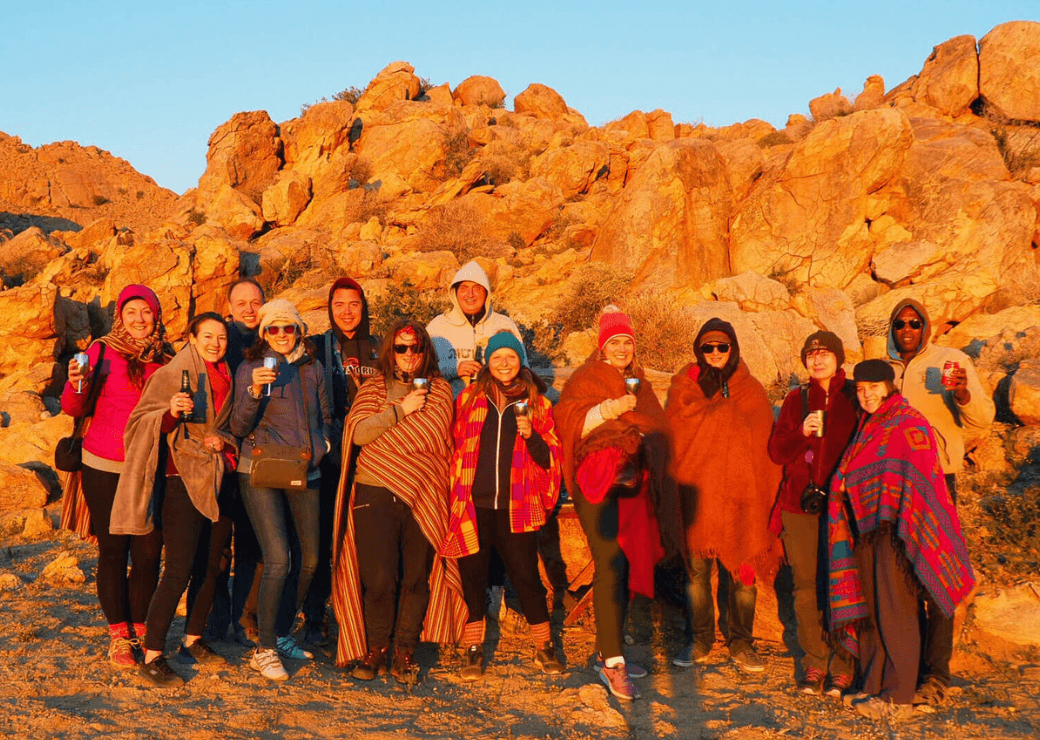 Luderitz
Luderitz is a pretty, German colonial town on the Atlantic coast. There isn't a lot there and so it easily explored by foot. the main points of interest are Felsen Kirche, an Evangelical Lutheran Church, the colourful buildings on Kirch Street and the harbour. We also had a lovely stop for lunch at the lovely Garden Cafe.
For those who like the water, you can take a boat trip out to Halifax Island where you can see jackass penguins and Cape fur seals and sometimes even dolphins and whales! The boat trips leave early in the morning, so there is usually time to make it for the second scheduled tour at Kolmanskop.
Kolmanskop
Kolmanskop lies in the Sperrgebiet (the Prohibited Area) between Aus and Luderitz. The once-lucrative diamond mining town was abandoned when bigger and better diamonds were found elsewhere and is now a ghost town.
There is an air of mystery to the place that was made famous by the many photographers who flock there to take pictures of the eerie, abandoned buildings that are slowly being reclaimed by the desert, but I'm going to be honest, I don't love Kolmanskop.
The story behind it is quite cool, so you should go and if you like photography it's very cool. However, I personally found it quite underwhelming as a place itself compared to the rest of Namibia Go and see for yourself and let me know what you think in the comments below. If you've been already, what did you think?
I'd advise you to take a tour to get to understand the history of the town and then explore on your own for a while after. Scheduled tours leave at 9.30 am and 11.00 am (only one of Sundays and public holidays ay 10.00 am), they last between 45-60 minutes and are offered in both English and German. The town is open between 8 am and 1 pm. You will usually be in a biggish group, so take the tour and then wander around by yourself afterwards to get better photos. If you are a photographer, you may want to arrange a permit to stay after hours.
Time Needed: 1 – 2 Days
Where To Stay: We stayed at the Klein Aus Vista Campsite which is absolutely beautiful! However, this also lies on the same property as the Desert Horse Inn (where we ate dinner) so if you don't want to camp, you could easily stay here. There are also a few good options in Luderitz too.
Things To Do: See the wild desert horses, visit Kolmanskop, take a boat ride out to Halifax Island, take a multi-day horse safari (accomplished riders only), visit Luderitz, take a scenic sunset drive at Klein Aus Vista.
Things To Know: Aus is the coldest place in Namibia, so if you are camping, especially in the winter months (June – September) you are going to need super warm clothing and sleeping bags. Even if you are not camping, take warm clothes (thermals and a down jacket). Believe me, it's freezing! See the pic above! Have I mentioned that enough?

Namib Naukluft National Park
The iconic image of Namibia is that of the gigantic, orange-coloured sand dunes of the Namib Naukluft National Park. This is an absolute must-do when in Namibia!
On the area day we arrived, we headed to Elim Dune to watch the sunset over the surrounding mountains and dunes with a cup of wine (from a box – classy)!
The next morning we were up early to climb Dune 45 in time to watch the sunrise over the park. The hike up isn't super difficult, but you do need to have a moderate level of fitness and a bit of determination. It's all worth it though!
Wear good shoes if you are climbing the dunes as early in the morning the sand is often freezing (again, look at what we're all wearing) and in the middle of the day/afternoon, it can get really hot.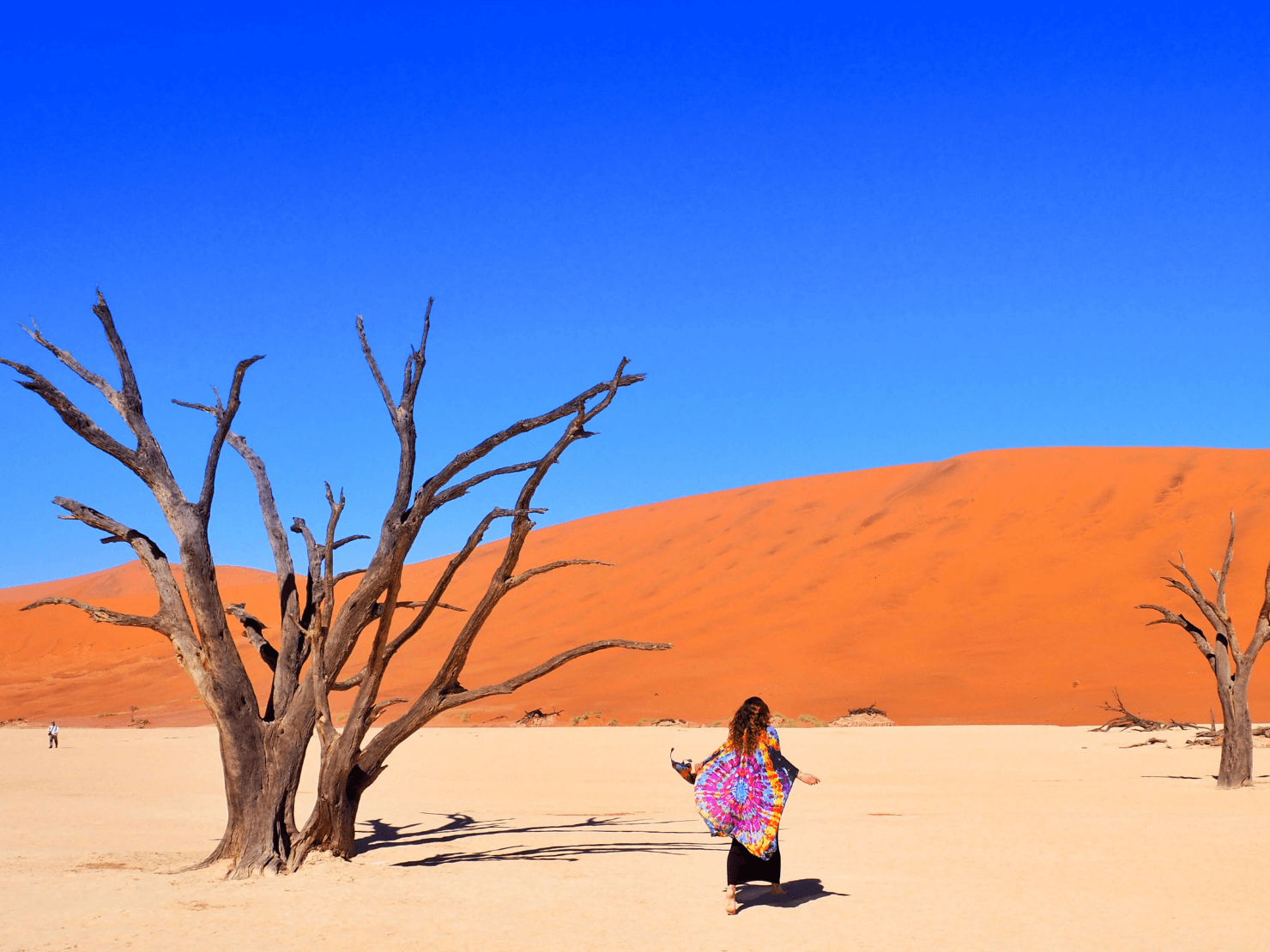 From Dune 45 we headed further into the park towards Deadvlei, a salt pan filled with 900-year-old dead camel thorn trees and Big Daddy, the tallest sand dune in Sossusvlei (but not the tallest in Namibia, that accolade goes to Dune 7).
From the gateway, to get to Deadvlei, you can either hike through the sand dunes or drive-in (if you have a 4×4) or take the shuttle in (for a small fee) and then you can walk in over relatively flat dunes or hike up Big Daddy and then down into Deadvlei.
Deadvlei is an awesome place to take photographs and we must have spent an hour or two playing amongst the trees before it started to get too hot around lunchtime.
Another great way to see Sossusvlei would be to take a hot air balloon over the dunes, as I can imagine it would be awesome to see the full expanse of the desert beneath you.
Time Needed: 2 Days
Where To Stay: If you want to reach the top of Dune 45 for sunrise, you need to stay within the park, either at Sesriem Campsite or at Sossus Dune Lodge. There are other options outside the park such as the fabulous Wolwedans, Desert Quiver Camp or the &Beyond Sossusvlei Mountain Lodge, which has an amazingly powerful telescope and an onsite astronomer.
Things To Do: Climb Dune 45, climb Big Daddy, take a desert walk with a guide, photograph Deadvlei, hot air ballooning, visit Sossusvlei, scenic flight, take a hike through Sesriem Canyon and enjoy the stars.

Solitaire & the Tropic of Capricorn
Between the dunes of Sossusvlei and the town of Swakopmund, there are two places that a lot of people like to stop at. The first is the Tropic of Capricorn sign for a quick photo stop.
Heading on a bit further is the small outpost of Solitaire, which isn't much more than a guesthouse/camping ground, gas station and shop, but they have a great bakery called Moose McGregor's Desert Bakery, which is said to have the best apple pie in all of Namibia…
Not having tried every other piece of pie in Namibia I cannot confirm or deny this rumour. But I had a piece, I can confirm it was pretty good. Could've done with some custard though (you can take the girl out of England…)
Time Needed: 1 Hour – 1 Day
Where To Stay: If you're going to stay in the area, I'd definitely recommend staying in Solitaire itself or there are a few other options nearby.
Things To Do: Eat apple pie, see the cute ground squirrels that live around Solitaire, hiking, cycling, hot air ballooning, day visits to Sossusvlei, Spreetshoogte Pass and Kuiseb Canyon.

Swakopmund
Swakopmund (or Swakop as it's often called) is the adventure capital of Namibia. There are so many cool things to do in Swakopmund that you'll be absolutely spoilt for choice.
Between us, my group and I did a few of the activities on offer, including skydiving, quad biking, a walking tour of the city and a visit to the Mondesa township. I didn't go skydiving and it's one of my biggest regrets, as Swakopmund is one of the BEST places on the planet to do it, overlooking the sand dunes and the Atlantic Ocean.
Out of my group of 12, we had 7 who jumped. I was so proud of them and watching all of the videos afterwards was a lot of fun too.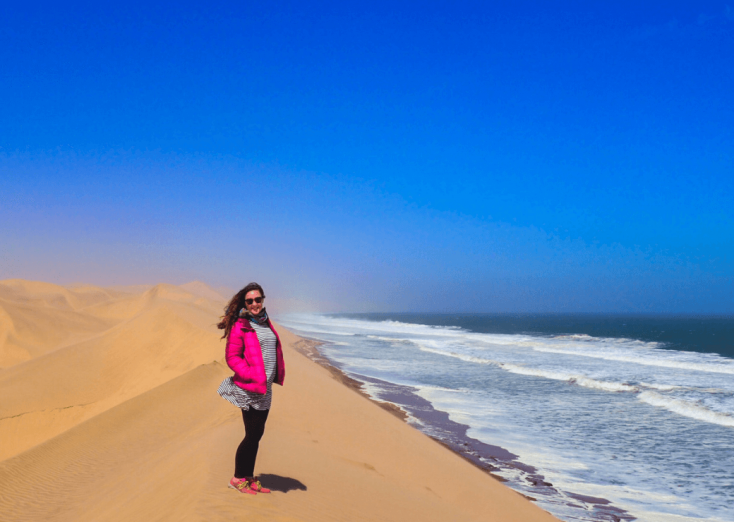 I think the best thing I did in Swakop was to take a trip out to Walvis Bay and Sandwich Harbour. We had an awesome time, zipping up and down the sand dunes in our 4-wheel drive cars, seeing the birds and wildlife, seeing the pink salt lakes, stopping to take photographs overlooking the point where these epic sand dunes meet the ocean and having a champagne lunch in the dunes too. All in all, an incredible day!
There are a number of different tours available from half-day to full-day, with some including boat trips or kayaking – the choice is yours! the best time to go is at low tide.
Swakop is also a great place for shopping and the home of one of my favourite artists, Zin Maisiri (you'll find his works in quite a few shops and galleries) and there are some great restaurants too including The Tug and Kucki's Pub.
Time Needed: 3 Days
Where To Stay: There are lots of choices in Swakopmund. My favourite is Driftwood Guesthouse. I like Salty Jackal Backpackers, Desert Sands Boutique Hotel, Driftwood Guesthouse, The Delight and Desert Breeze Lodge.  You can find a ton of other options and check prices here.
Things To Do: Everything mentioned above! I would also recommend the very popular Tommy's Living Desert Tours which I'd advise you to book in advance. If you can't book in with Tommy, there are a few other companies that run similar tours. And I think taking a scenic flight up the Skeleton Coast or over Sossusvlei would be awesome too! Head down to the pier at sunset (it's really pretty) and eat at The Tug restaurant. You can even surf if you want to brave the cold water.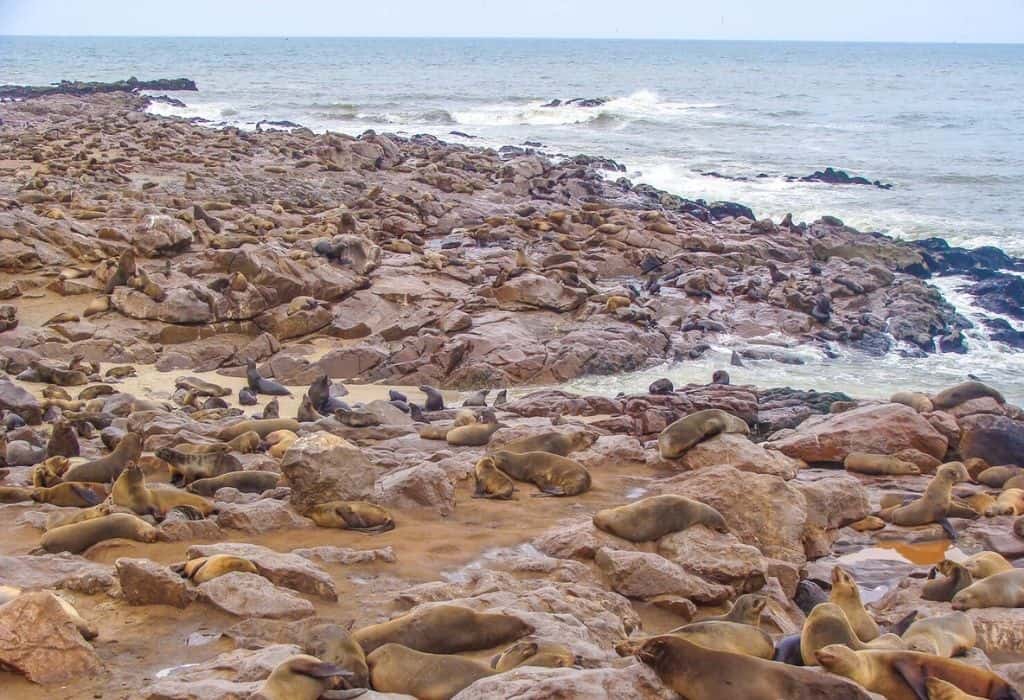 Skeleton Coast
North of Swakopmund, you'll find the region of Namibia called the Skeleton Coast. 
The Portuguese sailors called it "The Gates of Hell" and the San Bushmen referred to it as "The Land God Made in Anger' due to the often bleak and inhospitable conditions.
When the cold water currents of the Atlantic Ocean meet the hot dry air of the Namib Desert, it causes thick fog which caused many ships to run aground leaving behind a shipwreck graveyard, along with the bones of whales and other animals – giving it the name 'The Skeleton Coast'.
Heading north from Swakopmund you'll find the Zeila shipwreck which makes a cool stop on your Namibia road trip.
A bit further along the coast, past Henties Bay, is the Cape Cross Seal Colony, where up to 100,000 cape fur seals congregate to lunge, mate and frolic in the waves. The seals are amazing! For one they are fascinating to watch, but the best thing about visiting is the sounds they make. They are hilarious, but they do stink. My hair and clothes smelled like seals for ages afterwards.
After Henties Bay, I would probably head inwards to Damaraland (see below) but if you want to get really off the beaten path, you could also continue up the Skeleton Coast Wilderness Area if you have the time – you just might just need to rejig the itinerary and do a bit of zig-zagging if you want to see everything.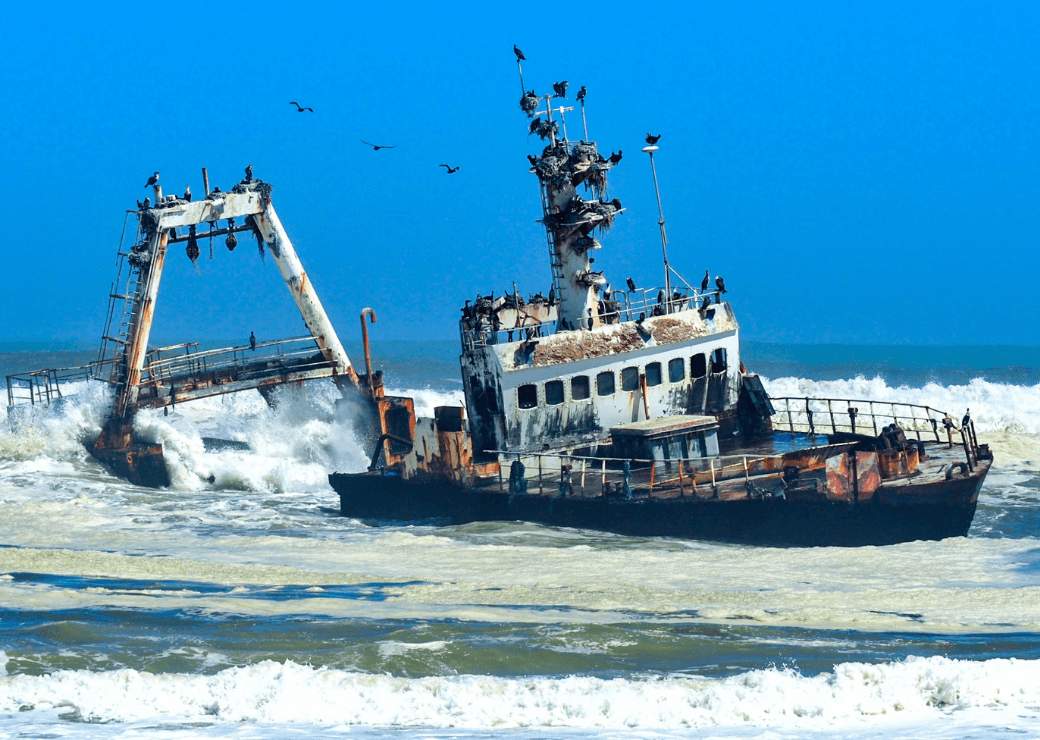 Some of the shipwrecks of the Skeleton Coast can be seen independently with a 4×4 and some require a tour. Access to the far northern part of the coast (where most of the visible wrecks are) is restricted to 800 people per year and you need to take a fly-in tour.
In the north, you can also take a trip to hear the 'roaring dunes', so-called because of the rumbling noise produced from the air caught between the grains of sand, which sounds like a low-flying plane, spooky.
Time Needed: 1 – 4 Days
Where To Stay: If you are just visiting the Cape Cross Seal Colony and the Zelia on your way through to Damaraland, you probably don't need to stay on the Skeleton Coast, however, if you head further north up the coast, there are a few options. Going from south to north… Torra Bay, Terrace Bay, Hoanib Skeleton Coast Camp, the brand new Skeleton Coast Shipwreck Lodge which looks like it was modelled after whale bones (it's very cool… and very expensive), and then in the far north, right up near the Angolan border, the Okahirongo Lodge looks great!
Things To Do: Cape Cross Seal Colony, roaring sand dunes, scenic flights, shipwrecks, river cruises, Himba visits, go on safari and see the desert-adapted elephants (and other animals).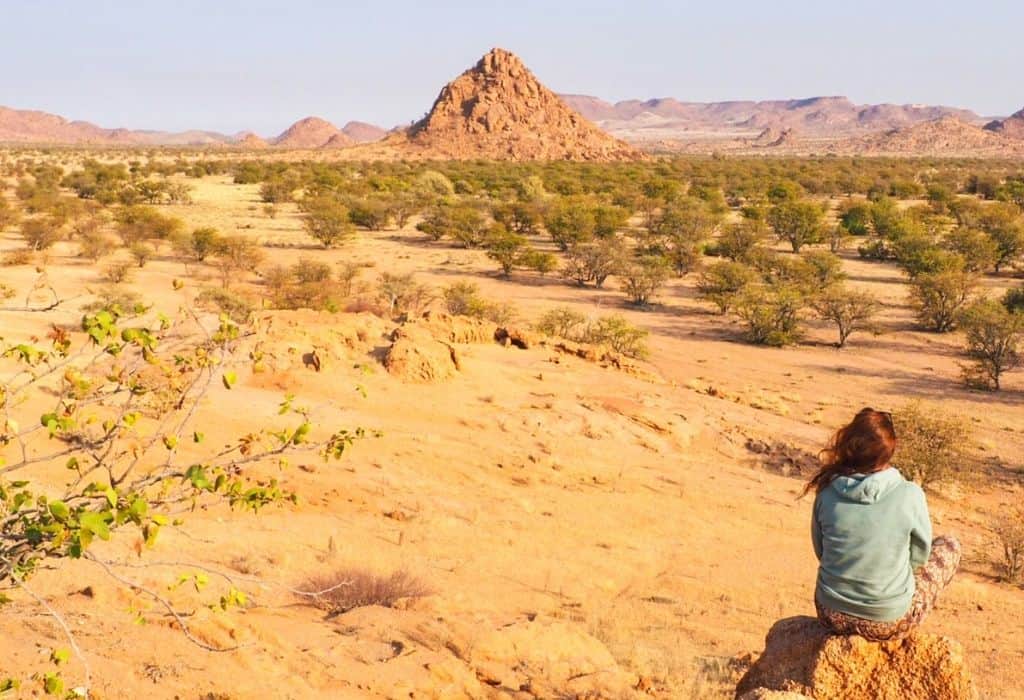 Damaraland
Next, head to the Damaraland region of Namibia.
Damaraland is known as being one of the most beautiful places in the country (although it's all pretty spectacular) and the southern part of Damaraland is where you'll find Spitzkoppe, a series of incredible rock formations often called 'the Matterhorn of Africa' due to their shape.
Spitzkoppe has long been a popular stop on the overland trail, yet still manages to retain a sense of remoteness and is a great place for hiking and sleeping under the stars.
As you head north, you'll come across, the Brandberg, known as the 'Fire Mountain', the tallest mountain in Namibia which attracts climbers from all over the world.
Further north still you can visit the desert elephants that roam the area and see the ancient rock paintings of Twyfelfontain (a UNESCO World Heritage Site) that are thought to date back around 6000 years. There are also rock paintings in Spitzkoppe, however, the best is found in Twyfelfontain.
Time Needed: 2 – 4 Days
Where To Stay: For Spitzkoppe, the best place to stay is Spitzkoppe Campsites where you can pitch your own tent and be right in the 'action' or Spitzkoppe Tented Camp, just outside the park. Then as you head north, Madisa Camp near Twyfelfontein is the perfect place to rest your head and they even have a waterhole that attracts the desert elephants that roam the area. They have both static tents and room to pitch your own.
Things To Do: Camp under the stars, go hiking, stargaze, watch the sunset and sunrise, see ancient rock engravings at Twyfelfontain, village visits, elephant tracking, and as one of my readers recommended (thanks Jane), volunteer with EHRA.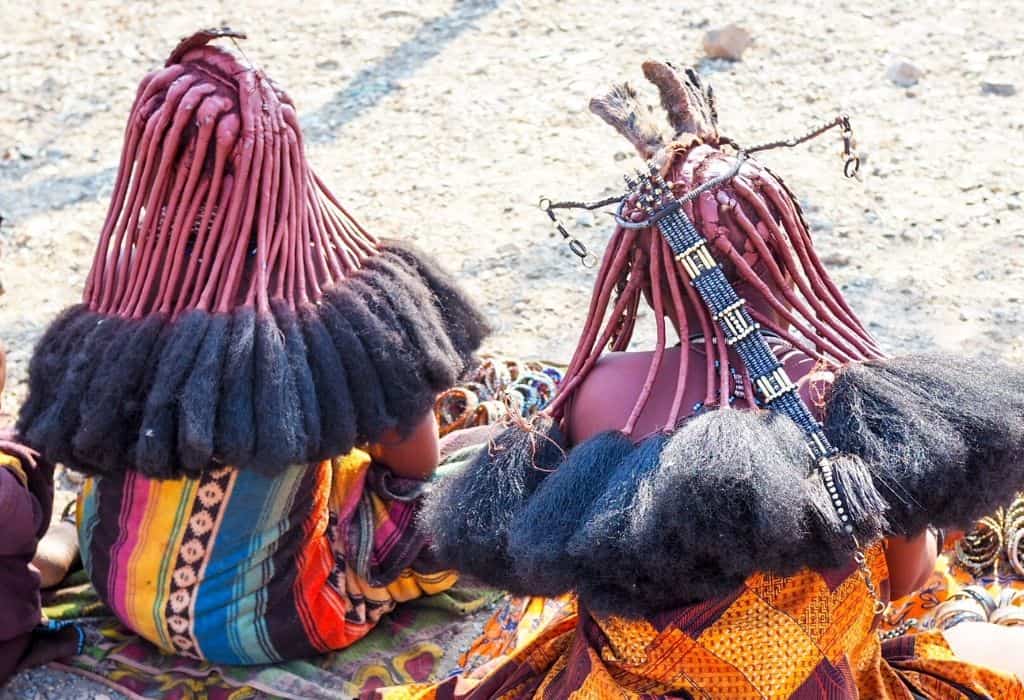 Opuwo
In the northern part of the country, you will find Opuwo, the capital of the Kunene Region (also known as Kaokoland), it's a little bit out of the way, but if you can squeeze it into your Namibia itinerary, you won't regret it.
Kaokoland is the traditional home of the Himba people and whilst you are here, you can organise visits to meet both the Himba and the Herero people and learn about their fascinating cultures. There are tons of Himba and Herero people walking around town and in the supermarkets just going about their business. Just don't be that asshole who takes pictures without consent.
If you do want to visit the Himba (or Herero) people, I need to warn you that a lot of the organised visits are crap. They feel set up, you can tell that the Himba don't really want you there and the women are very pushy to get you to buy things from them (and a lot of it isn't locally made either), so just be aware that you may find these meetings disappointing if they aren't done right, so ask lots of questions to make sure the trip is right for you.
The best way to meet and interact with the Himba is to spend a longer period of time in and around Opuwo, to meet people naturally or if you are introduced by mutual friends.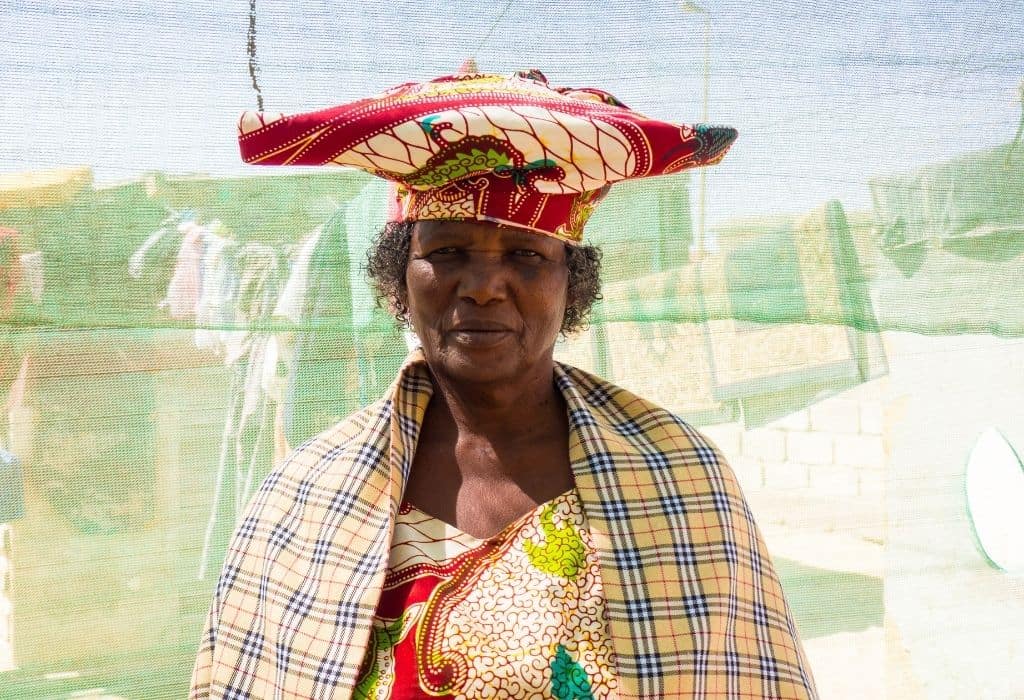 Whilst in Opuwo, you can also take a trip up to Epupa Falls, near to the Angolan border, a beautiful waterfall in an otherwise dry, but stunning region. This can be done as a day trip, or you can stay there too. The falls are best visited just after the rainy season when the roads are less difficult to navigate and the water level is still high, around April/May. The water levels drop dramatically later in the year and similar to Victoria Falls, they are almost dried up by September/October.
Time Needed: 2 – 3 Days
Where To Stay: The Opuwo Country Lodge is the best place to stay in the area, with rooms and camping facilities, as well as a pool and a spa. If you go up to Epupa Falls, you could stay at either Epupa Camp or Epupa Falls Lodge – you can find accommodation options here.
Things To Do: Activities in Opuwo – visit the Himba and Herero people. Activities at Epupa Falls – visit the falls, go white water rafting (May to November), hiking, Himba visits, sundowner drives, fishing and birding.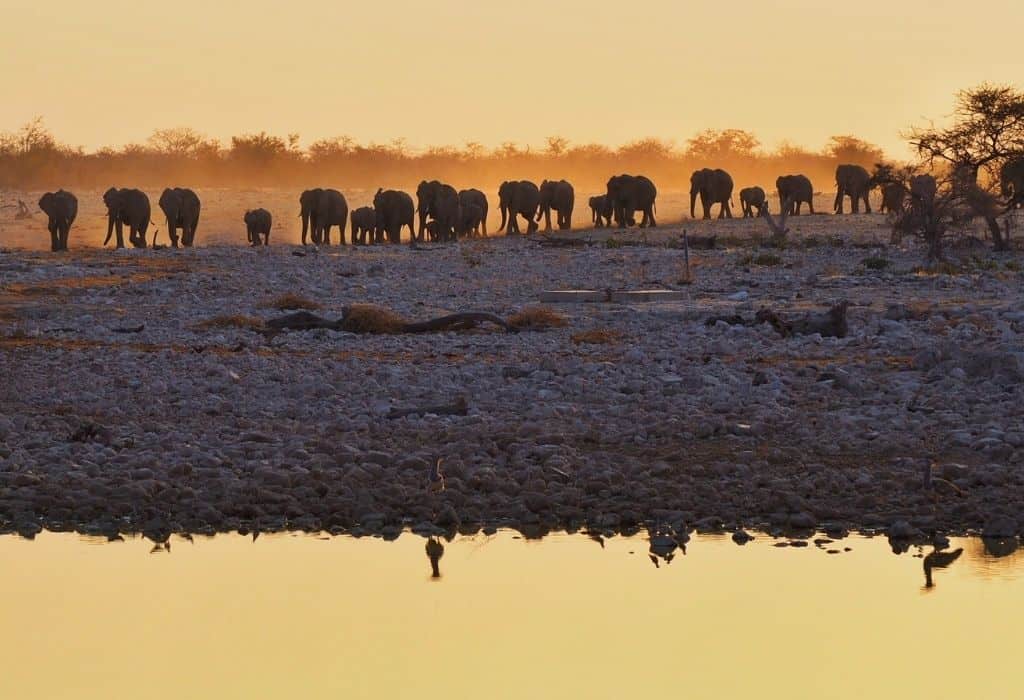 Etosha National Park
Etosha National is one of the top safari destinations in Africa. The park is visually very different from all of the other parks I've been to and the name 'Etosha' actually means 'great white place'.
There is a wide variety of animals to see including lions, leopards, elephants, giraffes, oryx and zebras so you will love going on safari here!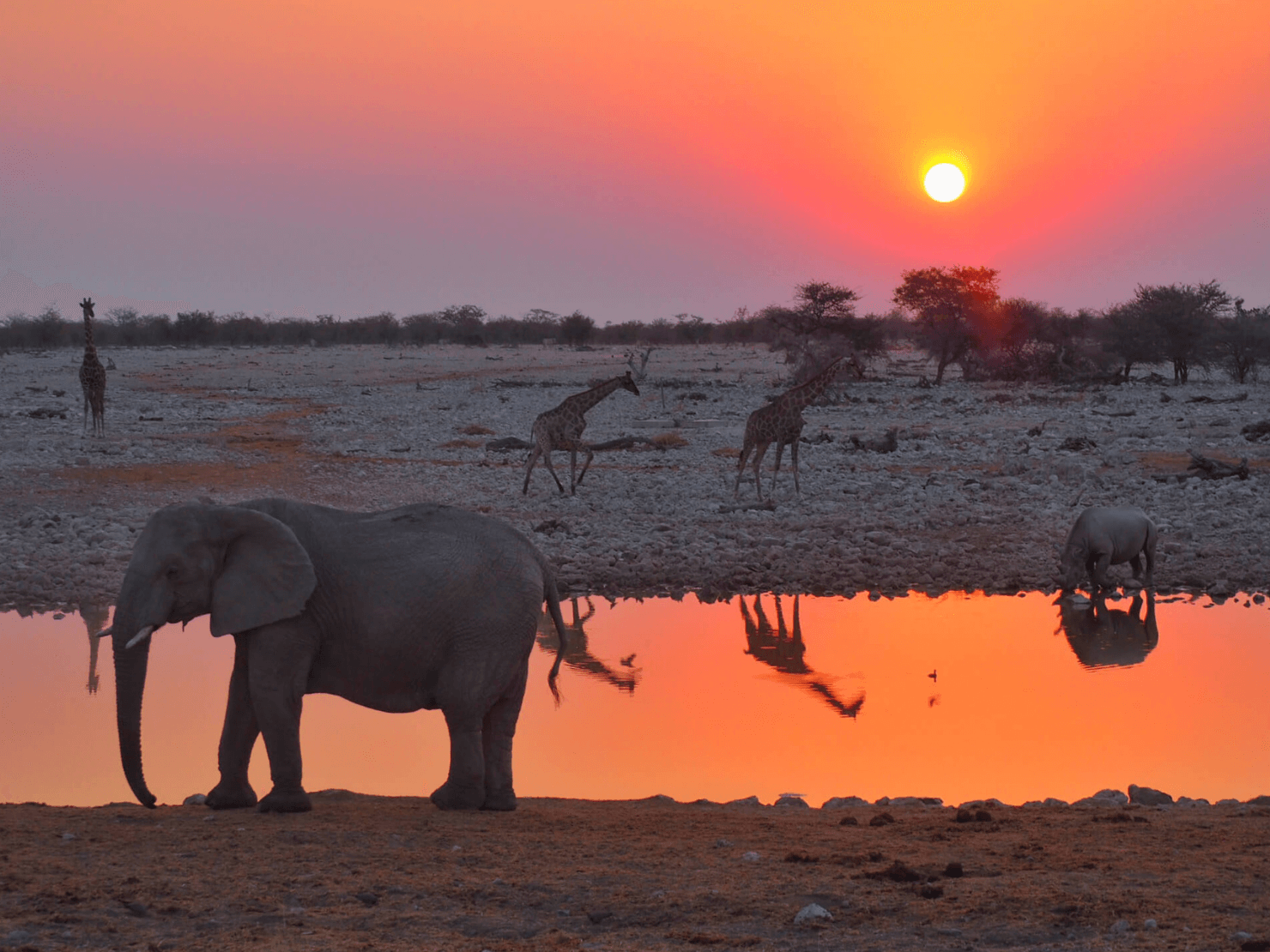 We spent the first night at Namutoni Camp, stopped off at Halali Camp for lunch (bring your swimsuits and use the pool) and then stayed the second night at Okaukuejo Camp.
My absolute favourite moment in Etosha was sitting at the waterhole at Okaukuejo Camp and watching around 30 elephants wander in to drink and bathe. Not long after they were joined by a few giraffes and zebras and even a rhino. I have never seen anything like it in my life. Simply magical.
Time Needed: 2 – 3 Days
Where To Stay: Many people move around in Etosha, staying in one camp one night and another camp the next. There are lots of places to stay, but the ones I usually frequent within the park are Namutoni, Halali and Okaukuejo. All have camping spots and rooms, some of which overlook the waterhole. Okaukuejo Camp is widely regarded as THE best place to stay in Etosha, due to the waterhole (in the above two photos) which is out of this world. You can see a list of options here. But trust me, don't miss Okaukuejo.
Things To Do: Go on safari and hang out at the Okaukuejo Waterhole.

Waterberg Plateau
If you have time and wanted to make a slight detour on your way back to Windhoek, I would head for the Waterberg, a beautiful spot to give your legs a stretch after your safari.
The plateau is an unusual site, rising 200m above the ground with fantastic views over the area and stunning flora and fauna.
There's lots to do, including a couple of multi-day hikes (seasonal April – November) that you can take part in. The first is the guided Waterberg Wilderness Trail (4 days, starting on the 2nd, 3rd and 4th Thursday of the month) and the second is the Unguided Hiking Trail (4 days starting on the 2nd, 3rd and 4th Wednesday of the month).
On the multi-day hikes, you stay in huts on the trail, bring your own equipment and you will need permits, which need to be booked way in advance via Namibia Wildlife Resorts. Numbers are strictly limited and only 1 group per week are allowed on each trail.
There are also some shorter day hikes, cultural tours and game drives that you can take part in, organised through the lodges and camps in the area.
Time Needed: 2 – 5 Days
Where To Stay: Waterberg Wilderness – they have a number of different options, including lodges and a couple of campsites. You can check prices and book here. Or you could stay at the Waterberg Camp run by the NWR.
Things To Do: Hiking, game drives, sundowner drives, visit the Herero people who live in the area and go rhino tracking on foot.

The Caprivi Strip
Ok, so the Caprivi Strip is pretty much completely out of the way if you aren't either driving in from or to Zambia, Zimbabwe or the northern part of Botswana or out that way, however, I wanted to add it in as an option for your Namibia itinerary as I know quite a few people do longer trips, driving north to south or vice versa and it is a cool place to visit.
The Caprivi Strip is an up and coming wildlife destination with a few different areas to explore including Bwabwata National Park, Mahango Game Reserve, Popa Falls National Park, Mudumu National Park and Nkasa Rupara National Park.
In the far east of the Caprivi Strip, there's also Impalilia Island where Namibia, Zambia, Zimbabwe and Botswana meet and here you'll find a few lodges and tons of wildlife viewing opportunities along the Zambezi and Chobe Rivers that lie on either side of the island. Pre-booking is essential.
Time Needed: 2 – 6 Days
Where To Stay: I love Ngepi Camp, and have stayed here a couple of times, it's quirky and wonderful eco-lodge and campsite with tree houses and camping spots. They also have a swimming pool in the river (fenced off so the crocs and hippos can't get you). You could easily spend a good few days on the Caprivi Strip alone, stopping off at a number of different camps and lodges along the way. On Impalilia Island, popular places to stay are Chobe Savanna Lodge and Inchingo Chobe River Lodge. As far as I know, there are no camping sites here, but there are plenty across the border in Botswana.
Cool Things To Do: Boat cruises, game drives, birding, village walks, fishing and relaxing.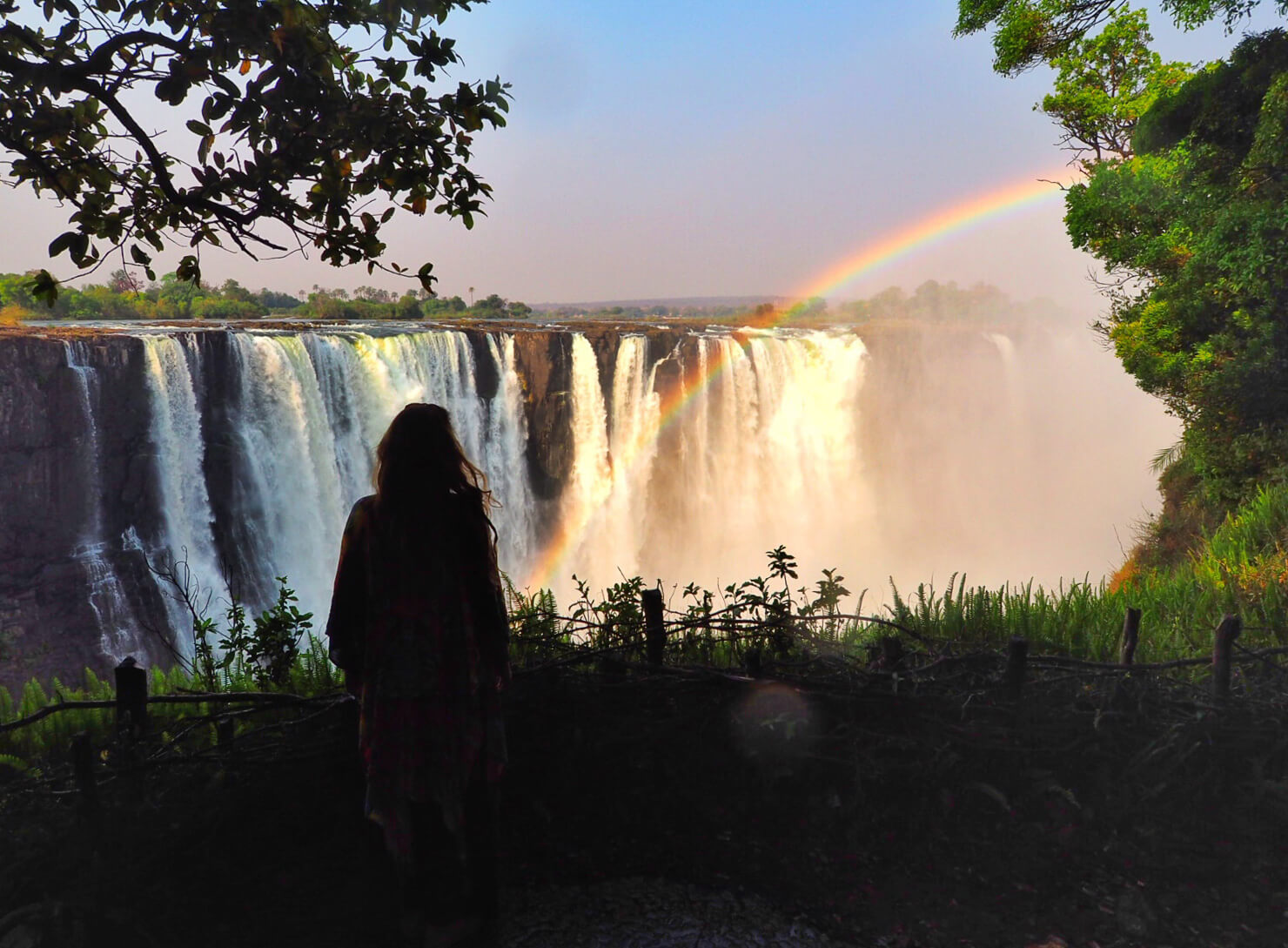 Alternative Routes
If you're not doing your Namibia itinerary in a loop starting and ending in Windhoek, you could follow one of the alternative routes below.
If coming from Livingstone (Zambia)/Victora Falls (Zimbabwe)/Kasane (Botswana) going to South Africa (or vice versa):
Livingstone/Vic Falls/Kasane – Caprivi Strip – Etosha – Opuwo – Damaraland – Spitzkoppe – Skeleton Coast – Swakopmund – Windhoek (although you could miss this out as it's a bit of of a detour) – Namib Naukluft National Park – Aus/Luderitz – Quiver Tree Forest – Fish River Canyon – Orange River
If coming from D'kar (Botswana) to South Africa (or vice versa):
D'kar – Windhoek – Etosha – Opuwo – Damaraland – Spitzkoppe – Skeleton Coast – Swakopmund – Namib Naukluft National Park – Aus/Luderitz – Quiver Tree Forest – Fish River Canyon – South Africa
There are so many wonderful options! So enjoy your epic adventure through Namibia! 
I hope this gives you some great ideas for your own Namibia itinerary! If you've already been, do you have any other great places to add to the list?
---
Join one of my Namibia group tours or buy my Backpacking Africa e-book!