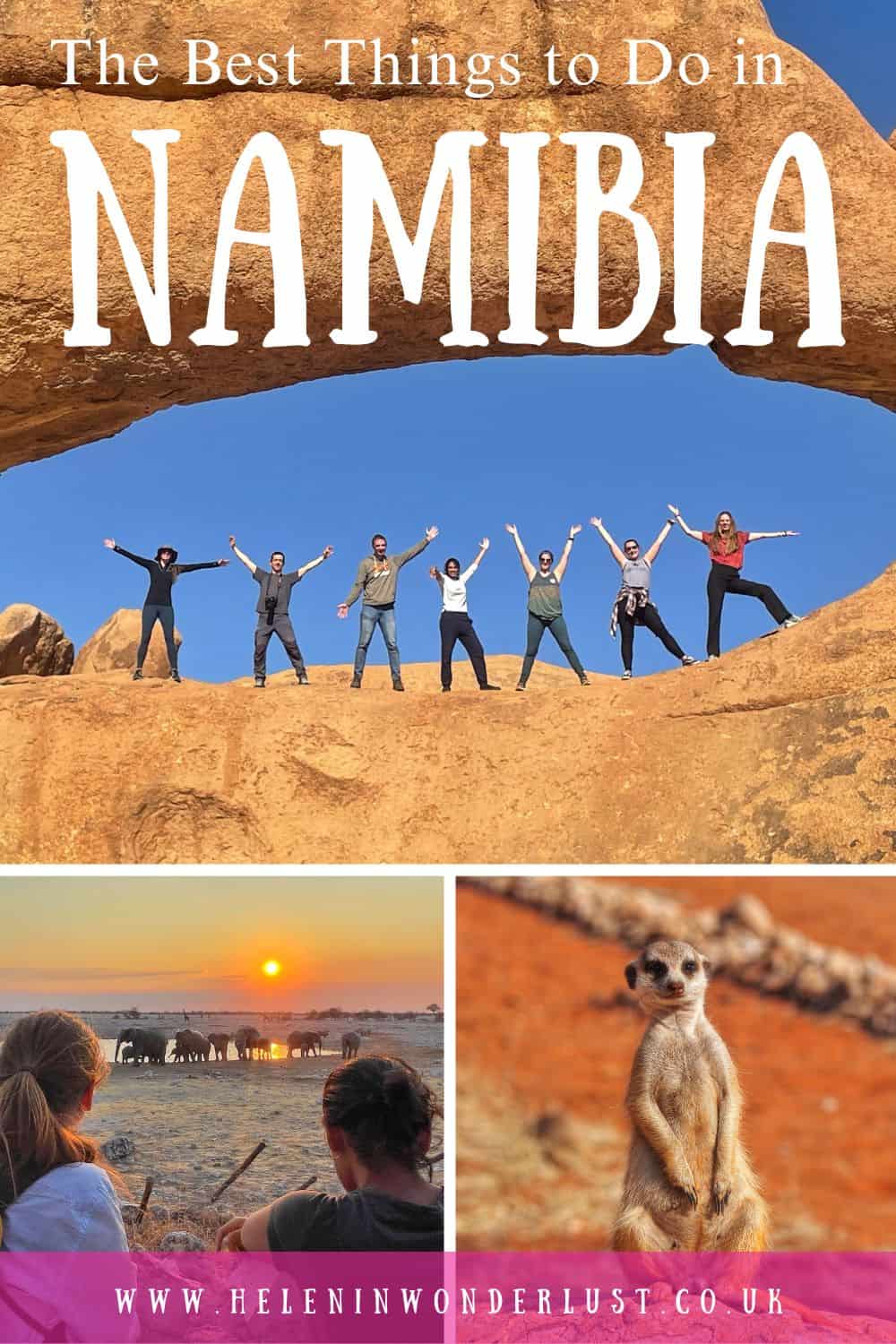 Last updated on April 16th, 2023 at 02:44 pm
Last Updated: April 2023
If you're looking for ideas of things to do in Namibia, you're in the right place! Namibia is unique and very different from the rest of Southern Africa and very different from anywhere else I've been.
The country is definitely in my top 10 African destinations, famous for its other-worldly scenery, ethereal starry skies, stunning coastline, colossal sand dunes, vast deserts, incredible wildlife and epic adventure opportunities!
The first time I travelled there, I was in absolute awe of everything I saw and everything I did and I remember writing an email home to friends and family, describing the country as being "how I would imagine Mars to be, with incredible orange-toned landscapes and strange 'alien' creatures or like a Mad Max post-apocalyptic world".
And funnily enough, Max Max: Fury Road was filmed there some years later.
As well as everything I've mentioned above, Namibia is also a very safe country to visit, where English is widely spoken and often referred to as 'Africa for Beginners', so it's a perfect place to start!
So to help with your planning, here are some of the best things to do in Namibia! And if you need help putting it all together, check out my Namibia itinerary post too.
Please Note: Some of the links in this post are affiliate links, which will earn me a small commission at no extra cost to you. Affiliate sales help with the running costs of this site, so thank you for your support!
---
The Best Things To Do in Namibia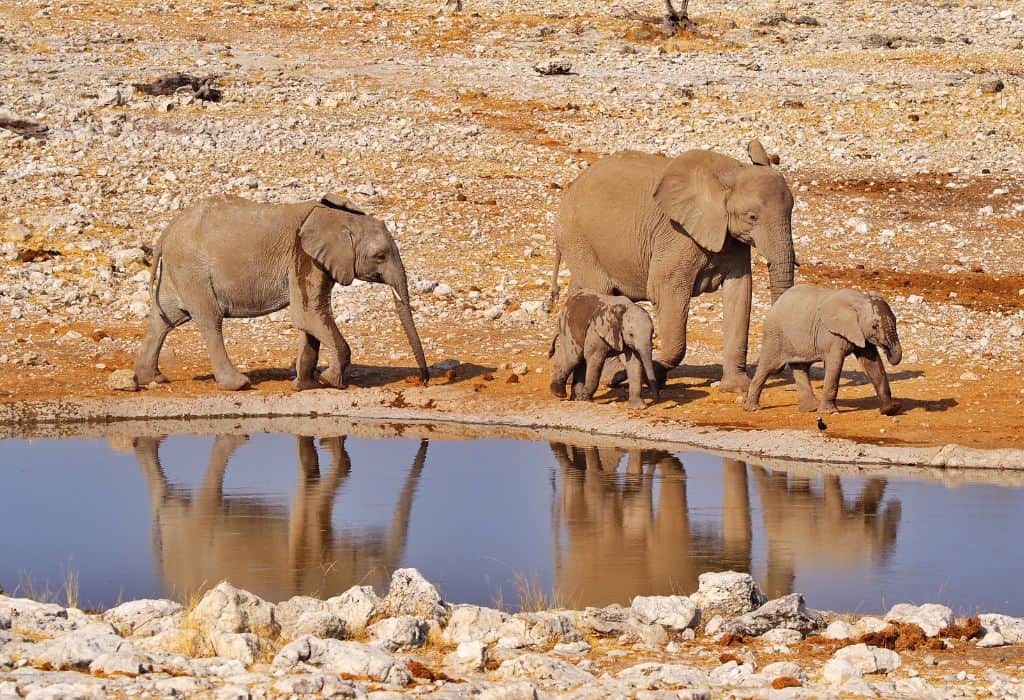 1. Go on Safari in Etosha National Park
Etosha National Park is probably top of my list of the best things to do in Namibia, as it is one of the most incredible safari destinations on the planet, with a wide variety of animals including lion, rhino (white and black – it's one of the best places to see the endangered black rhino in Southern Africa), elephant, leopard, giraffe and antelope, so you will not be disappointed!
However, there are no buffalo so you can't see the full 'Big Five' here.
The landscape itself is different from most other safari destinations in Africa, with the word Etosha actually meaning 'great white place' and in the dry season (June – October), animals congregate around the waterholes in the park, making for great wildlife spotting.
2. Experience the Beauty of Epupa Falls
North of Opuwo, in the Kunene Region (also known as Kaokoland) near the border with Angola, lies Epupa Falls, a beautiful waterfall in an otherwise dry, but stunning region.
The falls are best visited just after the rainy season when the roads are less difficult to navigate and the water level is still high, around April/May. The water levels drop dramatically later in the year and similar to Victoria Falls in Zambia and Zimbabwe, they are almost dried up by September/October.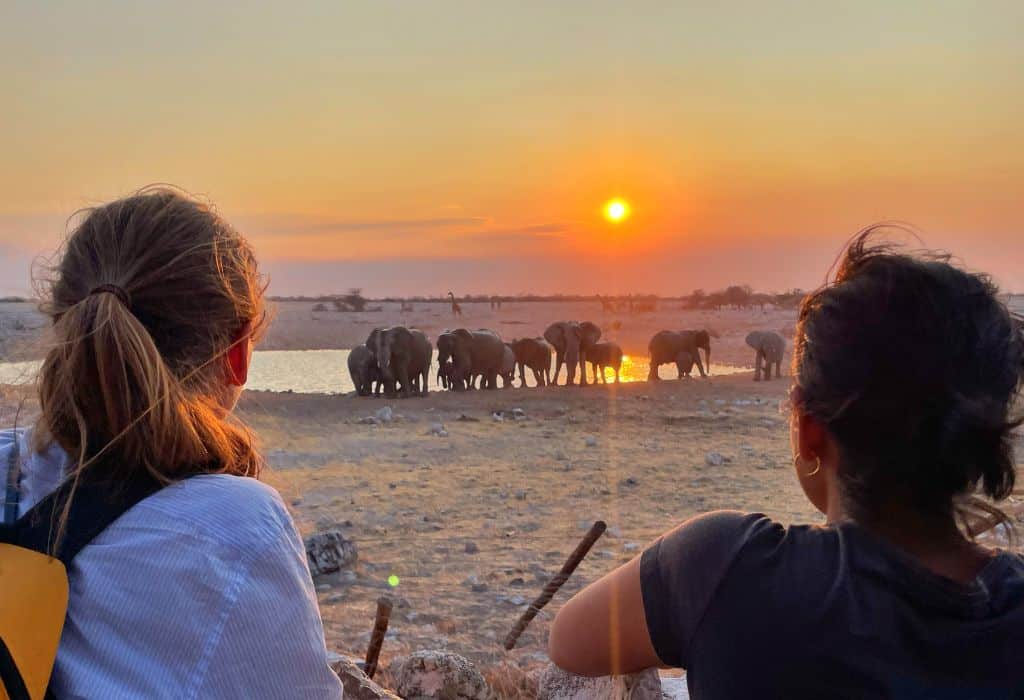 3. View Animals at the Okaukuejo Floodlit Waterhole
If you're visiting Etosha, you should definitely make the Okaukuejo Rest Camp one of your overnight stops.
The camp at Okaukuejo is extra special because it has a floodlit waterhole where animals come to drink, especially in the evenings. You can sit and watch whilst rhinos, lions, elephants and antelope drink from the pool – often at the same time.
This one of my favourite places to stay in Namibia and it truly is an unforgettable and unique experience, known to be one of the best game viewing locations in all of Southern Africa, especially in the dry season, so please add this to your Namibia itinerary!
4. Get a Different Perspective at the Waterberg Plateau
If hiking is your thing then the Waterberg Plateau is a great place to stretch your legs.
The Plateau is an unusual site, known as the 'Kalahari's Table Mountain', rising up to 200m high in some places and measuring 50km long by 16km wide. From its elevated position, there are amazing views over the surrounding area.
There are 2 multi-day trail hikes that take place on the plateau. The guided Waterberg Wilderness Trail and the Unguided Hiking Trail take place once per week with limited numbers.
You stay in huts on the trail and permits are required, which you need to book way in advance through Namibia Wildlife Resorts which own Waterberg Camp.
There are also some shorter day hikes, cultural tours, and game drives that you can take part in, organised through the lodges and camps in the area.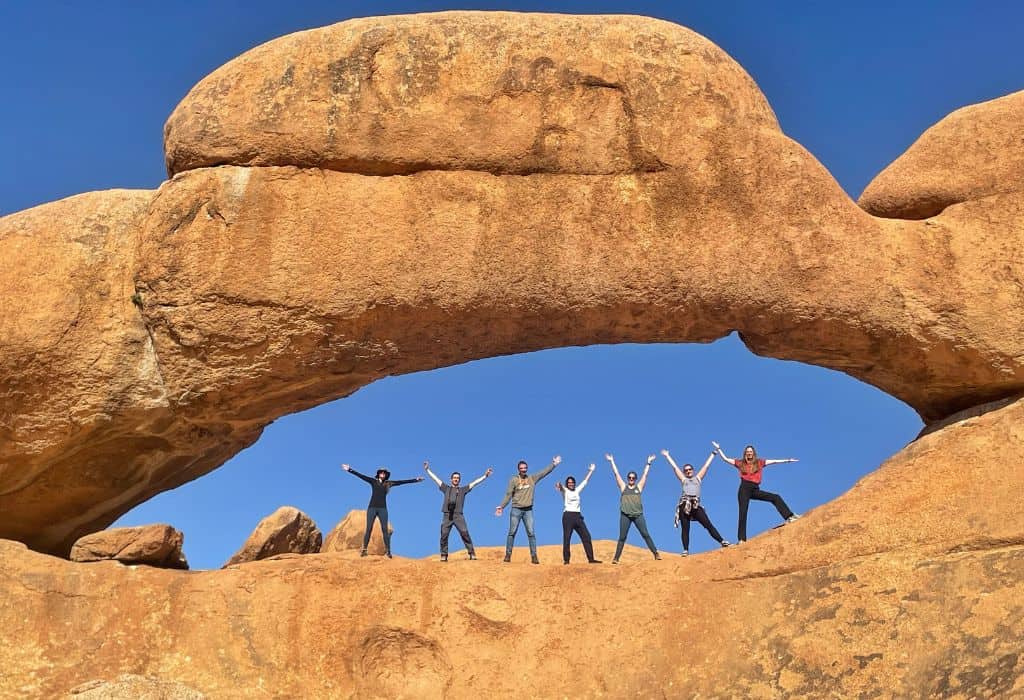 5. Explore Spitzkoppe & Damaraland
Damaraland is one of the most beautiful regions in Namibia, with incredible rock formations and stunning valleys, well it's all beautiful, but Damaraland is something special!
The area is known for its amazing wildlife, sunsets, rock art and stargazing, however, one of the major draws here is hiking and rock climbing. It's also one of the best places for camping in Namibia.
This region contains both Spitzkoppe, one of the country's most famous landmarks, a group of peaks, often called 'the Matterhorn of Africa' due to their shape, and the Brandberg, known as the 'Fire Mountain', the tallest mountain in Namibia. Both have incredible trails that attract climbers from all over the world.
For an easier hike, one of my favourite things to do in Namibia is to visit the Spitzkoppe Arch which you can see above.
6. Visit a Traditional and Authentic Himba Village
Visiting the Himba tribe in Namibia was one of the absolute highlights of my trip to Namibia.
The Himba are a semi-nomadic tribe and one of the most recognisable and traditional tribes in all of Africa, due to the dress of the female tribe members and by the fact that they cover their skin and hair with ochre, butter and herbs known as otijize.
The otijize gives their skin and hair an orange/red tint. The Himba ideal of beauty is inspired by the orange/red glow of the earth, something synonymous with the African continent.
If you want to see a truly authentic Himba village (some are not), I suggest you head to the northwest of the country to Opuwo (and further north), where the Himba traditionally live.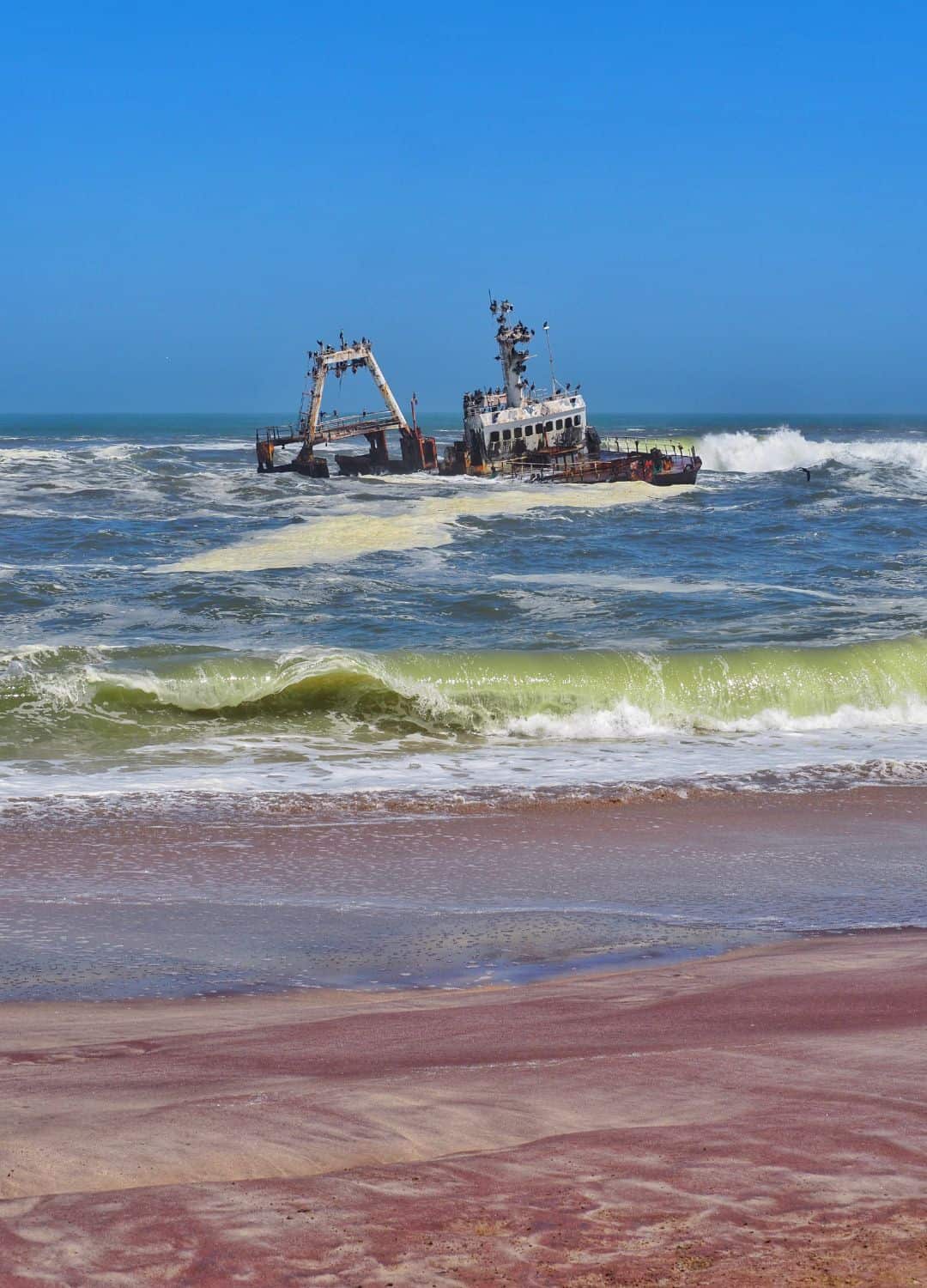 7. Discover Shipwrecks and Roaring Sand Dunes on the Skeleton Coast
The northern part of the Namibian coastline is known as the Skeleton Coast, although it has had other names.
The Portuguese sailors called it "The Gates of Hell" and the San Bushmen referred to it as "The Land God Made in Anger' – which gives you a clue as to what this place is all about.
When the cold water currents of the Atlantic Ocean meets the hot dry air of the Namib Desert, a strange thing occurs – fog!
The thick fog caused many ships to run aground off the coast of Namibia and now it's now a shipwreck graveyard, along with the bones of whales and other animals – giving it the name 'The Skeleton Coast'.
The area is desolate, bleak and inhospitable but also stunning and therefore a huge draw for photographers.
Some of the shipwrecks of the Skeleton Coast can be seen independently with a 4×4 and some require a tour. Access to the far northern part of the coast (where most of the visible wrecks are) is restricted to 800 people per year and you need to take a fly-in tour.
Whilst you are there, you may also want to take a trip to hear the 'roaring dunes', so-called because of the rumbling noise produced from the air caught between the grains of sand, that sounds like a low-flying plane, spooky.
8. See the Ancient Rock Engravings at Twyfelfontain
It's thought that the ancient rock engravings at Twyfelfontain are the work of early hunter-gathers, dating back around 6000 years. The site was declared a UNESCO World Heritage Site in 2007 and is definitely worth a visit on your trip to Namibia.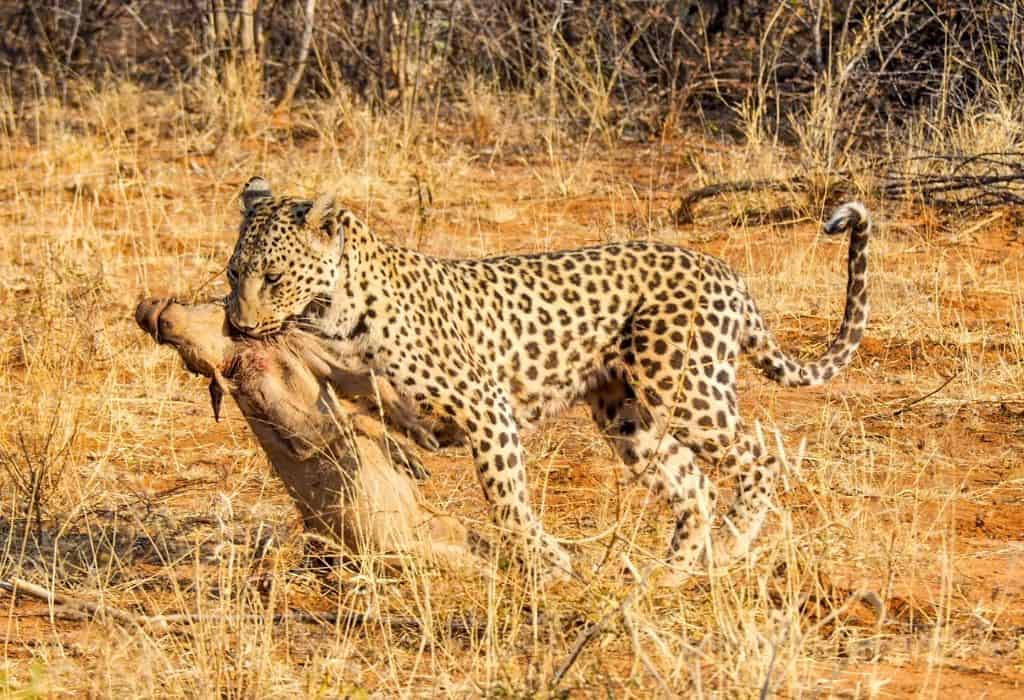 9. Track Big Cats at the Okonjima Nature Reserve
In between Etosha National Park and Windhoek, you'll find the Okonjima Nature Reserve and the Africat Foundation.
The AfriCat Foundation, a non-profit conservation organisation that rehabilitates big cats who have been orphaned or caught in traps. Here you can track leopards, cheetah and other carnivores, giving you a chance to see them up close whilst supporting the vital work of the foundation.
10. Barter for Souvenirs at the Okahandja Craft Market
If you're looking to buy authentic Namibian souvenirs, head to the Okahandja Craft Market, north of Windhoek and get haggling for some bargains!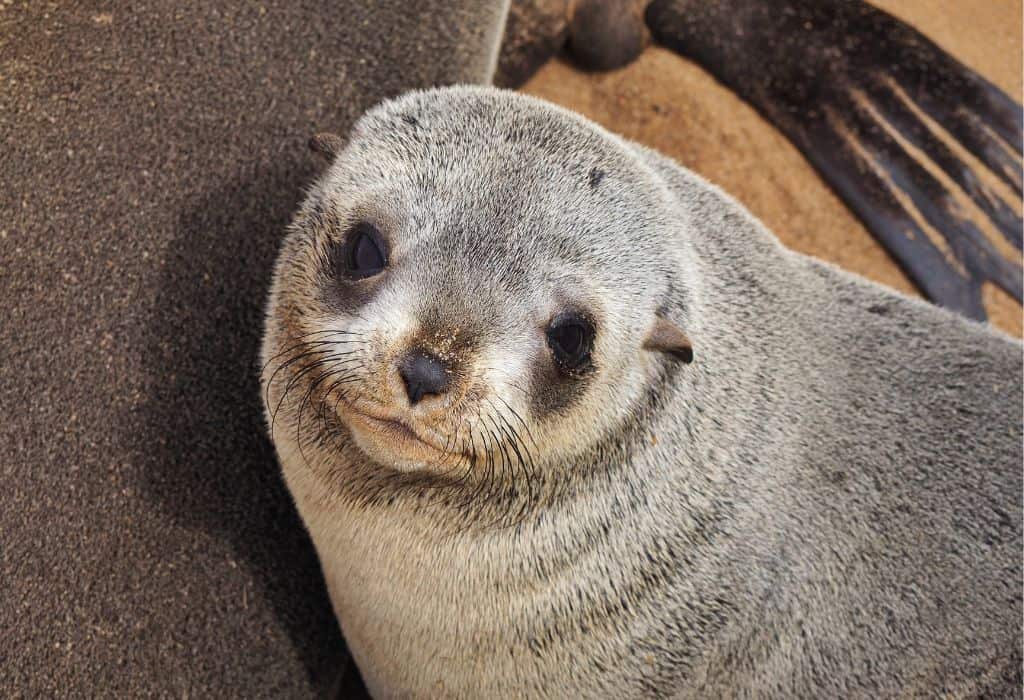 11. Hold Your Nose at the Cape Cross Seal Colony
On the Skeleton Coast lies the Cape Cross Seal Colony, where around 100,000 seals congregate to loll on the beach and play in the surf – it's an impressive sight, plus they make the funniest noises. Hold your nose though, it stinks!
The best time to visit is in late October when the males return to fight for their territory and breeding rights. Then if you want to see the colony at full capacity and cutest, come in November and December when all the pups from the previous breeding season are born.
12. Stargaze in the NamibRand Nature Reserve
With clear, dark skies, very few people and therefore little light pollution, Namibia is one of the best places on the planet for stargazing.
In 2012, the International Dark-Sky Association declared the NamibRand Nature Reserve an official dark sky reserve, making it the first dark sky reserve in Africa.
Another great place to see the spectacular night-time show is at the &Beyond Sossusvlei Mountain Lodge, which has an amazingly powerful telescope and an onsite astronomer to explain what you're looking at!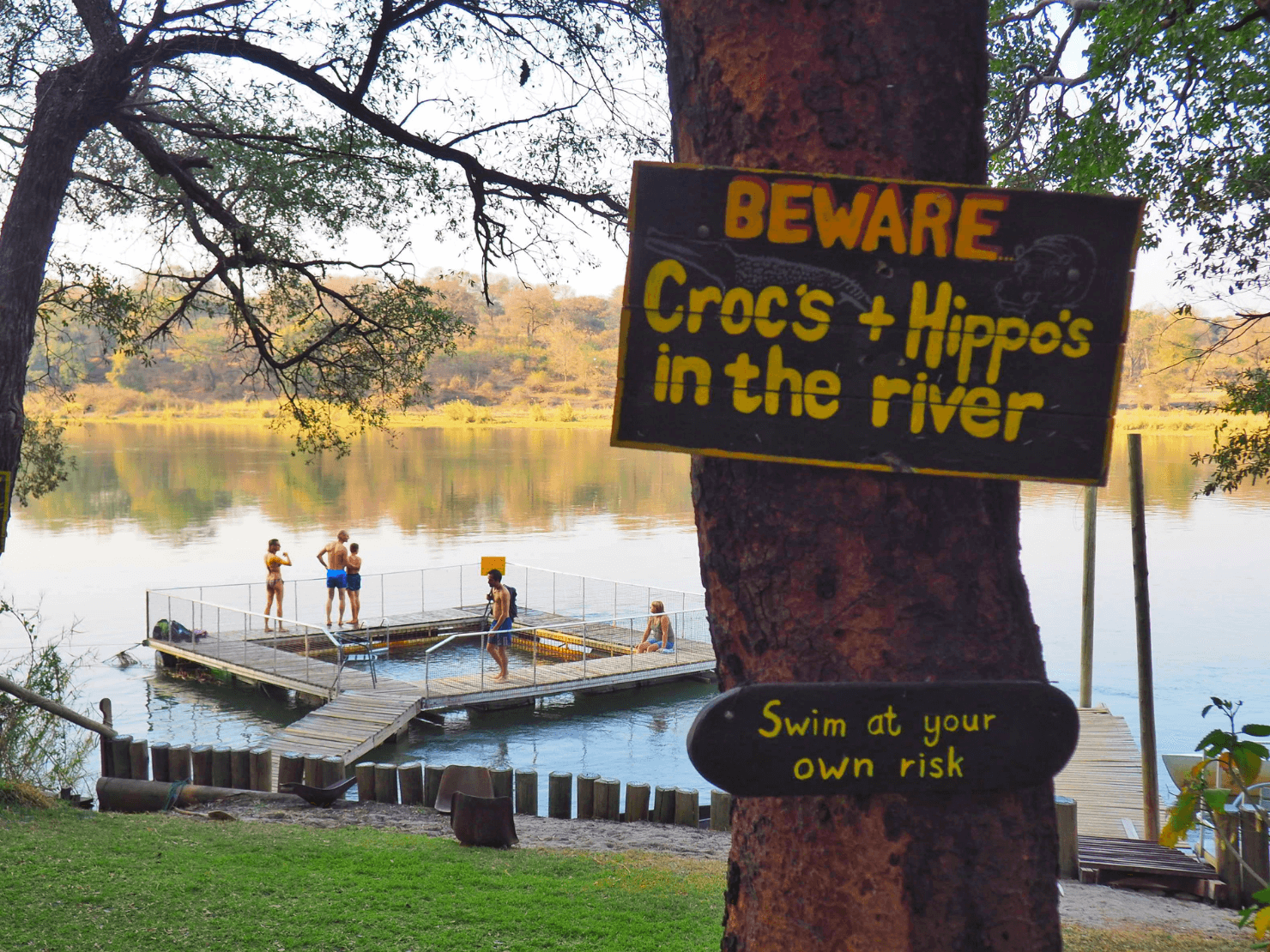 13. Visit the Caprivi Strip
In the far northeast of the country, close to Zambia, Angola, Botswana, and Zimbabwe is the panhandle of Namibia, now called "Namibia's Zambezi Region", although everyone still calls it the Caprivi Strip.
The Caprivi Strip is an up-and-coming wildlife destination and is a popular stop on the way through to Chobe National Park in Botswana.
In the area, you'll find Bwabwata National Park, Popa Falls, Nkasa Rupara National Park and the Mahango Game Reserve.
Another place you can stay is Impalila Island, which sits between the Zambezi and Chobe rivers at the '4 Corners' where Namibia, Botswana, Zambia and Zimbabwe meet.
There are tons of campsites in Namibia, but one of my favourites is the amazing Ngepi Camp (seen above), which lies on the western part of the Caprivi Strip on the Cubango River, so there are lots of activities you can do, such as rafting, village visits, fishing and nature walks.
It has camping space, awesome treehouses, cool outdoor showers, baths and toilets with a view and a floating swimming pool in the river, meaning you can swim with hippos and crocs, protected by a cage – pretty cool!
14. Surf Uncrowded Waves
If you're after a bit of an adventure mixed with uncrowded waves, then surfing in Namibia might just be what you are looking for.
Advanced surfers have a choice of waves, you'll just need to be aware of where you can and can't go. And for those with less experience, there are surf schools around Swakopmund and Walvis Bay that can take everyone from beginners up.
But surfing in Namibia is not for the faint-hearted. There are strong swells and sharks in the waters off Namibia and whilst they pose a minimal threat to humans, they are there. For the record, there has only ever been 1 known shark attack in Namibian waters and it wasn't fatal.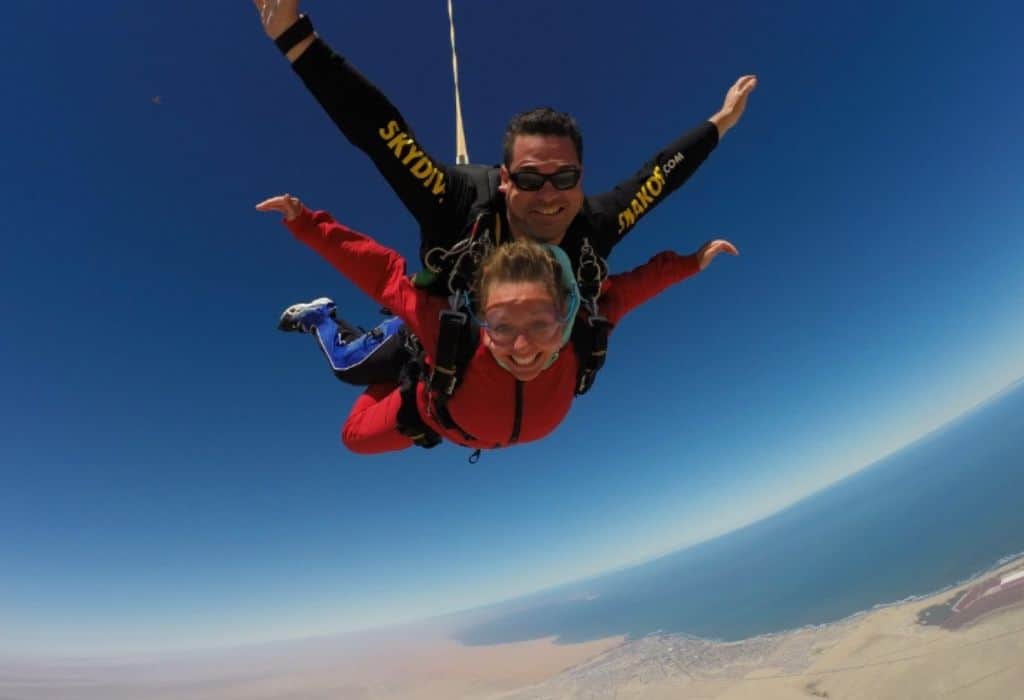 15. Get Adventurous in Swakopmund
For adrenaline activities, look no further than Namibia's adventure capital, Swakopmund or Swakop as it's often called for short where you'll find some of the best things to do in Namibia, all in one place!
The city of Swakopmund lies on the coast in central Namibia, flanked by the Atlantic Ocean on one side and the Namib Desert on the other side, making it the perfect place to spend a few days taking part in adventurous activities or resting after sightseeing around the rest of the country.
There is literally something for everyone, from extreme activities like skydiving, quad biking and sandboarding to slightly more chilled activities like cycling, desert walking tours (these tours book up quickly, so book in advance if you can) and city tours.
Swakopmund is also a pretty city, often referred to as being 'more German than Germany', with cute buildings, nice cafes and restaurants and shops giving you a bit of respite after a tough few days driving through the inhospitable and alien Namibian wilderness. It's also a pretty great place to party if you want to let your hair down – which I usually do!
There are so many things to do in Swakopmund that you will be totally spoiled for choice.
16. See the Flamingoes & Pelicans in Walvis Bay
As you travel the coast of Namibia, I highly recommend that you stop by Walvis Bay.
Walvis Bay is one of the best places in Southern Africa to see both greater and lesser flamingoes, as well as a number of other migratory birds including pelicans, so even if you don't stay there (it's very close to Swakopmund) it's definitely worth a stop!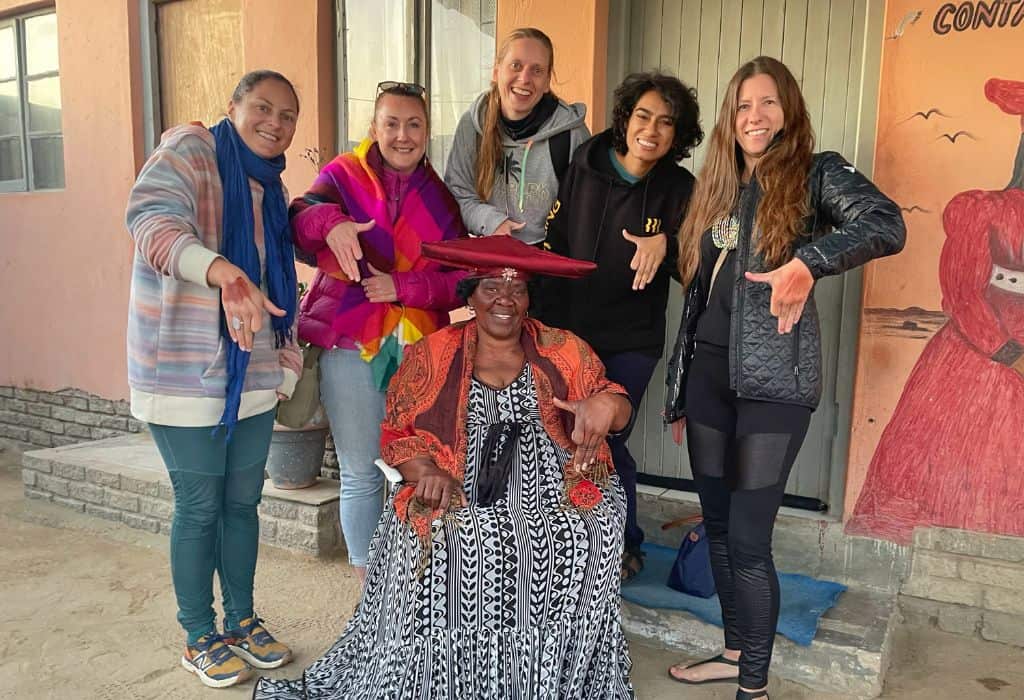 17. See the 'Other' Side of Swakopmund in the Mondesa Township
Whilst you're in Swakopmund, I highly recommend that you head over to the Mondesa township.
As much as I love Namibia and Swakopmund, it is a strange place in some respects. The legacy of apartheid in Namibia is still evident and I think it's important that visitors see the 'other' side of town and understand the history of the city and indeed the country.
One side of Swakopmund looks like a Bavarian-themed Disney town and the other, by stark contrast is a township, but that's where the soul of the city lies – it's vibrant, fun and full of wonderful people.
I've visited a couple of times and always enjoy it. The first time I went, we just walked around, ate some street food and had a few beers in a local shebeen, however, there are a number of tour companies that offer trips to Mondesa if you don't feel comfortable going alone and want a more structured experience and a bit of history.
The last time I went, we visited a local market, art projects, local bars and a Sangoma (traditional healer). Just be aware that it's not really safe to walk there at night as a tourist without a guide. You can find some recommended Mondesa Township tours here.
18. Visit the Naankuse Wildlife Sanctuary
The Naankuse Wildlife Sanctuary, founded by Dr Rudie and Marlice van Vuuren, is dedicated to land and wildlife conservation, as well as improving the well-being of local communities.
They run several projects to improve the health and well-being of the San Bushmen tribe of Namibia, care for and rehabilitate orphaned or injured animals and carry out a number of conservation projects to help with the human-wildlife conflict.
Their vision is "an Africa where humans and wildlife can live together" and their mission 'is to conserve the land, cultures and, wildlife of Namibia and rescue species threatened by an ever-shrinking habitat'.
By visiting the sanctuary you can support their work and learn about the animals they care for such as cheetahs, lions, African wild dogs, leopards and baby baboons.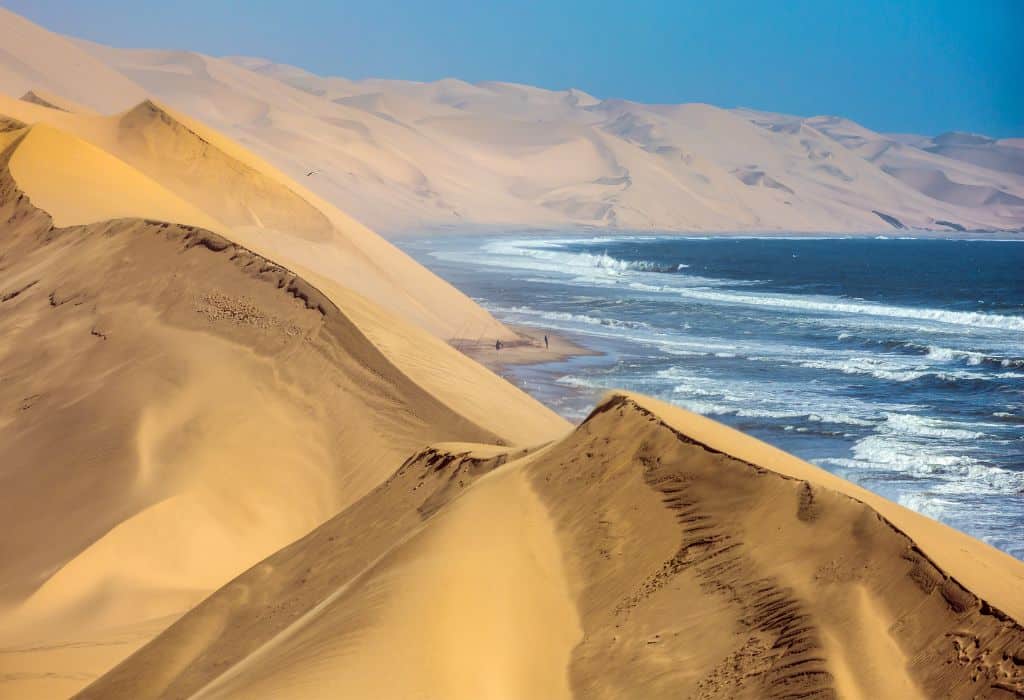 19. Be Wowed by Sandwich Harbour
South of Walvis Bay, you'll find Sandwich Harbour, which is part of the Namib-Naukluft Park and one of my absolute favourite things to do in Namibia.
Namibia has some stunning beaches and in Sandwich Harbour, huge sand dunes drop straight into the ocean. There are no roads once you reach the dunes area, so a 4 x4 is essential and unless you are a very experienced driver, I would suggest taking a tour.
You need a permit to visit and it is best enjoyed at low tide and on a clear day. Just be aware that you can't always get the views above. It very much depends on the weather and time of day – so check before you go.
20. Explore the Capital, Windhoek
With the exception of Cape Town, most people can usually take or leave most sub-Saharan African cities. However, given a chance – most cities have their charms!
Whilst in the city, you can visit many of the main sites such as Christuskirche, Henitzburg Castle and the National Museum of Namibia.
If you want to get a bit more insight into the city, take a tour of the Katutura township. And for me, the heart of any city always lies in its markets.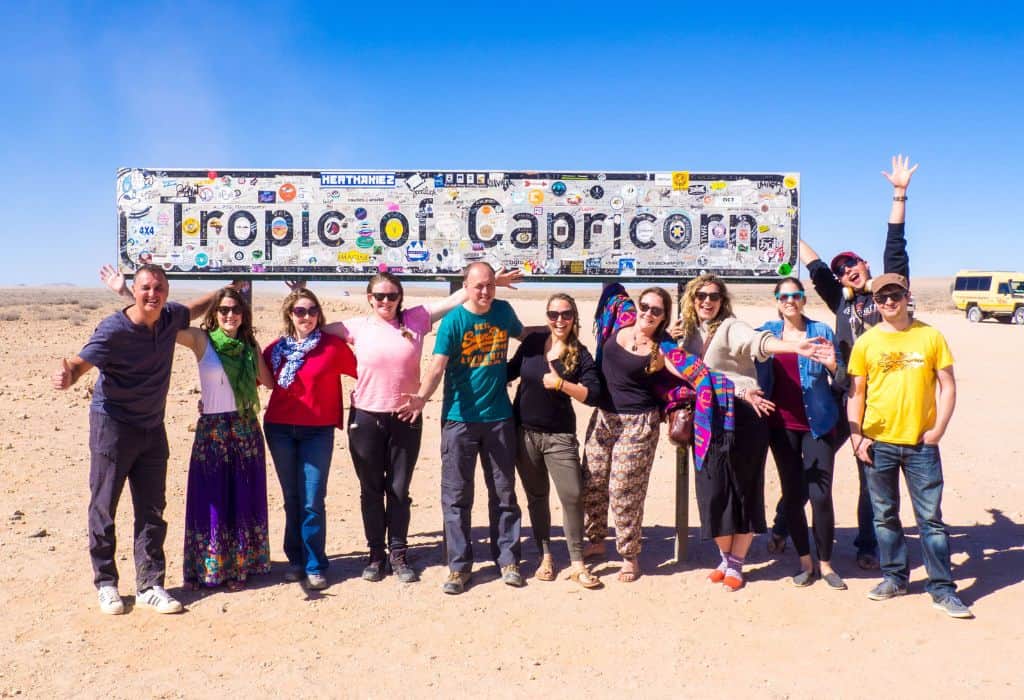 21. Stop for A Quick Pic at the Tropic of Capricorn Sign
No trip to Namibia would be complete without the compulsory photo stop at the Tropic of Capricorn sign. It's not that exciting, but it always makes for a fun picture.
This picture was taken on the Rock My Namibia Adventure tour in 2018! I also have another one coming up this year if you'd like to join me!
22. Make a Pit Stop in Solitaire
This might not be one of the more exciting things to do in Namibia and there's not much to it, but Solitaire is a great pit stop and oasis on a Namibian road trip with any tourists stopping here to refuel, stock up on groceries or sample the famous apple pie at Moose McGregor's Desert Bakery.
As well as a bakery, there's also a petrol station, toilets, a general store and a restaurant and lots of cute squirrels.
For those who want to overnight, the Solitaire Desert Farm is highly recommended and has rooms as well as camping facilities.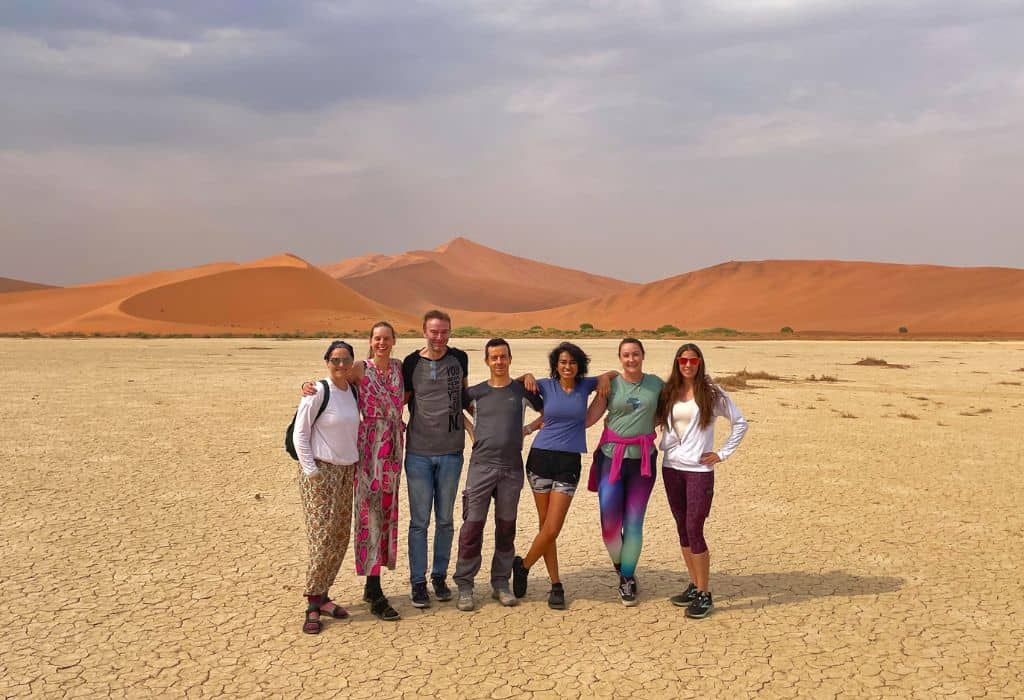 23. Explore the Sand Dunes at Sossusvlei
When you think of Namibia, the image that probably comes to mind is that of a gigantic, deep orange sand dune, half in shadow – am I right?
Climbing the dunes is a bit of an effort and requires a moderate level of fitness, but it is worth it! The top of Dune 45 (85m) is known to be one of the best places to watch the sunrise in the world.
The highest dune in the area is Big Daddy (325m), which overlooks Deadvlei and you are allowed to climb it (if you still have the energy).
Another popular dune is Elim Dune, which is easily accessible from Sesriem and offers spectacular sunset views.
To reach Dune 45 in time for sunrise, you must stay inside the park so if you're camping, you'll need to stay at Sesriem Campsite.
24. Fly High Over Sossusvlei
For a different view of the dunes, why not fly over them in a hot air balloon.
Hot air ballooning is fantastic anyway, but add to that one of the most spectacular natural environments on earth (and a champagne breakfast) and you really do have a magical combo!
It's not cheap, with pricing starting at around $475 (US dollars, not Namibian dollars, unfortunately) which includes the park fees and the champagne breakfast but it's a once in a lifetime experience.
You can also take a helicopter or a scenic plane ride over the desert.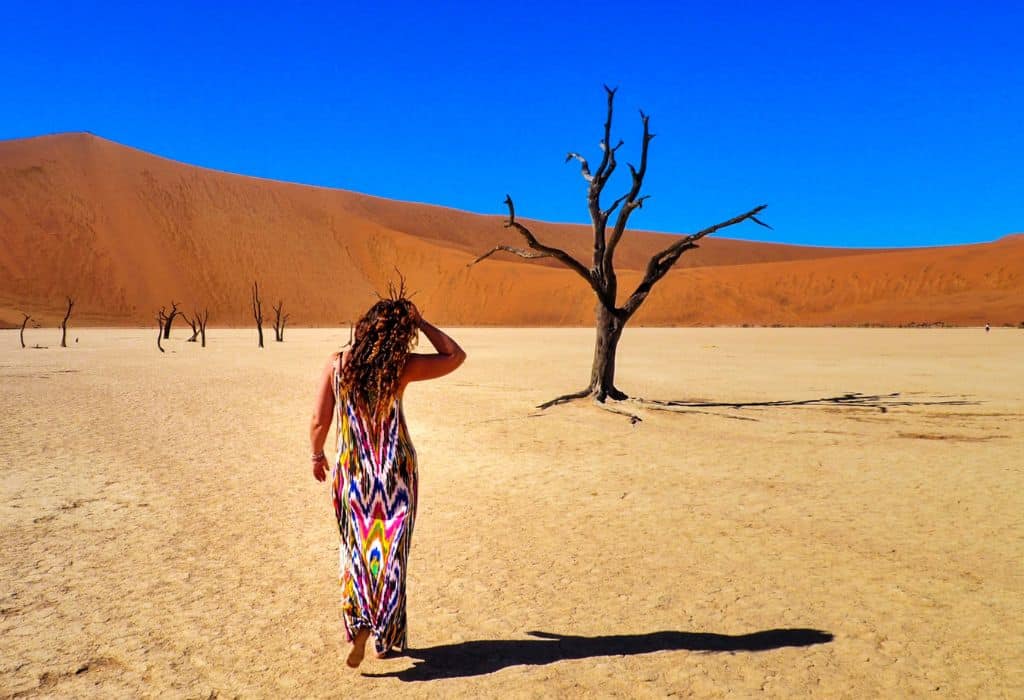 25. Photograph 900-Year-Old Dead Trees in Deadvlei
This is a lot more interesting and fun than it sounds…
One of the most famous, alluring and photographed spots in Namibia is Deadvlei, which lies around 6km away from Sossusvlei.
The seemingly petrified camel thorn trees (they're actually not, petrified, but they are dead and the air is so hot and dry that they do not decompose) are one of Namibia's most iconic sights, with the 900-year-old blackened trees, contrasting with the bright orange sand and the deep blue sky.
Just please don't climb on the trees, as they're dead they can't repair themselves!
26. Take a Hike at Sesriem Canyon
Whilst you're in the area near Sossusvlei, Sesriem Canyon is a great place to visit, whether it's for a quick look around or a day of hiking.
The rock formations are pretty incredible, so a walk through Sesriem Canyon is definitely worthwhile.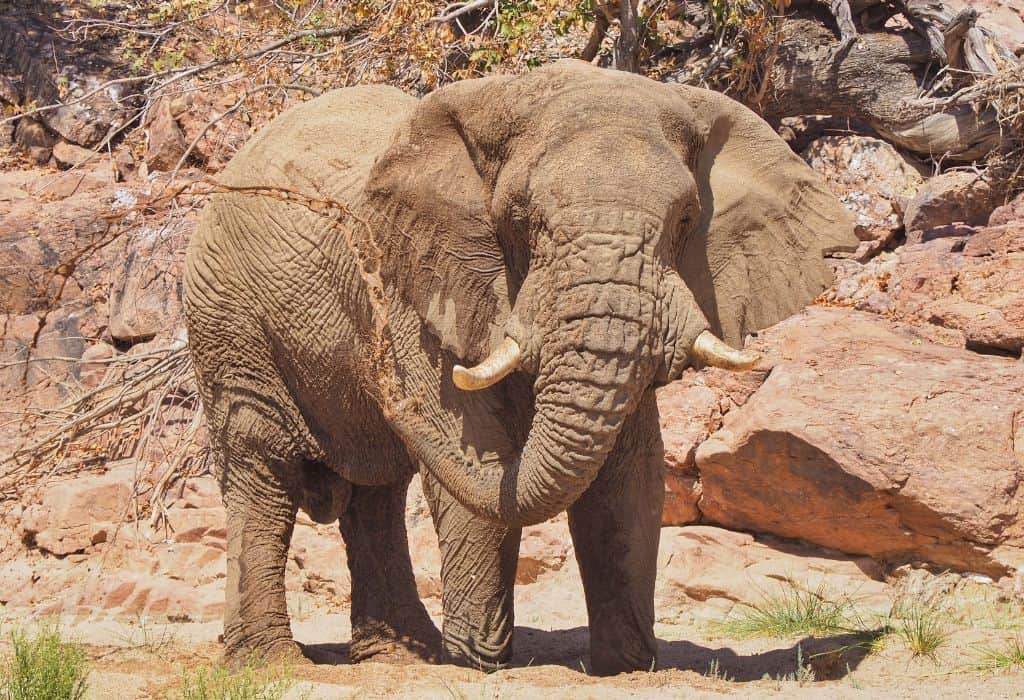 27. See the Desert Adapted Elephants
One of the highlights of my Namibia trips is seeing the desert-adapted elephants in Damaraland, which are unique to this area.
This is also where Elephant-Human Relations Aid (EHRA) is based and game drives depart from most lodges in the area. I organise mine from Madisa Camp.
28. Visit the Town of Lüderitz
Visit the pretty and German colonial town of Lüderitz, which retains much of its classic charm. The town is easily explored on foot. If you have time, you can also visit the Lüderitz Peninsular.
For those who like the water (like me), you can take a trip out to Halifax Island where you can see jackass penguins and Cape fur seals and sometimes even dolphins and whales!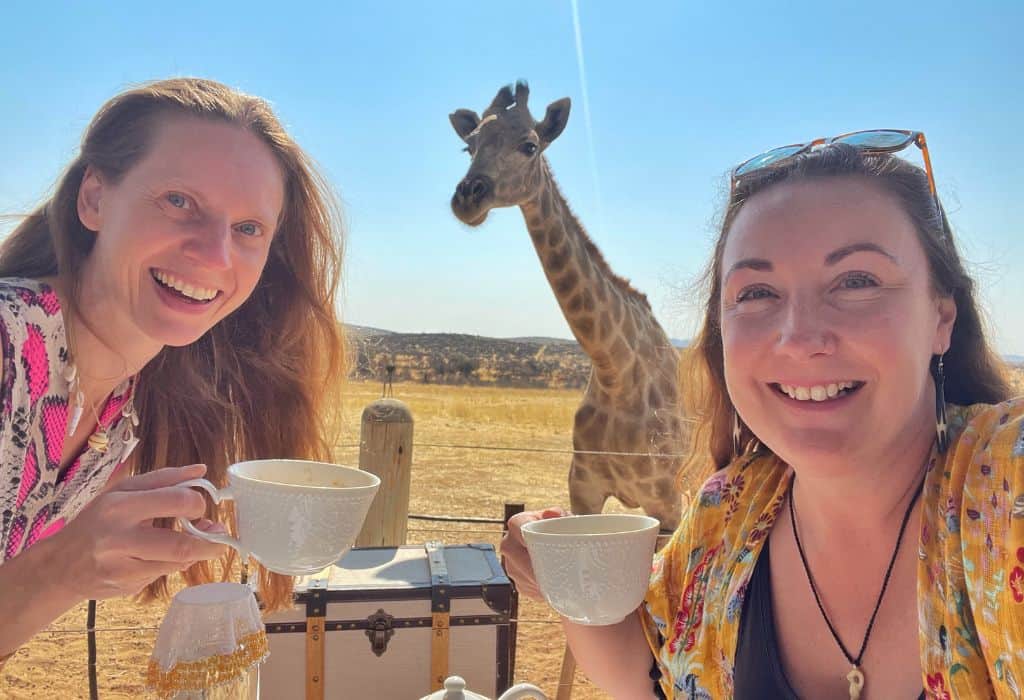 29. Have High Tea with Giraffes
One of my favourite things to do in Namibia is to have high tea with giraffes at Voigtland Guesthouse near Windhoek.
They have 3 resident giraffes who live on the property and if you stay at the lodge, you can order high tea in the afternoon and the giraffes will join you. It's which is super lovely and MUCH cheaper than Giraffe Manor in Kenya.
30. Visit Namibia's Ghost Town, Kolmanskop
Kolmanskop is a ghost town in Sperregebiet National Park. Sperregebiet means the Forbidden Area, named because of the diamonds found there in the early 20th century.
The once affluent German diamond mining town was abandoned after the drop in diamond prices after WW1 and when bigger and better diamonds were found elsewhere.
These days, Kolmanskop is a museum, tourist attraction and photographer's paradise, with eerie abandoned buildings that have been reclaimed by the desert.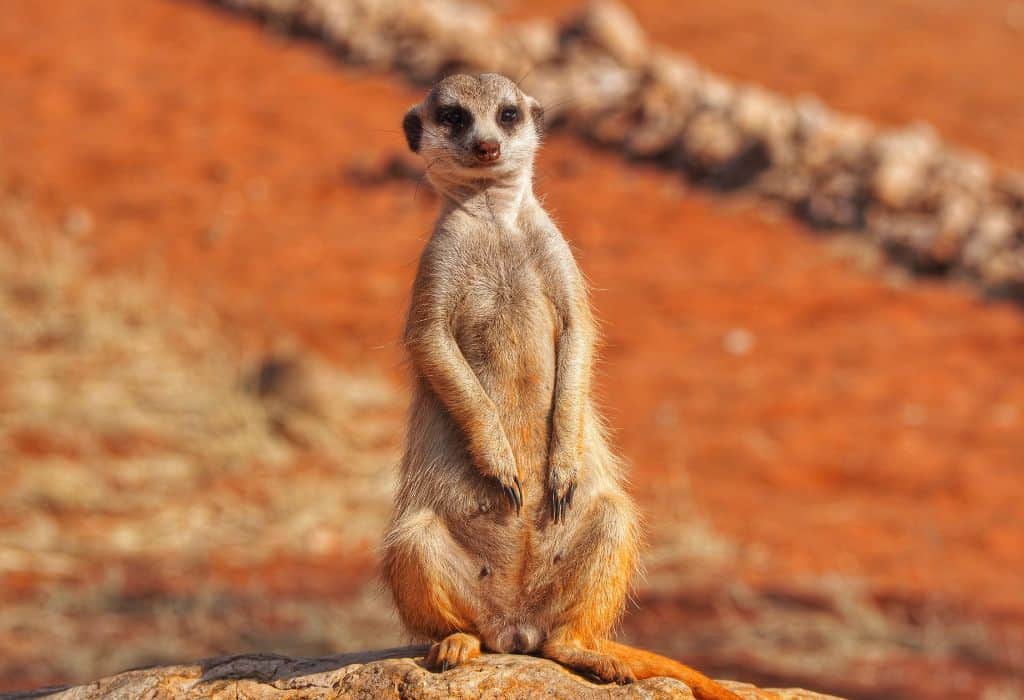 31. Spend Time in the Kalahari Desert
If you find yourself in the Kalahari Desert region of Namibia, I promise, you'll love it!
This area of Namibia is unique as you can spend time with the San people, hang out with habituated meerkats and see rhinos at the Bagatelle Kalahari Ranch.
32. Go Rafting on the Orange River
If you're down in the Deep South of Namibia, in Noodoewer, close to the South African border why not go rafting on the Orange River!
Rafting on the Orange River is a lot tamer than it is on the Zambezi or the Nile, with the rapids only being Grade 1, but the area is beautiful and paddling down a river is always fun!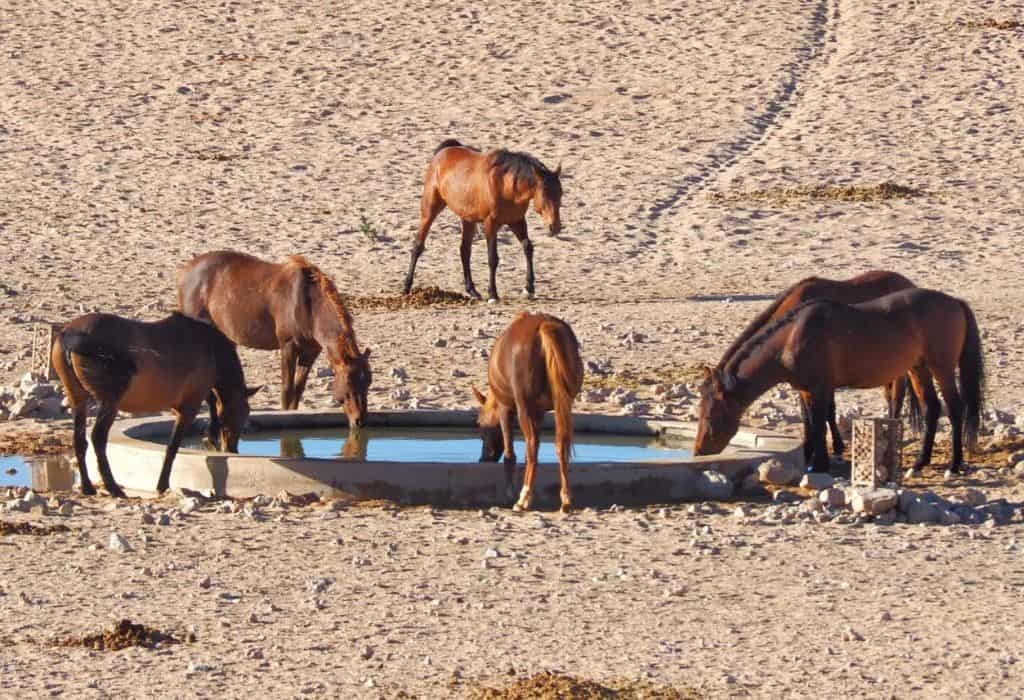 33. See the Wild Namib Desert Horses
Drive out to find the rare and beautiful wild Namib Desert Horses that roam on the plains of Garub in the Namib Desert.
There are only around 90 – 150 of them living in small groups and well adapted to the harsh desert conditions. But the strange thing is, nobody knows exactly where they came from. Although the most likely theory is that they were German horses released after World War 1.
The best place to see them is at the waterhole between Aus and Luderitz.
34. Soak Your Weary Muscles at the Ai-Ais Hot Springs
Down in the far south, you are able to visit the Ai-Ais Hot Springs. The hot water is rich with minerals that are known to be helpful to those with rheumatism and especially good to soothe those muscles if you've just done the 5-day Hobas to Ai-Ais hiking trail.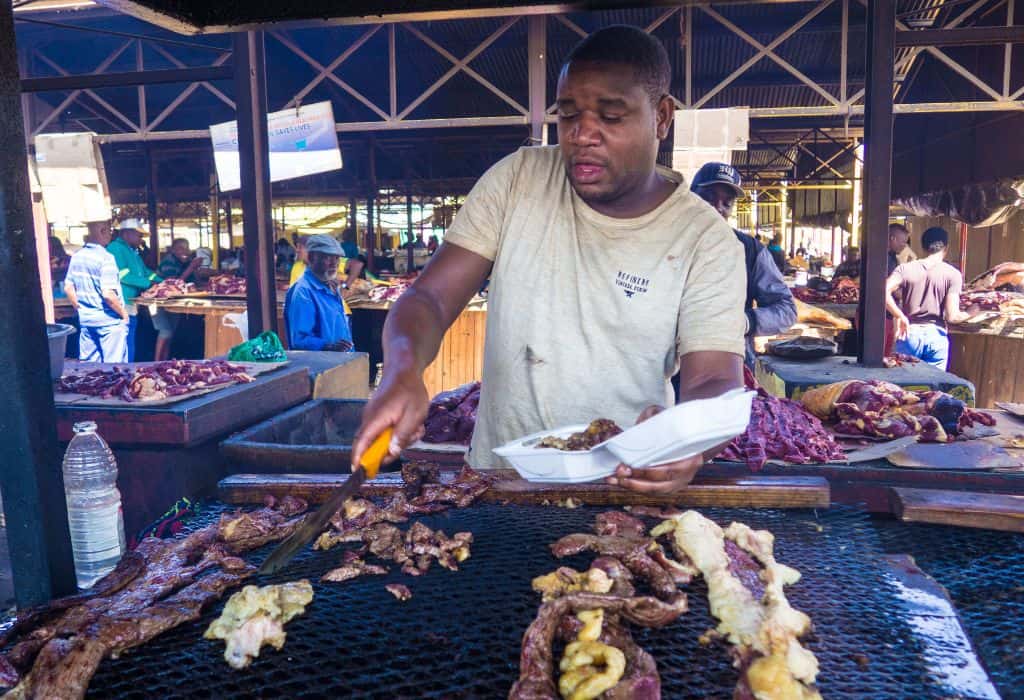 35. Try the Local Food
Namibia has some great food, especially if you are a meat lover.
Windhoek has a good selection of places to eat and drink, including Joe's Beerhouse, Stellenbosch Wine Bar & Bistro, and Leo's. I really love the veggie potjiekos at Joe's and order it whenever I'm in town.
But, also head to the markets to try the sizzling beef with chilli salt. I'm not a big meat eater, but this stuff is sooooooo delicious… if you can ignore the raw meat and cow heads lying all over the place.
In Swakopmund, I'd highly recommend The Tug (try the chocolate fondant pudding – not very Namibian, but it's amazing) and Kucki's Pub.
36. Marvel at Fish River Canyon
Take in the amazing views over the Fish River Canyon, the 2nd largest canyon in the world, second only to the Grand Canyon.
You will be in awe at the sight before you, with towering rock faces, deep gorges and a snaking river. It's best to visit at sunrise or sunset (preferably with a sundowner).
If you have some time, you can take multi-day hikes into the canyon. A popular trail is the 5-day Hobas to Ai-Ais hike (see below) which is open from April – September. However, day hikes into the canyon are prohibited due to safety.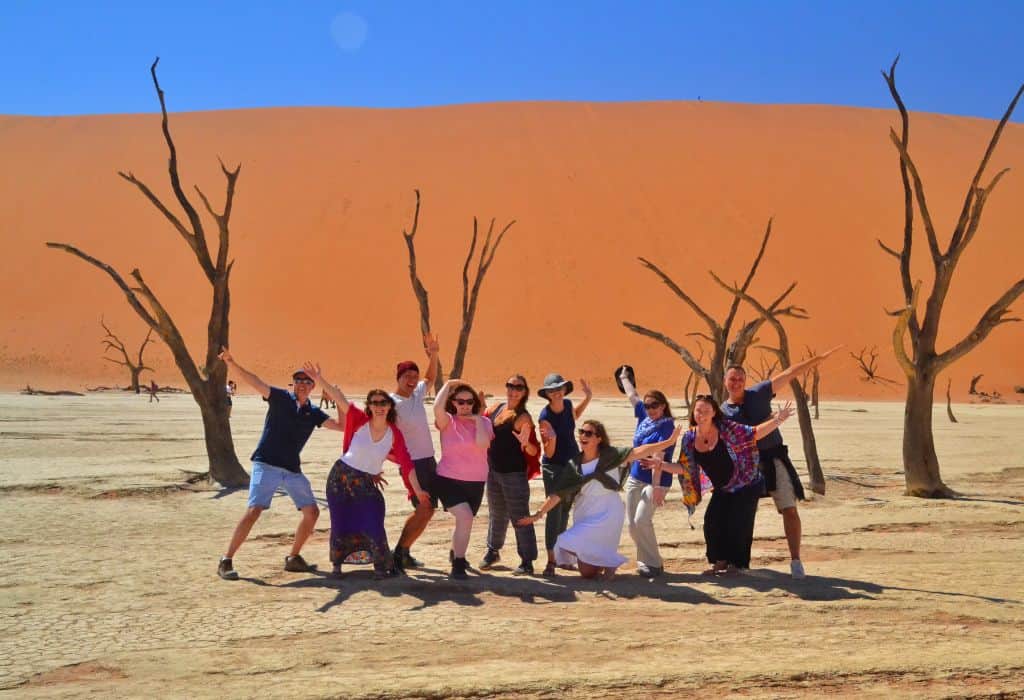 37. Visit the Quiver Tree Forest and Giant's Playground
In between Windhoek and Fish River Canyon, near Keetmanshoop lies the Quiver Tree Forest.
The trees are unusual in appearance, looking as though they are upside down! They are called quiver trees because the San tribe used to use the tree to make quivers (a container to hold darts or arrows). The belief is that if you nurture a quiver tree, it will bring you good luck.
Just a little further away is the Giant's Playground, a series of strange-looking boulders, perched precariously on one another. They are a natural phenomenon, but look as though they were placed there by giants – hence the name.
38. Join the Rock My Namibia Adventure
Want to experience Namibia as I do? Then come Rock My Nambia Adventure tour! That's definitely got to be one of the best things to do in Namibia, right? 😉
We experience the best Namibia has to offer (including many of the places listed here) on this adventurous and immersive tour which has the Rock My Adventure magic sprinkled in.
Namibia is one of the most incredible destinations on the planet and I can't wait to show you why!
I hope you have an AMAZING trip to Namibia. If you have any questions, please leave them in the comments below and I will happily answer!
---
Pin This Post For Later