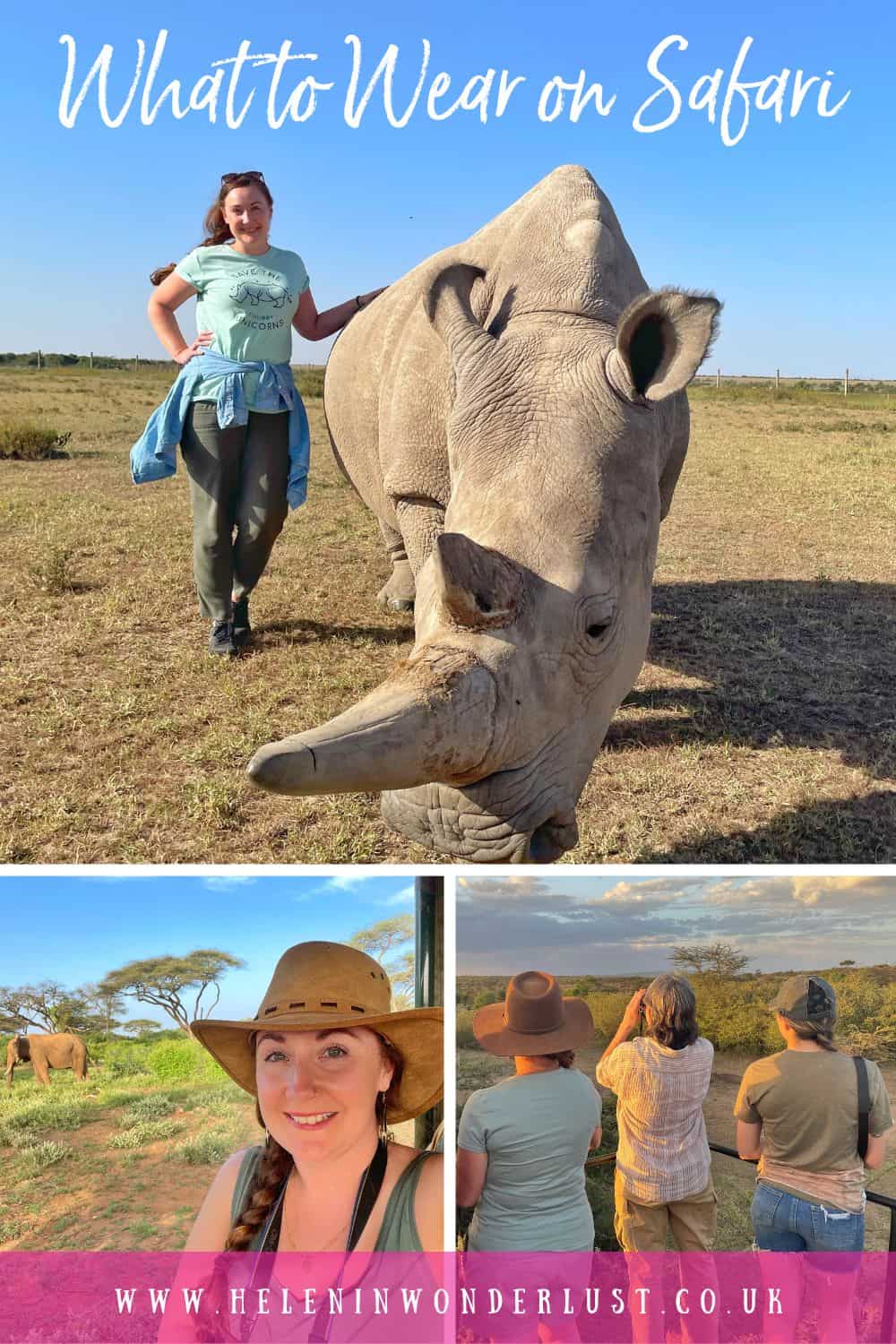 Last updated on March 30th, 2023 at 01:55 pm
If you've never been on an African safari before, knowing what to wear and what to pack can be a little daunting!
But with this what to wear on safari guide, I'll help you pick out the best safari clothing as well as all the other essentials you may need.
On most trips through East or Southern Africa, you are likely to encounter a few different temperatures and weather conditions within one trip as it can be hot and humid on the coast, but dry and cool on the African savanna, just a few hours away.
So if you're going on a longer trip that includes different things such as safari, trekking and beach time – think about your trip as a whole and plan your safari clothes accordingly.
To help you, check out my Complete Africa Packing List, my Kilimanjaro Packing List and What to Wear in Zanzibar post.
Please Note: Some of the links in this post are affiliate links, which will earn me a small commission at no extra cost to you. Affiliate sales help with the running costs of this site, so thank you for your support!
---
Clothes for Safari & What to Pack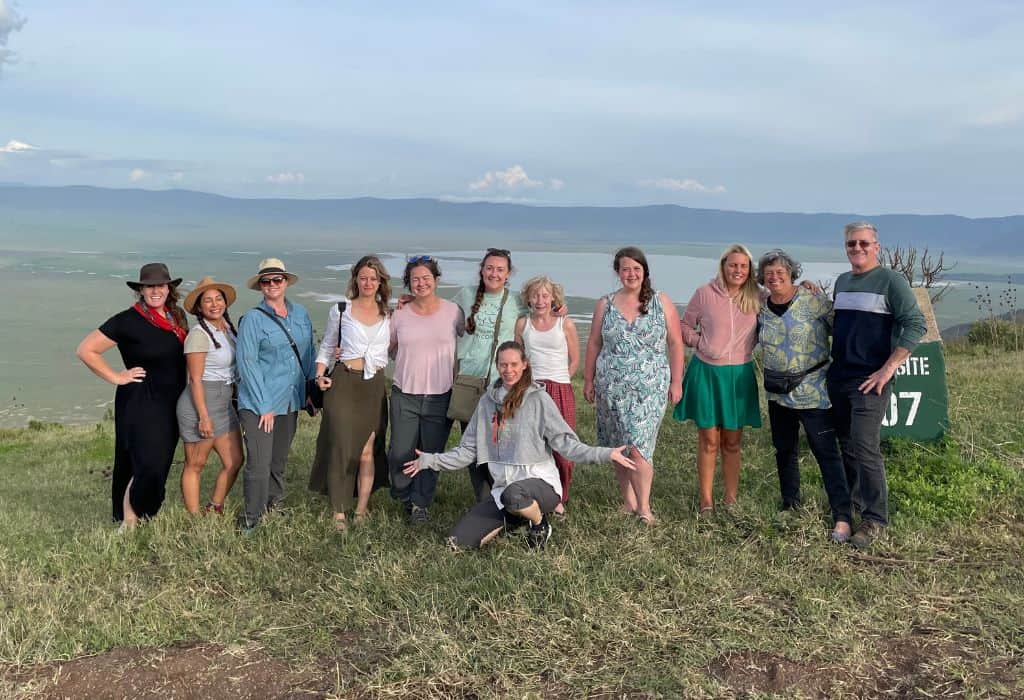 Clothes for Safari – What to Consider
Ok, so I know on Instagram, everyone looks like a glamorous, modern-day Karen Blixen, or a full-on Indiana Jones – but in reality, hardly anyone dresses like that on a safari and it's not usually required, especially when you're in a car all day.
By all means, dress like that if you want to, it does look lovely in pictures and khaki is pretty trendy these days, but don't feel like you have to. The only time you really need to be in safari colours is when you're doing a walking or cycling safari (see below) and therefore more visible to the animals.
Most people wear either their normal clothes or hiking-type clothes when they're on safari, so what I'm saying is, you don't need to go out and spend a ton of money on specific 'safari' clothes that you might only wear once.
I've probably done over a hundred safaris, and the only piece of 'safari-specific' clothing I own, is my safari hat and bought that because it has great sun protection, and I thought it would look good in pictures – but any wide-brimmed high SPF hat would work!
I have some khaki-coloured clothes, but most of them are just regular clothes. I generally recommend comfy clothes that can be layered.
You can also buy insect-repellant clothing which is treated with permethrin (or other types of bug spray), or you can buy the permethrin yourself and treat your clothes.
Your clothes for safari should:
Protect you from the sun.
Protect you from insects.
Protect you from the environment (ie. scratches/stubbed toes).
Will keep you cool or warm.
Warm Clothes
People think of Africa as a place that's always hot, but it really isn't! In fact, it can be extremely cold at times, especially when you're on early morning/evening safaris, at altitude (like on the Ngorongoro Crater rim) or sitting outside for hours at night.
Certain times of year are also very cold too. If you're travelling in the European summer months (May – August), you'll find places like Botswana, Namibia, Zambia, Kenya & Tanzania can be very cold in the early mornings/evenings, but warm in the day!
Whatever time of year you go on safari, it's always good to at least take a warm jumper, but in the colder months you will also need a warm jacket and perhaps thermals, warm socks, a beanie hat and gloves.
If you're doing any kind of camping safari, remember that you will be outside a lot!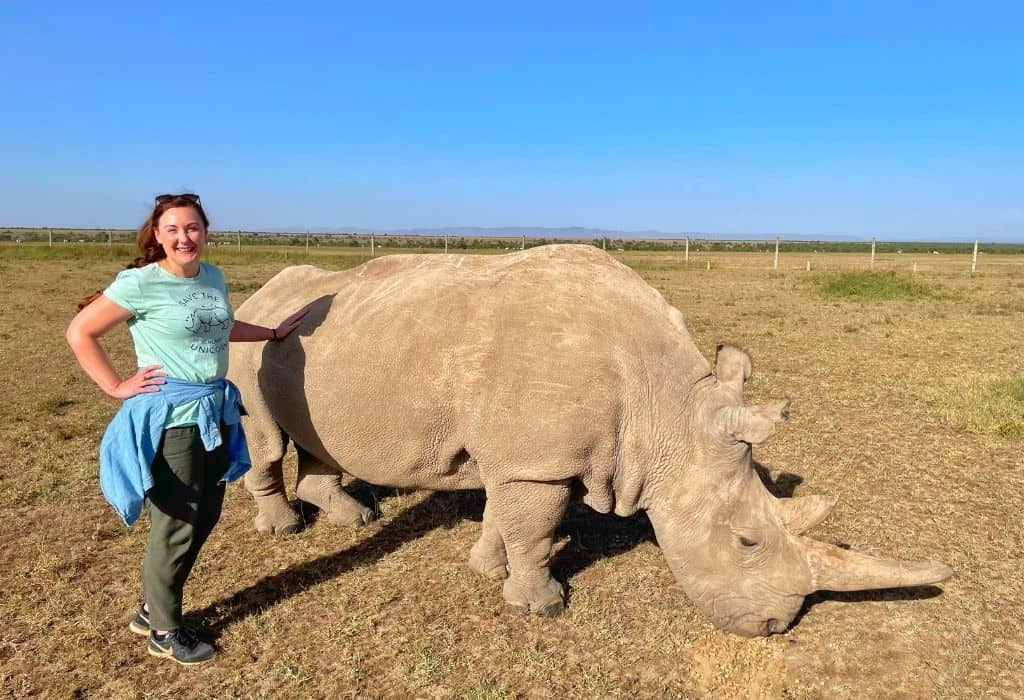 Neutral Colours
I wear my normal clothes for safari most of the time (jeans/leggings or t-shirts/sweaters) when I'm in the car on safari.
However, if you plan to do things like nature walks, horse riding or cycling safaris, it is best (and often required) for you to wear more neutral colours (green, beige, grey, brown, khaki).
For the above outfit, where I was visiting the last two northern white rhinos in Kenya, I just wore a light green t-shirt from Vegan Outfitters, a pair of khaki-coloured pants from New Look and my Nike trainers. They weren't special clothes, just regular clothes.
I try to avoid white (it looks great, but it gets extremely dusty/ruined – but it does look good when clean and lots of people still wear white), and black and blue (as they are known to attract tsetse flies). They say you shouldn't wear very bright colours as they attract mosquitoes, but apparently, mosquitoes don't like white, green, or purple.
You will also want to avoid any type of camouflage or military-style clothing as some countries don't allow it.
Long Shirts/Pants
Long-sleeved shirts and long pants are useful for many reasons! They keep you warm, and protect you from the sun, insect bites and scratches.
It's especially important to cover up at dusk and dawn when the mosquitoes are most active.
And if you're doing any kind of jungle trekking (like gorilla trekking) long shirts and pants are essential to stop you from getting scratched by branches.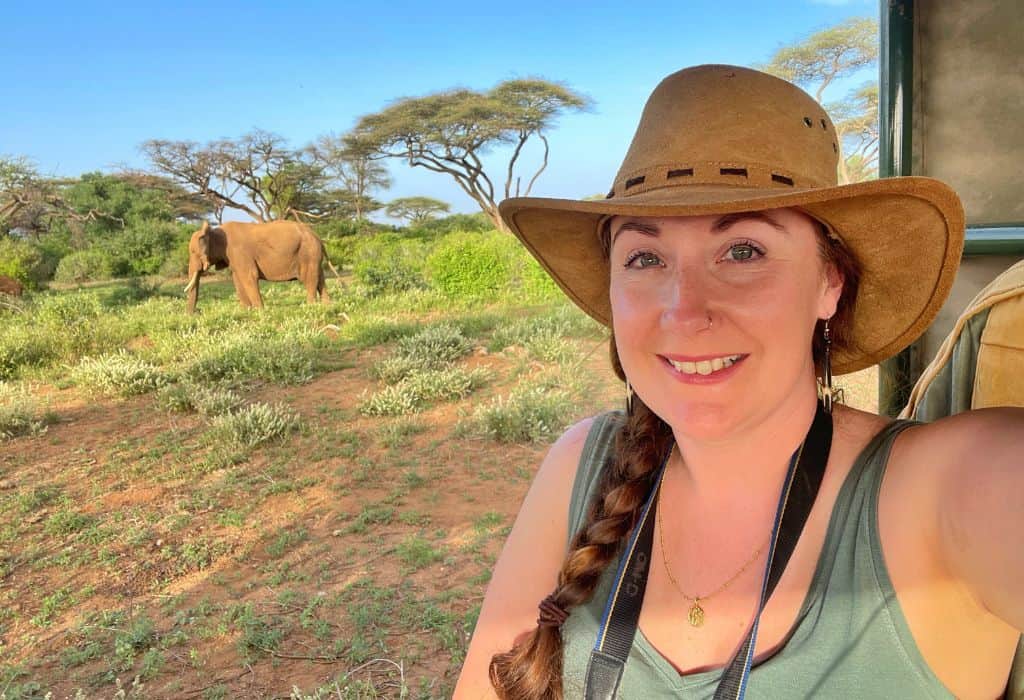 Sun Protection
On safari you will often be outside for long periods of time, so you need to think about clothes that will protect you from the strong African sun.
So I would suggest a wide-brimmed sun hat (preferably with a chin strap for when you're driving – they fly off easily), that has a high SPF factor and a long-sleeved shirt or coverup. And don't forget your sunscreen too.
Sunglasses
Sunglasses are an absolute must for me on a safari, to protect my eyes from the sun and because it's so damn dusty and windy in the safari cars. My eyes get really dry, so I often bring eye drops too.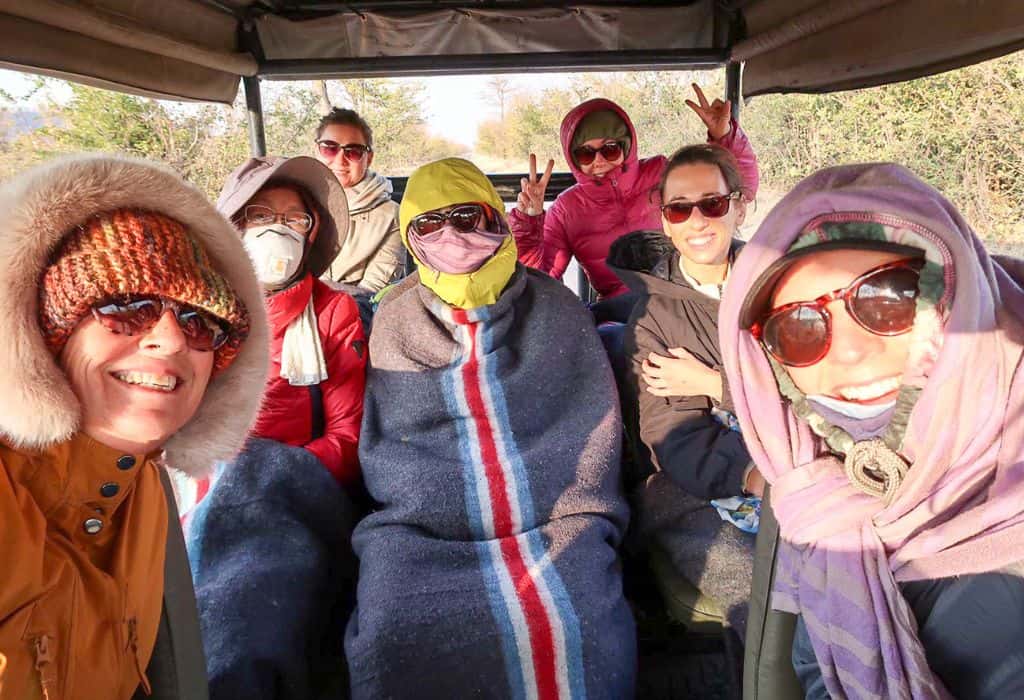 Good Shoes
I recommend having a pair of sturdy closed-toed shoes (like sneakers, walking shoes, or boots) which are good for walking around at night, walking safaris and hikes.
If you need a pair of boots for trekking that aren't too heavy for every day, I love my Scarpa boots.
Walking/water sandals with thick soles (like Tevas) are also good for wearing around camp during the day, wearing at night with thick socks or wearing on safari. As they're pretty multi-purpose, they work well for other parts of your trip too (ie. if you're going to the beach afterwards etc).
I also like to take my Birkenstocks as they work for lots of different occasions. Some people like crocs too… but I can't quite bring myself to get on board with those yet.
I would avoid wearing flip-flops. They can be good for around the pool, but they break easily and because the soles are quite thin, you can feel the acacia thorns that get stuck in them.
Clothes You Can Easily Pee In
When you're on safari, there may be times when you need to pee in the bush. So… safari clothing that is easy to pull up or down is best.
So whilst that khaki jumpsuit may look cute in your pictures, it's highly impractical – getting half-naked when you're trying to pee quickly behind a tree is not ideal. Save the rompers for evenings in the lodge.
Safari Packing List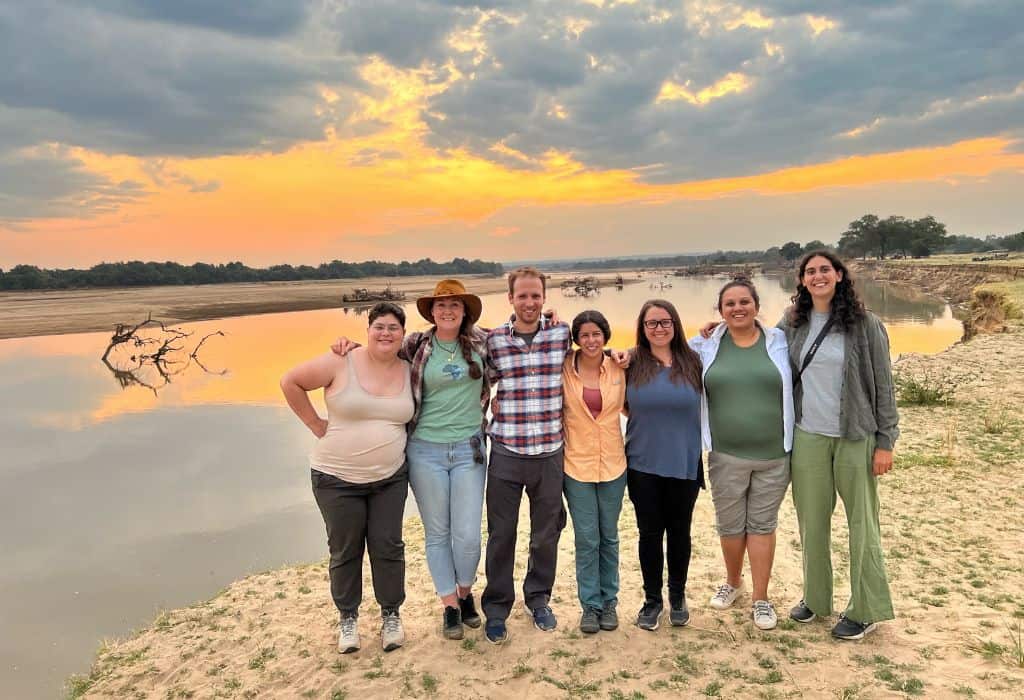 Safari Clothing
Sun Hat: A wide-brimmed hat is an essential part of your safari clothing kit. The crushable ones are best for packing. But I love the hats from Rogue Outdoors. I have this one.
Sunglasses: To protect your eyes from the sun/dust/branches.
Buff/Light Scarf: These are great for keeping you warm, covering up from the sun, or keeping the dust out of your hair/face. A scarf can also make a pretty normal outfit look a bit more glam.
Down (or Warm) Jacket: Essential for the colder months.
Fleece/Sweater: Essential for all year round, for morning safaris/evenings.
Long-Sleeved Shirt: Great for sun and bug protection. You might also consider a thermal top for when it's cold.
Long Pants: For warmth, bug protection, and trekking. If you bring leggings, thicker ones are better as mozzies and tsetse can bite through thinner ones. I also like jeans as you can wear them on safari and in the cities, but they're not great for any humid areas.
Shorts/T-shirts/Tank Tops: For everyday wear. Make sure your shorts aren't 'too' short.
Dress/Evening Wear: If you're on a camping safari, you'll probably stay in what you wore during the day. But if you're at a lodge, you'll want some nicer clothes for the evening – safari clothing doesn't all have to be practical. But most lodges aren't particularly dressy though so you can leave your ball gown at home.
Regular Socks: For wearing with sneakers.
Thick Socks: These are great for keeping you warm, hiking and mosquito protection. Rock the socks and sandals look, we all do it in Africa.
Underwear: I like to bring enough for 2 weeks, but I know some people who bring just a few day's worth and wash in the shower as they go!
Sports Bra: Ladies, if you get sore boobs on bumpy roads, bring a good, high-impact sports bra.
Swimsuit: Some lodges have pools, so pack your cozzie.
Waterproof Jacket: You may want to take a packable waterproof jacket in case of rain.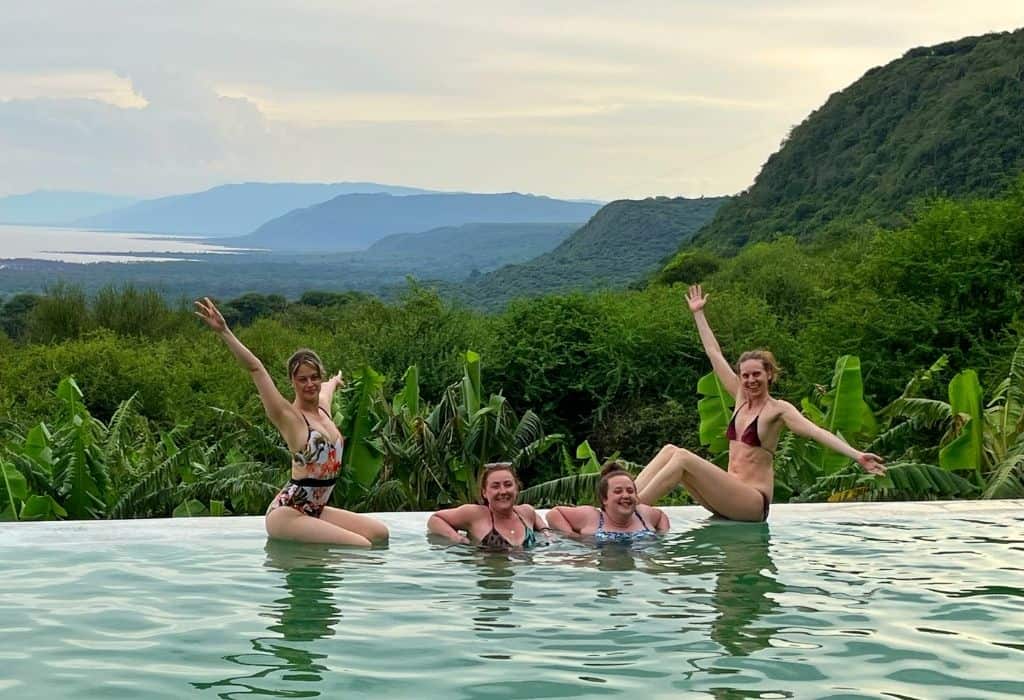 Other Safari Essentials
Bag: You're going to need something to put all that safari clothing in, so I recommend taking a soft backpack or holdall, over a hard suitcase. I like the Osprey Fairpoint range. Mine is a 70L bag, but you'll need to check your luggage restrictions.
Daypack: A small rucksack is great for holding your day-to-day essentials, valuables, and camera. Can also work as your carry-on for the plane.
Head Torch/Lamp: Very useful for when the power goes out! I never travel without mine. Some safari lodges provide these but better to have your own.
Camera & Lenses: You'll want to capture all those wonderful safari moments, so I recommend a DSLR with a lens of up to 300 – 400mm. I like the lenses that go from 18mm – 300/400mm so that you don't have to change them, but these are quite heavy to carry around all the time.
Spare Camera Battery: So you never have to miss a great shot.
Phone: Great for taking close-ups and pictures for Instagram.
Chargers: For all electronics.
Adapters: You will need to bring the relevant adapter depending on which country you visit. You can see a list of the right adapters to bring on my destination pages.
Powerbank: Some safari cars have charges/plus built in, but some don't, so having a powerbank is really useful.
Sunscreen: SPF 50 or above is best.
Mosquito Repellent: 50% DEET is recommended. I also like the bands you can get for your wrists and ankles.
Wet Wipes: Great for having in your handbag/purse to wipe of the safari dust.
Hand Sanitizer: You won't always get chance to wash your hands, so have some in your bag.
Eye Drops: Great to protect against dry eyes.
Lip Balm: With an SPF to protect you from the sun.
Moisturiser: Your skin will get very dry, so bring some good moisturiser. I take face moisturiser, body oil, lip balm, and heel cream – the whole lot!
For more info on what to pack for your trip overall, see my full Backpacking Africa Packing List.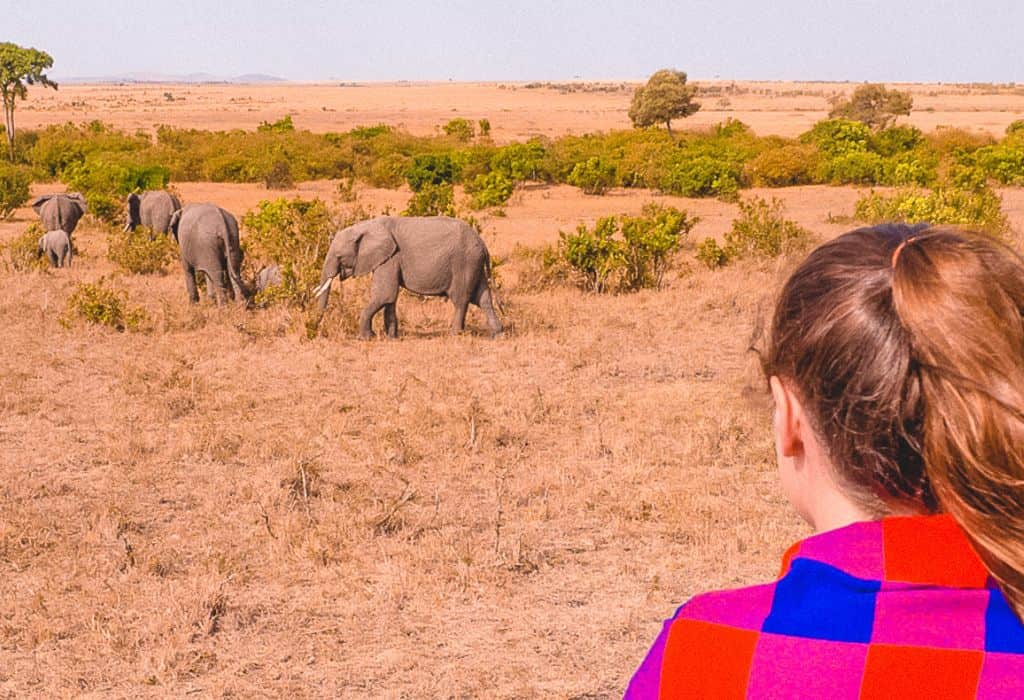 One Last Piece of Advice
Try not to overpack. If you're on a driving safari, you will need to travel with your bag in the car when you move between destinations, so the less stuff you have, the less stuffed your car will be. This is more important when there are 6 of you in a car. If there's just a couple of you, you'll have more space.
If you're on a camping safari, you're going to have to sleep with your bag in your tent! If you're on a fly-in safari, many of the small airlines have luggage restrictions (up to 15kg and soft bags only) so check what you are allowed to bring.
Have you been on a safari? Any other suggestions for great safari clothing?
---
Pin This Post For Later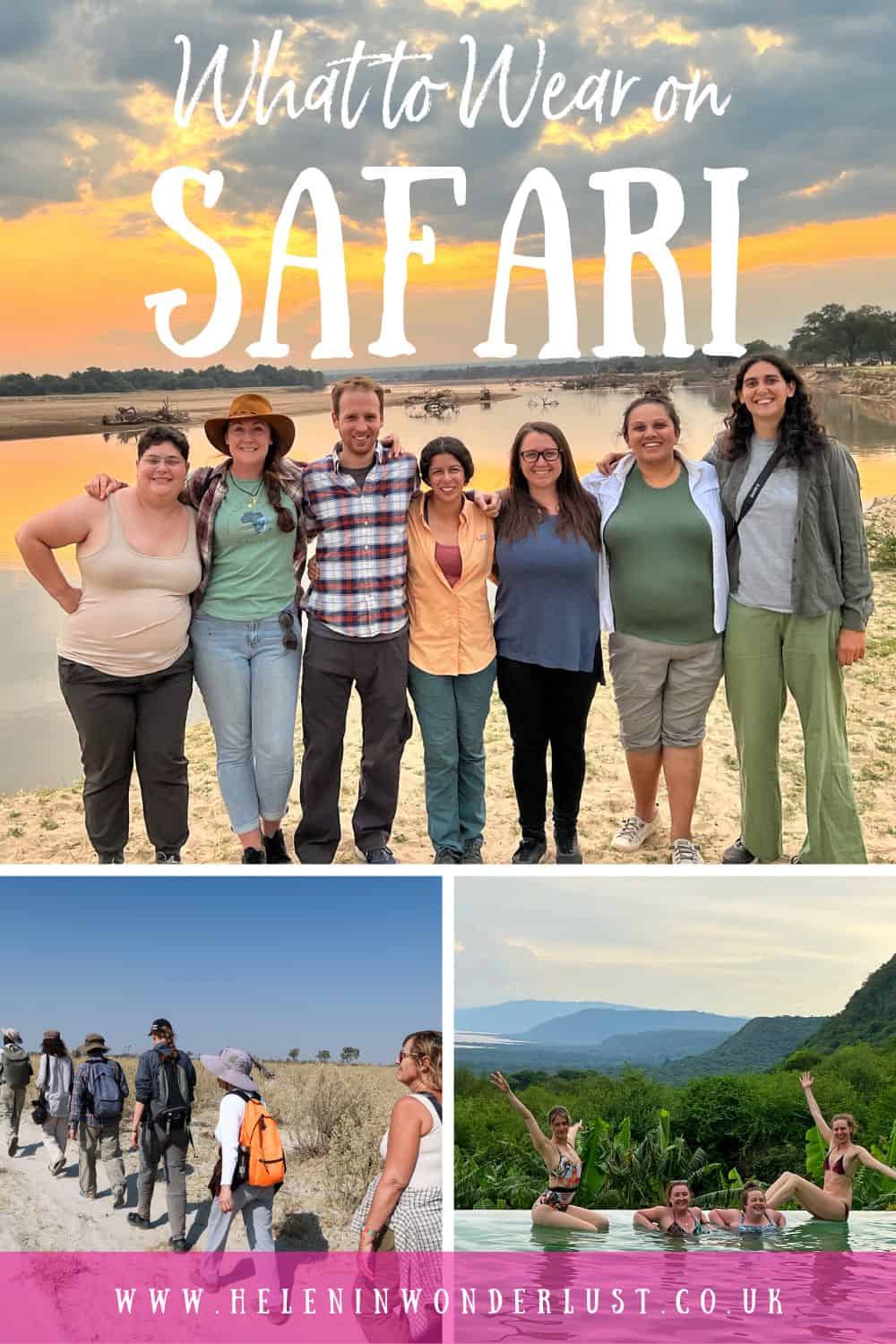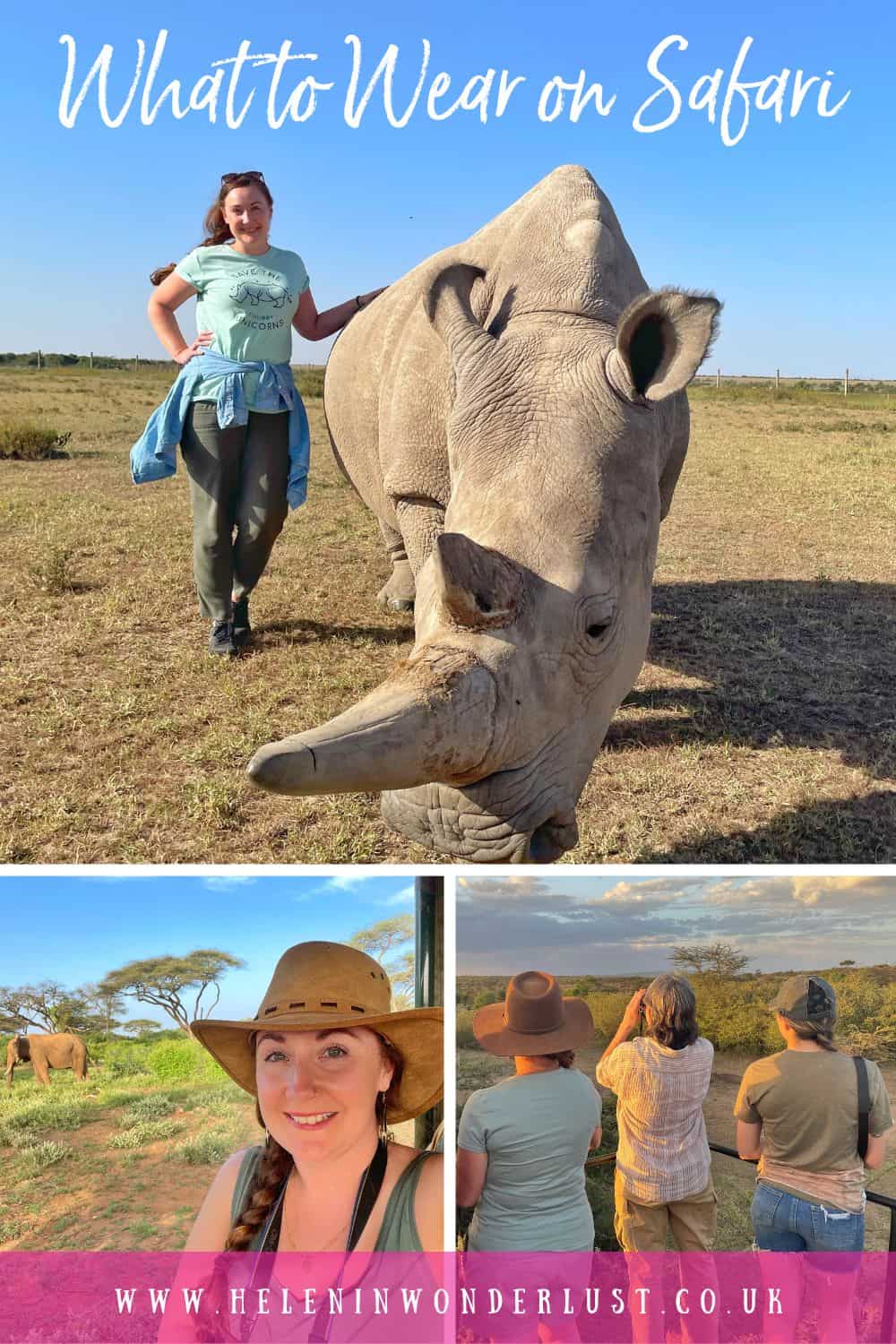 .