Last updated on July 11th, 2021 at 08:22 am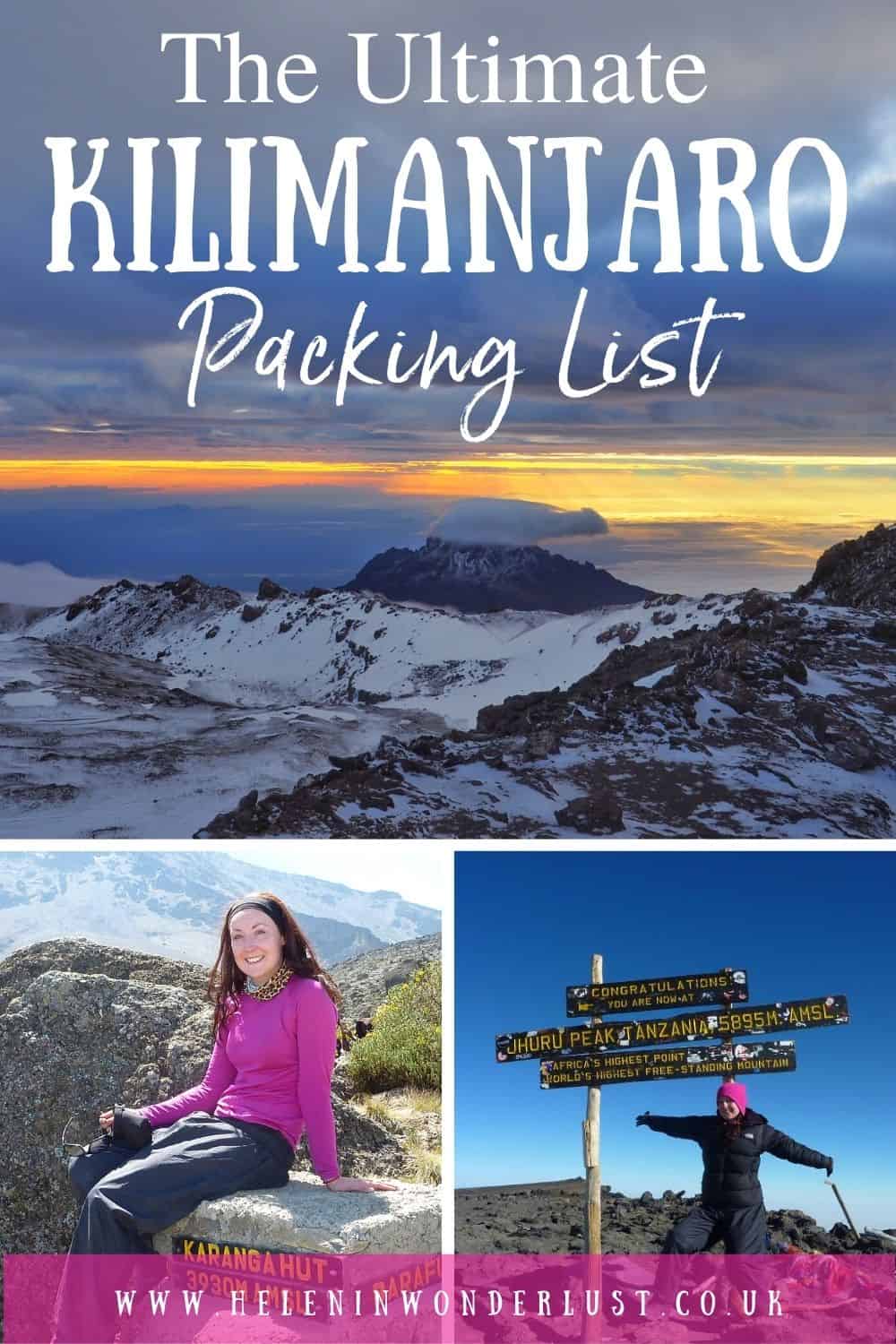 Climbing Mount Kilimanjaro, Tanzania, which has an altitude of 5,895 m (19,341 ft) above sea level, is the most challenging thing I've ever done in my life and I've done it twivce.
One thing I can tell you from experience is that having the right kit can really make a difference both physically and mentally, so if you're wondering what to pack for Kilimanjaro – then look no further!
Here's my ultimate Kilimanjaro packing list including what to wear, sleeping equipment, toiletries, paperwork, health products, electrical equipment paperwork, money and a few miscellaneous items!
Please bear in mind that you can hire a lot of the items on the list or to save money you can borrow off friends – you don't need to buy everything brand new.
---
The Ultimate Kilimanjaro Packing List – Clothing, Shoes & Equipment
---
Kilimanjaro Packing List – Clothing
The clothes you take to Kilimanjaro are VERY important. The last thing you want to do is fail because you are too cold or ill-prepared, so knowing the right things to take is imperative.
The basic principle to successful dressing on Kilimanjaro is layers – layers of warm, comfortable, quick drying and breathable clothing. Avoid anything heavy like jeans!
However the one thing I really will stress, is that you should wear your boots as much as you can before you go! Blisters are really not not fun, and once you have them, you're stuck with them and they will plague you every step of the way – I know this from experience.
Here are all my Kilimanjaro clothing essentials (top to bottom):
Head
Warm Hat: Beanie type with a fleece lining is my favourite. You'll be glad of this in the mornings/evenings and on summit night.
Wide Brimmed Hat: Good for protecting your face and neck from the sun. I didn't take one and didn't really miss it, but a lot of people did have them. A baseball cap could also work.
Buff: Not essential, but Buffs are really good for keeping your head and neck protected from the sun, keeping your hair out of the way or keeping warm.
Balaclava: Only really needed on summit night, a balaclava is great to keep your face protected from the cold wind.
Polarized Sunglasses: To stop the dangerous reflections from the snow which can hurt your eyes.
Top Half
Sports Bra: Sports bras are perfect as they take the sweat away from the body.
2 x Thermal Long Sleeved Top: This is your 'baselayer'. My favourite brand is Icebreaker and I took two of them, one slightly thicker than the other. They're made from Merino wool, have wicking properties and are cool enough to walk in but also keep you warm when you need it and protect you from the sun. They don't itch and don't smell sweaty, even after 6 days of trekking! I lived in mine and wore them every single day. They look nice too.
2 x Tops: You will probably want to take another couple of short sleeved or long sleeved sports tops like these ones to wear also, again, with wicking properties (not cotton). These tops draw the sweat away from your body so that you don't get too cold.
2 x Fleece Jumpers: I'd recommend taking at least a couple of jumpers, in a warm/quick-drying material like fleece and preferably ones that you can layer. I have the North Face Women's 100 Glacier and then over the top of that, I wore a slightly thicker fleece.
Insulated Jacket: To be used on summit night and in the evenings at the campsite. I have a North Face Nuptse jacket. Down jackets are the warmest and I'd recommend a jacket with at least 700 fill.
Waterproof/windproof Jacket: Breathable, lightweight and waterproof (and preferably windproof) outer layers are best. Your jacket should be big enough to go over your other layers but pack down small enough to be kept in your daypack. Jackets like this one or this one are great. I was lucky, we had no rain, but getting wet on Kili would not be nice.
Gloves: Most people take 2 or 3 pairs of gloves up Kili. Fleece or merino wool (like Icebreakers) liner gloves are good, paired with a thicker pair for summit night. I have these Marmot mittens to keep me nice and for this time I also have the Mountain Equipment Tour Women's Gloves that I can either wear on their own or layer under the mittens. Will test them out and report back.
Bottom Half
Underwear: Normal, comfortable ones are fine! For guys, briefs are more comfortable than boxers (or so I am told).
4/5 x Trousers/Leggings: When you are walking, you'll probably not feel the cold too much, except on summit night, so lightweight hiking trousers or sports leggings are fine most of the time and you can always layer them if you do get cold. Make sure you have at least a couple of thermal pairs (long johns for the fellas). I like the Heatgen Plus Leggings from M&S, Heat Holders Thermal Leggings, and Heat Generating Thermal Leggings from John Lewis. I wore these 3 in Iceland in the cold, wind, and rain and they were all brilliant and quick-drying and I layered them when it was colder.

For the evenings, you could bring a thicker, fleecy pair of pants.

Waterproof/windproof Trousers: I hired these as they weren't something I'd wear again and I actually didn't need them although I did wear them.
Liner Socks: Wear these inside your walking socks to help prevent blisters. Take a pair for every day, clean socks are nice!
Walking Socks: I took 4 pairs of walking socks, with different thicknesses. I used a really thick pair for the summit. Smartwool socks are great.
Gaiters: Good for the wet season. I didn't need these. Hire them if you don't have them already.
Feet
Walking Boots: They should have good ankle and arch support and be super comfortable and have room for thick socks. Get waterproof ones (ie. Goretex or similar), or get them waterproofed. Try them out in the shop (don't order online unless you've tried them first), and make sure there is good room for your toes. The worst damage to your feet is often done on the way down (many people lose toenails). So stand on a downward slope if you can when testing them out. Are they really comfy? And make sure you wear them in! Blisters are horrible.
Trainers/Sandals: Good for the evenings to give your feet a rest from your heavy boots. Your usual running shoes are fine or you may want to put on a pair of Teva-type sandals to give your feet a rest.
Other Clothes
For the days before and after the climb. A lot of guest houses will let you leave these there, so take an extra bag to store any non-Kili clothes. If you're going out in Moshi before/after your climb, you may want something nice to wear but I doubt anyone is judging.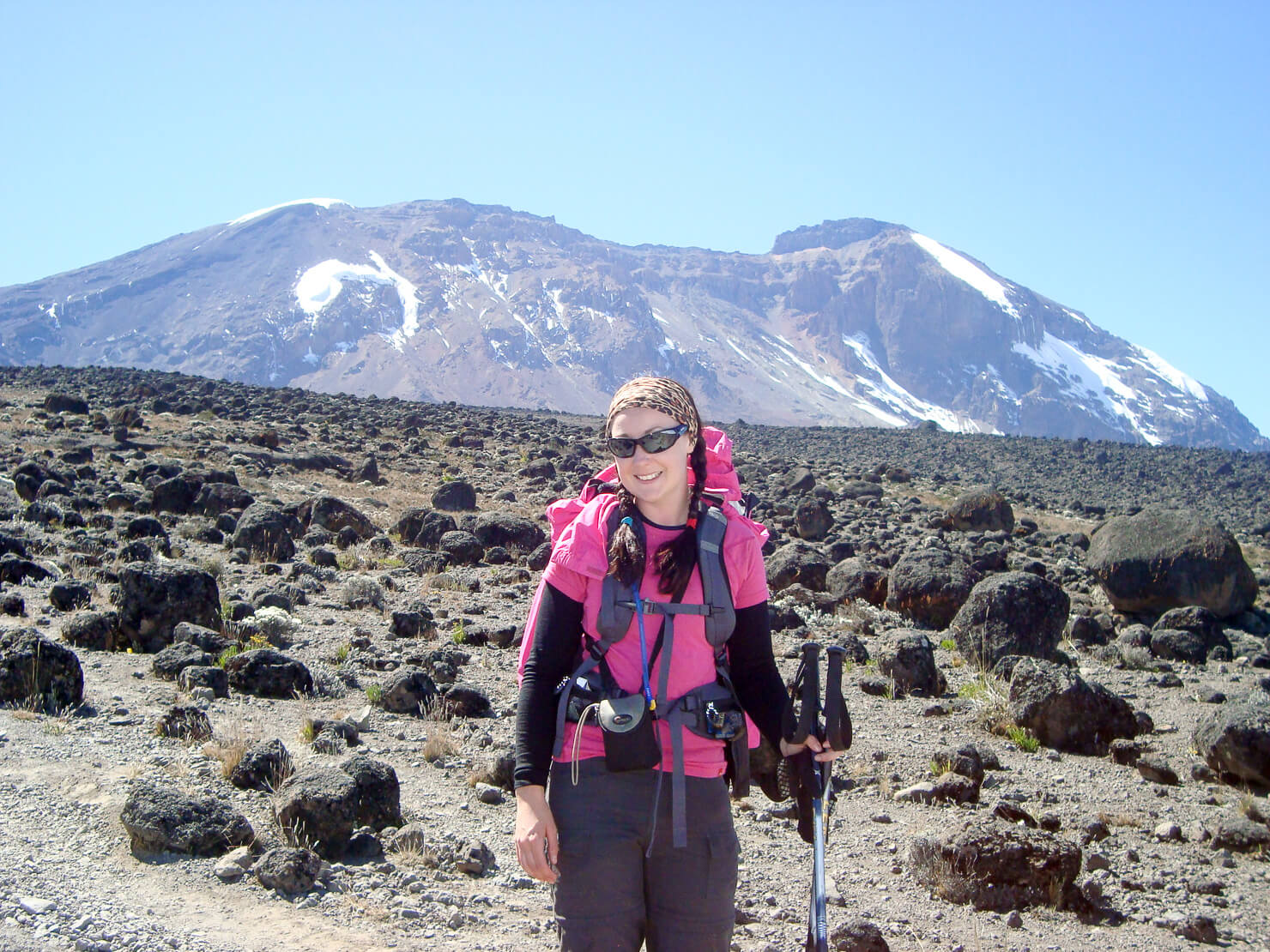 Kilimanjaro Packing List – Baggage
Backpack/Holdall: I have a 70l Mountain Equipment Wet and Dry Bag. This has a zipped pouch where you can place any wet items. North Face also make great holdalls. Just remember to label yours clearly as you see a lot of these going around the conveyor belt at Kilimanjaro airport. You could also take a backpack too. I'd recommend taking a lightweight 70l – 90l size. The porters will carry your bag for you. The weight limit for your is usually around 15kg.
Daypack: You need a good size Kilimanjaro day pack to fit in all the items you will need each day, as your bigger pack won't stay with you. Something like an Osprey Stratos or Talon

would work perfectly. Having one with an air flow mesh back panel compartment is good as they keep the bag off your back so I don't get sweaty (and then cold).

Packing Cubes: They are really handy for keeping the stuff in my backpack separate, tidy and easy to find. I also wrap mine in a fleece and use it as a pillow!
Wallet: I carry 2 wallets when I'm travelling in Africa. A small one that I have on me at all times with a small amount of cash. The second is a bigger wallet that I keep the bulk of my cash, travel documents, passport etc. Keep these in your day pack and with you at all times.
Waterproof Covers: To keep your bags dry! Wet clothes are not fun. A lot of bags come with these already built-in so consider than when you buy. Bin bags can also do for this purpose.
Random Bags: You could also take a few re-usable zip lock bags, plastic bags or bin liners to separate your wet and dry clothes within your bag.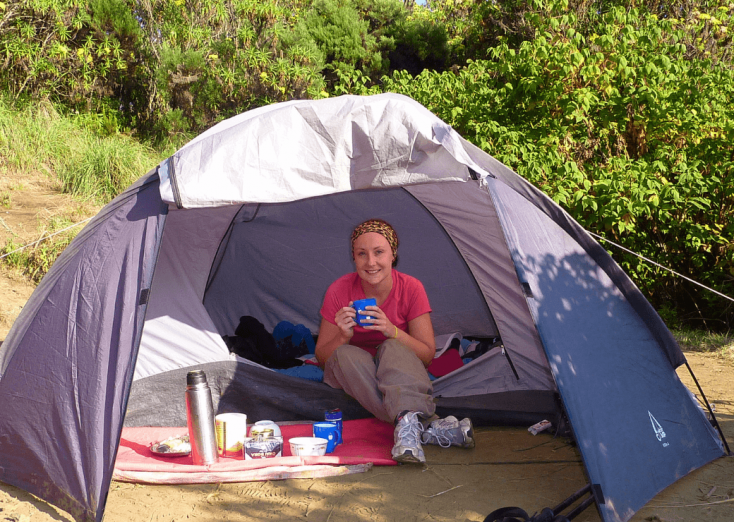 Kilimanjaro Packing List – Sleeping
I really struggled sleeping on the mountain due to the altitude and the cold, so do whatever you can to make sure you get a good night's sleep. Even if that means taking your childhood teddy bear. Your trekking company will provide the tent so you don't need to worry about that.
Sleeping Bag: You don't need to spend a fortune, but you do need a great sleeping bag. For extreme cold weather, I currently use a lightweight, 4-season down sleeping bag. A cheaper alternative is to get a synthetic sleeping bag. The only downside is that they tend to be bigger and heavier. You can also hire a sleeping bag if you'd rather not invest in one.
Sleeping Bag Liner: I used a fleece sleeping bag liner. They help keep your sleeping bag clean and add that extra bit of warmth.
Roll Mat: Therm-a-Rest is my brand of choice, and they have a wide selection of roll mat options. Some companies provide these for you anyway, so check before you go.
Lavender Oil: Lavender oil always helps me to sleep.
Kilimanjaro Packing List – Toiletries
You won't have much in the way of bathroom facilities so just the basics are needed.
Toiletries Bag: I use this one from Lifeventure. It also has a small plastic mirror with it too.
Toilet Paper: I like to take a couple of rolls, just in case. To save space, remove the cardboard in the middle (don't forget to recycle).
Toothbrush, Toothpaste & Toothbrush Holder: Use bottled or treated water to brush with and I'd recommend using a toothbrush holder like this one to keep your toothbrush clean.
Soap: Keep a small soap in a small plastic soap container to wash with.
Facial Moisturiser: The cold and wind are brutal so you will want a good moisturiser for your face and hands, preferably with a good SPF.
Sun Lotion: Ideally over SPF 50 (remember you'll be outside all day and you're much closer to the sun) for your face and body.
Wet Wipes: It's not easy to wash on Kili so wet wipes are a great way of freshening up (and good for cleaning your tent if you're sick everywhere like I was). Buy bio-degradable where possible.
Deodorant: Small roll-on.
Lip Balm: One with high SPF is probably best but I just use Vaseline or Paw Paw Cream (these are both also good to put on your feet to stop blisters).
Hair Ties: You won't be able to wash your hair on the mountain so these are a must. I just kept my hair tied up most of the time and tried not to touch it.
Nail Clippers: When you are coming down the mountain, your nails will be pressing into the front of your shoes, so make sure your nails are short otherwise you will be very uncomfortable.
You also want to consider:
Small Mirror: Get one that's not easily breakable.
Nail Brush: No matter how hard you try, your nails will be dirty. This helps a bit!
Hair Brush:

Just pack the littlest one you can get away with.

Sanitary Disposal Bags: Don't throw anything away on the mountain.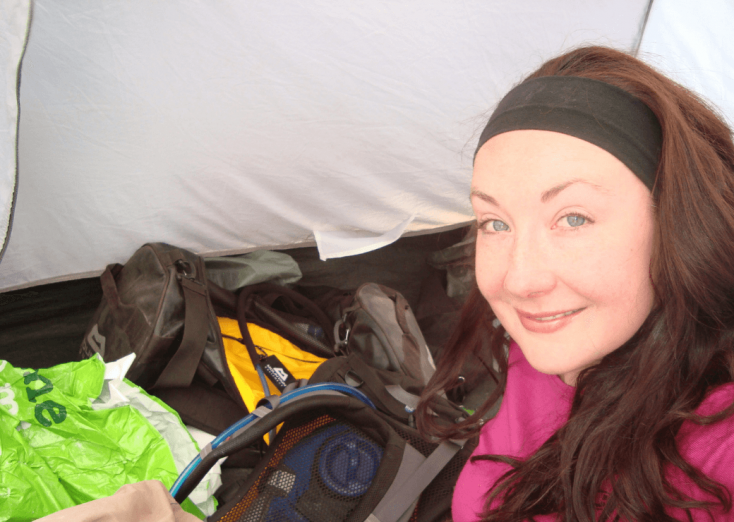 Kilimanjaro Packing List – Health Products
Kilimanjaro is tough, so you need to look after yourself on the mountain and listen to your body.
First Aid Kit: Your trekking company should provide a First Aid Kit, but I always carry my own kit too. I use the Lifesystems Adventurer First Aid Kit.
Medications: Painkillers (ibruprofen/paracetamol), Pepto Bismol, loperimide (diarrhoea tablets), and any other medication you need.
Acetazolamide Tablets (Diamox): This is a personal choice and it's up to you if you use this to help with the altitude. You'll need to get these from your doctor. My main piece of advice would be to test the medication at home before you go up the mountain. I think the tablets made me feel worse so I stopped taking them halfway up. Test BEFORE you start your climb, once it's in your system, that's it!
Re-hydration Sachets: These are a godsend! Dioralyte is the best I've tasted.
Hand Sanitiser: The last thing you want on the mountain is a dodgy tummy, so do all you can to keep your hands germ free.
Antiseptic Cream: Any will do.
Blister Plasters: Scholl make a great range. Wear even before you get blisters anywhere you think your boots might rub.
Malaria Tablets: There are few mosquitoes on the mountain, especially after day 1 but you could still be susceptible to malaria in the days prior to and after your climb. Some anti-malarial tablets can't be used at altitude (Lariam) so check with your doctor before you go. I used Malarone.
Mosquito Repellent: Choose ones like Jungle Formula which contains 50% or more Deet. You'll only need a small bottle as mosquitos aren't really an issue after the first day. I used it more before and after the climb than during.
Sanitary Products: Sanitary towels are easy to buy in Africa, but tampons are harder to come by and usually only found in the bigger supermarkets and chemists, so if that's what you use, you may want to take some with you. However, nowadays, a lot of women are switching over to menstrual cups. If you've never used one before, they take a bit of getting used to, so practice before you go!
Birth Control Pills: It's much more convenient NOT to have to deal with your period as well as everything else but this is a personal choice. Just remember that antimalarials can stop the pill from working – so check your instructions.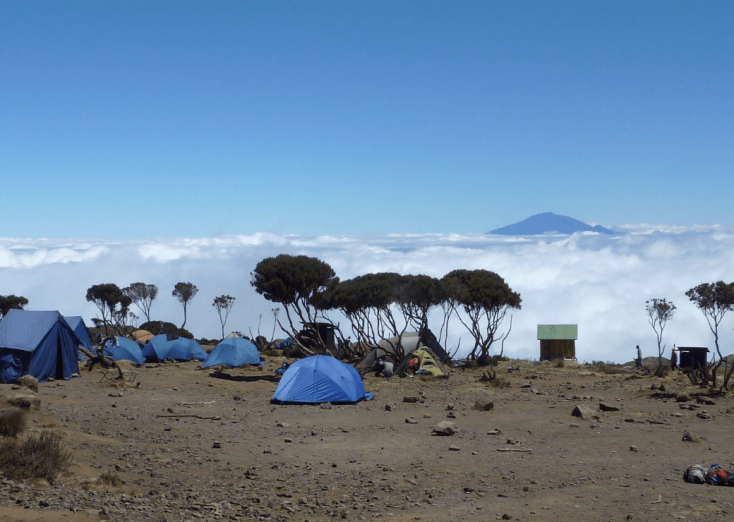 Kilimanjaro Packing List – Electrical Equipment
Head Lamp: This is an absolutely essential item. You'll want to have a good head torch as there is no lighting up on the mountain.
Camera & Case: You're going to want a camera that's small and lightweight. A GoPro is a good option, or a good compact camera like the Canon G7X Mark II. But whatever camera you take, just make sure you keep it snug in an inside pocket on summit night – you do not want it to get too cold, stop working and not be able to capture your moment of glory. I'd also keep it in your sleeping bag with you too. I know some people just prefer to use their phone.
Tripod: If you do need or want to take a tripod, I'd recommend the awesome Manfrotto PIXI tripod which is what i carry on my travels. It's really small and can also be used for vlogging.
Adapters: In Tanzania (and Kenya if that's where you're flying into) they use British style plugs most of the time.
Music & headphones: You can just use your phone for this or a separate MP3 player if you have one. Fill it with motivational tunes or audio books.
E-Reader: There's a lot of downtime on the mountain, especially if you climb alone like me, so having a Kindle (or similar) to read would have been great!
Solar Charger: I didn't have one and really regretted it. Here are some good options. I barely took any pictures because I was so scared of my battery dying and not being able to take pictures at the top.
External Charger: You won't be able to charge on the mountain (unless you have a solar charger) so having a powerbank (or two) is great, especially on a long journey. I have this one which has two USB points, lasts for ages and it's been great so far (when I remember to charge it)! Here are some other options with even more power.
Spare Batteries: For your head torch and anything else that may need it.
Mobile Phone: You can easily buy sim cards with data in Moshi or Arusha and there's usually pretty good signal on the mountain. Great for keeping worried parents and relatives informed of your progress. Sleep with your phone in your sleeping bag and keep it in your inside pocket to prevent battery drain.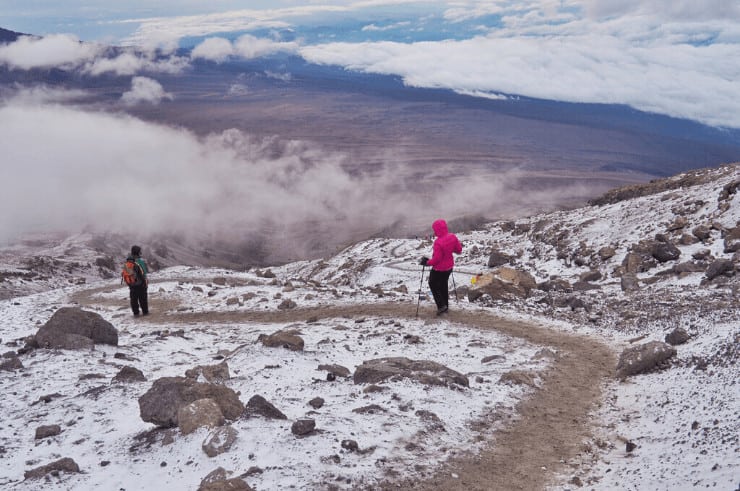 Kilimanjaro Packing List – Paperwork
Passport: Make sure it's valid for 6 months after you return from Tanzania and has 2 blank pages for your visa and stamps.
Travel Tickets: Airline, any travel vouchers etc. Sometimes they may ask for proof of exit.
Insurance Documents: Your trekking company will usually need these in case you have an accident on the mountain.
Visa: You can apply for your visa in advance via the Tanzanian high Commission or most nationalities can get visas at the airport and you will need dollars to pay for it.
Copies: Of all of the above – keep separate from the originals. Leave a copy at home too.
2 x Passport Photos: I always carry these, just in case.
Yellow Fever Certificate: Required for entry if coming from or transiting through (for more than 12 hours) a country with a risk of Yellow Fever transmission. See more about Yellow Fever in this post.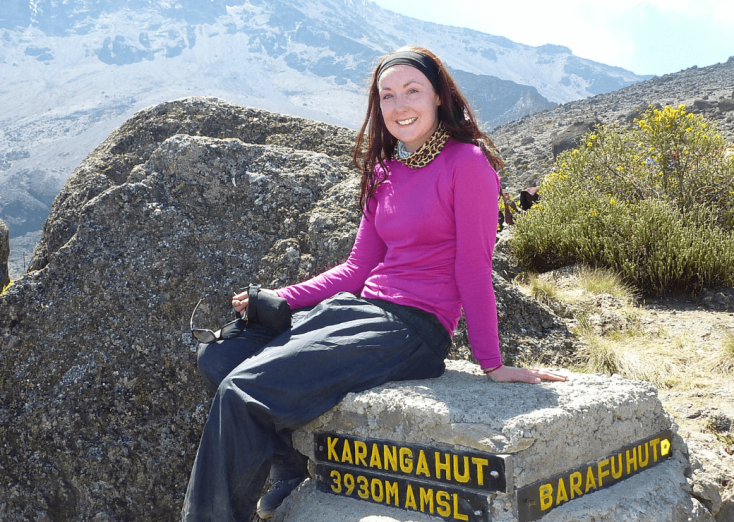 Kilimanjaro Packing List – Money
You will need a mixture of money. I take a mix of dollars for tipping, GBP (my own currency for changing – you can take your own currency, but Dollars, Euros and GBP are the easiest to exchange) and my cards. You cannot get Tanzanian shillings outside of Tanzania, so you will need to exchange when you get there. There are exchange facilities and ATMs at the airports and in Moshi (and Arusha).
Dollars: Good for paying for visas, tipping your Guides/Porters/Cooks and park fees (if not included in your trek fee already). Higher denominations are best as you'll get better exchange rates but a mix is good for tipping.
Your Own Currency: For changing into Tanzanian shillings. Whether this be Euros, GBP or Dollars "" saves you getting stung on the exchange rate twice.
Visa Card: Whilst Visa is widely accepted, Mastercard is not as well accepted (but it's getting better), so please take a Visa card and let your bank know where you will be going so they don't block your cards.
Money Belt: You don't need a money bet, but if you do, try and find one that is very flat and discreet and don't take your money out of it in public (as I see people doing all the time – kind of defies the point).
Keep your money in your daypack and with you at all times. The only money I needed on the mountain was the money for the tips at the end and a few cans of Coke from the shop at Base Camp.
Although at $5 (may be more now) a pop, they're not cheap! But I couldn't eat and had no energy bars, so it was that or nothing. I think you can also pay to use some slightly nicer toilets, but I didn't do that.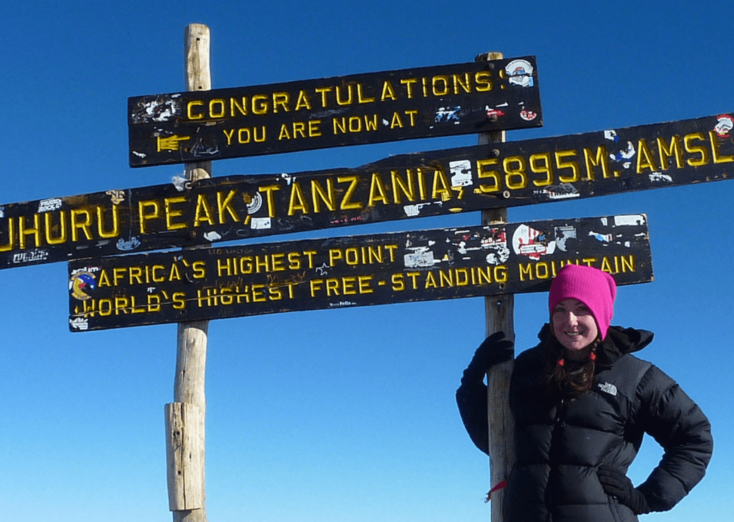 Kilimanjaro Packing List – Miscellaneous
Water Bottle: I take two bottles (with a capacity of about 4 litres), a Nalgene water bottle and a Camelbak Hydration Pouch. The pouch I have was great, but they don't make it anymore but this one is a very similar. The hydration pouches are great as they have a tube that you can drink from so no having to stop and get your flask out the whole time! I would recommend getting one with a thermal tube for it so that your water doesn't freeze. The wide mouth on the Nalgene bottles also means it is less likely to freeze.
Flask: I didn't do this last time, but this time I am taking a small thermal flask like this one as a back up to keep water in for summit night. The water in this should stay relatively warm and will be a godsend both to warm me up and for hydration if everything else freezes.
Walking Poles: I just hired these in Moshi. Really help your knees, especially on the descent.
Ear Plugs/Blindfold: To help you get to sleep early on summit night.
Energy Bars: Chocolate, glucose tablets, cereal bars, nuts, Kendal Mint Cake etc (whatever you can fit in – take it).
Towel: There's not much opportunity to wash, so a small, quick-drying microfibre one should do the trick.
Notebook & Pen: To capture all those thoughts and amazing moments.
Duct/Electrical Tape: Always useful to repair ripped or broken items.
Heat Pouches:Â Also called hand and foot warmers. I didn't use these on Kili, but have used them on other climbs since and they are good to put inside your gloves/boots on summit night. Save them for when you really need them.
Envelopes: For tipping.
READ MORE: Tipping on Kilimanjaro: Everything You Need to Know
Read More About Kilimanjaro & Tanzania…
Please Note: Some of the links in this post are affiliate links, which will earn me a small commission at no extra cost to you. Affiliate sales help with the running costs of this site, so thank you for your support!