Last updated on July 11th, 2021 at 08:21 am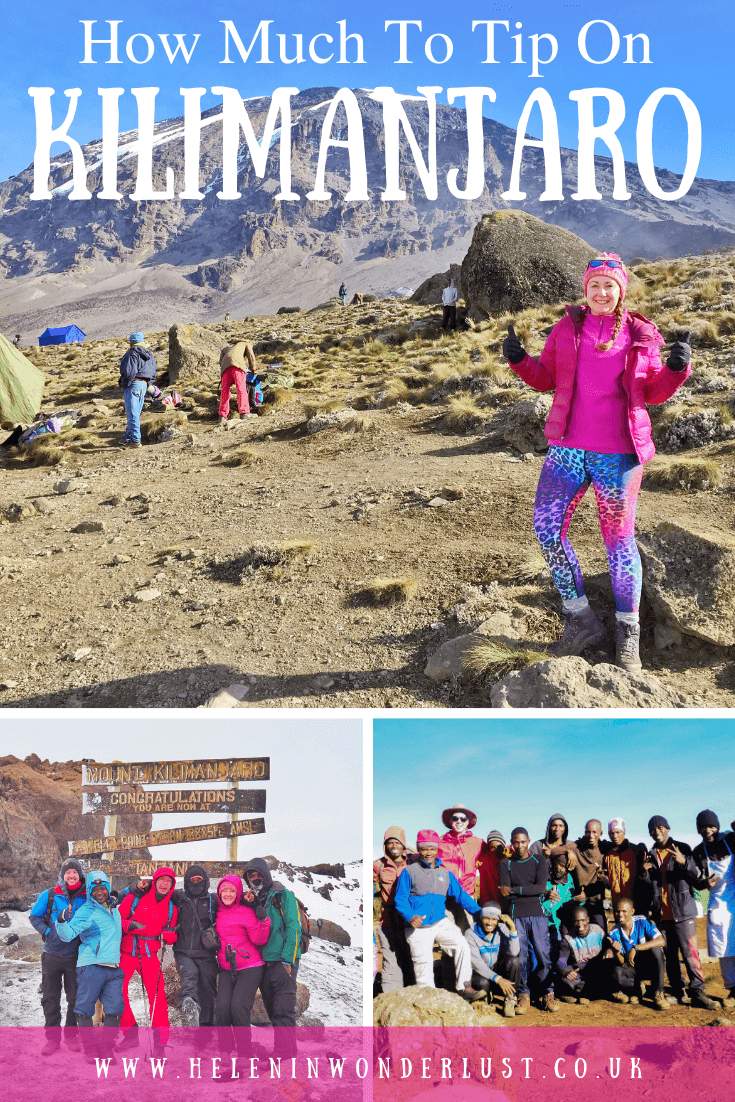 How much to tip when you are climbing Kilimanjaro always seems to be something people are unsure about.
The more you research, the more confusing it seems to get, so I'm going to try and make it a bit clearer with this Kilimanjaro tipping guide.
Just remember, there is no 100% right or wrong way to tip on Kili and every company seems to have a different opinion on how much you should tip, so I've looked around and tried to pull it all together, to help you plan, as best I can.
---
Tipping on Kilimanjaro: Everything You Need to Know
---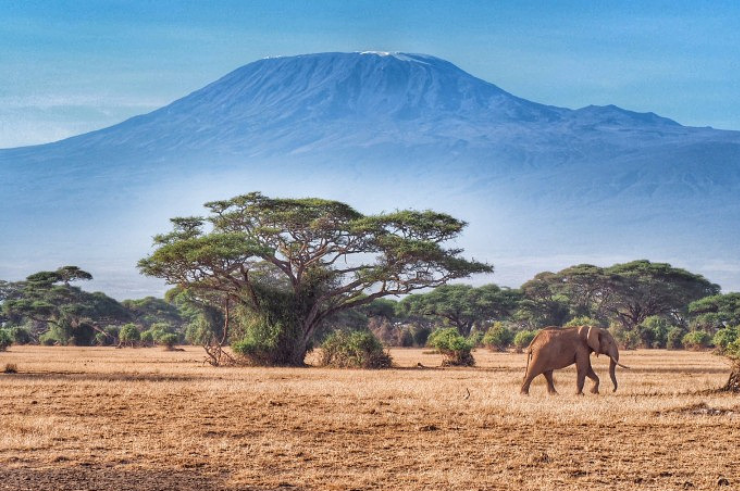 A bit of background…
Historically, some of the workers on Kilimanjaro (porters especially) weren't (and some still aren't) always paid very well and had (and still have) to work under terrible conditions, with crappy equipment, especially considering the backbreaking (and potentially dangerous) work they do.
Without the porters, most people would not be able to climb Kilimanjaro.
They carry all your equipment, food and clothing up the mountain, so all you have to carry is your daypack.
As a result, KPAP was founded. KPAP, stands for the Kilimanjaro Porters Assistance Project, a not-for-profit organisation who regulate standards for workers on Kilimanjaro. There is also a similar organisation called KIATO.
KPAP & KIATO ensure that the porters:
are paid at least 20,000 TSH per day (approx. $9 per day basic, tips are separate).
receive their salaries within 2 days of completing the climb.
eat 3 meals per day on the mountain.
have sufficient equipment and clothing on the mountain.
are cared for when injured or sick.
carry 20kg of weight or less.
Believe it or not, there are still a lot of companies that don't treat their employees fairly, yet the competitive nature of the work and lack of employment opportunities means a lot of porters still work under awful conditions.
What that means for you, aside from the obvious ethical issues, is that whilst you may pay less for your climb, you are expected to overcompensate with the tips.
When climbing Kilimanjaro, you should always try to use a company that treats their employees fairly. I use a KPAP or KIATO registered company for trekking on my Rock My Kilimanjaro & Serengeti Adventure tours and you can find a list of members here and here.
I'm not saying that every company that isn't part of KPAP or KIATO is bad, but at least if they are registered you know that there are regulations in place, the porters are being paid and treated fairly and you are completing an ethical climb.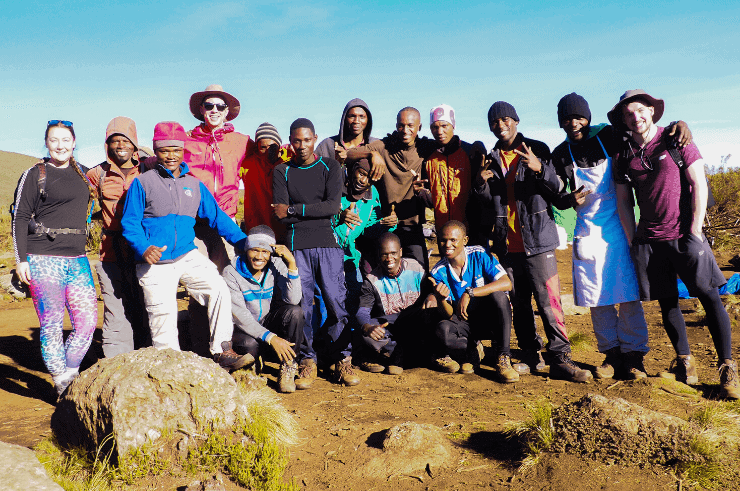 When climbing Mount Kilimanjaro, tipping is not compulsory, however it is deeply ingrained in the culture and highly expected, so if you feel that you have received a good service from your local guides and porters, please do tip them. If you don't, they will be pretty offended.
KPAP states that each porter should receive at least 32,000 TSH per day ( approx. $14) from wages and tips, which isn't a lot when you see what they do on a daily basis. It's backbreaking work.
KPAP registered companies have to pay their porters at least 20,000 TSH per day ($9 – which is considered a good basic wage in Tanzania, but not a good living wage) and state that the clients should make up the extra 12,000 TSH ($5) per day in tips.
The tipping culture is also in place to ensure that you receive excellent service. If you haven't received good service, then you are not obliged to tip.
They also say that if the company isn't registered with KPAP you should try and find out what the porters are paid and tip accordingly (ie. top up to the required amount). That, my friends, is much easier said than done…
I've looked at the tipping guidelines of lots of the KPAP registered companies, with most stating you should tip the porters around $6 – $10 per day (rather than the $5 stated by KPAP), which, would take the wages up to around $15 – $19 per day.
Whether you add the extra on top, is totally up to you!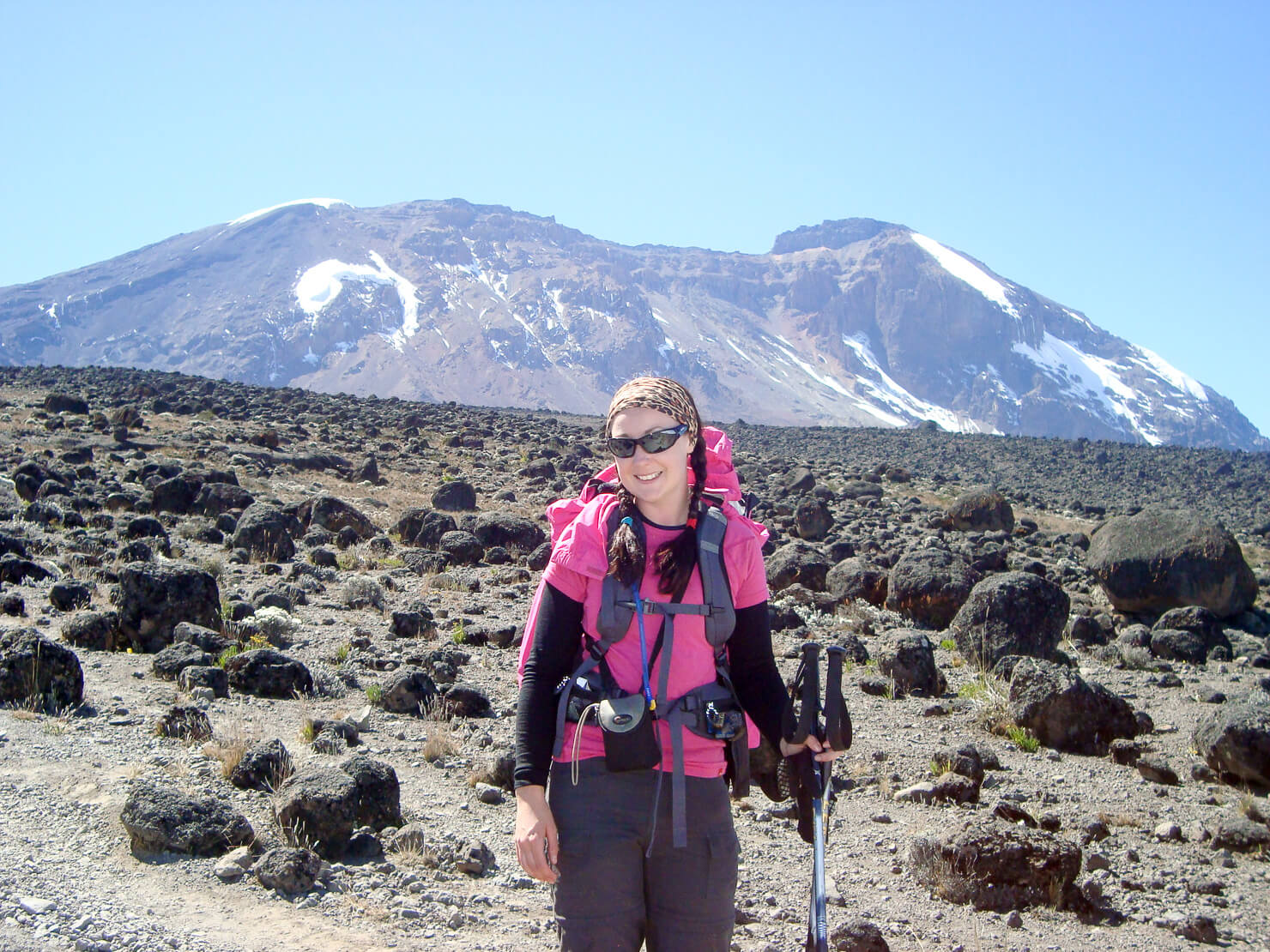 How Much Should I Tip on Kilimanjaro?
After looking around at the various companies that are KPAP registered, the general consensus for how much you should give your support crew seems to be this….
Main Guide: $20 per day
Assistant Guide: $12 – $15 per day
Cook: $12 -$15 per day
Porter: $5 – $10 per day
The amount given to your support staff is split between the whole group, not per individual climber. The number of support staff you have will determine the tips you give, but it generally works out that the bigger the group, the less you pay in tips.
If you've received amazing service from someone in particular, you may want to tip them at the higher end of the scale. Again, your choice!
The company you travel with will usually dictate the number of support staff you need. Usually, the better companies have a better staff to client ratio.
Often in a group, you'll have a lead guide, an assistant guide per every 3 climbers, 1 cook (although in bigger groups you'll have 2 – work to one cook for every 8 – 10 people or so), then 2 – 3 porters per person (the number of porters is usually determined by the route and length of the climb).
So based on the 'recommended' tipping amounts, here are a couple of examples:
Kilimanjaro Tips – Scenario 1
If you were a group of 4 climbing over 8 days, you would likely have a support team of around 15 (1 guide, 1 assistant guide, 1 cook and 12 porters) and you would tip:
Main Guide x 1: Should receive $20 x 8 days = $160 in total

($160 / 4 climbers)
= you tip $40

Assistant Guide x 1: Should receive $12 – $15 x 8 days = $96 – $120 in total

($96 or $120 / 4 climbers)
= you tip $24 – $30

Cook x 1: Should receive $12 – $15 x 8 days = $96 – $120 in total

($96 or $120 / 4 climbers)
= you tip $24 – $30

Porters x 12: Should each receive approx. $5 – $10 x 8 days = $40 – $80 in total

($40 or $80 x 12 porters = $480 or $960 / 4 climbers)
= you tip $120 – $240
Your Total Tip: $208 – $340
Kilimanjaro Tips – Scenario 2
If you were a group of 12 climbing over 6 days, you would likely have a support team of around 40 (1 guide, 4 assistant guides, 2 cooks and 32 porters), you would tip:
Main Guide x 1: Should receive $20 x 6 days = $120 in total

($120 / 12 climbers)
= you tip $10

Assistant Guide x 4: Should each receive $12 – $15 x 6 days = $72 – $90 in total

($72 or $90 x 4 assistant guides = $288 or $360 / 12 climbers)
= you tip $24 – $30

Cook x 2: Should each receive $12 – $15 x 6 days = $72 – $90 in total

($72 or $90 x 2 cooks = $144 or $180 / 12 climbers)
= you tip $12 – $15

Porter x 32: Should each receive $5 – $10 x 6 days = $30 – $60 in total

($30 or $60 x 32 porters = $960 or $1,920 / 12 climbers)
= you tip $80 – $160
Your Total Tip: $126 – $215
But as mentioned, it very much depends on the number of support crew you have which you won't always know until the day of the climb (and can depend on how much stuff you have).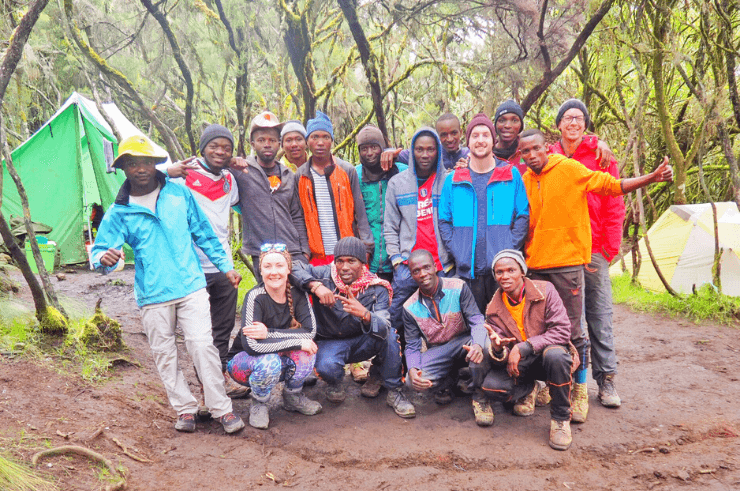 Why are the tips so high on Kilimanjaro?
Some people don't agree with tipping so much on Kilimanjaro.
When I posted these amounts in a Facebook group in response to the question "How much should I tip on Kilimanjaro?", I got mixed responses. Most people agreed with me, some were even happy to pay a lot more.
However, there were some negative comments.
One chap thought that $20 tip per day for a guide was too much. His argument was that tourists were being 'emotionally blackmailed' into paying guides daily tips that were the equivalent of a month's wages in some industries, and that I was part of the problem for spreading this 'propaganda' and promoting 'corruption and exploitation' of tourists – whoa whoa whoa… don't shoot the messenger, I was trying to be helpful here pal!
For the record, he'd never climbed Kilimanjaro and had only spent a couple of weeks in Tanzania.
I get what he was saying, but overall, let's say a Kilimanjaro guide works 22 days a month, for 7 months a year (Kili is seasonal) and gets $20 tips each day he works, then that's approx $3,080 in tips per year.
Then wages… if the porters earn 20,000 TSH a day, the guides maybe earn about 40,000 TSH a day (total guess). So that's about $2,657 + $3,080 = $5,737 a year. For a skilled guide who's worked his way up over a number of years and has the responsibility of keeping his clients alive, I personally don't think that's 'too much'.
The porters will earn maybe half of that in a year. Only a little more (or sometimes less) than you probably paid for your Kilimanjaro climb.
When those guys are keeping your spirits up, making sure you eat properly, carrying all your stuff, and sometimes you up the mountain, just so you can fulfill a lifelong dream, you tend not to resent having to tip.
Especially when you look at the bigger picture. My guide even wiped my nose for me when I couldn't move my hands.
I wouldn't have made it up the mountain without them and I find that most people (who have actually climbed Kili) are happy to tip the recommended amounts.
You may be sent different amounts from your tour operator, but the ones above are the general guidelines, set by an official NGO.
Tipping is not a 'must-do' or a legal obligation and you can realistically tip what you want and what you think your guides 'deserve', but I would recommend tipping the given amounts (or above).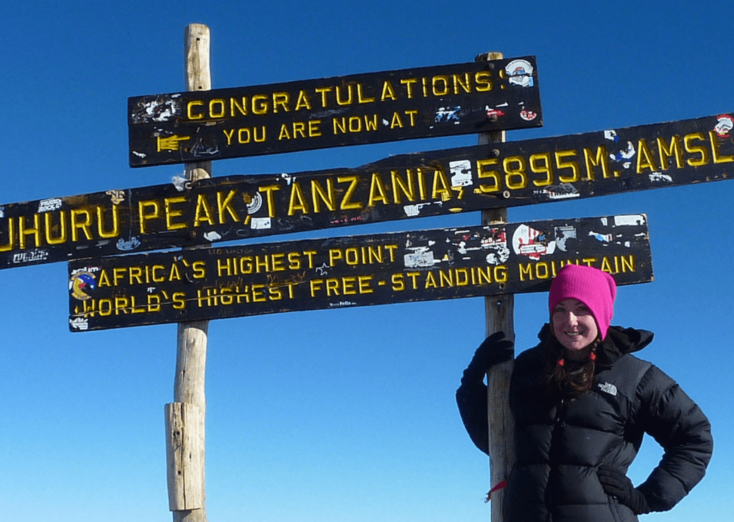 The Tipping Ceremony
Tips are usually given on the last day of the climb, either at the last camp (on the way down from the summit) or at the gate and the whole group usually contributes to the tip pot and tips together, rather than individually.
Every company has a slightly different way that they want you to distribute tips and will usually tell you before your climb.
There are varying opinions on whether you should give the tip to the main guide to distribute fairly – as this is a good incentive for everyone to pull their weight as the main guide will know who's done what or whether you should give the tips individually to each guide.
KPAP suggests giving everyone their own individual tips.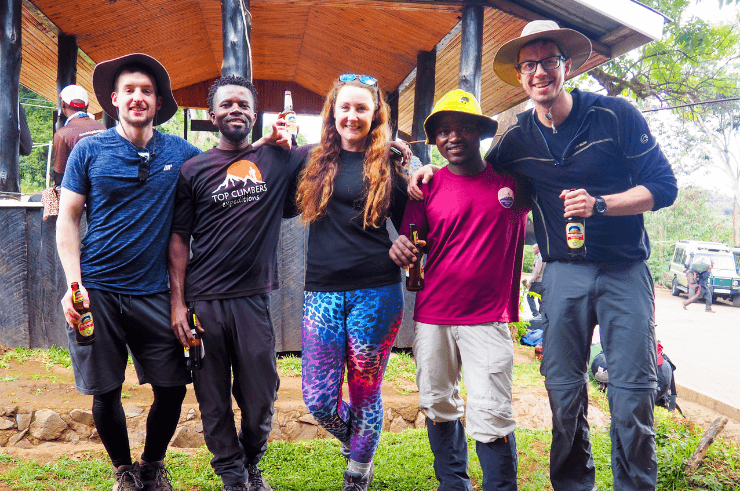 But if you do give them to the head guide to distribute, making sure he lets everyone know (in English and Swahili) the total of tips given.
It is also suggested that if handing out the tips to the porters yourselves, you should know exactly how many crew members there are and get to know them, because a) this will help you work out the amount to tip and b) stop any porters who weren't on your climb showing up at your tipping ceremony and trying to get make a little extra cash – apparently, it happens.
Tips can be given in Tanzanian Shillings or US Dollars. Dollars should be dated on or after 2013 and must be in good condition.
I hope you have an amazing and successful Kilimanjaro trek! If you have any questions, please leave them in the comments below!
Read More About Kilimanjaro & Tanzania…
Tanzania Group Tours
Please Note: Some of the links in this post are affiliate links, which will earn me a small commission at no extra cost to you. Affiliate sales help with the running costs of this site, so thank you for your support!