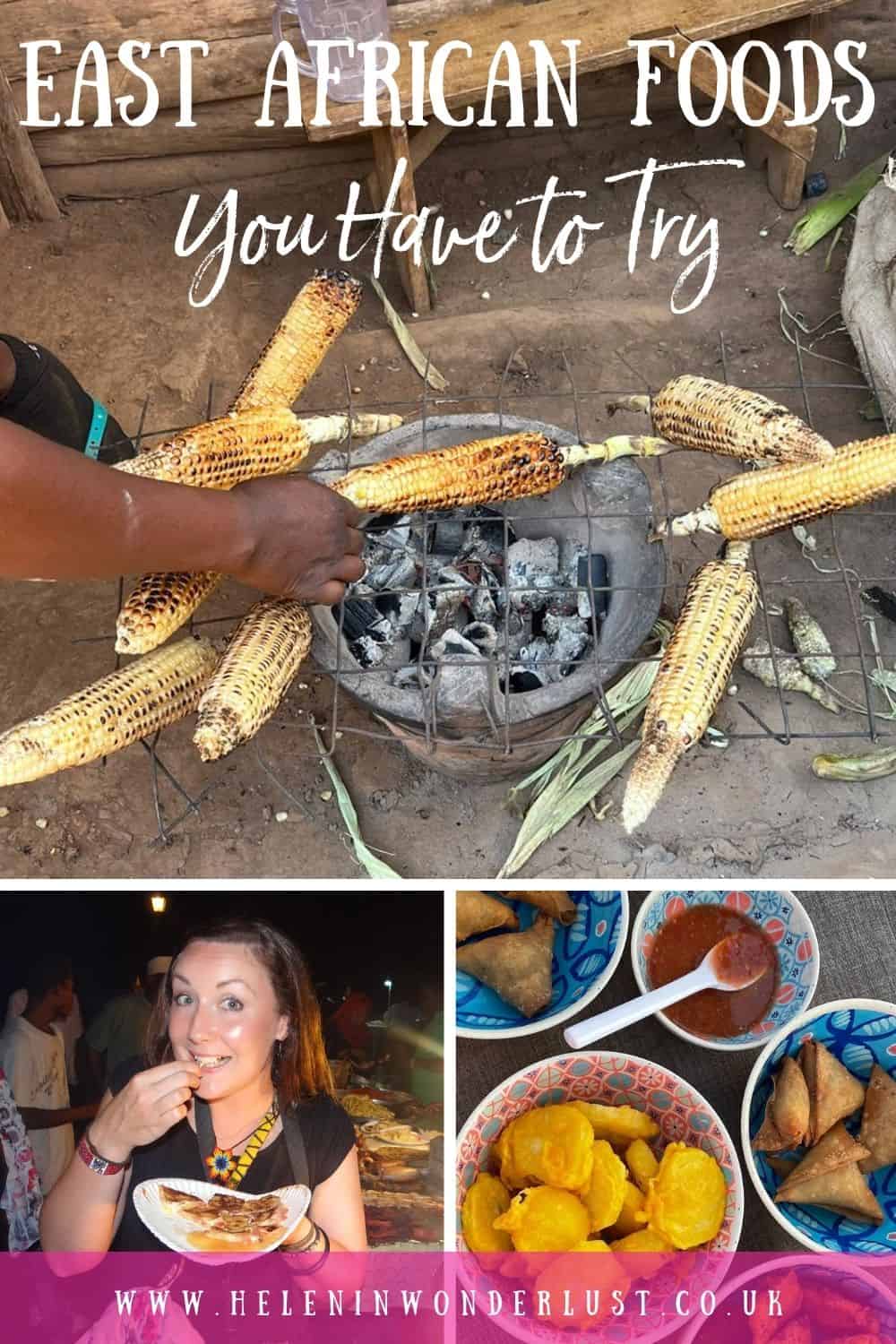 Last updated on January 14th, 2023 at 12:16 pm
One of the best ways to experience the local culture of any country is to try the local food (and drink).
Most people travel to East Africa for the safaris and the culture, however, you can also find some great food too! Some of the dishes are quite plain, but a lot of them are incredibly delicious, so I'm sure you will be very pleasantly surprised!
There are many different foods and drinks for you to try in East Africa (more than I could list), but here are a few to whet your appetite (I won't include Ethiopian food, as this could take up a whole post by itself).
Please Note: Some of the links in this post are affiliate links, which will earn me a small commission at no extra cost to you. Affiliate sales help with the running costs of this site, so thank you for your support!
---
31 East African Foods You Have to Try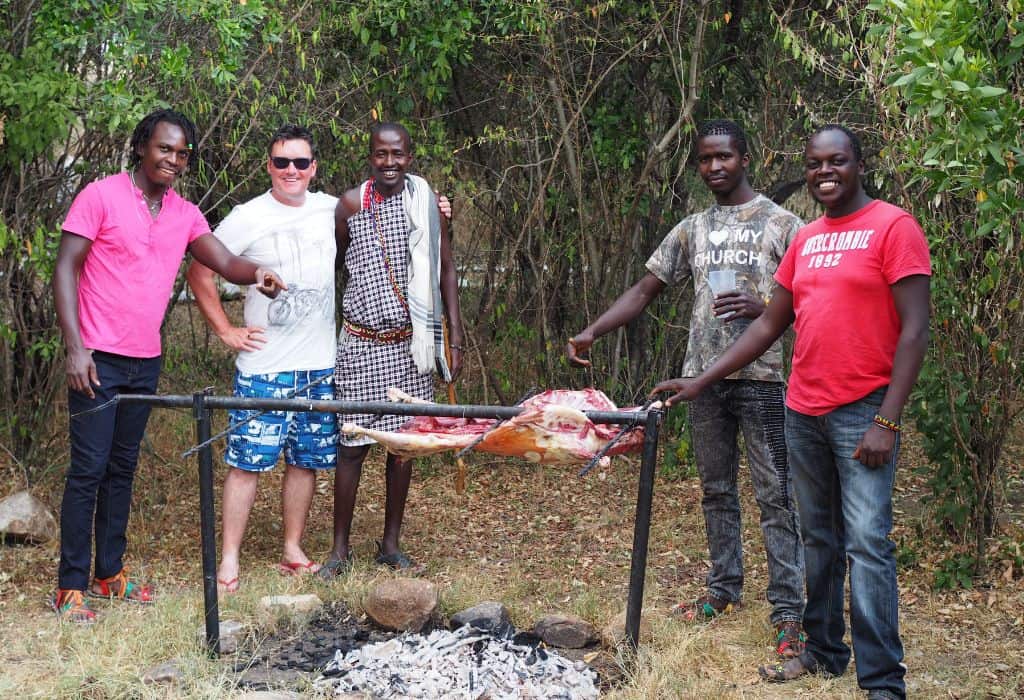 1. Nyama Choma
Nyama means 'meat' and choma means 'roast', so nyama choma is roasted meat – usually beef (nyama ya ng'ombe), chicken (kuku) or goat (mbuzi).
Goat isn't really my bag (I find it too tough and chewy) but I always love the roast chicken, especially in Arusha, Tanzania – it just tastes so good!
You'll find meat joints all over the place, from roadside stalls to upmarket restaurants, like Carnivore in Nairobi (nyama choma is Kenya's national dish). One of my favourites is a place called Tamasha Joint in Karen (Nairobi). They do great meat and irio (see below) and the wine is cheap!
2. Ugali
This is the staple food of many African countries, all over the continent, not just in East Africa.
Known locally as ugali in Kenya, Tanzania & Rwanda, and posho in Uganda, this is a porridge made of maize, millet, or sorghum mixed with water.
It's nothing like oatmeal porridge – it tastes a bit like grits and looks like mashed potato, but with a much thicker consistency. It is usually served with some vegetables, sauce, and maybe meat or fish and you roll it into a ball (always with your right hand) and use it to scoop up the other things on your plate.
I'm not a huge fan of ugali, but every African I know loves the stuff because it's what they grew up on.
There are many different names for this dish, in Southern Africa, you may hear it called pap, nshima or nsima and fufu in West Africa.
3. Wali na Maharage
This is a popular food in East Africa, especially in Tanzania and literally translates into English as 'rice and beans'.
When I lived in Tanzania, I pretty much lived on rice (wali) and beans (maharage) and ate it every single night as we didn't have a proper kitchen and the place next door to our house sold rice and beans for a dollar!
The rice is usually cooked in coconut milk (mmmm) and the beans are usually kidney beans.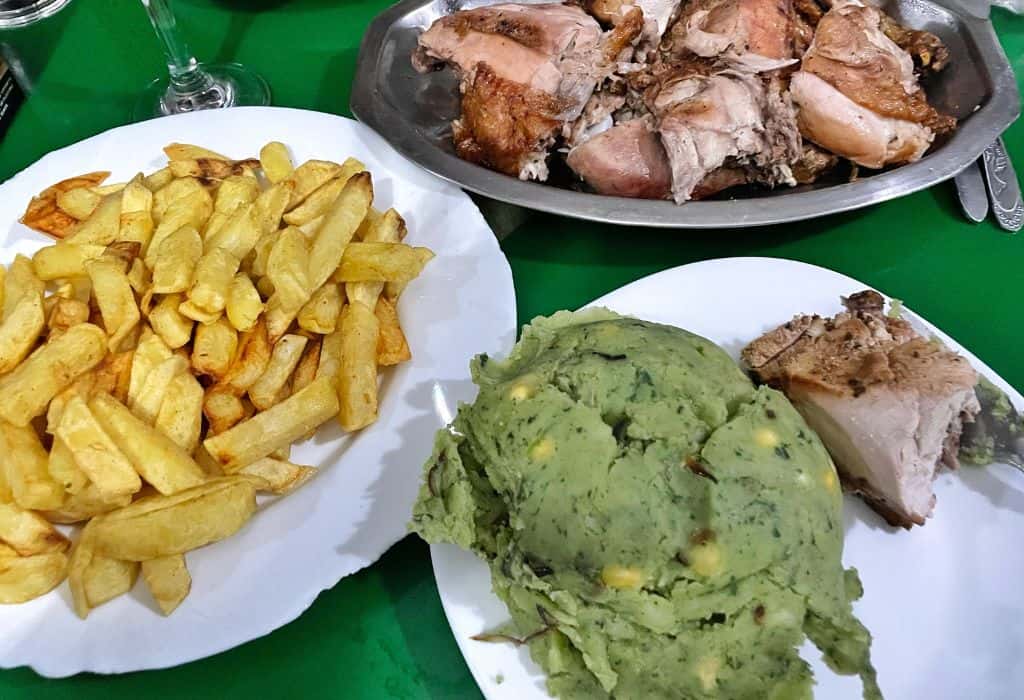 4. Irio
This is one of my favourite East African foods, consisting of mashed potato mixed with peas, beans, corn and onions (or some combo of those ingredients) – absolutely delicious.
Makes a great side to your nyama choma (as above).
5. Chapati
The chapati is a staple Indian food that is also extremely popular in East Africa. They're very versatile and simple to make with just 4 ingredients – flour, oil, water and salt.
Chapatis make a great accompaniment to pretty much every dish and you can eat them with savoury foods like curry or stews or cover them in Nutella or jam and peanut butter and fill them with bananas, like a crepe. Delicious!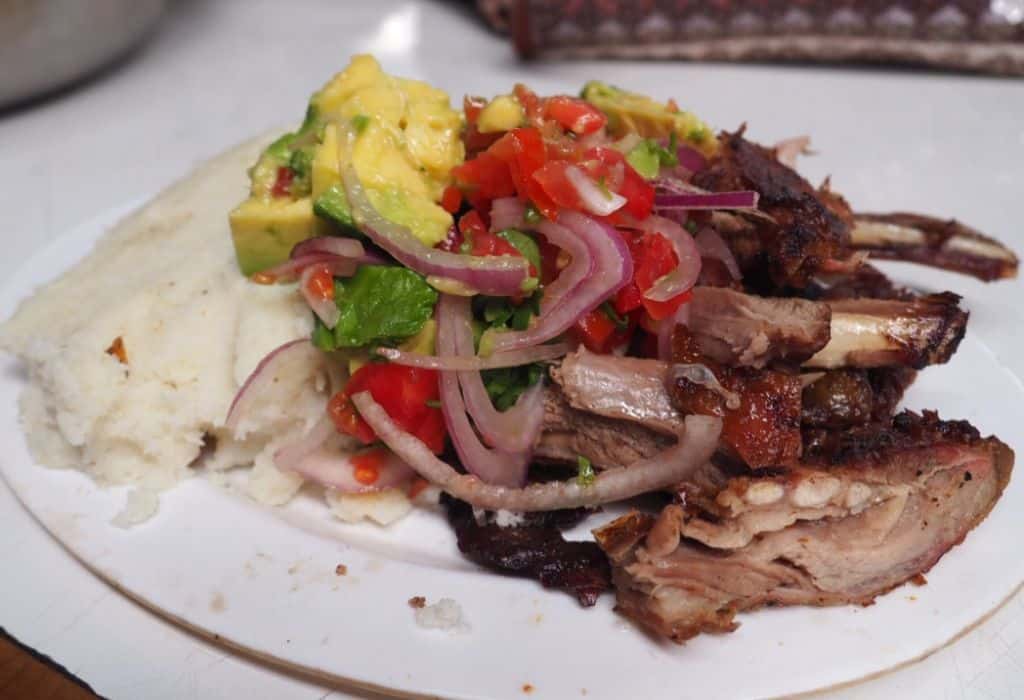 6. Kachumbari
This popular Swahili-style salad is another one of my personal favourite dishes. It's made of chopped tomatoes and red onions with a little oil, salt & pepper – similar to Mexican pico de gallo/salsa.
You'll often find it mixed with other ingredients such as cucumber, avocado, lime/lemon, coriander, and chilli. I think it tastes best when it's all in there and everything is chopped quite small.
7. Pilau
An Indian rice dish cooked in stock with spices and meat. There is no sauce as such, so it can be a tasty, but dry dish!
This is especially popular along the Swahili coast and in Zanzibar! I highly recommend visiting Luukman restaurant in Stone Town, Zanzibar to try this dish.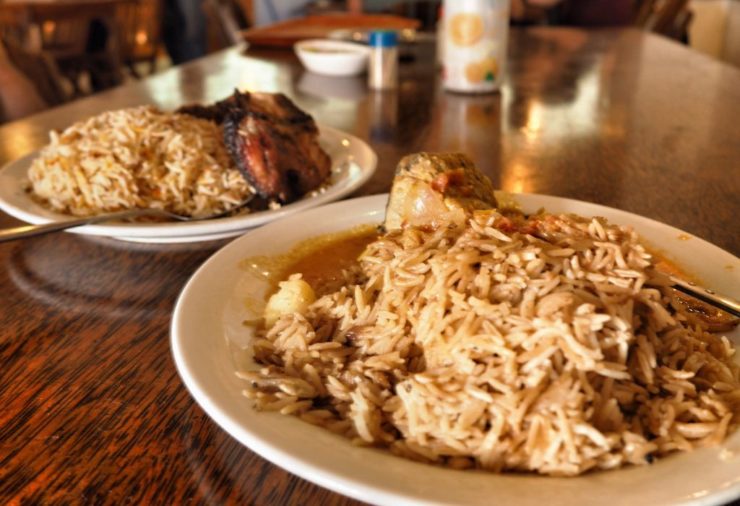 8. Biriyani
Biriyani is another Indian dish that has made it's way over to East Africa. It's different from pilau, in that the rice is usually cooked with spices (seperately from the meat) and the meat (or fish) is cooked in rich sauce, then they are put together on the plate.
9. Mtori
A filling Tanzanian stew/soup made from green bananas, potatoes and meat. It's known for being pretty nutritious and is often given to pregnant women and new mothers to build up their strength! It's also quite tasty!
10. Mishkaki/Brochettes
These are meat kebabs (called mishkaki in Kenya/Tanzania and brochettes in Rwanda)! They can be any type of meat and are a popular snack street food or nightclub snack in East Africa.
My favourite place to get these (aside from on the street or in the club) is a restaurant called Repub Lounge in Kigali, Rwanda – they are very delicious.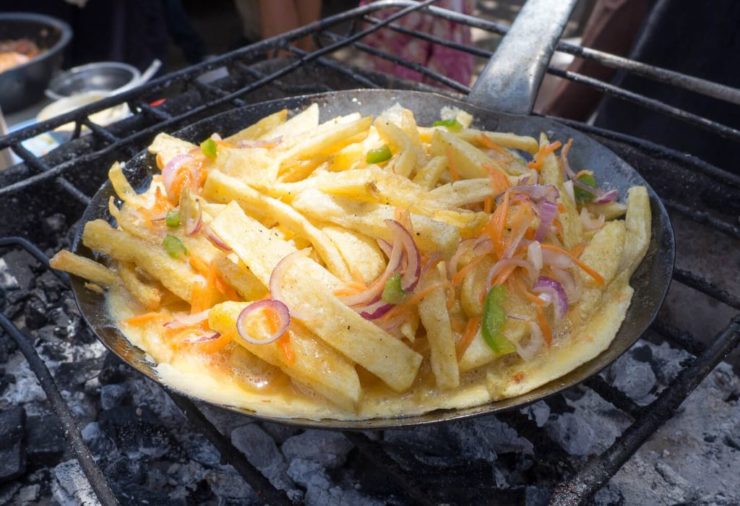 11. Chips Mayai
Another one of my favourites – this is a popular food in Kenya & Tanzania which is basically an omelette with French fries mixed in. You can find it at many street food stalls and local restaurants alike.
It's usually very greasy, tastes absolutely delicious and is good with kachumbari, ketchup or chilli sauce.
12. Isombe
A traditional Congolese/Rwandan/Burundian stew made with cassava leaves and other ingredients such as spinach (an essential ingredient), aubergines (eggplant), onions, tomatoes, coriander, groundnuts, garlic, Maggi seasoning (a bit like Worcestershire Sauce) and peanut butter.
The dish may seem vegetarian, but just be aware that the stock is usually made with boiled beef bones, which also gives it a meaty flavour!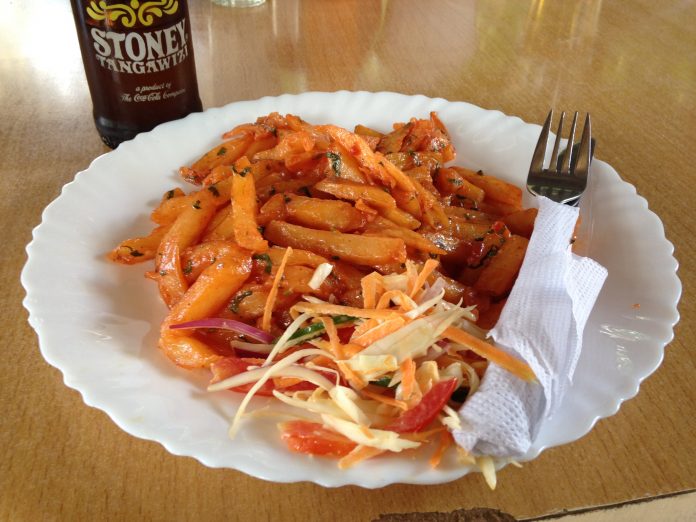 13. Masala Chips
Another pretty simple, yet tasty dish is masala chips which are especially popular in Kenya.
This is a dish made with French Fries covered in a spicy tomato masala sauce, usually topped with chillis and coriander.
14. Sukuma Wiki
A popular accompaniment to ugali and meat is sukuma wiki, which is also known as collard greens or just greens.
These are usually just cooked with oil in a pan, however, you can add other ingredients, like onions, tomatoes and spices.
15. Matoke
Popular all over East Africa, however matoke is the national dish of Uganda and you'll see it on most menus!
It's a simple dish consisting of steamed and mashed green bananas (similar to plantains) which are bigger and much less sweet than regular old yellow bananas!
This is always a popular dish on my Uganda & Rwanda tour!
16. Rolex
Not to be confused with the famous watch brand, a rolex (rolled eggs) is delicious Ugandan street food of rolled chapati with various fillings such as egg (in omelette form), avocado, onions, cabbage, tomato and sometimes minced meat.
You can buy rolexes at street stalls all over Uganda, but if you want one in a restaurant setting, check out The Rolex Guy, who has cafes in Entebbe, Kampala and Nkumba.
17. Samaki Wa Nazi
This is a coconut fish curry, sometimes called Zanzibar fish curry. It's an extremely tasty, mild dish – usually king fish served with rice and vegetables.
Sometimes the fish will be filleted, cut into chunks and cooked in the curry and other times it will be a grilled whole fish with curry sauce – so check before you order if you don't like your fish with a face!
18. Urojo
Also known as Zanzibar mix, urojo is a soup made up of various different ingredients. Everyone has a slightly different recipe, but you'll usually find the soup made with potatoes, flour and various different spices. Then you add other stuff like bhajis, coconut, and crispy cassava chips.
One of my favourite places to get it is at Forodhani Gardens in Stone Town, Zanzibar. I usually go to the stall that's next to Mr Mango who's near the sea wall. Next time I go, I'll ask them for the recipe and share it here.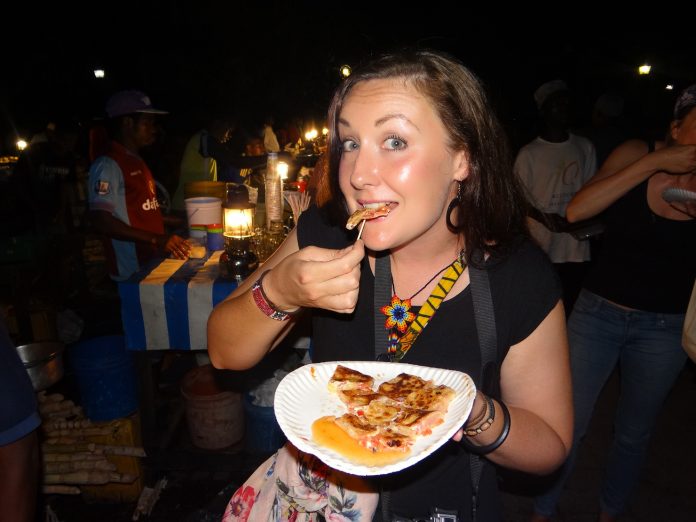 19. Zanzibar Pizza
I've no idea who invented the Zanzibar pizza or how it became famous on the island, but this weird food is very popular.
It's basically 2 small pancakes (one on top of the other), cooked in ghee and filled with various ingredients, such as Laughing Cow cheese, egg, mango, tomato, meat, onions, peppers, avocado, mango, mayonnaise, Nuttela, banana… You can choose whatever combo you want!
The best place to try it is at Forodhani Gardens in Stone Town where you can take your pick from lots of different stalls. I always go to a guy called Mr Mango. If you go, tell him I say hi!
20. Pili Pili
Pili pili, is a spicy African sauce made with chillis, peppers, lemon, garlic and oil – although you will find different combos wherever you go.
The food in East Africa generally isn't that spicy (compared with West Africa), so if you like a kick, don't worry, there's usually a bottle of pili pili on the table at every restaurant or street stall. Sometimes you'll even get a bowl of fresh pili pili!
21. Cassava Chips
Cassava chips make a nice snack and are generally a bit less greasy than potato chips. They usually come plain or with a little dusting of spice.
22. Samosas
My favourite East African street food is the small but mighty samosa, a triangular pastry snack, usually filled with beef, chicken, fish and/or vegetables. They're sold in restaurants, shops and often by local people walking along the beach or road – this is great when you are hungry on a long bus journey as you can usually buy them out of the window.
The best samosas I've ever had in my life were made by a lady called Jameela and the Shela Women's Association in Lamu, Kenya. We had them on our sunset cruise (above with onion bhajis and viazi karai/bhajias which are deep-fried potatoes with flour and turmeric) and immediately booked a cooking lesson to learn how to make them.
23. Mahindi Choma
Another popular street food of roasted corn/maize. You'll see people selling this by the roadside as you drive overland.
I find it a bit dry on its own (and prefer boiled corn) – but if you can find some butter, lemon and chilli – it's delicious!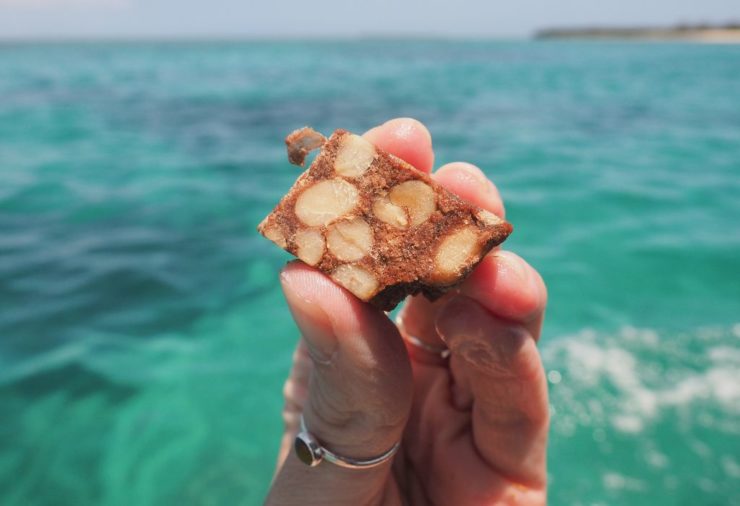 24. Kashata
One of my favourite Swahili sweets, kashata is a bit like a peanut brittle. It's one of those foods that a lot of East Africans grew up with and that was considered a special treat, so everyone loves it.
Everyone has a different recipe, but my favourite one is the one I have on the Safari Blue (one of my favourite things to do in Zanzibar), made with peanuts, flour, sugar, cocoa powder, cardamom and cinnamon.
25. Mandazi
Mandazis are fried dough balls, basically, a doughnut and they're usually just eaten on their own as a snack.
I find them a little dry and stodgy, but they are very popular and sold all over East Africa.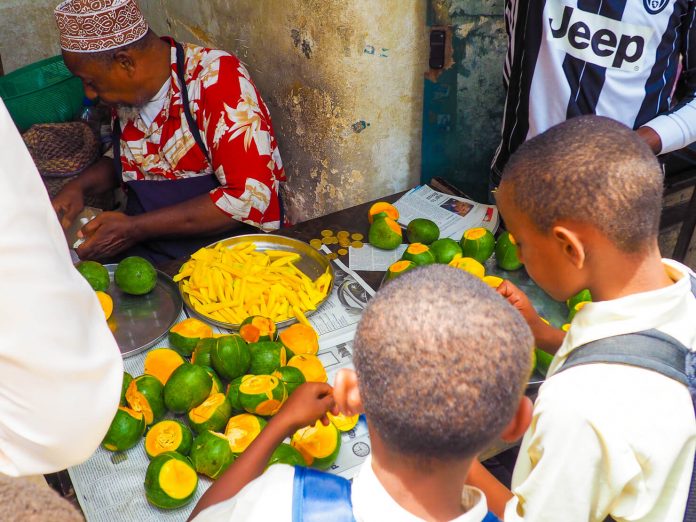 26. Mango with Chilli Salt
Another great street food is simply some juicy mango, covered with spicy chilli salt. The mango is usually sliced into strips, served on paper and sprinkled with salt – incredibly delicious!
27. Coconut
If you're looking for a delicious, cheap and nutritious drink/snack, just buy a coconut (known locally as nazi or madafu). These are sold by street vendors in many places and they'll cut off a section at the top (with a machete) so you can drink the water.
Then when you're done, give it back to them and they'll split the coconut open and you can use the top part of the shell as a scoop to eat the flesh!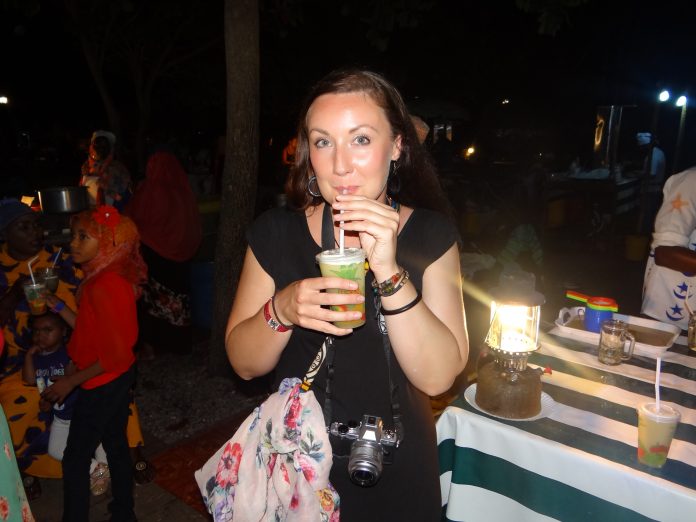 28. Sugarcane Juice
So the rest of this list is drinks, rather than food but it made sense to add them…
Sugarcane juice (with lime and ice) is a very popular drink, especially in Zanzibar. Grab some at Forodhani Gardens in Zanzibar to wash down your Zanzibar pizza!
As you would expect, it's very sweet, but it's sooo refreshing.
29. Tea
Tea (or chai – chai just means 'tea, but has come to mean spiced tea) is a very popular drink in East Africa, grown all over the region and comes in many different forms:
Black tea: which is tea leaves (or tea bags) boiled in water, served with or without cold milk. This is sometimes called 'English Breakfast Tea'.
Chai: usually means spiced black tea.
African tea: which is tea leaves boiled with water, milk and sugar. This is very popular in Kenya!
Masala chai: spiced tea which is tea leaves, milk and tea masala spice (ginger, cinnamon, cardamom, cloves, black pepper and nutmeg) boiled together.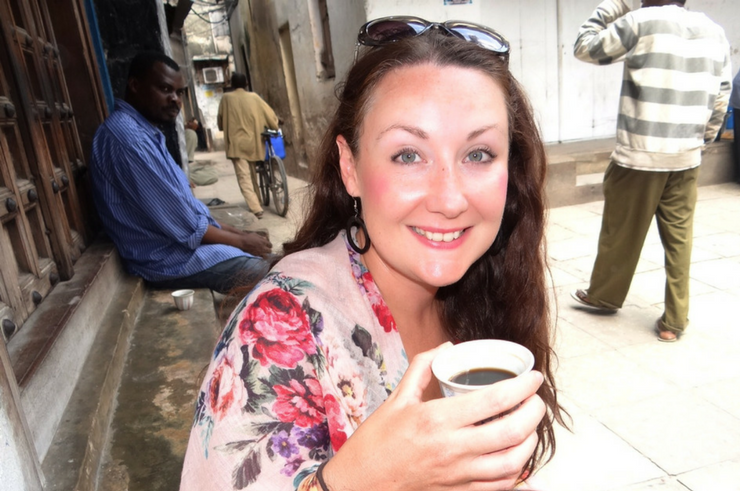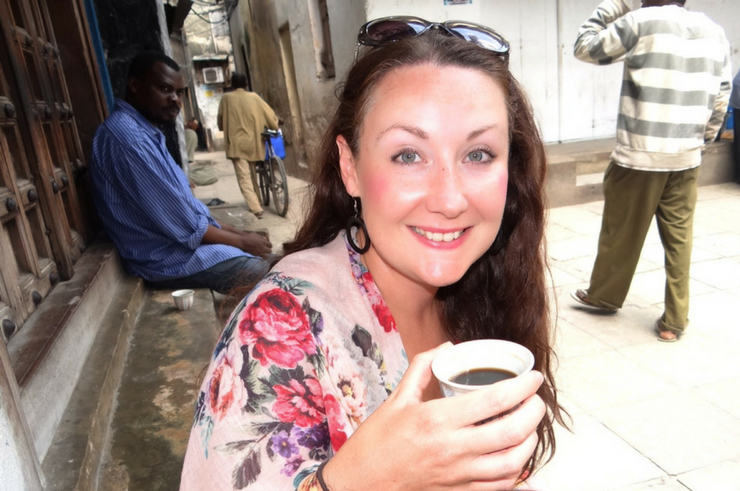 30. Coffee
Some of the best coffee ('kahawa' in Swahili) in the world is grown in East Africa, so make sure you try a cup of the local blend when you are there.
You can take coffee tours in many places, so if you're interested in the coffee-making process, add one to your itinerary!
31. Stoney Tangawezi
I had to add this one! Stoney Tangazezi, or a 'Stoney' for short, is Coca-Cola's version of ginger beer and it has a real kick!
Tangawezi is Swahili for ginger and this drink is extremely popular throughout both East and Southern Africa. It goes really well with rum too!
Let me know if you tried some of the dishes on the list and what you liked/didn't like! Any other foods to add to the list?
---
Other East Africa posts you might enjoy…
Pin This Post For Later