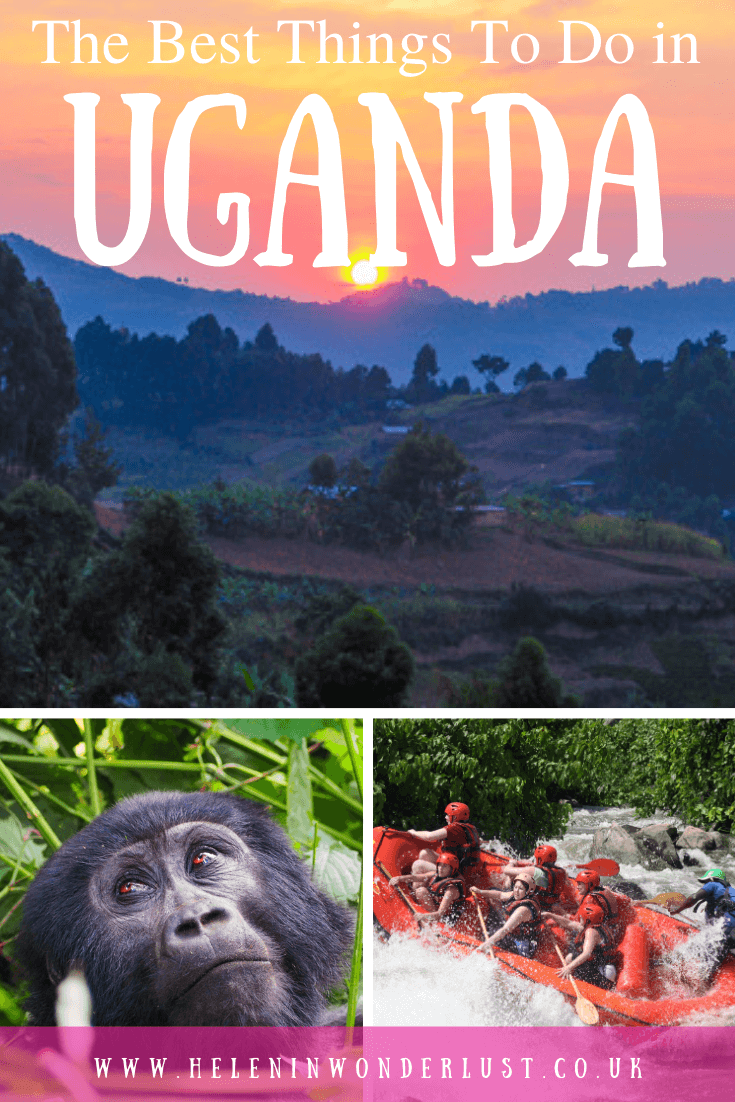 I LOVE Uganda.
Named the 'Pearl of Africa' by Winston Churchill (and quite rightly so), Uganda is an incredible and special country with beautiful lush, green landscapes and even more beautiful, friendly people!
Plus, it has some of the bucket list-worthy adventures on the whole African continent, being one of the only places in the world for mountain gorilla trekking, and it's a bit less touristy than nearby Kenya and Tanzania.
Travelling in Uganda is awesome and I fell in love with the country the minute I crossed the border from Kenya on my first visit in 2009 – no joke, I was smitten. There was just (and still is) something special about this place… go and see for yourself!
There are so many things to do in Uganda that you will be spoiled for choice… here are a few of my favourites!
---
13 Incredible Things To Do in Uganda
---

Hike and Canoe Around Lake Bunyoni
Lake Bunyoni is literally a dream. Imagine a tranquil and beautiful lake, surrounded by green hills, dotted with islands and filled with beautiful birds. That's Lake Bunyoni.
The lake lies just south of Bwindi Impenetrable National Park and is a great place to rest before your climb or recover after it!
Lake Bunyoni means 'place of little birds' so it's great for bird watching, as well as boat trips on the lake, local interactions and hiking. The views are pretty spectacular wherever you go, but get yourself to an elevated position for the best ones and visit Arcadia Lodge for lunch with a view.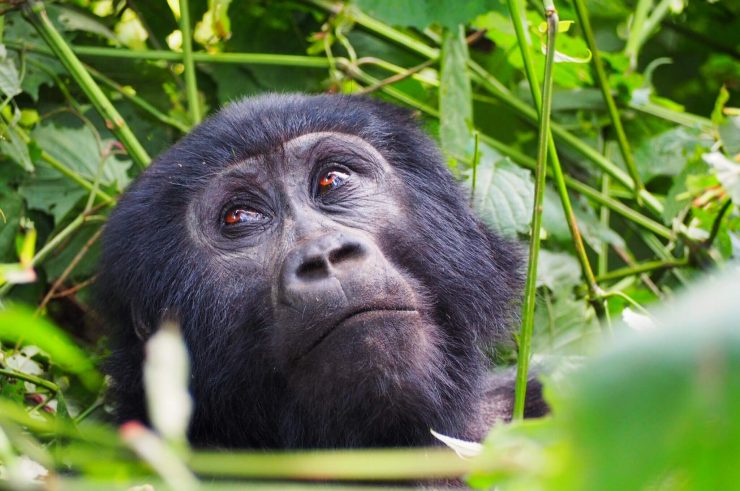 Go Mountain Gorilla Trekking
Top of my list of things to do in Uganda is going mountain gorilla trekking (sometimes called gorilla tracking) in Bwindi Impenetrable Forest.
Mountain gorillas can be found in the area known as the Virunga Mountains, and live in Bwindi Impenetrable National Park and Mgahinga Gorilla National Park in Uganda, Volcanoes National Park in Rwanda and the Virunga National Park in the Democratic Republic of the Congo.
I've been lucky enough to go gorilla trekking twice now (I am aware of how lucky I am), once in Uganda and once in Rwanda. And I would do it again in a heartbeat. By far one of the best (if not the best) travel experiences of my life. And definitely my favourite wildlife encounter (closely followed by swimming with whale sharks in Mozambique, getting groomed by a baboon in Namibia and tracking white rhino, also in Uganda – see below).
With the price of gorilla trekking in Rwanda now being so high (double the price of Uganda at the time of writing) and the DRC being a volatile region, gorilla permits in Uganda are in high demand, so you should book as early in advance as possible. I'm talking 6 months to a year in advance to secure your permits in the location and day that you want.
READ MORE: A Complete Guide to Gorilla Trekking in Uganda & Rwanda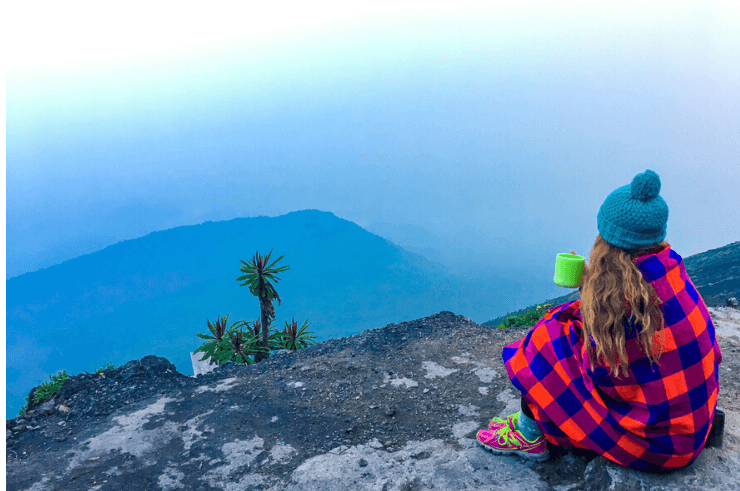 Hike the Rwenzori Mountains
Straddling the border with Congo, are the Rwenzori Mountains, known as the 'Mountains of the Moon' and home to Uganda's tallest mountain, Mount Stanley. The snow-capped mountain is the 3rd tallest in Africa at 5,109m.
This is an absolutely stunning part of Uganda, I've not yet climbed Mount Stanley, only seen it from a distance – but it's on my list (the pic above was when I climbed Mount Nyiragongo in the Congo, but kind of fits the bill)! I've climbed Kilimanjaro twice now, probably time to try another mountain!
Most people base themselves at a hotel/guesthouse in Kasese prior to the trip, and the hike starts from Kilembe. There are lots of different trekking options from short day hikes, to multi-day, but to reach the summit, known as Margherita Peak, you will usually undertake a challenging 8 or 9-day trek.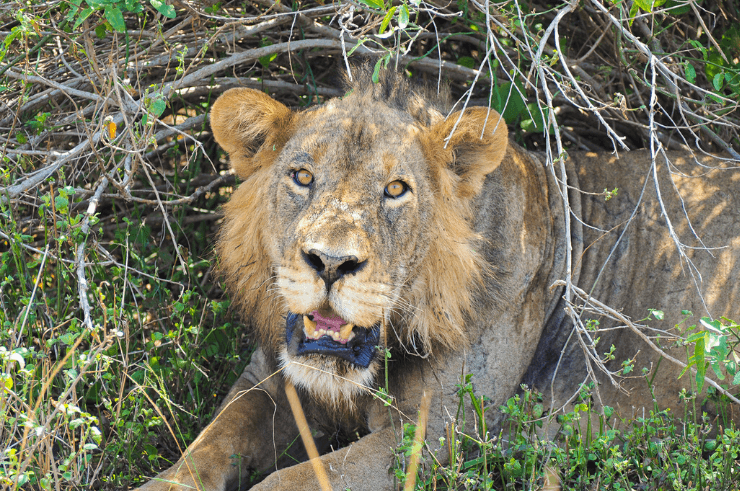 See the Tree Climbing Lions in Queen Elizabeth National Park
I've been to Queen Elizabeth National Park twice now… and I've seen lions, but never seen tree-climbing lions. That's not saying you shouldn't go though!
We did see lions mating which was pretty cool and I would definitely advise hiring a tracker to help you find them (the lions here are collared).
The land part of the park is nice, however, there isn't an abundance of wildlife compared with other safaris I've done, we did see quite a few elephants but my favourite thing to do is to take a boat trip on the Kazinga Channel where I guarantee you will see a lot of animals, often including elephants, hippos, crocodiles, birds and buffalo.
Just be aware of safety warning in the area, as it's close to the border with the DRC.
Hang Out With the Chimpanzees
One of the most popular things to do in Uganda is to go chimpanzee tracking. There are two different options for this, where you can either spend an hour with them (chimpanzee tracking) or full day with them (chimpanzee habituation day).
Both options are great, but if you can spend the full day, you may get a bit more out of it as the chimps are wild (although used to humans – aka habituated) and often up in the trees, so if you spend a full day with them, you are much more likely to see them on the ground which usually makes for a better experience (and photos).
The main locations (that I've been to and know of) are Kibale Forest National Park and Budongo Forest (the full-day experience is seasonal here).
Tour the Crater Lakes
Uganda's crater lakes are simply beautiful. Located around Fort Portal, this area is a great place to explore, either by car, foot or bicycle.
Lake Nkuruba is known as the 'most beautiful' of the lakes. The Top of the World viewpoint, overlooking Lake Nyamirima is a popular hiking destination and Lake Nyabikere has a lone hippo living in it… so maybe avoid that one for a swim!
See them at sunrise and sunset for the most stunning views! I took the picture above whilst enjoying the sunrise (and a cup of tea) over Lake Nyamiteza. We were staying at this budget to mid-range lodge which was really nice.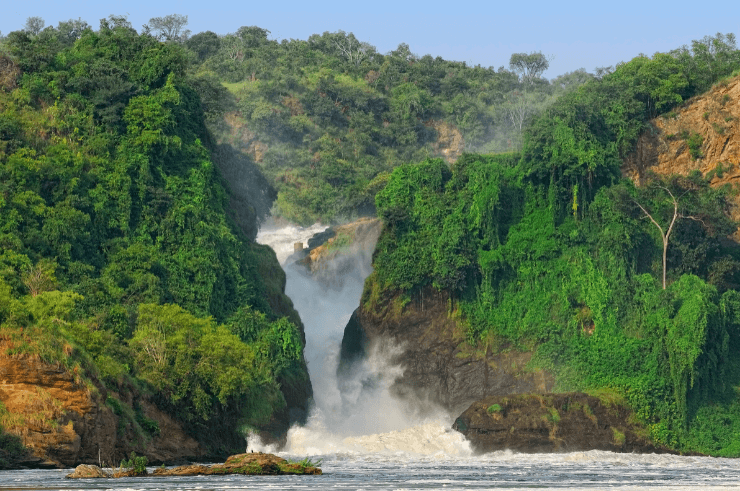 Go on Safari in Murchison Falls
Murchison Falls National Park is a wonderful national park, once described by my friend heather as the 'African Jungle Book' and definitely needs to be on your list of things to do in Uganda.
The park is named after the waterfall, which you can also visit – seeing it from above, as well as below on a boat trip on the Victoria Nile.
There is loads of wildlife within the park, including lions, elephants, hippos, crocodiles, plenty of bird species and Rothchild's giraffes which (in Uganda) are only found in Murchison Falls National Park and Kidepo National Park in the very far north, near the Sudanese border.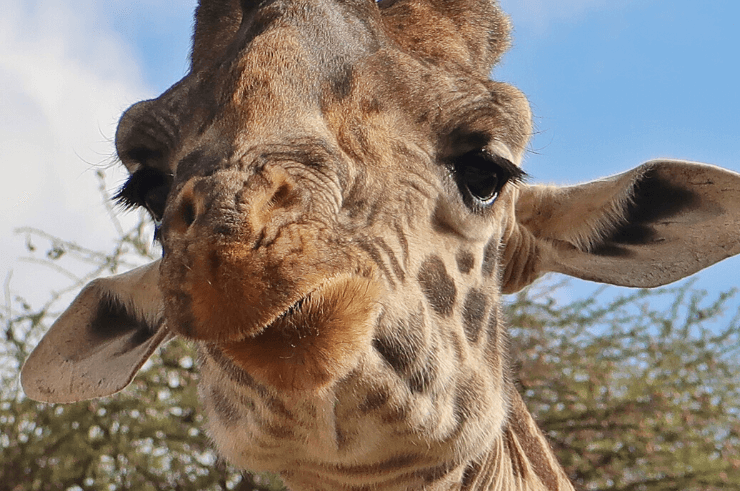 Venture North to Kidepo Valley National Park
Kidepo Valley National Park lies on the border of Uganda and Sudan.
The lesser discovered park is a great place to go if you want to get off the beaten path.
As well as seeing the famous Rothschild's giraffes, intrepid adventurers can explore the Kidepo River, visit the Kanangorok Hot Springs and see Mount Morungule and visit the Ik people who live in the region.
I haven't made it this far north yet, but am planning to go next year… 😉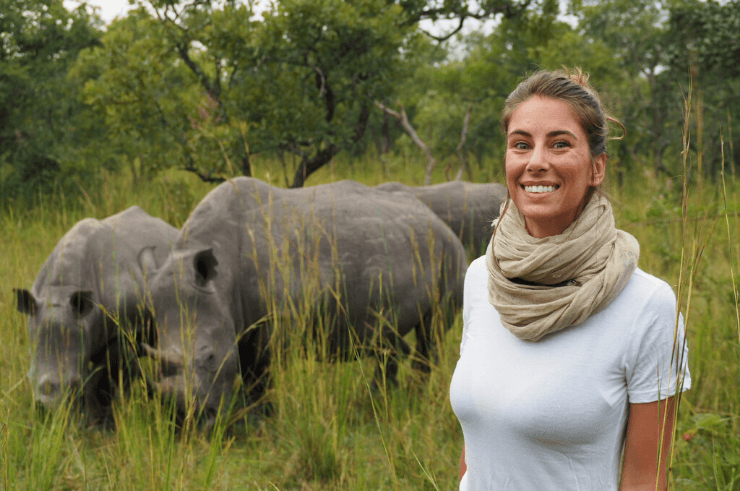 Visit the White Rhinos at the Ziwa Rhino Sanctuary
Another one of my best wildlife encounters and favourite tourist attractions in Uganda is visiting the white rhinos at the Ziwa Rhino Sanctuary, near to Murchison Falls National Park.
We stay at the sanctuary on the Rock My Uganda, Rwanda & DRC Adventure.
Last time I was there, we were sat in the bar having a well-earned afternoon beer when, 3 white rhino sauntered past, without a care in the world (check out the pic in my Pinterest pins).
The following morning when we woke up, there was a male white rhino, chilling on the grass, right outside our rooms, having spent the night there. He had an extreme case of morning glory (which you can find on my Uganda tab on Instagram Stories).
We sat giggling carefully observing him, David Attenborough-style throughout breakfast, before heading out on our actual trek, where we saw the three from the previous afternoon. My friend Maddie's face says it all in this picture (I'm behind the camera) – it was also her 30th birthday! What a treat!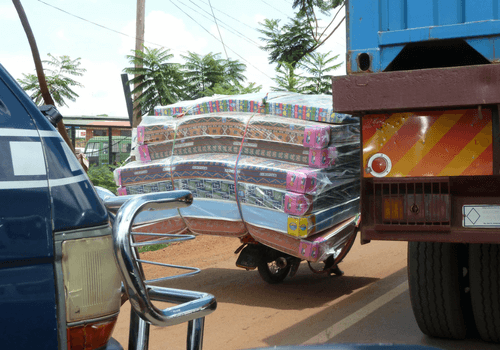 Party and Get Your Culture On in Kampala, the Capital City
The Ugandan capital, Kampala, is known as being one of the biggest party cities in Africa. Ugandans know how to party and the city extracts a big crowd of ex-pats who are more than willing to join in.
But as well as hitting the clubs, you can also immerse yourself in Ugandan culture and visit some amazing restaurants, museums, art galleries and malls too – so you can stop up on anything you need.
Plus, there's usually good internet, which is always welcome after a few days in the bush. Or maybe not…
The only thing I don't love about Kampala is the traffic. Urgh, it's just as bad or maybe even worse than Nairobi.
For a great night out, visit the Ndere Cultural Centre, where they have a dinner show. Whilst you eat, the talented performers with show you traditional dances, drumming and singing.
Get Adventurous in Jinja
Oh Jinja, how do I love thee, let me count the ways.
Jinja was one of the places I really fell in love with on my very first trip to Africa (along with Livingstone, Zambia and Bagamoyo, Tanzania), and the first place I went back to when I returned to Africa. It's the adventure capital of East Africa, with loads of activities on offer such as white water rafting on the Nile, bungy jumping, kayaking, SUP, horse riding, quad biking and mountain biking.
There's less rafting than there used to be since the dams were built and pretty much ruined much of the white water, but it's still fun!
Jinja is the town, but my favourite place is the small village of Bujagali, a few kilometres away on the River Nile where you'll find most of the backpacker action and where my Ugandan family live.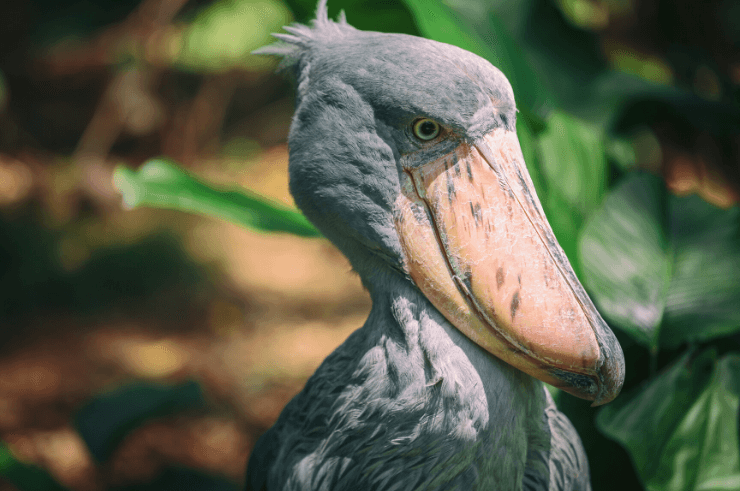 See the Shoebills at Mabamba Swamp
The shoebill is an unusual bird.
Huge in size, with a face only a mother could love (and sometimes not even then) and probably one of the cruellest birds in the animal kingdom and famous for the fact that they often have two chicks, but favour one over the other (usually the stronger or older one) and then let the other one die.
They're assholes and I'm pretty sure they want to kill us all and take over the world. Despite this, they are very interesting to watch.
There are a number of places in Uganda where the Shoebills can be seen, however the most famous is the Mabamba Swamp, near to Entebbe and Lake Victoria.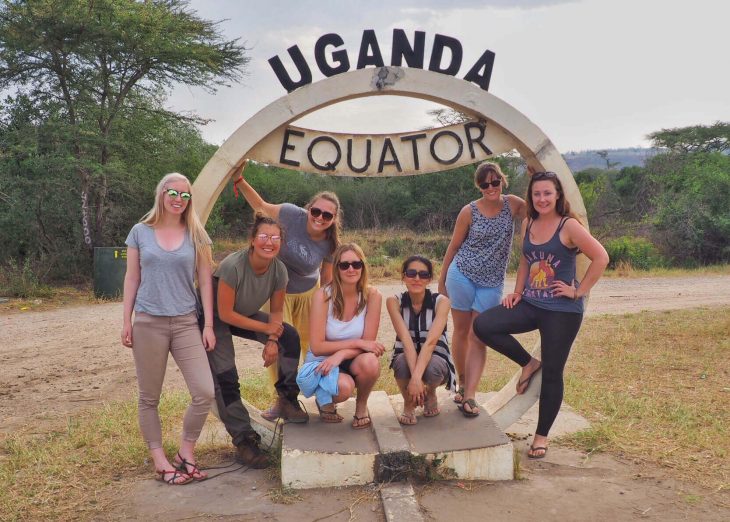 Climb Mount Elgon
Lying on the Ugandan/Kenyan border, Mount Elgon is known as one of the best hikes in Africa. The peak of the mountain is 4321m high and lies on the Ugandan side.
The trek itself takes around 4 days, staying on the mountain for 3 nights, with people usually tacking on a day either side in a guest house close to the start and endpoint, depending on where you are coming from.
It's not as high as Kilimanjaro and also non-technical, but is still a good challenge and you will need good hiking equipment (warm clothes, sleeping bag and good boots etc). The park fees are $75 for tourists and this includes the ranger and guide fees. But you will need to factor in accommodation, food and porter costs too.
Once you're done with the mountain, you can take a dip in nearby Sipi Falls!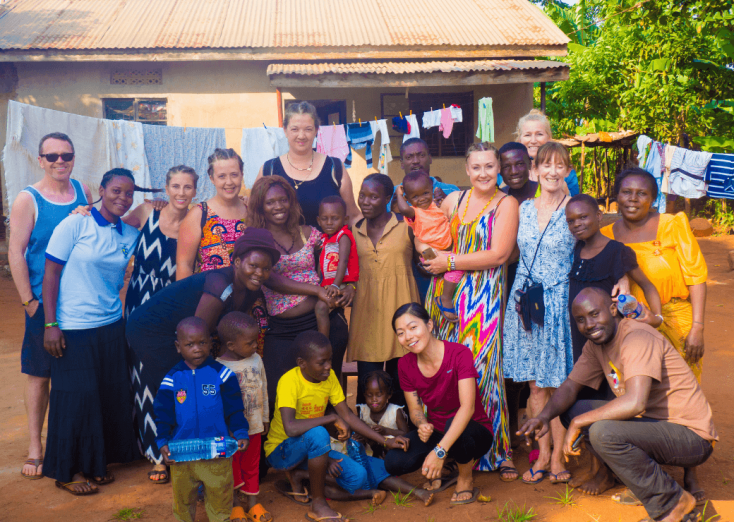 I hope you enjoyed this post about the best things to do in Uganda and that it helps you plan your own trip! Anything you'd add to the list?
Read More About Uganda & East Africa…
Uganda Group Tours
Please Note: Some of the links in this post are affiliate links, which will earn me a small commission at no extra cost to you. Affiliate sales help with the running costs of this site, so thank you for your support!