Last updated on February 5th, 2021 at 03:42 pm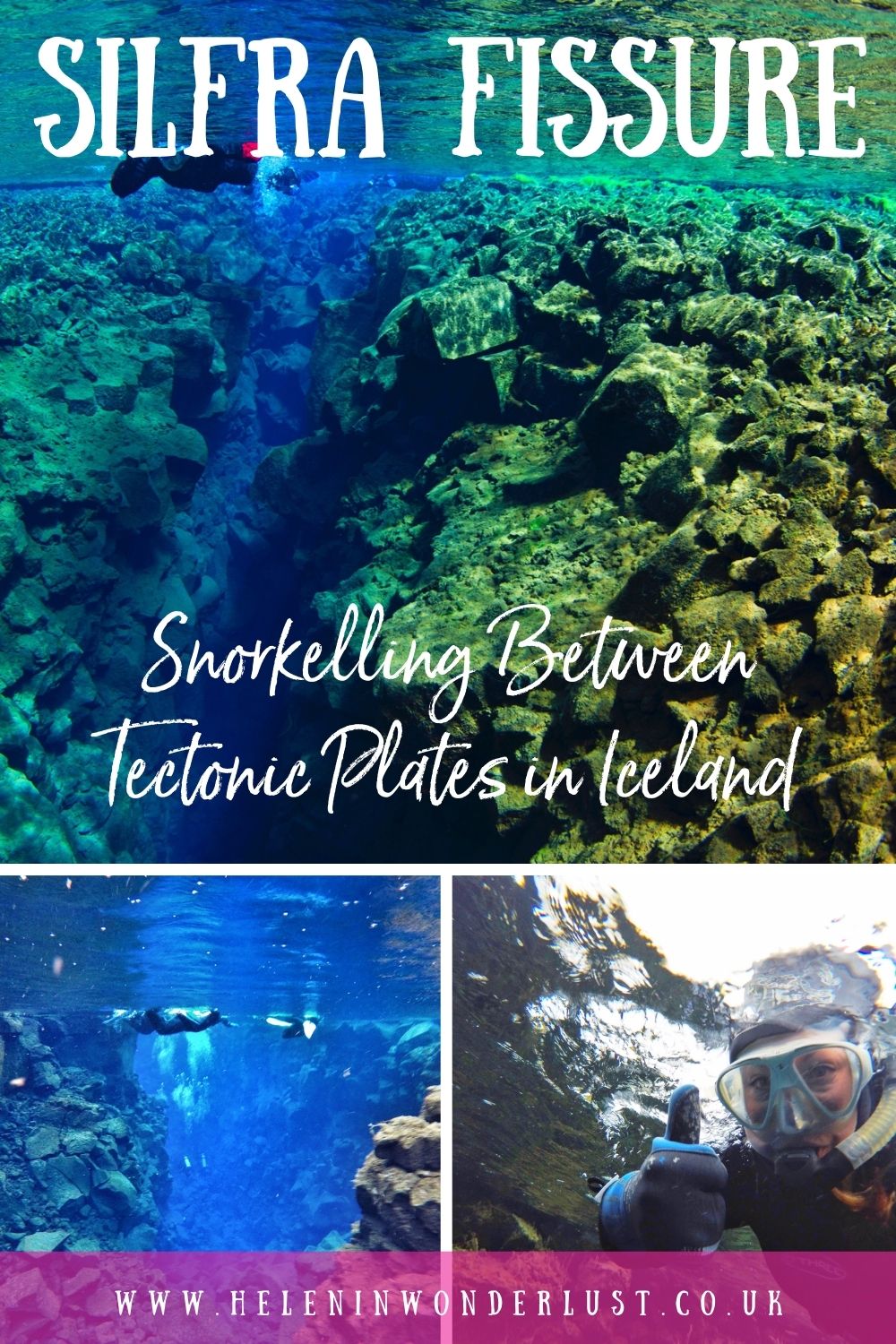 Ever fancied snorkelling or diving in freezing cold glacial water, between tectonic plates? No? Me neither… until I heard about the Silfra Fissure in Iceland.
Silfra is a rift between the North American and Eurasian tectonic plates, which continues to widen by around 2cm a year and t's the only place in the world where you can snorkel or dive between two continents – pretty cool, eh?
Silfra lies in Þingvellir (Thingvellir) National Park, a UNESCO World Heritage Site around 45 minutes away from Reykjavik. It was here, in this magical place, that the early settlers of Iceland held their parliament, known as the Alþingi (Althing).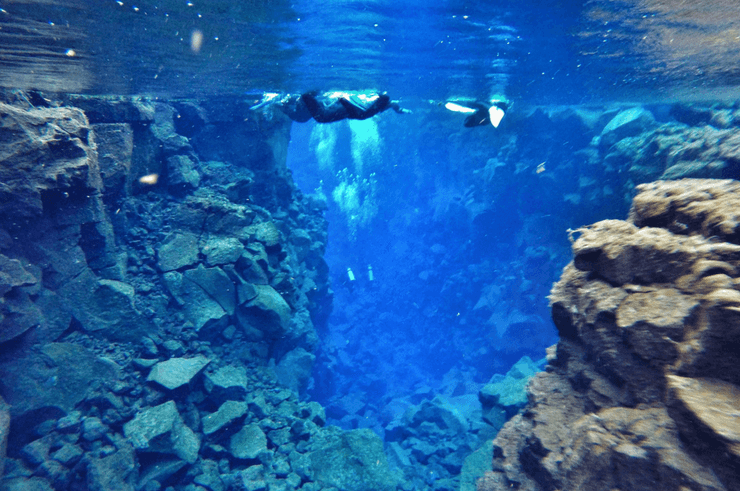 The water that fills the fissure originates from the Langjökull glacier and is filtered through lava rocks for up to 100 years before it reaches the Thingvellir Lake, which means that the water is so clean and pure, you can even drink it as you snorkel.
My friend Kate and I arrived at the meeting point at the Thingvellir Information Centre at lunch time. We were meeting the rest of the group in the park, as we had our own transport and were already in the area, having just spent the night in our campervan at Gullfoss Waterfall in Iceland's Golden Circle.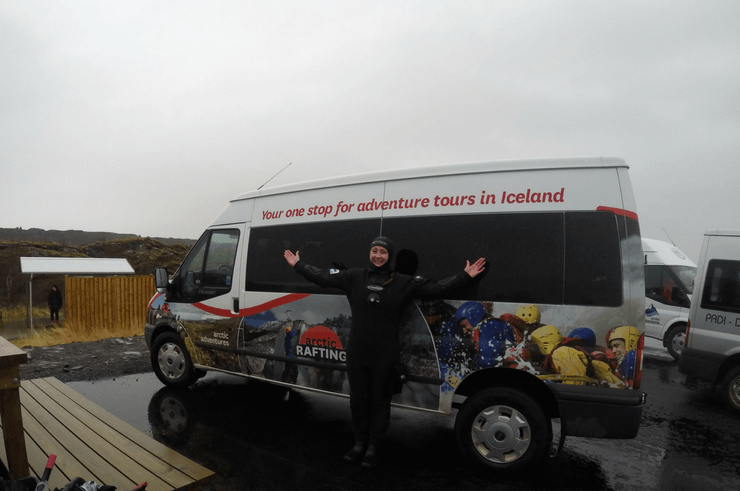 Upon arrival, we were given fleecy onesies (yes really) to put on over our clothes, as well as a huge, heavy dry suit which was a mission to put on. Our guides were a great help though, hoisting us in. Kate was pretty much incapacitated on her right side, after injuring her shoulder when our car door blew open in the ferocious winds earlier that morning. But with a little help, she was able to get her suit on too. Luckily, your don't really need your arms to snorkel, in fact they tell you to keep them out of the water and behind your back to keep warm.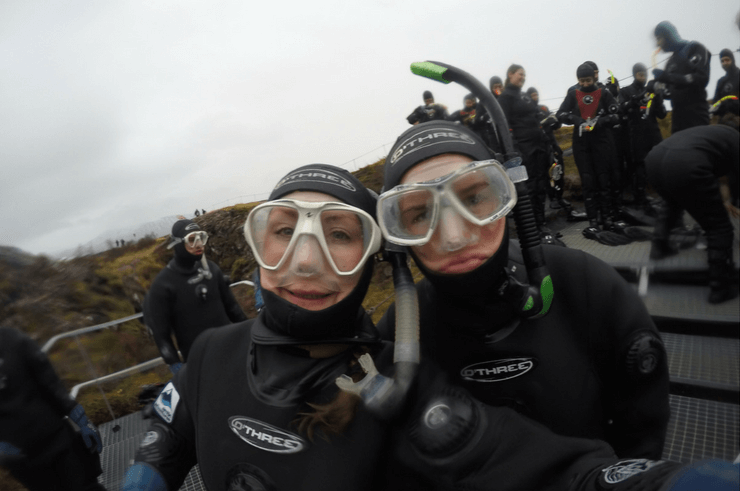 On our heads and hands, we wore neoprene hoods and gloves (wetsuit material) and straps round our necks and wrists to prevent water from seeping in. It did feel strange and movement wasn't easy – but believe me, you'll be thankful later.
We were given a safety and information briefing before making our way down to the water – grabbing a pair of flippers and a snorkel each on the way.
As we stood on the metal platform waiting for our turn, our guides told us to spit into our masks and give it a good rub in to stop them steaming up. It made everyone laugh when they came round checking the amount of saliva we'd managed to produce and giving us marks out of ten for the frothiness of our efforts.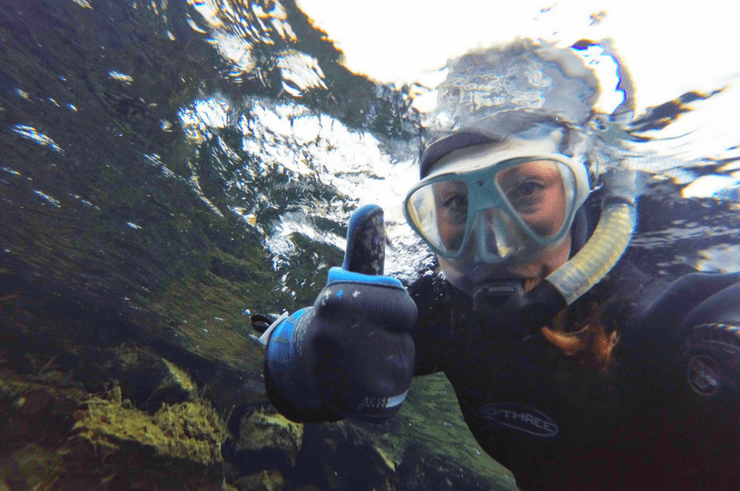 I felt slightly nervous entering the water, but soon relaxed, floating slowly through a crack in the earth's crust, in crystal clear water – as you do. Â It was a surreal experience, so peaceful, just listening to your own breath and truly living in the moment. It's like being in a meditation tank. A very big and very cold meditation tank.
When you first get in, you do feel the cold on your hands and face, but after a few moments, I barely noticed it, I mean yes, it was cold, but not unbearably so – I'm used to surfing in the UK in winter, so it didn't bother me – but that might be different if you are a bit more sensitive to the cold. I actually kept my hands in the water the whole time and they were fine, a little chilly, but ok. With my thermals, onesie and dry suit, my body stayed completely warm and dry.
I was fascinated by the vista beneath me. The visibility was amazing and it was a scene to behold. You would have no clue that all this was hiding below surface and in deep contrast to the grey skies above, the underwater world was awash with vivid blues, greens and yellows. It was like Ariel's secret hideaway from The Little Mermaid. It was beautiful.
My pictures don't do the scene much justice. My camera decided to just not work properly – whether it was the cold, or the bubbles from the divers below us, or me not being able to press the button properly in my big gloves, or something on the lens – I don't know. But hopefully you get the idea and I'm going back next year – so I'll hopefully get some better pictures of me snorkelling in one of the most beautiful places on earth!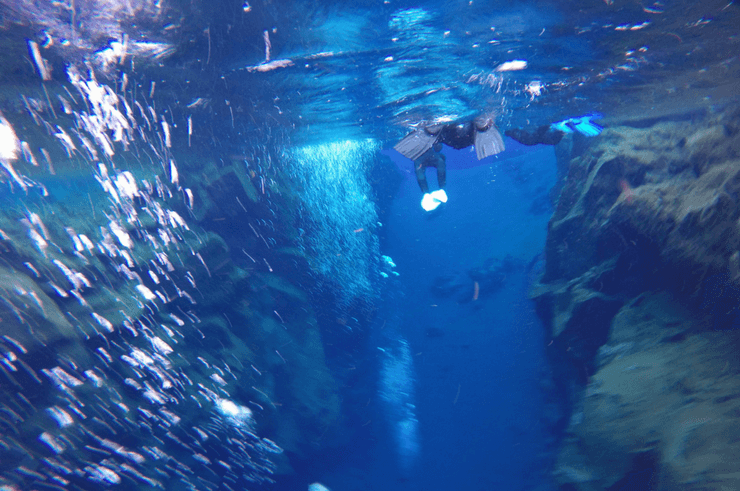 We floated along for around 30 minutes. My eyes darted around as I took everything in. I watched the divers below us. I've never actually seen anyone scuba diving before and I found it fascinating. One of them turned and looked up towards the surface, I waved as he pointed his camera at us snorkelers and took a photo of our silhouettes against the sky, which I bet looked really cool! I vowed that one day I'd come back and do this dive (when I get my PADI licence that is)!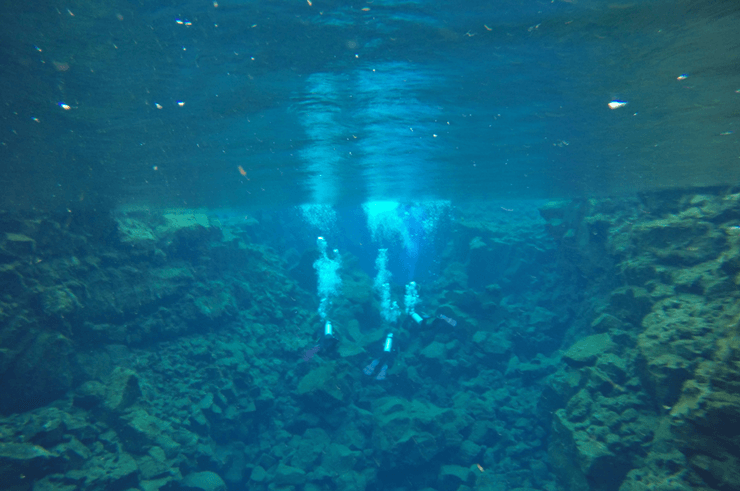 As we walked back to the van, flippers in hand, Kate and I said what a cool experience this had been – completely different to anything either of us have ever done before.
This was the perfect way to end our 8-day epic Iceland road trip adventure on a high!
Essential Info
We did the Into the Blue tour with Dive Silfra (part of the Arctic Adventures family) which cost 17,990 ISK (approx £127/149€/$158), return transport from Reykjavik is an extra 5,000 ISK per person. Minimum age is 12. They also do a 'Black & Blue' tour that includes caving.
The tour takes approximately 4 hours, or 2 if you meet them in Thingvellir National Park like we did and they run 3 tours per day.
If you don't have your own underwater camera, you can hire them for an additional charge.
There is actually no swimming involved, as the current pulls you along gently and the dry suit keeps you afloat, but you need to be comfortable in water, otherwise it might be a bit overwhelming.
There are no fish in there, in case you were wondering!
Wear warm clothes under your dry suit (wool or fleece – not cotton). I wore 2 pairs of thermal leggings, a fleece top and a thick pair of socks and I was perfectly warm. Bring a change of clothes – just in case water does get into your suit, you don't want to be wet for the rest of the day. For more info, check out my Iceland Packing List.
If doing the self-drive option like we did, parking at the dive site is 500 ISK.
If you have time before or after your snorkel, you could spend some time hiking on one of the trails in the national park.
Arctic Adventures have loads of amazing tours and activities on offer, including day tours, multi day trips and private tours. Activities include things like; northern lights tours, ice caving, kayaking, snowmobiling and white water rafting (I want need to come back in summer to do their 'Beast of the East' trip which sounds AMAZING).
Like this post? Pin it for later!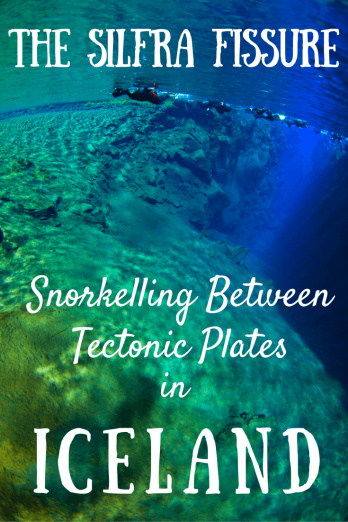 Would you go snorkelling between tectonic plates in Iceland?
---
Thanks to Arctic Adventures and Dive Silfra for hosting me on this activity. I loved every minute of my snorkelling experience (well, apart from when I had to pull on my dry suit – damn that took some effort) and all opinions are my own.