Last updated on July 11th, 2021 at 08:11 am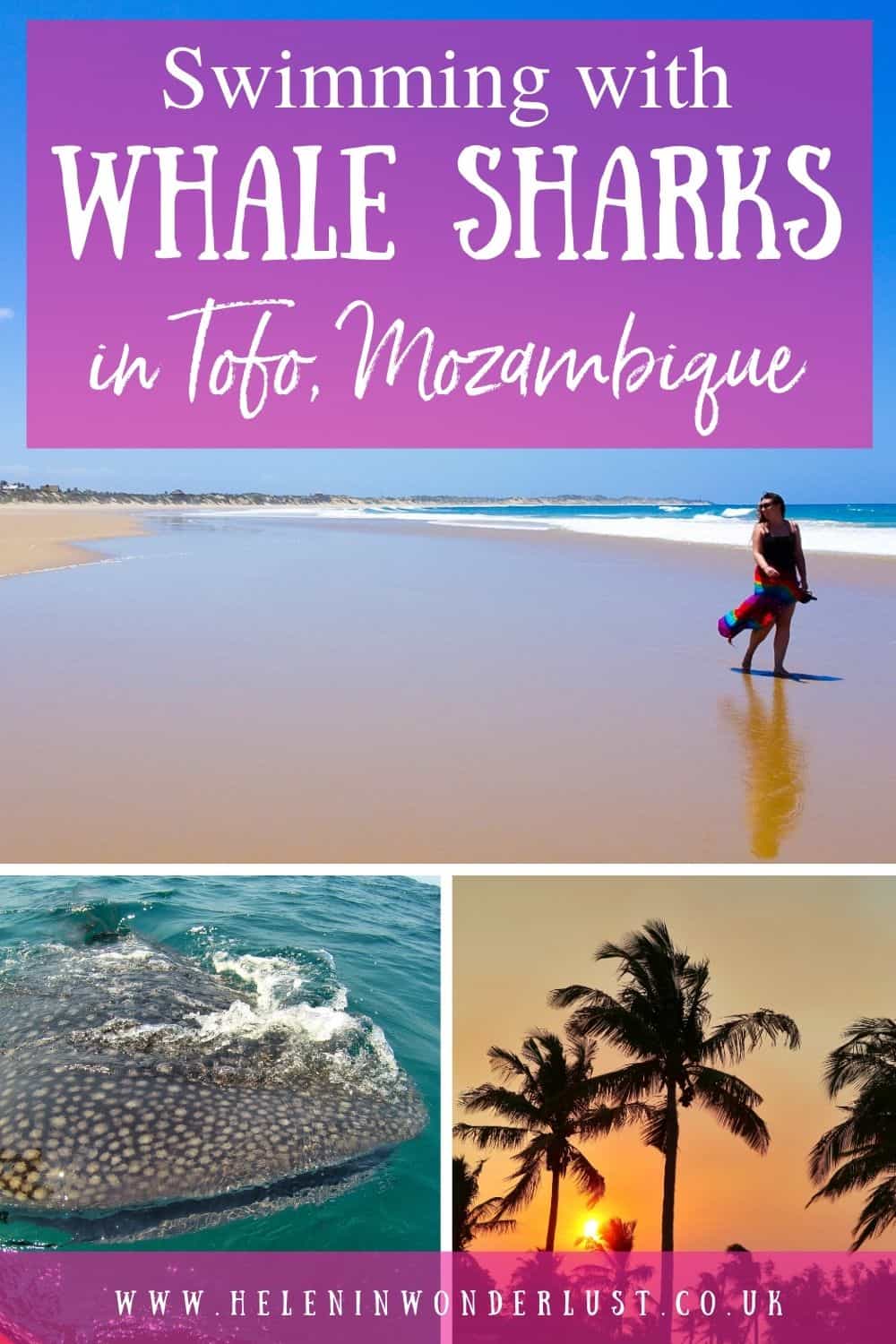 Tofo, Mozambique is a magical little place.
An 8-hour drive from the capital Maputo, Praia do Tofo (pronounced 'tofu') in the Inhambane Province is a colourful, laid-back sandy beach town and backpacker paradise. A place where it is very easy to get 'stuck'.
With a palm tree-lined beach that stretches for miles, great waves, a lively village centre with a few restaurants, bars, a small market and plenty of activities it's easy to see why this is a popular spot for honeymooners, backpackers, and surfers alike.
It's also one of the best places in the world to go snorkelling, swimming, or diving with the gentle giants of the ocean, whale sharks, as well as manta rays and humpback whales (seasonal).
Despite being part of the shark family, whale sharks only eat small shrimp, fish, and plankton so they are no danger to humans.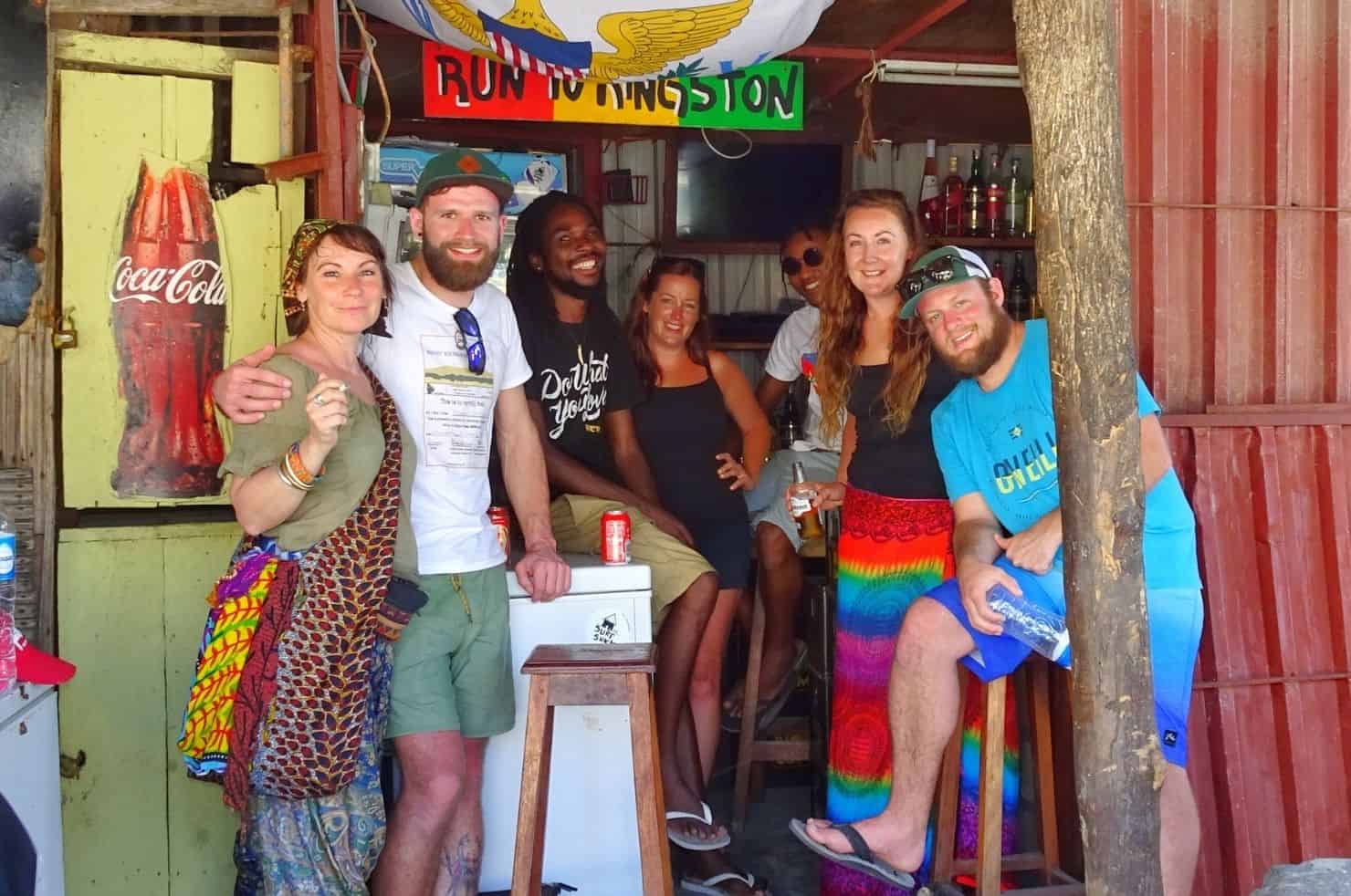 ---
Swimming With Whale Sharks in Tofo, Mozambique
---
I've visited Tofo a few times. Both as a backpacker (it's one of my favourite solo traveller destinations in Africa) and with my Rock My South Africa, eSwatini and Mozambique Adventure tours. It's always a huge highlight of the trip.
The first time I visited Tofo I didn't go swimming whale sharks and very much regretted my decision when my friends returned with their amazing pictures, so I vowed to go back and rectify my mistake as soon as I could!
Thankfully, I got my chance a couple of years later.
We booked our Ocean Safari with Peri-Peri Divers, one of the most reputable dive companies in town. We were also accompanied by a marine biologist from the Marine Megafauna Foundation NGO who gave us lots of great information on the local marine life.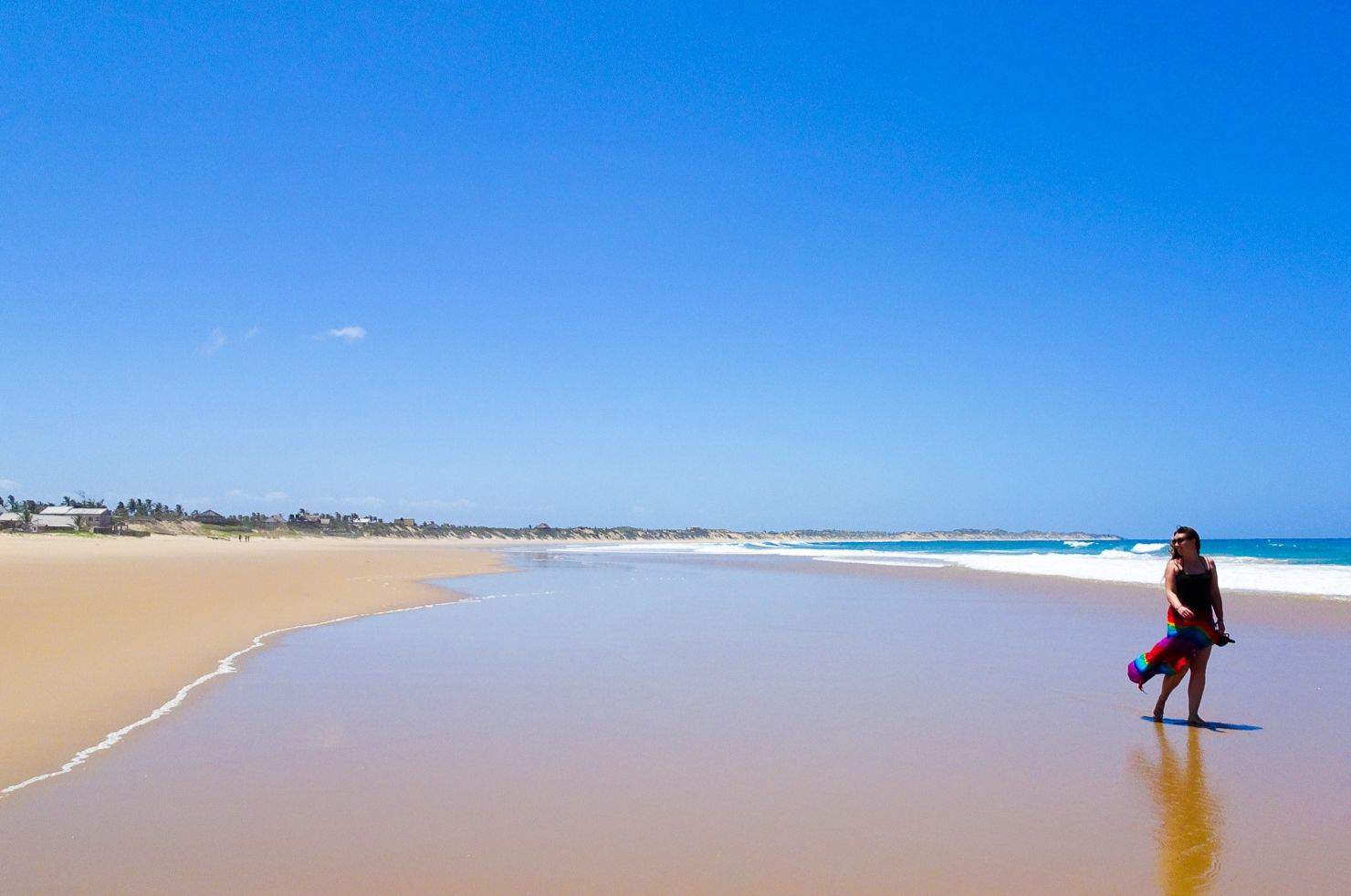 The excursion costs $45 with your own snorkelling equipment and up to $55 with theirs (mask/snorkel $2, fins $2, rash vest $2, wetsuit $4) and whilst it's not guaranteed to see whale sharks (or any other marine life), if you don't see them on your trip, they will offer you a second trip for free if they have space.
We met at the dive school for a safety briefing, before heading down to the beach to jump in our dive boat.
We were given instructions on the day ahead and told how to behave when we saw the whale sharks and off we went, hurtling at high speed out into the Indian Ocean, full of hope and in search of whale sharks.
The waves were bouncy and whilst I didn't feel seasick, it could easily have gone either way.
Due to the weather, the plankton had been churned up which meant that the whale sharks had been out feeding in force and the groups on the previous days had seen 6 and 7 each, so we were very excited for the day ahead.
We searched for hours… and nothing. I had a great time, but I was really disappointed that we didn't see any whale sharks.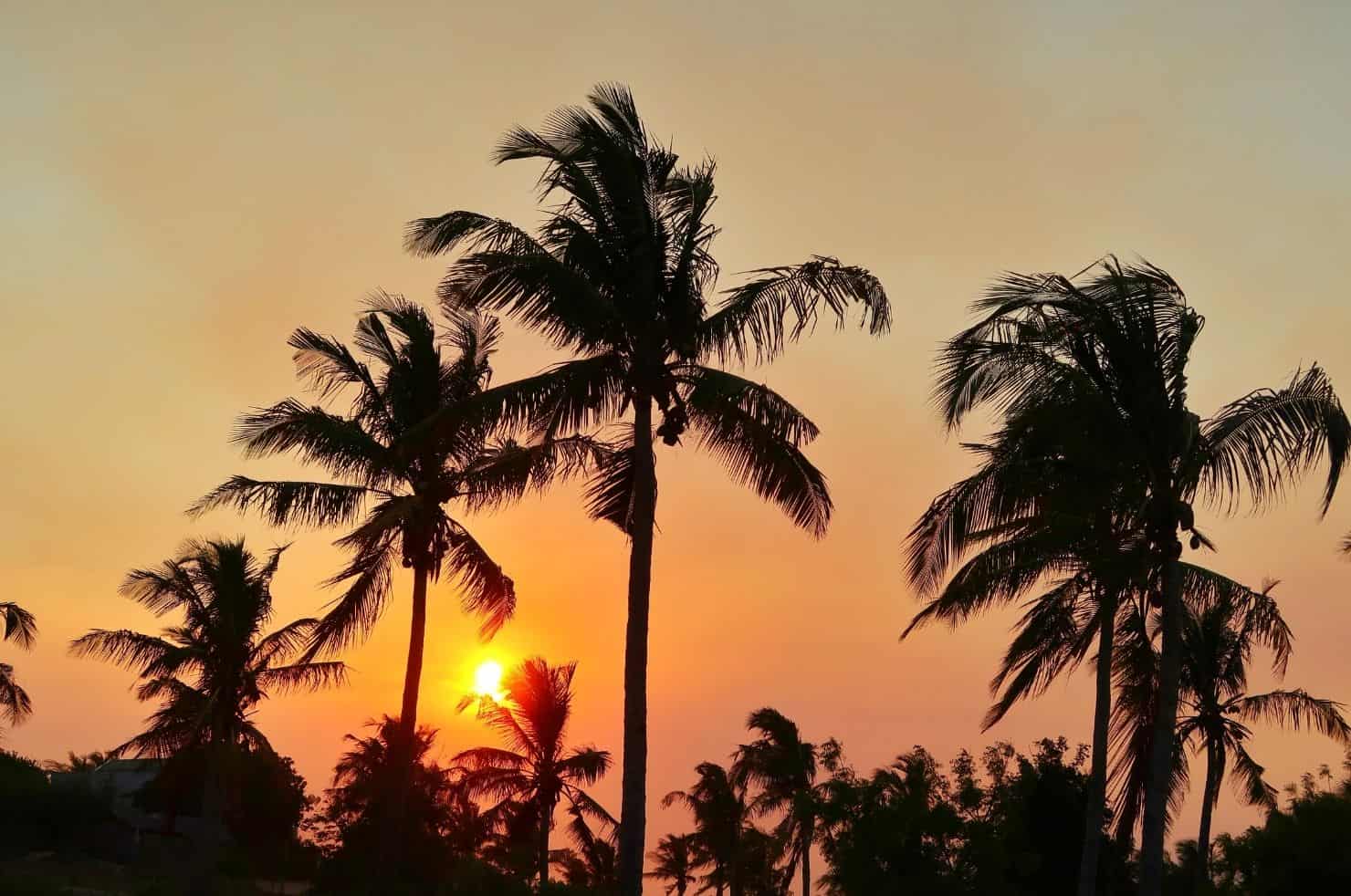 Thankfully they had space for the following day so we booked in again.
The next morning we made our way back to the dive school and off we went.
Again… nothing.
Don't get me wrong, it was a pretty fun day anyway and I very much enjoyed being out in the open, but the whale sharks evaded us still.
Not ones to give up lightly, we booked and paid again for the next day – our last day in Tofo, our final chance.
Thankfully, not long into our third attempt, we spotted our first whale shark.
Seeing a whale shark for the first time absolutely takes your breath away. They are beautiful and funny looking all at the same time, with their extraordinary markings and wide-set eyes. And they're so huge!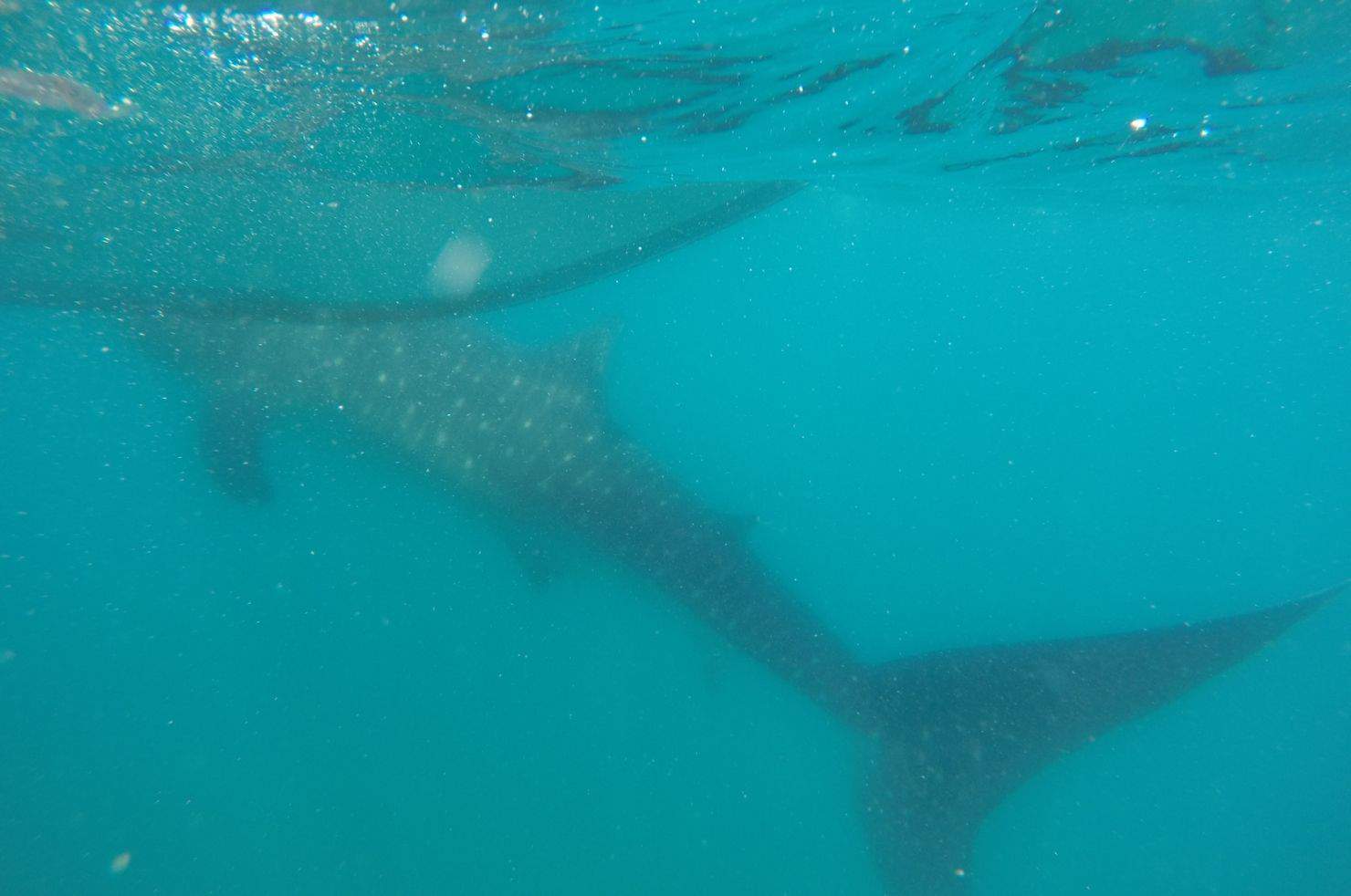 We had been strongly warned to slip quietly into the water and under no circumstances were we to try to touch the whale sharks.
So into the water we went, snorkels, fins and GoPros at the ready. Visibility wasn't great, but good enough so that we could see around 10m.
I thought I'd be a bit scared being in the water with them, but adrenaline took over and I was just in awe.
What I didn't realise was how fast whale sharks can swim. Almost as soon as I was in the water the whale shark was disappearing out of sight so keeping up with it was a feat in itself! The encounter literally lasted a few seconds.
Back in the boat (being pulled into the boat is pretty messy, so wear shorts unless you want everyone to get a nice view of your bum) we carried on searching.
And again, if you are prone to seasickness, swallowing seawater mixed with bouts of bouncing around on the boat whilst people are off snorkelling could really turn your tummy!
It wasn't long before we came across another couple of whale sharks. The next two were a little bit more sociable and I managed to get a good view whilst in the water before they swam off again.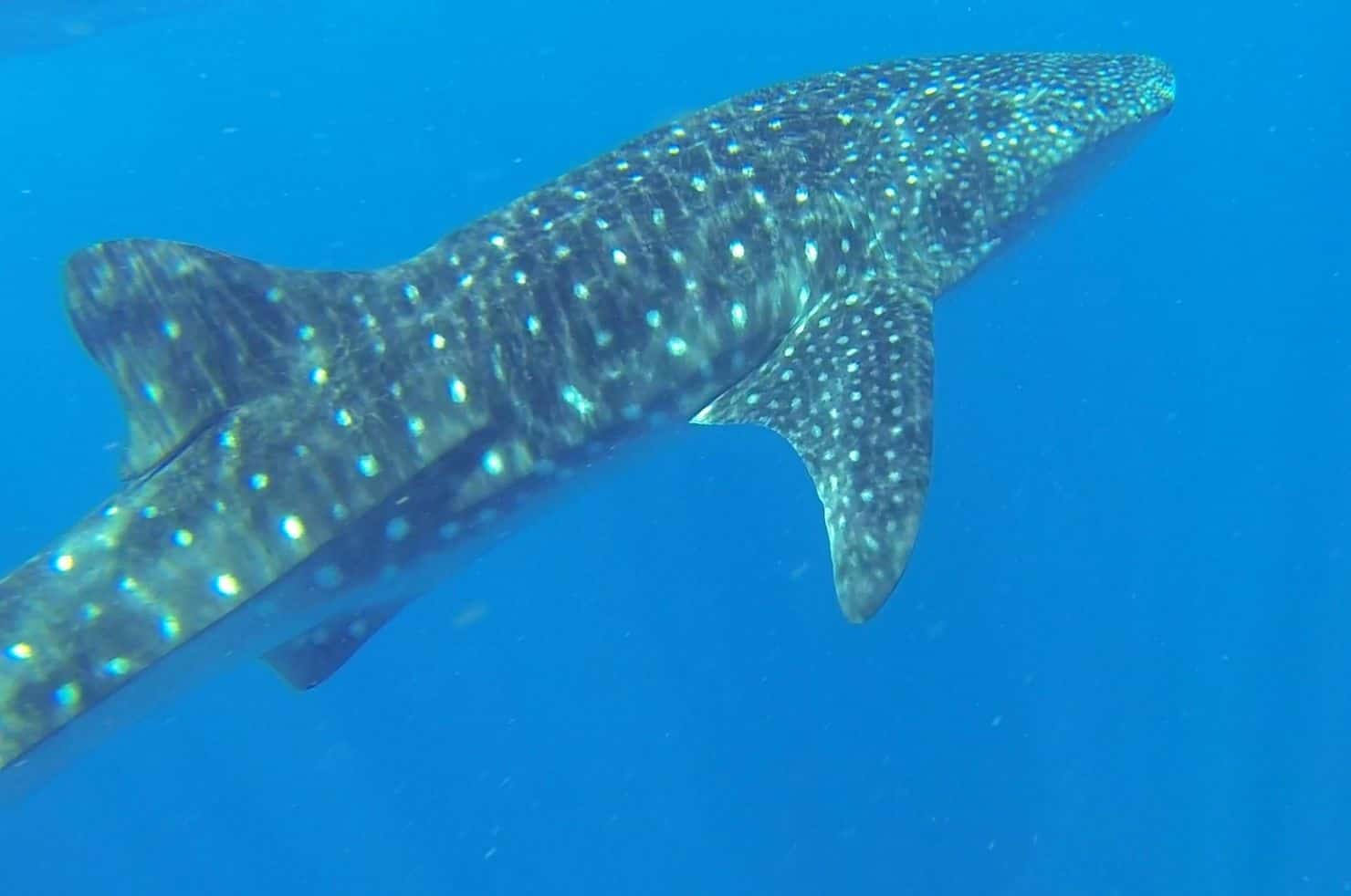 Back in the boat, I was feeling super happy but quite tired. Even with the fins, swimming in the open ocean and trying to keep up the whale sharks is exhausting, so when we saw our fourth whale shark of the day, I decided to stay in the boat and watch from above.
This turned out to be one of the best decisions I've EVER made in my life. I held my GoPro in the water, and for some reason, the whale shark decided to swim directly towards it. It was almost like she was wondering what the GoPro was, coming in for a closer look.
As she got right up close, I pulled my hand up, careful not to touch her as we'd been told, and she followed my hand up and broke the surface of the water right next to me and rubbed herself along the side of the boat slowly before swimming off.
It was one of the most magical moments of my life.
View this post on Instagram
I don't think any of us could quite believe what had just happened. Happy, we headed back to shore.
And to make it even better, we also managed to catch a glimpse a manta ray and a couple of dolphins.
What a bloody amazing day! In fact what an amazing 3 days. It was worth every penny!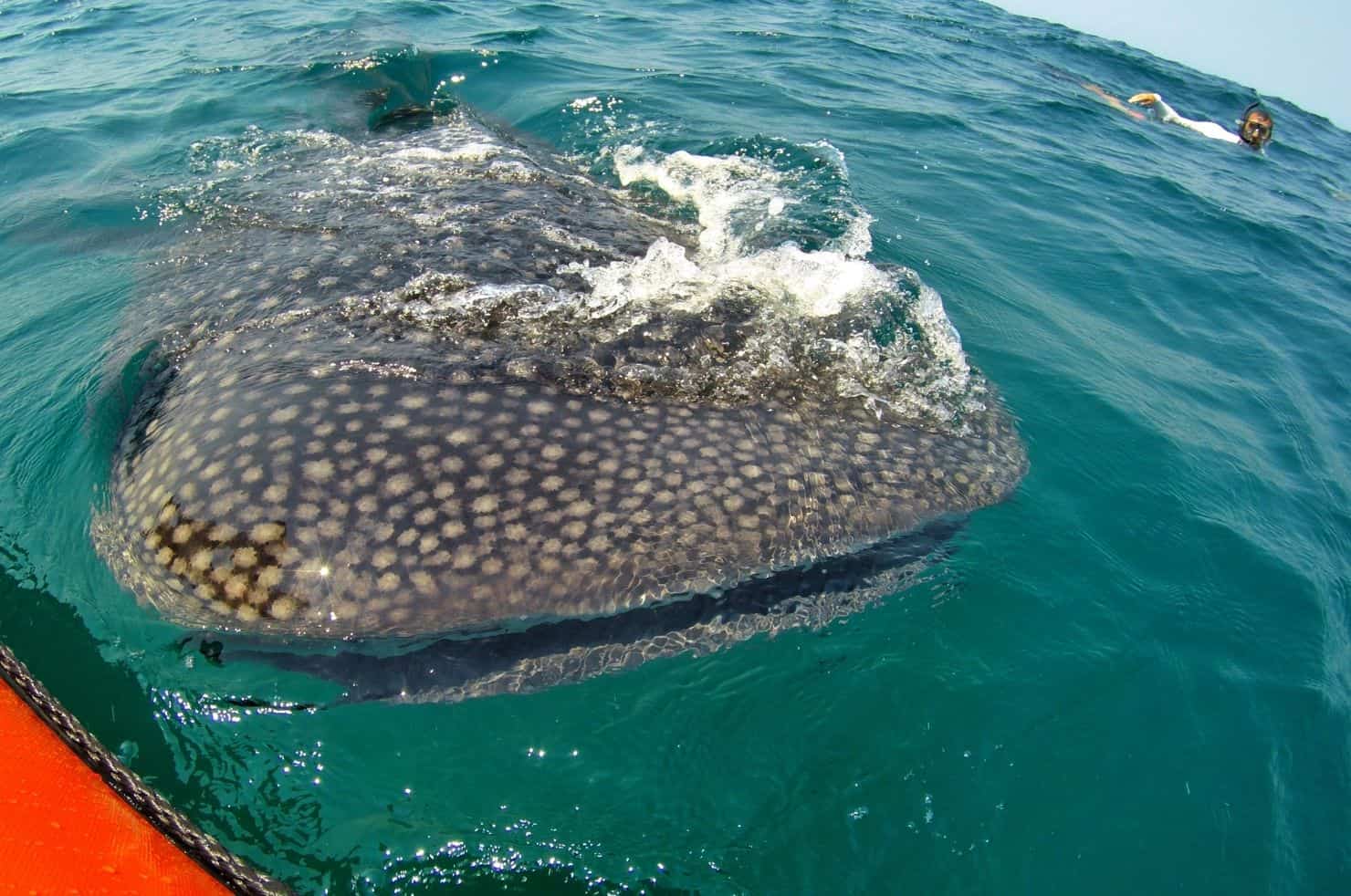 How To Book Your Whale Shark Excursion
There are a number of different dive operators offering whale shark trips in Tofo.
We went with Peri-Peri Divers and they were great! You can also book trips with Liquid Dive Adventures, Tofo Scuba and Diversity Scuba.
You can book direct, or through your hotel/hostel. Most of the time you can book when you arrive, however during the busier times, you may want to book in advance. During bad weather, trips may be cancelled.
What To Take on Your Whale Shark Trip
Sunscreen (reef safe/eco-friendly/plastic-free)
Flippers/Mask (or you can hire them)
Rash Vest/Wet Suit (not necessary, but tiny organisms in the water can cause your skin to sting, so wearing a wetsuit/rash vest could help a little and help with sunburn) – I wish I'd have my whale shark leggings back then!
Swim Shorts (not necessary but getting in and out of the boat isn't the most graceful thing – you basically get dragged into the boat, so you may need them to preserve your modesty)
Towel
Sarong
Water
Flip Flops (even though you won't wear them in the boat, the sand can get super hot)
Waterproof Camera/GoPro (and case if needed)
GoPro Accessories (3-Way Mount/Pole and a Float in case you drop it)
Sunglasses
Hat (but one that won't blow off in the wind)
Seasickness Pills (the waves are bouncy, so if you're a sufferer, take it before you head out on the water)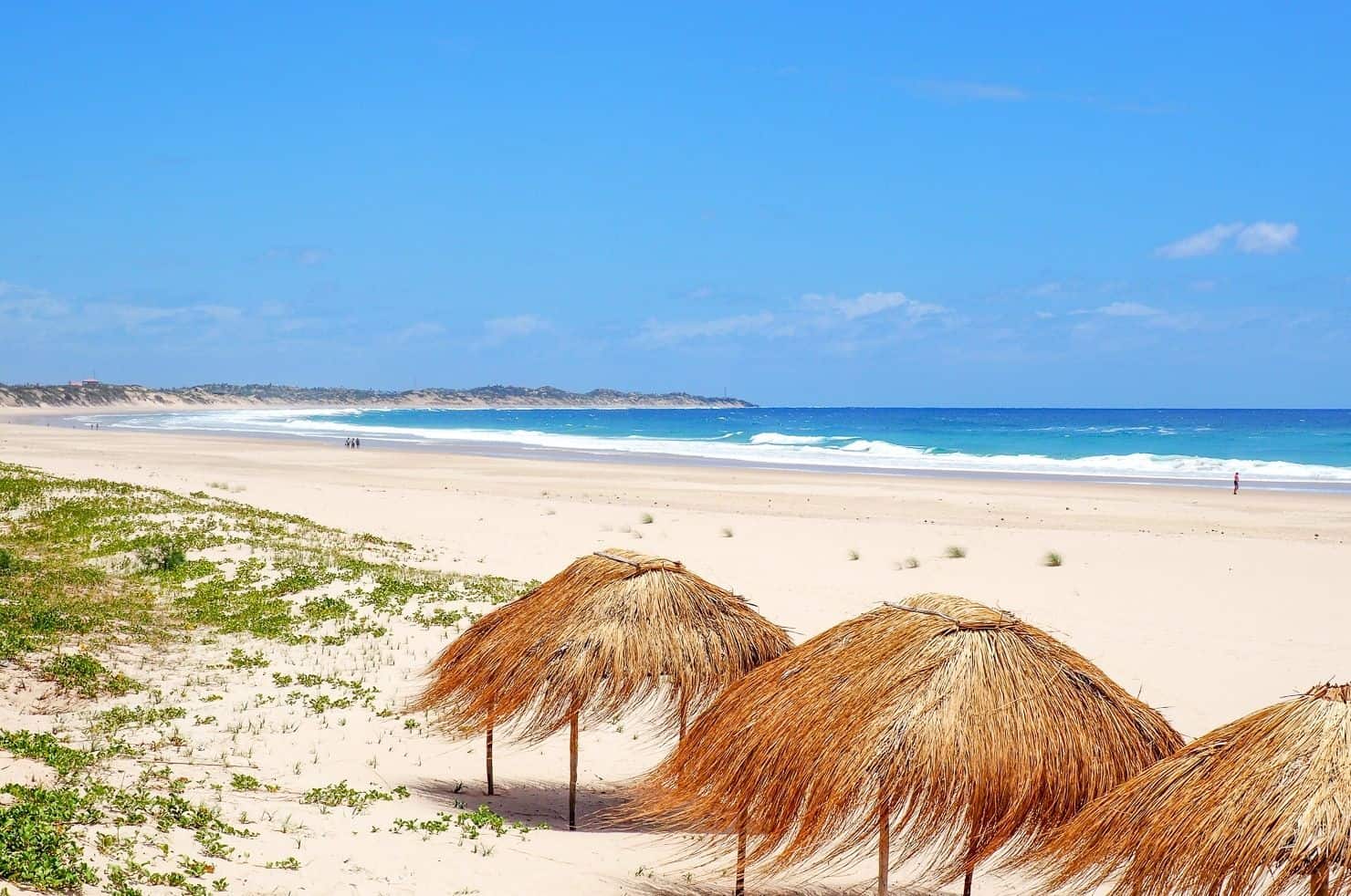 Best Time to Visit Tofo to See Whale Sharks
The best time to see whale sharks in Tofo is between October and March, when the plankton is at its peak, attracting large numbers of whale sharks.
However, the ocean around Tofo has a resident population of adolescent whale sharks, so you can see them all year round – although as you can see from my story above, sightings aren't always guaranteed, so give yourself a few days.
If you're lucky, you may also see manta rays on your trip too.
If you visit between the end of June and October, you might also see East/Southern Africa's annual humpback whale migration.
The Weather in Tofo
In terms of weather, the best time to visit is May to the end of October/early November, in the dry season. June to September are the coolest, driest and most pleasant months, with hardly any rain and blue skies, but it's generally always pretty warm along the coast. On this trip particular trip I visited in October.
The more humid, rainy season runs from November to April. Although I have visited in January before and we were lucky and didn't experience any rain.
As with the rest of Southern Africa, Tofo gets especially busy during the South African school holidays.
Where To Stay in Tofo
There are lots of lovely places to stay in Tofo, to suit all budgets: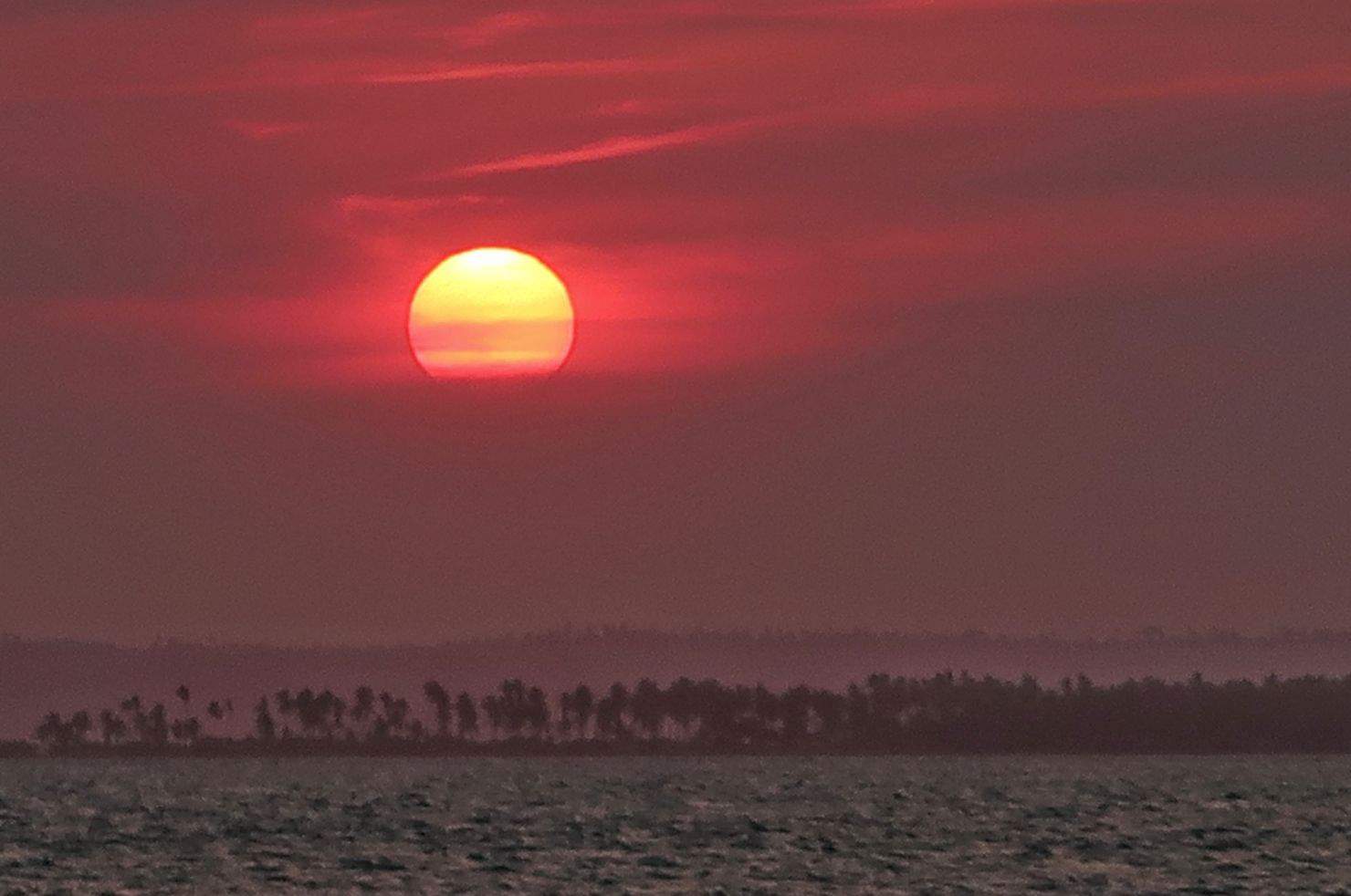 How to Get To Tofo
The quickest way to get to Tofo is to fly. There are a few weekly flights from Maputo to Inhambane Airport, which is around a 30minute drive away from Tofo.
International flights usually go to Johannesburg and then Maputo is a short flight from there.
However, if you're like me and prefer the overland route, you can either drive from Maputo (either by hiring your own private transport/driver as I do for the tours or by driving your own car) or you can take the bus.
Both have their advantages and disadvantages. Taking the bus generally takes longer, is more uncomfortable and has fewer pee stops. But the bus drivers do this route every day and the police rarely bother them.
To get the bus, you can organise it through Fatimas Backpackers. However, this is just a public bus. By booking it through Fatimas, you are guaranteeing your space on the bus, but it does pick you up at 5am, takes you to the bus station where you sit and wait for it to fill up, which can be a couple of hours. Or you can chance it and just rock up at the bus station at around 7am.
If you do get the bus, don't be afriad to hop off at the bus station to pick up some food – just tell the driver so he knows you're not there.
The bus seats are pretty small. I only had one cheek on for half the journey (my friend and I friend rotated).
Having your own transport is great, but just be aware that the Mozambican police are very corrupt and love to issue fines for seemingly no reason. We got fined because our car 'wasn't full'…erm, say what?
So, driving may seem like a good idea but just be prepared to be stopped and pay numerous bribes fines. My friend Melissa reckons snacks also work well.
You don't need a 4×4 to get to Tofo as it's a paved road for most of the journey, but if you want to go a bit more off-the-beaten-path in Mozambique, a 4×4 is necessary. Plus, some of the roads in Tofo are pretty sandy too, so a 4×4 makes things easier if you want to get dood to door.
Would you like to swim with whale sharks in Tofo, Mozambique?
Read More About Mozambique…
Mozambique Group Tours
Please Note: Some of the links in this post are affiliate links, which will earn me a small commission at no extra cost to you. Affiliate sales help with the running costs of this site, so thank you for your support!