Last updated on April 12th, 2023 at 09:26 am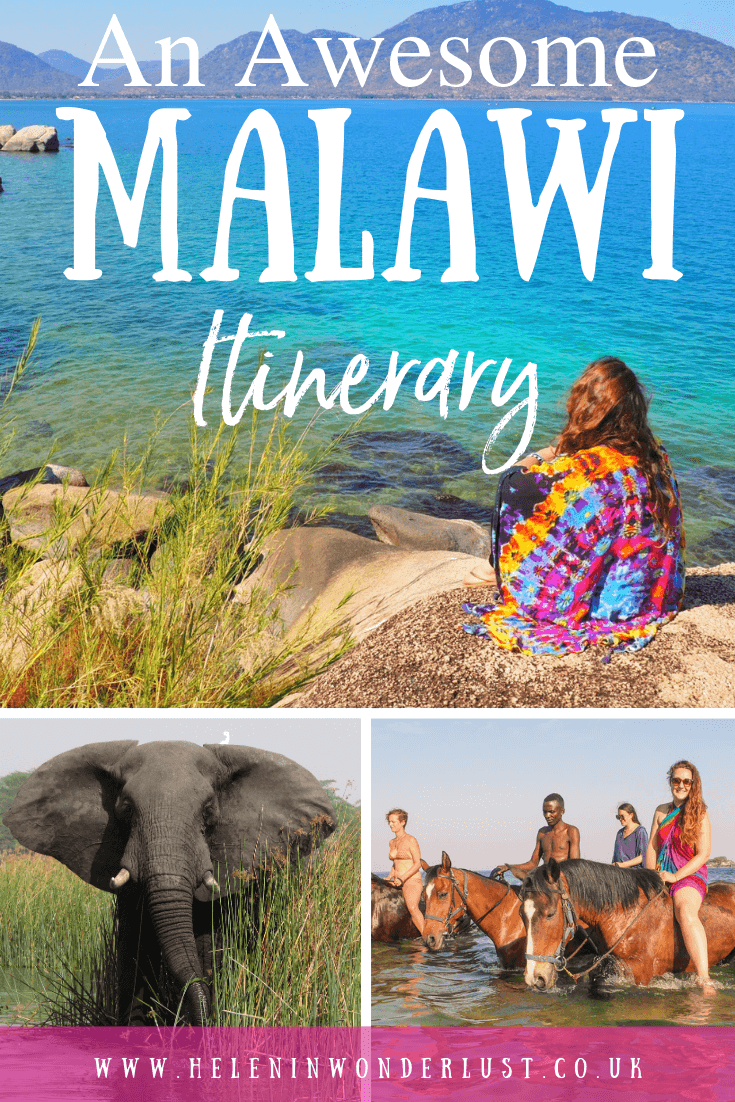 Malawi is an incredible country, often overlooked compared to its more famous neighbours. But I would go as far as to say that Malawi is perhaps my favourite place in Southern Africa (Mozambique is up there too) to go proper 'backpacking'.
Like old-school backpacking, rough and ready, backpacking. Yet with enough hostel infrastructure to make sure there's a nice, comfy and welcoming place to stay at the end of your journey. This also makes it one of the best places in Africa for solo travellers.
Malawi, known as the 'Warm Heart of Africa' due to the friendliness of the local people, is the type of place you get stuck. The people are just lovely, the backpacker hostels are all really awesome and chilled and it's not uncommon for someone to go to a place for a few days and end up staying for a month.
This could also be due to the fact that getting around can be a bit of an effort, so it's often easier just to stay where you are. Not due to lack of local transport, there are minibuses going here and there all day long.
But they can take a while to fill up, you often need to change buses, they stop every few minutes, they're packed and you end up covered in sardines (ok, so that only happened twice)…
And don't even get me started on 'Malawi Time'. Malawi time is like 'Africa Time' x 10. Malawi is a frustrating place to travel at times. But for me, that's all part of the fun and makes for the best stories (often in retrospect) and the most rewarding travel memories.
Malawi also attracts some cool people and the backpacking scene is pretty small so you end up meeting the same people over and over, or meeting friends of friends.
Last time I was there, we met lots of solo or pairs of travellers in different places and then we all ended up meeting up as one big group for a festival on Lake Malawi. So if you can time your Malawi trip with a festival – even better!
There's are also loads of great things to do, so if you put this all together – that is why I LOVE backpacking through Malawi.
This itinerary isn't exhaustive and there are many other places to visit in Malawi, but it will act as a guide. To see all of the 'highlights' on the itinerary below you would need at least 3 or 4 weeks I'd say.
So let's start planning your Malawi itinerary!
Please Note: Some of the links in this post are affiliate links, which will earn me a small commission at no extra cost to you. Affiliate sales help with the running costs of this site, so thank you for your support!
---
An Awesome Malawi Itinerary (Plus Map, Tips & Things To Do)
Malawi Itinerary Overview
My perfect Malawi itinerary would go something like this:
Livingstonia: 3 Days
Nkhata Bay: 3 Days
Kande: 2 Days
The Illala Ferry: 2 Days
Cape Maclear: 3 Days
Liwonde National Park: 3 Days
Zomba: 2 Days
Mulanje: 2 Days
Blantyre: 2 Days
If you have longer, you could add:
Nyika National Park: 2 – 3 Days
Ruarwe: 2 Days
Likoma Island: 3 – 7 Days
Kkotakhota Wildlife Reserve: 2 Days
Nankoma Island: 2 – 3 Days
Majete National Park: 2 Days
For the purpose of this Malawi itinerary, I'm going to start in the north, as though coming from Tanzania, go down to the south and then end back in Lilongwe as if you were then going to travel overland into Zambia.
If you were doing a loop, you could start and end in Lilongwe (or Blantyre). Or start in one city and end in another, but Malawi is quite a long, thin country so doing it this way would mean doubling back on yourself a little bit.
But like I say, you can switch it about depending on your start and endpoints and I've listed a number of alternative routes at the bottom of the page.
There are so many amazing places to visit in Malawi! You'll love it!

Livingstonia
Ah, lovely Livingstonia… this place was a real surprise to me. It wasn't somewhere I'd ever really thought about until I heard about a mythical backpacker hostel and eco-lodge called Mushroom Farm (no, not that kind of mushrooms).
Everyone I met who'd been to Malawi in the last few years raved about this place, so my friend Melissa and I decided we needed to check it out for ourselves.
Getting there wasn't easy, but it was definitely worth the effort because we had such an amazing time.
Livingstonia town itself is kind of quiet but charming and it's up on top of a mountain so perfect for hiking and there are beautiful views all around. On our first night, we met a local guy who invited us to his sister's dowry celebration – which is up there in my top 10 Africa travel experiences (I'll write about it soon)!
The hostel is also super social with communal vegetarian dinners, so you can't help but make friends!
Where to Stay in Livingstonia: You have to stay at Mushroom Farm, it's an eco-lodge and social enterprise with a cool vibe in an epic location – what's not to love. Call ahead before turning up in Livingstonia as it's an effort to get there.
Cool Things To Do in Livingstonia: Hiking to Manchewe Falls, chilling in a hammock, exploring Livingstonia town and trekking to Chombe Plateau. If you're lucky maybe you'll be invited to a local celebration like we were.

Nkhata Bay
Nkhata Bay is a bustling but laidback town in a beautiful setting on the shores of Lake Malawi.
The hostel we stayed at was a little out of the town centre, but right on the lake which was perfect. Most of the activities centre around the lake, and Nkhata Bay is a great place to learn to scuba dive.
My biggest regret is not spending more time in Nkhata Bay. We were meant to be here for a few days, but hearing that the Ilala Ferry was in town, we changed our plans and then only had one full day, half of which was spent horse riding at Kande Beach (although I do not regret that).
Where to Stay in Nkhata Bay: We stayed at Mayoka Village. This is a fun hostel that is great for meeting other travellers. They have complimentary trips each week, can organise any activities you want to do and serve great pizzas. The photo above was taken from the hostel.
Cool Things To Do in Nkhata Bay: Snorkelling, diving, canoeing, stand up paddleboarding and swimming in Lake Malawi, chilling on Chikale Beach, eating at Kaya Papaya, exploring the town, shopping for fabric and horse riding on Kande Beach.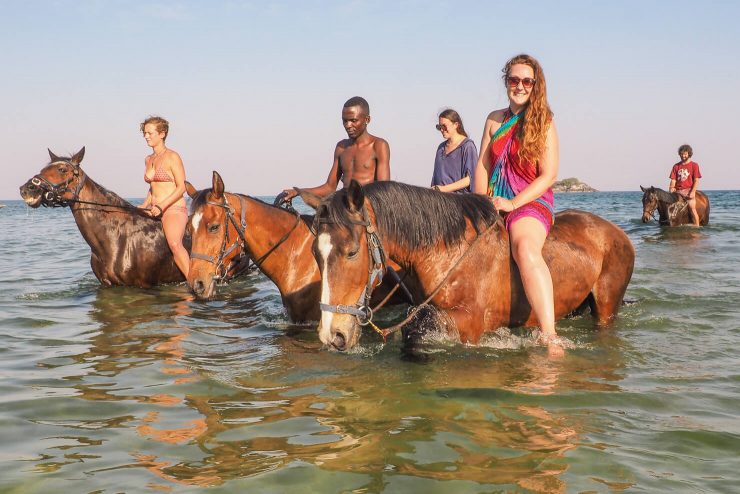 Kande Beach
Kande is a village with a beautiful beach, about an hour away from Nkhata Bay. You could spend a day or two here, or do as we did and make it a day trip from Nkhata Bay.
There's a backpacker hostel/campsite, called Kande Beach, which is unsurprisingly, right on the beach. This place is popular with the overland companies, so there's usually a fun, party vibe. I stayed there with my overland group in 2009 and this is where I met Cheese on Toast, who I hear from reliable sources now lives in Nkhata Bay.
But the reason a lot of people come here is to go horse riding. Kande Horse is a stable run by 3 lovely British girls. We went horse riding through the village for an hour and at the end, you take off the saddles, get into your swimsuit and then ride into the water. It's awesome.
UPDATE: As of 2021, the horse stables at Kande Horse has shut down. I will update this if anything changes.
Where to Stay in Kande: You could either stay at Kande Beach, which is a good backpacker option, but I also loved the look of the accommodation at Kande Horse. It's further from the beach, but it was in such a tranquil and pretty setting.
Cool Things To Do in Kande: Scuba diving, getting your hair braided (or maybe not), going for a local village dinner, horse riding on Kande Beach and shopping for the wooden trinkets that Malawi is famous for.

The Ilala Ferry
Melissa and I got the ferry from Nkhata Bay, down to Nkhotakota. We were supposed to go all the way down to Monkey Bay as we were planning to stay at Cape Maclear, but after a night and a half, we were kind of done with ferry life and made our escape in the middle of the night…
The Ilala Ferry is an experience.
We spent around 31 hours on the ferry in total but part of that was spent having lunch and a snooze on the comfy couches at Mango Drift hostel on Likoma Island, which was a nice break from sitting on the hard ferry floor.
It wasn't the most relaxing of journeys, but it was a real adventure and I am so glad that I did it. Would I do it again? Probably!
If you can't stomach the ferry all the way down to Monkey Bay, perhaps get off at Nkotakota as we did and either stopover in Senga bay or hotfoot it all the way down to Cape Maclear by bus.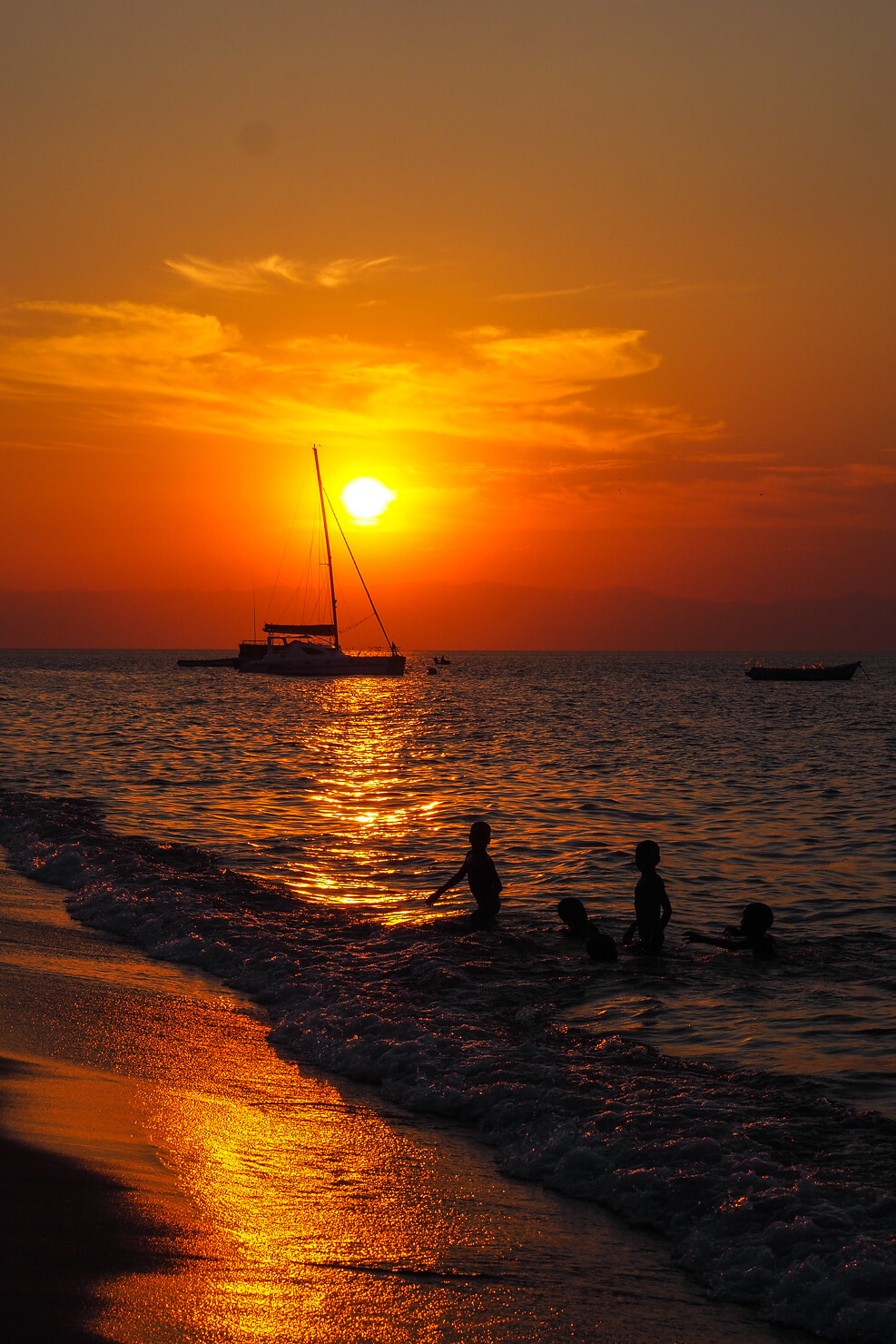 Cape Maclear
Cape Maclear, or Chembe as it's also known, is an incredibly peaceful and beautiful village down in the far south of the lake, in Lake Malawi National Park, a UNESCO World Heritage Site.
It's one of my favourite places to relax and as you can see from the picture above, you'll be treated to some spectacular sunsets. There's a good choice of restaurants and bars, so it's also a great place let your hair down and party.
Last time I was there, there was an all-night party in the village for the inauguration of the new Chief. We danced all night long! The whole village was there, men, women and children and it was around 8am when I went to bed.
There are some great hiking routes with incredible views over the area, but my favourite thing to do is to take a stand up paddleboard out to Thumbi Island and snorkel. Lake Malawi is home to more species of freshwater fish than any other lake in the world, including over 1000 different species of colourful cichlid (pronounced siklid).
In the afternoons, the local kids come to play in the water whilst their parents wash clothes, pots, pans, their children and themselves. Life in Chembe is very much centred on the lake and it's beautiful.
Where to Stay in Cape Maclear: I love Thumbi View Lodge. It's in a great location, really comfortable rooms, right on the beach, with fabulous views of Thumbi Island.
Cool Things To Do in Cape Maclear: Going swimming and snorkelling, eating fresh fish from the lake, spending the night on Domwe or Mumbo Island, stand up paddleboarding and kayaking, hiking, walking around the village, hiking, scuba diving and going on a sunset cruise.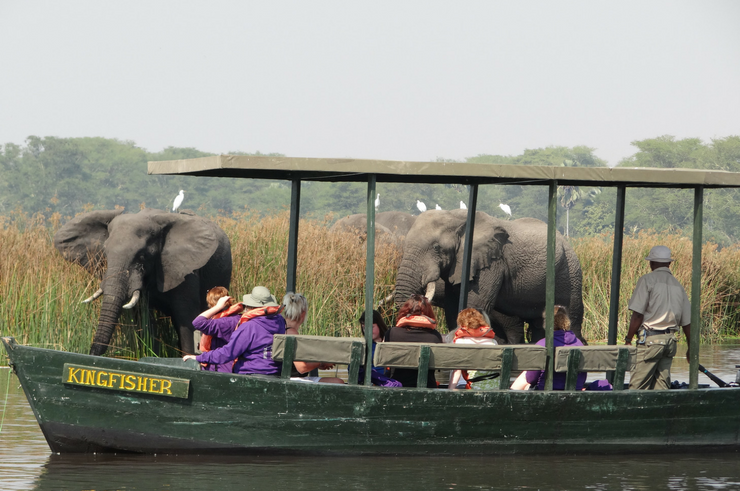 Liwonde National Park
Liwonde National Park is one of the best, yet underrated safari destinations in Africa in my opinion.
It is to this day, where I have had my favourite ever elephant encounters on safari. For a starter, look how close we were able to get in the boats! I actually took this picture, but the boats did swap around so we got close too!
Later that evening, I woke up in the middle of the night needing a wee. That would have been fine, had it not been for the elephant munching on some leaves outside my tent.
Where to Stay in Liwonde National Park: We stayed at a delightful camp called Mvuu Camp and our safaris were organised via Wilderness Safaris. They offer camping and static tent/chalet type accommodation, right on the river. They also have a nice pool and bar area. I would highly recommend it.
Cool Things To Do in Liwonde National Park: Going on safari, both by car and by boat.

Zomba
Once the capital of Malawi, Zomba is a charming place in itself, but the main reason a lot of people come here is to visit the Zomba Plateau, which rises 1800m above the town.
The drive up is breath-taking and once you reach the top you won't be disappointed either, as the area is known for having some of the best hiking and nature trails in the country.
Where to Stay in Zomba: When I stayed in Zomba the first time, I camped up high on the plateau, but last time I stayed at the super-friendly and cosy Pakachere Backpackers.
Cool Things To Do in Zomba: Hiking the Zomba Plateau and seeing the waterfalls, wandering around the historical city, going horse riding, visiting the central market, taking a trip to Ntonya Mountain, bird watching, mountain biking, fishing, rock climbing, visiting Lake Chilwa or taking a cooking or dance lesson.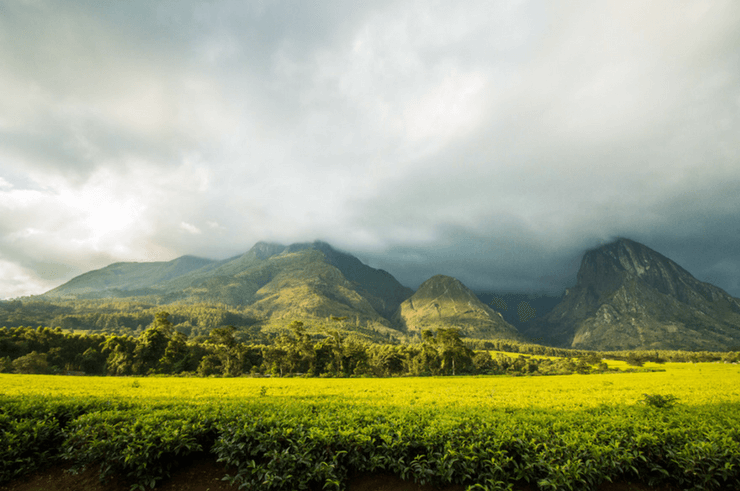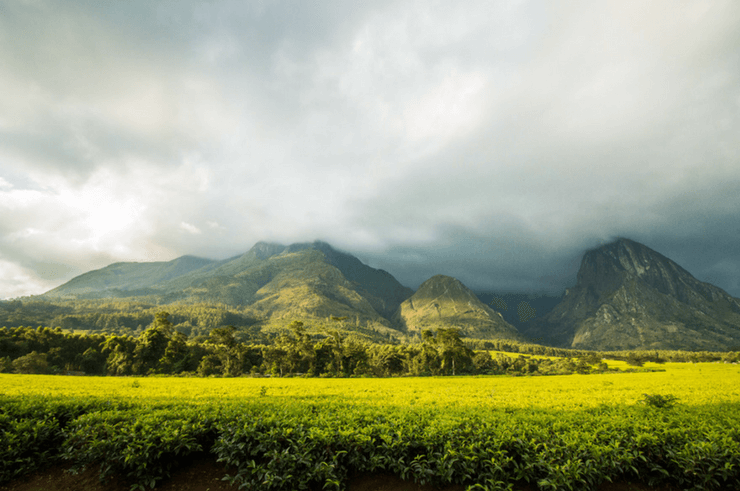 Mulanje
Mulanje is famous for two things, tea plantations and Mount Mulanje, known as the 'Island in the Sky'.
Mount Mulanje is known to be a challenging but beautiful hike. It's 3,002m tall and the highest peak is called Sapitwa, which means 'unreachable' in the local language, Chichewa. You could do more gentle day hikes, but if you're feeling fit, there are 6 main routes up the mountain that can be done as a multi-day expedition.
I haven't climbed Mount Mulanje yet, but it's on my list… Mulanje is also a good place to base yourself before you head overland into Mozambique.
Where to Stay in Mulanje: I'd recommend you to stay at Likhubula Forest Lodge. There are huts on the mountain for those who decide to climb.
Cool Things To Do in Mulanje: Climbing Mount Mulanje, visiting a tea plantation and swimming in the Likhubula Pools.

Blantyre
I used to work in a few of the villages around Blantyre, so it's a city I am incredibly fond of.
It's not the most exciting city in Africa, but it is lovely, the area is beautiful and I saw some of my favourite sunsets in Blantyre. If you are interested in history, then Blantyre is a good place to see some of the more historical buildings in Malawi.
Where to Stay in Blantyre: I stayed at a place called Fisherman's Rest which was really nice and popular with groups of volunteers, but quite far outside of the town. If you don't have your own transport as I did, I would suggest staying at Doogles or Annie's Lodge.
Cool Things To Do in Blantyre: Touring the Carlsberg Brewery, visiting Mandala House (the oldest building in Malawi) and doing a bit of shopping, visiting Malawi's National Museum, go shopping for fabrics and get clothes made by a local tailor, going for afternoon tea at Huntingdon House Tea Plantation and going on safari to Majete Wildlife Reserve.
Lilongwe
As African cities go, Lilongwe is a pretty nice one. Not quite as lovely as Blantyre, but not as hectic as the likes of Nairobi or Dar es Salaam. It's a good place to stay for a day or two, centre yourself and stock up on anything you need before moving on.
Whenever I'm there I like to go for food at Mediterraneo or Mamma Mia. I have a weird fascination with Italian food in Africa. It's the one type of food I crave when I'm away (weirdly I hardly eat it at home) and both of these restaurants do great Italian food.
If you don't want to go all the way to Lilongwe from Blantyre you could stop off in Senga Bay on the way.
Where to Stay in Lilongwe: I usually stay at Mabuya Camp. It's a great backpacker camp where you can easily meet other travellers. If you want a little more comfort, try Kiboko Town Hotel.
Cool Things To Do in Lilongwe: Shopping for souvenirs at the craft market outside the Old Town Post Office, visiting the Lilongwe Wildlife Trust, shopping and dining at the Four Seasons Centre, eating pizza at Mamma Mia's and eating brunch at' Kumbali Village.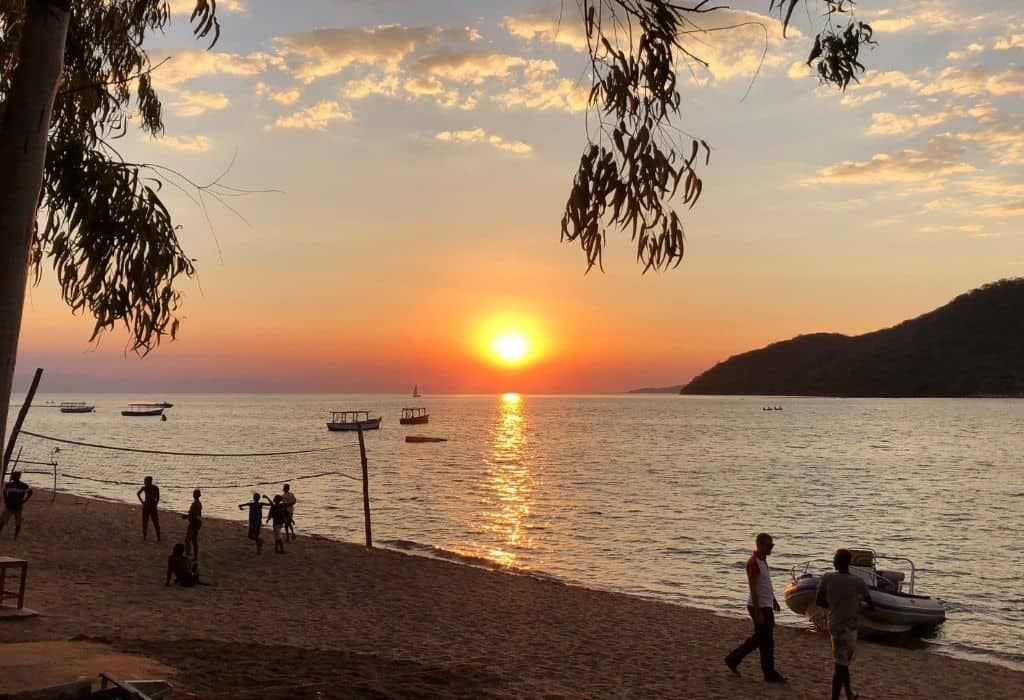 Alternative Routes
Malawi is a long, thin country and the capital, Lilongwe is slap bang in the middle. If you fly into Malawi, you'll likely fly into either Lilongwe or Blantyre. So here are some alternative routes depending on where you are coming from:
Fly into Lilongwe, go up to Livingstonia, then back down to Nkhata Bay, then get the ferry down to Monkey Bay, then see the southern parts of the country and fly out of Blantyre. This is probably the best route if you are only visiting Malawi and want to see a lot. You can also get the bus up to Lilongwe from Blantyre if you want to fly in and out of Lilongwe Airport. You will end up doubling back on yourself a bit, but it's not so bad, hit some places on the way up and others on the way down or travel by land one way and on the ferry the other. You don't have to go to the same place twice (aside from Lilongwe usually).
Fly in and out of Lilongwe, just do the northern parts of the country.
Fly in and out of Blantyre and just do the southern parts of the country.
Travel in overland from Tanzania, just do the northern parts of the country, then travel overland into Zambia via Lilongwe (skipping southern Malawi).
Travel in overland via Mozambique or Zimbabwe, just do the southern parts of the country, then travel overland into Zambia via Lilongwe.
If you were doing a longer trip but didn't want to leave or enter Malawi via Zambia, you could travel overland from Tanzania (as above) and go from top to bottom and out through Zimbabwe or Mozambique (or vice versa). Although not so many people travel via Mozambique as the northern part is said to be a bit tricky to navigate – not done it myself so I don't know but will report back when I do.
Other Malawi posts you might enjoy…
I hope you enjoyed this Malawi itinerary post and that you have an amazing trip. If you need any extra info, feel free to pop your questions in the comments below!
---
Join one of my Malawi group tours or buy my Backpacking Africa e-book!