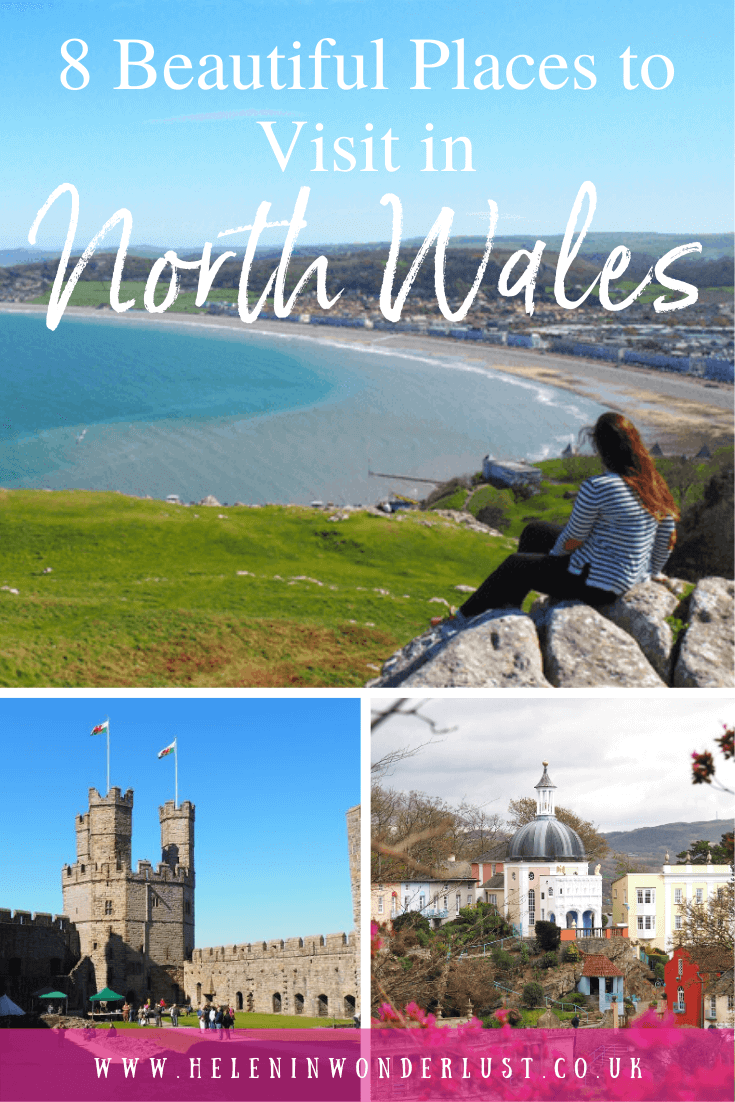 Last weekend, I headed to North Wales for the weekend.
I don't know what it is about Wales, but it's a special place, with mountains, pretty beaches, quirky seaside towns and friendly people. Plus it's only a couple of hours from where I live, so it's the perfect weekend destination!
We chose the town of Caernarfon as our base, having stayed in Criccieth and visited Portmeirion the previous year. The whole thing was really last minute and we only booked it a couple of days before, so our plan was that we had no plan. No rushing, just taking it easy and exploring.
It was late in the evening by the time we arrived, so there was just time for a quick dinner at the hotel before bed. I went to bed with my fingers crossed for sunshine.
---
Beautiful Places to Visit in North Wales
---

Caernarfon
As I opened the curtains the next morning and let out a happy yelp when I saw that it was a gloriously sunny day.
After breakfast, we walked into town to have a look around and visit the incredibly beautiful castle, which dates all the way back to 1283. Inside the castle is a bit of a maze. We walked up and down the towers, which are unnervingly high, but so much fun to explore and imagine what it would have been like hundreds of years ago.
After a couple of hours and all castled out, we pulled out our phones and had a look on the map to see where was nearby. I spotted a place I'd always wanted to visit, so we hopped in the car, and headed down the coast to the village of Abersoch on the Llyn Peninsula.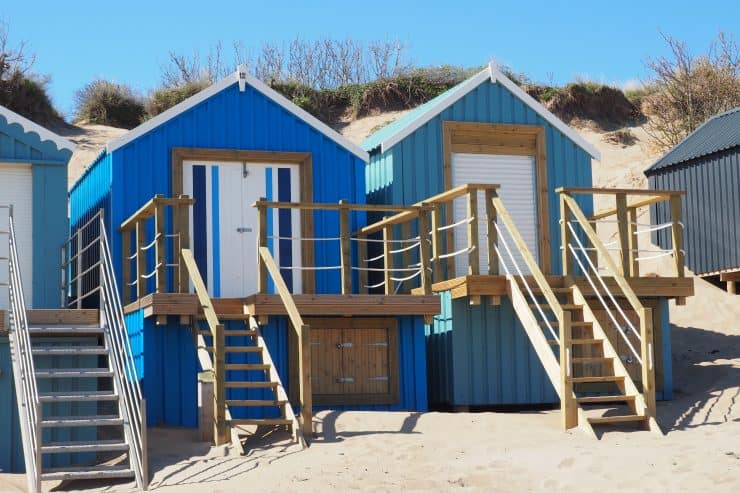 Abersoch
The village is full of little restaurants, surf shops, cute boutiques, and lots of holidaymakers, many of whom return year after year. It's also a great place for adventure, watersports, and outdoor activities.
We were pretty thirsty by the time we arrived, so we stopped for a drink at a little Zinc Cafe Bar and Grill, and sat out on the decking at the back, enjoying the sunshine, before heading down to the beach.
The beach is pretty, and I was so excited to see all of the beach huts. I LOVE beach huts. One day, I will have my own little beach hut, somewhere.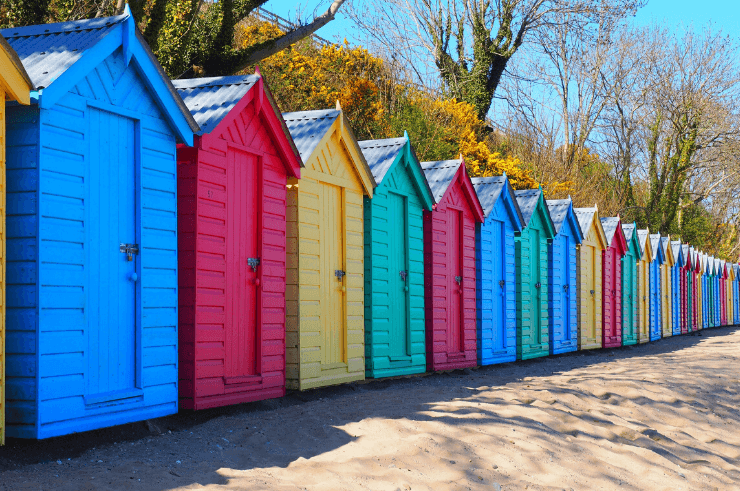 Llanbedrog
On the way to Abersoch, I'd spotted a sign for National Trust owned Llanbedrog Beach, and so we decided to visit on the way back to Caernarfon.
We grabbed an ice cream at the little restaurant and headed down to the beach, it was late afternoon by this point, so it was pretty quiet, with a few dog walkers and families scattered about. Some had made a real day of it, sitting around on blankets and deckchairs with coolers full of drinks and picnics. Next time, that's what I'm doing!
But the coolest thing about Llanbedrog, was the gorgeous, colourful beach huts! Even better than the ones in Abersoch. Oh, I do like to be beside the seaside!
Both Abersoch and Llanbedrog face back over Cardigan Bay towards Snowdonia National Park, so the landscape is stunning, like a water painting.
The afternoon was quickly becoming early evening, so we left the beach and went back to Caernarfon and after a quick change, headed out early to The Anglesey pub, where we watched as the sunset turned the castle from brown to orange.
Earlier that day we'd booked in for dinner at Stones Bistro, a lovely little Italian, where we had a nice meal and a few glasses of Prosecco!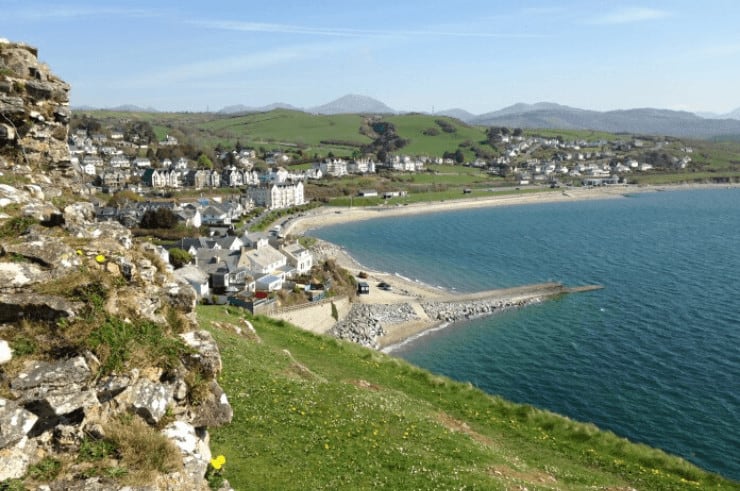 Criccieth
Now we didn't visit Criccieth on this trip, but I wanted to mention it here as it is a lovely town to visit if you have more time. 
I'd highly recommend visiting the ruins of Criccieth Castle and having a wander on the beach. You can enjoy a wonderful meal at Tonnau Restaurant at The Caerwylan Hotel. The food, service and the view are all fantastic.
Castle Fish and Chips is another popular spot with both locals and tourists, with people queueing out the door!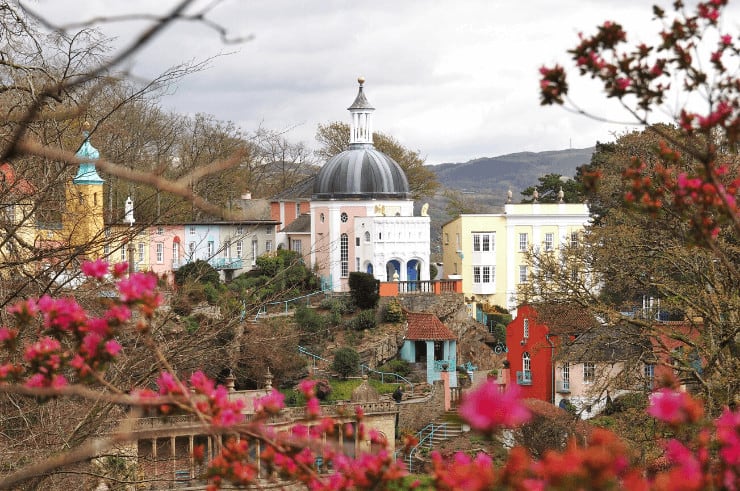 Portmeirion
Whilst in the area, you have to visit Portmeirion, an Italian-inspired Welsh village.
At every turn, there is something to see, discover, and photograph. Every inch of the village is perfectly designed, in contrast with the wilder forest and coastal paths that surround it. But somehow, the combination works, and the colourful buildings blend seamlessly with the Welsh countryside and bay of which it overlooks.
It's fun and refreshing, and there's something magical about the place that made me feel intrinsically happy by just being there.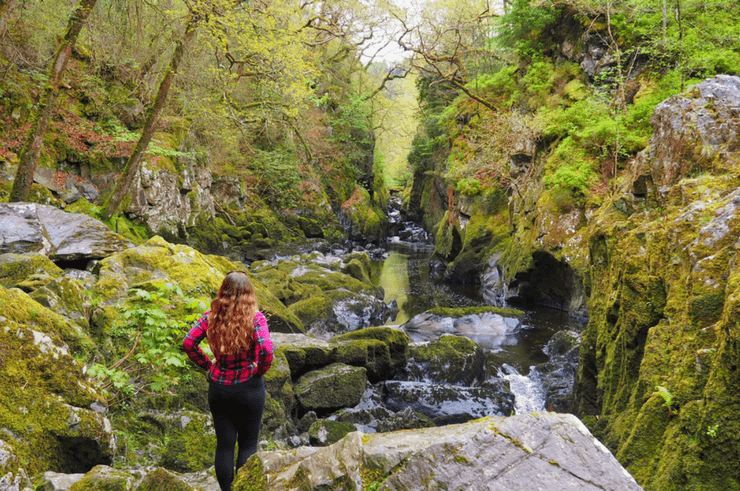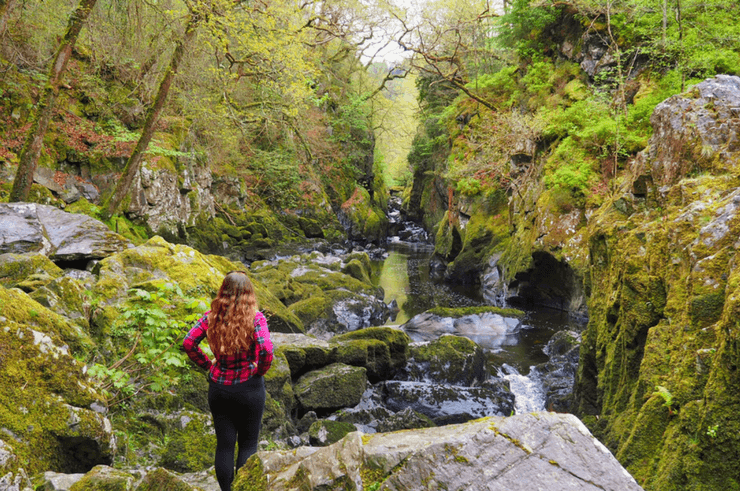 Betws-y-Coed
The next morning we were heading back towards home, but we decided to visit a couple of places on the way, the 'Fairy Glen' near Betws-y-Coed.
Despite visiting the area pretty frequently, I'd never been to or even heard of the Fairy Glen before and only noticed it when I was researching the trip and spotted the Welsh name 'Ffos Anoddun' on a map.
Intrigued, I Googled it and as soon as I saw the pictures I wanted to visit.
The walk is lovely, a little steep and slippy on the way down, requiring a little bit of scrambling, but once you reach the bottom, you'll see what all the fuss is about.
This is a magical little place that looks like the set of a Disney film or a Midsummer Night's Dream. It is, by far, one of the prettiest places I've been in the UK and it's one of those that you almost don't want to tell anyone about in the hope that it stays this perfect forever.
We visited on a grey and rainy day in spring, but I think this place would be at its most magical on a sunny Autumn day. But even on a dull day, look how green it is!
If you have time, Betws-y-Coed is a lovely place to stop and a great base for climbing Mount Snowdon.
Getting There: If coming along the A470 from Llandudno, branch off to the right to stay on the A470 (and don't go on the A5), then around half a mile down the road you'll pass The Fairy Glen Hotel, go past that and then a little bit further along, you will see a small sign say Fairy Glen to the left, take that one. There's a car park on the left. From there it's a 15 minute (or so) walk down to to the Fairy Glen. You'll need an moderate level of fitness as the walk is steep and slippy, so if you have difficulty walking it will be extremely difficult.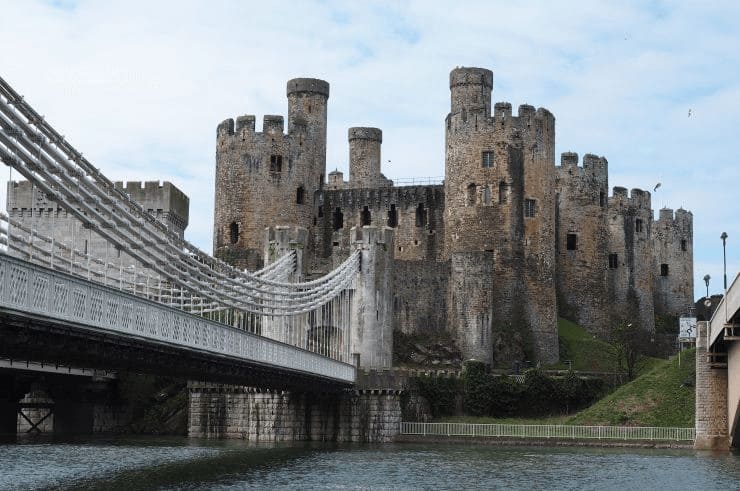 Conwy
The next stop was Conwy. We parked up near the castle in the Llanrwst Road car park, just under the castle walls. The car park was just like any other car park, but what made it cool was this little subway. How lovely would it be if all subways were painted like a rainbow?
We walked along the castle walls, but didn't go in this time, rather choosing to admire the impressive building from the outside. But I have visited the castle numerous times over the years and it is really impressive, so I would definitely suggest adding it to your North Wales itinerary.
There are also an impressive amount of great restaurants in Conwy, so if you're a bit of a foodie, you'll love it!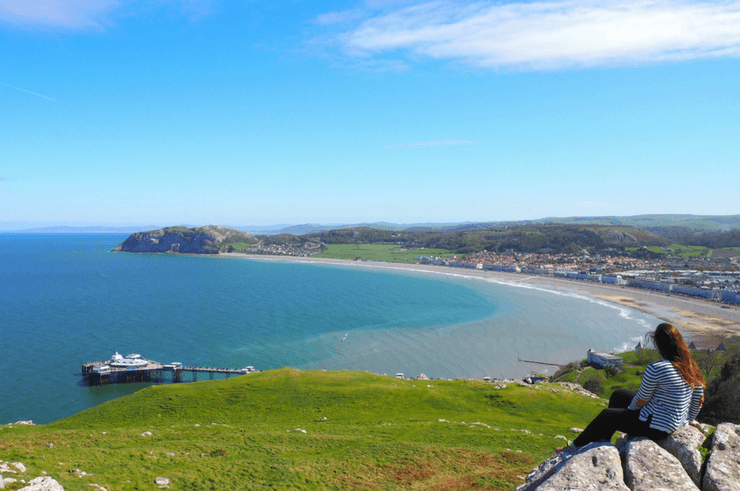 Llandudno
Our next and final stop was Llandudno.
If you haven't guessed already, I absolutely love the British seaside and Llandudno is the epitome of the typical British seaside town. Visiting brings back childhood memories of Punch & Judy shows, fish and chips and building sandcastles with my grandparents.
We walked slowly along the pretty Victorian promenade, stopping occasionally to admire the weird mushroomy pink flowers and watch the kayakers out on the water.
At the end of the prom, we came to the blue and white pier, once the height of Victorian elegance, but perhaps a little less classy these days, with little shops that sell all the things you'll never need, and the flashing lights of games arcades and clairvoyants try to lure you in.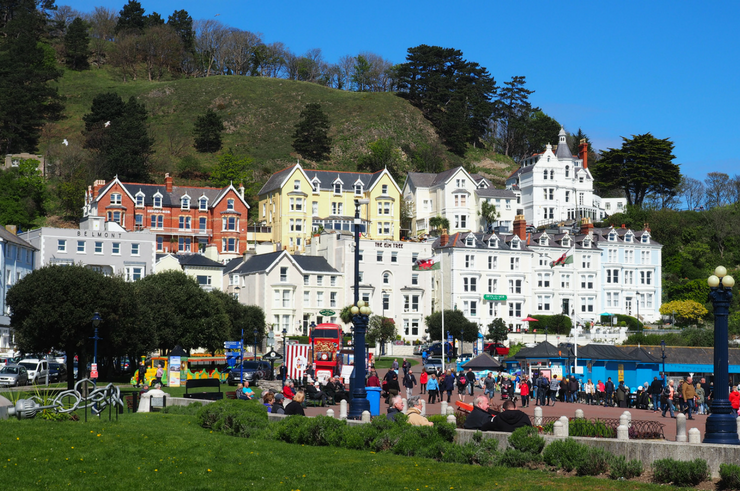 My favourite thing about the pier is all the benches, all dedicated to the people who made happy memories with their families in this lovely seaside town. That's what makes Llandudno so special.
Llandudno lies on a peninsular, between two limestone headlands, the Great Orme and the Little Orme, and no trip to the town would be complete without a trip up the Great Orme. You can walk it, drive it, take a cable car (I've done this before – very fun) or do as we did and take the tram!
There are lovely views over the whole town from the tram, and the top, especially on a sunny day, but today it was freezing and we didn't have any coats, so after a vain attempt at a walk, we gave up and went to the cafe for a hot chocolate and espresso coffee to warm our cockles.
Hungry and cold, we finished off the day in the only way one should finish off a day at the seaside, with a portion of fish and chips from Fish Tram Chips.
I hope you have an amazing trip to North Wales!
---
Like this post? Pin it for later!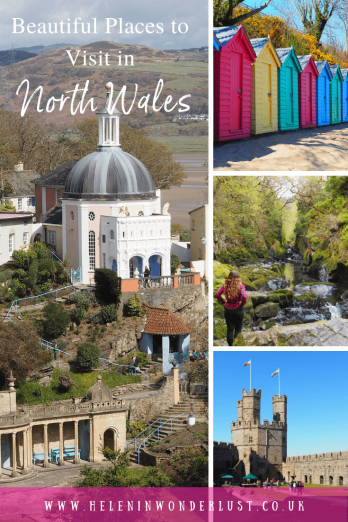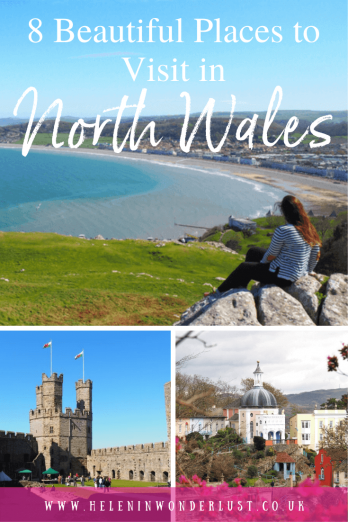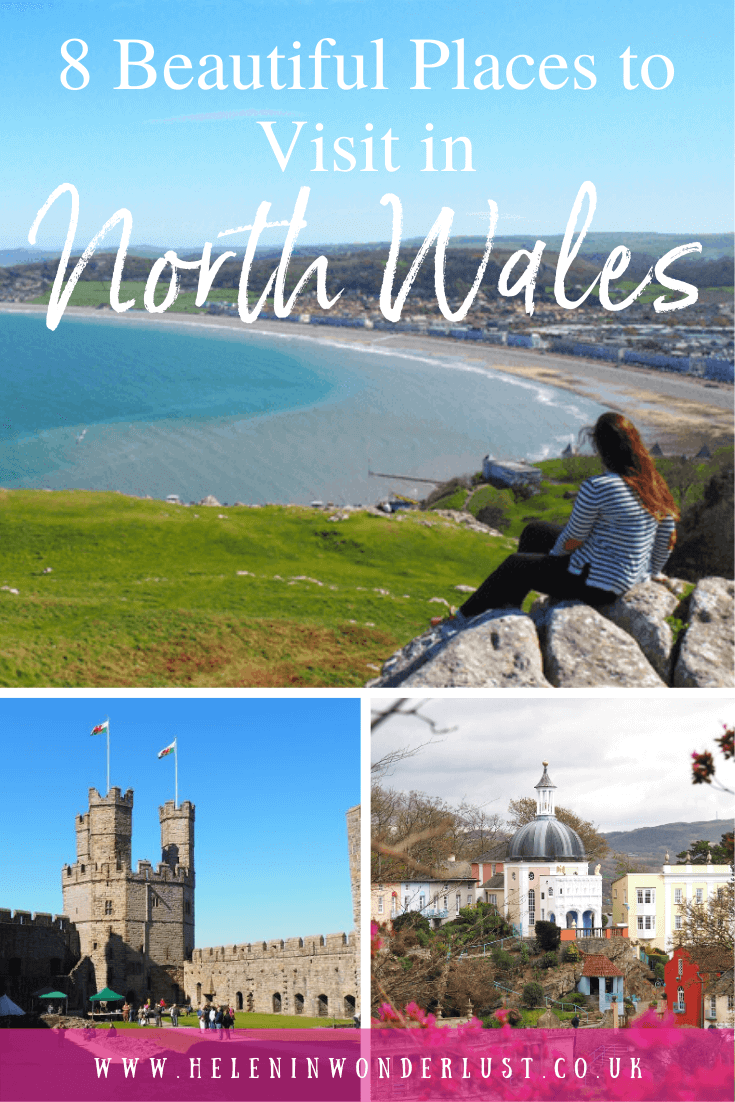 See all UK posts here. 
---
Please Note: Some of the links in this post are affiliate links, which will earn me a small commission at no extra cost to you. Affiliate sales help with the running costs of this site, so thank you for your support!