Last updated on February 5th, 2021 at 03:35 pm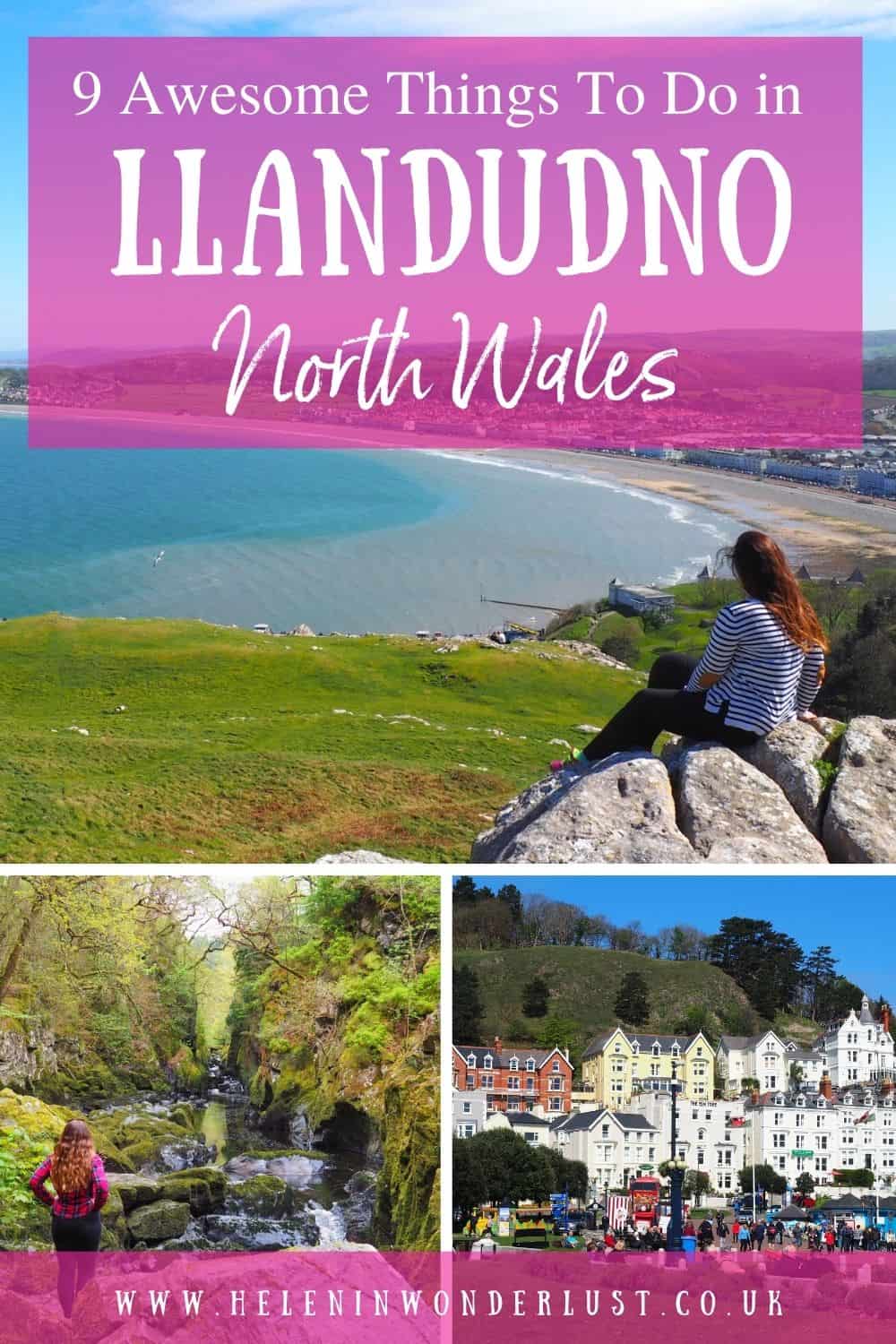 If you're looking for a weekend of adventure in the UK, there aren't many places better than Llandudno in North Wales. It's an epic destination and even though I've been there many times, there's always something new to do, so it never gets boring!
A few weeks back, I went again and the theme of the weekend was outdoor and adventure.
I based myself in Llandudno, a pretty seaside town which is close to Snowdonia National Park (where you'll find a lot of the fun, outdoorsy stuff), but it is also easily walkable, with plenty to do and lots of good restaurants and bars (which also makes it a great stag or hen party destination).
Top Tip: Llandudno has a train station (Llandudno Junction), with good transport links to the rest of the UK, however, if you want to maximise your time and explore a little outside the town (and go to Snowdonia National park), I suggest you drive or hire a car! But if you don't have a car, don't worry, there are lots to do in Llandudno too!
You could easily spend a week in the area, but if you only have a couple of days, here are my suggestions on how to have a fun and adventurous weekend in Llandudno, North Wales!
And if you need more ideas, check out my post on 8 Beautiful Places to Visit in North Wales.
---
9 Awesome Things To Do in Llandudno, North Wales
---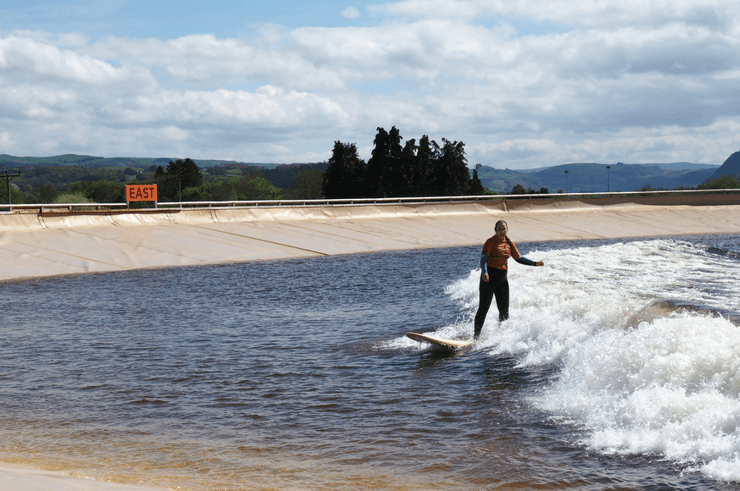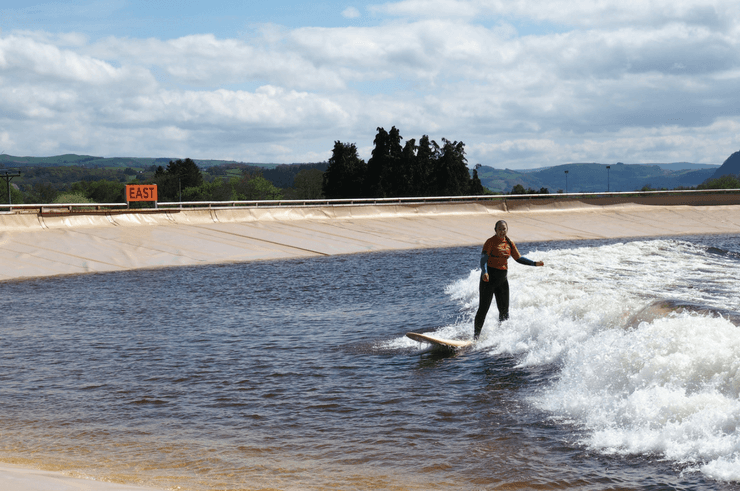 1. Go Surfing on a Lake at Surf Snowdonia
Ever since I heard about Surf Snowdonia, I had been dying to visit, so this was top of my list for my adventure trip to Wales.
Surf Snowdonia is am amazing man-made wave pool in the middle of the stunning Welsh countryside and surrounded by lush green hills.
I've been surfing for around 7 years now (albeit very sporadically), but I can stand, turn and stay on the board (usually), so I booked in for a one-hour free surf. I figured that the waves were regular and predictable, so they should be easy right?
After checking in, changing into my wetsuit and picking up my board (they hire them out so don't worry if you don't have your own), I headed into the water and lined up ready to catch me some waves.
The first one came and went and it wasn't what I expected. It felt strange being in the freshwater and it took me a while to work out that the trick was to start close to the centre. I only managed to get on the board a couple of times, although I did enjoy body surfing and it was loads of fun (and great exercise).
Even if you have surfed before, I would recommend getting a lesson on your first trip.
Getting There: Coming out of Llandudno, take the A470 towards Betws-y-Coed and then branch off to the right on the B5279, then turn left on the B5106 towards Dolgerrog. I followed the Google Maps on my phone and it led me to a locked gate, on the other side of the River Conwy (on Llanrwt Road/A470), meaning that we had to drive all the way around, missing my time slot. Don't do that. Thankfully they weren't that busy so I was able to change to an hour later!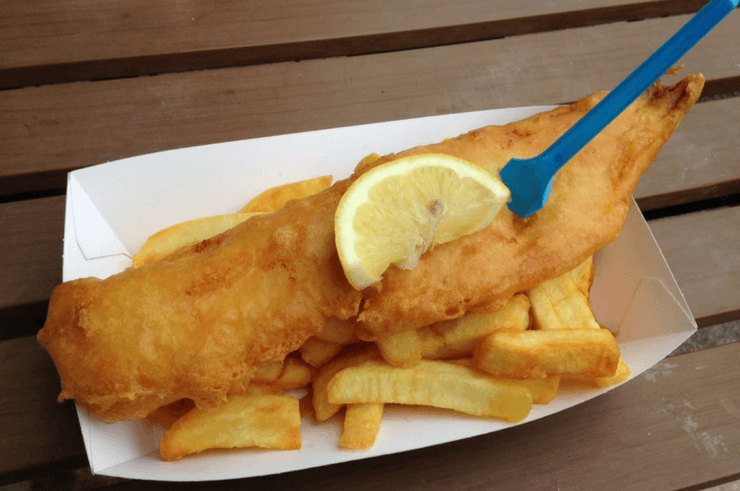 2. Eat Fish & Chips
After all that surfing and hiking, you're going to be hungry. And it's pretty much the law in the UK that if you are by the seaside you need to eat fish & chips. Haddock or cod, both are good!
To make it extra British, add some mushy peas, tartar sauce, salt & vinegar.
I always get mine from Fish Tram Chips which is right opposite the tram stop for the Great Orme, so perfect as a pre or post-walk snack!
They don't take card (or they didn't when I last went in April 2017), so make sure you have cash on you.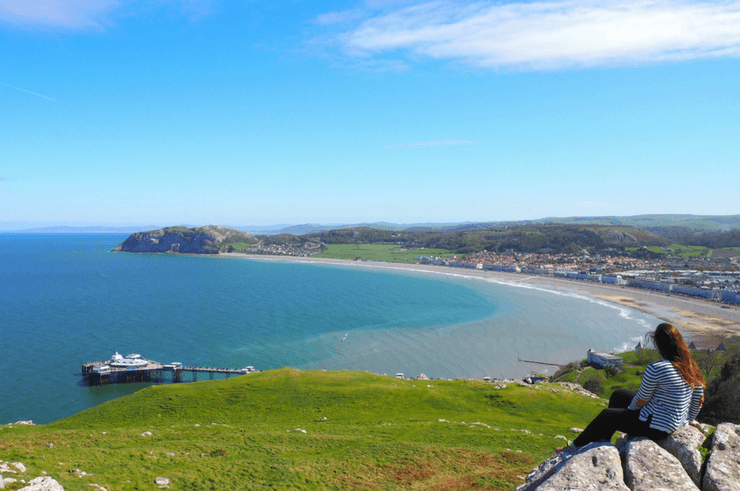 3. Climb the Great Orme
The Great Orme rises above the town of Llandudno, like a giant sea serpent, or so said the Vikings, who named her.
After a short but steep walk up will have you in the Great Orme Country Park and Nature Reserve, where you will find incredible views across the bay, along the Welsh coastline, towards Snowdonia National Park and out to the Irish Sea.
You could easily spend half a day exploring the top, where you'll also find a shop, cafe and visitor's centre. On the way, you may even see some of the famous Kashmiri goats who roam the headland.
Take a warm jumper or coat, it gets breezy at the top! This is definitely a must on your list of things to do in Llandudno.
Getting There: The Great Orme looks over Llandudno Bay and you can start of the walk between the tram station and Fish Tram Chips and follow the tracks up. The tram will go off to the left up the road, but if walking you are best to head to the Llandudno Ski and Snowboard Centre and follow the path up from there.
Cost: Absolutely free! Unless you get the tram which is £7.50 and £5 for those aged 3 – 16.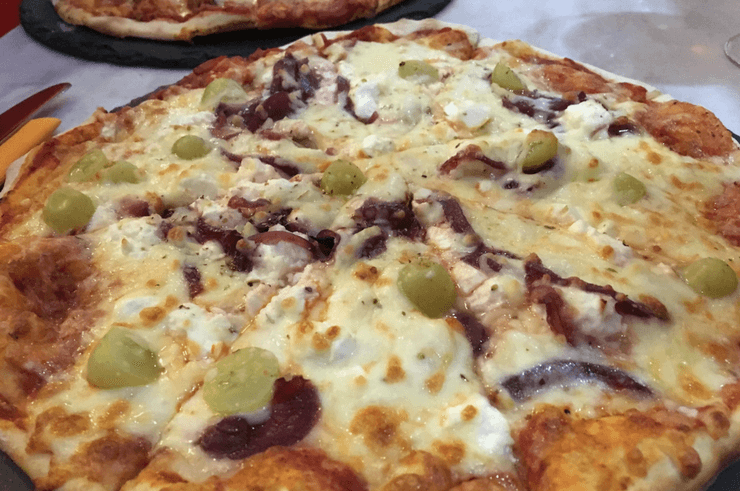 4. Eat & Drink at Snooze Wine Bar
A new find on this trip was Snooze, a wine bar that we stumbled upon by chance.
We just popped in for a pre-dinner drink as it looked nice from the outside, but the wine was fabulous and seeing the food we decided to stay and eat. They were super busy, so we went to another pub and then came back once they had some availability.
It was worth the wait! I had the Pizza Greekosa, with feta, red onions and grapes. Never had grapes on a pizza before, but kinda worked.
The staff were great and helped us plan the rest of our night, giving us tips on where to go! Definitely recommend this place! They also have a function room downstairs too, so great for private parties!
It gets busy at weekends, so be sure to book ahead.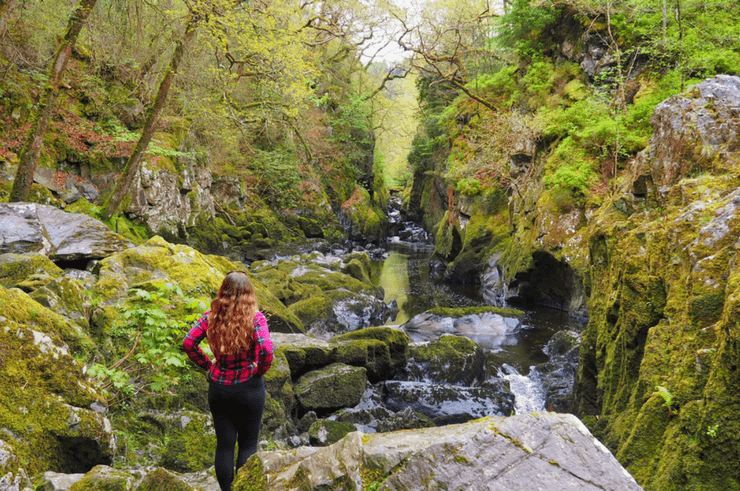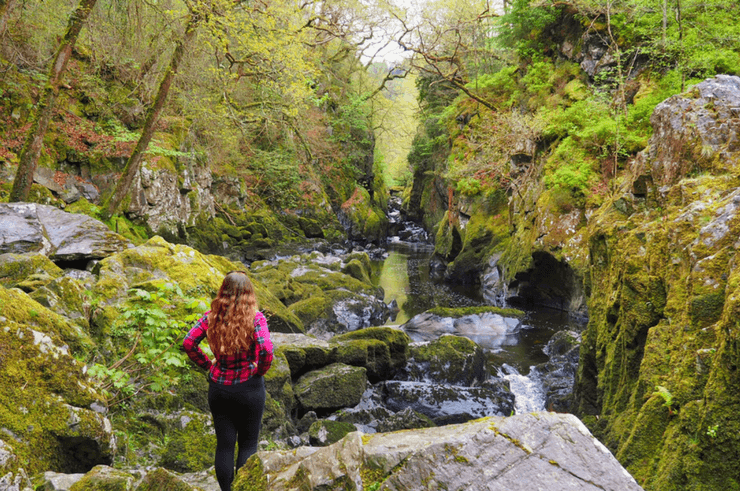 5. Visit the Fairy Glen, Betws-y-Coed
Despite visiting the area pretty frequently, I'd never been to or even heard of the Fairy Glen before and only noticed it when I was researching the trip and spotted the Welsh name 'Ffos Anoddun' on a map whilst plotting the route from Llandudno to Zip World.
Intrigued, I Googled it and as soon as I saw the pictures I wanted to visit.
The walk is lovely, a little steep and slippy on the way down, requiring a little bit of scrambling, but once you reach the bottom, you'll see what all the fuss is about.
This is a magical little place that looks like the set of a Disney film or a Midsummer Night's Dream. It is, by far, one of the prettiest places I've been in the UK and it's one of those that you almost don't want to tell anyone about in the hope that it stays this perfect forever.
We visited on a grey and rainy day in spring, but I think this place would be at its most magical on a sunny Autumn day. But even on a dull day, look how green it is!
Wear sturdy shoes, bring your camera (and maybe a picnic) and some change for honesty box.
Getting There: If coming along the A470 from Llandudno, branch off to the right to stay on the A470 (and don't go on the A5), then around half a mile down the road you'll pass The Fairy Glen Hotel, go past that and then a little bit further along, you will see a small sign say Fairy Glen to the left, take that one. There's a car park on the left. From there it's a 15 minute (or so) walk down to to the Fairy Glen. You'll need an moderate level of fitness as the walk is steep and slippy, so if you have difficulty walking it will be extremely difficult.
Cost: It's £1 for parking and 50p admission, paid into an honesty box at the gate.
6. Go Zip Lining at Zip World
By far my favourite activity of the weekend was zip-lining at Zip World.
I've done plenty of zip lining at various locations before, but this was by far the best I've been on. Using the universal zip-ometer – speed, length and views right?
I went on Titan, a set of 3 zip lines called Alpha, Bravo and Charlie. I was a bit nervous at first (despite what you may think, I am actually a massive wimp), but as soon as you get harnessed up and strapped in position, you feel totally secure, so there's nothing left to do but hang out and enjoy the ride! Literally – SO! MUCH! FUN! You can see the little video I made for Facebook here.
Next on my list is Velocity (shown below) which is the longest zip line is Europe and the fastest in the world! You also lie down for that one so I imagine it feels like you are flying!
Zip World have just opened their Fforest Coaster too, which I am hoping to check out on my next visit, looks awesome!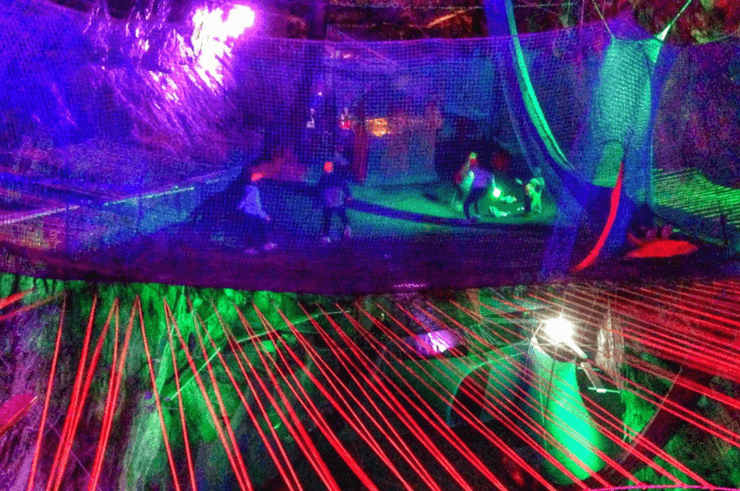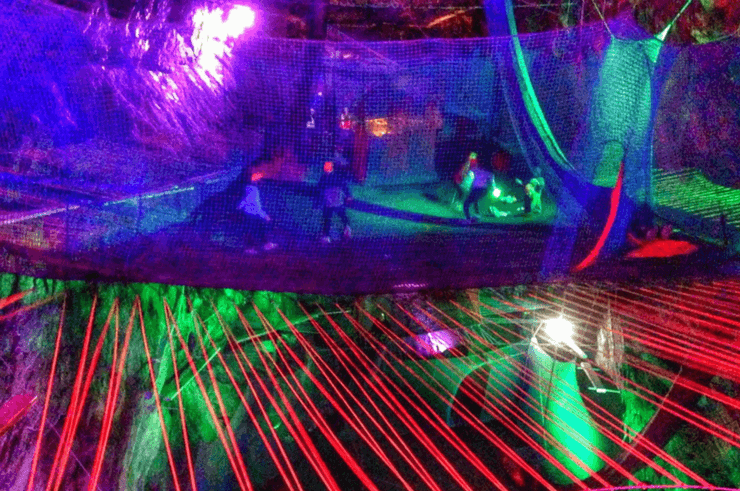 7. Go Trampolining at Bounce Below
If you want to do an activity that will make you howl with laughter (and maybe almost pee yourself) then head to Bounce Below which is in the same location as the Titan zip line.
Last time I went to Wales, I got a little 5 minute taster of this place just after I explored the Zip World Caverns, but this time I got to experience the full hour.
You don't a hairnet and a helmet, head underground, into a cave, and bounce away to your heart's content on trampoline nets suspended in mid-air. You can explore the different layers, go through tunnels and there are even slides to go down!
It's absolutely exhausting and great fun – the perfect workout.
Wear comfy clothes and empty your pockets – it's very bouncy! Ladies, you may want to go for a wee before too!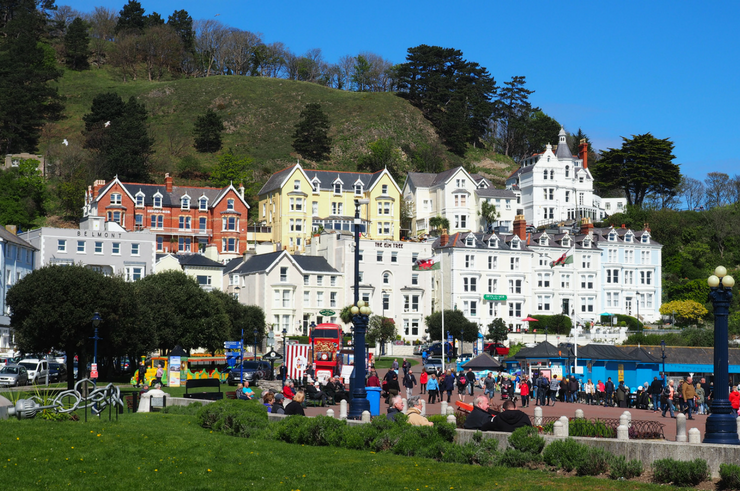 8. Grab an Ice Cream on the Pier (or the Prom)
One of the best things to do in Llandudno, in fact, it's pretty much the law, is to grab yourself an ice cream (flake and strawberry mandatory) or an iced lolly (lolly ice to us Liverpudlians) and have a walk up to the end of the pier and back, or along the prom.
The Llandudno pier is everything you would imagine from a Victorian British seaside pier – bars of rock, candy floss, doughnuts, souvenirs, amusement arcades, caricaturists, and fresh seafood, so fill your boots!
And the prom is a lovely and easy stroll and great for cycling or rollerblading too. Just watch out for dive-bombing, ice cream loving seagulls.

9. Stay at the Llandudno Bay Hotel
I stayed at the delightful Llandudno Bay Hotel. It's one of the best hotels in the area and only a short walk along the prom from the town centre, with beautiful views across the bay.
The rooms are lovely and bright and when we arrived there was a chocolate brownie waiting for us – now that's my kind of welcome! They also do a fabulous Welsh breakfast!
I would definitely recommend getting a room with a sea view!
I hope you have an amazing trip to Llandudno!
---
Like this post? Pin it for later!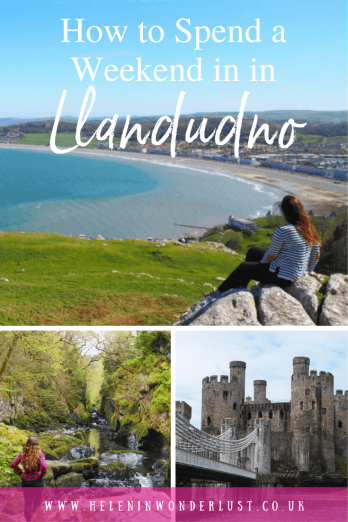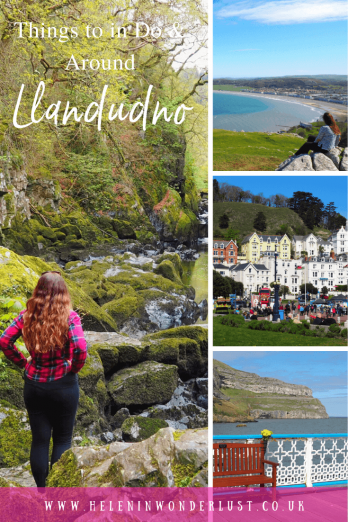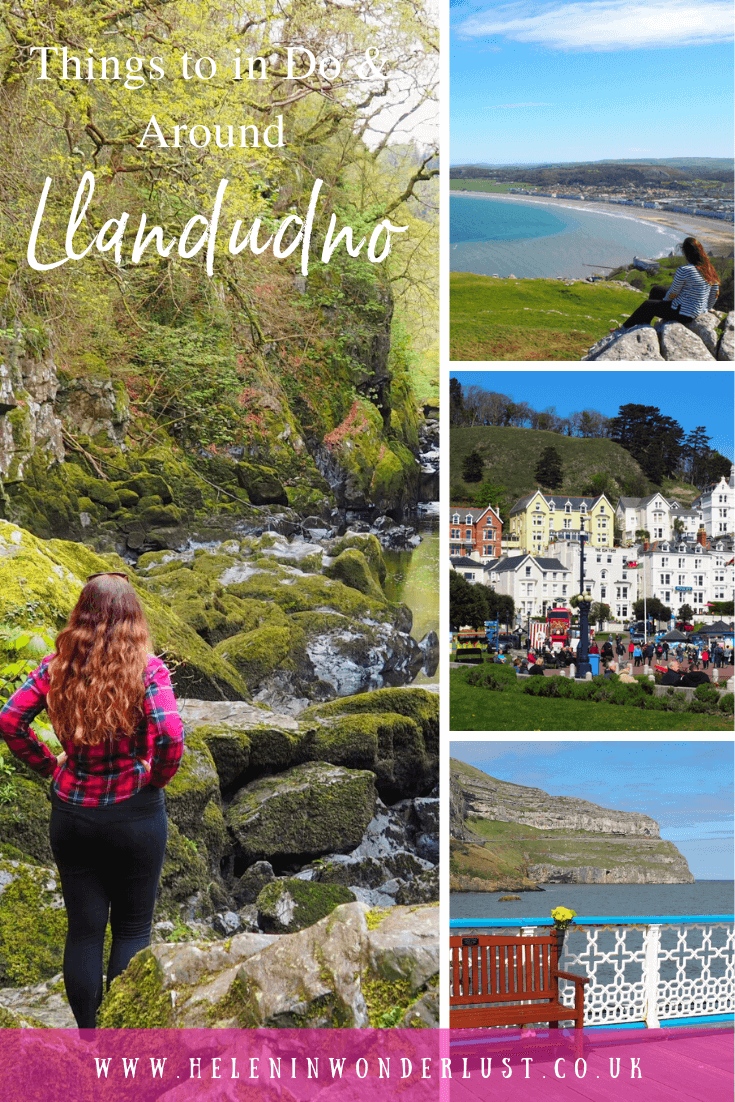 See all UK posts here.
---
Please Note: This post was brought to you as part of the #LateRoomsAdventures campaign in partnership with Laterooms.com. As always, all opinions are my own. Some of the links in this post are affiliate links, which will earn me a small commission at no extra cost to you. Affiliate sales help with the running costs of this site, so thank you for your support!