When you hire a boat on the Norfolk Broads, one of the things you'll need to think about is where you'll go, as there are over 125-miles are navigable waterways and lots of different routes you can take.
Your boat company will usually give you a few to choose from and the route very much depends on where you start from (where your boat is based), how long your holiday is and how high your boat is and whether it can fit under the low bridges.
Our boat company, Herbert Woods, was based in Potter Heigham, so we ended up choosing the 3-day Potter Heigham to Coltishall itinerary on the River Bure.
READ MORE: Norfolk Broads Boat Hire: 10 Things to Know Before You Go
---
Cruising the Norfolk Broads: Potter Heigham to Coltishall
---

Day 1: Potter Heigham to Horning
Having stayed over in a hotel in Great Yarmouth the night before (it's a 5-hour drive from where we live in Preston), we arrived early in Potter Heigham but check-in wasn't until 2.30 pm, so we had some time to kill. There isn't much in the village but there are a couple of nice cafes, a fishing shop and a discount store.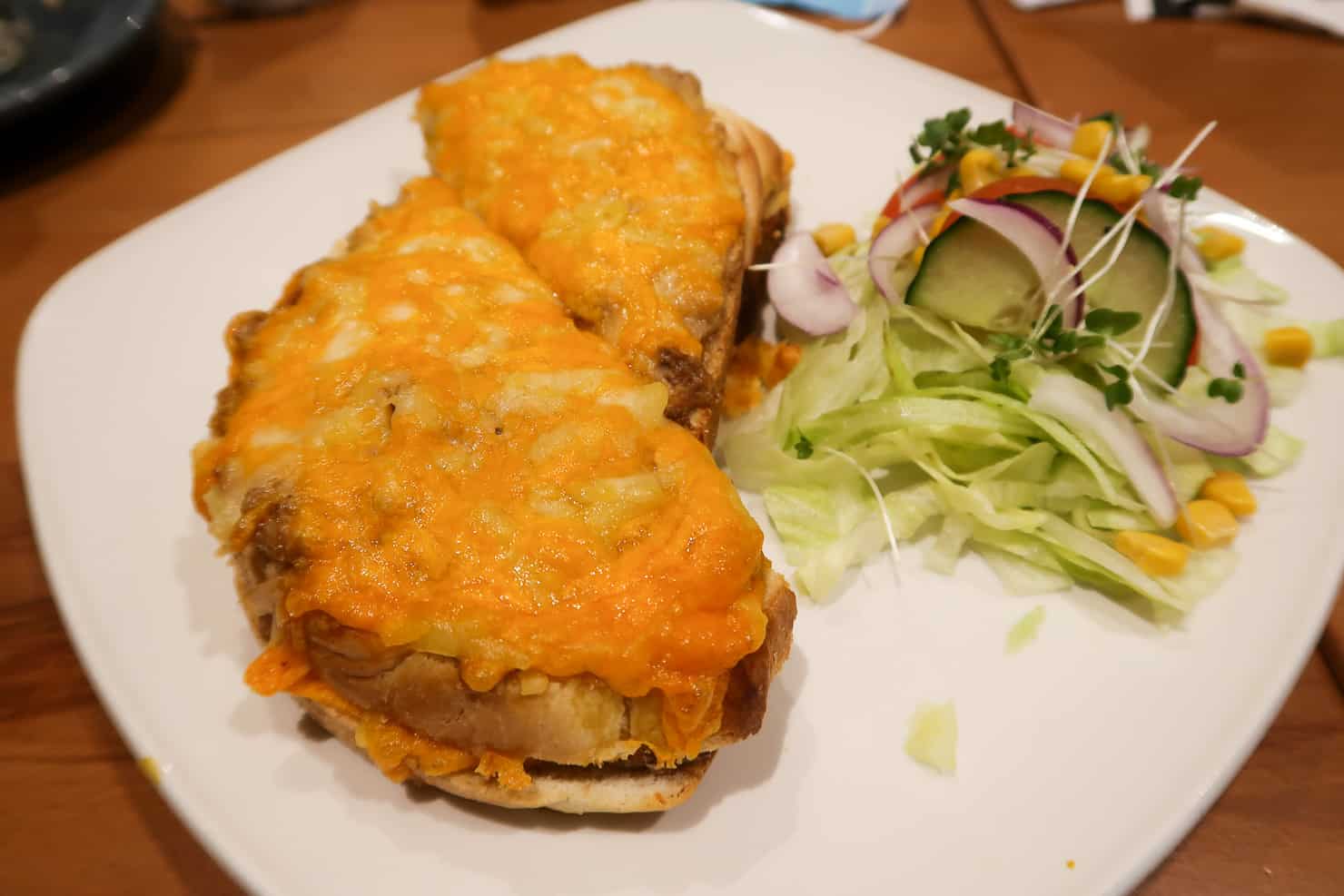 After looking at the menus, we popped into BridgeStones of Potter for some food. I opted for the tuna melt toastie, which was probably the best one I've ever had – and believe me, I've had a lot of tuna and cheese toasties! They also have the most incredible selection of cakes, so we picked some up to take on the boat.
After we'd eaten, we headed to Latham's of Potter Heigham to pick up some last-minute supplies. This shop has pretty much everything you can think of from food to clothes, toiletries and garden supplies. They also own the fishing shop too. After that, we hung around the marina until the boat was ready.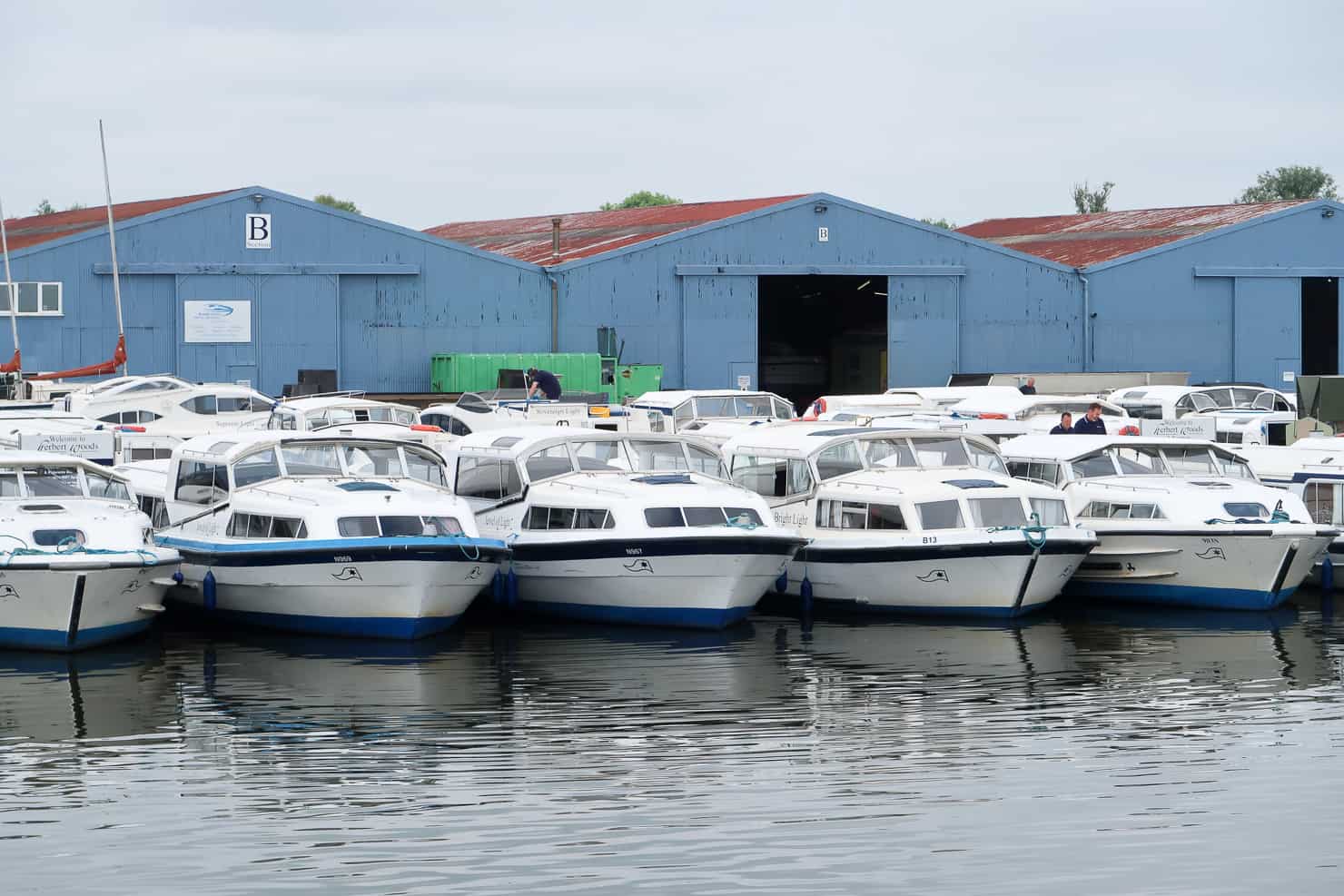 We checked in at 2.30 pm, but by the time we'd gone through all the instructions and had a practice of driving the boat it was around 4.30 pm and it took a little while to get out of the mooring, but we soon managed and off we went.
We headed straight for the village of Horning as we were booked in for dinner at The New Inn and had booked a mooring there for the night too.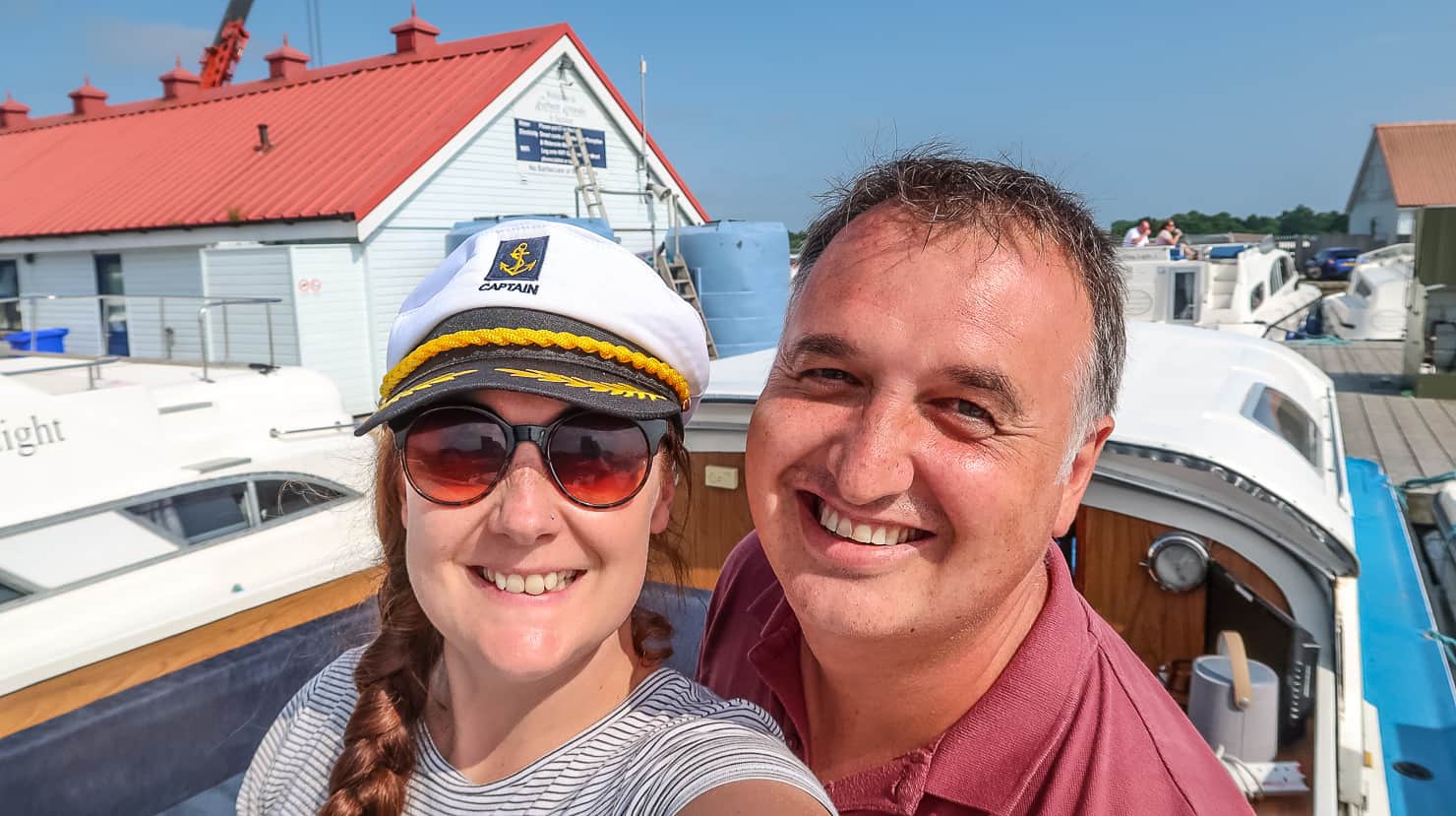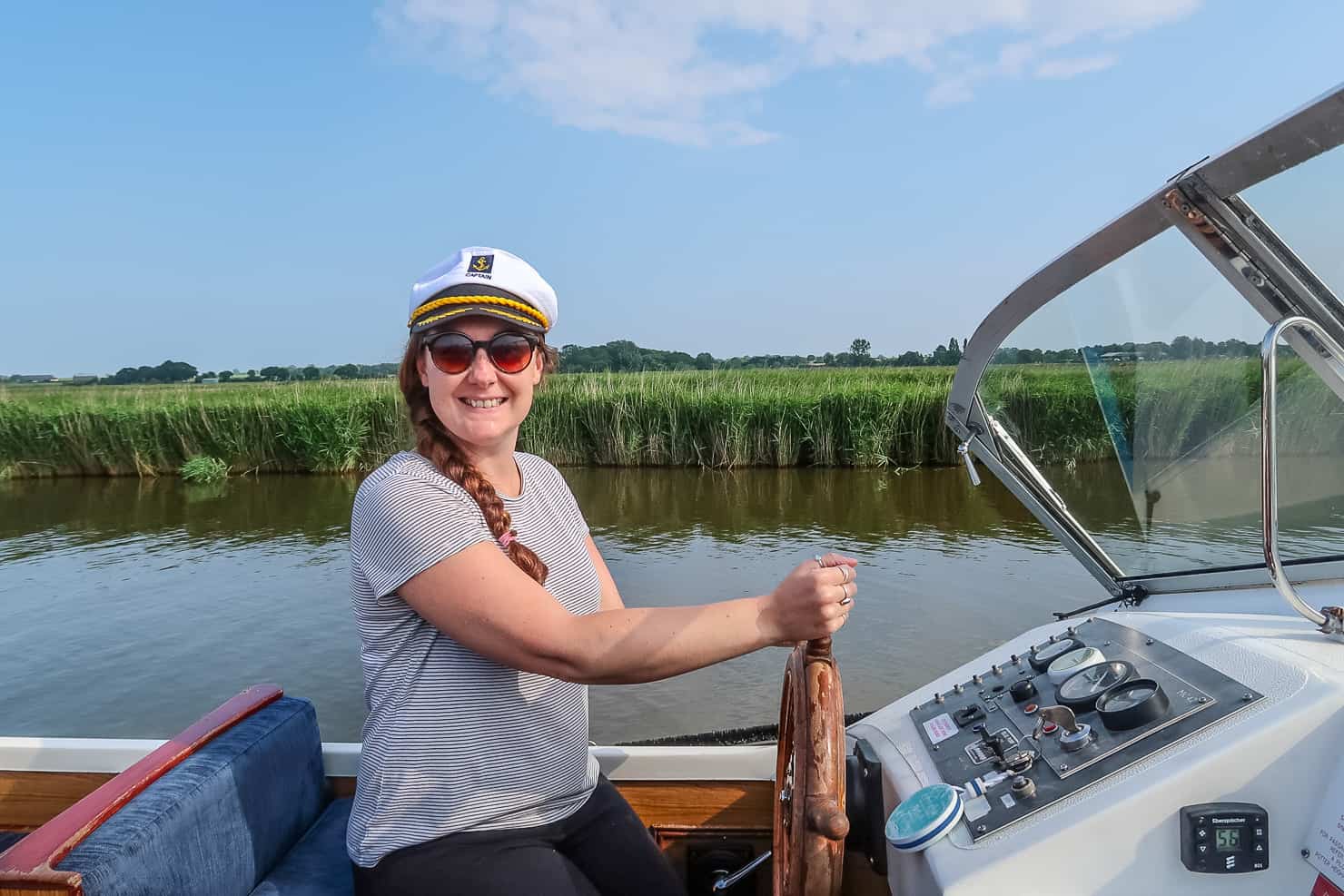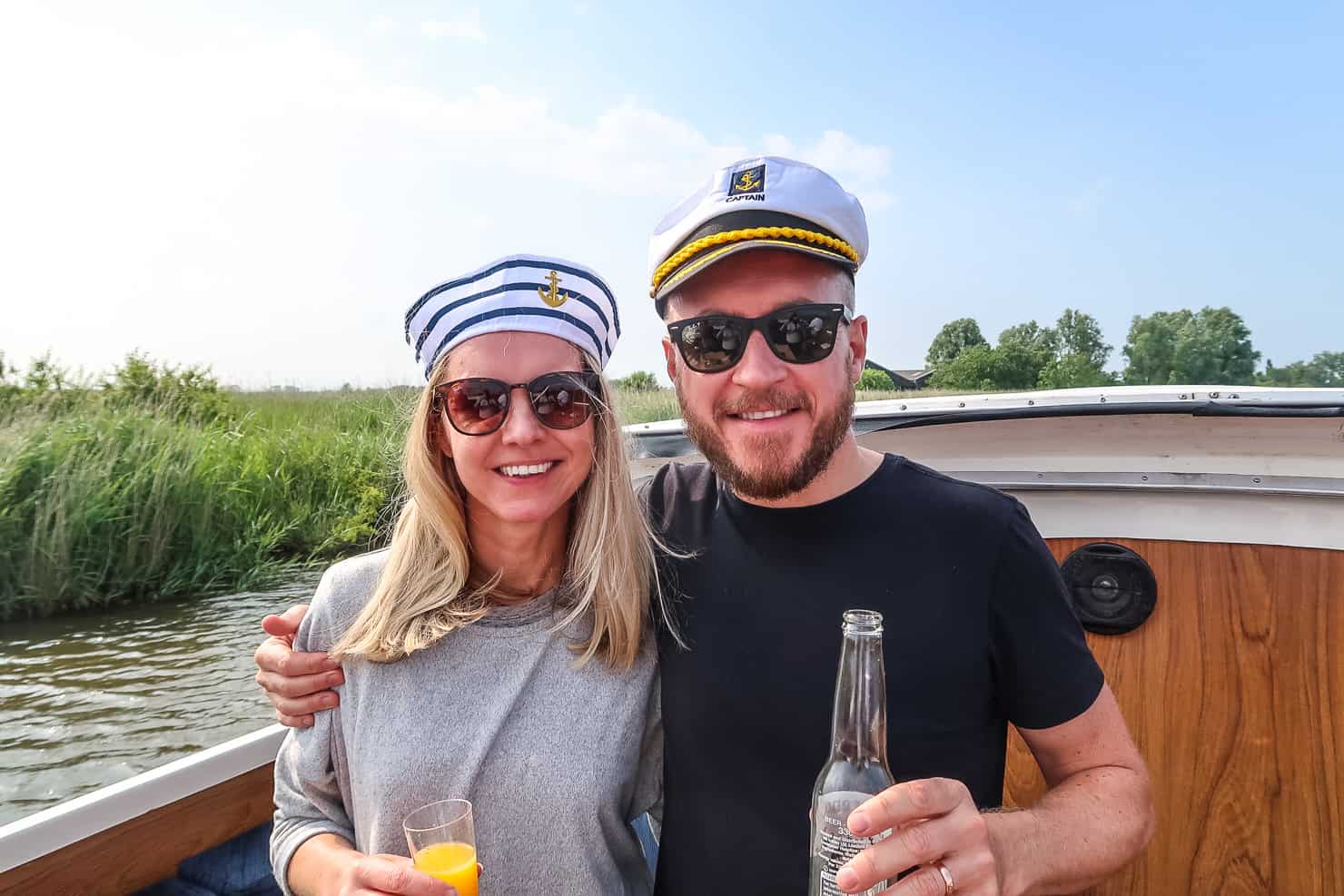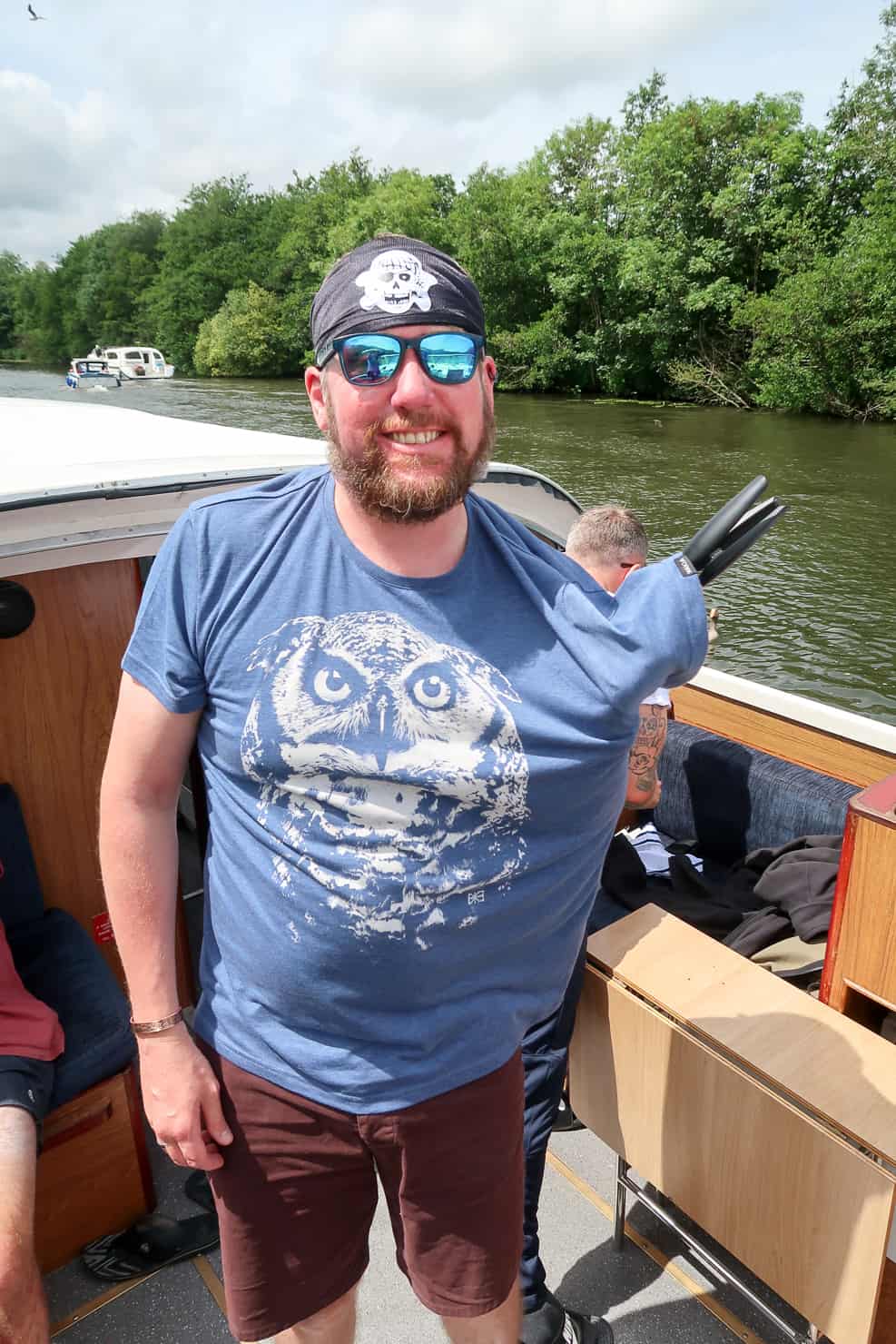 Being out on the water was amazing and a lot of fun and I could already tell how much I was going to enjoy this holiday. I stayed on a houseboat in Zambia many years ago and loved it.
We had been told to be at our mooring between 4 and 6 pm, but by the time we actually arrived, it was around 6.30 pm as the boats are pretty slow and it takes so much longer to get from A to B than it does in a car.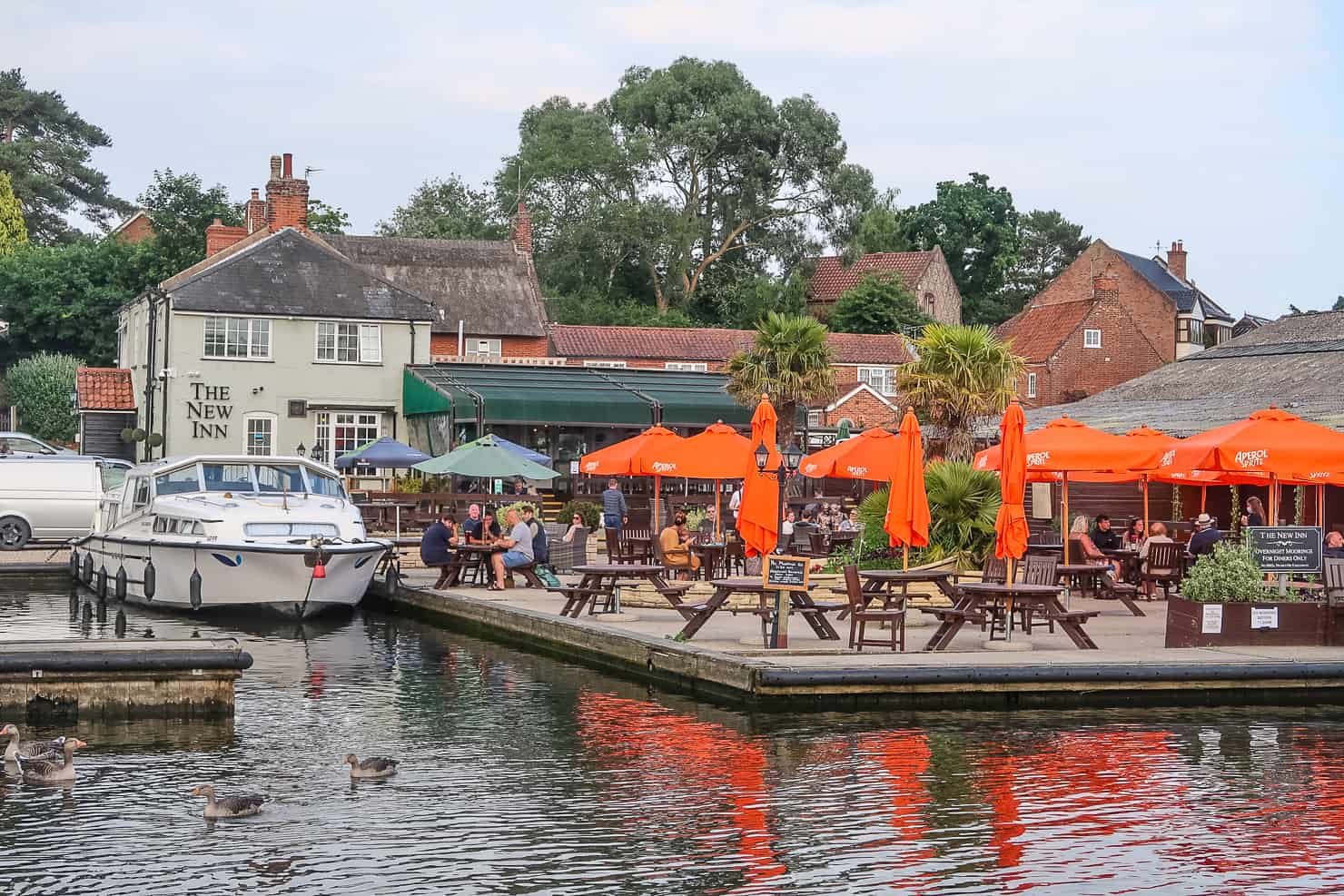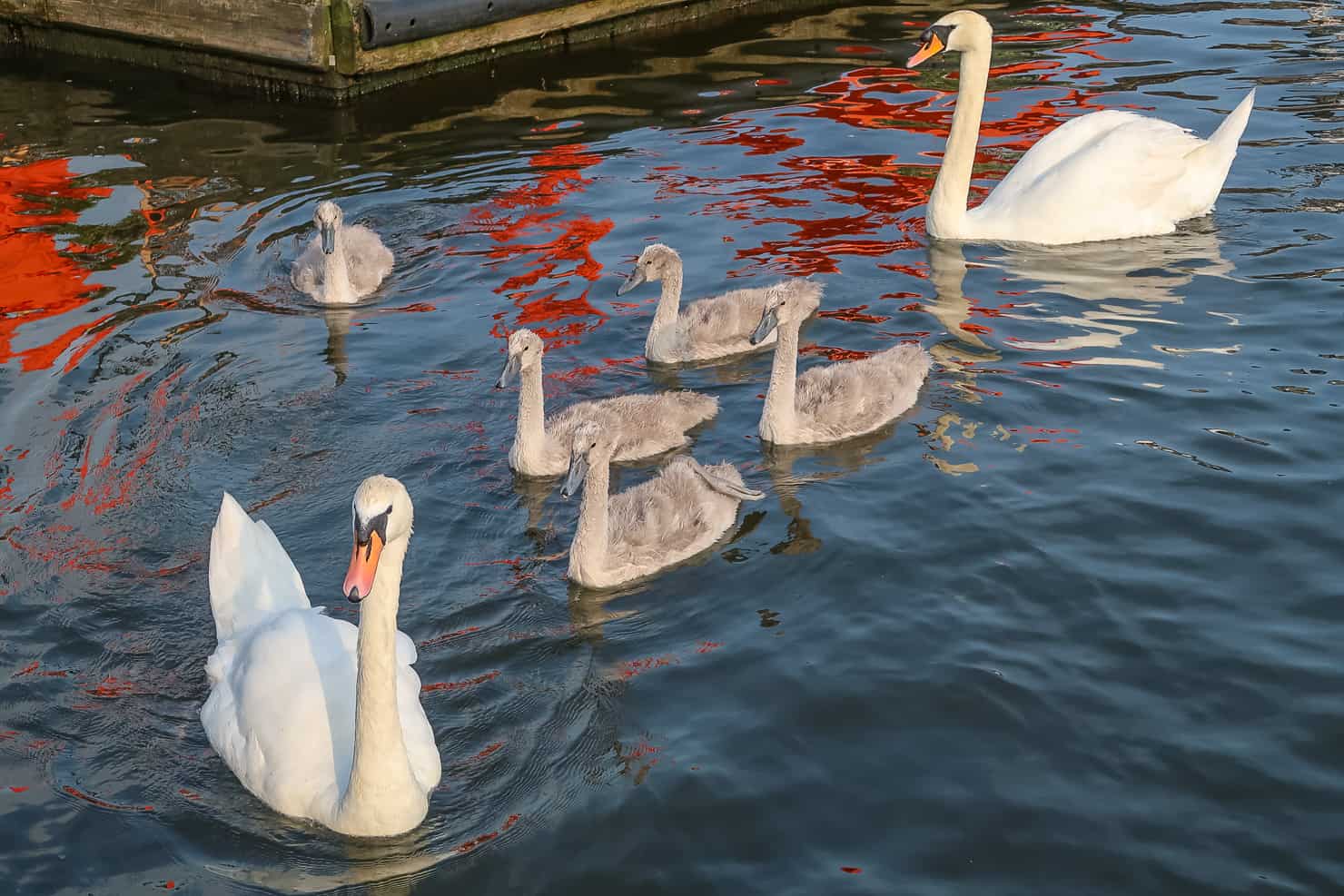 It was very busy in Horning, with lots of boats around, so I was glad we'd pre-booked a mooring. But the downside to that, was that we had a bit of an audience whilst we were docking – no pressure!
It wasn't easy but we eventually squeezed her in (not into the space we were trying to get into, but close enough) and even got a round of applause from the people in the pub. It was a lot more fun watching other people try to park than doing it ourselves!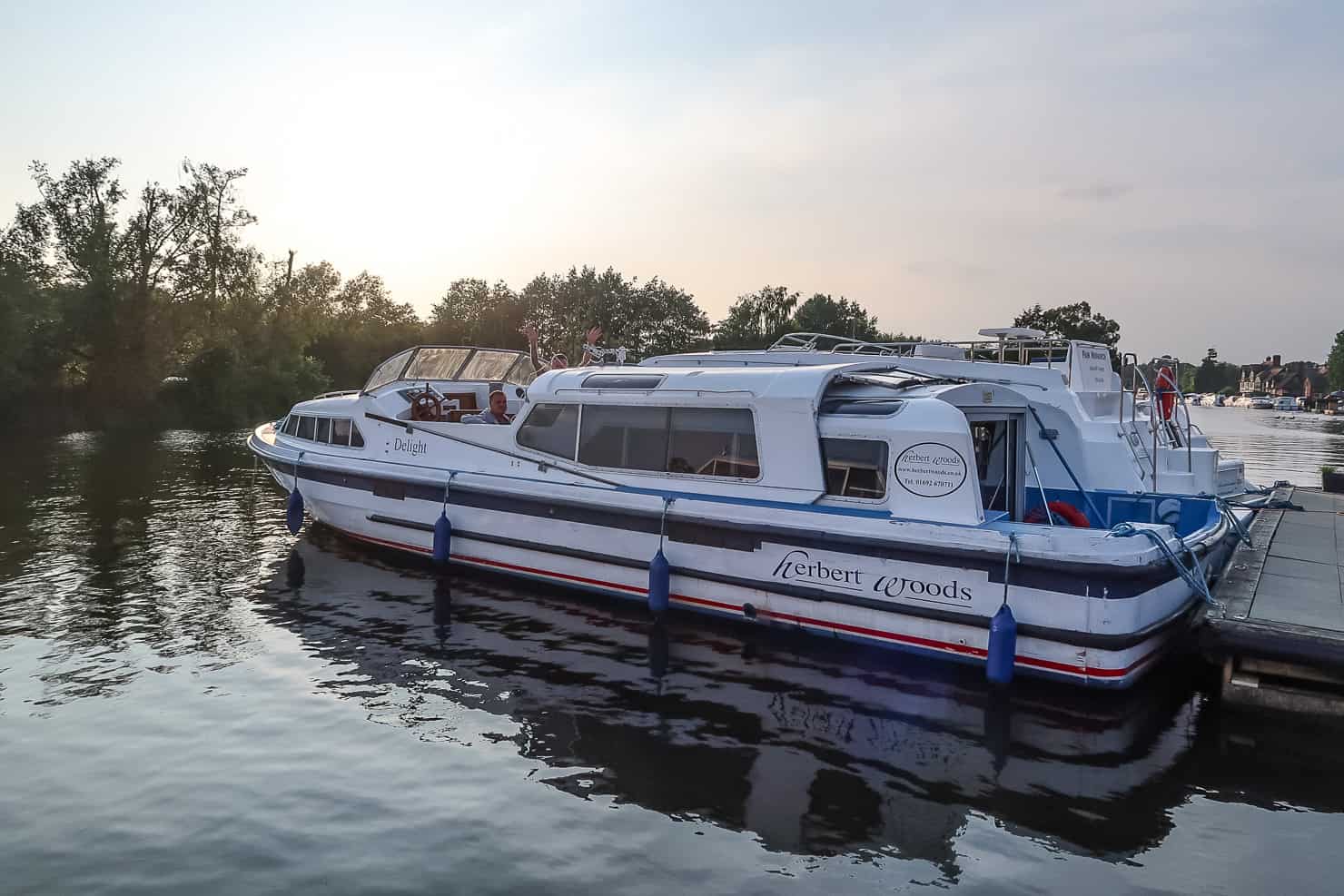 We got ready for dinner, hopped off the boat and straight into the pub. Perfect! The weather was lovely so we ate our dinner outside overlooking the river and the food at The New Inn was excellent and it was a great start to the trip.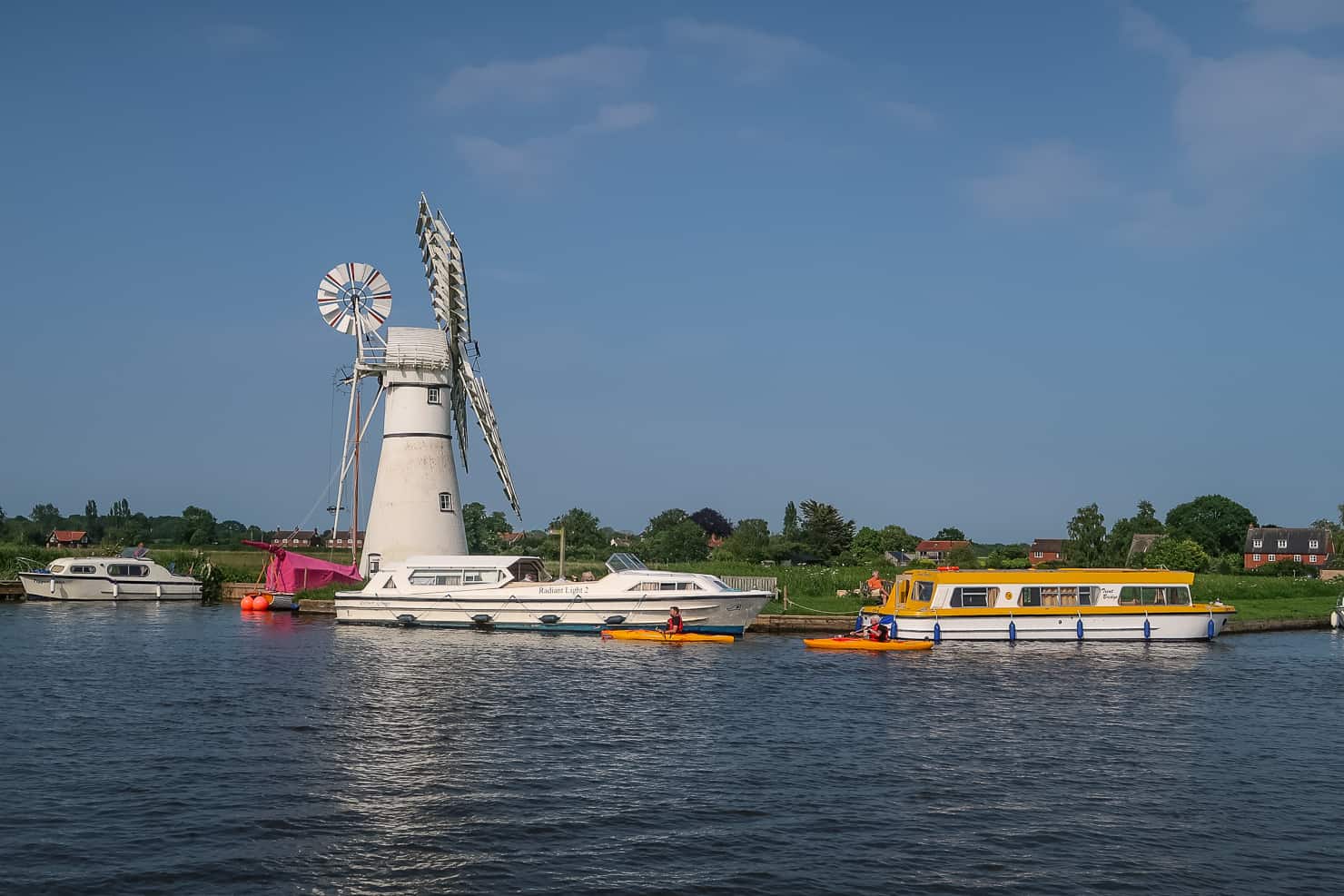 Day 2: Horning to Coltishall
The next day we were up at and em early, there's not much sleeping on a boat.
We had bacon butties and then we were on our way for another day of cruising. Our aim was to get to the village of Wroxham for lunch.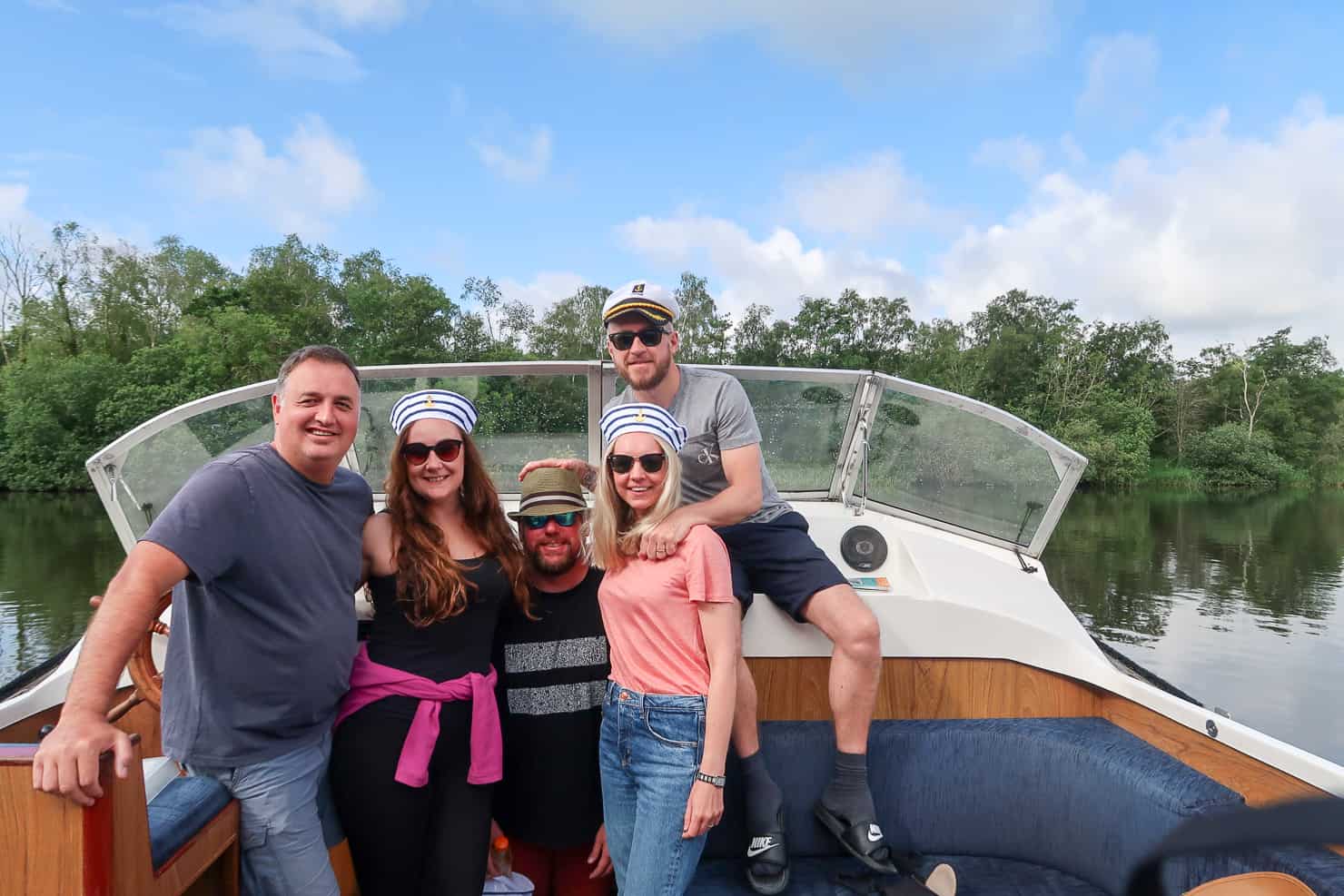 On the way, we took a little detour into Hoveton Little Broad, an open lake, where we practised parking and manoeuvring the boat. This was one of our better ideas as everyone gained confidence after that and the rest of the trip was a lot easier.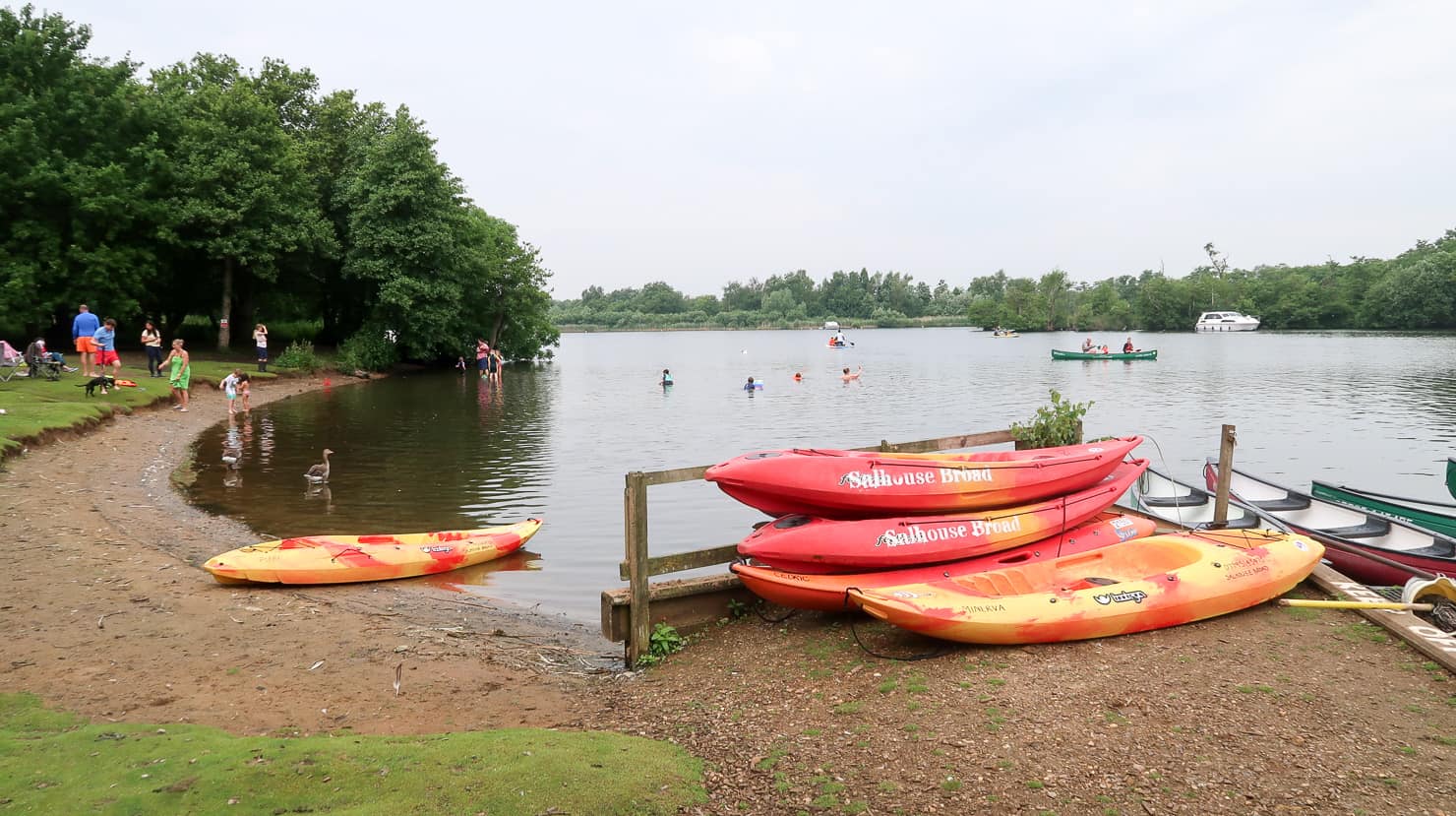 From there we cruised further down the River Bure to Salhouse Broad, where we moored up and filled up our water tanks. There were a few people swimming, paddle boarding and kayaking here and there was also a cute little pop-up cafe called The Hungry Otter (I had their amazing hot chocolate) and a campsite.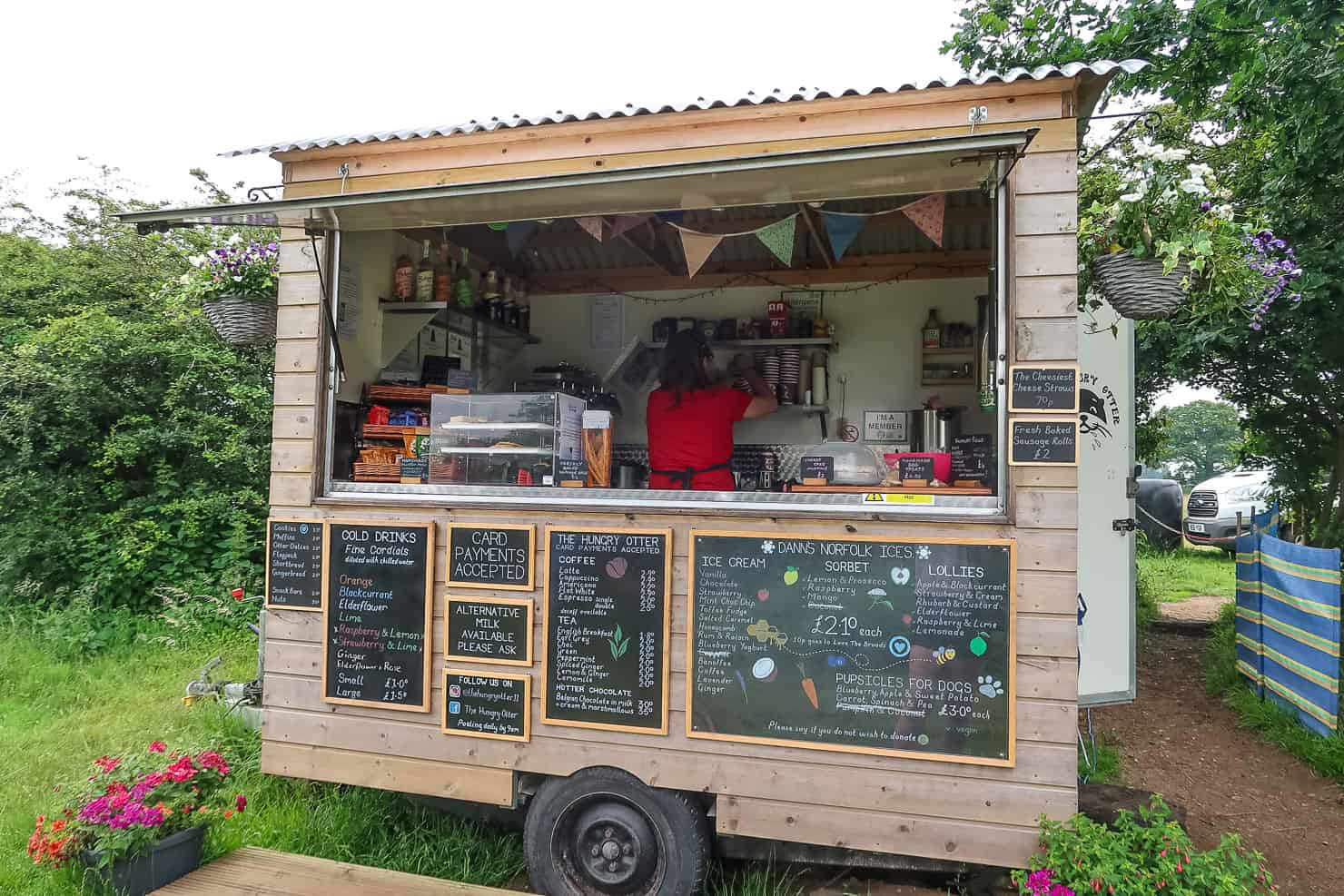 For lunch, we headed to the busier villages of Wroxham, the 'Capital of the Norfolk Broads' and Hoveton. The only thing we weren't sure about was whether we'd make it under the low bridge that separates the two villages. Our boat was 7ft and if the water levels were high, we might not have been able to make it through.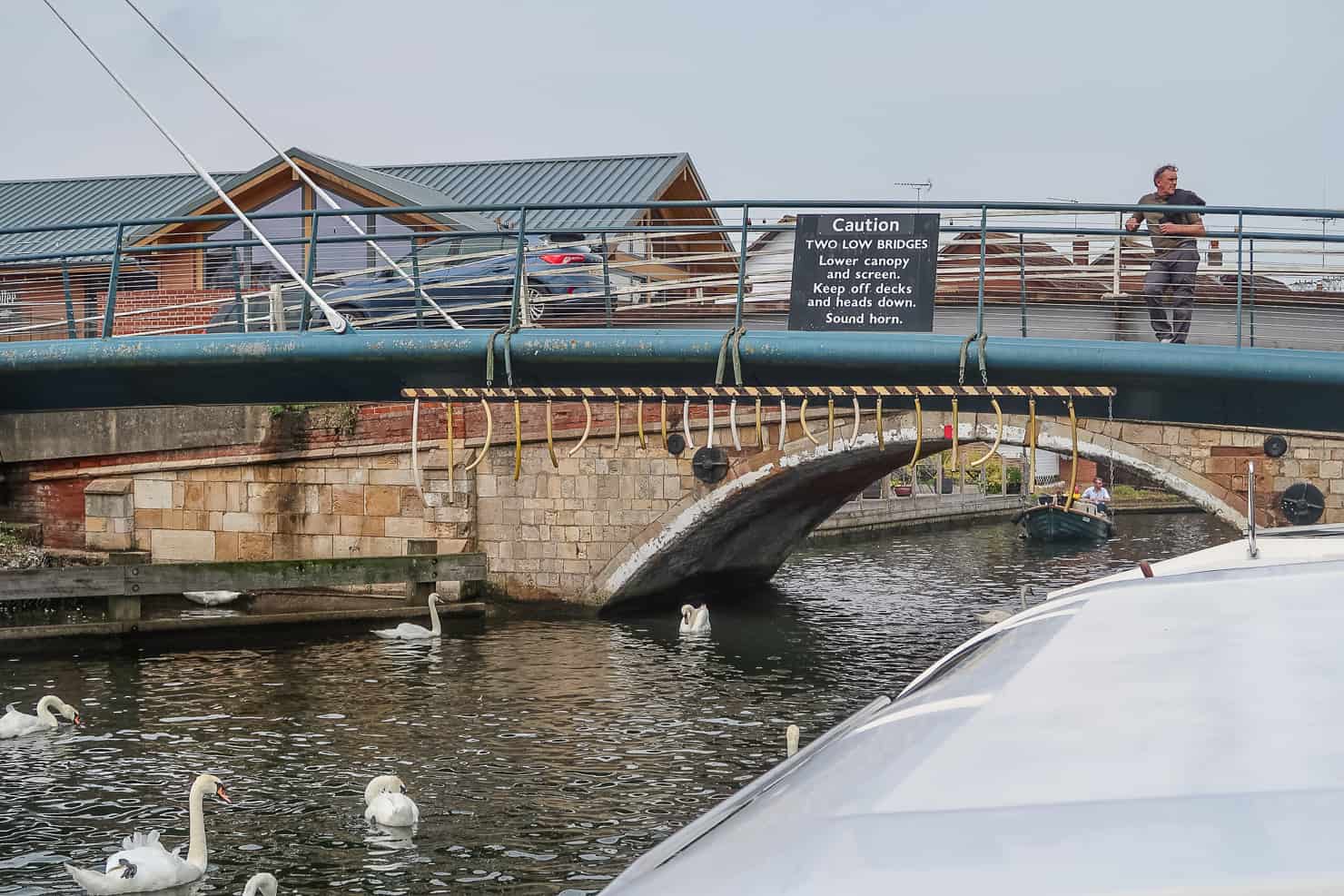 We pulled up just before the bridge and found the Bridge Pilot (they are the people who have to drive you under the bridge). He assured us that we'd make it, so he jumped aboard, we paid him £15 (for this and the return the next day), lowered the front windshield and then he skillfully drove us under the bridge. There were only centimetres to spare so I'm glad we didn't have to do it ourselves.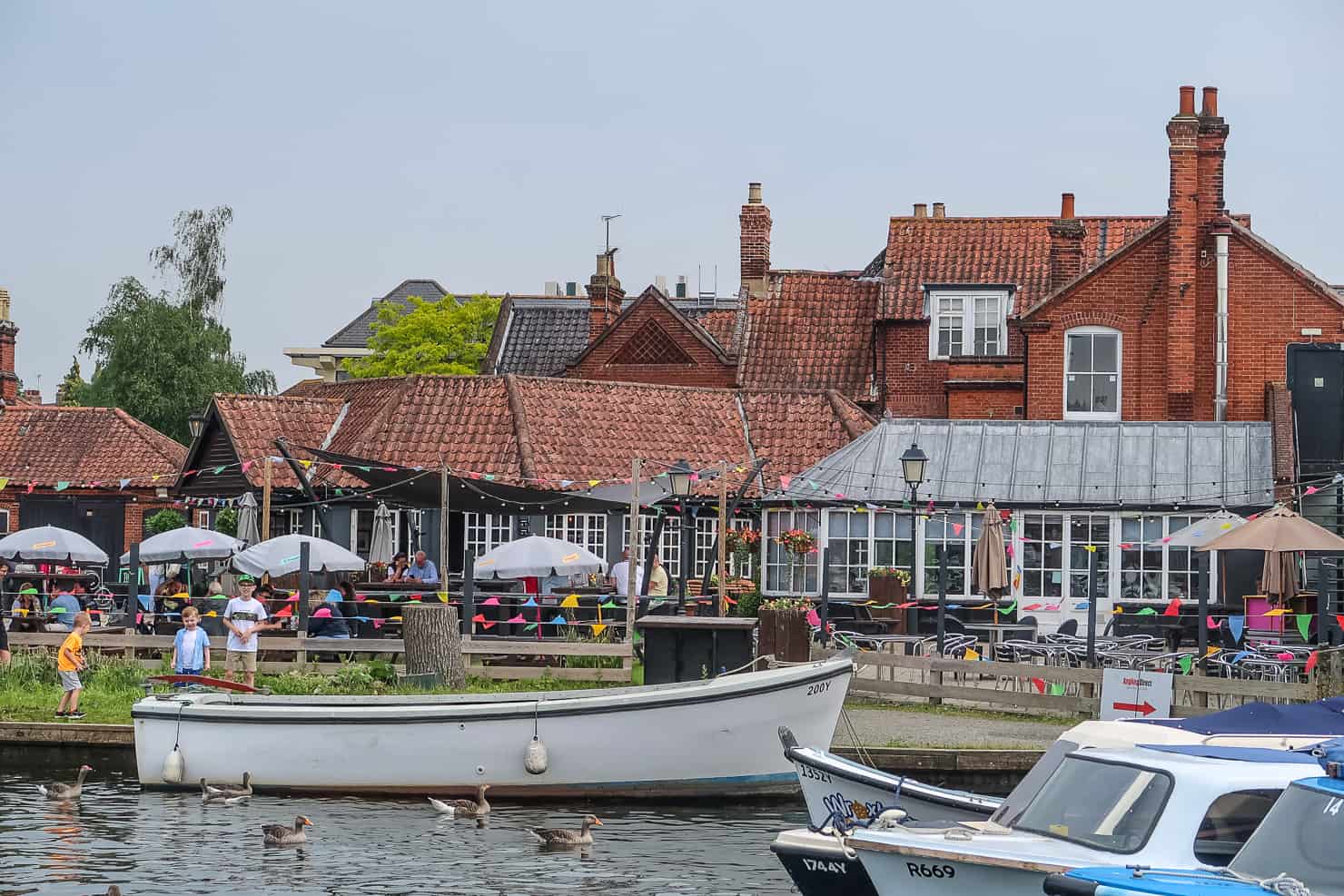 Once through, we moored up and went for a little wander. There are a few nice pubs, cafes and shops including Roys, which is the "world's largest village store". After a look around, we went for lunch at The King's Head in Hoveton. If you have more time, you could visit Wroxham Miniature Worlds or Wroxham Barns.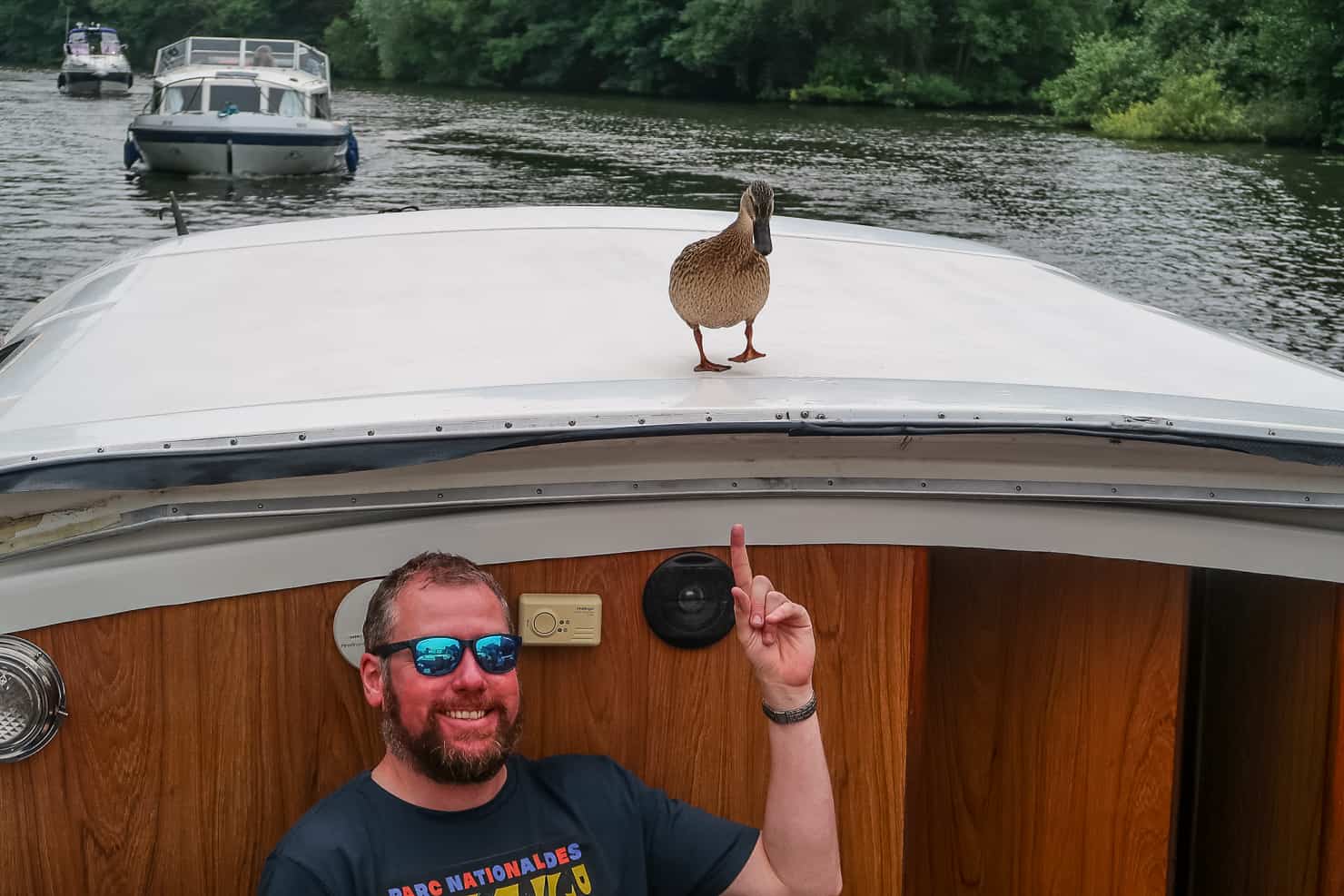 From there we carried on, passing a place called Slippery Bottoms towards Coltishall. This part of the Broads was quieter and more overgrown, it reminded me of the Zambezi. It even smelled like the Zambezi, but thankfully with no hippos or crocodiles to contend with.
England were playing Ukraine in the Euros so we wanted to get there in good time as we'd booked a table at The Red Lion Pub for 8 pm. We parked up at a free mooring, on the Village Green, just a few yards away from The Rising Sun pub.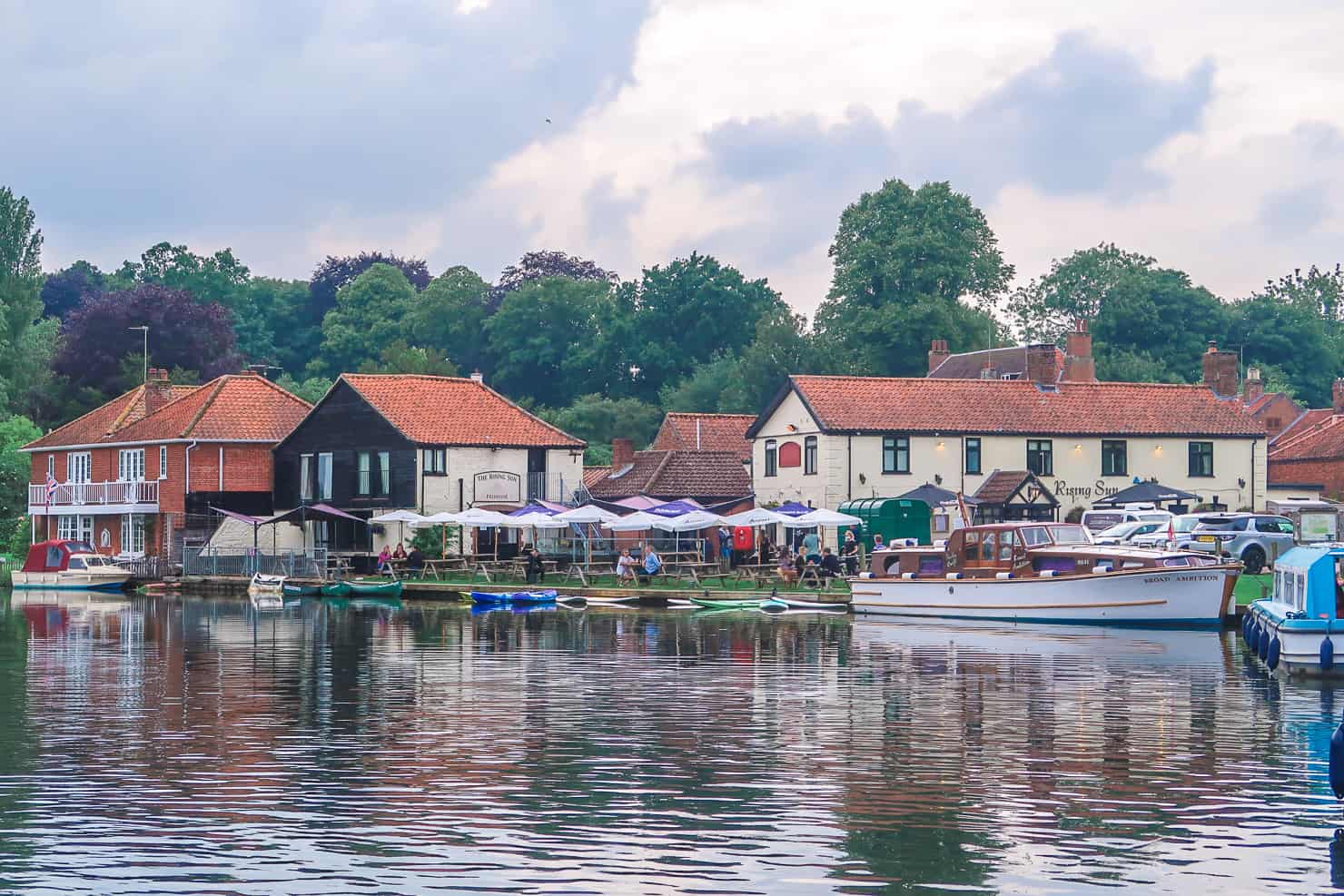 We had been booked into a pub called The Recruiting Sergeant at 8pm, but as they were fully booked, we couldn't move our booking so we ended up having to cancel! There was also another pub nearby called The King's Head (I swear every other pub in the Broads is called The King's Head) but we didn't try them, as even though The Red Lion doesn't usually serve food, they had a burger and sausage stand out the back which did the job!
And even better – England won 4 – 0!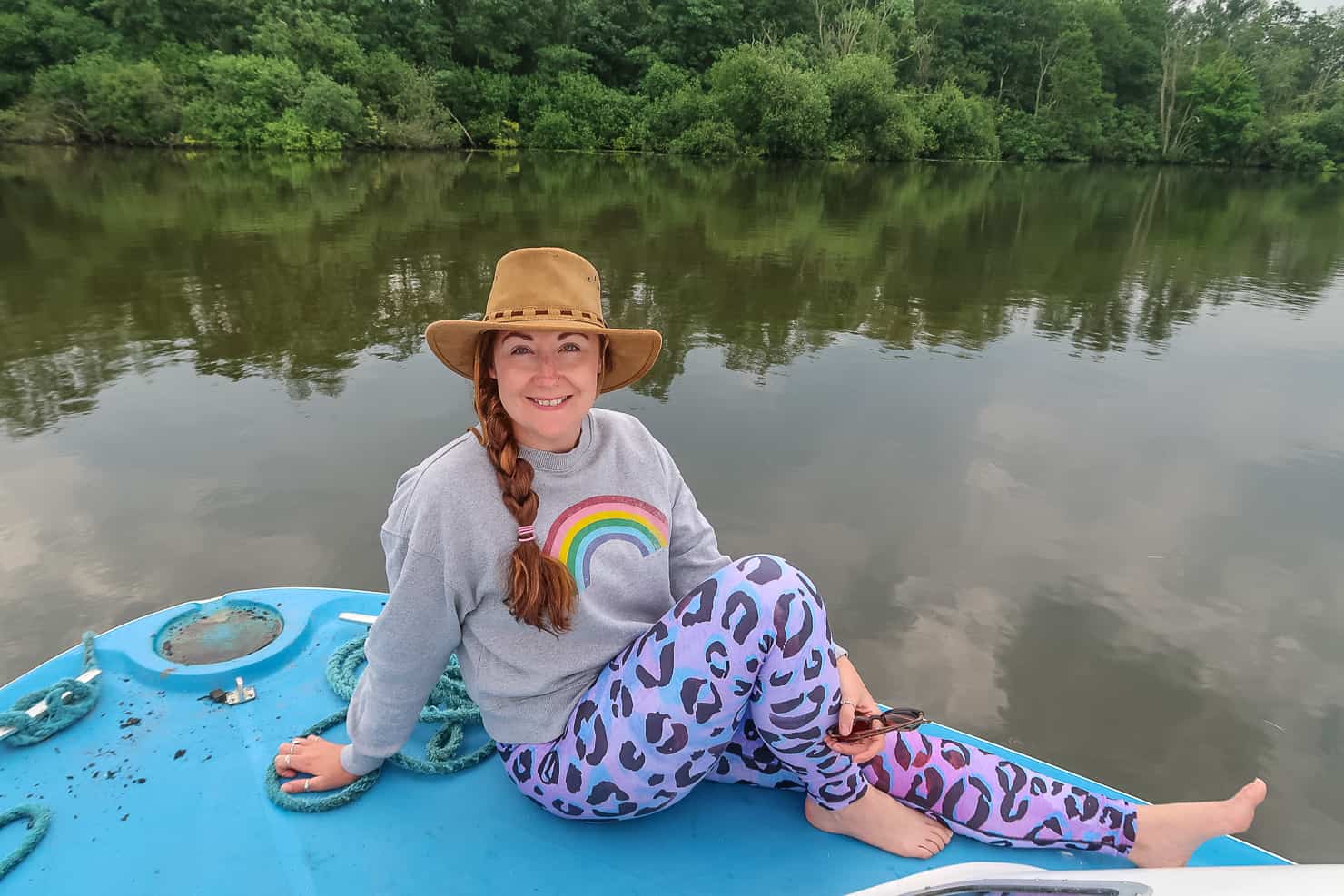 Day 3: Coltishall to Ludham
In the morning, we were planning to hire the standup paddleboards from outside of The Rising Sun, however by the time we'd had breakfast and got ourselves into gear, it was about 10 am and other people beat us to it! This was my biggest regret of the trip as it would have been a lovely place to do it.
So we untied our ropes and off we went, back the way we came, stopping at Wroxham to pick up another Bridge Pilot who once again skillfully guided us through.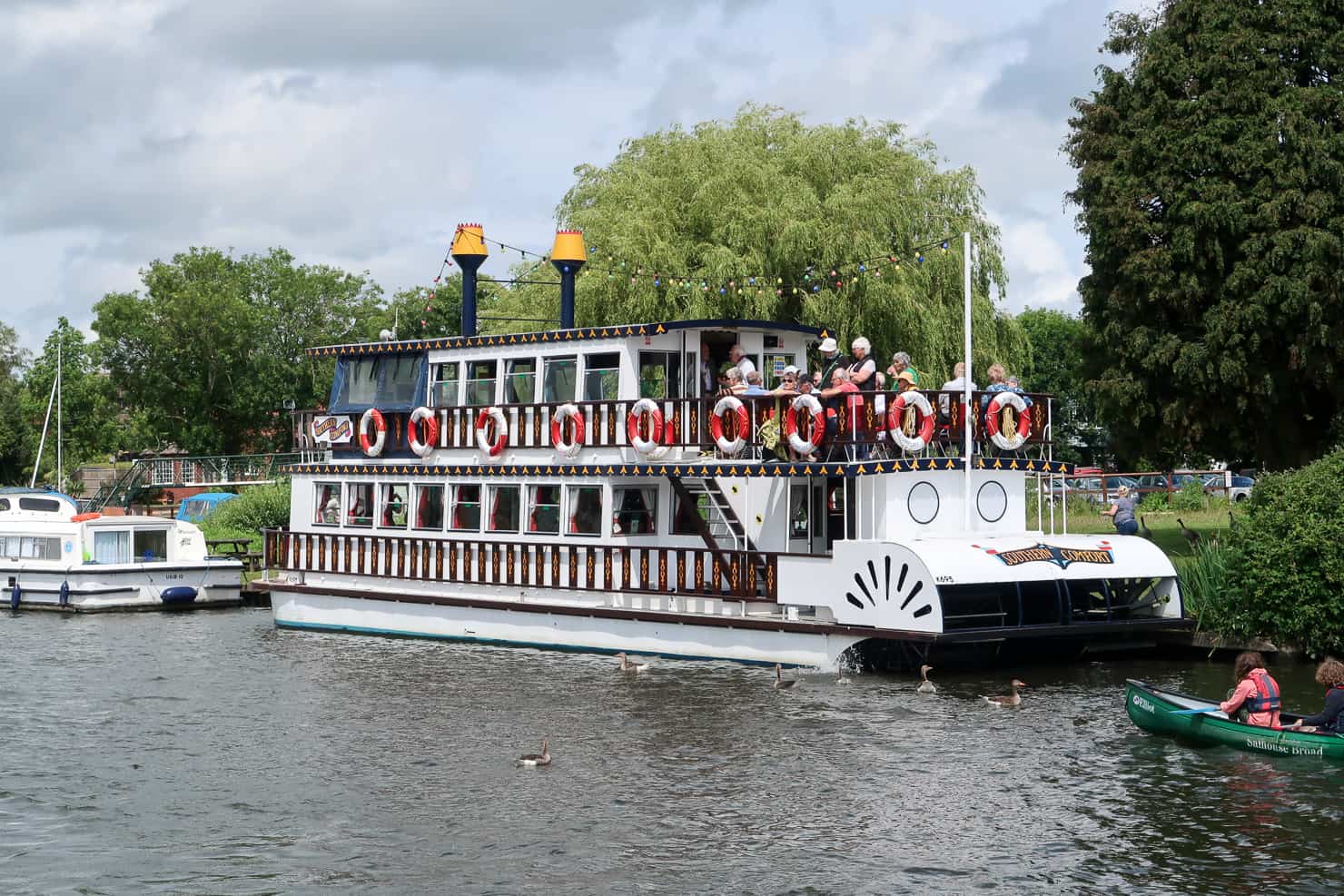 We took a little detour into Ranworth Broad but decided not to stop. Although if you do decide to stop, you can moor at the staithe and visit the Norfolk Wildlife Trust Visitor Centre, or climb the spiral staircase to the top of the church for a fantastic view of the Broads.
We then headed to a place called Ludham Bridge for lunch and ate at a nice pub called The Dog Inn.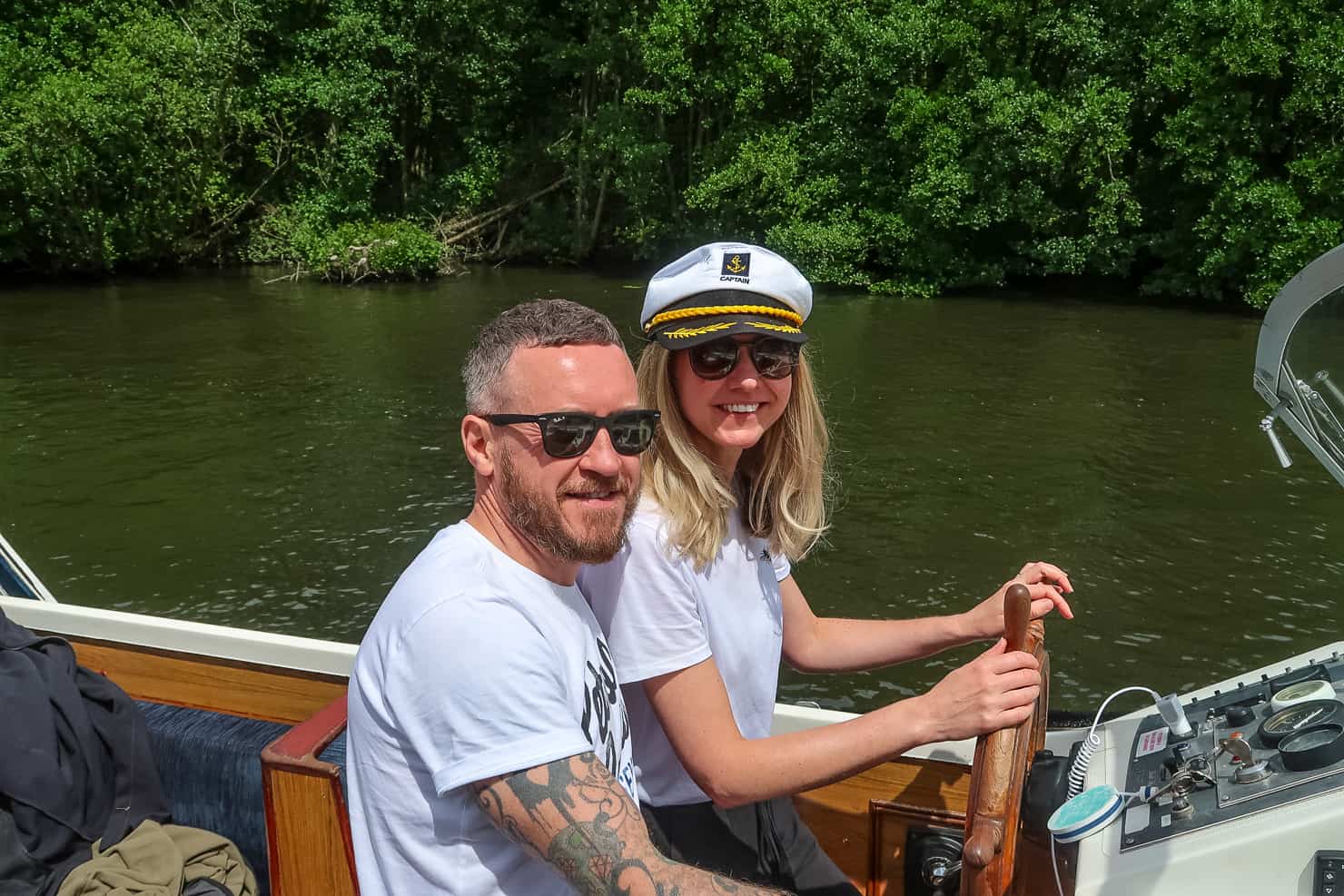 Our plan for the evening was to moor up at Fleet Dyke on South Walsham Broad and go to a pub called The Ship Inn in South Walsham, however, the pub was closed and when we got there we realised that there wasn't really anywhere to moor up that was within walking distance of the other nearby pub, called The Maltsters in Ranworth.
What we should have done was to pick up some food for a bbq in Wroxham or Horning as we passed. But you live and learn. I can't say I wasn't a little bit jealous of all the folks enjoying their BBQs on the riverside.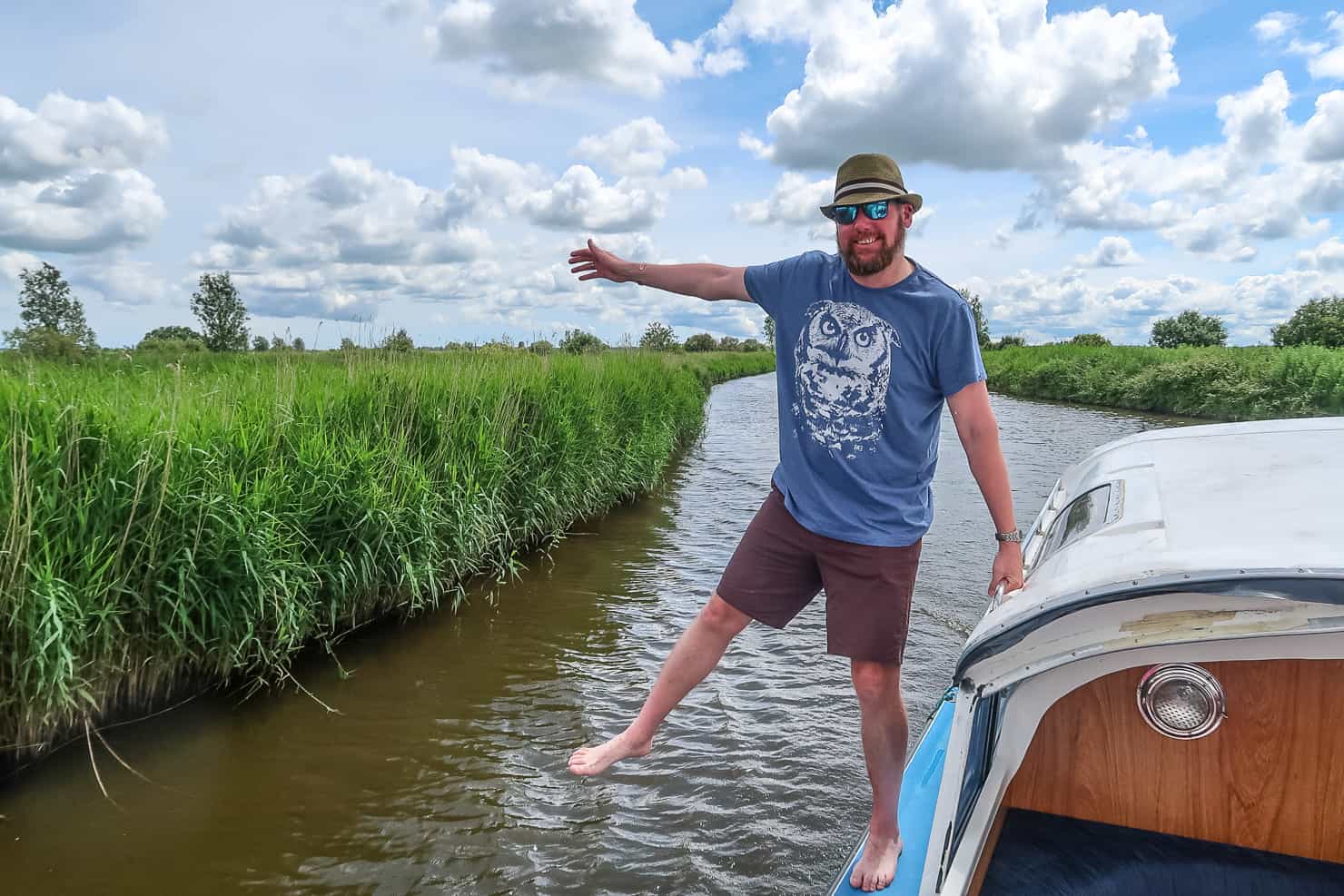 So we continued on towards Ludham, at the other end of the village from Ludham Bridge. When we got there, we realised that it was very full. We sailed up and down looking for a mooring but couldn't find one initially. There were a few spaces, but they didn't quite look big enough and the ones that were big enough were private ones.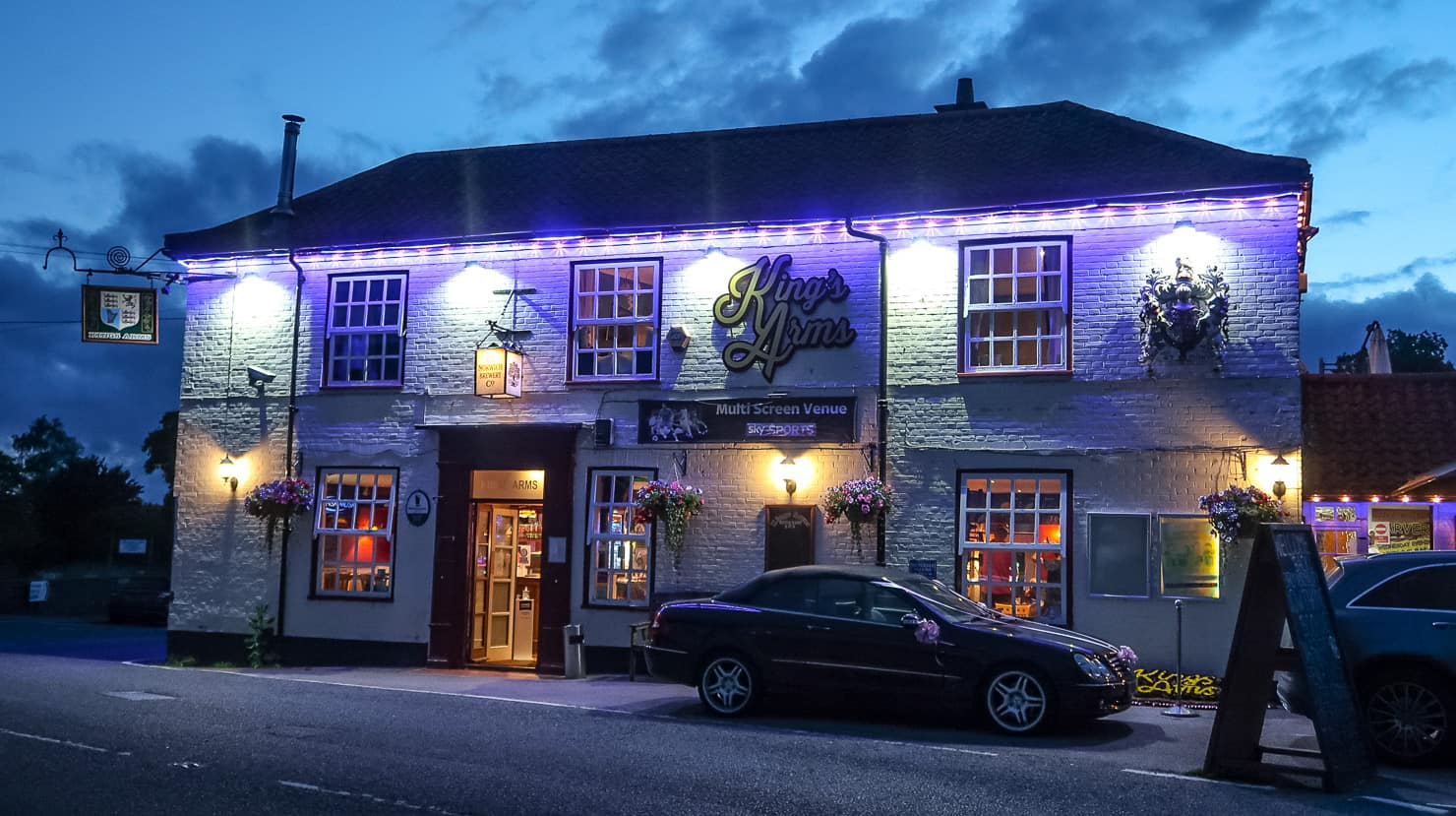 Eventually, another boat called us over and said they'd help us get in next to them. It was quite a snug space, but they seemed to be in a bit of a boat war with the boat on the other side, so I think having us in between them worked to their advantage, plus they seemed to enjoy annoying him, so they helped to pull us in and all was well.
That evening, we took a wander down to a nice pub called The Kings Arms and had a lovely meal, plus they do a carvery!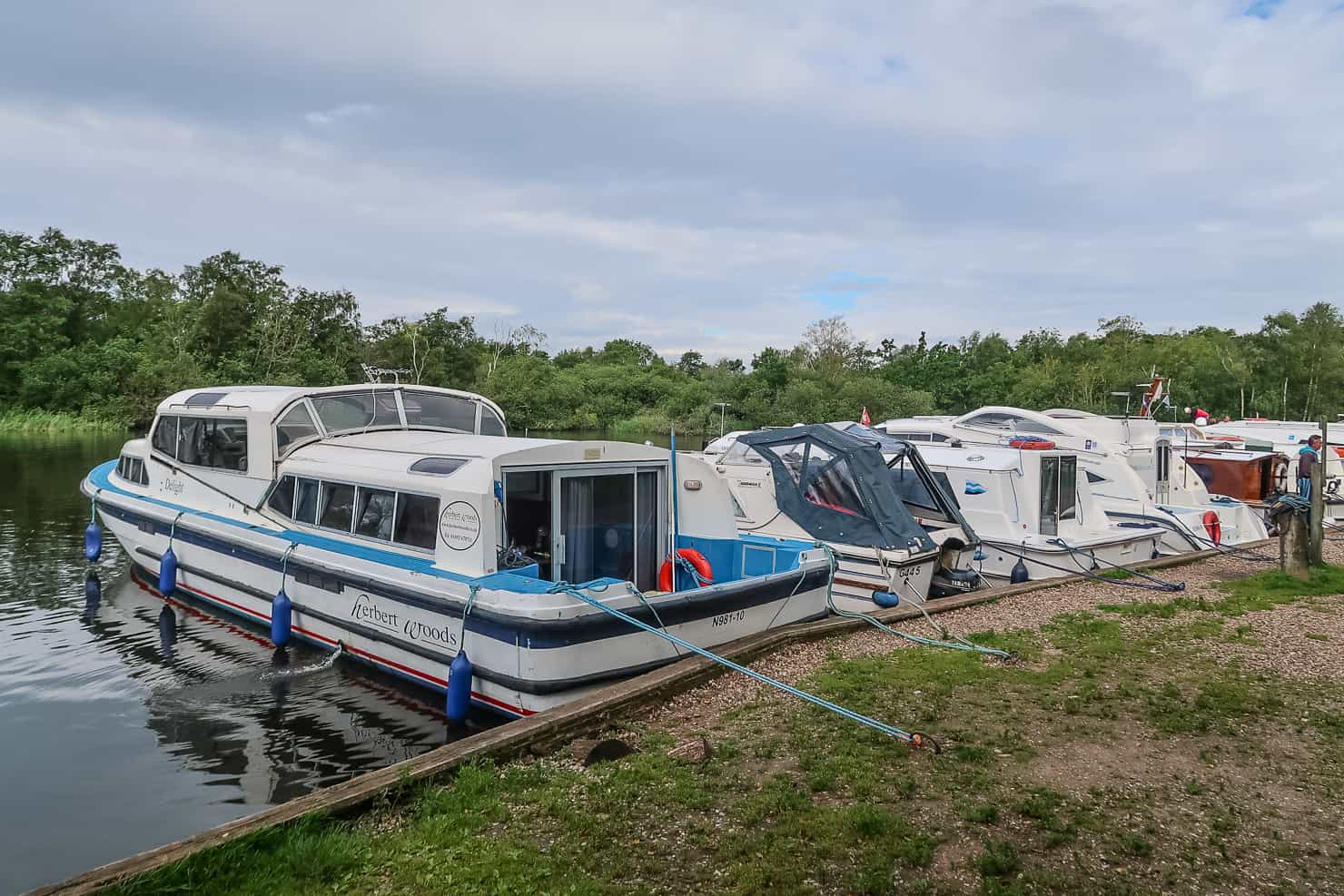 Day 4: Ludham to Potter Heigham
Once up and at 'em, we made the short 1-hour trip back to Potter Heigham, ready to hand our boat back in at 10 am. I didn't want our boat adventure to end!
Leaving the boat was sad, but I was pretty excited to get another breakfast at BridgeStones and once again it didn't disappoint!
Do you fancy a trip on the Norfolk Broads?
Read More About England & the UK