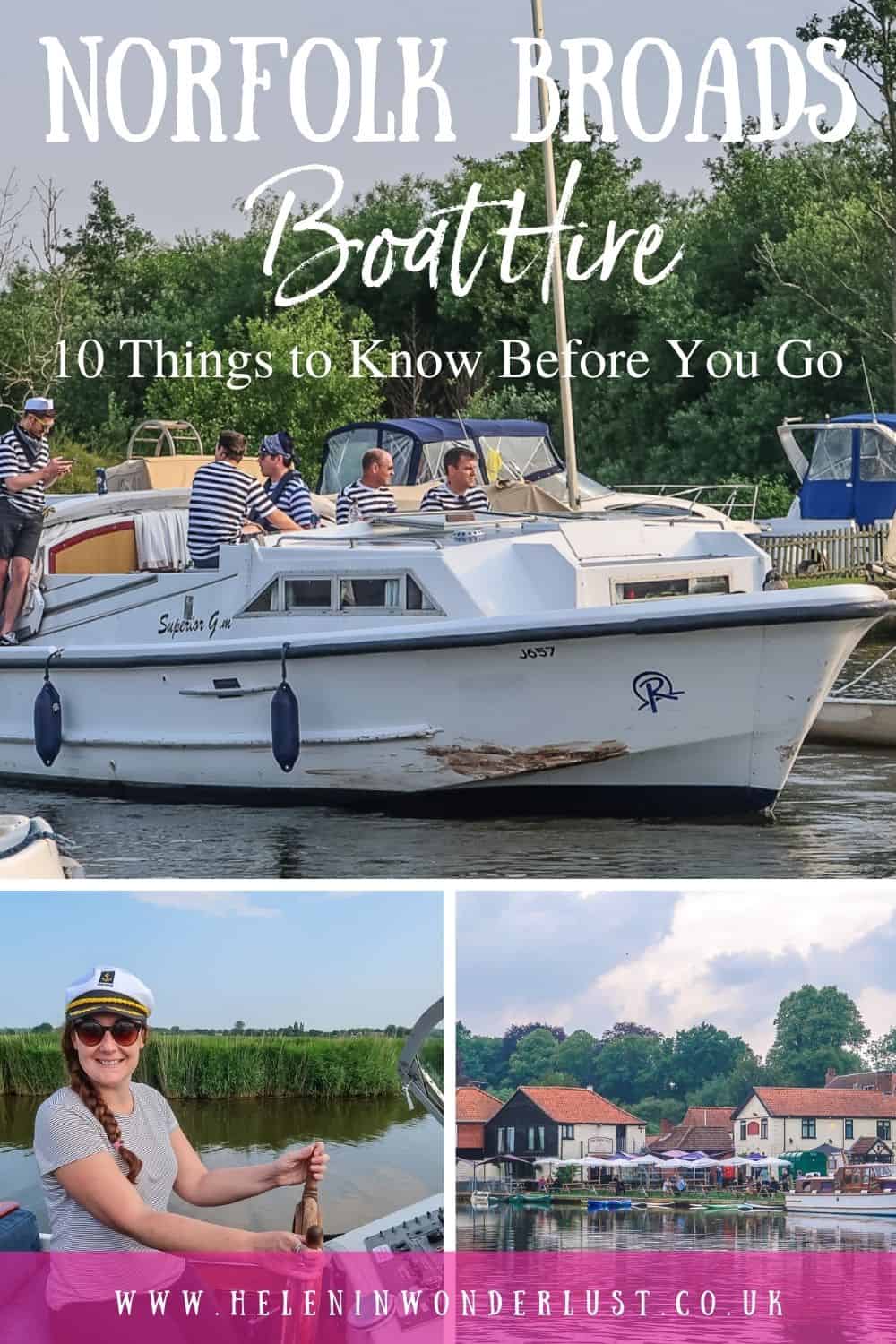 Looking into Norfolk Broads boat hire? Not sure what it's all about? Then you've come to the right place!
I've just returned from a wonderful long weekend boating in the Norfolk Broads.
Five of us hired a boat and spent 3 nights cruising the Norfolk Broads National Park, which has over 125 miles of lock-free waterways that are perfect for a day trip, weekend break or longer holiday.
To hire a boat you don't need any boating experience and they give you full instructions on how to drive and operate the boat before you set off. But you also need to be prepared for your trip as it's not quite as simple as most other holidays.
If you want to follow our experience and itinerary head over to this post, but if you want to know a bit more about Norfolk Broads boat hire, how to go about it, how it works, what to expect and what to bring, read on…
---
Norfolk Broads Boat Hire – Everything You Need to Know
---

1. Choosing a Norfolk Broads Boat Hire Company
There are a number of different companies that you can choose from including Norfolk Broads Direct, Richardson's Boating Holidays, BarnesBrinkcraft and Herbert Woods.
We booked our boat through Herbert Woods, who are based in the village of Potter Heigham.
You can also search on a booking platform such as Waterways Holidays who work across different operators in different areas of the UK. Most of the companies have a range of vessels, some that are good for daily use, some that have sleeping berths and many of the boat companies also allow pets.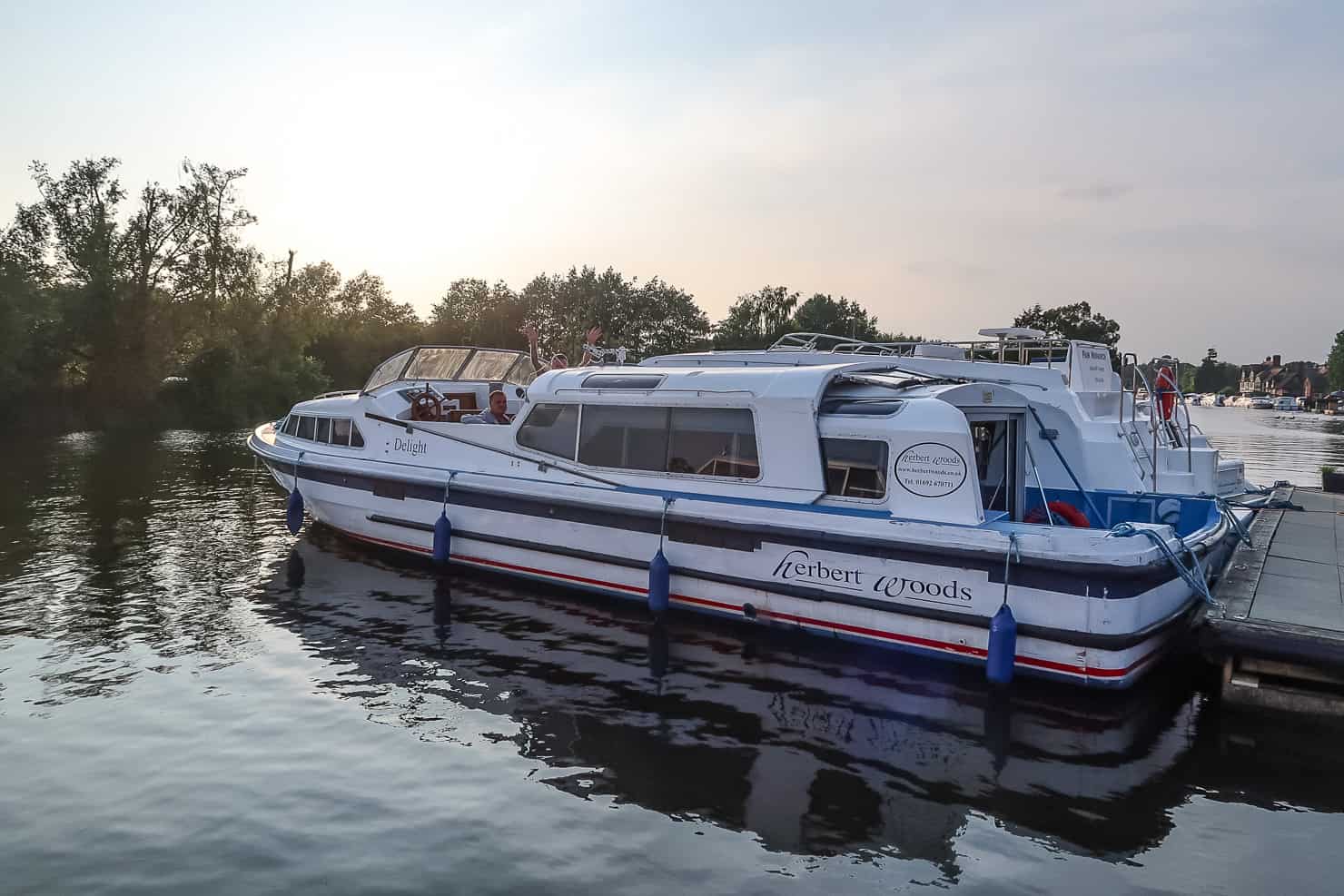 2. Choosing the Perfect Boat For You
When looking into Norfolk Broads boat hire, you need to pick the right boat for you and your group.
Our boat was called Delight, which sleeps 5 + 3. There was a master bedroom with a private bathroom and space for a small child to sleep, a small double room, a small single room and a convertible double in the main area.
My friend, Mike, was due to sleep in the single room, but at 6ft 4″, he was a bit too big to fit comfortably (and I think most adults would be), so he slept in the main area.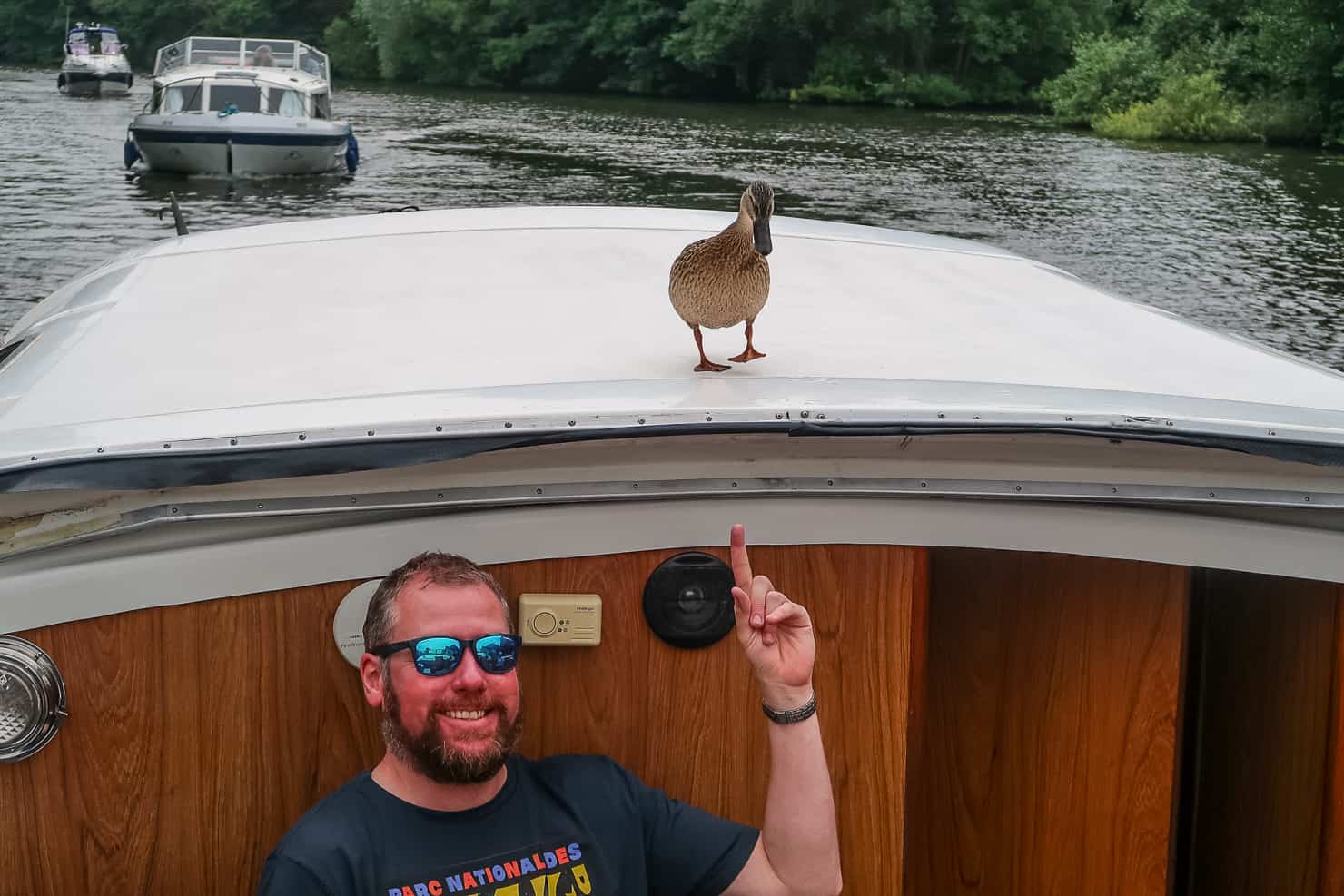 We also had another bathroom, a kitchen area and more seating at the back of the boat. As you can imagine, boat life is a little bit cramped, but the vastness of the area, plus the sense of freedom and peace on the water, more than makes up for the lack of space.
I would suggest, if your budget allows, to get a boat that sleeps more people than you have in your party, just to give yourselves a little extra room, however, it's not essential. Just check there are enough full-size beds for the adults and older children in your party.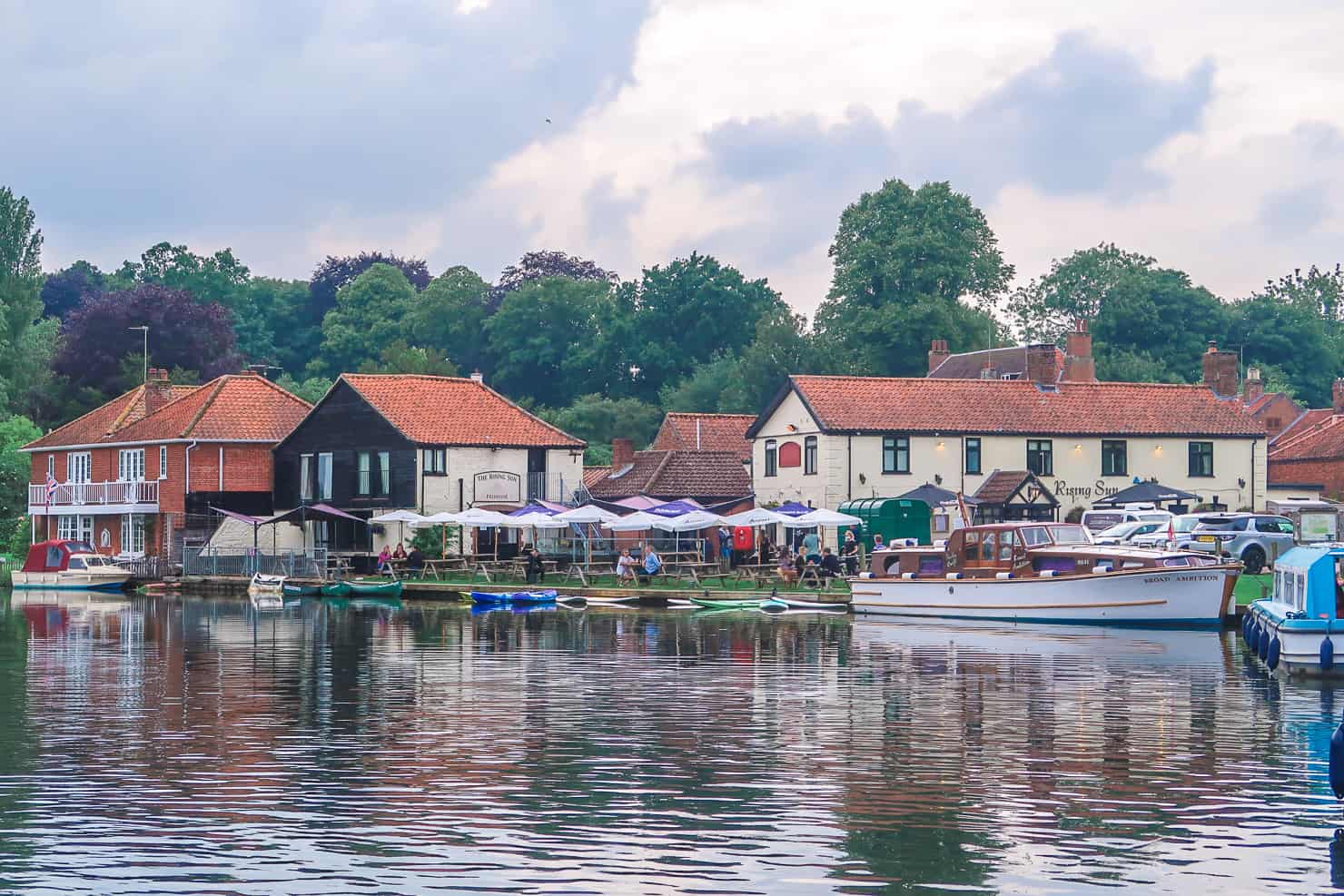 3. How Long to Spend on the Norfolk Broads
We booked our boat for 3 nights. We drove down to Great Yarmouth on a Thursday night, ready to pick up our boat in nearby Potter Heigham the following day. So our trip was 4 nights in total. I was glad we'd driven down in the evening as it would have been a bit hectic getting down to Norfolk on a Friday morning.
On the first day, we were allowed onto the boat at 2.30 pm, but by the time we'd received our instructions, it was around 4.30 pm so we only really got 2 full days on the water.
Personally, I wished we'd had a night or two more on the boat. Whilst I was glad to get back to a bigger bed and my own bathroom, being on the boat was great, and I would have liked those extra two days to relax, do a bit more walking and do some activities.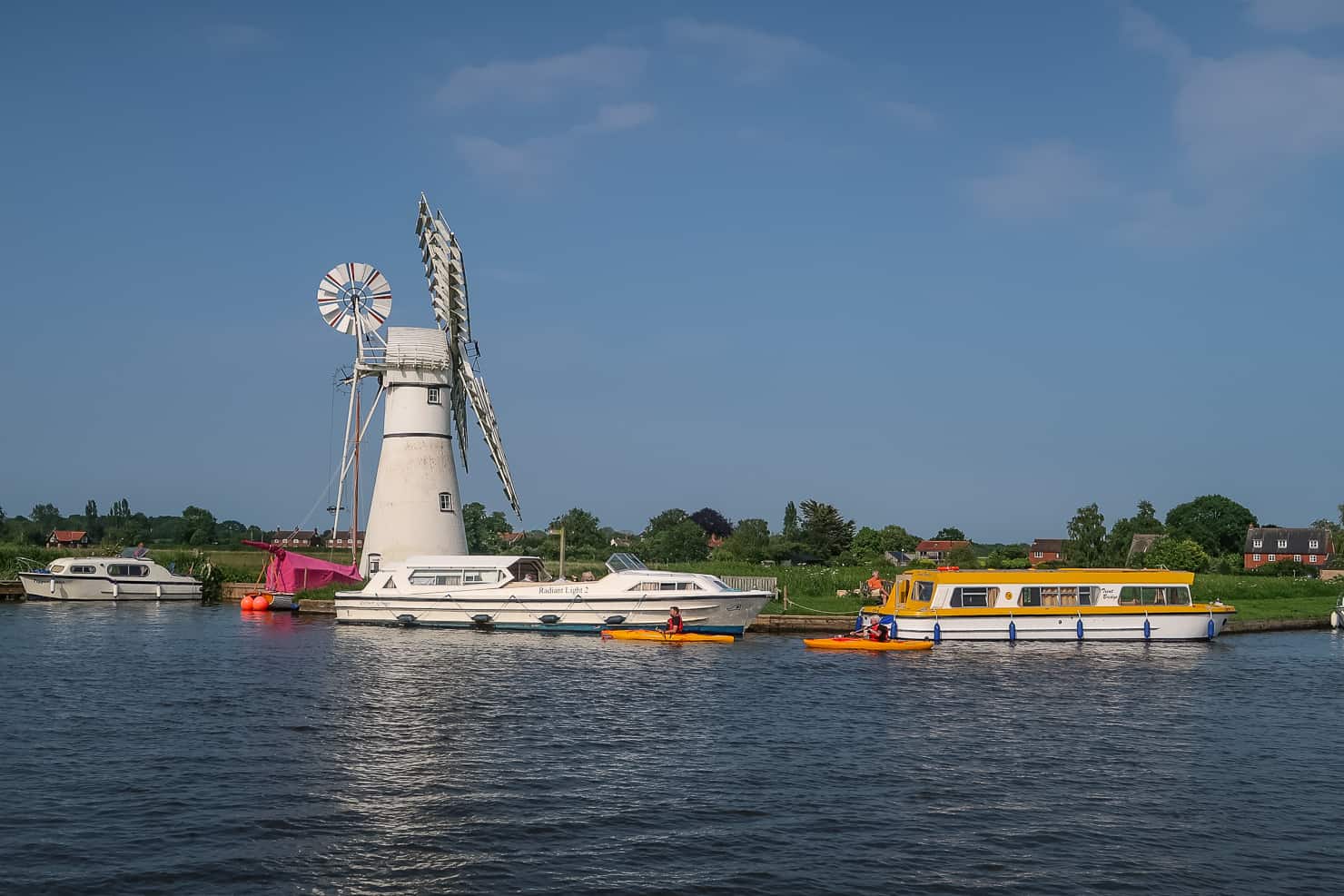 4. Choosing Your Norfolk Broads Itinerary
There are lots of different routes that you can take through the Norfolk Broads, but there are a few different factors that will determine your final itinerary.
You will usually need to start and finish in the same place and the company you hire from will usually dictate this. The amount of time you have will also factor in where you can get to.
I wouldn't have had a clue where to start planning a route, but thankfully, the hire companies provide you with a few Norfolk Broads itinerary options from between 3 to 7 nights.
Just remember that the boats can't go very fast, usually between 3 and 6 miles per hour, so it takes a while to get where you are going (much longer than driving between the villages) and there are police on the route checking your speed, so pay attention and don't get fined.
READ MORE: Boating on the Norfolk Broads: Potter Heigham to Coltishall Itinerary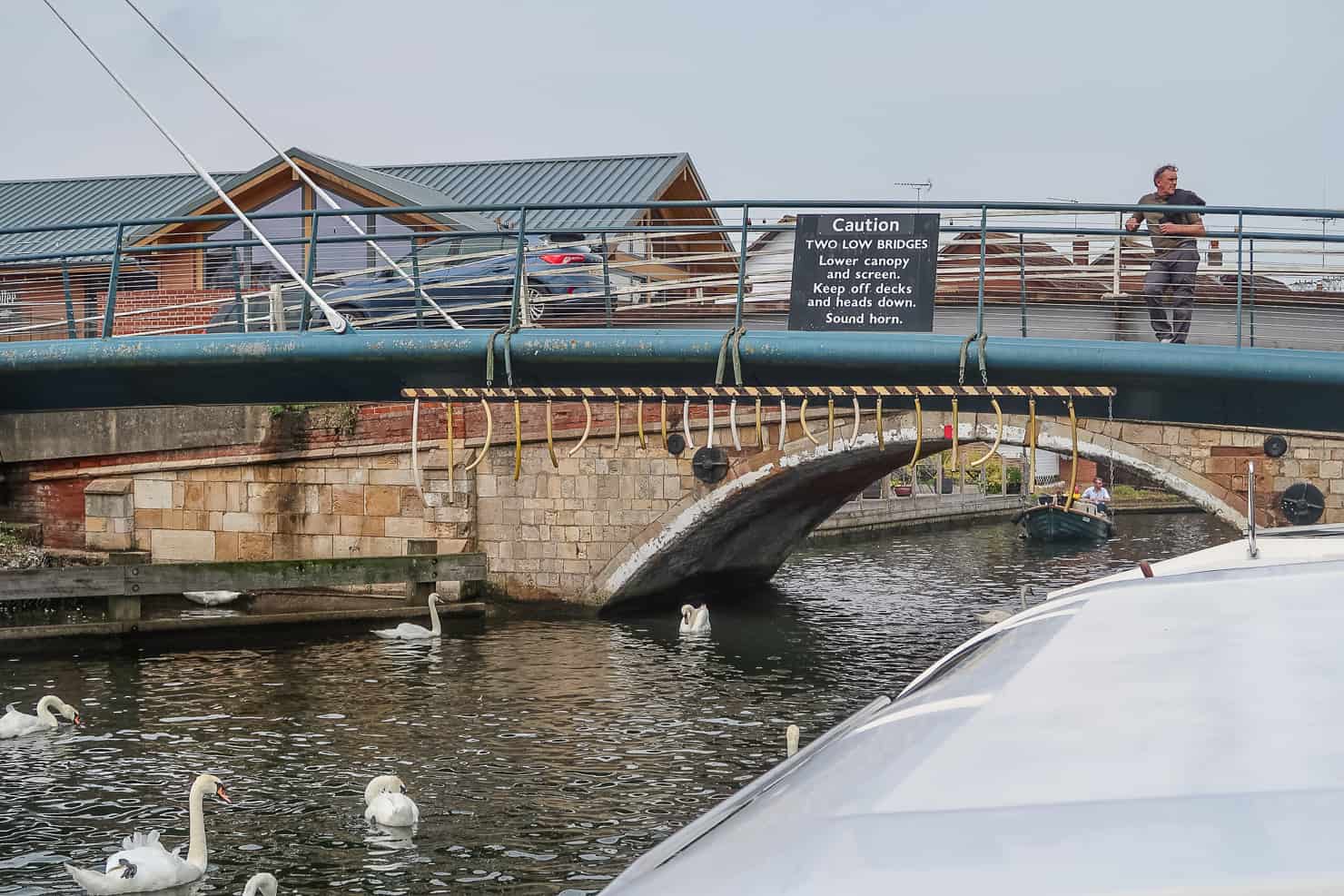 The route you take might also depend on the boat, as some boats are unable to travel under the low bridges, so you may want to check this before you make any final decisions. For instance, our boat was 7 ft. high and it was only able to pass under the bridges at Ludham, Wayford and Wroxham subject to weather and tide conditions, with the canopy and windscreen lowered – thankfully the tides and water levels were on our side.
But it would only pass under Beccles Old and Potter Heigham bridges at extreme low tide, so we decided not to even try those routes. You also have to use Bridge Pilots for some of the bridges and they drive the boat under the lower bridges for you at a cost of £15 return.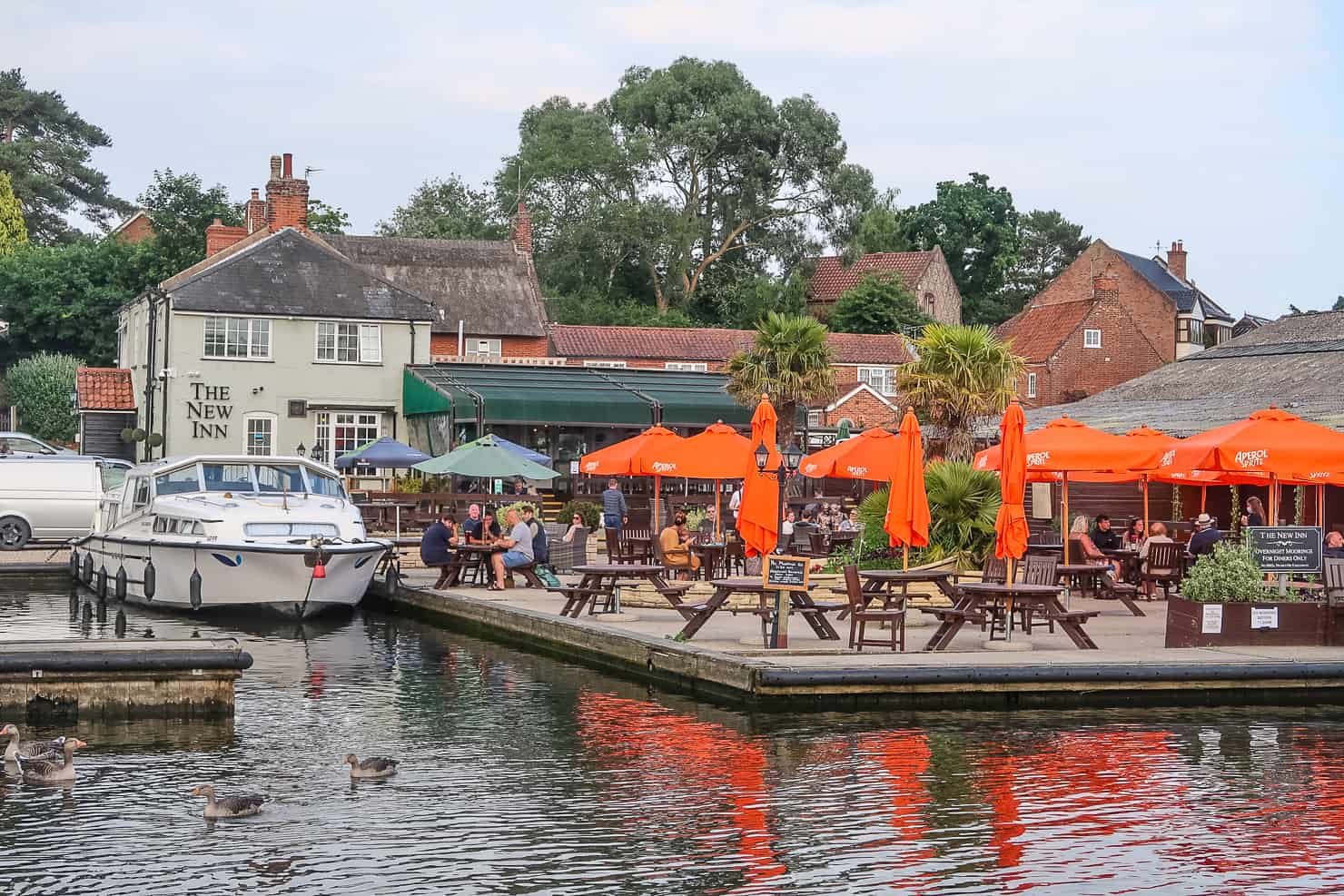 5. Where to Stay in the Norfolk Broads
If you are hiring a boat for the day, you won't need to worry about this, but if you are staying on the boat, you'll need to think about where you're going to park up (or moor) each night.
There are lots of places to moor your boat in the Norfolk Broads. This includes plenty of free (or very cheap, around £3 – £10) moorings and you don't have to book them. Some pubs on the water also offer free moorings if you dine with them (but you usually need to book those in advance).
We usually tried to moor somewhere where there was an electric charging point and/or a water filling station as the water onboard was only really enough for 24 hours after we'd all had showers. But you can stop and fill up during the days too. The boat charges whilst the engine is running, but when it's stopped it drains the battery unless you're plugged in. No electricity means no hot water, no charging, no lights etc.
You need to buy electricity cards for your boat (available from the marinas) which allow you to use the charging points. We bought 6 cards for £1 each, but only used 1 for the whole 3 days. You have to have your boat engine off between 8pm and 8am because it's dangerous to navigate in the dark, so it's essential that you park up before that time. Plus, the boats are noisy!
Ideally, you should have a little bit of a plan and they advise you to get to the free moorings between 4 pm and 6 pm because after that most of the good spots are gone. If you have your own food onboard and don't have to be close to pubs or restaurants, it makes things a bit easier.
We planned on eating at the local pubs each night so had to be a little bit more strategic about where we stopped. On our last night, we had planned to park up near to a local pub but we realised it was closed and there wasn't anywhere else nearby, so we had to abandon that plan as we had no other food on board. We were very jealous of the boats moored up with their barbecues.
There are also lots of campsites, guesthouses and holiday homes everywhere, so you could always do that if you didn't want to sleep on the boat.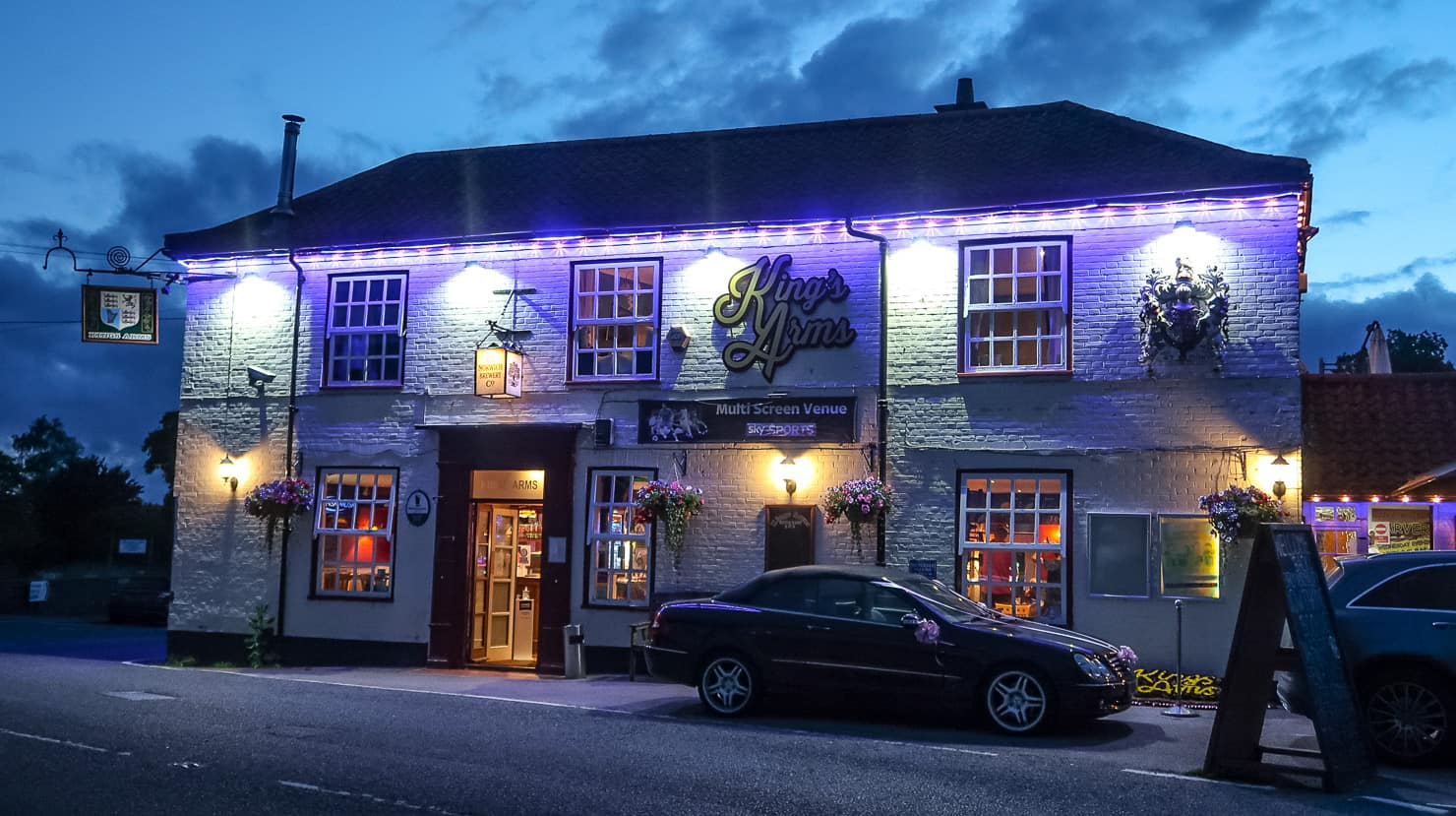 6. Where to Eat in the Norfolk Broads
Most of the villages have places to eat, so you won't go hungry. We booked our restaurants/pubs for the first 2 days, but left the 3rd night open.
We didn't find the pubs to be too busy when we went, but you may want to book in advance, just in case. If you're planning to stay somewhere that doesn't have a pub/restaurant nearby, then you will want to bring your own food. A bbq is a good choice! Or if you can't get a mooring near to a pub – then you may have to cook for yourself.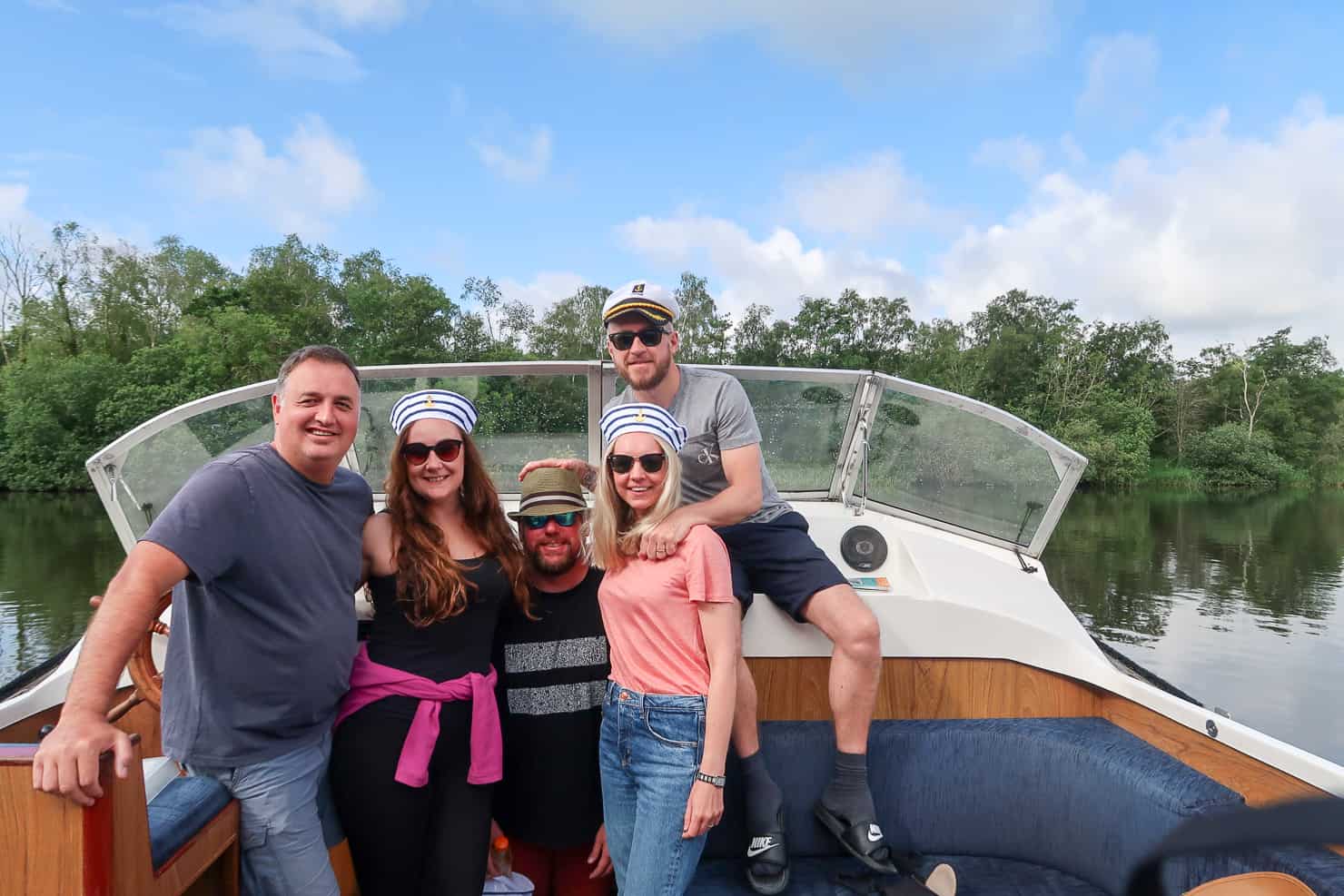 7. Where to Pick Up Supplies
You can of course bring supplies from home. But if you want to leave your shopping until you get there and support the local economy.
There are some great places to shop all over the Broads, but on our route, there was Latham's of Potter Heigham, a great discount store that sells pretty much everything you could need (it's like Aldi, mixed with Home Bargains, Matalan and B&Q) – although we weirdly couldn't find any bug spray.
We also came across Roys of Wroxham. We didn't go into Roys but I am told it's the "world's largest village store" and from the outside, it looked like it sold a lot too!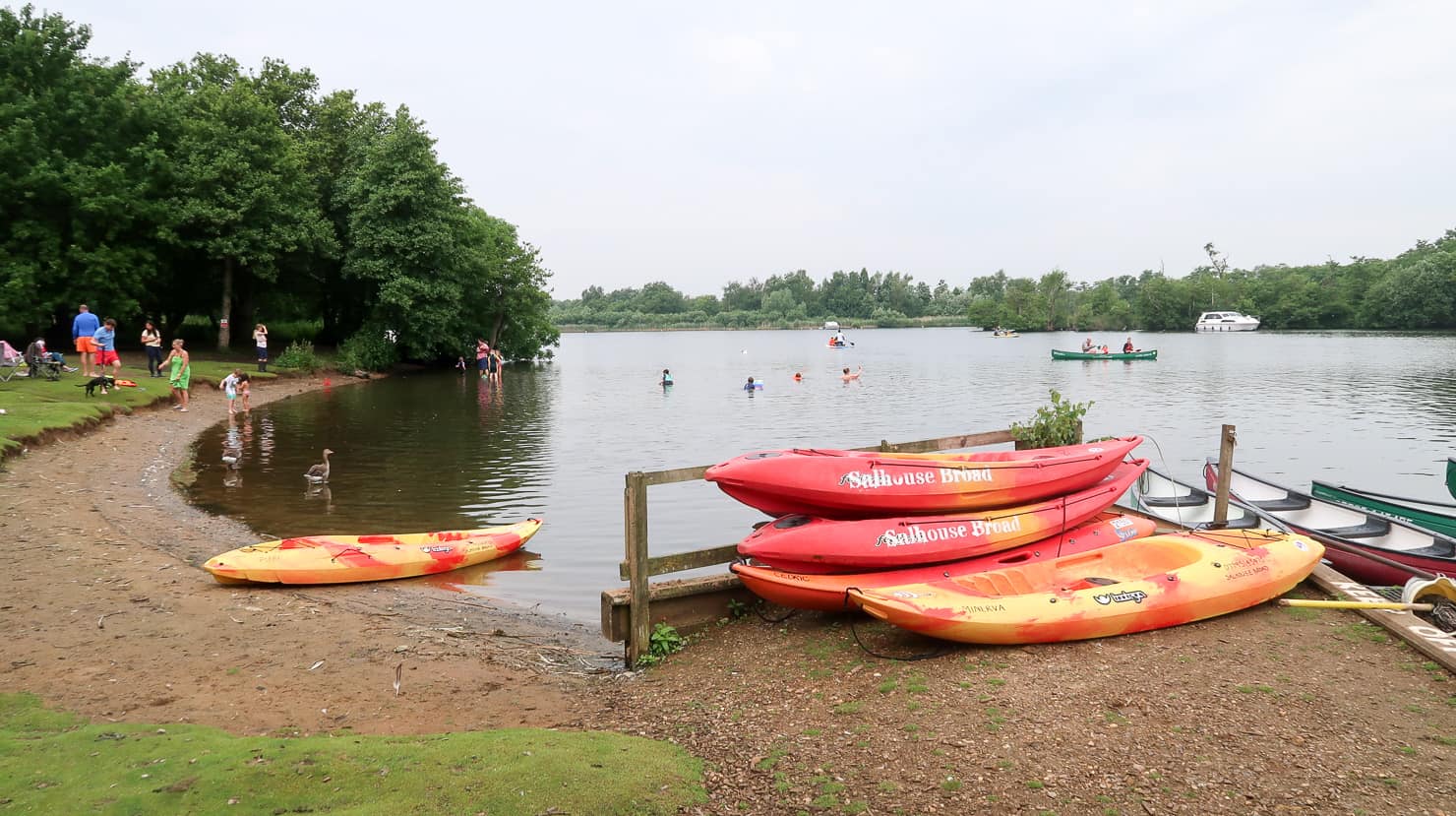 8. Things To Do on the Norfolk Broads
Aside from Norfolk Broads boat hire, there are lots of other things to do. We didn't have a lot of time, but if you do, here are some ideas:
Standup Paddleboarding: There are quite a few places where you can hire paddleboards.
Kayaking: Again, there are a few places to hire kayaks too.
Walking: The area is pretty flat, so there aren't really any 'hikes' but f you like walking, there are some great walking routes.
Cycling: You can hire bikes in the Broads or bring your own if you have space.
Fishing: We saw tons of people fishing all over the Broads, both on the river bank and from their boats whilst moored up.
Explore the Villages: Once you've moored up, hop off the boat and explore the local villages.
Bure Valley Railway: A steam train that runs between Norwich and Cromer-Sheringham, with a stop at Wroxham.
There are lots of other attractions in the wider area too, such as theme parks, castles and farm parks.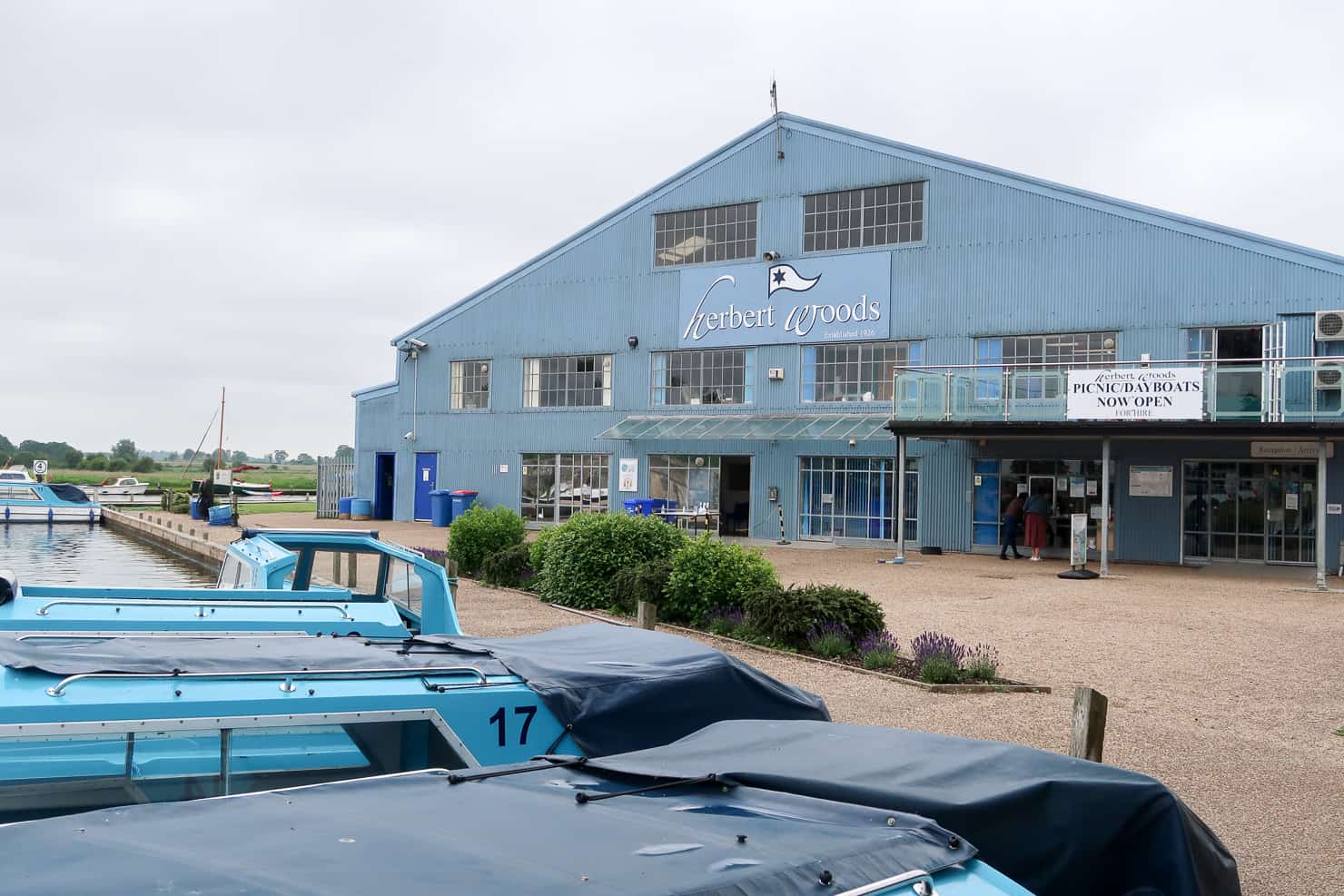 9. Where to Park Your Car
Most of the boating companies have a car park at the marina where you can keep your car whilst you go on your Norfolk Broads holiday. Ours included parking for one car and then we paid £10 for the second car.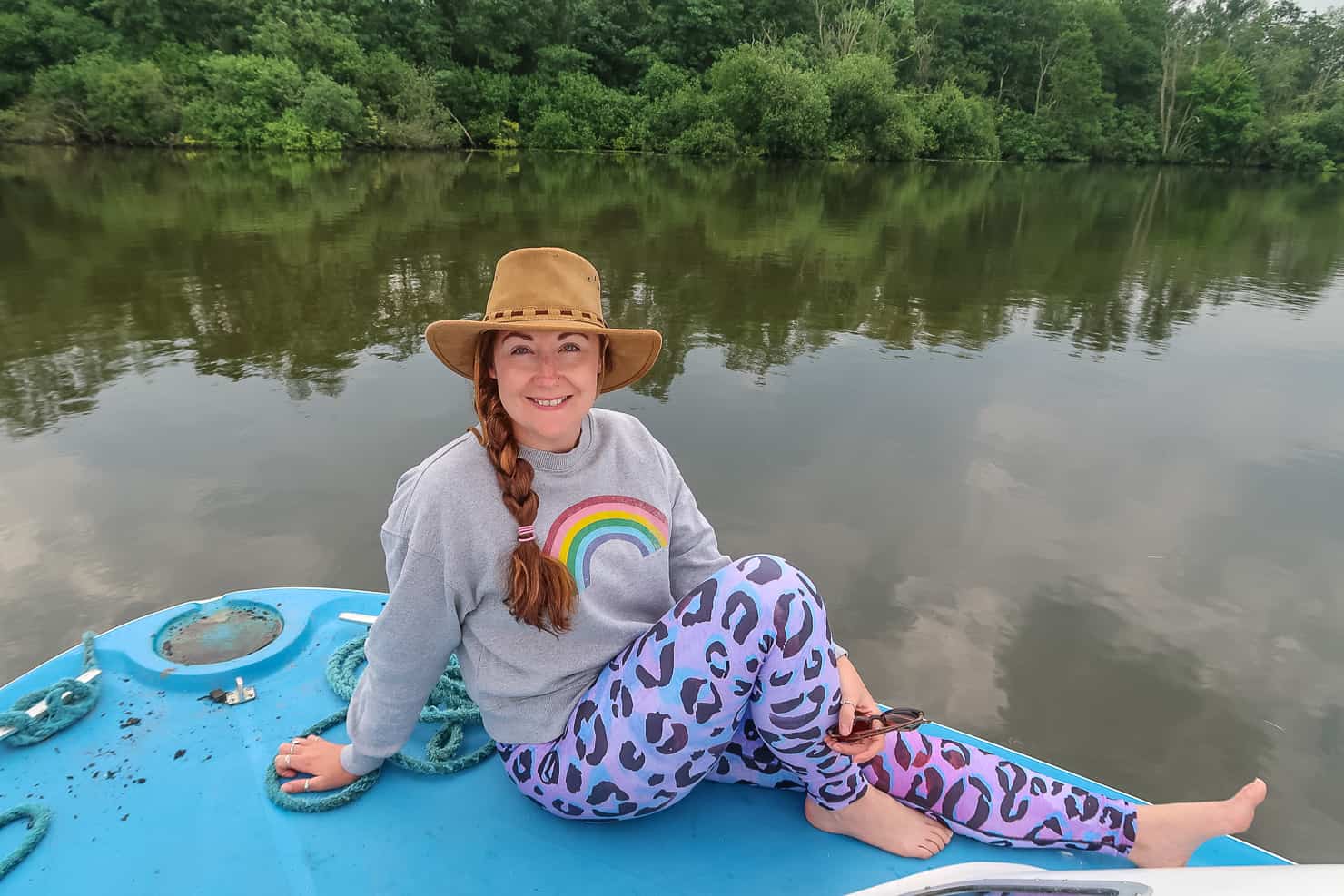 10. Norfolk Broads Boating Packing List
Before you arrive, check to see what is on your boat already, because they will all have different specs, but a I'd suggest bringing the following essentials:
Kitchen Roll: This came in super handy for drying off the outside areas and wet floors.
Bin Bags: The bins on the boat are tiny, so having a spare bin bag or two is really useful as you'll be surprised how much rubbish you accumulate.
Oven Glove: If you're doing your own cooking, an oven glove might come in handy, but you can always use a tea towel.
Toilet Roll: We only got one toilet roll per toilet, so it's a good idea to bring some with you.
Towels: These weren't provided on our boat so we brought our own.
Cleaning Wipes: Whilst washing up liquid, a sponge and tea towels were provided, kitchen cleaner wasn't so having some anti-bacterial wipes might be a good idea.
Camping Chairs: These are great if you want to chill on the river bank or if you're doing a bbq, as you can't cook a bbq on the boats.
Food/Drink: To save on money, bring some food and drink to keep on the boat. We mostly brought breakfast, snacks, alcohol and water. We generally ate lunch and dinner out, but you could easily eat on the boat too and this helps if you're not very close to the local pubs/restaurants.
Bottled Water: You can drink the water out of the taps on board, but it's always good to have more. We bought 3 5-litre bottles at the store in Potter Heigham and this was enough for us.
BBQ: We didn't do a BBQ but we saw lots of people making them on the river banks and they smelled SO GOOD! You might also need to bring some tongs too.
Non-Slip Shoes: Rubber-soled shoes are good for walking on deck, as they're less likely to slip than any other type of shoe. If you're planning on doing a lot of walking, walking boots or wellies are good to bring, plus it can get a bit boggy on the banks.
Sunscreen: You'll be outside a lot so it's good to protect your skin.
Bug Spray: There are always going to be bugs when you're near the water, so bites are common. They're not dangerous, but can be pretty itchy.
Torch: There are very few street lights in the villages and around the Broads, so it's good to have a torch or head torch with you.
Waterproof Jacket: For when it (inevitably) rains – this is England after all!
Warm Jacket: It can get cold out on the water and in the evenings, so bring some warm clothes too, even in summer.
Hat: It was really sunny, so I was glad I brought my wide-brimmed hat.
Captain's Hat: Not really essential, but it was fun having our sailor hats and lots of people had them on. I bought them off Amazon.
Soft Holdall: I'd say that a soft holdall bag would be better to bring than a suitcase, as there isn't much storage and soft bags will fold away.
Sunglasses: It's super bright on the water so sunglasses were a Godsend!
4-Way Extention Lead: Our boat only had a couple of plugs, so we brought a 4-way extension lead which meant we could charge all of our phones at once.
Speaker: Having a speaker on board was great meaning we could play our own music.
Games: We brought a pack of cards and Dobble.
Camera: There will be plenty of photo opportunities so take your camera.
First Aid Kit: There are none on board so I'd bring a basic one with all the basics, including plasters, antiseptic cream (cuts and scrapes are pretty common) plus painkillers.
Fishing Gear: There are lots of fishing opportunities in the area, so you may want to bring your fishing tackle. If you forget, you can always pick one up from one of the fishing stores. There's Lathams in Potter Heigham and an Angling Direct in Wroxham.
Swimming Costume: They tell you not to swim in the Norfolk Broads due to Weil's Disease (leptospirosis), the water not being super clean and because there are lots of big boats being driven around by unqualified people, but we saw a few people swimming, paddle boarding and kayaking in quieter areas. Whilst I'm not advocating it, just know that people do it.
Have you been to the Norfolk Broads? Any other tips for the list?
Read More About England & the UK