Last updated on January 24th, 2021 at 11:51 pm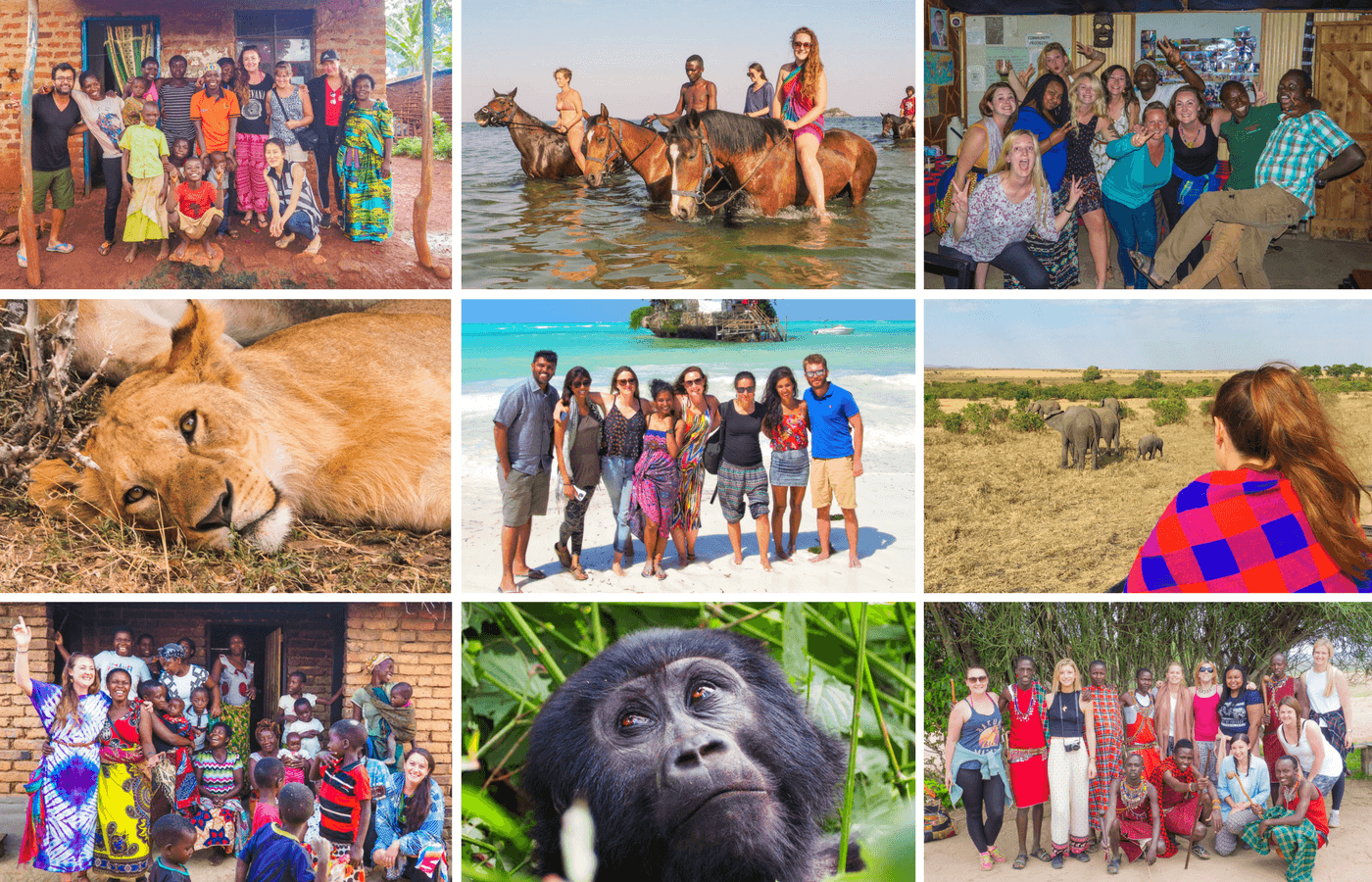 This year has been crazy. I left my job, I've drove Scotland's North Coast 500, been to my first Glastonbury Festival, taken a cheeky trip to Portugal and a few days ago I just got back from a 2-week island hopping trip in Hawai'i.
I backpacked through Malawi and Zambia and led 5 tours through Uganda, Rwanda & the DRC, Kenya, and Tanzania.
The 2017 Rock My Adventure tours have been amazing. I've met and travelled with so many cool people – and honestly, I couldn't have asked for better groups who were up for all the adventures I threw at them!! It's been none stop but so much fun!
The feedback I've had has been really wonderful and this year I even had 2 of the 7 from the Rock My Kenya Adventure in 2016, come back and join me for the trips in Uganda, Rwanda & the DRC and Tanzania & Zanzibar in 2017!
But now it's time to look forward to 2018! And have I got some amazing adventures lined up for you! I've got trips to Uganda, Rwanda, DRC, Kenya, Tanzania, Morocco, Zambia, Botswana, Malawi, Namibia, South Africa, Swaziland and Mozambique.
Some of the trips are replicas of the 2017 trips, some are brand new and some are a mix! As some of you know, I love festivals, music and dancing, so I've incorporated these into a couple of the trips!
One of the Tanzania trips includes the super cool Sauti za Busara Festival in Zanzibar and one of the Zambia, Botswana & Malawi trips includes the legendary Lake of Stars Festival on Lake Malawi.
Take a look at the trips below…
Rock My Morocco Adventure (April)

Rock My Kenya Adventure (June & July)

Rock My Malawi, Zambia & Botswana Adventure (July & August)

Rock My Uganda, Rwanda & DRC Adventure (July & August)

Rock My Tanzania & Zanzibar Adventure – Sun, Sea & Safari Tour (August)

Rock My Zambia, Botswana & Malawi Adventure – Lake of Stars Tour (September)

Rock My Namibia Adventure (August)

Rock My Tanzania & Zanzibar Adventure – Tribal Tour (October)

Rock My South Africa, Swaziland & Mozambique Adventure (November)
See all tours on the Rock My Adventure tours page!
---
Here's what you can expect on a Rock My Adventure tour…
Check out the testimonials from previous Rock My Adventurers below!

Feedback for Rock My Adventure
Wondering what it's like to come on a Rock My Adventure trip? Here's what others have to say!
Rock My Tanzania & Zanzibar Adventure "" 2017
"œThis trip is definitely one of the best decisions that I've ever made in my life!!"Â (Sharmi, Malaysia)
"œThe trip went beyond my expectations. I feel the soul of the trip was Helen. Having a guide that is enthusiastic, knowledgeable, sweet and energetic is very important." (Nayeli, Mexico/USA)
"œI would like to thank you for two of the most extraordinary trips I have ever had the joy of experiencing. As I review my photos I feel so overwhelmed. I had the pleasure to meet some amazing people thanks to you. We had great times just sitting around and joking with each other. If anyone is in doubt about booking a tour through Rock My Adventure, don't hesitate, you'll never regret it . Thank you, Helen. You are amazing! ❤ Go and you will thank me afterwards."Â (Oana, Switzerland)

Rock My Kenya Adventure "" 2017
"œI had the best time ever on the trip & it was so much fun traveling with you! It was everything I had hoped for and more! It 100% met my expectations. I love the fact that your trips are more unique than a normal tour operator. I enjoyed being taken out of my comfort zone in some places and seeing some really different sides of Kenya. I enjoyed the fact that we were made to feel so at home everywhere we went and I'm sure that was helped by the fact you've obviously created a lot of meaningful friendships in the country during your time travelling there. It felt like we got a more unique experience than you would get with usual tour operator. I think you make a fantastic guide and your passion for the country definitely shows and adds to the experience."Â (Sarah, UK)
"œThank you for one of the best two weeks of my life. By far the most incredible holiday I've ever been on. It was run so brilliantly by you and honestly, I had so much fun. I won't forget some of our hilarious nights out."Â (Allanagh, UK)
"œThis is the best thing I could have done for myself to boost my confidence. It was honestly the best thing I have ever done in my life, bar none. I have made genuine friends that I'm already planning to meet with again. Take me with you everywhere you go"¦..everywhere! Thank you so much for doing the job you do, I can't explain how amazing this trip was."Â (Kayleigh, UK)

Rock My Uganda, Rwanda & DRC Adventure "" 2017
"œHelen is one of those people who will make any situation really fun. This girl could make a tour through my mildewy basement seem like a blast, so having her introduce me to sub-Saharan Africa was pretty much the best thing ever!!"Â (Silvia, Norway/USA)Â
If you'd like to get a full overview, have a read of Silvia's blog (Heart My Backpack), as she's done a full review on the Uganda, Rwanda and DRC tour. I asked her to come along, not as a blogger, but as a participant, to enjoy and just be brutally honest when she wrote about it and here's what she thought.
"œThis was everything I hoped for and more. If the plane had crashed on the way home, I would have died happy!"Â (Natalie, Northern Ireland)
"œYou showed me "œAfrica" the real Africa, the people, the villages, the wildlife! I didn't want hotels, complexes, swimming pools! I want to see the world, the real world, how other people live, the real Africa!! I got the whole package, the reality, the beauty, the wonder! You left me wanting more and eager that see more of what the amazing Africa has to offer! Second trip with you! I keep coming back so clearly I enjoy them!"Â (Karen, UK)

Rock My Kenya Adventure "" 2016
"œEverything was amazing! I learned so many things!"Â (Oana, Switzerland)
"œIt was an amazing trip from start to end. I loved every moment and made friends for life."Â (Debbie, UK)
"œAfrica is not always the easiest place to travel around, and after 3 months of backpacking I was all ready to give my brain a break from travel planning, so it was definitely a relief to have Helen come in and manage all that! I like her tour because it fit me "" it was a small group tour, just 8 of us which is a nice number to make new friends and get to know everyone yet have our own thing, and it was a good mix of fancier stuff and indie backpacking. You just might see us on the next tours because we are all game for round 2 with Helen! Definitely a 5 star review ⭐⭐⭐⭐⭐!"œÂ (Jac, Singapore)
"œI've a lot to thank my African adventure for, it truely did help me find myself and has given me the confidence to just go see the world. I never wanted to leave!!! You'll have the most amazing experience!!!"Â (Karen, UK)
"œIt was a great introduction into Africa travel, before I set out solo travelling. Also as I traveled solo and shared experiences in Kenya with people I was meeting, I sounded like a seasoned solo traveler thanks to you. I did not know what to expect but I think I understand Kenya pretty well now. I think you were able to portray and pass on your infectious love of Kenya to us all and I am forever grateful! Asante!"Â (Christina, USA)

Come with me on the Rock My Adventure of a lifetime!
If you would like to come or have any questions, please send me a quick email using the form below and I will send you the information on how to join!
[contact-form][contact-field label='Name' type='name' required='1'/][contact-field label='Email' type='email' required='1'/][contact-field label='Message' type='textarea' required='1'/][/contact-form]
Want to be the first to know about upcoming Rock My Adventure tours and get exclusive offers? Sign up HERE!