Tanzania & Zanzibar Tour Overview
Join me on an epic adventure in Tanzania and let me show you a different side of Africa, not the Africa you see in the media but the adventurous, beautiful, wild and real Africa I know and love.
Tanzania is one of the most vibrant and beautiful places on the African continent, so be prepared for breathtaking landscapes, paradise beaches and all the animals from the Lion King.
Rock My Adventure tours are culturally immersive trips created by me to show you a rounded portrayal of the countries we visit and leave you with a new group of like-minded friends and beautiful memories that will last a lifetime.
I work with the best local operators to provide you with the highly personalised African adventure you've always dreamed of but without the hassle of planning it all yourself!
Rock My Adventures aren't typical "˜tours'. They're fun and laid-back group trips, that are similar to an independent backpacking trip, but with some free time to explore and do your own thing and a group of friends built in "" the best of both worlds!
Read more about Rock My Adventure here.
Essential Info
Duration: 15 Nights
Dates: Â 30 January – 14 February 2018 LAST 2 PLACES AVAILABLE
Start: Arusha (nearest airport – Kilimanjaro International Airport)
Finish:Â Zanzibar (nearest airport – Abeid Amani Karume International Airport)
Maximum Group Size:Â 8 people (7 participants plus 1 group leader)
Group Leader: Helen
Minimum Age: 18
Cost: WAS £2,095 NOW £1885.50 (until midnight GMT on Sunday 14th January)
Deposit: £200 (non-refundable)
Balance Due: Â 29th November 2017Â (payment plans available)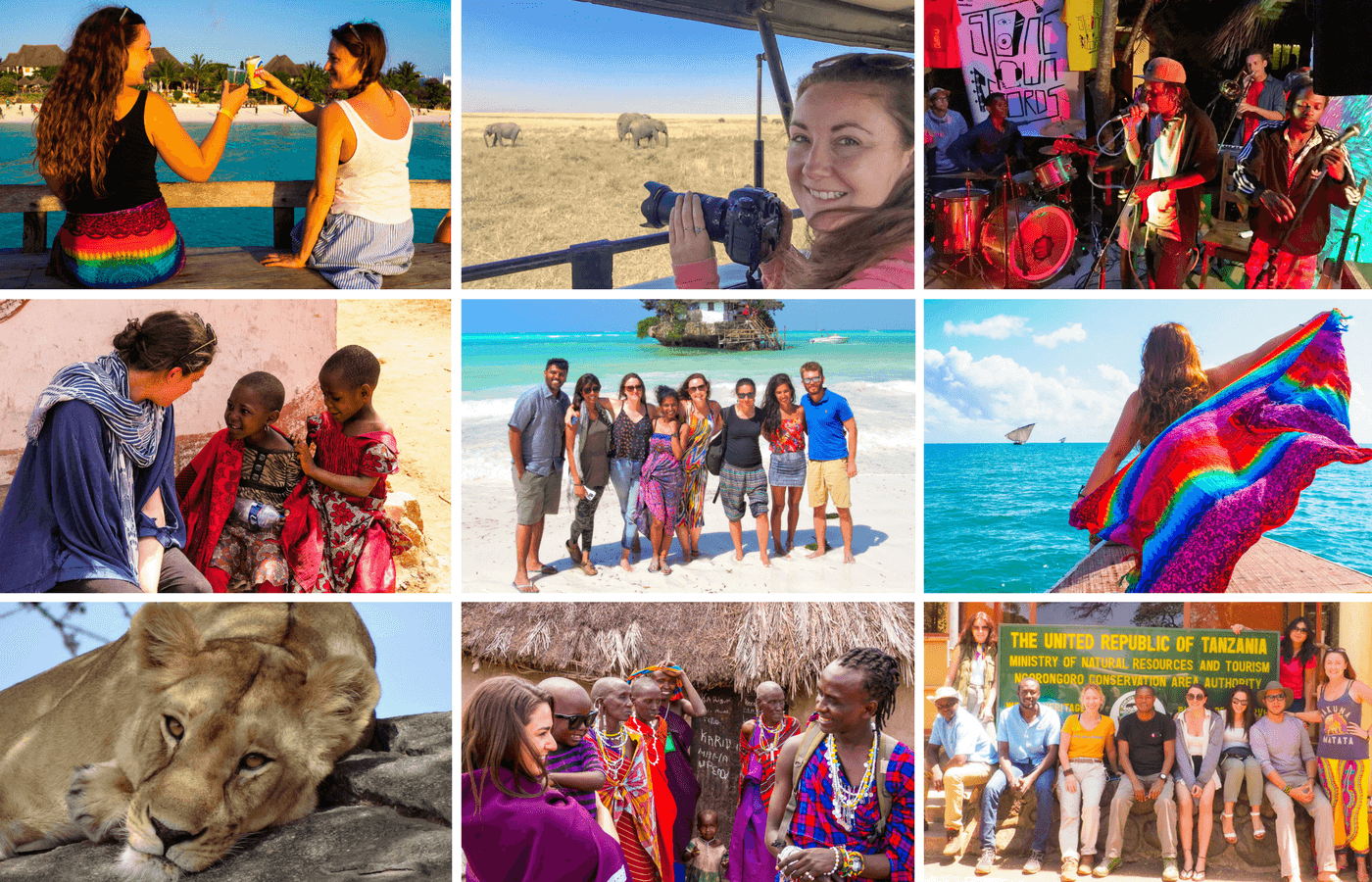 ---
Week 1 Highlights
Go on a 3-day safari in the iconic Serengeti National Park and the stunning Ngorongoro Crater.
Visit an authentic Maasai village, meet the people the people who live there and learn about their unique way of life.
Spend the afternoon at the beautifully ethereal Kikuletwa Hot Springs, a natural pool surrounded by palm and fig trees. We'll enjoy a picnic and swim in the crystal clear, turquoise water.
Meet the Chagga people who live on the slopes of Kilimanjaro, enjoy a local lunch with banana beer and learn how to make coffee in their fun and interactive way, accompanied by traditional songs and and dances.
Hike through beautiful rainforest, villages and agricultural land on the lower slopes of Kilimanjaro to visit a stunning waterfall and take a dip in the natural pool – if you're brave enough!
Get a true taste of local Tanzanian life and Swahili culture in Bagamoyo, a historical town on the Swahili coast.
Avoid the queues and keep an eye out for dolphins on our own private boat to Zanzibar.
Week 2 Highlights
See some of Africa's best musicians perform at the Sauti za Busara music festival in Stone Town, Zanzibar.
Take a walking tour of fascinating Stone Town where you will learn about the history of the island from our amazing guide.
Try local food and soak up the atmosphere at the Forodhani Gardens nightly food market.
Listen to beautiful Taarab music and dine at one of Stone Town's (and East Africa's) finest roof top restaurants.
Sail, snorkel and look for dolphins on a traditional dhow boat with a bbq lunch on a beautiful beach.
Relax, unwind and party on the beautiful beaches of Kendwa and Paje.
Go stand up paddle boarding through a beautiful mangrove lagoon (no experience needed).
Enjoy lunch at The Rock, one of the most beautiful and  iconic restaurants in the world.
Say goodbye to your new friends on  sunset cruise on stunning Chwaka Bay.
---
"œI would like to thank you for two of the most extraordinary trips I have ever had the joy of experiencing. As I review my photos I feel so overwhelmed. I had the pleasure to meet some amazing people thanks to you. We had great times just sitting around and joking with each other. If anyone is in doubt about booking a tour through Rock My Adventure, don't hesitate, you'll never regret it . Thank you, Helen. You are amazing! ❤️ Go and you will thank me afterwards."Â (Oana, Switzerland – Rock My Tanzania & Zanzibar Adventure 2017 & Rock My Kenya Adventure 2016)
---
Tanzania & Zanzibar Tour Itinerary
---
Day 1: Arusha
---
Arrive in Arusha (Kilimanjaro International Airport) and relax and get to know your fellow travellers during a welcome meal and a beer or two! Your Rock My Tanzania & Zanzibar Adventure starts here. Karibu Tanzania!
* Â If you have the time and can arrive earlier, I can organise any other activities you wish to do. Additional accommodation and activities charged separately.
---
Day 2: The Serengeti
---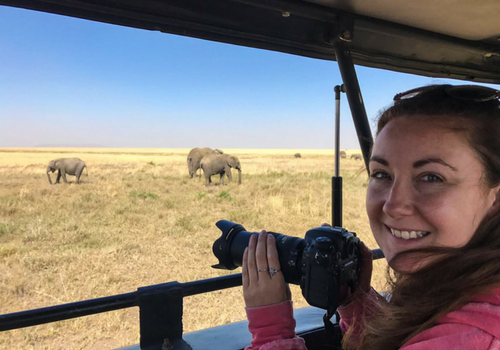 We'll spend the next few days on a camping safari to the Serengeti and the Ngorongoro Crater, 2 of the most spectacular places in the world and the perfect place to look for the 'Big Five'.
We'll leave Arusha early, arriving in the Serengeti in the afternoon. As we drive into the park, there will be plenty of opportunities to spot some wildlife! Believe me, you'll be singing Circle of Life all the way in!!
You'll go to sleep to the sounds of hyenas cackling and maybe even hear the odd lion roar or elephant trumpet in the distance (or possibly nearby).
It's not uncommon for animals to wander through the campsite so it's always an adventure!
---
Day 3: Ngorongoro Crater
---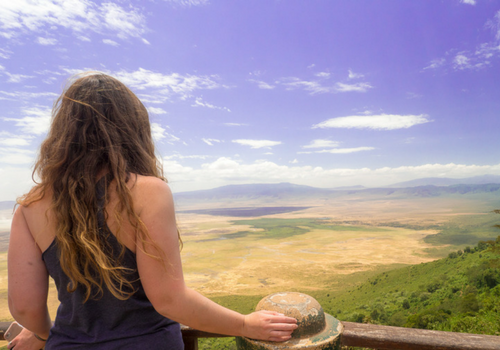 We'll be up and out early for another game drive in the Serengeti looking for animals who are usually very active in the morning before it gets too hot.
You'll likely see zebras milling about the camp as you go to brush your teeth and we'll share stories of the noises we heard in the night over breakfast.
The Serengeti has an abundance of wildlife so you won't be disappointed! We'll keep our eyes peeled for lions, leopards, cheetahs, elephants, giraffes and all the other animals you could ever hope to see on safari.
In the afternoon, we'll head to the Ngorongoro Crater, where we'll camp on the crater rim. When the sun goes down, we'll relax around the campfire and under the stars at our campsite.
---
Day 4: Arusha
---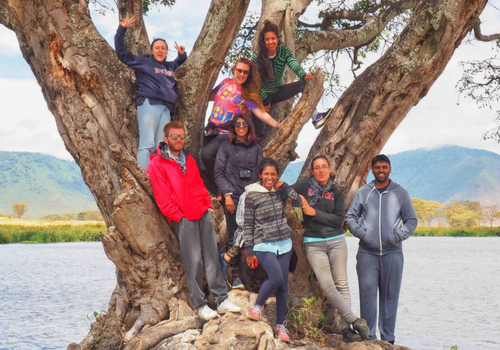 After another early start, we'll head down into the Ngorongoro Crater for another day on safari.
The Ngorongoro Crater is the largest intact crater in the world, formed 3 million years ago when a volcano (reportedly higher than Kilimanjaro) collapsed. The result is one of the most spectacular landscapes on earth.
Inside the crater is filled with animals and if we're lucky we might see an eendangered black rhino.
In the afternoon, we'll head back to Arusha, where we'll freshen up (aka have a good wash and scrub off the safari dust) before heading out for a well-deserved dinner and night out on the town.
---
Day 5:Â Moshi
---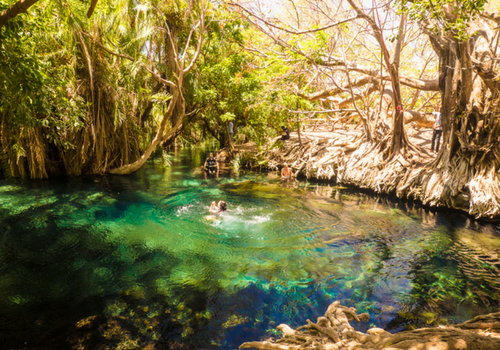 Today we'll head towards Moshi, visiting a Maasai village, which unlike many in the area is a totally  authentic village founded and run by the Maasai themselves.
During the visit, you will have chance to meet the Maasai people and learn about their unique way of life.
In the early afternoon, we will leave the village and continue to a beautiful hot spring, one of the most beautiful places in Tanzania. We'll be able to swim in the crystal clear waters that run from Kilimanjaro, swing Tarzan style into the water and enjoy a delightful picnic lunch.
Refreshed and relaxed, we'll continue on to Moshi where we'll spend the next two nights.
---
Day 6: Moshi
---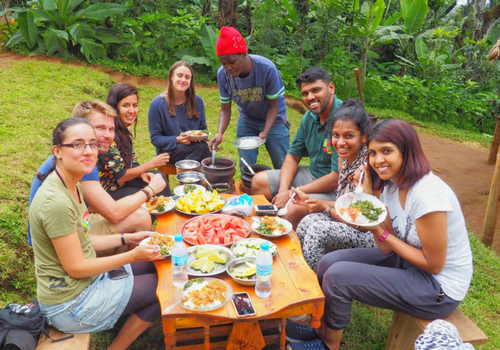 Today we're going to visit a village on the foothills of Kilimanjaro.
We'll do some hiking, visit a beautiful waterfall and meet the Chagga people, enjoy a local lunch at Mama Agnes's house, try banana beer and learn how to make coffee in the traditional Chagga way.
The coffee making process is fun and interactive and accompanied by traditional songs and and dances.
The late afternoon will be free for your to explore Moshi or rest at our lovely guesthouse.
Weather permitting, we may even catch a glimpse of Kilimanjaro herself.
---
Day 7: Bagamoyo
---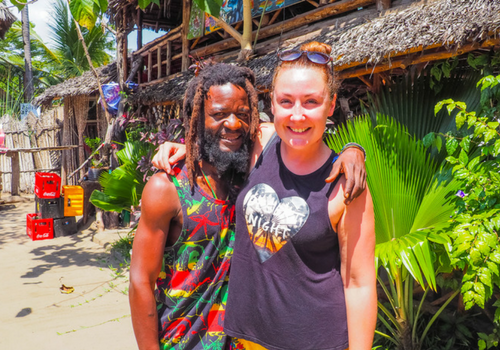 Today is a travel day as we make our way from the north of Tanzania to Bagamoyo, a historic town on the Tanzanian coast and one of my favourite places in Africa.
Bagamoyo is rich in Swahili culture and whilst we're here you'll get a true feel for Tanzanian life.
In the evening we'll go for a meal at a lovely local restaurant where you can try the local favourite, rice and beans.
I can't wait to show you around and introduce you to my friends!
---
Day 8: Bagamoyo
---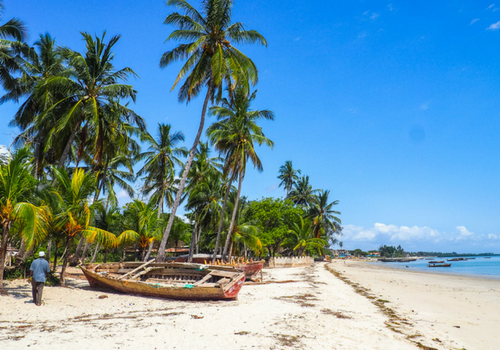 Today we're going to explore beautiful Bagamoyo.
We'll visit some of the local sites, have drinks and food at some of my favourite places and visit the fish market.
In the afternoon we'll visit a local school, where you'll get to see first hand the amazing work they are doing in the community.
There where there will be some free time in the evening to sample some of the Bagamoyo nightlife, which is always fun!
Or you can chill at our gorgeous guesthouse and get ready for the next few days in Zanzibar.
---
Day 9: Stone Town
---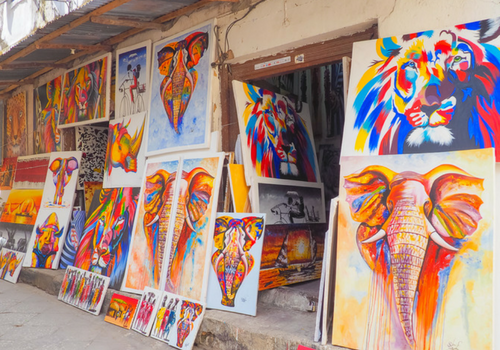 Today is an exciting day as we're heading to Zanzibar on our own private boat (weather permitting)! We may even be lucky enough to see dolphins!
When we arrive, we'll check into our stunning, traditional Zanzibari hotel and then grab some lunch at a great local restaurant.
Fed and watered, there will be the opportunity to have a wander around Stone Town at your leisure, or enjoy the pool at the hotel.
In the evening, we're off to one of Stone Town's top rooftop restaurants for a true Zanzibari experience with amazing food and local Taarab music.
---
Day 10:Â Stone Town – Sauti za Busara Festival
---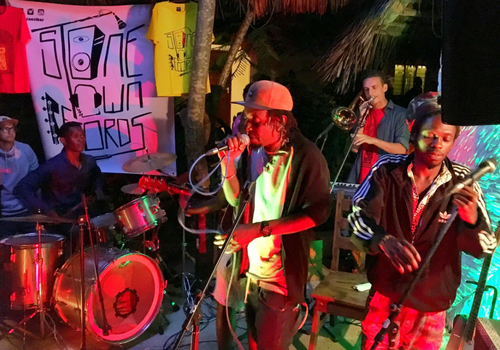 Today is the first day of the Sauti za Busara Music Festival. If you're into music, then this is the trip for you.
The atmosphere will be buzzing and this is an exciting and vibrant time to be in Stone town!
In the morning, we'll explore Stone Town with the best guide on the island, stopping for coffee and a catch up at Jaws Corner and learning all about the history of this incredible place.
At 5pm the festival opens and you will get to see some of the best musicians from Zanzibar and elsewhere in Africa!
We'll dance and sing the night away in one of the coolest festival settings in the world. It's going to be AMAZING!
---
Day 11: Stone Town -Â Sauti za Busara Festival
---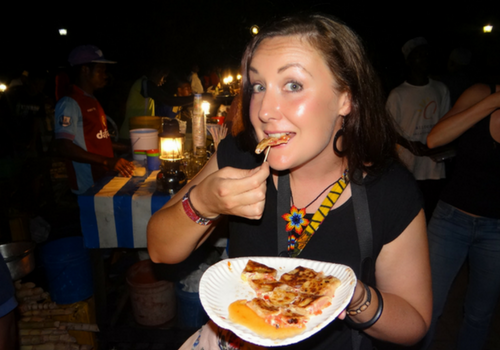 In the day time, you are free to relax or take an optional day trip from stone Town – perhaps visit Prison Island or a take a Spice Tour.
Then it's another night of music and fun at the festival.
Around sunset on one of our evenings, we'll head to the waterfront to see if we can see the local boys doing acrobatics and capoeira on the beach and we'll take a trip to Forodhani Gardens, the awesome nightly food market.
Here you can pick up some local delicacies such as seafood kebabs, samosas, fruit, grilled maize, sugar cane juice and my favourite, the Zanzibar pizza!
I like mine filled with mango, cheese, onion, avocado and egg! Mmmmm!
---
Day 12: Kendwa
---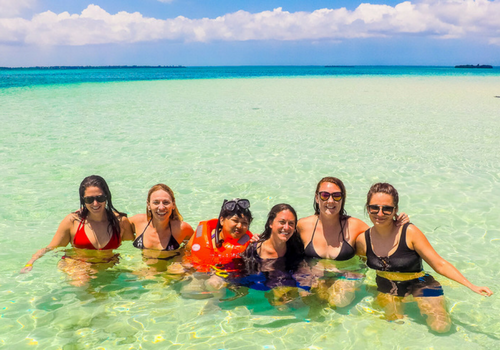 Today we'll head to the northern beaches, but not before spending the day sailing on a traditional dhow.
We'll start in a small village on the south coast and sail towards Menai Bay where conservation efforts have allowed dolphins to flourish. By mid-morning we'll arrive on a sandbank where we can snorkel and explore the reefs.
Our crew will prepare a seafood buffet for lunch, including lobster, fish and calamari as well as chicken and vegetarian options. Drinks are also included in the trip.
In the afternoon we'll explore Kwale Island, see an ancient baobab tree and relax on a beautiful beach. Then it's straight up to Kendwa!
Saturday night in Kendwa is party night and the African beats will be banging, the food is good and there's always a great mix of travellers and locals enjoying the party. You'll spend the night dancing bare foot in the sand, listening to reggae, dance and the latest chart hits (there's a lot of Justin Bieber – I do apologise) under the stars. For those who want to chill, there's fire pits where you can sit back, relax and watch everyone trying to twerk.
---
Day 13: Kendwa
---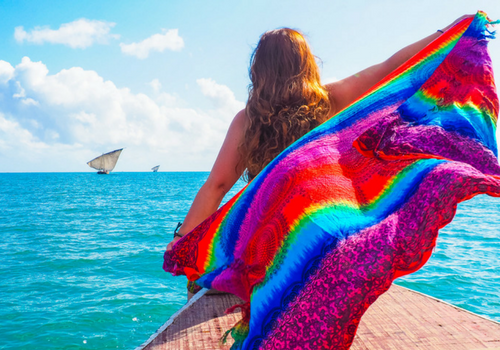 Today is a free day.
You can relax on the beach (recovering from the night before) or for those who are feeling active, you can head out on a boat trip, hire paddle boards, explore the northern beaches of Kendwa and Nungwi or take part in one of the many other activities on offer.
In the evening, we'll watch the sunset and head out for a meal at a local restaurant.
---
Day 14: Paje
---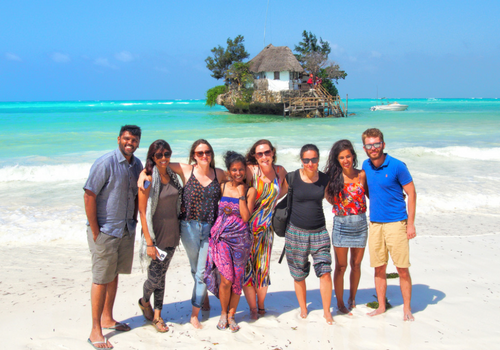 Today we'll move to east coast of the island where we'll spend the last nights.
In the afternoon, we'll enjoy lunch at one of the world's most iconic restaurants.
Lunch at The Rock is a wonderful experience and the perfect place for your holiday photoshoot – so get your outfit ready!
In the evening, we will go to Red Monkey Lodge in Jambiani for the Monday Night Jam Session, where all of the best musicians and MC's in Zanzibar come to show off their talents.
---
Day 15: Paje
---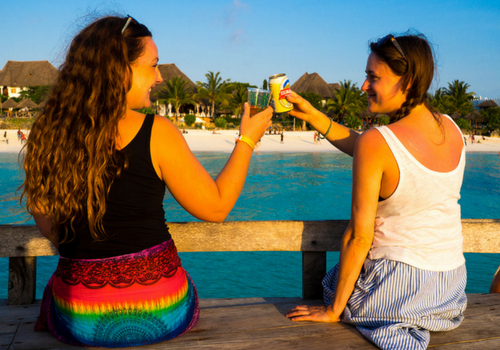 The following day, we'll head up the coast to go stand up paddle boarding through a beautiful mangrove lagoon. This is an awesome day and a lot of fun, even if you haven't done it before "" hakuna matata "" you're going to love it!!
This is a great group activity and absolutely hilarious!
But don't worry if you haven't done it before, it's suitable for all levels and there's no experience needed.
In the evening, we'll say goodbye on a fun sunset cruise in stunning Chwaka Bay!
---
Day 16:Â Departure Day
Today is always a sad day as we say goodbye to our new friends (there's usually a few tears, I will warn you), but the memories and shared experiences will last a lifetime!
I can arrange the transfer to Zanzibar Airport or you can continue your Africa travels from there.
---
Meet Your Tour Leader – Helen
I've been travelling through Africa on and off for the last 9 years and have guided trips through the Kenya, Tanzania, Malawi, Zambia, Rwanda, Uganda and the DRC.
I love to travel all over the world, but it's Africa that holds the special place in my heart and I started this blog, first and foremost to encourage and help others travel in my favourite continent.
I'm passionate about experiential travel and I want to show you a different side of Africa. Not the Africa you see in the media, but the adventurous, beautiful, wild and real Africa I know and love.
I like to get to the heart of the places I travel, to go on epic adventures, to be out in the wild, to meet local people, to experience the nightlife, to try new things, to immerse myself in the culture and most of all to have fun! All Rock My Adventure tours are planned with all these things at the forefront.
You can find out more about me here.
---
What's Included
Meals: 15 breakfasts, 9 lunches and 7 dinners (some of these are activities in themselves)!
Accommodation:Â 15 nights accommodation in good quality camps, hostels and guesthouses.
Transport:Â All transport within Tanzania & Zanzibar to and from included excursions and between the main destinations on the tour (includes – taxi, safari vehicle, boat & mini bus).
Activities:Â 

2 days at the Sauti za Busara music festival
Visit to an authentic Maasai village
Swimming and picnic at the Kikulweta Hot Springs
Visit to a Chagga Village for a coffee experience
Visit to Materuni waterfall
Safaris in Serengeti National Park and the Ngorongoro Crater
Bagamoyo tour
Stone Town walking tour
Forodhani Gardens nightly food market experience
Dinner at one of Stone Town's rooftop restaurants
Sailing, snorkelling and dolphin spotting trip
Lunch at The Rock
Sunset Indian Ocean cruise (including drinks)
Stand up paddle boarding
Monday Night Jam Session
What's Not Included
Flights.
Airport transfers – however I can arrange these for you.
Tanzania visa.
Medications, antimalarials or vaccinations.
Travel/health insurance.
Drinks & meals not mentioned.
Optional activities.
Transport for optional activities.
Tips for local guides.
Please bear in mind that the itinerary is subject to minor changes. But whatever happens, I'll endeavour to make sure you have an amazing trip!!
You can find full Terms & Conditions here.
---
Here's what you can expect on a Rock My Adventure tour…
---
Testimonials
Wondering what it's like to come on a Rock My Adventure trip? Here's what others have to say!
Rock My Tanzania & Zanzibar Adventure "" 2017
"œThis trip is definitely one of the best decisions that I've ever made in my life!!"Â (Sharmi, Malaysia)
"œThe trip went beyond my expectations. I feel the soul of the trip was Helen. Having a guide that is enthusiastic, knowledgeable, sweet and energetic is very important." (Nayeli, Mexico/USA)
---
Rock My Kenya Adventure "" 2017
"œI had the best time ever on the trip & it was so much fun traveling with you! It was everything I had hoped for and more! It 100% met my expectations. I love the fact that your trips are more unique than a normal tour operator. I enjoyed being taken out of my comfort zone in some places and seeing some really different sides of Kenya. I enjoyed the fact that we were made to feel so at home everywhere we went and I'm sure that was helped by the fact you've obviously created a lot of meaningful friendships in the country during your time travelling there. It felt like we got a more unique experience than you would get with usual tour operator. I think you make a fantastic guide and your passion for the country definitely shows and adds to the experience."Â (Sarah, UK)
"œThank you for one of the best two weeks of my life. By far the most incredible holiday I've ever been on. It was run so brilliantly by you and honestly, I had so much fun. I won't forget some of our hilarious nights out."Â (Allanagh, UK)
"œThis is the best thing I could have done for myself to boost my confidence. It was honestly the best thing I have ever done in my life, bar none. I have made genuine friends that I'm already planning to meet with again. Take me with you everywhere you go"¦..everywhere! Thank you so much for doing the job you do, I can't explain how amazing this trip was."Â (Kayleigh, UK)
---
Rock My Uganda, Rwanda & DRC Adventure "" 2017
"œHelen is one of those people who will make any situation really fun. This girl could make a tour through my mildewy basement seem like a blast, so having her introduce me to sub-Saharan Africa was pretty much the best thing ever!!"Â (Silvia, Norway/USA)
"œThis was everything I hoped for and more. If the plane had crashed on the way home, I would have died happy!"Â (Natalie, Northern Ireland)
"œYou showed me "œAfrica" the real Africa, the people, the villages, the wildlife! I didn't want hotels, complexes, swimming pools! I want to see the world, the real world, how other people live, the real Africa!! I got the whole package, the reality, the beauty, the wonder! You left me wanting more and eager that see more of what the amazing Africa has to offer! Second trip with you! I keep coming back so clearly I enjoy them!"Â (Karen, UK)
---
Rock My Kenya Adventure "" 2016
"œEverything was amazing! I learned so many things!"Â (Oana, Switzerland)
"œIt was an amazing trip from start to end. I loved every moment and made friends for life."Â (Debbie, UK)
"œAfrica is not always the easiest place to travel around, and after 3 months of backpacking I was all ready to give my brain a break from travel planning, so it was definitely a relief to have Helen come in and manage all that! I like her tour because it fit me "" it was a small group tour, just 8 of us which is a nice number to make new friends and get to know everyone yet have our own thing, and it was a good mix of fancier stuff and indie backpacking. You just might see us on the next tours because we are all game for round 2 with Helen! Definitely a 5 star review ⭐️⭐️⭐️⭐️⭐️!"œÂ (Jac, Singapore)
"œI've a lot to thank my African adventure for, it truely did help me find myself and has given me the confidence to just go see the world. I never wanted to leave!!! You'll have the most amazing experience!!!"Â (Karen, UK)
"œIt was a great introduction into Africa travel, before I set out solo travelling. Also as I traveled solo and shared experiences in Kenya with people I was meeting, I sounded like a seasoned solo traveler thanks to you. I did not know what to expect but I think I understand Kenya pretty well now. I think you were able to portray and pass on your infectious love of Kenya to us all and I am forever grateful! Asante!"Â (Christina, USA)
If you'd like to get a full overview, have a read of Silvia's blog (Heart My Backpack), as she's done a full review on the Rock My Uganda, Rwanda and DRC tour. I asked her to come along, not as a blogger, but as a participant, to enjoy and just be brutally honest when she wrote about it and here's what she thought.
Want to see what the Sauti za Busara festival is all about? Check out this video!
 Come with me on the Rock My Adventure of a lifetime!
If you would like to sign up for this tour or have any questions, please send me a quick email using the form below and I will be in touch asap! Places are limited to 7 participants per trip – so don't miss out!
Don't fancy this trip? Why not check out my other Rock My Adventure tours.
[contact-form][contact-field label='Name' type='name' required='1'/][contact-field label='Email' type='email' required='1'/][contact-field label='How did you hear about the tours?' type='email' required='1'/][contact-field label='Message' type='textarea' required='1'/][/contact-form]
Want to be the first to know about upcoming Rock My Adventure tours and get exclusive offers? Sign up HERE!
Rock My Adventure is a Member of: