Last updated on February 19th, 2021 at 03:26 pm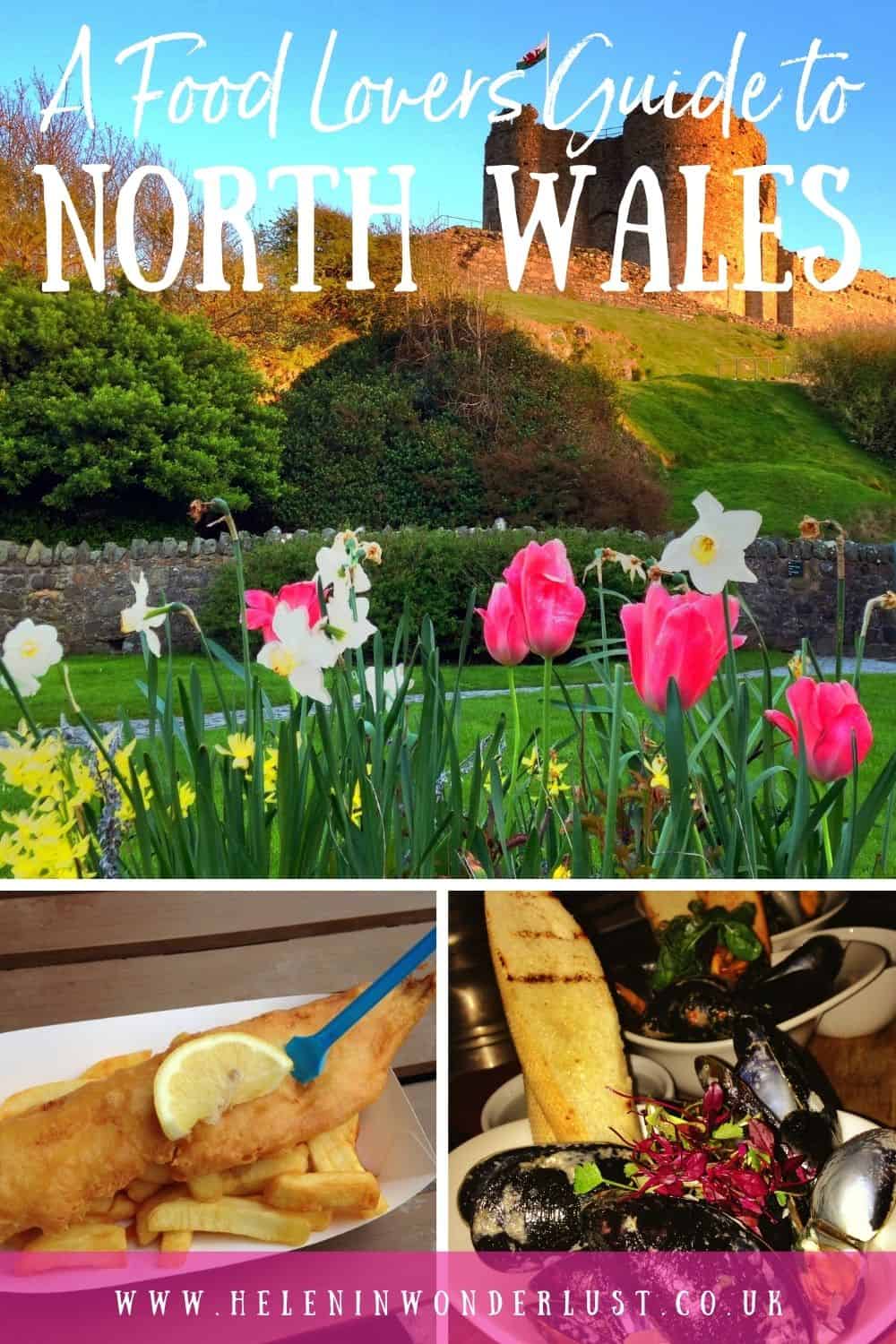 My trip to Wales wasn't just ziplining and mountain biking. It was also about tasting the beautiful Welsh food.
The UK cuisine doesn't always get the best reputation (from what I read anyway), but that's complete rubbish and a total generalisation. British food is awesome and Wales has some of the best.
The train sped along the Welsh coast, offering great views of the Irish Sea as we approached Llandudno Junction. When I arrived, I hopped in a taxi and headed for Conwy, just a few minute's drive and over the bridge on the other side of the river.
The taxi driver chatted happily, especially finding out I was from Liverpool and he was even more excited when he found out I was there on a blog trip and began proudly pointing out all of the local landmarks.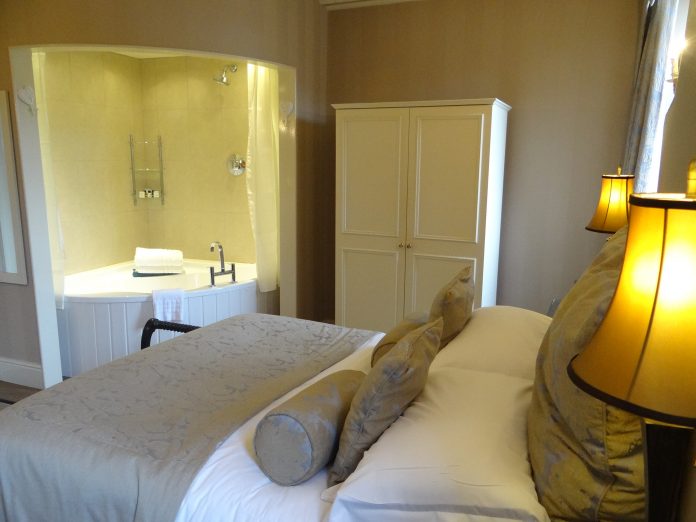 Our base for the weekend was The Castle Hotel, right in the centre of town, which has previously hosted the likes of William Wordsworth, Charlotte Bronte and the Queen of Romania.
I was the first to arrive and I got a nice little surprise when they showed me upstairs. There was a massive bath, in my room! Not in the bathroom, right there, in my bedroom. With a view of the TV.
After the lady from reception had left and I'd gotten over the fact my room was amazing (and bounced on to the bed a bit), I unpacked my stuff and headed downstairs to wait for the others.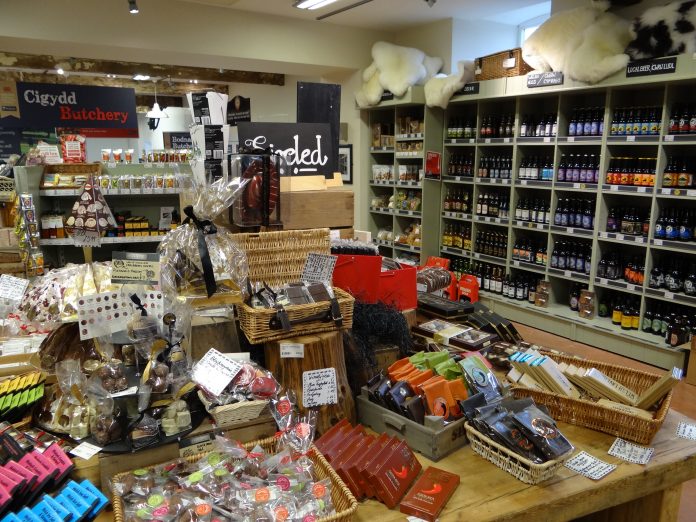 The Bodnant Welsh Food Centre
The first stop on our Welsh food adventure was the Bodnant Welsh Food Centre in the Conwy Valley. We were going there for lunch at the Hayloft Restaurant, but not before we got a chance to explore the site.
The old historical buildings, once neglected, have been restored and turned into an award-winning food lover's dream, offering the best in locally sourced Welsh cuisine. The Welsh are famous for living off the land and many of the ingredients used at Bodnant come from the farms around the centre.
As well as the restaurant, there's a bar, tearoom, farm shop, deli, butchers, dairy, gardens, and a bat house. The bats were already there and being a protected species they now live in their own bat mansion.
They hold cookery classes and have wine school which is a great idea for team building days, birthday parties, or maybe even a sophisticated Stag or Hen party. But it's not just for grown-ups, there is a kids academy where kids can learn about food and nutrition and pick up some useful life skills.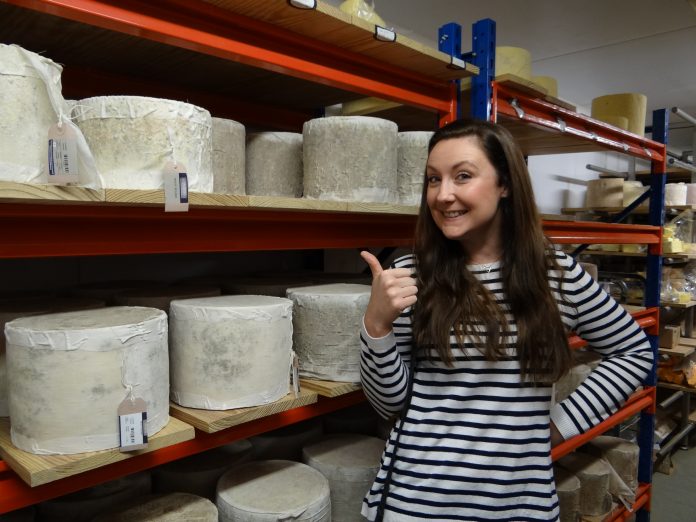 If you want to make a weekend of it, they have on-site accommodation and they do weddings too and it's all right there in the middle of the beautiful Welsh countryside.
I was super happy to get to see where they make the cheese, as I have a slight cheese addiction and the Welsh are known for making some amazing ones, of which Caerphilly is probably the most famous.
After cheese, we got to taste some wine. Cheese + Wine = Happy Helen. We all stood fascinated, listening to wine expert Chris talking about wine with such passion. Call me a philistine, but in all my years of drinking wine, I never knew that wines have 'legs', but I do now!
Before lunch, we met chef Dai Davies and what a lovely fella he was, Welsh through and through, with a million stories to share. You know, like how he once cooked for Pavarotti and stuff…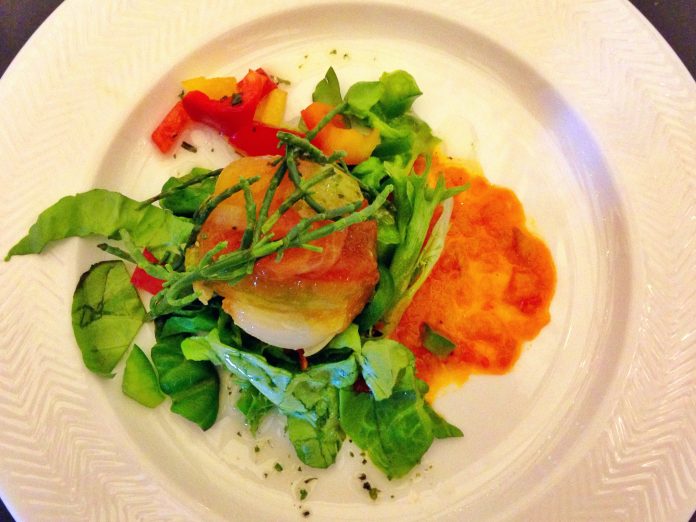 To start I had a pressing of heritage tomato, with amber dressing and samphire leaves, which was lovely and light.
Then for mains I had pan-fried supreme of chicken with a light sweetcorn cream, mustard and cheese croquette. I of course also had a glass of Bodega del Fin del Mundo Postales Sauvignon Blanc – Semillón 2014, one of the wines we'd tasted earlier. The weekend was off to a wonderful start!
Before dinner, a few of us headed out into Conwy to have a walk around and work up an appetite. We walked along the castle walls which gave us spectacular views over the town and the River Conwy.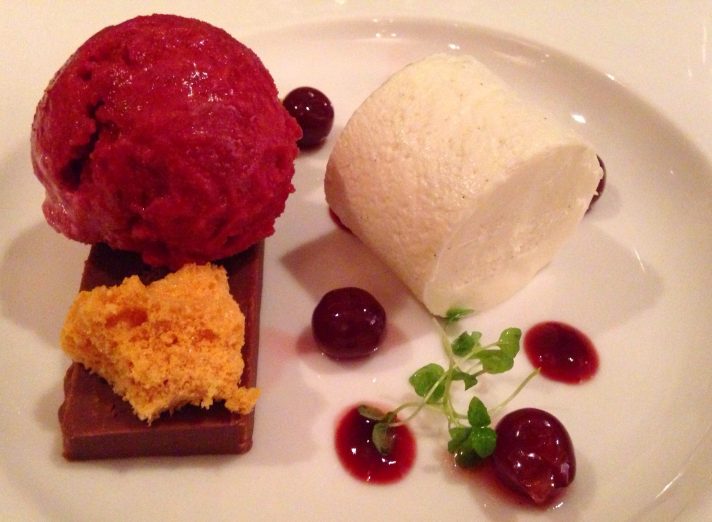 Signatures Restaurant
The biggest surprise of the weekend was Signatures Restaurant at the Aberconwy Resort & Spa, a caravan park just outside Conwy town centre. I knew we were going to a caravan park for dinner, so I wasn't expecting anything fancy, but this wasn't like any caravan park I've ever seen before, this was a luxury caravan park and the restaurant was one that would be right at home in London, Paris or New York.
We started off with a cocktail at the chic bar before moving into the main restaurant. To start, I had a creamy broccoli and almond soup which I absolutely loved.
For the main course, I decided to go with one of the vegetarian options for my main course, partially because I wanted something a bit lighter (I was still full from lunch) and partially because there was something in this particular dish I wanted to try, Welsh rarebit, one of Wales' most famous foods.
My meal consisted of stuffed bell peppers filled with a wild mushroom and leek risotto, topped with Welsh rarebit glaze and baby vegetables on the side.
Despite being full, I still found a little space for dessert. I had the 'Chocolate & Cherries' – honeycomb and cherry sorbet on a chocolate bar, with white chocolate mousse and Griottine cherries. Yes, it was as delicious as it looks.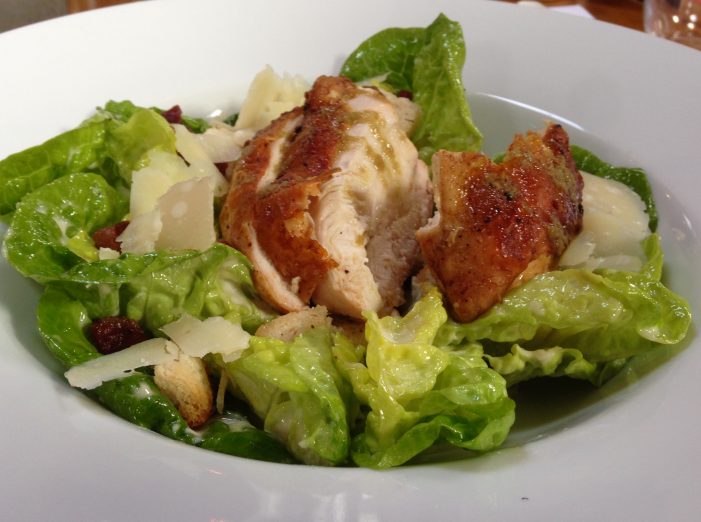 Watson's Bistro
We started off the following day with a hearty breakfast at The Castle Hotel, but I'll get to that later.
We'd spotted our lunch place, Watson's Bistro on our walk along the walls of Conwy Castle the evening before, as they have a huge poster on their roof so passing visitors can see them from above – clever eh? Watson's Bistro is a family-run restaurant that also prides itself on using locally sourced ingredients! It's a small and relaxed lovely spot for lunch and we were all really hungry after spending the morning zip lining through an underground cave.
It was here that we met our Conwy tour guide, Amanda, who told us about the history of Conwy over lunch, ahead of our walking tour of the town and the castle.
It was cold outside so to warm me up I ordered the soup of the day, which was a creamy mildly spiced pumpkin soup, sprinkled with pumpkin seeds (which was A-MAZING)! For mains, I opted for a lemon, honey, and ginger glazed chicken Caesar salad with hand-cut sea salt chips. Another great meal, North Wales was really exceeding expectations. There was no room for pudding this time though.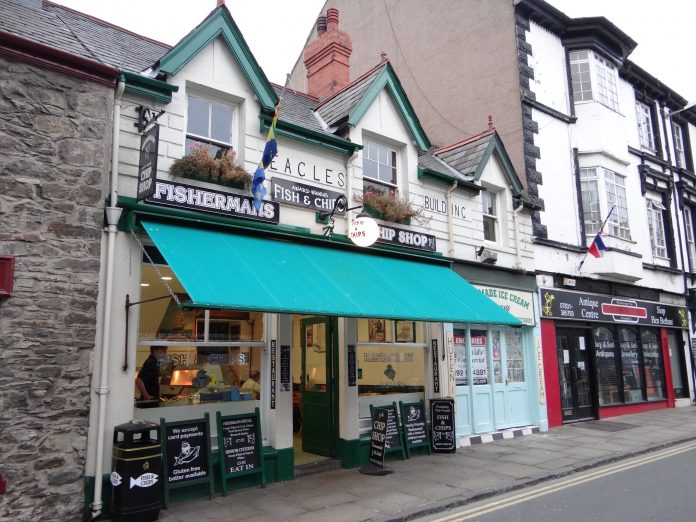 After lunch Amanda led us around the town, pointing out all kinds of things we'd never have noticed on our own. She was so passionate as she talked that it was impossible not to be caught up in her enthusiasm.
Inside the castle, I couldn't help giggling to myself laughed as I noticed that Amanda had started to gather an audience and people started following us around like she was the Pied Piper. They pretended to be looking at something nearby, but I could tell they were actually just listening in to our tour.
After Amanda left us, we continued our exploration of Conwy and I took the others to see the street art in the subway that I'd found on my previous visit.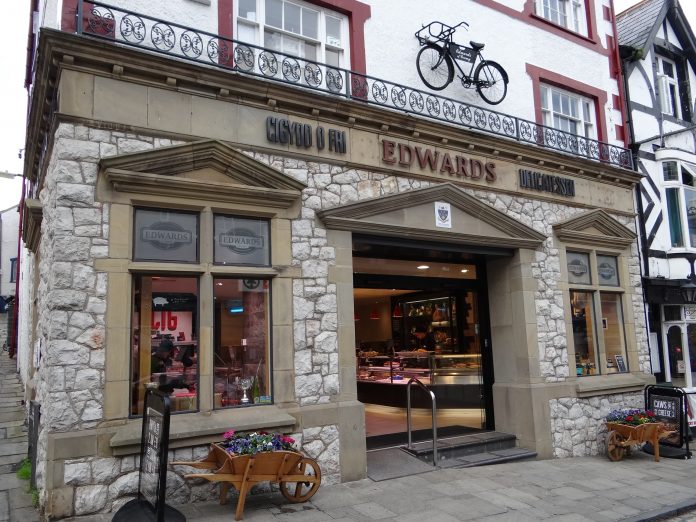 Edwards of Conwy
Last stop before we headed back to get ready for dinner was the famous Edwards of Conwy, family-run traditional master butchers, and deli over the road from the hotel. Every time I walked past it was busy.
They've been voted Britain's Best Butcher, but even if you can't get to Conwy you can buy online! Now, this is the place where I'd like to buy my Christmas turkey!
Next door to Edwards there's a cute ice cream parlour called Parisella's of Conwy which I was hoping to try but I was literally stuffed all the time, so I'll have to guess that the ice cream is lovely based on the fact that it was always busy and always had a queue even on a freezing cold October day.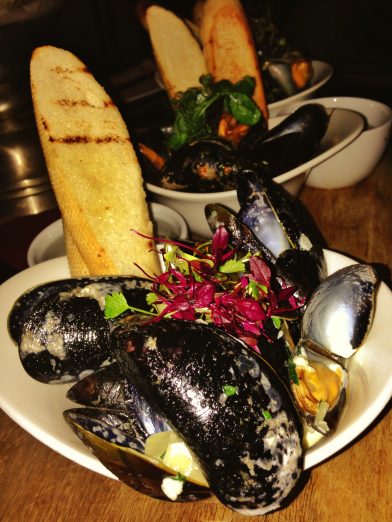 The Castle Hotel
We had a bit of time before dinner, so I poured myself a glass of wine, ran myself a big bubble bath and watched the rugby from the bath! Now, this was the life.
Dinner this evening was at Dawson's Restaurant at The Castle Hotel, so we didn't have far to walk. The hotel's bar and restaurant were both packed, obviously the place to be on a Saturday night in Conwy.
We started the evening in the bar with a few dishes of Menai mussels with bread and olives to share. I'm not really a big seafood eater, more to do with the texture than the taste, but I knew that mussels are local speciality and therefore super fresh so I had to give them a go.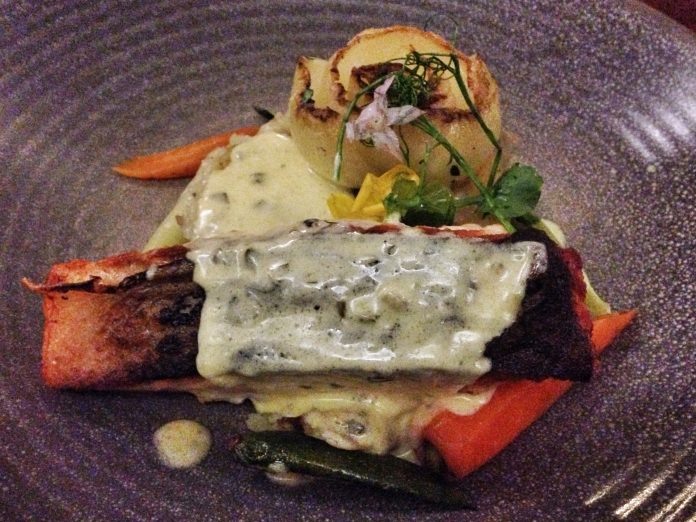 The mussels came with three different sauces – fragrant lemongrass, chilli chorizo and a white wine cream sauce and I'm pleased to report that I actually really enjoyed them, especially dipping the artisan bread (olive bloomer, cheese loaf, sun-dried tomato sourdough and rosemary focaccia) into the sauce.
We moved into the restaurant for dinner where I had the Welsh smoked cheese rosti with a fillet of smoked haddock and a soft poached egg, buttered spinach and Welsh cheese sauce for starters. Simply delicious. For mains I had a pan-fried fillet of salmon with baby vegetables, sautéed pak choi, tarragon new potatoes, and wasabi cream sauce.
Have you ever seen one of those shark shows where the sharks eat a dead whale, and they get all slow and docile and start bumping into the boat and stuff because they're so full. Well, I was turning into one of those sharks. I decided I definitely wasn't getting a dessert.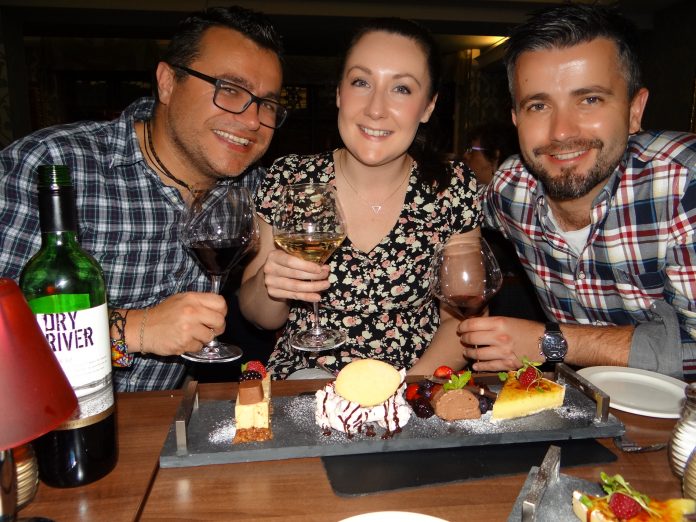 Until I saw the menu. And just because we just weren't stuffed enough the six of us shared two of their dessert boards and then rounded off the evening with a tasting of some of the local craft beers in the bar.
They were going to have to roll me out of town at this rate.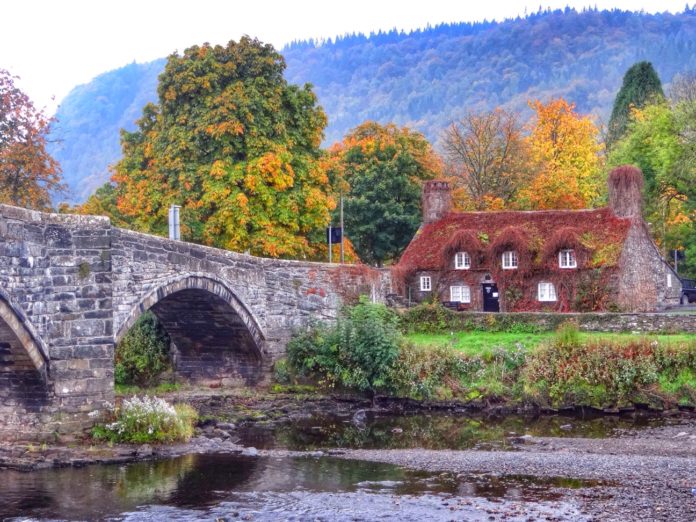 The following morning we were up early to go mountain biking in Coed Y Brenin, good job really! But not before another great breakfast at the hotel. As well as the continental breakfast, you can choose your cooked breakfast from their extensive menu which includes a full Welsh (meat or veggie), smoked kippers and even my starter from the night before, all served with toast and tasty Welsh butter – and it's all at no additional cost if you're on the B&B tariff!
On the way to Coed Y Brenin, we stopped to take some photos of Tu Hwnt I'r Bont, a cute little tearoom in Llanwrst, covered in ivy and so beautifully autumnal! We didn't have time to go in, not that I could have eaten anything anyway, but next time, I'm in the area, this is where I'm heading first and I'm going to have one of their afternoon teas! How pretty is this?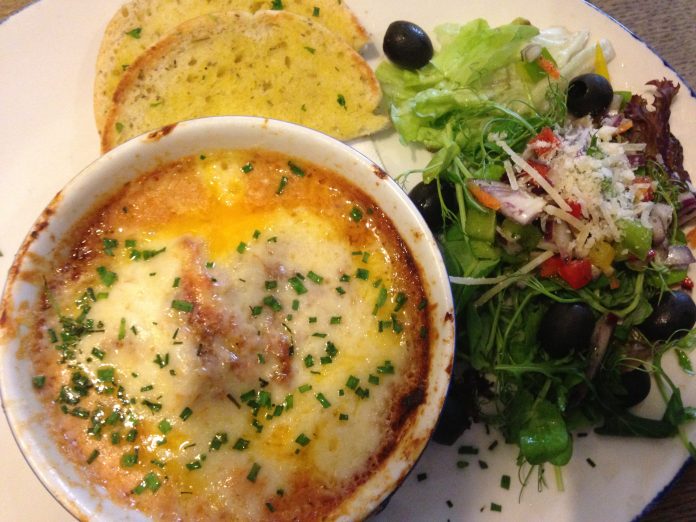 The Cottage Loaf
Our final feeding took place at The Cottage Loaf, a popular traditional gastropub in the heart of Llandudno.
Having eaten my entire body weight in food over the past 3 days, I decided to just have a main course. It was Sunday so everyone else went for a roast dinner (Wales is famous for having excellent lamb), but I fancied a bit of Italian and ordered the lasagne with garlic bread and salad. I'm very picky about lasagne but this was a great one!
Yes, I was only going to have a main course. But the desserts looked so good. Too good.
So the millionaire's shortbread with brownie chunks, chocolate mousse and cream it was. Oh my God, it was gorgeous and I absolutely loved the teeny weeny little milk pail. I think by this point my stomach had probably doubled in size.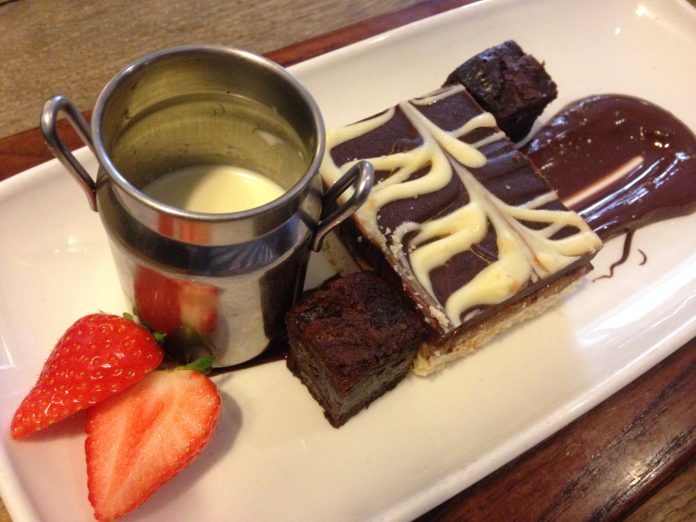 I was so sad when our weekend in Wales was over, although it wasn't quite over when I left Wales, as I took a few pieces of it with me, in the form of Welsh Cakes. If you've never tried them, Welsh cakes are like moist, flat scones. Where have they been all my life?
Do you know any other amazing foodie places in Wales?
---
See all UK posts here.
---
Please Note: Thank you to the team at Visit Wales for hosting me on my trip. As always, all opinions are my own. Some of the links in this post are affiliate links, which will earn me a small commission at no extra cost to you. Affiliate sales help with the running costs of this site, so thank you for your support!