Last updated on March 28th, 2023 at 11:24 am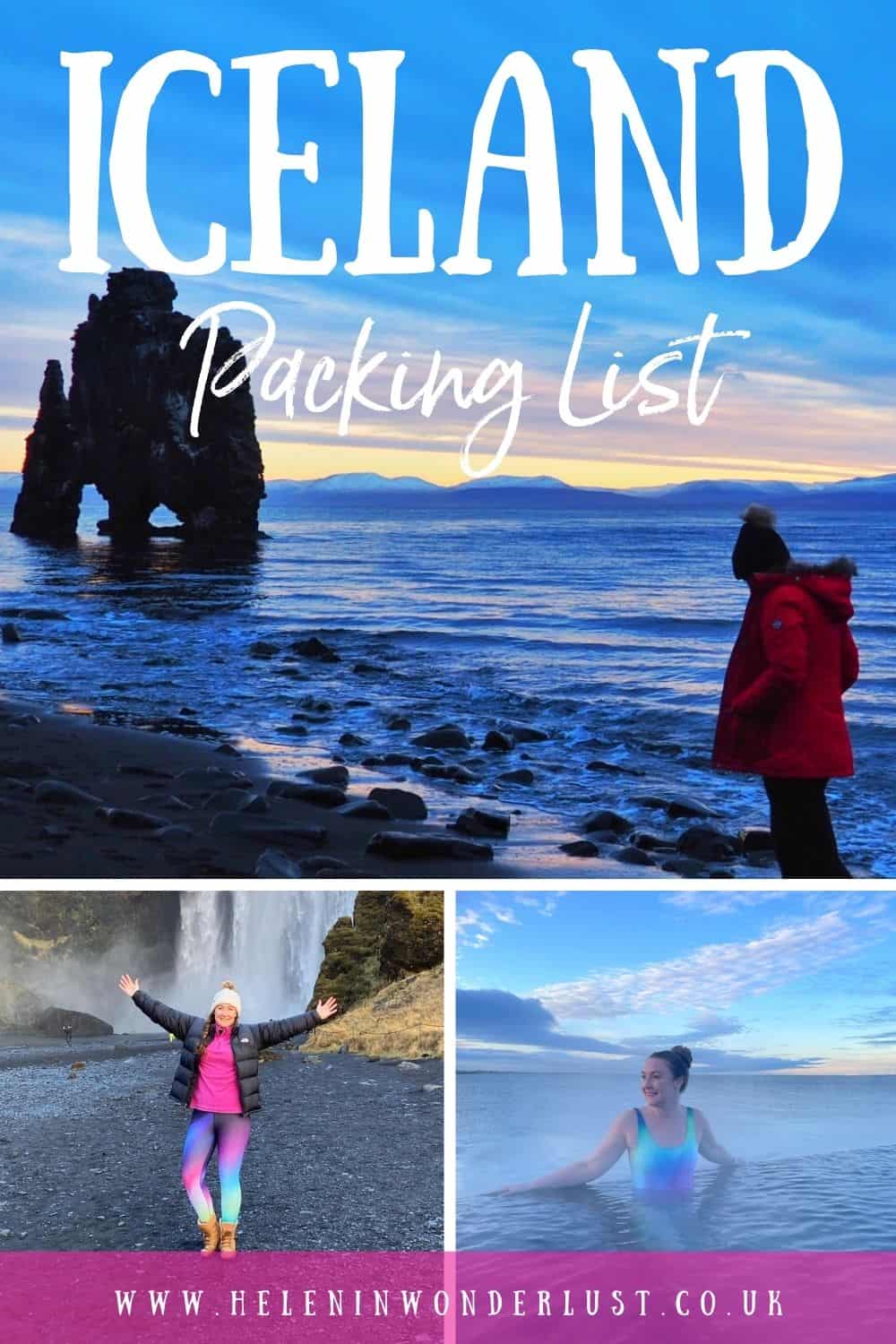 Packing for a trip to Iceland isn't the easiest thing to do! I know because I've been to Iceland twice now.
The first time I was driving around the ring road in a campervan, with one of my best buddies. The second time, I stayed in hotels and road-tripped along the south coast with my husband and two friends.
I've seen the Northern Lights dancing above my head on a winding mountain pass, climbed to the top of waterfalls in the pouring rain, snorkelled between tectonic plates, hiked inside an ice cave, walked along black sand beaches in the glorious sunshine and petted Icelandic horses in the snow. Iceland is out of this world!
But the weather is the craziest weather I've ever experienced. It changes constantly. It can be raining one minute and sunny the next, so knowing what to pack for Iceland can be a little overwhelming, especially if this is your first real 'cold holiday'.
But I'm here to help with my handy Iceland packing list and what to wear guide.
I visited Iceland in late October and late November, but much of the below will apply to any time of the year, you may just want to adjust a few things based on the length of your trip or bring slightly lighter clothing in summer – but it's generally always a bit chilly!
Please Note: Some of the links in this post are affiliate links, which will earn me a small commission at no extra cost to you. Affiliate sales help with the running costs of this site, so thank you for your support!
---
What to Wear in Iceland (My Complete Packing List for Summer & Winter)

Iceland Packing List – Clothing
In Iceland, keeping warm and dry is really important, especially when you are moving constantly and don't have much time or space to dry your things.
But if I can give you one piece of solid advice, it's that I found that the key to packing for Iceland is layers (lots of layers), quick-drying and warm inner clothes and waterproof outer clothes plus a good pair of boots.
Top Tip: If you only have a carry-on bag, wear all of your bigger items (coat, boots etc) onto the plane.
Waterproof and Windproof Jacket
A good jacket is absolutely essential item of clothing for travelling in Iceland (in all seasons) as the weather changes often and rain and high winds are a frequent occurrence. Mine is a fully water and windproof Didrikson's jacket that I bought from eBay and it's the best jacket I've ever owned. I love it!
It's quite a heavy coat, but it is often warm enough to wear alone and kept me completely dry. You'll be so much happier if you're not soaked all day. Trespass also have some great, reasonably priced weather-proof coats! And if you want to go with an Icelandic brand (I saw so many Icelanders wearing this brand), check out 66˚North.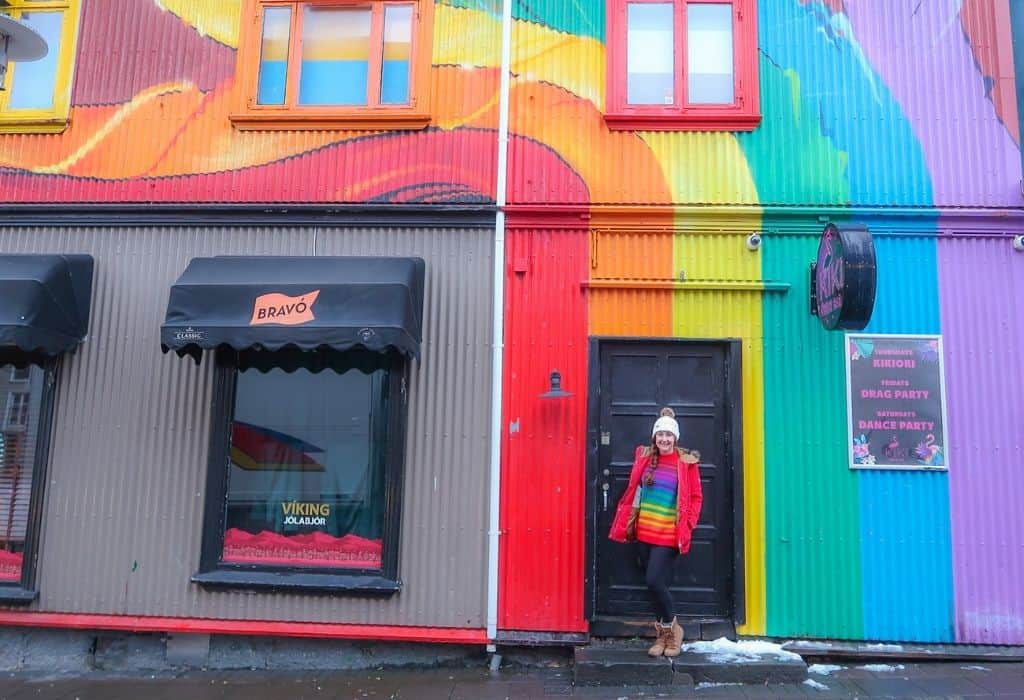 Down Jacket
For extra warmth, I wore my down jacket underneath my big coat. It was too warm when hiking, but perfect when I was stood still trying to take photos of waterfalls and the Northern Lights. I also wore it alone on drier days and in the car after we'd been out for a while and were waiting for the heater to kick in.
If you go in summer, I would still suggest taking both a waterproof/windproof jacket and down jacket as the weather changes all the time and it can still be cold. It's called Iceland for a reason.
Baselayer Tops
You want baselayers that are warm and have wicking properties. So by that, I mean those that keep you warm but allow the sweat to evaporate so you won't get damp. Mostly synthetic fabrics and merino wool are the best for your base layer. Avoid cotton.
I took 3 long-sleeved tops – a Helly Hanson W HH LIFA CREW, an M&S Heatgen Thermal Long Sleeved Top and a Merino Wool Icebreaker Oasis Crew Thermal Top
. I wore these all the time.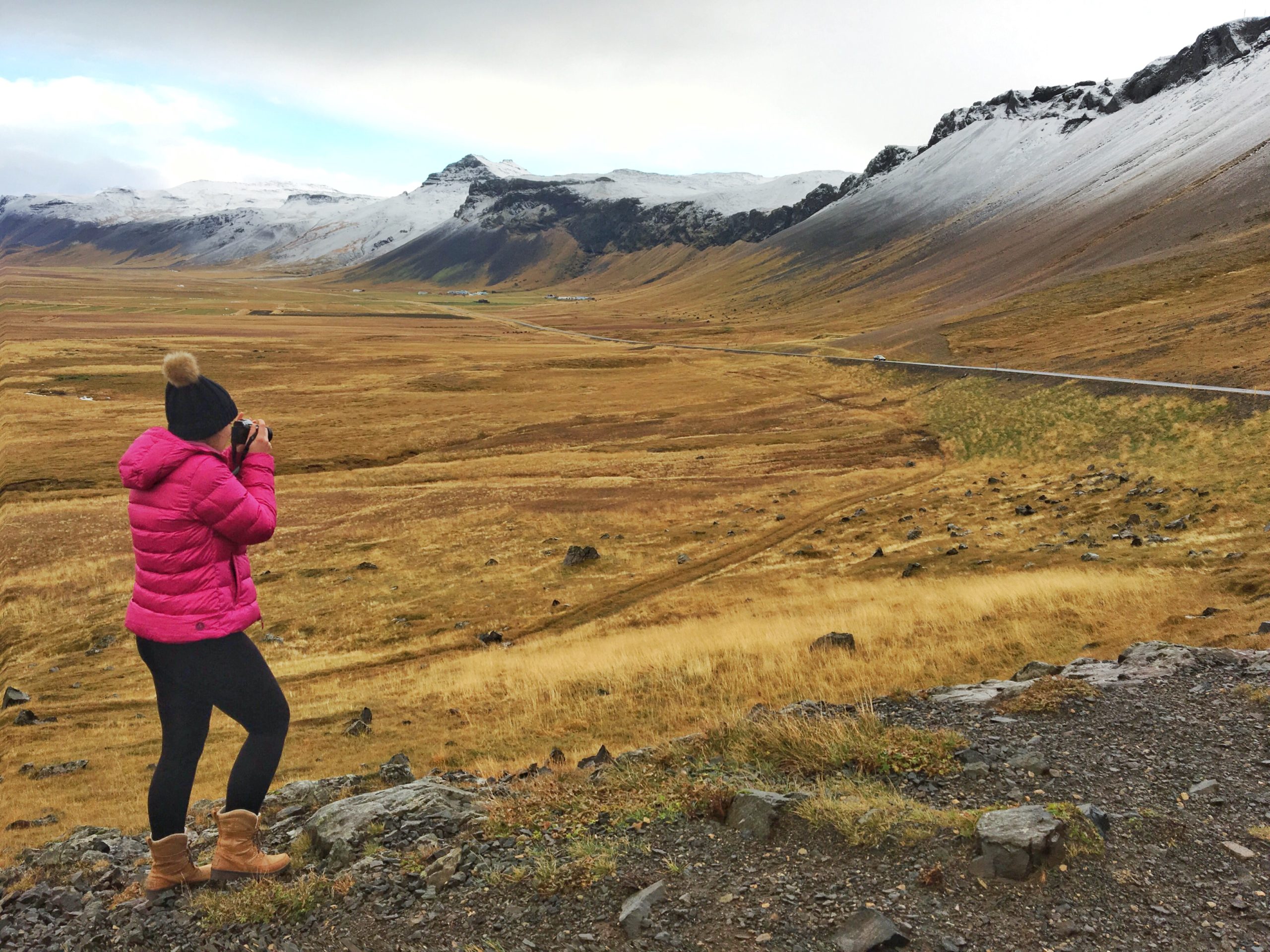 Jumper/Fleece
A couple of jumpers or fleeces is good to have. I took a Regatta fleece which I got from Go Outdoors (if you shop there, get one of their discount cards as it will save you money) as well as a couple of woolly jumpers. Icelanders are also very fond of the lopapeysa otherwise known as the Icelandic sweater. They are super warm patterned jumpers made from Icelandic wool.
They are sold online as well as everywhere in Reykjavik and all over Iceland, including lots of tourist shops, but they're not just for tourists, most Icelanders have one! The only downside is that they are really expensive (over £100 usually) but they are good quality and will last for years.
There are lots of secondhand shops in Reykjavik, so you might be able to grab a bargain (they're still relatively expensive though).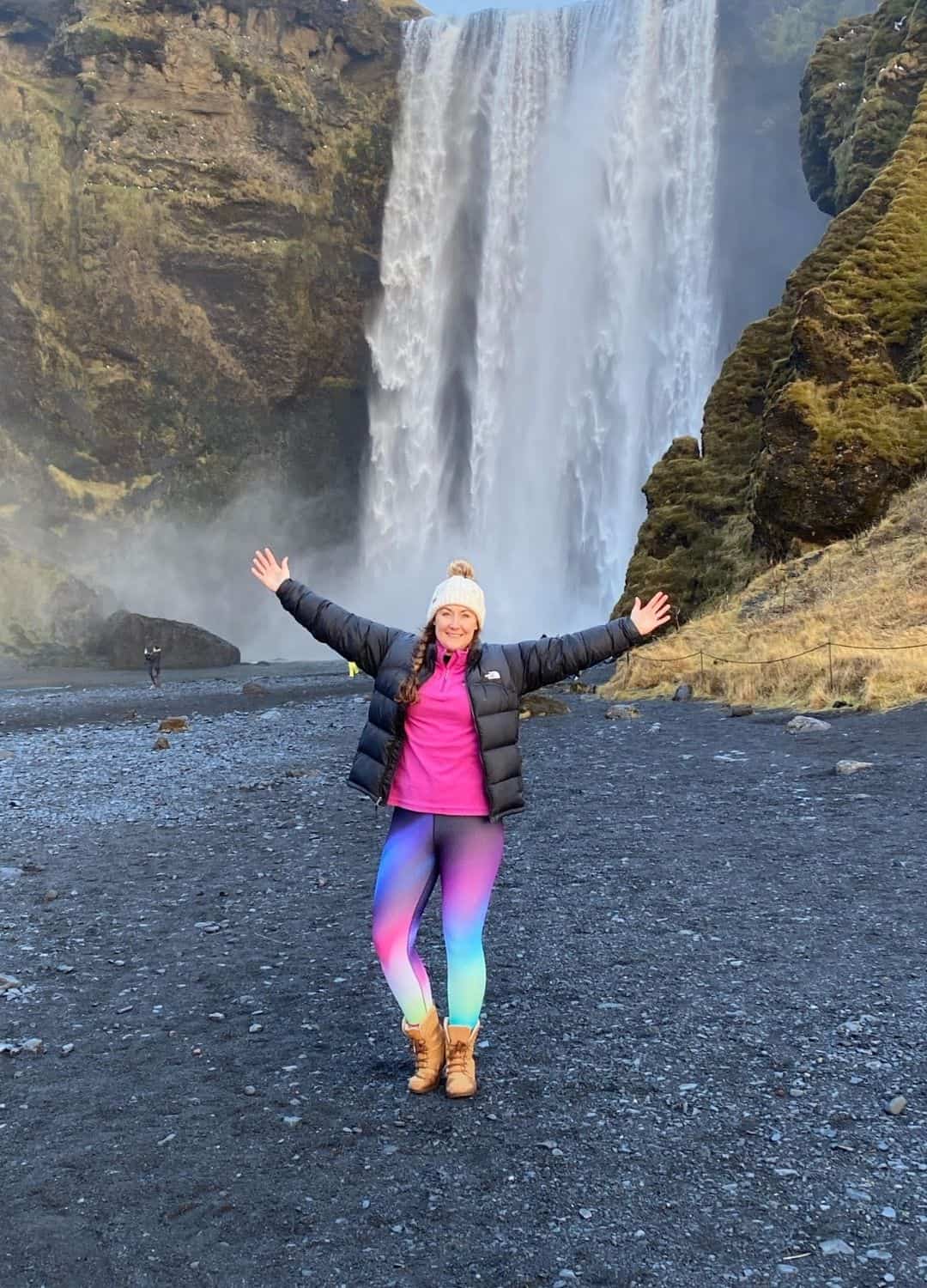 Leggings
I wore leggings every single day, taking a few pairs and layering them. Again, synthetic fabrics, fleece and wool are best! On the inside, I wore Heat Holders Thermal Leggings
.
For the outer layer, I wore my Africa & Wild leggings (this includes my Aurora Northern Lights leggings, shown above, available in both adults and kids sizes) or when it was colder my Heatgen Plus™ Thermal Brushed Leggings from M&S.
As a combo, these were all brilliant. They were really comfy, I was never cold and they dried really quickly even when they got a bit wet. Plus if you wear two pairs of leggings, it holds in all ya wobbly bits – winning!
Waterproof Trousers
I borrowed a pair from my friend the first time I went, but I didn't wear them. I know some people swear by them, but I was fine with just my leggings (on both trips), which dried quickly, especially with our heated seats.
But if you are doing multi-day hikes or camping, waterproof trousers could be very useful and will stop water from running into your boots, as wet feet would be the worst, so maybe take a pair just in case! Cotswold Outdoor or Go Outdoors both have a great selection!
Gaiters
Whilst we're on the subject of waterproofs, one additional thing you could take is a pair of gaiters. These go over your boots and lower leg to stop water from running into your shoes and making your feet wet. They're a good alternative to taking full waterproof pants as they're much smaller.
I didn't find these essential when I went as we were pretty lucky with the weather, but they would have been useful if we'd been out in the rain a bit more.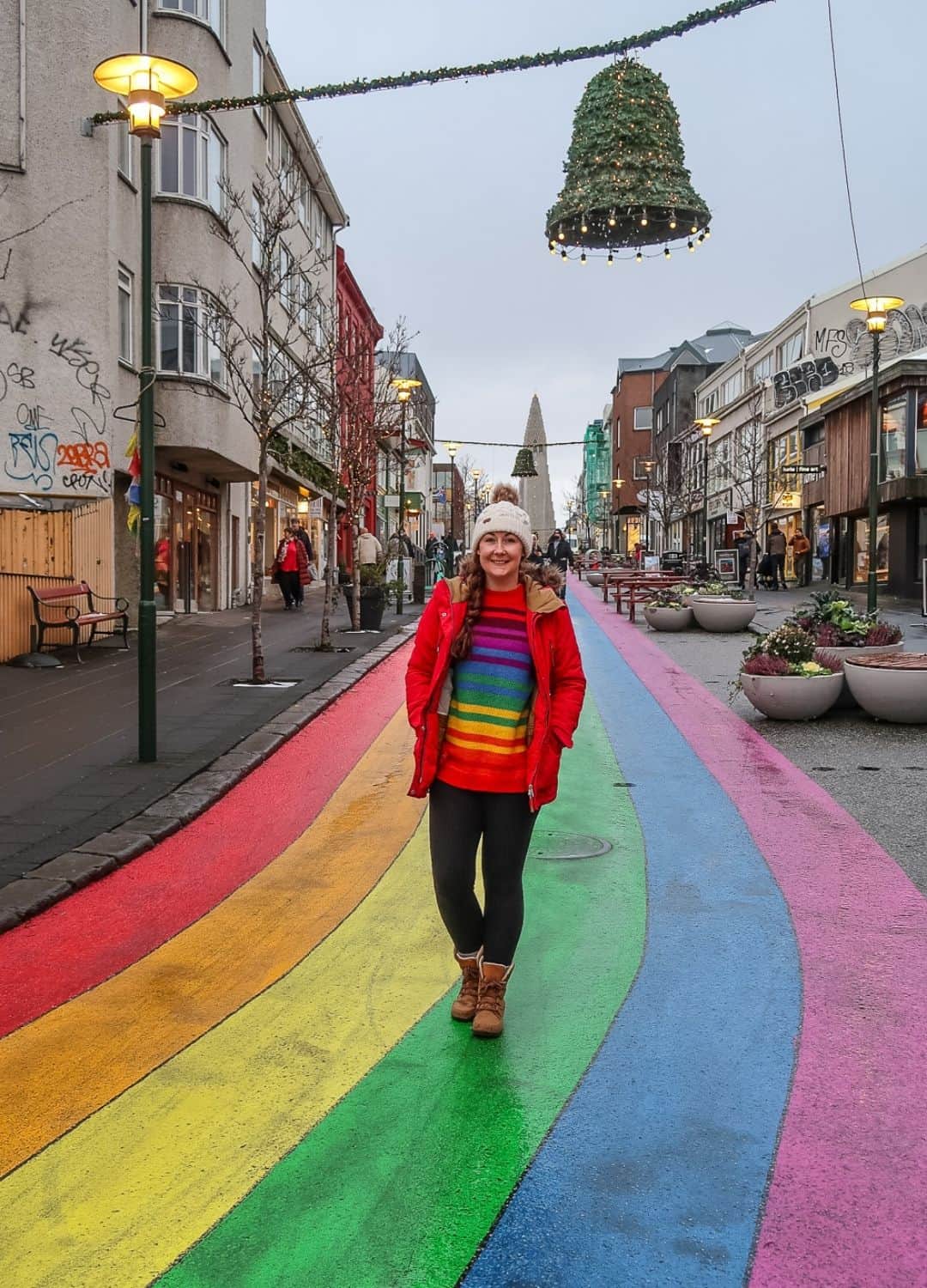 Going 'Out Out' Outfit
Not essential but… Reykjavik is a cool, hip city, with cool, hip people and cool, hip bars. If you are planning to go 'out out' in Reykjavik, you might want to bring some more regular clothes – but just know that Iceland is pretty casual.
For girls – either a top to wear with your jeans or a simple dress and tights! Think Scandi chic. For guys – a pair of jeans and shirt/jumper. If you plan to go to a club, you'll need some shoes as they don't always allow trainers.
I just wore a jumper, leggings and my snow boots and it still worked. And leave the thermals at home as it's really warm inside the bars and restaurants.
Swimsuit
Iceland is full of hot springs and pools so forgetting your swimsuit would be a travesty. If you're staying in a campervan like I did and driving the ring road, the public pools are a godsend.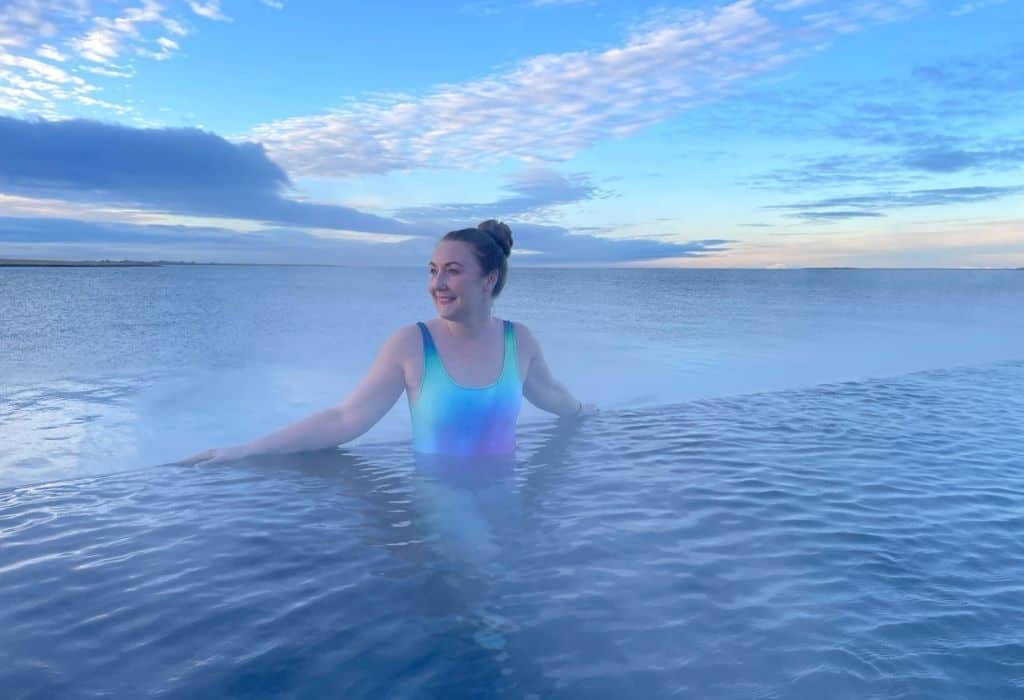 Socks & Underwear
I took 6 pairs of thick wool socks
which were great for keeping me warm and then I just took a couple of pairs of normal socks too.
Take at least two bras, in case one gets wet and I would recommend having a sports bra too. Then take as many pairs of pants as you need.
Hat
I took a couple of warm wool beanie hats for the trip and pretty much lived in them, even wearing one when I went to bed in the camper. You could also take an ear warmer headband to wear under your hat. These are also great if you do any activities where you wear a helmet.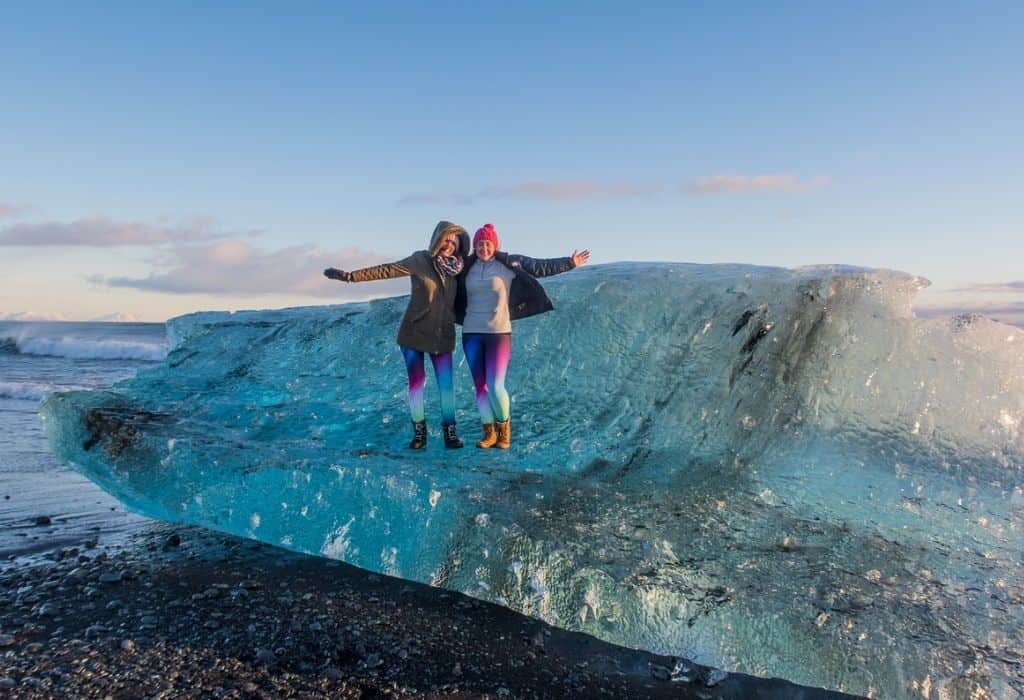 Scarf & Gloves
Your hands will get really cold in Iceland so a warm pair of gloves is essential. I had a pair of wool touch screen gloves
which were perfect as they were warm and allowed me to use my phone whilst wearing them. If your hands get cold really easily, I would maybe consider getting another pair of gloves or mittens to go over the top.
A scarf is also a great addition for that extra bit of warmth, but not necessarily essential.
Pyjamas
Don't forget your pj's. Your regular ones are fine, unless you are in a camper van, in which case you might want something thermal.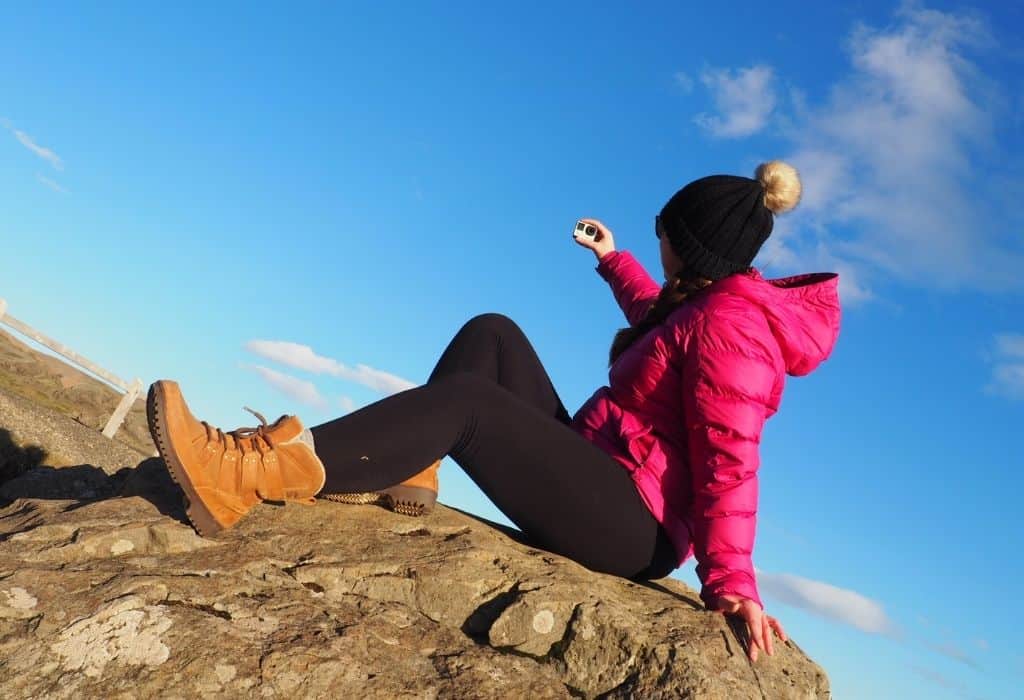 Iceland Packing List – Shoes
You're going to need some good shoes for your trip to Iceland. Your regular sneakers or trainers just aren't going to cut it.
Waterproof Boots
A pair of waterproof boots is a must, so if you only bring one pair of shoes, bring these. Mine are the Sorel Women's Meadow Premium Snow Boots
(my friend also had these in black), which are suede but oil-treated so they are completely waterproof and warm, so perfect for a winter trip to Iceland. These were really comfortable from the first wear (no blisters) and kept me warm and dry throughout my trip.
If you have waterproof walking boots, these would also be fine (especially if you have good socks), unless you are walking through deep snow.
Spare Shoes
My Sorel boots are amazing, my favourite boots ever in fact, but they are very warm so I wish I'd had another pair of shoes to change into for driving to give my feet a bit of rest or for when I just needed to pop out of the camper for a quick bathroom break. A lighter pair of boots or trainers would do the trick.
Flip Flops
It's too cold to wear flip flops most of the time, but they are good for lounging around in the hotel or wearing when you visit one of the many Icelandic spas.
Crampons
I wouldn't say crampons are essential, however, they could be useful, especially in the winter. It was very slippery when we were at Gullfoss and Fjaðrárgljúfur Canyon which made things pretty difficult! The smart people with crampons just strolled right by! You can usually hire them though too, so don't worry about buying some if they're not something you'll use often!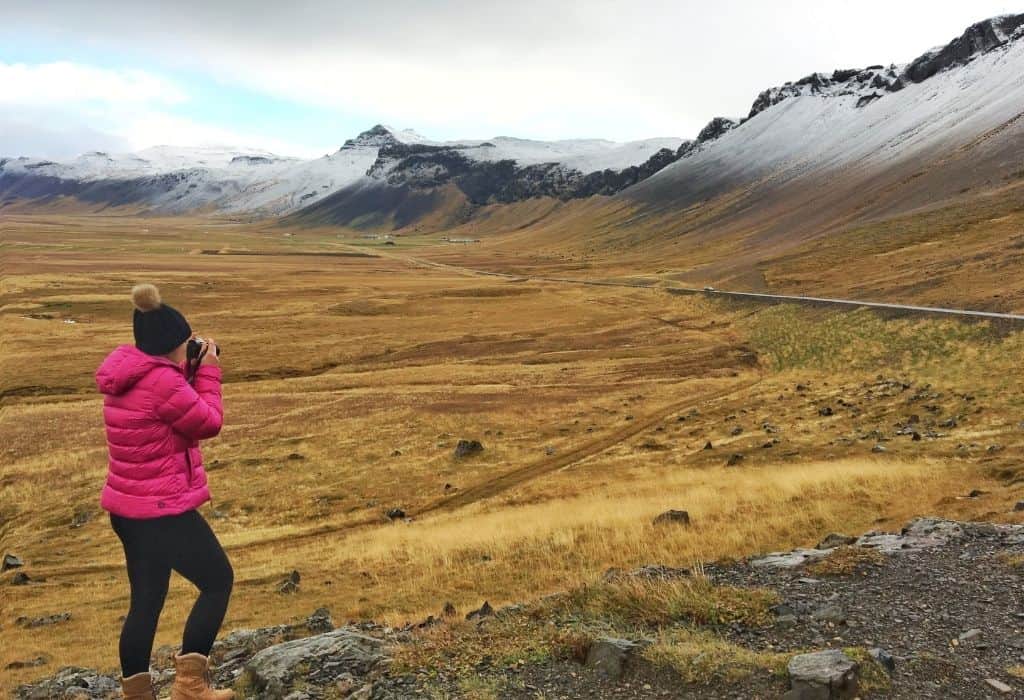 Iceland Packing List – Baggage
The first time I went (in the campervan) I was originally intending to travel carry on only, but I realised even before I started packing that there was no way I was going to fit it all in. So I travelled with a carry-on, a small day pack (which I could flat pack flat inside my carry-on) and my backpack.
The second time (staying in hotels), I had a larger carry-on and a small carry-on. This was fine as I packed smarter and didn't need quite as much stuff anyway (ie. no sleeping bag etc). But again, you can hire camping equipment if you need it to save you taking it with you.
Top Tip: It's usually cheaper to pay for your checked bag online rather than at the airport.
Backpack
I took my Osprey backpack on my first trip as we were travelling in a camper, but if you're staying in hotels, a suitcase is fine.
Carry On Bag
On the first trip, I took quite a lot of camera gear, so I also took my carry on suitcase. In here I also packed a spare outfit (just in case) including my down jacket and a small day pack. Just make sure that it's within the size allowance!
On my second trip, this was my whole luggage!
Small Waterproof Day Pack
Having a small, waterproof or at least water-resistant day pack (with a waterproof cover) is a good idea. They're great for keeping your camera gear dry whilst you hike and can double up as your handbag whilst out and about in Reykjavik.
One that fits in your hand luggage is best or maybe this can even be your hand luggage if you pack lighter than me! I love Osprey packs and also Fjallraven Kånken Rucksacks which are stylish and water repellent, rather than waterproof.
Packing Cubes
I use my Eagle Creek Pack-it Cubes
on every single trip I go on and they're especially handy when you are living in a van and need to keep it as neat and tidy as possible. I also sometimes wrap mine in a jumper and use it as a pillow.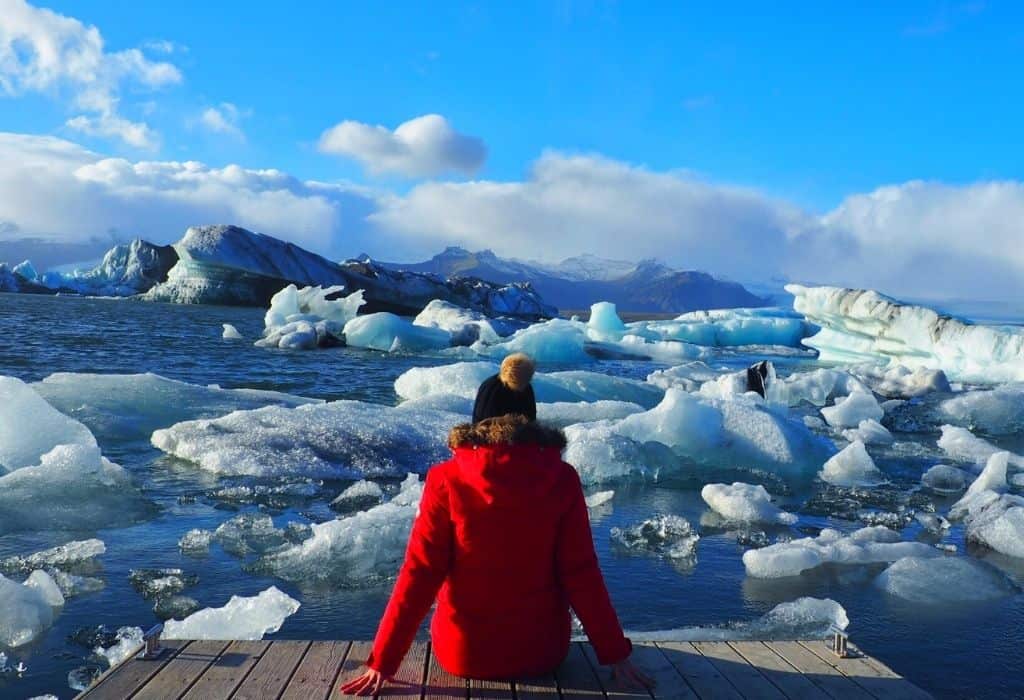 Iceland Packing List – Toiletries & Health
Aside from your usual toiletries and make-up, I'd recommend making sure these items are in your bag, especially if you're camping or out in the cold night taking pictures like I was!
Moisturiser
The chances are you'll be out in the cold evenings taking pictures of beautiful skies and Northern Lights, so I would take a good, thick moisturiser (I like CeraVe or Aveeno). I'd also suggest taking a good lip balm and hand cream too.
Biodegradable Face Wipes/Baby Wipes
These are very useful to have, especially if you're doing a road trip or living in a van. Having wipes made me feel a little bit fresher in between showers and were good for wiping up spillages whilst trying to eat in the car. Make sure they're biodegradable ones!
Shampoo & Conditioner
If you're staying in campsites or hostels, I'd recommend taking shampoo and conditioner (you can also buy all the regular brands in supermarkets in Iceland too if you just have carry-on luggage, and it was cheaper than the two bottles I bought at the airport in the UK). On my second trip, I stayed in hotels and they all had shampoo and conditioner (L'Occitane seemed to be the brand of choice in the hotels), as did the Sky Lagoon and Blue Lagoon.
First Aid Kit
I took a first aid kit
as we were also travelling to very remote places. I topped this up with a few of the usual medicines I travel with, ibuprofen, rehydration salts, Immodium etc.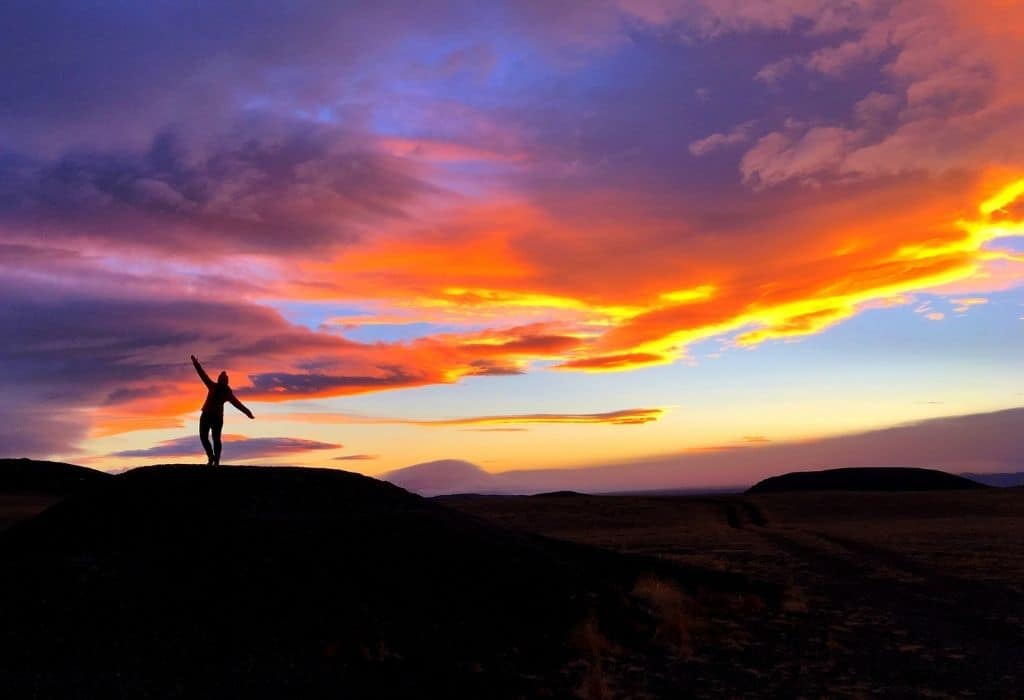 Iceland Packing List – Electronics & Camera Gear
Iceland is the most photogenic place I've ever been to, so you'll want to make sure you capture it!
Camera
A camera is essential. Although if you're not much into photography, your phone or a point and shoot will do the trick!
If you want to photograph the Northern Lights properly, having a camera with manual settings is also important. I use an Olympus OMD and travel with 3 or 4 lenses – my 14-42 mm lens
everyday lens (this is the one I use the most), my wide-angle lens
for landscapes and indoor and my 25mm lens for people and food shots.
Videoing the Northern Lights is also easier than trying to photograph them.
Top Tip: You may also want to a bring spare battery as the cold temperatures can make them drain quicker.
Tripod
If you're lucky enough to spot the Northern Lights, a tripod is needed to get those amazing shots you see on Instagram! I have a small, lightweight Manfrotto tripod which is perfect for getting solo pictures and long exposure shots of the waterfalls. Just remember to keep hold of it in the wind!
Memory Cards
I took over 2000 photos whilst in Iceland (both times) so make sure you have enough memory cards. SanDisk
are my go-to brand!
Go Pro
Whilst an adventure proof camera isn't a necessity, it can come in pretty handy. I don't have a waterproof case for my main camera so my GoPro
was good when I was getting soaked walking under waterfalls, snorkelling between tectonic plates in Silfra and soaking in the hot pools.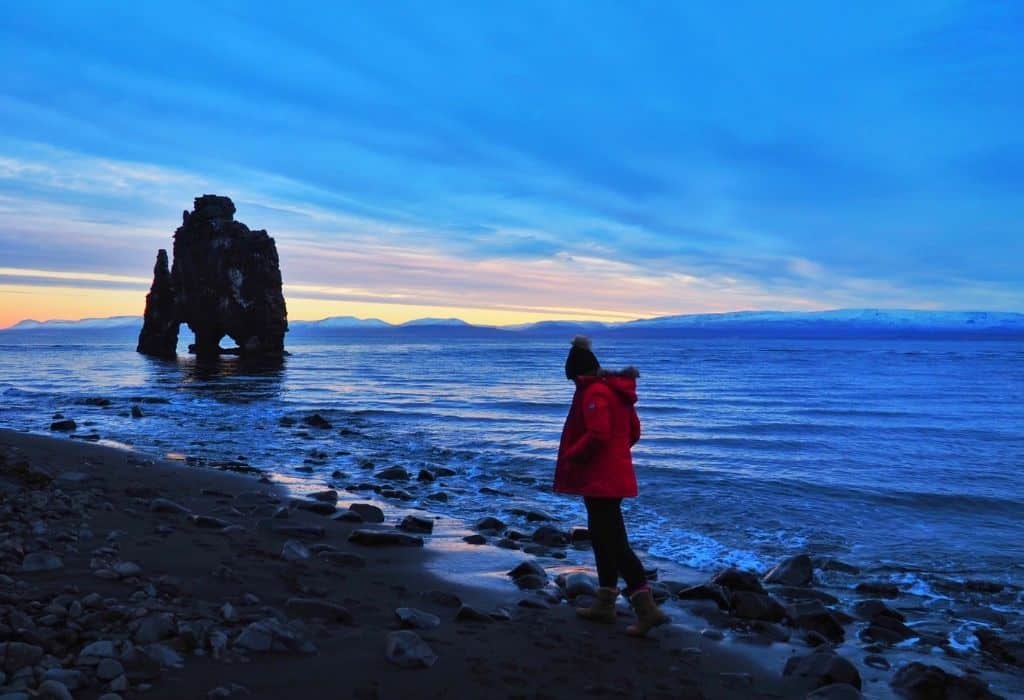 Phone & Charger
I ended up taking a lot of my pictures on my iPhone as it was often just easier and quicker in the cold and also used Google maps to get around, rather than hiring a sat nav.
My phone provider, 02, allow me to use my phone in Iceland at no extra charge. But, if you don't have this facility, it's a good idea to get your phone unlocked so you can get a local SIM. Siminn, Vodafone and Nova are the 3 main local providers.
Waterproof Cases
If your phone isn't waterproof, I'd suggest getting a case for it. It rains a lot in Iceland and even when it's not raining, there's spray from the waterfalls to contend with. Lifeproof makes good waterproof cases for iPhone, Samsung and LG phones.
Car Charger Adapter
If you're using your phone to navigate, it's always good to have a car charger adapter to ensure that you can charge your equipment!
Powerbank
If you're out and about, you may want a power bank to make sure you've always got a backup power supply!
European Plug Adapter
In Iceland they use European plugs, so bring at least 1 or 2 with you to charge all your electronics.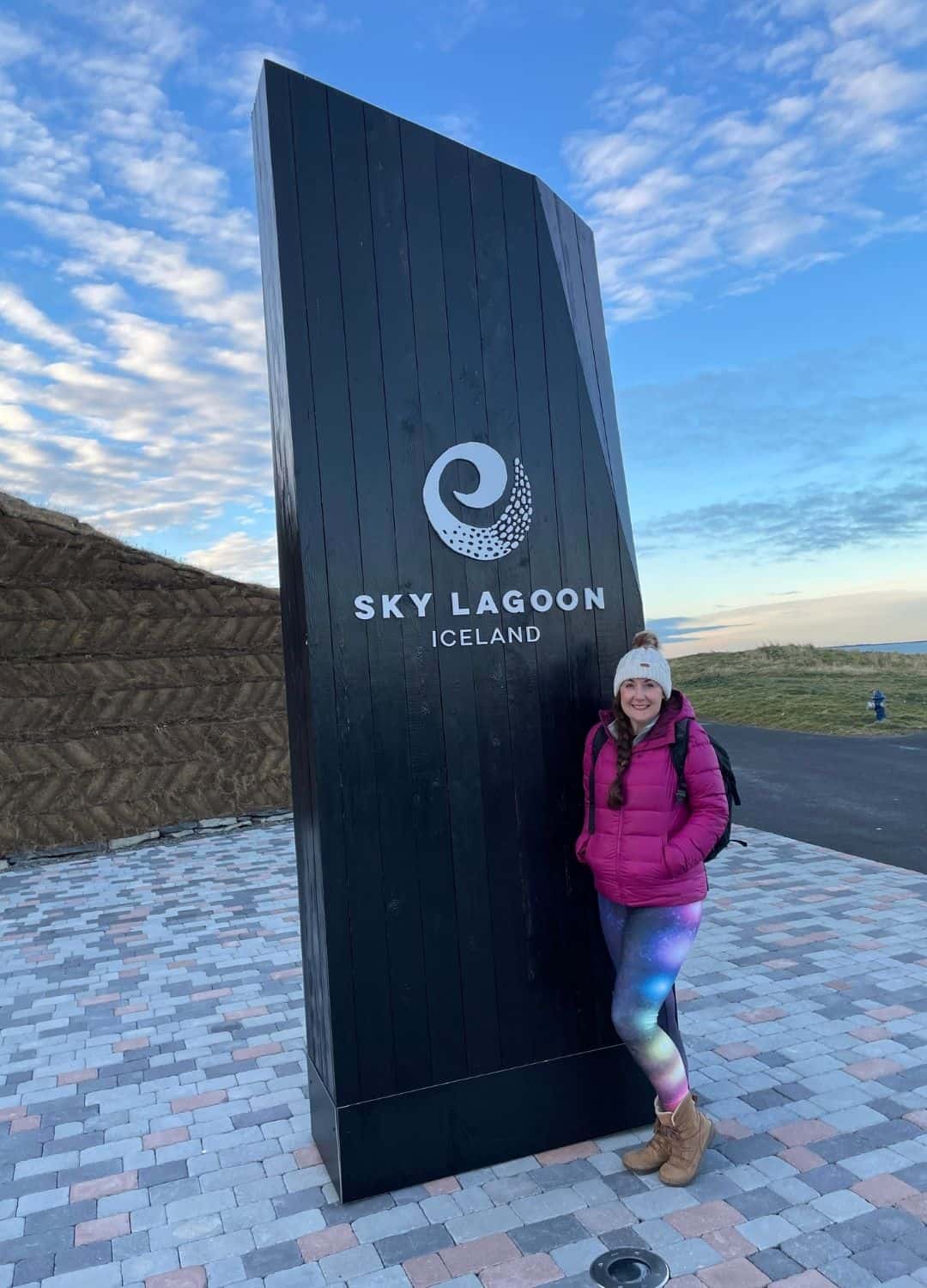 Iceland Packing List – Miscellaneous
Then there are all the other random items that don't really fit the other categories but are equally important!
Covid-19 Requirements & Paperwork
To get into Iceland, I need to do a PCR test within 72 hours of arrival in Iceland. I got this from a local approved pharmacy (Boots do them cheaper than I got). I got the results within 24 hours and this gave me a certificate (negative obviously) to travel. I also had to register for travel on the Icelandic website which gave me a barcode.
When we arrived I needed to then show my negative PCR test, my barcode (I printed both of these out but you can also show them on your phone) and proof of vaccination. They were fine with my vaccination card but be prepared you may need to show your NHS QR code.
Then to come home, I needed to fill in a Passenger Locator Form on the UK website. When I returned home I needed to do a Day 2 Rapid Antigen test at home (I bought and registered this before I went). When I got the results, I uploaded a picture of the test to the website (your test provider will tell you where to upload it). It was negative (phew) so I don't have to quarantine or isolate.
Sunglasses
When the sun comes out, it really comes out and it's low in the sky so can shine right in your face, especially when driving, so sunglasses are really useful.
Gaffer Tape
I always travel with a bit of gaffer/electrical tape. You never know when that stuff is gonna come in handy to fix a broken car door or backpack.
Head Torch
Having a head torch
is good for dorms and essential if staying in a campervan/camping or if you are going on any nighttime excursions.
Towel
If you're staying in hotels, towels are usually provided. Some spas include towels in their packages. If you are staying in hostels or camping, bring your own. You can hire them in a lot of places but they are relatively expensive.
Map
I found it useful to mark everything I wanted to see on a paper map before I left home. You can get them online, in bookshops usually and sometimes in Iceland guide books. But you can also do this when you are there, as most rental companies provide you with a map and you can pick them up in hotels and hostels. Between our paper map and Google Maps on my phone, we got around just fine.
Water Bottle and/or Thermos
Bring a refillable water bottle. The water from the taps is perfectly fine and nice to drink (just choose cold, not the sulphur-smelling hot water) and you can fill up pretty much everywhere. Supermarkets and gas stations have drinking water fountains.
If you're out and about all day, having a flask with a hot drink is lovely! Plus if you use the tea/coffee making facilities at your hotel, it will save you money.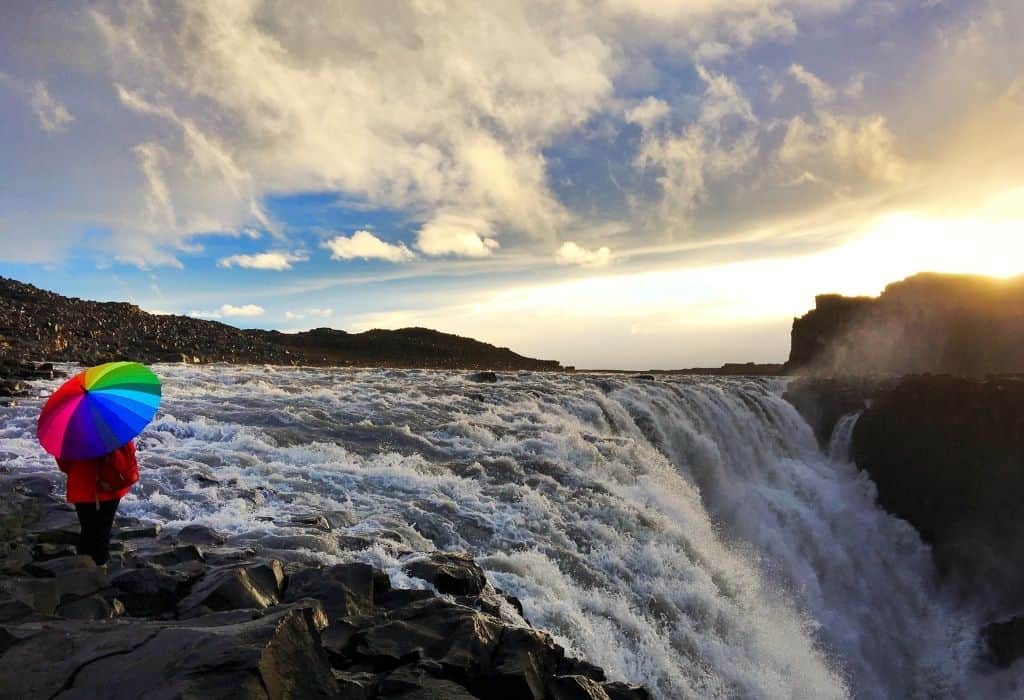 Umbrella
An umbrella isn't essential, but it kept me, my camera and my phone dry, especially around the waterfalls and when the rain blew in sideways with the wind! Just remember that the wind is strong, so be careful where you put it up and always face the top of it towards the wind – you don't want to be blown over a waterfall!
I love my rainbow umbrella. I bought mine in a gift shop in Reykjavik, but you can get them here. Just be aware that they are big so may not fit in small luggage.
Eye Mask
Not essential for your Iceland packing list, but if you're going in the summer when it's light most of the time or staying in a dorm at any point, an eye mask would be pretty useful for helping you sleep!
Earplugs
On my first trip, I stayed in a hostel in Reykjavik during the weekend and whilst it was lovely, it was really loud! This doesn't bother me but would annoy a lot of people, so earplugs might be good to have.
Reykjavik is one of the best party cities in the world and each weekend they have the 'runtur', which is basically 48 hours of partying! People go out around midnight, so there will be people coming and going all through the night.
We were also on the same floor as a group of kids who were going on early morning trips and thought it would be fun to play loud music at 7am in the kitchen next to our dorm, so if you're a light sleeper these will come in handy.
Sleeping Bag
If you're staying in hostels or hiring a campervan, I'd suggest that you take your own sleeping bag as a lot of places charge you for bedding hire and the costs start to add up.
I have a 4 season Marmot sleeping bag that I travel with. It's the same one I used for climbing Kilimanjaro so it's really warm and toasty. I'd recommend a 3 or 4 season sleeping bag!
Combination Padlock
I always have a couple of Pacsafe padlocks hanging on my bag. They won't be necessary if you're in a hotel, I only used mine for my locker in the hostel in Reykjavik.
Ice Scraper
This is a random one, but having an ice scraper can be incredibly useful which will save you time waiting for the car to defrost! Most hire cars usually have one, but if not, you can buy one at a gas station.
Reusable Bags
I brought a few reusable bags with me and they came in really handy to put wet clothes and boots in and also be our bin bags in the campervan. If you go shopping you'll also get some for free. Just don't be the dorm rustler.
Food
So this is more of a 'what not to pack', but on the first trip, my friend and I took food with us (Supernoodles, protein bars etc) because we'd heard that the food in Iceland was expensive.
This is true if you eat out in restaurants for every meal, but if you shop at the supermarkets (Bonus is a good, reasonably priced one) and cook for yourself or buy food from bakeries/hot dog stalls etc you can 100% eat on a budget. We ended up taking most of what we brought back home with us!
Other Iceland posts you might enjoy…
So there you have it – my complete Iceland packing list. I hope this gives you an idea of what to wear in Iceland and that you have an amazing, warm and well-prepared trip!
---