Last updated on November 12th, 2021 at 05:13 pm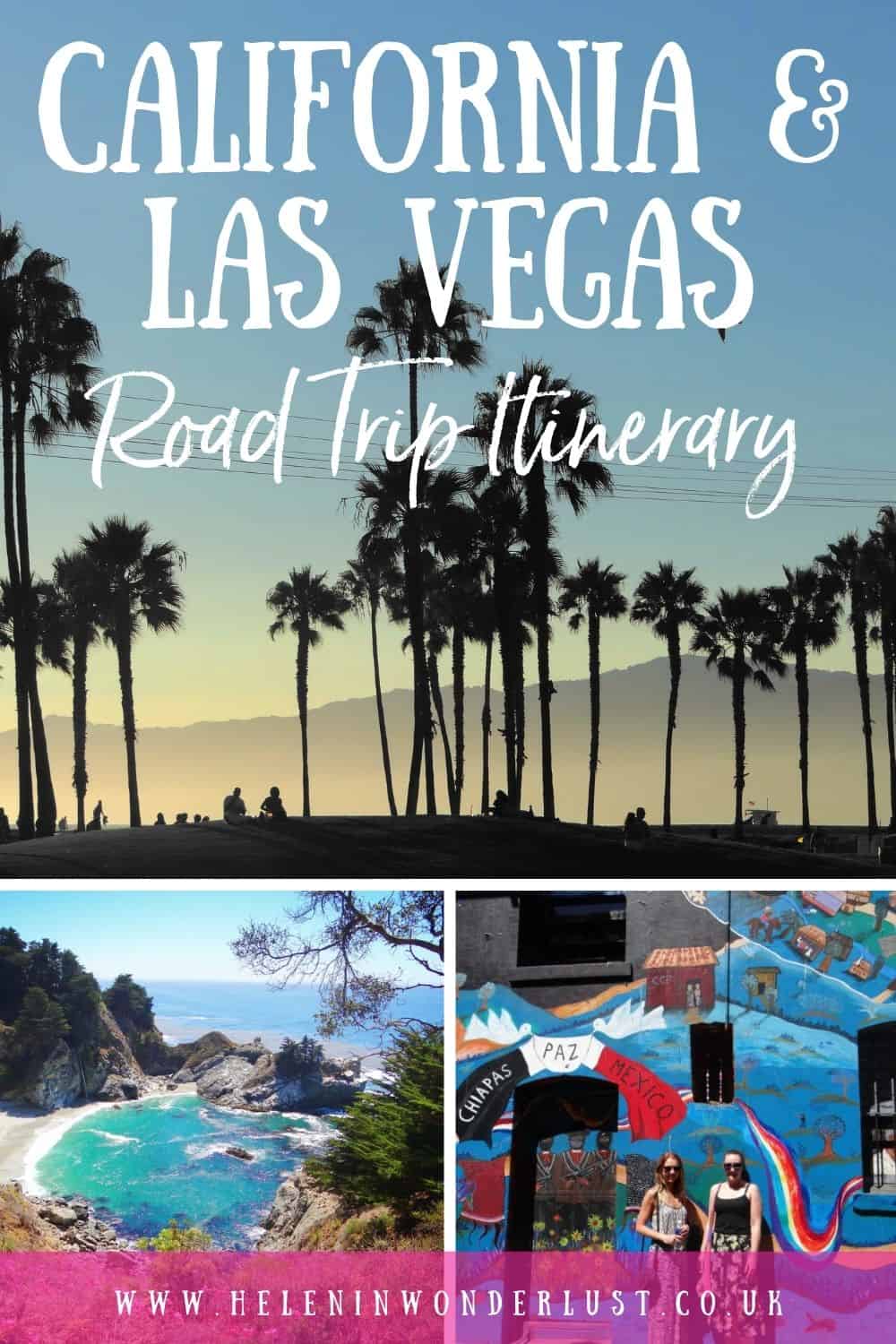 A California road trip is quite possibly one of the greatest road trips you will ever take in your life.
We started our trip in San Diego, hired a car, passed through Los Angeles, then drove up the Pacific Coast Highway to San Francisco (which might just be the coolest city in the world), before heading inland to Yosemite National Park and ending the trip in Las Vegas.
Knowing what I know now, here's my California road trip itinerary (with Las Vegas), with a bit of advice on what I might have done differently, to give you some ideas of things to do and places to visit on your adventure.
You can amend accordingly, depending on your priorities and the number of days you have!
Please Note: Some of the links in this post are affiliate links, which will earn me a small commission at no extra cost to you. Affiliate sales help with the running costs of this site, so thank you for your support!
---
An Epic 2-Week California Road Trip Itinerary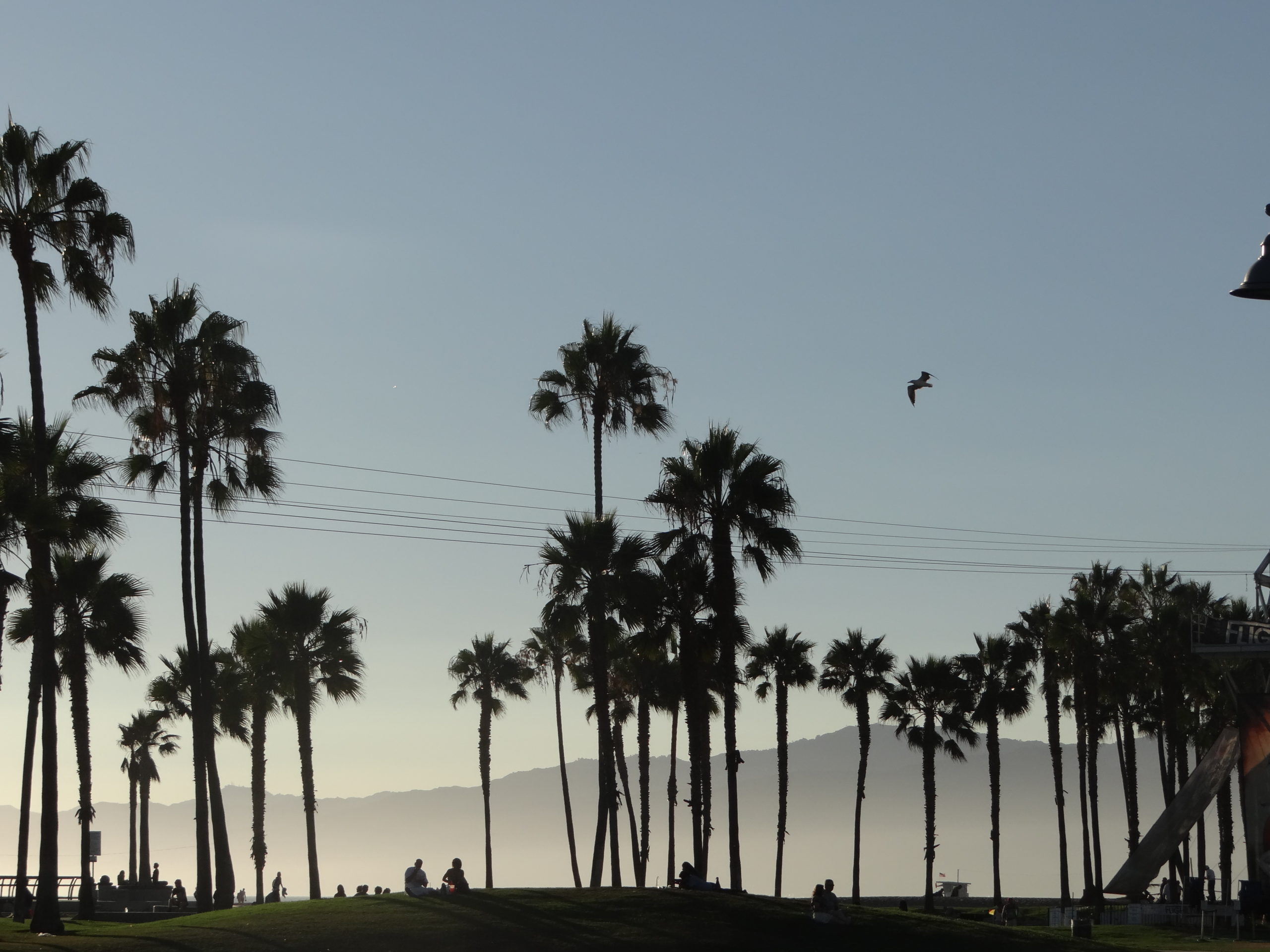 California Road Trip Overview
Day 1 – 3: San Diego
Day 4: San Diego to Los Angeles
Day 5: Los Angeles
Day 6: Los Angeles to Cambria (via Pacific Coast Highway)
Day 7: Cambria to San Francisco (via Pacific Coast Highway)
Day 8 – 11: San Francisco
Day 12: San Francisco to Yosemite National Park
Day 13: Yosemite National Park
Day 14: Yosemite National Park to Las Vegas
Day 15 – 17: Las Vegas
Day 18: Home
Whilst I loved every second of our California road trip, I felt like we didn't have enough time in either Yosemite or on the Pacific Coast Highway. So I'd add an extra day on to both, and probably take those days off Las Vegas and San Francisco.
I could also have spent another night in Los Angeles too. Although, you could spend a week in each place, easily…
If you have more time, you could add a trip to Joshua Tree National Park which lies between San Diego and Las Vegas. This could work really well if you were doing a loop, flying in and out of the same place.
Ideally, to do the full loop, you'd need at least 3 weeks or more for this California itinerary.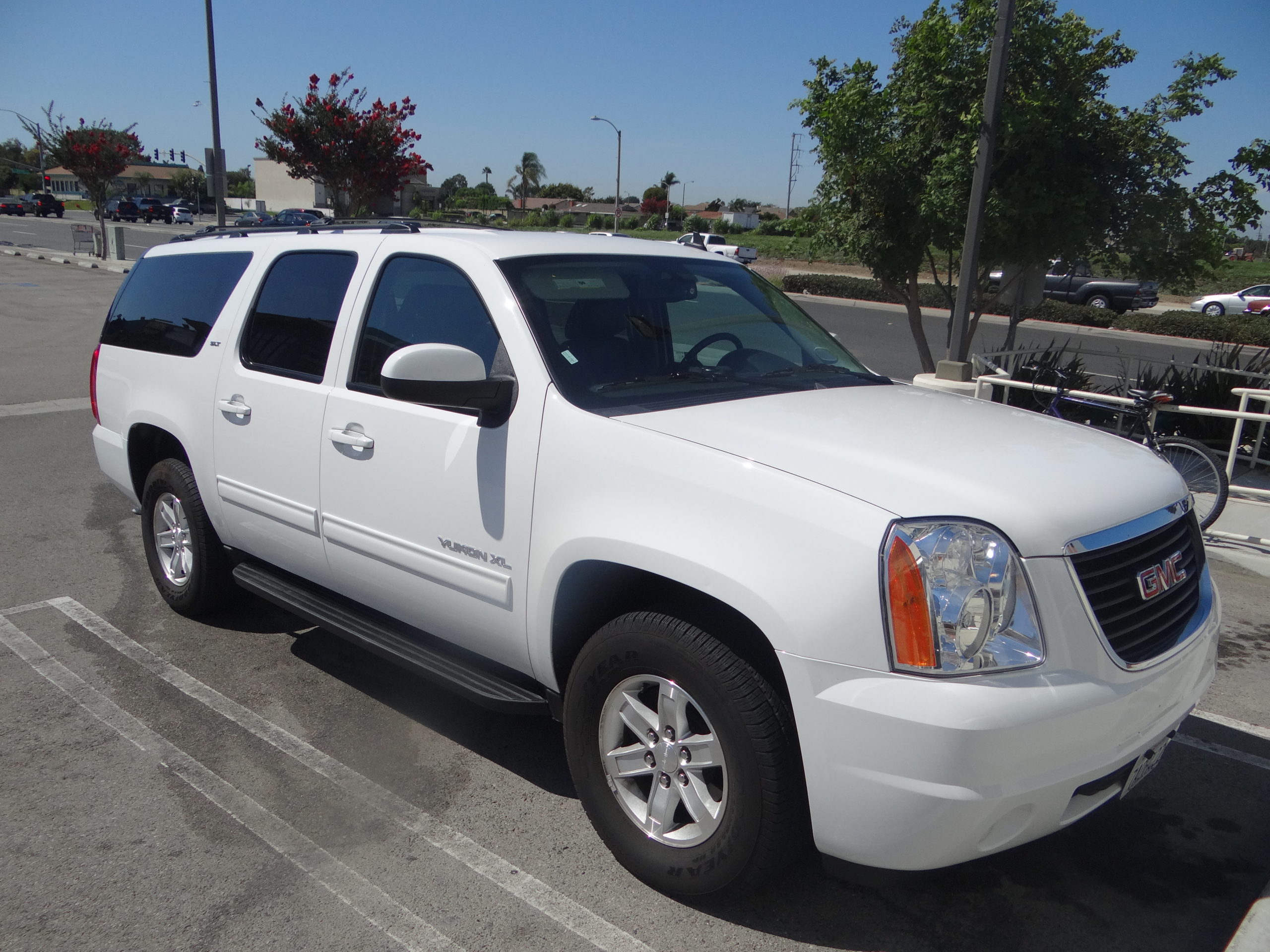 How to Get Around
We hired our car via US Car Hire. As there were 5 us, we had a 7-seater Ford Yukon, which fitted both us and our luggage comfortably (don't forget to leave space for that).
We picked the car up as we left San Diego. Dropped it off when we reached San Francisco. Picked up another when we left San Fran and dropped it off when we arrived in Las Vegas.
In San Diego, San Francisco and Las Vegas you don't really need a car. Most things are walkable or you can get there on public transport. Anything further out of the city, try to incorporate into your itinerary on the way in or the way out.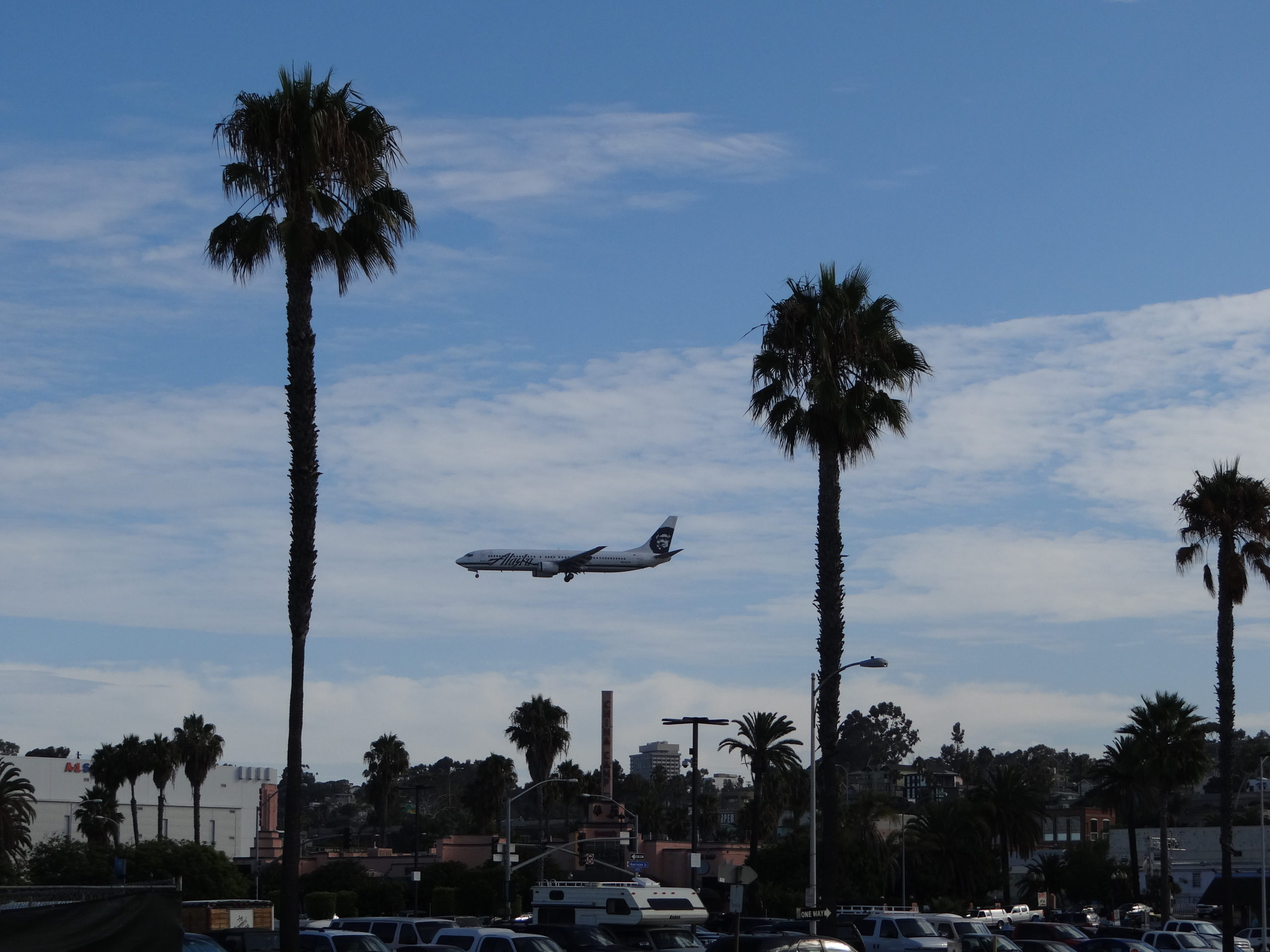 San Diego (3 Nights)
We decided to spend 3 nights and 2 full days in San Diego. This was probably enough, but we could easily have done another day.
Day 1: Arrival Day
We'd arrived in San Diego late, having flown from Manchester via Philadelphia with US Airways. Our apartment was really close to the airport, in Little Italy, so after grabbing a little bit of pizza, I went straight to bed, heavily jet-lagged.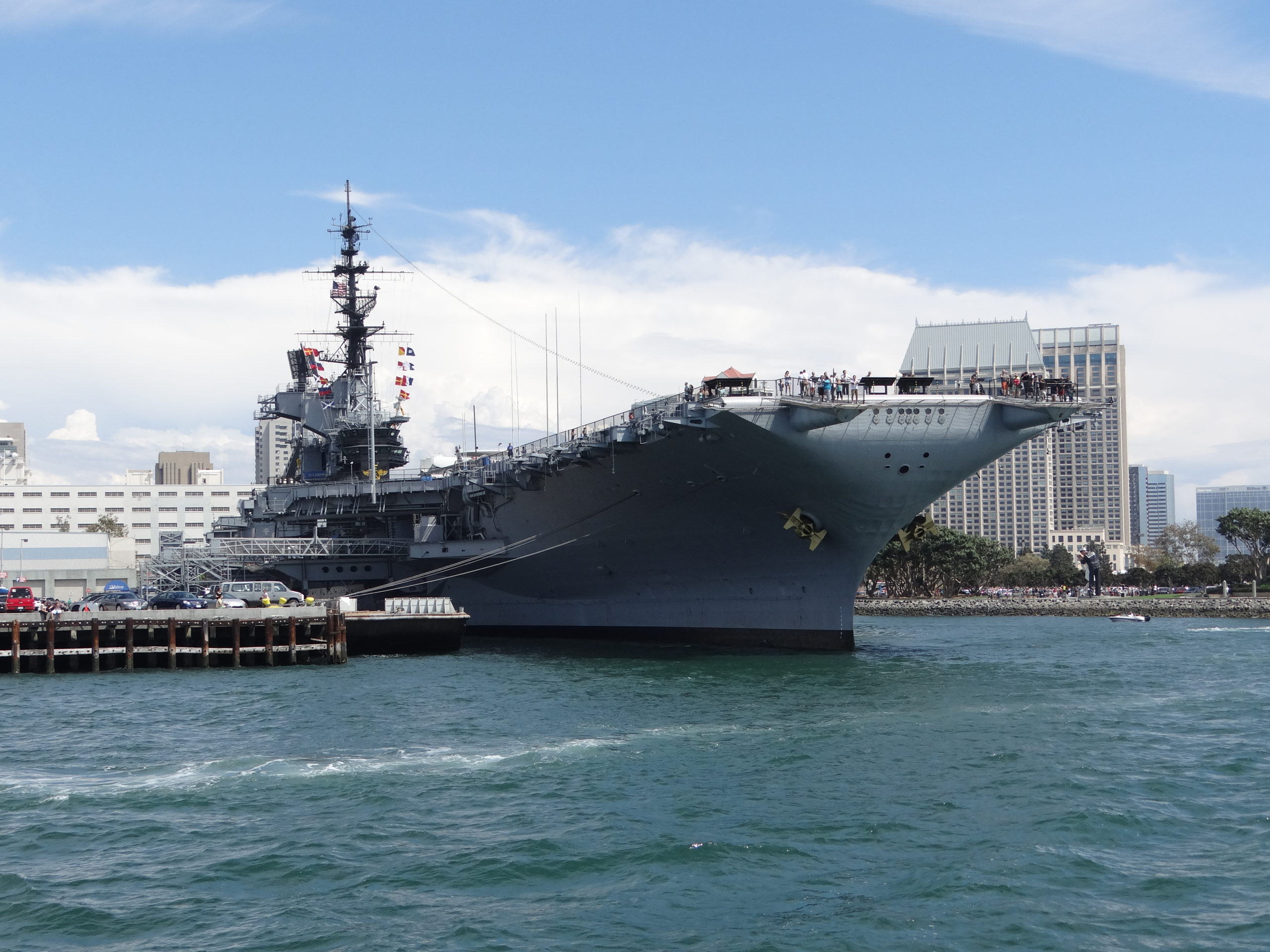 Day 2: The USS Midway & the Top Gun Bar
Up at the crack of dawn, we headed out to explore… First, we headed to the USS Midway, an ex warship that is now a museum.
It's a great way to spend a few hours and since I have never been on a real warship before, it was really interesting, with all kinds of military memorabilia, aircraft and lots of things to play with.
Continuing further down the Embarcadero, you will see the Unconditional Surrender (a giant sculpture of the sailor who kissed the nurse in Times Square at the end of World War 2) and A National Salute to Bob Hope and the Military, a group of wonderful bronze statues depicting Bob Hope entertaining the troops during the war.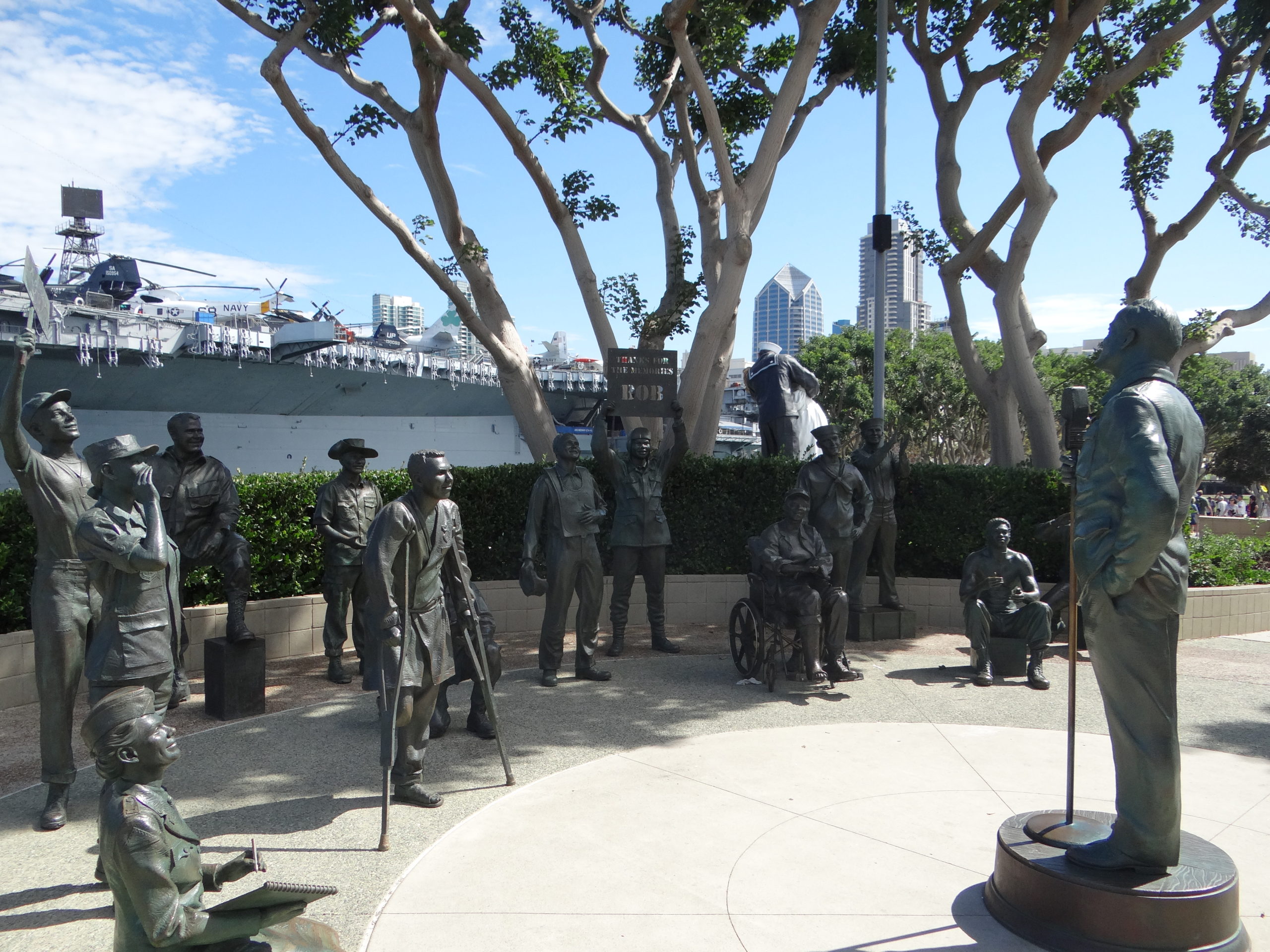 After lunch, get the ferry (right next to USS Midway) over to Coronado and head to Coronado Beach. It's a good half-hour walk, so if that's not your thing in the midday sun (I managed to get burnt – oops), you can get the bus.
The beach is huge – white sand, flecked with gold stretches as far as the eye can see. None of us had brought bathing suits, so we just chilled on the beach, watching dolphins swimming out in the water.
In the early evening, head back to the Unconditional Surrender in time for sunset, before having a delicious dinner at the Fish Market.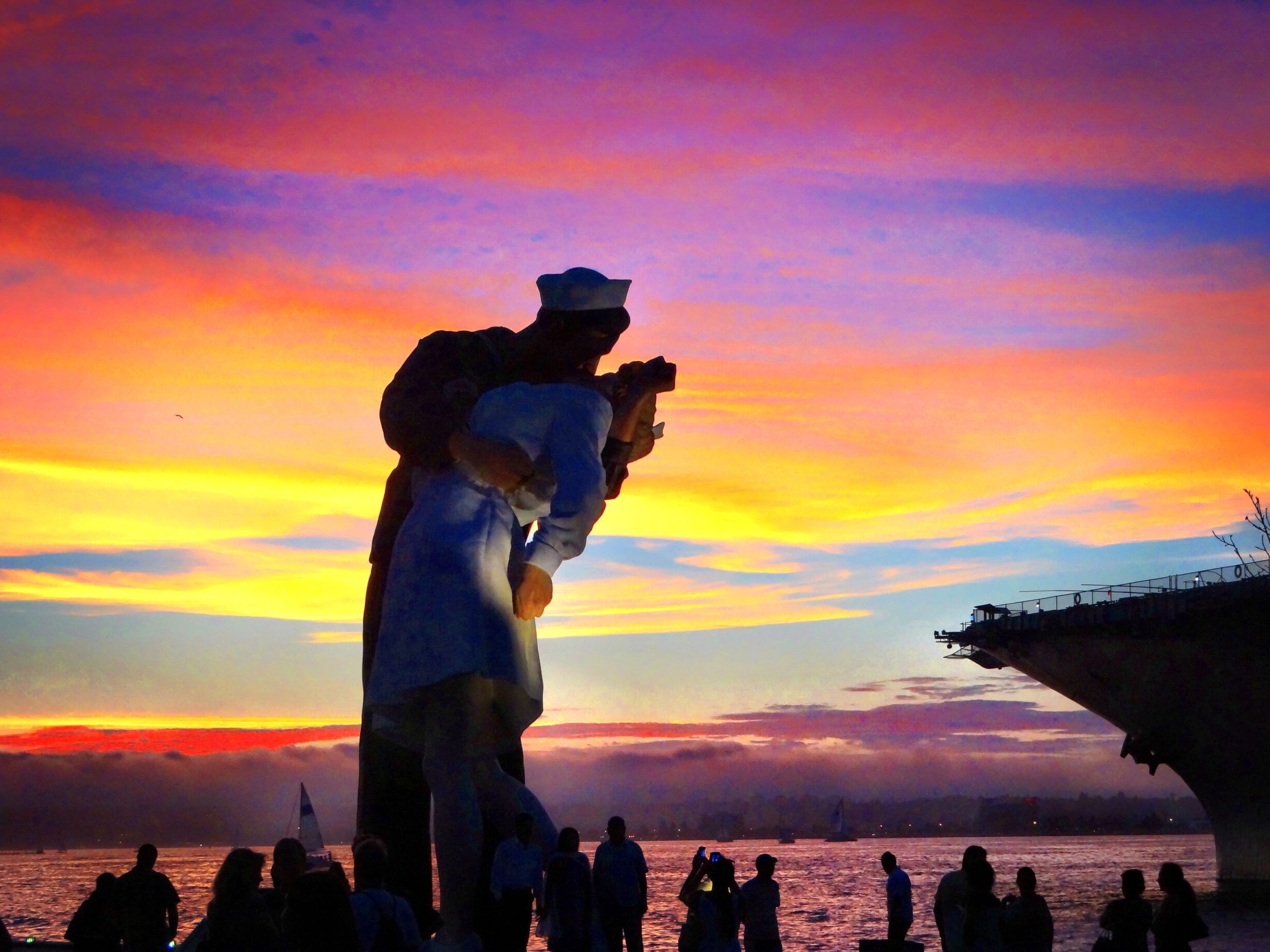 After dinner, head to the Kansas City Barbeque – the bar where Maverick and Goose sing Great Balls of Fire in Top Gun. The whole place is covered in Top Gun memorabilia and the Juke Box is filled with classic tunes, including the Top Gun soundtrack of course.
End the evening with a trip to the lively Gaslamp Quarter. There are tons of bars to choose from! Perhaps whilst you're there, pick up some more food from Ghirardelli Ice Cream and Chocolate Shop, it's open till 11 pm!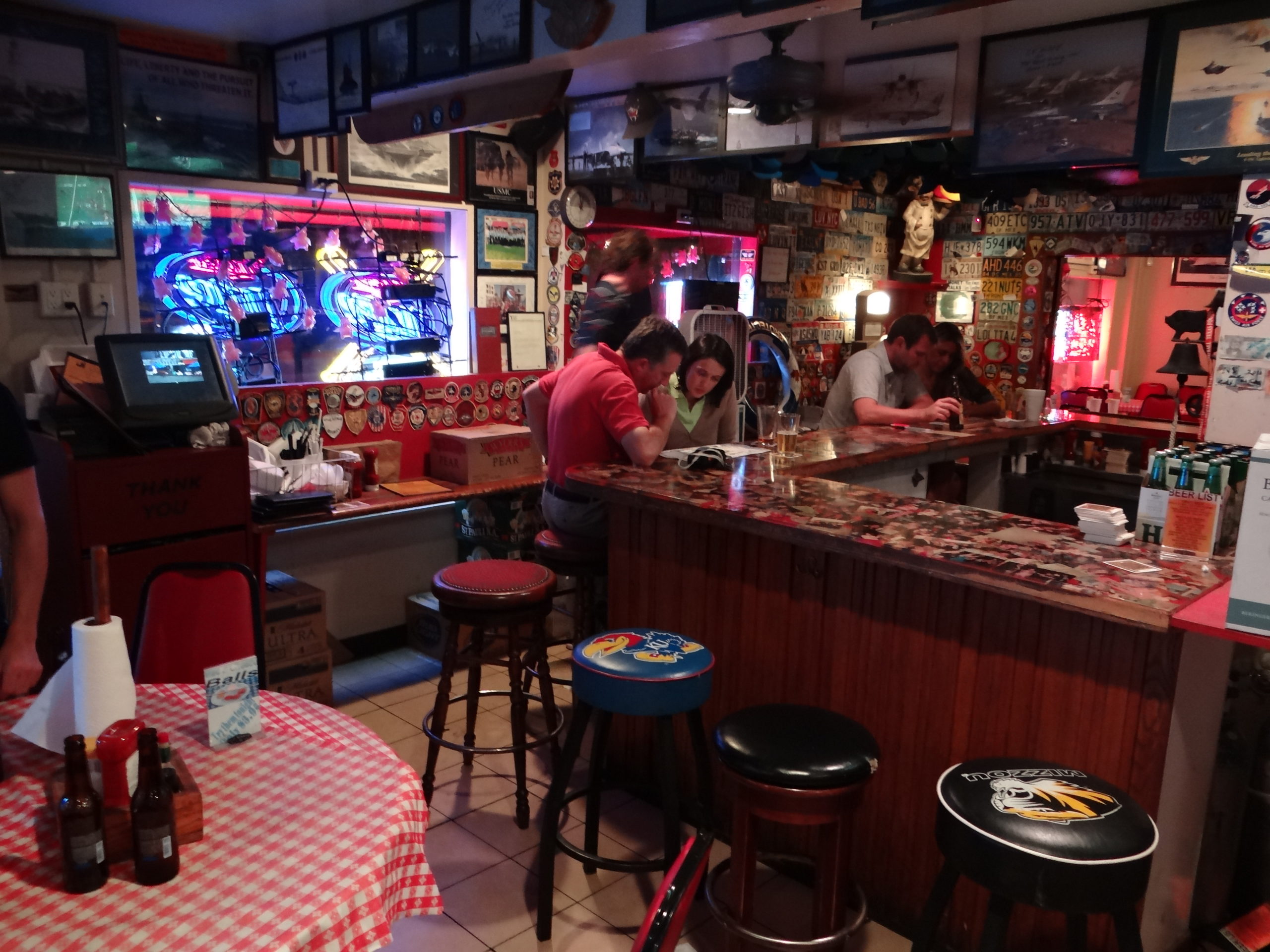 Day 3: Old Town San Diego & Little Italy
First stop in the morning, Old Town San Diego, the birthplace of California.
A wonderful, if touristic, Mexican influenced and utterly charming part of town. Here you can learn all about the history of California and San Diego in particular, buy tons of souvenirs, take an Old Town Trolley Tour, listen to live music and try some fantastic Mexican food.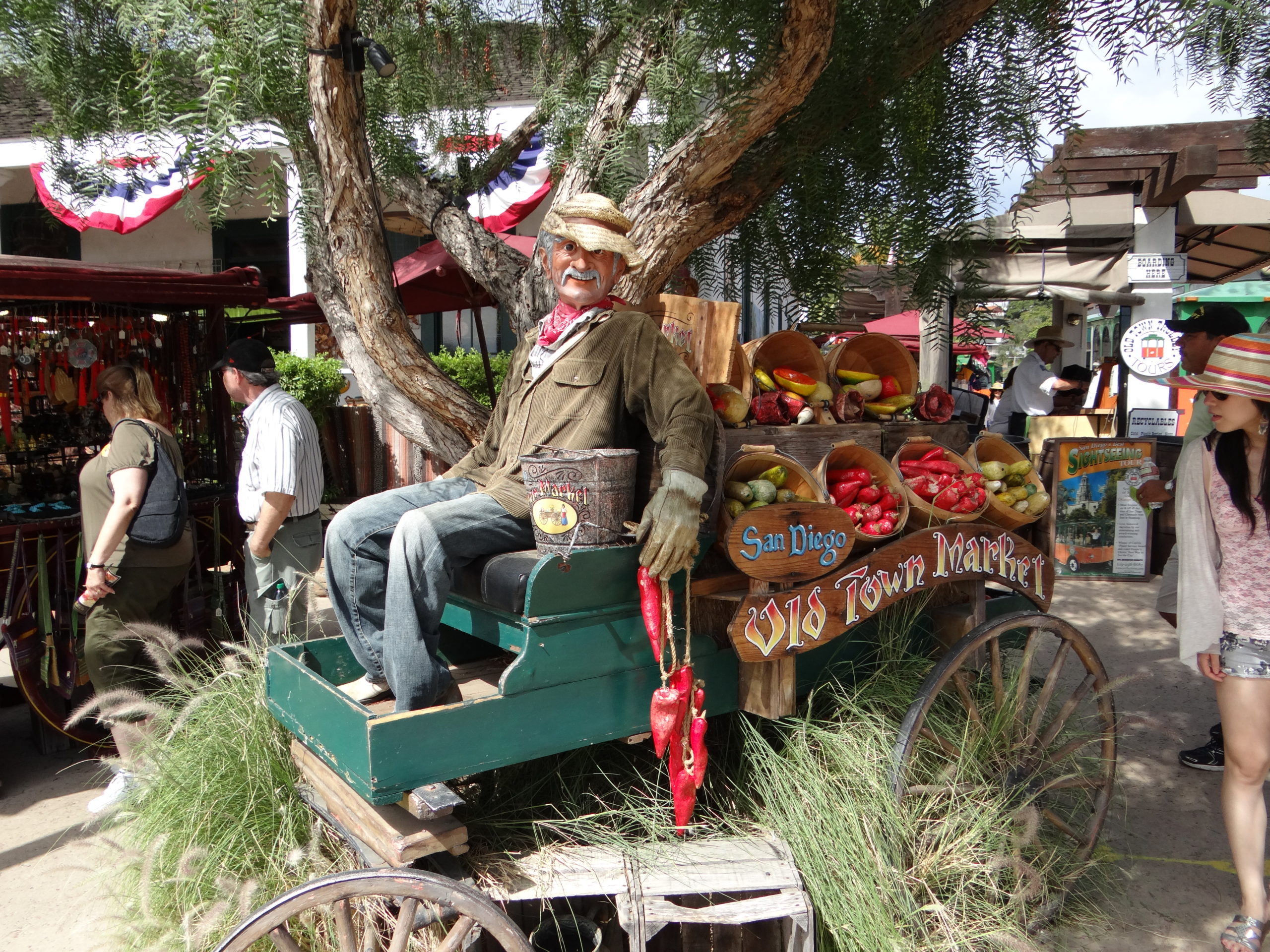 We stopped by the Baja Cantina for lunch, but there are plenty of places to choose from. Spend the afternoon at Balboa Park, it looks amazing and is something we didn't get to do and I really regret it!
We stayed around Little Italy for dinner that evening and ate at a great little restaurant called Trattoria Fantastica which had a great menu and was pretty reasonable too! We topped off the night with cocktails at the rooftop bar at The W San Diego Hotel.
My Top Tips for San Diego
Wear your bathing suit to Coronado Beach, you may want to swim.
San Diego isn't the biggest city I've been to, but wear comfortable shoes, you'll do a lot of walking!
There is also the MTS Trolley, a modern tram that makes it easy to get around, so staying near a tram stop would make things easier!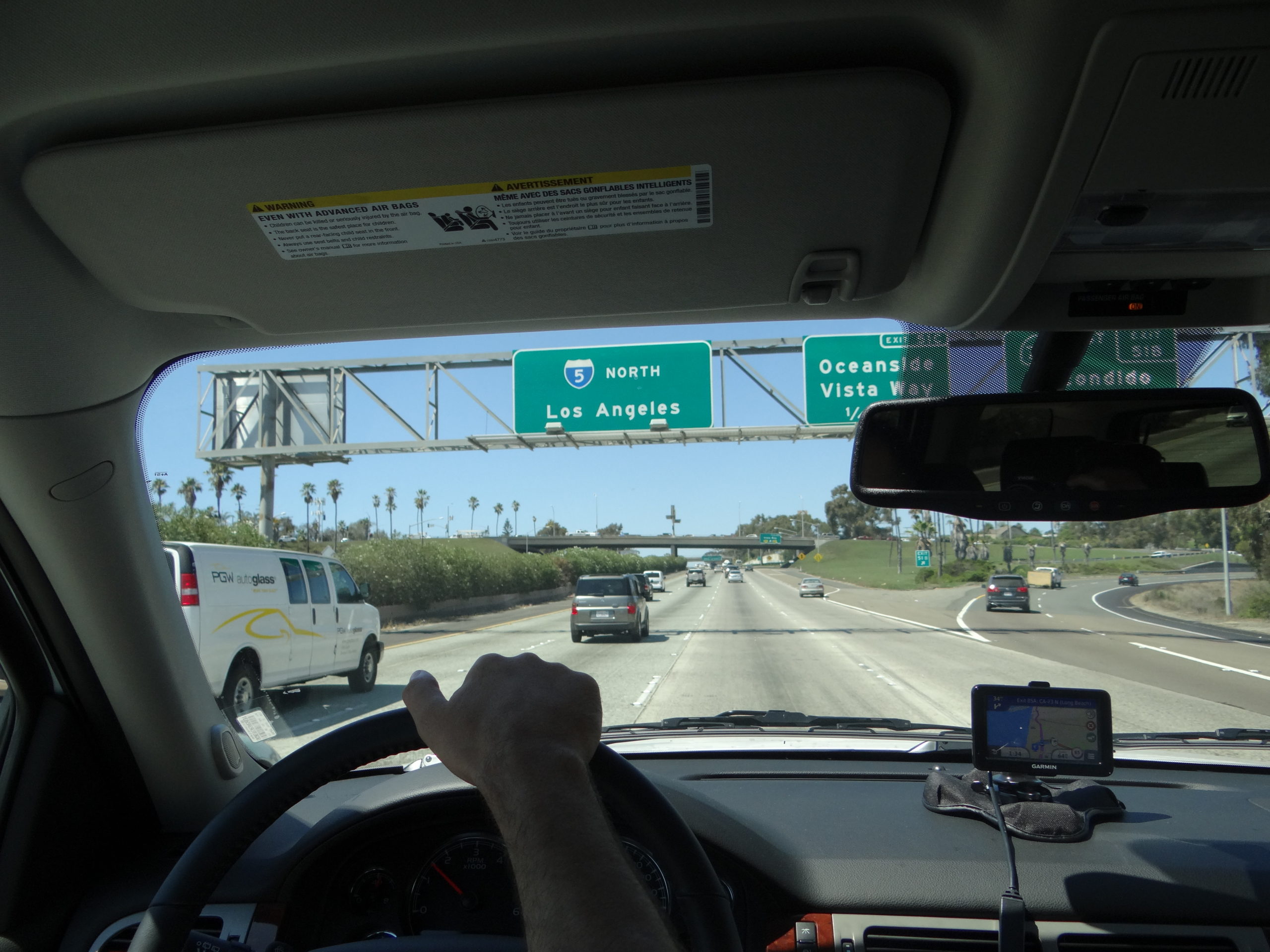 Los Angeles (2 Nights)
LA – they say you either love it or you hate it, well I loved LA.
Day 4: San Diego – Los Angeles, Venice Beach & Santa Monica
Pick up the hire car and make your way to La Jolla (pronounced La Hoya), around 25 minutes from San Diego. La Jolla is a nice place to spend a couple of hours or perhaps even a night if you have more time.
Park up in town and walk down to Scripp's Park and La Jolla Cove to spot the seals and sea lions out in the water (some people were snorkelling) and then walk to Casa Beach you can get right up close to them.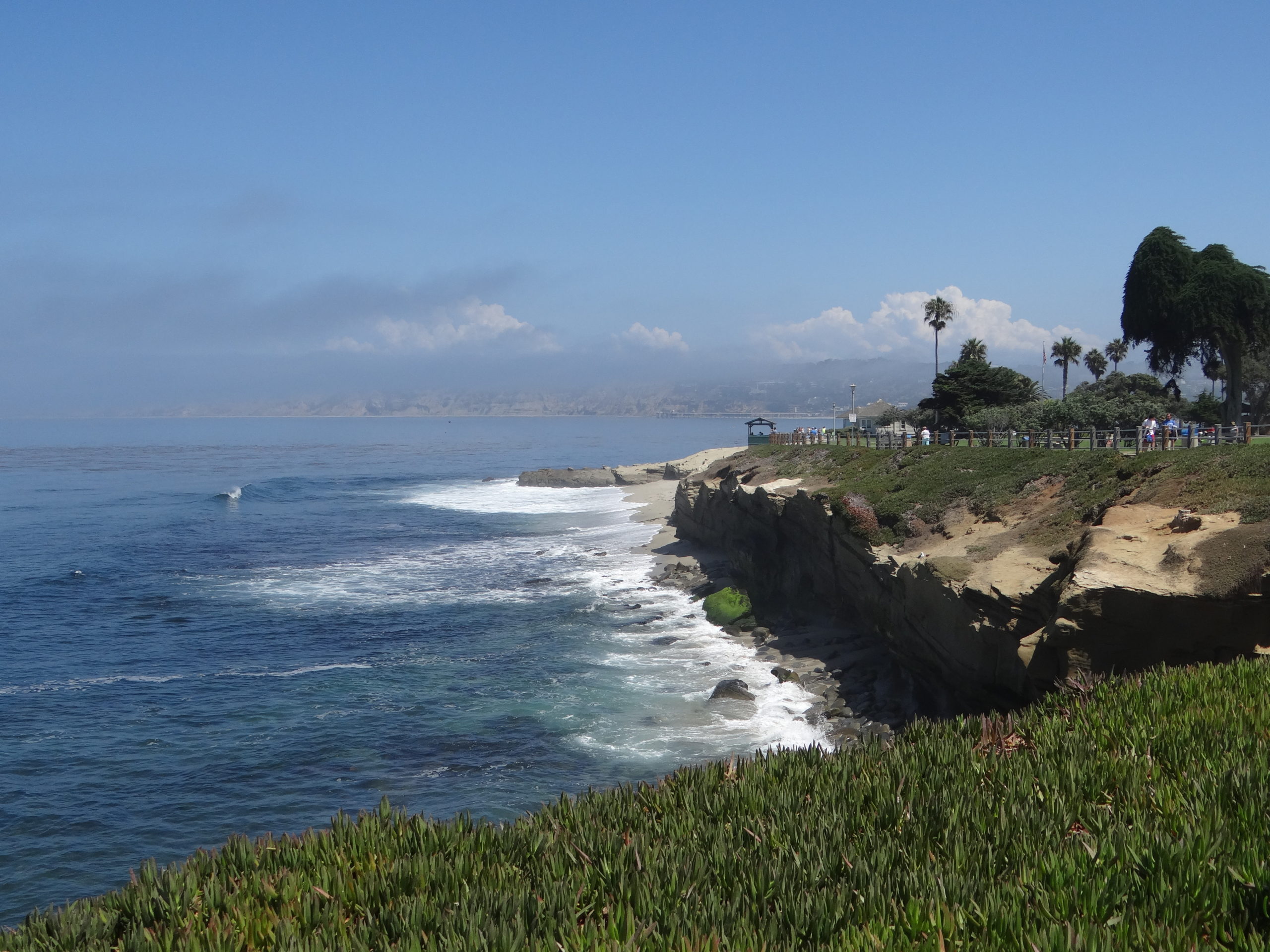 Back in the car, we drove another two and a half hours to Venice Beach, our base in Los Angeles for the next few days.
We arrived in LA mid-afternoon. Knowing we only had a couple of days, we dropped our stuff off, changed and headed toward Venice Boardwalk.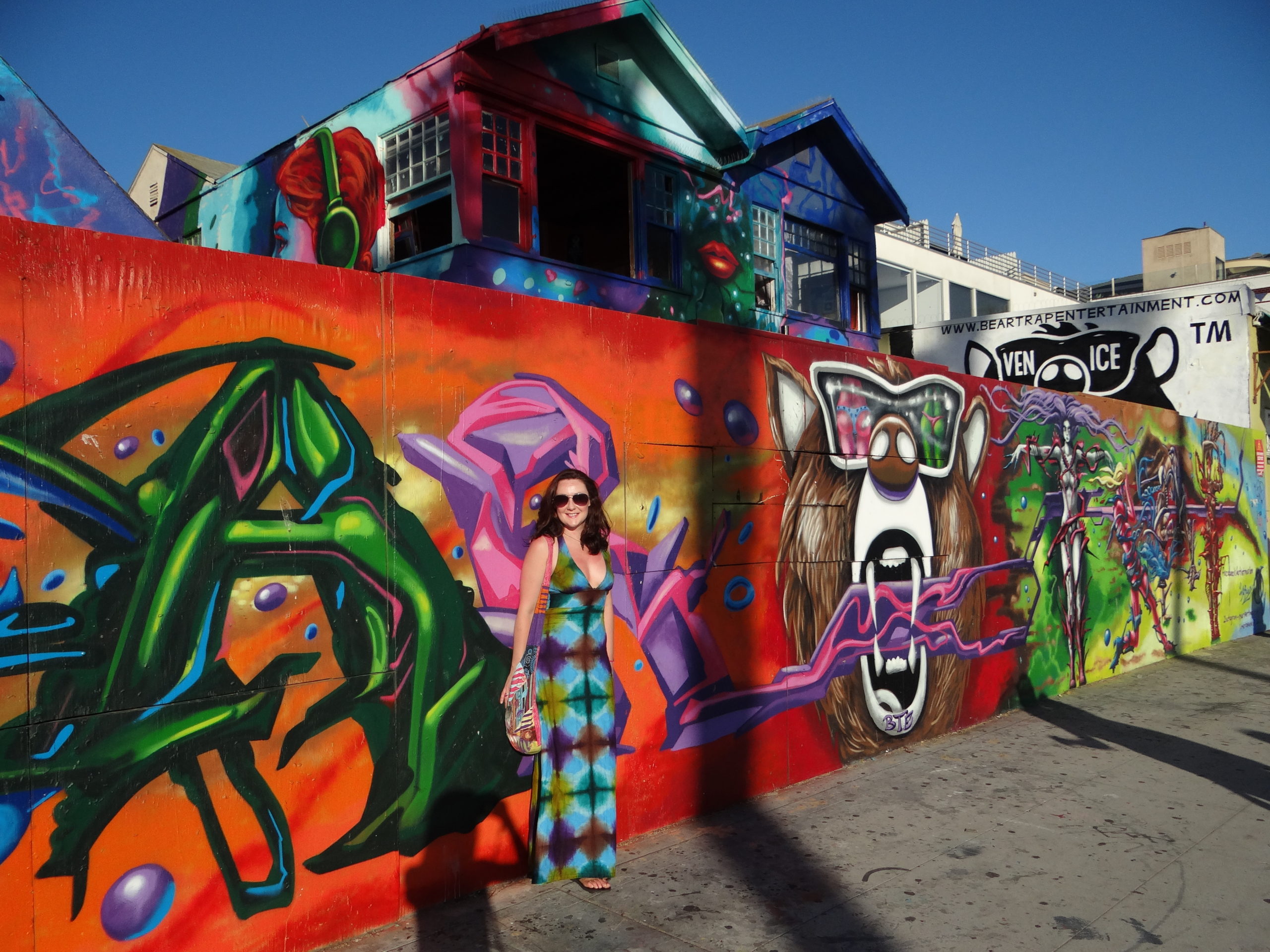 I'd heard mixed reports about it, but there was something about Venice that I loved immediately. It's got a sleazy side, for sure. But it's also edgy, cool and has a lot of character. A people watchers dream.
Starting at the very famous Muscle Beach, you can walk the hour or so to Santa Monica Pier as the sun sets over the Pacific Ocean.
After a quick look around the Pier (and perhaps take on a ride or two at Pacific Park – opening times vary), head inland for dinner and drinks!
Santa Monica has lots of nice bars and eateries to choose from. We went to Barney's Beanery for food.
It has a great atmosphere and a large menu! We then headed to The Misfit for a drink, before calling it a night (we were still very jet-lagged).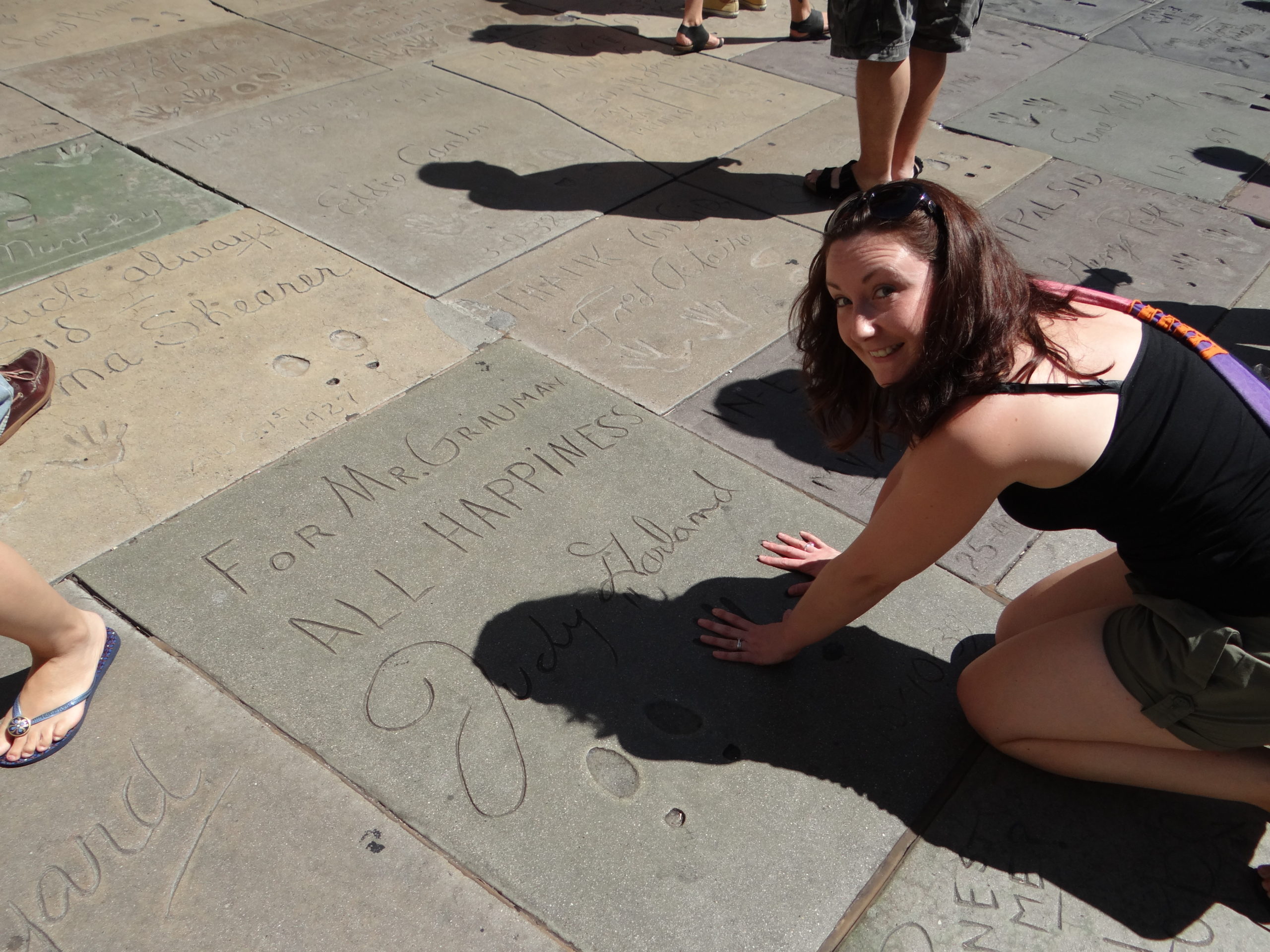 Day 5: Hollywood & Beverly Hills
Get up early and make your way to Hollywood Boulevard and head to the Chinese Theatre. Here you can book a tour of the stars homes.
The tours take you through Downtown Hollywood, Rodeo Drive, Beverly Hills, Bel Air and up into the Hollywood Hills.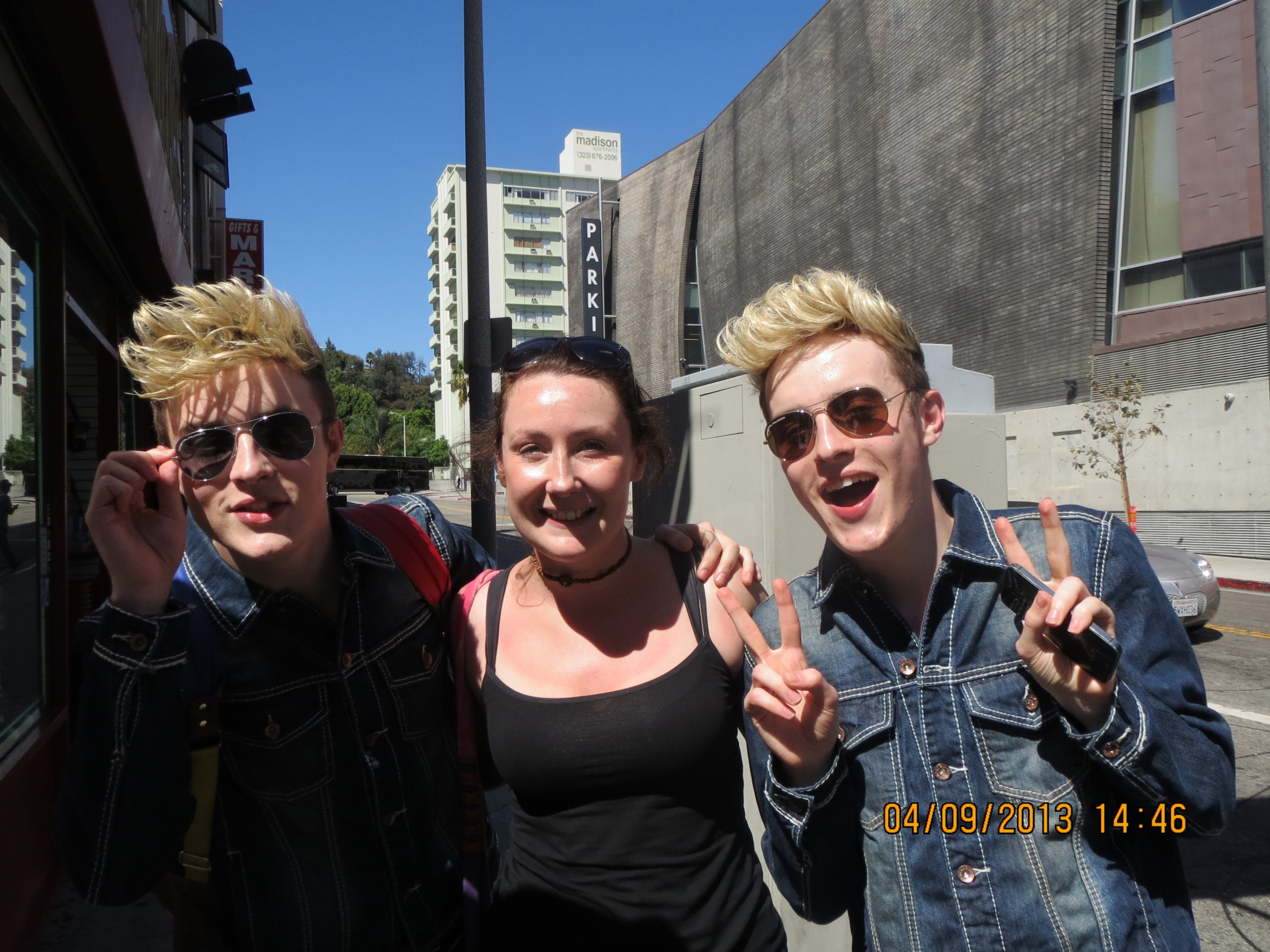 Before or after your tour, take a bit of time to find your favourite stars on the Walk of Fame and put your hands in handprints of legends such as Gene Kelly and Judy Garland. Keep your eyes peeled for celebrities… we saw two!
After the tour, still on the search for celebrities, we picked up a 'Map of the Stars Homes' and went on our own trip around LA. The first stop was the Holmby Hills, to see the Playboy Mansion (that's me being a Playboy Bunny below).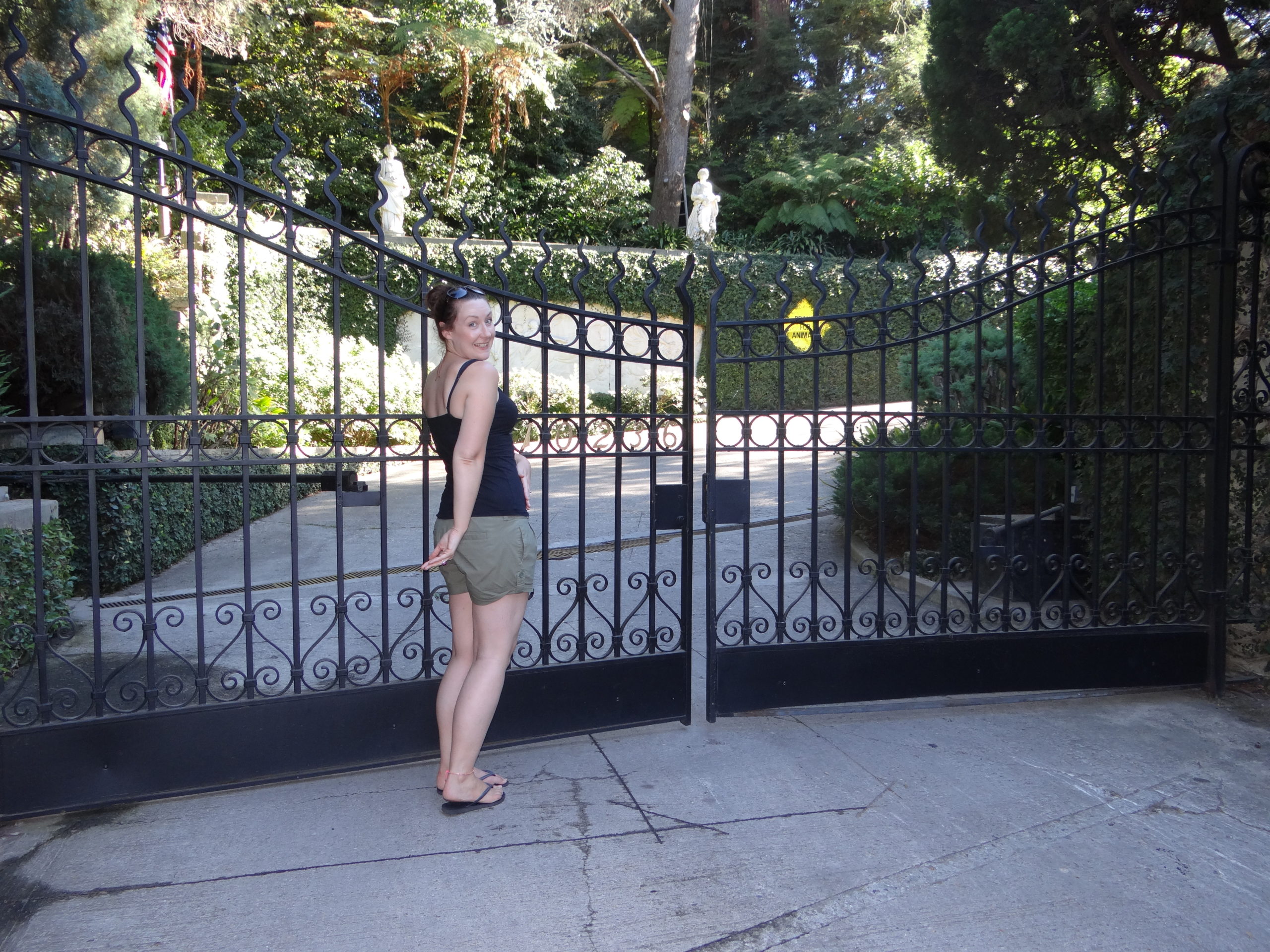 Later in the afternoon, we perhaps did, what I would class as our most unusual activity of the trip. We visited the Westwood Village Memorial Park Cemetery. This is the final resting place of stars such as Marilyn Monroe, Walter Matthau, Jack Lemmon, Dean Martin and Farrah Fawcett.
Marilyn's was decorated with fresh flowers from fans and there was a space next to it, which I believe was reserved for Hugh Hefner (he was still alive when we went). The cemetery is a quiet, reflective, peaceful and beautiful place, set amongst the craziness of Hollywood.
In the evening, head out to the bars in Venice Beach. We had an early start the next day, so we just went to The Other Room, a great bar for couples or friends.
My Top Tips for Los Angeles
We found the Venice Beach/Santa Monica area a great place to stay and I would recommend it!
I could easily have stayed an extra day (or two) in LA, to perhaps window shop on Rodeo Drive, take a trip to The Ivy or even just spend a day at the beach or go horseback riding in the mountains, followed by a night out in Hollywood, if that's your thing.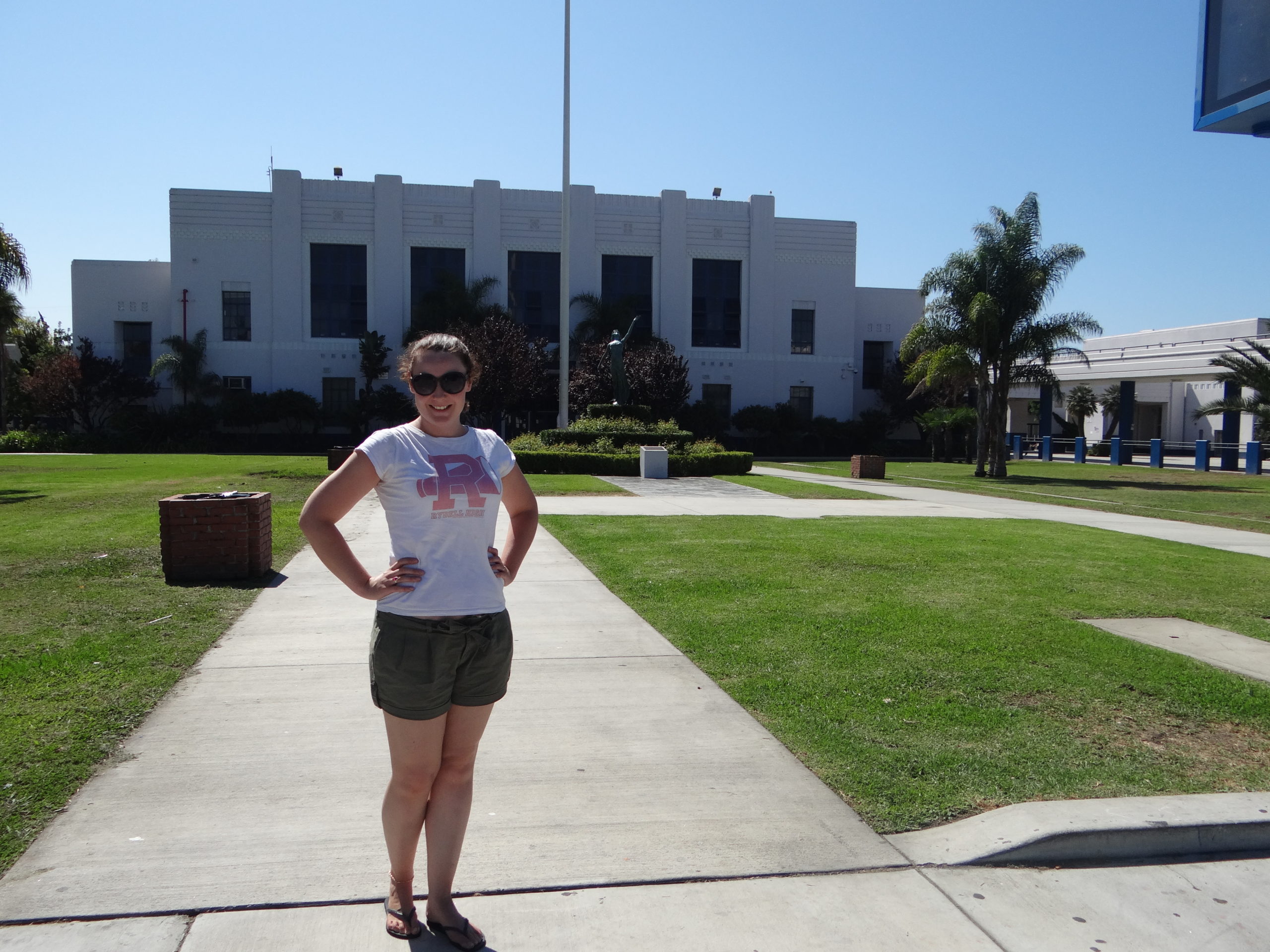 The Pacific Coast Highway (2 Nights)
The Pacific Coast Highway is one of the most famous drives in the world and a must for your California road trip itinerary. We knew it would be beautiful, so we decided to spend 2 days on the road, rather than racing from Los Angeles to San Francisco.
However, there is a lot to do and so many stops to make, so ideally, I would have liked an extra day to explore.
Day 6: LA – Cambria
You'll be sad to leave LA, however a trip to Venice High School on the way out will perk you up – well it did for me anyway.
Why? I hear you ask! Because Venice High School is… Rydell High from Grease! And wouldn't you know it, I was wearing my Grease t-shirt for the occasion.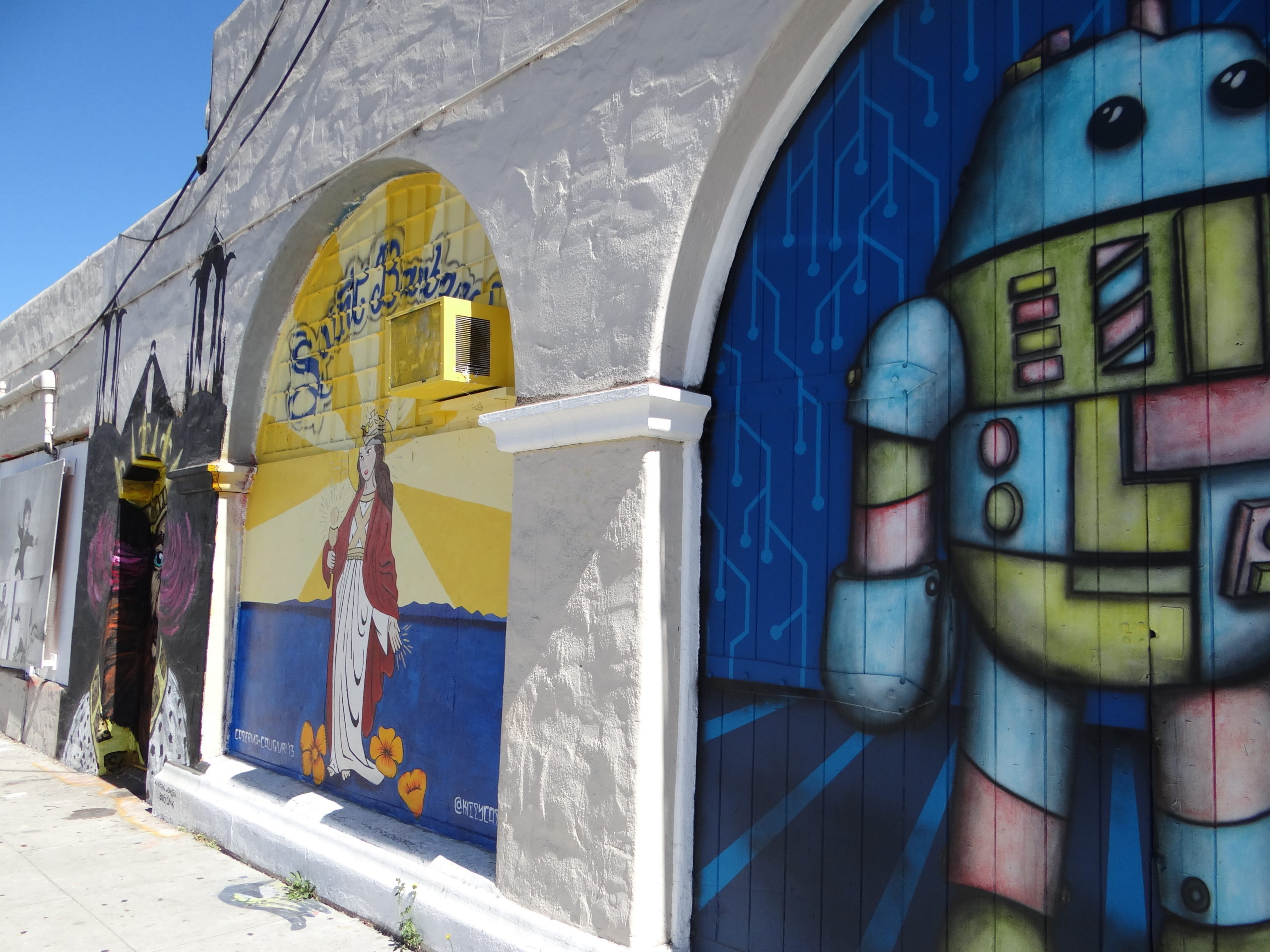 Drive to Malibu. We decided not to stop here, but if you have time… it looks gorgeous and I can see why so many celebrities call it home.
Our first stop was Santa Barbara, which took just under 2 hours. Santa Barbara is a lovely town with great street art and tasty fish and chips on the pier.
From Santa Barbara, head to Pismo Beach and San Luis Obispo to spend some time in the afternoon. We stayed the night in the small town of Cambria at a lovely little place called The Creekside Inn.
It was just a short walk into town, where we had dinner at Linn's Fruit Bin Restaurant. I can recommend the local Ollalaberry Pie! We finished off with a quick drink at Mozzi's Saloon over the road.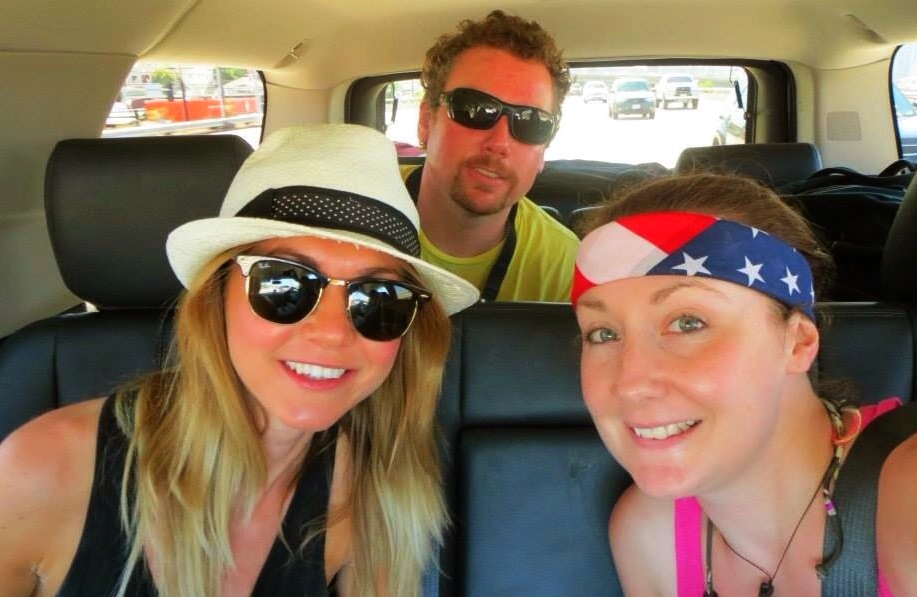 Day 7: Cambria – San Francisco
Have a hearty breakfast at the Cambria Cafe (or Linn's again), pick up road trip supplies at Bob & Jan's Bottle Shop and hit the road.
You will be sad to leave, as Cambria might just be the friendliest place in the world. Seriously, you know when you want to cuddle everyone you meet because they're SOOO nice (like in a Hallmark Christmas film). Yeah, it's like that.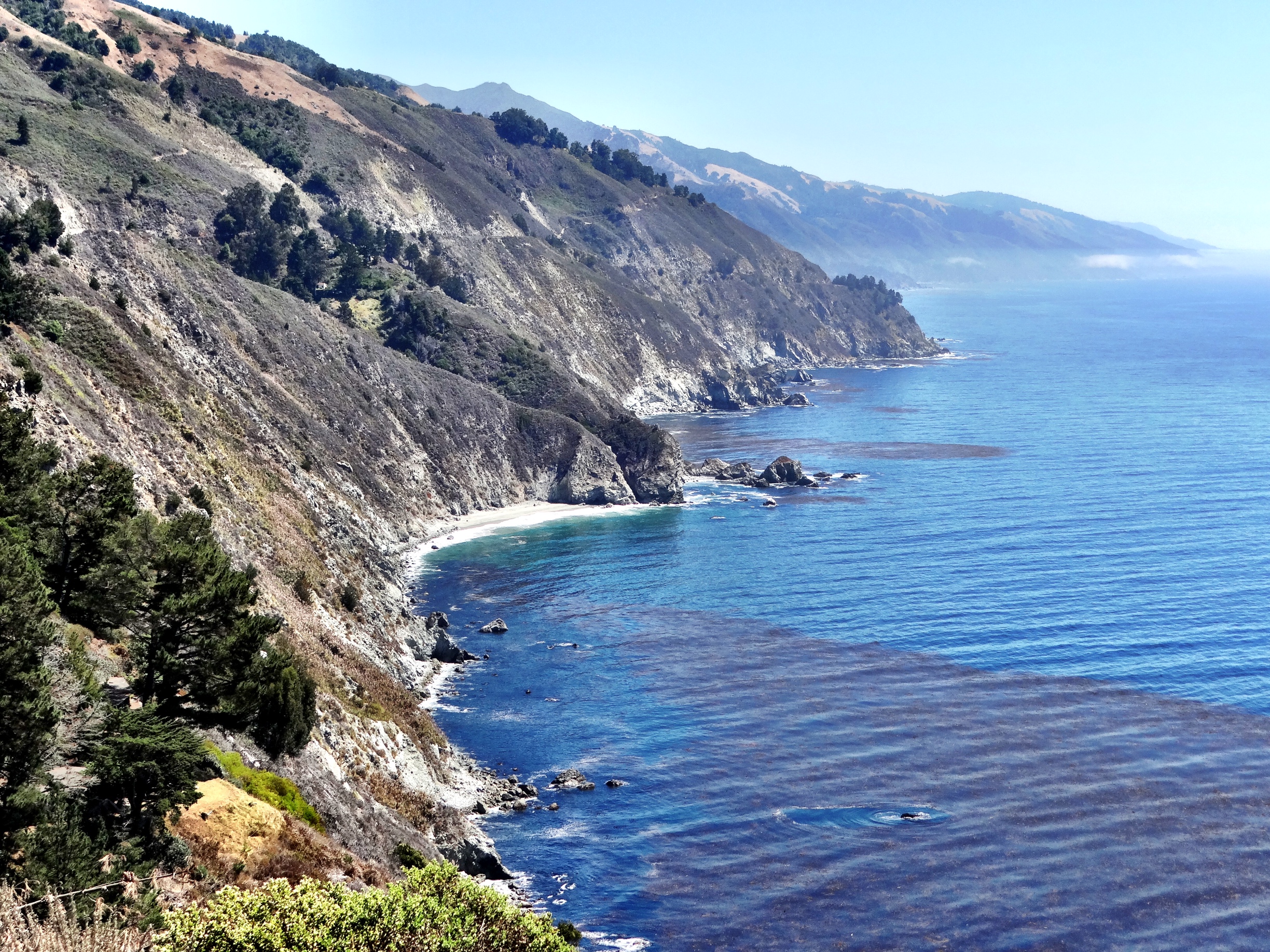 First stop, Hearst Castle in San Simeon, a beautiful castle set up on a hill that has now become a historical park
Keep your eyes peeled as you drive along… I thought I had Africa on the brain when I saw a herd of zebra running around in the distance. But no my eyes weren't deceiving me, an actual herd of zebra live on the grounds.
You need 2 – 3 hours to explore, so get up and out as early as you can. San Simeon is also the beginning of Big Sur, a ninety mile stretch of scenic beauty!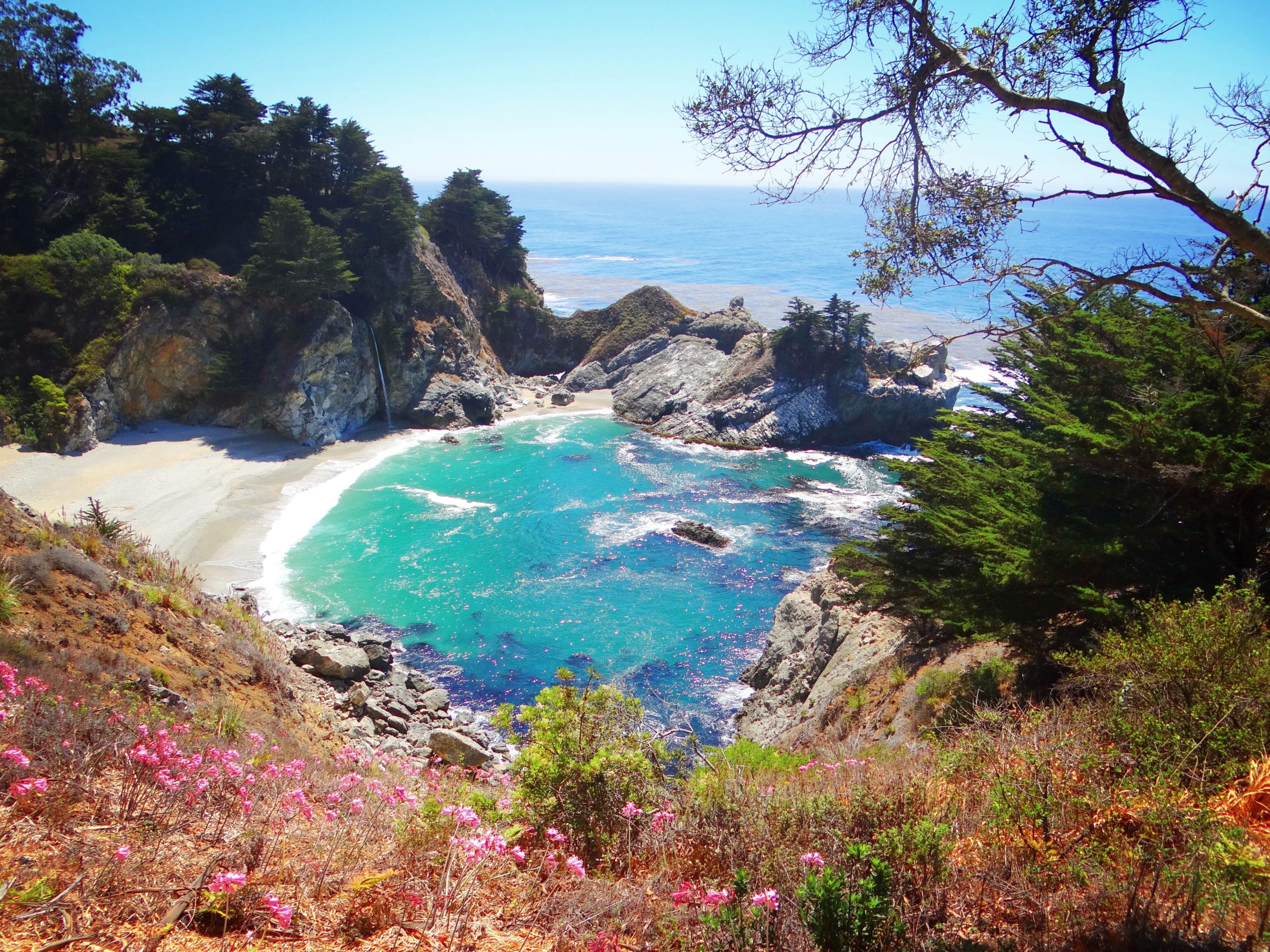 Back in the car, continue along Big Sur stopping at some of the viewpoints on the way, spotting California Condors circling overhead, or seals casually basking in the sun on the beaches below.
Stop for an hour or so at Julia Pfeiffer Burns State Park and take in a view of McWay Cove and waterfall (parking costs $10).
It's also a great place to hike if you have more time. My advice – don't skip this. It's one of the prettiest places I've ever been. Continuing north, you pass over the famous Bixby Creek Bridge.
Next head to pretty Carmel-by-the-Sea, park up and take a look around. There are lots of pretty shops and eateries, plus it's super dog-friendly if you have a pooch in tow! Just don't wear your high heels, they're not allowed in Carmel!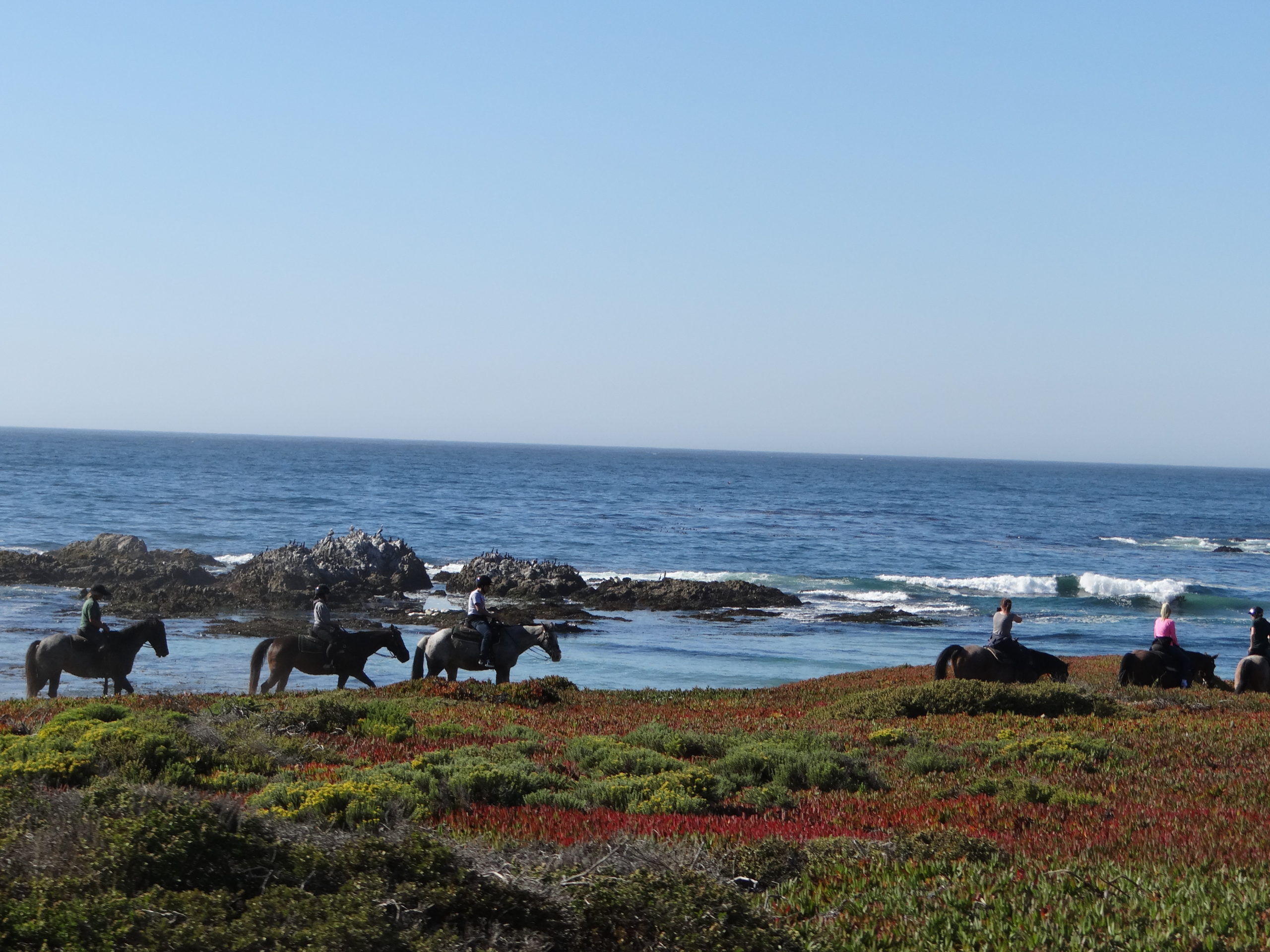 Back in the car take the 17-Mile Drive and see things such as The Lone Cypress and the world-famous Pebble Beach Golf Course ($10 entry – which can be offset if you eat at a Pebble Beach restaurant).
Next head to Monterey to look around. If we'd had more time, I would have liked to have taken a hike or cycle along the Monterey Peninsula Recreational Trail, which stretches from Pacific Grove (near the 17-mile drive), all the way to Castroville, but c'est la vie!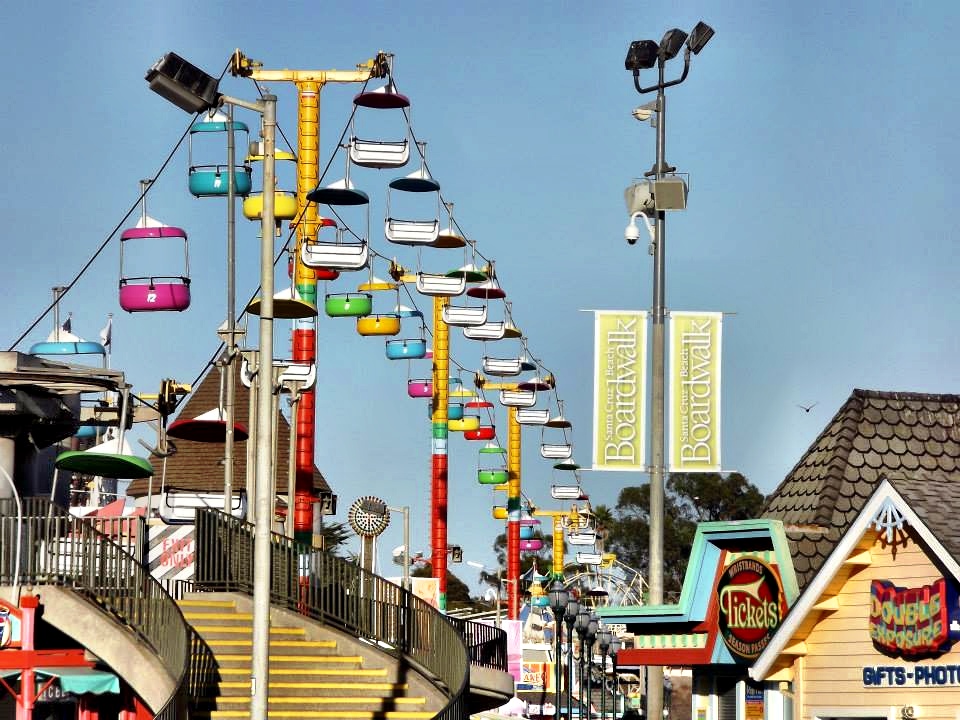 From Monterey continue down the coast to colourful Santa Cruz where you can park up and take a walk on the beach, have a ride on the fair, and grab an ice cream.
Next stop, San Francisco. As we drove in, it seemed the world and his wife were heading there too, but it was Friday night and everyone was coming into the city to party!
My Top Tips for the Pacific Coast Highway
Petrol (gas) is EXPENSIVE on PCH and gas stations are few and far between, so fill up before you head out of LA.
You can do the drive from LA to San Francisco in a day, however, I strongly advise that you take it slow along the Pacific Coast Highway, one of the most scenic drives in the world – 3 days would be a nice amount of time. If I could do it again, I would have stayed in either Carmel or Monterey and taken a trip whale watching in the morning and spent more time in Santa Cruz!
With all the stops, it takes a lot longer than you'd think, so set off as early as you can.
I would have liked to have visited Solvang, a Danish village near Santa Barbara.
And if you're not on a tight budget (time or financial), The Madonna Inn looks like an incredible place to stay!
Sat Nav is your friend on this trip. We may still have been driving around the maze that is the 17-mile drive to this day if it hadn't been for our Sat Nav.
You can't do the 17-mile drive on a motorbike.
Try not to arrive in San Francisco at rush hour on a Friday – it ain't fun!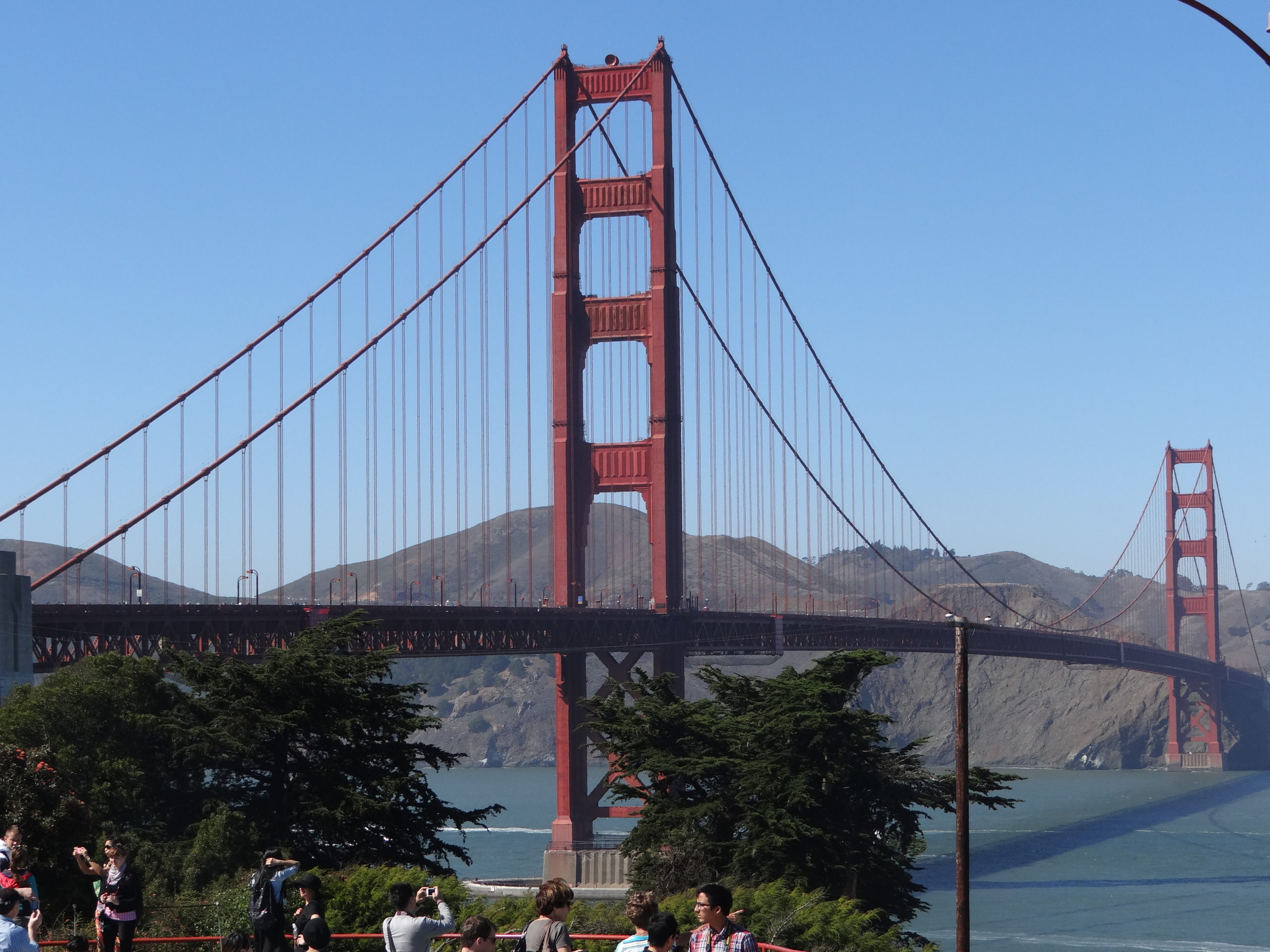 San Francisco (4 Nights)
We had. feeling that we'd all love San Francisco (spoiler alert – we did). So I'm glad we had the time we did there.
Day 8: Golden Gate Bridge & North Beach
Head to Pier 39 and rent some bikes from Blazing Saddles to go on a self-guided cycle tour across the Golden Gate Bridge.
They give you a map which has a few trails, of varying lengths to choose from. … but you can go at your leisure which is great as there's plenty to stop and see. Another good thing about this route is that it's mostly on a cycle path so it's really safe.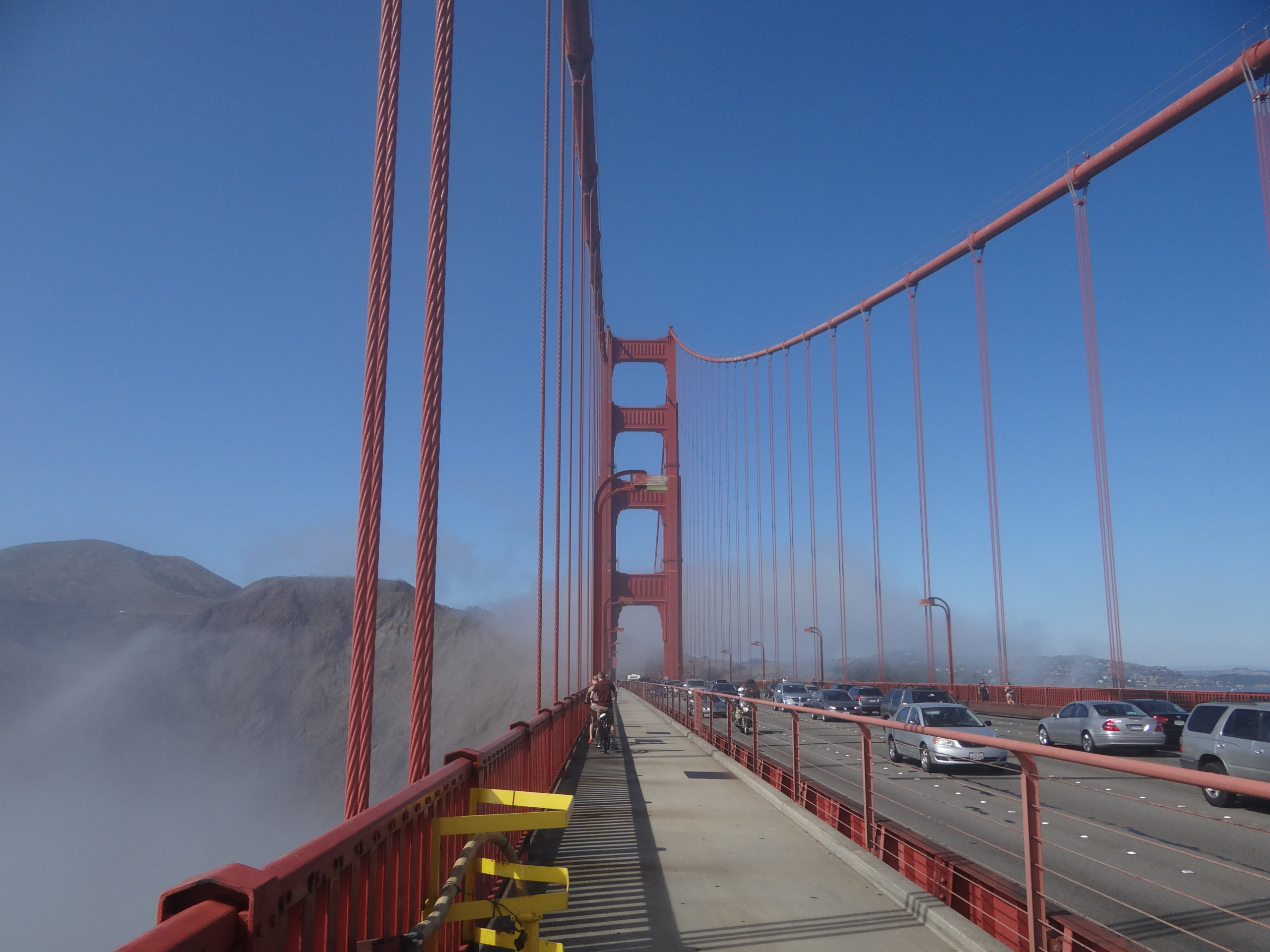 From Pier 39, head towards the Palace of Fine Arts to look around, before making your way onto the bridge – watch out for a few hills here.
Ride across the bridge marvelling at the view and the drop below, or as we did, ride through the fog and freeze your ass off! What was really strange, was that it was really sunny and warm on either side of the bridge!
Next, you'll arrive in the pretty town of Sausalito, a great spot for lunch, or brunch – depending on how early you are.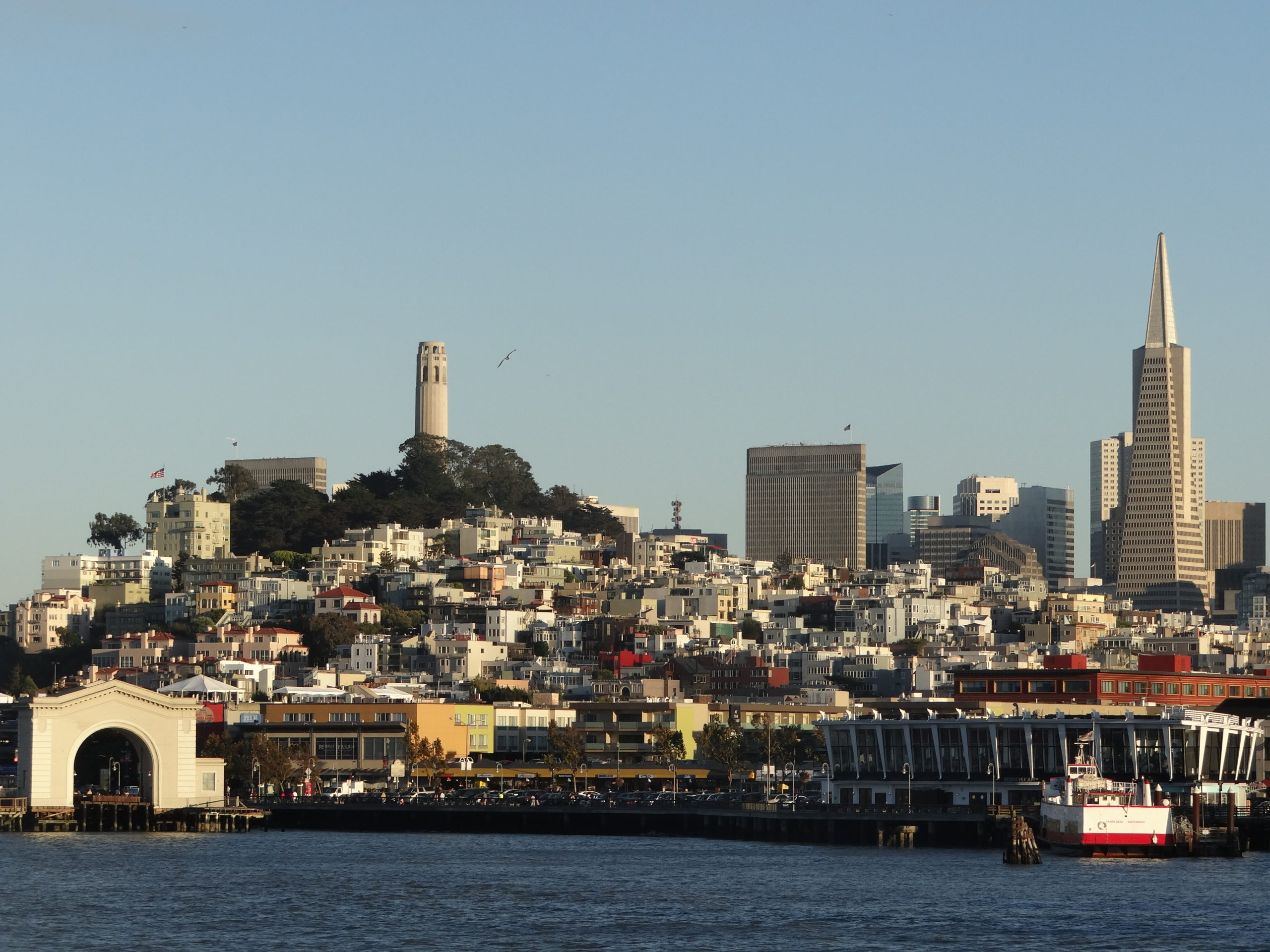 You can either get the ferry back to San Francisco from Sausalito, or continue on to see one of the oldest trees in Old Mill Park and then on to Tiburon and get the ferry from there (your ferry ticket is included in the cycle hire).
In the evening, grab dinner at The Stinking Rose: A Garlic Restaurant, followed by an evening in North Beach! Try not to breathe on anyone… but you should be safe from Vampires.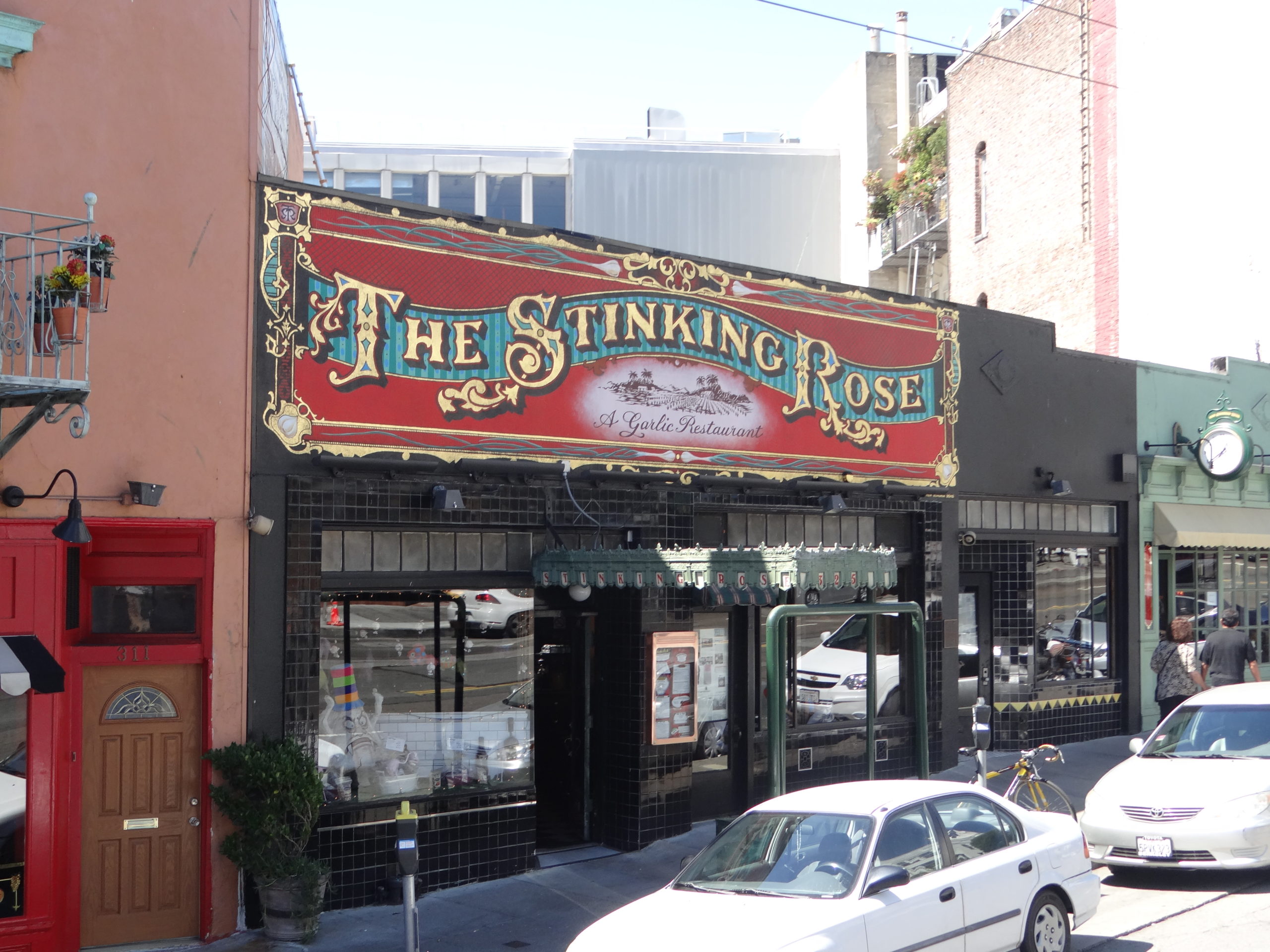 Day 9: Open Top Bus Sightseeing & The Castro
We decided to get a two-day pass for an open-top bus which I'd highly recommend.
Touristy, yes, but also a great way to get around the city and there are stops all over town.
Where you get on and off will probably depend on where you're staying, but I'll tell you what we did, and you can always adjust to suit your base.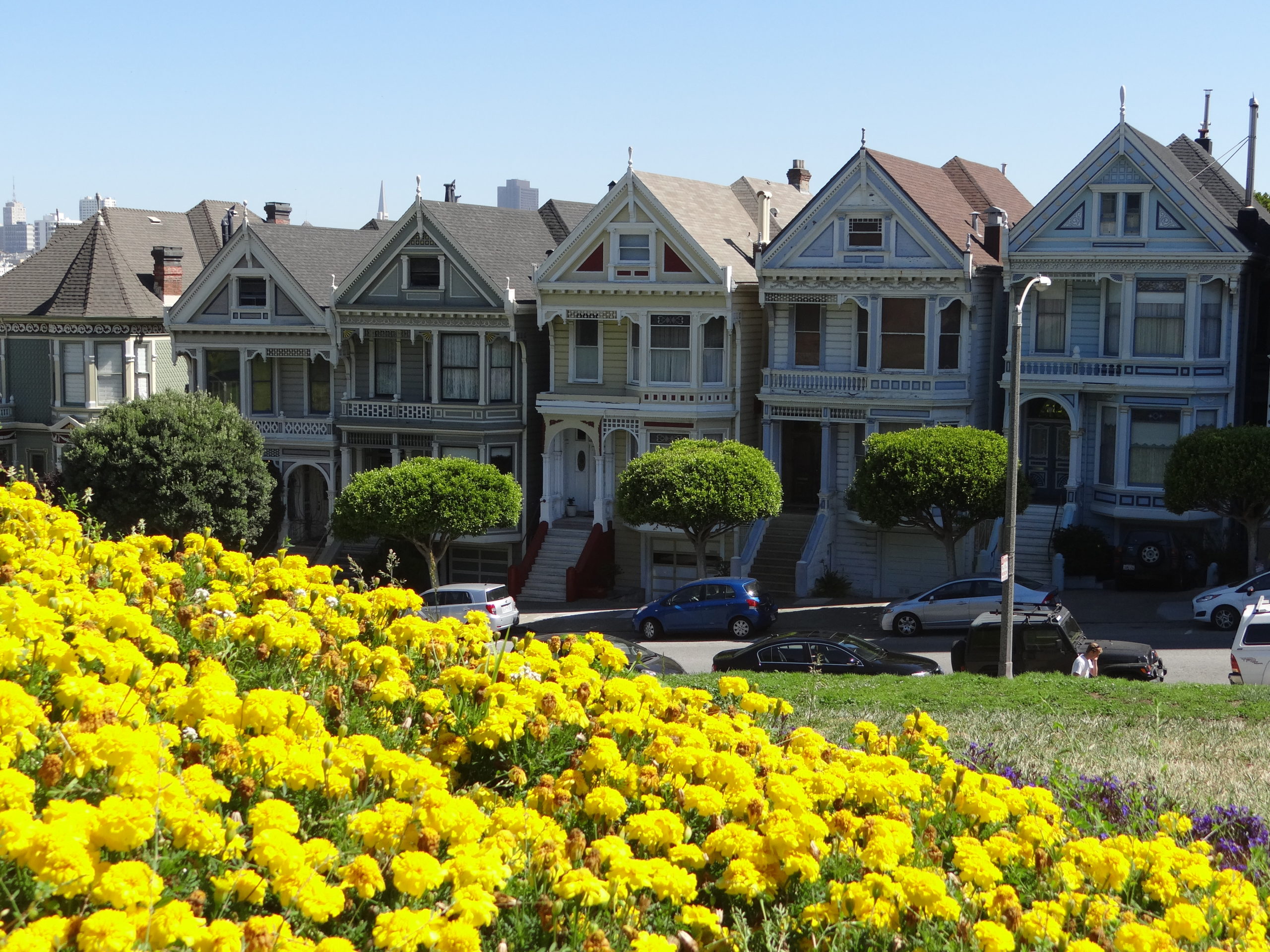 In the morning head first to Alamo Square, which was near to our apartment, to see the Painted Ladies on Steiner Street.
We'd picked up a route map for the Grayline Sightseeing Tours (the blue buses) the previous day, so we knew there was a pickup point nearby on hip Divisadero Steet so we headed that way.
Our driver was Dave, amazingly entertaining and charming!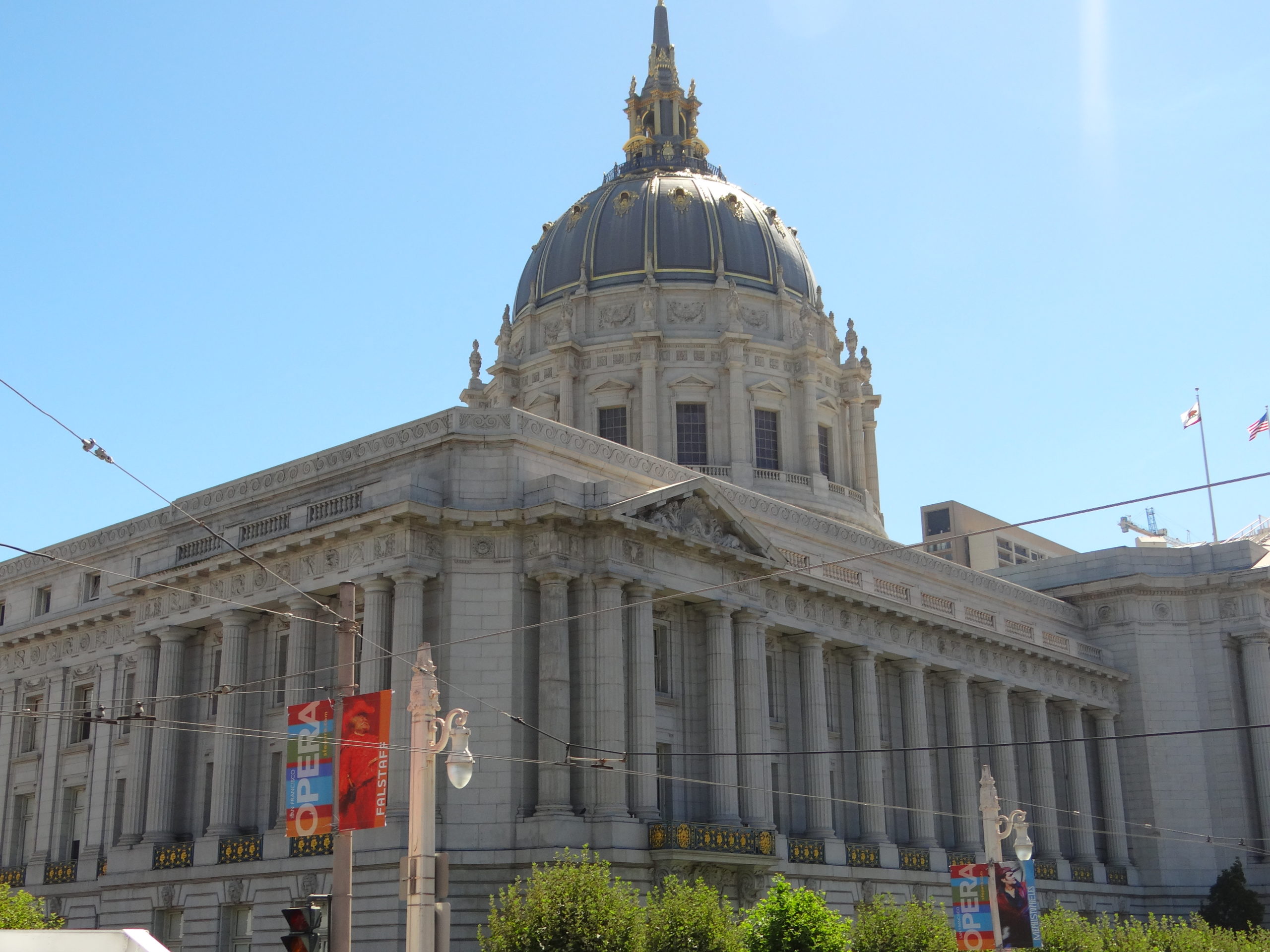 Ride the bus all around until you reach City Hall, you'll find the magnificent Asian Art Museum. Get off here and have a look around.
Next stop, Chinatown, a great place to walk, take in the sights and smells and colours. I was blown away by all of the street art!
You can either hop back on the bus where you got off, or it's just a short walk up to North Beach, San Francisco's Italian neighbourhood which has a great cafe culture. All that walking is hard work, so treat yourself to some gelato!!!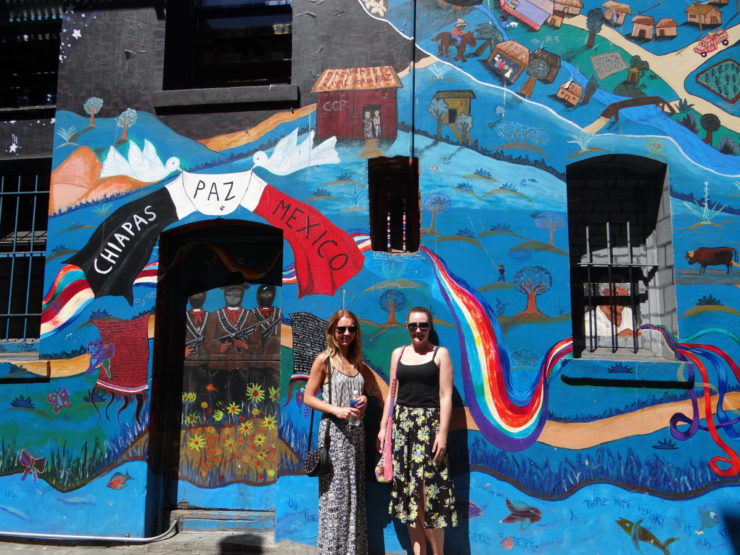 Head to Vesuvio, on the corner of Jack Kerouac Alley and Columbus Street, and have a drink in this historic bar, which judging by the pictures on the wall, has seen some action in its time!
Situated next to the City Lights Bookstore, it was once the local hangout of the Jack Kerouac and the Beatnik crowd as well as Dylan Thomas, Francis Ford Coppola and Bob Dylan. Vesuvio doesn't serve food, but you can take your own in!
Carry on up towards Washington Square Park and Saints Peter and Paul Church where Joe DiMaggio and Marilyn Monroe were photographed after their wedding.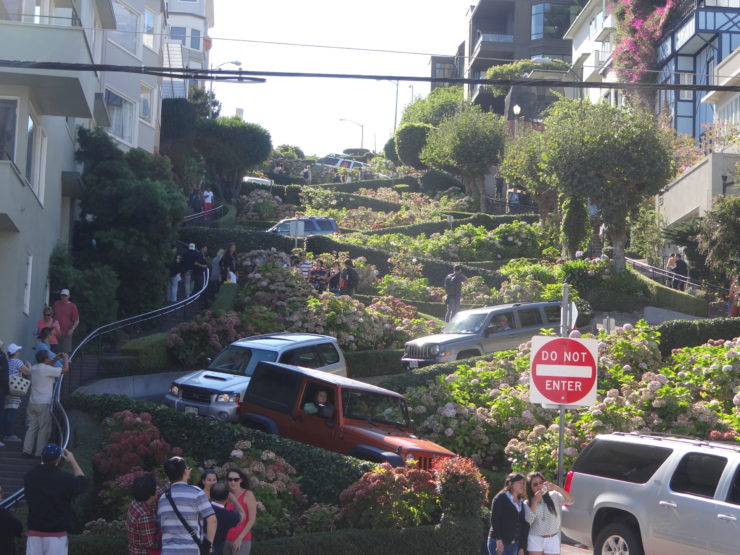 Hop back on the bus and continue on to Cow Street. From there, walk to Lombard Street to see one of the windiest roads in the world and watch cars snake down the 'windy road'.
Next head to Telegraph Hill and walk up to Coit Tower to get the best views of the city! After all those steps, it's time to head back to rest before the evening ahead.
For dinner, I recommend that you head back to Chinatown/North Beach area to sample some of San Francisco's famous Chinese cuisine.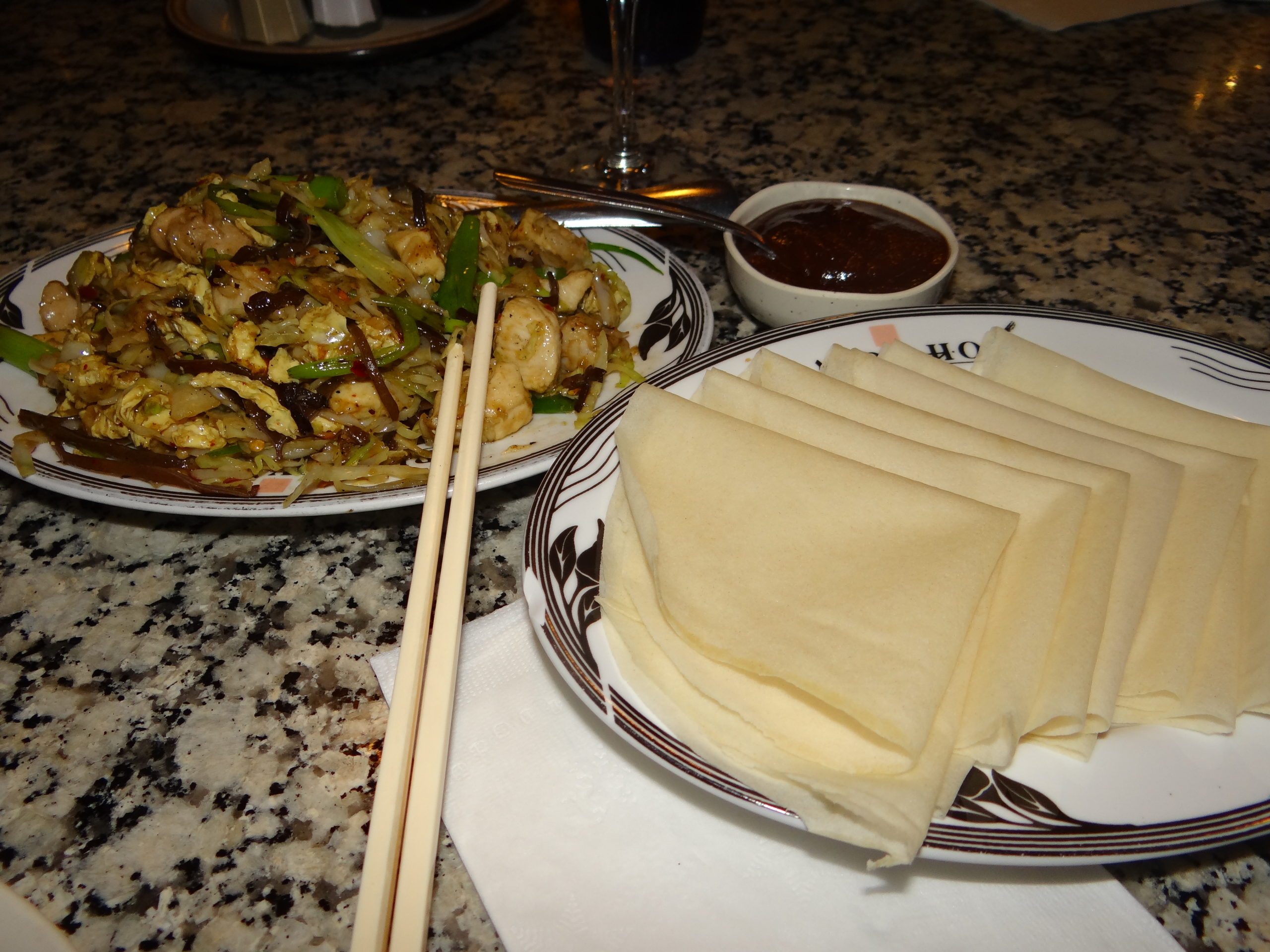 We went to the AMAZING Brandy Ho's Chinese Restaurant which is just down the street from Vesuvio and was recommended by one of their friendly staff, who actually called them to check they were still open for us and booked us a table.
Brandy Ho's Chinese food is different from any I've had before as it is food from the Hunan Province of China. The food was fresh and delicious, probably the best Chinese food I've ever had.
Then head over to the Castro, San Francisco's gay neighbourhood for drinks! We went to Harvey's and Blackbird.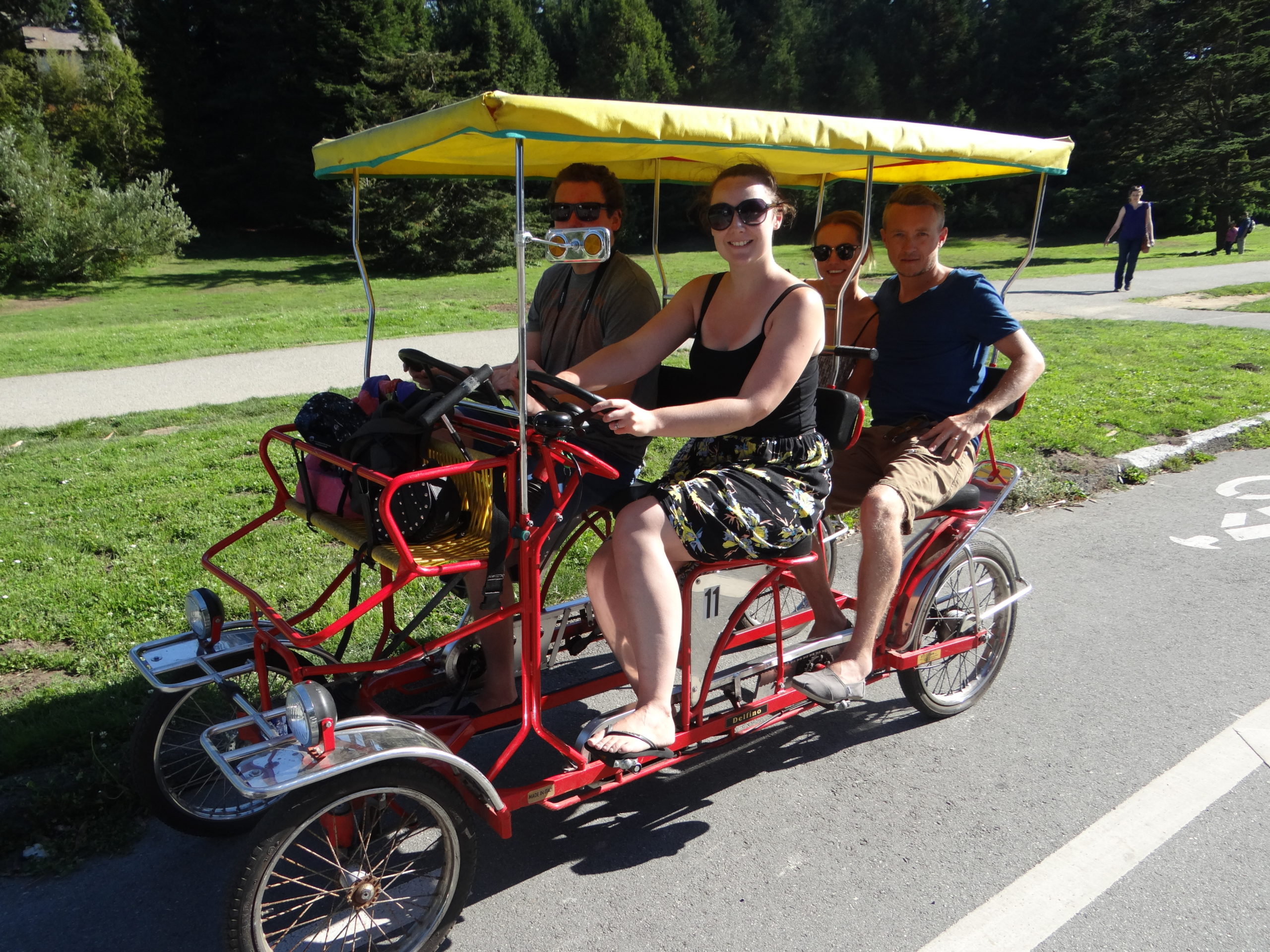 Day 10: Golden Gate Park, Architecture & The Mission District
We hopped on the bus again in the morning on Divisadero Street and took almost the entire circuit, passing the Golden Gate Bridge heading to Golden Gate Park to spend the morning.
The park has many different attractions including the Japanese Tea Garden, Strawberry Hill, the California Academy of Sciences, and even a herd of buffalo. Yes, really! You can also hire bikes, surreys (what we're in above) and segways in the park.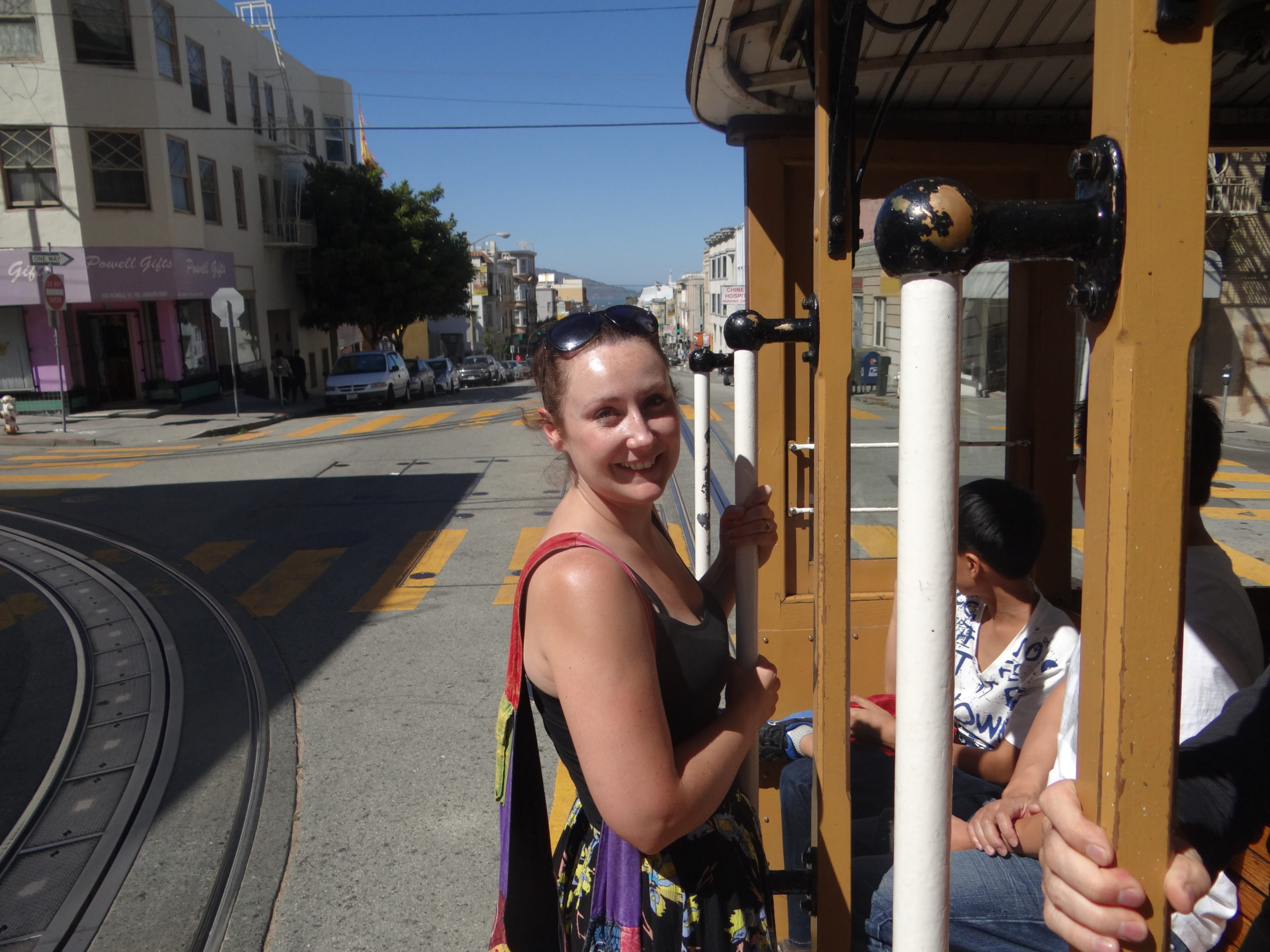 After you've had your fill of the park, walk to the nearby Haight-Ashbury to grab a late lunch, visit Hippie Hill, pick up some cool, unique souvenirs in the shops and take in more of the amazing San Francisco architecture.
For the evening, head out to the Mission District early whilst there's still plenty of daylight so you can see the Mission Delores, have a relax in Delores Park, and take in some of the amazing street art, especially the Women's Building Mural.
When the sun goes down, head to Valencia Street for dinner. There are tons of cool bars and restaurants, as well as Four Barrel Coffee, which rumour has it, serves the best coffee in San Francisco!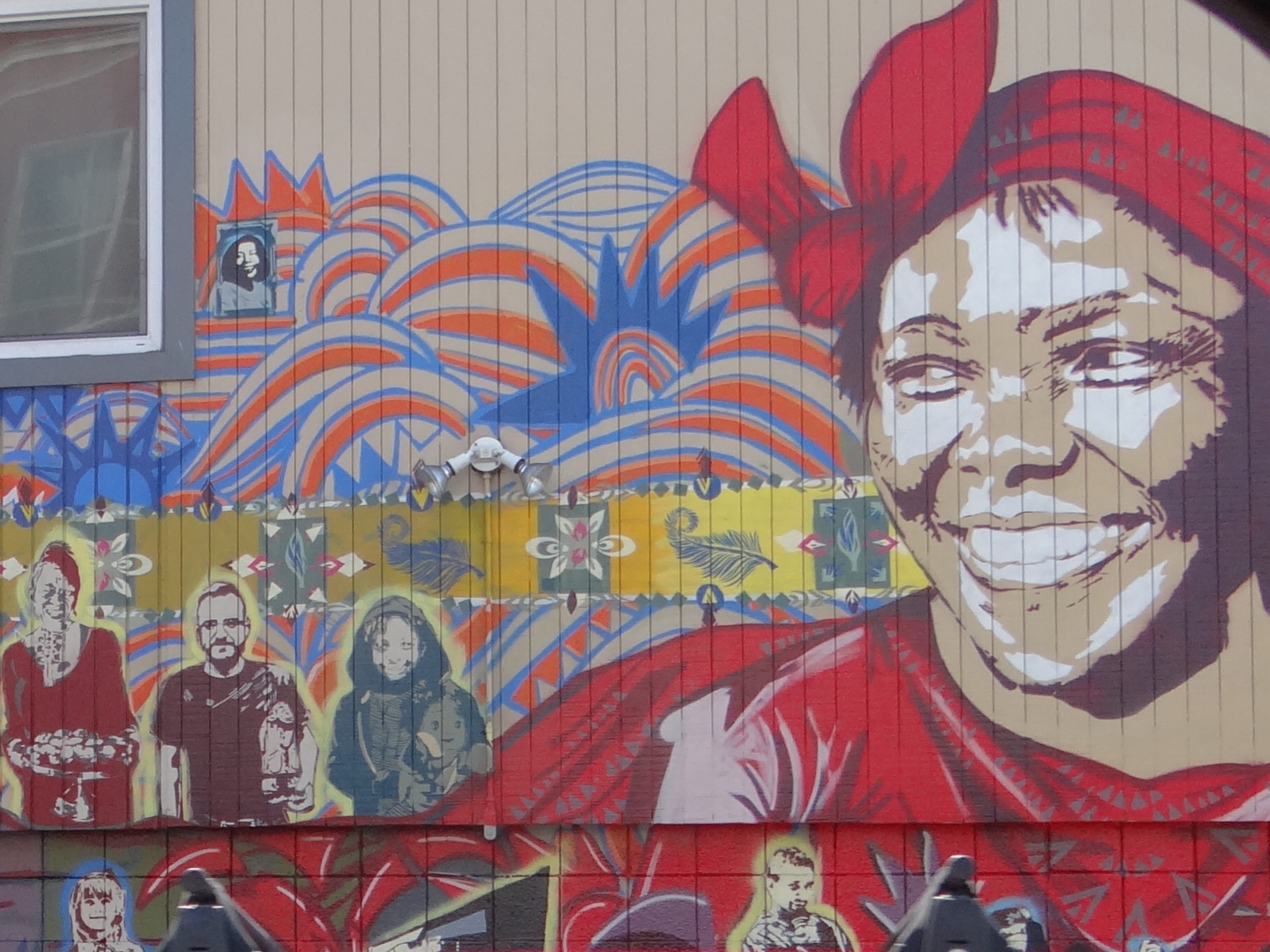 We ate at Thai House 530 which I'd highly recommend, but if Thai food isn't your thing, head to one of the other hundreds of restaurants in the area – with practically every cuisine you can imagine on offer.
We then visited a couple of nice bars called Elbo Room and Skylark. The Mission District was my favourite area of San Francisco as far as nightlife goes.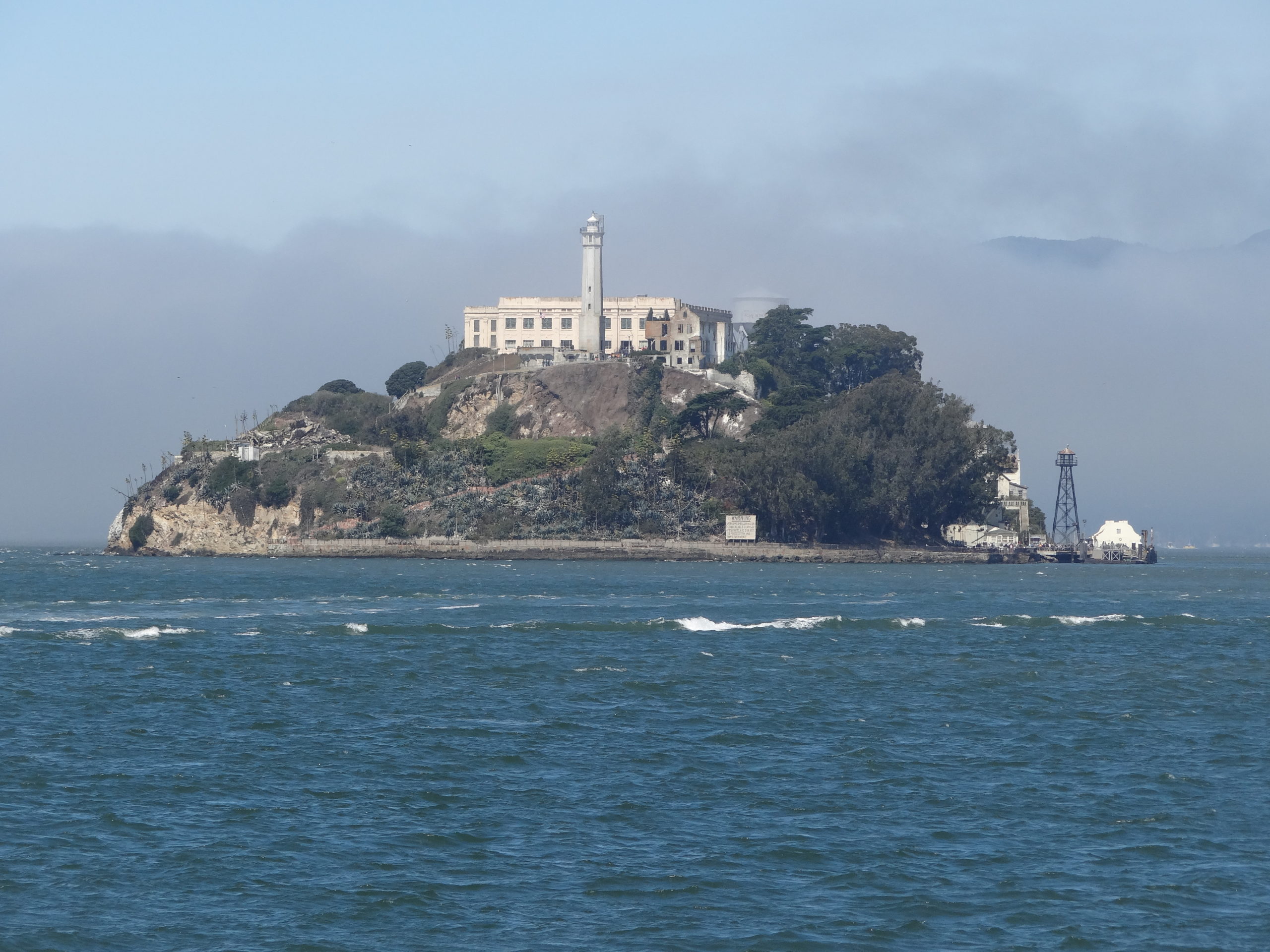 Day 11: Alcatraz & Pier 39
Today, go and see Alcatraz aka 'The Rock'. Head down to Pier 33, if you have time, catch a Cable Car (I loved doing this and we rode them a couple of times during the trip – but if you're worried about time, grab a cab so you don't miss it) from Union Square all the way down to Pier 39, and then it's just a few minutes walk to Pier 33, where the ferry leaves from.
You'll probably spend at least a couple of hours on Alcatraz. They have a great audio tour that guides you through the various rooms and cell blocks of the prison, with commentary from ex-prisoners and guards.
Alcatraz is a crazy, haunting place, with a remarkable history, having homed some of the world's most notorious criminals including Al Capone and the Robert Stroud – the 'Birdman of Alcatraz' (who actually didn't keep any birds in this particular prison).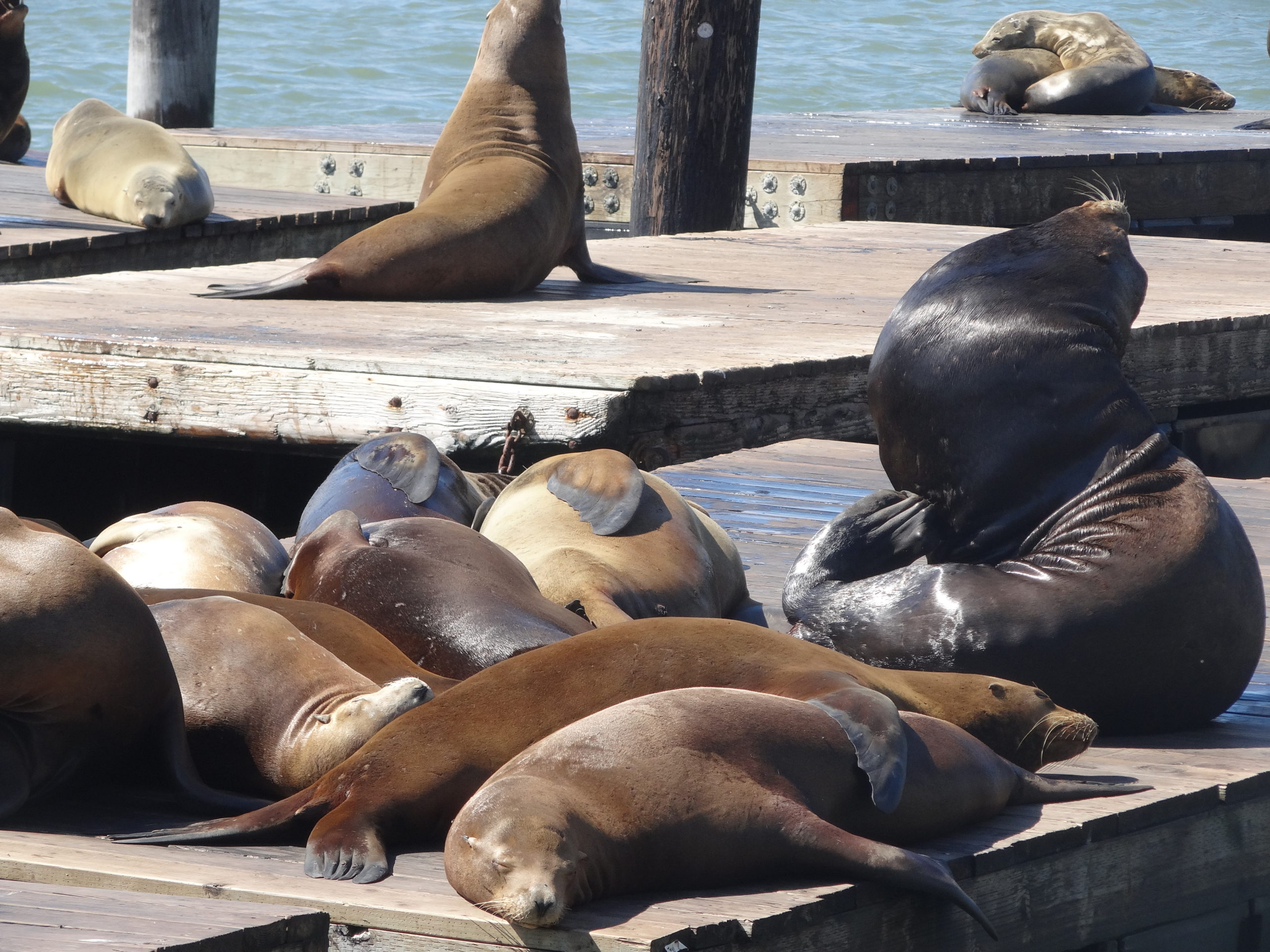 Back on the mainland, stroll towards Pier 39 and Fisherman's Wharf for lunch. Walk past Pier 39 for now, and take your pick from famous In-N-Out Burger (they have a 'secret' menu with animal fries – yum) or Boudin (the famous bakery).
Once fed, stroll back along toward Pier 39, and take a look around. It's really pretty and there are lots of things to do, great for families and you can spot sea lions being lazy near the end of the pier.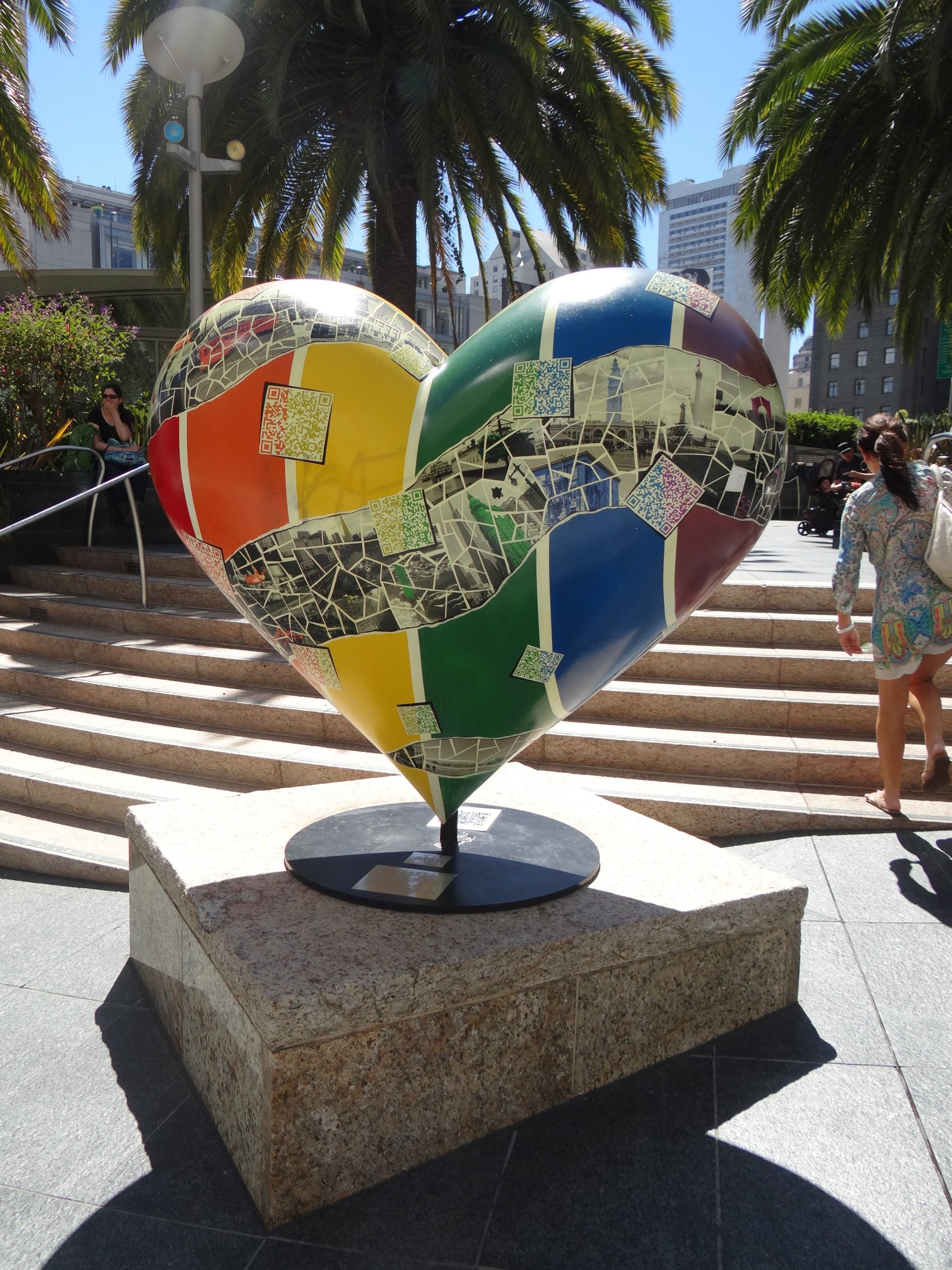 Catch the cable car back to Union Square, take a walk around, soak in the atmosphere and see the gorgeous Hearts in San Francisco art installation. The sculptures are auctioned off for charity each year and then replaced by new ones.
Union Square has some of the best boutique and department store shopping in San Francisco (maybe even the world), so if that's your thing – you can knock yourself out! I'm not really into shopping, but I did head into Macy's with a very specific mission.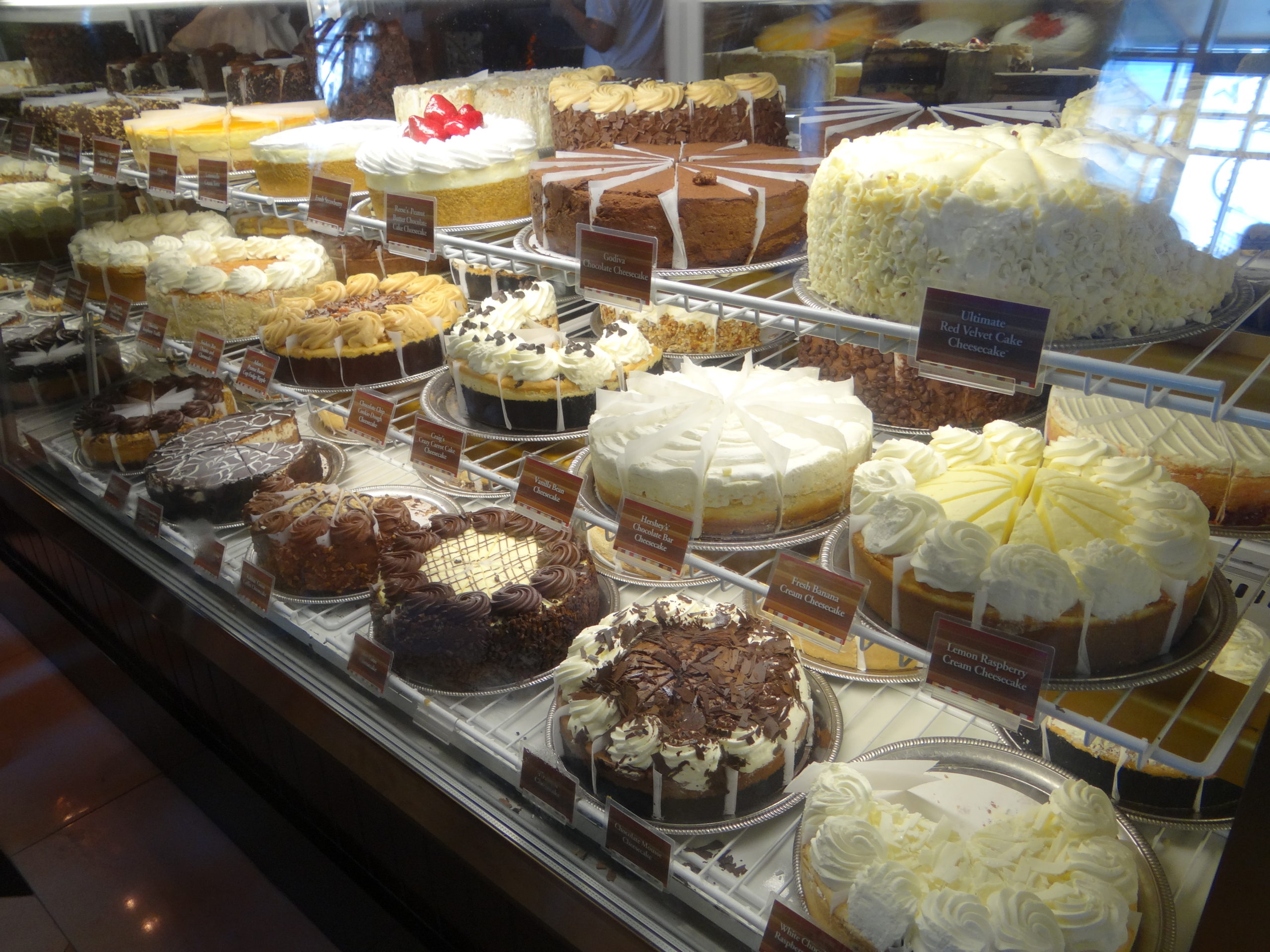 To have a piece of cheesecake in The Cheesecake Factory as recommended by wonderful bus driver Dave, who even though there were a few blue bus drivers, randomly picked us up every time. He felt like an old friend by the end of it.
We don't have these in the UK, so I was very excited. There are so many to choose from, but whichever you go for, I don't think you'll be disappointed. Bus driver Dave recommends the Vanilla Cream Pie. They also have an outdoor seating area overlooking Union Square.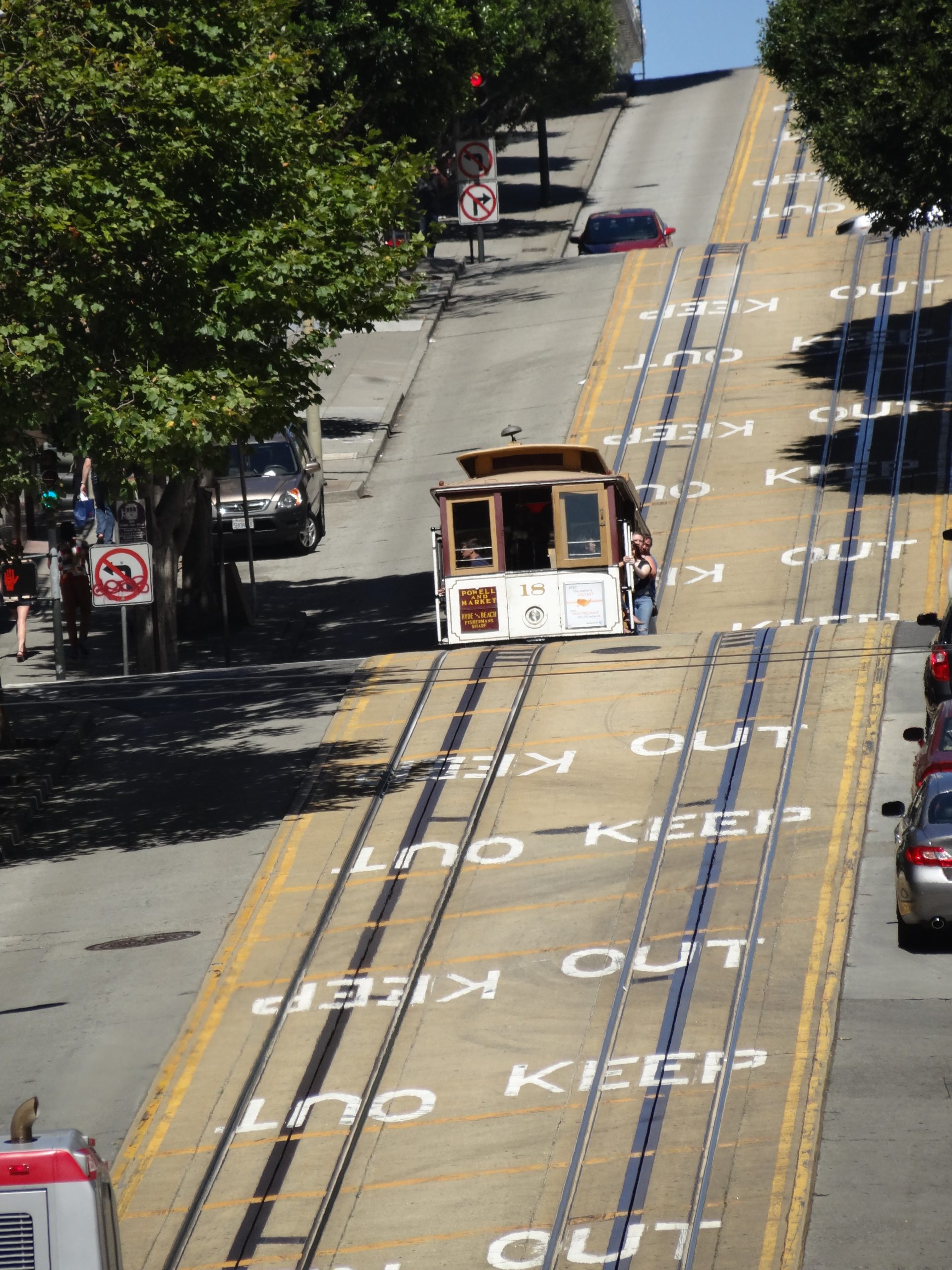 With a long drive the following day, we made it a quiet one and visited Bourban and Branch, a secret, speakeasy bar in the Tenderloin District.
You ring the buzzer next to the unnamed door. The glamorous host or hostess answers and asks you the password.
You answer: BOOKS
They let you in and lead you through the dimly lit bar to a bookcase. The bookcase opens and you walk through a secret passageway and into the secret bar… you'll feel as though you've travelled back in time. ENJOY!
My Top Tips for San Francisco
Take a warm jumper for your cycle as it can get cold across the bridge, especially if the fog descends.
If you can pick a day when there's no fog across the bridge, I would try to do that, but it does make for some cool pictures.
There are a few hills though – so make sure you know how to use the gears on your bike to your advantage. I was rubbish at this.
Carry on to Tiburon, we started our cycle later in the day and had to get the ferry back from Sausalito but I wish we'd had much longer.
Blazing Saddles were great, but they put a deposit hold on your credit or debit card. It took a couple of phone calls and over a week to get this back to us, which was a little annoying.
If you don't want to go back to Chinatown and then to the Castro, you're in luck – Brandy Ho's has opened another restaurant there too!
Pick up a map for the open-top bus tours on your first day and weigh up the options and the price. It will make things easier if you know where to get on!
Busses come around about every half an hour.
I've also heard good reports about Mission Chinese and the House of Nanking if you want to try somewhere else.
Tickets for Alcatraz sell out in advance, so buy them a week or two in advance if you can and I'd recommend going early(ish) in the morning.
Cable cars can get busy in the middle of the day, so many went past us because they were full, so it's best to get on at the beginning or at the end of a journey route, or early in the morning when they're less busy.
The conductors allow you to hang off the outside of the cable cars – this was a lot of fun!
4 days was a good amount of time for a taster of San Francisco, but I definitely want to go back for more.
As we weren't staying in the city centre, we found it really hard to grab cabs on the street on the weekdays. If you need to get cabs, as your apartment provider for a list of reliable ones. If in a hotel, they should be able to call for one.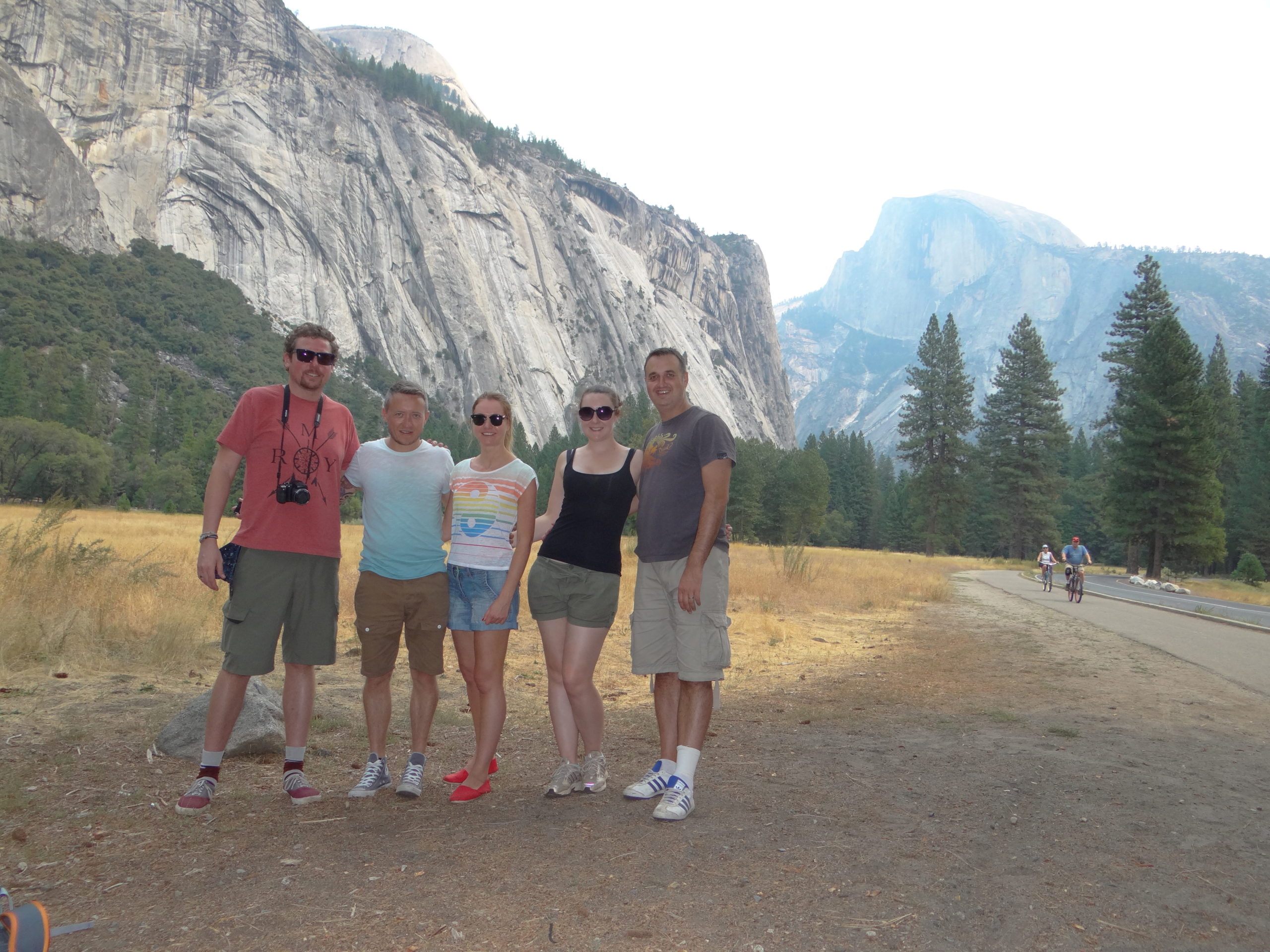 Yosemite National Park (2 Nights)
Yosemite was the penultimate stop on our California road trip itinerary. It was the quiet before the storm (Las Vegas) and I absolutely loved it. My only regret is that we didn't spend at least one night there! But c'est la vie! I will have to go back.
Day 12: San Francisco – Yosemite National Park
After we left the gorgeousness that is the city of San Francisco, we headed east to Yosemite National Park, on roads that seemed to stretch on forever.
Just before we headed to the US, Yosemite was hit by raging forest fires that destroyed hundreds of miles of the park so we weren't sure if we'd be able to go. It took just over two months to get the situation completely under control and they were still burning when we arrived, leaving the air thick and smoky.
But the area we were staying in wasn't under threat, so we were lucky!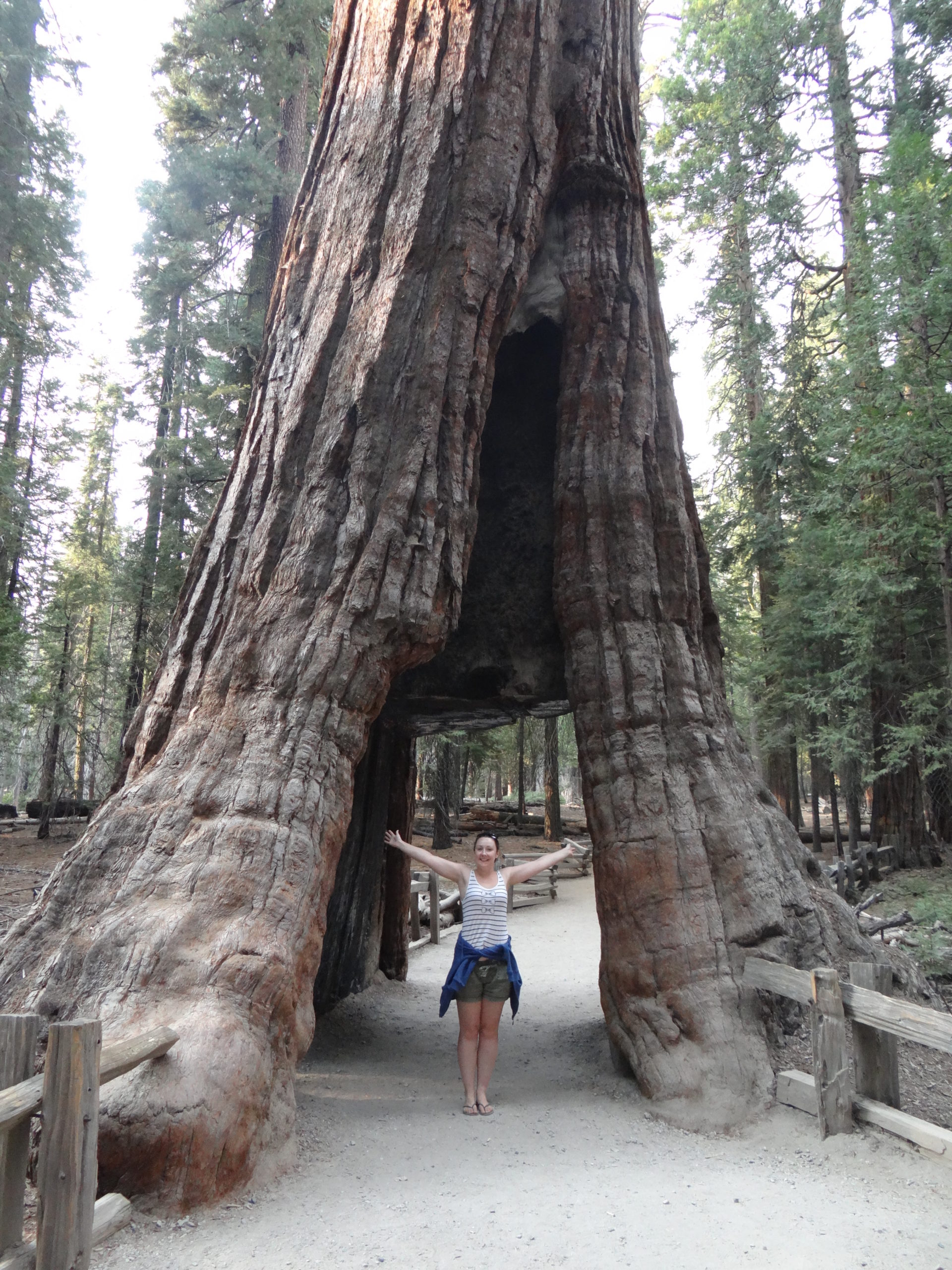 On the way, we stopped at Mariposa Grove to see the Giant Sequoia Trees.
We'd left San Fran a little later than we should have, so it was pitch black when we pulled into Housekeeping Camp. After checking in we collected our hired bedding ($2.50) and headed over to our static tent. The tent had a double bed, two bunks and a camp bed. It was very basic and snug for 5 of us, but it did the job (excuse the mess).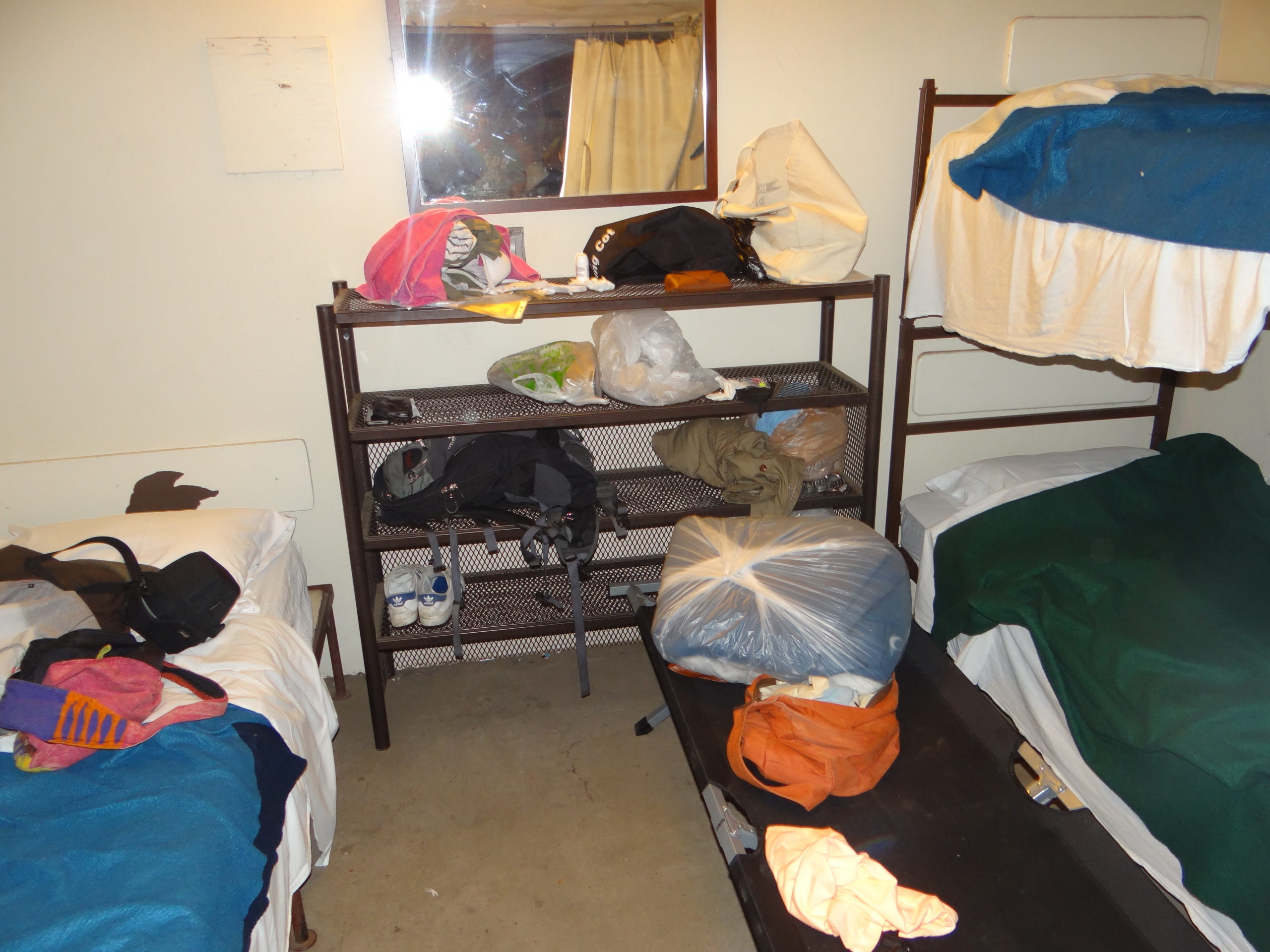 We also had a bear box outside, which is where you're supposed to put any food in case they come into the camp at night in search of tasty treats. I loved being in the wild again, keeping a lookout for wild animals on the way to the loo, reminded me of Africa.
As we didn't have any cooking equipment, we hopped in the car and headed over to Curry Village, just a few minutes down the road, and grabbed some pizza before heading back to the tent, for a surprisingly pleasant and bear free sleep.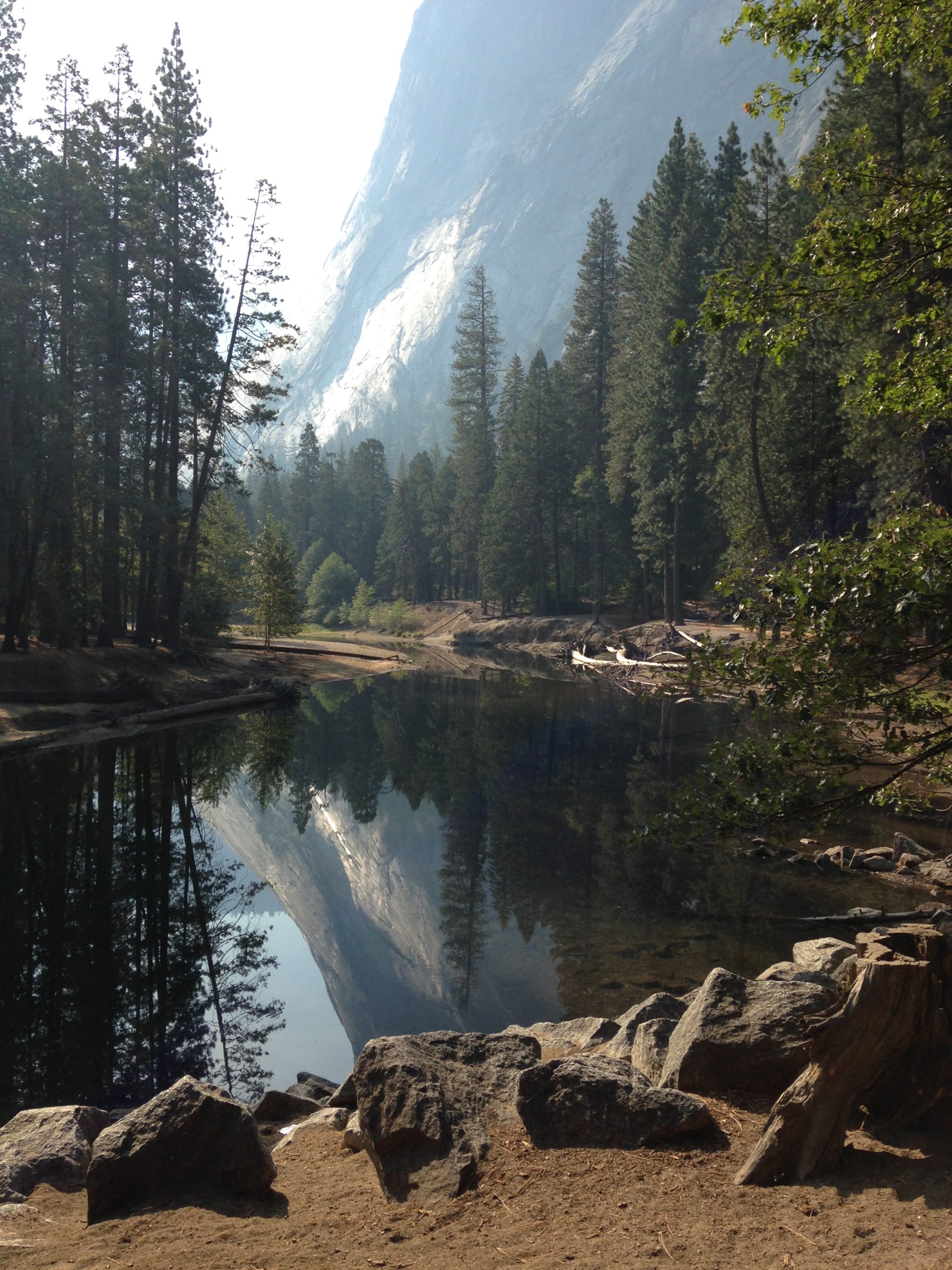 Day 13: Biking, Climbing & Bears – Oh My!
It had been completely dark with not even a scrap of moonlight when we arrived and went to bed. So, you can understand my surprise and excitement when I stepped out of the tent in the morning to this view.
We hadn't even realised we were next to the water. Oh yes. That's what I'm talkin' about!
We headed back to Curry Village for breakfast and to rent some bikes for a few hours. With only 1 day in Yosemite, we needed to see as much as possible!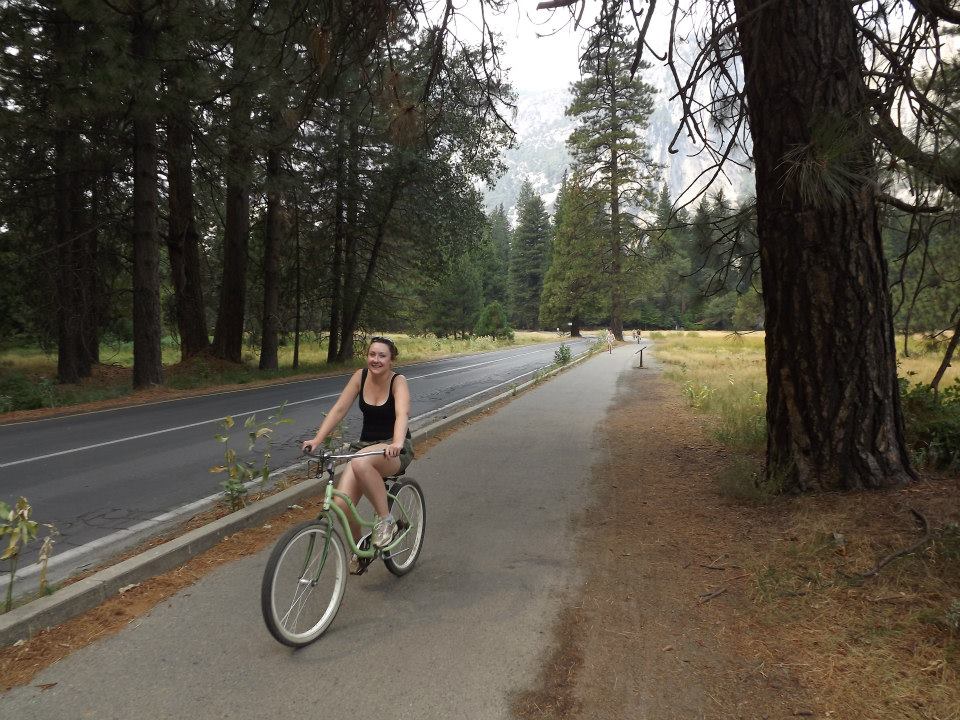 The bikes were so much fun, the scenery was beautiful and we saw lots of animals like deer and squirrels. At one point I was free-wheeling, breathing in the fresh air and I just felt an overwhelming sensation of happiness.
Once we'd handed the bikes back, we used the free shuttle to get around the valley and got on and off to explore. We saw El Capitan, a 3000ft vertical rock formation, popular with base jumpers and climbers.
It takes a few days to get all the way to the top, so people have to sleep in hammocks or tents on the cliff face, suspended in the air just by ropes. I seriously can't think of anything more awful. The climbers were hard to spot but the bus driver had expert eyes and found some within a few seconds.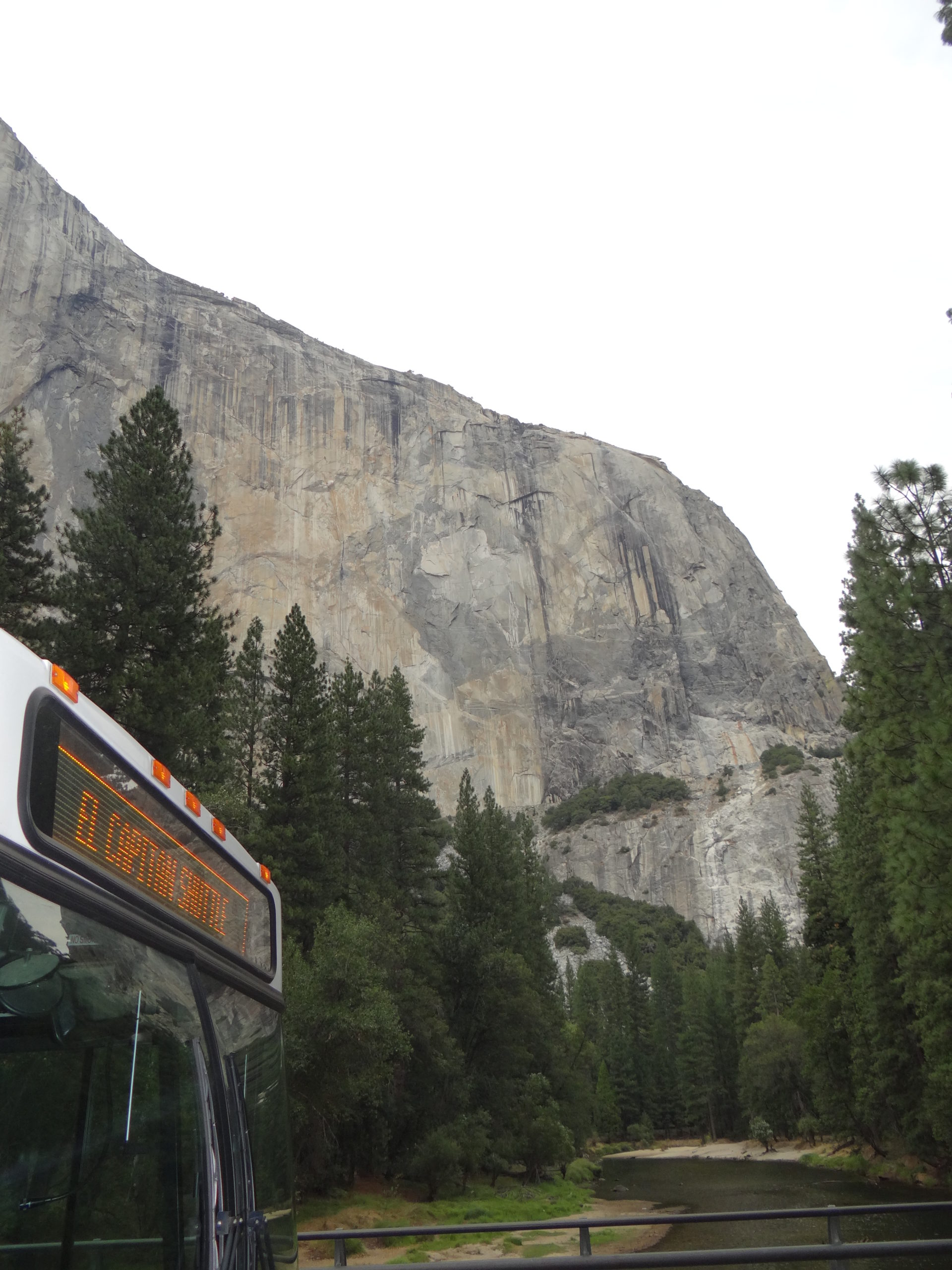 I had to use the zoom on my camera to get a better look at the crazy people!
We drove up to Glacier Point at sunset to take in the views of Half Dome and the valley below, but the smoky air meant visibility was probably less than normal, but it was still a sight to behold. Perhaps take a little bottle of bubbly and a picnic for an extra special treat.
For the record, we didn't see a single bear. Well, Simone thought she saw one when we drove out of Yosemite, but it was quite low light, so it could have been a tree stump. Oh well.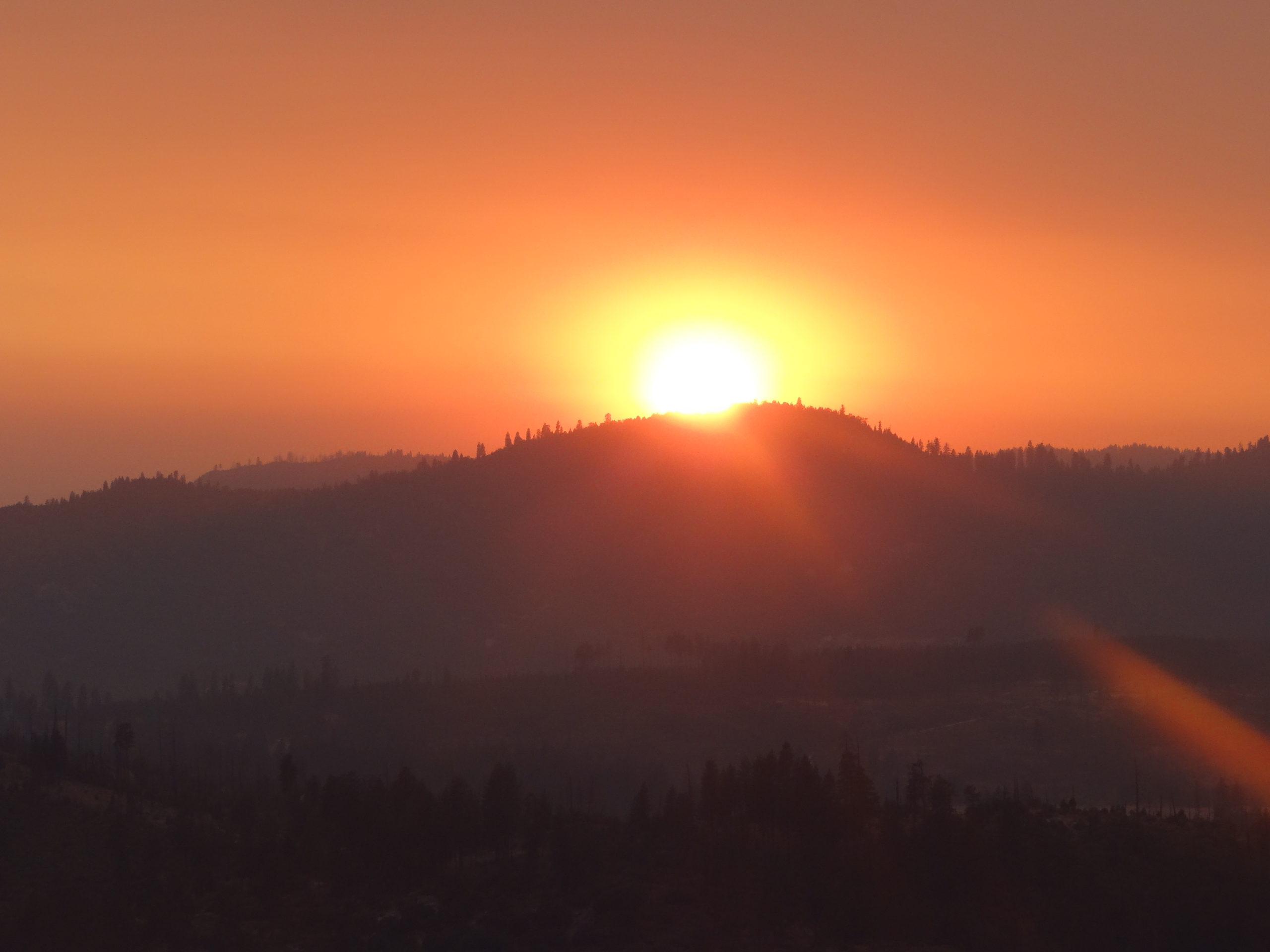 My Top Tips for Yosemite National Park
I would have liked another day in Yosemite to do some hiking. If you like the great outdoors, then it doesn't get much better than this.
Housekeeping Camp is a great budget option. The only downside is that it doesn't have a restaurant on site, but it is the only place where you can have your own BBQ. The people next door to us looked like they had moved in for the season. But Curry Village is just a short drive down the road if you need it.
I definitely recommend hiring bikes $11.50 per hour or $31.50 per day at Curry Village (prices correct September 2013).
At certain times of the year, the Merced River is open for rafting and ice skating is available.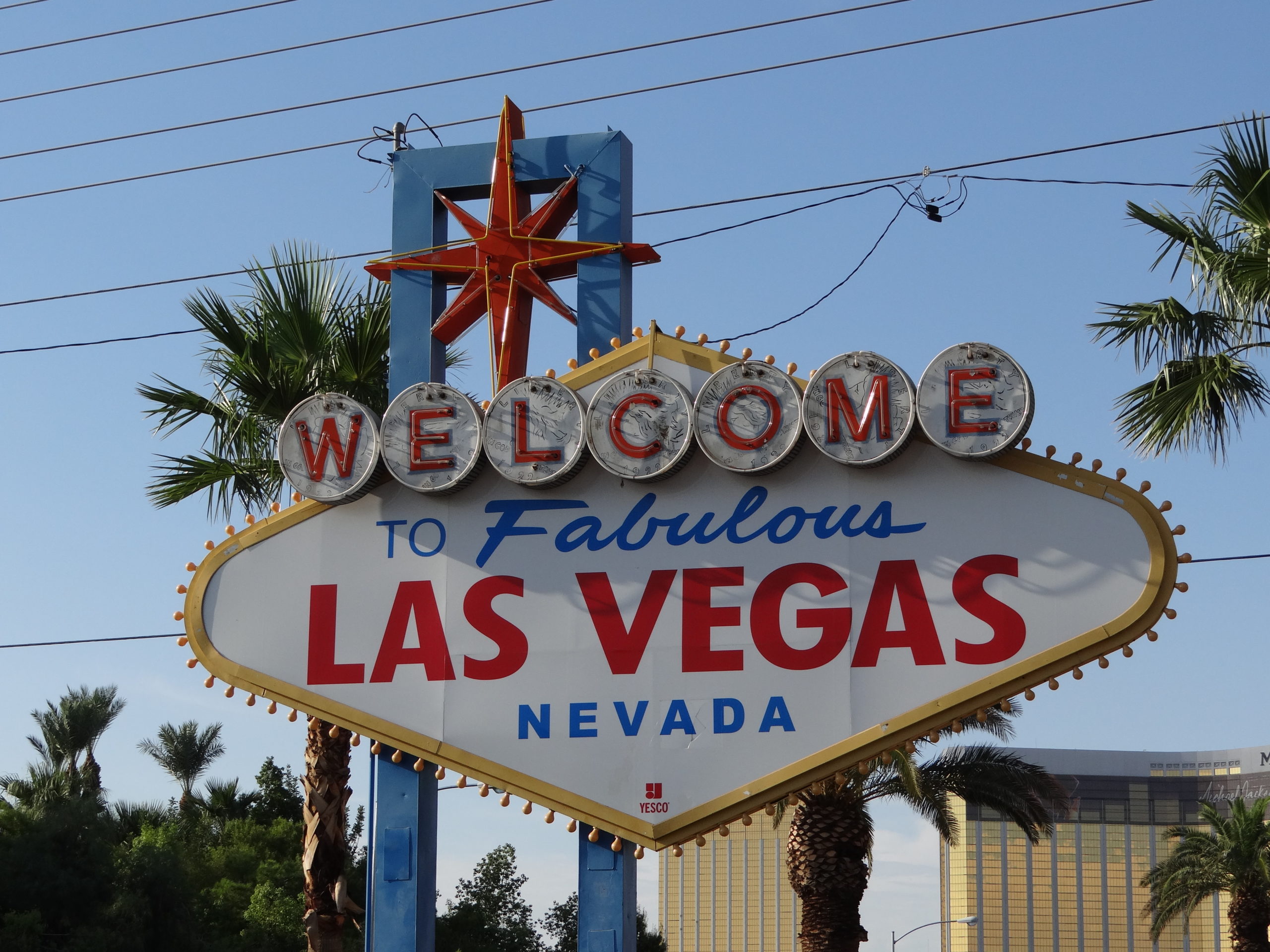 Las Vegas (4 Nights)
We spent our last 4 nights of our California road trip in Las Vegas, Nevada. Ok, so not in California, but close enough… and if you're going all that way, you may as well pop in!
I never expected in a million years to love Las Vegas, but I did. It's kind of weird writing about Yosemite and Las Vegas in one post because they are as different as can be.
Yes, Vegas is tacky and seedy in parts, but then it's also kind of beautiful too, if completely overwhelming. There's also a lot more to it than gambling!
Day 14: Yosemite National Park – Las Vegas
We were up and out super early, as we were driving to Las Vegas today. Our plan had been to take the road through Death Valley, but it was closed due to the fire, so we took an alternative route. Crossing the state border, we left California and entered Nevada.
Vegas appeared, rising like a twinkly, glittery Emerald City, an oasis in the Mojave Desert. The complete opposite to the natural beauty of Yosemite. Driving into Sin City, we did the only sensible thing and whacked on "Viva Las Vegas" on the car stereo and took a drive along the Las Vegas Strip, we even spotted Elvis. He is alive!!!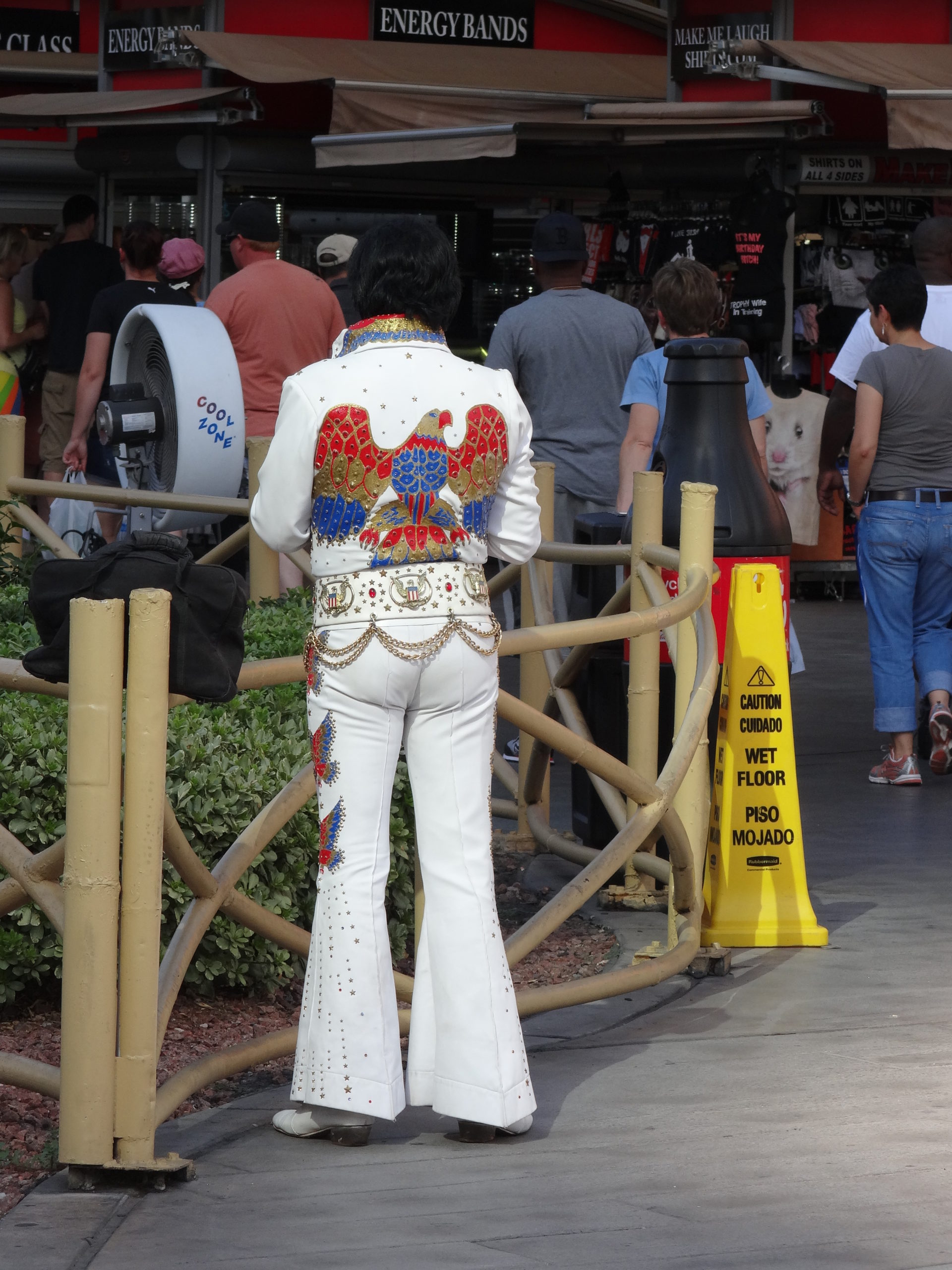 I was completely in awe. It was just so big, brassy, busy and colourful. If Disneyland grew up and took steroids it would be Las Vegas.
We were handing back the rental car today, but before we did, we visited the Welcome to Las Vegas sign, parked up, took some photos.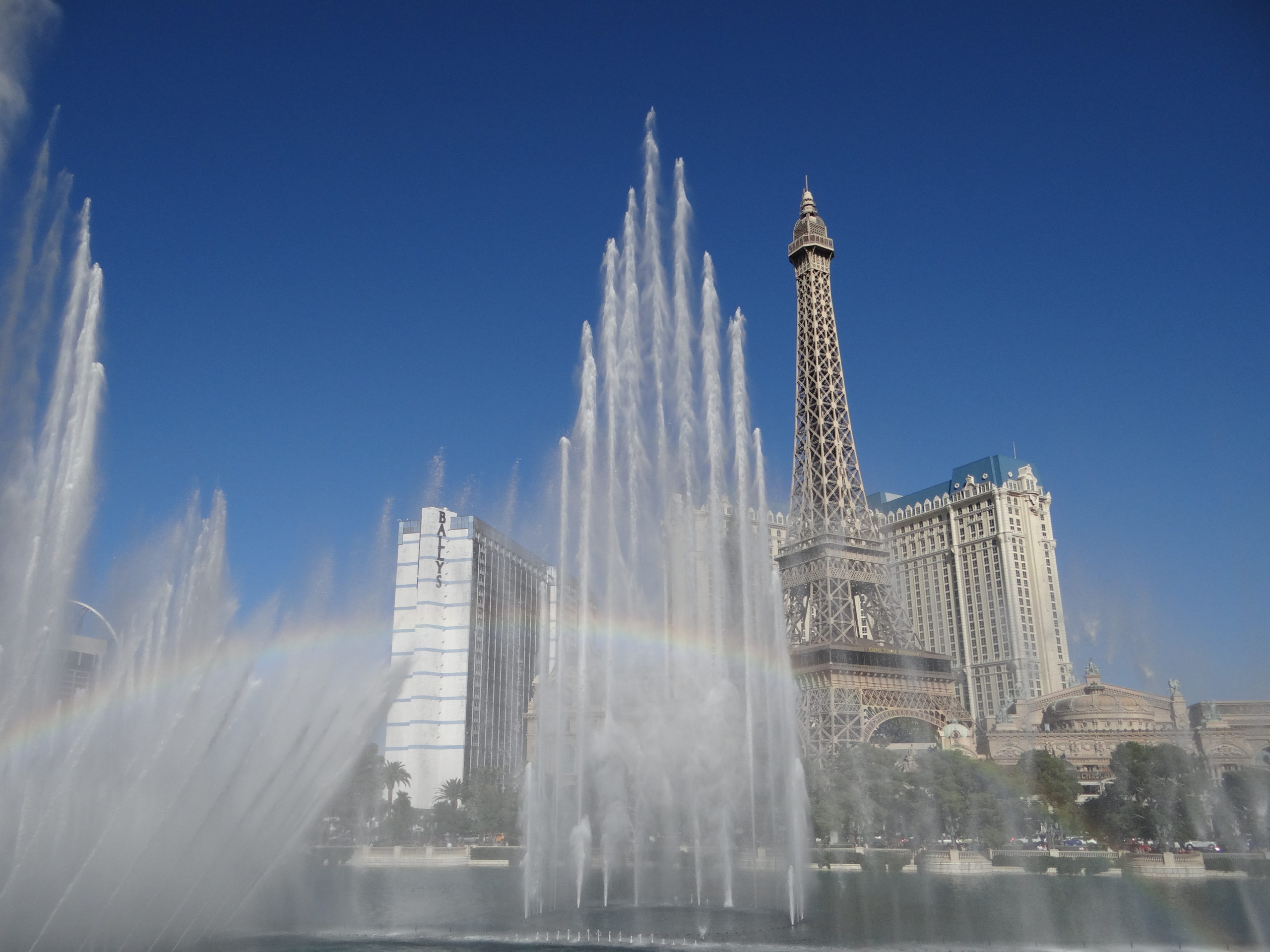 There are literally thousands of restaurants, clubs, bars, casinos, music venues, all open 24/7 and everyone is catered for, whether you're 8 or 80, rich or not so rich. Had I been on a blowout weekend away with the girls, I can imagine it would have been a very different trip, which is why it's difficult for me to say, "go here, or go there", as there is so much choice.
I barely scratched the surface in the few days I spent there, but I'll tell you what I did and hopefully, it will give you an idea!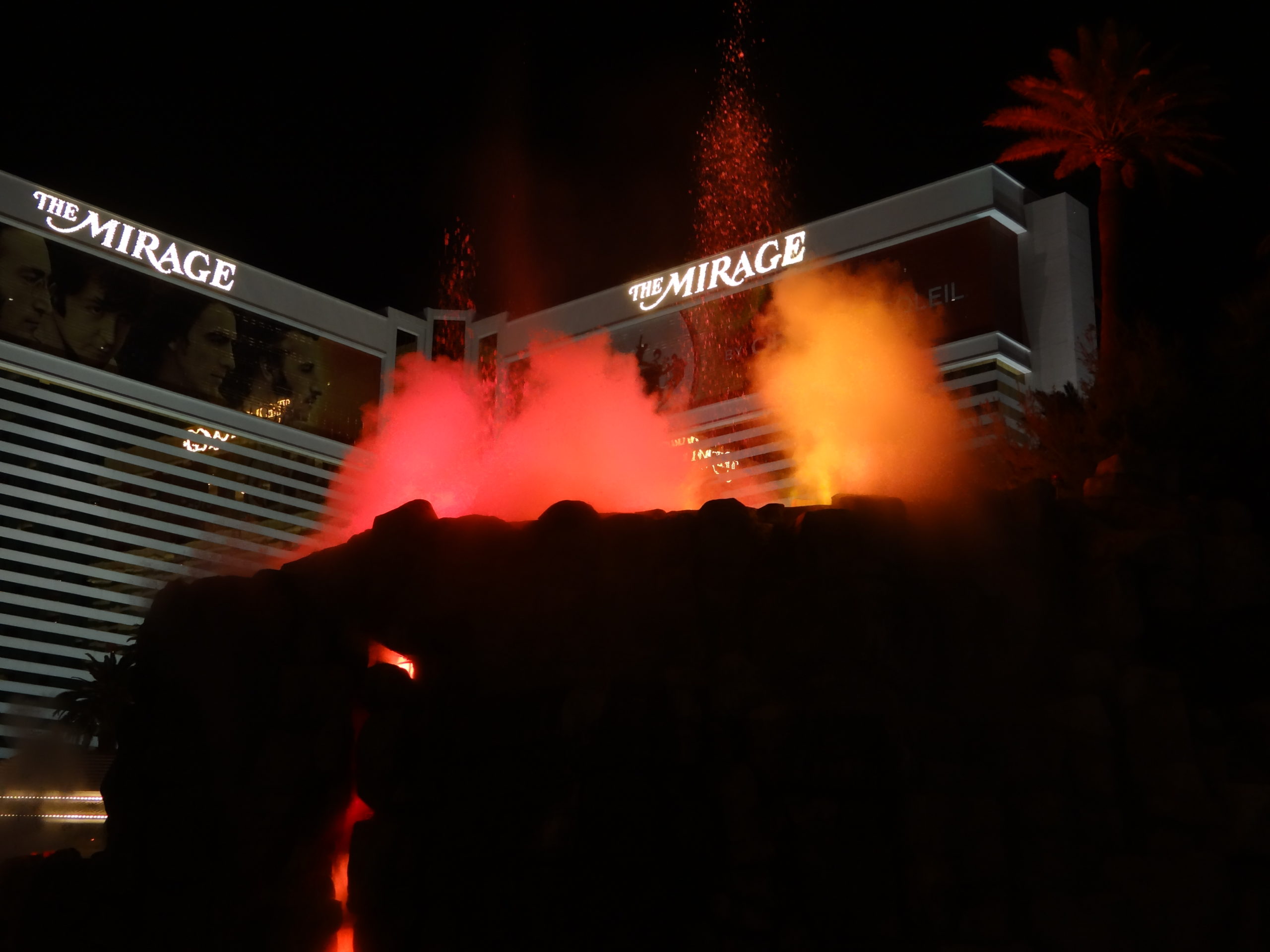 Our hotel of choice was The Mirage. Swanky, well-priced and in amongst the action, but to be fair, you spend very little time in your hotel room! For me, the location is the most important thing, central all the way!
If I went back again, I'd definitely stay at The Mirage again, or perhaps The Bellagio, Paris, The Venetian or Caesar's Palace as they are right in the middle.
That evening, we met in one of the hotel bars, had a quick drink and a cheeky gamble before heading out for dinner with no plans whatsoever, apart from finding somewhere cheap and cheerful to eat. We turned left and headed for Treasure Island, watched the Pirate Show, and then went inside. One of the first places we came to was Gilley's.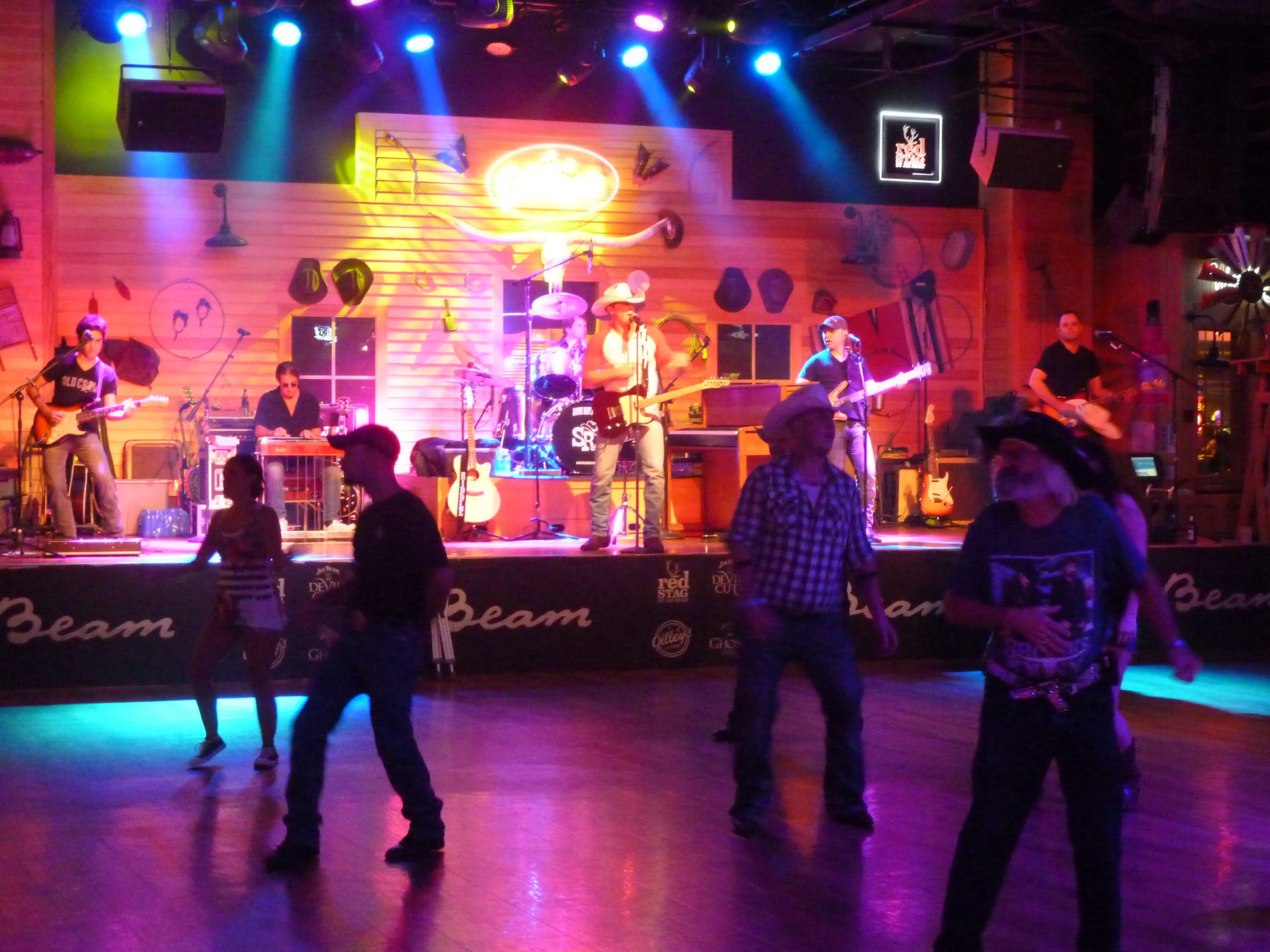 A live band blasted out country rock music, whilst some enthusiastic line dancers twirled and grapevined across the floor. On the other side of the room, brave souls rode a mechanical bull to whoops from the crowd.
Whilst I love a good Dosey Doe, the rest of my group aren't quite so keen, but they all agreed it was a fun place and the boys quite liked the waitresses in their cut out leather chaps. At the back there's a BBQ restaurant which smelled oh so good, so we put our names down for a table and tucked into a tasty and hearty (if not healthy) dinner.
We spent the rest of the evening wandering through the Strip, stopping off at various bars and casinos and just taking in the craziness. Mike even won some cash in The Mirage casino. $0.15 to be exact. Ka-ching!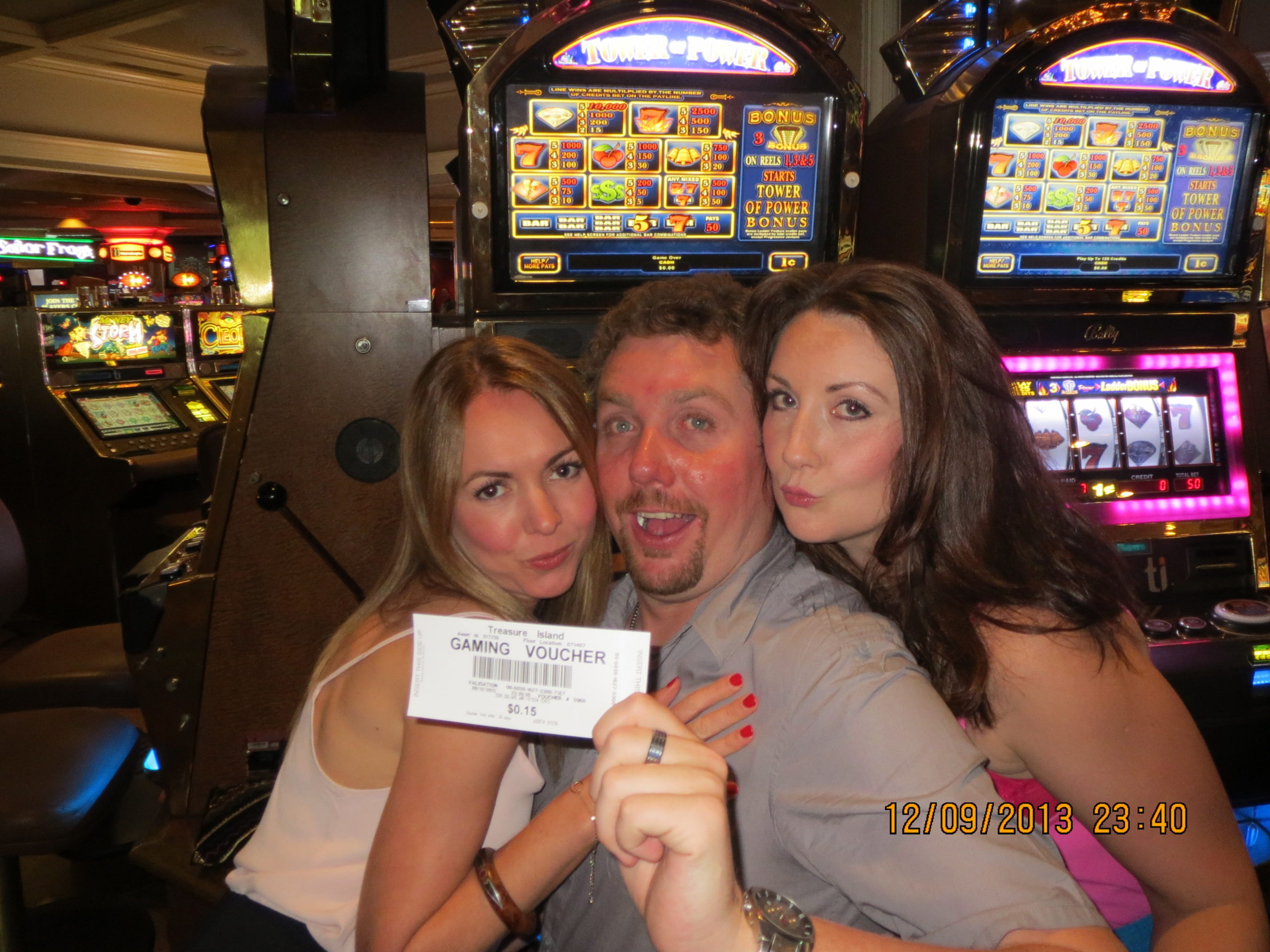 Day 15: Exploring the Las Vegas Strip
Our friends had organised a trip to the Grand Canyon, but we'd decided not to go. People have asked me if I regret not going, and my answer is no, not this time. I plan to do a rafting trip down the Colorado River at some point, so I'll hopefully do it then!
But they absolutely loved it and would highly recommend going! So definitely think about going if you have the time. Instead, we walked the length of the Strip, dipping in and out of most of the hotels. Within one day we visited Paris (Paris Las Vegas), New York (New York-New York), Venice (The Venetian) and even ancient Rome (Caesar's Palace).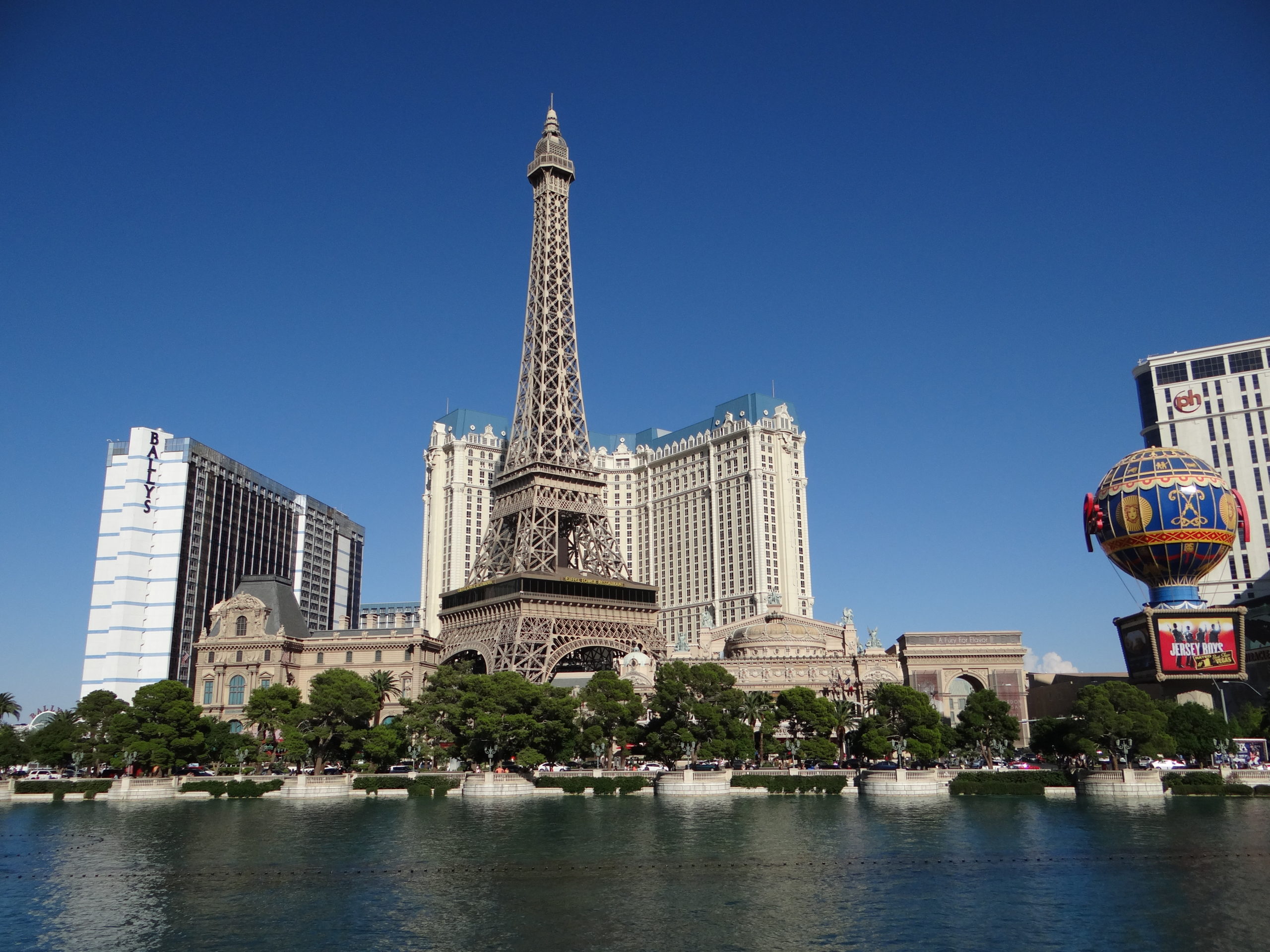 The atmosphere was electric. On this day, Mayweather/Canelo had a weigh-in, ready for the big fight the following evening at the MGM Grand. We knew there were a ton of celebrities in town for the boxing, but the only person we saw was Magic Johnson signing autographs in Caesar's Palace.
That evening we started off oh so elegantly in one of The Mirage bars, before going for dinner at the Outback Steakhouse.
We then got touted into a small club at Planet Hollywood, called Koi Lounge, where there was a cover charge of $20 and guys drank for free until midnight, girls all night. The bar was heaving with guys at first, but after midnight, us ladies took full advantage of our offer.
Then, it all gets a little hazy, but we ended the night in the outdoor bit of Rhumbar at The Mirage. It was chilled when we left the hotel earlier on, but later everyone was up and dancing under the stars on the patio. Lots of fun and completely unpretentious. My kind of place!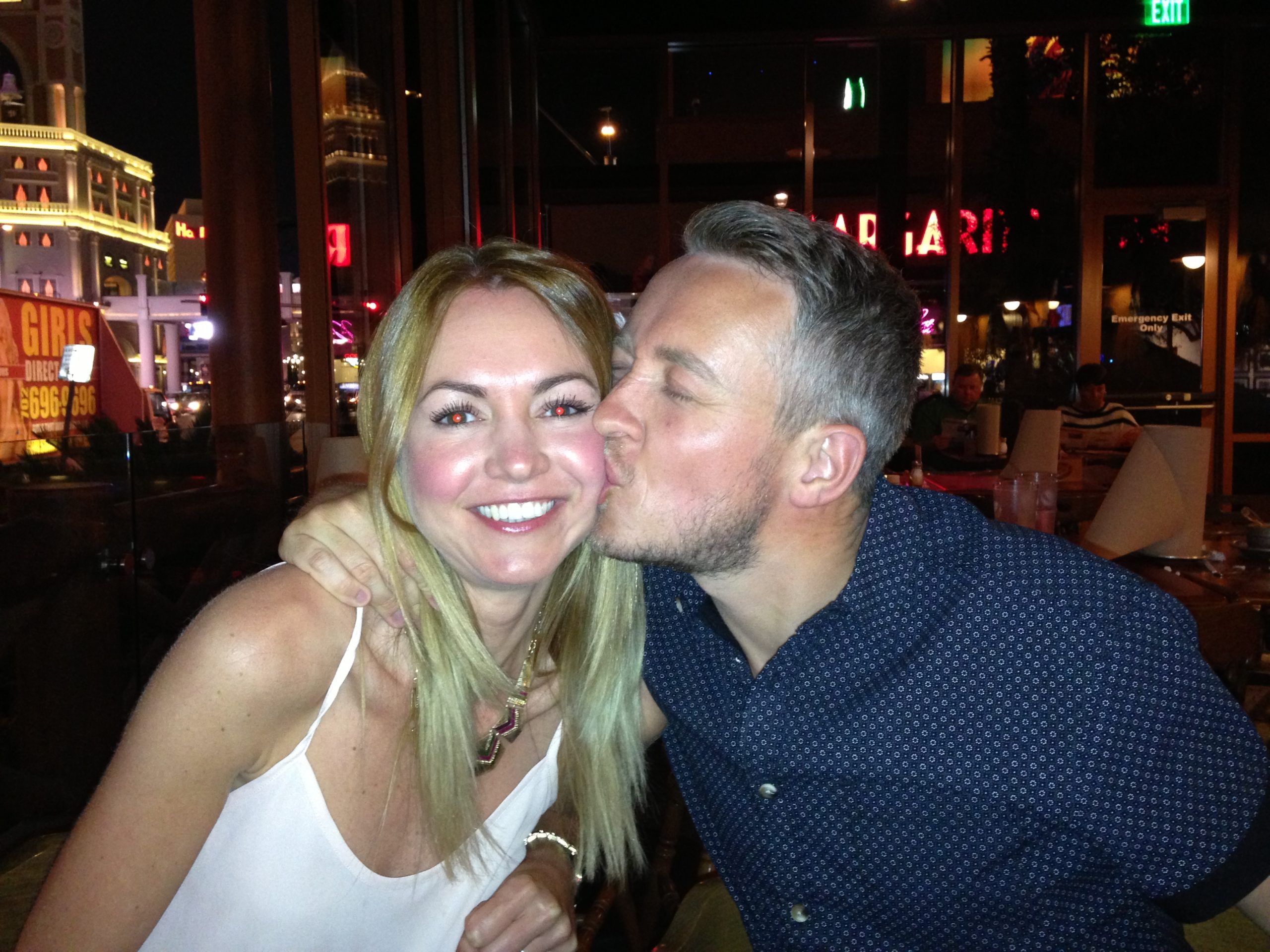 This was probably one of the best nights out I've ever had in my life. We call it "The Hangover" night, because the following day, looking back through the photos was just like the end of the movie! It was everything you'd expect from a night out in Vegas.
My favourite pic is one of Simone, Mike and I full-on dancing, smack bang in the middle of The Mirage, no shoes on, with Matt holding my handbag looking on with disdain as people passed us by looking confused.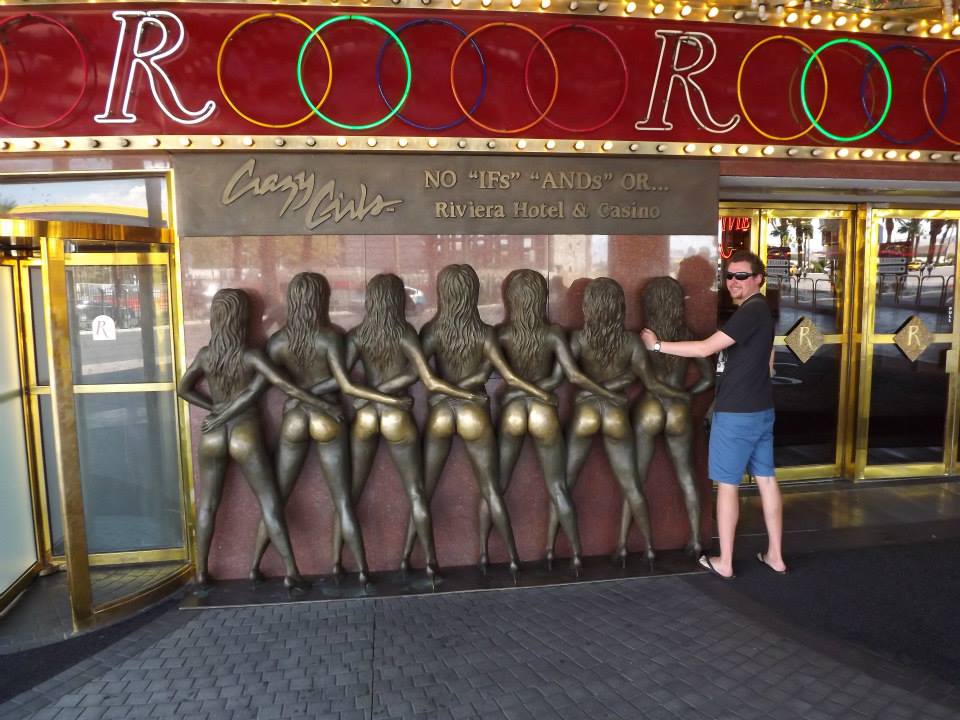 Day 16: The Hangover & Fremont Street
We slept in. Unsurprisingly.
When we ventured out after lunch, Vegas was bursting at the seams with people gearing up for the boxing. We tried to get in for breakfast at Matt's favourite breakfast joint, The Peppermill, but the wait was over an hour, so we popped into a nearby Denny's for pancakes with maple syrup and bacon.
I also ordered some grits (I was curious), and I'm gonna say, I'm not a fan. Tastes like ugali/nshima I eat in Africa, but a thinner consistency and without the relish. Not for me, I'm afraid.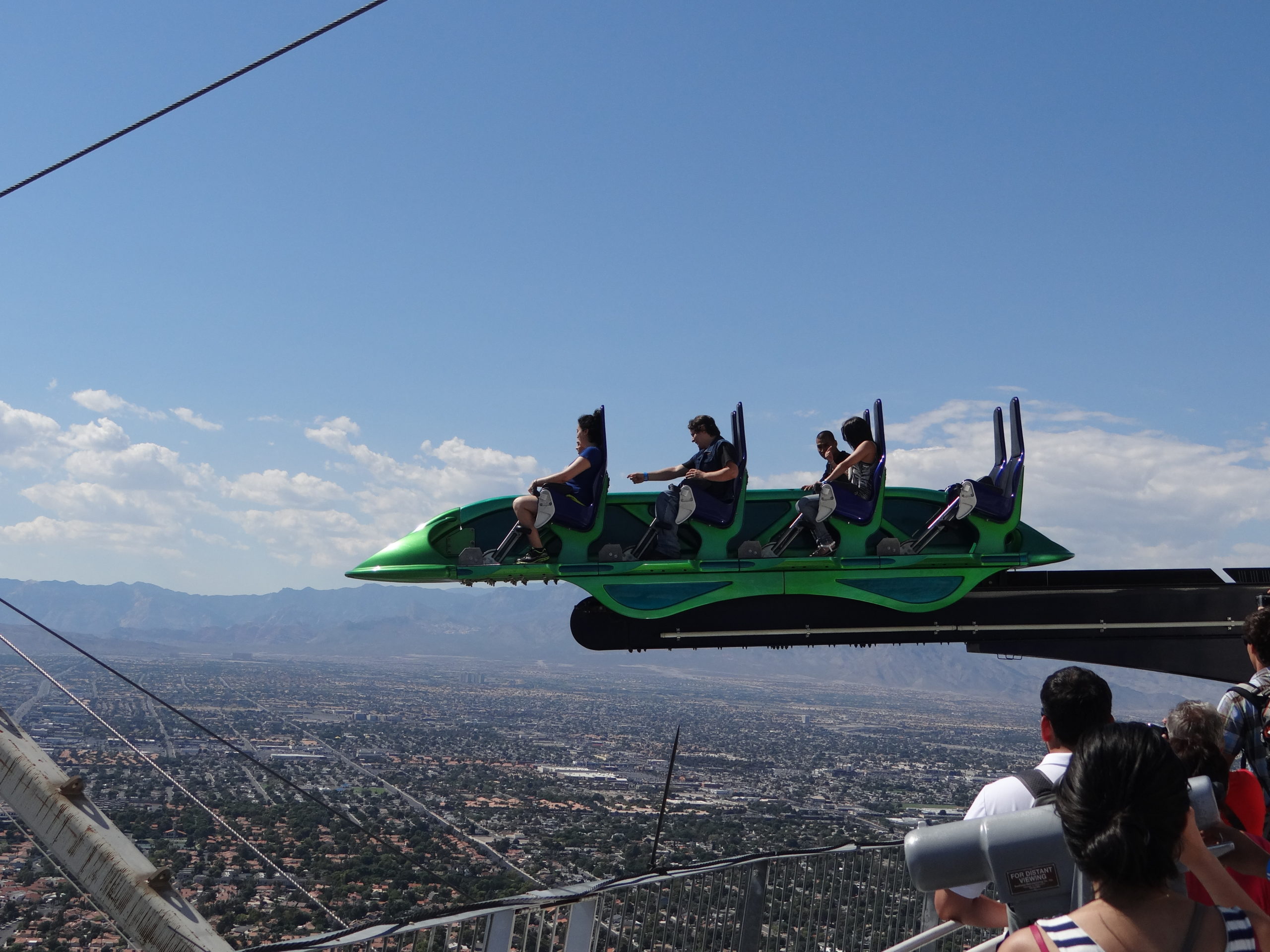 We then visited the Stratosphere Hotel, the tallest building in Vegas. The inside of the hotel and casino isn't anything special in comparison to the likes of the Bellagio or the Venetian, but it's what's on top of the Stratosphere that's the real attraction, the worlds' highest thrill rides.
Straight after we stepped out of the lift, we saw an old man jump off the building. He was doing the Sky Jump Las Vegas, a controlled descent zip wire. Literally terrifying.
Then there's the other 3 rides – the Big Shot, Insanity and X-Scream. The others went on but hanging over a thousand feet up in the air is my idea of hell (mind you not as bad as sleeping on El Capitan), so I gave the rides a miss and just watched everyone else pooping their pants! Yeah, this thing dips forward like you're about to fall off the building.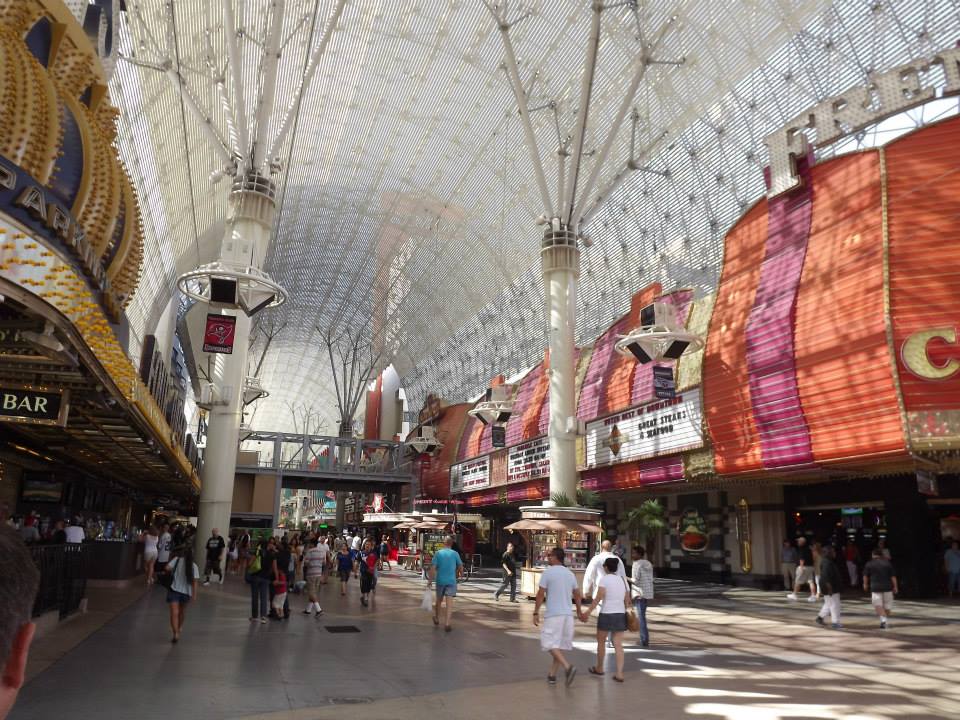 Next, we headed downtown to Fremont Street to look around. Fremont Street takes you back to old school Vegas. The street is under a canopy which contains thousands of twinkling lights, I wished we'd seen it at night!
It was pretty quiet when we went but it can get really busy, and in the late afternoon/evening there's a real party atmosphere (my sources tell me).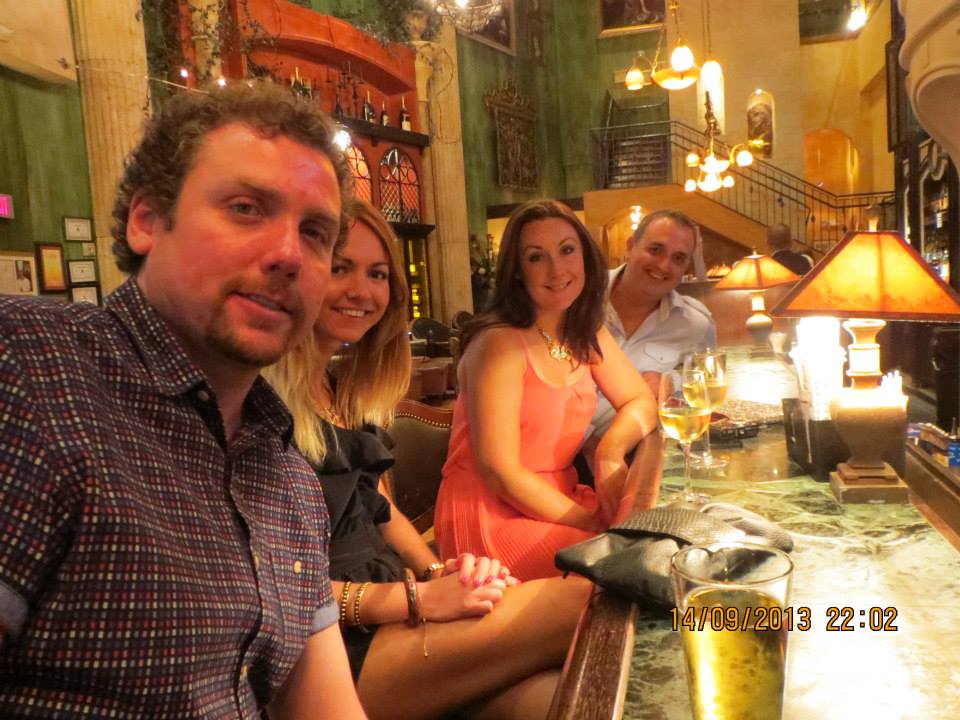 That night we started off at the 'All You Can Eat' Buffet at Harrah's. Pretty much every hotel has one of these, so choose your location and fill your boots!
In striking contrast to the buffet, our first bar of the evening was the elegant, laidback Zefferino at The Venetian. We sat in the bar and listened to the pianist play some classics. At my request he played The Way You Look Tonight and I felt as though we'd gone back in time, to the days of Sinatra and the Rat Pack. We tipped and thanked him as we left which struck up a little conversation and he told us about the good old days. Simply wonderful.
Next, it was on to Jimmy Buffet's Margaritaville for cocktails and dancing to salsa tunes. We then headed back towards The Mirage, stopping at a couple of bars along the way, before heading into 1 Oak Nightclub. As we were staying there, we got free entry, which seemed like a good deal to me!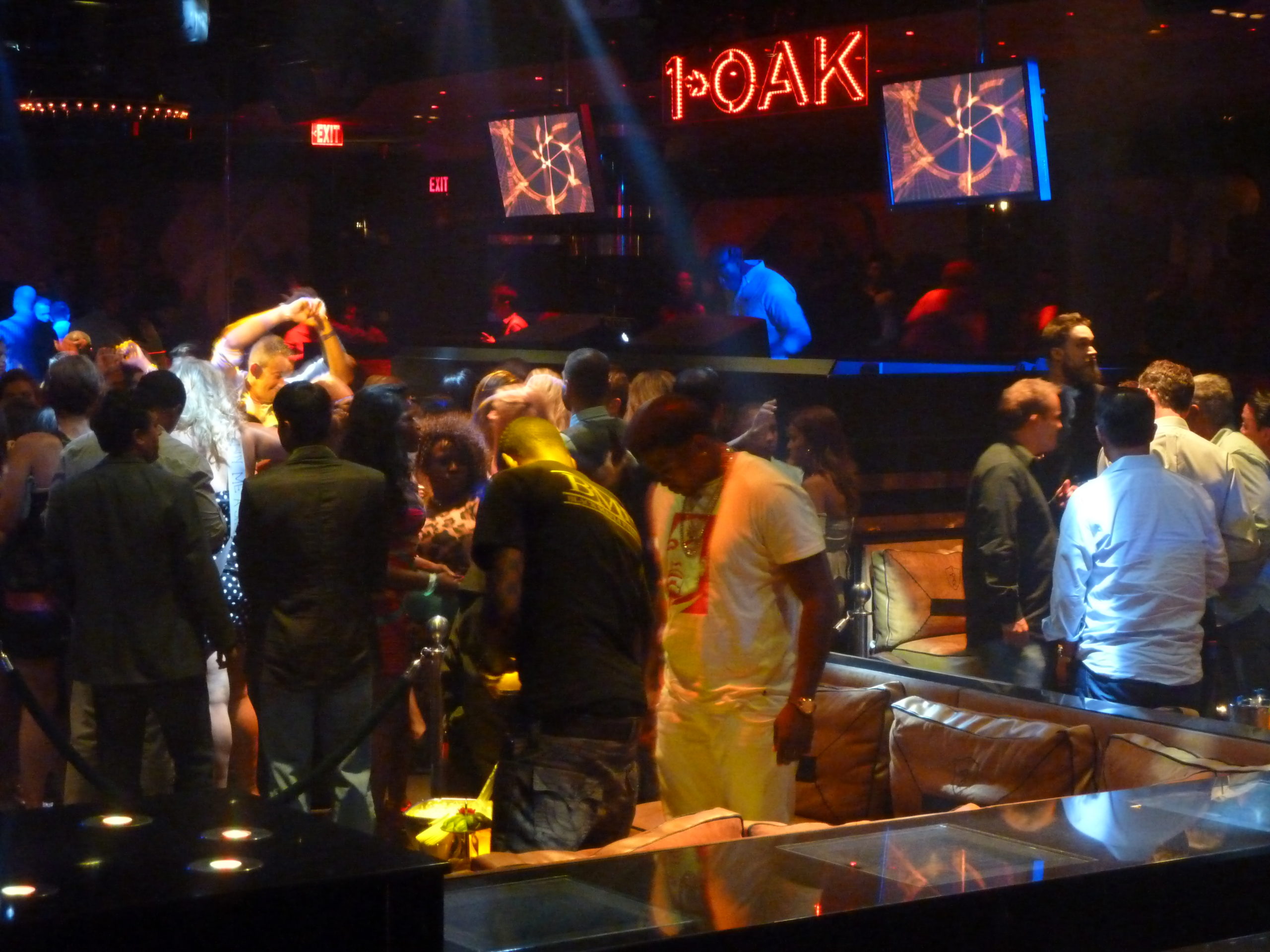 The club was about half full when we got in, but was filling up fast. The smallish dance floor was in the middle, and VIP booths surrounded it. We were on a budget so we headed straight for the bar, grabbed some (expensive) drinks and people watched from the side – the only place you could stand. It took me about 10 seconds to realize this just wasn't my scene.
Maybe it's my age, but it just seemed completely soulless and not fun. I've been to many a great club in my 34 years and I wasn't overly impressed by the atmosphere, the attitude, the price or the music, but some people love it. I guess it's a matter of taste.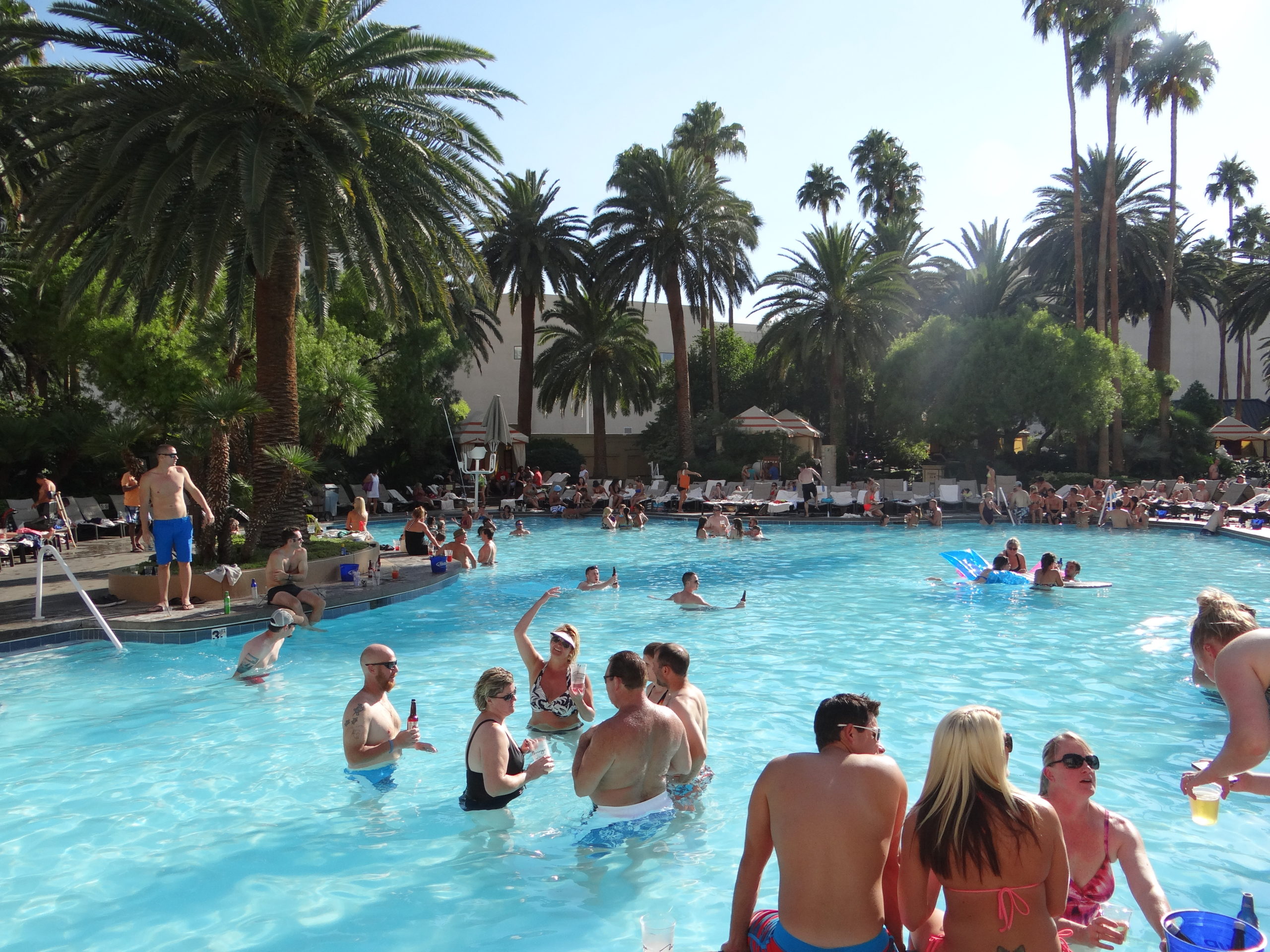 Day 17: Viva Las Vegas
Our last day was upon us and to say I was a little sad was an understatement. I'd had an amazing couple of weeks with four awesome companions and I didn't want it to end.
Having walked miles and miles over the previous few days (and weeks), we decided it was time to have a little relaxing time by the pool. With a couple of cocktails, of course! There are also regular pool parties at all the hotels that you can attend.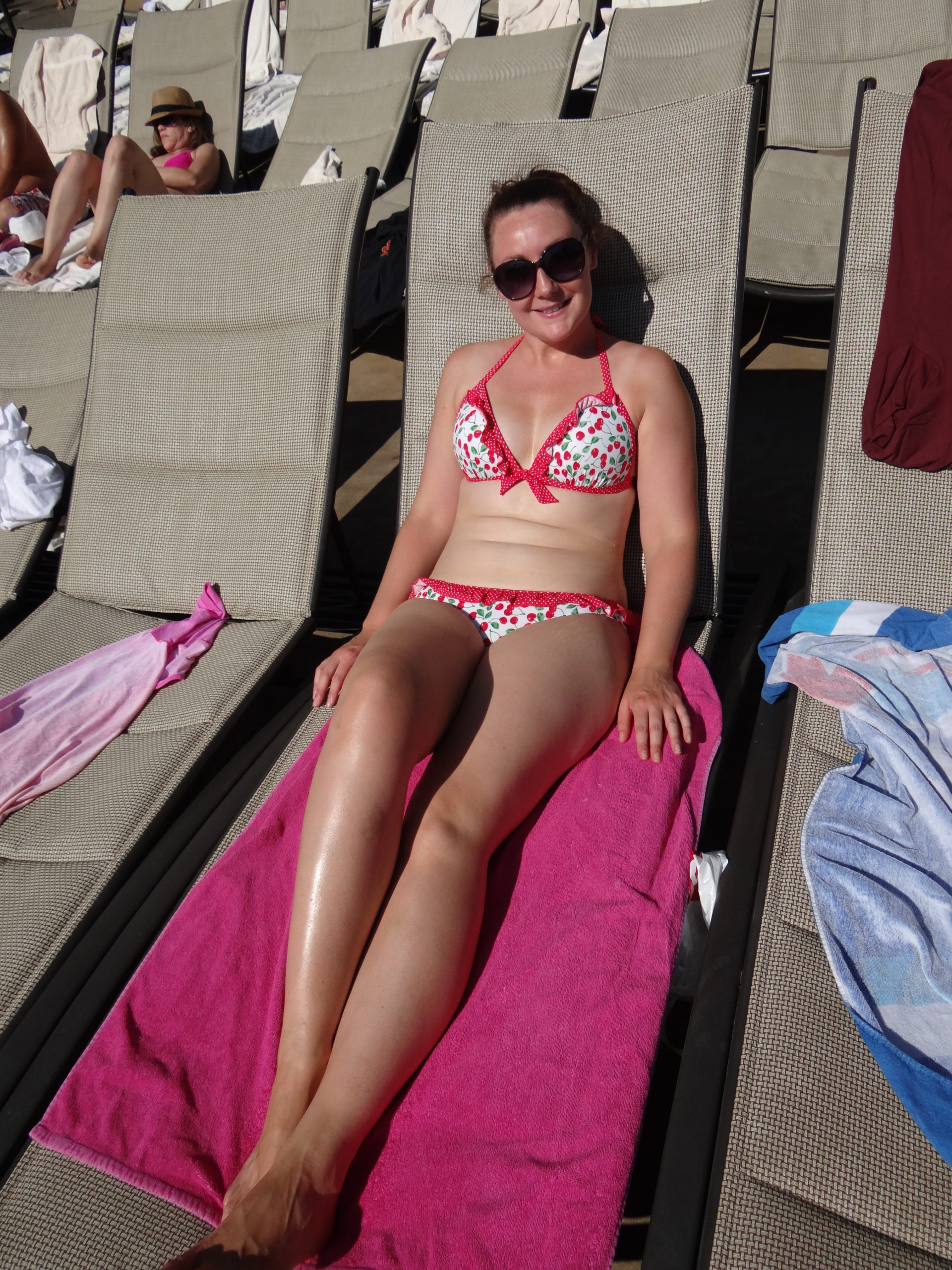 We headed out early in the evening as we were off to see Mystere at Cirque du Soleil at Treasure Island. Have you seen the film "Knocked Up"? Well, Mystere is the show Seth Rogan and Paul Rudd go to see when they're high on magic mushrooms!
It did not disappoint. The things the acrobats and gymnasts can do with their bodies and props is out of this world. I sat there in absolute amazement the whole way through. The only bad thing about it was that I wished it had been longer. It only lasted an hour or so, but then again, whilst the performance looked totally effortless, the strain on the performers must be immense.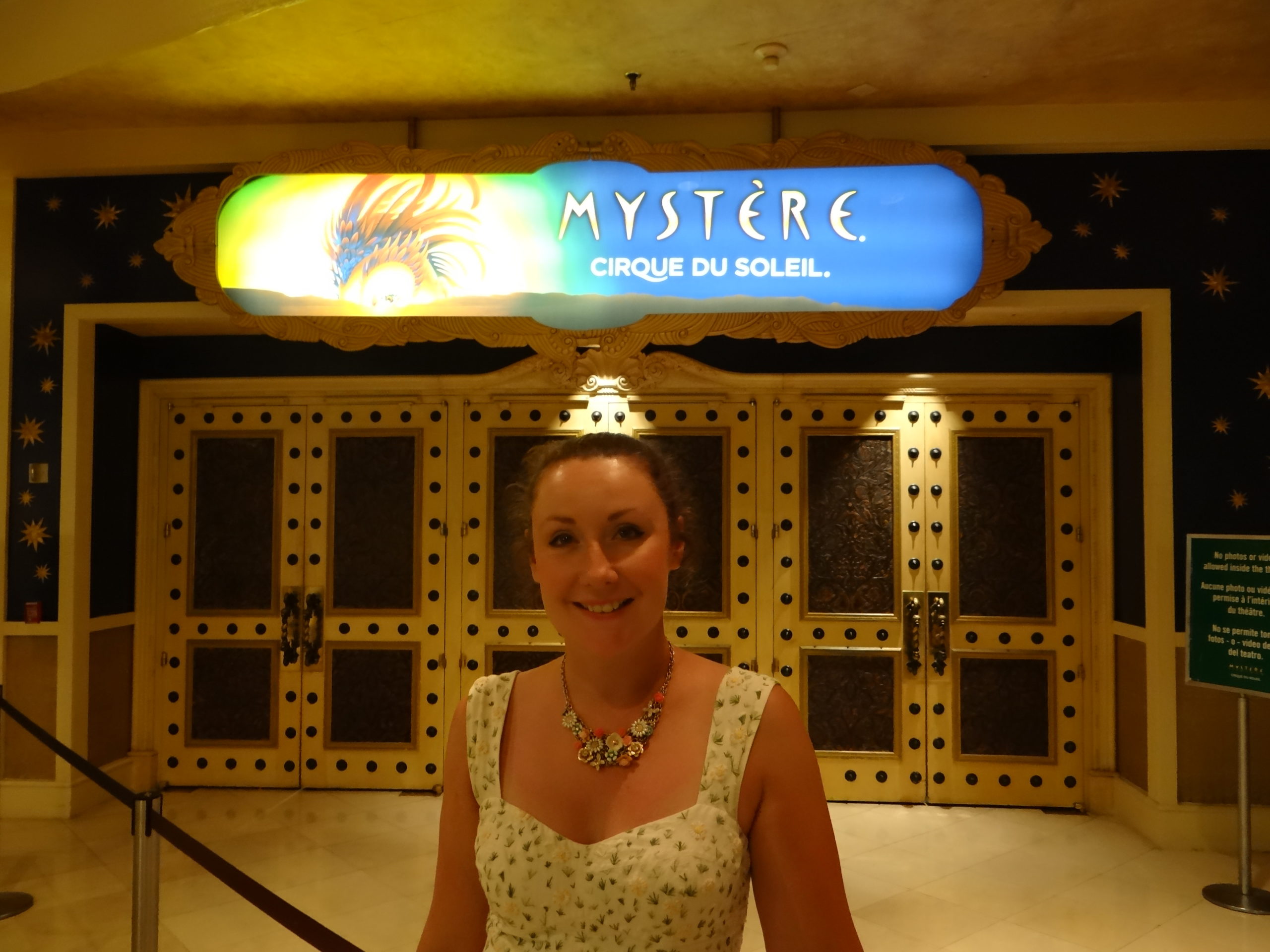 Afterwards, we headed to the Bellagio Fountains where crowds gather to watch the water dance to music. It was really spectacular and not to be missed! We'd caught glimpses of it previously, but this time we wanted to be on the front row!
Dinner tonight was at Serendipity 3 at Caesar's Palace. We'd walked past it a few times and it looked really lovely so we gave it a whirl. They had a huge menu, literally, and portions to match! I thought I was ordering a relatively light meal with an omelette, stupid me!
We finished off the night with drinks at the Wynn and Encore, two of the sexiest hotels in Vegas – pretty lights galore. The perfect way to end our trip.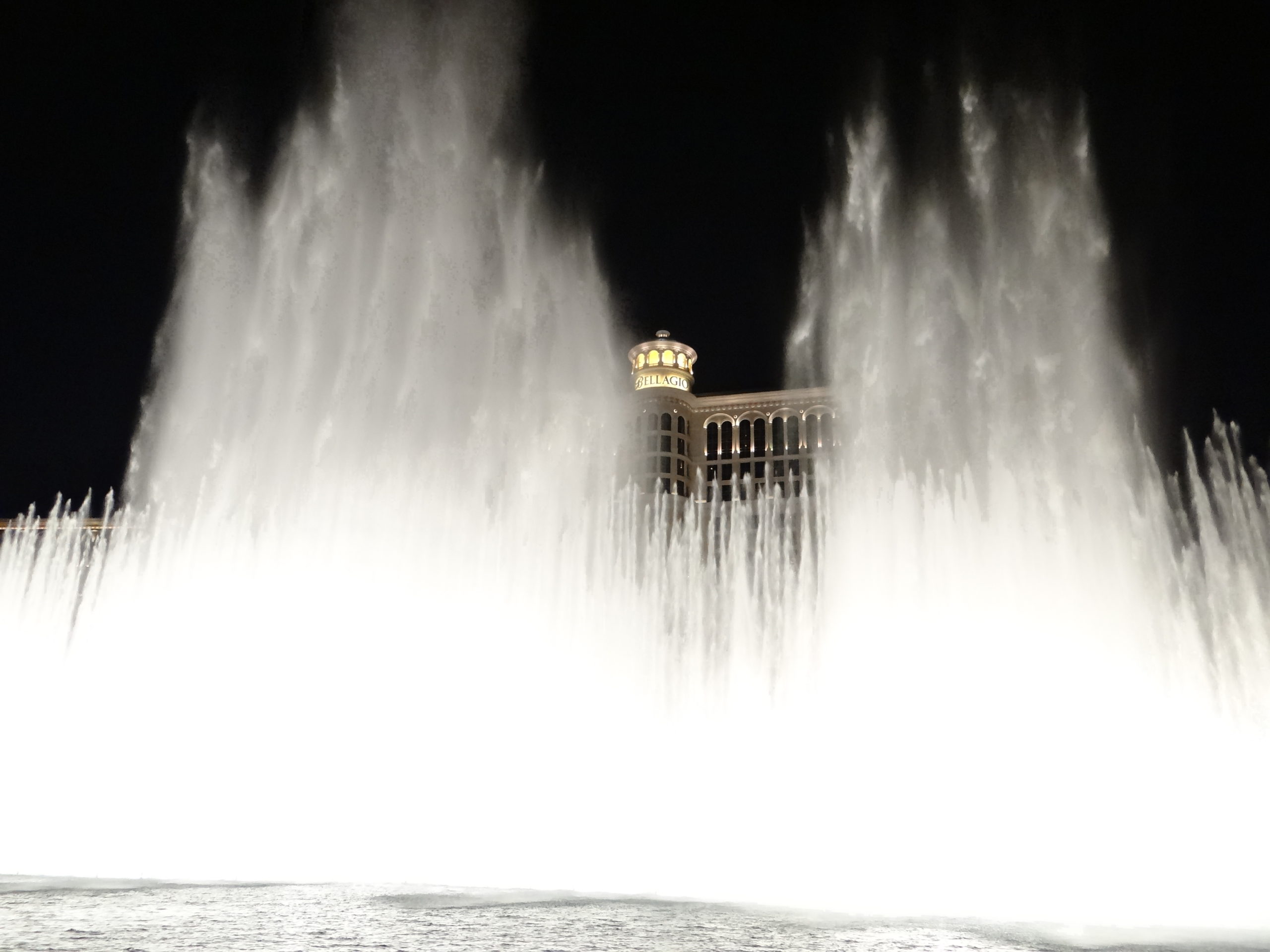 My Top Tips for Las Vegas
Where to even start? There's so much to choose from, so my best advice is to do a bit of research, plan and book a couple of things, but also leave time to just go with the flow, as it's impossible to get around everything!
You do a lot of walking, so bring comfy shoes, or you can get a monorail between some hotels.
Your hotel Concierge is a great source of info!
Vegas is in the middle of the desert and gets really hot in summer, so drink lots of water (especially if you're drinking alcohol), and it gets cold in the winter, so take some warm clothes.
The drinking age in the States is 21, and you'll need your ID with you.
You can drink on the street as long as it's in a plastic cup
Don't forget to tip! It's expected in the States (this goes for everywhere on this itinerary).
There are no clocks or windows in Vegas casinos (except the doors). You would never know what time it is.
Let your hair down, you're in Vegas Baby!!!!!!!!!!!!
Where To Stay
We loved staying at The Mirage due to its central location on the Strip. The prices vary, but you can get deals on the more expensive hotels. As I said, you don't spend that much time in your room, so it all depends on what you want.
If you have a room overlooking the Strip, you'll generally pay more than a room facing the other way or in a hotel than is set back from the Strip. But for your money, you'll get a much better hotel in Vegas, than you would in somewhere like London. For the record, my ideal room, would be in the Paris hotel, with a view over the Bellagio Fountains or maybe one at the very cool Encore.
Central Strip: The Bellagio, Caesar's Palace, Paris, Planet Hollywood, The Mirage, Bally's, Harrah's, The Flamingo, The Venetian, Cosmopolitan, Aria or Treasure Island.
South Strip: Monte Carlo, New York New York, Excalibur, The MGM Grand, Tropicana, Luxor or Mandalay Bay.
North Strip: Wynn and Encore (joined together), The Riviera, Circus Circus.
Other Places to Consider: the hotels in Fremont Street, The Stratosphere (which is on the Strip, but a bit of a trek), The Palms and Rio.
If there's a particular club or pool party you want to go to, consider staying in that hotel as you often get in free or they may be able to sort you a special deal. Speak to the Concierge when you get there.
Other USA posts you might enjoy…
I hope this helps you plan an incredible California road trip itinerary and please let me know if you have any extra suggestions in the comments below.
---