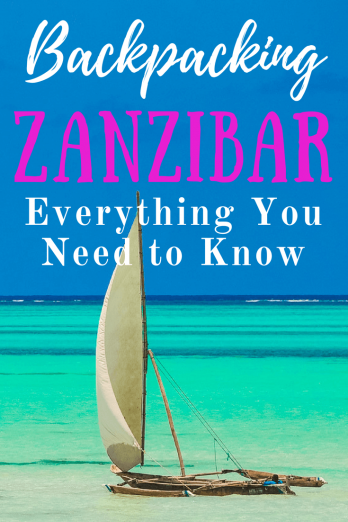 I've been backpacking in Zanzibar many times over the last 9 years, it's one of my favourite places in Africa and I love taking my Rock My Tanzania & Zanzibar Adventure tour groups there and showing them just how magical it is!
A lot of people think of Zanzibar as a honeymoon or romantic destination, but it is also a great place for backpackers and solo travellers too!
But where is Zanzibar? Zanzibar isn't actually an island, it's an archipelago that lies in the Indian Ocean, off the coast of Tanzania. It's made up of 3 main islands (Unguja, Pemba and Mafia), plus a number of smaller islands. Unguja is the largest island, where you will find the capital Zanzibar City (more commonly referred to as Stone Town – which is an area of Zanzibar City) and is what most people mean when they refer to Zanzibar. Pemba is north of Unguja and Mafia is to the south, near Mozambique.
Backpacking Zanzibar is awesome, so here are my essential travel tips to help you plan your own adventure – when to go, what to do, where to stay, where to eat and where to meet other travellers! For the purpose of this guide, when I talk about Zanzibar, I am referring to the main island, Unguja.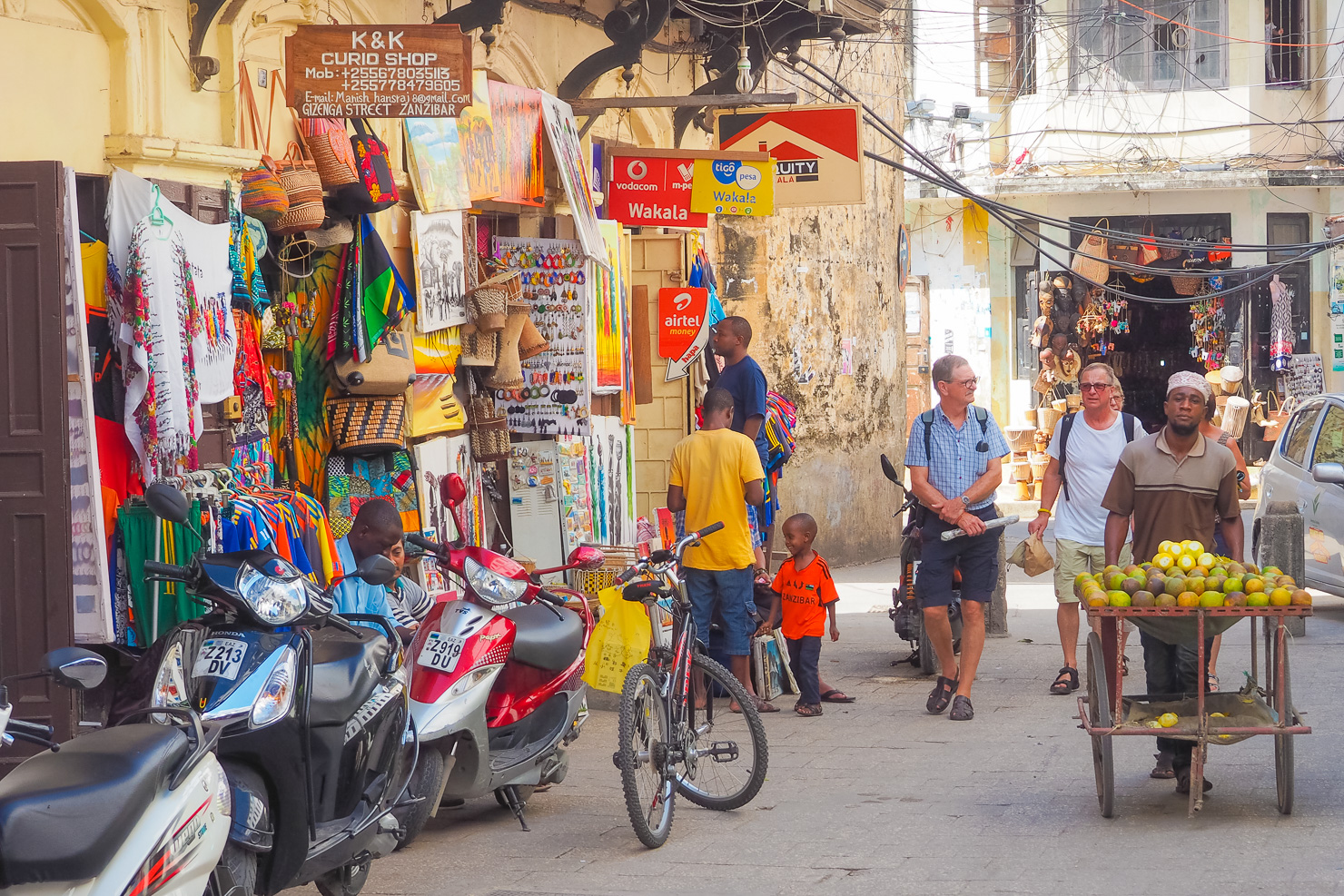 Best Time to Visit Zanzibar
Weather
June to October is generally the best time to visit when it's cooler (but still pretty hot) and dry. January and February are also good, when it's hot and dry.
March to May sees the long rains. November and December has the short rains. The short rains aren't so bad and there will be sun, but it does get very humid and you need to be prepared to spend some time sheltering indoors. On the plus side, you can often get good deals on hotels in the low season.
I have visited during the short rains (in November) and it was ok, however I would probably avoid March to May personally. I prefer it when it's dry! But of course, it is a tropical island so it can rain any time of year.
Ramadan
During Ramadan quite a few of the restaurants in Stone Town shut down during daylight hours and some close all together, but you will be able to find food. Most of the beach resorts will operate as normal, however you must observe Ramadan etiquette everywhere else. You shouldn't drink, eat or smoke on the streets and ladies should keep covered (see the What to Wear section below).
Eid
If you do go for Ramadan, consider staying on for Siku Kuu (Eid al-Fitr), a 4-day celebration, an exciting time to be in Zanzibar when everyone dresses in their finest and is in holiday mode, spending time with friends and family.
Festivals
If festivals are your thing, the Sauti za Busara takes place (almost) every February (I'm running a Rock My Tanzania & Zanzibar Adventure trip there during this time in 2018), the Zanzibar International Film Festival takes place in July and the Zanzibar Watersports Festival takes place in September.
Kitesurfing
If you're into kite surfing, the best months to visit are January, February, June, July and August. Between June to September, the Kusi winds blow from the south and between December to February the Kaskazi winds blow from the north.
Scuba Diving
You can go scuba diving in Zanzibar all year round, but the best times for visibility tend to be between June to October in the north and November to March in the south. March to May is generally the worst time for visibility due to the weather, but it can depend on the day. I'm not a diver but one of my readers recommended Scubafish and diving in Matemwe – thanks Lily! The Mnemba Atoll is probably the most famous dive spot in Zanzibar.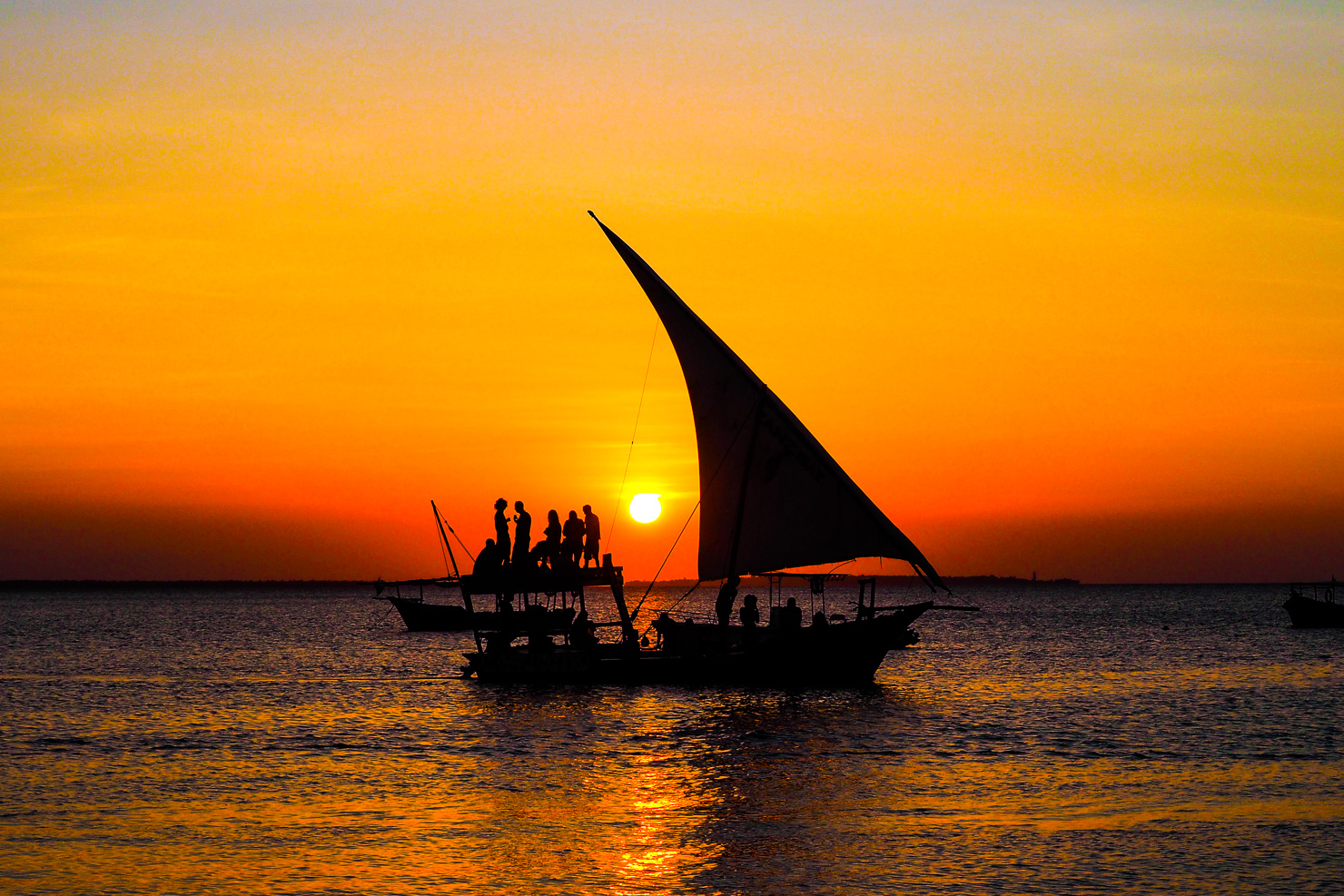 How to Get To and From Zanzibar
Sea
Azam Marine ferries is the company I recommend. The ferries run between Dar es Salaam and Stone Town and the journey takes approximately 2 hours. Ferries depart at 7am, 9.30am, 12.30pm and 3.45 pm in both directions (from Stone Town and Dar es Salaam).
The ferry costs around $35 (one way) for an adult economy class ticket. Make sure you buy your ticket from the official ticket office, not from touts on the street. If you can buy your ticket in advance, I would advise you to do so as they often fill up. I have on a few occasions had to wait a few hours because the next ferry was full.
You need to show your passport when buying your tickets. If an agent is getting your tickets, they'll usually need a picture of your passport details.
If you have a group, it is also worth looking into hiring a dhow to take you straight over to the island from one of the mainland beach towns, like Bagamoyo. It's not cheap at around $300, but if there's 6 or more, it works out very reasonable and you avoid the journey into Dar, the pushing and shoving and waiting around at the ferry terminal and all the queues, as they drop you off right on the beach in Stone Town. Plus, it's much more fun! Just check they have life jackets!
Air
You can fly into Zanzibar from most domestic airports, including Kilimanjaro, Arusha and Dar es Salaam and the airstrips in the national parks. There are also a number of international airlines that fly to Zanzibar, usually via Europe, the Middle East or elsewhere in Africa. These include; Kenya Airways, Etihad Airways, Ethiopian Airlines, Turkish Airlines, Qatar Airways and Mango Airlines. From Dar-es-Salaam, the journey takes around 15/20 minutes. I always use  Skyscanner to book my flights.
To and From Pemba Island
Ferries from Stone Town run on Wednesdays and Saturdays and do the return journey on Thursdays and Sundays. You can fly to Pemba from Zanzibar, Arusha, Tanga and Dar es Salaam.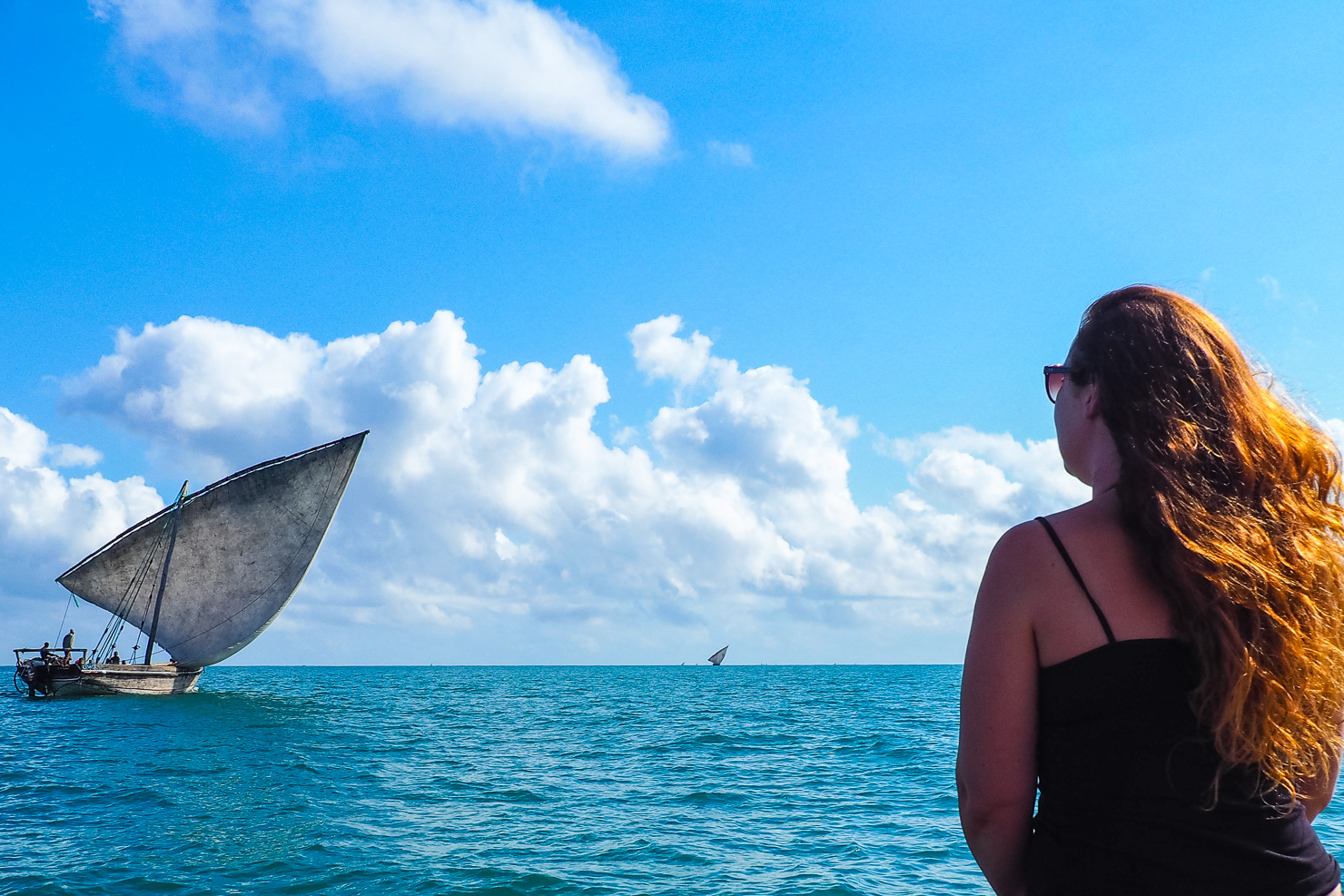 Entry Requirements for Zanzibar
Visa
Some countries are exempt from visas, but for most people they cost $50 for a single entry – unfortunately, if you're American your visa is $100. Work/volunteer visas are $200.
Some nationalities can buy visas on arrival and some have to apply in advance, so check before you attempt to enter. You can obtain single entry visas on arrival but multiple entry visas must be obtained in advance. If you are working or volunteering, you will need to apply for a work visa.
You can get your visa in advance from a Tanzanian embassy.
Zanzibar is part of Tanzania, so if you're flying straight into Zanzibar you'll get your Tanzania visa there, this will cover you if you go to the mainland too and vice versa.
Like most other countries in Africa, your passport must be valid for at least 6 months and I would also suggest that you have at least 2 free pages in your passport for your entry and exit stamps.
You can find more information on Tanzania & Zanzibar entry requirements here.
Yellow Fever
If you are flying in from places without a Yellow Fever risk (Europe, US etc), you shouldn't need a Yellow Fever certificate. But if you are transitting through a country with a risk of yellow Fever, they may ask for it.
If travelling by ferry from mainland Tanzania, you shouldn't be asked for your Yellow Fever certificate unless a) you have transited through a Yellow Fever risk country for more than 12 hours (e.g. Ethiopia/Kenya) or b) you have recently visited a  country that poses a risk. But they may well ask for it and I think sometimes it depends on who is on duty.
Last time I flew into Zanzibar, I met some Zambians, who were living in Abu Dhabi (not a risk zone) who were made to get a shot on arrival in Dar es Salaam.
If you are travelling long term in Africa and visiting multiple countries, having a Yellow Fever certificate is pretty handy (and often required) so regardless, I'm glad I have it. Plus, the vaccination lasts for life now.
You can find a list of countries with a risk of Yellow Fever here.
To be honest, the 'rules' seem to change all the time, so no-one really know whether you need it or not, so I always advise people to get it just in case – but please check with your doctor first!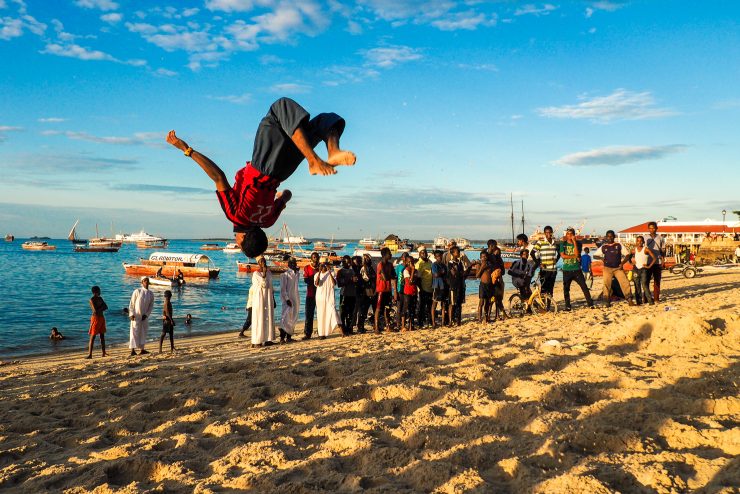 Arriving in Zanzibar
Arriving By Ferry
When you get onto the ferry in Dar es Salaam, you'll be asked to place your large bag in a cage that gets locked. Don't worry, this is normal! Just remember where your bag is and what cage so you can be ready to pick it up at the end.
The ferry itself is fun. I recommend standing outside as it always helps me feel less sea sick and you may also spot dolphins. I once saw a pod of about 30 on the way over.
Arriving at the ferry port in Stone Town can be a little overwhelming. When you get off the ferry, head straight for the walkway and head towards the terminal. Get in the passport queue first, but keep an eye on the cages and try to spot your bag. Once you've had your passport stamped, collect your bags and head out of the terminal.
Outside there will be loads of people about and loads of touts after your business. Don't feel the need to take anyone up on their offers to show you where you need to go or take a taxi straight away.
If you turn right out of the ferry terminal, Mercury's Bar is just there. It's a bit touristy, but it's a good place to go, have a cold beer, use the wifi and get your bearings. The guys at the bar can usually point you in the right direction or help you with a taxi should you need it.
If you are staying in Stone Town, chances are that your hotel or guest house is just a short walk away anyway, but the alleyways can be a bit confusing at first.
If you decide to walk it, you will most likely need to ask for some directions. Shopkeepers are usually very helpful. Just be aware that you will probably attract touts wanting to show you the way and if they do, they'll want a tip.
If you decide to get a taxi, it shouldn't cost you more than $5 to anywhere in Stone Town. Just be aware that if your hotel is down one of the small alleys, you'll probably need to walk the final part. Your taxi driver will usually park up and then walk you the last few yards.
Arriving By Air
A taxi from the airport into Stone Town should cost you no more than $10. You can arrange this in advance or grab one a the airport.
Or you can get a local mini bus which is around 400 TSH. The buses will drop you near to Darajani Market. Again this is walkable to pretty much any hotel in Stone Town.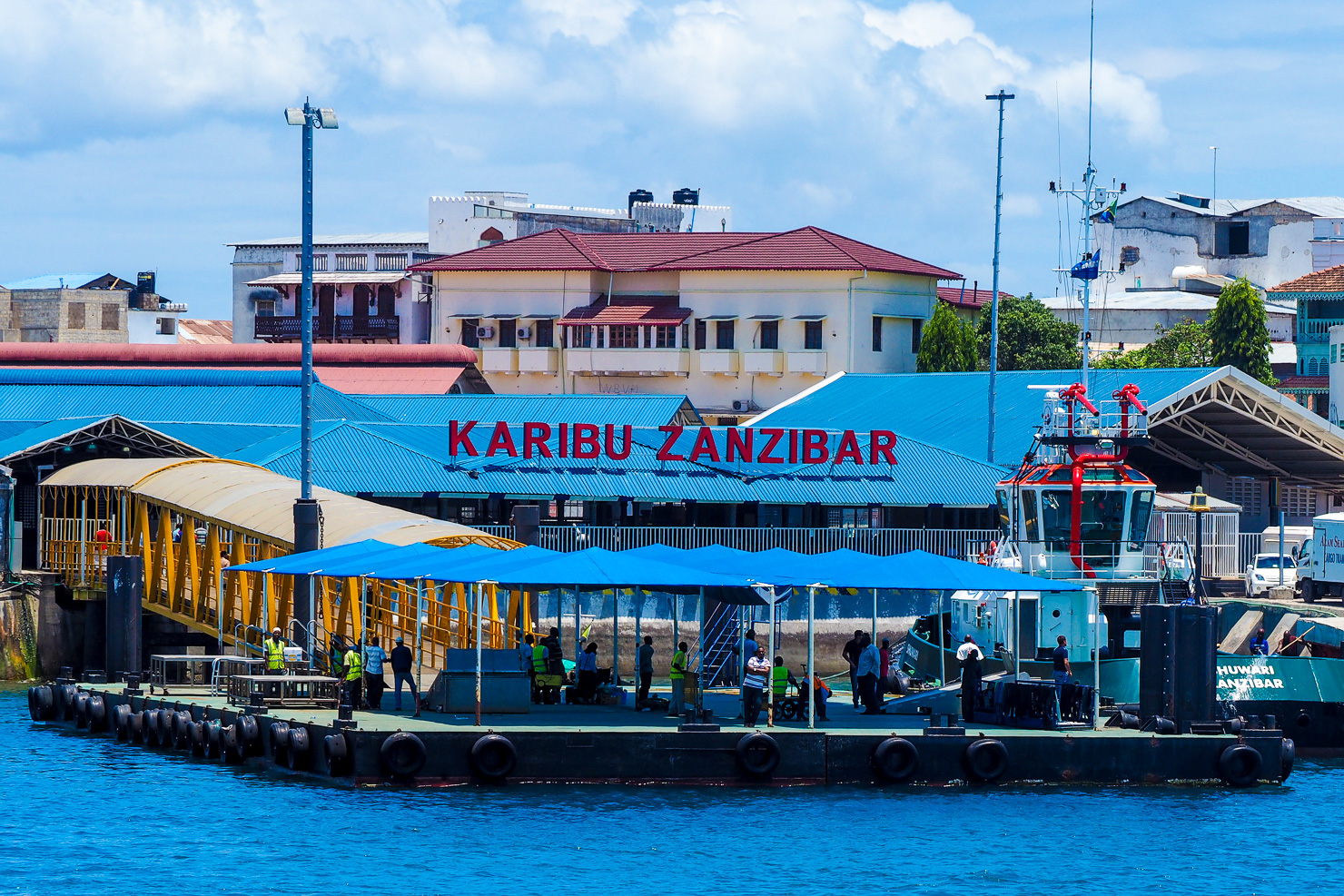 Getting Around Zanzibar
Getting Out of Stone Town
If you are heading out of Stone Town to elsewhere on the island (Kendwa, Nungwi, Paje, Jambiani etc), you can organise a taxi yourself via a taxi company (like Zanzibar Taxi), through your hotel or negotiate with a taxi driver when you arrive. A taxi from Stone Town or the airport to anywhere on the island shouldn't cost you more than $40/$50 – although some will try to charge you double that. Don't be afraid to negotiate.
Another alternative is to get a share taxi, which are around $10 pp. These can also be arranged via your hotel.
I once managed to get a taxi from the ferry terminal to Kendwa for just me for $20 – which is really cheap for that distance and the driver also took me to get a SIM card in Darajani Market on the way. But I think he was going that way anyway and I just got lucky.
The cheapest way to get to the beach resorts outside of Stone Town is to catch a dala dala mini bus from near Darajani Market. If you like an adventure, this is the way to travel. These buses are usually less than $1 – $1.50 pp (sometimes they charge the same for your bag) but they take longer as everyone is getting on and off all the time and they don't leave until they are full.
Finding the right bus is another skill all together. If I'm struggling to find the right one, I usually ask another woman, who looks like she's also waiting for a bus or a shopkeeper/market trader. Most people are very friendly and will be more than happy to help you.
Check with the conductor before you get on. He's usually the guy hanging out the door and flicking coins in his hand. You pay your money to him once on the bus, not the driver.
If you tell the conductor where you want to go, he can tell you where to get off. I say he, as I've never seen a female conductor yet…
Travelling Between Destinations
If travelling between the various beach resorts, the same principles apply. You can either get taxis, share taxis or dala dalas. Your accommodation can point you in the right direction to pick up a dala dala that is going to where you need to go or sort you out a share or private taxi. Or, you can negotiate your own with one of the guys out on the street (they're often waiting around outside hotels) or if you find a good, reasonably priced taxi driver – take his number.
Car/Motorbike Hire
You can of course also hire your own vehicle. I haven't done this personally, but there are a number of places that you can hire from like Zanzibar Car Hire. I would just check that you are renting from a reputable company and that everything is in good condition.
You will need an international driving licence and your rental company should be able to provide you with any paperwork that you need for the police checkpoints.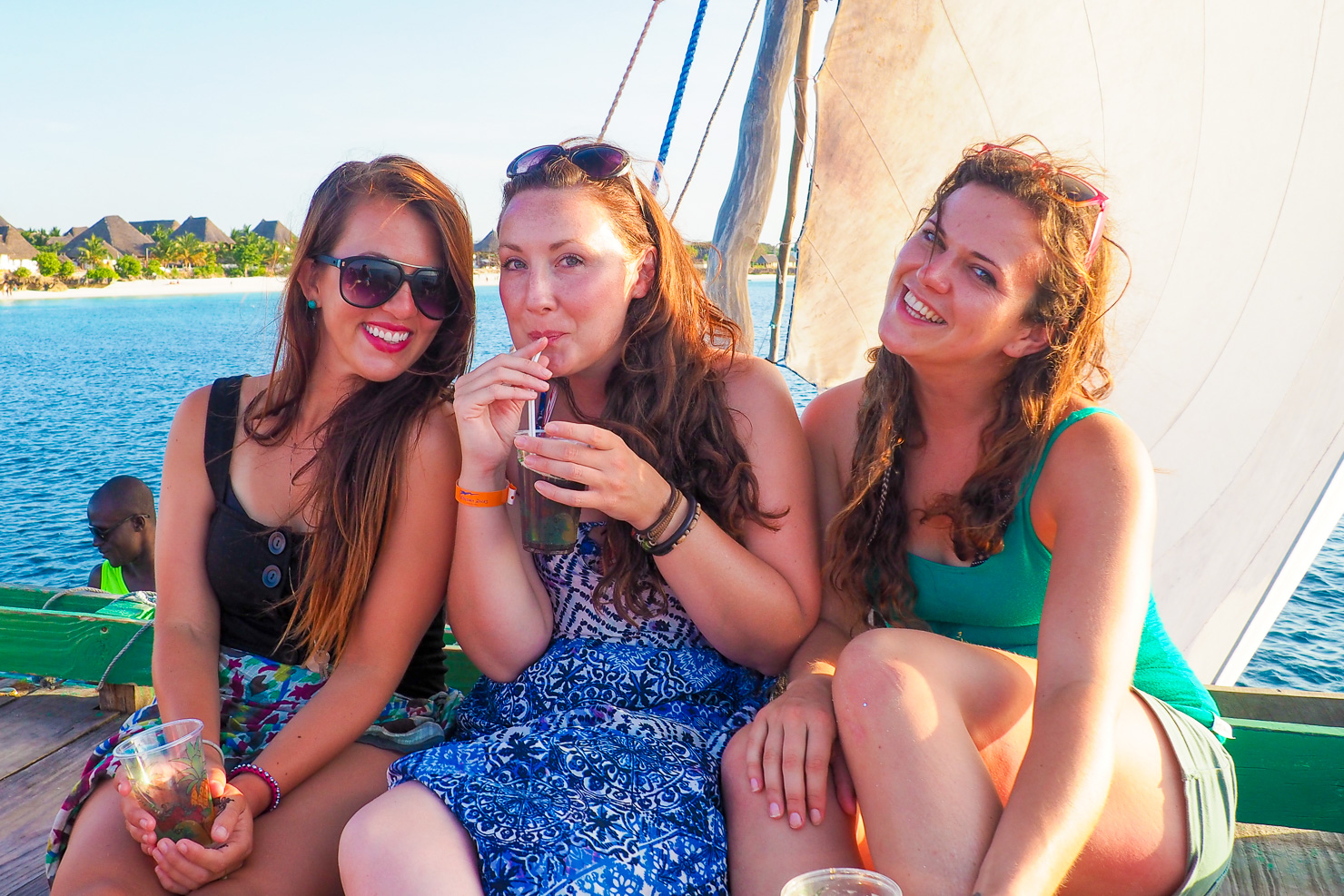 Best Places in Zanzibar for Solo Travellers & Where To Stay
Zanzibar has an abundance of amazing accommodation and there are lots of different places to stay around the island, but a lot of these tend to be geared towards couples or the luxury market. Don't worry, there are still some great accommodation options for backpackers or those on a budget and if you are travelling solo and looking for some buddies there are a few hubs that the solo travellers tend to gather in.
When I'm in Zanzibar, I like to move around a bit. Whilst the island isn't that big, getting around can be expensive unless you take local transport all the time, so I would suggest that you spend some time in Stone Town, then at one or two of the different beach towns. Zanzibar has a lot to offer and by staying in one place, you won't see the best of it.
I usually spend time in Stone Town, one of the northern beaches (Kendwa or Nungwi) and then one of the southeastern beaches (Paje or Jambiani).
When I travel solo, I usually look for accommodation that is good value for money, in a good location, has a good atmosphere, nice communal space which makes it easier to meet other travellers/locals and things to do. So here are my top paces to stay as a solo traveller in Zanzibar.
Stone Town
Whilst it's probably not as backpacker friendly as the beach resorts, there are still friends to be made in Stone Town at your hotel or perhaps some of the popular evening spots, like Tatu or Mercury's Bar.
Where to Stay:Â Lost and Found Hostel
This is good budget place which is in an excellent location. They have nice dorms, with big beds with privacy curtains, power sockets, lockers and individual lights.
Kendwa
Kendwa on the north west coast of Zanzibar is a good place to meet people. This is where most of the overlanders and backpackers tend to congregate. I've stayed here whilst travelling alone and easily met other travellers at the bar and on the beach.
Kendwa is pretty chilled most of the time, however it does get lively at the weekends. Each Saturday they have a party which is always fun and they have a Full Moon Party every month, also usually on Saturdays which is pretty packed. They are a lot more low key than the Full Moon Parties you get in Thailand but more fun in my opinion.
Kendwa is also close to Nungwi, which has a number of bars and restaurants.
Where to Stay: Kendwa Rocks
I usually stay a Kendwa Rocks. There are cheaper options, but for meeting other people, Kendwa Rocks is probably the best as they have a sociable bar, right on the beach. They do have a dorm although It tends not to be advertised anywhere so to book you need to contact them direct! A lot of the overland groups stay next door at Sunset Bungalows.
Paje
Paje on the south east coast is another great spot for a solo traveller as there are a lot of backpacker places, more so than in the north.
Where to Stay: New Teddy's Place, Drifters Backpackers or Hakuna Shida Guesthouse
Jambiani is one of my favourite beaches, and is absolutely beautiful, but it has less backpacker accommodation than Paje, which is why it isn't included here (they are really close by so easy to travel between the two), but it is well worth checking out!
To find a full list of backpacker hostels in Zanzibar and check prices and availability click here. A good alternative is to stay in a guesthouse or Airbnb nearby one of the hostels and just go there to hang out! There are also usually loads of friendly locals who would be more than happy to make a new friend!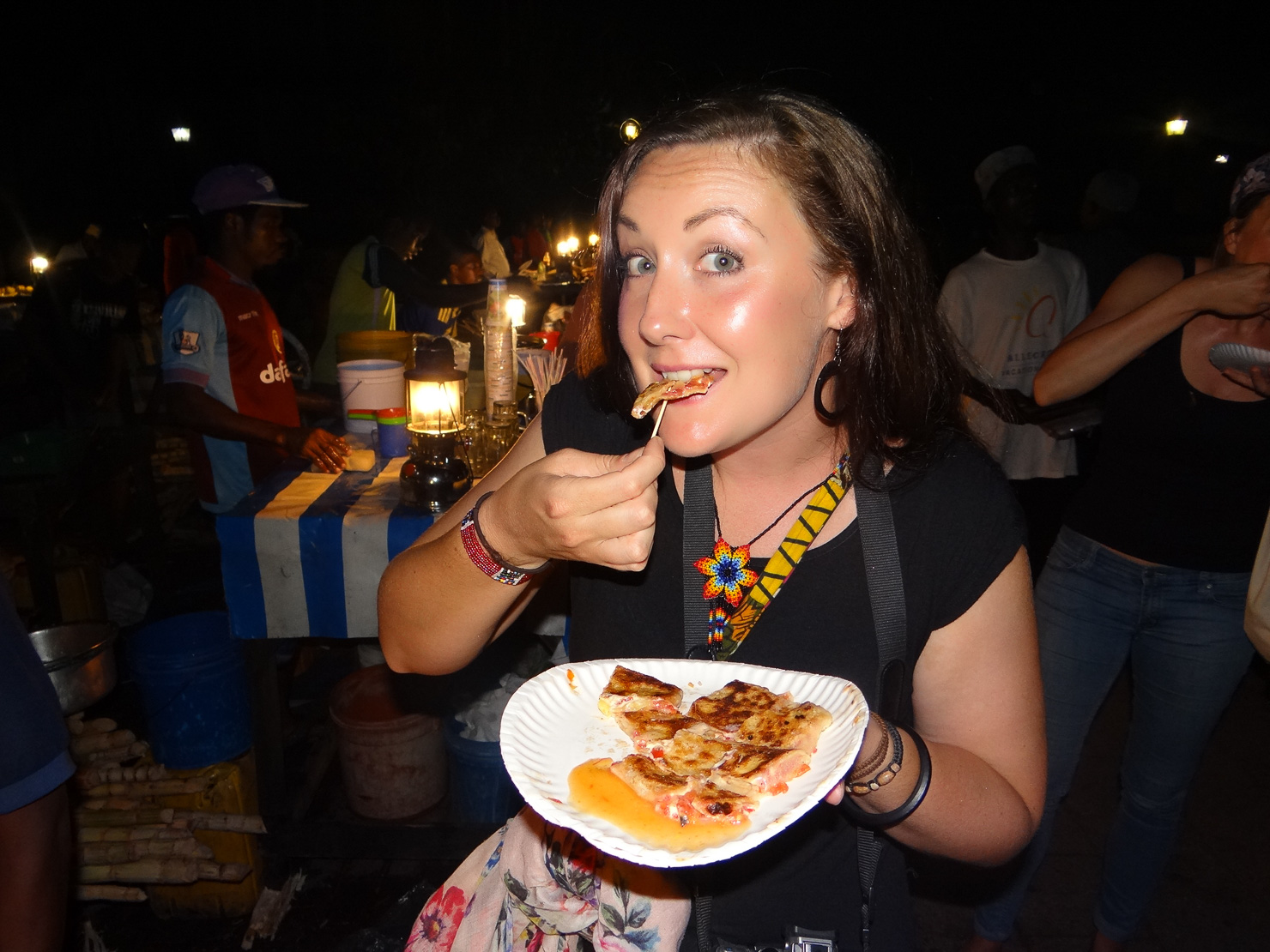 Where to Eat in Zanzibar
There are lots of amazing places on Zanzibar to eat and drink. Zanzibar isn't called the Spice Island for nothing and with the mix of cultures you can expect something really special from the Zanzibari cusine. Here are a few of my favourites:
Stone Town
Luukman: A Zanzibar institution, serving local food. ($)
Darajani Market: There are a number of street food places around Darajani market selling lots of different things, from coconuts, to fruits, to burgers and kebabs. ($)
Passing Show Hotel: Local food. ($)
Jaws Corner: A local spot serving coffee and snacks. ($)
Forodhani Gardens: The nightly food market, famous for seafood and Zanzibar pizzas. ($)
Zanzibar Coffee House: Nice place serving great coffee, cakes and light bites. ($$)
House of Spices: They serve local and Mediterranean style food as well as home made spiced liqueurs. Closed on Sundays. ($$)
Emerson on Hurumzi: My favourite restaurant in Zanzibar, with a set menu and Taarab music. Great rooftop views. It's not cheap but not expensive either, so worth the splurge. Closed on Mondays. ($$$)
Emerson Spice Tea House: Fine dining, slightly more formal than Emerson on Hurumzi. Rooftop setting. Closed on Thursdays. Both of the Emerson restaurants book up in advance so I would advise making a reservation. I've not been to their Secret Garden restaurant yet! ($$$)
Beaches
Local Fisherman Restaurant (Kendwa):Â Really nice and cheap food and I love their sweetcorn soup. ($)
Kendwa Rocks (Kendwa):Â The service in the beach bar can be pretty crap at times, however they do a great Swahili Curry. ($$)
Okala's Restaurant (Jambiani): Great local food and they also offer Swahilicooking lessons. ($)
Stone Culture Restaurant (Jambiani):Â Small and simple local place with great seafood. ($)
Bahari Pizza (Jambiani): Not sure why but I always get a craving for pizza when travelling in Africa, so you can get your fill here!
Red Monkey Lodge (Jambiani): Nice food and great setting. It's pretty nice to eat here prior to the Monday Night Jam. It's a lot busier on a Monday, but it means you get a table! ($$)
Mr Kahawa (Paje): Amazing breakfast and lunch spot with lovely fresh food including sandwich and salads. ($$)
The Rock (Michamvi): Zanzibar's most iconic restuarant, with a fabulous setting and great food. Even if you don't eat here, head over and take some pictures at high tide! ($$$)
Upendo (Michamvi): Opposite The Rock, Upendo is a great place for cocktails and food. Fabulous setting! Popular with the expat crowd tends to head on Sundays. ($$$)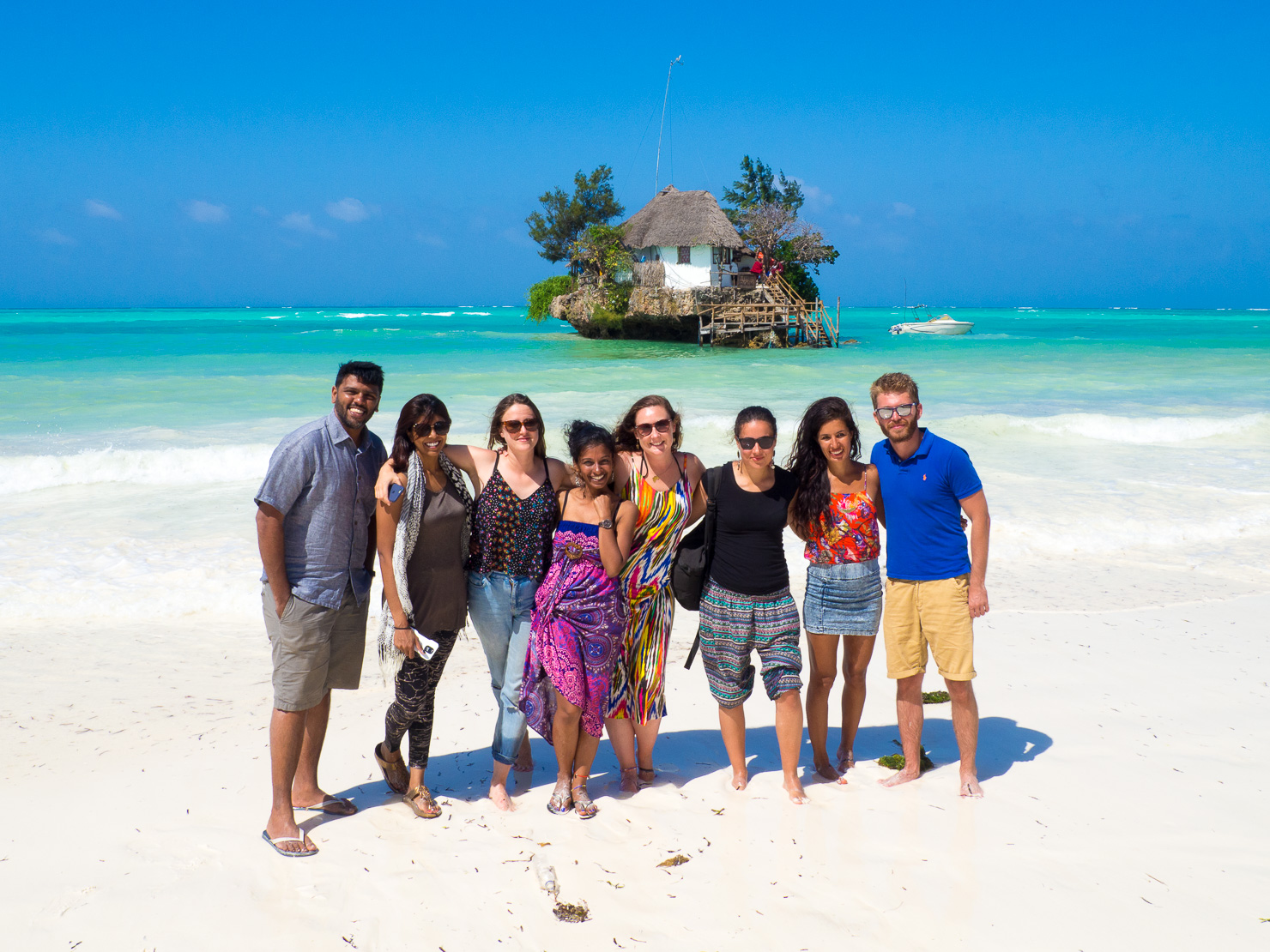 Where to Party in Zanzibar
Monday: The action usually takes place in Jambiani at the Monday Night Jam at Red Monkey Lodge, followed by the after party at Coral Rock next door. Monday nights are also fun at Tatu Pub in Stone Town.
Tuesday & Saturday:Â On Saturday, the place to party is Kendwa Rocks and every month they have a Full Moon Party. They also open their club on Tuesdays!
Wednesday & Sunday: On a Wednesday and Sunday, everyone heads to Coccobello in Nungwi, which has been renovated in the last couple of years and is now pretty cool. Wednesday is reggae night, whereas Sunday is a bit of a mix. Despacito is guaranteed.
Thursday: Cholo's Bar in Nungwi is the Thursday night hot spot.
Friday: On Fridays, a popular place is Jambo Beach Bungalows in Paje. The music is really good and you dance in the sand, but the bar prices are steep and there are a lot of 'lurkers' here. Paje by Night also hold regular parties!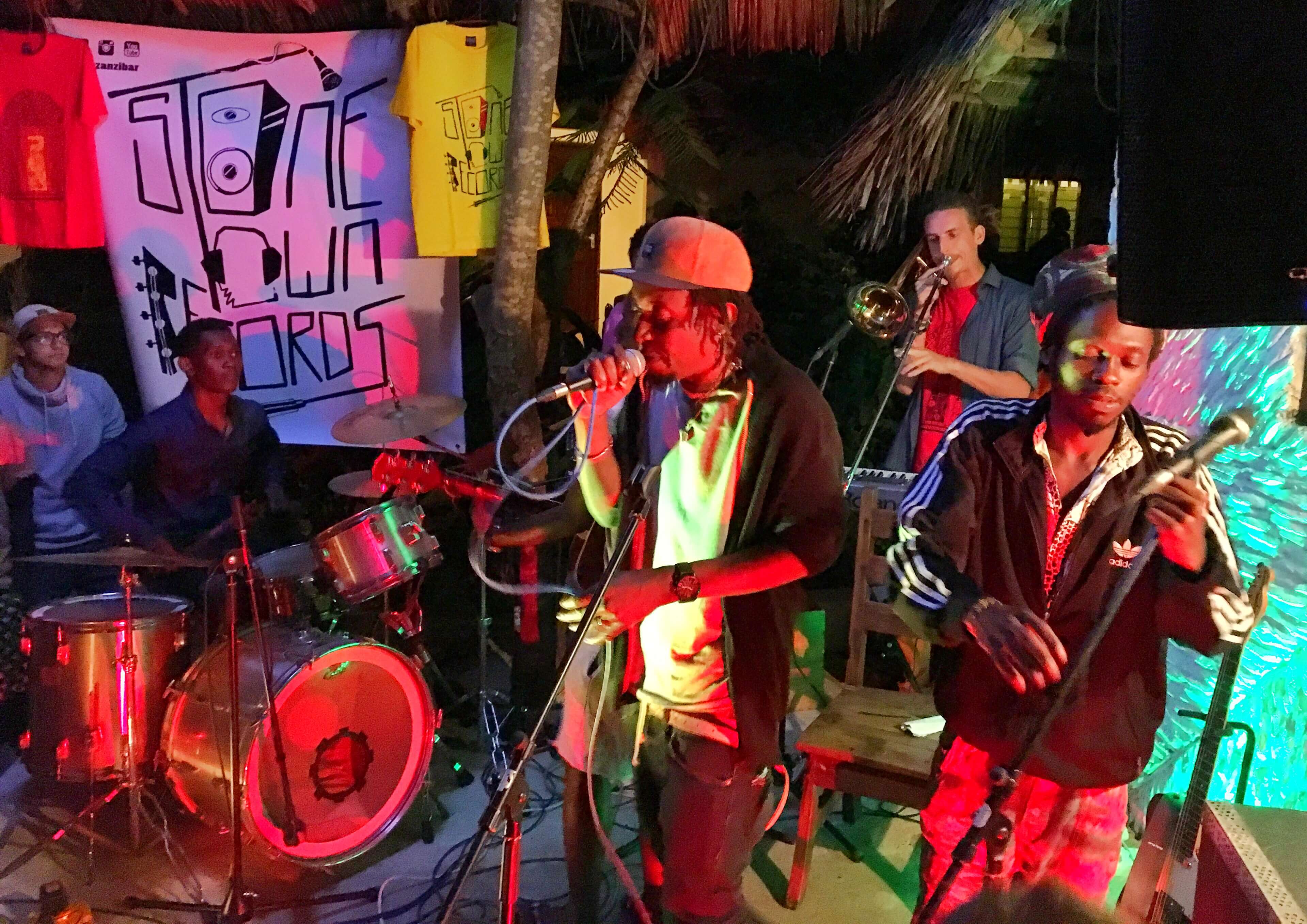 Things  to Do in Zanzibar
Zanzibar is known for being a beach destination, but Zanzibar has an incredible history and mix of cultures, so you could easily fill two weeks on the island!
From boat trips, to spice tours, to snorkelling, to stand up paddle boarding and yoga, there's literally something for everyone.
For an idea of the incredible adventures that await you, check out my top 40 things to do in Zanzibar post!
Money in Zanzibar
The official currency is Tanzanian Shillings (TSH), but many hotels and tourist activities accept dollars and cards. But you can always ask for the price in local currency and compare exchange rates.
For smaller payments in shops, markets etc local currency is best and most things are slightly cheaper in local currency. I recommend you download an app like Units Plus so you can keep track of the exchange rate.
As I'm from the UK, I tend to carry a mix of currencies – GBP, Dollars and Tanzanian Shillings. I use dollars for visas and some activities, and then take GBP which I change to Tanzanian Shillings. Tanzanian Shillings are only available in Tanzania and Zanzibar, so you will need to get them there.
Dollars must be in good condition and ideally dated after 2013.
If coming from Dar es Salaam, I suggest you change money there as you'll most likely get a better rate. There are Bureau de Change facilities in Stone Town too, and lots of hotels around the island will exchange money – although we had trouble with this in the low season as as lots of hotels didn't have much physical cash. We ended up exchanging money in a supermarket for a not so great rate.
There are ATMs in Stone Town and at the airport, but there aren't  any others around the island, so make sure you have enough cash and don't get caught short.
If you use a credit card, many places will add on a surcharge. I've known this to be as high as 10%.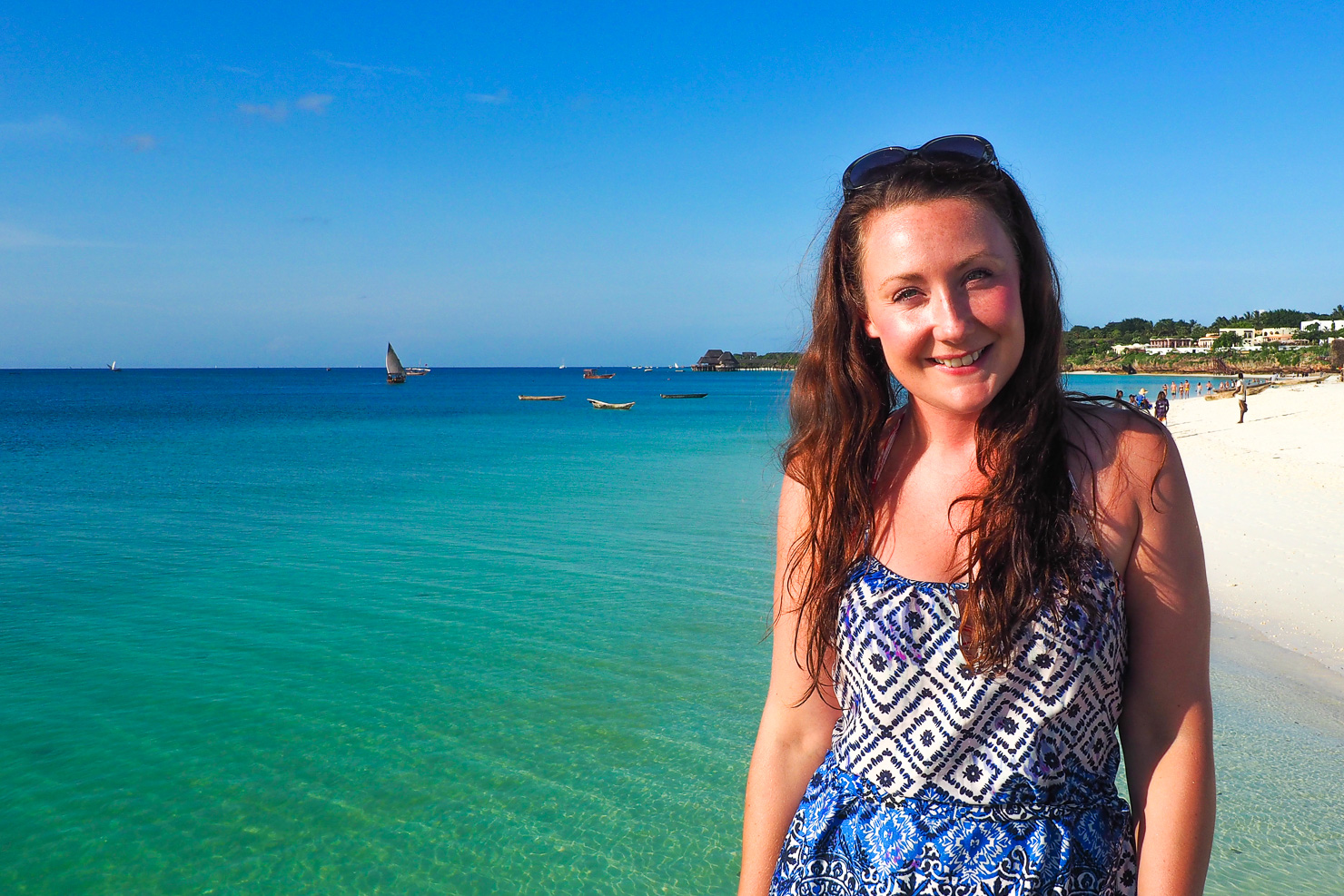 Is Zanzibar Safe for Travellers?
One of the most frequently asked questions I get about Zanzibar is 'Is it safe for travellers?"
A lot of people heard about the acid attack in Zanzibar a few years ago, where two young British girls had acid thrown on them by two Zanzibari men. No-one really knows why this happened as the culprits were never found, some reports say that they clashed with the owner of a grocery store, another says that it was a repercussion from singing in the street during Ramadan (apparently a woman punched one of the girls a couple of weeks before the acid attack) and others say that it was revenge from men whose advances they refused – we'll never know. What I can tell you though, is that this was an isolated attack and not the norm.
I've never felt unsafe in Zanzibar and have been there many times with no issues, Â however you do need to remain vigilant as incidents can occur. So here are my top tips for staying safe on Zanzibar:
As you would in any place, keep an eye on your bag and keep it zipped up – as with most holiday destinations there are pickpockets about who target tourists.
Don't wander the alleyways of Stone Town after dark. It's fine earlier in the evening when people are around, but after about 10pm, things start to shut up. Stone Town is confusing even in the day, so it's easy to get lost. At night time it's even worse because many of the shops that you use as landmarks may have packed everything away, so it can be hard to get your bearings at first. If you are out at night, ask someone from your hotel to come and escort you home or travel in a group.
Same goes for the beaches. Some parts of the beach are dark and secluded at night so don't wander around alone.
Always take a licenced taxi. You can ask your accommodation to call you a taxi they know and trust.
Don't drink to excess. This goes without saying wherever you travel.
Leave your expensive jewellery at home.
Don't leave your belongings unattended on the beach and keep anything valuable in your hotel safe.
If you are exchanging money or getting money from an ATM, try to count your cash in private and stash your money away in your bag as soon as possible.
On a day to basis, just carry a small amount of cash. I have some in my day purse and any other money hidden somewhere in my bag or back at the hotel.
Be respectful of the culture.
You can find up to date safety information for Zanzibar here.

Etiquette in Zanzibar
Zanzibar is a very conservative in the most part, so here's a few tips to make sure you don't offend anyone or accidentally get yourself into trouble.
Do not take photographs of specific people unless you ask them first (hence why there aren't many people in my pictures). Younger people tend not to mind so much (many have smartphones and Facebook), but some people can take offence. It's getting more relaxed as tourism grows and it's fine for a general scene from a bit of a distance, but if you want to take a close up of any people, ask first. Some will be fine with it, some will say no and some will ask for money.
As with many places in Africa, it's often illegal to take pictures of government buildings and people and at border control. You risk getting into trouble if anyone sees you and you may well lose your camera.
Zanzibar is unfortunately very behind the times in some ways and homosexuality is still illegal and punishable by prison, that goes for tourists too.
During Ramadan, you should observe Ramadan etiquette. No drinking, eating or smoking in the streets (or singing), no public displays of affection.
See below on what to wear.
What to Wear in Zanzibar
Zanzibar is a predominantly Muslim island, so women should keep shoulders, cleavage and legs covered (at least to the knees) when walking around Stone Town and in villages especially. Men shouldn't walk around shirtless either, except on the beach.
People are very used to tourists these days, so you won't be lynch-mobbed if you show a bit of shoulder, but it's still seen as respectful to cover up.
In hotels and at the beaches outside of Stone Town, it is fine to dress how you like (no topless sunbathing though). However, if there are fisherman or seaweed farmers working on the beach, it's also polite to cover up.
It's also pretty hot and humid, so lightweight clothing, like maxi dresses and harem pants are good. I usually carry a scarf or sarong with me to cover my shoulders or wrap around my waist as a long skirt.
During Ramadan, it is polite to keep legs fully covered (for both men and women) and women should cover their shoulders and cleavage.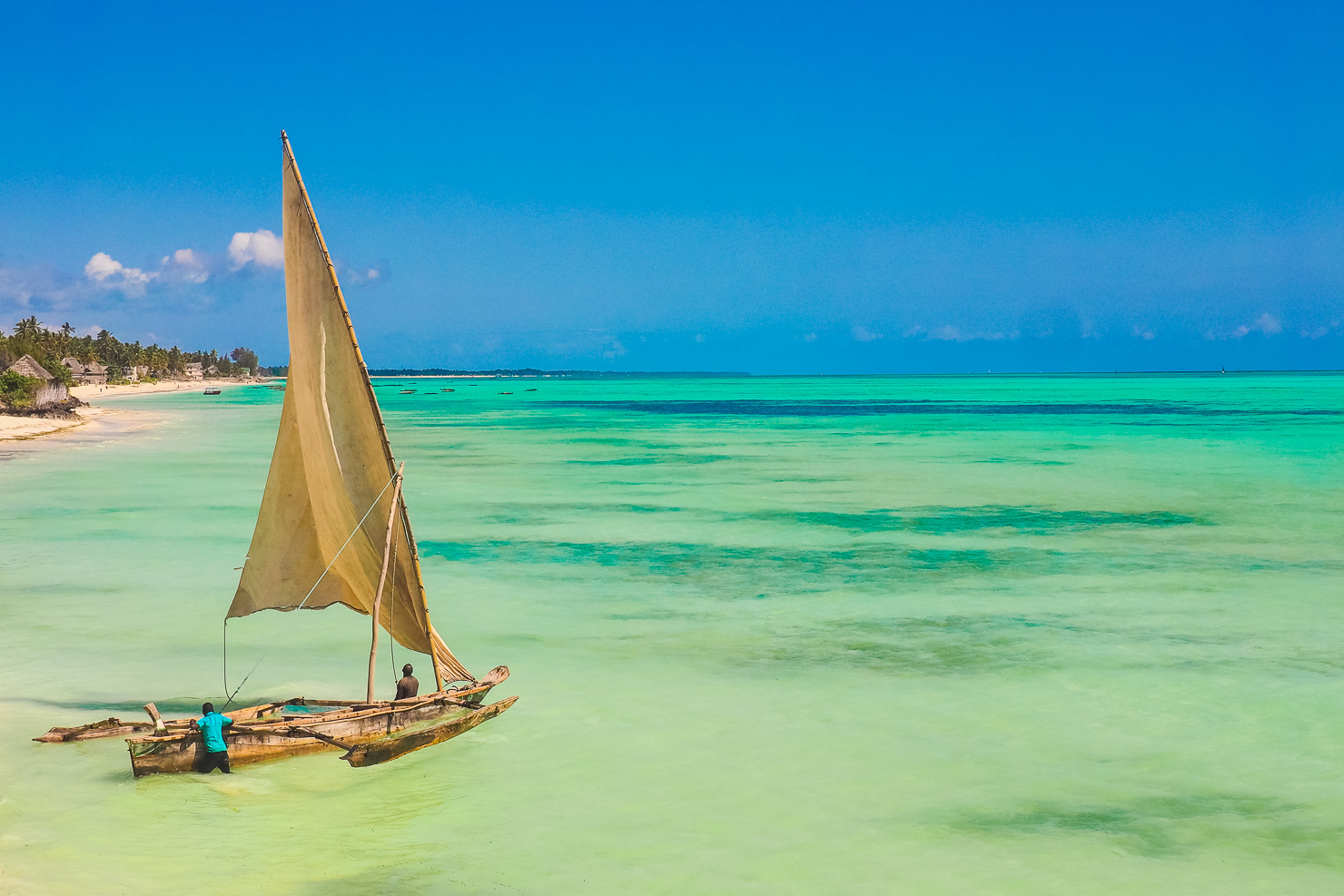 Avoiding Hassle on Zanzibar
So this is slightly different from safety as these are more the general annoyances that you may face. There is a lot of poverty in Zanzibar so as a tourist you will stand out and a lot of people will assume you have money and they'll want your business.
Touts & Sellers
People will come up to you constantly in Stone Town, offering tours, taxis and trying to sell things etc. The Swahili word for these guys is papasi, which means 'ticks'. If you don't want what they're selling, be polite and friendly but firm if you don't want to buy anything. Say (with a smile) "hapana Asante" which means "no thank you" or "sitaki, asante" which means "I don't need, thank you" – usually does the trick.
People will look disappointed, but if you bought from everyone who tried to sell you something, you would end up with no money left and a load of stuff you don't want (trust me on this one).
"Tour Guides"
Everyone on Zanzibar is a "Tour Guide". If you stand still long enough, someone will come up to you to offer their services. Don't take them up on it. Well you could, but your tour will likely be crap. If you want a good guide with great knowledge, organise it through your hotel or through a recognised organisation, like Colors of Zanzibar or with my pal Farid who is the best tour guide in Stone Town.
Beach Boys
There are also a lot beach boys in Zanzibar. They'll sit down, chat to you for a while, shake your hand, be your friend and then before you know it, they're offering to sell you something – bracelets, coconuts, tours, marijuana… These guys are usually pretty harmless, this is their livelihood, but if you don't want what they're selling, again, a friendly but firm no is all you need. No thanks in Swahili is "Hapana asante!"
And just to remind you that weed is illegal in Tanzania!
Men 
Most men in Zanzibar are perfectly lovely and respectful and during the day, you'll very rarely come across an issue. But on a night out, you may get a lot of attention as the men are very forward and Zanzibari girls do not really go out partying.
Guys will come up, take your hands and try to dance with you or stand just behind you, grinding. Moving slightly out of the way does the trick. If they persist, just drop in mention of your 'husband' or 'boyfriend' and they'll usually back off and move onto the next gal they see – these guys don't seem at all picky if I'm honest. Wearing a wedding ring also helps.
Lurkers
This is a weird one, but quite often, if you're out dancing at a club in a group, you'll pick up a few lurkers. These are guys that either just hang around where you are or dance behind you, sometimes right behind you, like they're in your group, but not. They often seem to be alone, although I assume they have pals around somewhere, probably lurking around another group.
Usually, I think these guys are just trying their luck. They see a group and hang around for a bit to see if anyone takes the bait. Or maybe they just want to make some friends. I don"t know. It can get annoying, especially if they're right up behind you, but again, moving usually works.
Whatever you do, keep your cool and avoid getting into an argument, it never ends well.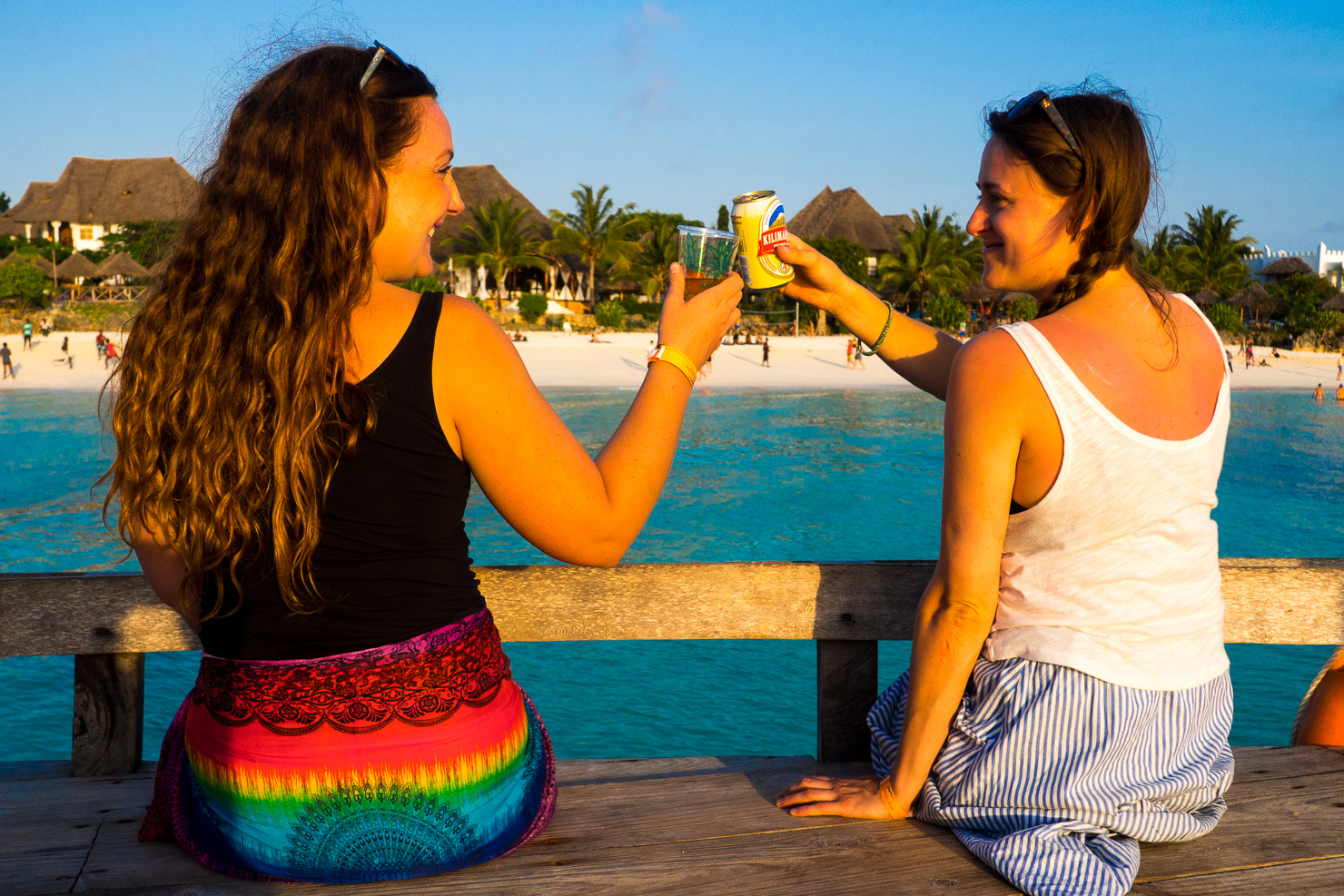 The Cost of Traveling in Zanzibar
Zanzibar is not a cheap destination compared to many other places in Africa, it's a paradise island after all, however, you can still enjoy it on a budget!.
Accommodation
Dorms cost between $15 – $25 per night and are usually cheaper in Stone town than on the beaches. Privates usually start from around $50, but if you look around you can usually find cheaper options – try homestays, smaller local guesthouses that aren't on booking sites and Airbnb or move further inland.
Food 
Zanzibar food is not expensive in general and you could easily eat for less than $7 a day. To give you an example, a Zanzibar pizza at Forodhani Gardens will cost you around 3000 – 4000 TSH ($1 – 2) depending on what ingredients you ask for and a piece of fruit from the market, or some chilli covered mango slices (buy these on the street – they are amazing) will only cost you a few cents. But there are nice restaurants in Zanzibar and they are very worth the price. The set meal at Emerson on Hurumzi (my favourite) is $30 pp excluding drinks. I think this is still very reasonable.
I would budget between $15 – $30 a day for food and mix it up between street food and nicer restaurants.
Drink
Water is pretty cheap at around a $0.50 for a small one and $1 for a big one, but all those waters add up, plus the plastic bottles are bad for the environment. To save money you could always take a LifeStraw water purifier. These things are great as they kill 99.9% bacteria, allowing you to drink the tap water!
Sodas are around $1. Beers usually go for $2 in restaurants and bars but you can find them cheaper at some local places. Spirits + mixer prices vary, depending on where you are, but usually somewhere around $4 – $5. Wine is approx $4 a glass. For a cocktail you're talking around $5 – $7.
The cheapest alcohol is the local speciality Konyagi, which is like gin and you can buy a big bottle for the same price as a normal drink, but be warned this stuff is strong!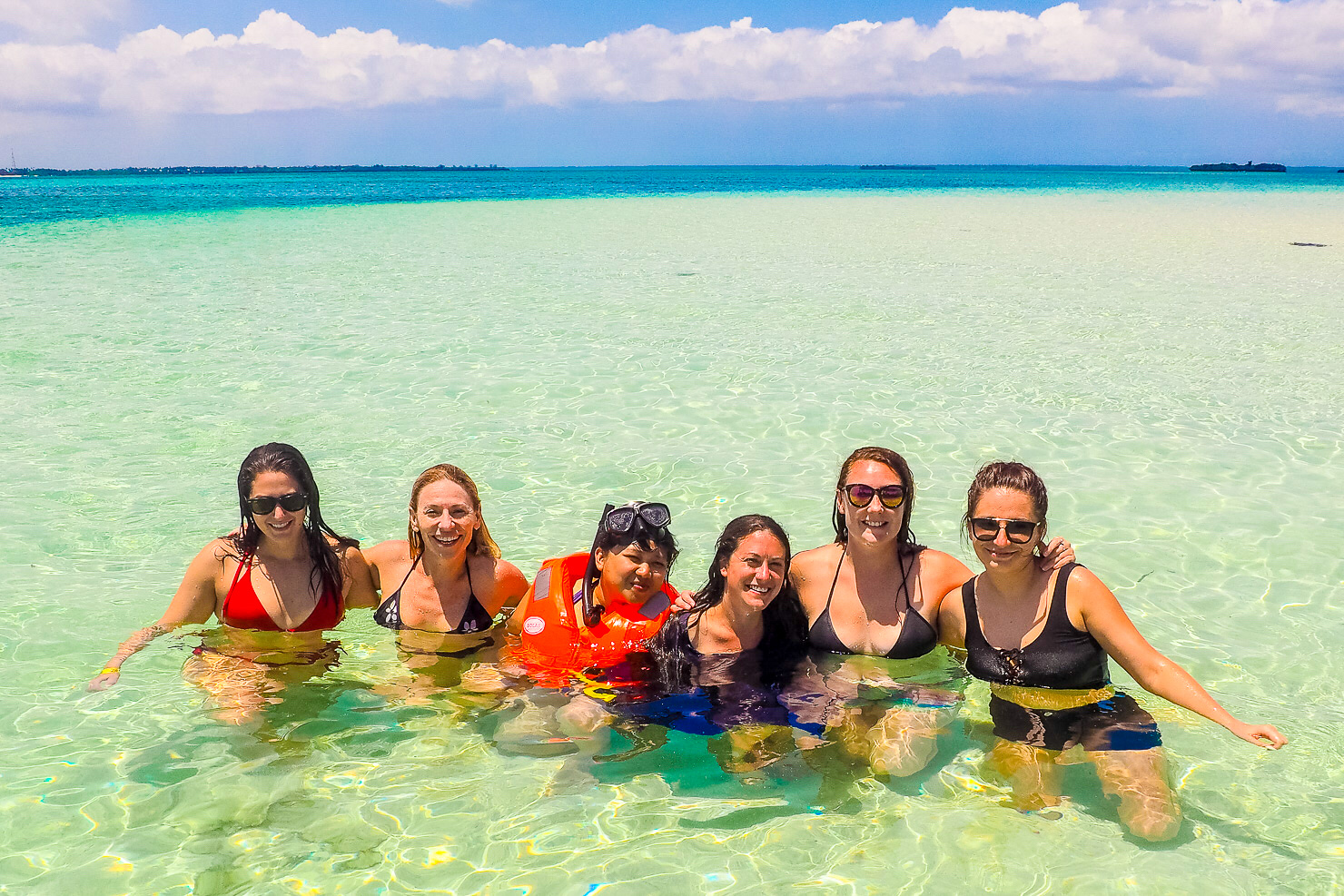 Activities
Activity costs on Zanzibar vary massively. There are loads of free things to do, but then there are lots of expensive things to do also, like scuba diving or a dolphin spotting trip!
For a two week trip, I'd probably recommend taking a minimum of $500 for activities (just in case) however it really depends on what you want to do. if you just want to lie on the beach all day, you'll need much less. If you want to scuba dive every day, you'll need more.
Transport
Transport is a tricky one as it depends on a lot of factors and again, this really depends on how much you move around and how you travel. But for arguments sake,let's say you spend time in 3 main locations.
If you take local transport, you're probably talking around $20 or less for a two week trip. If you take share taxis, or you're travelling in a group (share the taxi costs) or your negotiation skills are shit hot, you'll likely spend $40 to $70. But if you are travelling alone and take regular taxis, you could be spending $150.
Souvenirs
Zanzibar has lots and lots of great shopping opportunties. If you're not a shopper, then you're fine. But if you are… God help you! From paintings, to jewellery, to clothes, to fabrics to little trinkets, Zanzibar has it all. I hate shopping at home, but last time I was in Stone Town I think I spent around $200 on paintings and fabric.
Total Costs
Excluding any pre-costs (your costs for getting to/from Zanzibar, your visa, medical, insurance etc), on a budget, you're probably looking at spending around $30 – $60 a day, but you could easily spend much more!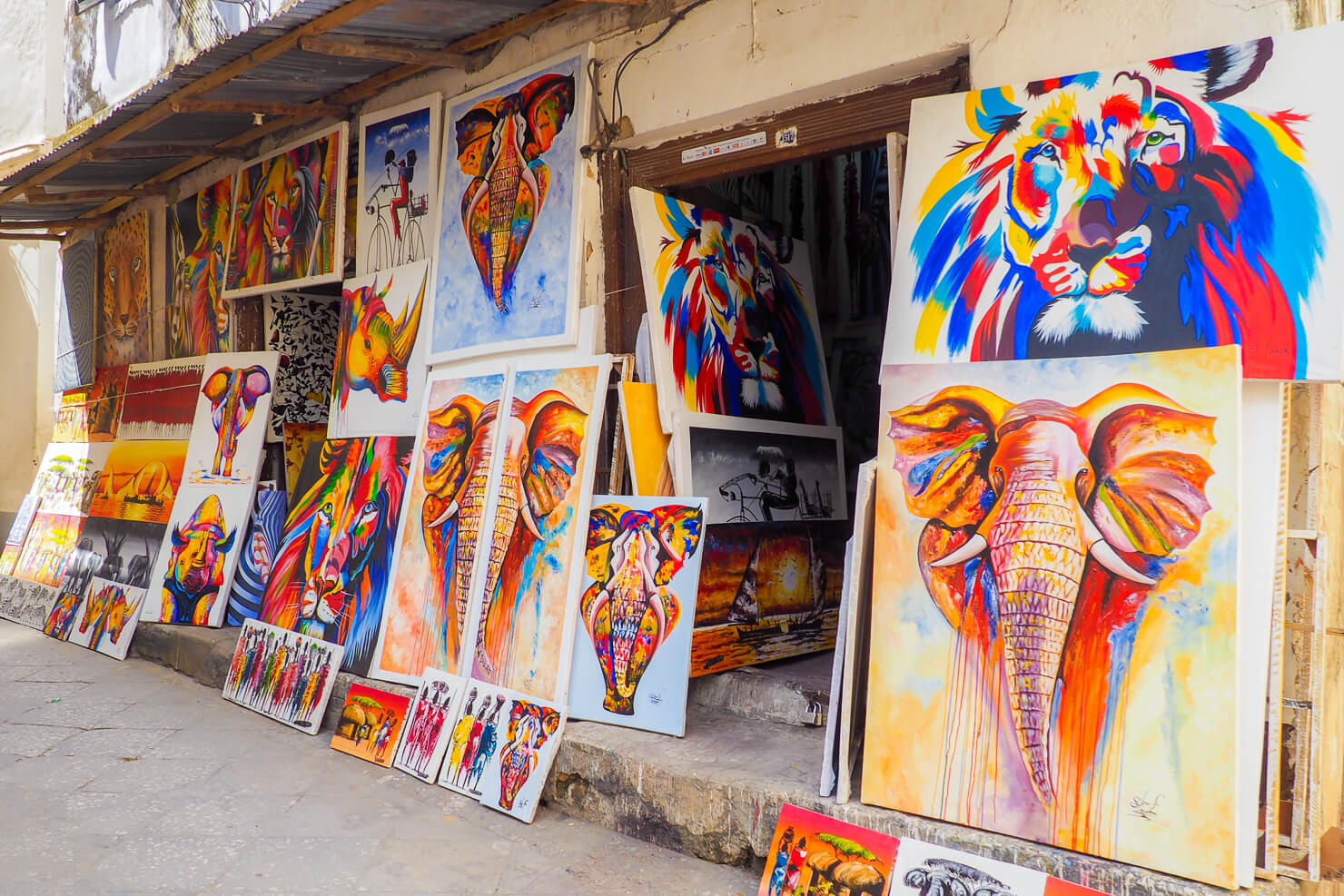 Most Useful Swahili Phrases
In Zanzibar, the main language is Kiswahili, however a lot of people do speak English too. Arabic is also spoken.
Jambo – Hello
Mambo – How are you doing? (very informal, but used more often)

Poa -Â 

I'm cool
Habari or habari yako – How are you?

Nzuri or mzuri – I'm good

Nzuri sana – Very good

Habari gani – What news/how are you (common greeting)

Sijambo – I am well

Shikamo – Greetings (you would use this to someone older than you – children may use this towards you)

Marahaba – Thank you for your respectful greetings (the reply to 'shikamo')

Asante or asante sana – Thank you or thank you very much

Tafadhali – Please (although people don't really use please that much)

Hapana – No

Hapana asante – No thank you (I use this A LOT)

Sitaki – I don't need (my favourite phrase)
Sina pesa – I don't have money (my second favourite phrase)

Ndiyo – Yes

Karibu sana – You're welcome

Sawa – Ok

Sasa – Now

Pole or pole sana – Sorry or very sorry (if someone says they are ill you would say 'pole sana' to sympathize)

Pole pole – Slowly

Samahani – Sorry (to apologise)

Kwaheri – Goodbye

Baadaye – See you later

Hakuna matata – No worries

Hakuna shida – No problem

Kichizi kama ndizi – Crazy like a banana (pronounced kachezi kamandeezi – this makes people laugh when you say it)

Kesho – Tomorrow
Want to experience the Zanzibar I know and love?
Then join me on an incredible adventure this year to Tanzania, Zanzibar and the Sauti za Busara Festival in Stone Town!
Rock My Adventure tours are experiential and culturally immersive adventures, but without the hassle of having to find accommodation, working out how to get from A to B and booking all your own activities.
They are laid-back and fun, a bit like an independent backpacking trip (so it doesn't feel like a tour) but with a group of friends built in – the best of both worlds! Plus you get comprehensive pre-departure support!
We'll experience the best Tanzania & Zanzibar have to offer on this adventurous and immersive tour and I'll show you a different side of Africa, not the Africa you see in the media but the adventurous, beautiful, wild and real Africa I know and love.
If you love culture, music, the ocean, amazing wildlife, epic adventures, local experiences and amazing food, then this is the trip for you!
Don't fancy this trip? Check out the other Rock My Adventure tours here!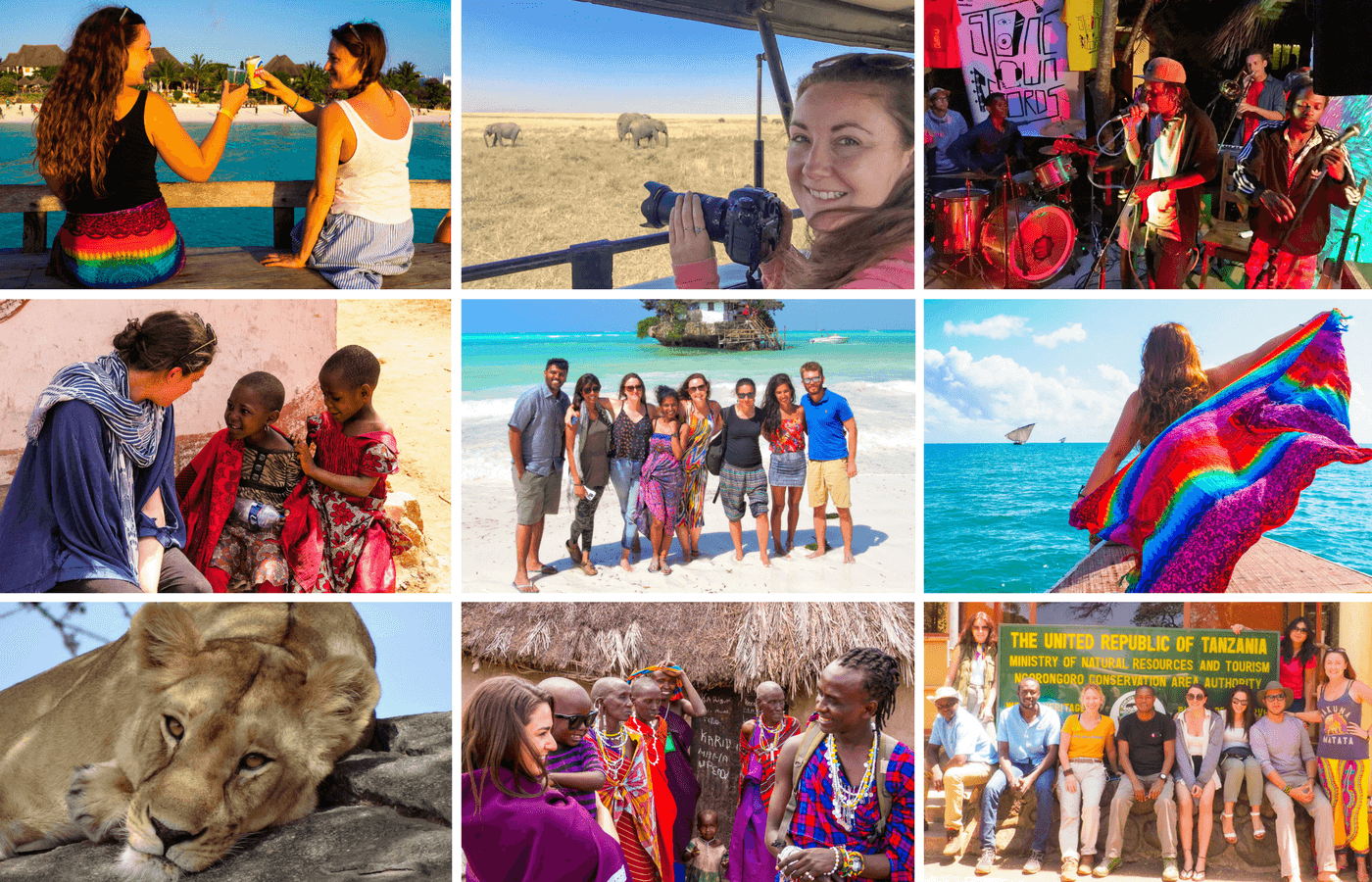 Like this post? Pin it for later!