Last updated on September 3rd, 2022 at 10:14 am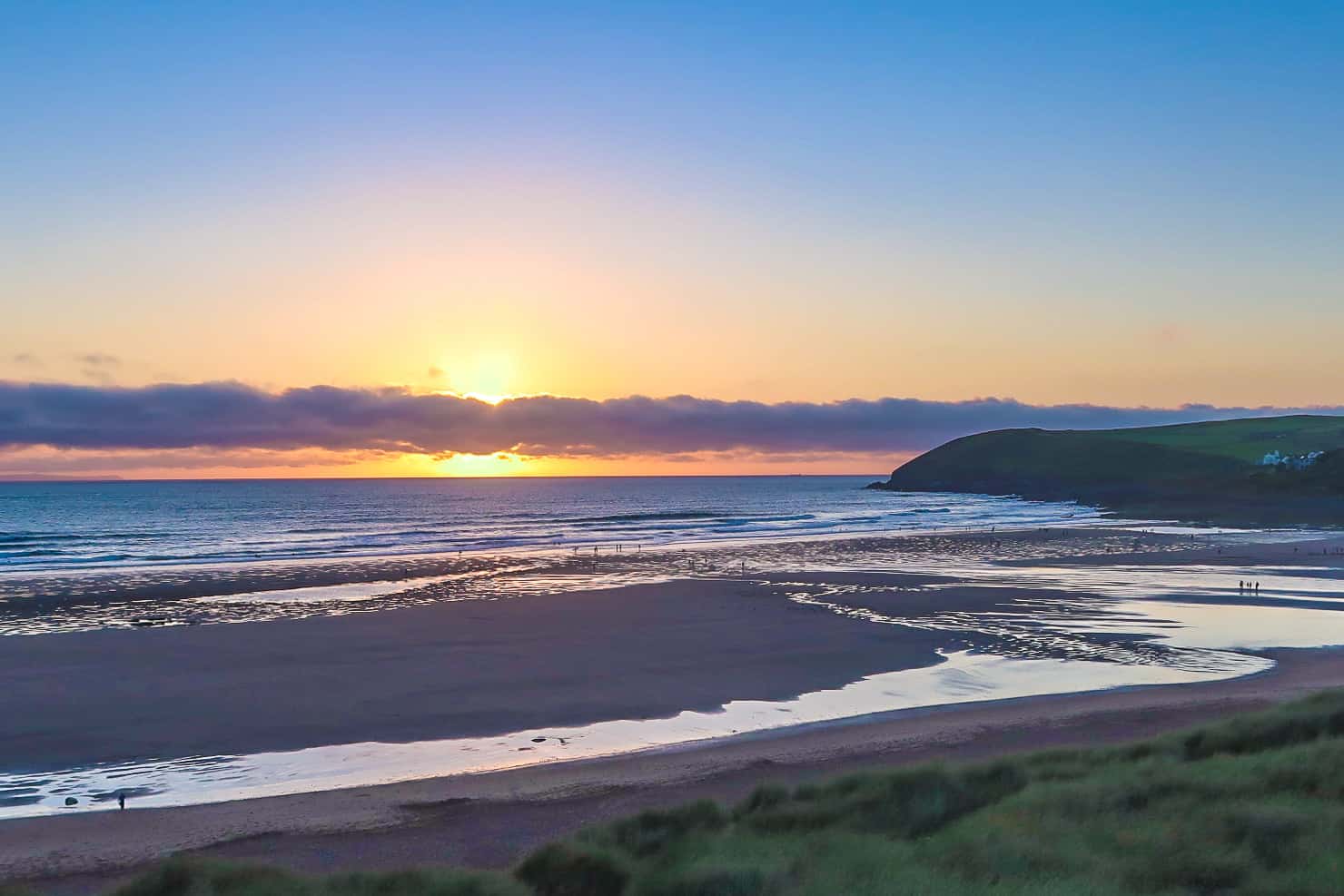 There's a little place in Devon called Croyde Bay.
Croyde is one of the most special places in the world to me. My grandparents first took my mum there in the 1960s. My parents have been visiting since the 1970s. And I took my first holiday there in 1980, aged 9 weeks old. I even got married in Croyde!
Each year I make a pilgrimage to Croyde, often visiting more than once in a single year. It's my home away from home, I know it well and it's an incredible place to visit.
So I wanted to share my favourite things to do in Croyde Bay, as well as my travel guide on where to stay and where to eat and drink.
Please Note: Some of the links in this post are affiliate links, which will earn me a small commission at no extra cost to you. Affiliate sales help with the running costs of this site, so thank you for your support!
---
Guide to Croyde Bay: Where to Stay, Where to Eat & Things to Do

Where To Stay in Croyde Bay
Campsites
There is a great range of campsites in Croyde, all with space for tents and campervans, some even have static caravans, bell tents, and glamping pods. Most of the campsites in Croyde are open from the April/May to the end of September, so check before you arrive if visiting outside of these dates! I'd generally always advise booking in advance as the village can get busy!
View this post on Instagram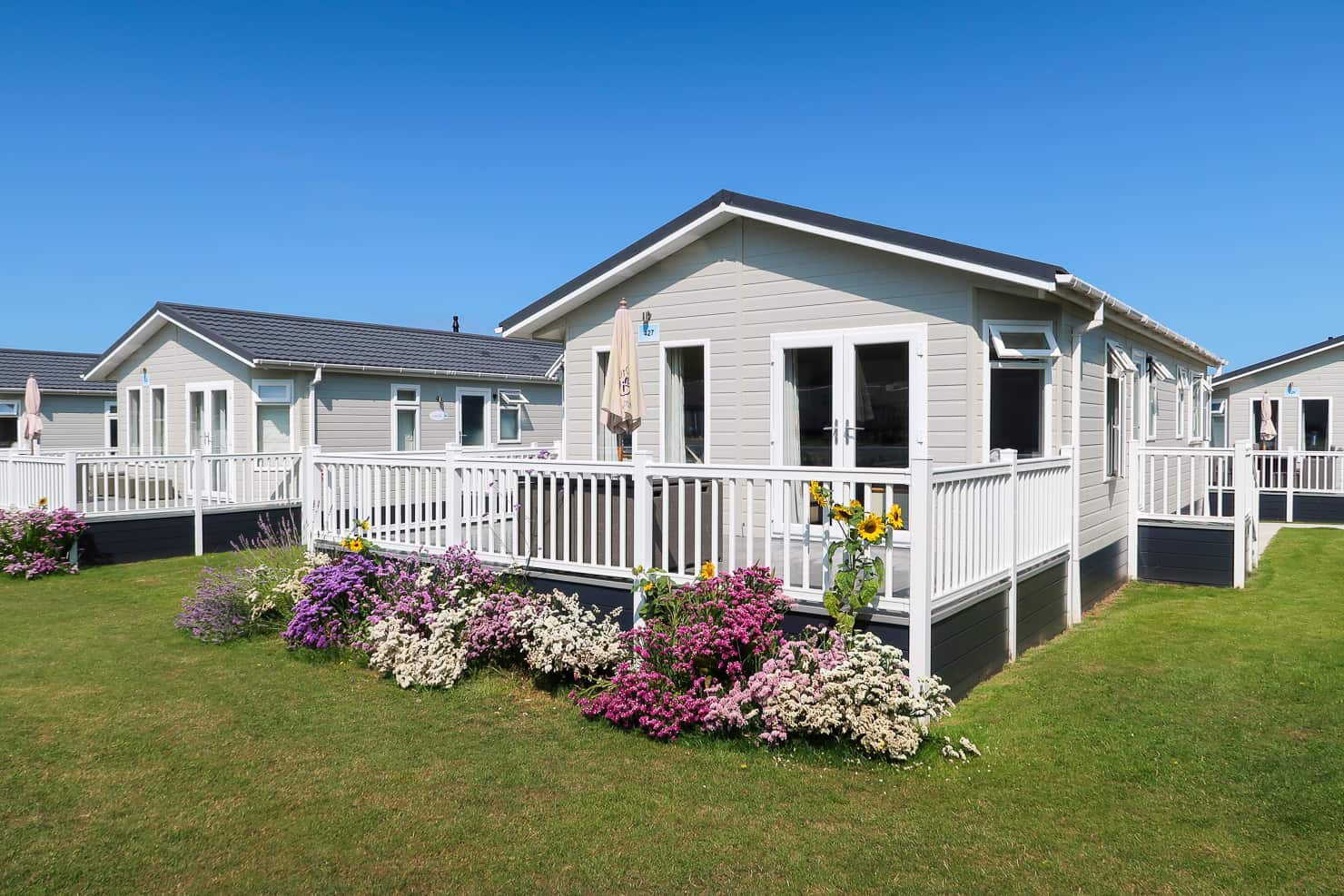 Holiday Parks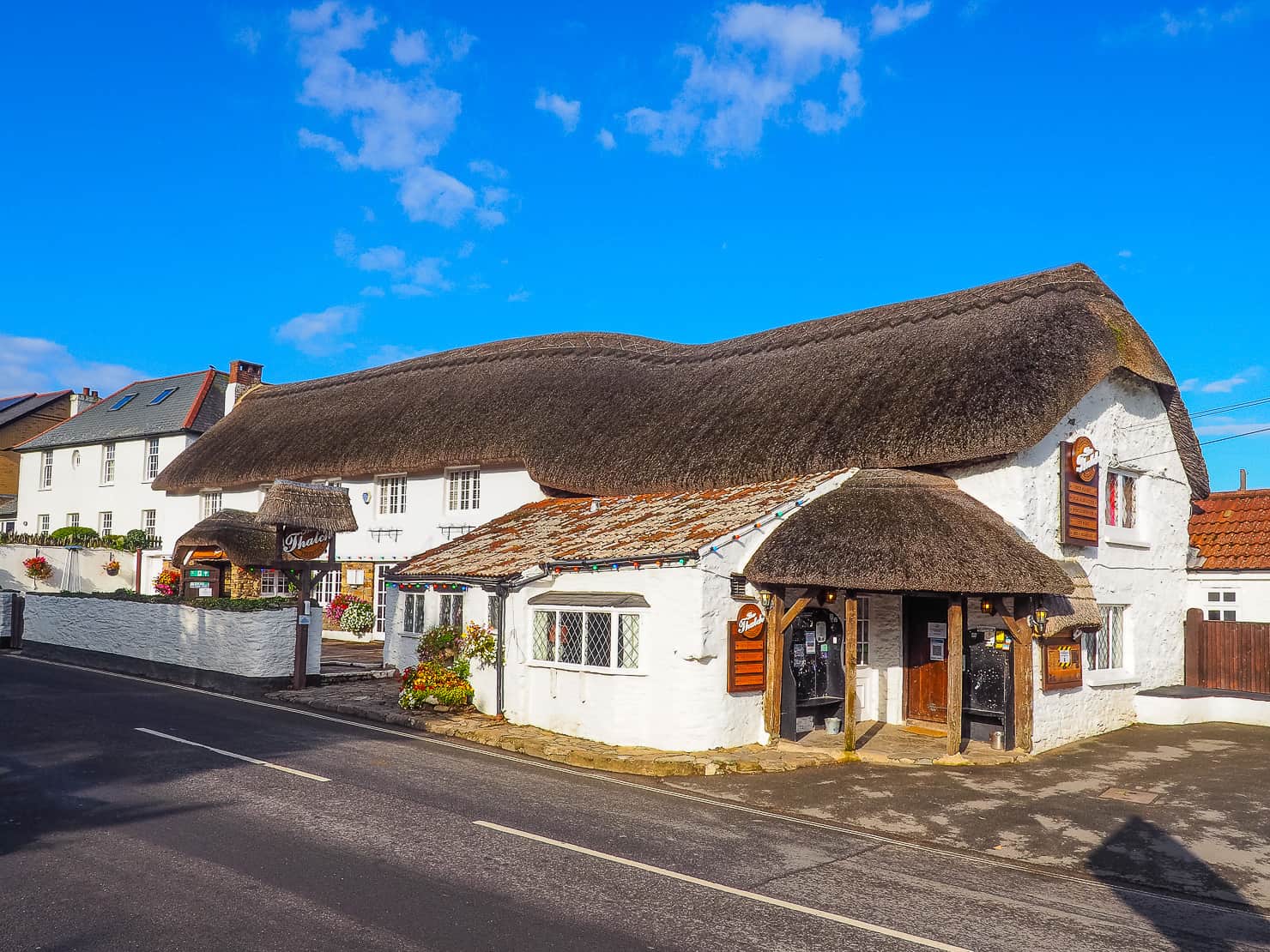 Hotels & B&B's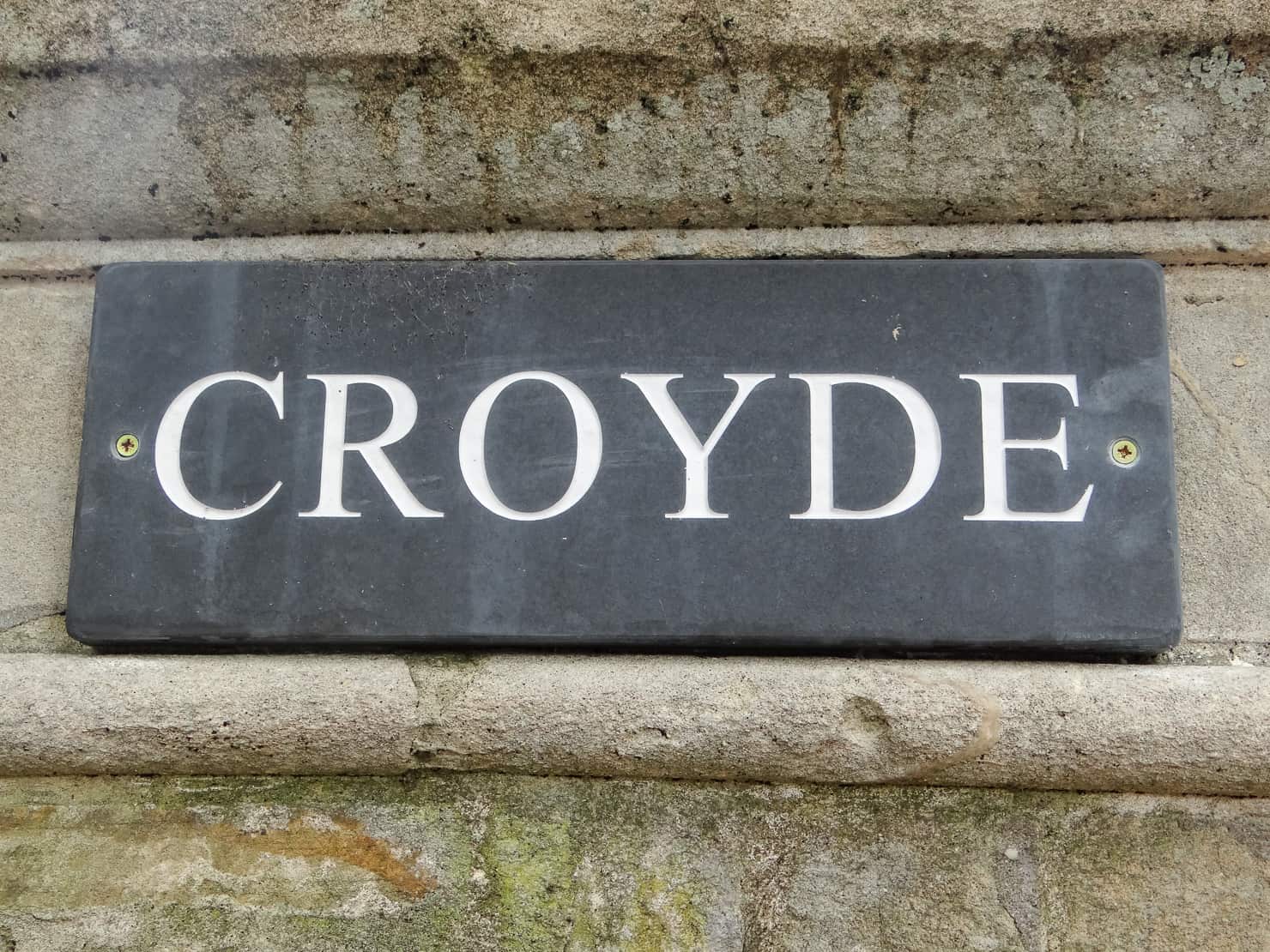 Self-Catering
A lot of people choose to self-cater in Croyde as it is one of the more economical ways to spend time there as food and drink in Croyde are very expensive. Some of the popular holiday rental companies include:
You can find more self-catering options in Croyde here.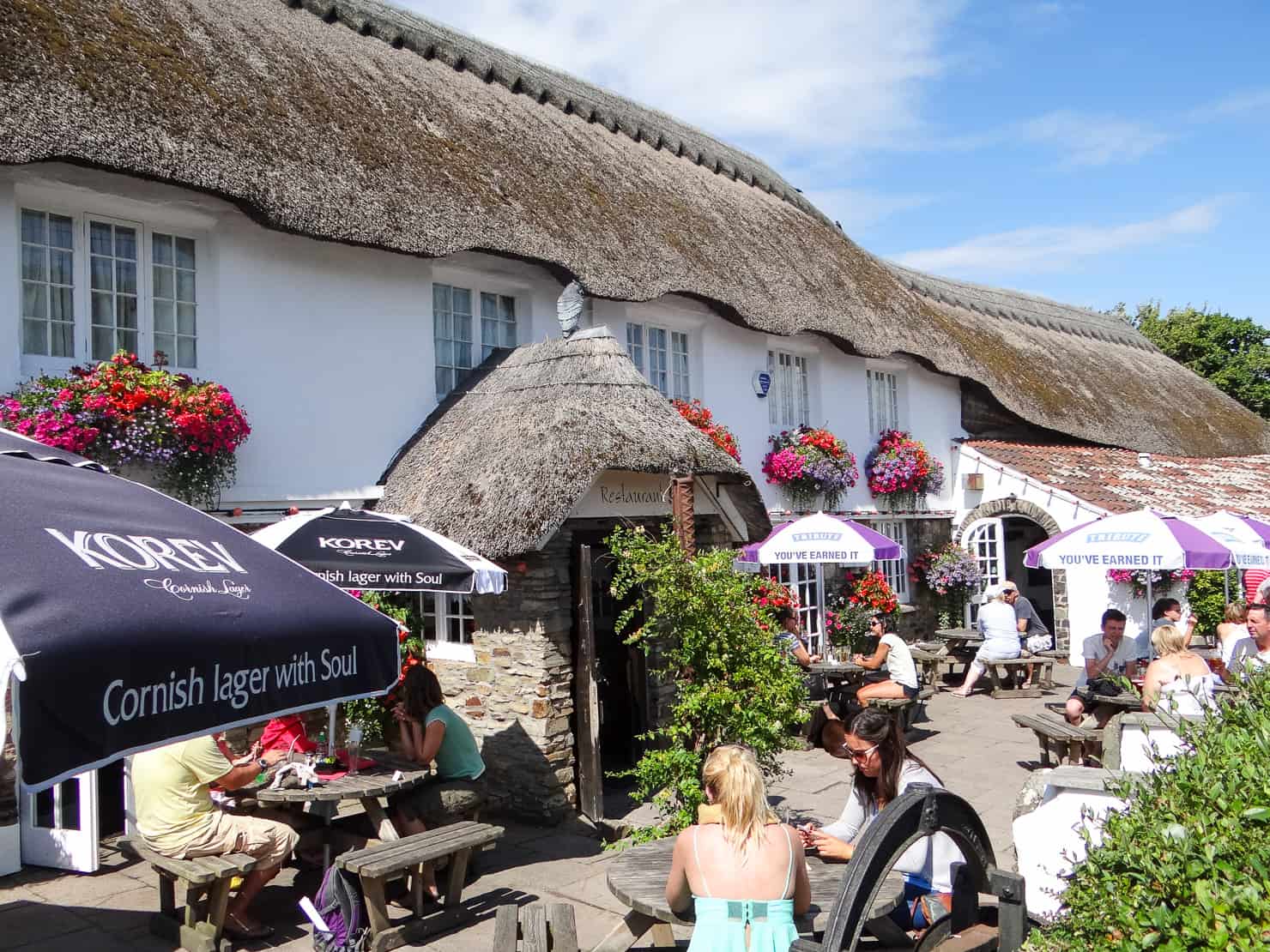 Where to Eat & Drink in Croyde
There are no shortage of fantastic food options in Croyde. However, just be aware that the food in Croyde is generally pretty expensive and you will likely spend a lot of money if you eat out for every meal.
Pubs, Restaurants & Cafes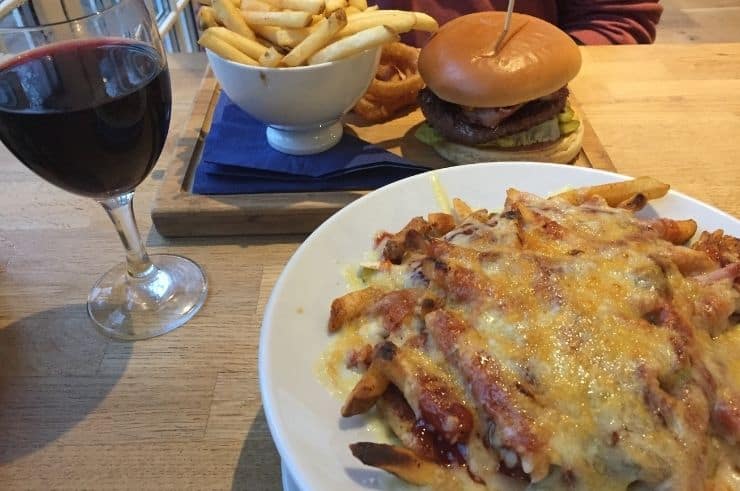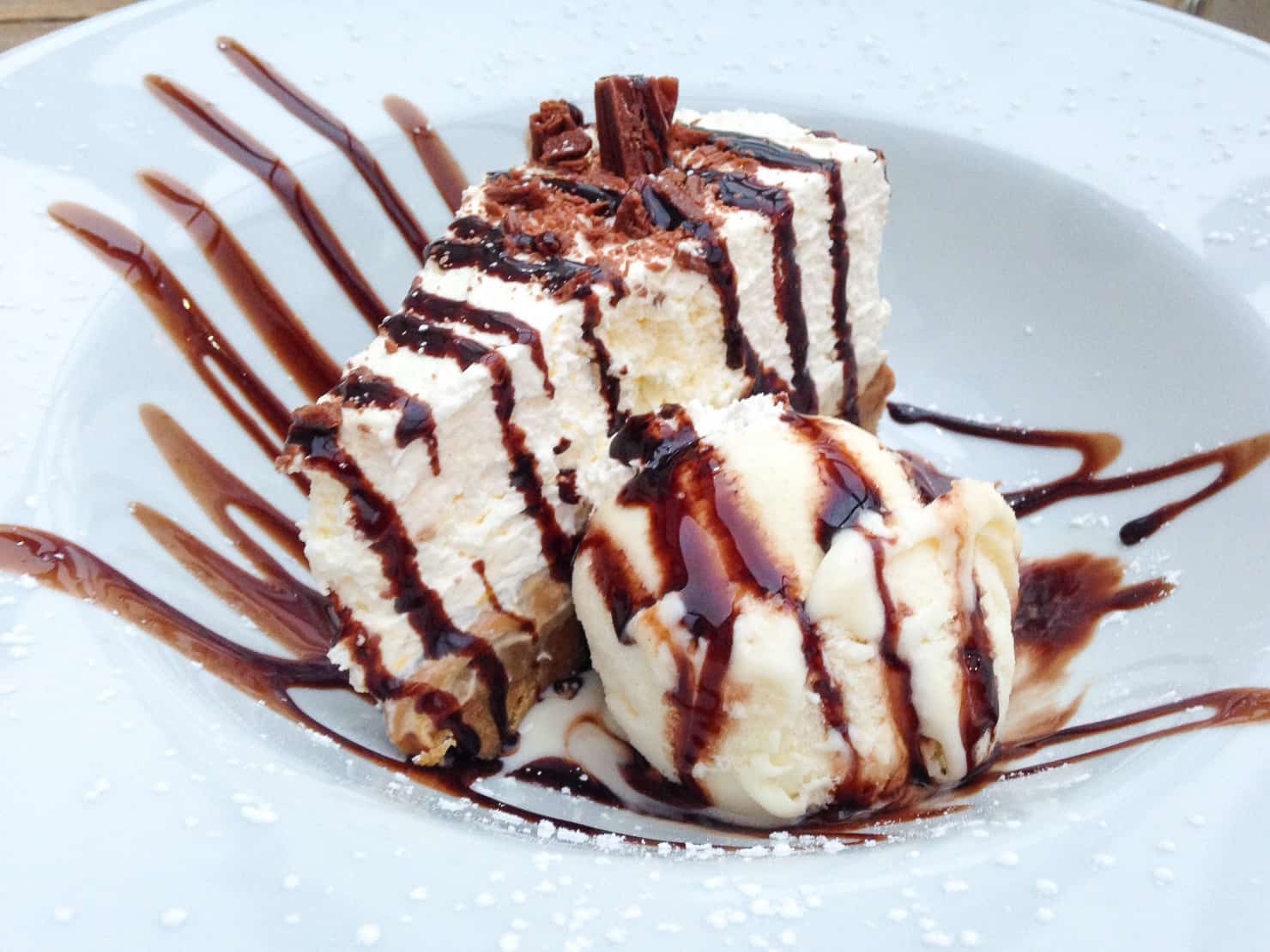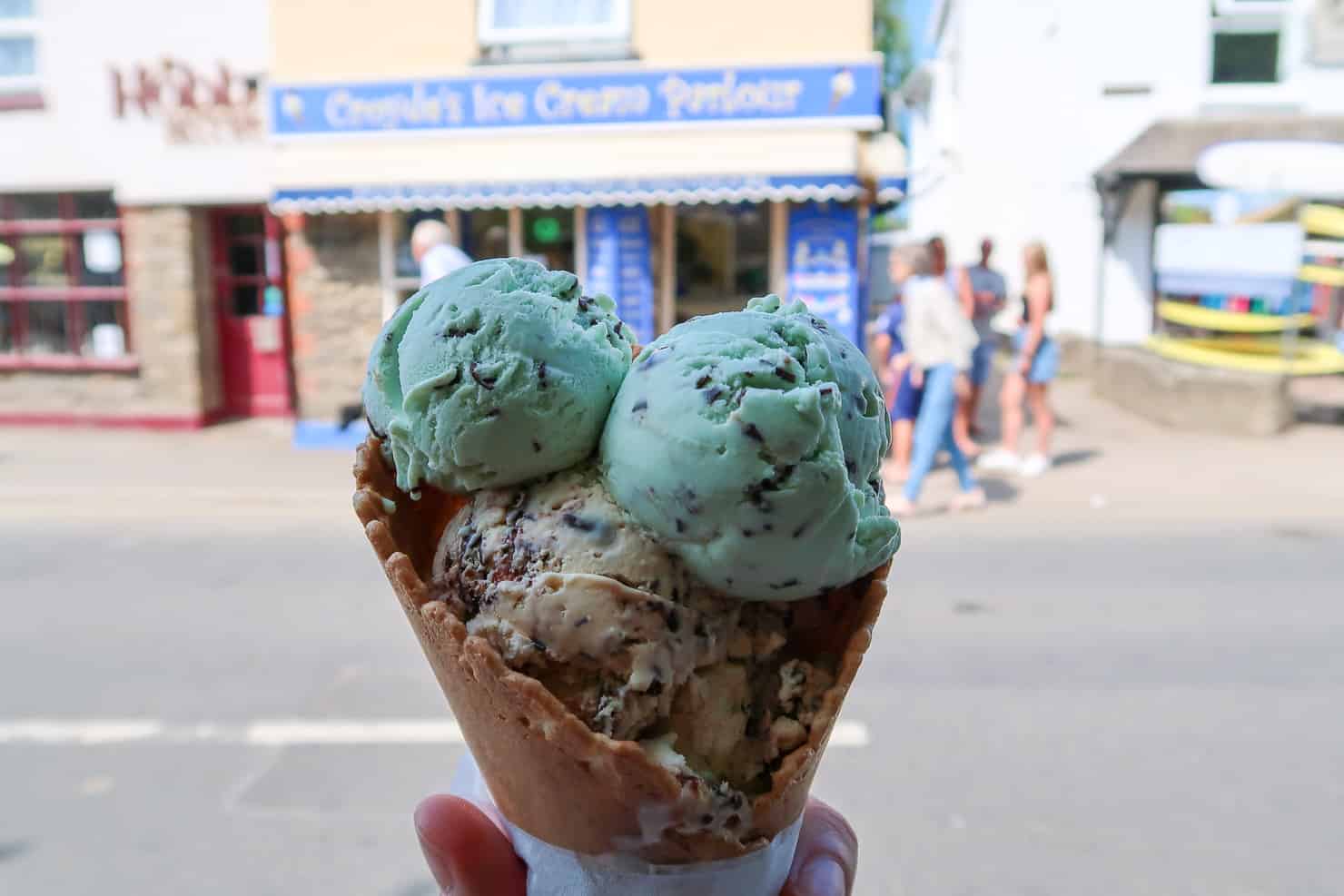 Food Trucks & Takeaways
View this post on Instagram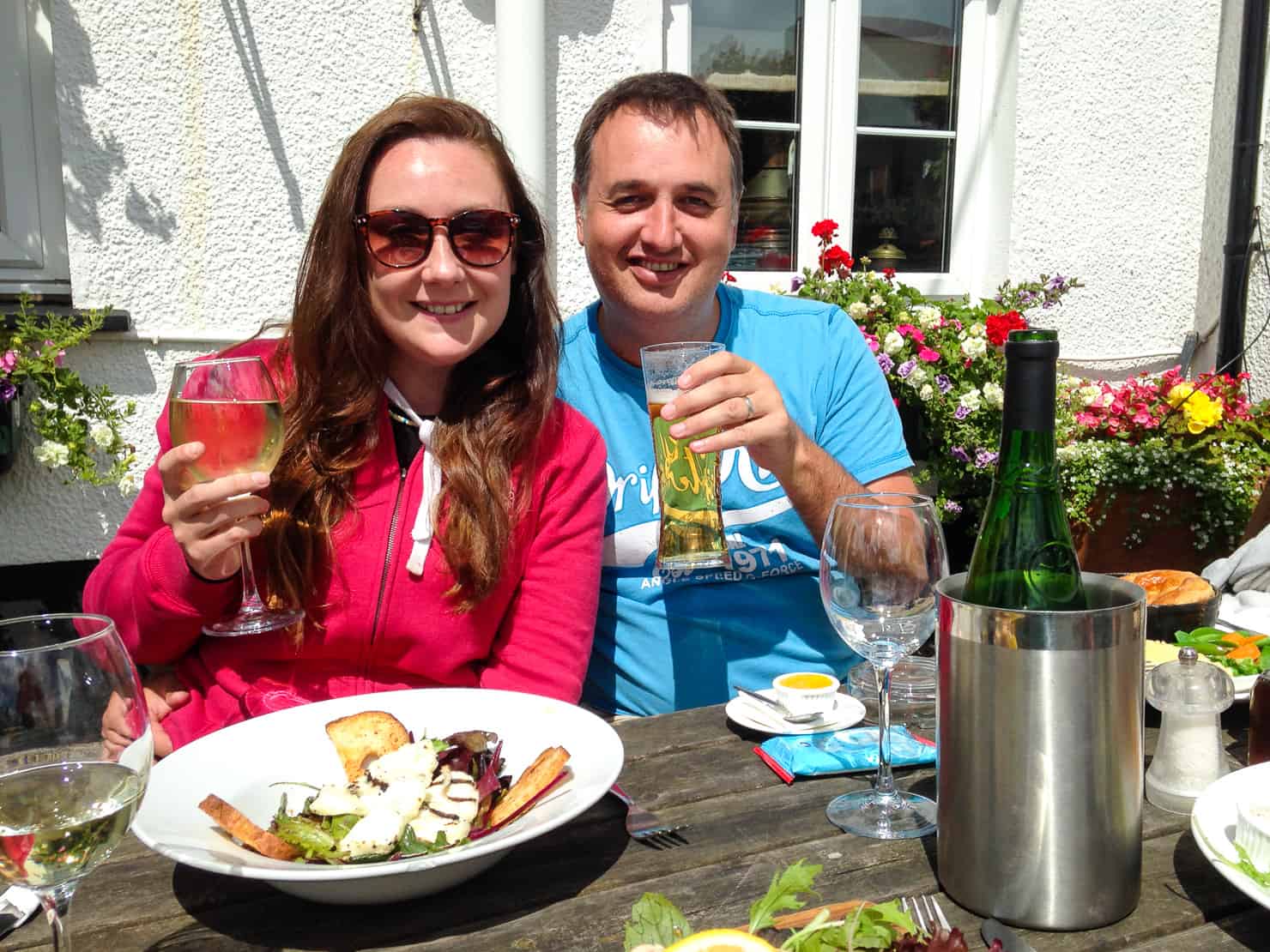 Where to Eat & Drink Near to Croyde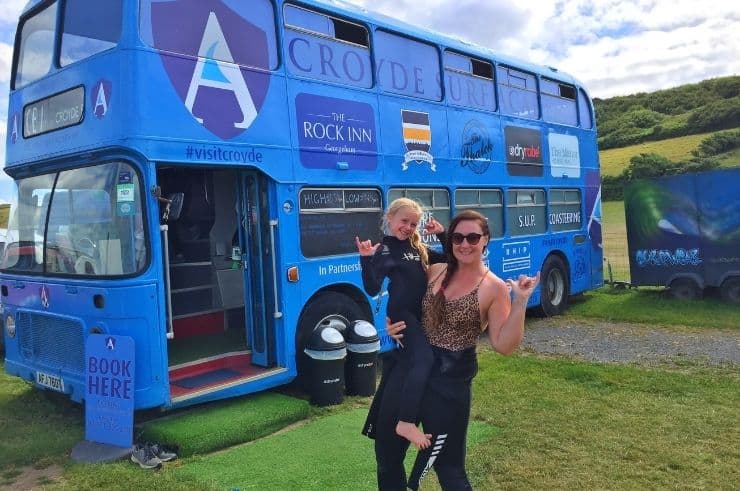 The Best Things To Do in Croyde
Visit Croyde Beach
Croyde beach is one of the most beautiful beaches in the UK, backed by sand dunes and gorgeous headlands on either side, it really is a magical place.
The beach doesn't allow dogs between May and September, but you can take dogs on to the nearby beaches of Putsborough and Saunton, and in the Croyde sand dunes all year round.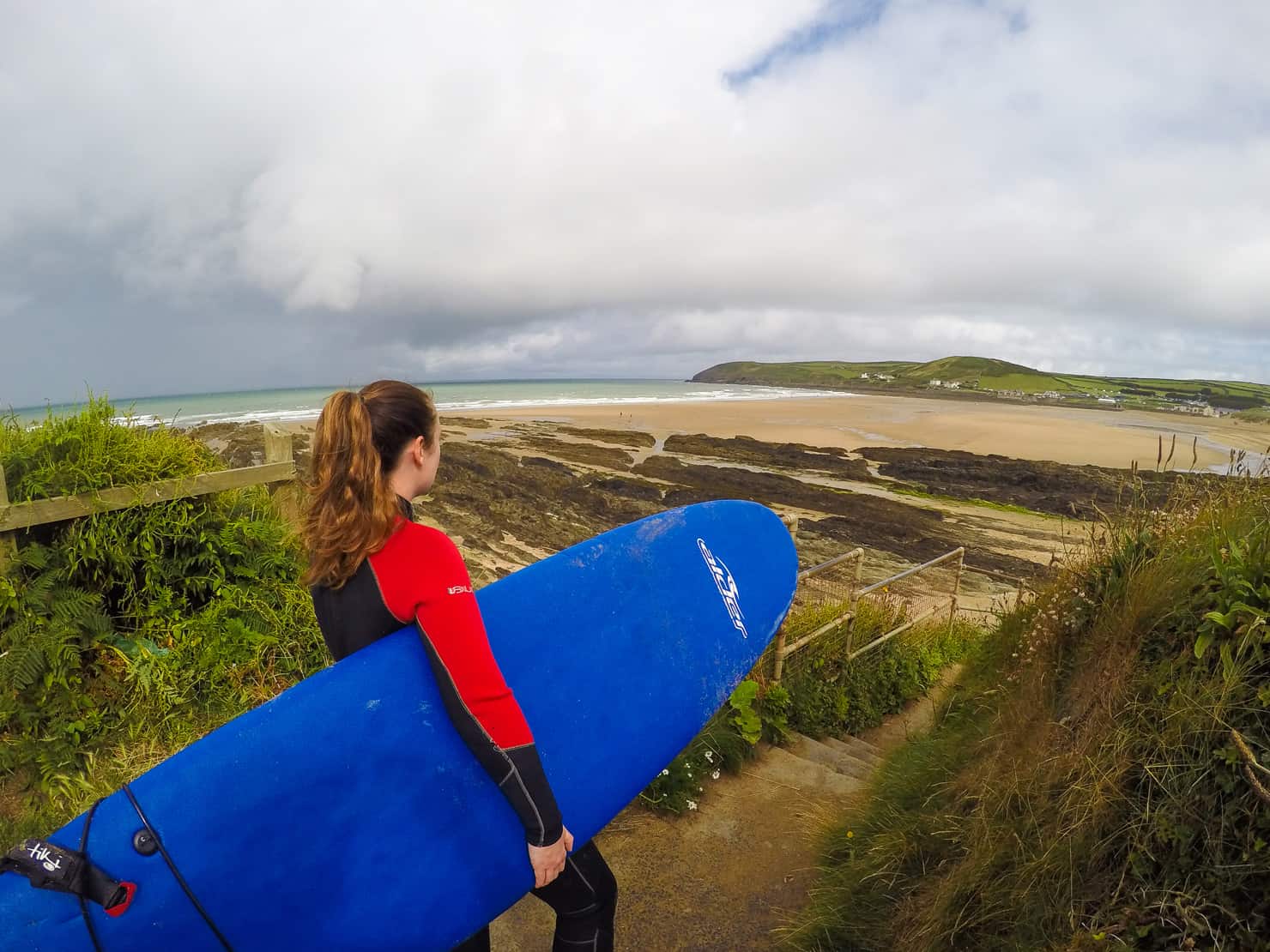 Go Surfing
Croyde Bay is one of the best places for surfing in the UK! It's also surrounded by other great surf beaches at Saunton Sands, Putsborough Sands, Woolacombe, and Barricane Beach.
There several great surf schools in the village, including:
Stand-up paddle boarding (SUP) is also a popular activity (when it's not too windy/rough) and many surfing companies/shops also rent out paddle boards.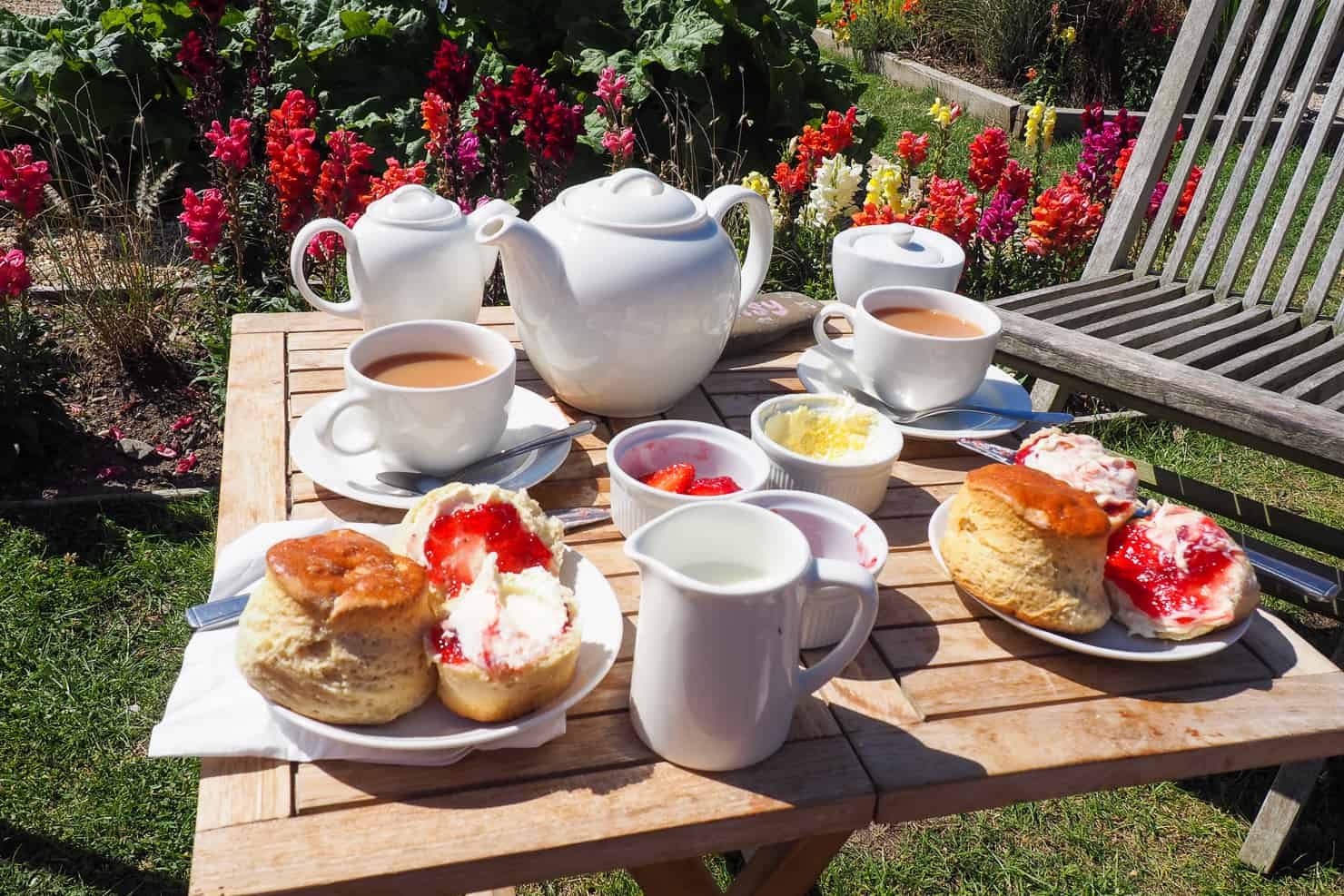 Have a Cream Tea
When you're in Devon, a must-do is having a cream tea. If you're wondering what a cream tea is, it's generally a warm scone, cut in half with jam and clotted cream on top of each half, with a pot of tea on the side. Sometimes you may get some strawberries with it.
A 'cream tea' is different from 'afternoon tea' or 'high tea' which usually consists of sandwiches, cakes, and tea.
The most important question though… Jam first? Or cream first? This is a hotly debated topic amongst British people.
If you want to do it the 'Devonshire way', you have to go cream first. But personally, I find this a bit messy – plus all you can taste is the jam which is very sweet.
The 'other' way, with jam first, is the 'Cornish way'. I definitely prefer this (sorry Devon) and it tasted nicer in my opinion. Creamy with a hint of jam!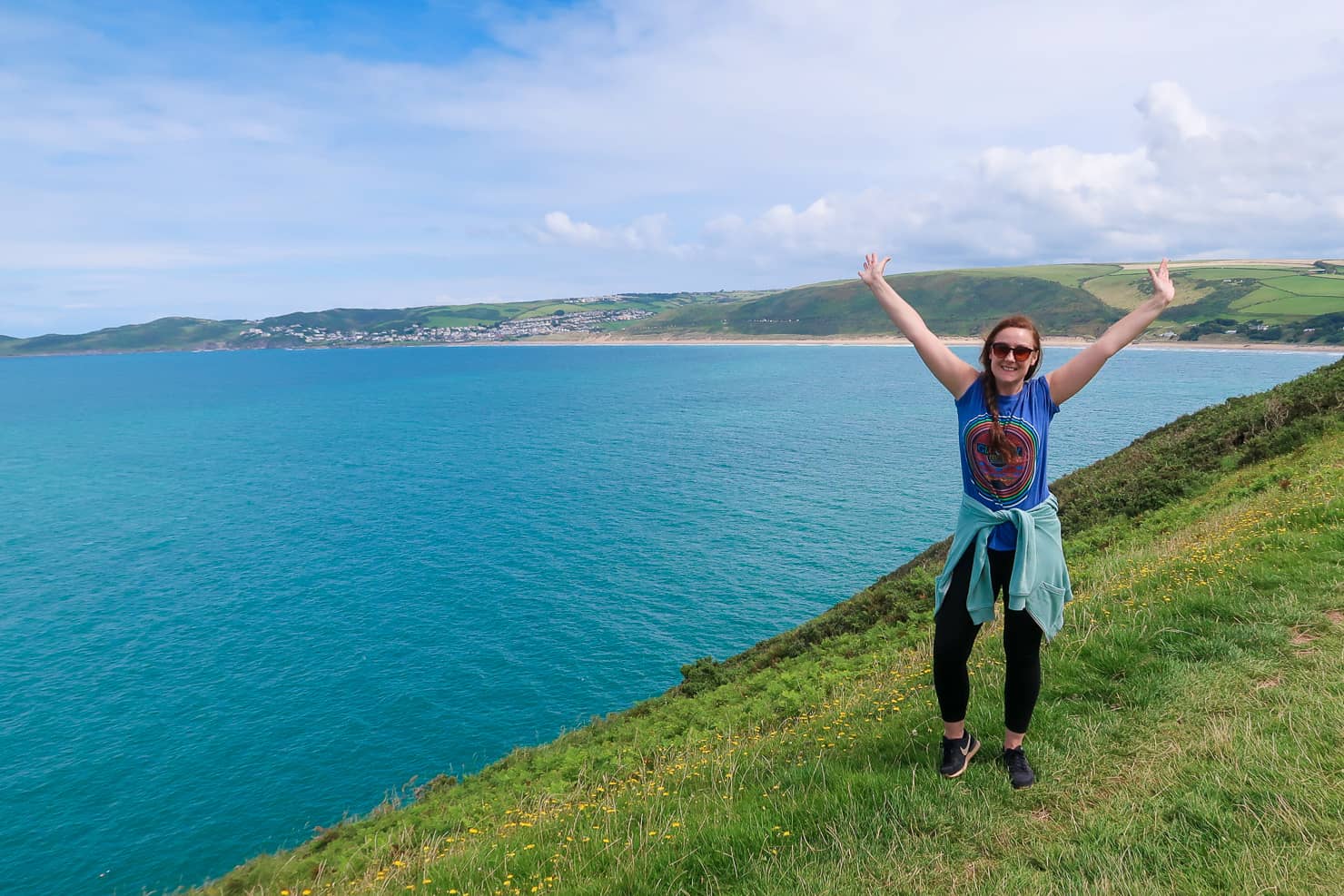 Walk to Baggy Point
The walk to 'Baggy' is a great way to spend a few hours. It's a beautiful and often blustery walk along the headland with views over to Hartland Point and Lundy Island, as well as across Croyde Beach, Putsborough, and Woolacombe.
You can make the walk along the coast path and back again (either along the coastal path you came or up over the top). If you do this, it's nice to stop at Sandleigh Tea Room & Garden on the way back. You can see a map here.
Or, if you fancy a longer walk, you can do the Baggy Point circular walk via Bloodhills Cliff, on the South West Coast Path all the way to Putsborough Sands. The trip takes around 2 hours. See a map here and here.
You can even walk all the way to Woolacombe and back. See a map here.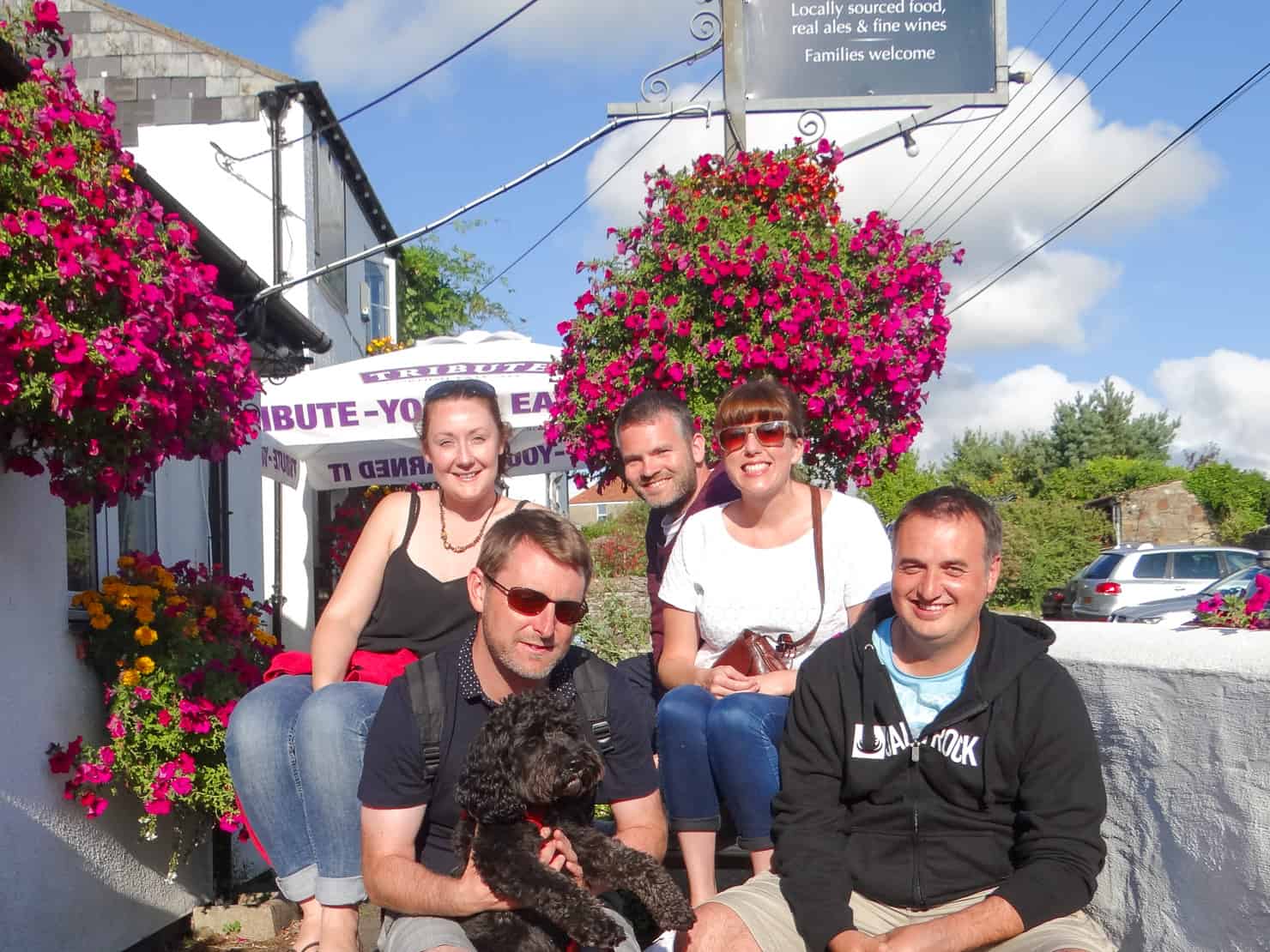 Georgeham to Croyde Pub Crawl
Not sure if this is an actual 'thing' but every year, my friends and I do a pub crawl from Georgeham to Croyde. We usually walk the 30 minutes from Croyde to Georgeham, which is the next village along. Occasionally we get the bus there.
We start at The Rock for lunch. From there we move onto the King's Arms, then it's a bit of a walk back to Croyde to The Manor, then it's The Blue Groove, The Hangout, Billy Budd's, and then we stumble across to The Thatch in time for dinner! If you spend an hour or so in each pub, it works out pretty well!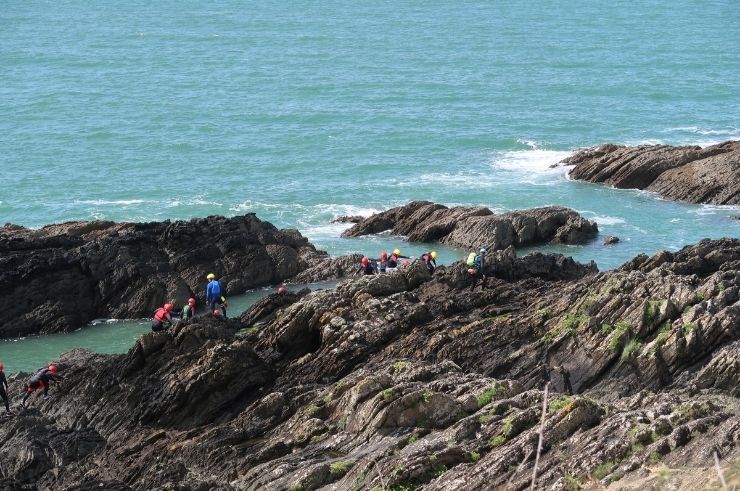 Go Coasteering
Thrill-seekers will enjoy a day of coasteering, which if you've never done it before, is basically jumping off rocks and cliffs into the sea and swimming around the coast. It's often a popular activity for a stag do!
I've only done this once, back in 2011, but it was a lot of fun! A number of companies can take you out, including: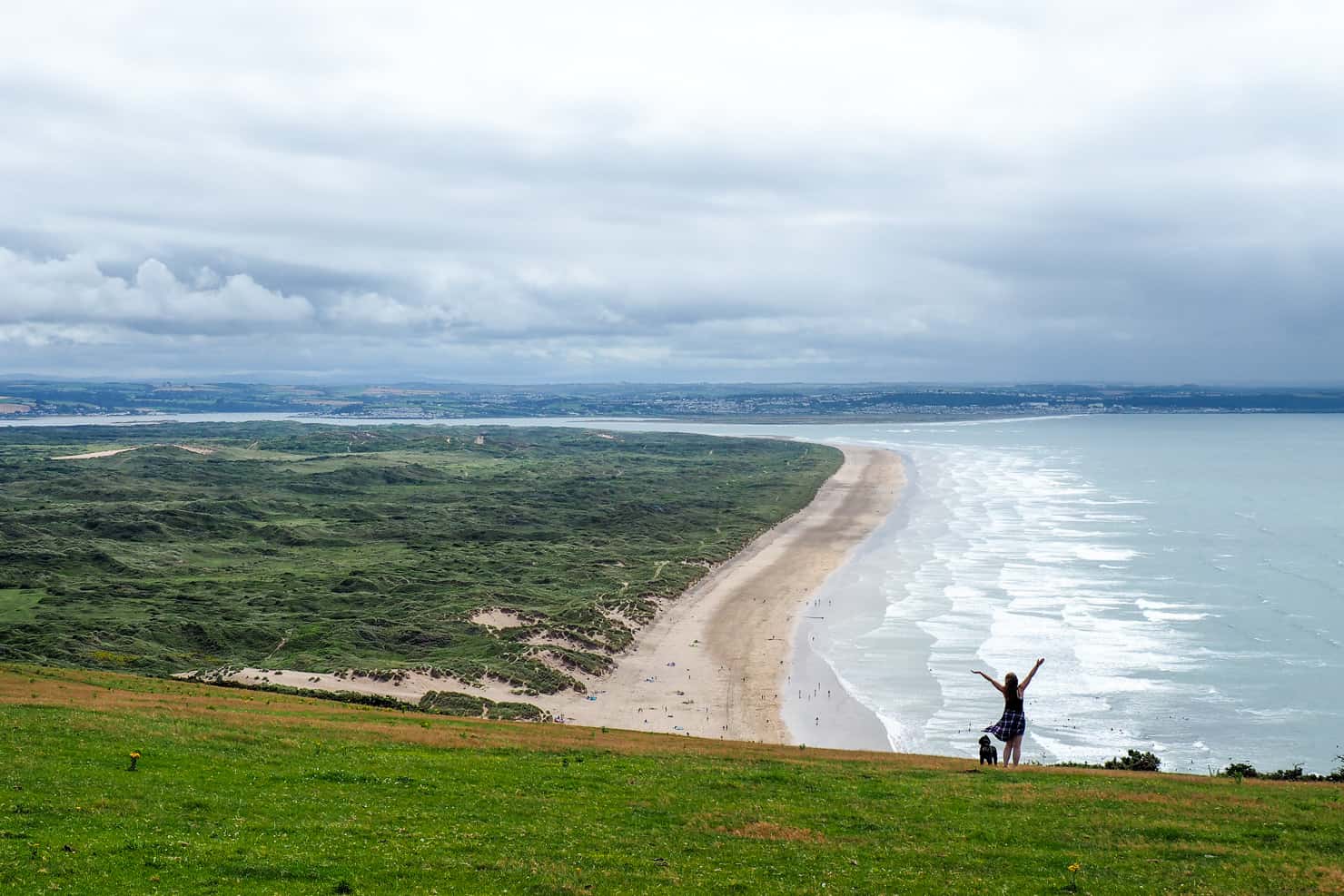 Do the Walk from Croyde to Saunton Sands
Another great walk is the one that takes you over the hill from Croyde to Saunton Sands.
From Croyde village, take a walk up Cott Lane. After 0.2 miles you'll come to a public footpath on the right, follow the footpath, and it will take you up over the hill and down to Saunton.
At the top, you will get amazing views over the village and the surrounding beaches of Croyde, Saunton Sands and Westward Ho!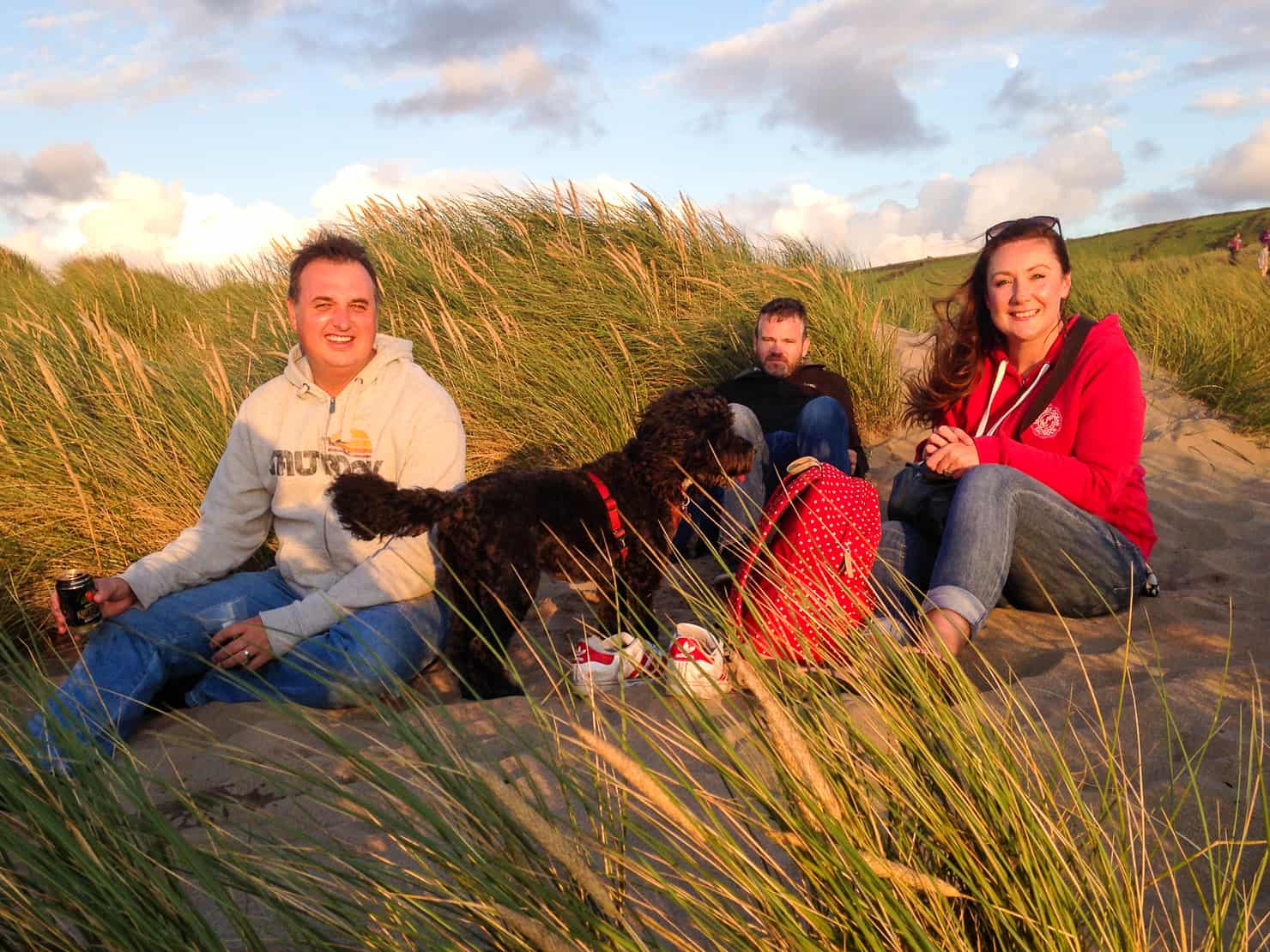 Watch the Sunset from the Dunes
One of my favourite things to do is to watch the sunset from the sand dunes.
It's pretty sheltered but can get cold so wear some warm clothes. If you take any drinks, please make sure you take your litter with you.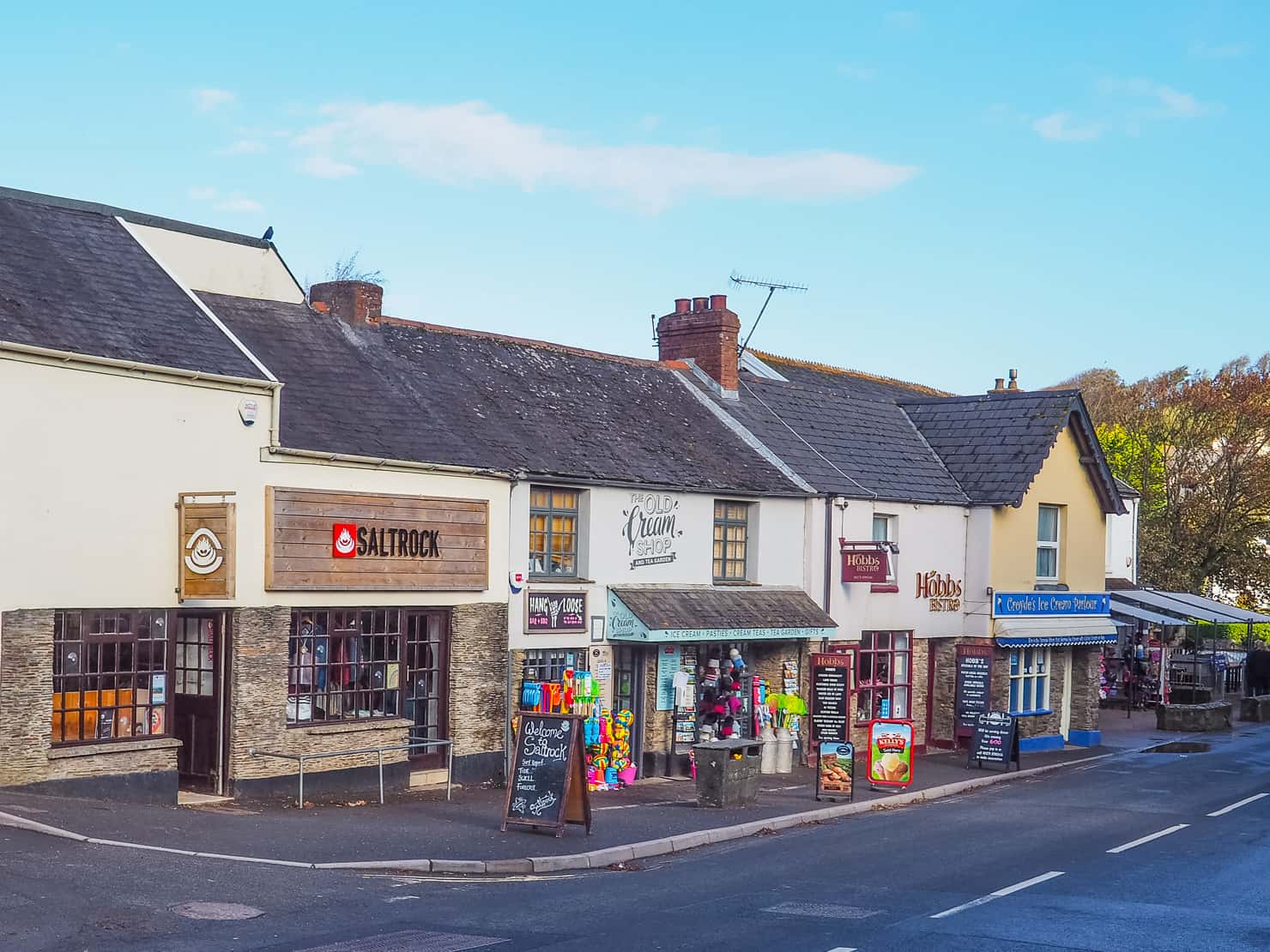 Go Shopping
Croyde has a few nice shops selling surfwear & equipment, groceries, and the usual holiday souvenirs. They also have an outlet store in Braunton on the way into Croyde.
There are more shops (including a Tesco) in the nearby town, of Braunton. And even more shops in Barnstaple.
View this post on Instagram
Go to the Sky Bar
Every so often the Sky Bar comes to town.
The Sky Bar is a purpose-built stretch marquee that is basically a pop-up mini-festival/party venue. There are different bars as well as street food and a DJ keeps the party going.
Take the Kids to the Playground
There are a few playgrounds for the kids. As well as the ones at Croyde Bay Holiday Resort, Ruda, and Bay View Farm, there's also a public playground, skate park, and volleyball court behind the Village Hall.
There are also play parks at Billy Budd's and The Manor House Inn.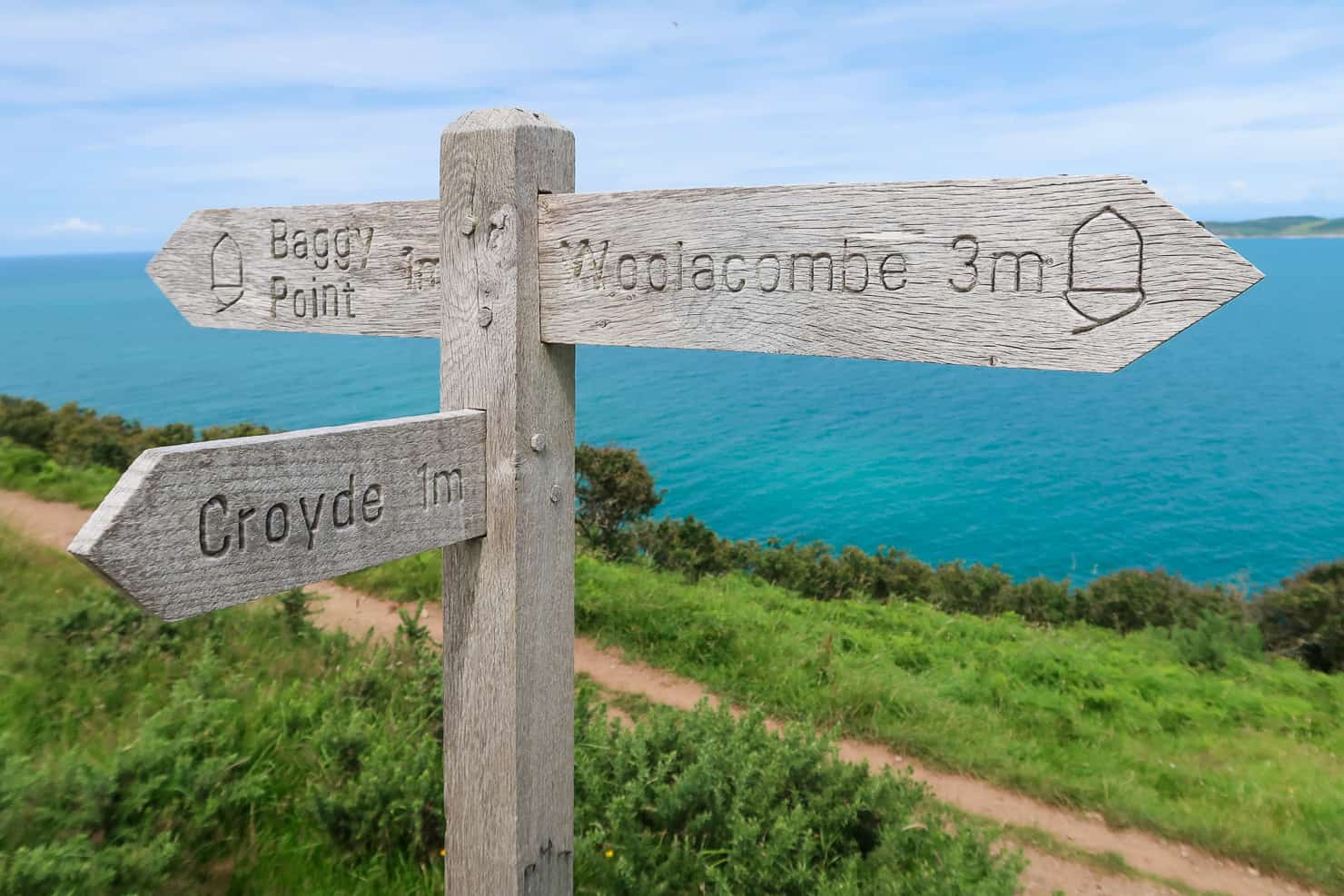 Things To Do Near Croyde
Lundy Island
A great day trip from Croyde, is the island of Lundy, famous for being home to seals, puffins, deer, Highland cows, and ponies. To get there, you can take the MS Oldenburg from Ilfracombe.
There are no cars on Lundy and with a population of only around 30 people, it's a pretty peaceful place to escape the summer crowds. You can also stay on the island.
Cycle the Tarka Trail
The Tarka Trail is a 180-mile figure of eight trail, which was inspired by the route travelled by Tarka the Otter in the novel by Henry Williamson.
On the southern part of the loop, you will find the longest, continuous off-road cycle path in the UK which runs for 30 miles between Braunton (near Croyde) and Meeth. On the trail, you can visit several different towns including Instow, Bideford, and Barnstaple.
You can hire bikes from Tarka Trail Cycle Hire.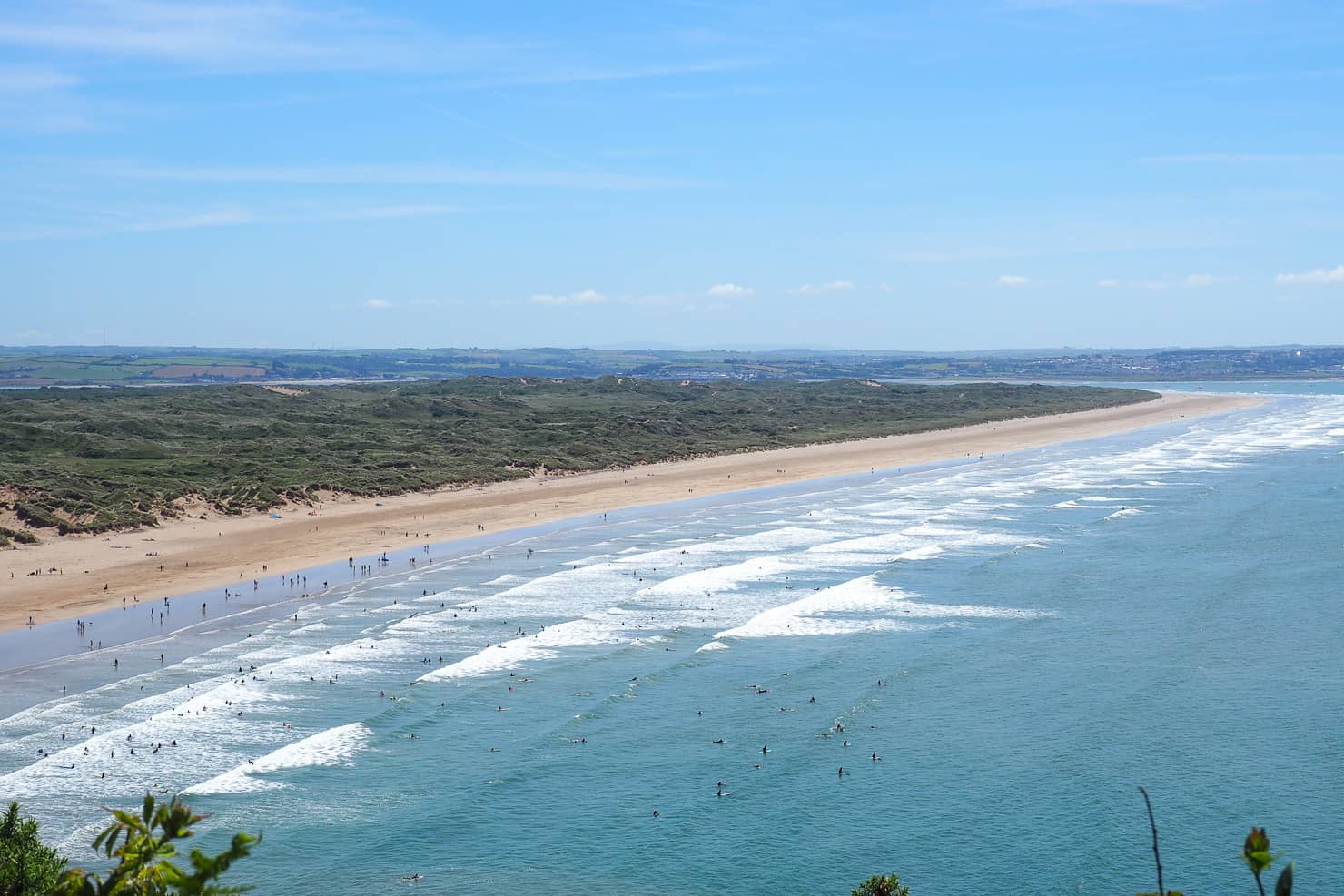 Play a Round of Golf
If you fancy a game of golf, just head down the road to Saunton where you'll find one of the best-rated golf clubs around. It's not cheap though at £130 for 18-holes for a first-time visitor between May to September. It's cheaper the more times you go and a lot cheaper if you are a guest of a member.
Visit a Theme Park
There are quite a few great theme parks in North Devon that the kids, especially, will love!
Explore North Devon
It took me years to actually venture outside of Croyde itself, but thankfully, in more recent years I've managed to drag myself away from the beach (and The Thatch) and see what else is on offer!
There are some amazing villages, towns, beaches, and national parks to explore. I wrote more about it in my post about the best places to visit in North Devon post. Have a read because there are some amazing day trips to take.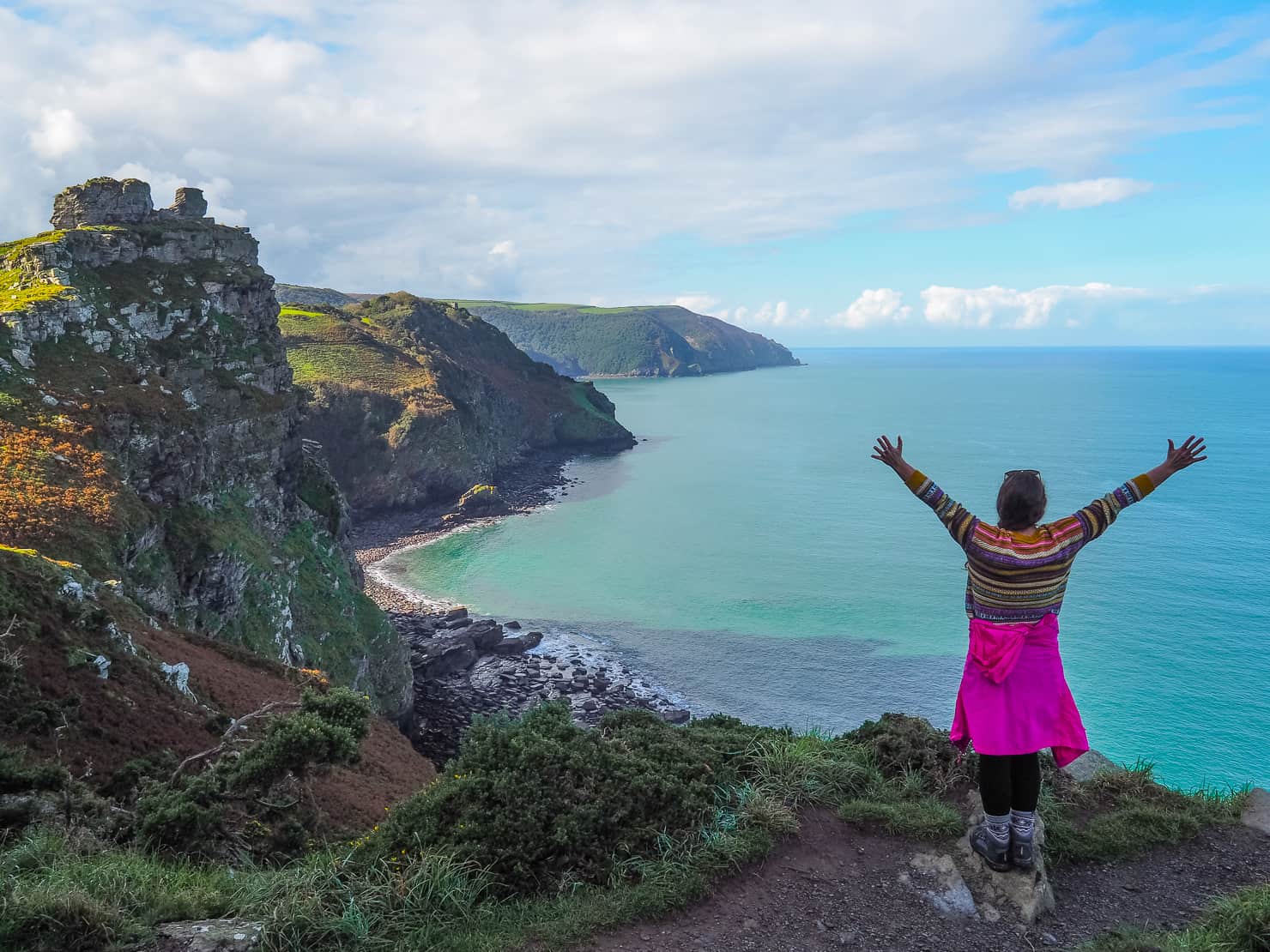 Events in Croyde Bay
Croyde has a few great events that you may want to add to your bucket list!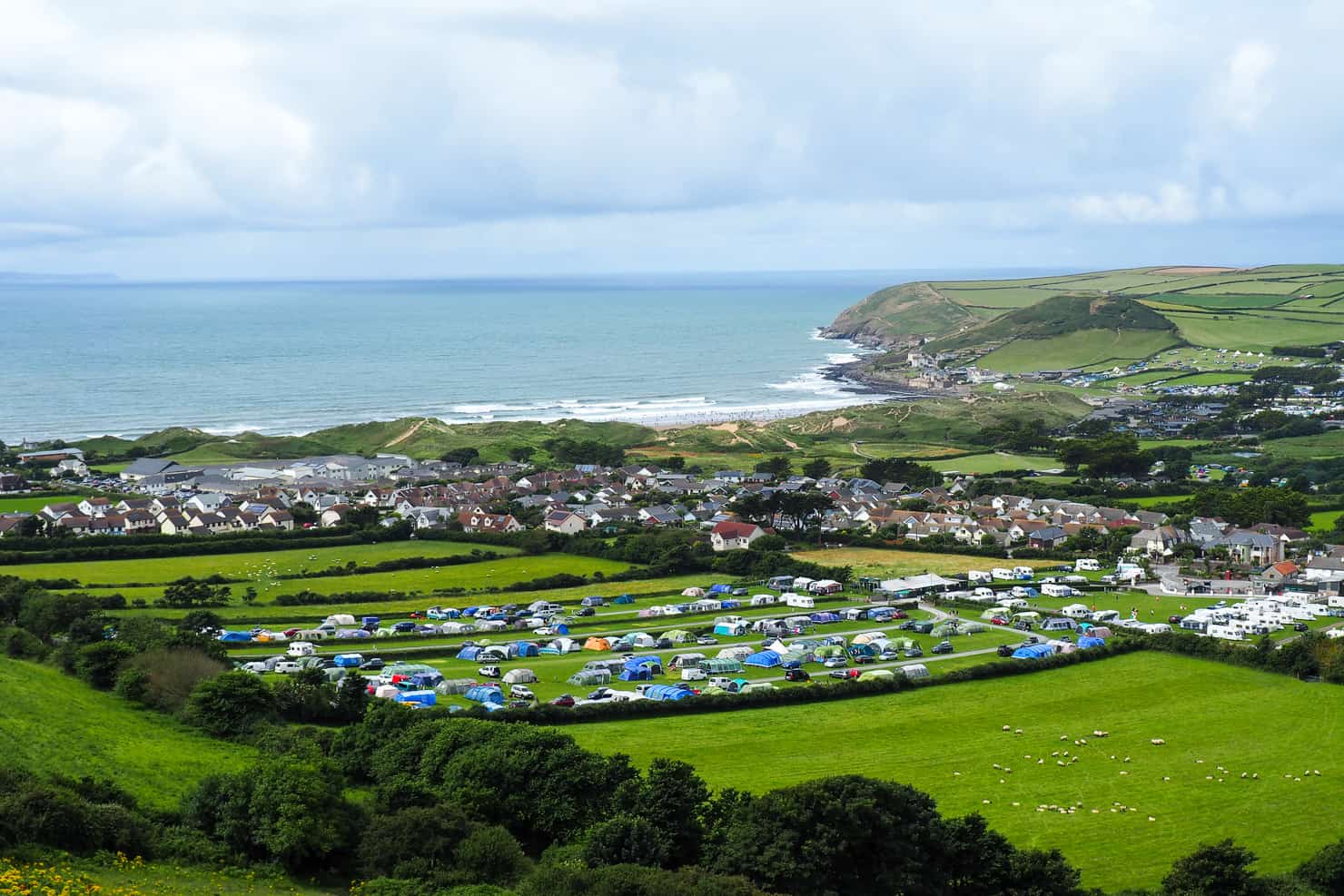 How To Get to Croyde Bay
The easiest way to get to Croyde is to drive. This will also help if you plan to explore North Devon.
If you don't have a car, you can take the train to Barnstaple via Exeter. From Barnstaple, you can get the No. 21 bus from Barnstaple to Croyde or you can take a taxi which costs between £24 – £30.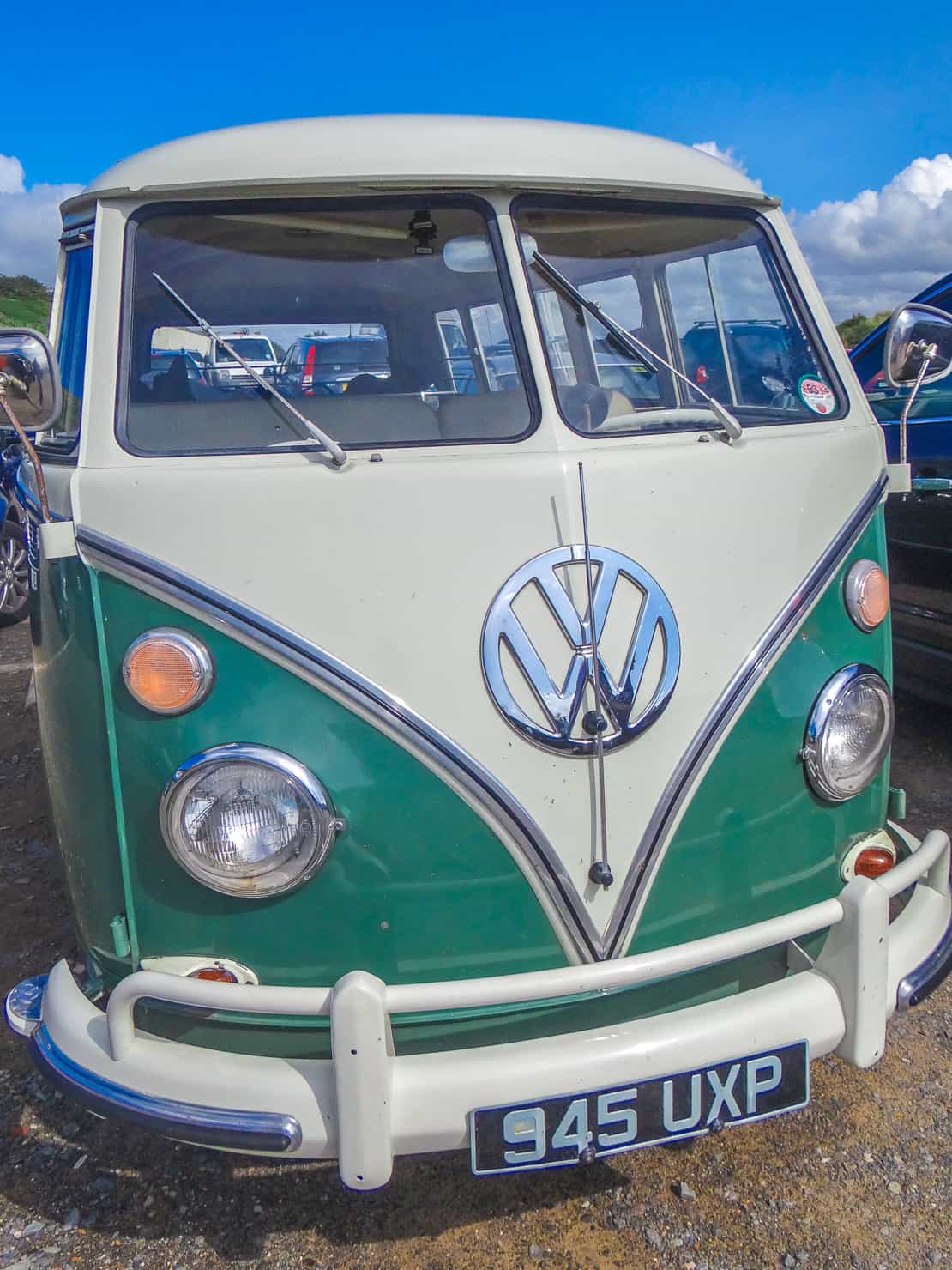 Where to Park in Croyde Bay
There are a couple of main car parks in the village. There's the Down End Carpark, which is on your right as you enter the village from the Braunton direction. Motorbikes park free, and for other vehicles, you can find parking costs here. Here you'll also find Croyde Surf Academy, a cafe, public toilets and showers.
There's also a car park up by Baggy Point. Parking is free to National Trust members. For non-members, it's £1 for 1 hour, £2 for 2 hours, or £4 for all day. You can pay by cash, via the app, or by phone.
There's also a car park behind the Village Hall.
I hope this guide to Croyde Bay helps you plan your holidays and allows you to make some amazing memories as I have!
---
Other UK posts you might enjoy…
---
Pin This Post For Later