Last updated on July 11th, 2021 at 08:18 am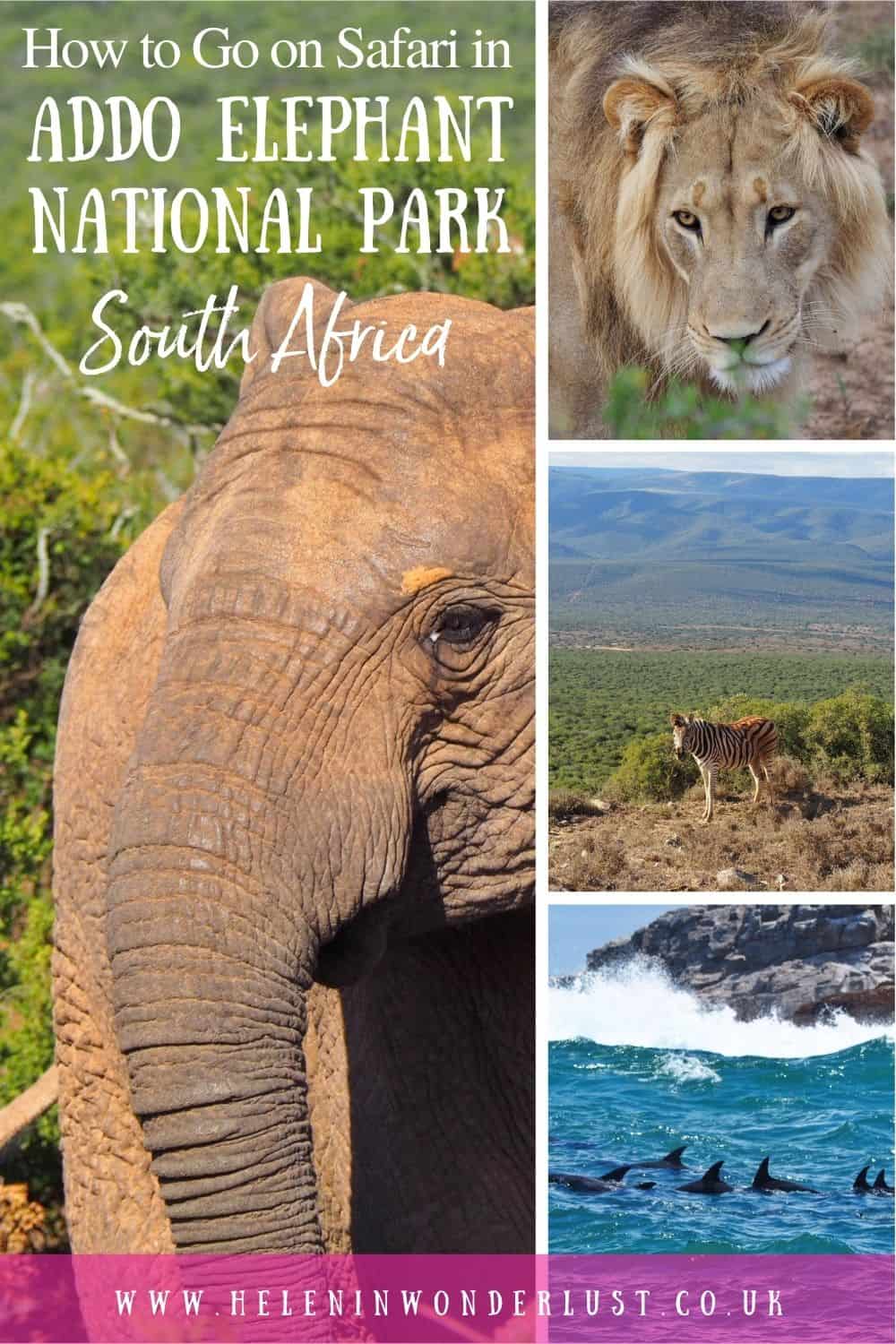 On my South Africa trip, I decided to add Addo Elephant Park into my Cape Town & Garden Route itinerary.
Addo lies just north of Port Elizabeth, and whilst neither Addo Elephant Park or Port Elizabeth are technically part of the Garden Route, Port Elizabeth is a good place to start or end your Garden Route adventure, due to its great air connections to Johannesburg, Cape Town, and Durban.
The elephant park is home to around 700 elephants which is pretty awesome in itself, but it's also home to the 'Big Seven'. So as well as the 'Big Five' (lions, elephants, buffalo, rhinos, and leopards), they also have Southern right whales and great white sharks, which live in the marine section of the park, off the coast of Port Elizabeth.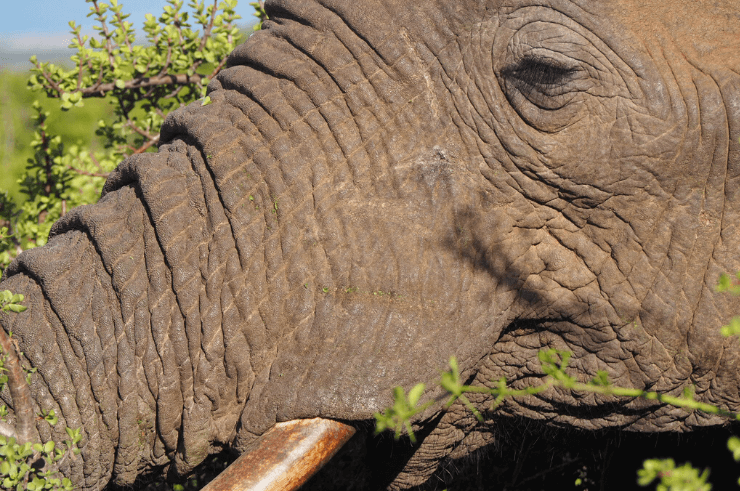 Saying that, our safari guide had been working in the park for 11 years, doing up to 6 game drives a day and he had still never seen a leopard. So whilst this is a "Big Seven" safari destination, I'd say your chances of seeing all of them are slim.
But either way, Addo Elephant Park is a great park to visit, with plenty of animal sightings, easy accessibility and a pretty landscape.
We wanted to do a marine safari as well as a game drive, so we decided to spend our first night in Port Elizabeth and our second night at a lodge just 10-minutes outside of Addo Elephant Park. This meant moving locations but also meant that we didn't have far to drive on either day, which is kinda nice when you have early starts.
The first morning, we headed down to the Nelson Mandela Yacht Club to start our Raggy Charters ocean safari in Algoa Bay, looking for Southern right whales (season: July – November), humpback whales (June – December), Brydes whales (season: all year), great white sharks, dolphins and African penguins.
It was a fantastic morning out on the water and whilst we didn't see any whales or sharks, we did see around 100 bottlenose dolphins (could have been more but they are extremely difficult to count), quite a few penguins and our captain, Jake, was super knowledgable, giving us a ton of information about all of the marine life in the area.
The dolphins were super curious about us, swimming all around our boat, getting a good look at us whilst they played and mated in the shallow, sheltered waters of the islands.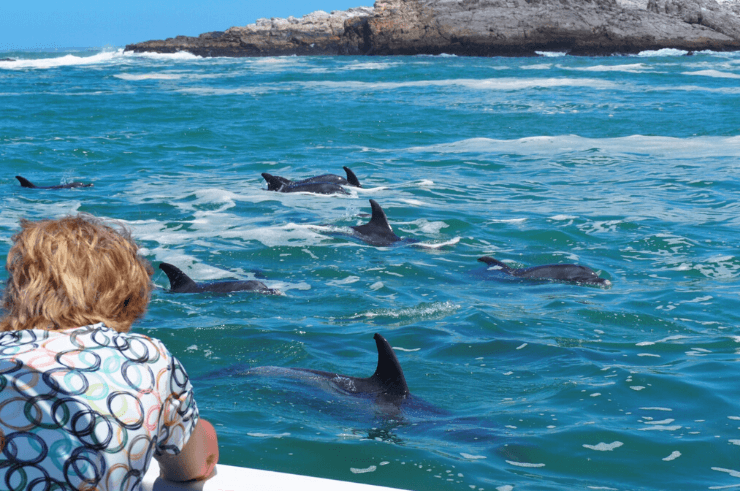 In the afternoon, we headed into the elephant park for our afternoon game drive which we organised via SANParks (the national parks association) in one of their vehicles.
The park opens to the public at 7am each day and the gates close at 7pm. However, if you are booked onto a guided game drive through the park can get in earlier and stay later even if you don't stay in the park. If you stay within the park, you can also take advantage of longer visiting hours (season dependent).
We decided to book a guided game drive, rather than drive ourselves, as we wanted the expertise of a guide, but when I saw the vehicle and the assembled group of tourists, my heart did sink a little. We were going out on a huge 24-seater truck.
Call me a safari snob, but I'm used to smaller safari vehicles with a max of 6 – 10 people (usually less).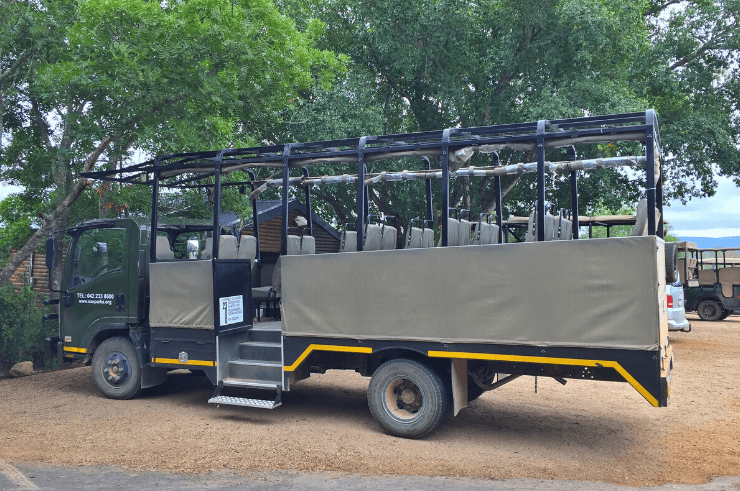 As we were the last to arrive, we were told we needed to sit in the front with the driver. Initially, I thought this would make it difficult for us to see anything, but it turned out to be the best seat, as the back of the truck was absolute chaos whenever we spotted any animals, with everyone clambering over each other to get photos.
For the record, they don't always use these trucks, it depends on how many people have booked onto the game drive, but I would think that most game drives would be quite busy, so this would be the standard and not the exception.
Despite the truck, I did enjoy the safari and we did see lots of elephants, antelopes, zebras and warthogs on that first afternoon, but if you've been to the Serengeti, Masai Mara or Kruger, you may find Addo a little bit tame as far as safaris go, but it's still definitely worth your time if you are in the area.
Having a guide was definitely a good thing too, especially the following morning when we took a sunrise safari. Our SANParks guide, CK, knew exactly where the lions would be and drove us off-road to see them (which only the SANParks guides can do). Had we been self-driving or with an external guide we would have completely missed these gorgeous animals.
The following morning there were only about 12 of us on the truck too, which was much better!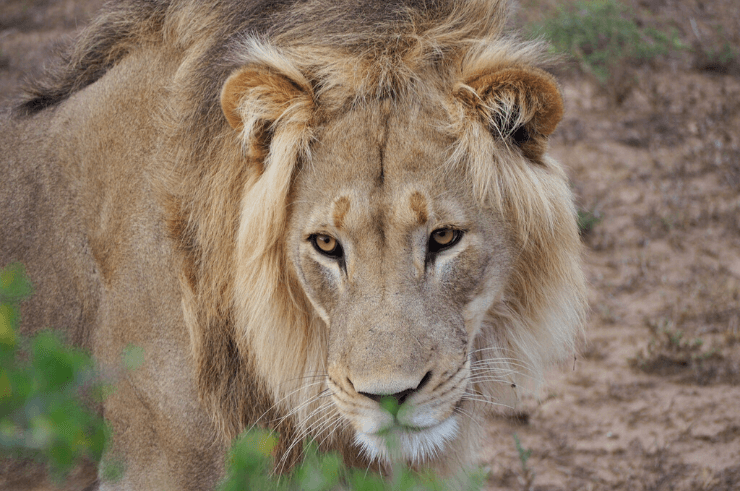 All in all, I enjoyed the experience and it's great that there are so many different ways to enjoy the park. You just need to choose the safari that's right for you!
To help you along, here's my guide to visiting Addo Elephant National Park.
---
How to Go on Safari in Addo Elephant Park in South Africa
---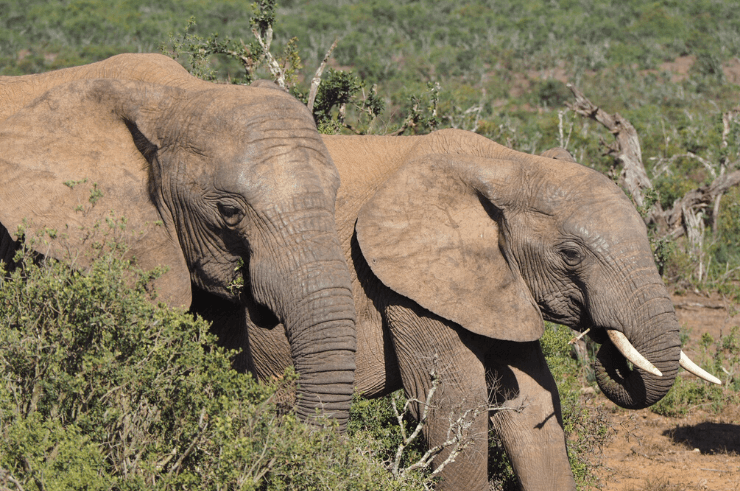 How To Organise Your Safari in Addo Elephant Park
There are a few different ways to organise an Addo Elephant National Park safari. You can either book your accommodation and game drives separately (there are a few different ways to do this) or book a package.
How to Book Your Addo Accommodation:
Book accommodation at a private lodge: See accommodation options below.
Book accommodation through SANParks: You can do this online on the SANParks website.
Book a package through an independent safari company: They will then organise your accommodation and game drives.
If you stay inside the park, at either the SANParks accommodation or at a private lodge, you will have earlier access to the park than the general public as you're already 'in'.
If you stay outside the park you can only enter at 7am and the only way to get in earlier is to book onto a sunrise or sunset game drive through SANParks.
How to Book Your Addo Game Drives:
Self-drive: If you want to drive your own car, you can just turn up and pay your conservation fee on the day.
Organise game drives through SANParks: To organise safaris via the park, visit the SANParks website. Bookings should be done in advance via email (

[email protected]

) or phone (+27 42 233 8619). All organised game drives depart from the Main Rest Camp.
Organise game drives through your lodge: Most lodges have their own private safari vehicles.
Book a package through an independent safari company: As above. They could also just organise the safari part of you wanted to organise your own accommodation.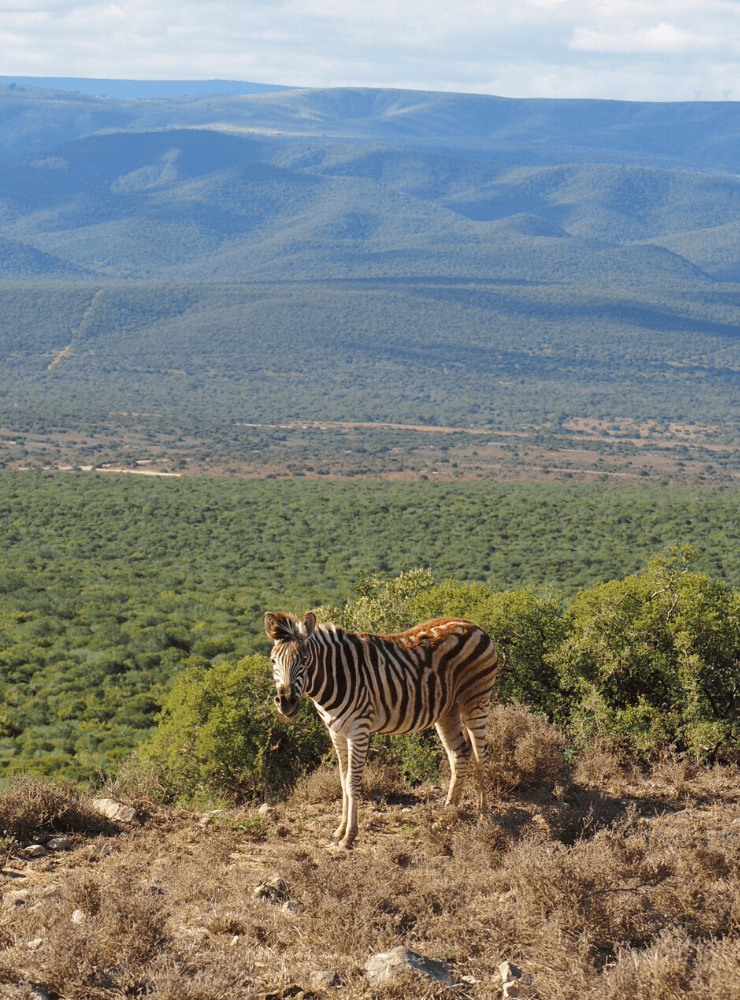 Addo is South Africa's 3rd largest national park with various parts to it. However, most visitors will use the main part of the park for game drives and each option will provide a slightly different safari experience and each have their advantages and disadvantages.
Option 1 – Drive Your Own Car
Pros
Freedom to go at your own pace.
You can spend the whole day in the park and go as far as you want.
You don't need to book.
You only pay the conservation fee.
If you want to, you can hire a local guide (extra cost) to come in your vehicle with you so you have the best of both worlds.
Cons
No guide to help you find your way around, spot the animals and give you information to make the most of your game drive (unless you hire a guide as above).
You most likely won't have an open vehicle which will inhibit your view.
You are limited to the main roads and can't go into the 'no entry' areas like the SANParks vehicles can.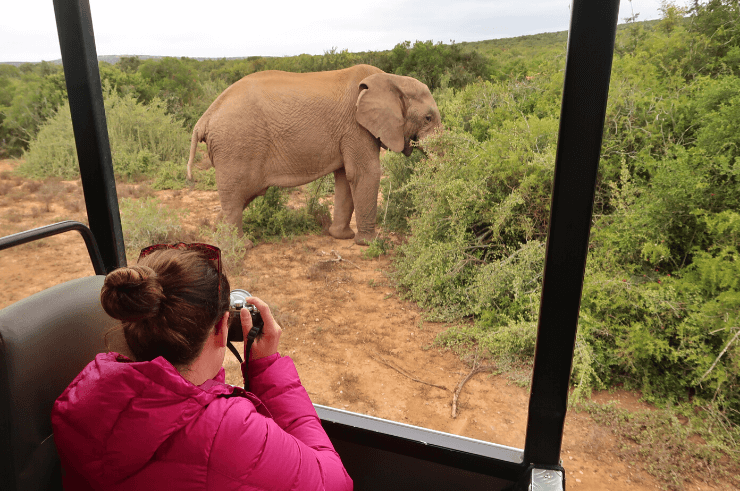 Option 2 – Book a Guided Game Drive Through SANParks
Pros
You can get into the park early on the sunrise game drive or stay late on the sunset game drive even if you're not staying inside the park.
You'll have an open vehicle.
The guides know where the animals hang out, are super knowledgeable and our guide CK was also very funny.
You can go on the roads that the other tourists can't, meaning that you are likely to see more.
Cons
You have to depart from the Addo Main Rest Camp, so if you are staying on the other side of the park, you'll have a long drive.
The game drives are only 2 hours each which means you don't go very far into the park.
Both game drives we went on followed a similar route so we saw some of the same animals each time.
You could end up in a full 24-seater truck with a lot of random people you don't know, which isn't great for taking pictures, especially when full.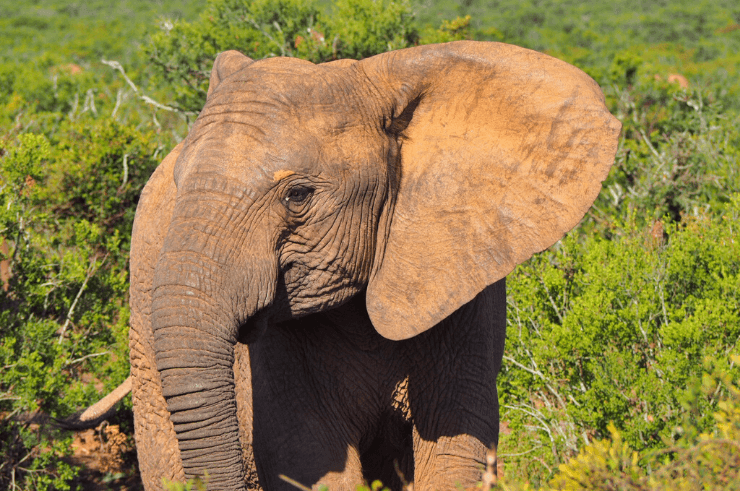 Option 3 – Book a Private Safari
Pros
You'll have a guide who will know the area well and be able to give you lots of info/find the animals quickly.
You'll be able to stay in the park for most of the day and explore further.
You won't have to share a vehicle with 23 other people (as I did on my safari).
If you are staying inside the park, you'll be able to go on sunrise and sunset game drives.
Cons
It will usually be the most expensive option – especially if it's a private safari for 1 or 2 people.
You are limited to the main roads and can't go off-road like the SANParks vehicles can (unless you are staying in one of the private concessions of the park).
Unless you book a private vehicle for you and your group, you could end up sharing with others anyway (although it will usually only be a smallish group of up to 10 as the normal open safari vehicles usually only seat 10 people plus the driver).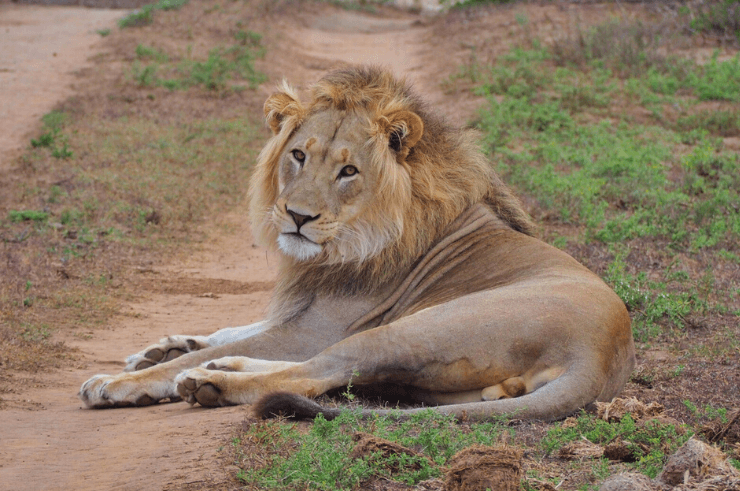 Cost To Visit Addo Elephant Park
Current conservation fees for Addo Elephant National Park are as follows:
South African Citizens and Residents (with ID)
82 Rand per adult, per day
41 Rand per child, per day
SADC Nationals (with passport)
164 Rand per adult, per day
82 Rand per child, per day
Non-Residents
328 Rand per adult, per day
164 Rand per child, per day
Permits are valid for 24 hours. As we did an afternoon safari on day 1 and then a sunrise safari on day 2, we only had to pay the conservation fee once.
Current costs for game drives are as follows:
Sunrise: 415 Rand
9.00am: 415 Rand
12.00pm: 415 Rand
3.00pm: 415 Rand
Sundowner: 565 Rand (drinks & snacks included)
Night:

440 Rand
Times for the sunrise, sundowner, and night game drives are dependent on the season, so check with SANParks at the time of booking. You need to arrive around 15 – 30 minutes in advance, especially if you need to pay your conservation fee.
All sunrise game drives need to be paid for on the day before your game drive is due to take place.
Current costs to hire a guide for a day:
| | |
| --- | --- |
| For a car | 210 Rand |
| For an eight-seater vehicle | 260 Rand |
| For a minibus | 320 Rand |
| For a bus (18 – 30 seater) | 390 Rand |
| For a bus (coach) | 550 Rand |
| School group | 180 Rand |
Fees are paid directly to the guides and they operate between 8am and 5pm.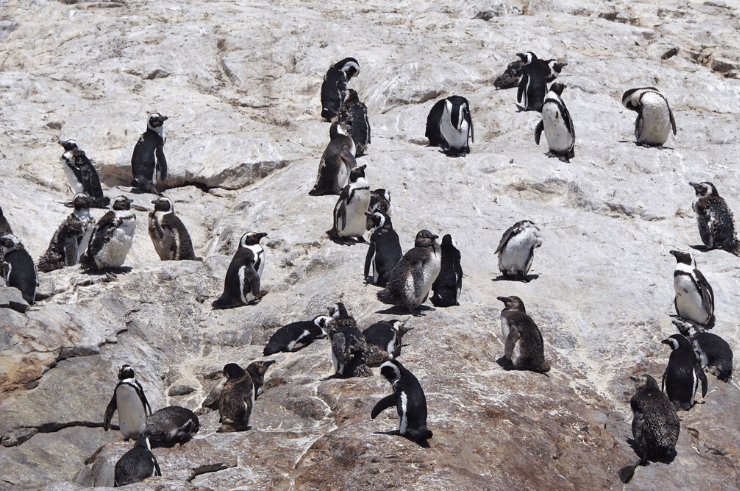 Other Activities in Addo Elephant Park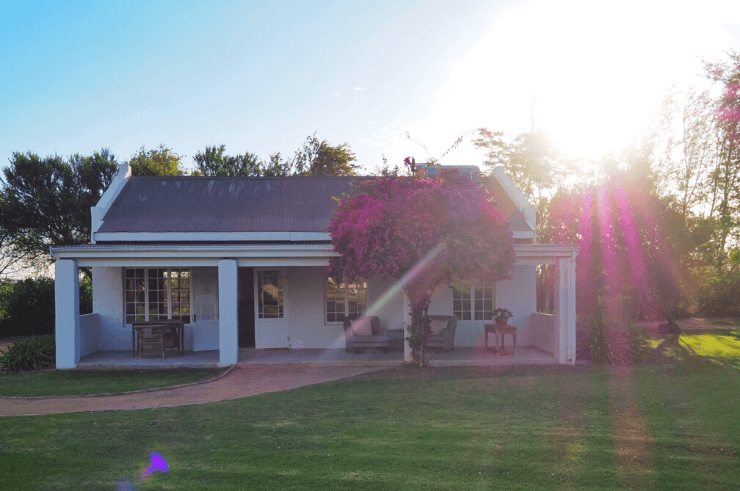 Where To Stay in Addo Elephant Park
Budget
Addo Main Rest Camp: This is one of the places to stay inside the park and where all of the SANParks game drives depart from and therefore is a convenient location to get to if you don't want to drive yourself. And also inside the park if you do want to drive yourself. You can see all SANParks Addo accommodation here. Just be aware that some are quite far from the main gate, so check the map before you book.
Orange Elephant Backpackers: On a budget? Then Orange Elephant Backpackers is a great choice and they can organise game drives for you. Just 12 minutes away from the main gate.
Mid-Range
Elephant House: We stayed in this mid-range boutique lodge for 1 night and it was absolutely lovely. The staff were wonderful, the food amazing and the place had a bit of an 'Out of Africa' vibe about it. We could easily have stayed another night, relaxing in the grounds or at one of their 3 pools. It's only 10 minutes away from the main gate, so a very good location.
Camp Figtree: This is an absolutely beautiful camp, located just outside the park. Book here if you want to really treat yourself! The Outpost has an amazing outdoor shower.
Luxury
Gorah Elephant Camp: Super luxurious camp, with swimming pool and views of the waterhole where elephants regularly come to drink. Inside the main park area so sunrise and sunset drives are permitted.
River Bend Lodge: This beautiful lodge is located in a private concession just north of the main part of the park. On the other side of the road that divides the main section of the park, which allows you to see a different part than the usual game drives go on.
Kuzuko Lodge: This lodge is located in the very northern part of the park. As well as game drives, they offer lots of other activities such as stargazing and nature walks. 1 hours and 30 minutes from the main park, so you would do your game drives in the locale.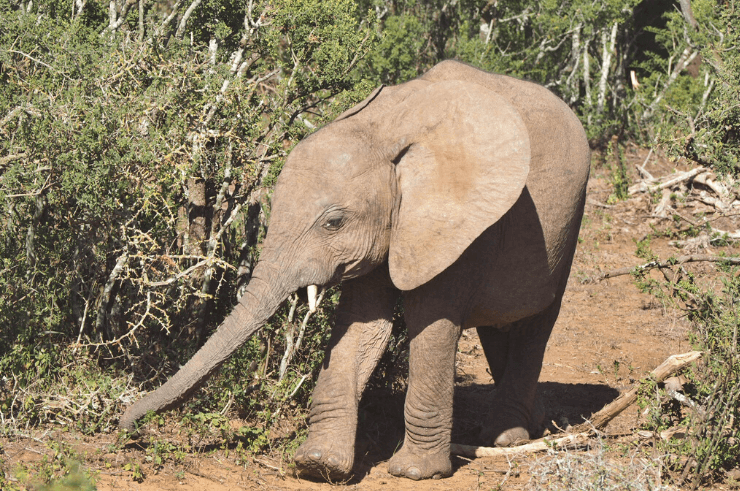 My Top Tips for Addo Elephant Park
Book early. Accommodation within the park, especially at Addo Main Rest Camp, books up in advance.
Stay close to or inside the park to limit drive time, especially if you are planning to go on early game drives organised through the park. Remember for sunrise game drives you will sometimes need to arrive at around 5.15am, so having a 1 or 2-hour drive is not going to be fun!
Just be aware that if you stay inside the park, you will need to pay conservation fees for each day you are there.
You can also get into the park using a Wildcard Permit or a Nelson Mandela Bay Tourism Pass if you have one.
If you are staying within the main part of the park (not in a private concession) and are planning to self-drive, maybe book at least one safari through SANParks to allow you to go on the 'no entry' roads, which is where we saw the most animals.
If you are staying outside the park, ensure they give you an exit permit to leave the main gate. You will need an exit permit each time you leave the park. We only received one on our first day, but luckily I remembered and asked for a second one before I tried to exit after our sunrise game drive the following day.
Have some change to tip your safari guide. For a private full-day safari, tip is usually between $10 – $20 per day per group. For a shorter game drive, split with other people, you can pro-rata this. If it's a big 24-seater truck, a small tip will do.
There is a restaurant at Addo Main Camp called Cattle Barron, which is pretty nice. But if you don't want to return to the main camp for lunch, take a picnic.
There is a petrol station just inside the main gate, but before you actually enter the park (there are two gates, you don't pay to go in the first one this is just a checkpoint).
Do not get out of your vehicle for any reason unless at a designated spot. I see people doing this all the time. It's stupid and dangerous.
Have you been to Addo Elephant Park? Any tips? Let me know if you have any questions!
Read More About South Africa & Southern Africa…
South Africa Group Tours
Please Note: Some of the links in this post are affiliate links, which will earn me a small commission at no extra cost to you. Affiliate sales help with the running costs of this site, so thank you for your support!