Last updated on August 17th, 2021 at 11:05 am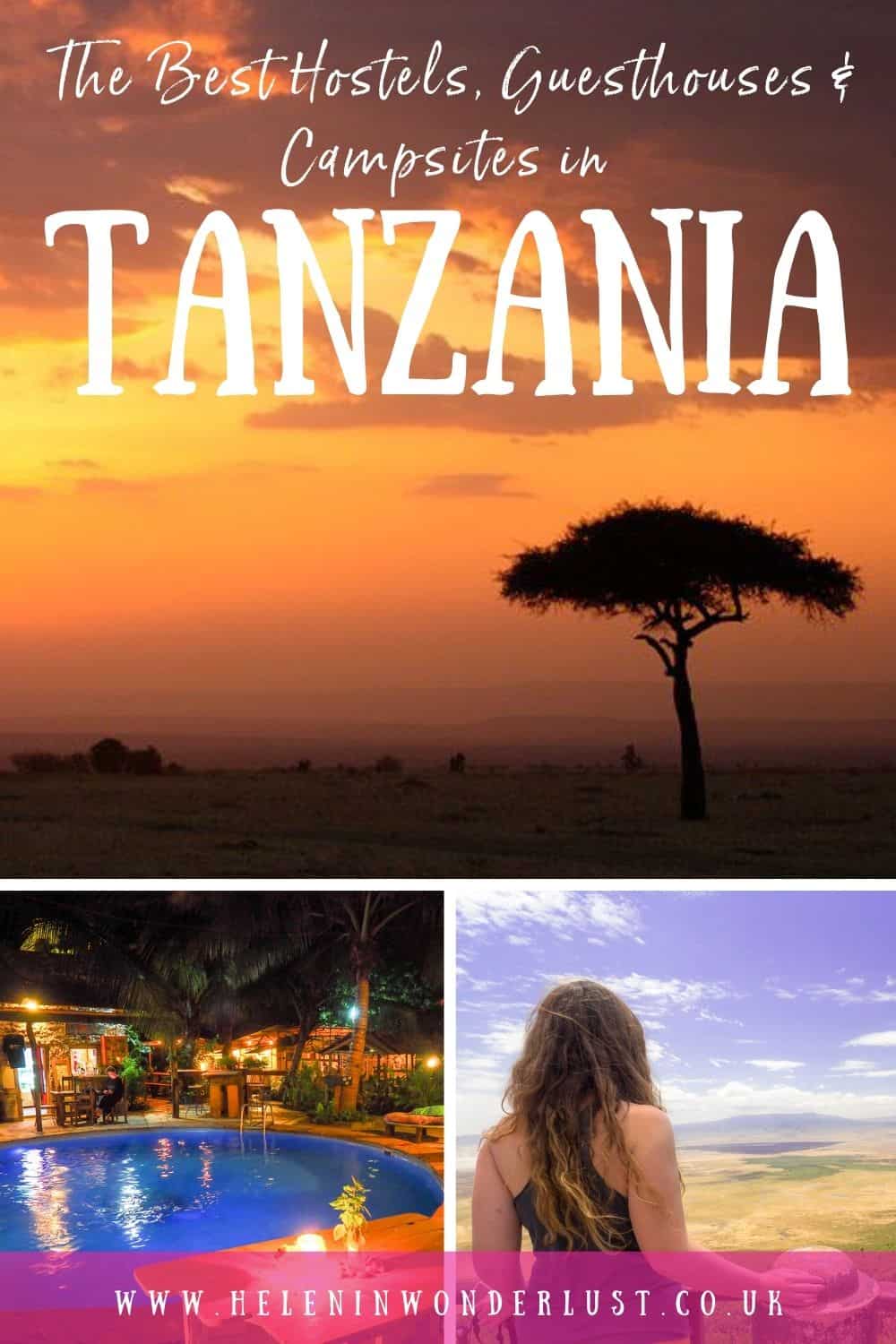 Looking for the best hostels, guesthouses and camps in Tanzania? Then you've come to the right place!
Here are my favourites to help you plan your trip backpacking or overlanding trip through Tanzania.
I'll keep adding to this list as I discover more places, so don't forget to bookmark this post!
Other Tanzania posts you might enjoy…
Please Note: Some of the links in this post are affiliate links, which will earn me a small commission at no extra cost to you. Affiliate sales help with the running costs of this site, so thank you for your support!
---
The Best Hostels, Guesthouses & Campsites in Tanzania
---
Arusha
---
Moshi
---
Mto Wa Mbu/Lake Manyara
Migombani Camp: Beautiful camp overlooking Lake Manyara. They offer camping and static tents. They also have a beautiful pool where you can cool off after a hard day on safari!
Panorama Safari Camp: This is a unique place to stay. You can set up your own tent, rent one of theirs or stay in one of their African Igloos. They have an on-site restaurant.
---
Serengeti & Ngorongoro Crater
Public Campsites: There aren't many great places in the Serengeti or Ngorongoro Crater that are great for solo travellers. Most backpackers join a group (there's no public transport in the parks) and stay at the public campsites around Seronera in the Serengeti and at Simba Camp on the Ngorongoro Crater rim. If you happen to be driving yourself, you need to bring your own tents and there are no restaurants or shops at the campsite so you need to bring everything with you. All campsites have a kitchen space (with no equipment) and bathrooms. Most groups tend to keep to themselves as there aren't any real communal areas.
---
Lake Eyasi
Tindiga Tented Camp: Very nice, rustic camp just 1.5km from Lake Eyasi. They have comfortable tented rooms and a communal dining area and bar.
---
Lake Natron
Lengai Safari Lodge & Campsite: They have both rooms and a campsite. The lodge has solar power, charging stations in the main building, a restaurant and a pool.
Lake Natron Tented Camp: They have comfortable safari tents that sleep between 2 and 4 people. Each tent is comprised of a porch area, main bedroom and en suite bathroom with a shower and eco-toilet. A private path leads from each tent to the natural swimming pool. They have a communal dining area with a bar, fridge, Wi-Fi and charging point. There's also a fire pit where you can hang out with other travellers and share safari stories.
Maasai Giraffe Eco Lodge: They offer a mix of rooms and glamping bell tents. You can also stay in your own tent. Giraffes and zebras pass through the lodge frequently as they head to the lake for water. They have a swimming pool and restaurant.
---
Ushongo Beach/Pangani/Tanga
---
Usambara Mountains
Irente Farm Lodge: This is a lovely place to stay, near to the Irente Viewpoint which is an amazing place to visit. They also make delicious cheeses and jams. Rooms, self-catering apartment and camping available. Located in Lushoto in the south.
Mambo View Lodge: Perched on the edge of a cliff in the far north of the Usambaras, this is the place to go if you want some peace and quiet. It's a bit of a trek as you must go through Lushoto and then drive through the mountains, but the views are worth it! You can also hike from Lushoto to Mambo over a few days. Rooms and camping spots are available. Located in Mambo.
---
Bagamoyo
Firefly Bagamoyo: This is one of my favourite places in Africa, a mix between a hostel and a boutique lodge. Super-friendly staff and owners, beautiful Swahili-style decoration and great food. They make my favourite breakfast I've ever had in Africa, shakshuka with balsamic reduction, which I know isn't very Tanzanian (it's Tunisian), but it's so delicious.
---
Dar es Salaam
---
Udzungwa Mountains National Park/Mikumi National Park
Udzungwa Forest Camp: This is a great camp, near to both national parks, offering furnished safari tents, traditional bandas and camping. Facilities include well-maintained showers with solar-heated water, western-style toilets, access to the lodge bar and restaurant, a simple self-catering cooking area, a fire pit with comfortable natural seating for evening relaxation, and a comfortable seating/dining area.
Tan-Swiss Lodge: The lodge lies on the outskirts of Mikumi National Park and has 3 person bungalows, 2 person rooms and camping facilities. They also have a pool, bar and restaurant.
Simbamwenni Lodge & Campsite: Located just outside Morogoro, this is a very nice, owner-managed lodge, surrounded by tropical gardens. The have chalets, furnished tents and a campsite. They do not have a restaurant for dinner but they do have a small kitchen where you can order meals in advance. There is just one choice of evening meal, plus a veggie option.
---
Iringa
Neema Crafts Guesthouse: Neema Crafts is a social enterprise and the guesthouse provides training and employment for deaf and disabled trainees. Profits are put towards the running costs of the Neema Therapy Centre for Disabled Children. The guesthouse has 10 en suite rooms with beautiful views over the surrounding hills. You can purchase the locally made crafts in their onsite shop.
---
Selous Game Reserve
Selous River Camp: Magical camp with views over the river. You can stay in one of their famous mud huts or in one of their static tents. They have a wonderful lounge, bar and restaurant, a fire pit area and a swimming pool, all overlooking the river.
---
Stone Town
Z Life Hostel: Centrally located, they have a mix of rooms and dorms.
Ten to Ten: Great backpacker hostel, clean, close to the beach, shops and restaurants.
---
Kendwa
Kendwa Rocks: More of a hotel resort, however, they do have a dorm or at least they used to. They don't advertise it, but I've seen it with my own eyes. It's pricey, sleeps about 20 people, but it's there – or at least it was. They hold monthly full-moon parties, have a great restaurant and bar area, a fantastic swimming pool and it's right on the beach.
---
Nungwi
Makofi Guesthouse: This is a lovely and sociable hostel/guesthouse in Nungwi, close to all the action and the beach. The rooms are stylish and comfortable and the staff are super friendly.
---
Paje
Drifters: This is a popular backpacker haunt, located on the beach. There's always someone to hang out with at the bar.
Hakuna Matata Villa: This is a great place to stay, just set back off the beach. They also have a pool.
Ebb & Flow Apartments: Next door to Hakuna Matata Villas, close to the village centre. They have a mix of apartments and dorms, all with kitchenettes. They also have a pool.
---
Jambiani
New Teddy's on the Beach: A Zanzibar legend, New Teddy's is a great place to meet some pals to party with. They have a mix of bungalows and dorms.
Red Monkey Lodge: More of a hotel, than a backpackers, but they host the weekly Red Monkey Jam on a Monday which attracts both locals and travellers, so you're bound to make some friends.
---
Michamvi
Kae Funk: Great place for sunset if you are staying on the east side of the island. They have 9 cosy bungalows with open air showers. They also include breakfast, plus there a great bar and restaurant right on the beach.
---
Mafia Island
Butiama Beach Lodge: Situated on beautiful Mafia Island, known for being one of the best places to dive and swim with whale sharks in Africa. They have gorgeous bungalows, a restaurant, pool, a beach & pool bar, a yoga studio, spa and shop. They also own the Butiama Bustani Hotel and the Butiama Marine Camp (budget option).
Enjoy your time in Tanzania! Let me know if you stay in any of the places mentioned and tell them Helen in Wonderlust says hi!
---
Join one of my Tanzania & Zanzibar group tours or buy my Backpacking Africa e-book!