Last updated on February 19th, 2021 at 03:16 pm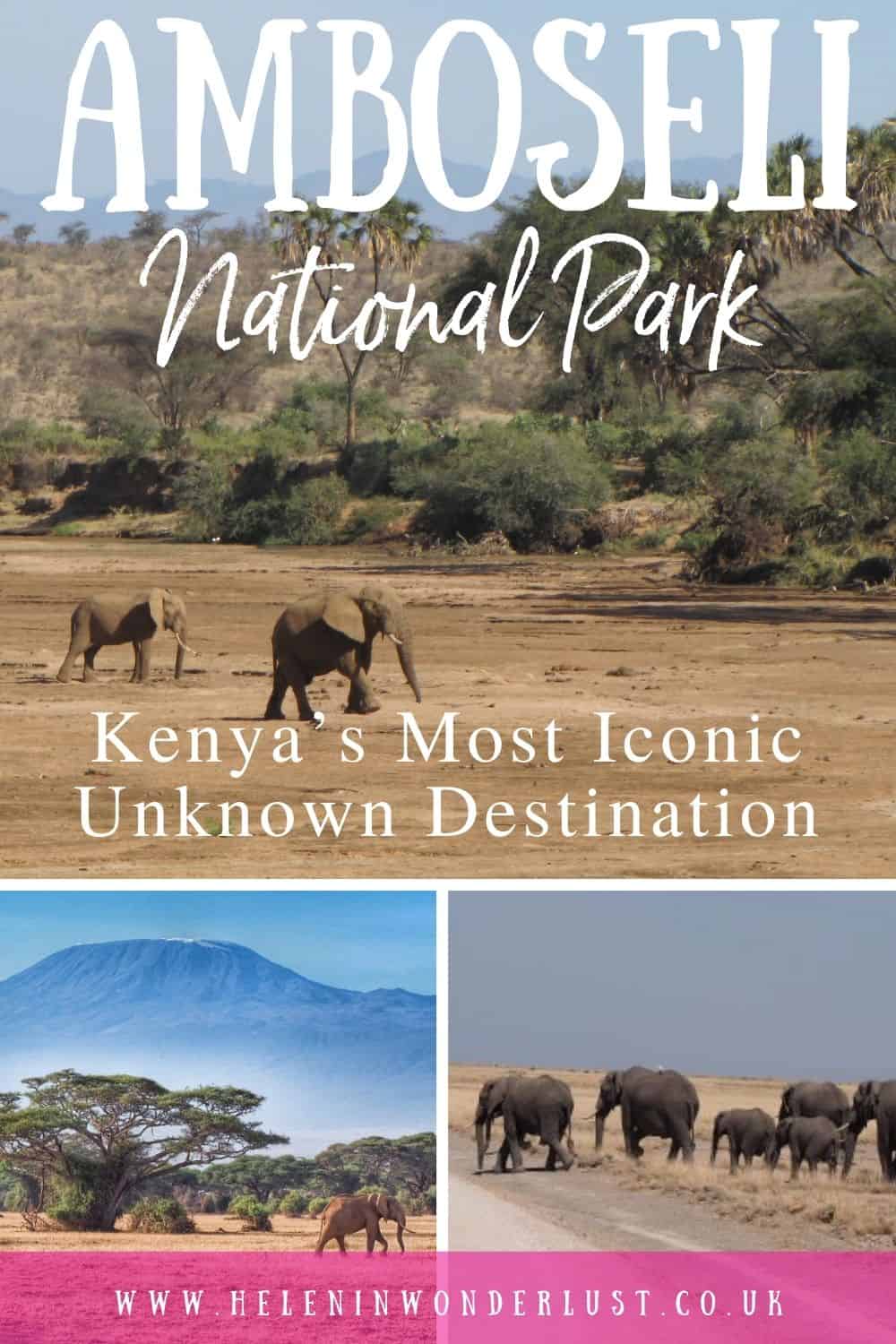 When you think of the classic safari image, what do you think of? Elephant standing in front of Kilimanjaro right? But where is that? The Serengeti? The Masai Mara? Nope!
It's Amboseli National Park in Kenya!
It is a pretty small park at only 392 km but with an elephant population of over 1500, it has one of the highest concentrations of elephant of all of the African national parks.
Amboseli isn't on the traditional overland truck route so I hadn't managed to make it there on my first trip to East Africa, but I was determined to get to it this time. But it almost didn't happen.
I booked my safari from home, about a month or so in advance as I was travelling solo at the time, and worried that if I didn't, I'd struggle to find a suitable trip. I was quoted varying amounts for the trip between $305 – $1385 for a 3 day trip, with a few of the safari companies telling me that Amboseli was difficult for them to arrange because not many people go there, despite it being Kenya's second most visited safari destination.
I eventually went with one of the budget companies, mainly because they said I would be with a family of 4, which would make my trip cheaper, I'd have a guaranteed departure and also give me a little bit of company. I'd been on a solo safari in South Luangwa before and been paired up with a family and it had been really nice.
I arrived in Nairobi a couple of days before the safari was due to start, having spent the best part of the last 2 days travelling up by public bus from Bagamoyo on the Tanzanian coast.
That's when they told me they'd been trying to reach me for a few days (via a message on my blog Facebook page which I couldn't access on my phone) to say that the family I was going with had cancelled their trip to Kenya (due to the ebola outbreak, over 5000 km away in West Africa – what the hell?!?!), so they wanted to know if I wanted to go to the Masai Mara instead as they now couldn't run the trip to Amboseli with just me on it. I was heading to the Mara in a few days anyway to see my friends Moses and Laura anyway and Amboseli was somewhere I'd been wanting to go for the last 5 years.
The next few hours were spent trying to find another company who could take me at the last minute —œ luckily Karibu Safaris in Kenya came to the rescue. Ben the driver and Kevin the chef picked me up the following morning and once we'd negotiated the horrible Nairobi traffic we were on the road, picking up the rest of our 'group', a lovely Spanish couple called Gabriel and Maria along the way, as they were coming straight from another safari at Lake Nakuru. Gabriel could speak a few English words, Maria could speak none and I can't speak any Spanish but we actually had a really lovely time together, using a mixture of sign language and charades to communicate.
As we drove towards Amboseli, the lower slopes of Kilimanjaro came into view and although the top was shrouded in cloud, it had been a long time since I'd last clapped eyes on that beautiful mountain and I was happy to be back. And Ben promised me I'd see it more clearly in the morning and he was right.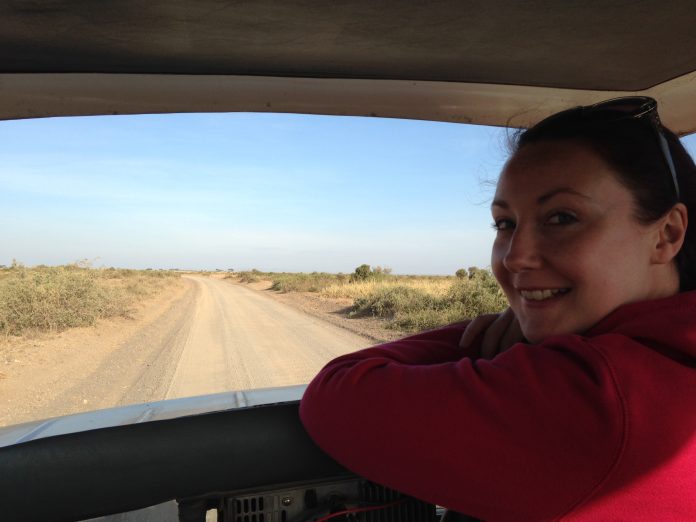 We were to go on 2 game drives, one on the afternoon we arrived, and then a full day out in the park the day after. I couldn't wait to see the famous elephants of Amboseli who are the most studied in all of Africa, having been observed by the Amboseli Trust for Elephants for over 40 years now and much of what we know today about these beautiful creatures comes from the work of the trust.
We stayed at Kimana Tented Camp, which is pretty basic with some static tents and huts and room for independent campers. I stayed in a hut called 'Rhino'Â which had a bed (with mosquito net), sink, toilet and shower. The water didn't work all the time. There was nothing amazing about this camp, but it did the job and is the cheapest option if you are on a budget.
I did have a fabulous view of Kilimanjaro from my porch though!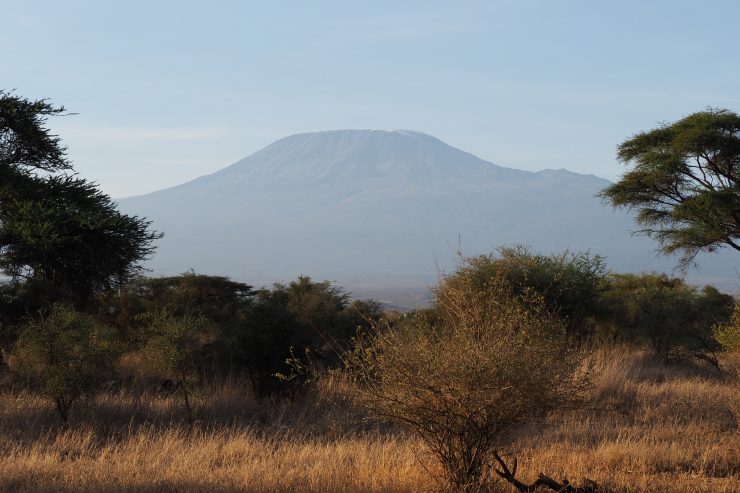 On both days we saw tons of animals, especially elephants and within minutes of arriving in the park on our second day we'd spotted baboons, hyenas and a lone elephant. Stopping each time to take photographs.
We drove on and came to a massive herd of elephants who had just crossed the road when we arrived. Had we been a few minutes earlier, we would have seen all these guys lined up in front of Kilimanjaro, pretty much every wildlife photographers dream.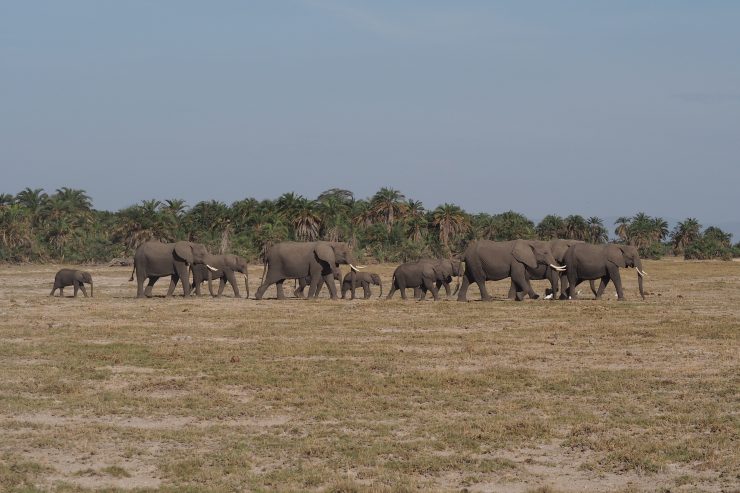 At lunch we headed up to the top of Observation Hill, which gave us amazing and colourful views over the swamps the animals and the whole park. I've visited over 20 national parks in Africa and Amboseli is my favourite in terms of scenery.
We got closer to elephants on this safari than I have anywhere else. Believe it or not, I didn't even have a zoom lens for these photographs.
My favourite moment was when we came across a big herd. The elephants stopped in silent unison, the matriarch at the front. She watched us, weighing up the situation. We watched them. We were so close I could hear them breathing.
After around 5 minutes, she decided that she could trust us and the elephants plodded quietly onwards. The only sound the gentle crunch of gravel beneath their feet.
If it's your dream to see African elephants in the wild, there's no place more magical than Amboseli National Park.
Essential Info:
Park entry fees can be found here. You can book trips to Amboseli from both Nairobi (5 hours drive) and Arusha in Tanzania (3.5 hours drive).
I booked my trip through Karibu Safaris in Kenya, joining for the last part of their 6 day Masai Mara, Lake Nakuru & Amboseli Safari.
The 3 day, 2 night trip cost me approximately £258. This included all meals, guide/driver, accommodation, transfers and park entry fees.
Our guide/driver Ben and chef Kevin were great. Always chatty, knowledgeable and fun to be around.
We stayed at Kimana Tented Camp. The camp was pretty basic but did have a small pool. The biggest downside for me was that the bar was pretty much dry, so if you want soft drinks, beers, wine or snacks – I'd bring them with you from town.
I stayed in a static hut which had a bed (with mosquito net), sink, toilet and shower. The water didn't work all the time. Wasn't the best place I've stayed, but I did have fabulous view of Kilimanjaro from my porch. If I went back, I would consider paying a little bit more to stay somewhere a little nicer, although the prices can vary dramatically.
To get the best deals, shop around and get quotes from different safari companies and the hotels/lodges themselves as some will do safari packages with transport from major cities. It's a bit of a pain as NO companies (that I've found anyway) put any prices on their websites (grrrrr), but you can save a lot of money if you do this.
Other hotels/lodges/camps you might want to consider: AA Lodge, Tortilis Camp, Amboseli Sopa Lodge, Tawi Lodge, Kibo Safari Camp.
If you have a few days in Nairobi/Arusha and are flexible on time and/or budget, you could arrange it whilst in country.
You can do a self-drive if you have your own transport.
Perhaps tag an Amboseli safari onto a Kilimanjaro climb.
Best time to visit: January, February, June – September. They say to avoid the rainy season in April, May, November and December as some of the roads may become impassable. I visited in October and it was fine for me.
Essentials to pack: sunglasses, scarf/hat to keep your hair dust free, a book, warm clothing (it can get cold in the evenings and early mornings), wet wipes and a good zoom lens. I didn't have a zoom lens for this safari (what an idiot) but I still managed to get great photos as the animals were so close, but you might not always be that lucky!
Who wants to see some gorgeous elephants in Amboseli National Park?