Last updated on July 25th, 2021 at 07:18 pm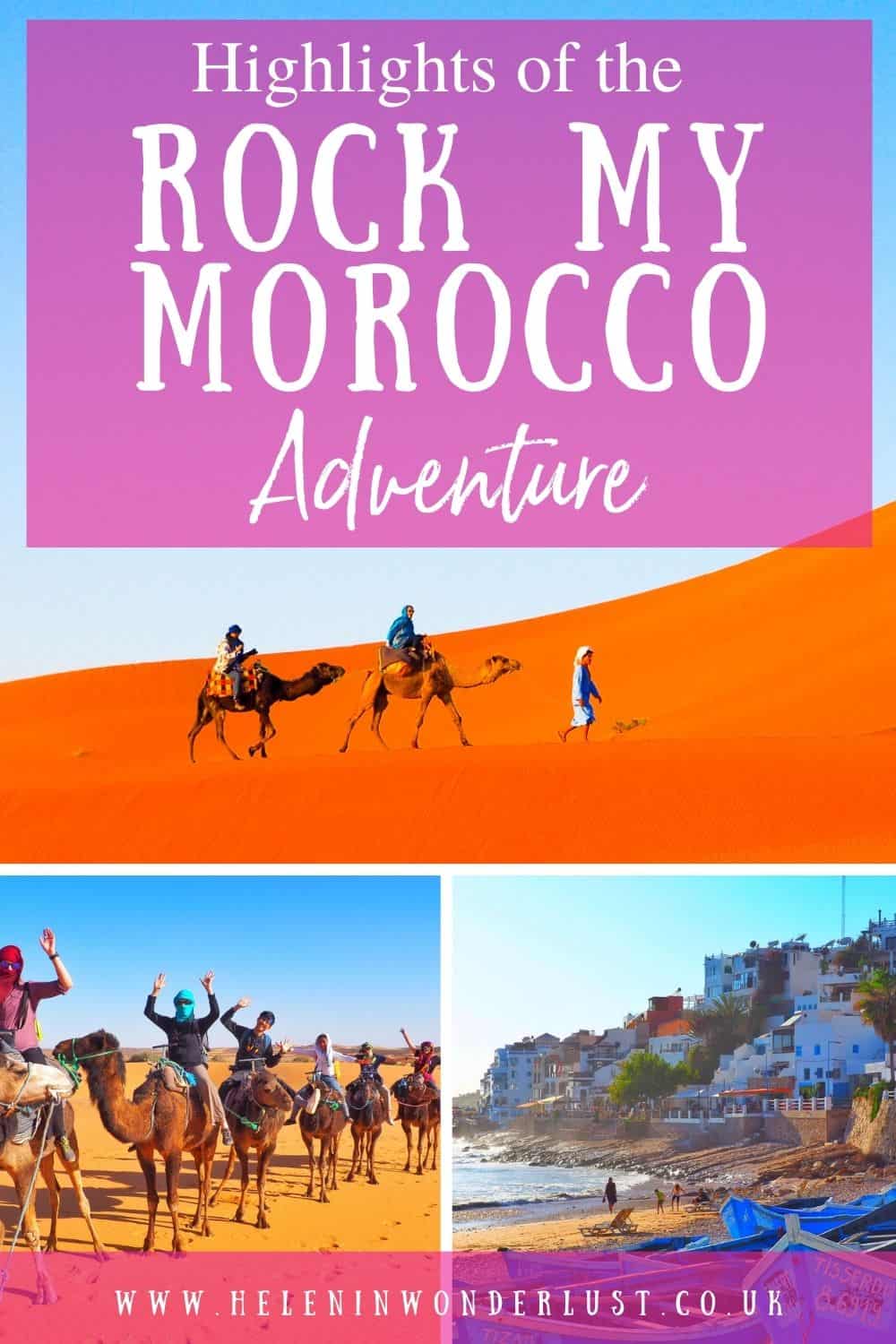 Welcome to the Rock My Morocco Adventure photo diary – April 2018 edition.
After running my Rock My Tanzania & Zanzibar Adventure in February this year, I decided to keep a photo diary of each of my Rock My Adventure tours. I do this for two reasons:
The first, which is the main reason I do it, is that I'm often so busy on the trips, that I don't have time to digest everything we've done and everything we've seen. So it's great for me to sit down at the end of each tour, sort through my photos, think about everything that happened, write down my favourite memories and truly appreciate the adventure we've just been on. Writing these posts always make me smile because every trip is different. The itineraries may be the same from trip to trip, but it's the people that make Rock My Adventure trips truly special!
"œI was surprised at how beautiful Morocco truly is. I can't even put it into words!! The trip was the perfect blend of scenery, nature, and culture to give you an insightful glimpse into what life in Morocco is truly like. And the people! They were so friendly, didn't matter if they were locals or travelers. Helen is a lively, energetic guide who carefully plans out every detail of the tour to provide you with the perfect blend of all the attributes of Morocco within a two week span. I would not hesitate to go on a Rock My Adventure tour again!"Â (Mary, USA)
Plus, it's nice to have a little space on the internet, for me and the group to reminisce about the trip.
The second is that I try not to do too much social media when I'm actually on the trips, as I think it's important to be present when you are leading a tour, concentrating on your group and having fun rather than just documenting all the fun (I do take a lot of photos though), so it's a good way for you guys to get a feel for what the trips are actually like!
The Rock My Morocco Adventure was my second tour of 2018 (with many more still to come) and my first Morocco tour. Here's what we go up to"¦
---
Taghazout
We spent our first few days of the trip surfing and doing yoga in the laid-back surf town of Taghazout!
There's something so special about this place. I mean, there's not much to do besides surf and do yoga, but that's all you need! Our days were simple: eat, surf, eat, surf some more, yoga, eat, sleep, repeat!
Our evenings were pretty chilled too, spent making new friends, laughing, drinking wine (when we could get it) and on one of our evenings, we watched an outdoor screening of Point Break (the original version), wrapped in blankets, with (I kid you not) shooting stars overhead! Now that was pretty special, if a little chilly!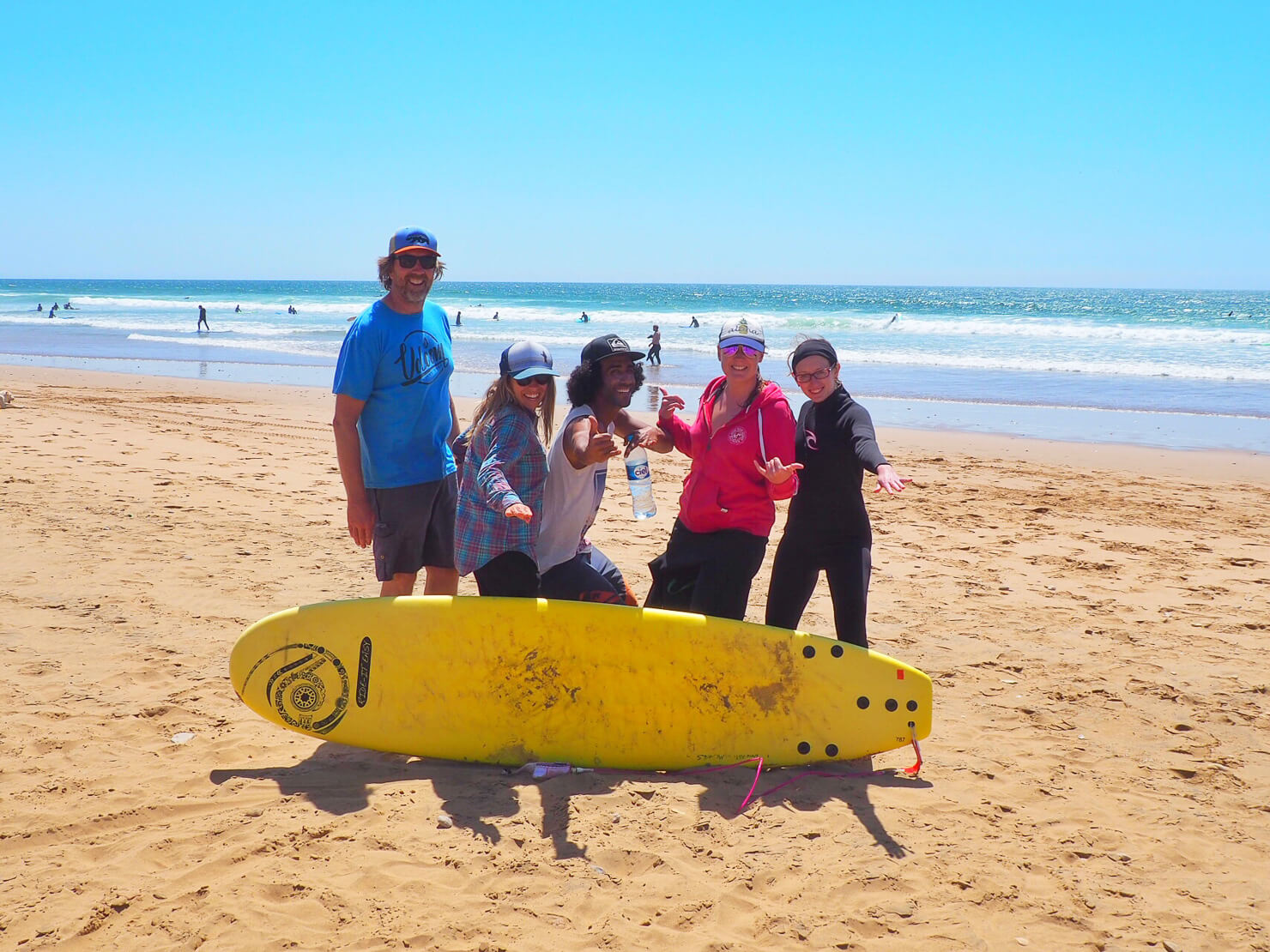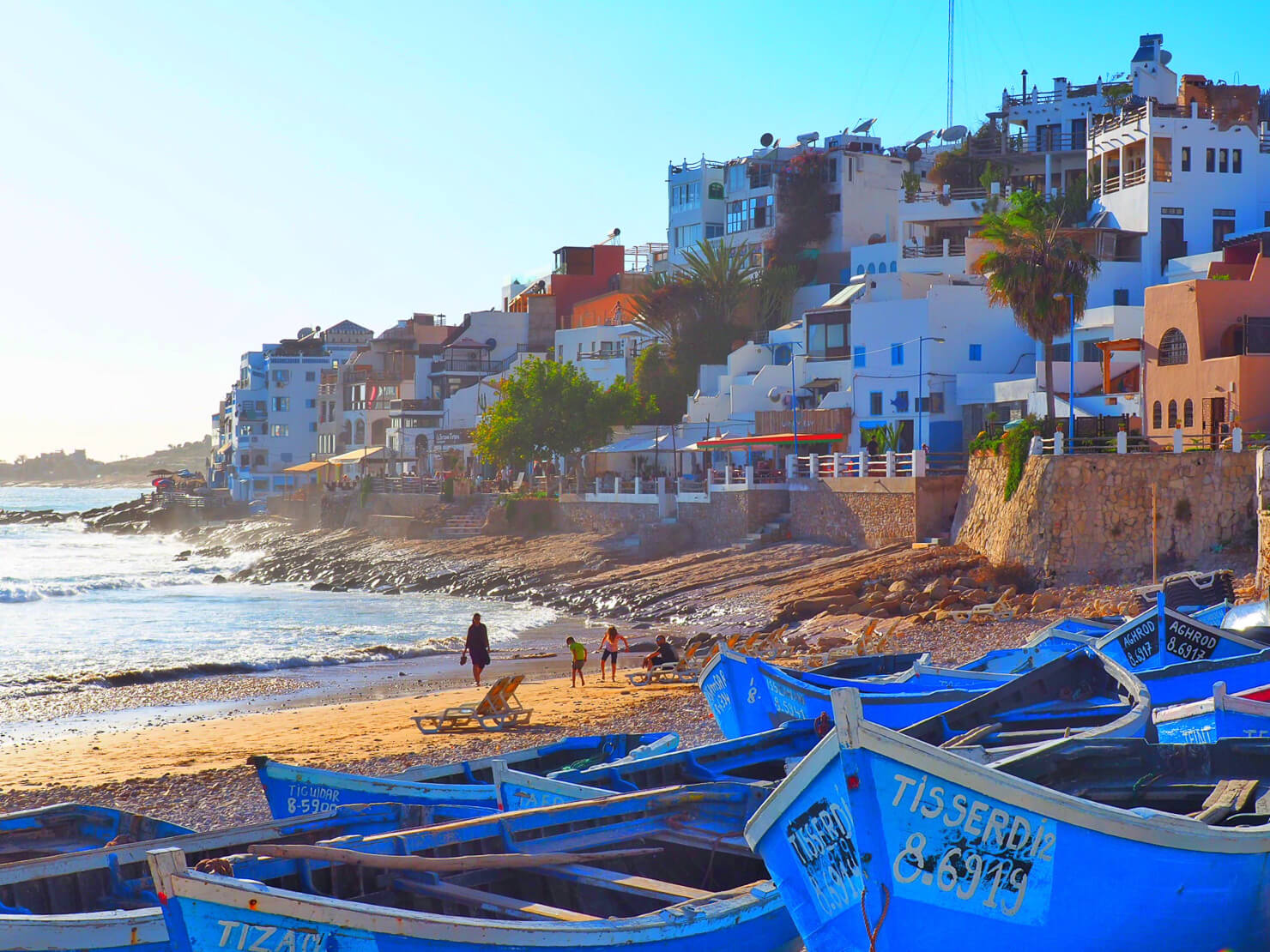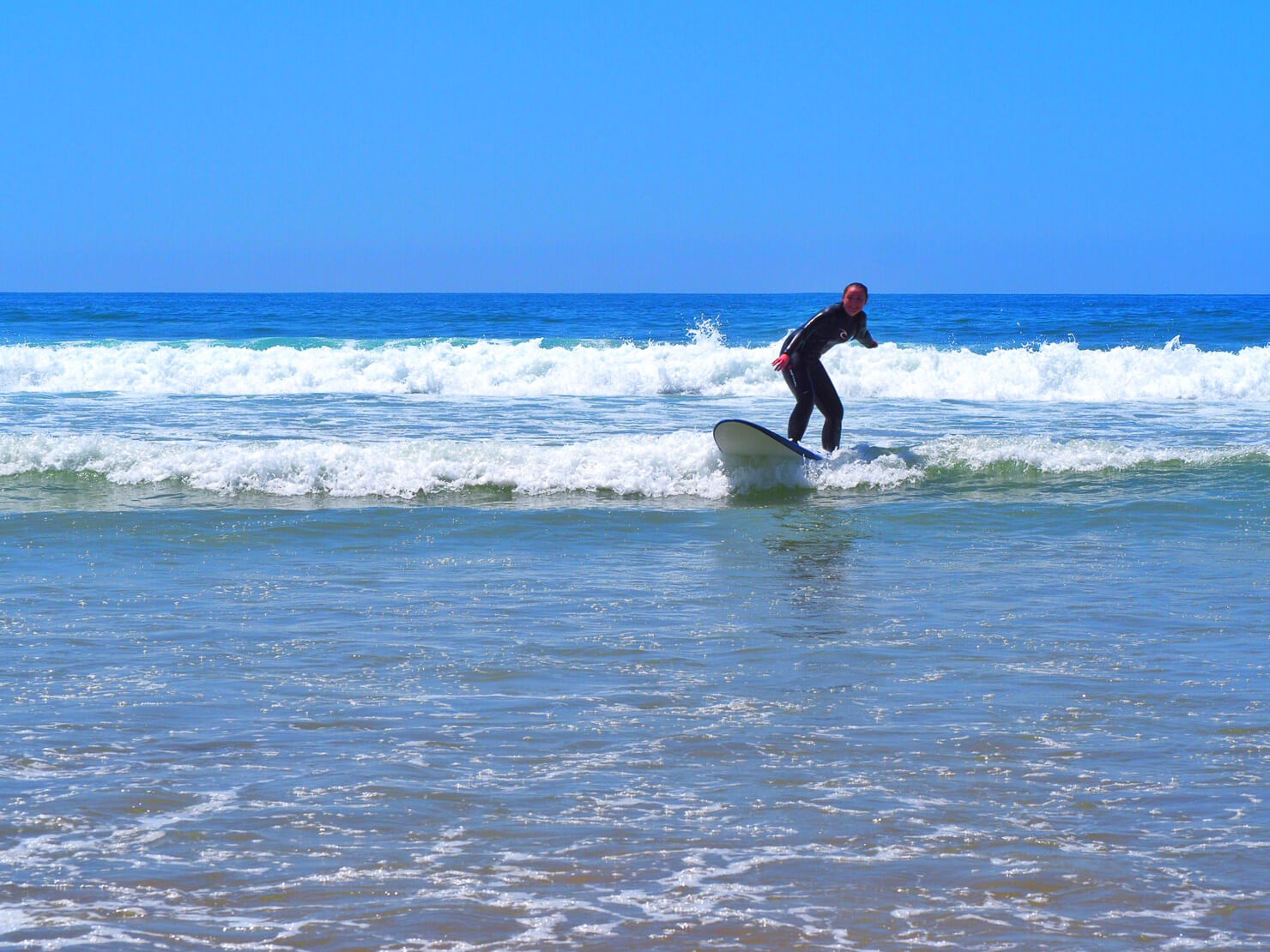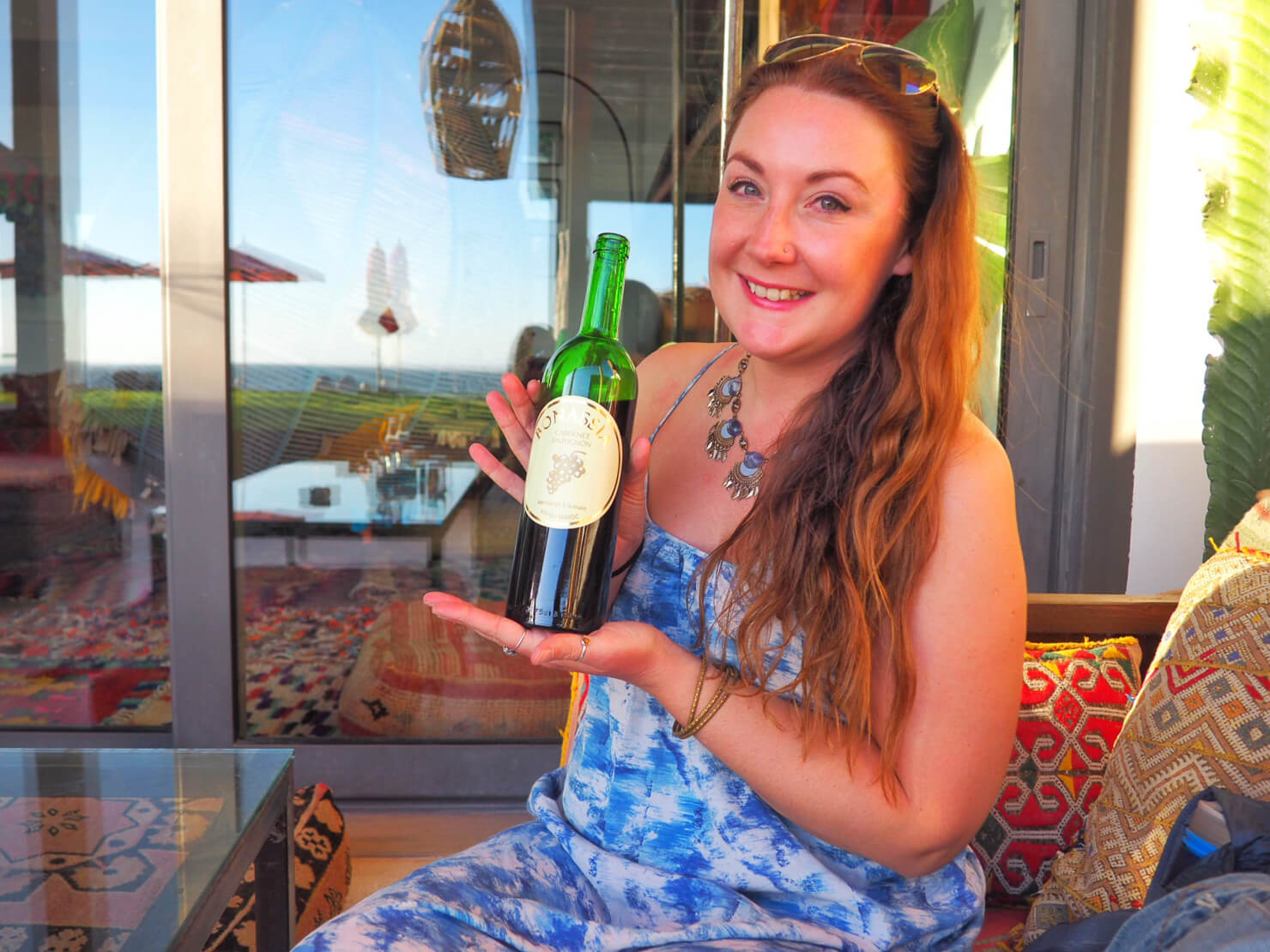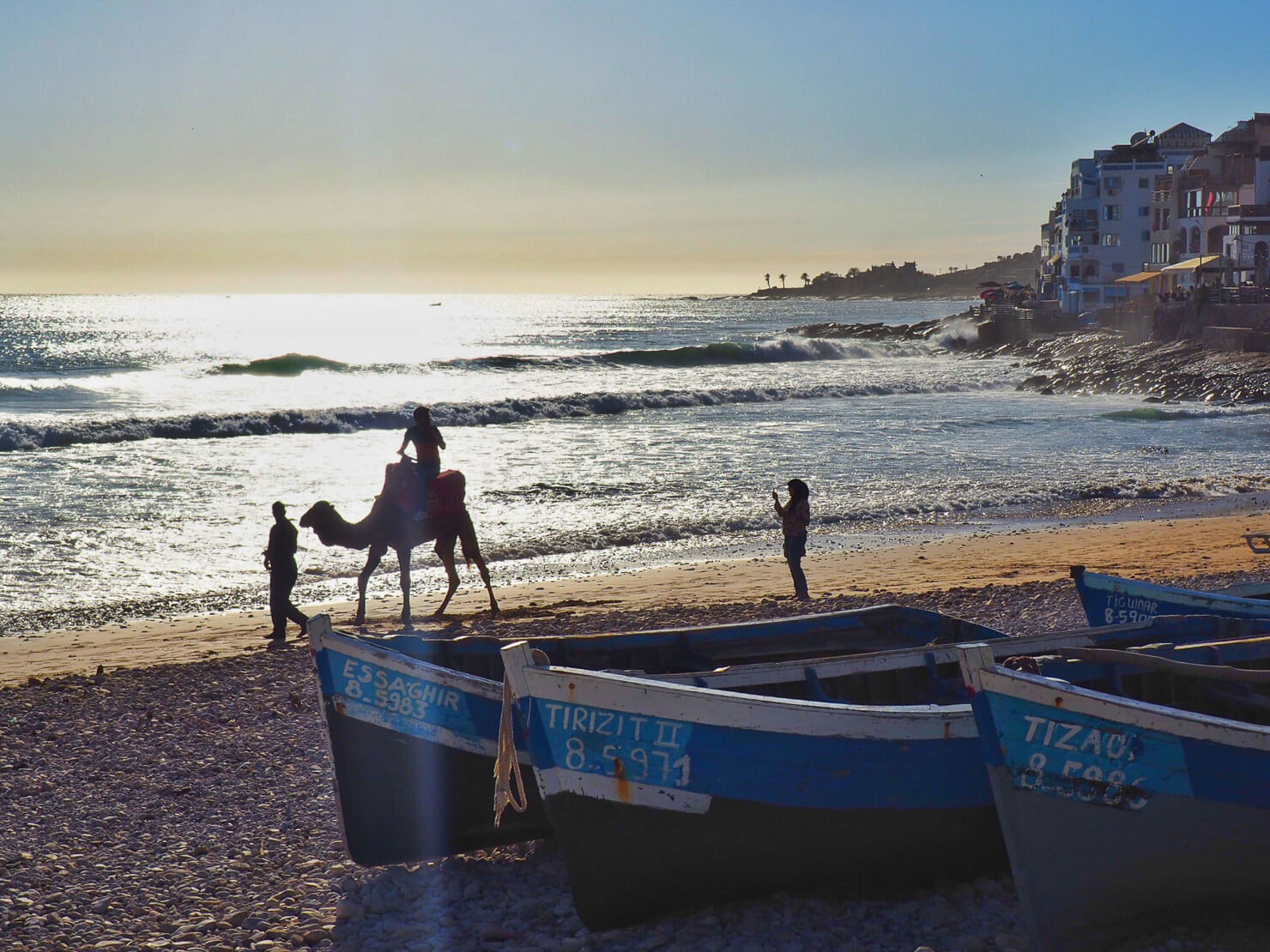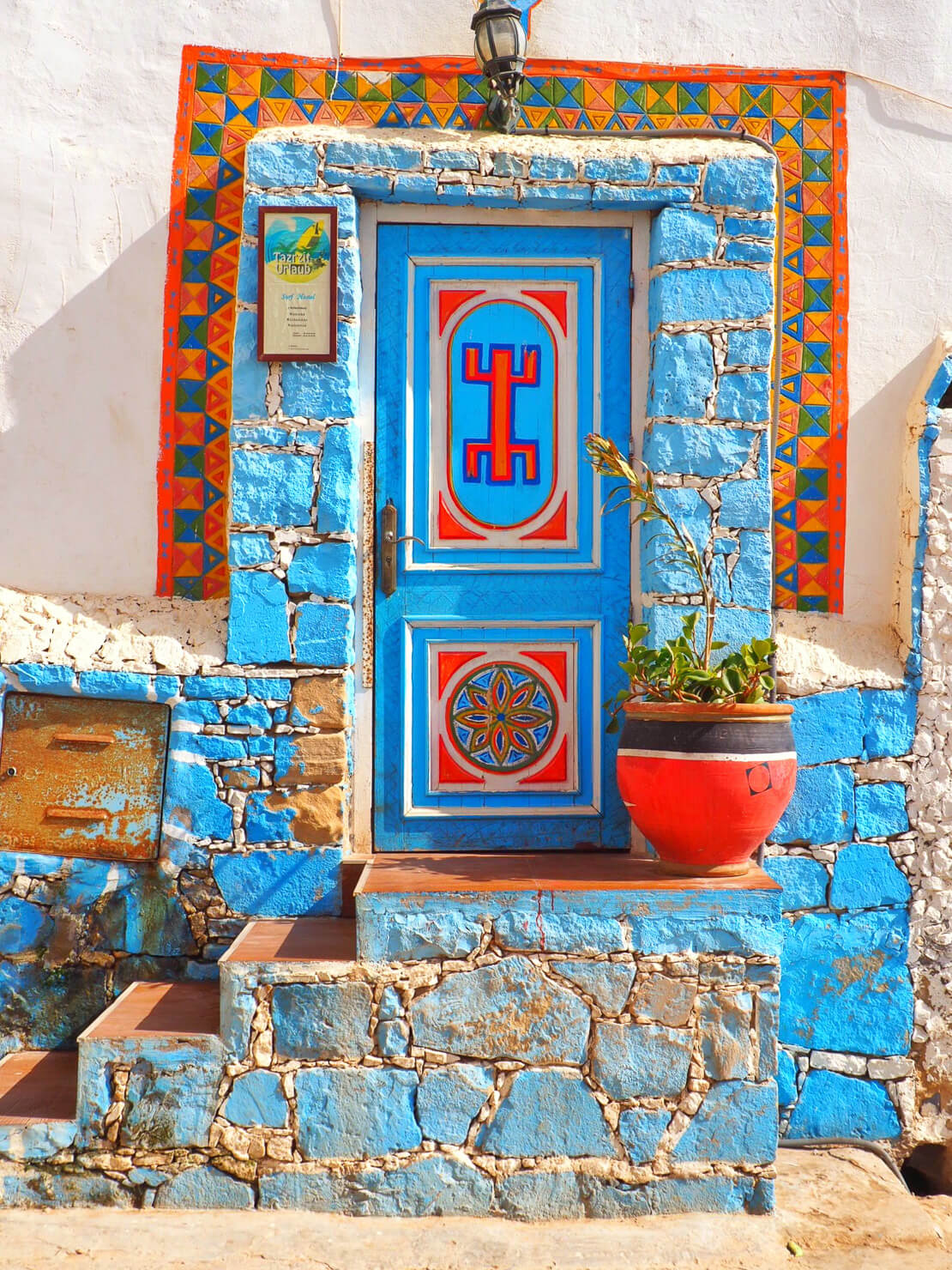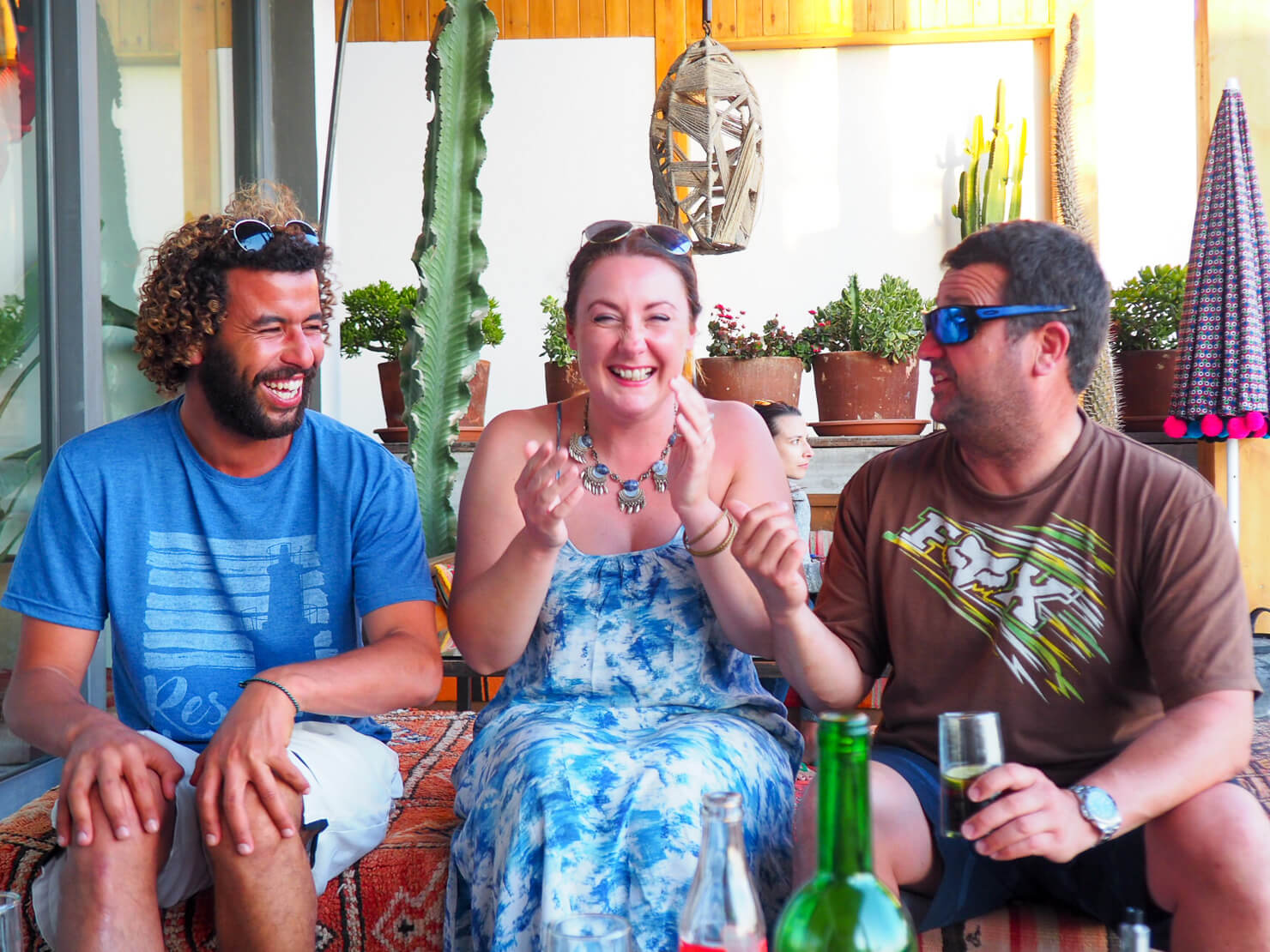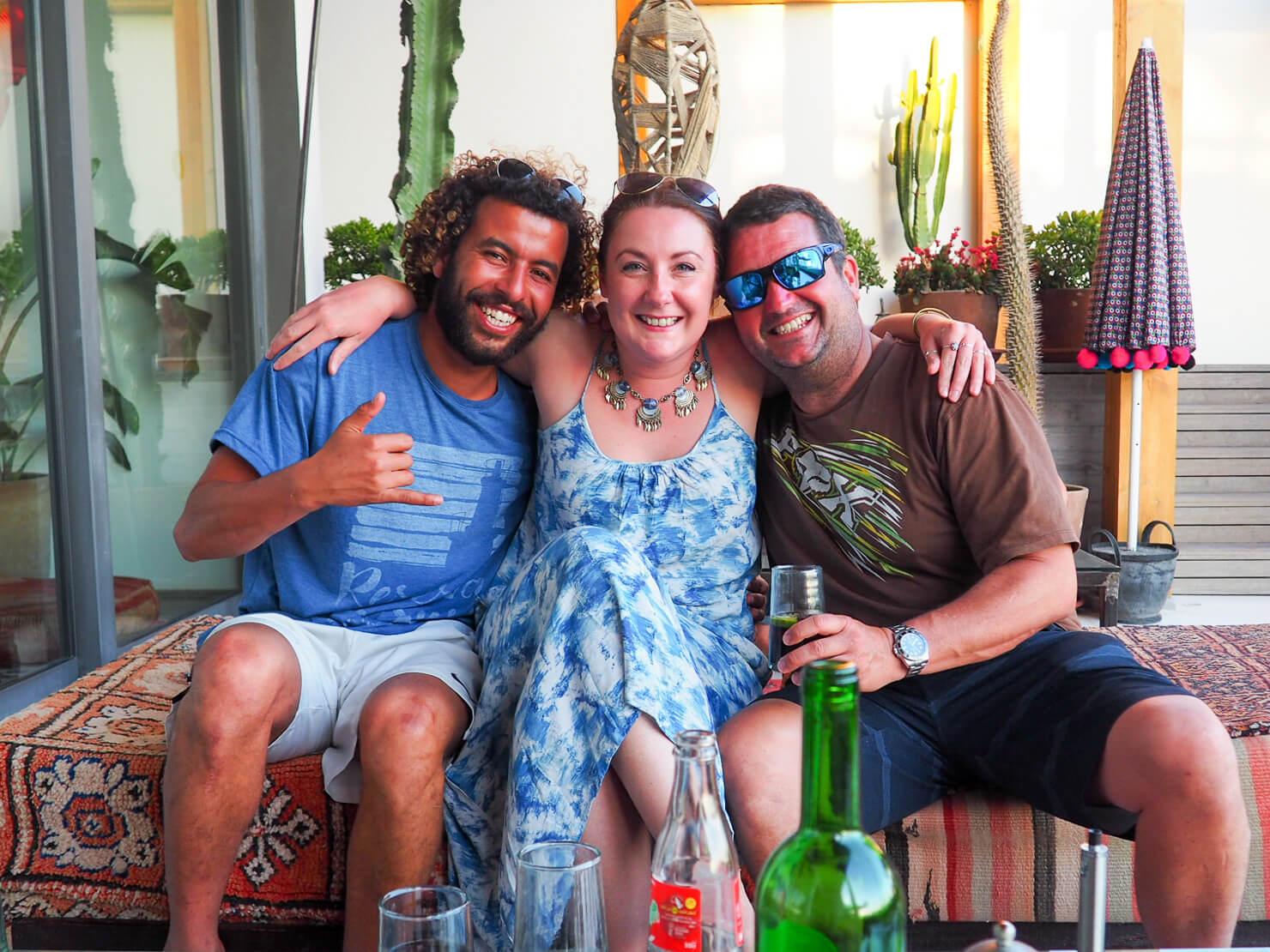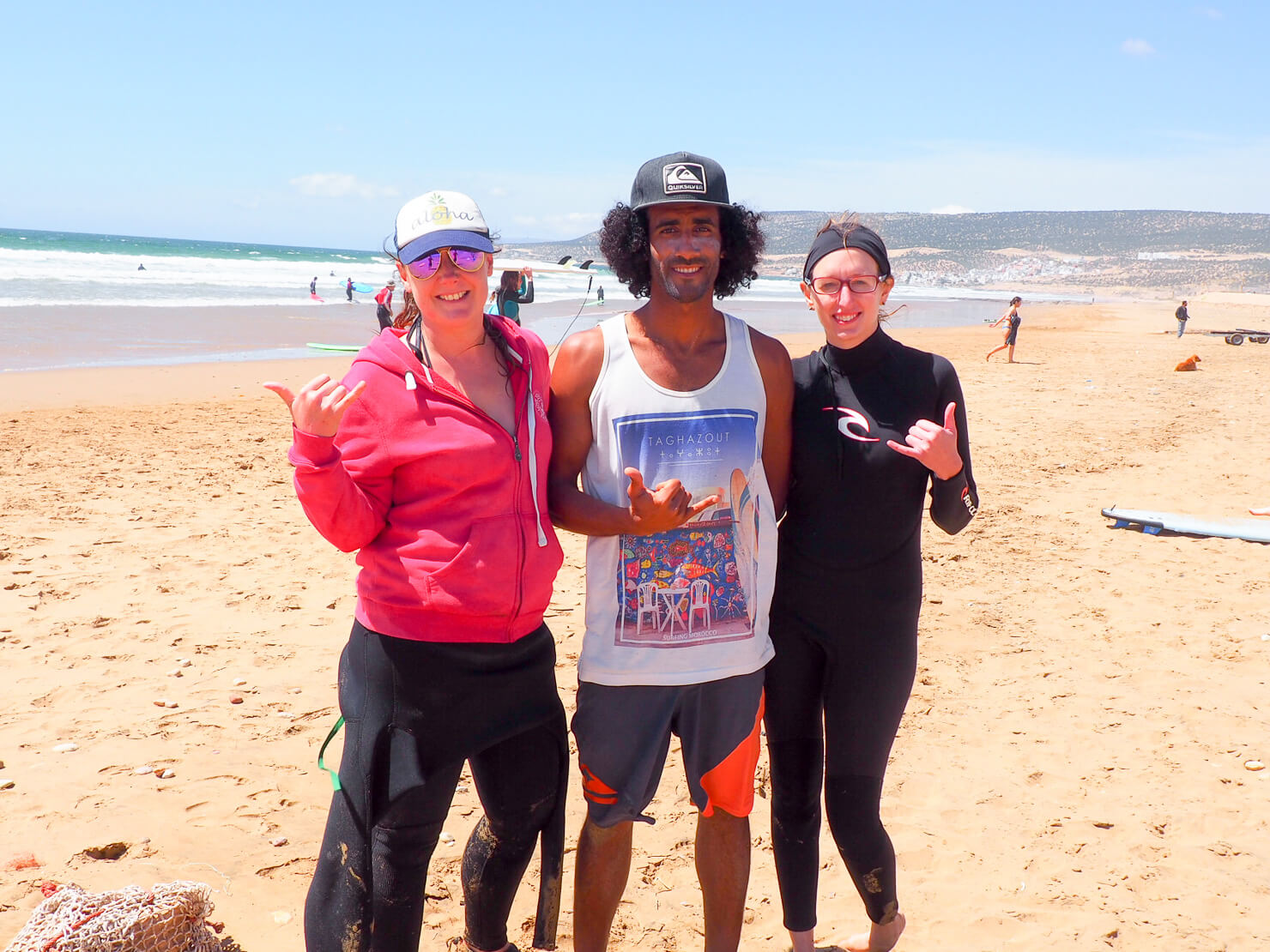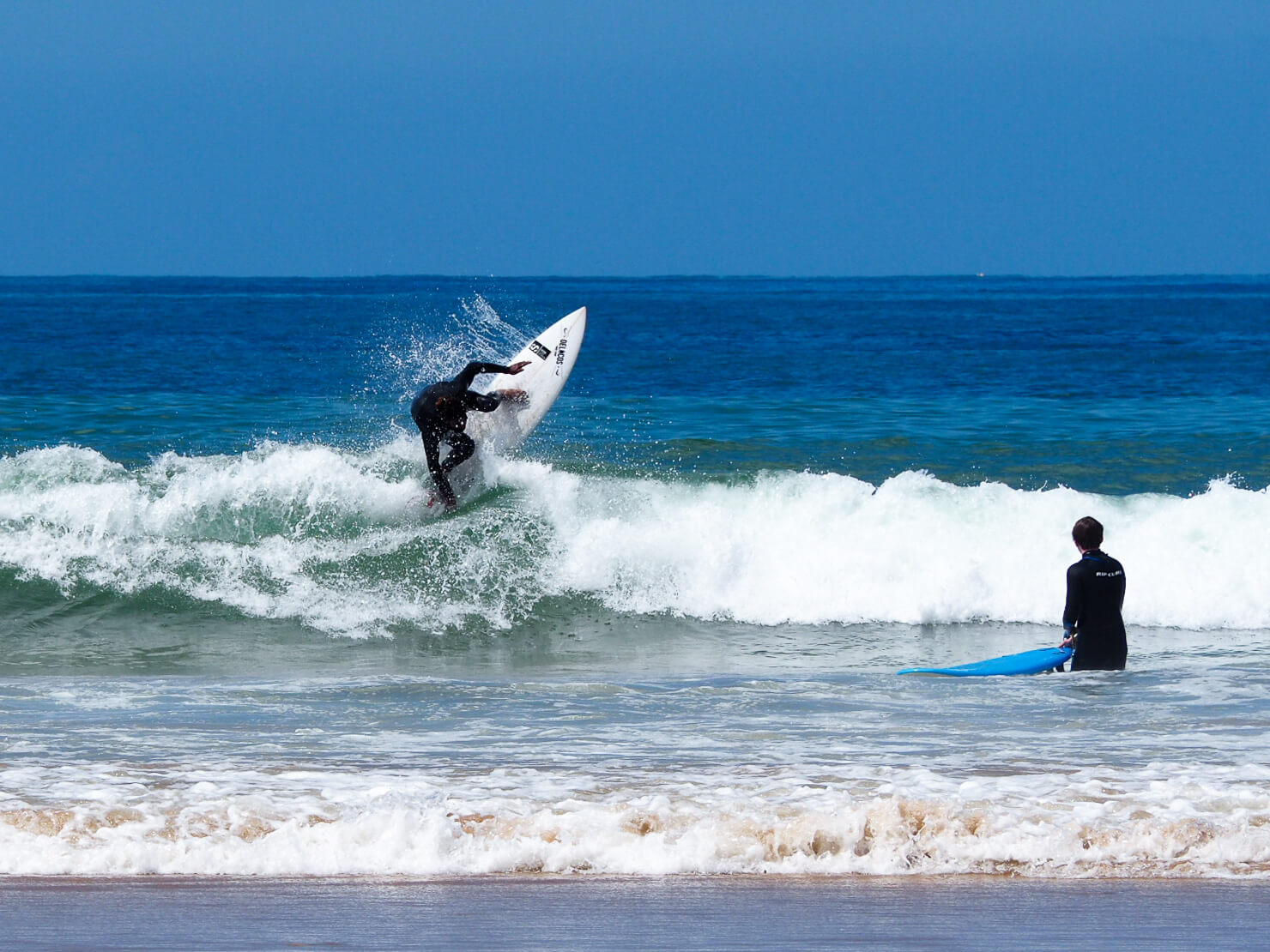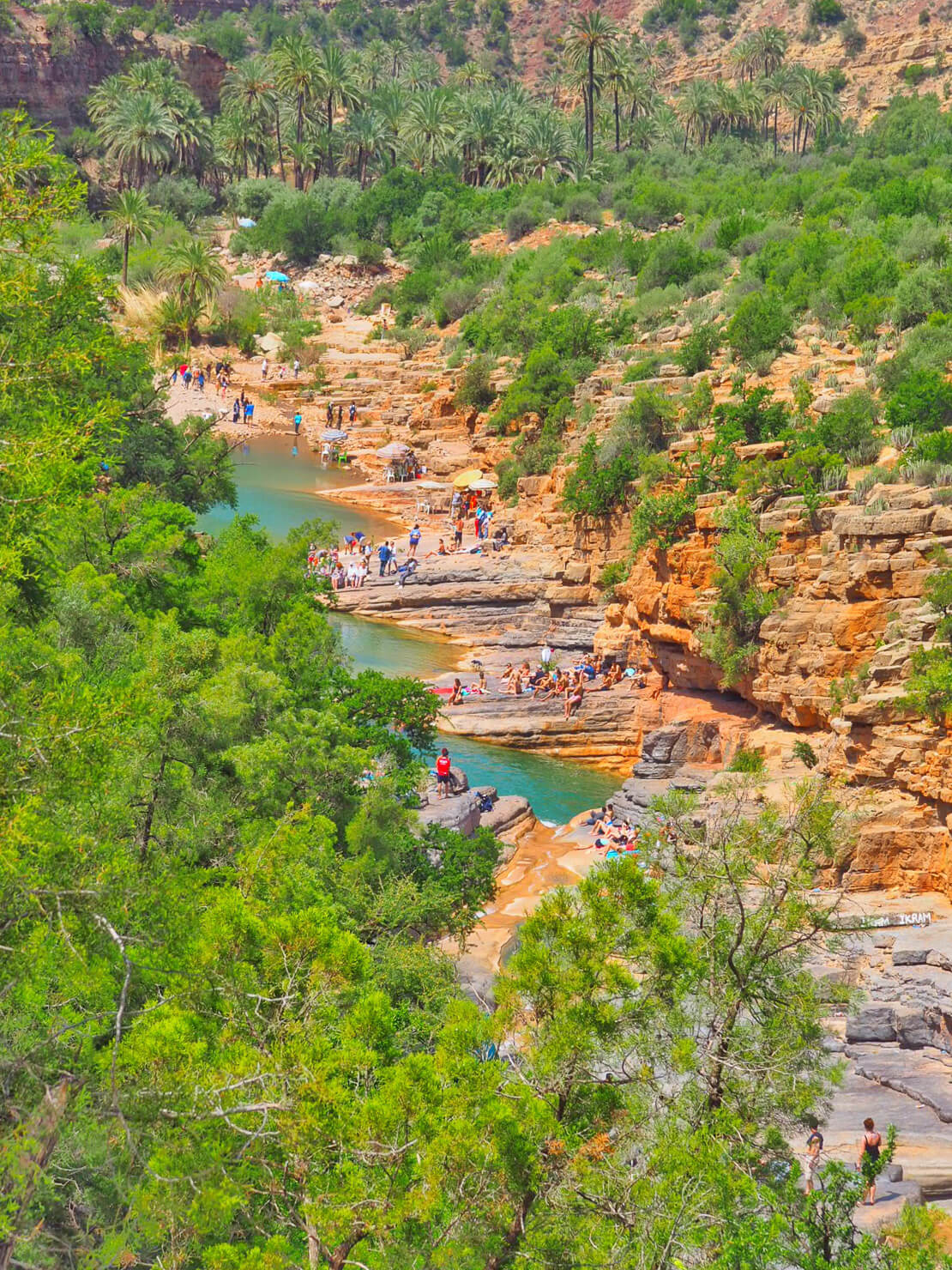 ---
Essaouira
Next we headed to the pretty coastal city of Essaouira, a quieter, hippie version of Marrakech!
Essaouira is known for being one of the filming locations for Game of Thrones and as a few locals will tell you, the place that inspired Jimi Hendrix to write Castles Made of Sand. Although many people dispute that fact as he didn't actually visit Essaouira until 2 years after it's release.
We spent some time taking a tour of the medina, shopping, horse riding along the beach and taking lots of pictures!
I seriously love this city!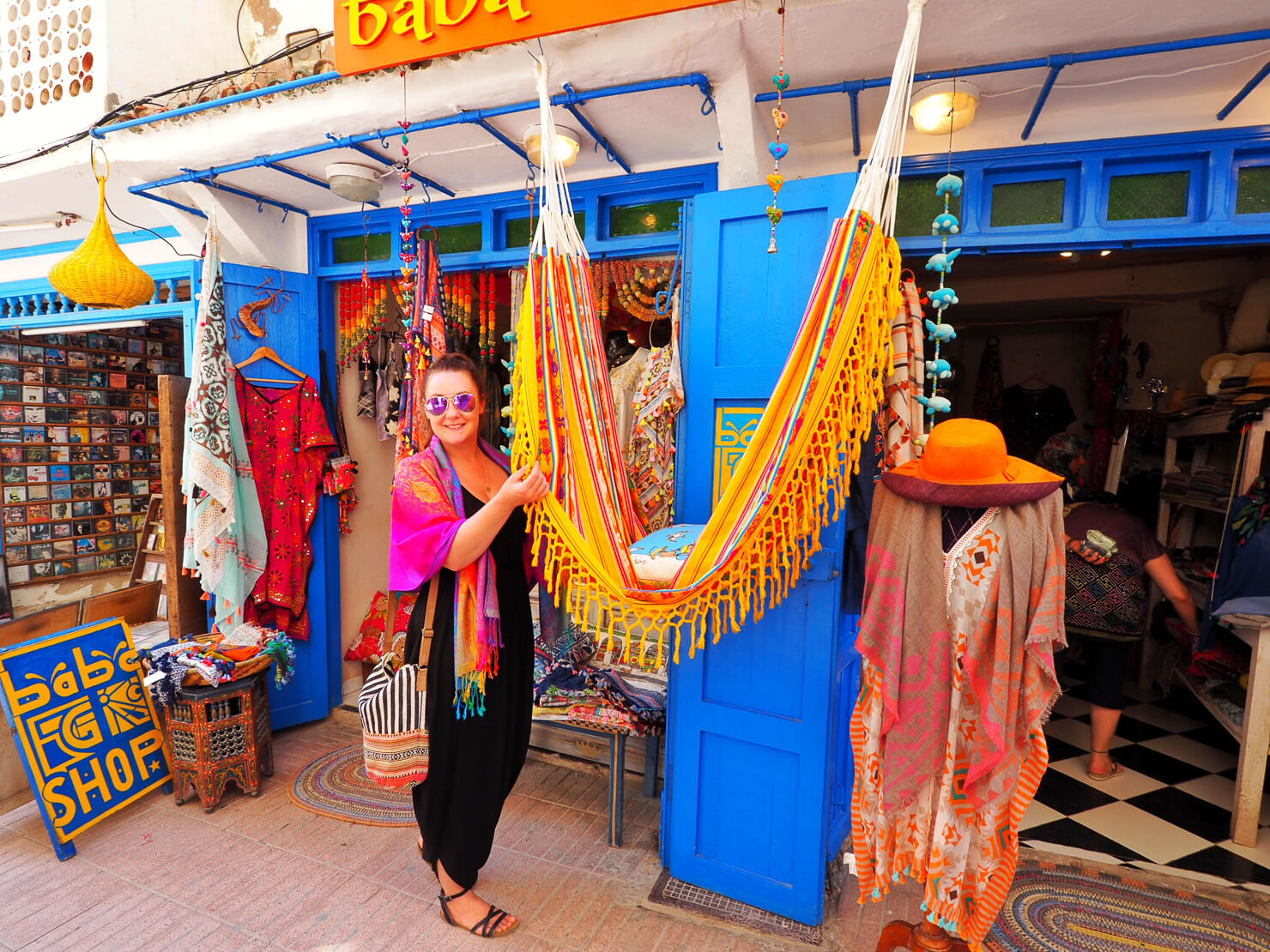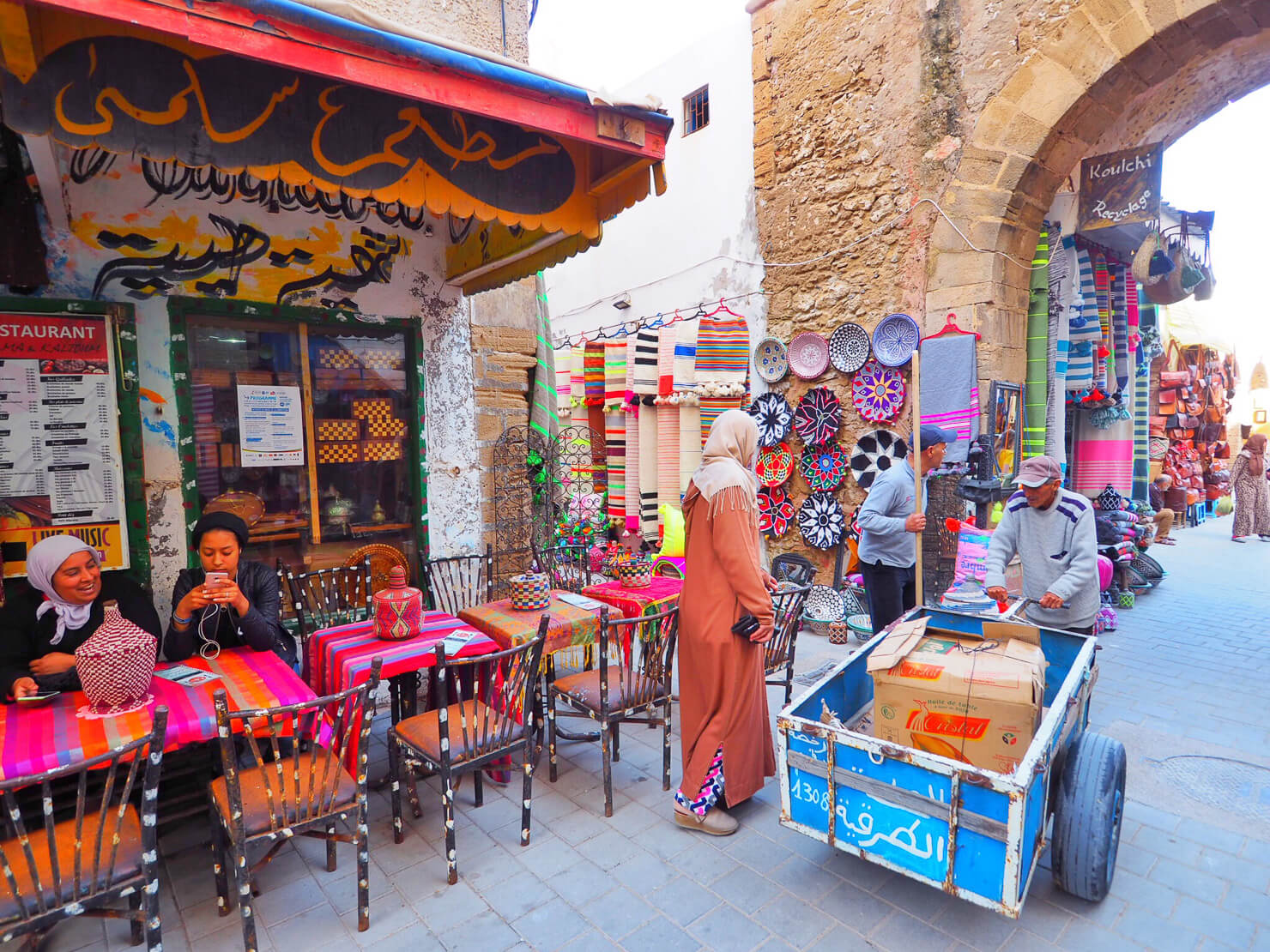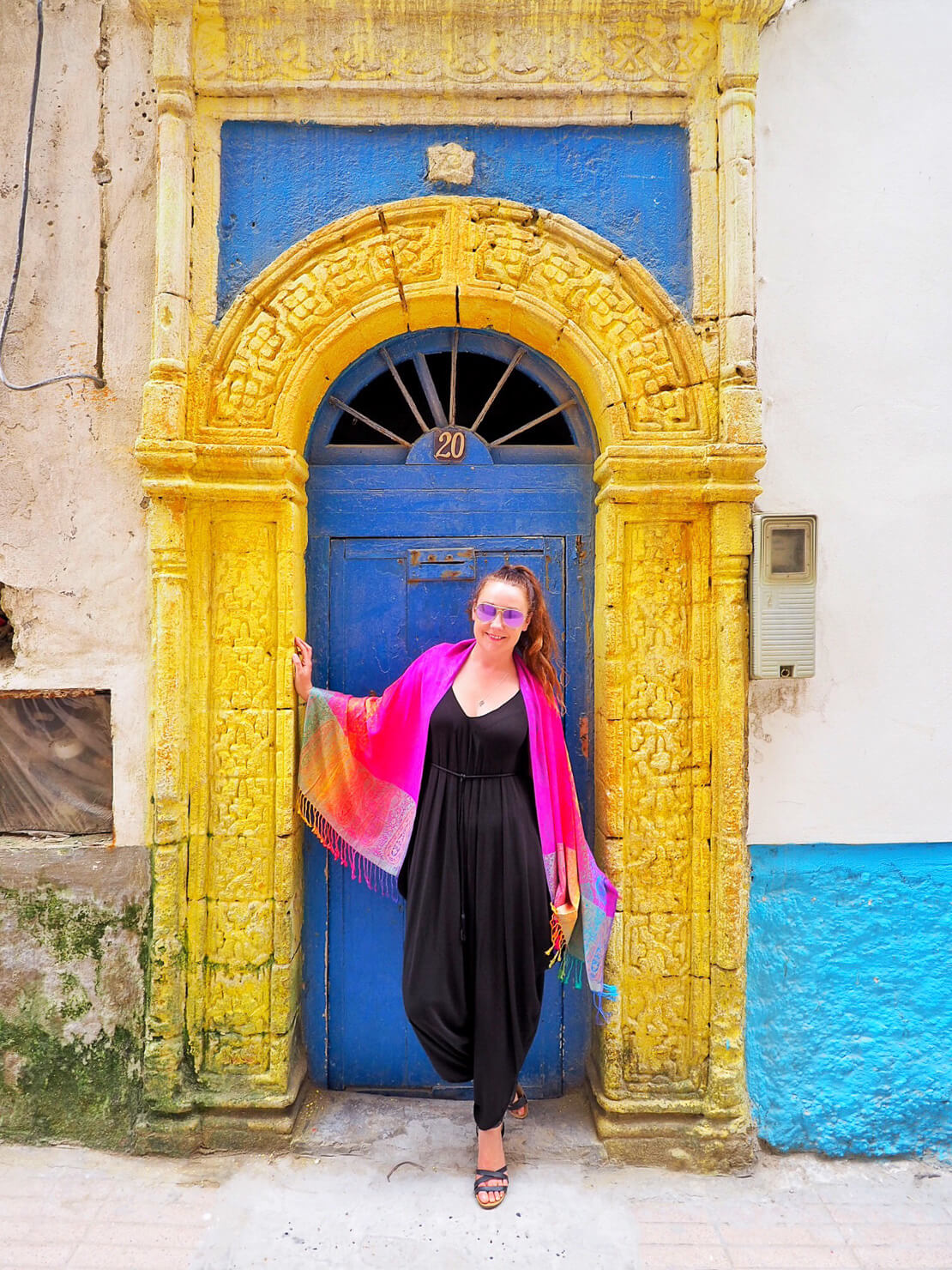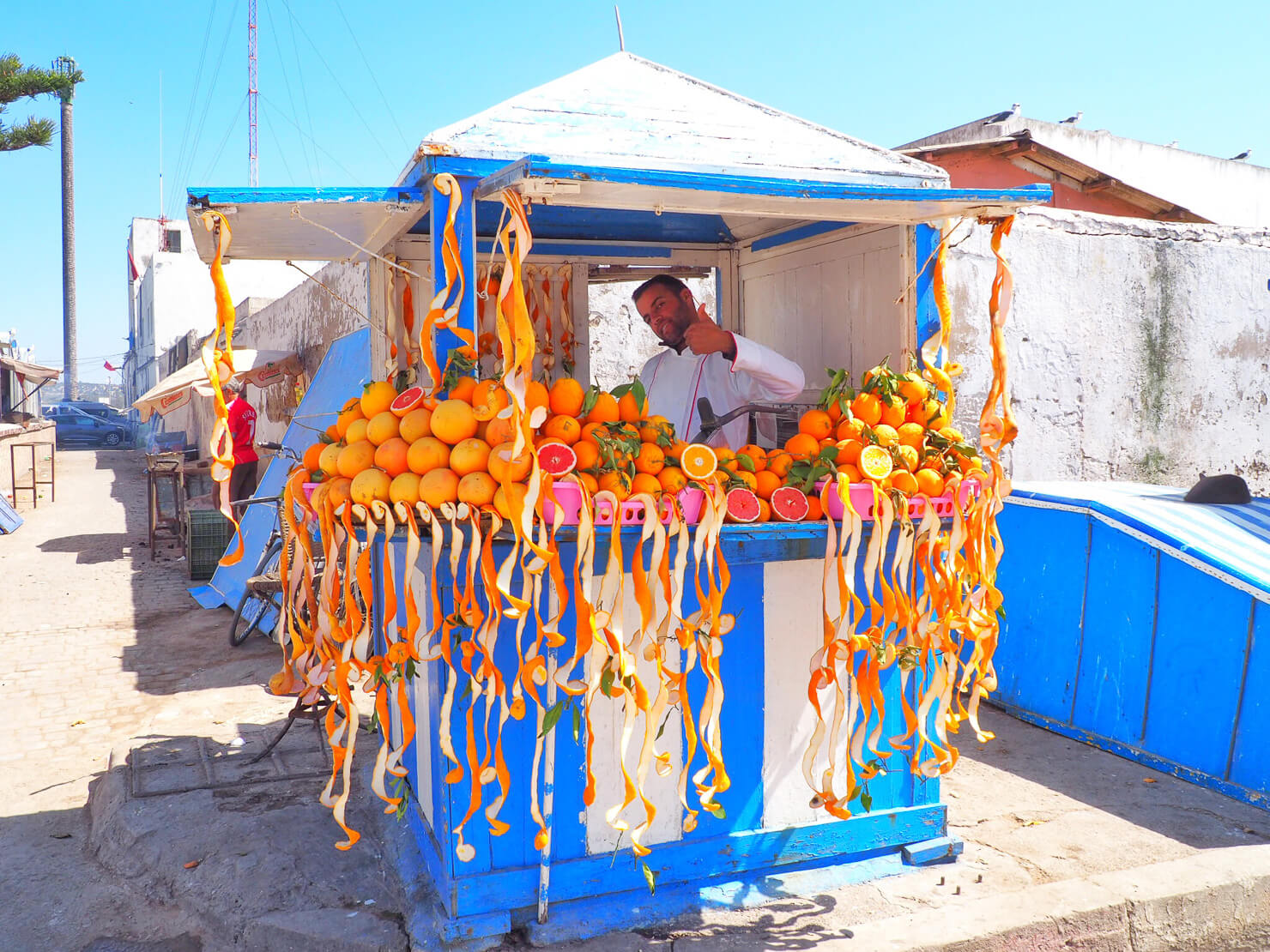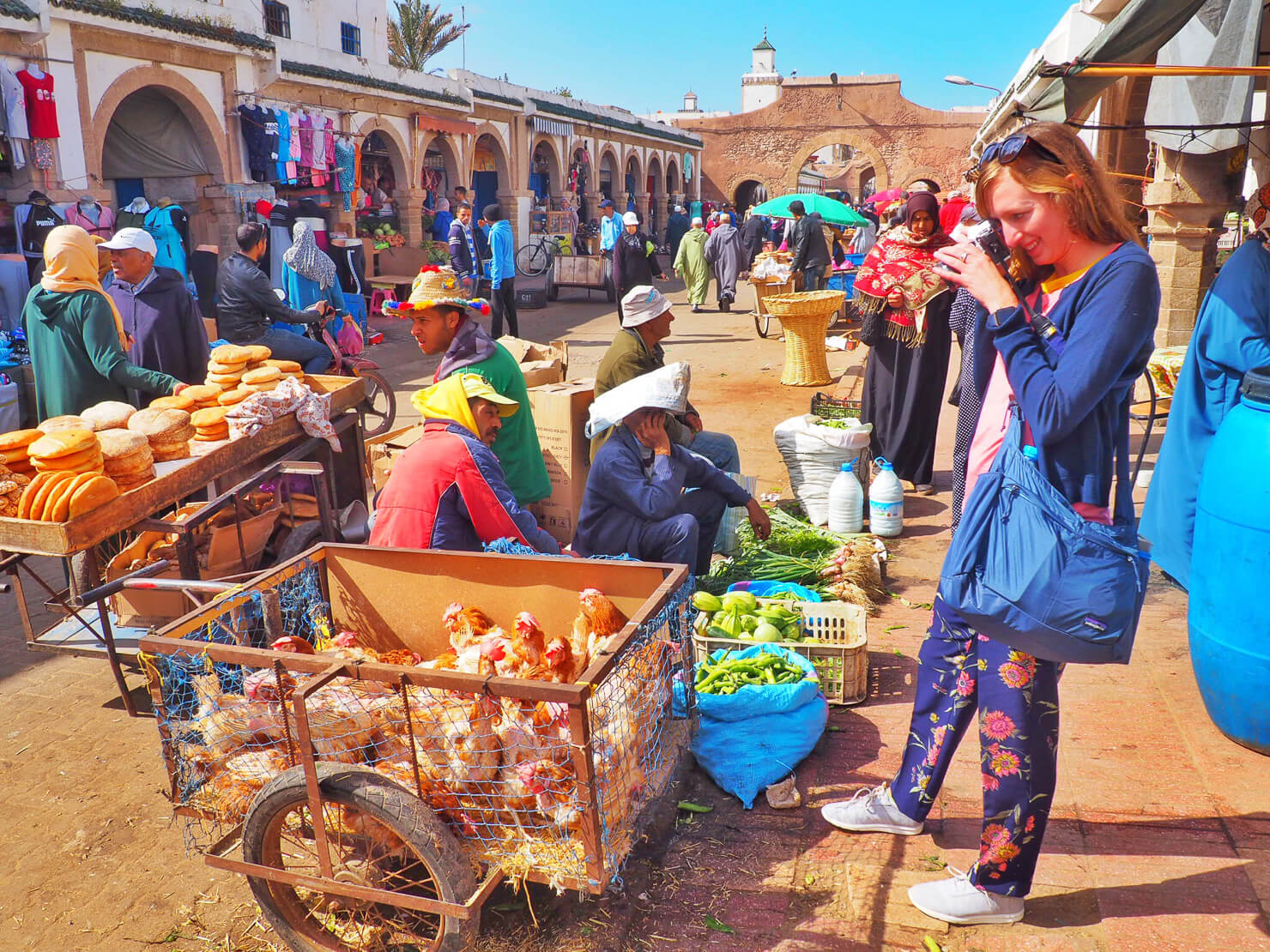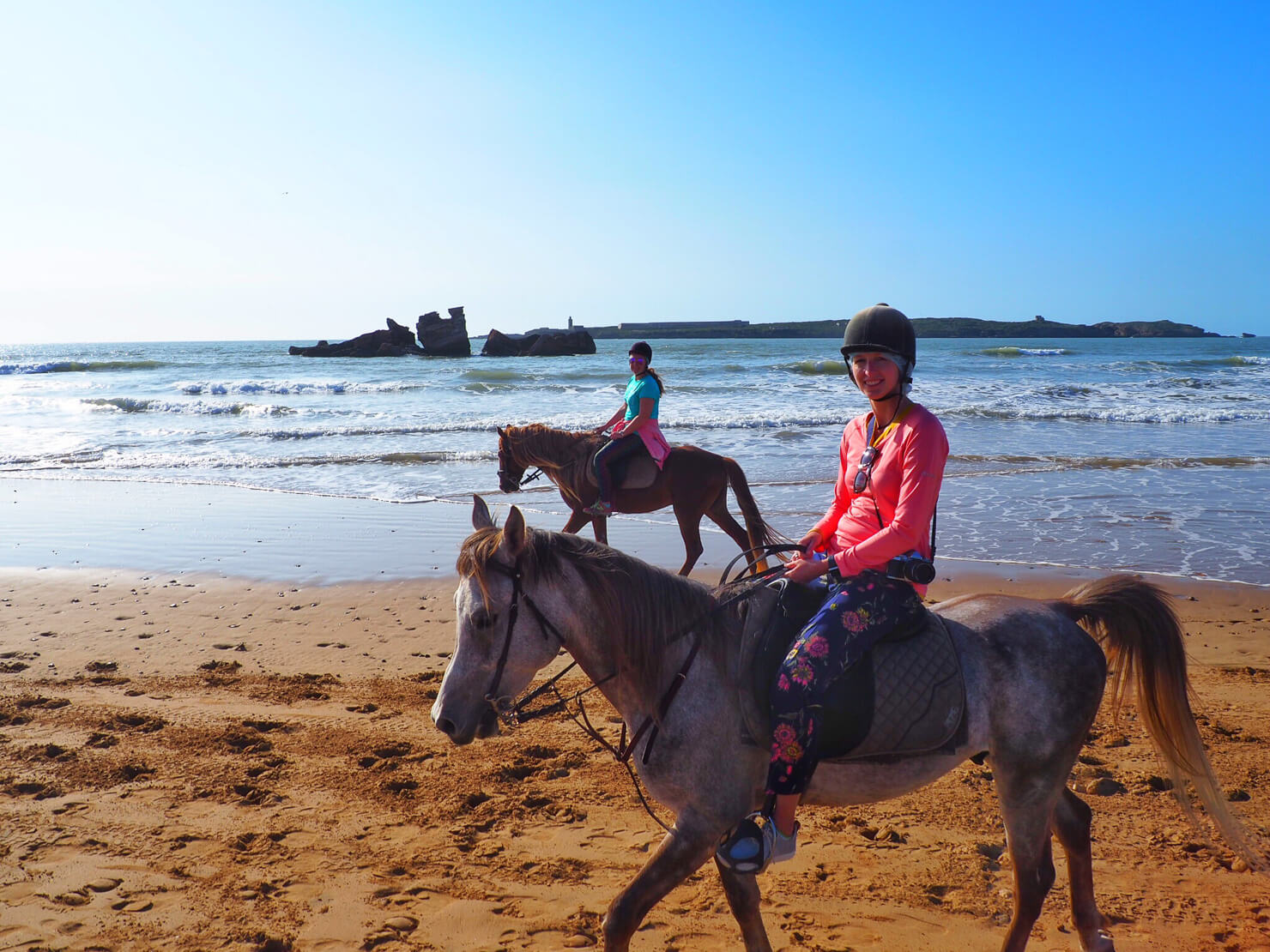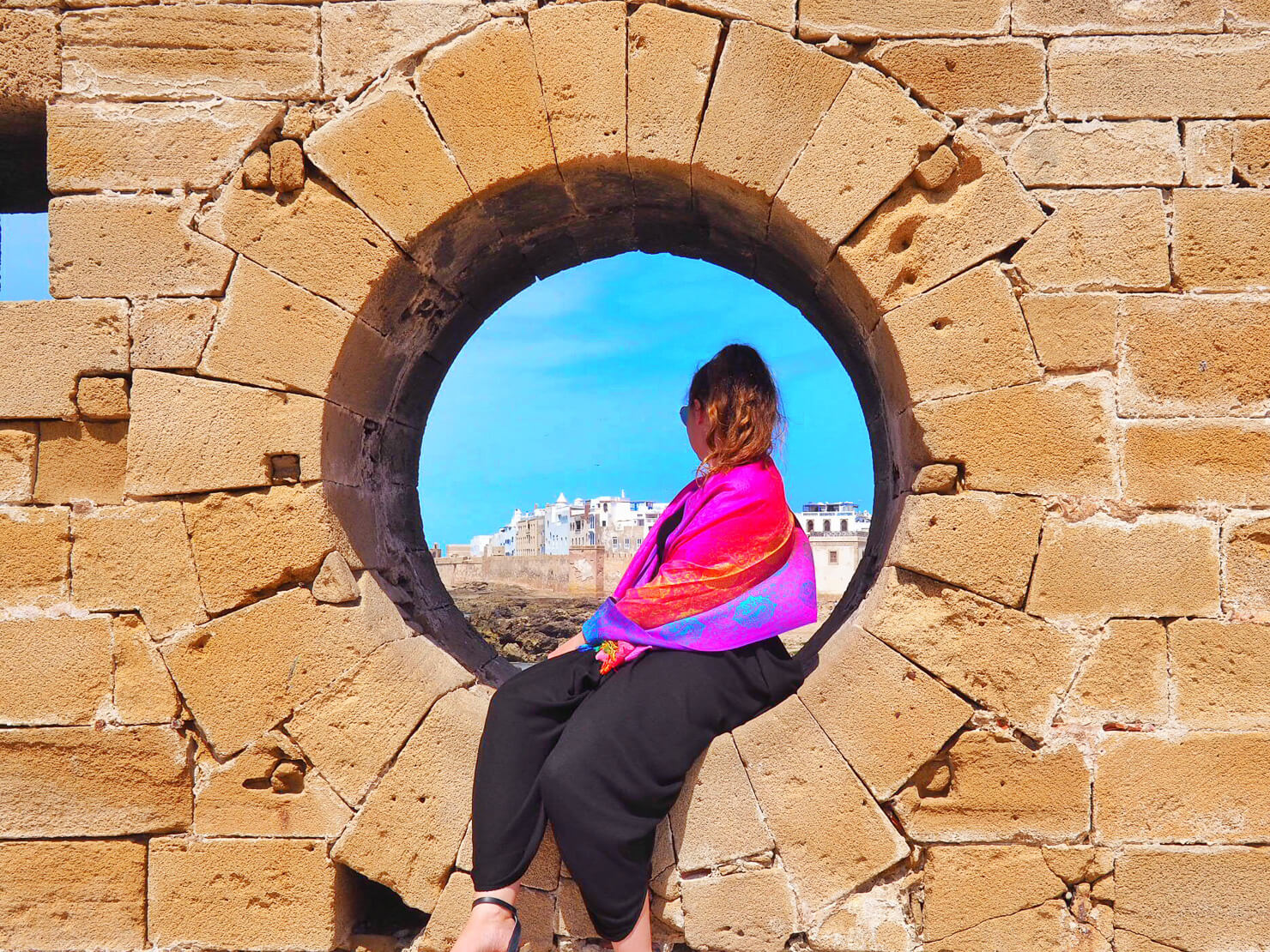 ---
Marrakech
Next we headed to crazy, chaotic and cosmopolitan Marrakech!
Marrakech is and incredible place to explore and an absolute assault of the senses. One of the highlights for me was taking a food tour of the city, where we got to try snails, sheep's head tangia (one of the group even ate the eyeball and tongue – I passed on that one, but I was a little jealous of his 'I Ate the Eyeball sticker), as well as the best couscous I've ever tasted in my life and we went to some amazing places that you would never find on your own!
We also took a walking tour with a great local guide who gave us a plotted history of the city.
In our free time, we shopped 'til we dropped in the souks, bantered with the shopkeepers, people watched, took time out for mint tea at a fabulous riad/art gallery, visited Jardin Majorelle, got serenaded by the waiters and chefs at Jemaa el Fna, drank more wine and visited one of Marrakech's best restaurants in the new part of the city, Gueliz.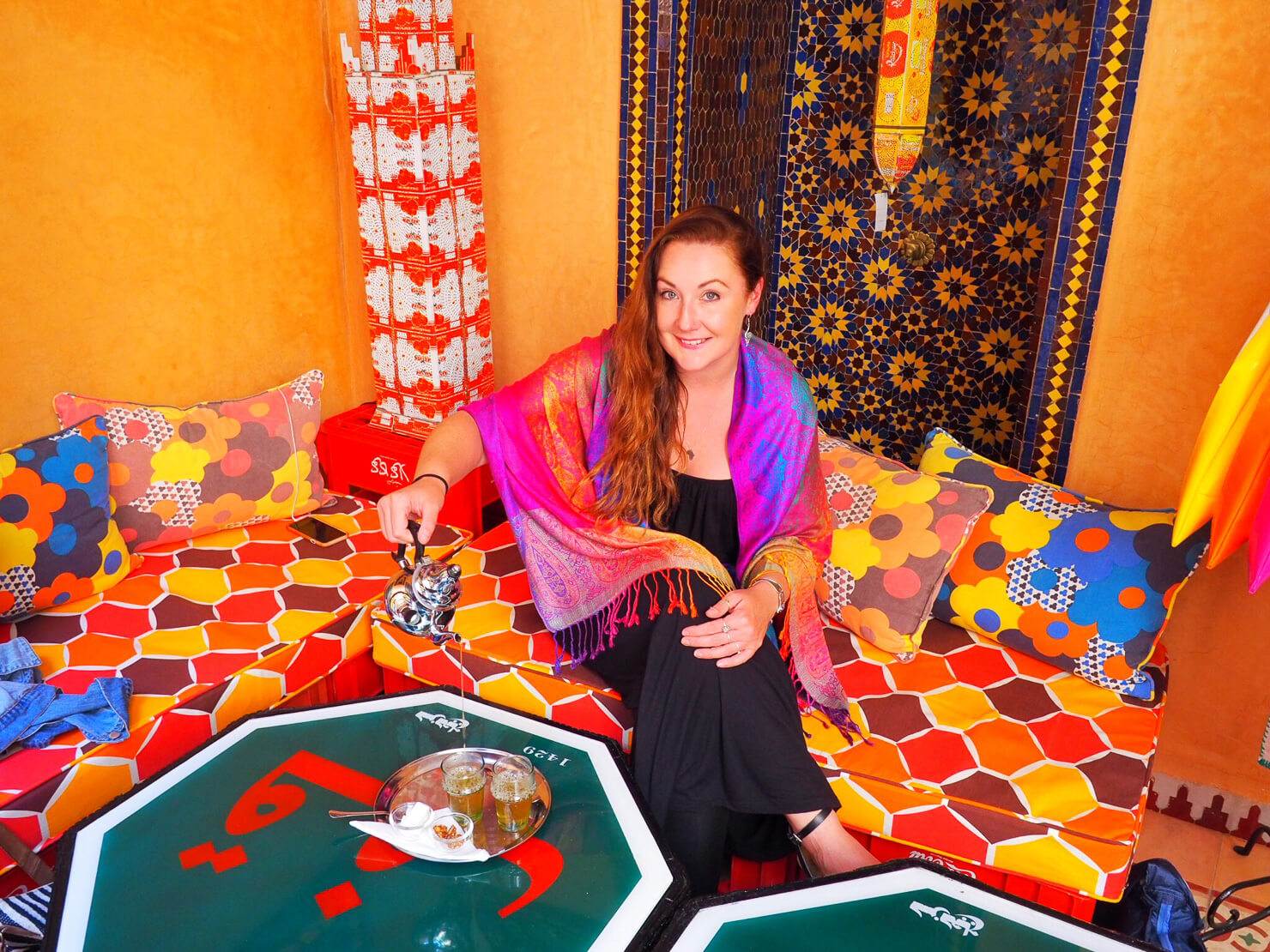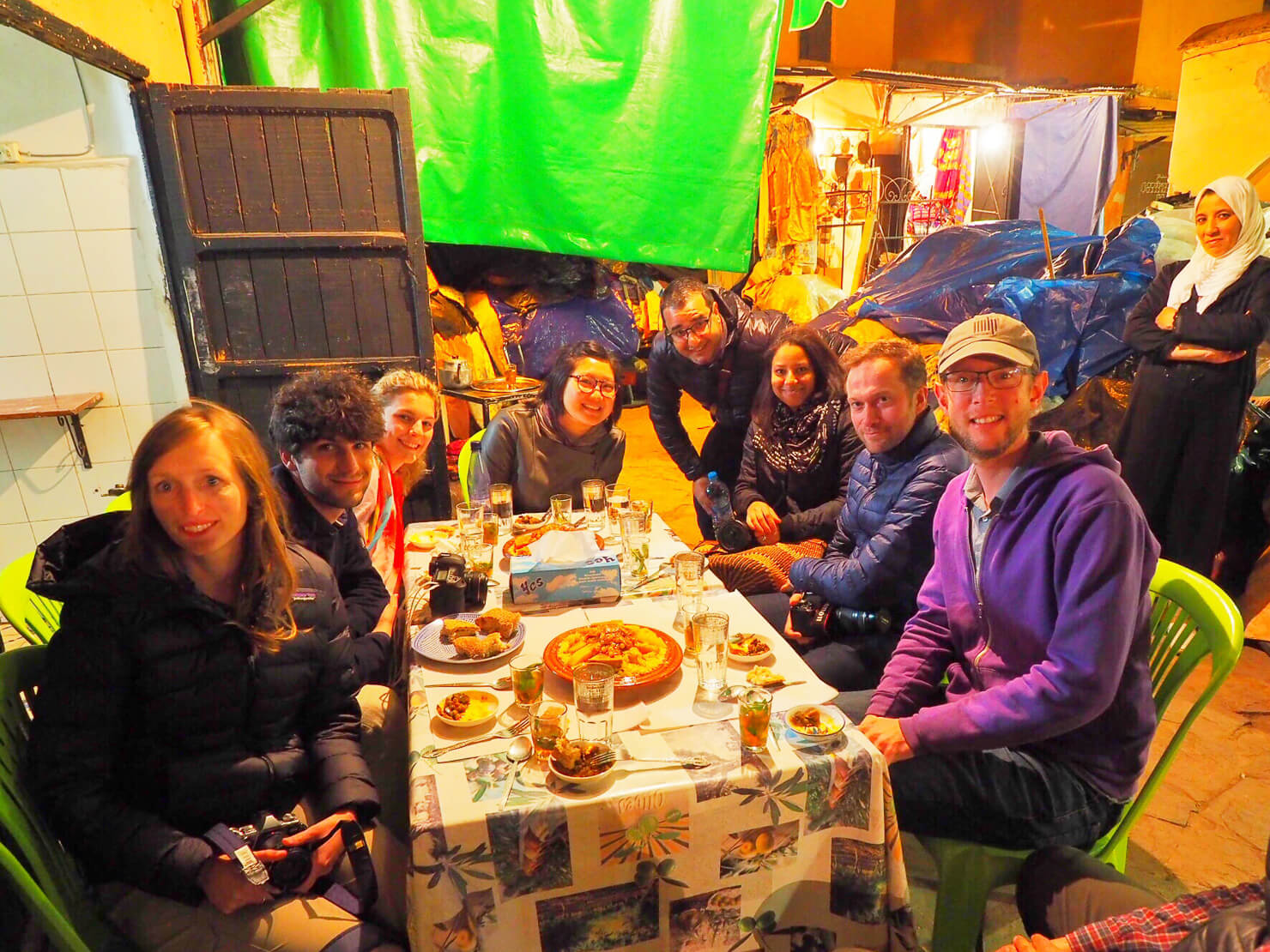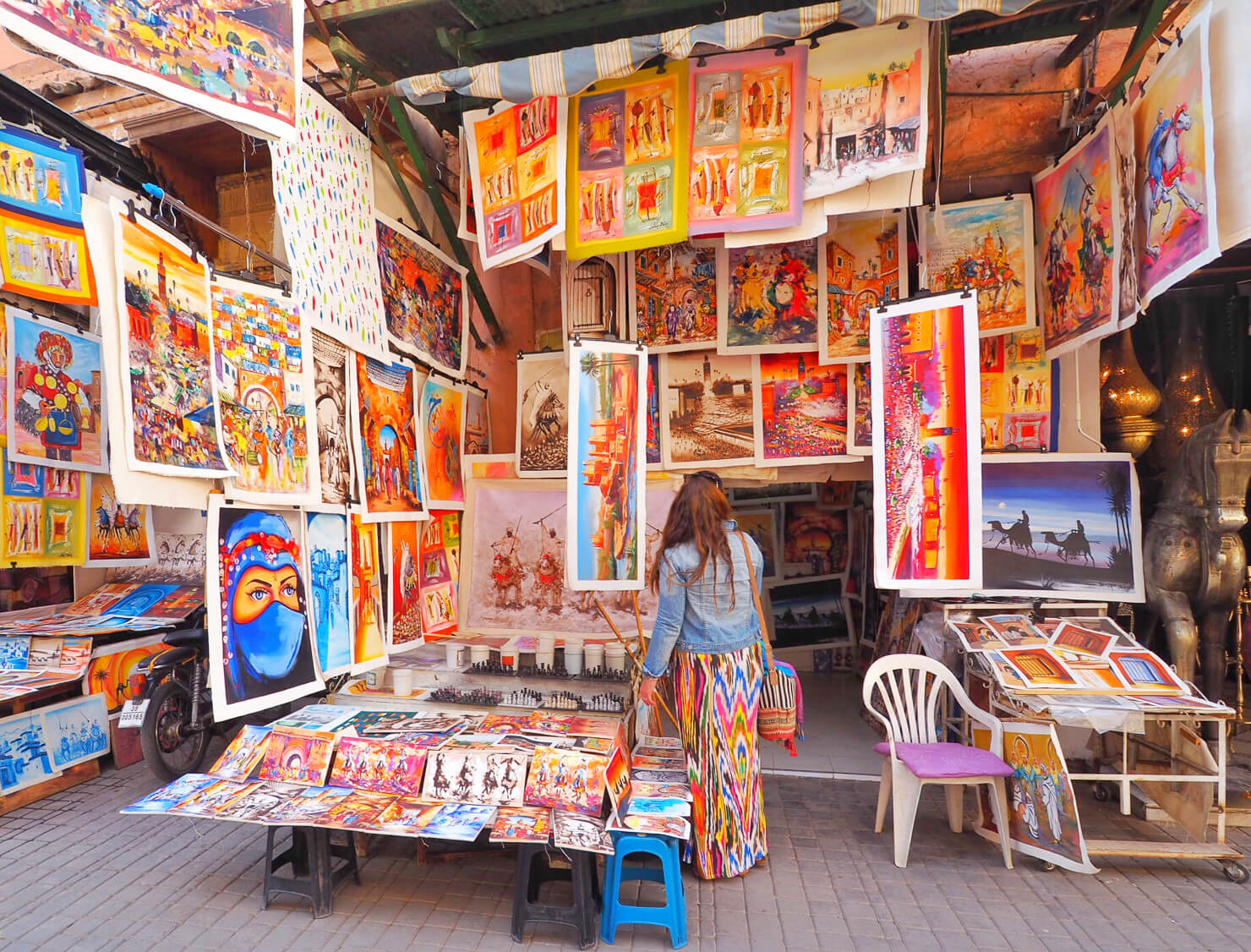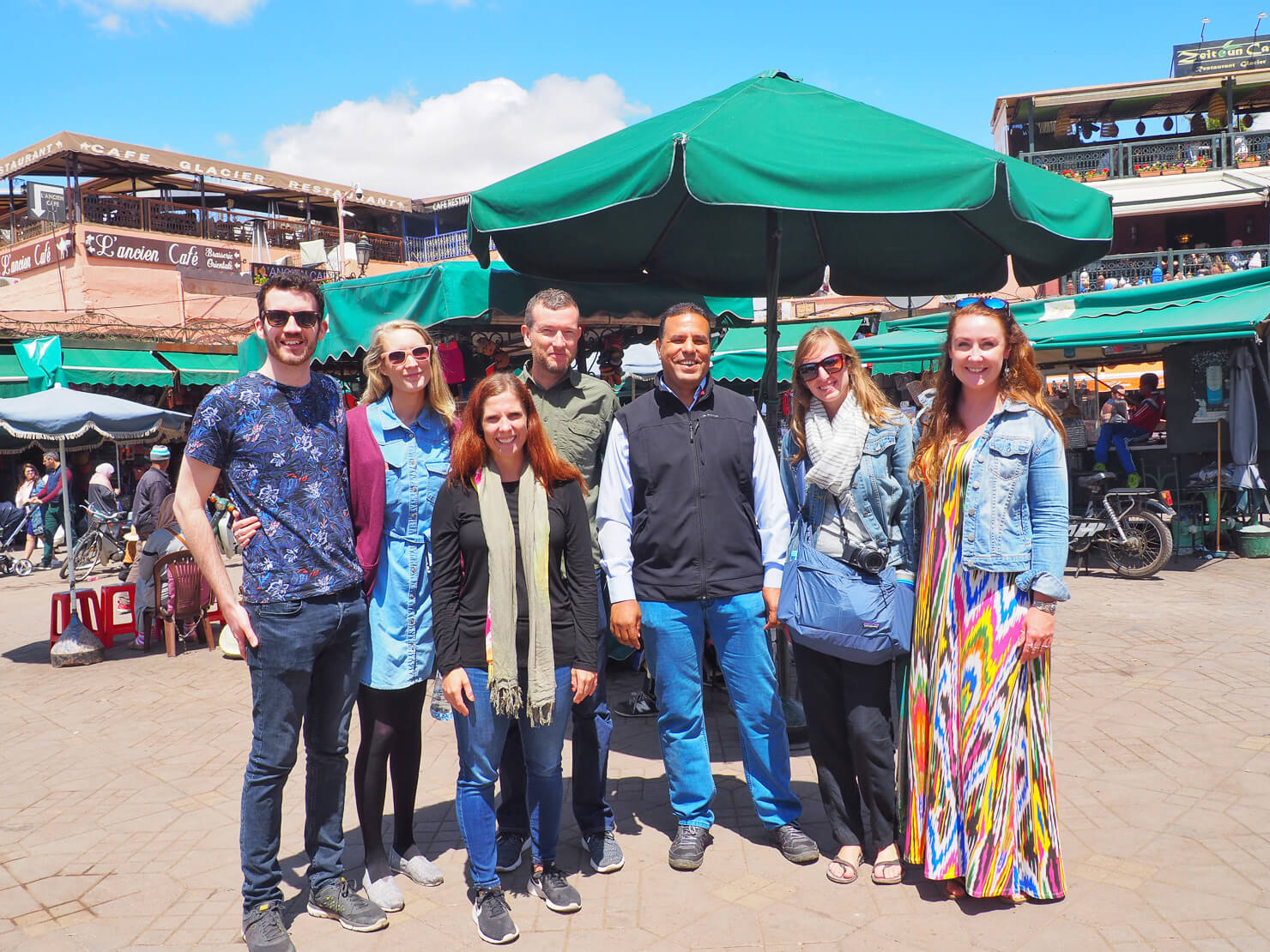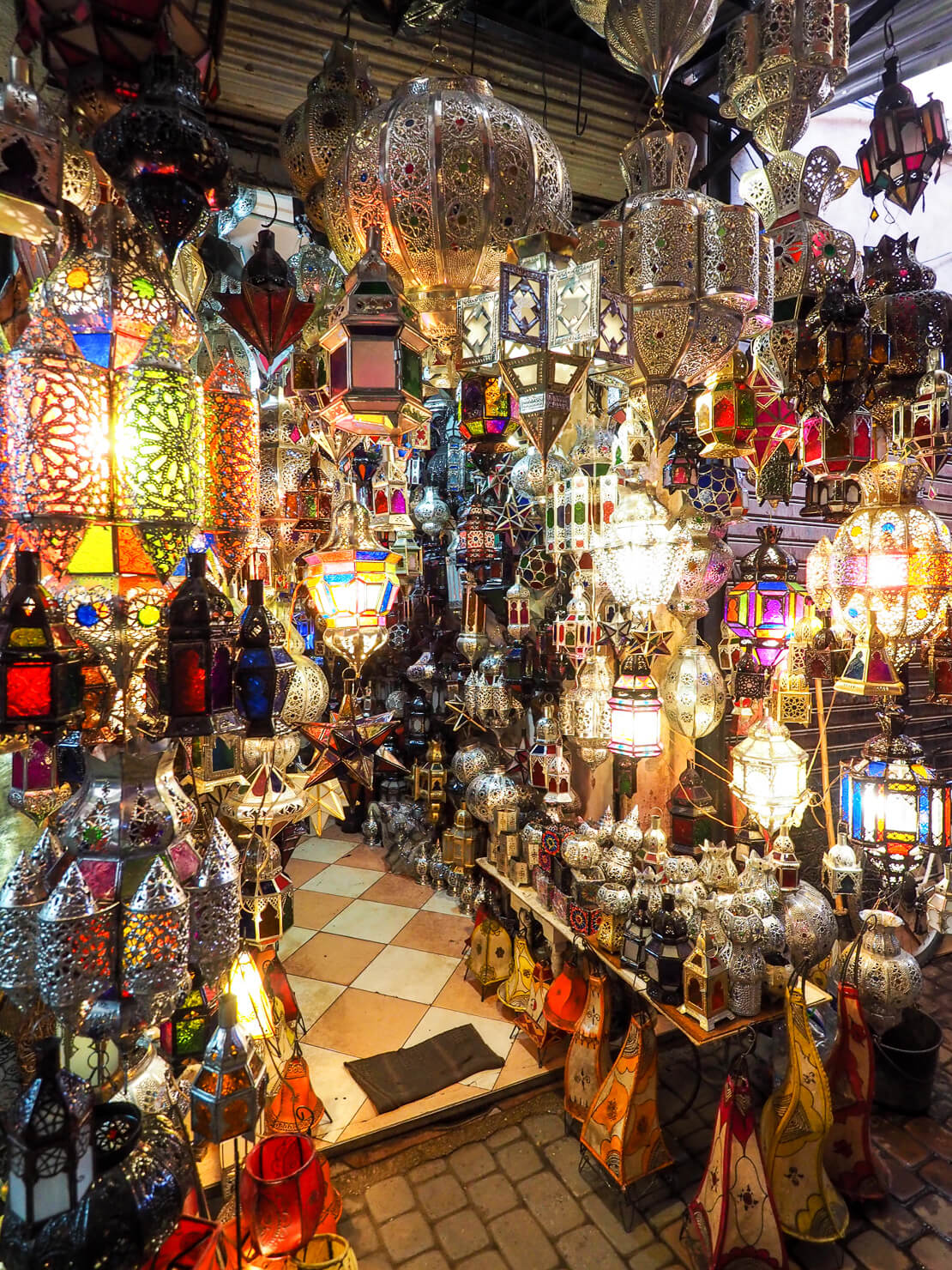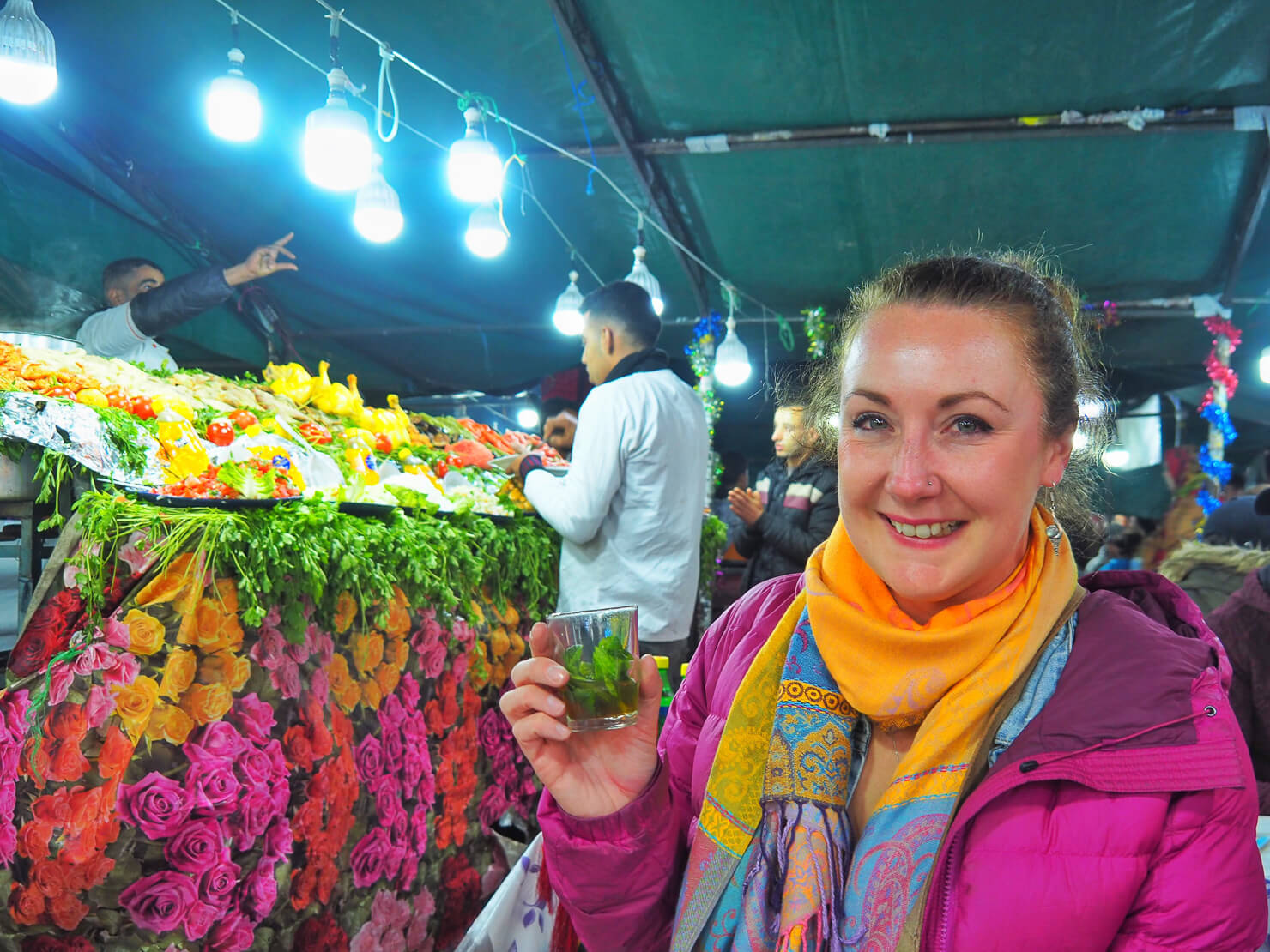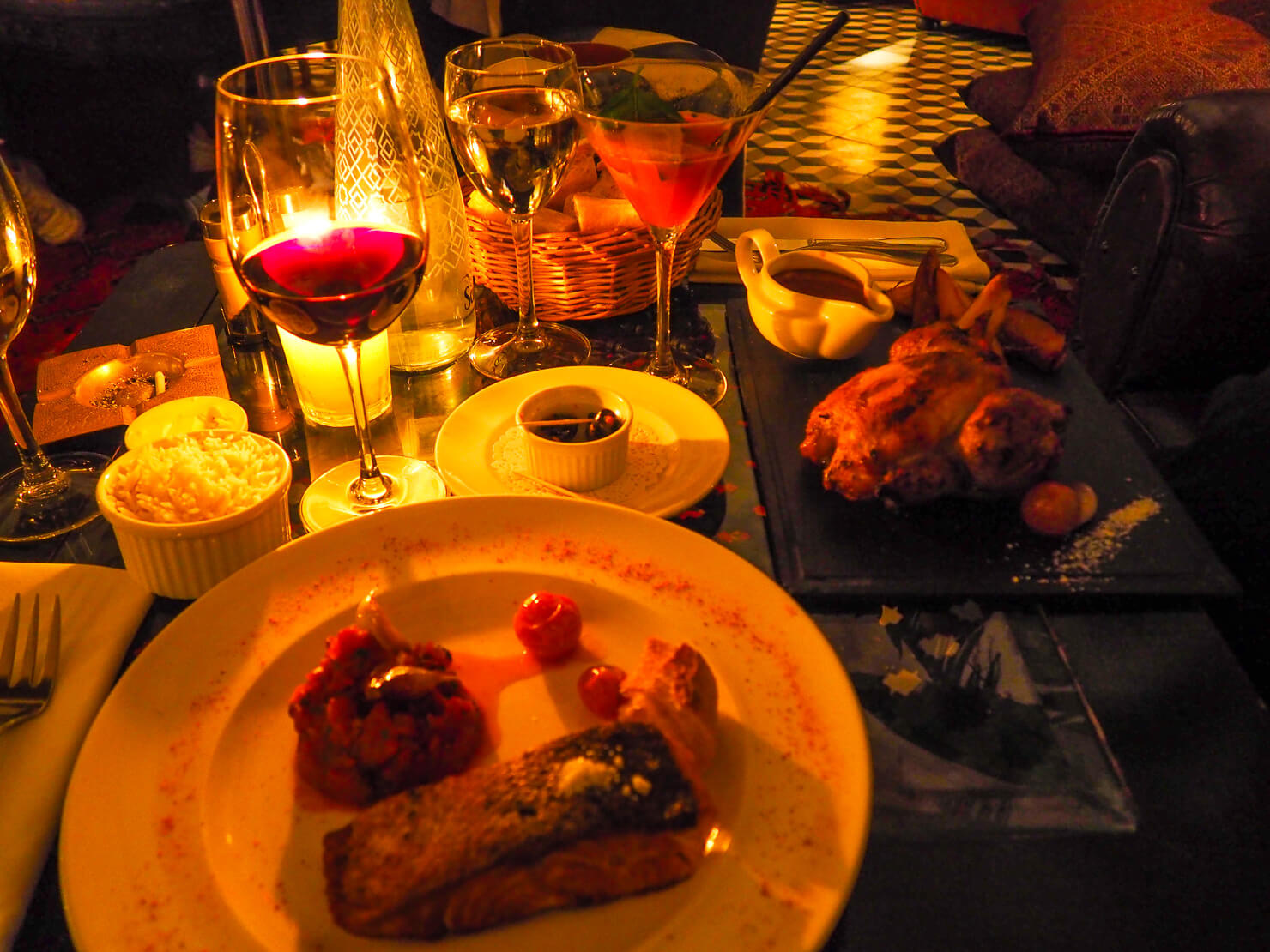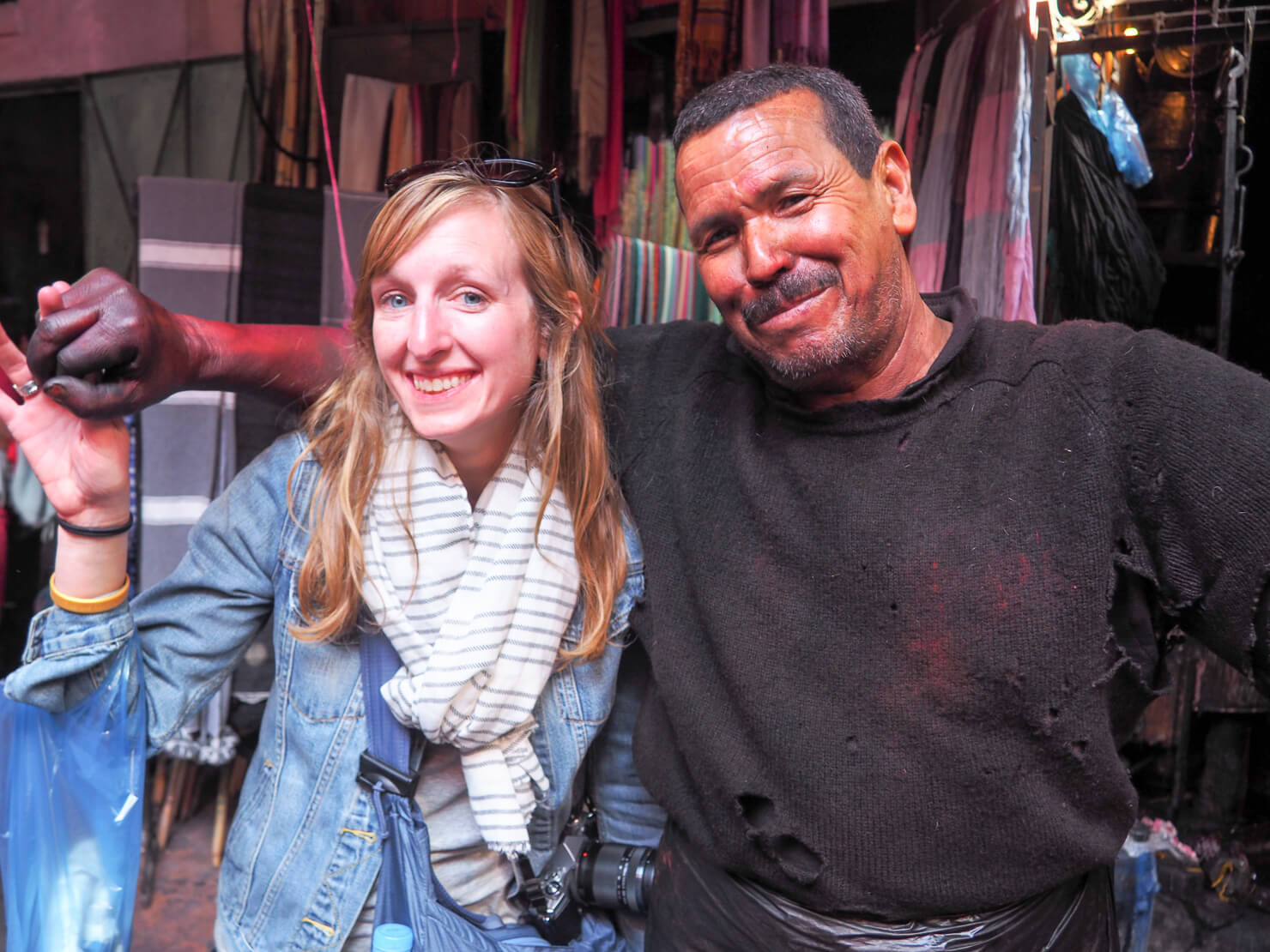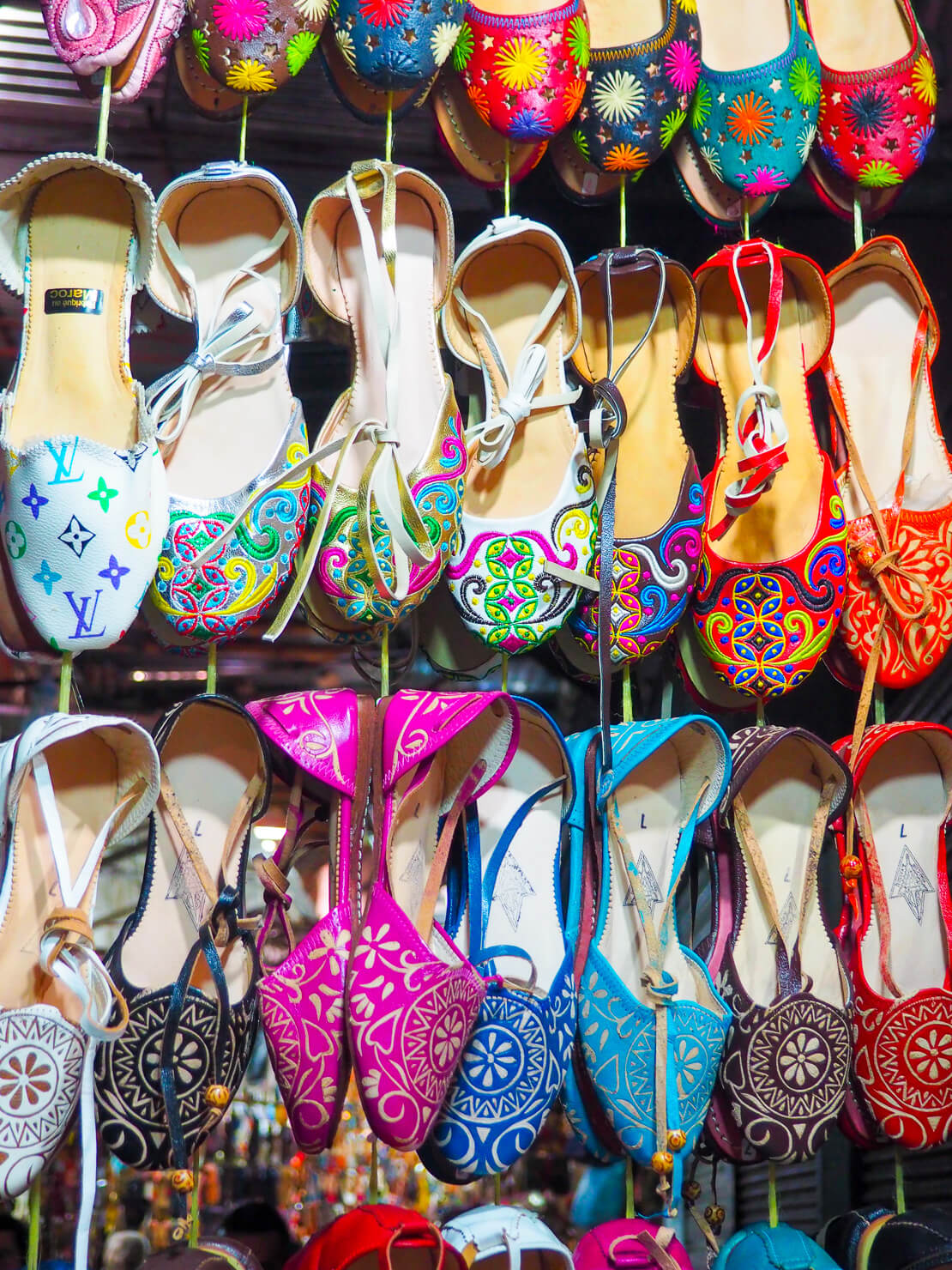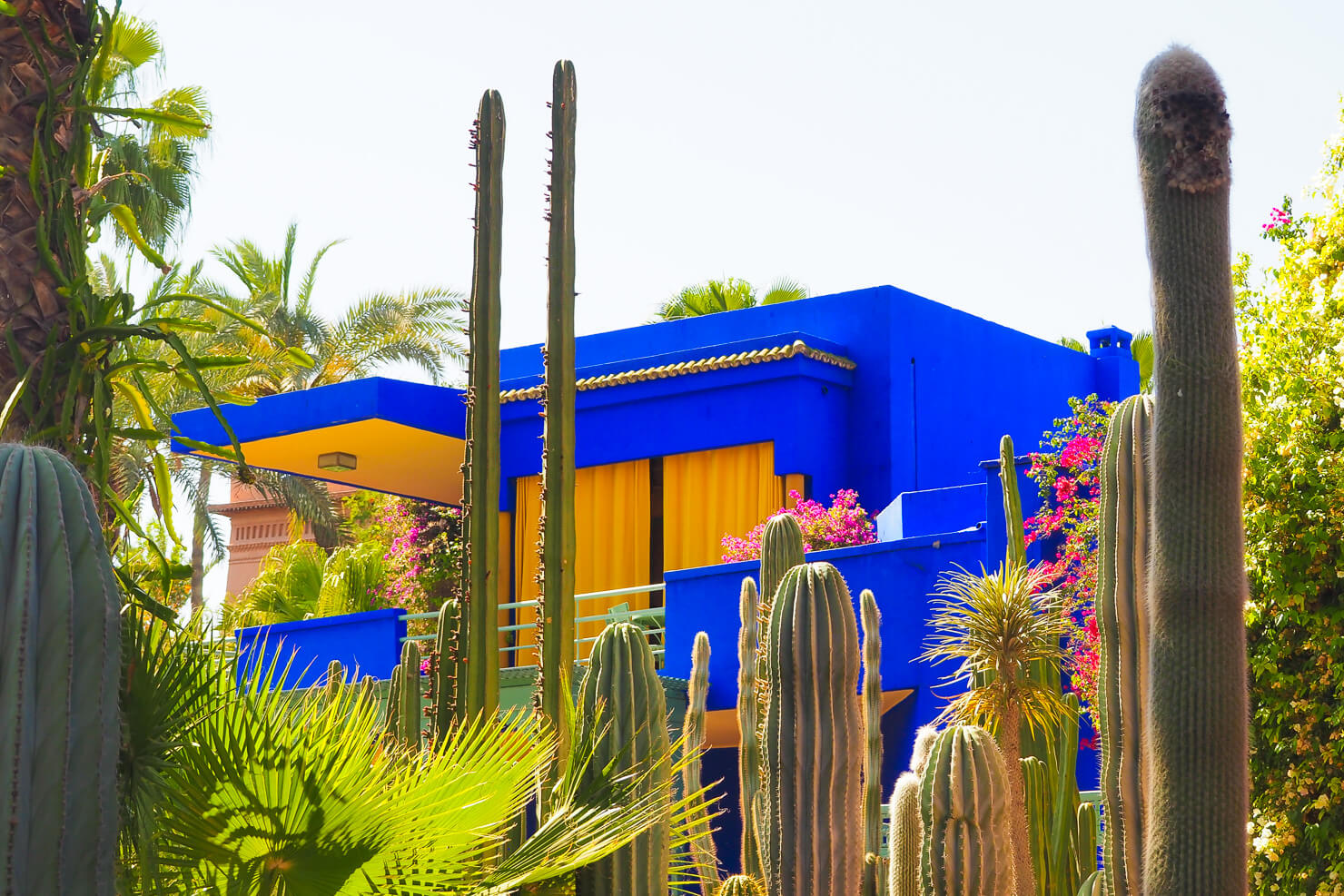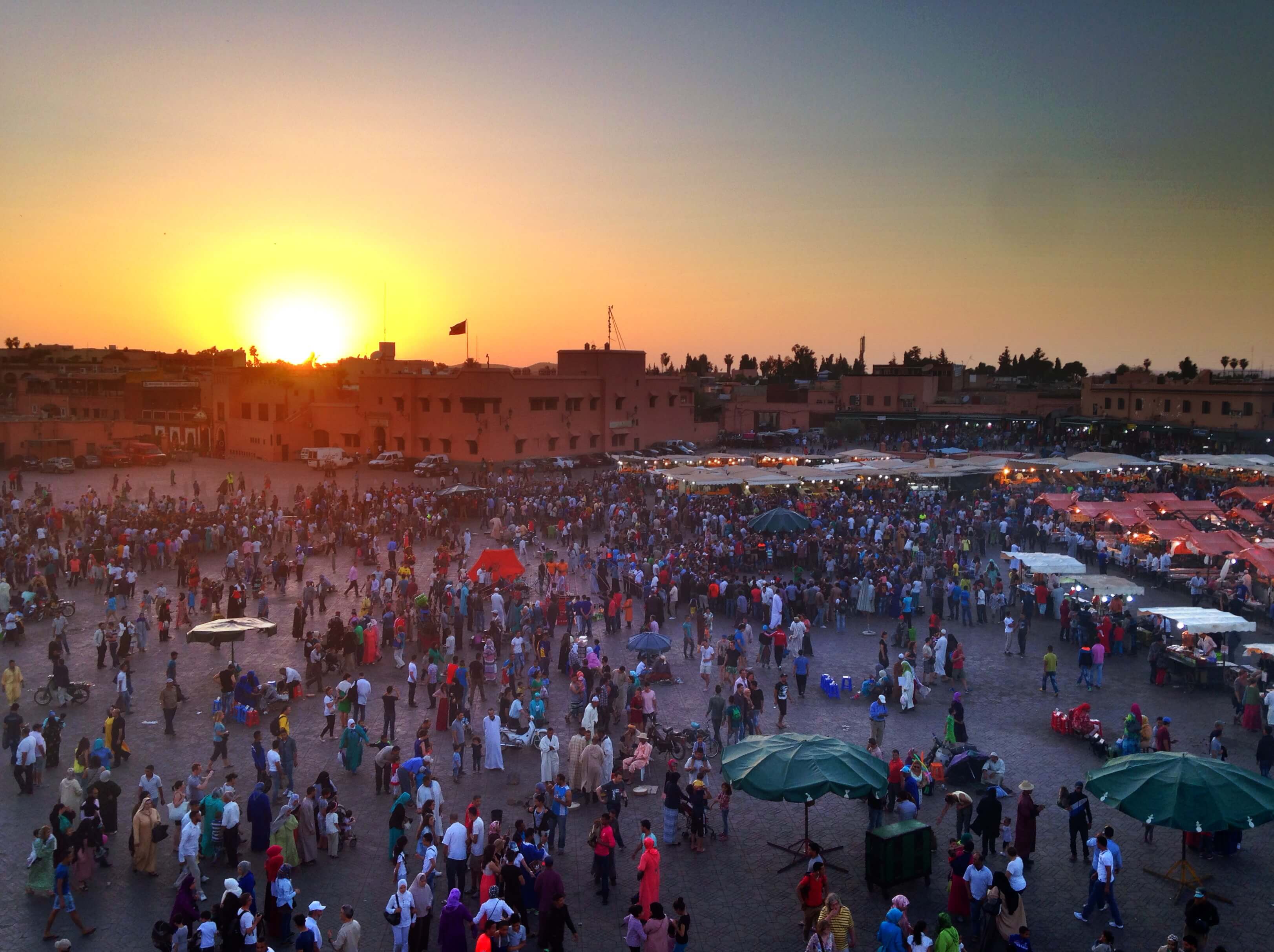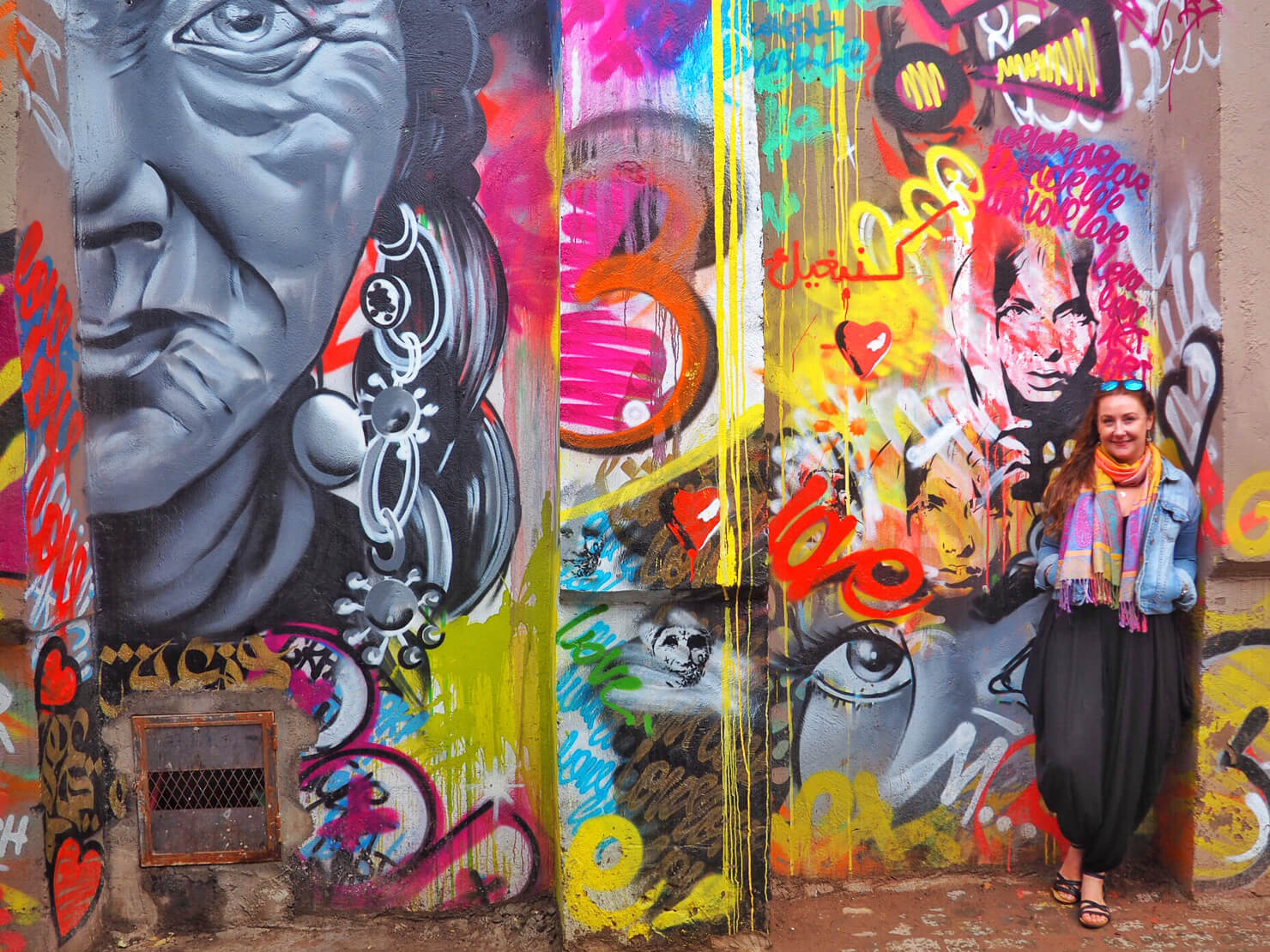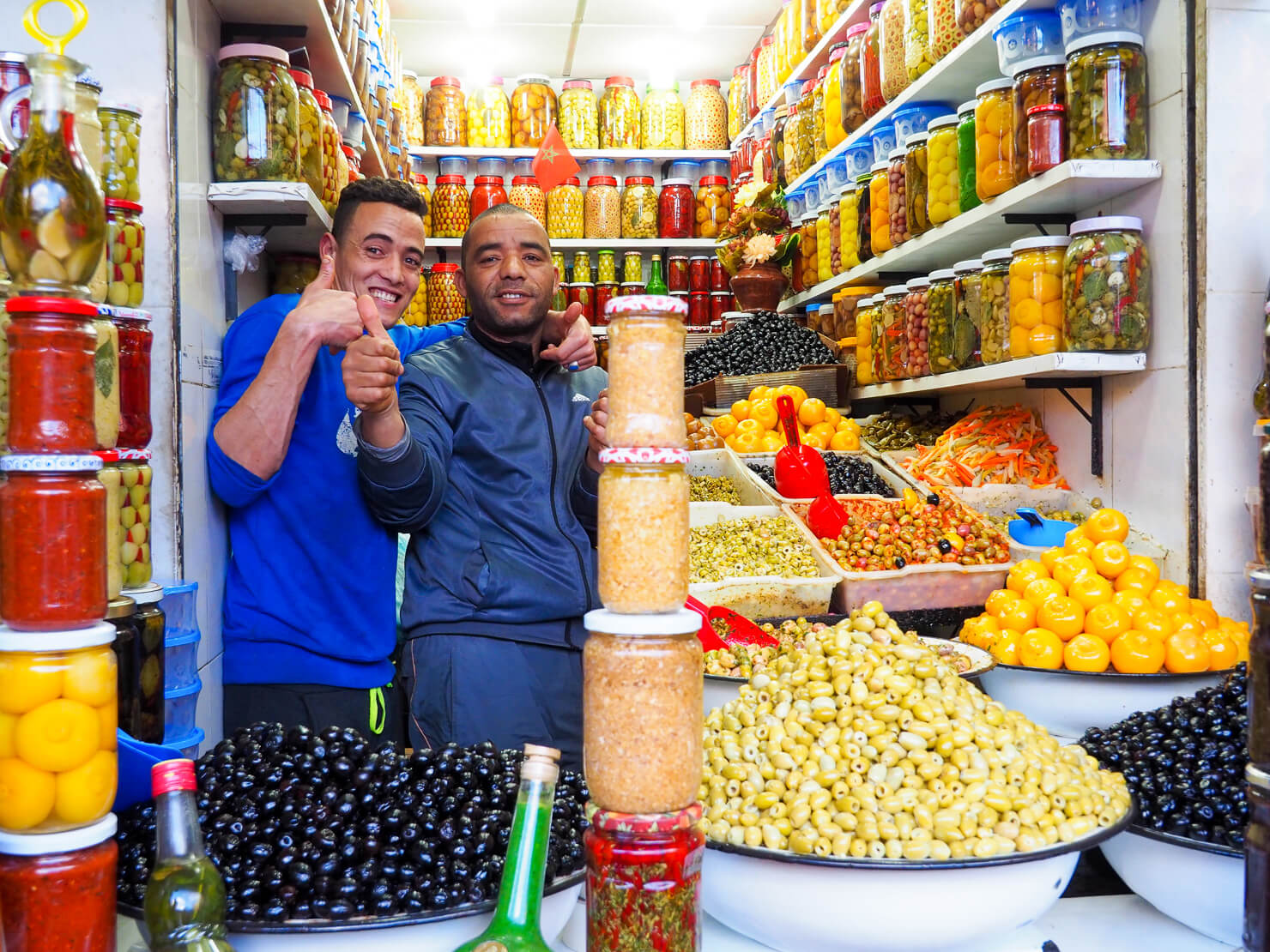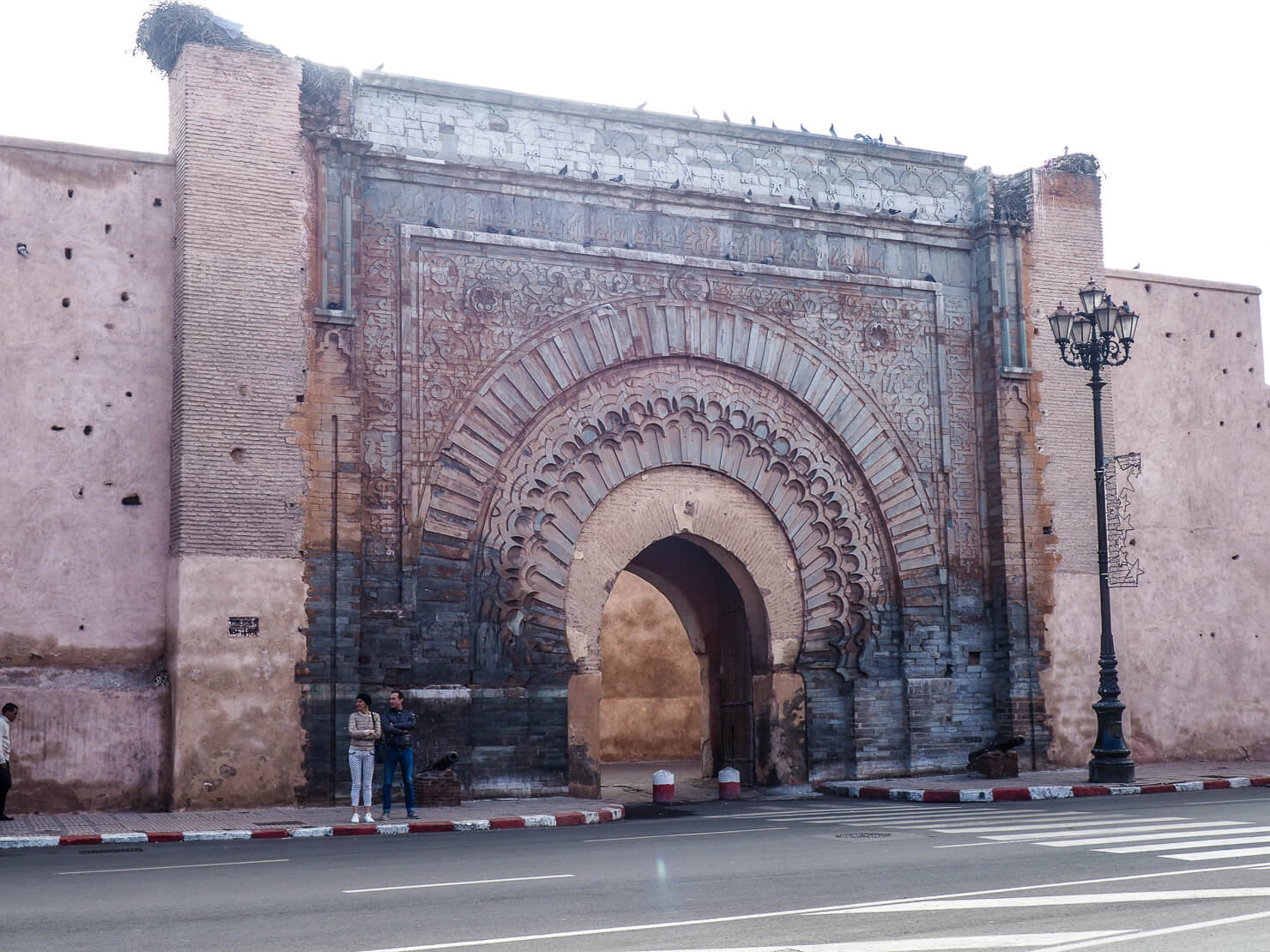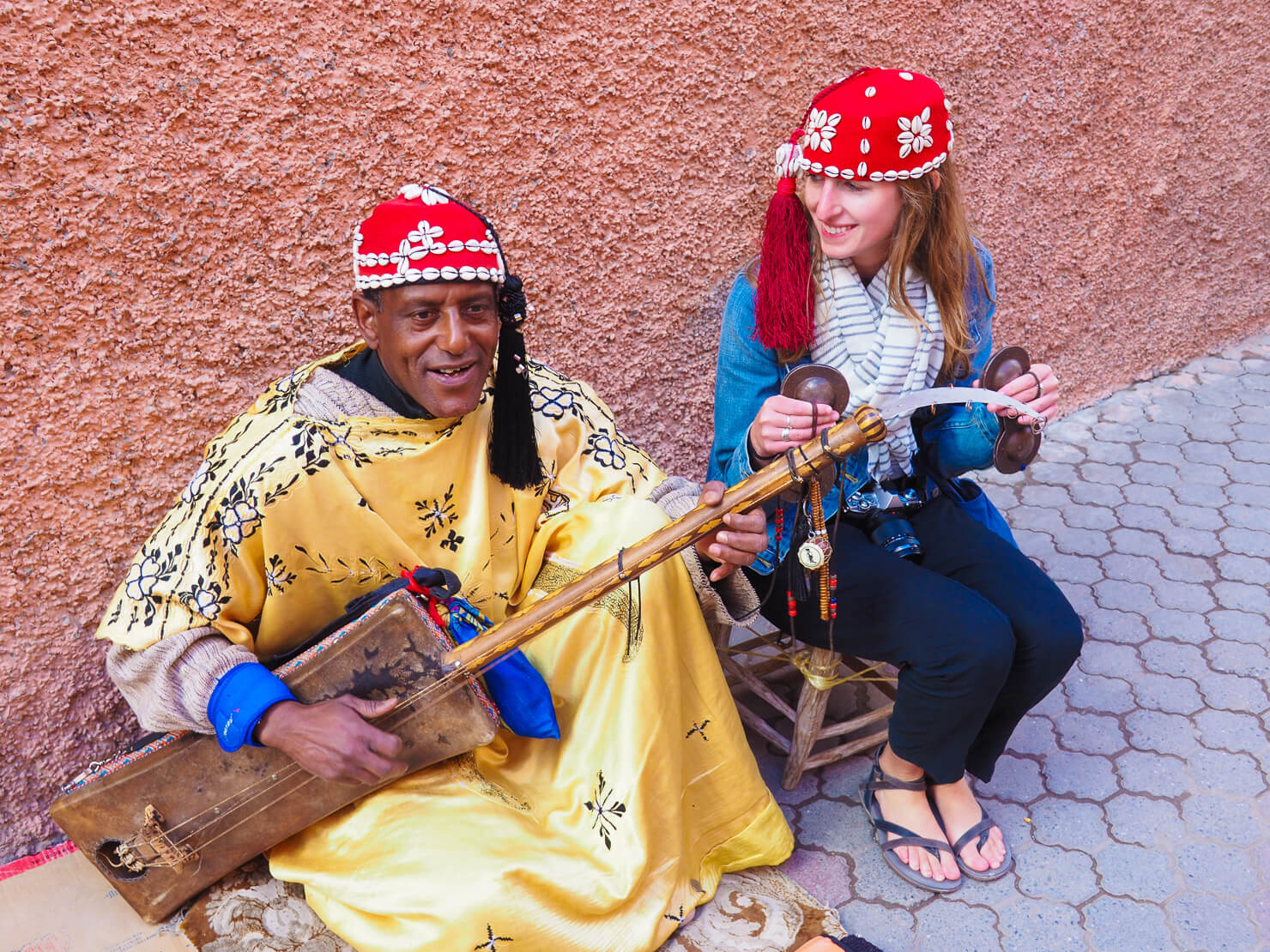 ---
Sahara Desert
From the city we headed out towards the Sahara Desert.
Our first major stop was Aït Benhaddou a ksar on the former caravan route to the Sahara and UNESCO World Heritage Site.
Visiting Aït Benhaddou is like stepping back in history or the set of a film, and if you're thinking it looks familiar, you'd be right as this is where they filmed parts of Game of Thrones and Gladiator (and many other films)! In Gladiator, the city doubles for Zuccabar in Mauritania (modern day Algeria).
We spent our first night at a cute little guesthouse in the Dades Valley, where we got a good nights sleep whilst the wind howled all around us.
Arriving in Merzouga, we put on our headscarves, picked up our dromedaries and rode into the desert Lawrence Arabia style. My dromedary was called Capitan and he was a beaut!
After settling into camp, we climbed the sand dunes, did some jumping shots (standard) and watched the sunset. It was wonderful.
After dinner, we headed to the campfire for a night under the stars with music and dancing. It was so much fun and I haven't laughed so much in ages! It's surprising how much a group can bond over peeing in the desert!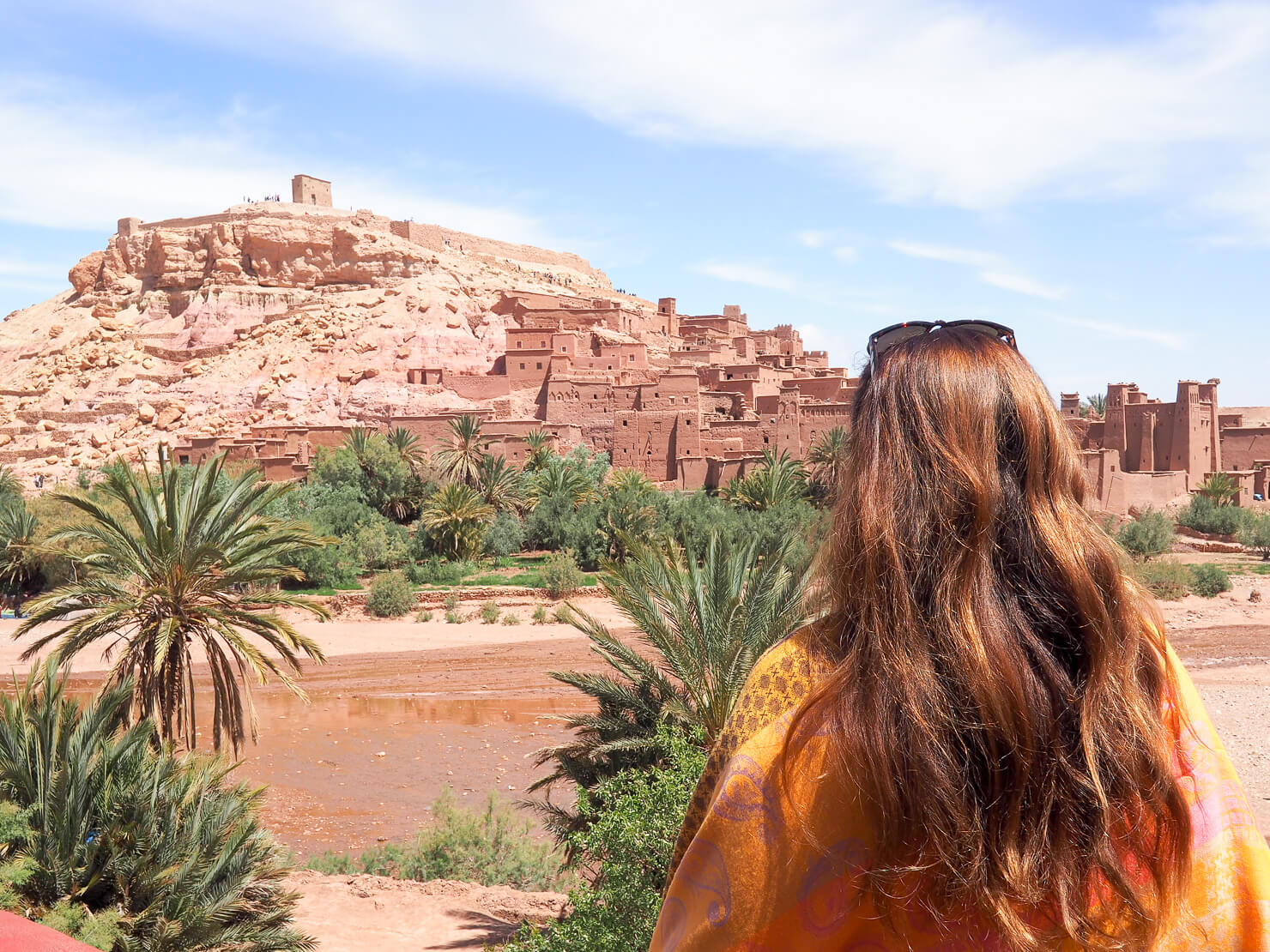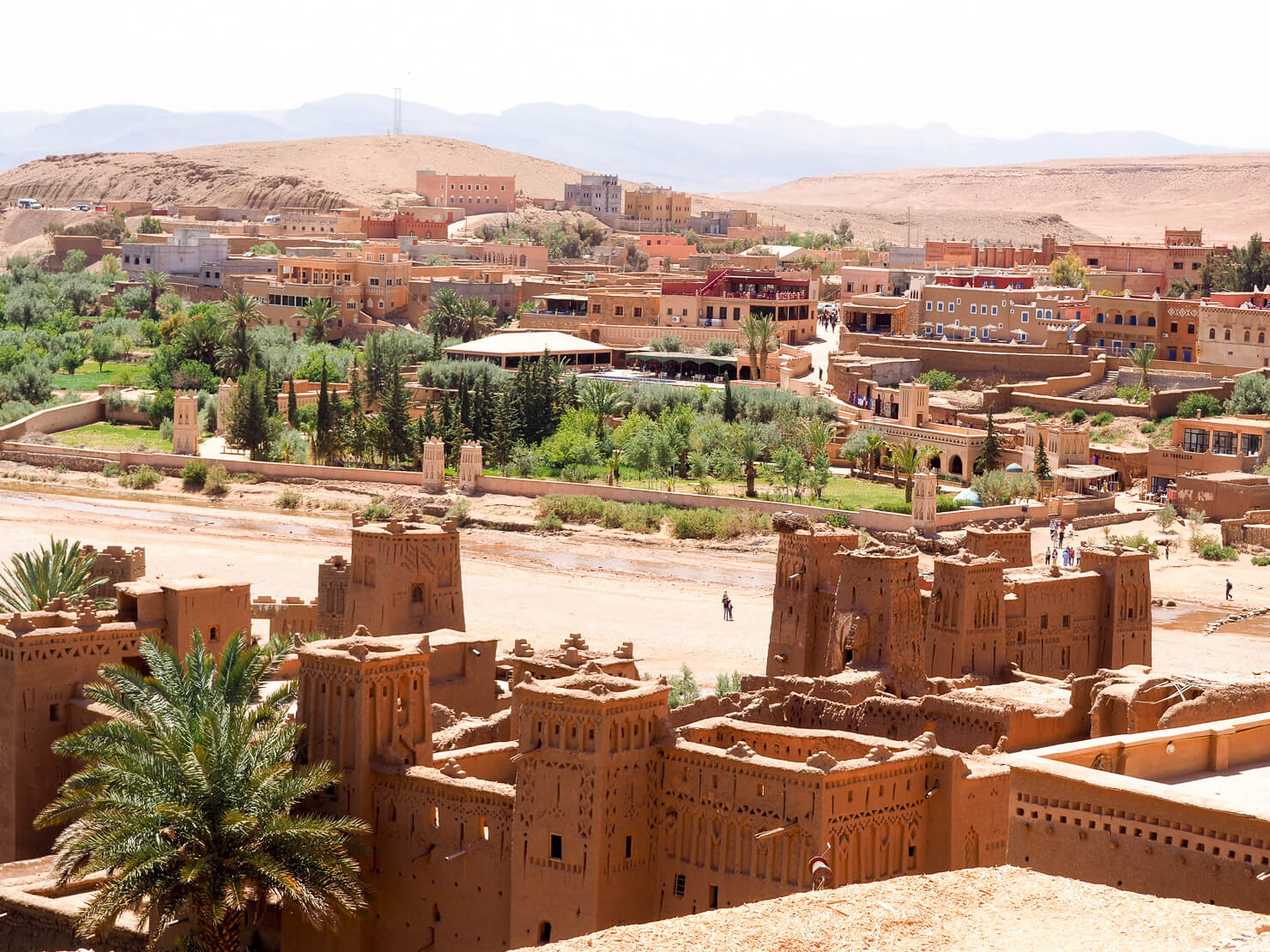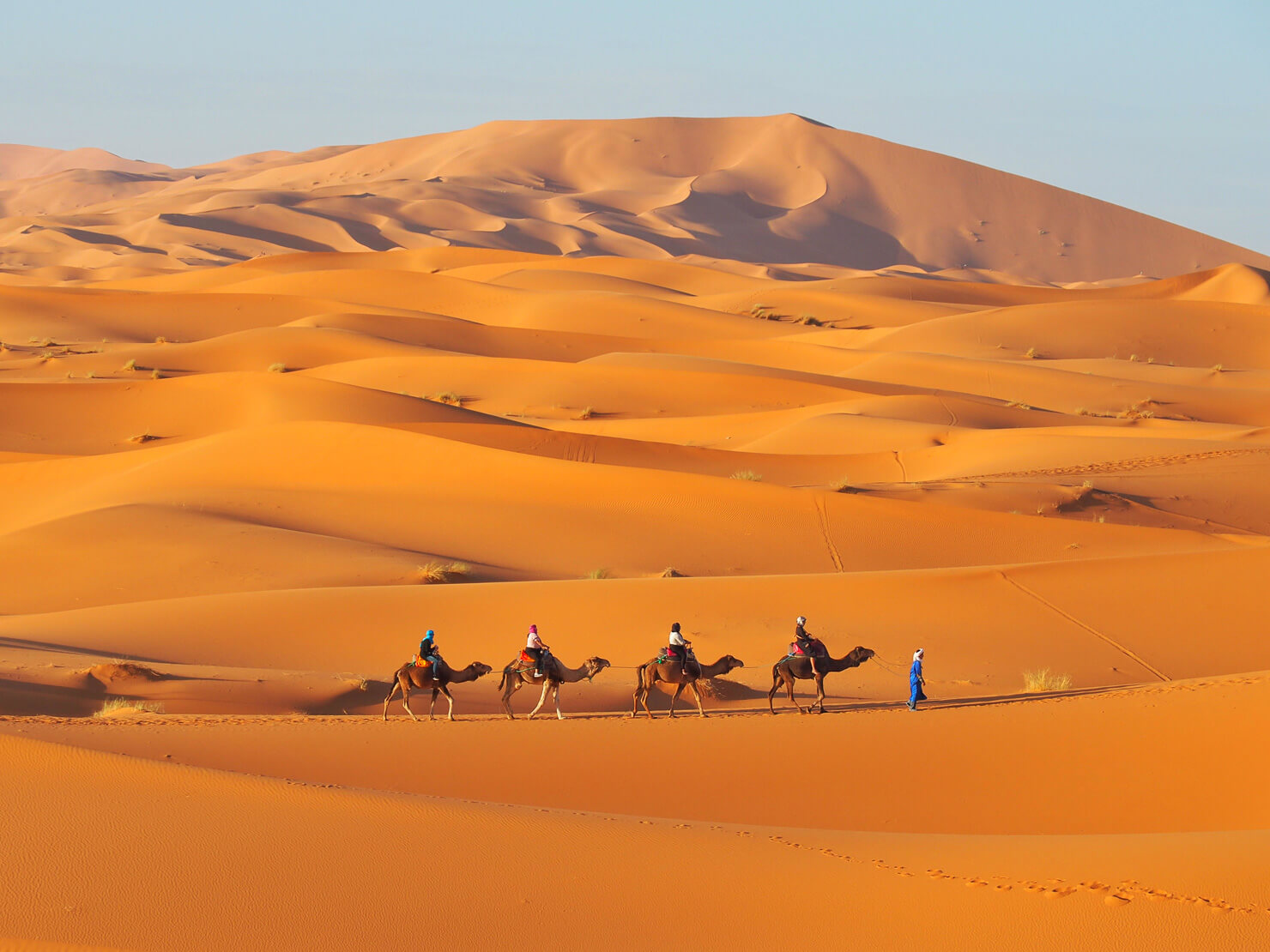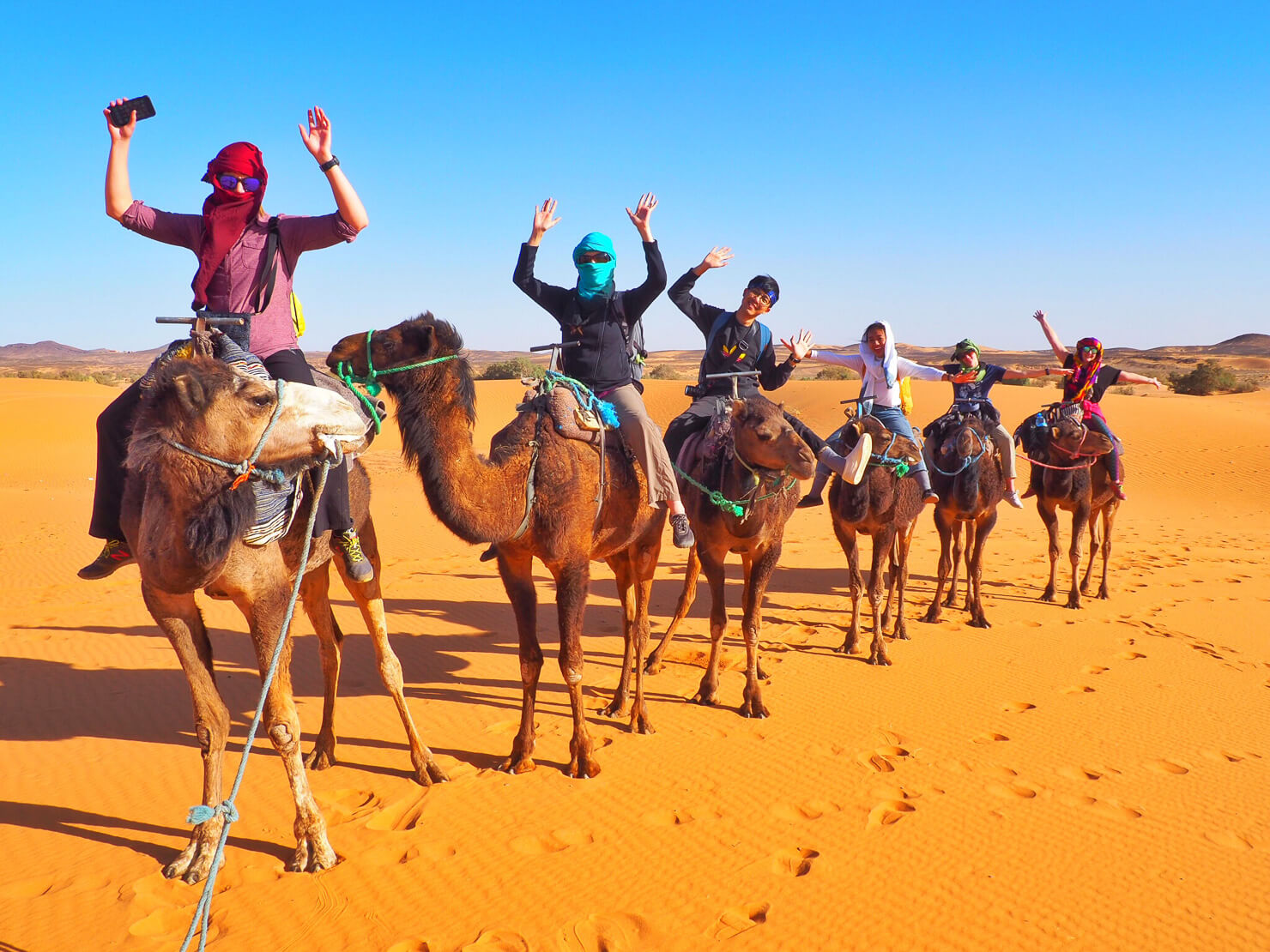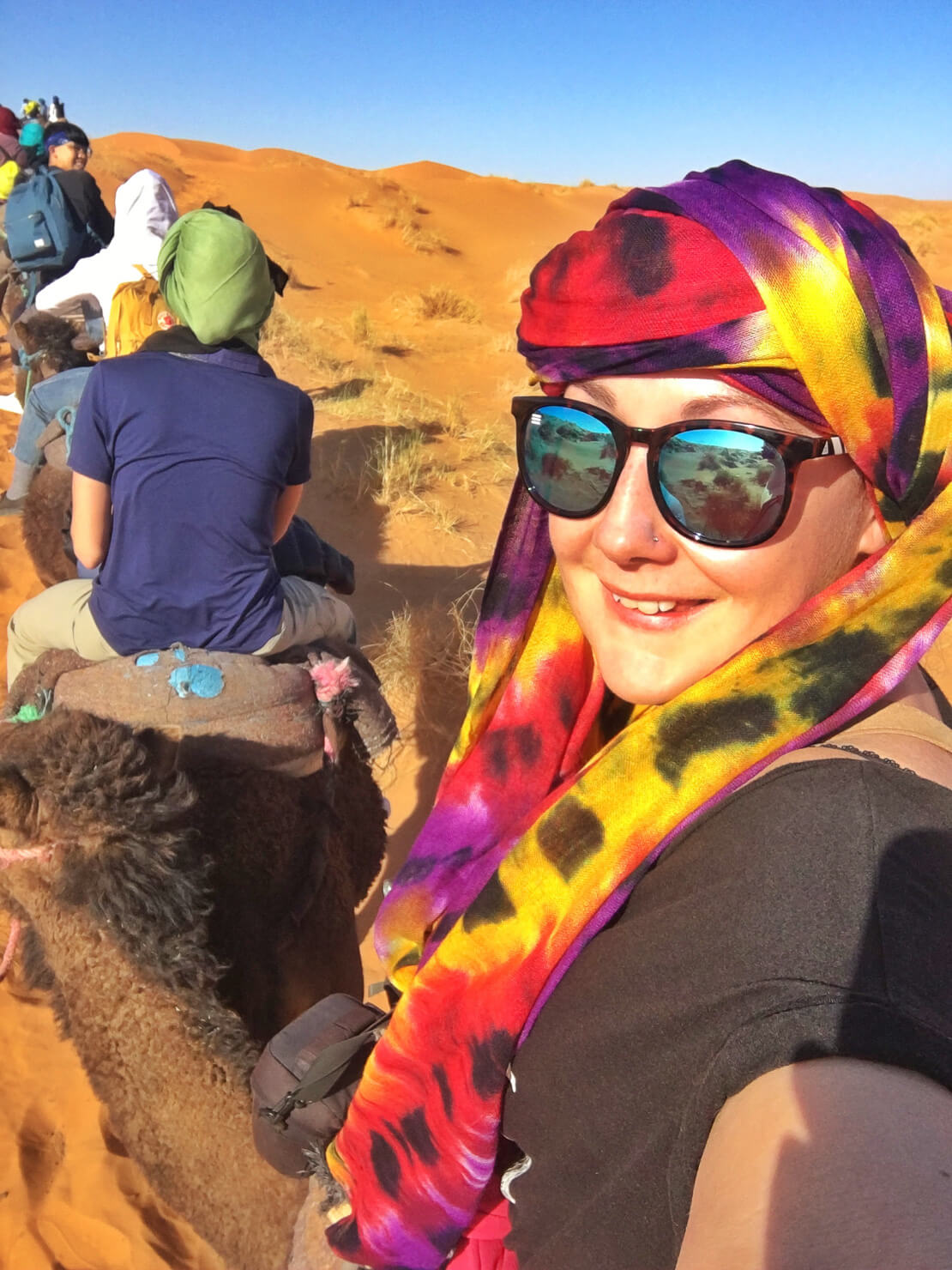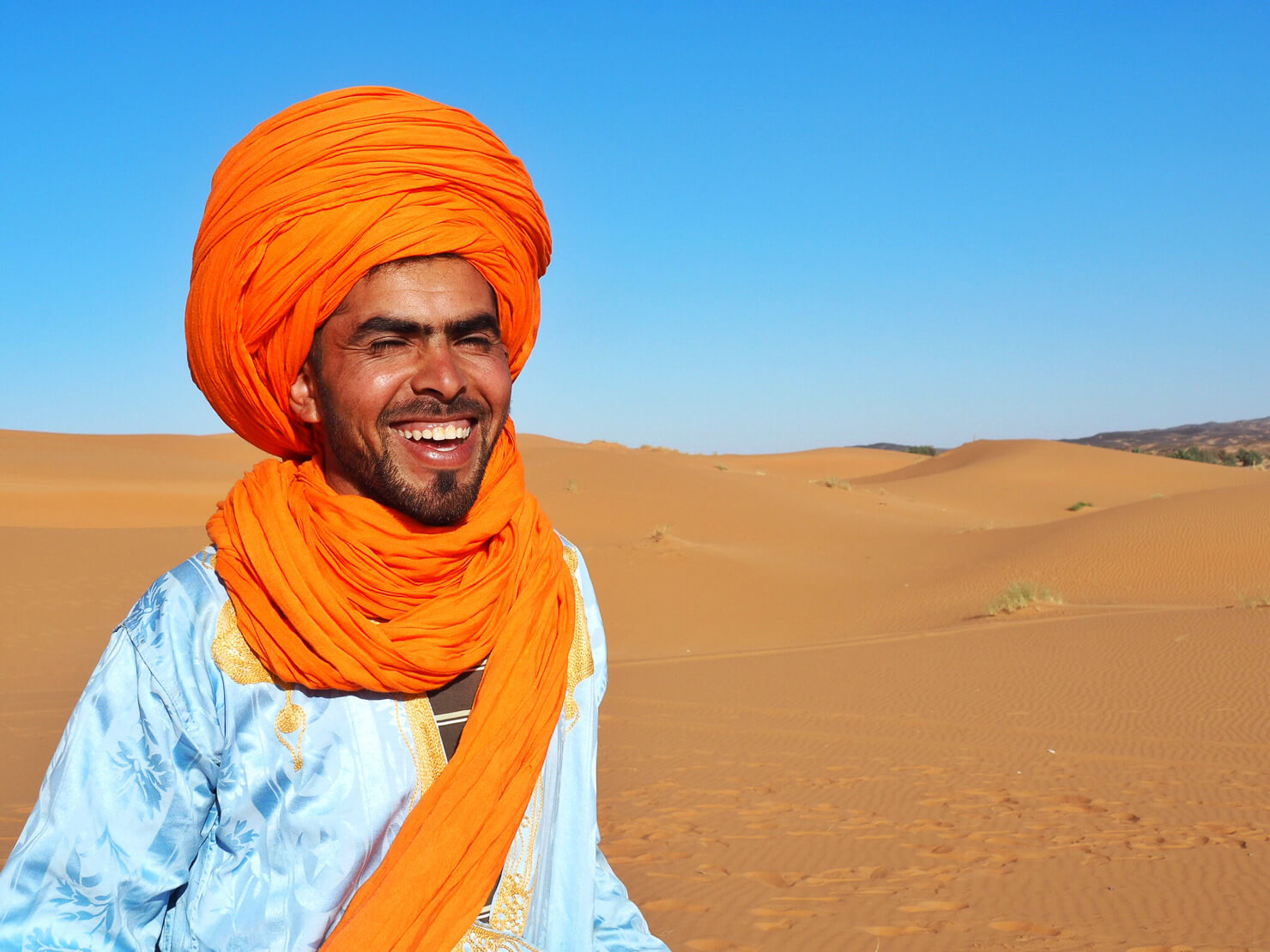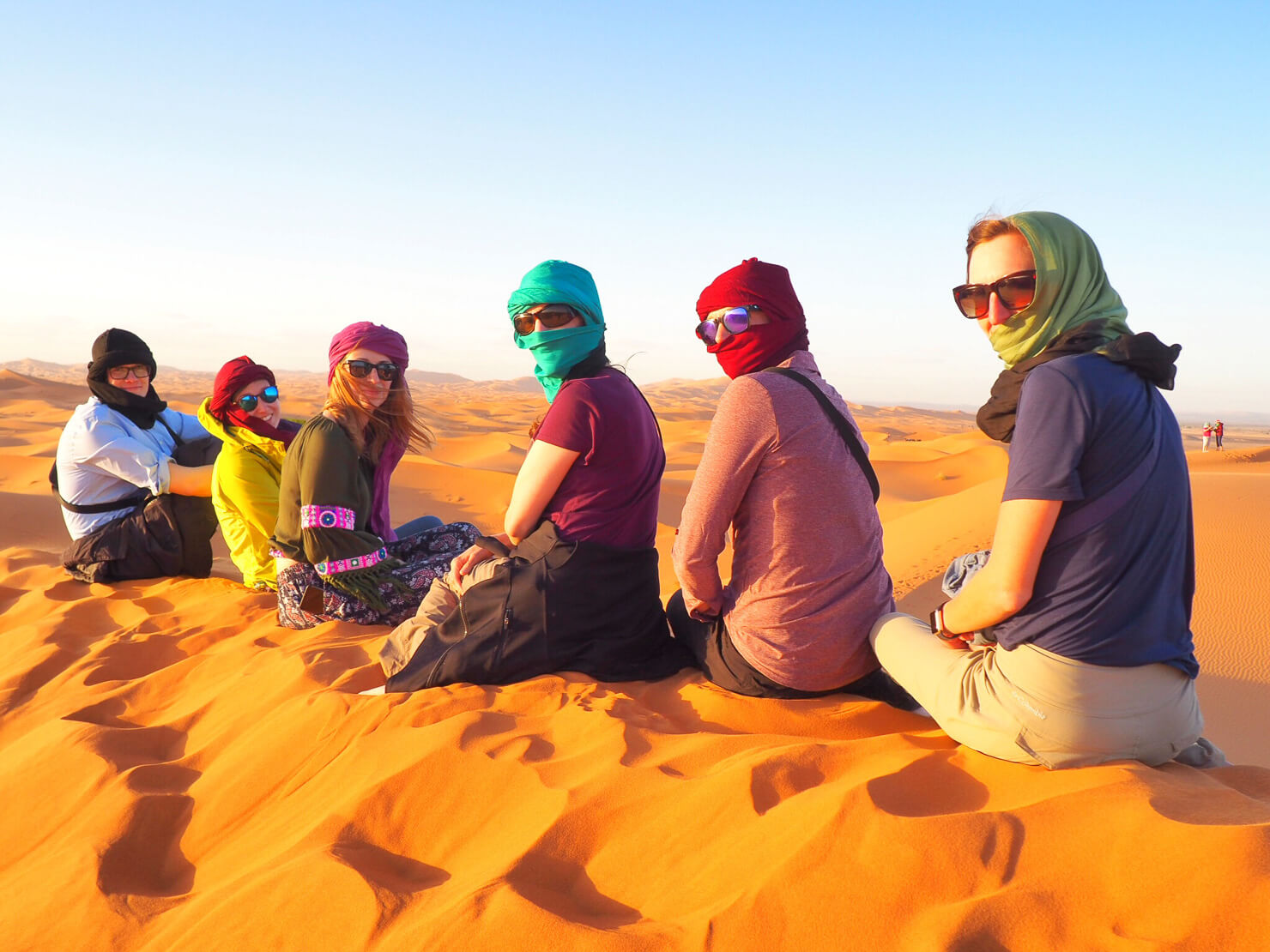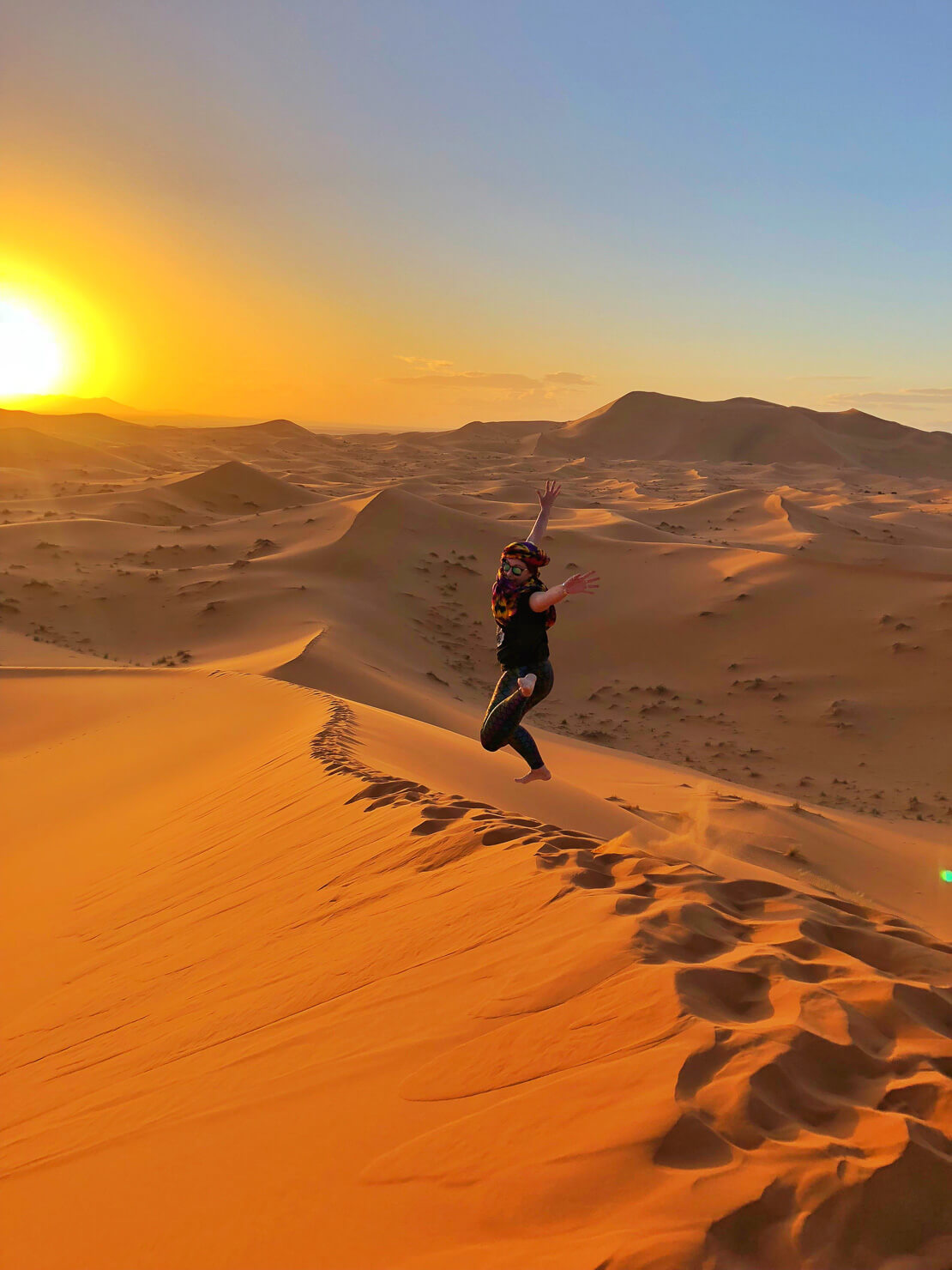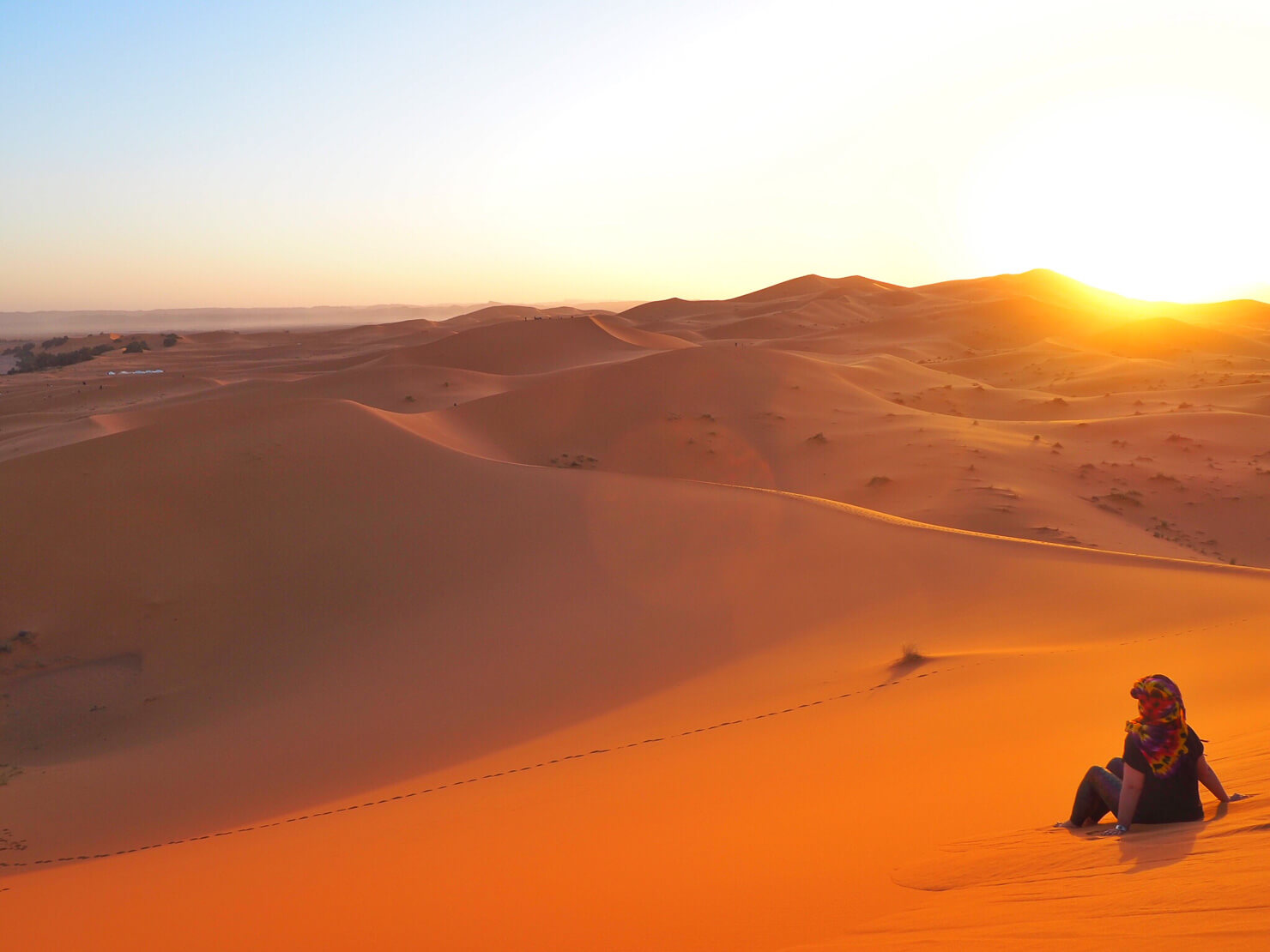 ---
Atlas Mountains
Our final stop of the tour was Imlil in the High Atlas Mountains where we stayed at one of my favourite guesthouses in the world.
When we arrived they had a delicious meal waiting for us in the cosy dining room and whilst we'd eaten some great food over the last couple of weeks, we all agreed it was our favourite meal of the trip.
The next morning, we had a little lie in before we headed out on a hike through the mountains with my favourite hiking guide, Hassan. The group found it very funny when I told them his name, because pretty much every guide or taxi driver we had in Morocco was called Hassan (although we did also have a Saeed and two Youssef's) which became a bit of a running joke with our group.
Imlil is a lovely place, with friendly people, great hospitality and gorgeous scenery, made even more beautiful as the cherry blossoms are now in bloom.
After all that walking, we relaxed on the sunny roof terrace with a glass of wine (yes, more wine) before having another delicious dinner with wonderful conversation with the other people staying at the guesthouse (it's all communal meals so you get to know everyone) and yes, more wine!
And just when I thought this place couldn't get any prettier, the next morning we woke up to the biggest surprise – snowy winter spring wonderland! Yes, it was snowing in Morocco, in April! It was unusually cold when we were there, but this was crazy! It was the perfect ending to the trip!
My only regret is not going the whole hog and climbing Mount Toubkal whilst we were there, which is why… I've added it to the itinerary for the next Rock My Morocco Adventure which is taking place in May next year! Inshallah. I cannot wait!!!! I
Until next time, Morocco. Stay magical!