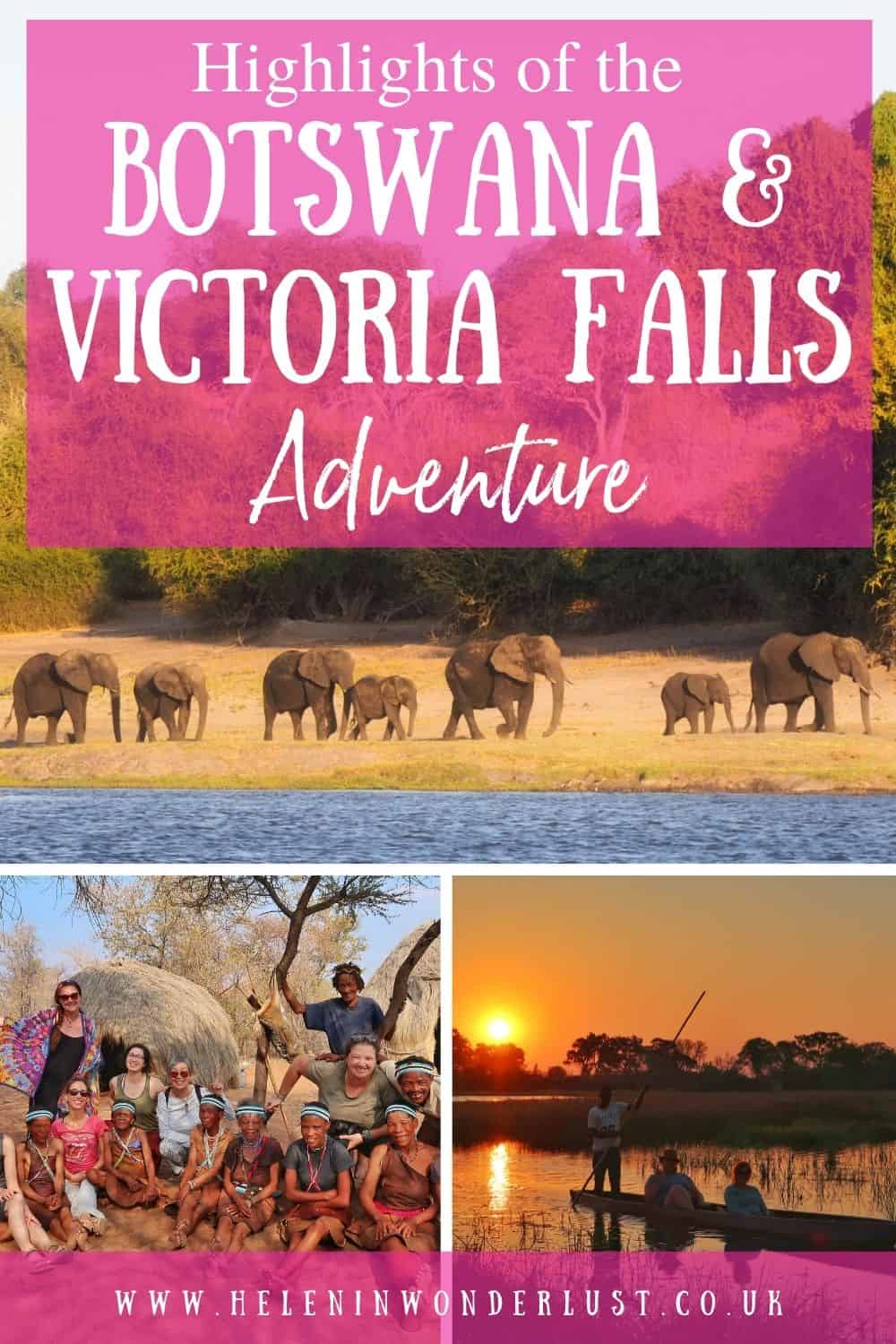 Welcome to the Rock My Botswana & Victoria Adventure – August 2019 photo diary!
This was no ordinary adventure, this was a real into the wild adventure through the heart of Botswana.
Our journey took us on a magical safari through the Okavango Delta, the Moremi Game Reserve, the Khwai Concession before ending our safari in Chobe National Park, exploring both the Savuti and Riverfront regions.
We also spent time with the wonderful San people in the Kalahari region, before finishing in Livingstone, Zambia, the adventure capital of Africa and home to the incredible Victoria Falls, one of the wonders of the natural world!
And we did it all by land and on a budget (my 2-week tour costs less than just 3 days in a luxury lodge), splitting our time between lovely lodges and comfortable, luxury camping (I'll explain more about what that is below).
So here are a few pictures and highlights of the first Rock My Botswana & Victoria Falls Adventure. Want to join the next group tour? Then click here.
---
Highlights from the Rock My Botswana & Victoria Falls Adventure Tour
---

D'kar
Leaving Maun, our first stop on the tour was D'kar, in the Kalahari region, the traditional home of the San people, one of the oldest (if not the oldest) ethnic groups on earth.
The San are nomadic hunter-gatherers and are also known as the Bushmen due to their incredible knowledge of plants, animals, and their surroundings.
We spent time with the San, visiting their village and learning about their culture, traditions, and survival skills.
On our last evening, we took part in a San storytelling and healing ceremony around the fire, which is always an awesome and sometimes quite moving experience.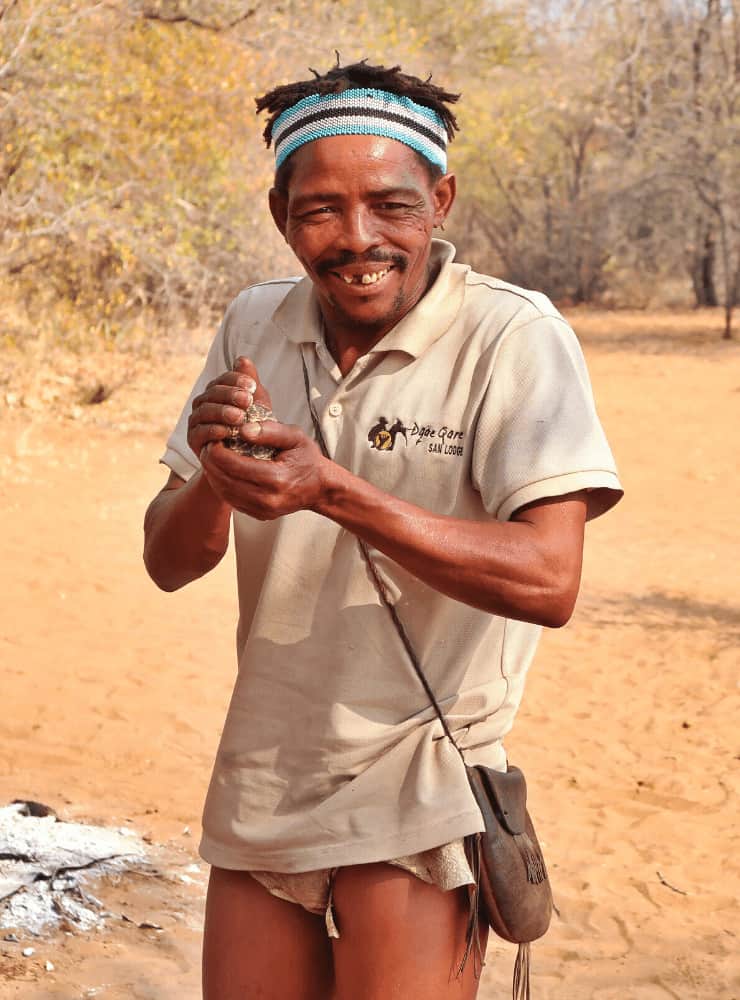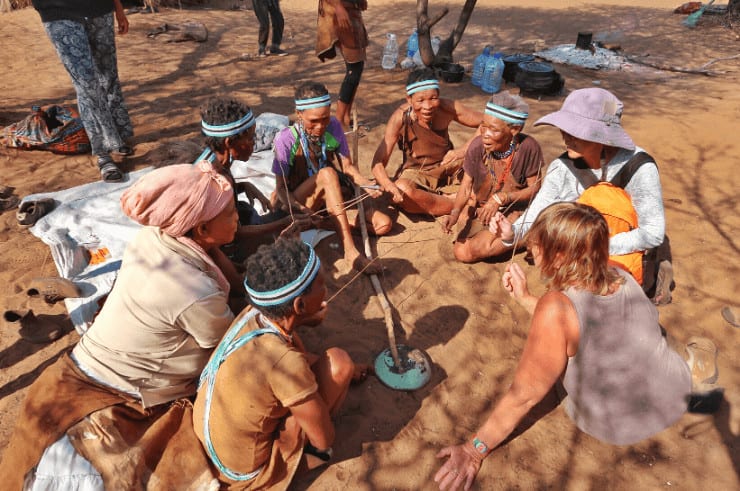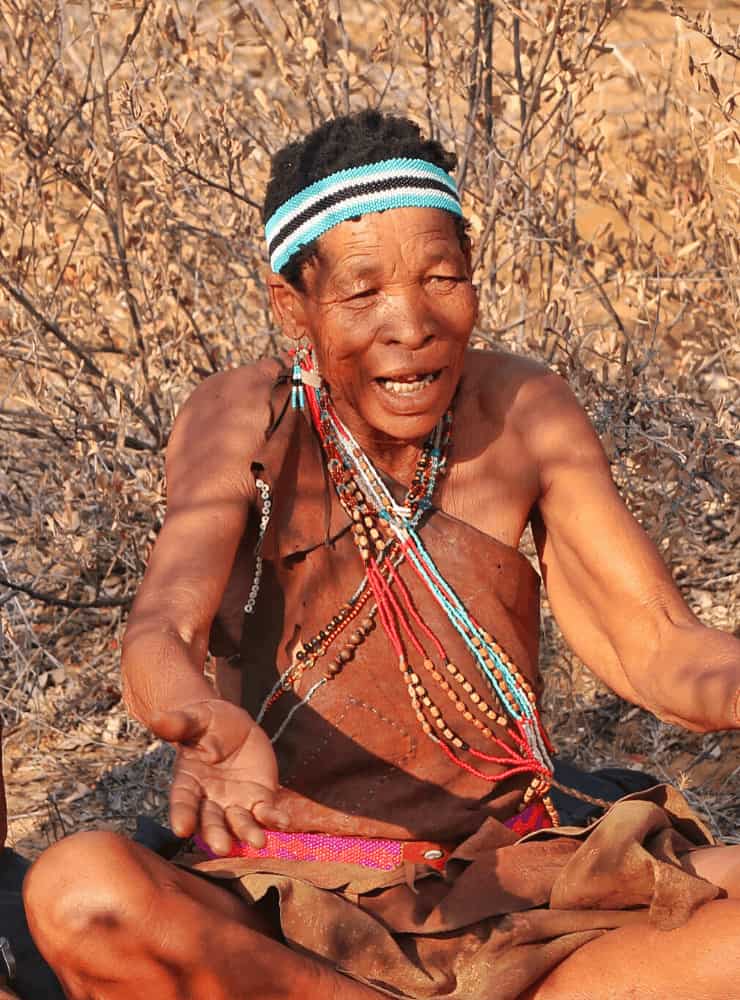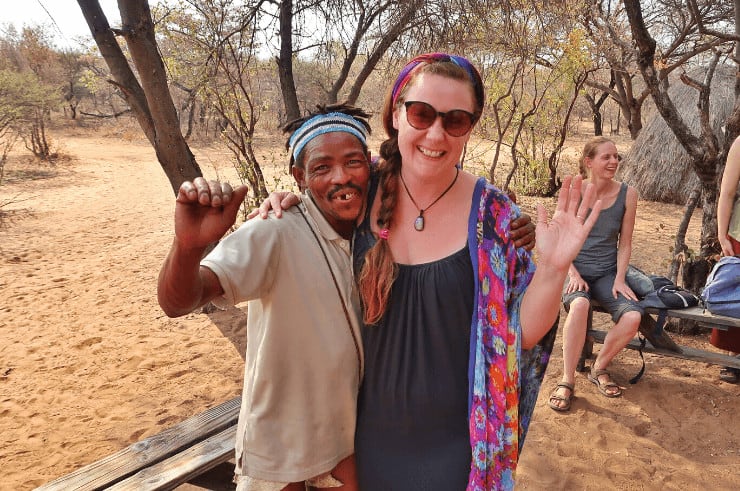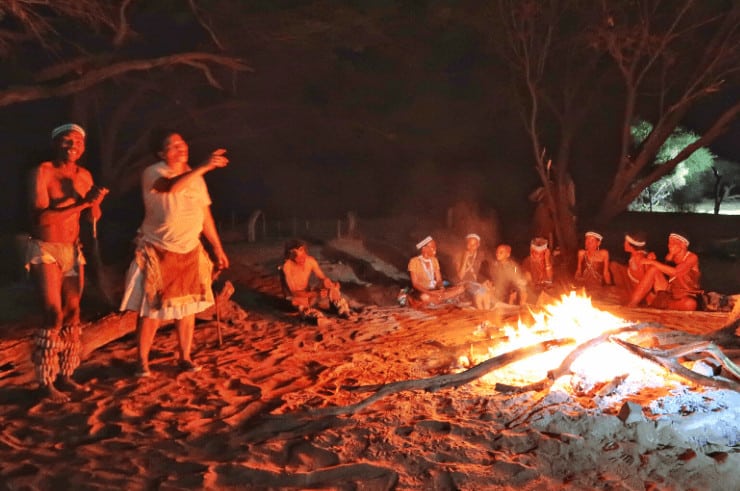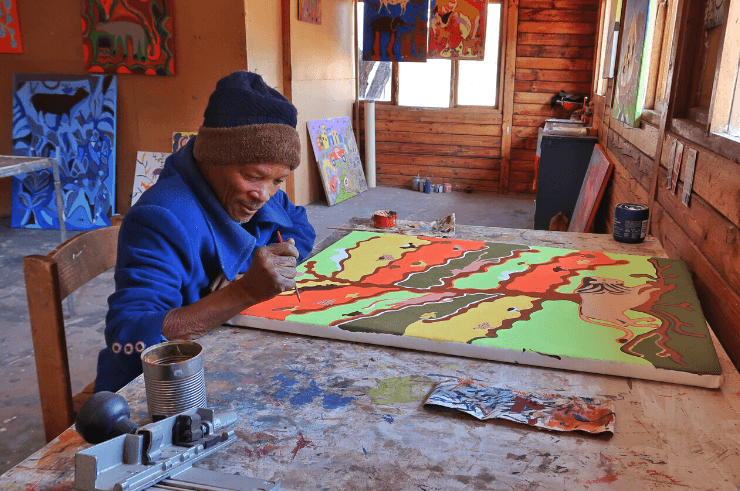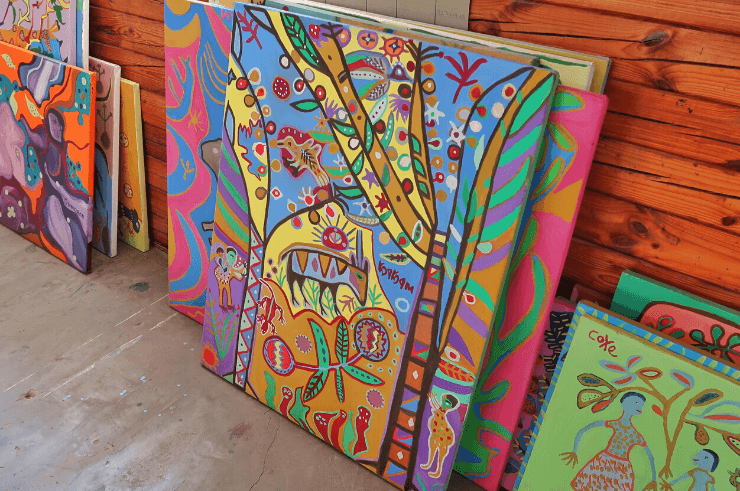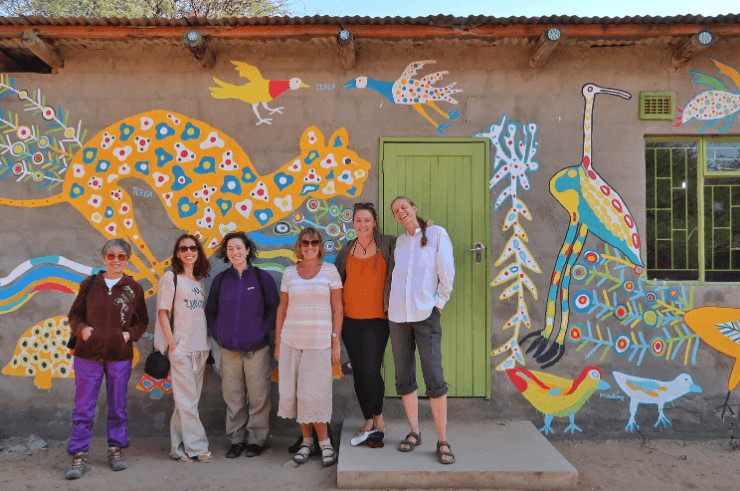 The Okavango Delta
Next up, we headed into the Okavango Delta.
The Okavango Delta is the world`s largest inland delta and a UNESCO World Heritage site, formed when seasonal water flowing from the Angolan highlands creates a flood which produces channels and islands that transform the environment into one of the most unique and beautiful landscapes on earth.
This part of Botswana is home to an abundance of wildlife including, elephants, hippo, lions, and zebra and we spent our time enjoying mokoro (traditional canoe) rides through the waterways and taking walking safaris through this incredibly unique part of the world.
When we arrived, our camp was already set up and in full swing and dinner was on the way.
We spent our time here going on bush walks, watching elephants wander near to our camp, taking rides in the mokoros, and even trying to punt them ourselves, which didn't go so well but was very fun. We also went swimming!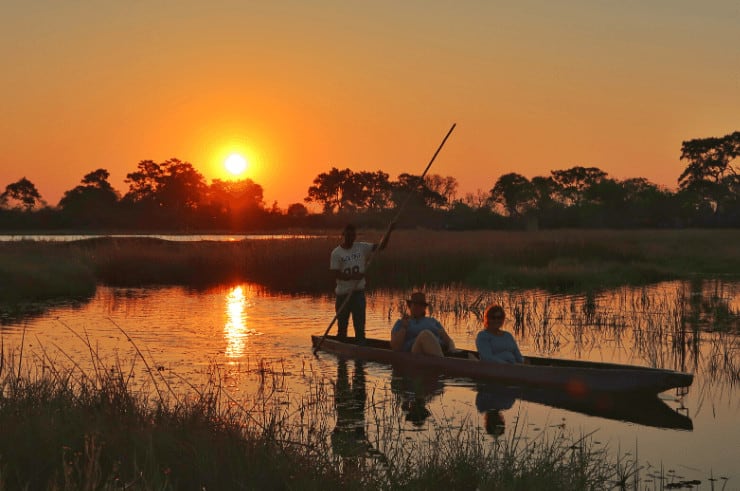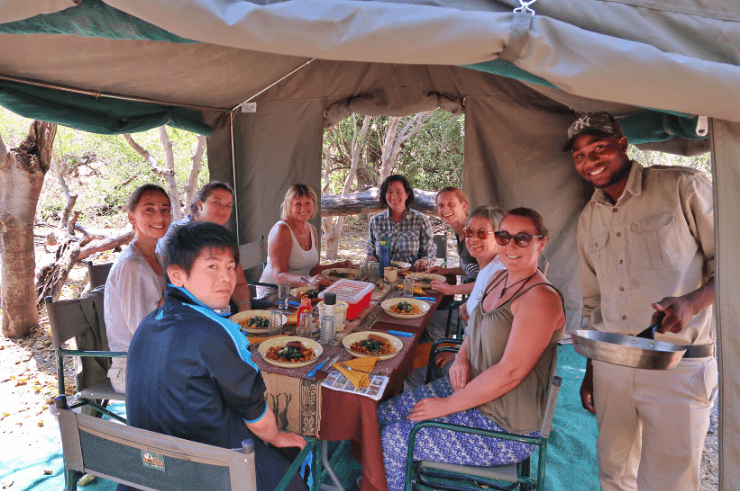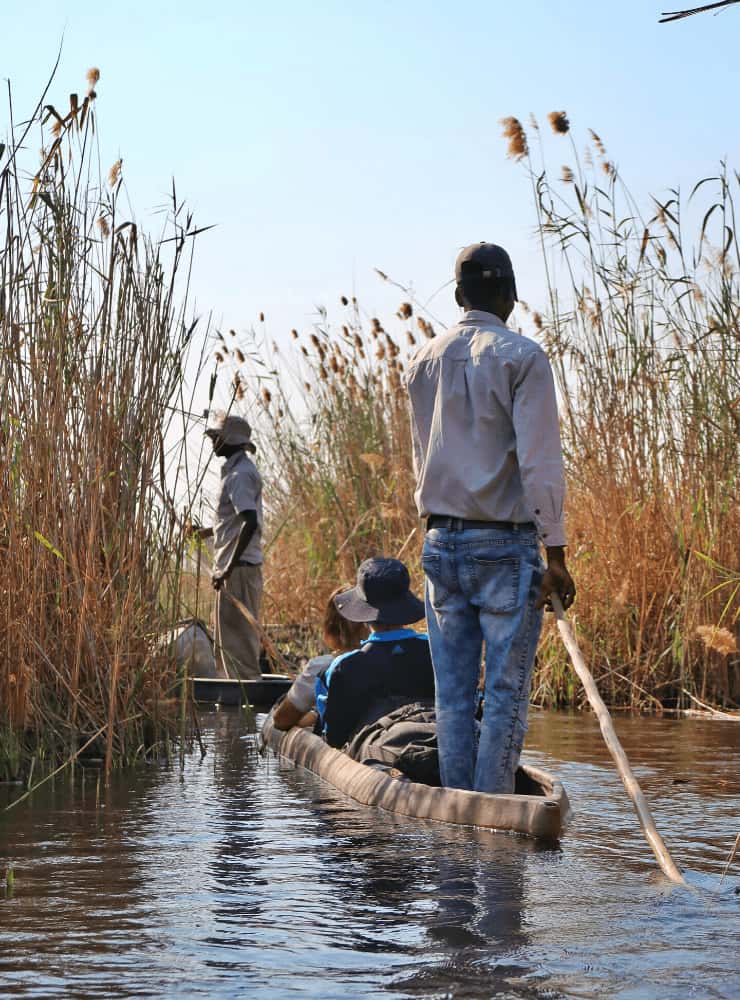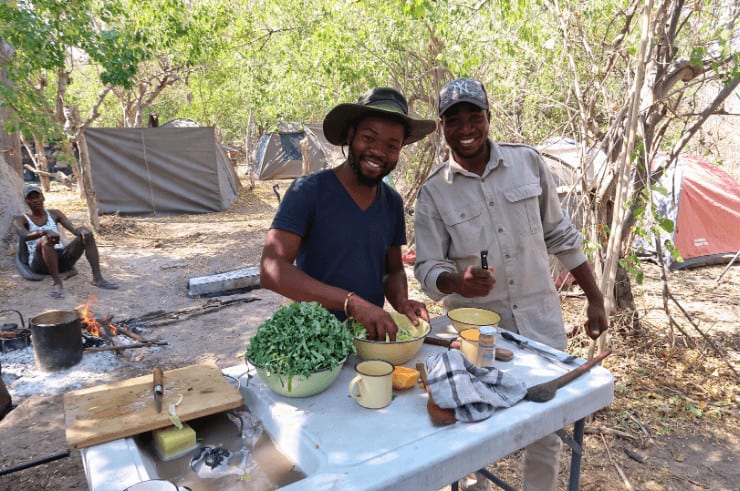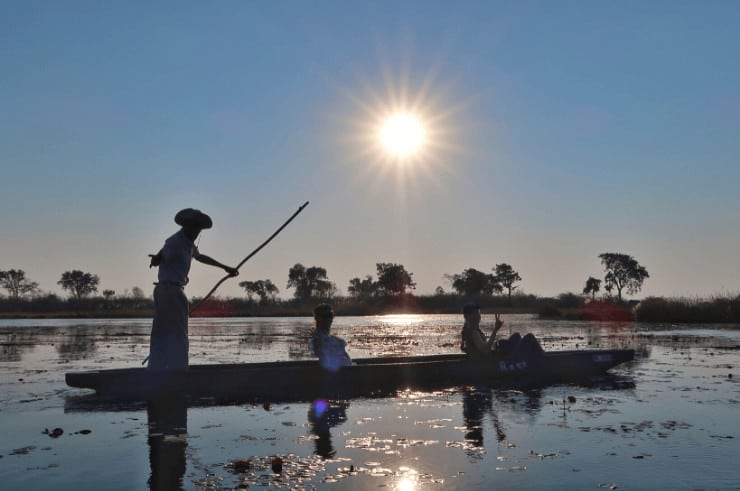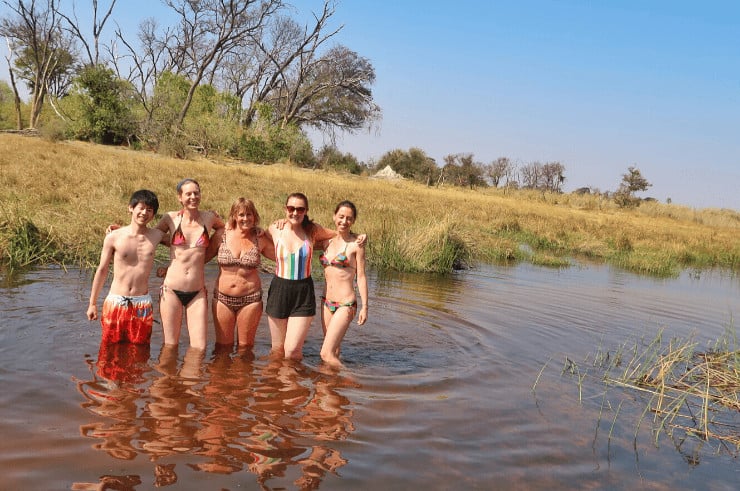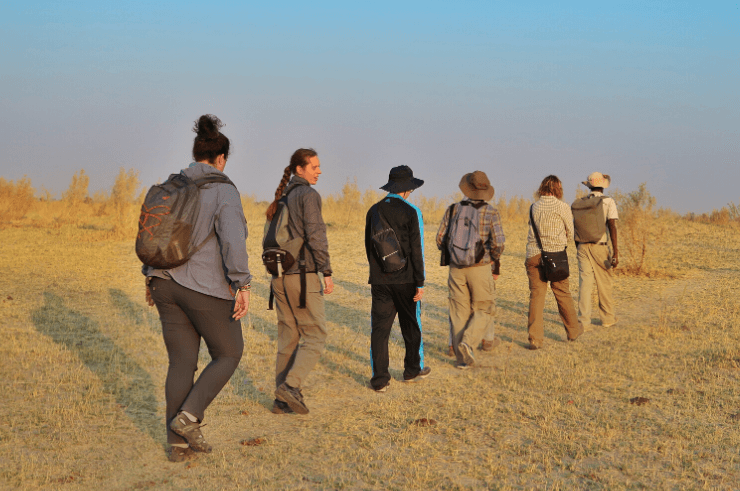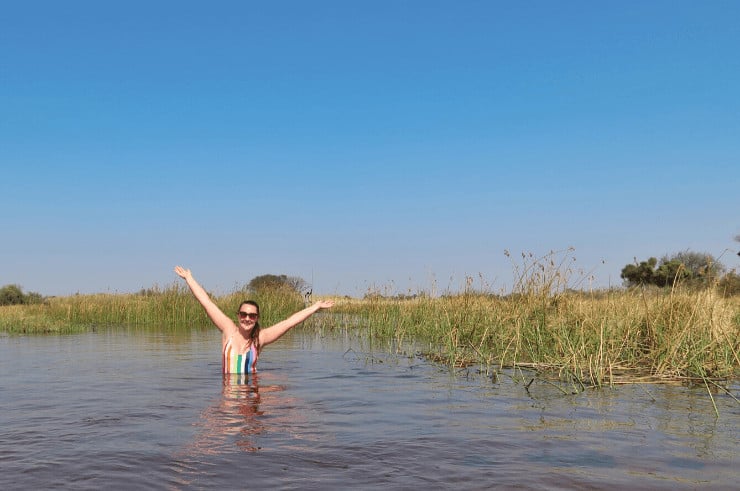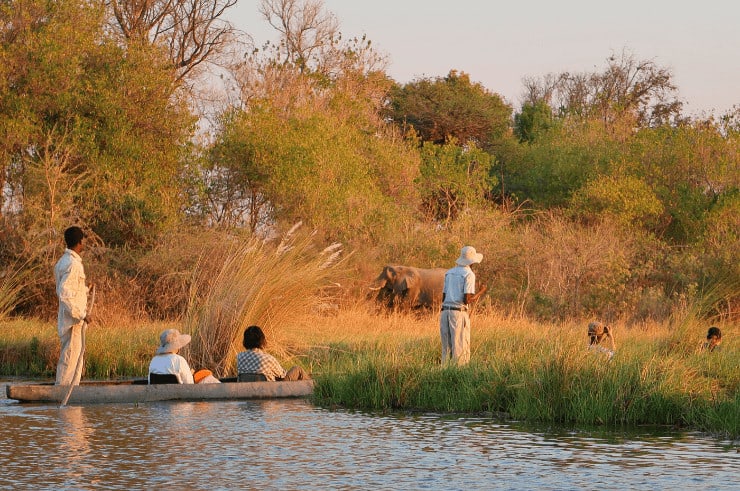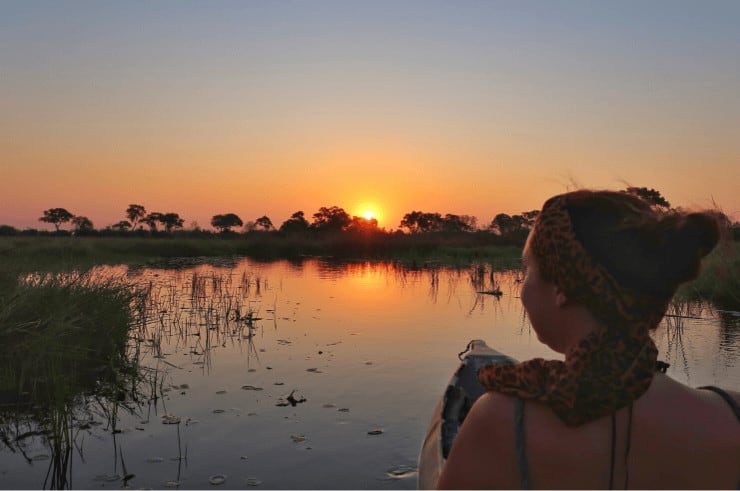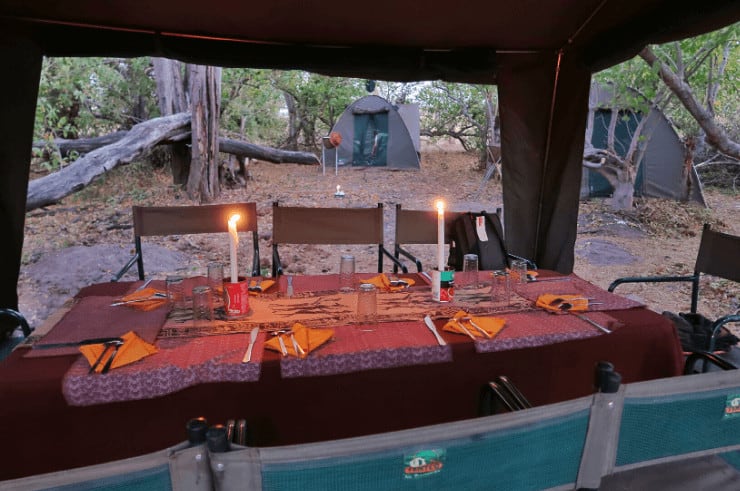 Moremi Game Reserve & the Khwai Concession
After the Delta, we spent a night in a comfortable lodge, and whilst the girls took a scenic flight Delta, I got some work done (boring) after being offline for a couple of days. I missed out, but most importantly, they had a fabulous time and said the views were amazing.
The following morning, we entered Botswana's wilderness, camping on the border between two incredible safari destinations, the Khwai Concession and Moremi Game Reserve.
This area is home to a vast number of animals including elephants, giraffes, lions, cheetah, hyena, buffalo, wild dogs, and around 500 species of bird.
We saw sooo many elephants and at one point they were all around us.
After a day on safari, we'd come home to warm showers, eat a hearty dinner, sit around drinking wine and chatting, before heading to bed. I loved listening to the sounds of the bush as we drifted off to sleep, safe and snuggly in our tents with blankets and hot water bottles.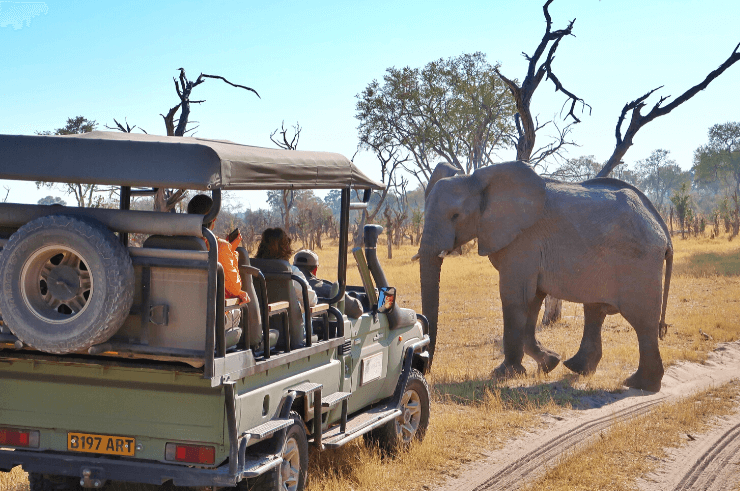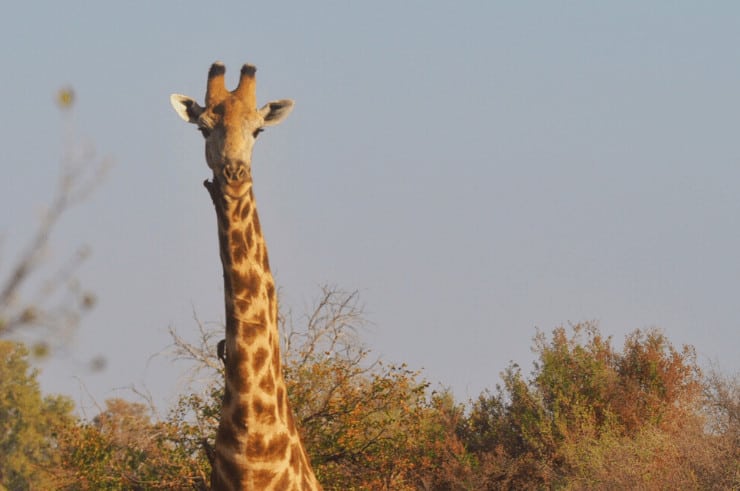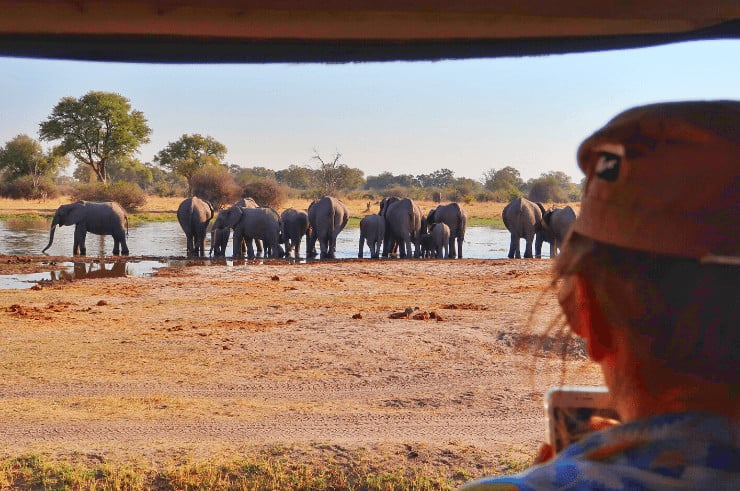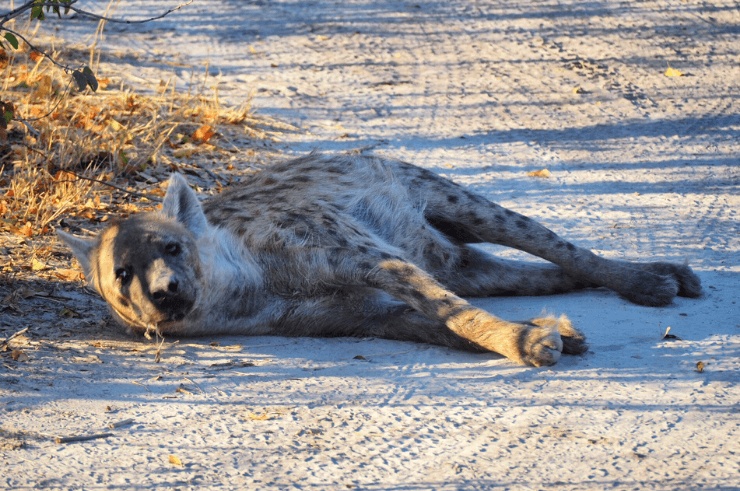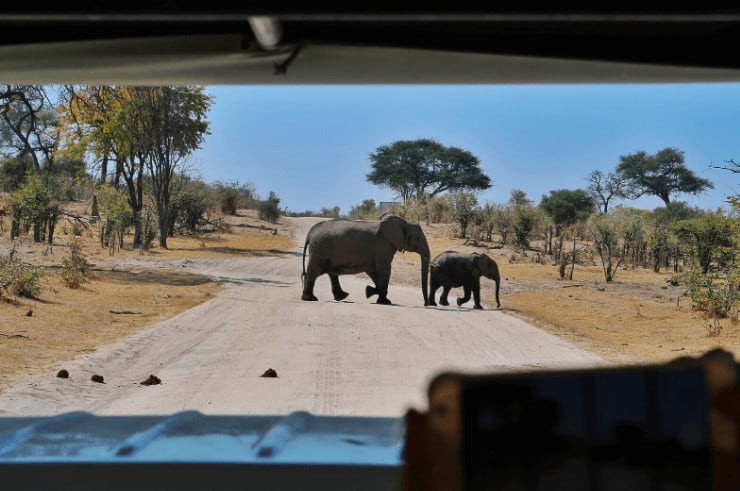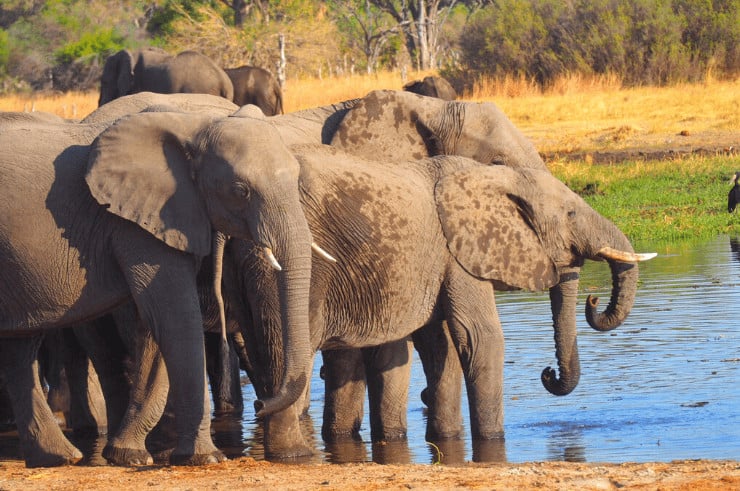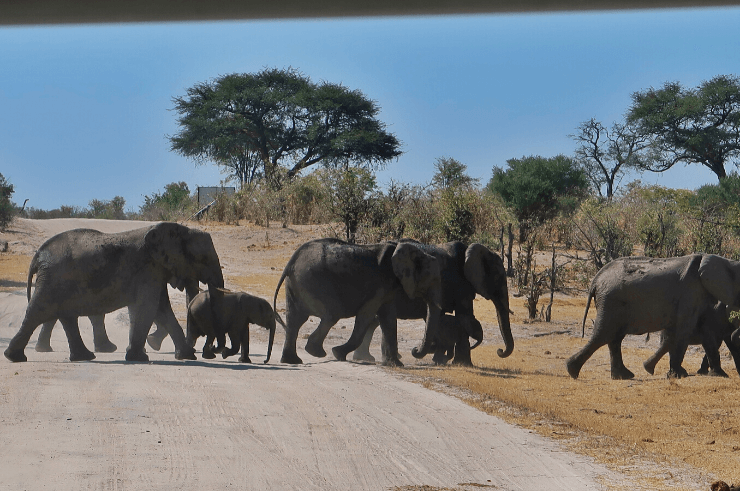 Chobe National Park (Savuti Area)
We continued through the parks, next moving on to the remote, raw and wild Savuti region of Chobe National Park. One of the BEST places in Africa for safari and probably my highlight of the trip.
Savuti is famous for a number of reasons – first for the disappearance of the Savuti Channel which dried up in 1981, only to mysteriously reappear in 2008, attracting large numbers of animals who drink from the clear waters.
Savuti is also known for high numbers of elephants and predators, including lions, leopards, cheetahs, hyenas, and wild dogs.
The lions in Savuti are historically famous for their unusual behaviour and excellent hunting skills. They have been known to hunt and kill elephants which is uncommon in other parts of Africa. This began when Savuti was dry and still continues today.
We saw so many things in Savuti, including lions, leopards, and cheetahs, as well as hundreds of elephants.
The saddest thing was seeing hyenas with fighting jackals over a baby elephant carcass, followed by seeing an elephant that had likely died of dehydration. After the rains failed this year, the area was very dry, with animals gathering around the small waterholes.
However, we did see 3 beautiful male lions who had just come from feeding on the elephant. Their blood covered faces alerted was what alerted us to the dead animal.
So our guide, Salani, took us to the elephant carcass and we waited.
He had spotted leopard tracks and sure enough, a few minutes later, the lions now fed, a shy leopard appeared from the bushes. It was one of the most amazing/awful things I think I've ever seen.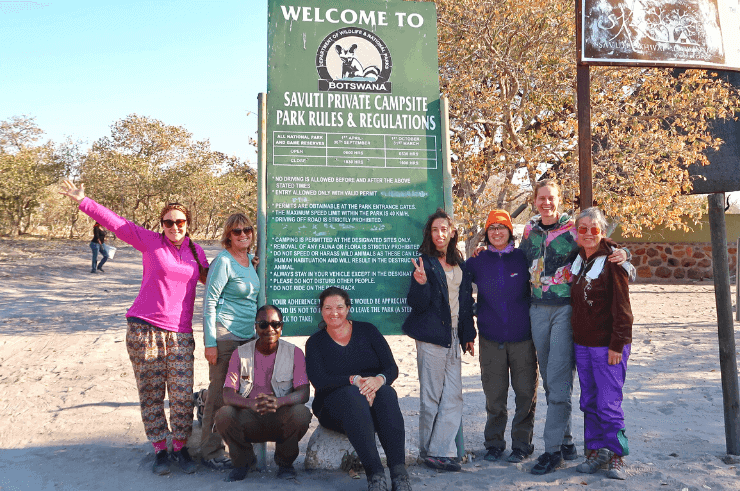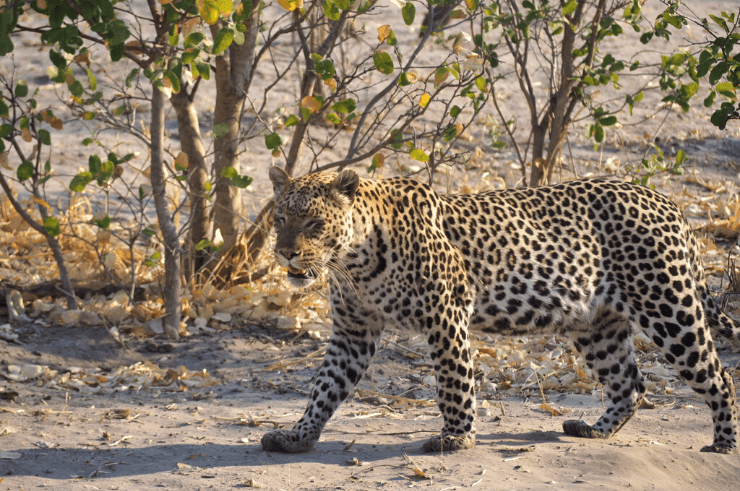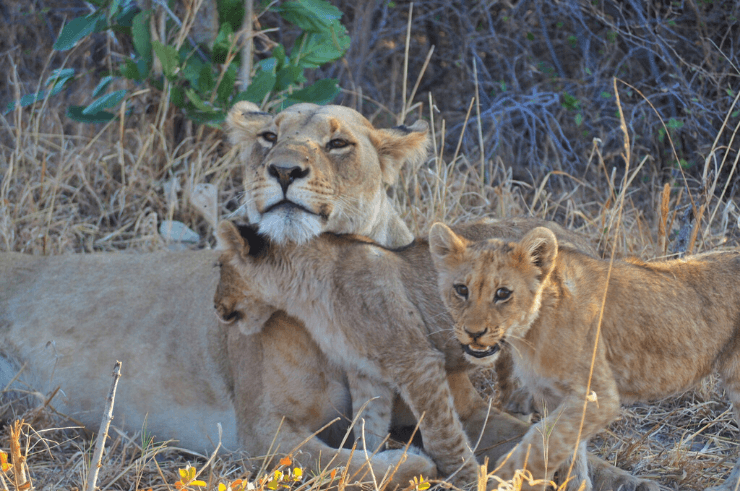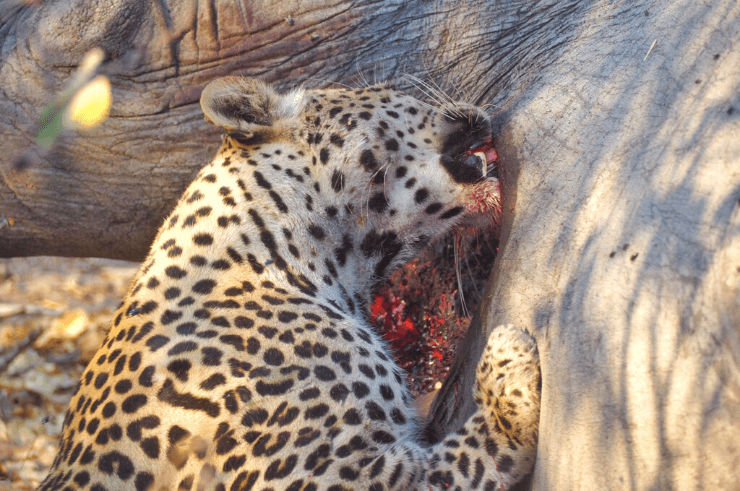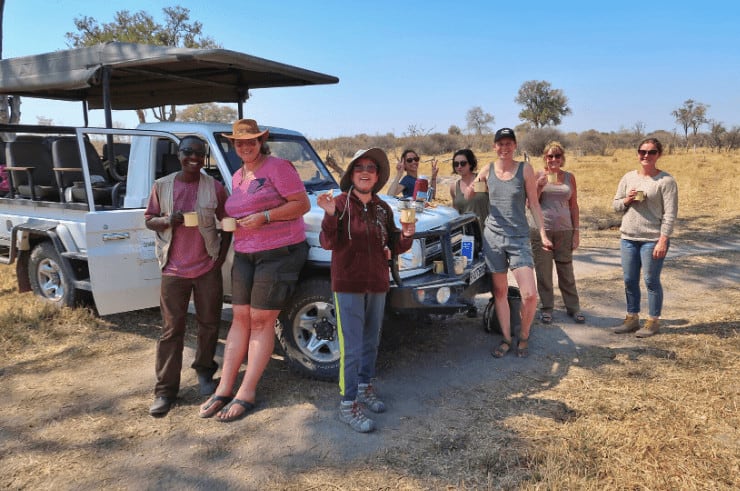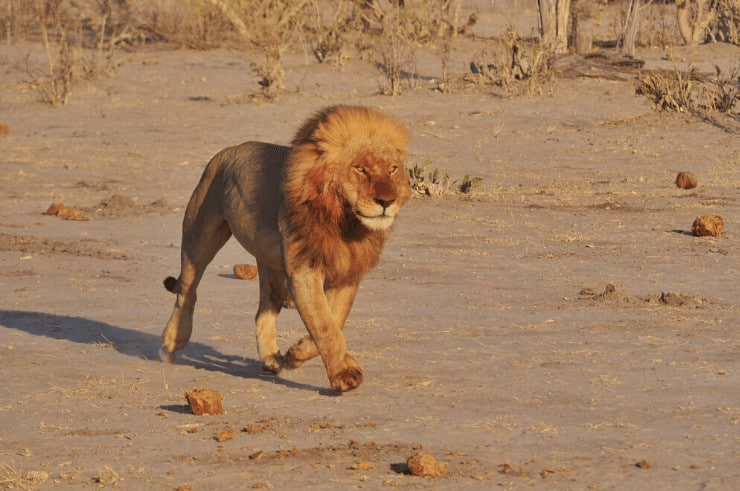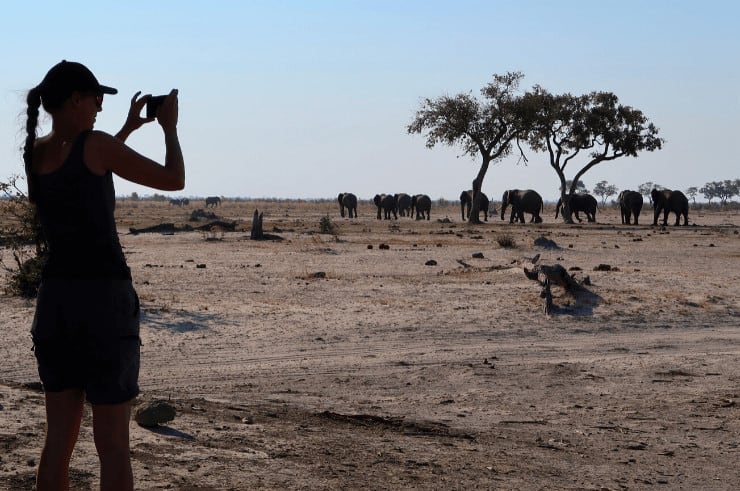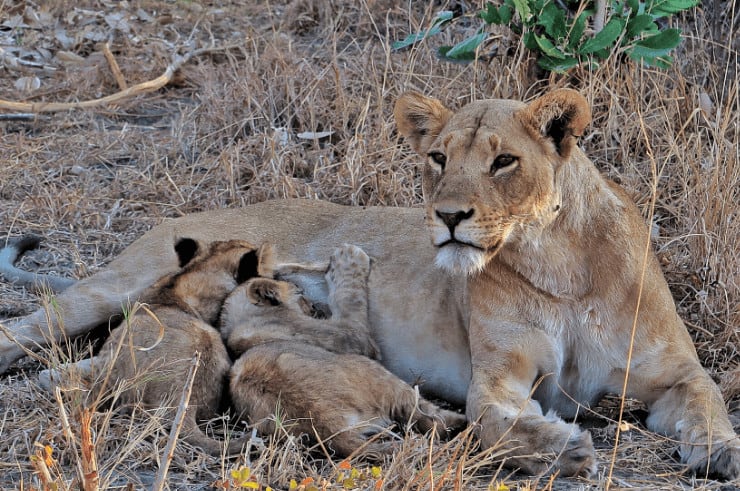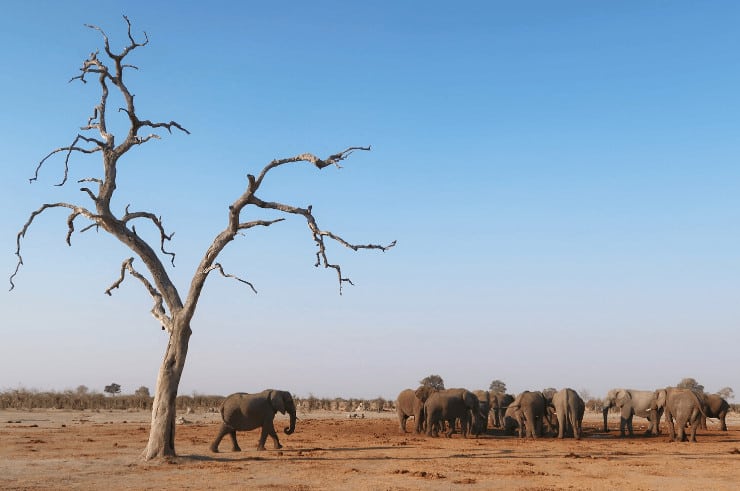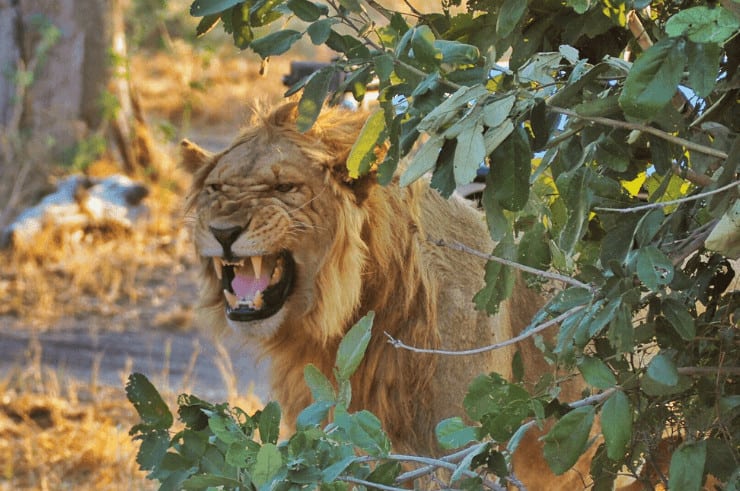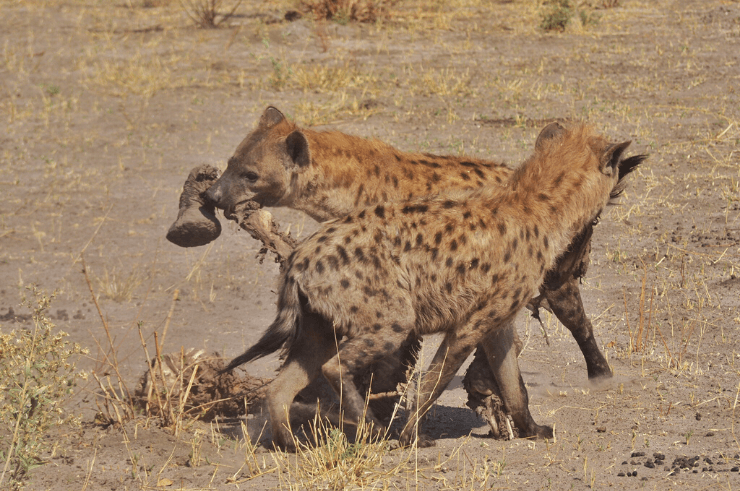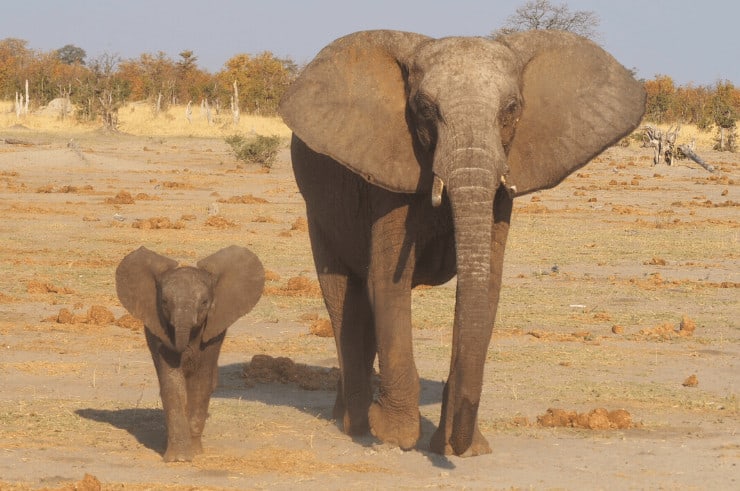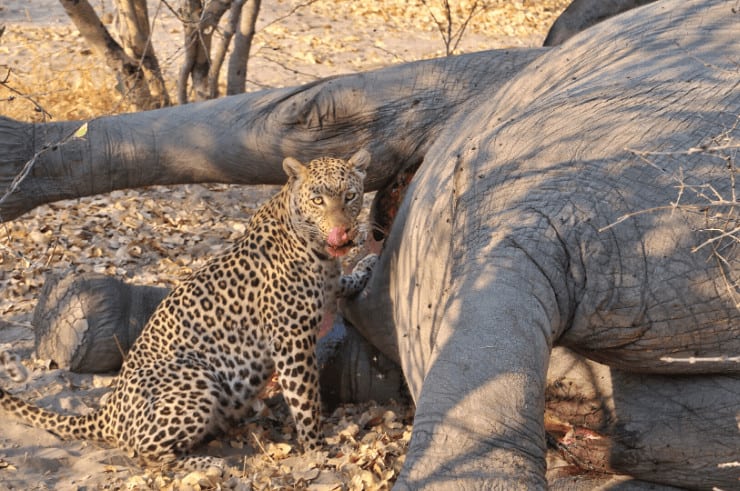 Chobe National Park (Riverfront Area)
Our last stop was the Chobe Riverfront. I love this part of Botswana and it was the first part of Botswana I experienced back in 2009.
Chobe National Park is home to an estimated 120,000 elephants, one of the most concentrated populations of elephants in all of Africa and often you'll see hundreds of them in just a single day.
We took two safaris here, one by safari vehicle and the other by boat. Whilst the safari by land was great, seeing the animals from the water give you a whole different perspective.
Seeing elephants, at sunset, parading in a line, with the matriarch leading her herd to safe drinking and bathing spots is pretty special. It was a great way to end our time in Botswana.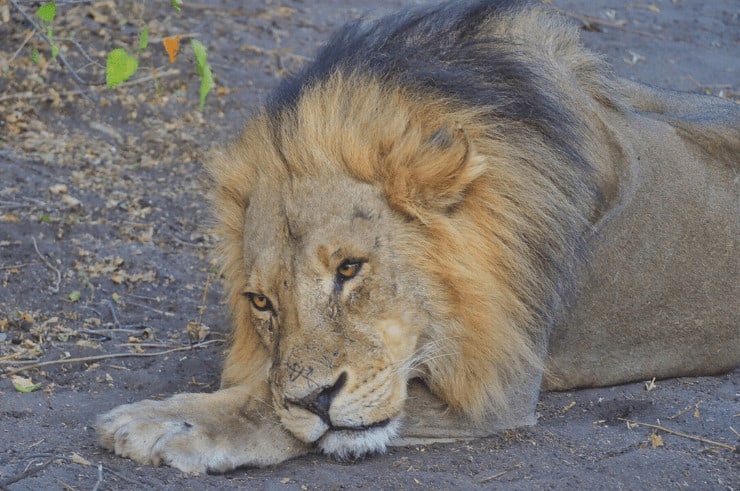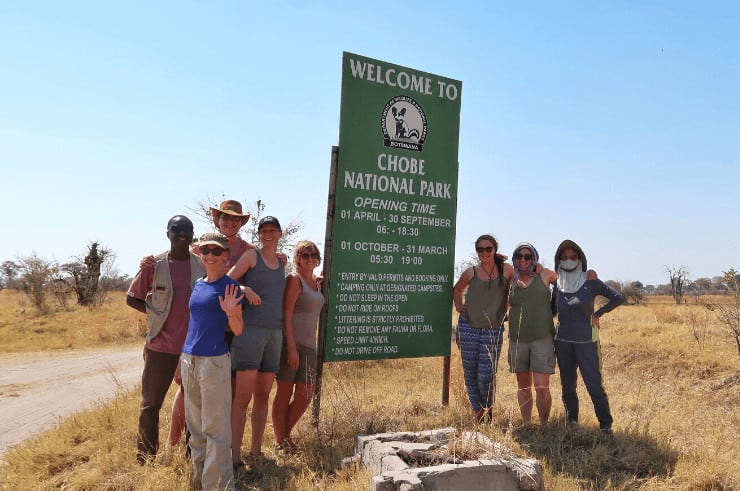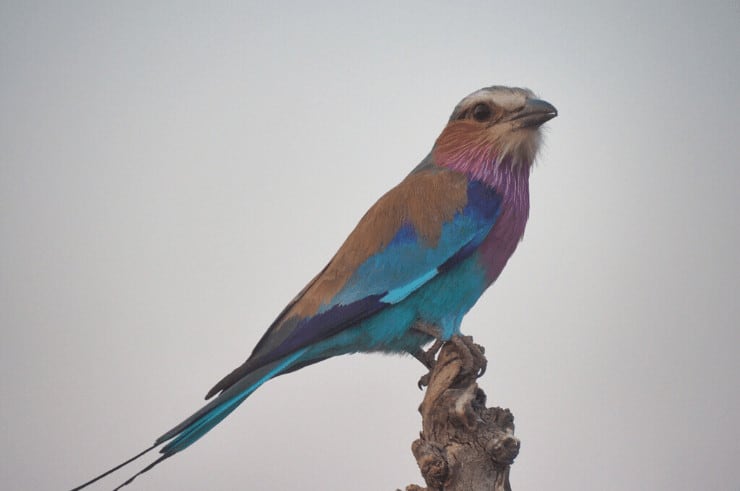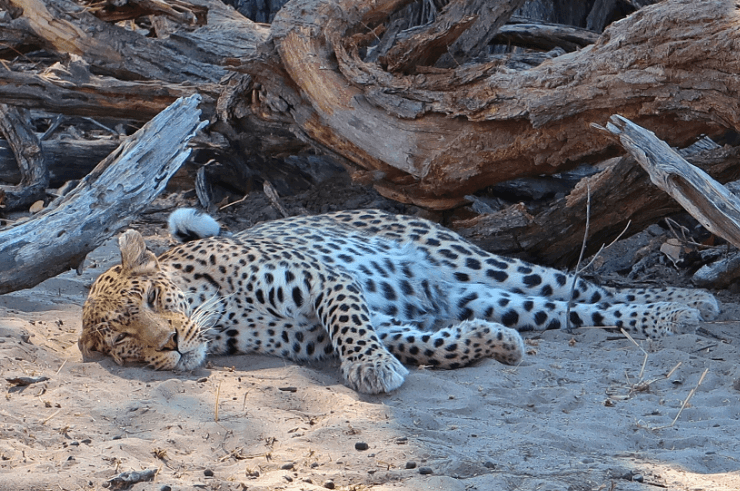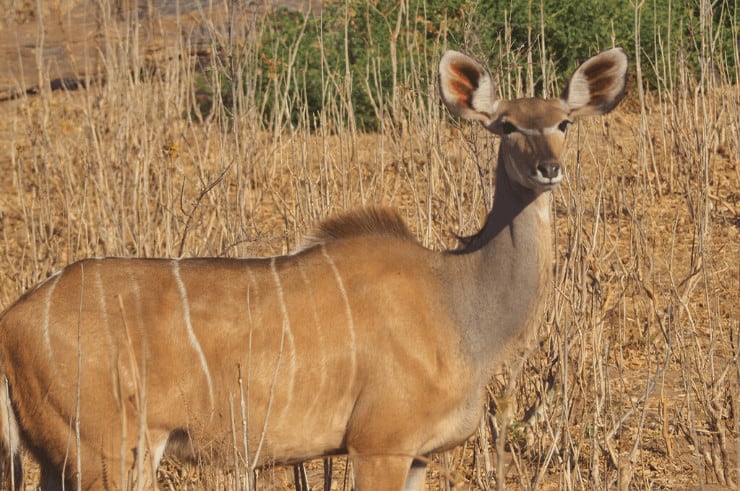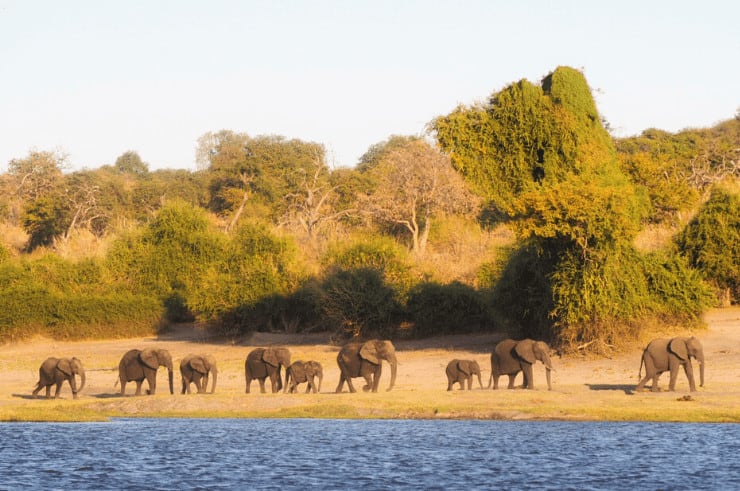 Victoria Falls
The following day, we crossed over the border into Zimbabwe (on the next trip it will be Zambia instead) where the group had some free time to take part in the wonderful activities on offer.
Most of the group wanted to go to the Devil's Pool, myself included (hence why I'm moving it over to Zambia next year) which is one of the best things you can do in Victoria Falls. It was so much fun and exhilarating!
And of course, we visited the beautiful Victoria Falls, one of the wonders of the natural world and even though I've been to the falls multiple times over the years, it never gets boring.
We ended our trip with a sunset cruise along the Zambezi… what an adventure!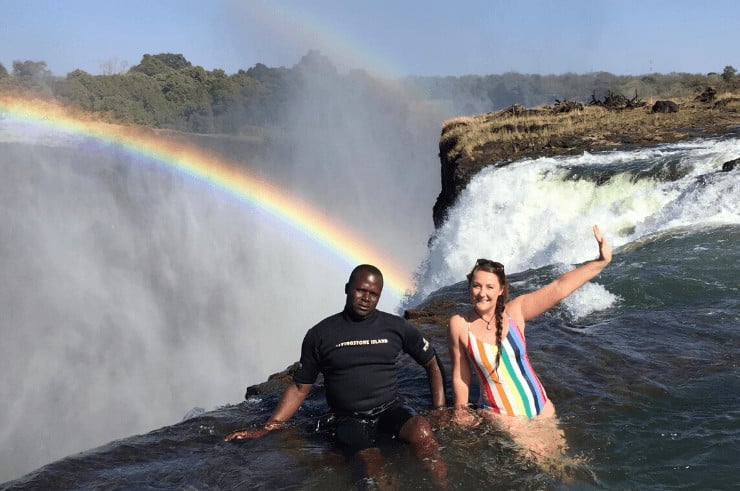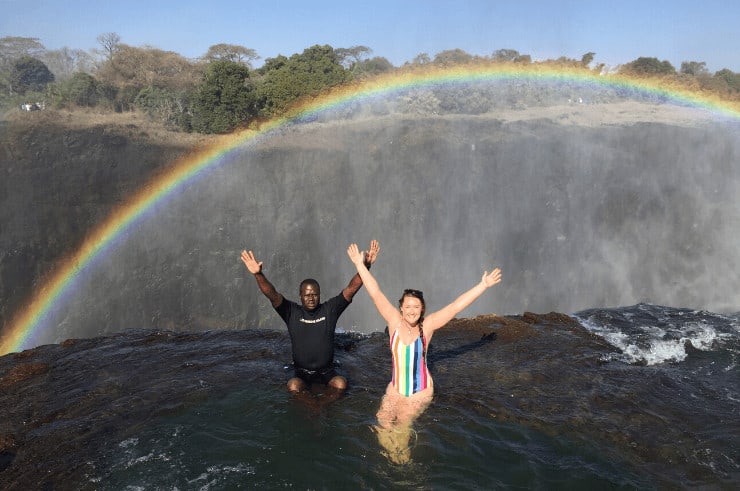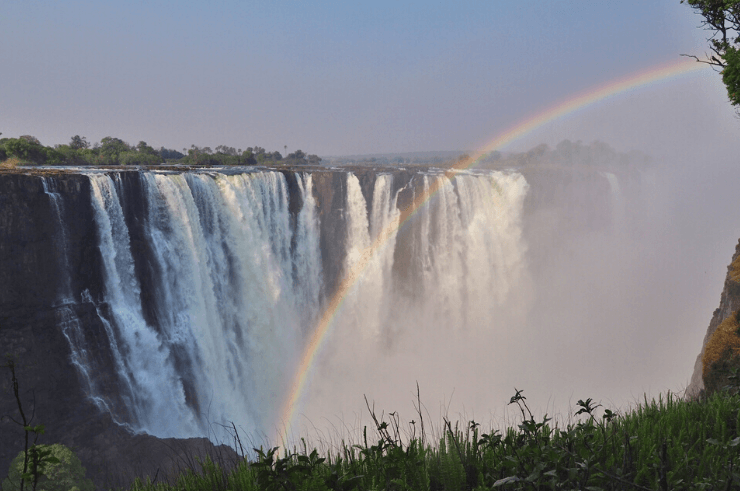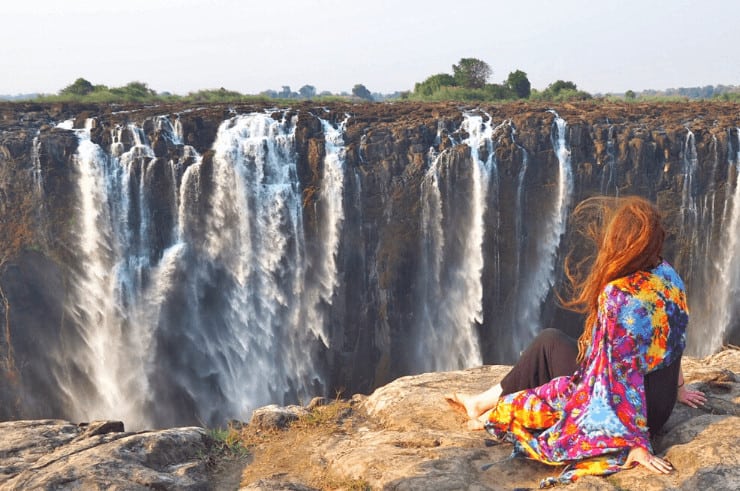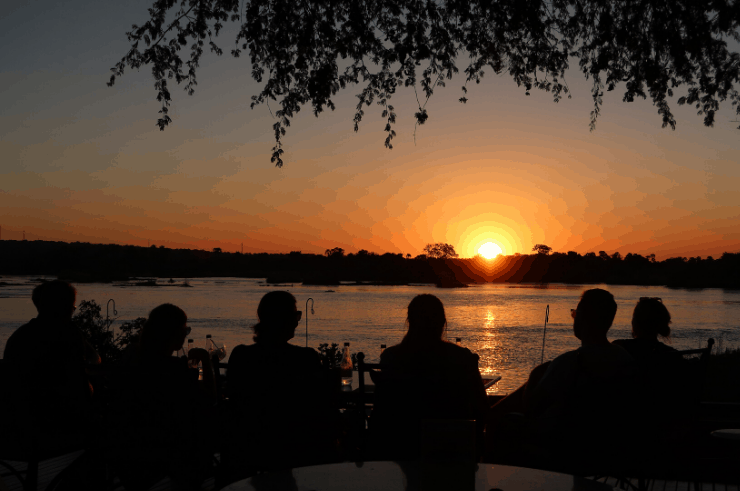 What is comfortable, luxury camping like?
In case you're wondering what the camping part of this trip looks like…
Whilst on safari (Okavango Delta through to Chobe National Park), we stay in mobile bush camps, deep in the heart of Botswana where we have a driver/guide, cook and support crew.
The trip is non-participatory, so the tents and camp are set up by our awesome crew before we even arrive in each location.
We sleep 2 people to a tent, on twin cot beds with mattresses, bedding & towels provided.
Each tent has an ensuite bathroom with a pit toilet and warm bucket shower every evening (having a warm shower, after a hot, dusty day on safari, completely in the wild and under the stars is FABULOUS).
We'll eat all together in a 'mess' tent and all meals will be provided by the crew (the food is amazing, with homemade fresh bread most days). In the evenings, we sit around the fire and listen to the sounds of the bush.
Testimonials
"This tour was described like: 'There's nothing quite like a Botswana safari' – this was an understatement. We saw some of the most amazing and fascinating places in this world, more animals than I could have ever dreamt to come close to, and had extraordinary experiences that we'll never forget. Helen is incredibly thoughtful, generous, cheerful, passionate and knowledgeable about Africa, happy to share a lot on local cultures, history, tips, etc. I really liked the authenticity of this tour and how we were not too disconnected from the locals. I am lucky enough to travel quite a lot, and this is one of the most beautiful trips I have ever done. Thank you SO MUCH!" MATHILDE | FRANCE
"My mom and I went with Helen's group to Botswana. It was our first time to Africa and we couldn't have had a better introduction. Helen is a super organized and empathetic group leader and make the logistics of our trip easy. She also organizes primarily small groups which is nice if you are not generally a group tour type of person. I really enjoyed the mix of culture and nature, and the level of comfort/price (think flashpacking). Also, I think we were fairly lucky but we saw loads of interesting animals! Highly recommend." You can read Rose's full review on Facebook here. ROSE | USA
"This trip simply blew my mind. Never before have I encountered so much wildlife close up. Seeing a lioness peacefully nursing her cubs right in front of our eyes and a leopard ripping open a rather ripe Elephant carcass a few meters from us were just a couple of the highlights. We must either have had a lucky charm or our talented guide can take all the credit for the incredible wildlife sightings: two cheetas resting in the shade, hyenas fighting over the spoils of an Elephant calf and comically the black-backed jackals butting in and outsmarting them. From the bone dry Kalahari to the rich waters of the Delta, the green savanna of Moremi to the sandy, stormy desert of Savuti, on to Chobe and to the breathtaking rainbows over Victoria Falls, this trip just had it all. The highlights kept coming! Daily we saw large herds of Elephants, and were collectively cooing over the baby Elephants running around, learning to use their trunks. Having initially felt somewhat apprehensive about camping, it turned out to be my favourite part of the trip. Being so completely immersed in nature, falling asleep to the sound of hippos close to the tent and watching the mist rise from the river in the early morning light, made us feel incredibly alive. We explored the landscape by car, canoe, on foot, by plane and boat and every time there was more to see, more to learn, more to enjoy. This trip is a treat for all animal lovers that you cannot effort to miss. You can read Katja's full review on Tripadvisor here. KATJA | GERMANY
"I'm a retired senior, traveled most continents, but not Africa until this August. I love to rough it in nature, but am health conscious. I was a bit apprehensive about health hazard in traveling Africa. My August trip debunked my concerns. It's a very uniquely awesome experience, unexpectedly safe and comfortable. My daughter and I joined this group lead by Helen Davies, her Botswana and Victoria Falls trip. I chose her after reading her Africa travel blogs – she travelled Africa extensively. Besides being experienced, knowledgable, she is also a very caring, organized yet flexible trip leader. We saw so many animals in amazingly close-up: Lions, hyenas, leopards, cheetahs, elephants, giraffes, just to name a few. Also a countless variety of beautiful birds. We visited the San people, bush walk with them, learned a lot about their life skills, art, music, and dance. Half of the days, we stayed in hotels and other days, we camped in tents. A local group setup the tents, each with a bathroom and hot shower! Cooked meals on campfires. We don't need to do anything but enjoy the safari and freshly cooked food. Helen hires many local small business groups to facilitate our trip. She must have good connections and made good choices – these local groups were very competent, so our whole trip went without a hitch, and the price of the trip is reasonable. The local groups were also very friendly and helpful – another way for us to enjoy contact with Africans. My daughter and I feel very lucky to have went with Helen for our first Africa trip – definitely a memory to be treasured." You can read Cindy's full review on Facebook here. CINDY | USA
To see the full itinerary/details or to book your spot, head over to the Rock My Adventure website! 
And don't forget to check out the new Rock My Adventure video! ❤️
Read More About Botswana & Southern Africa…
Botswana Group Tours