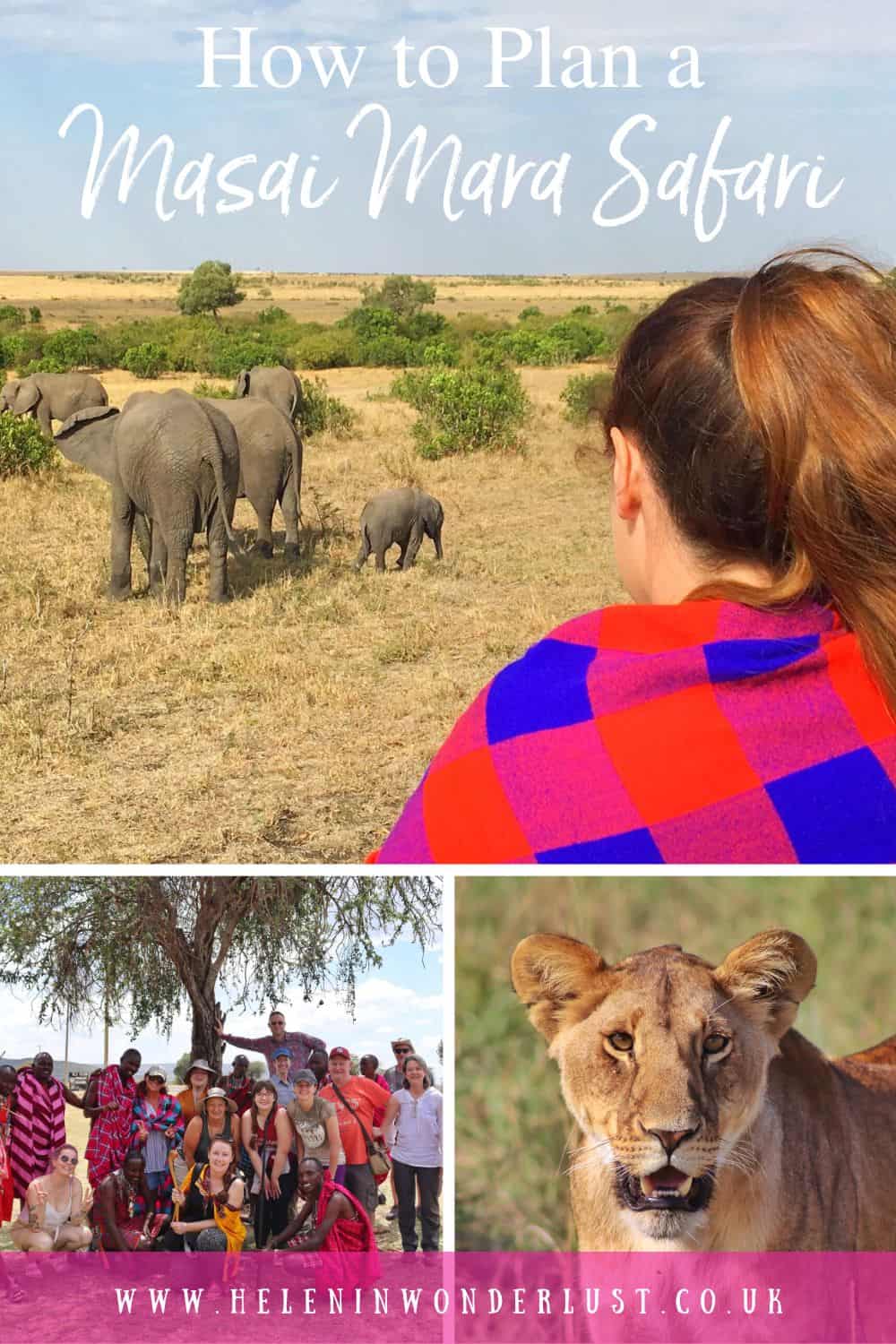 Last updated on April 5th, 2023 at 09:21 pm
Going on a safari in the Masai Mara National Reserve in Kenya is an incredible experience that should be on everyone's Africa bucket list.
The Masai Mara (or just Mara for short) is one of the world's most famous safari destinations, bordering and within the same ecosystem as the Serengeti National Park in Tanzania. Animals move freely between the two, including the annual wildebeest migration.
So here's the Helen in Wonderlust guide (with some help from my lovely friend Laura) to a Masai Mara safari to help you plan and have an incredible trip!
Please Note: Some of the links in this post are affiliate links, which will earn me a small commission at no extra cost to you. Affiliate sales help with the running costs of this site, so thank you for your support!
---
Planning a Safari in the Masai Mara – Everything You Need to Know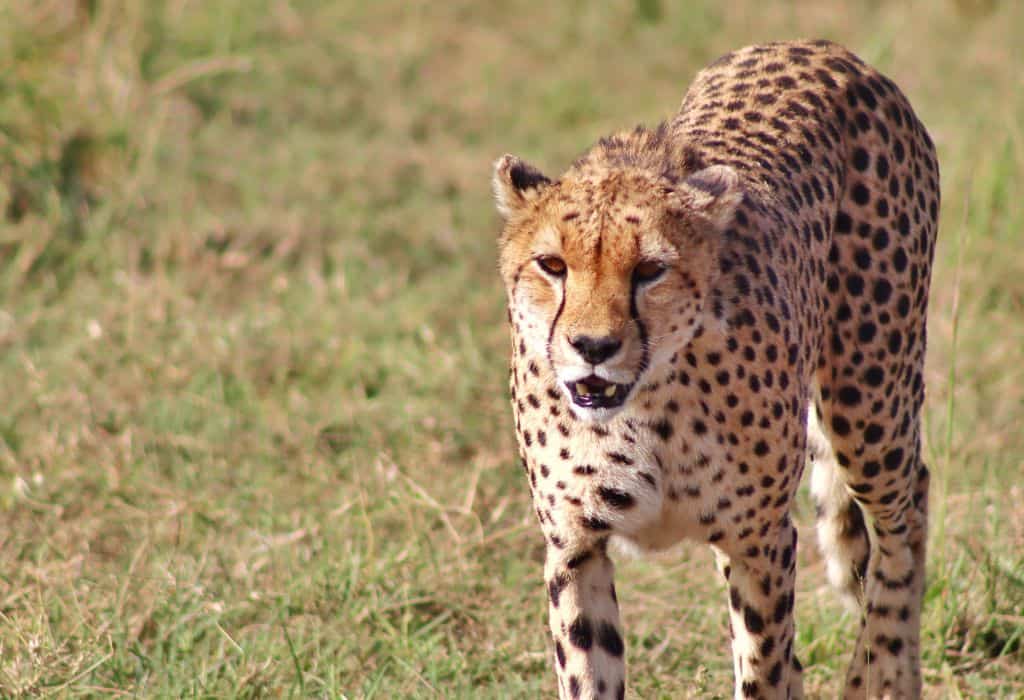 Is the Masai Mara Worth Visiting?
The Masai Mara is one of the most famous and popular safari destinations in the world. I love taking my Kenya & Tanzania group tours here and it's always a major highlight of the trip.
For me, the Masai Mara is the perfect safari destination. It feels very 'wild', but is still accessible, meaning you can travel to the Masai Mara, even if you're on a budget.
Going on safari in Masai Mara, you will have a chance of seeing the 'Big Five' in one day, as well as tons of other animals. It's quite rare to see a black rhino in the main part of the park, but I have seen them in the Mara Triangle a couple of times.
If you have additional time, you can also combine your trip to the Masai Mara with other game reserves in Kenya, such as Lake Nakuru National Park and Hell's Gate National Park and/or Amboseli National Park, and Tsavo National Park.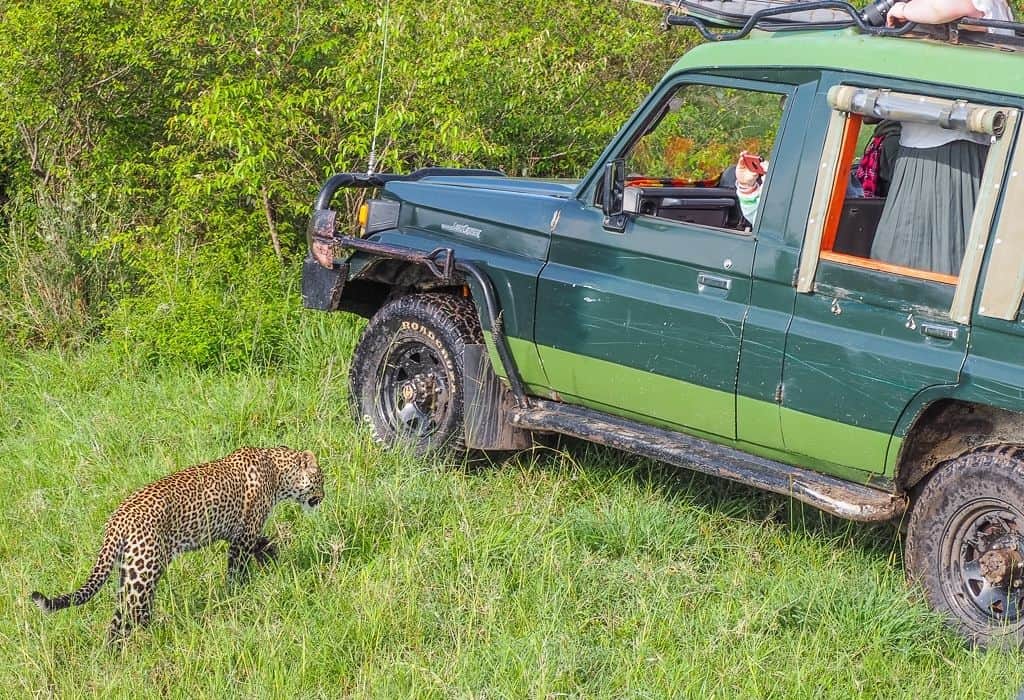 What is the Difference Between the Masai Mara National Reserve, the Mara Triangle and the Mara Conservancies?
The Masai Mara is made up of Maasai Mara National Reserve, the Mara Triangle, and several smaller conservancies. The main Masai Mara National Reserve is managed by the Narok County Government and is around 1000 km², it is separated from the smaller, privately managed Mara Triangle, by the Mara River.
The main reserve has four main entry gates – Oloolaimutia, Sekenani, Talek, and Musiara and the Mara Triangle's main entry gate is Oloololo. Entry gates to both the main reserve and the Mara Triangle are open from 6am to 6.30pm and if you have a valid entry ticket to one you can cross between the two via the Purungat Bridge gate over Mara River and game drive on both sides at no extra cost (park fees are valid for 24 hours at a time – see below).
Night game drives however are not permitted in either of these areas, even if you are staying inside and you must be back to your lodge or camp by 7pm.
Surrounding the main reserve are several private conservancies including Naboisho, Olkinyei, Olderkesi, Bushtops, and Olare Orok. Each one sets its own conservancy fees which are usually higher than the main reserve and the Mara Triangle.
You must also be a resident guest staying at one of the camps within that conservancy in order to enter and only game drives with the camp vehicles are permitted, self-driving is not allowed. This limits the number of tourists and vehicles inside the conservancy and reduces the pressure on the wildlife.
Other activities whilst on safari in Masai Mara conservancies include night game drives, walking safaris, and horse riding, which are not possible in the main reserve or Mara Triangle. If you are staying in a private conservancy you can still be taken on a day trip to the main reserve if you wish, you will just need to pay the additional park fees to enter the reserve on top of your conservancy fees.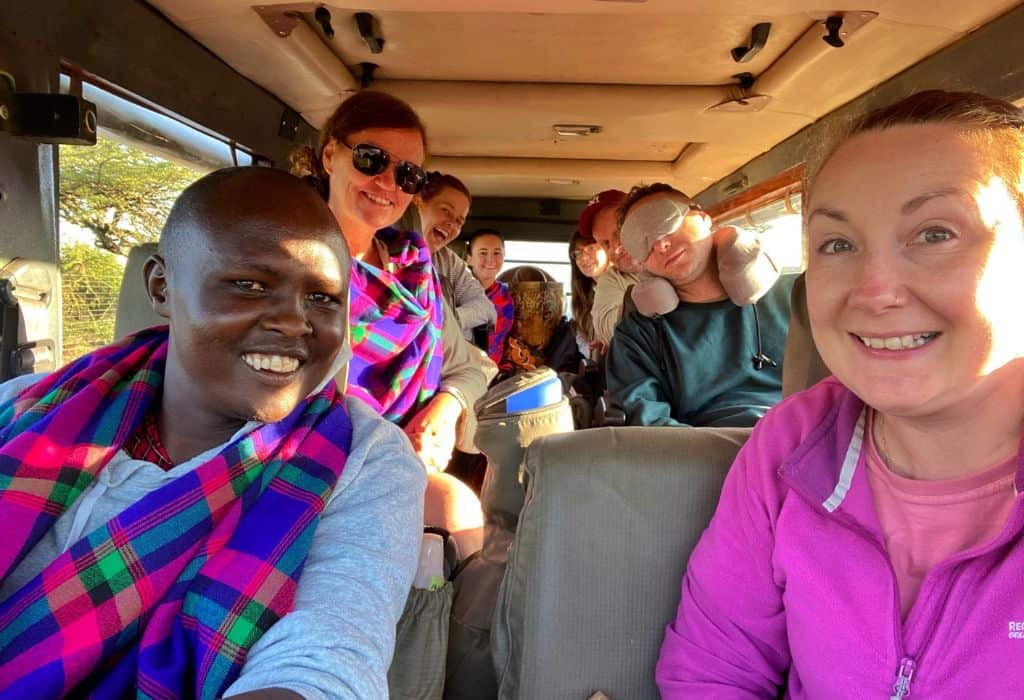 How Do You Get to Masai Mara?
There are lots of ways to go on a Masai Mara safari and different ways to get there too.
By Safari Car
If you've organised a safari package, transfers from Nairobi (or wherever you started) are usually included. From Nairobi, the drive time is approx. 5 – 6 hours. Safari vehicles are usually either safari tour vans (minibuses) or 4×4 Land Cruisers – both with pop-up tops or roof hatches for game viewing.
In Your Own Car
You can drive yourself to the Maasai Mara, but, to be allowed into the park, you will need a high-clearance 4×4 car. A 'normal' car won't work and you also won't really be able to see much! The roads inside the park aren't paved like they are in some other places.
The most popular park entrance if coming from Nairobi is the Sekenani Main Gate, as it is tarmac all the way. But there are other gates around the park if you are coming in from another direction or staying in another part of the park.
There are no signposts inside the Maasai Mara which makes it very difficult to navigate yourself if you do not know the area. So if you opt to self-drive to the park, you could consider taking game drives with your lodge.
Or if you really want to drive yourself on safari, maybe hire a local Maasai guide from your camp/lodge for the day to help you navigate and have a better game viewing experience.
The last major town between Nairobi and the Maasai Mara is Narok, so if you want any supplies and to fill up with fuel this is the best place. The Maasai Mara gates open at 6am in the morning and close at 6.30pm in the evening.
If you're staying in a private conservancy, you usually can't take your car in – they expect you to fly in, use one of their transfers from Nairobi or park your car somewhere outside the conservancy and take a transfer in.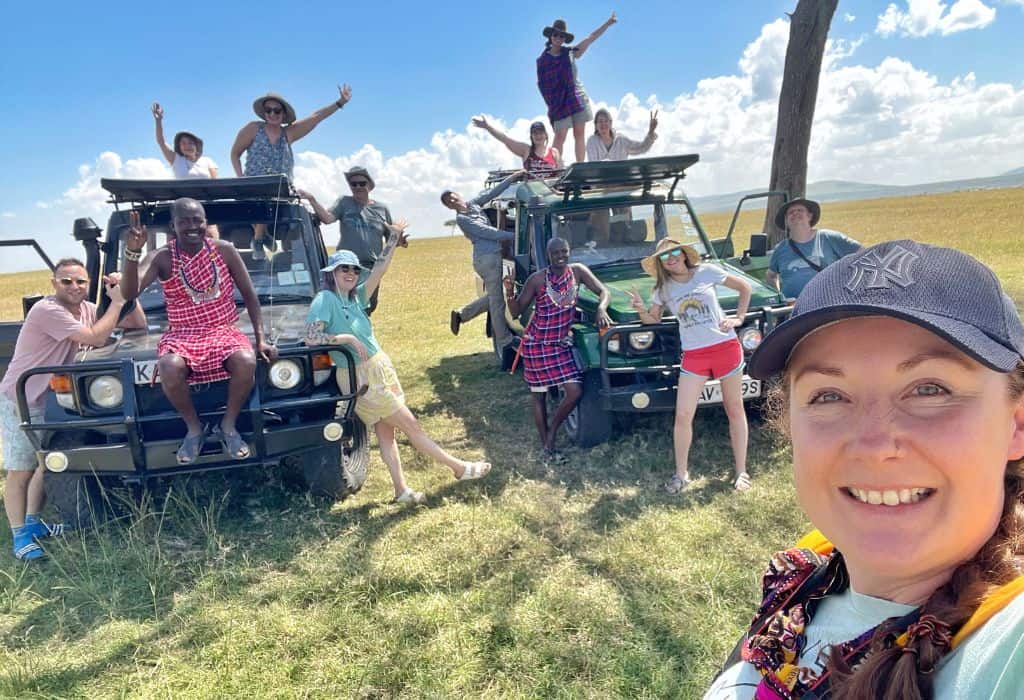 Public Transport from Nairobi
You can get public transport (14 seater matatus or a coach) from Nairobi to Narok, then change at Narok and get a 'probox' (shared local taxi) to Sekenani, a town just outside the gate.
You will need to head to the Nyama Kima area of Nairobi CBD to get the local transport. Try to get there as early as possible (around 8 – 9am at the latest) as delays are common on Kenyan roads and you don't want to find yourself travelling on the roads after dark!
You can ask your accommodation to pick you up from Sekenani. It's a bit of a faff changing bus, but a good option for backpackers looking for a budget trip to the Maasai Mara.
If you stay at The Pink Container (see below), my friends Laura & Moses' place on Kobi Farm, they offer a complimentary pick-up and drop-off at Nkoilale township, just before Sekenani gate, for guests arriving with public transport.
Bus from Elsewhere
The same principle applies if coming from elsewhere (ie. Lake Victoria side). Just be aware that there is no public transport through the reserve. If you are coming from Lake Victoria with public transport but staying in the reserve or in Sekenani (on the other side), you will need to stop in Mara Rianta and get a private transfer across the reserve (which could be very expensive).
Your accommodation should also be able to give you more information on the best way to reach them!
By Plane
If you want to get to the park quickly or are staying in a remote lodge, flying is probably your best option as it only takes around an hour. If you book a safari package with a high-end lodge, flights may be included.
There are several airstrips inside the park and some lodges have their own airstrip. If you're booking everything separately, your lodge can advise you on the best airstrip to fly into.
You will need to make sure you have arranged your pick-up from the Mara airstrip in advance otherwise you will be stranded there! Most flights depart from Nairobi's Domestic Wilson Airport.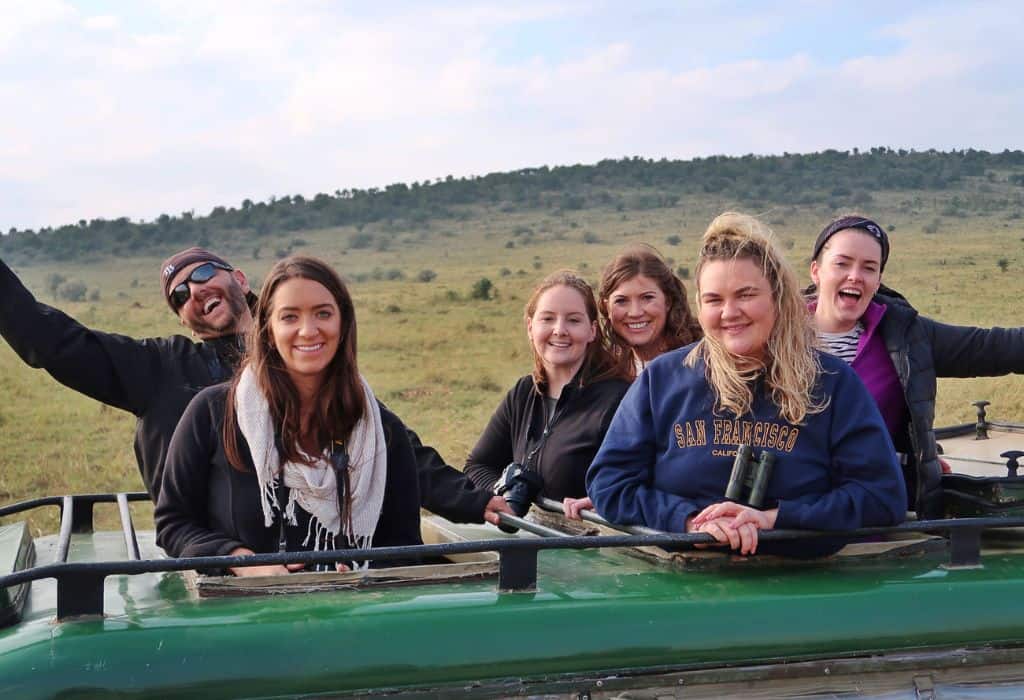 How Long to Spend in the Masai Mara?
The minimum number of nights you can realistically spend in the Masai Mara is 2 nights, especially if driving in. If you are time-poor, but money-rich, you could fly in for a night or even a day, but it would be a pretty long, rushed and tiring day.
I like to spend 3 nights on a Masai Mara safari, with 1 full day on safari and 1 day doing other activities, like visiting the Maasai tribe. But you could easily spend longer if you wanted.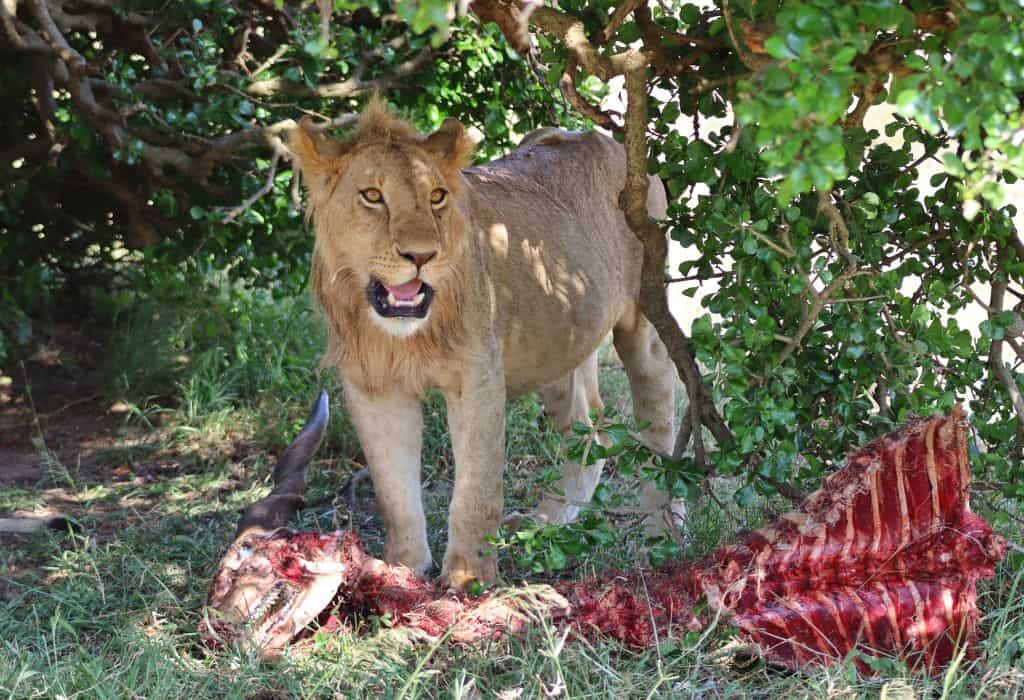 When is the Best Time to Go on a Masai Mara Safari?
The best time to go on a Masai Mara safari is in the cool, dry months, between June and October. This also usually coincides with the annual migration, and the high (most expensive) season.
Each year, around late July, 1.5 million wildebeest (and zebras) make the journey from the Serengeti to the Masai Mara looking for food and fresh grasses. During this time you may be lucky enough to see the animals crossing the Mara River in their masses.
I've seen a river crossing before and it was pretty cool. I've also waited for ages, hoping to see a crossing and then nothing much happens. It's the luck of the draw, and obviously, the longer you spend in the Mara, the more likely it is to see a crossing, but in my opinion, a safari in Masai Mara is awesome, whether you see the migration or not.
Another good time is December to February when it's usually hot with occasional rain. The most expensive times are usually late June to October and around Christmas. Late May – June and November early December are what you would call shoulder season when prices are lower but the weather is reasonably ok and you may be lucky and get little or no rain.
The time to avoid is usually March to May which is the heavier rainy season, and some lodges close during this time. Saying all that, with global warming, the rains and the migration are becoming increasingly more unpredictable. These days it can rain in the dry season and there can be a drought in the rainy season, which means the migration can arrive early or late.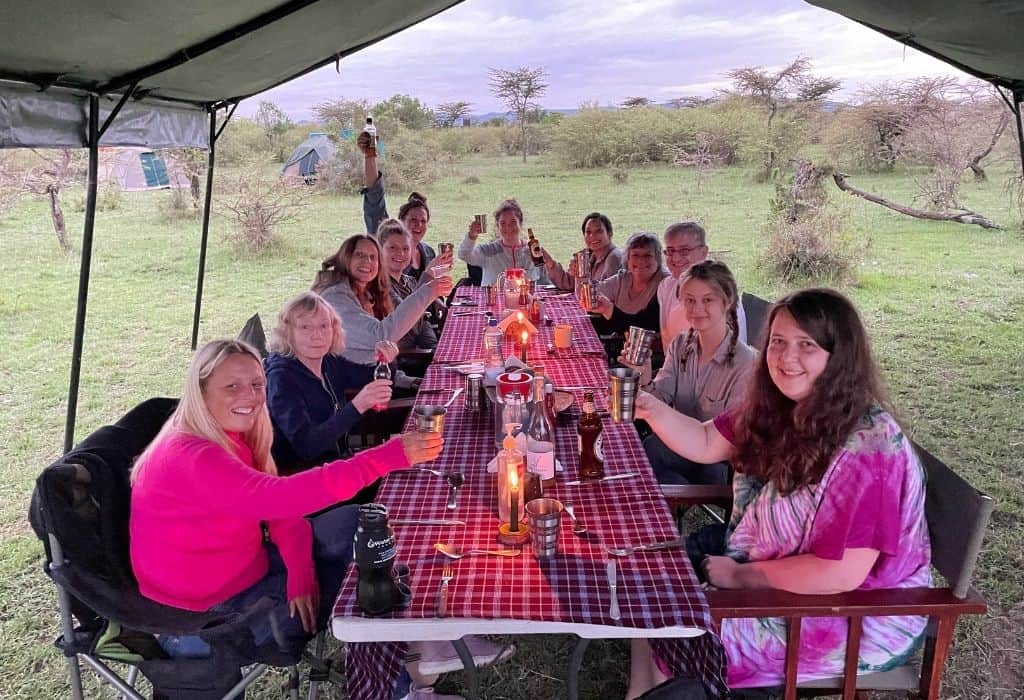 Where to Stay on Your Masai Mara Safari
There are lots of accommodation options to suit all budgets and preferences, from high-end luxury to wild bush camping. Some inside the main reserve, some inside the Mara Triangle, some inside the private conservancies and many outside the reserve gates.
The accommodations inside the park generally tend to be more expensive as you are more remote and in the middle of the action. If you stay there, you will also incur daily park fees on top of your accommodation costs, whether you go on safari that day or not.
Also, if you camp with your own tent inside the reserve or Mara Triangle there are additional camping fees to be paid every night as well as daily park fees.
There are a lot of nice budget accommodations outside the reserve and if you stay outside, you will only have to pay park fees on the days you go into the reserve or Mara Triangle.
Make sure you choose accommodation in a location that you will be able to access based on how you are planning to travel. For example, public transport will only take you to the small townships outside the park gates, self-drive isn't possible inside private conservancies and small vehicles can't access some of the more remote areas.
You may find just a short private transfer to get somewhere you need to go will be very expensive so it's something to consider before you book.
You may want to consider the electricity that your accommodation uses as there is not much mains electricity covering the Maasai Mara so you will ideally want to find a place that uses solar power so that you will still have lights and some power working at night. Some places do still operate with generator power only and usually turn off power from around 10pm to 6am.
Also bear in mind a lot of camps and lodges will change their rates seasonally, you might be able to find a luxury place for $150 per person per night in the May and November low seasons but in the July-September peak season, the same place could be $1000+ per person per night! If you're planning to travel on a lower budget, consider travelling to the Maasai Mara outside of the peak season.
Here are just a few of the many, many camps and lodges in and around the Maasai Mara…
(For reference: Budget is approx. $60-100 per person per night, mid-range $$150-200 per person per night and Luxury $$$300+ per person per night).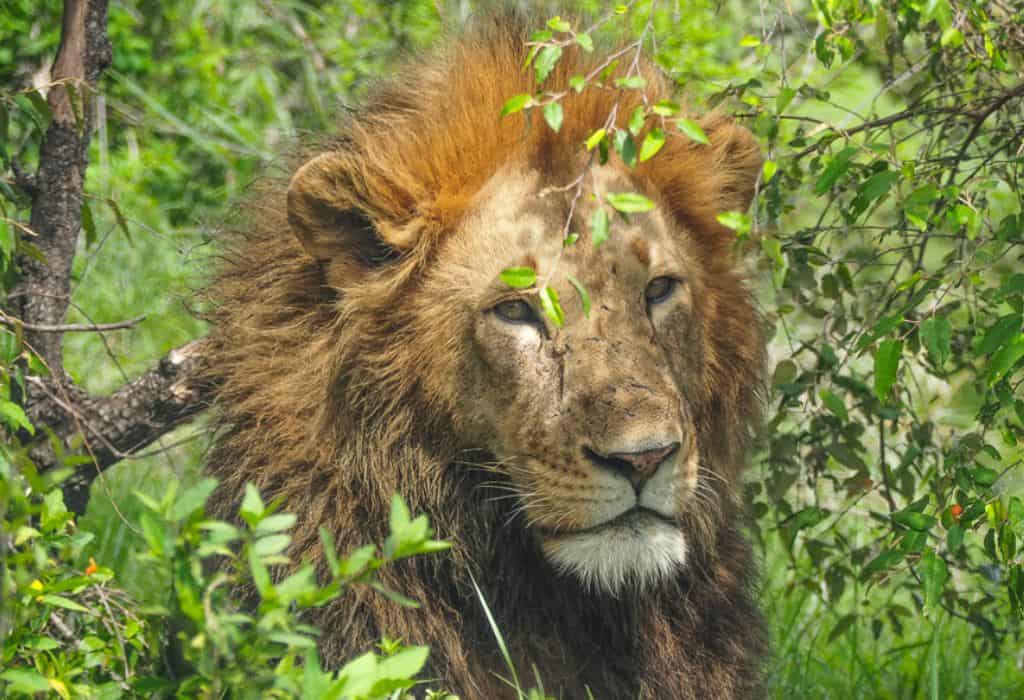 Outside the Masai Mara National Reserve
Sekenani Gate
Kobi Farm ($): This is home to my besties Laura and Moses. They have a Pink Container guesthouse (a cool Airbnb) and a private bush camp. I love staying here! They can also arrange bush camping trips staying inside the reserve and Mara Triangle if you like really wild adventures!
Maasai Village Homestay ($): If you would like to get an authentic experience of Maasai life and culture, you can stay at the homestead of local Maasai, James Lesaloi with his family. Here you can partake in activities such as herding, milking, fetching water, beading, learning to throw a spear, and shooting a bow and arrow! James can be reached via email at

[email protected]

Kimana Camp ($$): Recently (2021) under new ownership and management this safari tented camp has been fully renovated and is just a short distance from the Sekenani gate. It also offers a swimming pool and bar.
AA Lodge ($$): Currently the only lodge outside the Sekenani gate is AA Lodge, around a 10-minute drive to the gate. It offers 50 permanent rooms and has a swimming pool.
Talek Gate
Oloololo Gate
Mara West ($$): This owner-managed camp situated on the Oloololo Escarpment boasts fabulous views across the Mara plains and has a campsite as well as bandas and luxury rooms.
Agama Mara ($$$): Agama is the height of 'Out of Africa' style luxury, perched on the top of the Oloololo escarpment with breathtaking tented suites and 5* service. Expect a $1000+ per night price tag though!
Kilima Camp ($$$): Any equestrian enthusiasts out there will love the luxury Kilima Camp as it's one of the few camps in the Mara that have their own horses and are able to arrange riding safaris as something different from the vehicle game drives!
Maji Moto
Maji Moto Cultural Camp ($$): Around 30 minutes past Narok on your way to the Maasai Mara Game Reserve you will find the area of Maji Moto in the Loita Plains. This camp has simple dome tents with beds inside and separate toilets and showers outside. The focus here is on interaction with the local Maasai people and learning about the traditional culture. It's possible to arrange cycling safaris, nature walks, village activities, and multi-day hikes in the Loita Hills with overnight camping in the bush from here!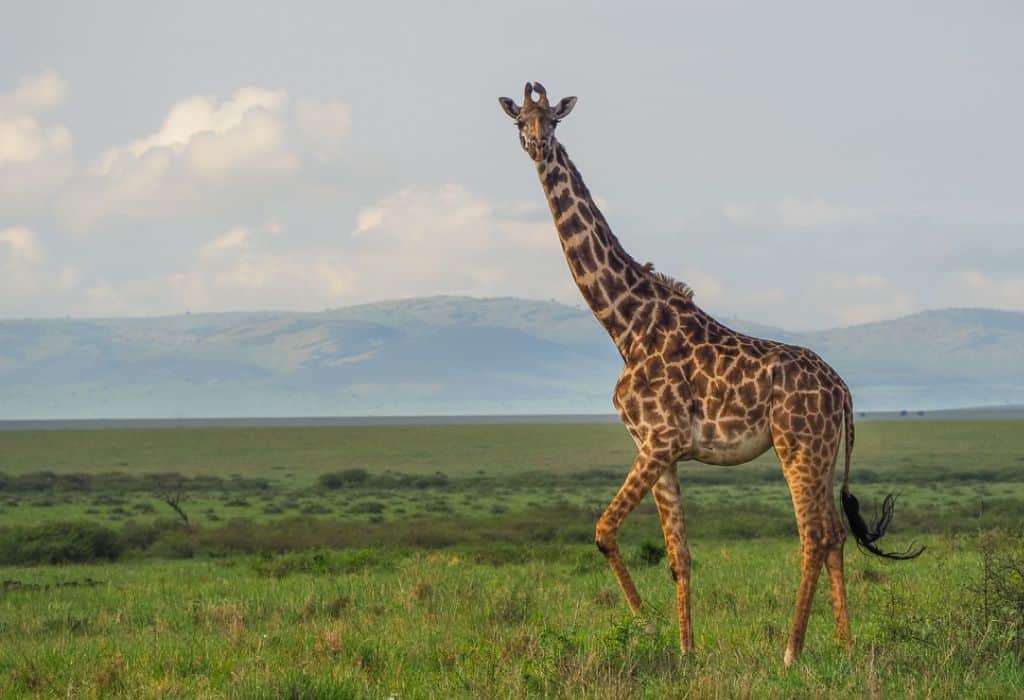 Inside the Masai Mara National Reserve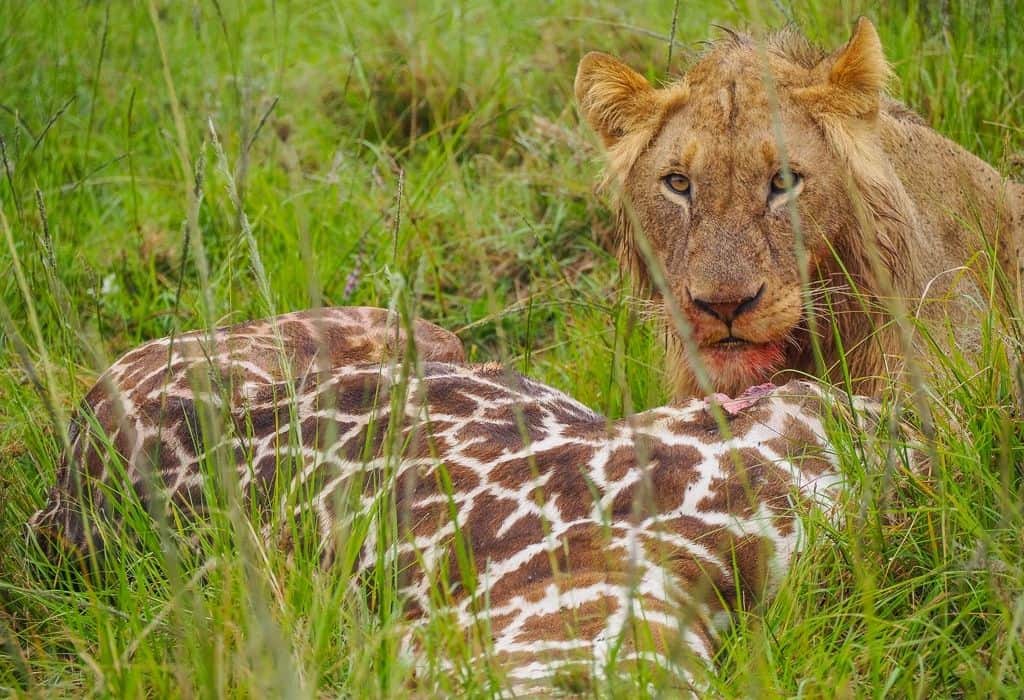 Inside the Mara Triangle
Inside the Private Conservancies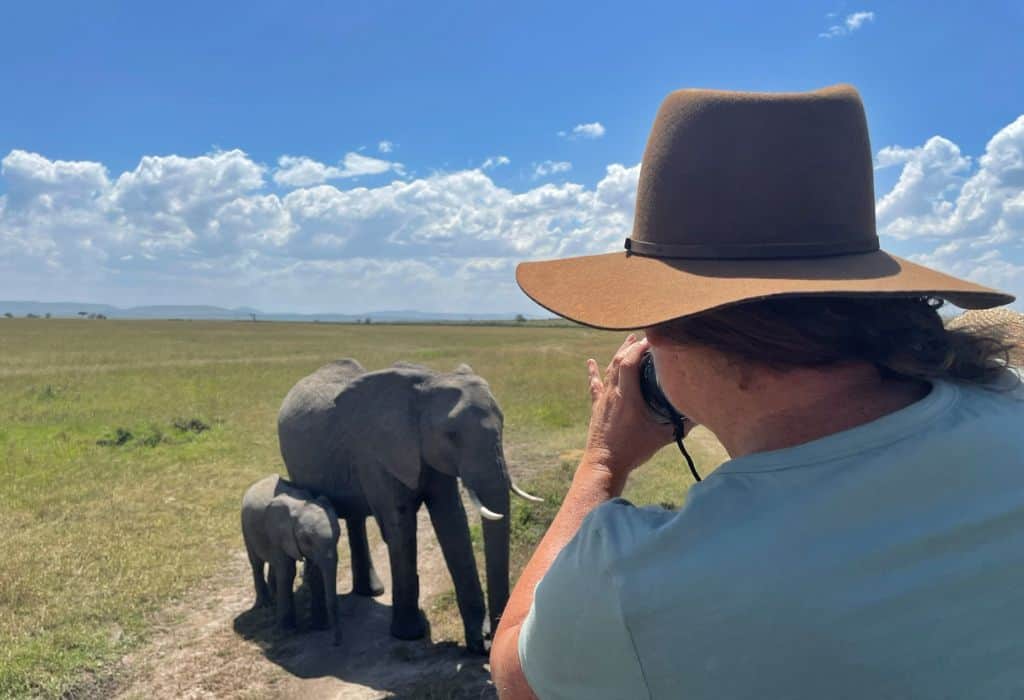 Going on Safari – What to Expect
The main reason people visit the Masai Mara is to go on safari. You can spend full days or half days on safari, depending on your preference.
If you have organised a safari travelling by road from Nairobi, you will usually do your safari in the vehicle you travelled in. Open-sided vehicles are not permitted to travel on the main roads.
If flying in, you will do your safaris in a vehicle owned by the lodge. Some lodges have open-sided vehicles and some don't. So if doing a safari in an open-sided vehicle is a priority, check with your lodge before you book.
I've done both (in Kenya and elsewhere) and whilst the open-sided vehicles are great, I personally don't think it makes a huge difference whether you're in a open-sided vehicle or one with a pop up/out roof.
Safaris usually depart early in the morning when it's cool and the animals are more active. As I usually stay outside the park, we usually leave at dawn, spend the full day in the park with a picnic lunch, and return before sunset.
But if you are staying inside the park, you could do either – picnic in the park or morning and afternoon drives, going back to the lodge for lunch.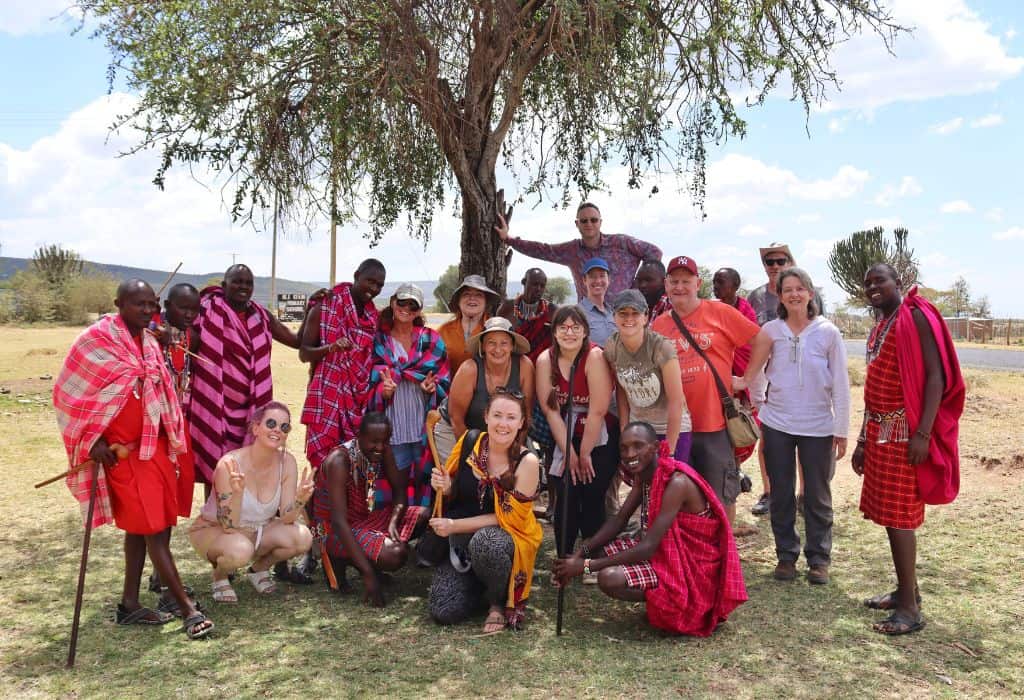 Other Things To Do in the Masai Mara
There are lots of other cool things to do in the Masai Mara that aren't a traditional safari, some of which you can organise through any lodge and some also offer their own activities which are unique to them and their area.
Spend a Day with the Maasai Tribe
Learning about the Maasai culture is one of my favourite things to do in the Masai Mara.
You can make passing visits to Maasai villages, but for a better experience, I'd suggest spending the whole day in a village or, even better, staying at a lodge or camp that closely works with the Maasai community like my friends at Kobi Farm.
Activities you can do include seeing the Maasai home, dancing, singing, learning how to make fire, seeing the schools, spear and club throwing, and jewellery beading.
Go on a Nature Walk
Some camps offer hikes, nature walks, or walking safaris near the lodges – these take place outside the park or in the surrounding conservancies. During the walks, your guides will often tell you about some of the subtleties of the bush – animal tracks, animal poo, and plants that can be used as medicines – things that you would never notice as you whizz past in a safari vehicle.
Plus, on safari, you spend a lot of time in the car, so going on a hike is often a welcome break to stretch your legs and get some fresh (non-dusty) air in your lungs!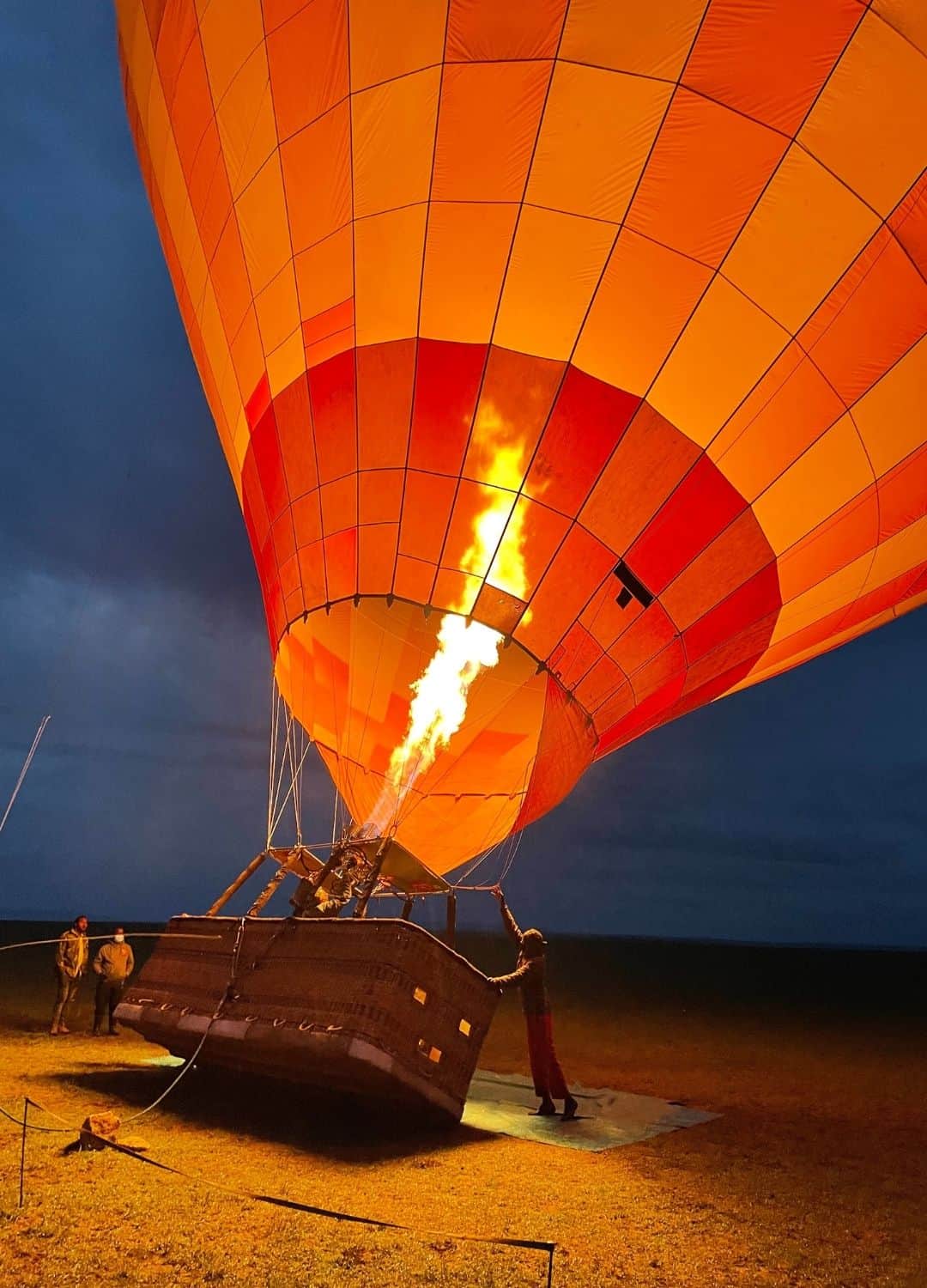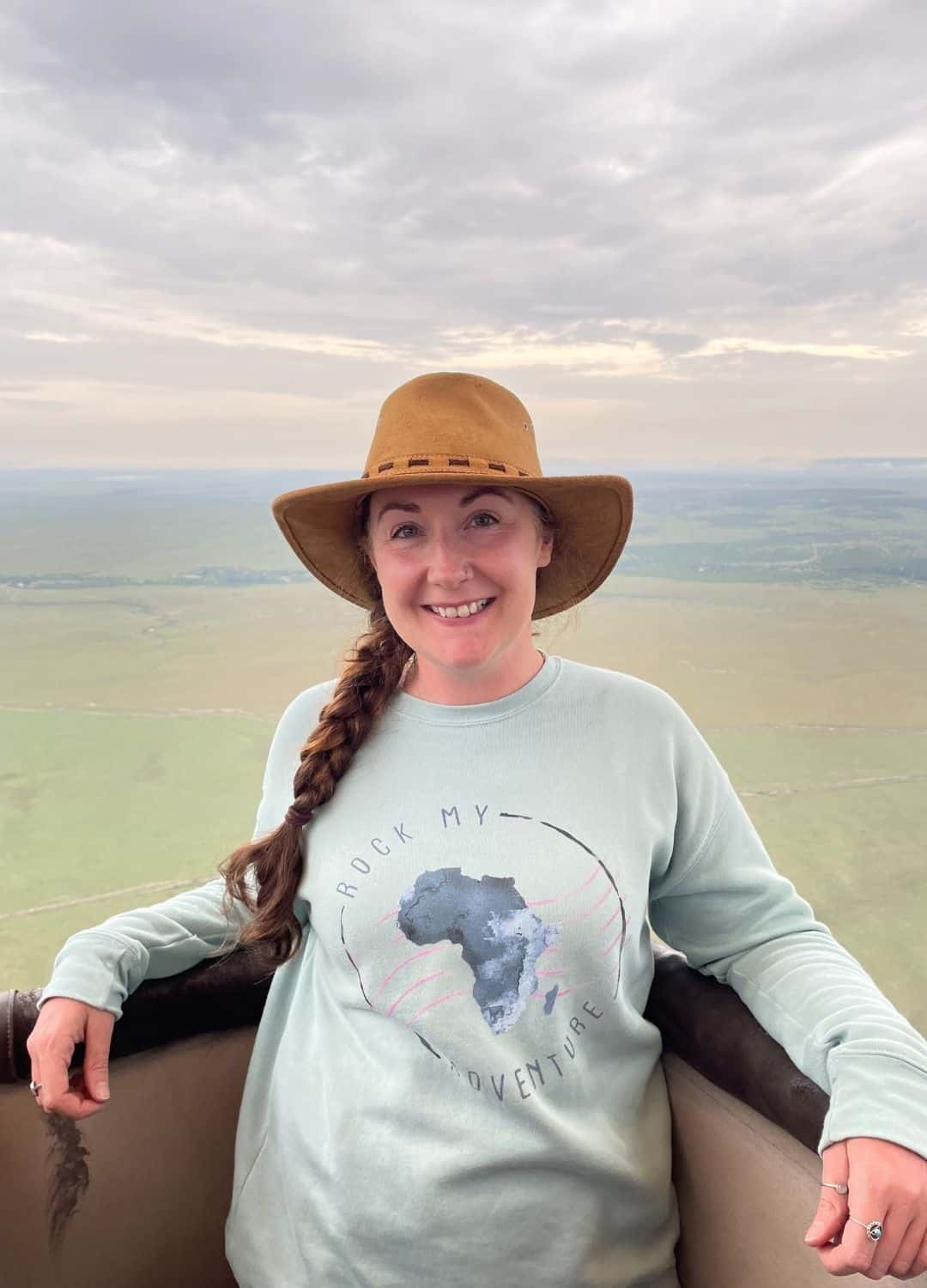 Go on a Hot Air Balloon Safari
If you'd like to see the Masai Mara from a different perspective taking a balloon flight is a cool way to do it.
I've done the hot air balloon twice now and it is an incredible experience. I didn't see many animals whilst I was in the balloon, but the views are amazing, we saw lots of animals as we were driving out of the park and the champagne breakfast is really fun (if a bit odd drinking champagne at 8am).
Go on a Horseback Safari
If you're a competent rider, a horseback safari is a wonderful way to get up close to the animals. Whilst it's not permitted to go riding inside the main part of the park, you can ride in the surrounding conservancies where there are still plenty of animals.
There are a couple of lodges who have their own horses (see above) and there are some operators that organise mobile, multi-day safaris and some that organise shorter rides for 2 – 4 hours.
Enjoy Sundowners
There's nothing better than enjoying a sundowner drink at the end of a hot, dusty and sweaty day on safari, so pick your spot, grab and G&T, Tusker or your drink of choice and watch the sunset over the African savanna.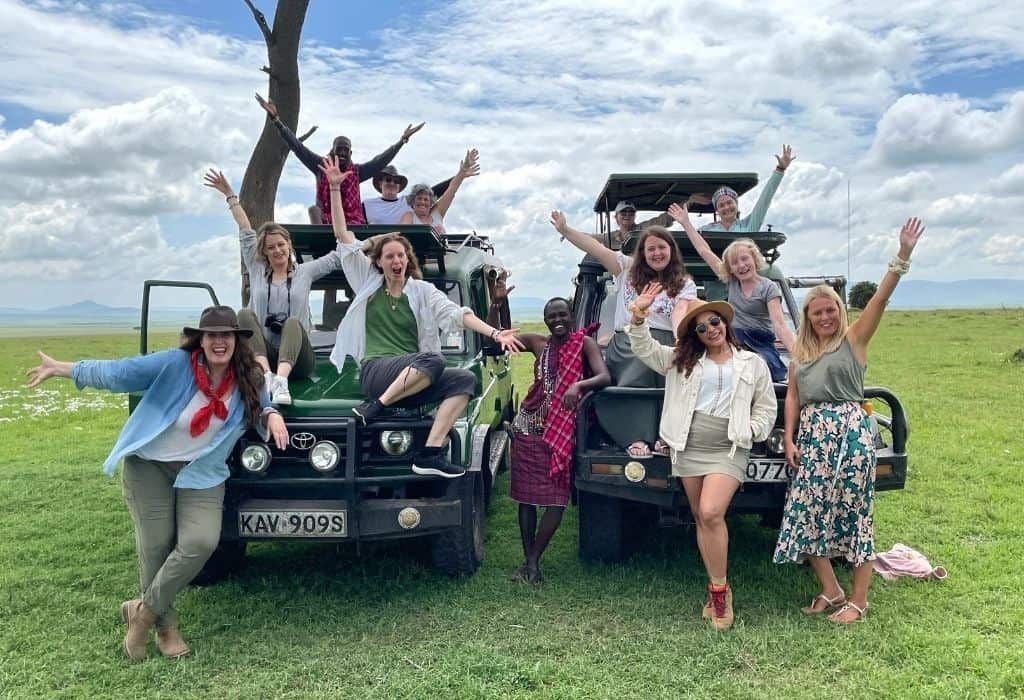 What to Wear on Safari in Masai Mara
Safari clothing is a much talked about subject! Here's my take…
Realistically, you want clothes that are comfortable, keep you warm/cool, protect you from the sun, insects and the bush. Those clothes can be stylish, but they don't all have to be specific 'safari' clothes or always khaki-coloured.
The only time you really need clothes in more neutral, bush colours is when you're on a horse riding or walking safari. I've done plenty of safaris (in cars) wearing bright pink and the animals have never taken one look at me and run off in fear. They can't even see me as a separate entity to the car and the Maasai guides dress in bright red (albeit to scare off animals when they're walking in the bush, but in the car it doesn't really matter).
Saying that, they do say that neutral colours attract less insects, which is probably true (as I get bitten a lot). But then I've also been bitten right through my khaki-coloured pants by a tsetse fly, so there goes that argument!
And let's face it, those cute safari outfits look great on Instagram. For more info on what else to bring, check out my full Safari Packing List.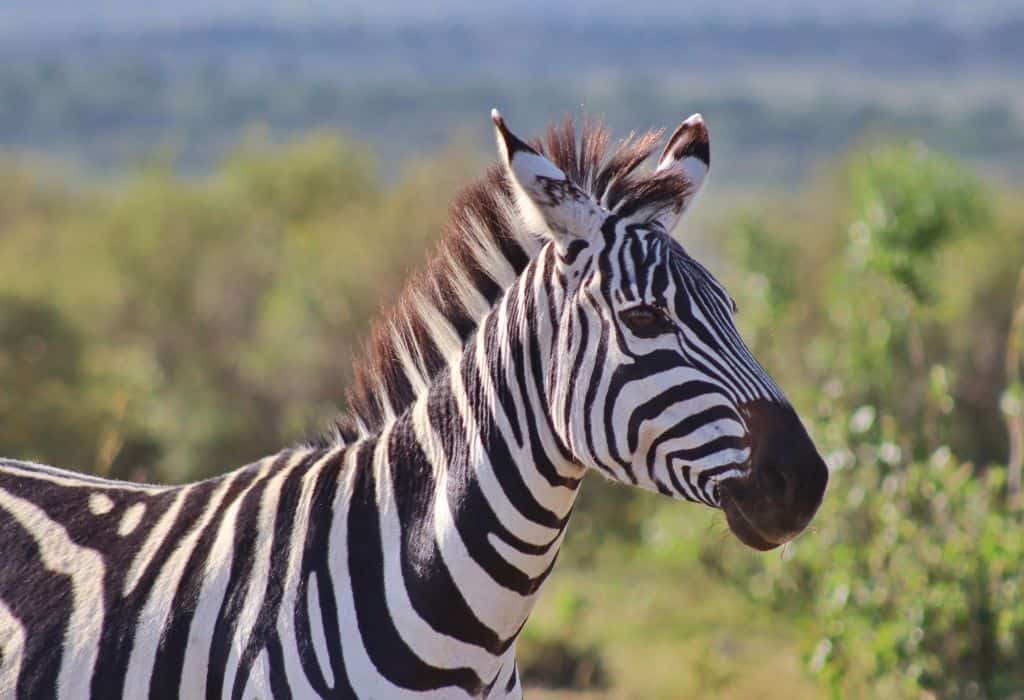 How Much Does it Cost to Go on Safari in Masai Mara?
The cost is going to vary considerably depending on the type of accommodation or safari package you choose. Ranging from a few hundred dollars to thousands of dollars.
The daily park fees (per 24 hours) for the Maasai Mara Game Reserve and Mara Triangle are:
Non-Residents (staying inside the park): $70 (adults) & $40 (kids aged 3 – 17 years)
Non-Residents (staying outside the park): $80 (adults) & $45 (kids aged 3 – 17 years)
You can find all Maasai Mara fees here. Just be aware that there are costs for vehicles too, if using your own car, and camping fees if you are planning to camp inside at one of the public or private campsites.
The reserve currently allows one exit and re-entry within 24 hours so if you are staying outside you could do an afternoon game drive and another morning game drive the next day on the same ticket, as long as, for example you enter at 2pm on the first day you have exited by 2pm the second day.
Also, don't forget that once you have paid for your tickets at one of the Masai Mara National Reserve or Mara Triangle gates you can cross between the two at Purungat Bridge and game drive in both areas.
If you are arranging a safari package, they are generally all-inclusive of park fees, accommodation, food and transport.
You will also need to factor in:
Additional activities that are not included in your package.
Tips (the more high-end the accommodation, the more tips you will generally pay).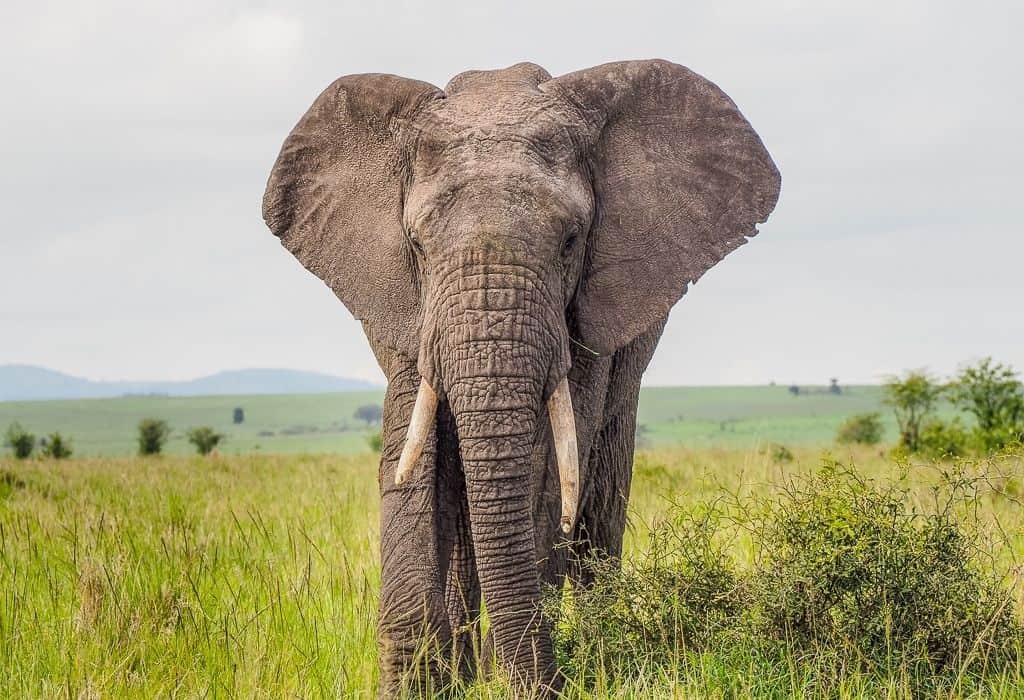 Tipping in the Masai Mara
The general tip for a safari driver on a budget safari is $20 split between the group (so if there's 4 of you, you each put in $5). For a higher-end safari, it is usually expected to tip a lot more, with each safari guest putting in between $10 – $15 per day.
Then there's the camp staff. It's usually good for each person to give around $5 – $10 (budget to mid-range) or $10 – $20 (high-end) per day for the camp staff. So if there is 4 of you on safari for 3 days, you would each put $15 – $30 to the tip jar, making a total of $60 – $120. This will then be split between the staff (cooks, cleaners etc).
If you are at a really high-end camp and have a personal butler etc, you will need to tip them too! That amount is up to you. But again, you're looking at a similar tip to what you would give your safari guide.
These are just suggestions and you can of course tip more or less depending on the service you received. Your lodge may also offer tip suggestions.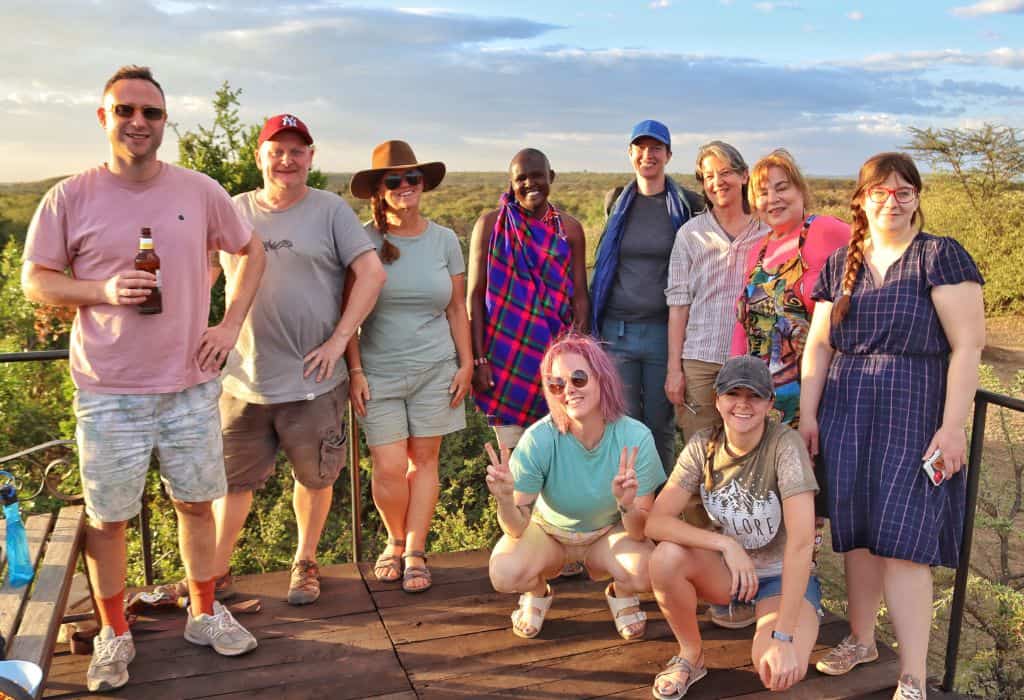 How to Book a Masai Mara Safari
One of the ways to book a Masai Mara safari is to reach out to safari companies in Kenya to get quotes for packages that include transport, accommodation and activities – you will just need to tell them your dates, budget or preferred accommodation level and who's going! It can be a bit laborious, but you'll be speaking directly to the companies who will take you on safari and you can compare quotes.
There are hundreds of safari companies in Kenya. I personally recommend my friends at Mara Explorers/Kobi Farm who run incredible budget to mid-range safaris. If you are a backpacker on a tight budget, some of the hostels in Nairobi organise joining safaris or check out my post of how to travel the Masai Mara on a budget.
Alternatively, you could book your accommodation directly and then organise your transport (if you don't have your own) and activities via your camp/lodge.
If you are a solo traveller, couple or small group who like adventure, but also enjoy a little comfort, I'd love you to come and join one of my Kenya Tanzania safari tours, where you will get to experience the Masai Mara like I do (as well as Nairobi, the Serengeti and Zanzibar), and the whole trip costs less than a few days in a posh safari lodge! Plus, you'll make new friends!
If you're looking for a private or luxury safari, some of the lodges/hotel chains can create bespoke packages for you, including the Masai Mara and other locations, working with other hotels in their chain or partner lodges.
Then, there are also lots of luxury safari companies who can create tailor-made safaris just for you, working with various lodges, although they don't usually come cheap.
I hope this guide help you plan a safari in the Masai Mara! Let me know how you get on!
---
Pin This Post For Later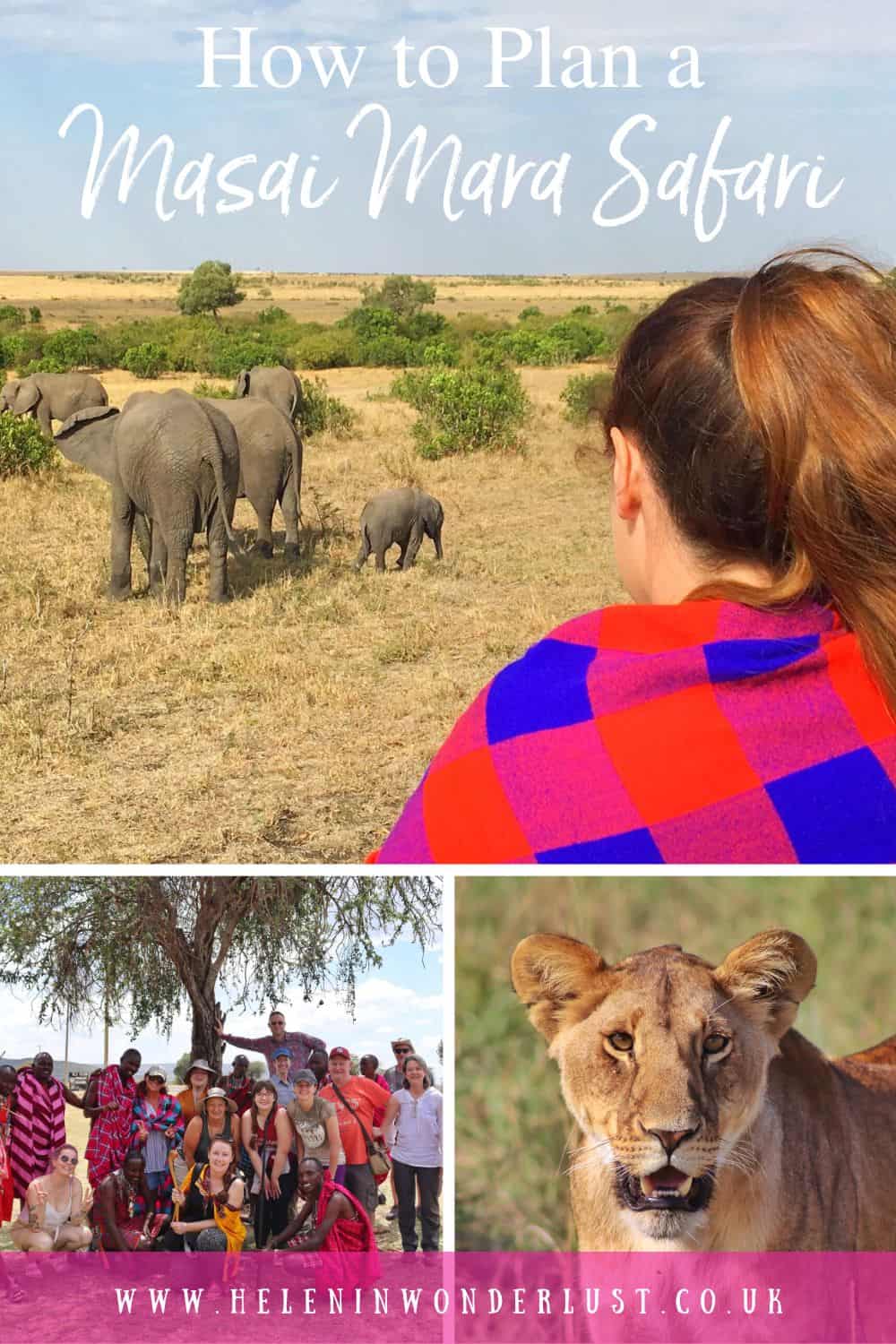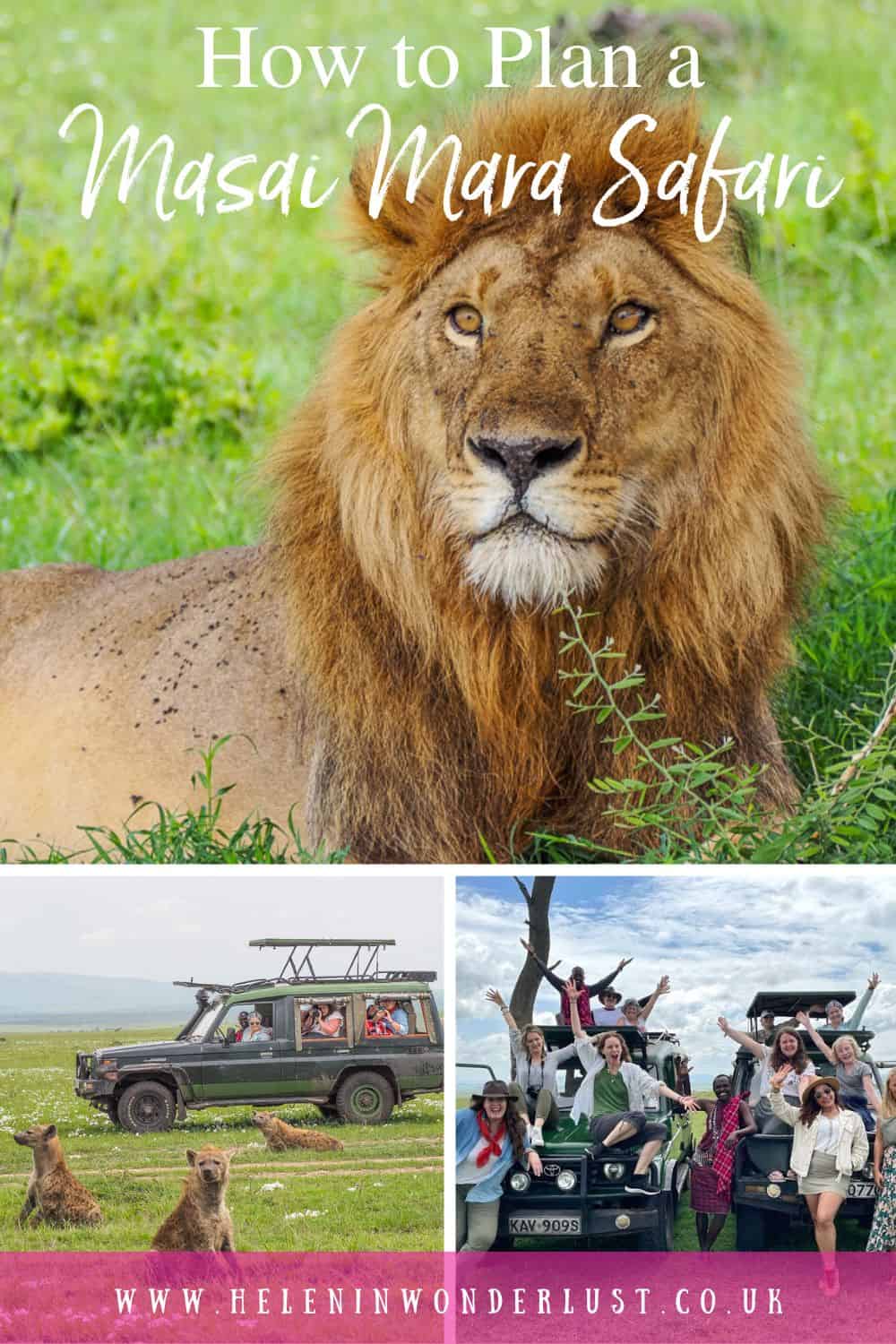 ---