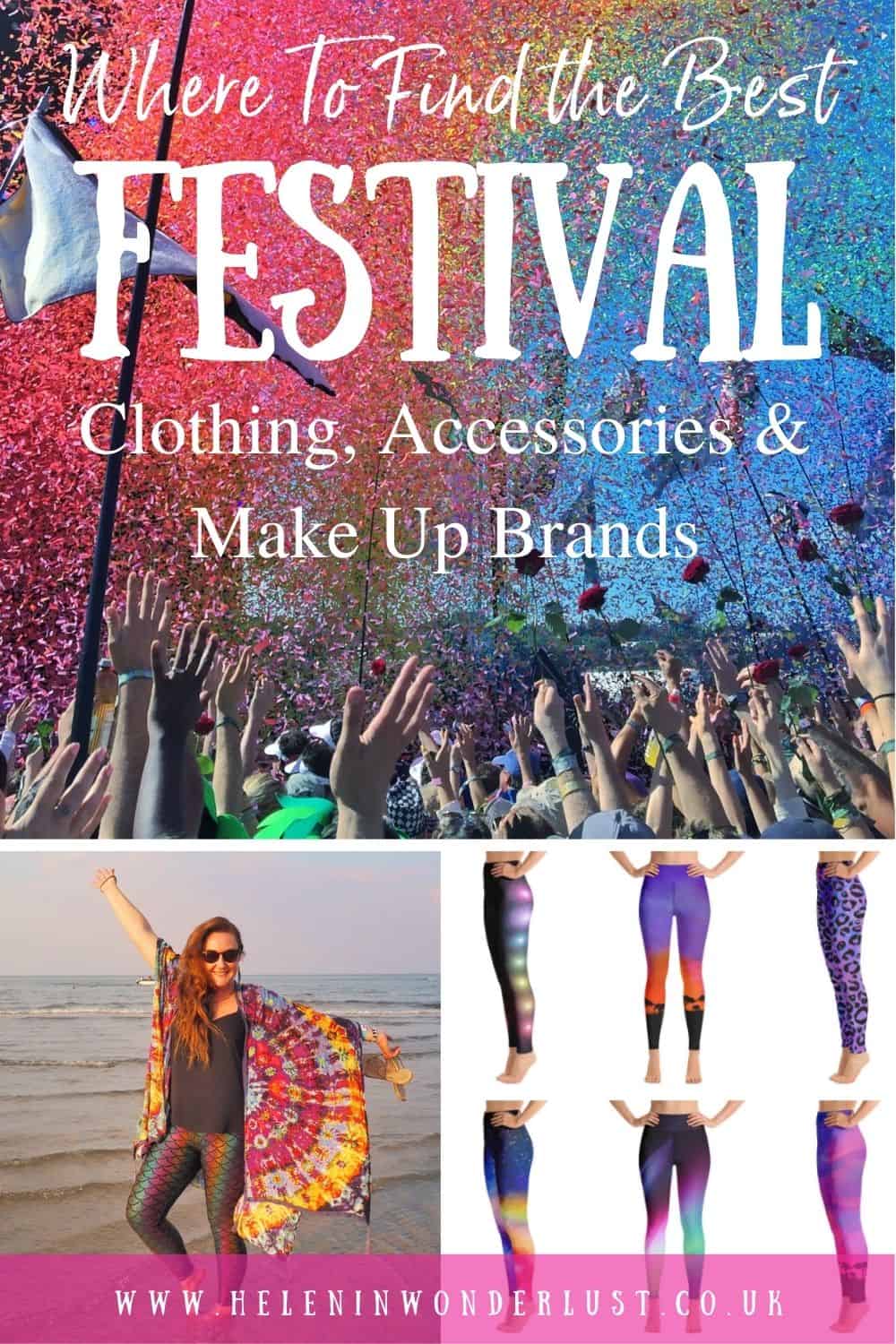 The European festival season is fast approaching and after a very incredible Glastonbury 2017, I was lucky enough to get tickets again for this year, so I've started looking for my Glastonbury outfits. 
For me, festivals are a place where you can relax, express yourself and wear what the hell you want, so I like to bring out my inner glitter goddess and go all-in – think colour, glitter, rainbows, fancy dress, you name it! 
Here are some of my favourite places to buy my festival clothes, makeup and accessories! And don't forget to check out all of my best Glastonbury tips, especially for first timers! 
---
Where to Find the Best Festival Clothing, Accessories & Makeup Brands
---
Africa & Wild
Looking for some awesome and funky leggings?
Then check out these beautiful high-waisted yoga leggings from Africa & Wild. They have a range of colourful styles that would look perfect at any festival, from Glastonbury to Burning Man, to Lake of Stars and the Lamu Yoga Festival! 
With some Africa-themed leggings in the collection too, they'll also look great on safari! 

The Gypsy Shrine
You need glitter at a festival and it's a great way of making friends (those without glitter always want to get glittered up).
The Gypsy Shrine has an amazing glitter (I love their Unicorn Dreams glitter and have just ordered a load), beauty products, face and body jewels and hair extensions. 
I love this glitter braids hair tutorial they have on their Youtube channel.
Available on their own site, ASOS, PrettyLittleThing and Superdrug. As well as some of the independent marketplaces listed below.
 

 

View this post on Instagram

 
Go Get Glitter
I love their rainbow hair extensions and their chunky iridescent glitter! You can see me wearing Go Get Glitter Unicorn Storm Chunky Glitter Set all over my face on the Dazzle & Jolt picture below.
 

 

View this post on Instagram

 
NYX
I used the NYX Professional Makeup Ultimate Eyeshadow Palette – Brights to create my mermaid look at Glastonbury last year.
I also love M.A.C Cosmetics Glitter Brilliants and Urban Decay glitter eyeliners. My favourite is Heavy Metal.
 

 

View this post on Instagram

 
Snazaroo
If you're looking for a good quality face/body paint, I definitely recommend Snazaroo.
Here's me, painted up like Avatar at my 30th birthday party!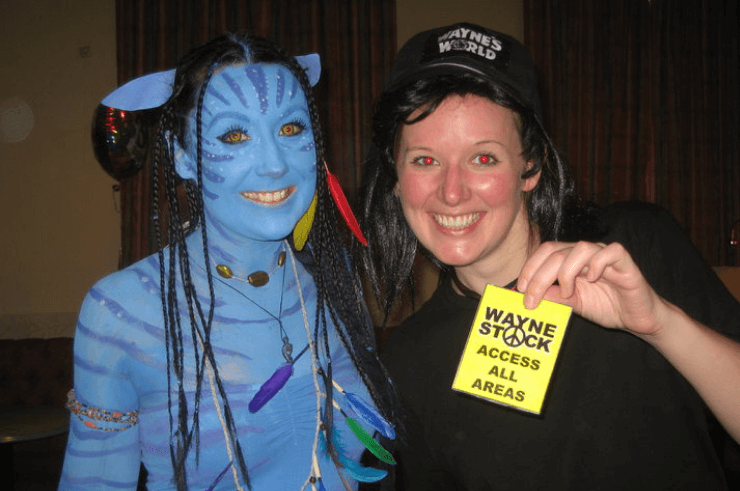 Crazy Color
Crazy Color offer an awesome range of beautiful bright hair colours in permanent, semi-permanent and spray on types.
 

 

View this post on Instagram

 
Bleach London
More great colours from Bleach London. Some of their hair range is also available at Superdrug and is completely vegan too!
I really want this rainbow hair!
 

 

View this post on Instagram

 
Manic Panic
So many wonderful and colourful shades to choose from with Manic Panic from the US. Available at Amazon and Dolls Kill in the UK.
This hair though…. wow!
 

 

View this post on Instagram

 
ASOS
I'm going to start with ASOS, because this is where I buy most of my regular clothes, as well as quite a lot of my festival clothes too.
Plus, they also stock lots of the other brands mentioned in this post, such as Jaded London, Mac and The Gypsy Shrine, so you can do most of your festival shopping in one place.
And as you probably know, ASOS have the best returns policy ever!
The rainbow kimono thing you see me wearing in all my pictures (there I am wearing it below, hanging out with Vicky Flip Flop and Jessi from the Rock My Adventure team at the Lake of Stars Festival in Malawi)… also ASOS! I love it. It works for festivals, the beach, evening wear and I even take it hiking with me as a cover-up. It's my favourite item of clothing.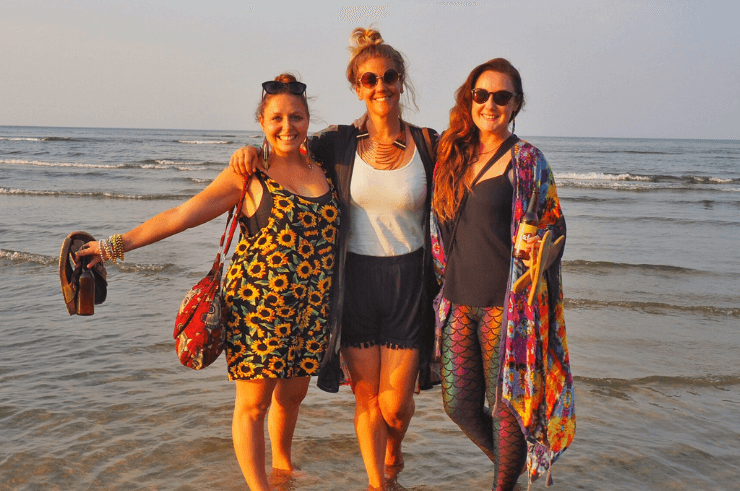 Dazzle & Jolt
I love Dazzle & Jolt – the colours, the design, just everything they do is amazing! Plus, they're super nice people too!
They have lots of awesome t-shirts, leggings, sweatshirts and jumpsuits in all kinds of crazy and colourful patterns.
And yep, that's me being lifted above the crowd and rocking their incredible Unicorn Dreams t-shirt (as well as a whole load of Go Get Glitter) at Glasto 2017. I wear this t-shirt and their You Havin' a Giraffe? t-shirt all over Africa too.
BlackMilk
If you haven't found this cult Australian clothing brand yet, you're in for a treat. BlackMilk are the best!!
They sell THE MOST amazing leggings, swimsuits, dresses shorts, catsuits… basically all kinds of cool items of clothing with really awesome themes. If I could buy everything they have, I would.
I have a few pairs of Black Milk leggings, my personal favourites being their Mermaid (you can see me wearing them in the Lake of Stars photo above), Galaxy and Hell Yeah (below) ranges.
You can't buy them in the UK (which I'm very sad about), but luckily for us, they do ship internationally! 
 

 

View this post on Instagram

 
Lime Blonde
Lime Blonde have a great range of sweatshirts, swimsuits and bodysuits.
I especially love their rainbow sweatshirts and I think their rainbow leopard print swimsuit may be the best thing I've ever seen.
 

 

View this post on Instagram

 
Easy Tiger
Easy Tiger are a UK-based (Brighton) festival shop that sells a wide range of sparkly tops, bodysuits, pants and coats, as well as a few accessories. There motto is 'Dress like every day is a festival!'
Actually, I tell a lie, I think their 'Cosmic' bodysuit and 'Dream in Rainbow' top are the best things I've ever seen!
OMG, I want to buy everything!  
 

 

View this post on Instagram

 
 

 

View this post on Instagram

 
Little Black Diamond
US-based store Little Black Diamond are another favourite of mine, selling festival and rave wear in all colours and sparkles! They also ship inetrnationally.
I have a pair of their beautiful iridescent fairy wings! I hope they bring out more soon!
 

 

View this post on Instagram

 
Burnt Soul 
Burnt Soul have loads of amazing items but are famous for their incredible catsuits! Super flattering, super comfy, just beautiful! I love their Electric Ladyland, Rebel (seen below), Lazer and Luna catsuits.
I also love their lightning bolt earrings.
 

 

View this post on Instagram

 
Free People
The epitome of bohemian festival chic and loved by the Coachella crowd, Free People is the ethical clothing brand of choice for many of the festival fashionistas. I love their beautiful and feminine, flowy dresses which are great for both festivals (maybe ones outside the UK – we usually don't have the weather for this) or on holiday.
You can buy through their website or at Urban Outfitters (they're the same company).
 

 

View this post on Instagram

 
Sea Dragon Studio
I first heard about this amazing brand bacause it's owned by a friend of a friend and I'd seen some pictures of her rocking their outfits.
They have the most incredible holographic clothing you've ever seen, including leggings and bodysuits which come in a wide variety of colours – perfect for Burning Man!
I also love that their models are all different sizes too! 
They ship internationally and have their own online shop (based in the US), but are also available on a few different sites, including Wild Thing and We Koko in the UK.
 

 

View this post on Instagram

 
Amazon
I can't not mention Amazon in the list because I do get a lot of my festival stuff here. Not just clothes, but all the other stuff too, like tents, camping chairs, water bottles, you name it.
I LOVE these butterfly wings, so if you see me walking around Glastonbury wearing these this year, come and say hello!
Etsy
My current favourites on Etsy are these rainbow and disco ball headbands from Ciara Monahan and this beautiful unicorn crown!
Last year I bought a few different slogan t-shirts including one that said 'Glitter for Breakfast'.
 

 

View this post on Instagram

 
Boohoo.com
Cheap and cheerful, Boohoo.com is a great place to get your festival clothing. They have a huge festival shop so you'll be able to find pretty much everything you need.
 

 

View this post on Instagram

 
We Koko
If you haven't heard of them already, We Koko are an online marketplace selling all things festival and they sell worldwide too.
They work with lots of independent designers, such as Claudia Pink, Sea Dragon Studio and Burnt Soul and probably have the biggest range of festival clothing and accessories I've come across.
 

 

View this post on Instagram

 
Wild Thing
Similar to We Koko, Wild Thing have an amazing festival shop stocking lots of the other clothing brands mentioned here. 
They also have their own exclusive collection too that you won't find elsewhere.
 

 

View this post on Instagram

 
Ad Hoc London
Ad Hoc London are another great marketplace selling lots of different brands included on this list, including The Gypsy Shrine and Wildfox.
 

 

View this post on Instagram

 
PrettyLittleThing
Similar to Boohoo.com, PrettyLittleThing have a great range of festival clothing and accessories and really great prices. Missguided are a smiliar shop.
 

 

View this post on Instagram

 
Bottle Blonde Studio
They have loads of cool clothing items, but their best has to be the amazing tinsel items, especially the tinsel jackets! I mean check out the Unicorn Maxi Jacket below! Wow!!!
 

 

View this post on Instagram

 
Elsie & Fred
Elsie & Fred is an online boutique created by three siblings. Their motto is 'empowering the fiercest version of you'.
My favourite are their sequin shorts! 
 

 

View this post on Instagram

 
Truffle Shuffle
When you're looking for really cool and fun t-shirts, one the best place to go is Truffle Shuffle.
I've loved their t-shirts ever since I discovered them about 13 years ago when I saw Anne Hathaway wearing their awesome 'Goonies Never Say Die' t-shirt which I immediately bought. I still have it, even though it doesn't fit me these days! 
They have tons of music, movie, cartoon and tv themed t-shirts, both modern and retro (think The Breakfast Club, Fraggle Rock, Labyrinth etc) – very festival appropriate.
 

 

View this post on Instagram

 
Wildfox
Although a bit on the pricey side (t-shirts sell for around £70+), they do have the most amazing array of slogan tees and sweaters.
I absolutely LOVE this sweatshirt.
 

 

View this post on Instagram

 
No Basic Bombshell
If you are looking for a cool pair of earrings to complete your festival outfit, then look no further than the fabulous No Basic Bombshell – what a name too!
They have all kinds of cool pairs of earrings from danglers to studs! 
 

 

View this post on Instagram

 
H&M
Last but not least, good old H&M. Great for basics, slogan t-shirts and cute dresses/accessories.
I also really love Monki, who are also part of the H&M family. I have loads of Monki clothes and love their rainbow t-shirts.
 

 

View this post on Instagram

 
Shoes
I generally buy all of my shoes from Office Shoes – they have everything!
If the weather is nice, my absolute favourite sandals in the whole world are these ones from Blowfish, which you've probably seen me talk about before in my Africa packing list post. They're super comfortable, look great with absolutely anything and they're vegan. They have a ton of other styles to choose from too.
However, if it's raining, you're going to want something more sturdy, like walking boots or wellies. Hunter are the 'cool' welly brand, but Joules also have some great patterns and styles. You can also pick up a pair of cheap wellies from somewhere like Amazon.
You also can't go wrong with a pair of Converse or Vans.
 

 

View this post on Instagram

 
Please Note: Some of the links in this post are affiliate links, which will earn me a small commission at no extra cost to you. Affiliate sales help with the running costs of this site, so thank you for your support!