Come to Kenya With Me! 
UPDATE – Tour now full, however you can still come with me to Uganda, Rwanda and the DRC or Tanzania and Zanzibar!
This won't be a typical 'tour'. This will be a laid-back, adventurous and fun backpacking trip, that is like an independent solo adventure, with a group of friends built in.
What I offer are experiential and culturally immersive trips but without the hassle of having to find accommodation, working out how to get from A to B and booking all your own activities.
The pace will be relaxed and there will be plenty of downtime, but I also have tons of fun activities planned. We'll be using local transport, eating some of the best food in Kenya and meeting local people! For this reason I'll be keeping the numbers small so you can get a true backpacker experience.
Who is this trip for?
You've always wanted to travel in Africa but have no clue where to start.
You want an unforgettable adventure in an absolutely amazing place but none of your friends are interested and you don't want to go alone.
You want to experience local culture, eat local food and meet local people.
You've always wanted to try solo travel but need a little encouragement first.
You love travelling but want someone else to do all the planning and organising.
You want to travel with some cool, like minded people and make friends for life.
All of the above!
Then read on…
'This is Kenya' Tour Overview
We'll spend 2 weeks exploring this amazing country and getting to know the real Kenya. We'll spend some time in the buzzing capital, Nairobi, go on a safari with a difference in the Masai Mara and unwind on the stunning Swahili coast.
Duration: 13 Nights
Dates:Â 29th July "" 11thAugust 2017
Start: Nairobi
Finish: Mombasa
Maximum Group Size:Â 8 people
Group Leader: Helen
Minimum Age: 18
Cost: £1,395
Deposit: £200 (non-refundable)
Balance Due:Â 28th May 2017
You can find full Terms & Conditions here.
Highlights
Search for the 'Big 5' on safari in the world famous Masai Mara.

Try your hand at Kenyan cooking.

Dine at 2 of Nairobi's best restaurants.

Afternoon tea in Nairobi.

Nairobi walking tour.

Dinner in the Sekenani township, just outside the Masai Mara gate.

Spend a day and night with the Maasai tribe whilst they show you their traditional way of life.

Enjoy nyama choma and party in the Masai Mara.

Kiss a giraffe at the Nairobi Giraffe Centre.

Meet the baby elephants at the David Sheldrick Wildlife Trust.

Take one of Africa's most iconic train journeys – the Nairobi to Mombasa sleeper train.

Relax on the beautiful beaches of Kilifi and Diani.

Sailing and snorkelling trip on a traditional dhow.

Explore vibrant Mombasa, Africa's largest coastal city.

Take a village tour with dinner and drinks at Giriama Paradise.

A goodbye dinner at one of Mombasa's top restaurants.

'This is Kenya' Tour Itinerary
Day 1: Arrive Nairobi
Arrive in Nairobi and transfer to your accommodation for the night. Relax and get to know your fellow travellers during the evening at our campsite.
Day 2: Nairobi 
We'll spend our first full day exploring the city of Nairobi. There will be a bit of time in the afternoon to relax or visit the mall to get SIM cards, change money or try a piece of chocolate cake at Java Coffee House. In the evening we'll have a welcome dinner at one of Nairobi's best restaurants, Carnivore.
Day 3 – 5: The Masai Mara
We'll depart from Nairobi and head towards the world famous Masai Mara for our safari. On the way we'll take in the views of the magnificent Great Rift Valley and stop for lunch in the town of Narok, before heading to our lovely camp just a few kilometres outside the Masai Mara gate. That evening we'll eat dinner in one of the restaurants in the nearby township of Sekenani.
On day 4, we'll spend the day with the Maasai tribe, going on a guided walk, visiting the local school and having lunch in the village. They'll show us around their boma and we'll stay the night in the in their village.
On our final day in the Masai Mara, we'll jump in our safari vehicle and spend a full day looking for the Big 5 and picnicking in the wild. We'll arrive back at camp in the afternoon and our guides will take us for sundowners "" the perfect way to end a day in Africa. Once the sun has set, we'll head back to our camp for a BBQ dinner and party!
Day 6 – 7: Nairobi
In the morning there'll be some free time (in case anyone fancies a hot air balloon trip over the Masai Mara or a little lie in after the party) before we transfer back to Nairobi. Traffic dependent, there should be some free time for the rest of the day.
In the evening we'll try some of the best Ethiopian food outside of Ethiopia and those who want to can sample the Nairobi nightlife.
The next morning we'll visit the David Sheldrick Wildlife Trust, the Nairobi Giraffe Centre and have afternoon tea before we head to the train station to board the overnight sleeper train to Mombasa (well, if it's running – you never quite know).
Day 8 – 9: Diani Beach
We should arrive in Mombasa in the afternoon and then we'll head straight for beautiful Diani Beach on the Indian Ocean.
Whilst we're here we have the option to take a day trip to Wasini Island and Kisite Mpunguti Marine Park, or you can, lie in the sun, hang out at Forty Thieves, take a camel ride down the beach, shop for souvenirs in the local market or if you're feeling active, try your hand at one of the many activities on offer, like kite boarding or wind surfing. If you are feeling really, really brave, you can even go sky diving.
Day 10 – 12: Kilifi
On day 10, we'll head back up the coast, past Mombasa, to the laid back town of Kilifi (one of my absolute favourite places in the whole of Africa) where we'll spend the next 3 nights.
Here we will enjoy sail on a traditional dhow and enjoy a boat bbq. We'll hire bikes and cycle around town and on one of our evenings, we'll head up to Giriama Paradise for a village tour followed by dinner and drinks at Saidi's house overlooking Kilifi Creek.
There will also be free time to try some of the watersports on offer, wander round town, sample the food at the local restaurants or just lie in a hammock with a cold Tusker in hand "" whatever you feel like! Kilifi also has some great bars, so if nightlife is your thing, you're all set.
We'll be staying right near the beach, and if you venture down there in the evening, you might be lucky to see some of the bioluminescence in the water. A truly magical experience!
Day 13: Mombasa
Our last day will be spent in Mombasa. We'll visit the old town where we can take a cup of Kenya's finest at Jahazi Coffee House, visit the spice market and Fort Jesus. In the evening we'll go out for a delicious goodbye dinner at a top Mombasa restaurant and afterwards, you can take in some of the famous Mombasa nightlife.
Day 14: Depart Mombasa
Depart back home or continue your Africa travels.
Please bear in mind that the itinerary is subject to minor changes, "œThis is Africa", after all. But whatever happens, I'll endeavour to make sure you have an amazing trip!!
What's Included? 
Meals: 10 breakfasts, 6 lunches and 8 dinners.
Accommodation: 13 nights accommodation in good quality budget camps and hostels. This could include mixed dorms.
Transport: Local transport within Kenya to and from included excursions and between the main destinations on the tour (includes – taxi, train, safari van, mini bus, ferry).
Activities:

Dinner at 2 of Nairobi's best restaurants.
Nairobi walking tour.
David Sheldrick Wildlife Trust & the Nairobi Giraffe Centre.
Masai Mara safari.
A day and night with the Maasai tribe.
Dinner in the Sekenani township, just outside the Masai Mara.
The overnight Nairobi to Mombasa sleeper train.
Kenyan cooking class.
Sailing and snorkeling trip on a traditional dhow.
Village tour, dinner and sundowners at Giriama Paradise.
Cycle tour of Kilifi.
Mombasa walking tour.
Goodbye dinner at one of Mombasa's best restaurants.
What's Not Included? 
Flights to and from Kenya.
Airport transfers – however I can arrange these for you.
Kenyan visa ($51).
Medications, anti-malarials or vaccinations.
Travel/health insurance.
Drinks & meals not mentioned.
Optional activities.
Transport for optional activities.
Tips for local guides.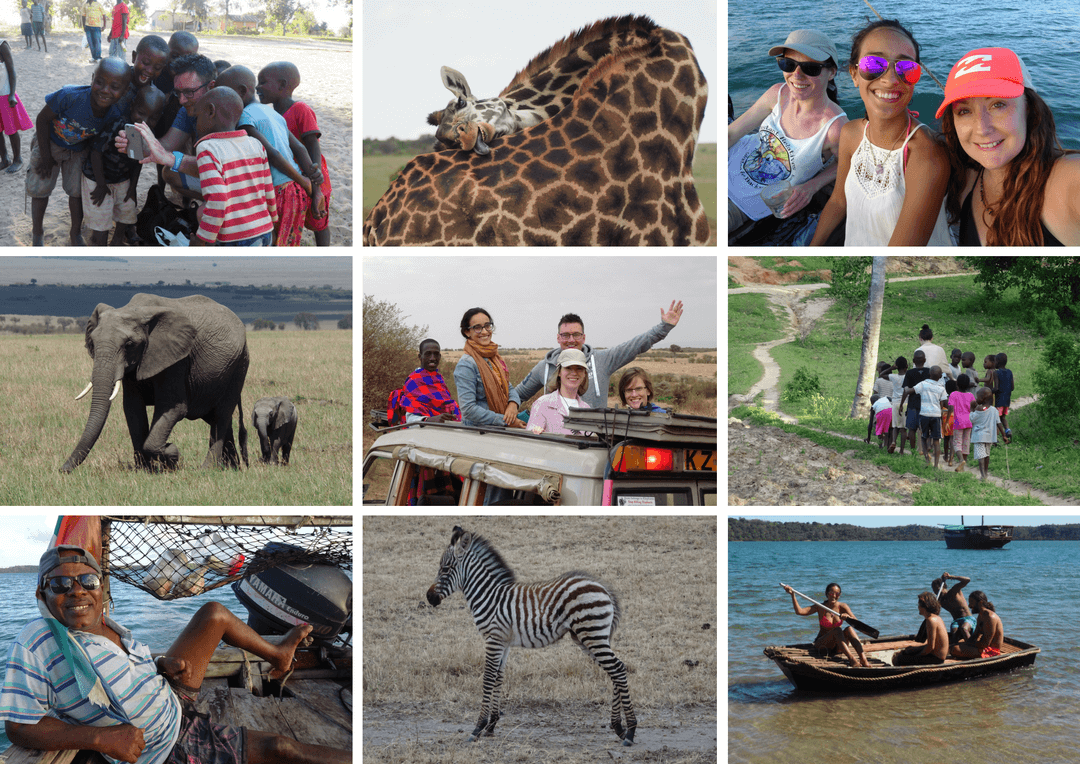 Feedback from the 2016 'This is Kenya' Tour
"œEverything was amazing! I learned so many things!" (Oana, 25, Switzerland)
"œIt was an amazing trip from start to end. I loved every moment and made friends for life." (Debbie, 34, UK)
"œAfrica is not always the easiest place to travel around, and after 3 months of backpacking I was all ready to give my brain a break from travel planning, so it was definitely a relief to have Helen come in and manage all that! I like her tour because it fit me "" it was a small group tour, just 8 of us which is a nice number to make new friends and get to know everyone yet have our own thing, and it was a good mix of fancier stuff and indie backpacking. You just might see us on the next tours because we are all game for round 2 with Helen! Definitely a 5 star review ⭐️⭐️⭐️⭐️⭐️!"œ (Jac, 32, Singapore)
"I've a lot to thank my African adventure for, it truely did help me find myself and has given me the confidence to just go see the world. I never wanted to leave!!! You'll have the most amazing experience!!!" (Karen, 36, UK)
"œIt was a great introduction into Africa travel, before I set out solo travelling. Also as I traveled solo and shared experiences in Kenya with people I was meeting, I sounded like a seasoned solo traveler thanks to you. I did not know what to expect but I think I understand Kenya pretty well now. I think you were able to portray and pass on your infectious love of Kenya to us all and I am forever grateful! Asante!" (Christina, 29, USA)
Are you ready for the adventure of a lifetime?
If you would like to come or have any questions, please send me a quick email using the form below and I will send you the information on how to join!
Don't fancy this trip? Why not check out my other Helen in Wonderlust Tours to Tanzania/Zanzibar, Uganda/Rwanda/DRC and Malawi/Zambia.
[contact-form][contact-field label='Name' type='name' required='1'/][contact-field label='Email' type='email' required='1'/][contact-field label='Message' type='textarea' required='1'/][/contact-form]
Want to be the first to know about upcoming Helen in Wonderlust Tours? Sign up HERE!
Helen in Wonderlust Tours is a Member of: