Come to Uganda, Rwanda & the DRC With Me!
Who loves a real adventure? Well have I got the perfect trip for you!
Uganda, Rwanda and the Democratic Republic of Congo are 3 of THE most beautiful places in Africa! On this trip, be prepared for breathtaking landscapes, warm, friendly people and amazing animals including the endangered mountain gorillas!
Starting off in Rwanda's capital, Kigali, we'll explore the city before heading towards the Democratic Republic of Congo to climb a volcano! From here we'll head to Uganda, staying in one of the most beautiful places in the whole of Africa, Lake Bunyoni.
One of the major highlights of the trip is trekking to find the mountain gorillas in Bwindi Impenetrable Forest – a once in a lifetime experience!
We'll go on safari to Queen Elizabeth National Park, where we'll look for elephants and tree climbing lions and then finish off with a spot of relaxing or extreme sports (whatever your preference) in two beautiful places on the River Nile. If you're feeling brave you can have a go at white water rafting or bungee jumping.
Volcanoes, gorillas, white water rafting – OH MY!
Sound awesome? Well it is!
Like my Kenya trip, this won't be a typical 'tour'. These experiential tours are designed by me to be culturally immersive, laid-back, super adventurous and fun!
They're like an independent solo adventure without the hassle of having to find accommodation, working out how to get from A to B and booking all your own activities – and you get a group of friends built in! Does it get any better?
Who is this trip for?
You are an intrepid adventurer.
You are fun and awesome.
You don't just want a holiday, you want the trip of a lifetime in an absolutely amazing place.
You want to see the rare mountain gorillas and a whole load of other beautiful animals.
You love stunning landscapes.
You want to experience local culture, eat local food and meet local people.
You love travelling but want someone else to do all the planning and organising (I take care of all that).
You want to travel with some cool, like minded people and make friends for life.
All of the above!
Then read on…
Uganda, Rwanda & DRC Tour Overview
Duration: 14 Nights
Dates: 12th July "" 26th July 2017
Start: Kigali, Rwanda
Finish:Â Jinja, Uganda
Maximum Group Size:Â 8 people
Group Leader: Helen
Minimum Age: 18
Cost: £2,595
Deposit: £500 (non-refundable – needed to secure your gorilla permits)
Balance Due: 11th May (you can pay monthly if you like)
You can find full Terms & Conditions here.
Highlights
Trek through the jungle to see the mountain gorillas in the wild in beautiful Bwindi National Park.

Explore the cosmopolitan city of Kigali  – we'll visit a local market, take a boat ride, check out the local art and try one of the famous milk bars.

Visit the Rwandan Genocide Memorial in Kigali.

An overnight trekking expedition up the Nyiragongo volcano, the world's largest lava lake in the DRC.

Chill out and relax into the Ugandan way of life and explore at beautiful Lake Bunyoni.

Search for tree climbing lions and other animals on safari in Queen Elizabeth National Park.

Take a wildlife cruise on the Kazinga Channel.

Visit Kibale National Park where you have the option to go chimpanzee trekking.

Relax at a tranquil eco lodge on an island in the middle River Nile.

Spend time in Jinja, the adventure capital of East Africa – think white water rafting, bungee jumping…

A cycling tour of Bujagali village, overlooking the stunning River Nile.

Take a sundowner and bbq cruise on the River Nile.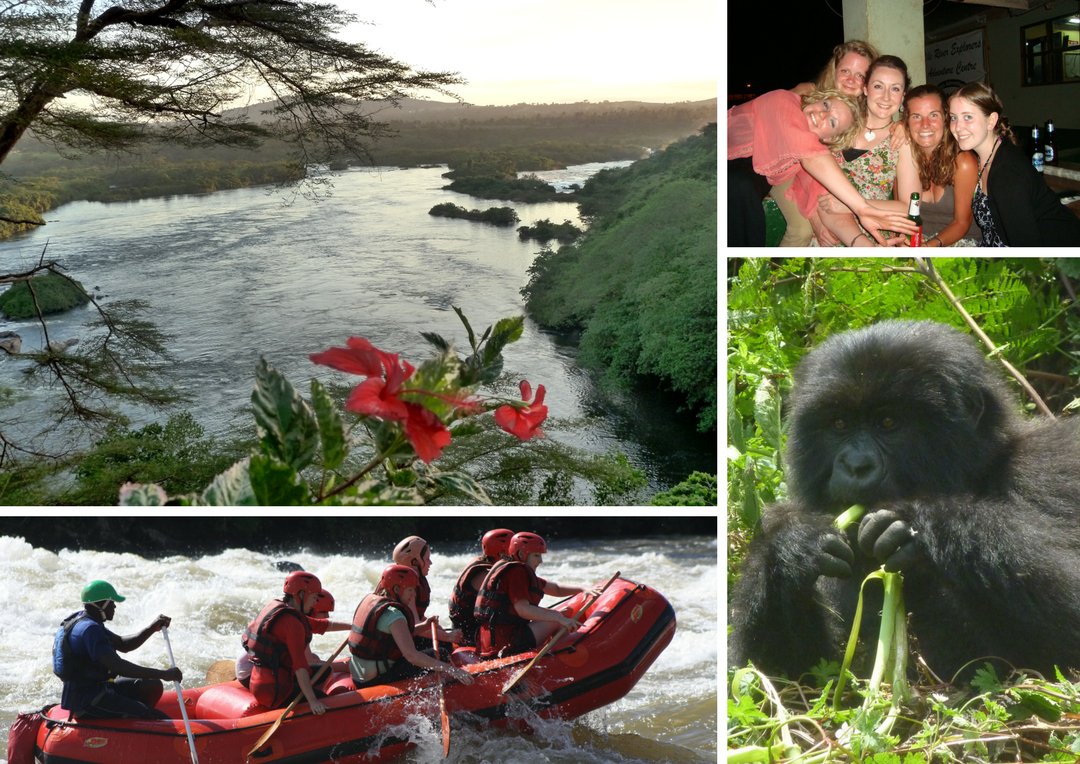 Uganda, Rwanda & DRC
Tour Itinerary
Day 1: Arrive Kigali, Rwanda
Arrive in Kigali and transfer to your accommodation for the night. Relax and get to know your fellow travellers during a welcome meal and a beer or two! The adventure starts here!
Day 2: Kigali/Gisenyi 
We'll spend our first day exploring the beautiful and cosmopolitan city of Kigali, the 'Singapore of Africa'.
We'll visit some of the best spots in the city with our local guides, learning about the culture of the city and experiencing it first hand, ending up at the Genocide Memorial, where we'll learn about the 1994 Rwandan Genocide.
From here, we'll make our way to Gisenyi on the shores of Lake Kivu, near to the border with the Democratic Republic of Congo.
Day 3: Mount Nyiragongo
Today is when we get really adventurous and head off the beaten track!
Early in the morning, we'll transfer across the border to Goma in the Democratic Republic of Congo to start our ascent of Mount Nyiragongo in the Virunga National Park, one of the most beautiful places in Africa.
This volcano is famous for being the world's largest lava lake. We'll spend the night on the crater rim, and be treated to the spectacular night time and sunrise views of the lava lake, the Virungas & Lake Kivu. It's an incredible experience and one that should not be missed by any Africa travel enthusiast!
Day 4 – 5: Lake Bunyoni
We'll start our decent early in the morning, again taking in the gorgeous views over the surrounding areas and travel to an island retreat on Lake Bunyoni, one of the most stunning locations in all of Africa.
We'll spend a day exploring this island studded lake and the surrounding villages by boat, getting a real feel for Ugandan life. That evening we'll go for a meal at a lovely local restaurant with spectacular views over the whole lake.
Day 6: Bwindi National Park (Gorilla Trekking)
Getting up early, we'll make our way to Bwindi National Park, where we'll receive a safety briefing before our rangers take us trekking through the jungle to spend time with the endangered mountain gorillas.
When I say trekking through the jungle, I really mean trekking through the jungle!
Spending time with these beautiful primates was one of the most magical experiences of my life and one that I wish everyone could get to experience.
Once we find the gorillas, we'll have around an hour with them to observe and stare in awe just how amazing they are. When one looks you in the eye, you'll experience one of life's real 'wow' moments and think yourself the luckiest person in the world. Maybe you'll even get a little pat on the bottom from one.
Day 7:Â Queen Elizabeth National Park
In the morning, we'll head to the southern part of Queen Elizabeth National Park (Ishasha) to go on safari and look for tree-climbing lions, elephants, hippos, leopards and many more animals on the savannah. Wait until you see your first elephant or lion (or any other animal in the wild for that matter) – it's magical!
In the afternoon, we'll travel to the northern part of the park, still on the lookout for animals, to stay overnight at a gorgeous eco lodge with beautiful views over Lake George.
Day 8 – 9: Kibale National Park
After breakfast with a view, we'll take another game drive on Kasenyi Plains, searching for more of our favourite safari animals.
In the afternoon, we'll go on a wildlife cruise through the Kazinga Channel – an incredible experience where we are likely to see elephants up close, drinking and bathing in the river!
On our second day in Kibale National Park, we have the option to go chimpanzee tracking* or even spend the whole day with them on a chimp habituation experience* – another once in a lifetime experience!
For those who don't want to spend time with the chimpanzees, there are lots of other options for us to do too!
(* These are both optional activities and not included in the tour. However, I can arrange this for you! This activity is VERY popular (just like gorilla trekking, so subject to permits being available – the earlier you book, the better).
Day 10 – 11: Hairy Lemon Island
Named after a pub in Dublin, the Hairy Lemon is one of the most chilled places on the planet.
Here we'll grab ourselves a hammock and rest after a hectic 10 days of adventure! However, if you're like me and terrible at resting, you can splash about in the natural pools, enjoy the natural jacuzzi, play some water volleyball or try your hand at kayaking (I am rubbish)!
Whilst we're there we'll enjoy a picnic on the beach down by the river (including home-baked cookies). Pure bliss!
Day 12 – 14: Jinja
On day 12 we'll head to one of my favourite places in the world, Bujagali village in Jinja. The adventure capital of East Africa. I spent 2 weeks here in 2011 and cried my heart out when I left. This was the place I took my shower with a view!
There will be a full free day to explore as you wish, however you may want to spend the day going white water rafting! An unforgettable experience!
But if that isn't your cup of tea, there are plenty of other activities to keep you occupied where you have the option to go white water rafting, bungee jumping, kayaking or stand up paddle boarding (to name but a few of the activities on offer). Or you could just chill out with a book, take a wander through the village, volunteer with a local charity or take a shower with a view.
After a day of rafting, there's usually a bit of a gathering in the bar, sometimes watching the videos from the day and everyone cheers when the boats flip over! This can range from a chilled evening to a full on party!
On our last day, we'll take a cycling trip through the villages and end our time in Uganda with a sunset cruise and bbq (drinks included) on the River Nile. Usually followed by a few more drinks in the bar!
Day 15: Depart Jinja
I can arrange the transfer to Entebbe airport or you can continue your Africa travels. Or you may just stay in Jinja forever…
Please bear in mind that the itinerary is subject to minor changes, "œThis is Africa", after all. But whatever happens, I'll endeavour to make sure you have an amazing trip!!
What's Included? 
Meals: 11 breakfasts, 4 lunches and 7 dinners (some of these are activities in themselves)!
Accommodation: 14 nights accommodation in good quality budget camps (all proper beds) and hostels. This could include mixed dorms.
Transport:Â All transport within Uganda, Rwanda and the DRC to and from included excursions and between the main destinations on the tour (includes – taxi, safari van, mini bus).
Visas: DRC visa.
Activities:

Kigali city tour.
Kigali Genocide Memorial.
Overnight trekking  expedition to climb the Nyiragongo Volcano.
Lake Bunyoni Tour by boat.
Gorilla trekking in Bwindi National Park (gorilla permit included in tour price).
2-day safari in Queen Elizabeth National Park.
Wildlife cruise on the Kazinga Channel.
Visit to Kibale National Park.
Cycling tour of beautiful Bujagali.
Picnic on the beach.
Sunset cruise and bbq on the River Nile.
What's Not Included? 
Flights.
Airport transfers – however I can arrange these for you.
Rwandan and Ugandan visas.
Medications, anti-malarials or vaccinations.
Travel/health insurance.
Drinks & meals not mentioned.
Optional activities (such as – chimp habituation experience, horse riding, white water rafting, bungee jumping etc).
Transport for optional activities.
Tips for local guides.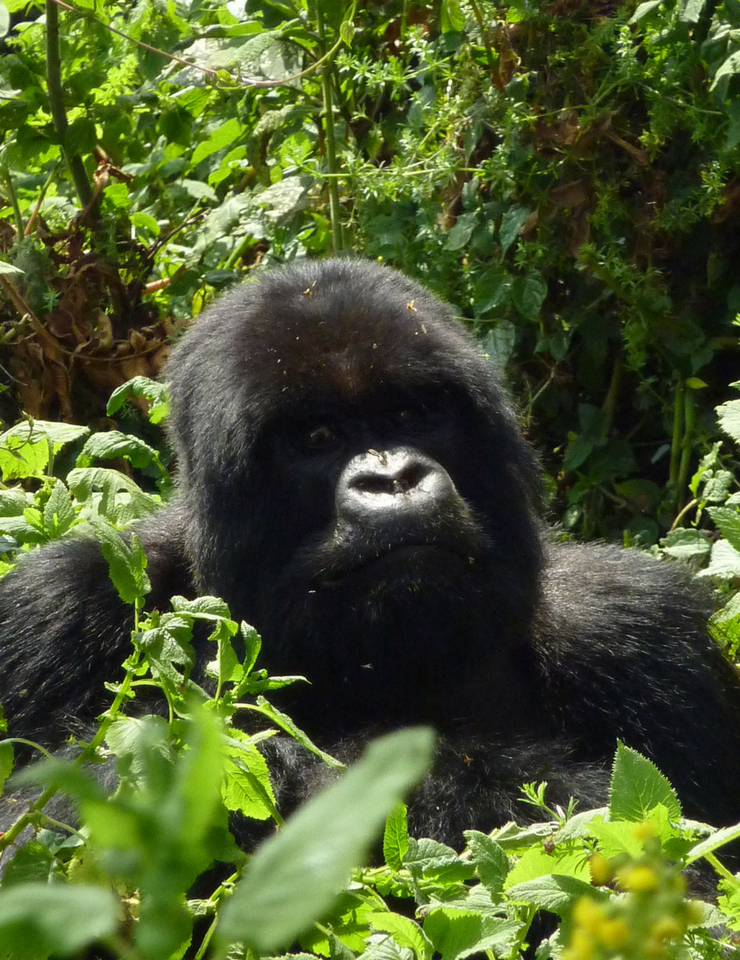 Feedback from the 2016 'This is Kenya' Tour
"œEverything was amazing! I learned so many things!" (Oana, 25, Switzerland)
"œIt was an amazing trip from start to end. I loved every moment and made friends for life." (Debbie, 34, UK)
"œAfrica is not always the easiest place to travel around, and after 3 months of backpacking I was all ready to give my brain a break from travel planning, so it was definitely a relief to have Helen come in and manage all that! I like her tour because it fit me "" it was a small group tour, just 8 of us which is a nice number to make new friends and get to know everyone yet have our own thing, and it was a good mix of fancier stuff and indie backpacking. You just might see us on the next tours because we are all game for round 2 with Helen! Definitely a 5 star review ⭐️⭐️⭐️⭐️⭐️!"œ (Jac, 32, Singapore)
"I've a lot to thank my African adventure for, it truely did help me find myself and has given me the confidence to just go see the world. I never wanted to leave!!! You'll have the most amazing experience!!!" (Karen, 36, UK)
"œIt was a great introduction into Africa travel, before I set out solo travelling. Also as I traveled solo and shared experiences in Kenya with people I was meeting, I sounded like a seasoned solo traveler thanks to you. I did not know what to expect but I think I understand Kenya pretty well now. I think you were able to portray and pass on your infectious love of Kenya to us all and I am forever grateful! Asante!" (Christina, 29, USA)
 Come with me on the adventure of a lifetime!
If you would like to come or have any questions, please send me a quick email using the form below and I will send you the information on how to join!
Don't fancy this trip? Why not check out my other Helen in Wonderlust Tours to Tanzania/Zanzibar, Kenya and Malawi/Zambia.
[contact-form][contact-field label='Name' type='name' required='1'/][contact-field label='Email' type='email' required='1'/][contact-field label='Message' type='textarea' required='1'/][/contact-form]
Want to be the first to know about upcoming Helen in Wonderlust Tours? Sign up HERE!
Helen in Wonderlust Tours is a Member of: