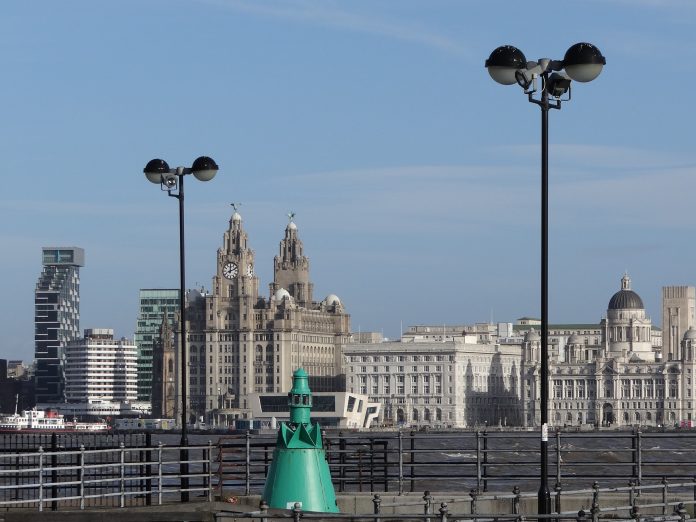 Not too long ago, a couple of my friends came to visit me from Canada. One of the places I took them whilst they were over in the UK, was my home city of Liverpool. I had a wonderful time playing tour guide, but what most stuck with me is that they both said that they had no idea what a great city it is. They knew about The Beatles, but didn't know much about the city's interesting and dramatic past, how it's changed and grown over the years, or the other things it has to offer.
Liverpool is a beautiful, unique and very loveable city, with tonnes of history, a lot of soul, a big heart and just the right amount of edge.
Now don't get me wrong, I love I love the "˜Fab Four' as much as the next Scouser (and most of the world it would seem), but there is SO much more to Liverpool than the fact it is the birthplace of The Beatles. By all means, go on a 'Beatles Tour', visit The Beatles Museum and go to The Cavern, but my point is, if you just do Beatles stuff, you are seriously missing out!
So with that in mind, here are some of the 'other' great reasons to visit Liverpool!
1. The People
Liverpool people are boss!! Maybe I'm biased, but I reckon Scousers are some of the friendliest, funniest and down to earth people in the world. I've lived and worked in 10 UK cities, and I still think Liverpool is number one. Although I'd say Belfast and Newcastle come pretty close…
On the bus, in the street, in the corner shop, Scousers love a good chat, a bit of banter and to help you out. It's not surprising that a lot of the UK's best loved comedians come from here. If you don't believe me, take a little peek at this post by Janice Waugh, who met an array of friendly Liverpudlians on her travels. People watching is also amazing in Liverpool. There are a lot of characters! And keep an eye out for the girls walking round with rollers in their hair and the dreaded 'Scouse Brow' #scousebirdproblems. Plus, you'll love the accent, even if you don't always understand it.
2. The Beaches
Liverpool and the surrounding area has some stunning beaches and they're a great place to catch the sunset. There's Formby Beach, not strictly in Liverpool, but it has a Liverpool postcode so I can include it! Formby Beach is spectacular and huge, backed by sand dunes and pine woods, perfect for nature walks!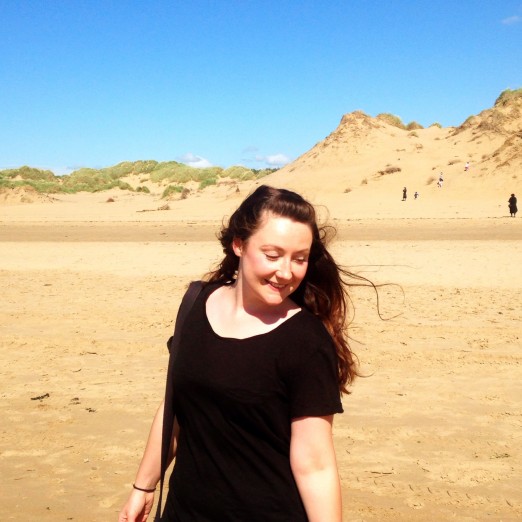 Then just 6 miles north of the city centre is Crosby Beach, home to Antony Gormley's "˜Another Place', an art installation made up of 100 cast-iron, lifesize statues, known locally as "˜the iron men'. Each statue stands alone, staring out over the sea in silent contemplation.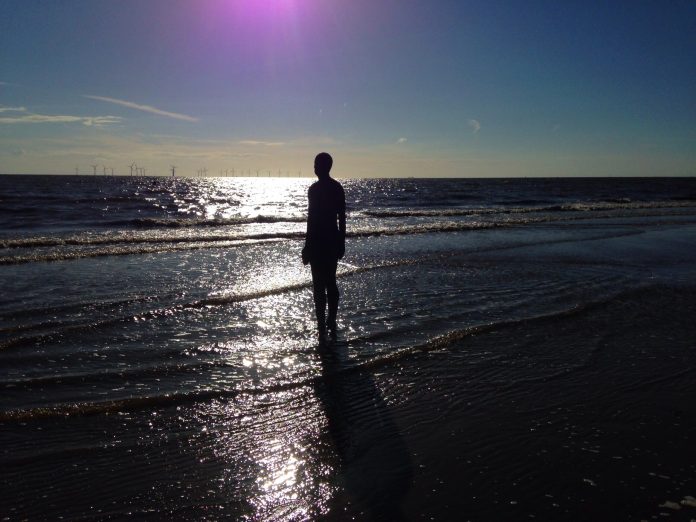 The artist explains that his piece "œharnesses the ebb and flow of the tide to explore man's relationship with nature. The seaside is a good place to do this." He continues, "œIt is no hero, no ideal, just the industrially reproduced body of a middle-aged man trying to remain standing and trying to breathe, facing a horizon busy with ships moving materials and manufactured things around the planet."
I visit this beach often. I'm not sure why. It's a place to think, a place to be. Â I find it hard to put my finger on how exactly I feel when I'm there because I guess it's different every time, depending on what mood I'm in when I visit. Sometimes peaceful or hopeful, sometimes sad and lonely. Then at other times, it just makes me laugh. Especially when someone decides to buy one of the iron men a new frock. Just bring your wellies, as the beach is a bit muddy in places.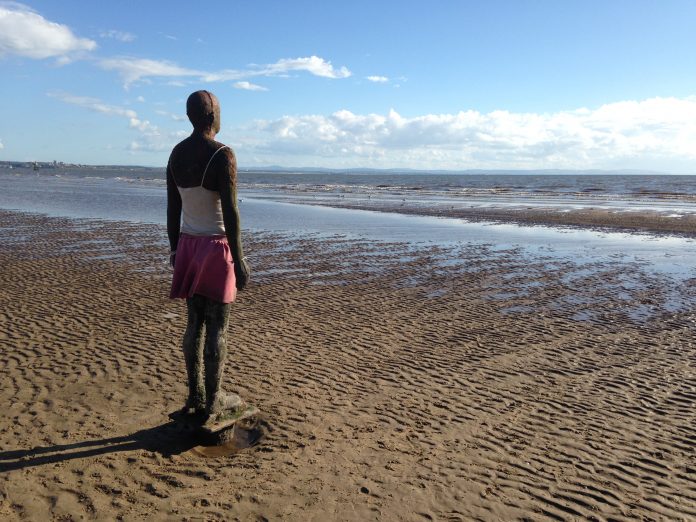 Also try: For swimming, you'll need to head out of the city and across the water to one of the Wirral beaches. Try West Kirby, Meols (pronounced Mells), Moreton or Wallasey.
3. The Food
I really don't understand it when people say the UK has bad food. Where have you people been eating? I'm guessing some touristy, over-priced restaurant in Leicester Square or Covent Garden. So what you need to do on to your next visit to the UK, is head up north to Liverpool!
First on your list should be a proper bowl of scouse. Scouse is short for lobscouse, a dish made of lamb/mutton (sometimes beef), potatoes, carrot, onion and gravy. It's the type of dish your nan used to make. Maggie May's is probably the best place for a pan of scouse, but I also hear good things about Thomas Rigby's and The Baltic Fleet.
28th February 2015 is Global Scouse Day, so if you're in the city, you're in for a treat. Many of the restaurants who don't normally serve scouse will be taking part, so you can grab a bowl of the good stuff!
You can't come to the UK without trying good old fish n' chips and Liverpool can compete with the best of them. On the way home from town, I always head to The Lobster Pot for my fix and get them smothered in gravy. Alternatively, add salt and vinegar or ketchup. No French fries I've ever tried come close to proper British chips. Just sayin'.
Breakfast, Brunch and Lunch
On Bold Street, I love Leaf – it's where the cool kids hang out. It's a little bit hipster, but totally unpretentious. It does get busy, but you can usually get a table within a few minutes. I also love Bakchich, a Lebanese restaurant and Bold Street Coffee. Nearby is The Brink (an alcohol free social enterprise) and The Garden by Leaf at FACT (see below) both great little places. If I'm around the Baltic Triangle I usually head to Unit 51 or The Baltic Social.
If you're here on a Sunday, you should probably get yourself a roast dinner, a proper good one, like your mum makes. If you can't find yourself a Scouser to make you one or my mum happens to be busy, get yourself to Camp & Furnace, The Baltic Social or The Monro.
Also try: I also love Fonseca's, Delifonseca, Barley & Beans and Moose Coffee.If you like the TV show "˜Friends' (which I do), Liverpool even has two Central Perk's (one in Hatton Gardens, on on Bold Street) and they have events every week.
Afternoon Tea
For afternoon tea, my favourite is the very cute Cuthbert's Bakehouse on Mt. Pleasant. Panoramic 34 is another great choice, with unparalleled views over this gorgeous city. Other favourites are Oh Me Oh My and East Avenue Bakehouse.
Dinner
There are so many great restaurants to choose from, so I'll just tell you a few of my favourites.
Lunya, a Catalan deli and restaurant is a great little place which does "˜Catalan scouse'. For a big night out, I head to Alma de Cuba, a restaurant, bar and nightclub "" a bit of a Liverpool institution really. The building is an old church and truly gorgeous inside. At weekends, Brazilian samba dancers grace the stage as confetti rains from the balcony. It's always a fun night and the food is good too. On Sundays they have a "˜Gospel Brunch'. Amazing right?
I love Mexican food, so Lucha Libre is a good place to go, serving the best in Mexican Street Food the spicy stuff is pretty hot, you have been warned! There's a cool tequila bar underneath called Maya.
I've mentioned it above, but if you're looking for a really unique experience, head to Camp & Furnace in the Baltic Triangle. It's been voted one of the coolest restaurants in the UK, and hosts such events as The F**k Off Valentine's Food Slam. It's so much more than a restaurant. It's a bar, nightclub, events and studio space. It's really unique. Just go and you'll see what I'm talking about.
Also try: The Italian Club Fish, Mowgli, The Art School, Chilli Pot and my mum and dad's favourite, Bistro Franc.
4. The Nightlife
Liverpool by night, is just as awesome as Liverpool by day. During my mis-spent youth, I spent most of my Friday and Saturday nights drinking Smirnoff Ice and Bacardi Breezers (can you still get those?) at clubs like The 051, The Buzz Club and The Paradox (of course followed by brekkie at Asda) – never went to Cream though.
These days, the nightlife is a little more sophisticated, as am I. Now I'm in my mid-thirties, clubbing isn't really as high on my agenda as it used to be, but I still know a good bar when I see one, and Liverpool has some awesome ones.
Seel Street/Baltic Triangle
Camp & Furnace:Â As above, totally different from anywhere else you've been before.
Santa Chupitos: A cool little cocktail bar. Try the "˜$5 Shake', usually served in a milk bottle.
El Bandito:Â Underneath Santa Chupitos, you'd never even know this place existed. It's a tiny, yet very cool tequila bar.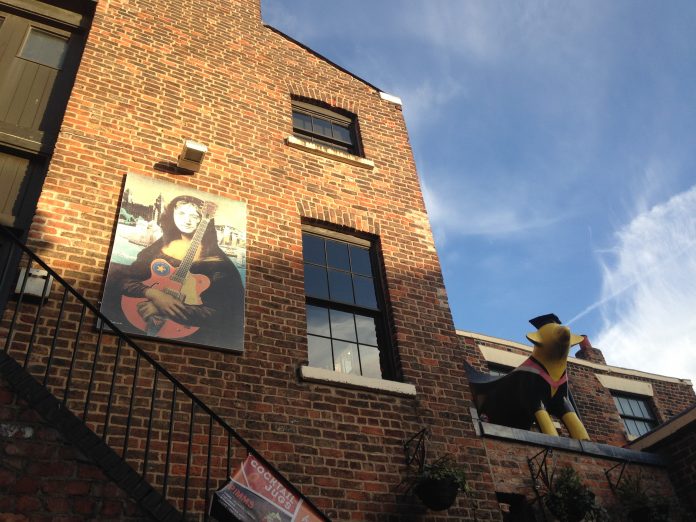 Heebie Jeebies:Â Has been a favourite of mine for years and years, as they play quite a wide range of music.
Berry & Rye:Â A very cool, speakeasy bar.
The Kazimier Garden:Â This might be my favourite come to think of it. A gorgeous beer garden, with live music frequently. Yes please! Best in the summer, but also great in winter (just wrap up warm).
Motel:Â This is a funky and friendly bar with good cocktails. Some of the drinks come with a chilli on the side. Very funny watching friends attempting to eat them.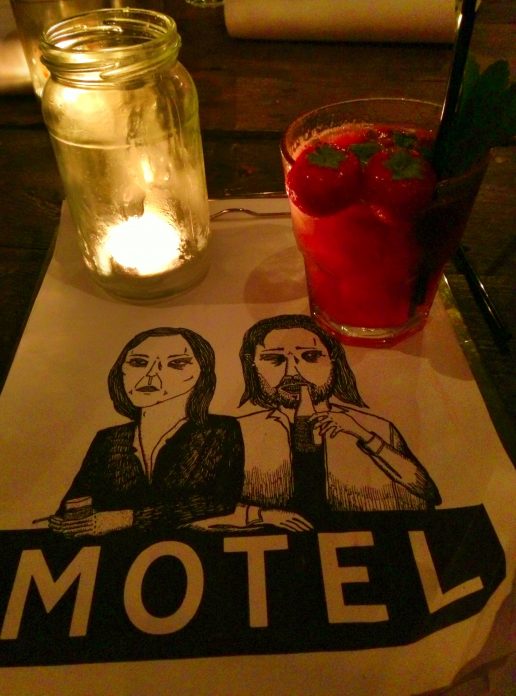 Brooklyn Mixer:Â Good music, great atmosphere.
Salt Dog Slims: Love this place. They randomly have a bath lit with fairy lights at one side.
Alma de Cuba: Probably Liverpool's most famous bar these days (after The Cavern Club).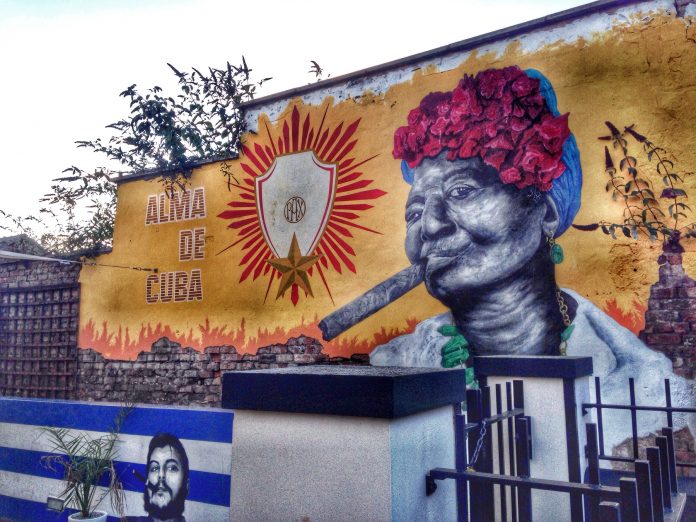 Docks
Circo:Â Slightly bonkers, circus themed restaurant and bar. The type of place where you might end up in a ball bath with a drag queen.
Carpathia Champagne Bar:Â Rooftop bar at 30 James Street Hotel. This is the place if you want to experience the luxurious side of Liverpool.
Liverpool One
Bierkeller:Â I love coming here for a quick pit stop when I'm shopping in Liverpool One. Plus they serve my favourite – Kenyan, Tusker (it's a bit pricier than I'm used to though)! But they do have Strawberry & Lime Rekorderlig on tap – yum!
Hope Street
The Philharmonic Dining Rooms: Known as "˜The Phil', this is a fabulous and beautiful pub (grade 2 listed building) ideally situated by both cathedrals, The Philharmonic and The Everyman Theatre.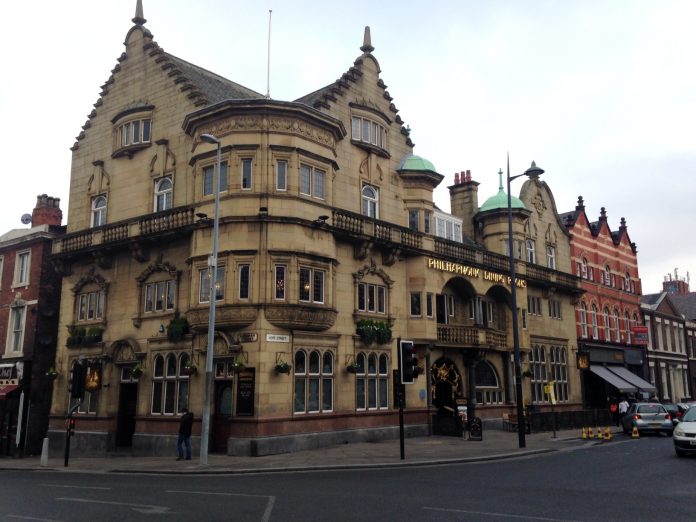 Mathew Street, where The Cavern Club is located is another popular spot, but I tend not to go there much now. By the early afternoon during the weekend, the music is already pumping out and it tends to be pretty lively with drinkers, mostly stag and hen do's, but it can be fun. Depends what you're after!
Also try: Outside of the city centre, Lark Lane is a great place for a night out.
5. The Shopping
I don't love to shop, but, as shopping centres go, Liverpool One is great. There's all the usual shops, plus restaurants, bars, a cinema and I love that they have pianos dotted around where people can play if they want. Sometimes you'll hear a little kid plink plonking on the keys, other times you're treated to professionals!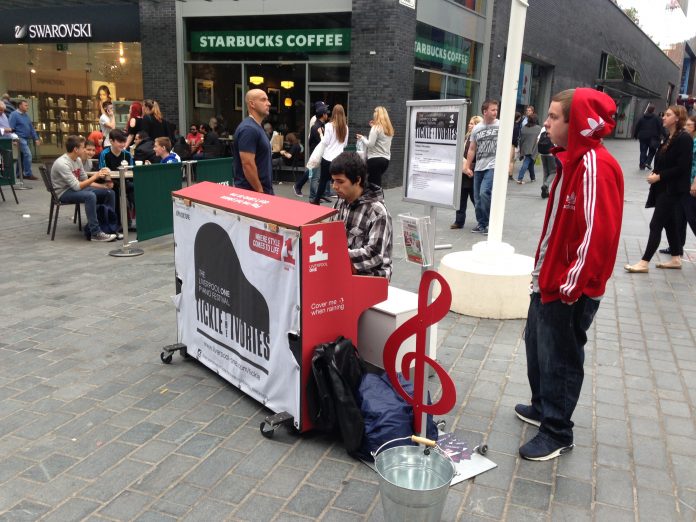 When I was younger, my friends and I could often be found wandering around a shop called Quiggins for things like hair dye, glitter, blue nail polish, fancy dress, vintage clothing and just about anything you couldn't get in the mainstream shops. Quiggins was knocked down to make way for Liverpool One, but it's now reincarnated in the form of Grand Central Hall on Renshaw Street. Â If you like alternative shopping (it's similar to Affleck's Palace in Manchester), this is the place for you!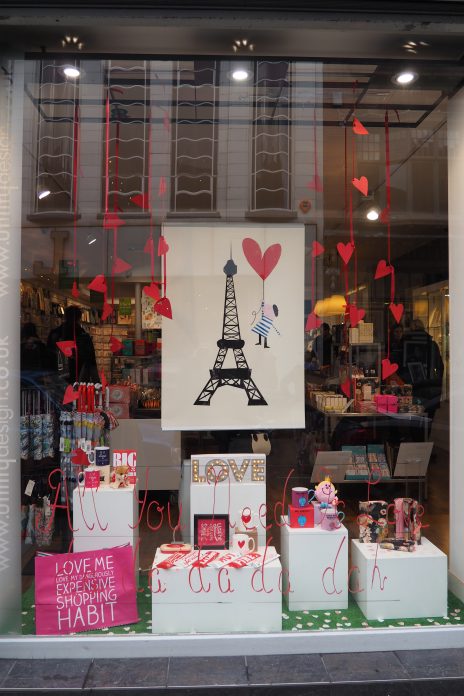 Bold Street is also a good place for independent shops, including Liverpool's famous Utility, which is one of those places where you just want to buy everything!
6. Football
It's impossible to talk about Liverpool without mentioning football because we have two of the most famous and oldest teams in the world, Everton  (the Blue half) and Liverpool (the Red half). So if you can, time your visit to Liverpool with a footie match. I'd say try and come for a derby day so you could see both teams play, but tickets are pretty hard to come by!
Even though I'm an Evertonian (by birth – hi Dad), I cannot say a chill doesn't run down my spine when I hear thousands of Liverpool fans singing 'You'll Never Walk Alone' (sorry Dad), especially if you're at the game. Amazing.
7. The Zipline
Last summer, Liverpool had a zipwire across the main shopping street, Church Street. How cool is that? I really hope they bring it back for 2015! So much fun – to watch! Would I do it? Maybe…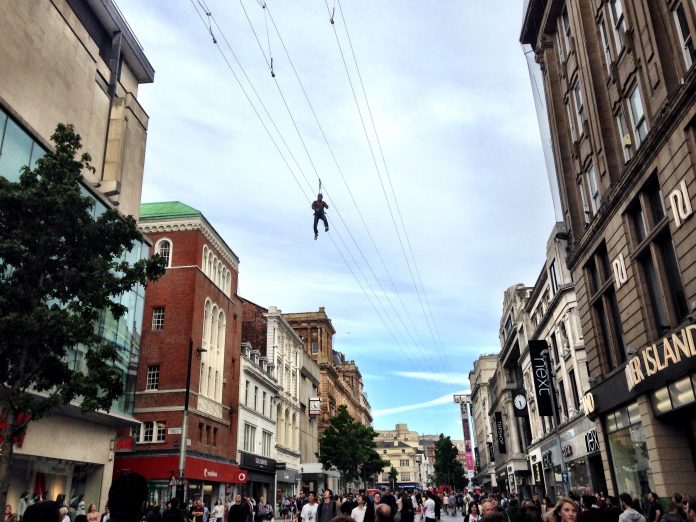 8. The Cathedrals & Churches
Liverpool has two stunning cathedrals, one Anglican, one Roman Catholic and I love the fact that the road that joins them is called Hope Street.
They are about as different in appearance as you can get, but both stunning in their own ways. It's free to look around the main part of both cathedrals.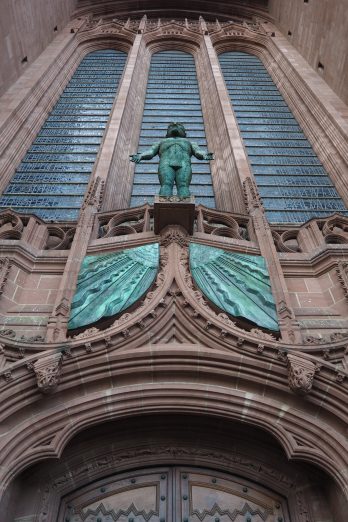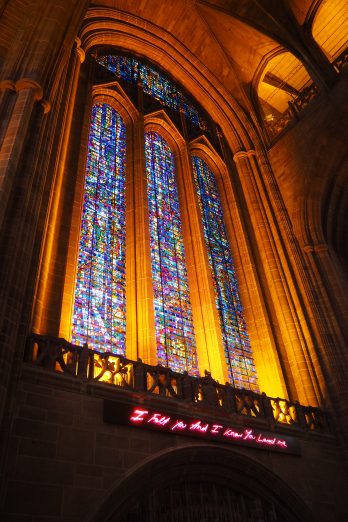 Then there's St Luke's. At first glance, you might not notice anything unusual about this church. On closer inspection, you'll see that the inside is completely hollow. It was bombed during the Second World War, and whilst the inside was destroyed, the outside stayed completely intact. Which is why most people refer to it as 'the bombed out church'. Nowadays, they hold lots of events there, some free, some ticketed. Go have a wander round if you get the chance!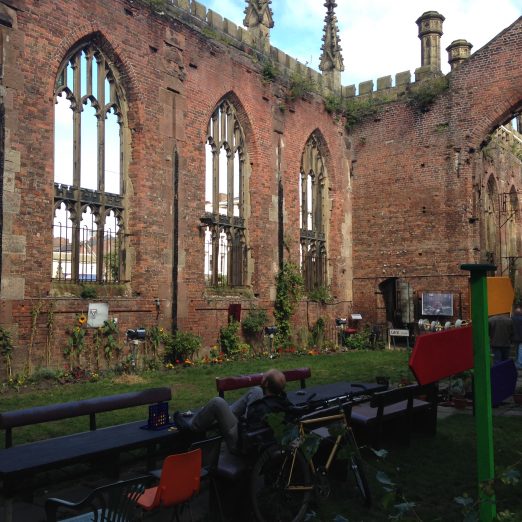 9. The Parks
Did you know that Liverpool has more parks than Paris? Well it does!
Sefton Park is particularly beautiful, with both a Green Flag Award and Green Heritage Award. In the park there's a boating lake and the Palm House, a Grade 2 Victorian building. The Palm House hosts events all throughout the year, from plays and musical events to yoga. You can even get married there.
Another gorgeous one is Calderstones Park. Back in my youth I was a cross country runner, and this was the place I'd do a lot of my competitions. Or if you just fancy a little chill whilst you're in the city centre, there's Chavasse Park next to Liverpool One.
10. The Theatres
Although my short-lived acting career was mostly spent touring Liverpool's primary schools, the Liverpool theatre scene holds a very special place in my heart. Liverpool is famous for acting and writing talent, and the theatres play a big part incultivating that talent.
We have the Liverpool Empire, where you'll find the big shows like Wicked or The Lion King.
Then I love the Everyman and Playhouse. These are two separate theatres, but run by the same company and both launched many a Liverpool acting career. They run lots of educational programmes too. My favourite playwright of all time is Willy Russell and I'm very excited to be going to The Playhouse next week to see Educating Rita.
The Unity Theatre is smaller than the others, but hosts some fantastic plays and other performances. I've even performed on the stage here myself a few times!
Also try: The Neptune Theatre, The Royal Court, The Lantern Theatre and The Epstein Theatre.
11. The Art Scene
Liverpool is a city full of art. We have the wonderful Walker Art Gallery, the Tate Gallery, FACT (Foundation for Art and Creative Technology), the Open Eye Gallery and The Bluecoat (the building is amazing). They all have something unique to offer.
Art in Liverpool isn't all indoors though. Go and find the original Super Lamb Banana on Tithebarn Street, or spot some of the other smaller ones around the city. This is my friend and fellow blogger Stephanie!
Head to Hope Street and see "œA Case History" by John King or enjoy the up and coming street art scene. I was fortunate enough to get a tour of all the best spots by one of Liverpool's renowned street artists, Tristan Brady-Jacobs.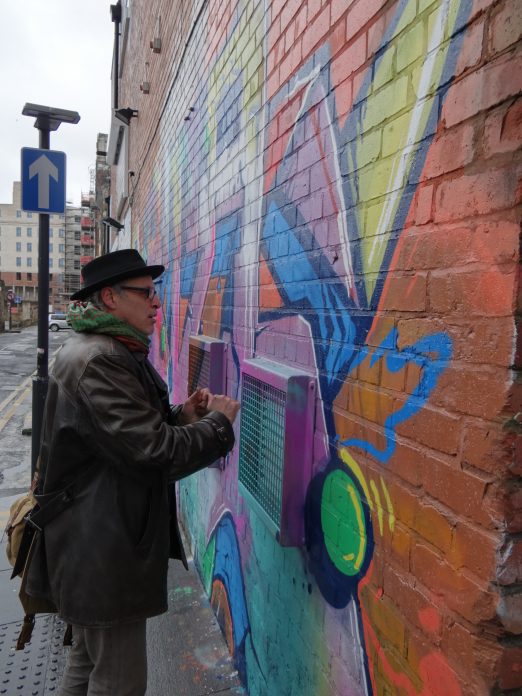 He took me to Bold Street, Wood Street, Fleet Street and the alley between Duke Street and Gradwell Street, Wolstenholme Square (where you'll also see Penelope by Jorge Pardo), and also the Baltic Triangle.
Liverpool's newest piece of street art is outside the city centre on County Road. The piece by Whoam Irony was recently unveiled on the old Ethel Austin Building. Photo Credit: Graham Smillie
12. The Music
Did you know, that Liverpool artists have had more number 1 hits than any other place in the UK? A lot of talent comes from this little city. Of course, The Beatles have a lot to do with that! Yeah I know, I know, this was meant to be a 'non-Beatles' post, but to not mention them would be a bit stupid as they kind of changed the face of modern music and all that.
But they weren't the only big musicians to come from Liverpool. Gerry and the Pacemakers, Frankie Goes to Hollywood, Billy Fury, Cast, The La's, The Zutons and of course, Cilla Black – are all from Liverpool.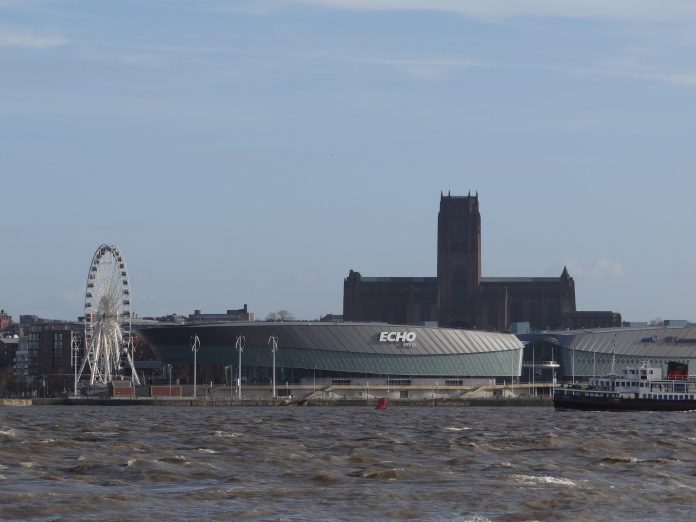 Music is still a big part of the city and there are loads of great places to catch some live music in Liverpool by both local and visiting musicians. These include The Echo Arena, The Liverpool Philharmonic, The o2 Academy, The Lomax, The Bluecoat, Zanzibar, Camp and Furnace, The Kazimier, Studio 2 Parr Street (The Attic), Heebie Jeebies, East Village Arts Club, The Caledonia, Sound Food and Drink and of course, The Cavern Club. Alternatively, just walking the streets, you're bound to hear talented buskers.
Or then there's LIMF…
13. The Festivals
Liverpudlians know how to celebrate, so you can expect good things from the local festivals.
Probably the biggest and most well known, is the Liverpool International Music Festival (LIMF) which started life as the Mathew Street Festival. As the name suggests, artists come from near and far and celebrate, well, music. It's always a lot of fun!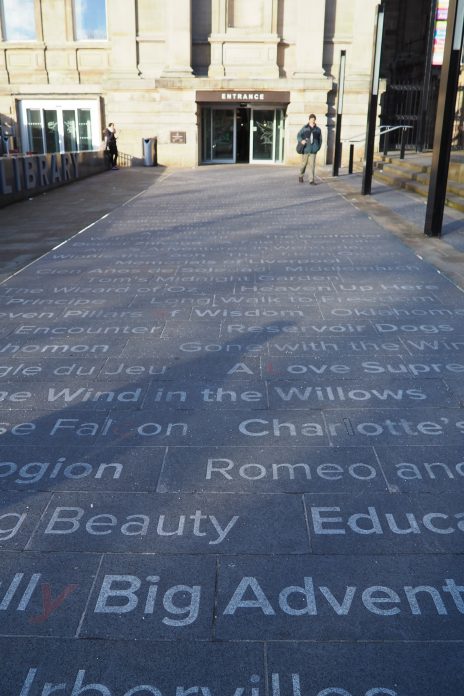 You know how much I love Africa, but it's very far away! Luckily for me, each June, a little bit of Africa comes to me in the form of the Africa Oyé festival at Sefton Park. There's always a great line up and it's a great day out for all the family!
But it's not all about music. We like to celebrate all kinds of things. Last year there was the Liverpool Streetart Festival!
We've got the International Mersey River Festival coming up and I can tell you it's pretty spectacular when all the boats are here, I especially love the tall ships! Then every 2 years, we have the Liverpool Biennial (2016 is the next one).For ten weeks the city celebrates the arts and really comes alive with a whole host of events, installations and new artworks.
In 2014, thousands packed the streets to see the giant puppets make their way through the streets to commemorate the First World War. Seriously amazing!
And today it's Chinese New Year! Liverpool has the oldest Chinatown in Europe, so there's always a great celebration. Head into the city on Sunday 22nd February and take in a few of the events that happen throughout the city. Will I see you there?
Also try: Creamfields, another music/dance festival and Brazilica, where carnival comes to town! So get your dancing shoes on for those two!
14. The Architecture
Liverpool is a stunning city architecturally and if you arrive by train, you'll be treated to some of the best views as soon as you walk out of Lime Street Station and clap eyes on St George's Hall. I believe it's a fine example of neo-classical architecture, or so I'm told by my dad. Here they hold tons of events (some are free) and the Great Hall is stunning. The kind of place Cinderella would lose a shoe, if you catch my drift. One day I shall go to a ball!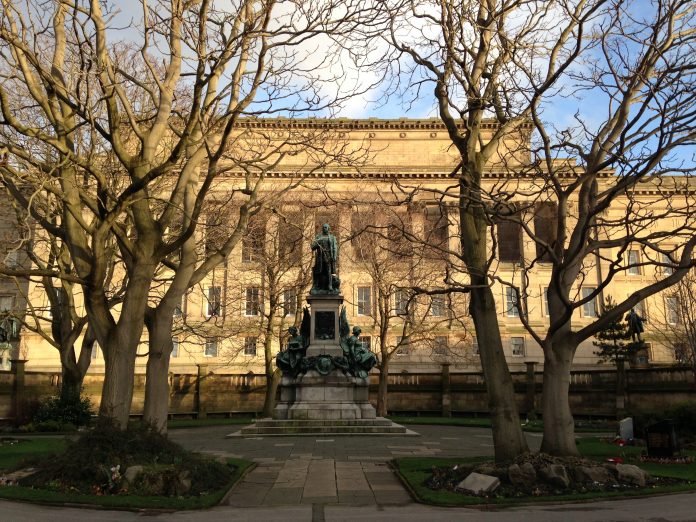 Close by is Liverpool Central Library, The Walker Art Gallery and the World Museum, three more beautiful buildings!
Be sure to head down to the Pier Head and take in the Three Graces – The Royal Liver Building, The Cunard Building and the Port of Liverpool Building.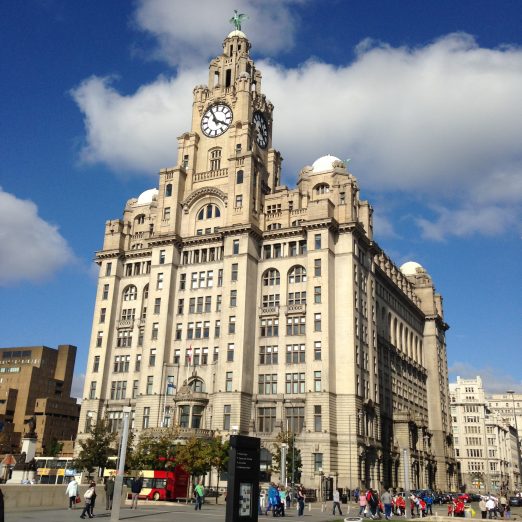 If you have access to a car, take a little drive along the dock road where you'll see the old warehouses. Some have been refurbished, some haven't, they're an interesting sight. Also go and see the Town Hall, it's really pretty.
At the opposite end of the scale, we have the Radio City Tower, an unusual, modern structure! You can't miss it. If you like Georgian architecture, you're in for a treat. Liverpool has some well-preserved streets. Try areas around Rodney Street, Mount Pleasant, around the cathedrals and towards Toxteth.
Just outside the city, is Speke Hall, dating back to the 1500's, it looks like somewhere Mr Shakespeare might have frequented. Visiting here is a lovely way to spend a few hours.
To be honest, wherever you go in the city, you're in for a treat. Just wander and enjoy!
15. The Skyline
And of course, all these beautiful building create the Liverpool skyline. One of the most recognisable skylines in the world. The best way to get a good view is to take trip on a 'Ferry 'Cross the Mersey' (and they do play the song on the ferry – or they did last time I went on it)! Another option, is to get the train from either Lime Street, Moorfields, Liverpool Central or James Street station to Birkenhead Central on the Wirral, then a quick change to Hamilton Square. It's just a few minutes walk to the seafront from there.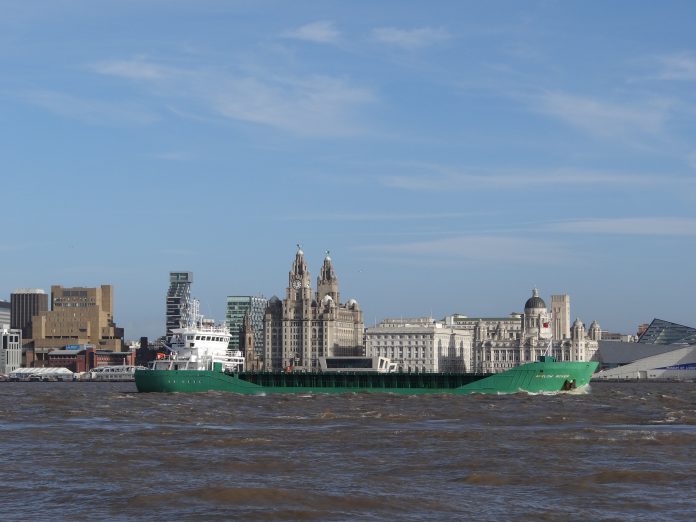 16. The Museums
Liverpool has a long and interesting history, so it's not surprising that there are museums in abundance. There's the Merseyside Maritime Museum, the Victoria Gallery and Museum and the Museum of Liverpool.
But probably the most interesting and poignant museum for me is the International Slavery Museum, which focuses on the transatlantic slave trade. A very high number of slaves passed through Liverpool and many of the East African who came here, were forced onto ships in Bagamoyo, (where I lived in Tanzania) before going to Zanzibar and then onward to Europe and the Americas. Knowing so many local wonderful people from Bagamoyo today, I can't even begin to imagine what the world was like in those times and the horrendous things the people went through.
17. The Maritime Connection
No trip to Liverpool would be complete without a trip to The Albert Dock.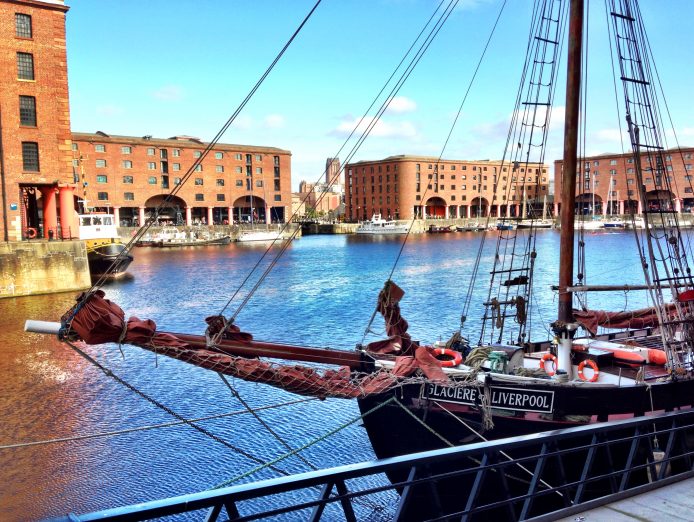 The docks are massively significant in the history of Liverpool, integral in the rise of the city, bombed during WW2, derelict for years, before being restored in the 1980's. The most famous dock, the Albert Dock now houses many of the above mentioned activities like the Maritime Museum, International Slavery Museum, Tate Gallery and a few activities about some band from the 60's. There's tons of bars, restaurants and shops and nearby is The Wheel of Liverpool. You can also take an Old Dock Tour. I haven't done it yet, but people rave about it!
18. The River Mersey
So much of what Liverpool is, was and is yet to become is shaped by the River Mersey, so I think it's very important to mention her here! Inevitably, at some point during your stay, you'll find yourself at the waters edge. Take a moment to just stand and think about what this river must have witnessed over the years, and to appreciate this wonderful city in all her glory.
Liverpool, I am so proud to call you home.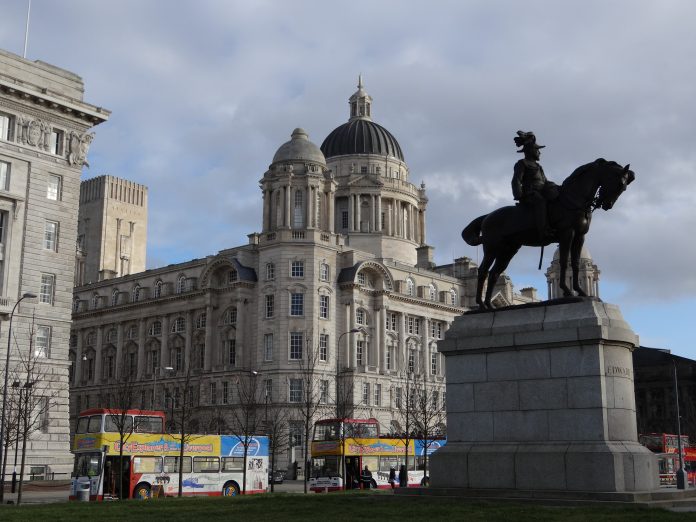 Would you like to visit Liverpool? Have you been already? I'd love to know your thoughts!