Last updated on November 5th, 2018 at 01:05 am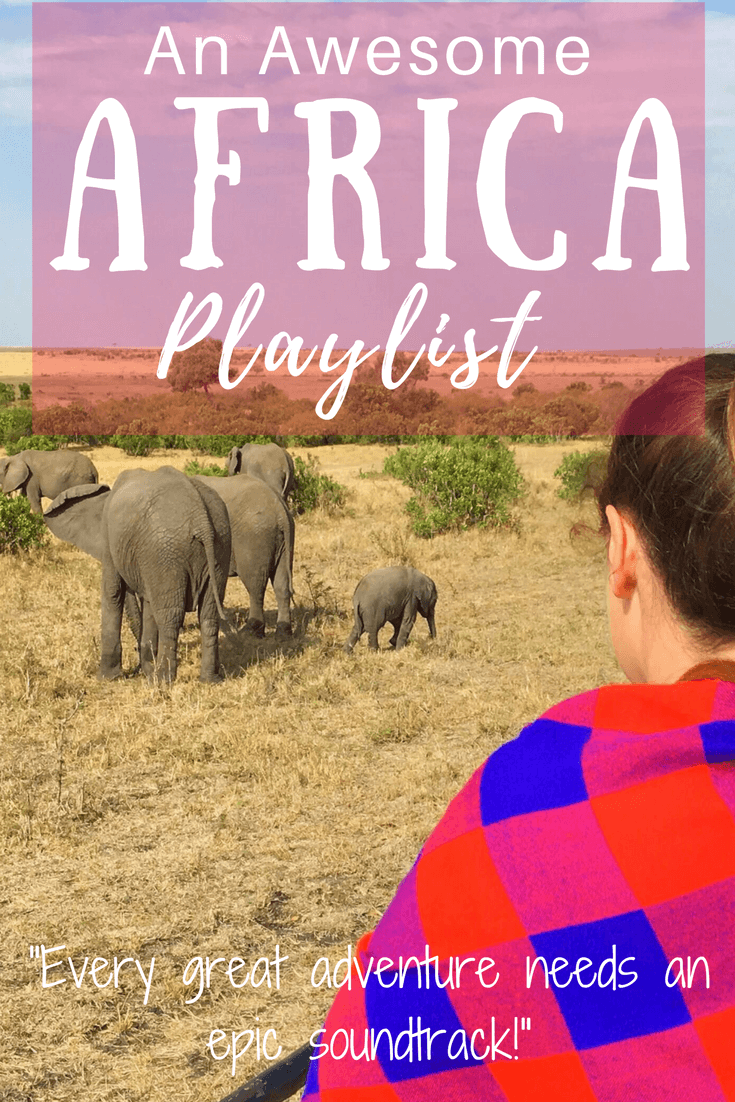 Just like in the movies, every great adventure needs an epic soundtrack, so I created an Africa playlist!
Music always plays such a big part in my trips to Africa because music is such a big part of Africa. Music has always been a big part of my life too. And believe me, whether you are on an African road trip, or overlanding or just backpacking around, you'll be popular if you have all these songs on your playlist!
This Africa playlist is a mix of current and classic African songs, songs that are currently popular in Africa (like Enrique, not about Africa, but you always hear his songs in the clubs) and songs about Africa. Either way, they're all songs that remind me of Africa!
But this list is far from complete so if you have any suggestions, please write them in the comments below so I can add them to the playlist on Spotify. I definitely need some more female artists on the list!

Fall – Davido
This is my absolute favourite song of the year, sung by Nigerian artist Davido. I pretty much listened to this song on repeat all around Africa this year (I'm actually listening to it now as I'm writing this post). One of the lyrics is "Banana fall on you" – what's not to love?
He just won Best African Artist at the EMA's this year too!

Chop My Money (I Don't Care) – P-Square (feat. MayD)
I love this song by Nigerian artist P-Square. Whenever this comes on I can't help but do the dance! For the record, I much prefer the original to the Akon remix. Watch the club go wild when this comes on!

Despacito (Remix) – Luis Fonsi & Daddy Yankee (feat. Justin Bieber)
I'm sorry, I'm sorry, but this song is HUGE in Africa right now so it wouldn't be right to leave it off the list and actually, I bloody LOVE Despacito. Judge me all you want – I don't care! And secretly we all know you love it too.

Ed Sheeran – Shape of You
Hearing Ed Sheeran played in a club in Arusha for the first time earlier this year, I was surprised. I thought maybe it was a one off, but no, it's played all the time! Everywhere! I saw Ed Sheeran play live at Glastonbury this year, but this song will always remind me of Africa.

Bruk Off Yuh Back – Konshens
The first bit of the video is a bit weird (hence why I skipped it) but I love the song! It always gets me in the party mood! Perfect to twerk (or attempt to twerk) to.

Unforgettable – French Montana (feat. Swae Lee)
Filmed in Kampala, Uganda, the video for this song is incredible and features a local dance group called Triplets Ghetto Kids.
When filming the video, French visited a small rural clinic called the Suubi Health Center and since returning back to the US, he has partnered with Global Citizen and Mama Hope, to create the #Unforgettable HealthcareCampaign, which has raised over $200,000 to rebuild and improve the healthcare centre.

Love You Die – Pantoranking (feat. Diamond Platnumz)
This played everywhere in Tanzania! It's a very addictive song that gets inside your head. You will end up singing "I love you my baby, I love you my baby" over and over!

Africa – Toto
Probably my favourite song of all time!
If you know the lyrics of this song, you'll remember the line "She's coming in 12.30 flight".
Well, the first time I flew into Africa, into Livingstone, Zambia to be exact, my flight landed at 12.30. I think it was a sign.
I often wonder if I would still love this song as much if it wasn't about Africa. I guess we'll never know… "I bless the rains down in Aaaafricaaaaaaaaa!"

Don't You Need Somebody – RedOne (feat. Enrique Iglesias, R.City, Serayah & Shaggy)
Such a good anthem song, popular in the clubs!

Hakuna Matata – Nathan Lane, Ernie Sabella, Jason Weaver (Lion King)
"Hakuna matata, what a wonderful phrase!" This song never fails to lift the spirits!
And not everyone realises it, but "hakuna matata" literally means "no worries" in Swahili. I use that phrase all the time when I'm there. "Hakuna shida" means 'no problem' I used that a lot too!

One More Night – Busy Signal
A super chilled, reggae cover version of the Phil Collins song. I'd often hear this playing in the background at hostels and restaurants or on the playlists of friends.

Pata Pata – Miriam Makeba
Miriam Makeba, Mama Africa. One of the greatest (if not the greatest), best known and best loved voices in African music. This song is Africa to me. Listen to all of her songs!

Circle of Life – Carmen Twillie & Lebo M (Lion King).
What kind of Africa playlist would this be if it didn't include Circle of Life! I love putting this on when I'm on safari, it just makes it seem that little bit more magical!

Who Knows – Protoje (feat. Chronixx)
Another great chilled out song from Jamaican singer Protoje. Reggae music is huge in Africa so it's no surprise that you'll hear this often.

Eneka – Diamond Platnumz
Diamond Platnumz is a popular Tanzanian artist. This song has the same beat as Davido Fall, but with a different tune! Popular in the clubs right now.

If – Davido
Another one from my favourite current African singer, Davido.

Buffalo Soldier – Bob Marley
I could put every Bob Marley song on the list, but I'll just leave it to Buffalo Soldier for now to stop this list getting too long, but I'll more to the Spotify playlist!

Seduce Me – Alikiba
The club always goes crazy when this song comes on! You can expect lots of heartfelt singing and hand gestures!

Waka Waka – Shakira
What kind of Africa playlist would this be if it didn't include Shakira's Waka Waka.
Although did you know, this wasn't the original? The chorus of Waka Waka is based on a song called Zangalewa by Cameroonian band, Golden Sounds! Have a listen to the original here.

Antenna – Fuse ODG (feat. Wyclef Jean)
"African lady you know that you drive me crazy!" (or something to that effect). Always a fun song and great to dance to!

S̼beme La Radio РEnrique Iglesias (feat. Descemer Bueno, Zion & Lennox)
Reggaeton is also huge in Africa so this was one of the songs that I would hear played often this summer!

Swalla – Jason Derulo (feat. Nicky Minaj & Ty Dolla $ign)
I couldn't go anywhere without hearing this song! Lots of shakin' what your mama gave ya to this song!
Shimmy shimmy yay, shimmy yay, shimmy ya (drank)
Swalla-la-la (drank)
Swalla-la-la (swalla-la-la)
Swalla-la-la

Makeba – Jain
I saw Jain performing live at Glastonbury this year and she was awesome. The track is named after Mama Africa herself, Miriam Makeba.
This is one of my favourite music videos of all time. So clever.

There Will be Time – Mumford & Sons & Baaba Maal
Beautiful and haunting song by Mumford and song featuring Sengalese artist Baaba Maal. love this live in South Africa video. I've seen these guys live too and they are incredible!
More collabs like this please!

Mungadzalangidwe – Black Missionaries
The Black Missionaries are one of Malawi's biggest bands. Â I saw these guys a few weeks ago at the Sand Festival in Senga Bay on Lake Malawi. We danced to their music all night long and it was light when they finished!

Bailando – Enrique Iglesias (feat. Descemer Bueno & Gente de Zona)
Enrique is super popular in Africa and you'll often hear his music (I also love his music).
I was in a club in Stone Town, Zanzibar one night and there was this guy with headphones in dancing around. We asked him why he was listening to his own music in the club. He replied "Do you know Enrique?" Yes we told him. He stopped and looked at us, "But do you KNOW Enrique?"
That was the only answer we could get. I guess he just really likes Enrique!

Jambo Bwana  – Safari Sound Band
Probably the cheesiest song on the list, but if you go to East Africa you will undoubtedly hear this popular Swahili song! if fact even if you haven't been, chances are you've heard this one!
Depending where you are, people will often substitute 'Kenya' for the relevant place – 'Tanzania/Kilimanjaro/Zanzibar'.
After hearing their other song 'Coconut' one of my Tanzania groups used to sing it ALL THE TIME!

Kasongo – Afrigo Band
This is a great song from the film The Last King of Scotland!

Bad Boy – Fally Ipupa (feat. Aya Nakamura)
Fally Ipupa is probably the biggest artist in Congo right now and this song will just want to make you get up and dance.

Kaokokokorobo – Papa Wemba
Papa Wemba is a Congolese legend. They make some amazing music in Congo, hey?

Diamonds on the Soles of Her Shoes – Paul Simon
(feat. Ladysmith Black Mambazo)
From his critically acclaimed album, Graceland, this is my favourite track on the album. I also love them singing 'I Know What I Know' together.

The Lion Sleeps Tonight – The Tokens
A-weema-weh, a-weema-weh, a-weema-weh, a-weema-weh!

Karolina – Awilo Longomba
Awilo Longomba is another super popular Congolese artist. I saw him at Sand Festival in Malawi and he really got the crowd going!

African Queen – 2Face Idibia
I love this song! I heard an awesome version of it in Nairobi, by local singer Elvis. He mashed it up with Sweat (A La La La La Long) and it was awesome.
He also mixed P-Square's Chop My Money with Coldplay's Sky Full of Stars which was even more awesome.

7 Seconds – Youssou N'Dour (feat. Neneh Cherry)
I loved this song when it came out when I was 16 (showing my age now) and I still love it now. I love Youssou N'Dour's voice!

Nomathemba – Ladysmith Black Mambazo
And last but by no means least, the incredible voices of Ladysmith Black Mambazo.
Probably the most influential music groups in African history. Nelson Mandela himself called them "South Africa's cultural ambassadors" and they accompanied him to accept his Nobel Peace Prize in Norway in 1993 and sang at his inauguration in 1994. 
New Editions
Below are some of the some of the songs I missed from my original post but are awesome and definitely need a place on your playlist!
* Particula (feat. Nasty C, Ice Prince, Patoranking & Jidenna) – Major Lazor & DJ Maphorisa
* Try Me (feat. Jennifer Lopez & Matoma) – Jason Derulo
* Muziki (feat. Ben Pol) – Darassa
* Live and Die in Afrika – Sauti Sol
* Let's Do It Again – J Boog
* Kamatia – Navy Kenzo
* Melanin (feat. Patoranking) – Sauti Sol
* Watori Mari – Jah Prayzah & The 3rd Generation Band
* Pana – Tekno
---
Have a listen on Spotify!
Or SoundCloud!
What songs would you add to the list? Leave them in the comments below! 

Want to come on an incredible African adventure in 2018 or 2019?
If you want to go backpacking with an awesome group of likeminded travellers, then join one of my 2018 or 2019 Rock My Adventure small group tours to Namibia, Kenya, Tanzania & Zanzibar, Uganda, Rwanda & the DRC, Zambia, Botswana & Malawi and Morocco! 
I will show you a different side of Africa. Not the Africa you see in the media, but the colourful, adventurous, wild and real Africa I know and love.
Rock My Adventure tours are experiential and culturally immersive adventures, but without the hassle of having to find accommodation, working out how to get from A to B and booking all your own activities.
They are laid-back and fun, a bit like an independent backpacking trip (so it doesn't feel like a tour) but with a group of friends built in "" the best of both worlds! Plus you get comprehensive pre-departure support and advice from me!