Driving Iceland's ring road has to be one of the greatest road trips in the world.
Having done it myself recently – I can confirm, it's awesome. What you will find is beautiful scenery, friendly people, interesting culture, sometimes challenging conditions and lots of adventure.
I travelled with one of my best friends, Kate, who I met overlanding in Africa in 2009. We hired a campervan from Go Campers, who I would highly recommend, as we wanted the freedom to travel as and when we pleased.
We spent 8 full days in Iceland in late October, with 1 day in Reykjavik, 1 day in the Golden Circle and 6 days driving Iceland's Route 1 (the ring road). During that time, Iceland quickly became one of my favourite countries in the whole world.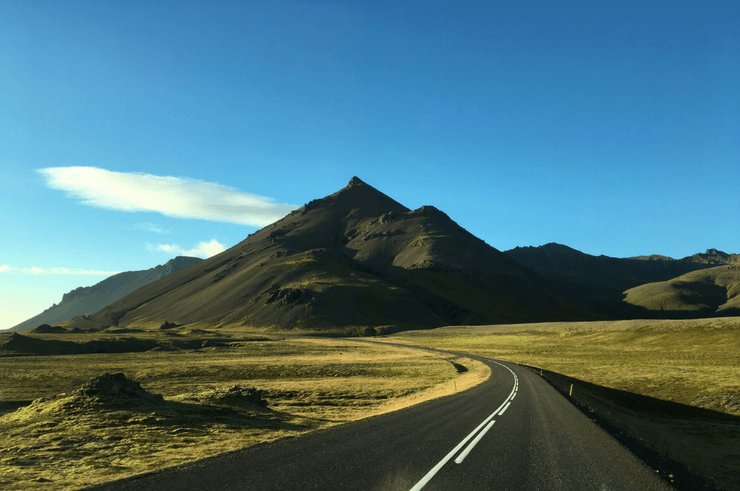 The great thing about travelling in October, is that there's an almost equal amount of day and night, so you can see a lot in a day, but also have a good chance of seeing the aurora borealis (the northern lights) by night.
We had planned to go anti-clockwise around the ring road, but we actually went clockwise after checking the the aurora forecast, which you can see on the Icelandic Met Office website (the white parts are the clear sky, where you are most likely to see aurora activity and the green part is cloud cover), so our plan effectively went out the window.
But, we did pretty much see all of the places we wanted to see (and a few new ones), albeit at different times of day than we might have if we had gone the other way.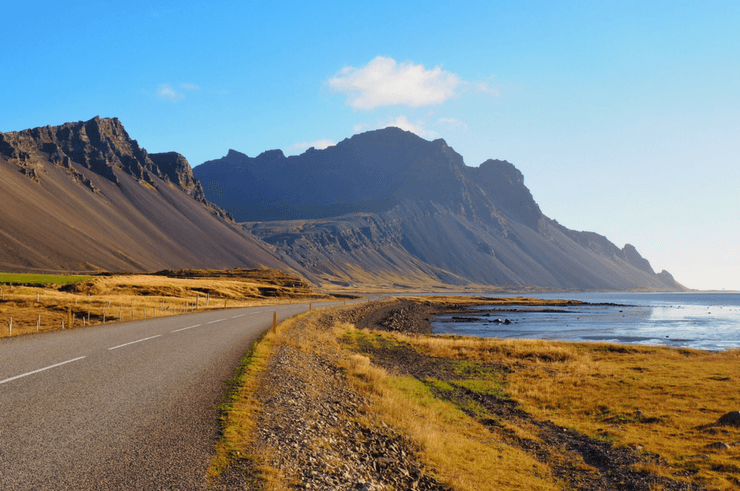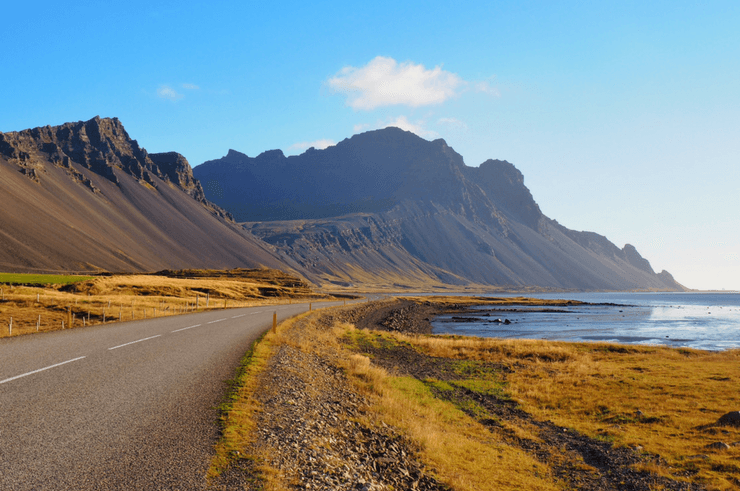 You see, the thing about driving Iceland's ring road, is that it's good to have a plan, but it's even better if you can be flexible, especially if seeing the northern lights is your priority. This is one of the reasons why hiring a campervan is such a great option, because you can go where the northern lights takes you! But if you are hiring a car and staying in hotels, don't worry, it will still be amazing!
My biggest advice is a) not to rush the ring road – a week isn't really enough to do and see everything and b) don't fret at the fact that you can't do it all in the time you have. Driving the entire ring road and doing all the activities there are is pretty much impossible unless you have weeks and weeks (and a lot of money). The free scenery (waterfalls, mountains, glaciers) and hiking will keep you entertained.
So with all that in mind, here's my Iceland ring road itinerary, with pictures, tips and activity ideas to help you plan your own perfect Iceland road trip!
You can easily reverse or adjust based on the time of year you travel and the number of days you have!
Just for the record – we did a spot of 'wild camping' in Iceland. And when I say wild camping, I mean we slept at a rest stop and a couple of car parks. There's conflicting info on the internet about what's legal and what's not, but I believe that the law changed in 2016 and it is now illegal to camp anywhere in a campervan other than a proper campsite. It used to be ok, but apparently not now. We found this out after our trip. Oops – sorry Iceland – please let me back in!!!
Ask your campervan company for a campsite map. Just note that not all campsites are open in winter (some companies have specific winter campsite maps) however, I believe you can stay at most campsites and use the facilities, even if they are technically closed.
Another useful resource, is the Visit Iceland website, which has an interactive map of all campsites including the Summer Campsites and the All Year/Winter Campsites (although I don't think this has all of them on yet though as I spotted a couple missing).
Day 1: Reykjavik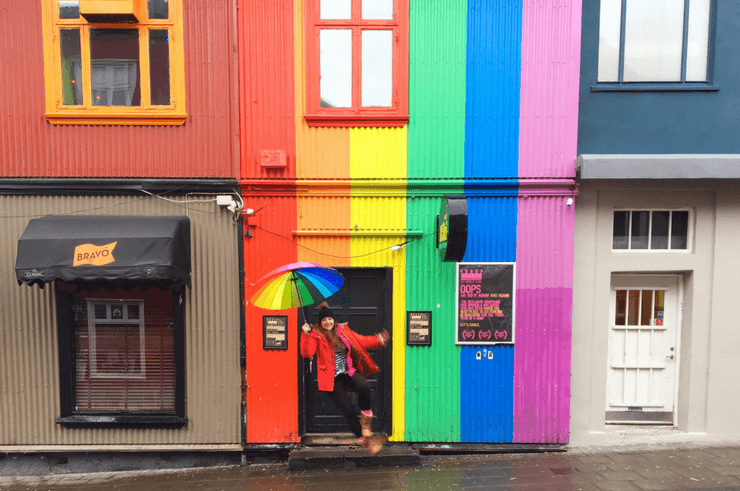 We spent a day exploring Iceland's quirky and colourful capital, Reykjavik.
I started our first morning with a cinnamon and apple pastry from the delightful Brauð & Co, whilst my friend Kate went to run a marathon (yes really) and I'd encourage you do the same – Brauð & Co that is, not the marathon. The queue is worth it. Then grab a coffee from Reykjavik Roasters, just down the road.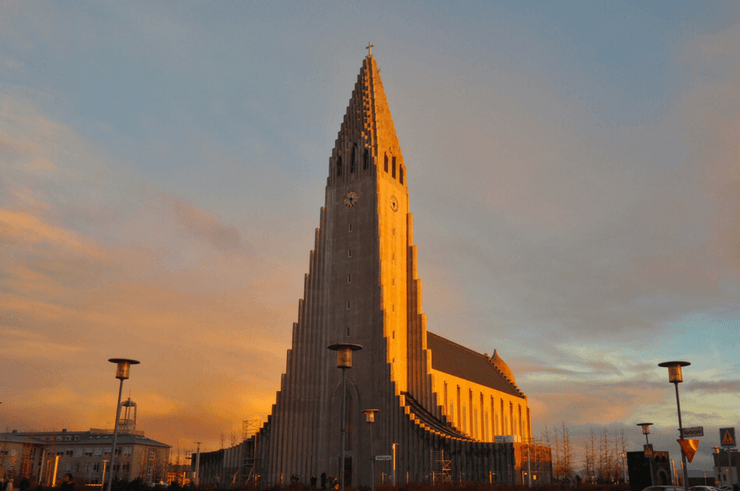 Next, head up the road to the impressive Hallgrímskirkja, the most famous church in Reykjavik where you can go up to the top and get an amazing view over the whole of the city. It's open until 9pm in the summer months, but only 5pm in the winter. Sadly, we arrived at the end of the day and missed it, but hopefully I can help you avoid the same mistake!
Enjoy a little wander down Laugavegur, the main street that runs through the heart of the city and take in all the street art and do a bit of shopping.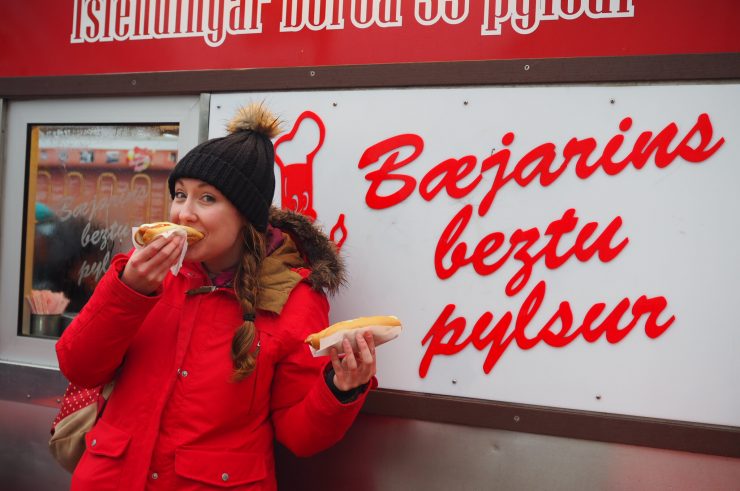 In the afternoon, I highly recommend joining the Reykjavik Food Walk like we did, getting a great tour of the city whilst trying 13 of the best local cuisines (more on the tour coming soon) in 6 of the city's best eateries. It was a wonderful way to spend a few hours and by the end of it, I was absolutely stuffed (and well informed) so didn't need to eat for the rest of the night!
From there we went down to the Sun Voyager sculpture at the waterfront for sunset.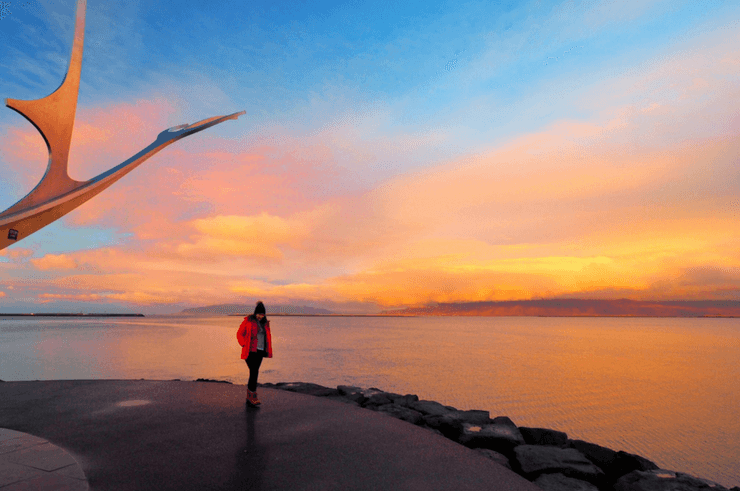 Next we headed over to the Harpa Concert Hall to have a look around and watched the famous one man show, 'How to Become Icelandic in 60 Minutes', which is a great introduction to the history and quirks of this fascinating island.
Then you can finish off your night with a bite to eat or a drink in one (or 5) of Reykjavik's many restaurants or bars. Just don't forget to book if there's a specific restaurant you want to go to, as many get booked up in the evenings, especially in the high season.
Alternatively, if you have a few days in Reykjavik, you could always book yourself onto a northern lights tour. If you don't see them the first night, most operators will take you the next night.
Day 2: Hraunfosser, Barnafoss & the Snæfellsnes Peninsular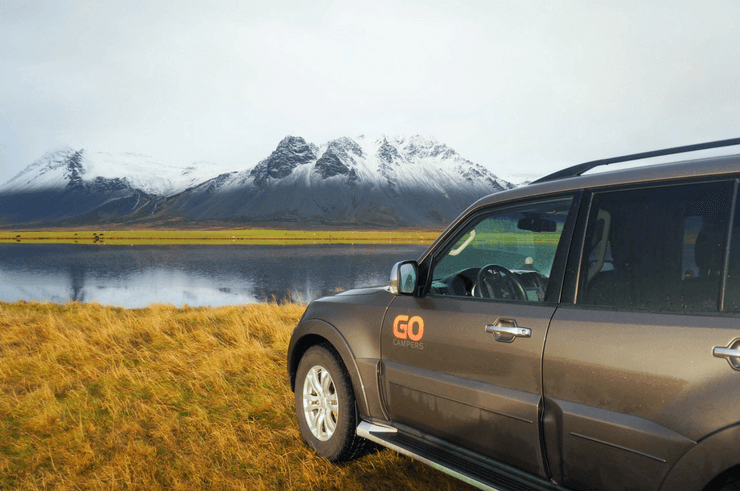 By the time that we'd picked up our camper van, stocked up on food and I'd taken Kate for breakfast at Brauð & Co as she'd missed it the previous day, it was almost midday.
Before we left the GO Campers office, we did a quick check of the aurora forecast and it looked as though there would be clear skies over the Snæfellsnes Peninsular that night and around Hvitsekur the following night, so we completely scrapped our plans to go south and headed north instead, taking a detour towards Hraunfosser and Barnafoss, where we had our first glimpse of the waterfalls Iceland is so famous for.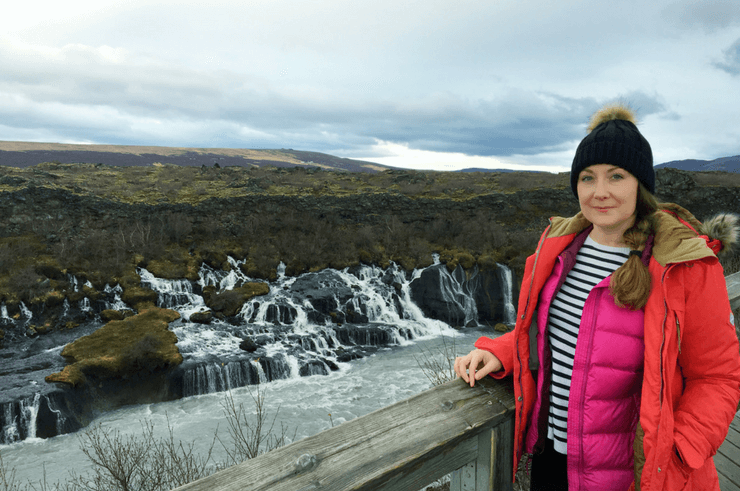 But our main aim was to get near to Kirkjufellsfoss, Iceland's most iconic waterfall, so that we could try and see the northern lights there. Not realising wild camping was illegal, we parked up in the car park at the falls (there were other vans there that would come and go throughout the night), setting our alarm for various points hoping to see the auroras do their thing, but the rain wasn't letting up so we didn't see anything sadly.
Day 3: Kirkjufellsfoss, Djúpalónssandur, Hellnar & Arnarstapi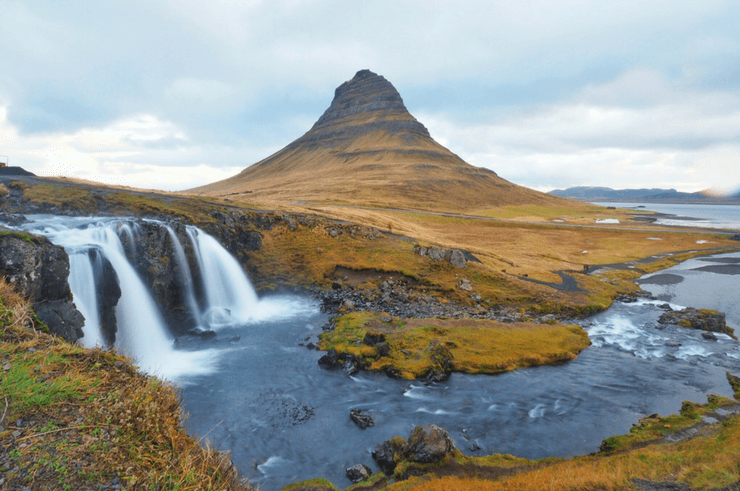 In the morning, we walked upwards and over the waterfall to get the famous picture you see above! At the top there were lots of photographers with their tripods ready. The rain held off for around 15 minutes, just enough time for me to get a couple of good shots before the heavens opened again.
After a quick freshen up, grocery shop and gas top up in Grundarfjörður, we were back on the road, heading further along the peninsular, through Snæfellsjökull National Park, stopping to take pictures or have a little walk whenever we felt like it. We were in no particular rush today.
We stopped at Djúpalónssandur, one of Iceland's famous black sand beaches and got out at Hellnar to have a little walk along the coastal path that leads between here and Arnastapi. It was in Hellnar when I discovered just how expensive Iceland could be, finding a bowl of 'Icelandic Lamb Soup' for 2500 ISK at Primus Cafe. That's £18. Wow!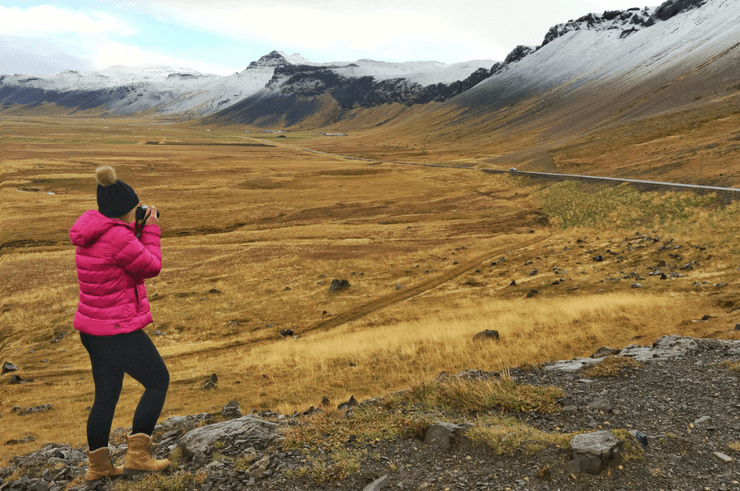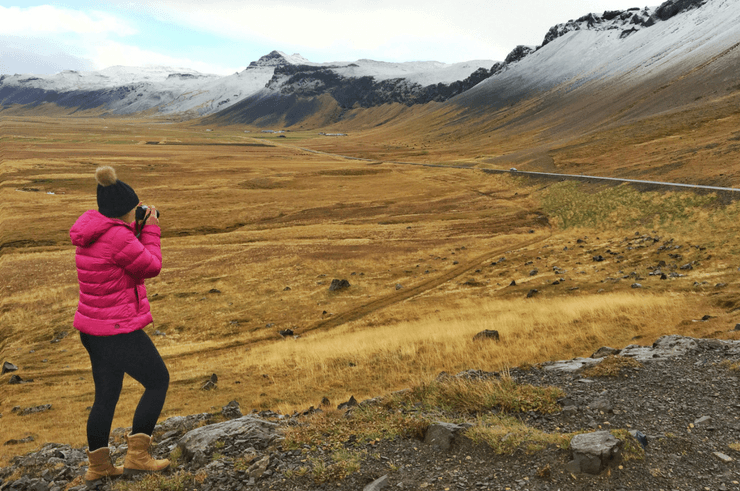 Heading out of the peninsular, we had a longish drive to Hvítserkur where we had planned to spend the night. It was starting to get dark again, but we were on northern lights watch so we didn't mind, knowing that a bit of night driving would give us a good opportunity to spot them. We turned off the ring road and travelled down a dirt path for quite a while before coming to the Hvítserkur car park where there were another couple of cars.
We still didn't know that staying in the car park was illegal and it was dark, late, really windy, we were in the middle of nowhere and the aurora forecast was good, so we just decided to get some sleep there, setting the alarm at intervals again, hoping to see the lights dance across the sky.
However we didn't see them this time either.
Day 4: Hvítserkur, Akureyri, Goðafoss & Lake Mývatn
As soon as it started to get light, we wrapped up warm and headed down to walk on the beach at Hvítserkur to take advantage of the blue hour light. We hadn't been able to see anything of the beach the night before, but this morning, it was stunning.
There is a viewing platform, but if you're able, it's a little scramble down the rocks to the beach and we had it all to ourselves, save for another couple who just took a couple of photos before heading back up. It was one of those perfect, fresh Icelandic mornings – cold, but not rainy or windy.
Next we headed towards Akureyri, Iceland's 2nd biggest city to have a little look around. Akureyri is a nice place with cute little shops and lovely people. One lady even stopped us in the street to ask us some questions for her blog about the town.
We decided to spend the night here and spent the rest of the day drinking hot chocolate, eating, shopping for supplies and planning the rest of our trip.
Day 5: Whale Watching in Húsavík, Ásbyrgi Canyon & Dettifoss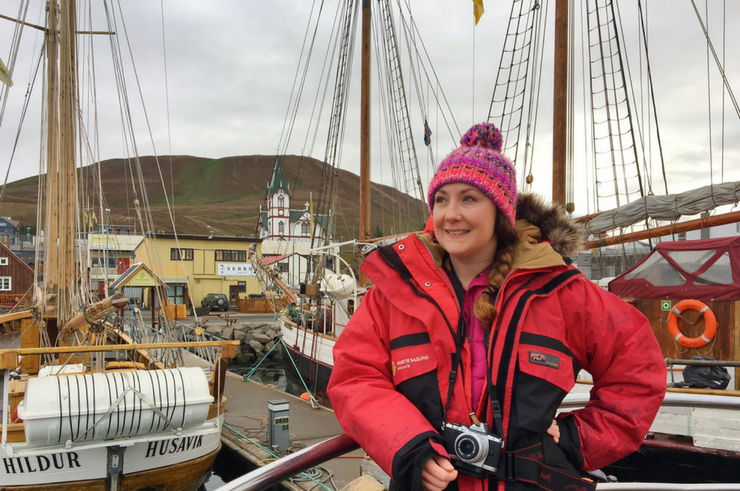 Get up early and visit Godafoss if you haven't already or head straight to Húsavík for a spot of whale watching!
We went with North Sailing, who do a few whale watching trips throughout the day from March to November. The trip takes around 3 hours and is amazing. Even if you don't see any whales, the view from the bay is spectacular, but luckily for us, we saw 6 humpback whales and a couple of them were right next to the boat, literally within a few metres! My friend Kate said it was (and I quote) "the best day of my life"!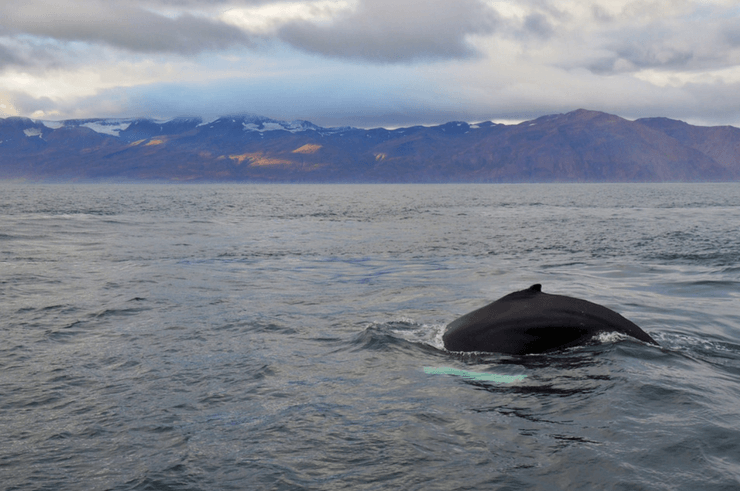 And to top it off, they give you delicious hot chocolate and a cinnamon bun on your way back to the harbour.
From there we took a brief detour to Ásbyrgi  Canyon, where we went for a hike around inside the canyon. We had decided to do a bit of night driving that evening and wanted to see Dettifoss waterfall before dark, so we only stayed an hour or so before moving on but if you have time, I'd definitely recommend hiking to the top as the pictures look incredible.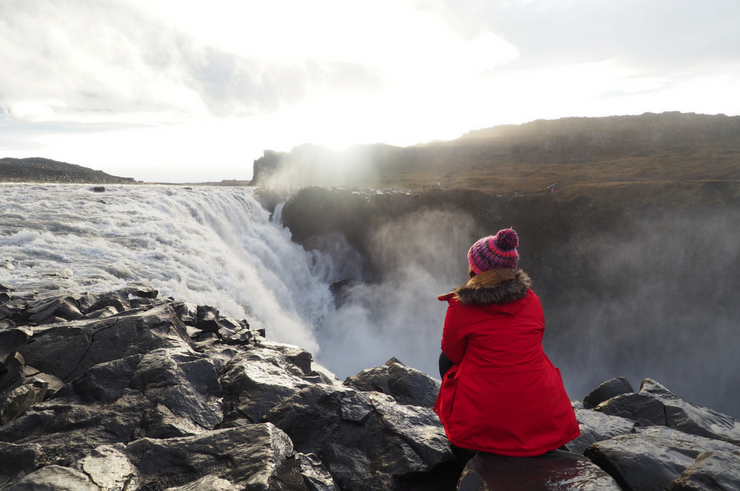 Arriving at Dettifoss, the sun was low in the sky, but we still got to spend a good hour or so at the waterfall, admiring the sheer force of nature before us.
A bit further on, we pulled off the road at one point and found an amazing pile of earth that was the perfect place to take photos against the amazing sunset. It was the first sun we'd seen in days and the skies were pretty clear so we both had high hopes of seeing the northern lights tonight.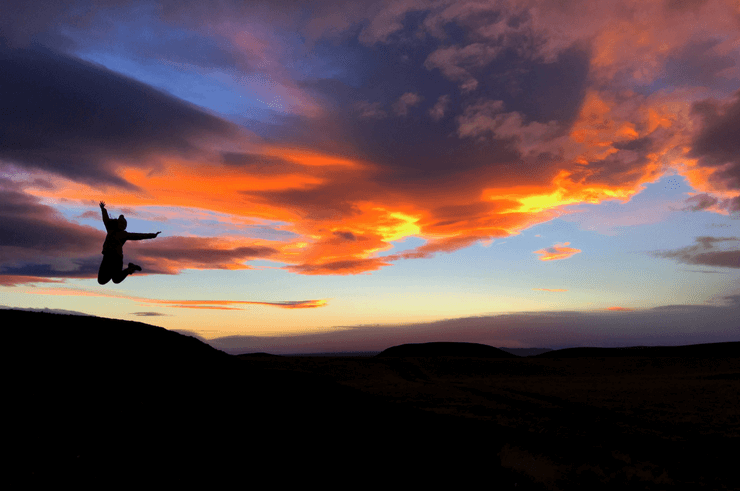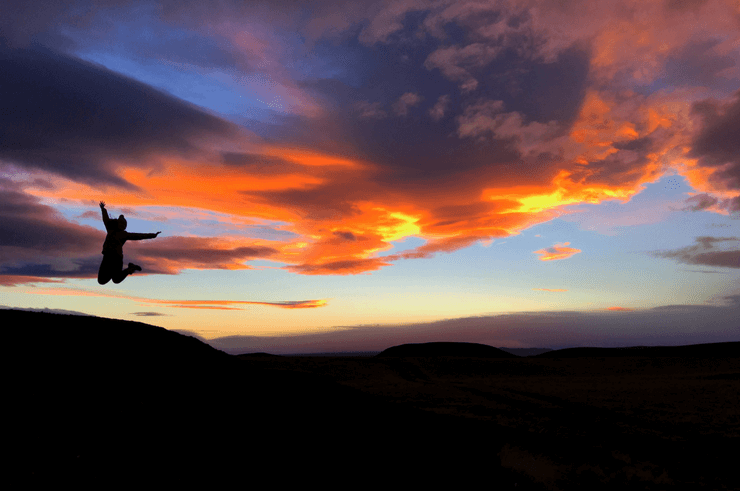 We continued driving towards the East Fjords. Somewhere between Dettifoss and Egilssta̡ir, on the Fjar̡arhei̡i Pass (no idea exactly where we were or how to pronounce any of those places), we noticed that the sky was completely clear. We were in the middle of nowhere, it was pitch black and we could see the stars РPERFECT northern lights conditions. So we pulled into a rest stop and waited. I prepared my tripod and camera and sat in my clothes.
After about an hour, I noticed some faint light on the horizon. I thought it was maybe some light from the sunset, but as Kate pointed out, the sun had set hours ago. I stuck my head out of the car window and looked directly above us, and there was a thin, long, pale grey 'cloud', a bit like an airplane jet stream.
I kept my eyes fixed skyward and watched as the 'clouds' started to move. Oh my God, it was the northern nights. As they had been very pale initially, we hadn't even realised what we were looking at really, until they started to dance across the sky. I think both of us had been expecting them to be bright green, but in reality, the auroras can form in many different colours and are a lot paler than they appear on photographs.
I scrambled to get out of the car and braved winds to try and take a photo but I didn't quite manage it, not able to get my camera to focus. This was my best effort.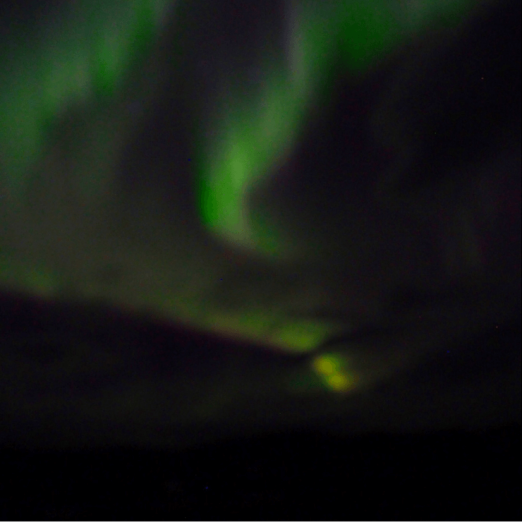 After a while I gave up, got back in the car and just watched the spectacle. It was one of those moments I'll never forget. The northern lights are breathtaking, ethereal and pretty spooky (when you're alone in the middle of nowhere they are anyway), reminding me of my very small place on the this big planet, within this gigantic universe.
Day 6: The East Fjords, Jokulsarlon Glacial Lagoon & Vik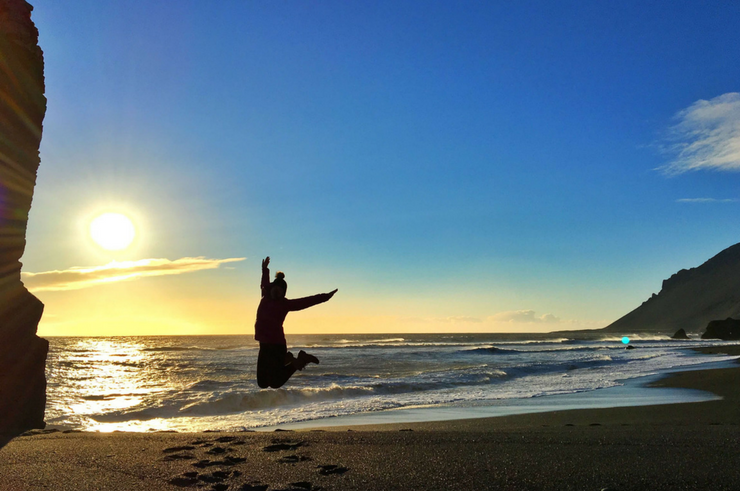 We got up at around 5am and set off driving south in the dark, hoping to see more of the northern lights and in an attempt to make it down to the south coast as soon as possible so that we could see everything we wanted to see.
When researching our trip, we didn't find that much on the East Fjords and so had planned to rush through it on our original itinerary, but as soon as it got light, it was clear that we wouldn't be rushing. They were absolutely stunning and we ended up stopping to take photos every few minutes. Our favourite place was a black sand beach, which I think is called Djúpavogshreppur – or at least somewhere near there. We spent quite a bit of time here just enjoying the tranquility.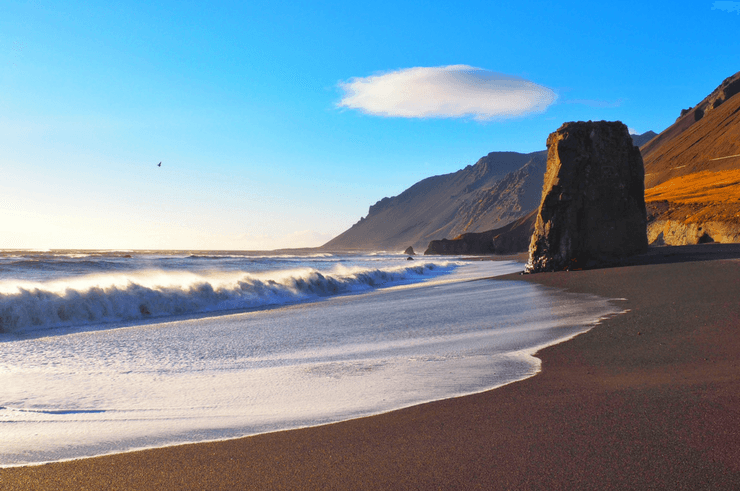 Visually, the East Fjords were actually my favourite part of Iceland and I wish we'd had a bit more time there. I will definitely return – perhaps in the summer when I can do a bit of hiking.
We bypassed the town of Höfn and headed for Jökulsárlón Glacier Lagoon, which lies at the bottom of Breiðamerkurjökull, a huge glacier which lies just off the ring road. It's a beautiful and very cool place. We had originally planned to stay here and do a boat tour, but as we'd gotten up really early and had a few hours of daylight left, we decided to continue onwards and stay near to Vik.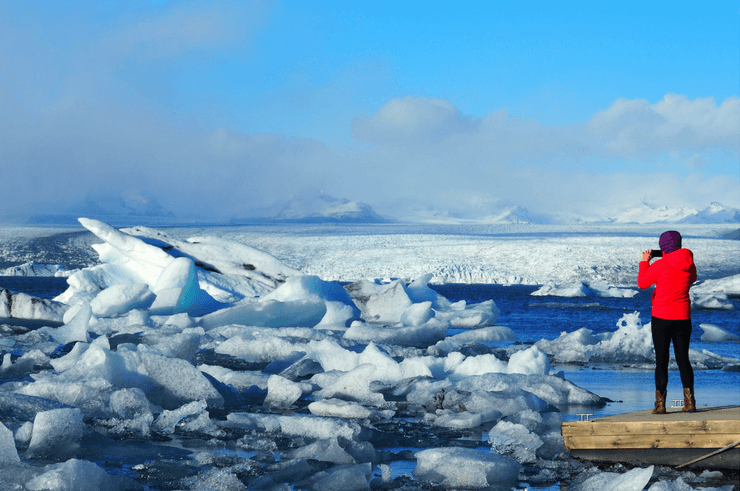 Unfortunately, by the time we arrived at Vik, dark storm clouds had moved in above us, it was pouring with rain, getting dark and we were exhausted from the long drive day. So we abandoned our plans to camp and tried to book into the local hostel but it was full, so made an executive decision to skip the area (sorry Vik) and booked into a hostel at Skogafoss waterfall a bit further along the ring road. We loved our camper, but were ready for a little break (and a bed).
I was bit sad that we didn't see Vik, the beach at Reynisfjara and Dyrhólaey Arch and a few of the other cool places along the south coast. I really want to go ice caving around Vatnajökull, see Svartifoss waterfall and hike at Fjaðrárgljúfur, Þórsmörk or Landmannalaugar, but there just wasn't the time. We figured that this part of Iceland is so accessible from Reykjavik and it's only a short flight from the UK, so we would come back again.
And had we done it the other way round, we may have had to rush some of the other parts of Iceland that I absolutely loved – so, c'est la vie.
Day 7: Skógafoss, Seljalandsfoss and the Golden Circle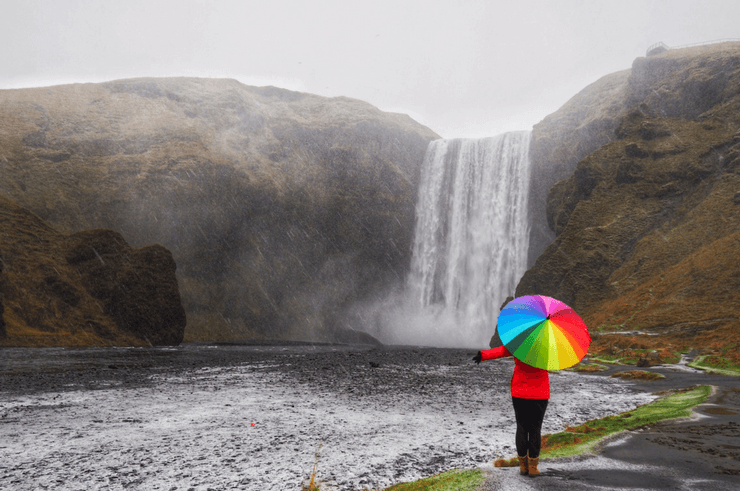 Feeling refreshed and smelling good, we didn't have far to go to our first stop, Skógafoss, an impressive sight! Just after we arrived, a couple of bus loads of people arrived making this by far the busiest waterfall we'd been to and it was a stark reminder that we were close to Reykjavik again and this amazing trip was coming to an end.
The weather was still a bit crappy, so my rainbow umbrella got another outing. It also proved useful as a windbreak as we walked to the top, shielding us from the icy breeze. But by the time we came back down, the sun was shining!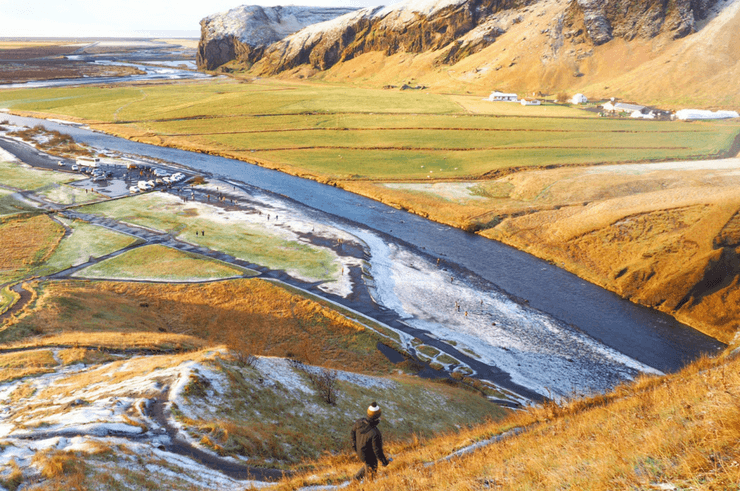 In between Skógafoss and our next waterfall, Seljalandsfoss there is a swimming pool called, Seljavallalaug. This is one of the oldest, best and free hot pools in all of Iceland, so if you haven't spent the night in a hostel like I did, this would be a great place to go and freshen up (just make sure you shower before you get in the pool)! 🙂
Seljalandsfoss is another impressive waterfall that you can walk underneath – the umbrella was extremely useful here too and a few people commented on it. Sunrise here is meant to be pretty spectacular (if the sun is out) so a lot of people camp near here.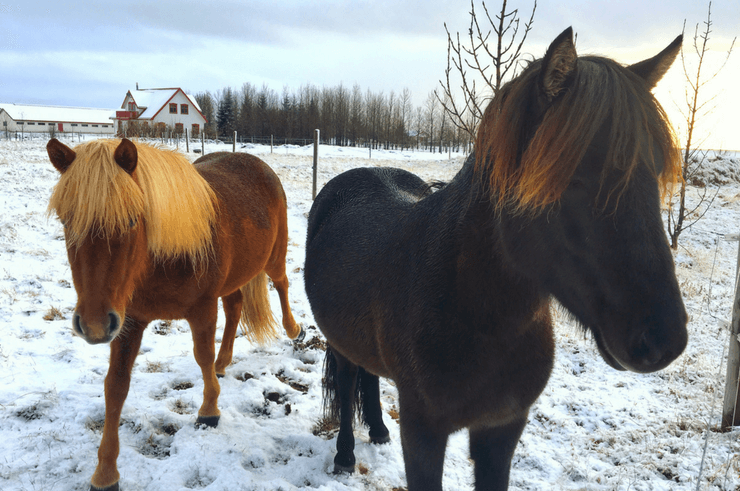 From here, we kind of took it easy, meandering our way around the Golden Circle, getting out to pet the Icelandic horses. It had snowed so the driving was a bit slow going, although the sun was now shining, creating a perfect winter wonderland.
First we went to Kerið Crater Lake, then Bruarfoss waterfall and then to Geysir, where we watched the spectacle of the geothermal springs erupting every few minutes. The crowd whooped as the hot water shot into the air.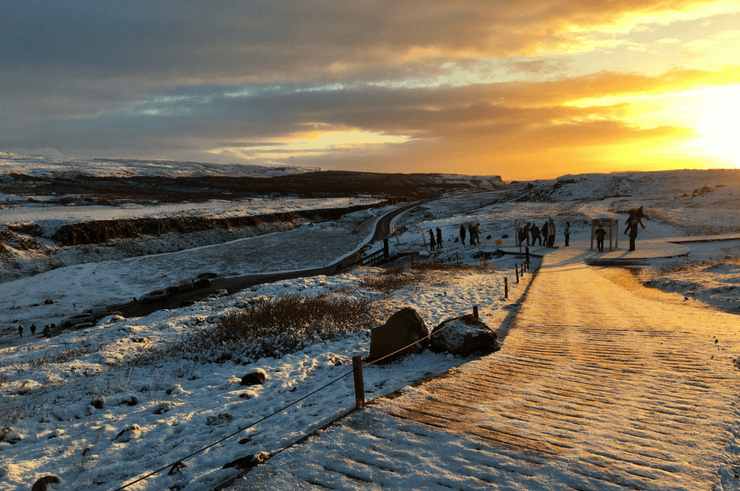 Our last stop of the day was Gullfoss waterfall. We walked down the snowy path to get a glimpse of what is often called the most beautiful waterfall in Iceland. People were slipping all over the place, so I was glad to have my snow boots on!
It looked amazing and it was especially lovely as we had a gorgeous, golden sunset too and a rainbow – it didn't look real. I just wished we'd arrived a few minutes earlier to see it with the sun shining on it, but you can't win 'em all!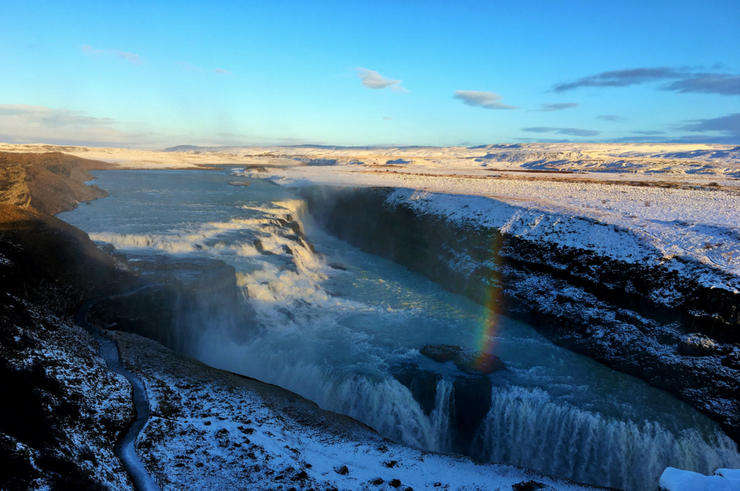 The aurora forecast showed that the skies over Gullfoss would be clear that night, so we decided to stay for a little while and try and see the auroras one last time and we weren't disappointed. The lights weren't dancing tonight, but they were there at least and I managed to photograph them.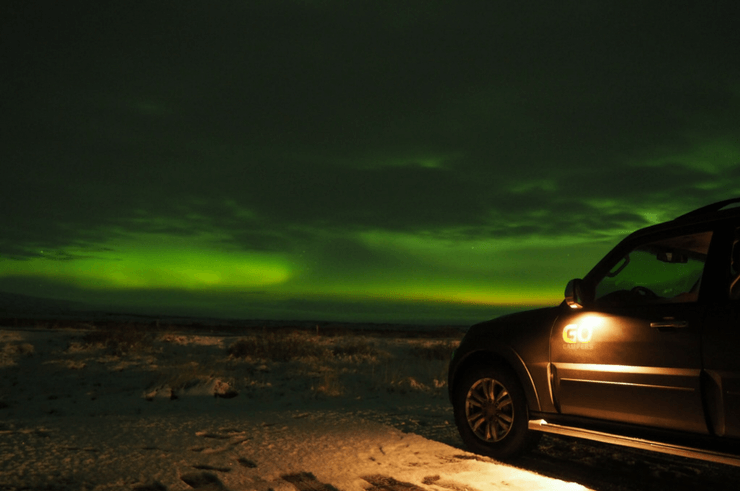 Day 8: Snorkelling in Þingvellir National Park, Reykjavik & the Blue Lagoon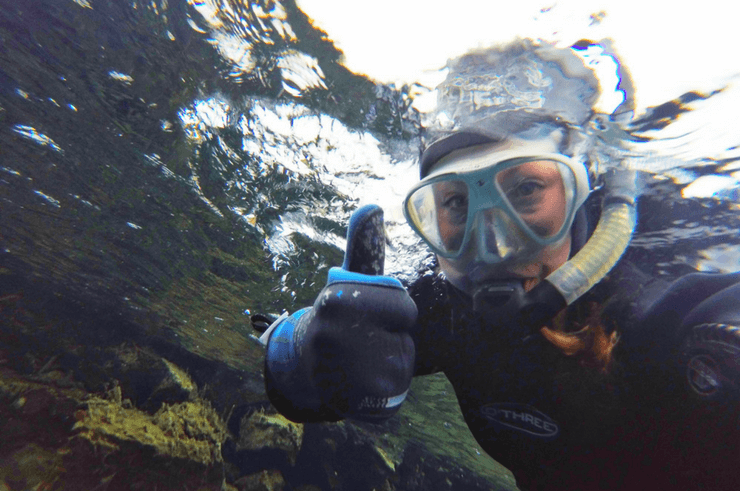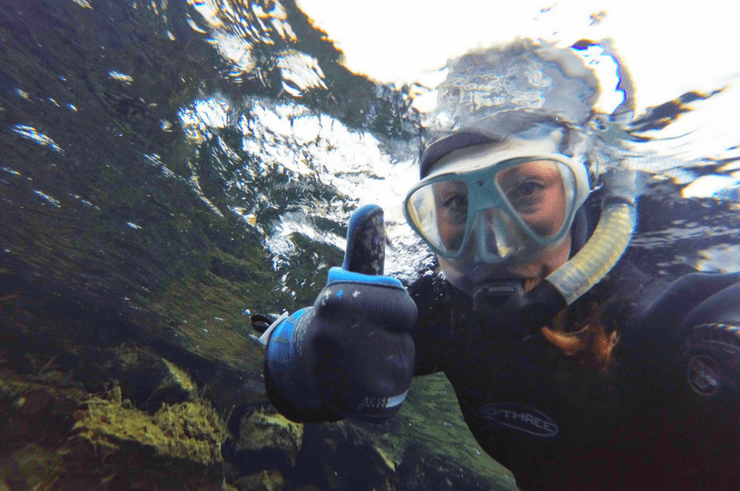 In the morning we headed to Þingvellir (Thingvellir) National Park as today we were going snorkelling in the Silfra Fissure.Luckily, it was only a short drive!
Snorkelling in Þingvellir is a really cool experience (no pun intended) and one that I highly recommend. Where else in the world can you snorkel in glacier water between two continents?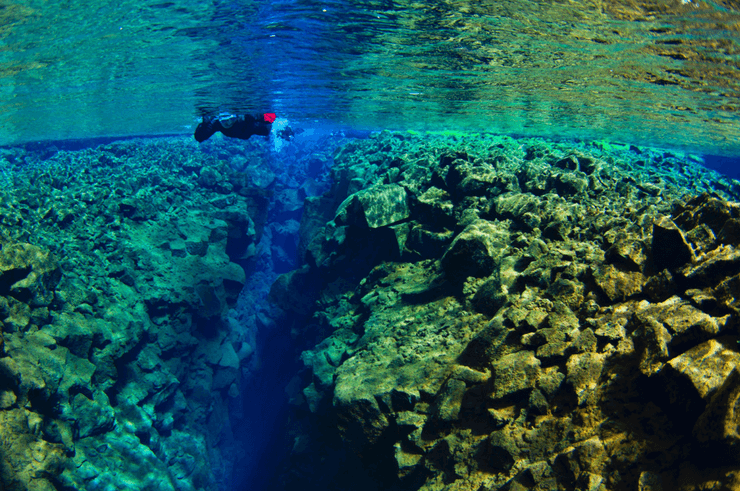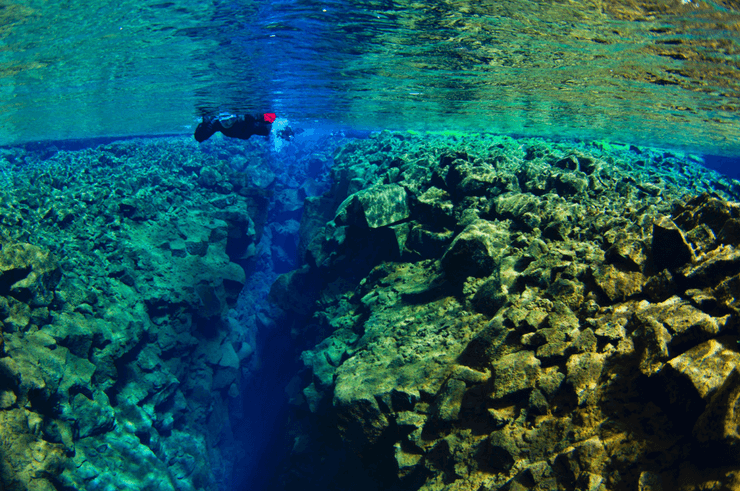 From here the plan had been to drop off the campervan in Reykjavik, get a bus to the Blue Lagoon, spend a couple of hours there and then head to the airport as we were staying around there that evening ready for our early morning flight.
However, once we arrived at the bus station, they told us there would be no buses from the Blue Lagoon to the airport as they stop at 3pm, meaning we would have to get a very expensive taxi. So, we decided to skip the Blue Lagoon and got the bus straight to Keflavik. I guess I'll have to do it next time (my next trip is gonna be very busy)!
---
---
Hope this helps you plan your own epic Iceland trip! Let me know how you get on and if you have any additional places/tips to add!