I'm going to let you into a little secret. This is just between us, ok?
Ok, so here goes…. Malawi. Ok, not exactly a 'secret', but Malawi is one of the best countries in Africa and hardly anyone goes there. It's brilliant!
I first went to Malawi in 2009, passing through for a few days on my African overland tour, but I really fell in love with this friendly, beautiful country when I worked there as a tour guide in 2012 and again when I backpacked there in late 2017.
It has everything you could want, from lakes to mountains, safaris and even beaches – which, for a landlocked country is pretty impressive.
Here are my recommendations of unmissable Malawi experiences and reasons why this gorgeous country should be on your Africa bucket list!
---
Top 10 Unmissable Malawi Experiences
---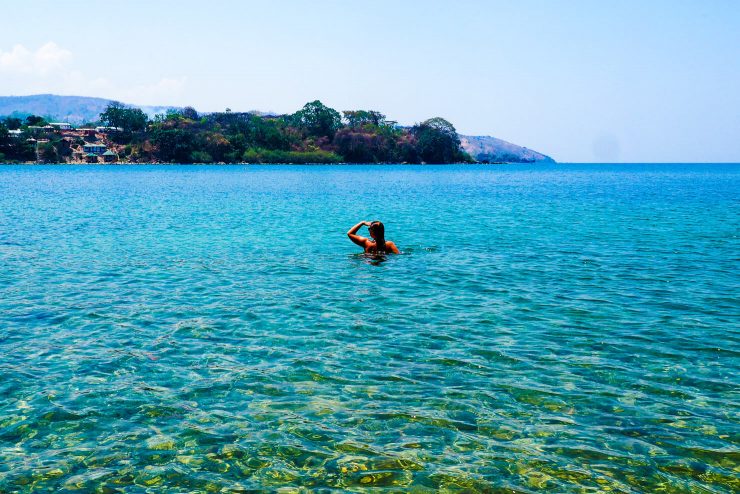 1. Chill out on Lake Malawi
With tides and beaches, Lake Malawi looks more like an ocean than a lake and is the heartbeat of the country. Lake Malawi was nicknamed the 'Lake of Stars' by Dr David Livingstone, and it really is. But the name isn't anything to do with the stars in the sky, the 'stars' refer to the twinkling lanterns used by the fishermen when they fish at night. It's a very pretty sight!
The two places I've stayed on Lake Malawi are Kande Beach (in the north) and Chembe Village in Cape Maclear (in the south). Kande Beach caters mostly for the overland crowd, whilst Cape Maclear tends to be more for the independent traveller. There's also Nhata Bay, which is about an hour north of Kande Beach. All of these places have a laidback beach vibe, plenty of reggae music and 'interesting' characters who'll no doubt try and braid your hair or sell you excursions, craft and some 'Malawi Gold' – buy at your peril.
There are also tons of activities to keep you occupied too, like horse riding, kayaking and scuba. Lake Malawi is home to more species of freshwater fish than any other lake in the entire world, including some you won't find anywhere else, it is a great place for scuba diving. The lake is also part of the Great Rift Valley, so you'll also be treated to some spectacular underwater scenery.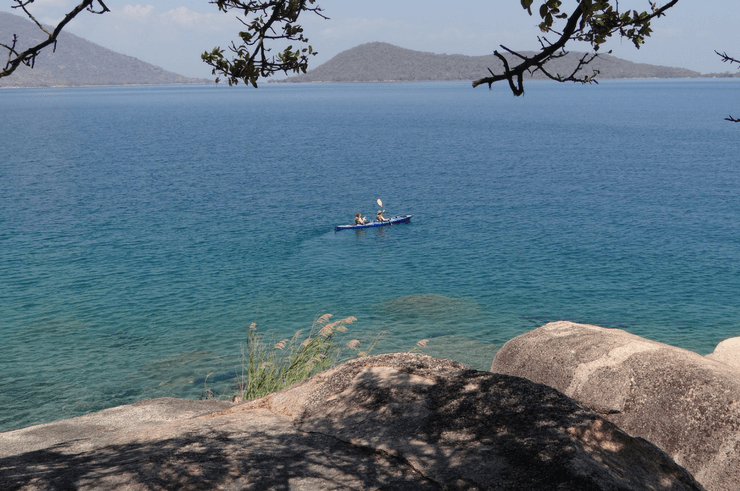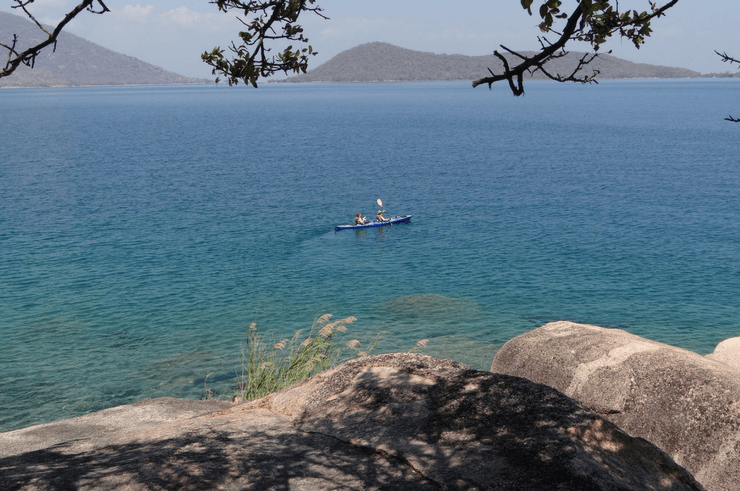 2. Play Swiss Family Robinson on your own desert island
If you fancy playing Swiss Family Robinson for a few nights, then you might want to kayak over to one the private islands in on Lake Malawi. Mumbo Island is the more upmarket of the two with the slightly fancier facilities, but Domwe Island (where I stayed) is pretty gorgeous as well, you just cook your own food there in the self-catering kitchen.
I took a big group over to Domwe, and there weren't enough static tents for all of us, so a couple of us camped right on the beach. Lying in our tents, we could see the 'stars' twinkling on the water, and hear the light chatter of the fishermen drifting in from the lake, which made me feel like I was a character in Pirates of the Caribbean.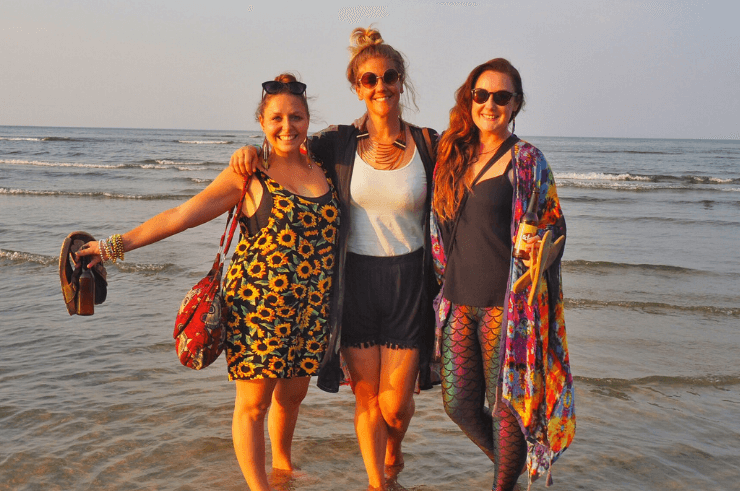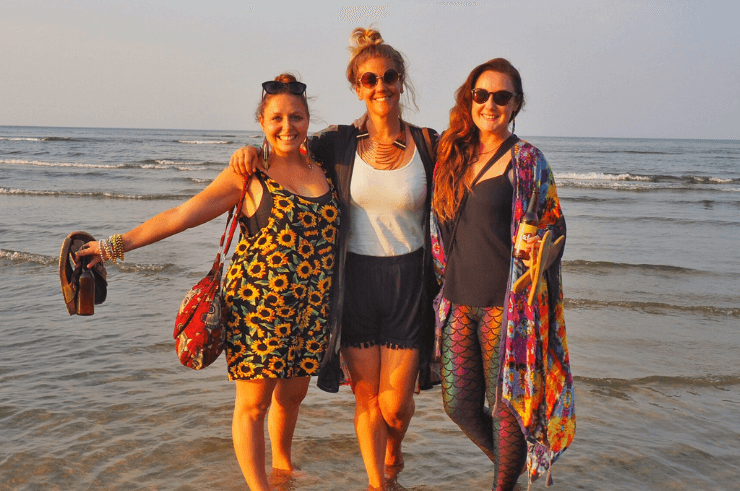 3. Dance the day and night away at the Lake of Stars Festival
Each September, Malawi plays home to Africa's coolest music festival, Lake of Stars. The festival takes place in Mangochi, on the southern shores of Lake Malawi and each year it gets better and better, hosting some of the biggest names in African music and some from elsewhere. Headliners this year included Ric Hassani, Mokoomba and Toya Delazy – if you haven't heard of these guys before, please check them out. There is SO much good music coming out of Africa!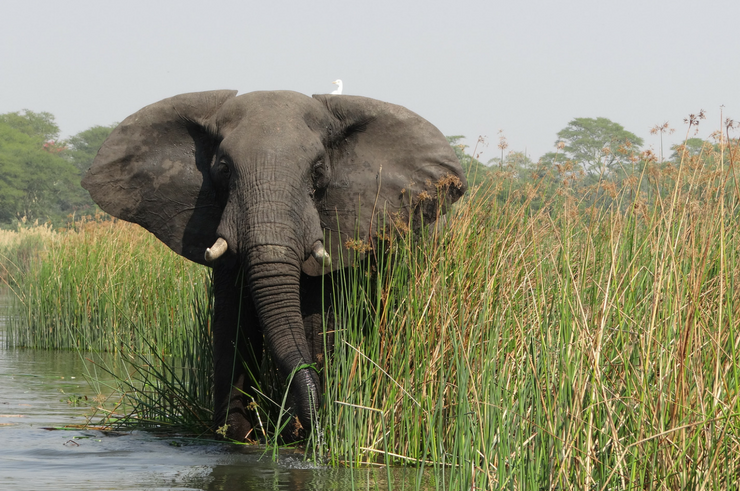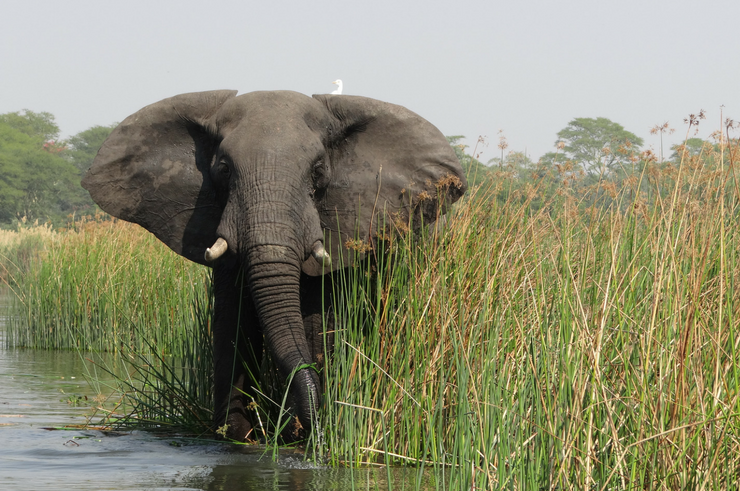 4. Go on safariin Liwonde National Park
Malawi national parks aren't as well known than the other national parks in Southern and East Africa, but there are some really great ones and they're much less crowded.
Liwonde National Park is my favourite and should be on your Malawi radar. The park sits on the Shire River so you have the option to travel by boat or by land – we did both. Like any safari, animal sighting can be varied, but the guides are amazing at finding them and within moments we were within metres of a beautiful herd of elephants. There are no big cats currently present (so I believe) in the park, but as well as the elephants, hippo, antelopes, crocoldiles and birds in abundance.
Other parks to consider are Majete Wildlife Reserve (home to the Big 5), Kuti Wildlife Reserve and Nyika National Park.
5. Hike a mountain (or two)
Mount Mulanje, also know an the Mulanje Massive, is 3,002 metres tall, and whilst it's not as high as Kilimanjaro or Mount Kenya, it's still a pretty challenging trek, with different routes available, from relatively easy to full on difficult.
We also camped on the Zomba Massif. Driving up and down we were treated to some spectacular views and it's a great place for bird watching.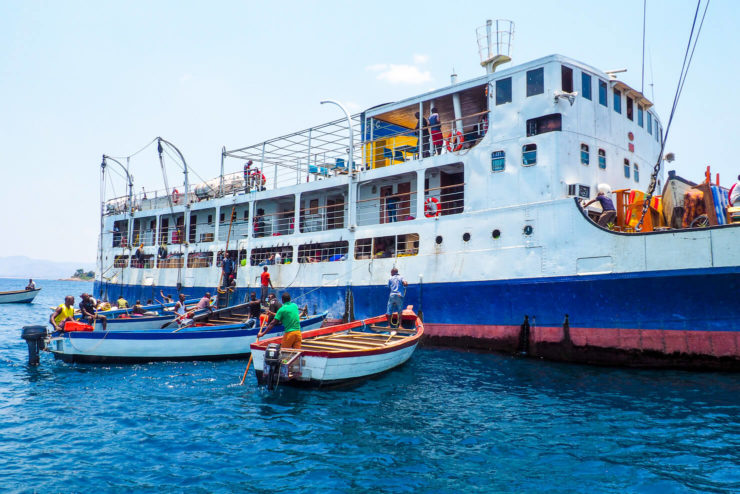 6. Take the Ilala Ferry
The Ilala Ferry is legendary in Malawi. It's not the most comfortable or efficient method of transport, but it is an incredible experience that should definitely be on your radar if you are travelling to Malawi.
My friend Melissa and I took the ferry from Nkhata Bay to Nkhotakota. I wrote about the experience, including an Ilala Ferry Survival Guide that you have to read!
7. Shop til you drop
Malawi is THE best place in Africa to get your hands on the gorgeous hardwood carvings you'll see all over the African continent and there are plenty of curio markets where you can pick up a bargain. I bought one of the famous Malawi chairs in Kande Beach which now sits proudly in my living room at home as a constant reminder of my adventures there. My chair cost me $20, a wind up radio and a pen.
If it's pottery you're after, the town of Dezda is the place to go. If you like art, there's plenty of great local batik paintings to be found everywhere too! Another fun souvenir is the traditional Bao board game that you'll see people playing all over the country.
Another favourite thing of mine to do is get some clothes made! There are tailors in most towns, and they usually have an array of lovely chitenge material to choose from. You could either get a traditional African outfit made, get them to copy one of your own items or take in a picture from a magazine.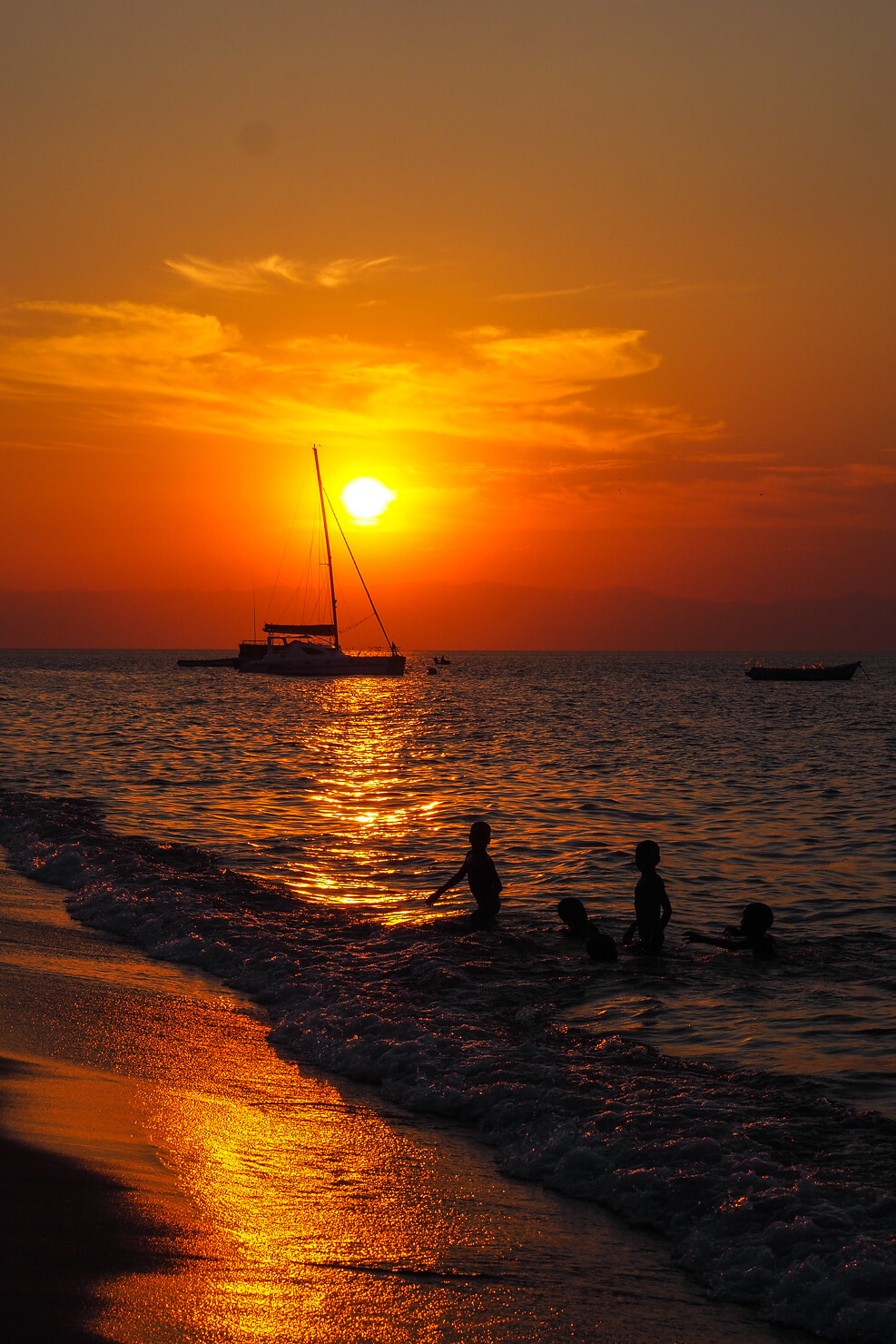 8. Catch the sunsets
They say that no two sunsets are ever the same and Malawi has some of the best of them. In fact the word 'Malawi' actually means 'Flames of Fire' in the local Chichewa language. I saw some of the most spectacular and unusual sunsets I've ever seen in Malawi. And, they're all free!
9. Explore the cities
African cities (Cape Town aside) aren't always my favourite places to be, they can be hectic, full of traffic jams and a little bit intimidating. But Lilongwe and Blantyre just seem a little more chilled than most.
Spend a day or so having a wonder around, go to the markets, stock up on goodies from Shoprite (Cadbury's Top Deck, Mrs H. S. Balls Chutney, Parmalat Cheese), sample the restaurants and book your onward travel.
In Blantyre stop by colonial Mandala House, the oldest building in Malawi. You can get a piece of cake in the cafe, chill in the garden, read about the history or browse the art in the gallery. In Lilongwe visit the Born Free Foundation at the Malawi Wildlife Trust and don't forget to sample some of the local staple food, nsima and drink some of the excellent local tea and coffee whilst you're there!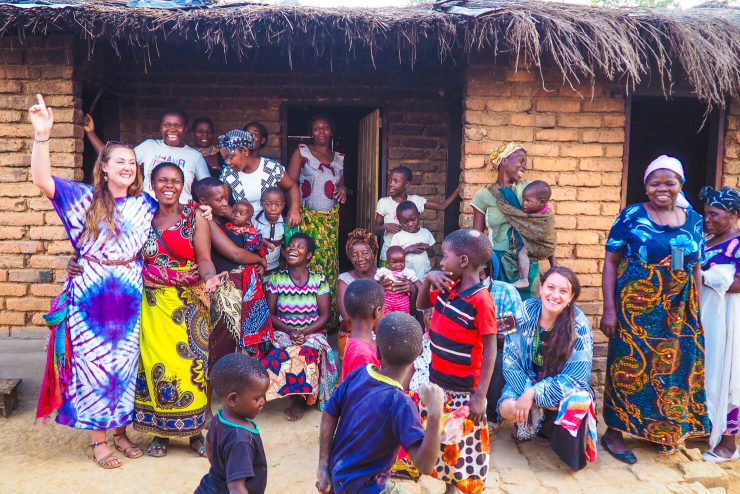 10. Make some Malawian friends
Malawians are known for their friendliness, and because of this the country is nicknamed the 'Warm Heart of Africa'. I can vouch for this! In Kenya and Tanzania for instance, whilst almost everyone you meet is friendly, I have on occasions experienced some hostility towards visitors, but I've never seen that in all my time in Malawi. You'll make friends in no time.
So, my advice is – do yourself a favour and go to Malawi before everybody catches on.
---
---