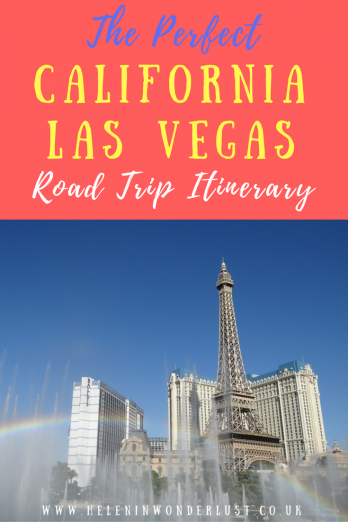 A few of you have been asking for Part 3 of my California Road Trip Itinerary, so here it is! I'm really sorry it's taken me sooo long to get this up!
If you haven't read Part 1 (San Diego, LA and the Pacific Coast Highway) you can find it here and Part 2 (San Francisco)Â here.
Anyway, today it's time for Yosemite National Park and across the border in Nevada, a little ol' place called Las Vegas! This one is a little different from the others as it's less about sightseeing, and more about exploing, but hopefully you'll like it! Oh, and it's a long one so go grab a cuppa!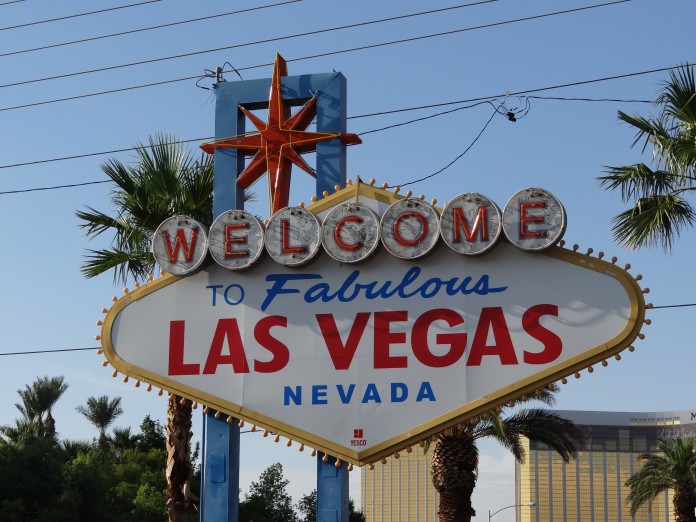 Day Eleven: San Francisco – Yosemite National Park
After we left the gorgeousness that is the city of San Francisco, we headed east to Yosemite National Park, on roads that seemed to stretch on forever.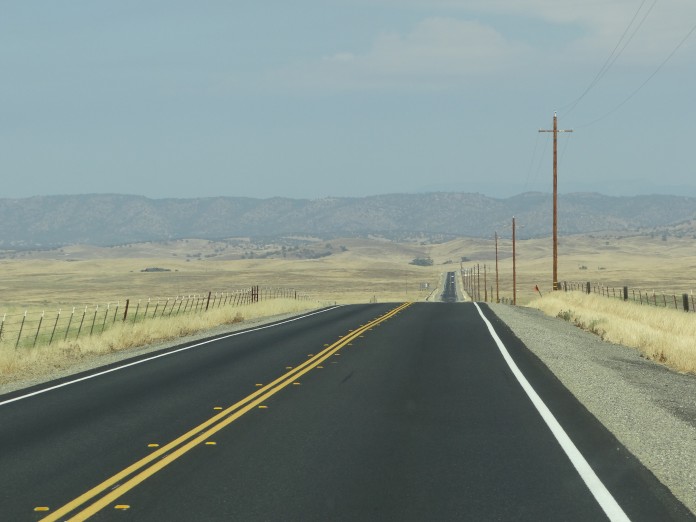 Just before we headed to the US, Yosemite was hit by raging forest fires that that destroyed hundreds of miles of the park so we weren't sure if we'd be able to go. It took just over two months to get the situation completely under control and they were still burning when we arrived, leaving the air thick and smoky. But the area we were staying in wasn't under threat, so we were lucky!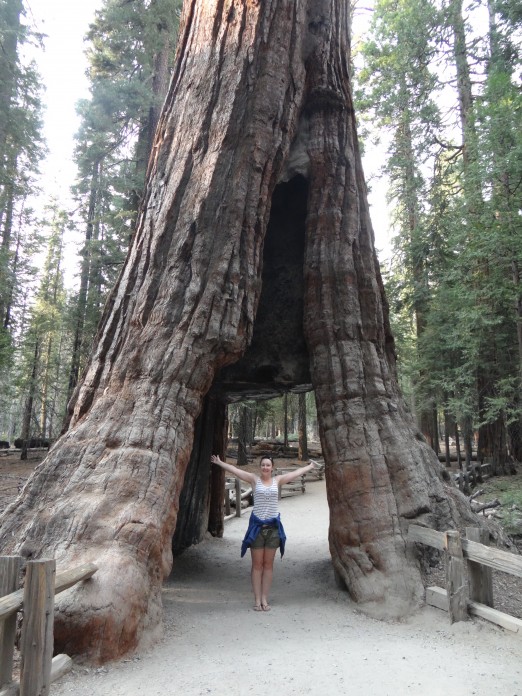 On the way we stopped at Mariposa Grove to see the Giant Sequoia Trees.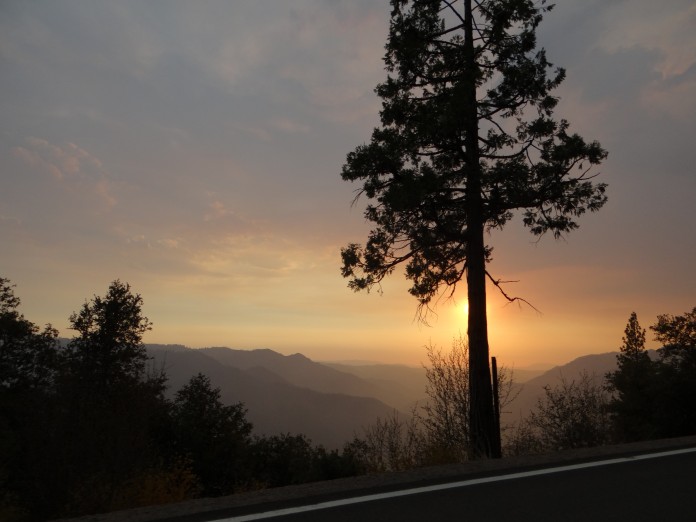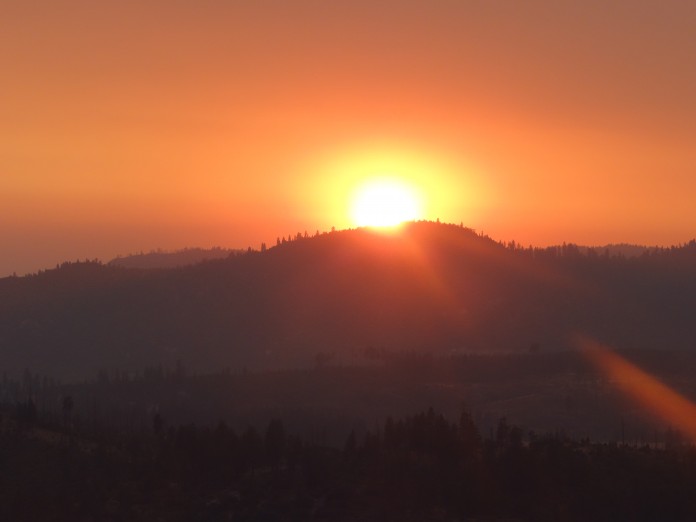 We'd left San Fran a little later than we should have, so it was pitch black when we pulled into Housekeeping Camp. After checking in we collected our hired bedding ($2.50) and headed over to our static tent. The tent had a double bed, two bunks and a camp bed "" snug for 5 of us, but it did the job. We also had a bear box outside, which is where you're supposed to put any food in case they come into the camp at night in search of tasty treats. I loved being in the wild again, keeping a look out for wild animals on the way to the loo, reminded me of Africa.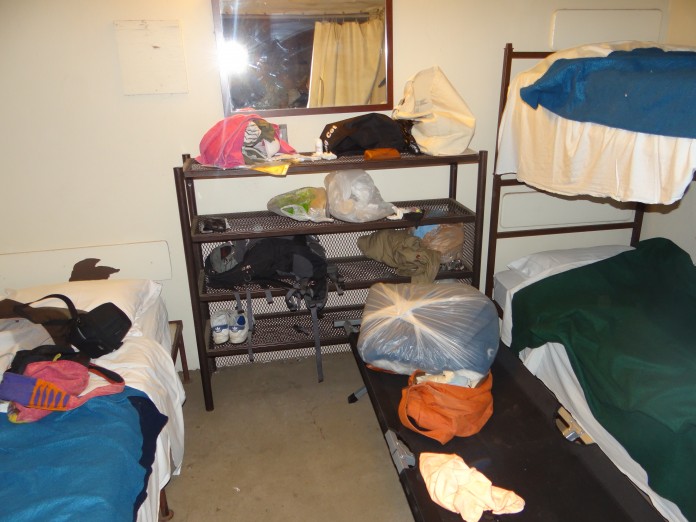 As we didn't have any cooking equipment, we hopped in the car and headed over to Curry Village, just a few minutes down the road, and grabbed some pizza before heading back to the tent, for a surprisingly pleasant and bear free sleep. For the record, we didn't see a single bear. Well, Simone thought she saw one when we drove out of Yosemite, but it was quite low light, so it could have been a tree stump. Oh well.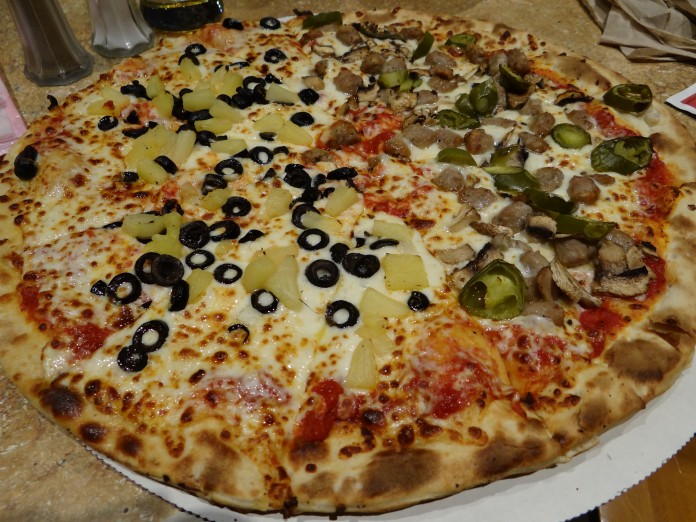 Day Twelve: Yosemite National Park
It had been completely dark with not even a scrap of moonlight when we arrived and went to bed. So, you can understand my surprise and excitement when I stepped out of the tent in the morning to this view. Â We hadn't even realised we were next to water. Oh yes. That's what I'm talkin' about!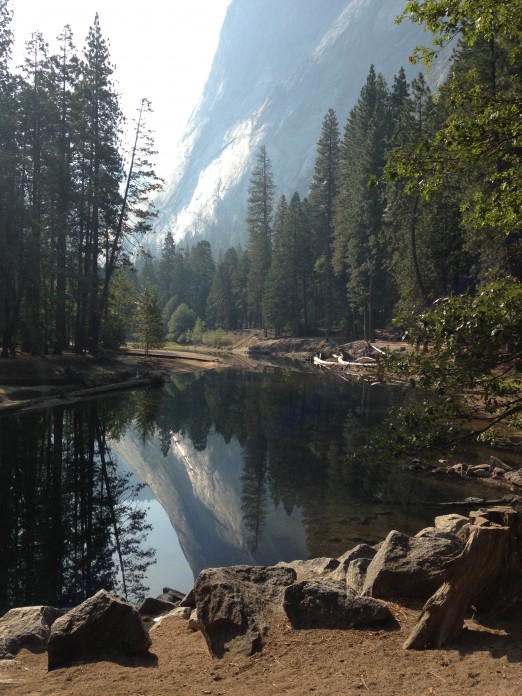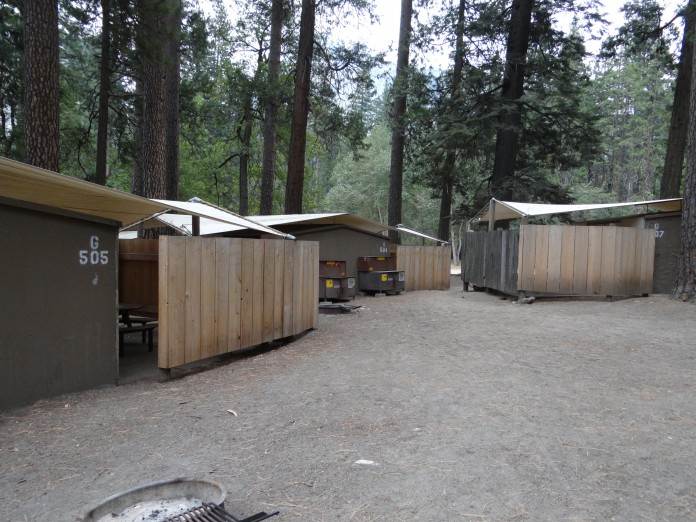 We headed back to Curry Village for breakfast and to rent some bikes for a few hours. With only 1 day in Yosemite we needed to see as much as possible!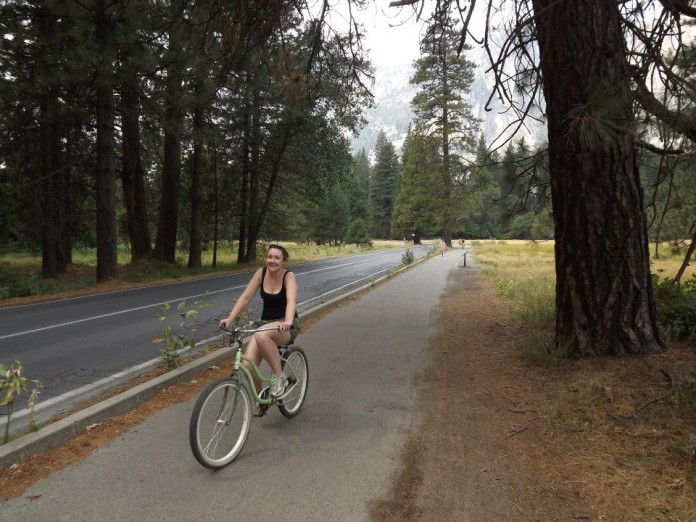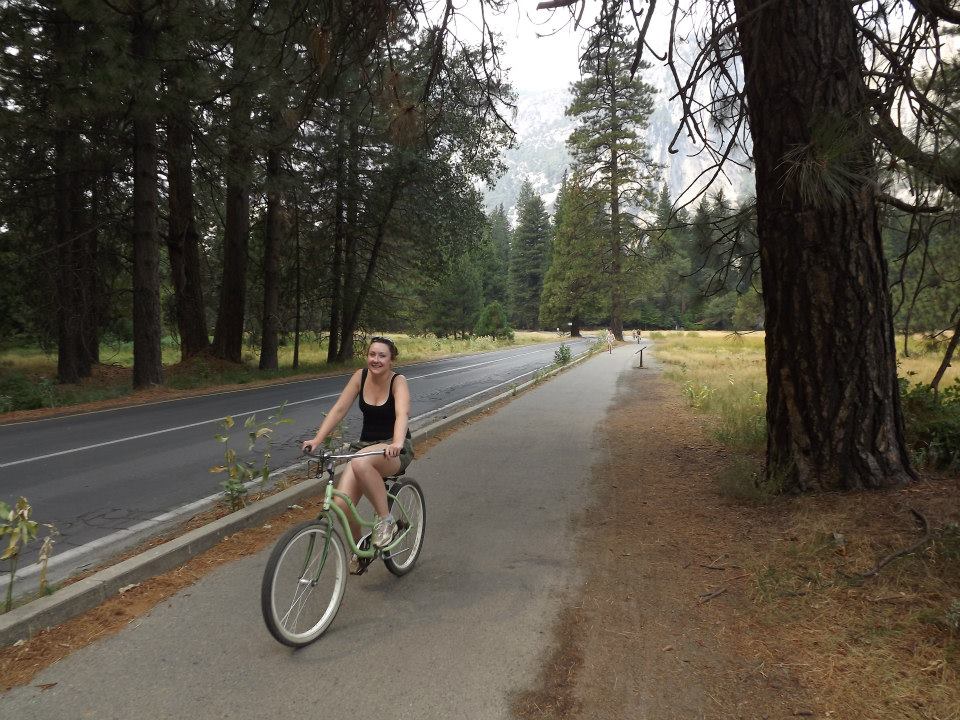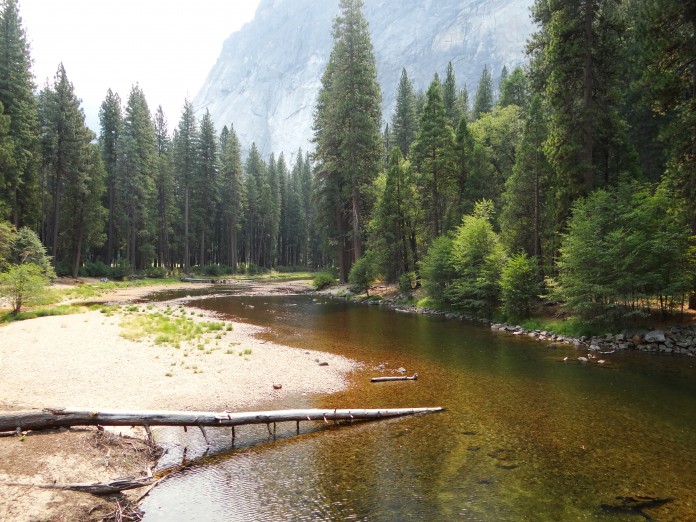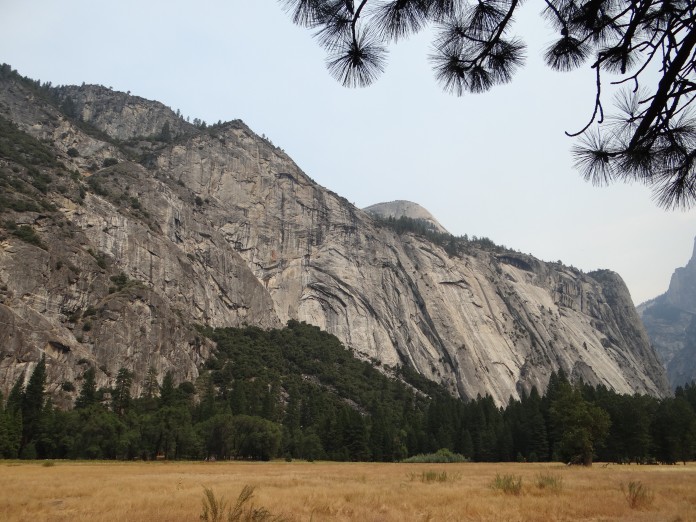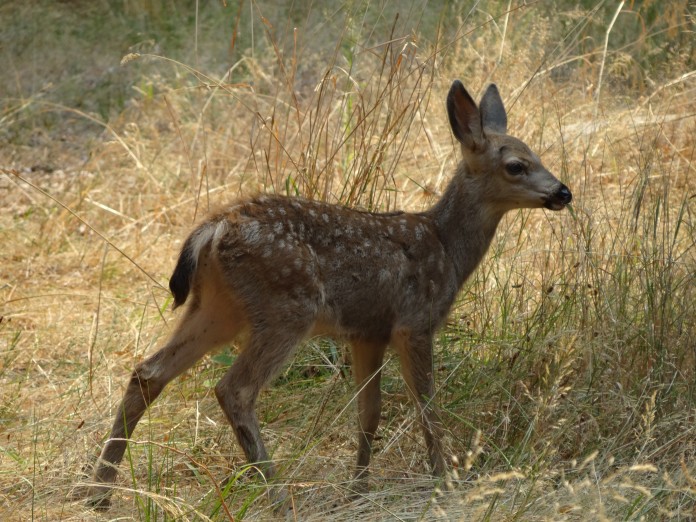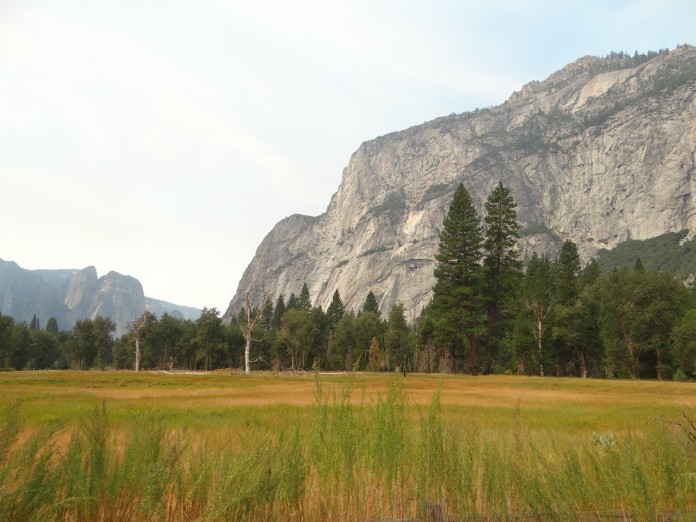 The bikes were so much fun and the scenery was beautiful. At one point I was free-wheeling, breathing in the fresh air and I just felt an overwhelming sensation of happiness.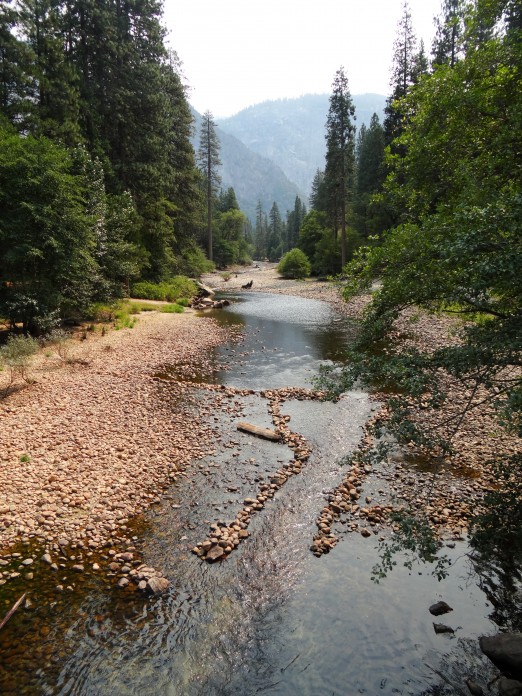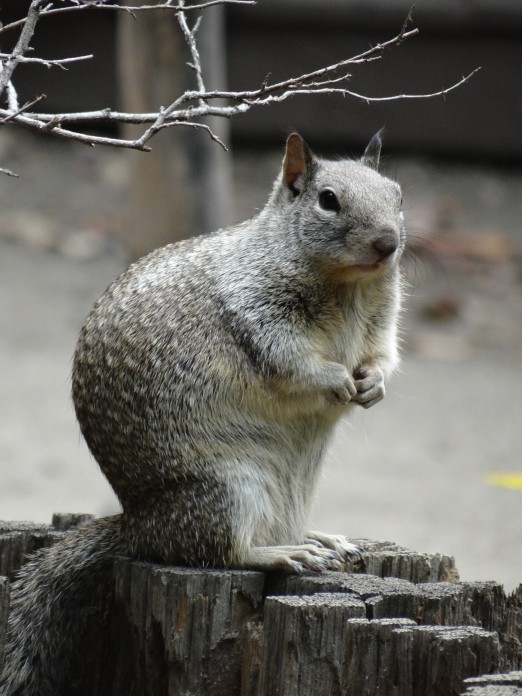 Once we'd handed the bikes back, we used the free shuttle to get around the valley and got on and off to explore. We saw El Capitan, a 3000ft vertical rock formation, popular with base jumpers and climbers. It takes a few days to get all the way to the top, so people have to sleep in hammocks or tents on the cliff face, suspended in the air just by ropes. I seriously can't think of anything more awful. The climbers were hard to spot but the bus driver had expert eyes and found some within a few seconds.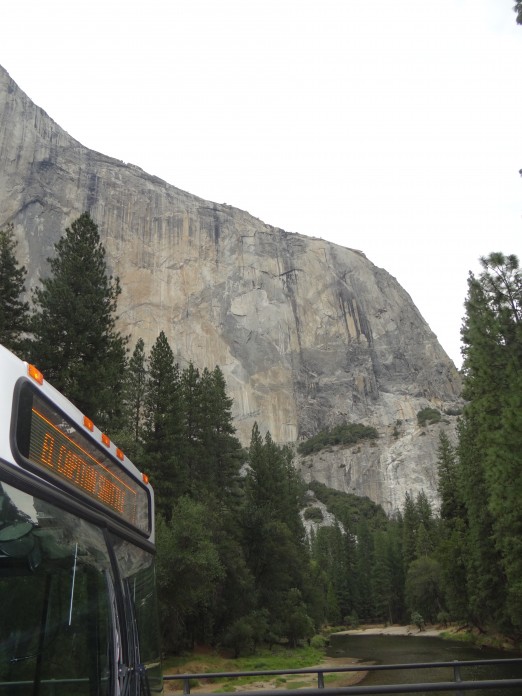 I had to use the zoom on my camera to get a better look at the crazy people!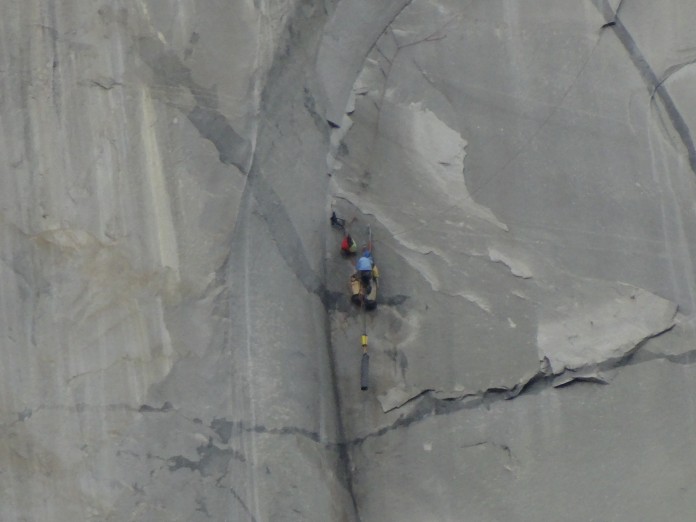 We drove up to Glacier Point at sunset to take in the views of Half Dome and the valley below, but the smoky air meant visibility was probably less than normal, but it was still a sight to behold. Perhaps take a little bottle of bubbly and a picnic for an extra special treat.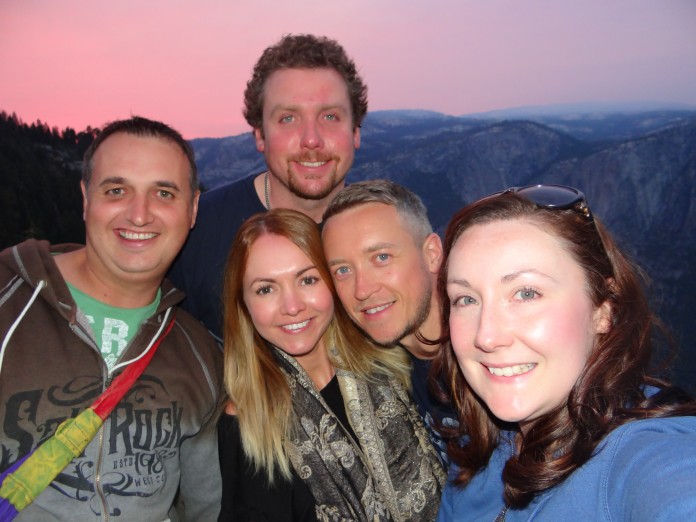 Top Tips for Yosemite National Park:
I would have liked another day in Yosemite to do some hiking. If you like the great outdoors, then it doesn't get much better than this.
Housekeeping Camp is a great budget option. The only downside is that it doesn't have a restaurant on site, but it is the only place where you can have your own BBQ. The people next door to us looked like they had moved in for the season. But Curry Village is just a short drive down the road if you need it.
I definitely recommend hiring bikes $11.50 per hour or $31.50 per day at Curry Village (prices correct September 2013).
At certain times of the year, the Merced River is open for rafting and ice skating is available.
Day Thirteen: Yosemite National Park – Las Vegas
We were up and out super early, as we were driving to Las Vegas today. Our plan had been to take the road through Death Valley, but it was closed due to the fire, so we took an alternative route. Crossing the state border, we left California and entered Nevada.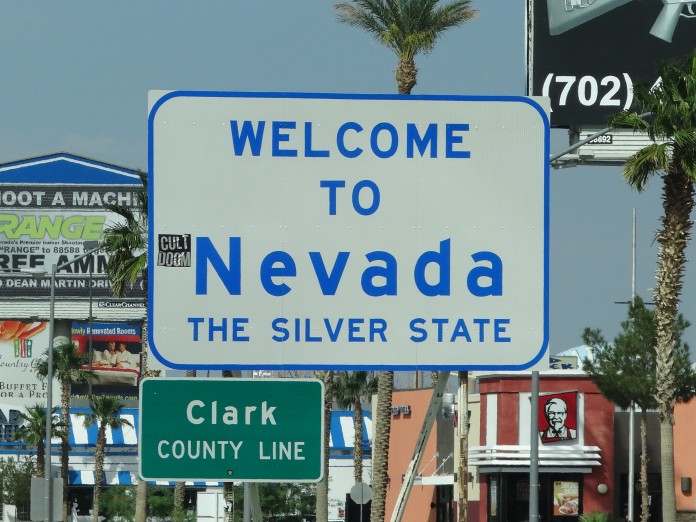 Vegas appeared, rising like a twinkly, glittery Emerald City, an oasis in the Mojave Desert. The complete opposite to the natural beauty of Yosemite. Driving into Sin City, we did the only sensible thing –  whacked on "˜Viva Las Vegas' on the car stereo and took a drive along the Strip, we even spotted Elvis. I was completely in awe. It was just so big, brassy, busy and colourful. If Disneyland grew up and took steroids it would be Las Vegas.
We were handing back the rental car today, but before we did, we visited the Welcome to Las Vegas sign, parked up, took some photos.
I never expected in a million years to love Las Vegas, but I did. It's kind of weird writing about Yosemite and Las Vegas in one post, because they are as different as can be. Yes Vegas is tacky and seedy in parts, but then it's also kind of beautiful too, if completely overwhelming. There's also a lot more to it than gambling!
There are literally thousands of restaurants, clubs, bars, casinos, music venues, all open 24/7 and everyone is catered for, whether you're 8 or 80, rich or not so rich. Had I been on a blowout weekend away with the girls, I can imagine it would have been a very different trip, which is why it's difficult for me to say, "˜go here, or go there', as there is so much choice. I barely scratched the surface in the few days I spent there, but I'll tell you what I did and hopefully it will give you an idea!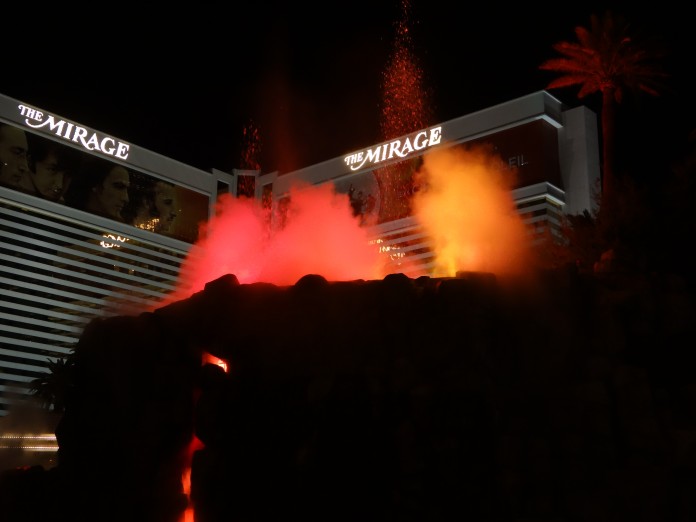 Our hotel of choice was The Mirage. Swanky, well-priced and in amongst the action "" but to be fair, you spend very little time in your hotel room! For me, the location is the most important thing, central all the way! If I went back again, I'd definitely stay at The Mirage again, or perhaps The Bellagio, Paris, The Venetian or Caesar's Palace.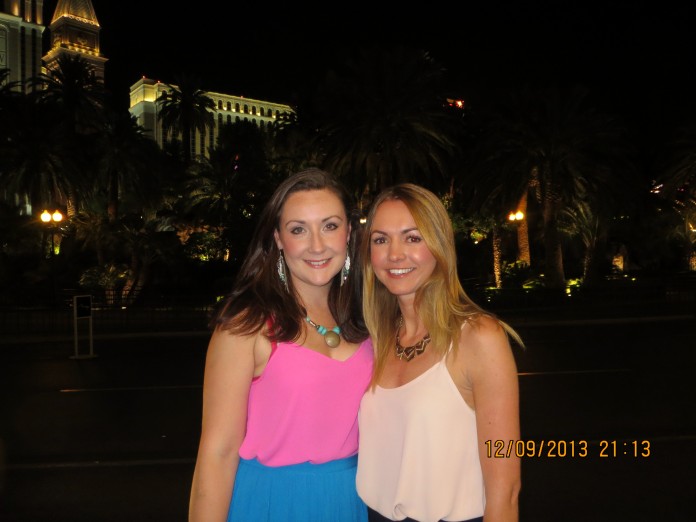 That evening, we met in one of the hotel bars, had a quick drink and a cheeky gamble before heading out for dinner with no plans whatsoever, apart from finding somewhere cheap and cheerful to eat. We turned left and headed for Treasure Island, watched the Pirate Show, and then went inside. One of the first places we came to was Gilley's.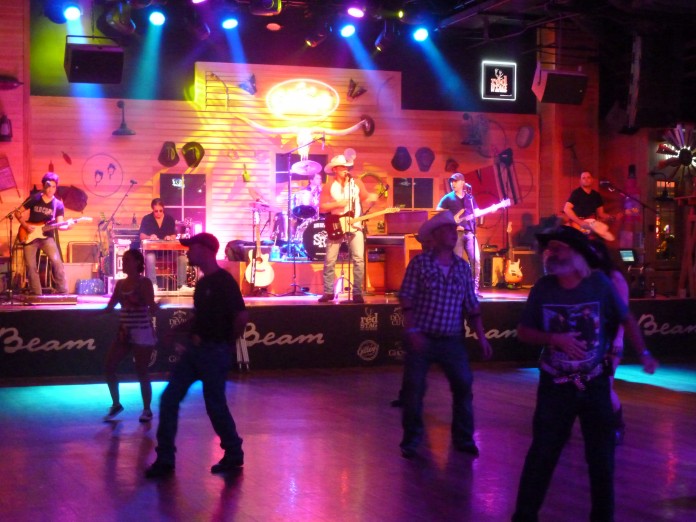 A live band blasted out country rock music, whilst some enthusiastic line dancers twirled and grapevined across the floor. On the other side of the room, brave souls rode a mechanical bull to whoops from the crowd. Whilst I love a good Dosey Doe, the rest of my group aren't quite so keen, but they all agreed it was a fun place and the boys quite liked the waitresses in their cut out leather chaps "" yee ha!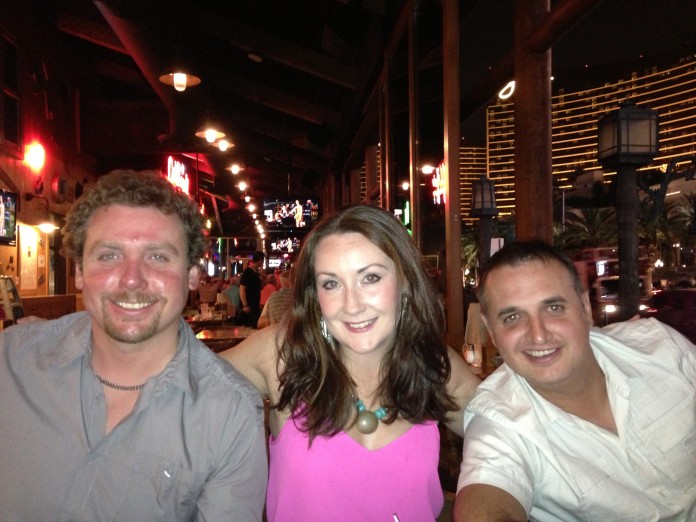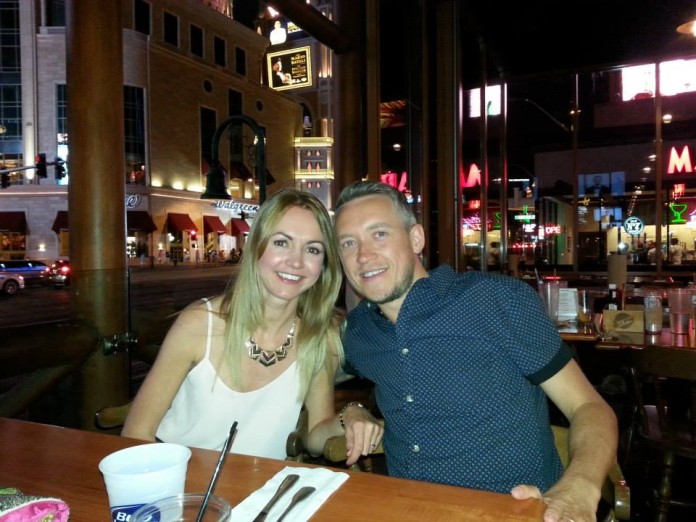 At the back there's a BBQ restaurant which smelled oh so good, so we put our names down for a table and tucked into a tasty and hearty (if not healthy) dinner. We spent the rest of the evening wandering through the Strip, stopping off at various bars and casinos and just taking in the craziness.
Mike even won some cash. $0.15 to be exact. Ka-ching!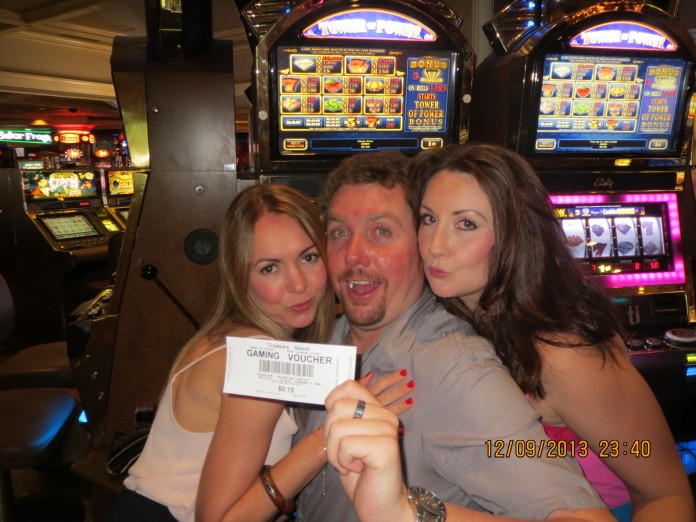 Day Fourteen: Las Vegas
Our friends had organised a trip to the Grand Canyon. but we'd decided not to go. People have asked me if I regret not going, and my answer is no, not this time. I plan to do a rafting trip down the Colorado River at some point, so I'll hopefully do it then! But they absolutely loved it and would highly recommend going! So definitely think about going if you have the time.
Instead, we walked the length of the Strip, dipping in and out of most of the hotels. Within one day we visited Paris"¦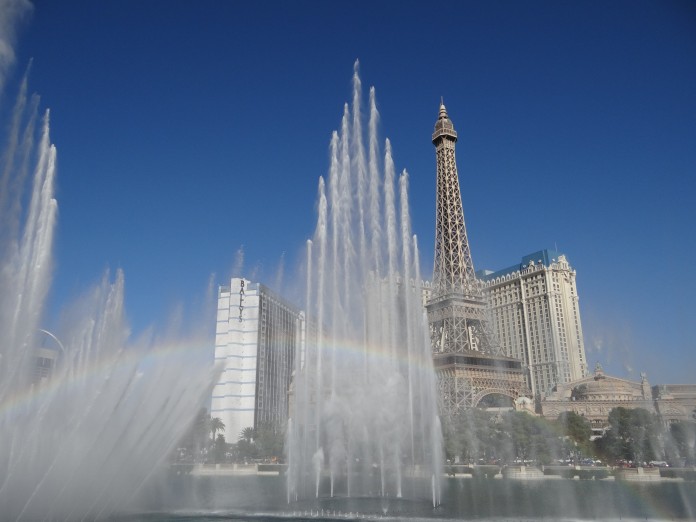 New York"¦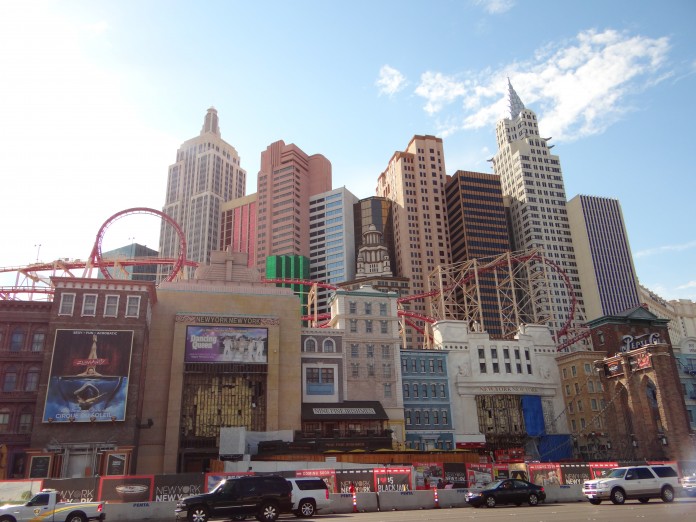 Venice"¦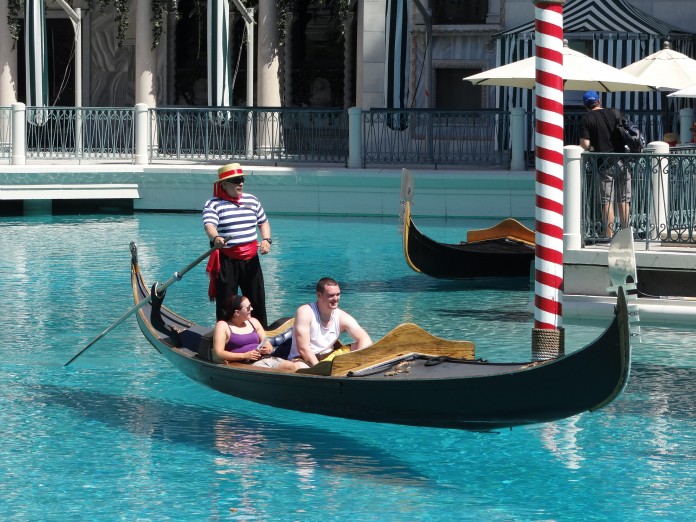 and ancient Rome.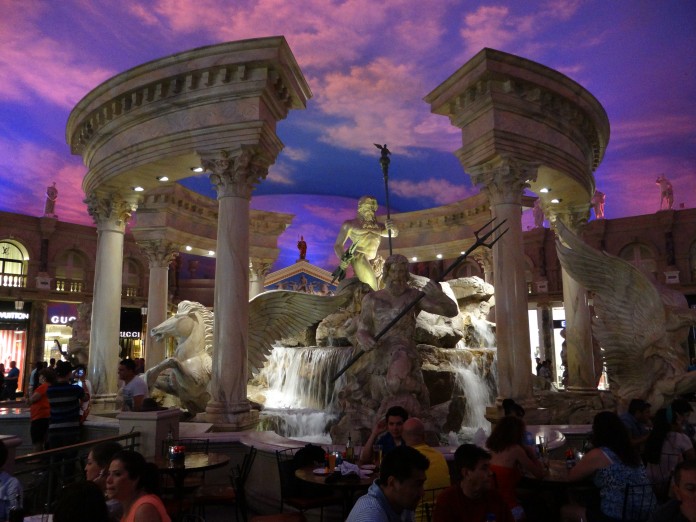 The atmosphere was electric. Today was the day of the Mayweather/Canelo weigh-in, ready for the big fight the following evening at the MGM Grand. We knew there were a ton of celebrities in town for the boxing, but the only person we saw was Magic Johnson signing autographs in Caesar's Palace.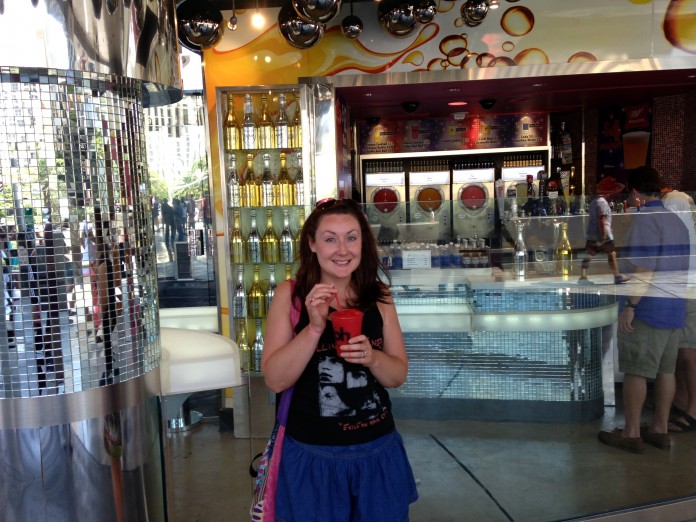 That evening we started off oh so elegantly in one of The Mirage bars, before going for dinner at the Outback Steakhouse.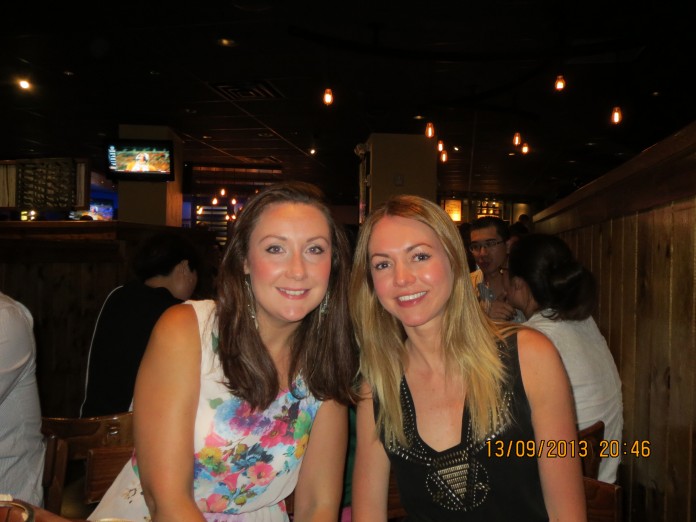 We then got touted into a small club at Planet Hollywood, called Koi Lounge, where there was a cover charge of $20 and guys drank for free until midnight, girls all night. The bar was heaving with guys at first, but after midnight, us ladies took full advantage of our offer. Then, it all gets a little hazy"¦ but we ended the night in the outdoor bit of Rhumbar at The Mirage. It was chilled when we left the hotel earlier on, but later everyone was up and dancing under the stars on the patio. Lots of fun and completely unpretentious. My kind of place!
This was probably one of the best nights out I've ever had in my life. We call it "˜The Hangover' night, because the following day, looking back through the photos was just like the end of the movie! It was everything you'd expect from a night out in Vegas.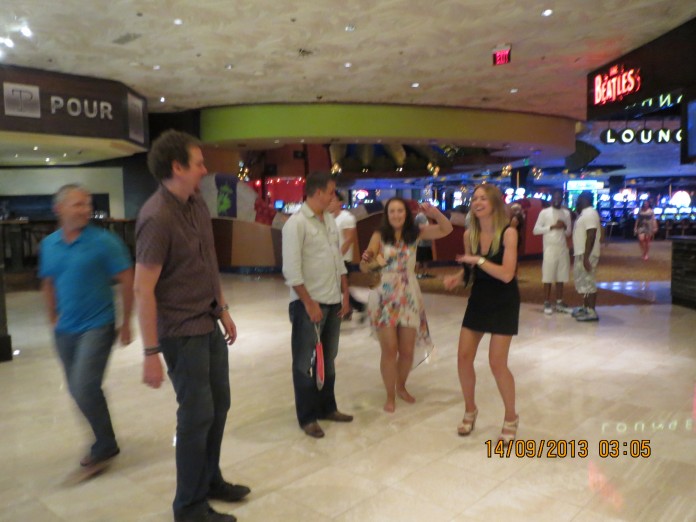 My favourite pic is this one, a shot of Simone, Mike and I full-on dancing, smack bang in the middle of The Mirage, no shoes on, with Matt holding my handbag looking on with disdain as people passed us by looking confused.
Day Fifteen: Las Vegas
We slept in. Unsurprisingly.
When we ventured out after lunch, Vegas was bursting at the seams with people gearing up for the boxing. We tried to get in for breakfast at Matt's favourite breakfast joint, The Peppermill, but the wait was over an hour, so we popped into a nearby Denny's for pancakes with maple syrup and bacon. I also ordered some grits (I was curious), and I'm gonna say, I'm not a fan. Tastes like ugali/nshima I eat in Africa, but a thinner consistency and without the relish. Not for me I'm afraid.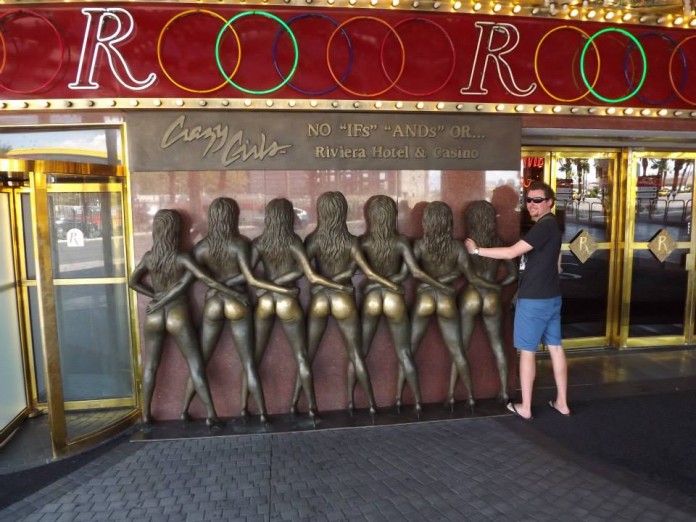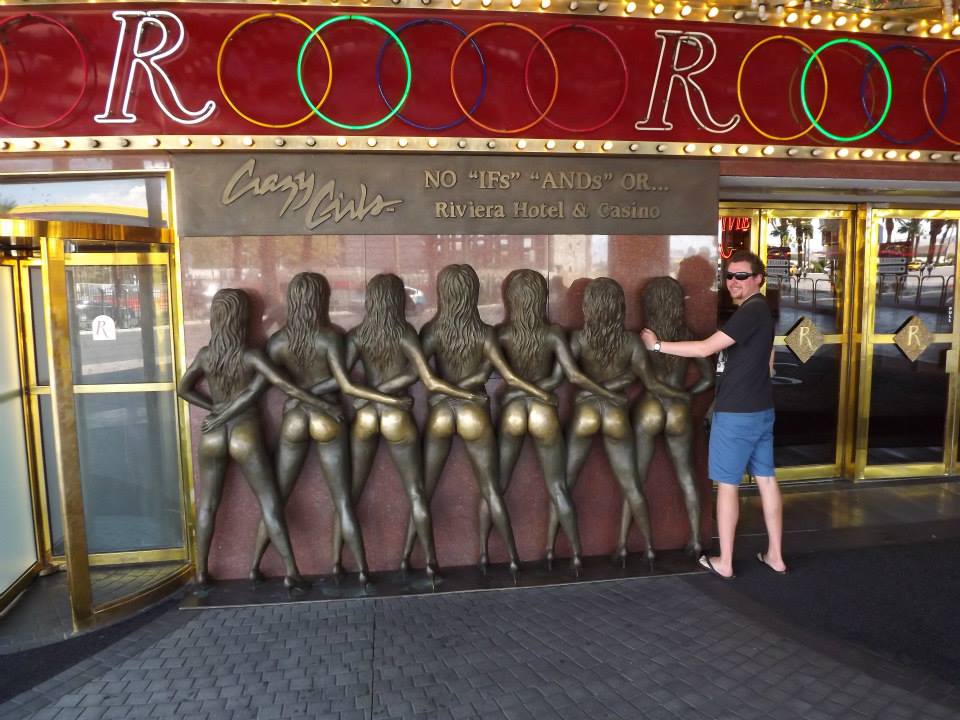 We then visited the Stratosphere hotel, the tallest building in Vegas. The inside of the hotel and casino isn't anything special in comparison to the likes of the Bellagio or the Venetian, but it's what's on top of the Stratosphere that's the real attraction, the worlds's highest thrill rides. Straight after we stepped out of the lift, we saw an old man jump off the building. He was doing the Sky Jump Las Vegas, a controlled descent zip wire. Literally terrifying.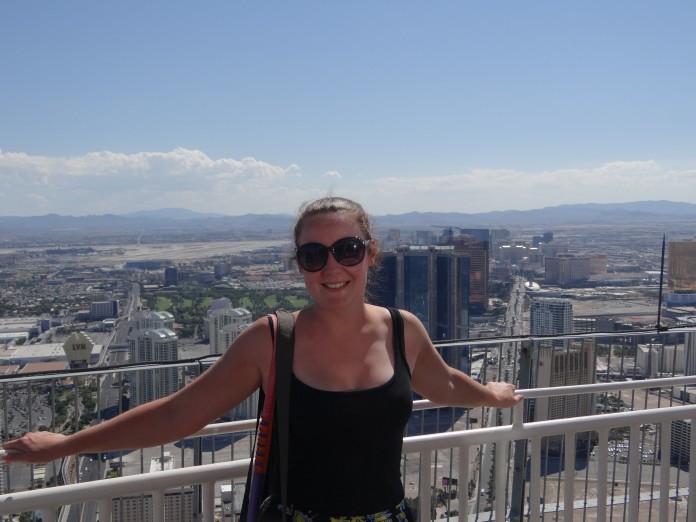 Then there's the other 3 rides "" the Big Shot, Insanity and X-Scream. The others went on but hanging over a thousand feet up in the air is my idea of hell (mind you not as bad as sleeping on El Capitan), so I gave the rides a miss and just watched everyone else pooping their pants! Yeah, this thing dips forward like you're about to fall off the building…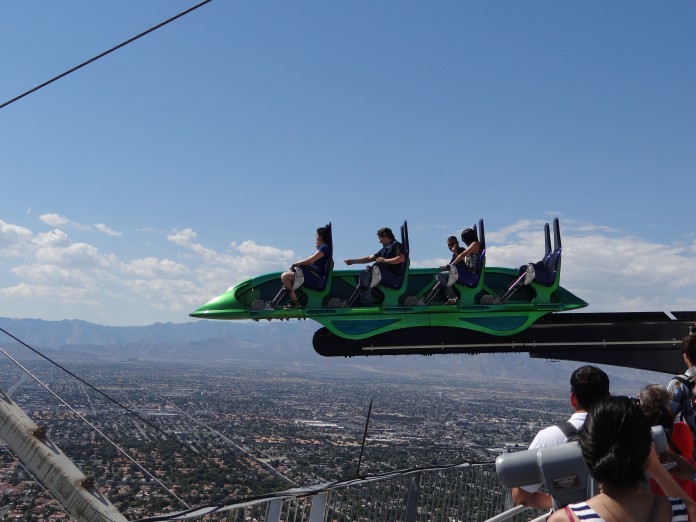 Next we headed downtown to Fremont Street to look around. Fremont Street takes you back to old school Vegas. The street is under a canopy which contains thousands of twinkling lights, I wished we'd seen it at night! It was pretty quiet when we went but it can get really busy, and in the late afternoon/evening there's a real party atmosphere (my sources tell me).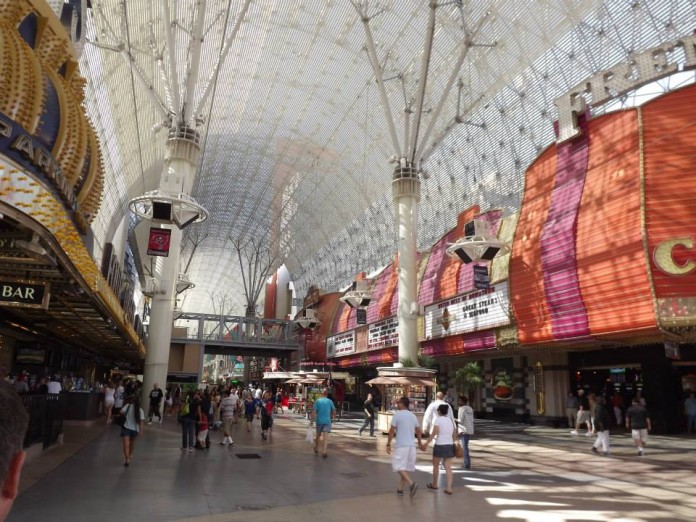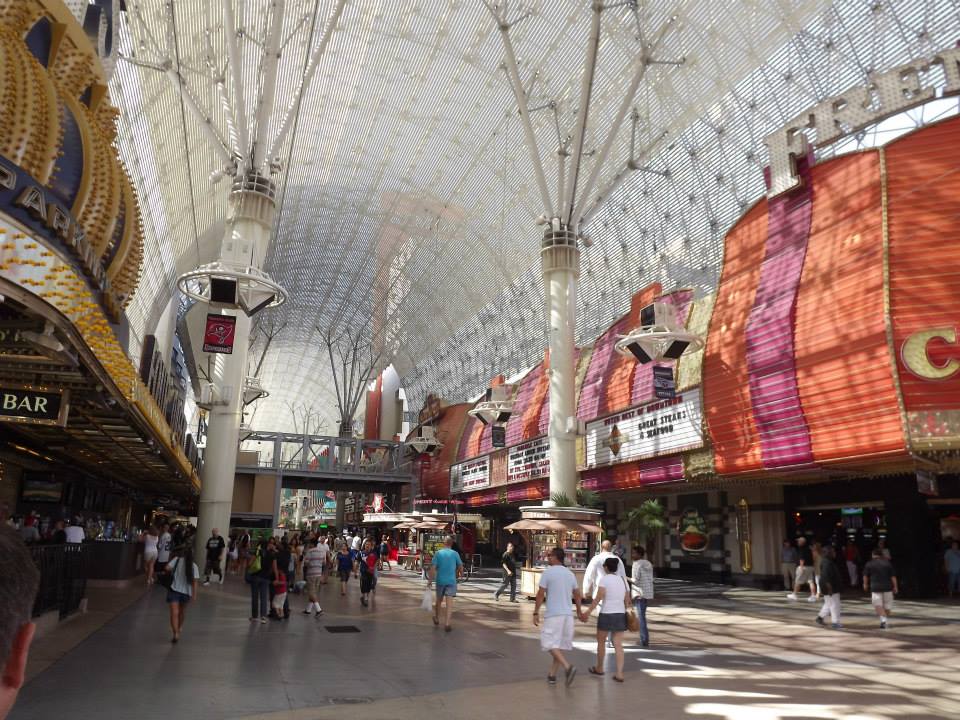 That night we started off at the "˜All You Can Eat' Buffet at Harrah's. Pretty much every hotel has one of these, so choose your location and fill your boots!
In a striking contrast to the buffet, our first bar of the evening was the elegant, laidback Zefferino at The Venetian. We sat in the bar and listened to the pianist play some classics. At my request he played The Way You Look Tonight and I felt as though we'd gone back in time, to the days of Sinatra and the Rat Pack. We tipped and thanked him as we left which struck up a little conversation and he told us about the good old days. Simply wonderful.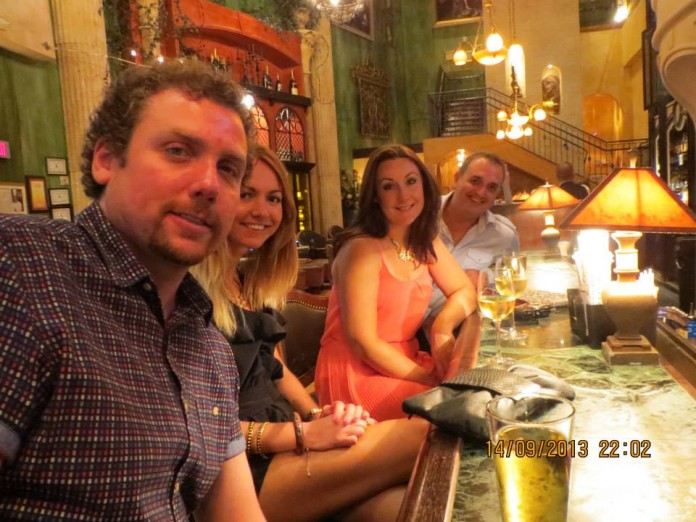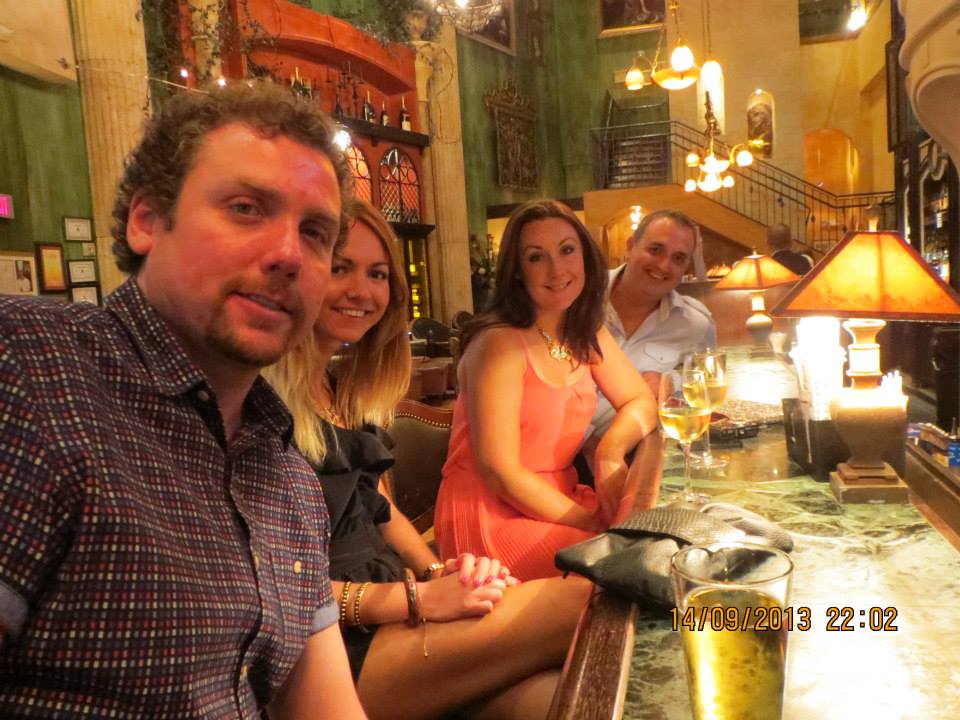 Next it was on to Jimmy Buffet's Margaritaville for cocktails and dancing to salsa tunes. We then headed back towards The Mirage, stopping at a couple of bars along the way, before heading into 1 Oak nightclub. As we were staying there, we got free entry, which seemed like a good deal to me!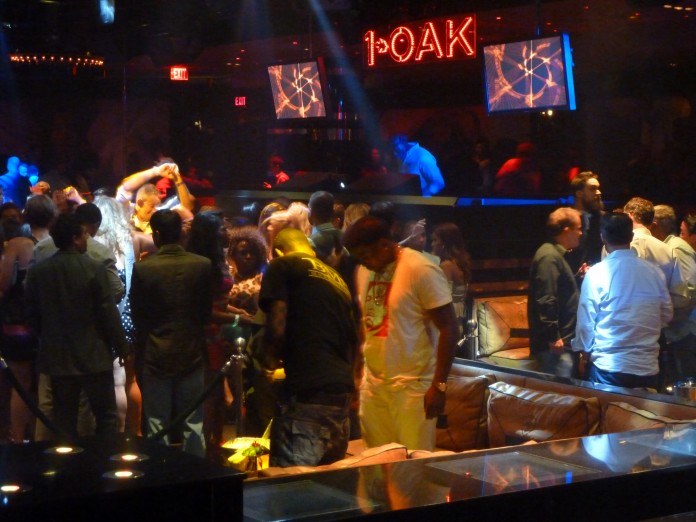 The club was about half full when we got in, but was filling up fast. The smallish dance floor was in the middle, and VIP booths surrounded it. We were on a budget so we headed straight for the bar, grabbed some (expensive) drinks and people watched from the side "" the only place you could stand. It took me all of about 10 seconds to realize this just wasn't my scene.
Maybe it's my age, but it just all seemed a little bit soulless to me. I've been to many a great club in my 34 years and I wasn't overly impressed by the atmosphere, the attitude, the price or the music "" some of the 1 Oak Tripadvisor reviews echo my sentiments, but some love it. I guess it's a matter of taste.
Day Sixteen:Â Las Vegas
Our last day was upon us and to say I was a little sad was an understatement. I'd had an amazing couple of weeks with four awesome companions and I didn't want it to end.
Having walked miles and miles over the previous few days (and weeks), we decided it was time to have a little relaxing time by the pool. With a couple of cocktails, of course!
We headed out early in the evening as we were off to see Mystère by Cirque du Soleil at Treasure Island. Have you seen the film "˜Knocked Up'? Well, Mystere is the show Seth Rogan and Paul Rudd go to see when they're high on magic mushrooms!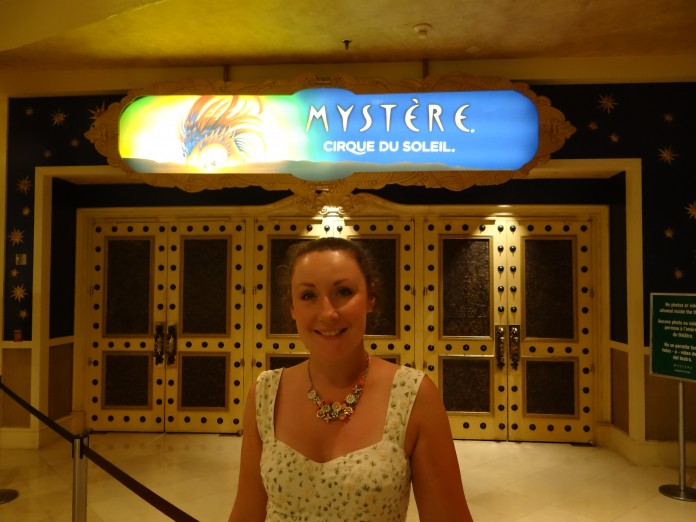 It did not disappoint.  The things the acrobats and gymnasts can do with their bodies and props is out of this world. I sat there in absolute amazement the whole way through. The only bad thing about it was that I wished it had been longer. It only lasted an hour or so, but then again, whilst the performance looked totally effortless, the strain on the performers must be immense.
Afterwards we headed to the Bellagio Fountains where crowds gather to watch the water dance to music "" really spectacular and not to be missed! We'd caught glimpses of it previously, but this time we wanted to be on the front row!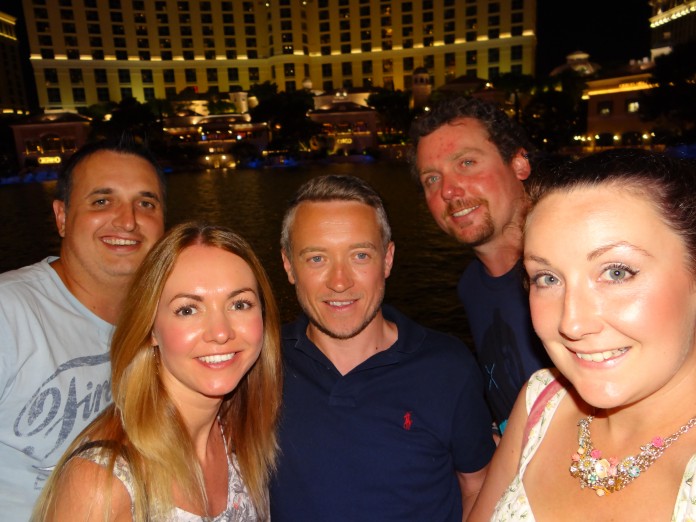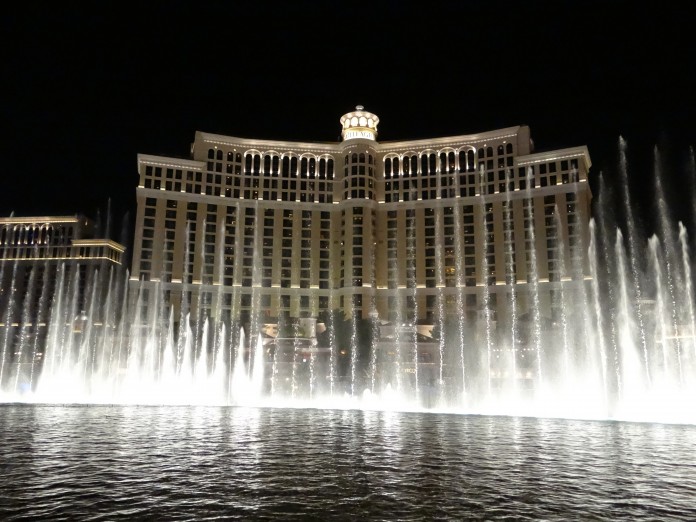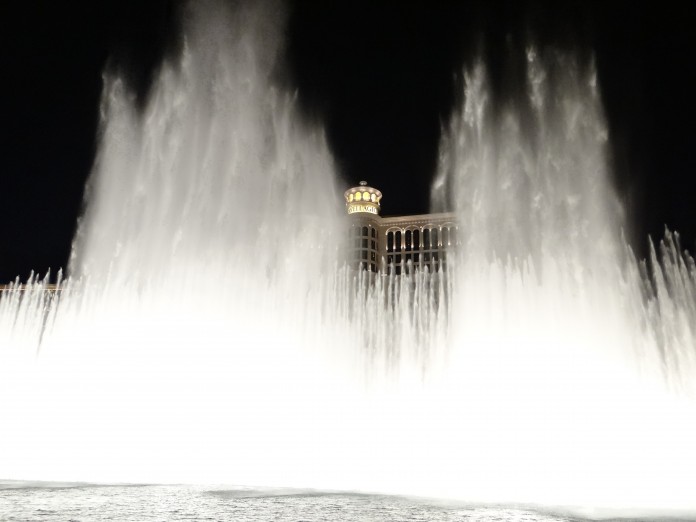 Dinner tonight was at Serendipity 3 at Caesar's Palace. We'd walked past it a few times and it looked really lovely so we gave it a whirl. They had a huge menu, literally, and portions to match! I thought I was ordering a relatively light meal with an omelette, stupid me!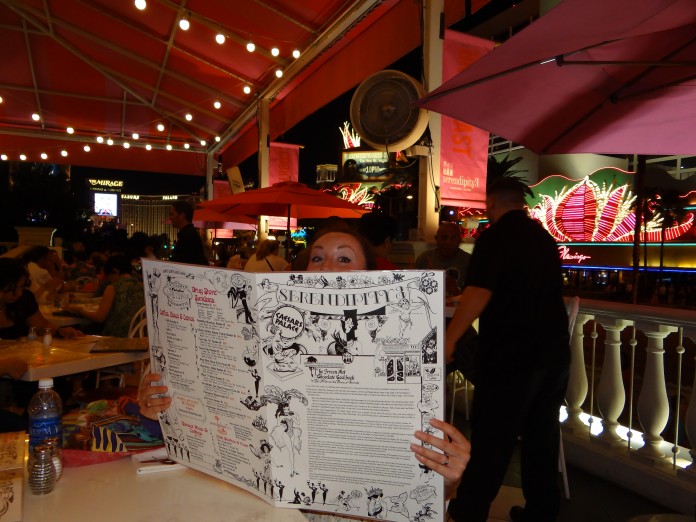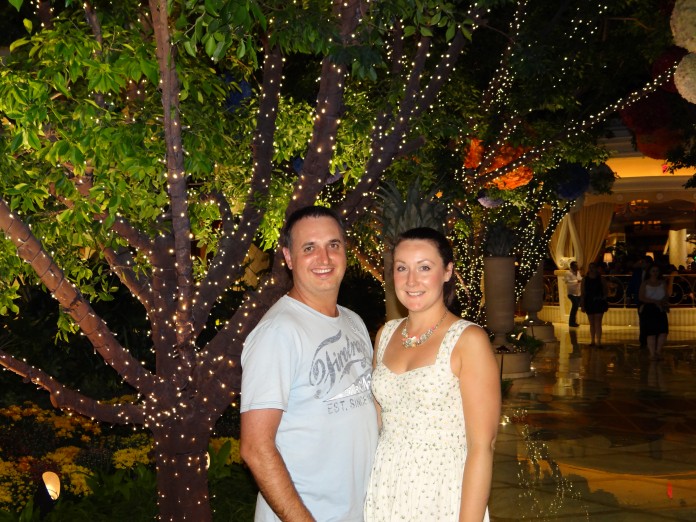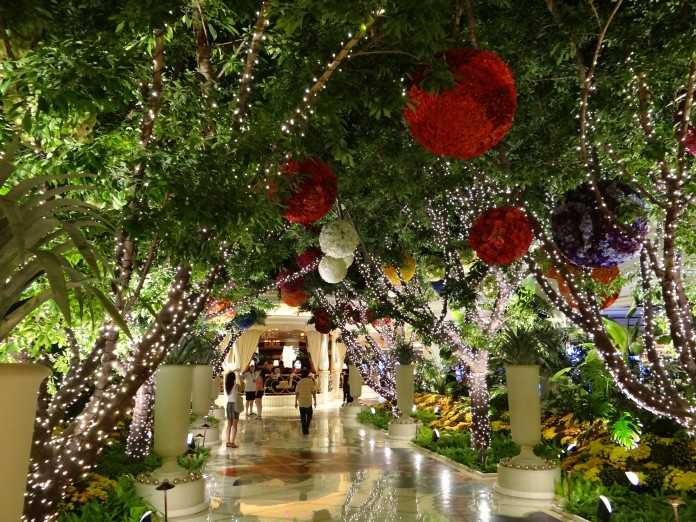 We finished off the night with drinks at the Wynn and Encore, two of the sexiest hotels in Vegas – pretty lights galore. The perfect way to end our trip.
Top Tips for Las Vegas:
Where to even start? There's so much to choose from, so my best advice is to do a bit of research,plan and book a couple of things, but also leave time to just go with the flow, as it's impossible to get round everything!
Where To Eat:
Vegas has everything from cheap diners to top Michelin Star restaurants.
For cheap eats, we recommend Serendipity 3, Outback Steakhouse and Gilley's, they were all delicious.
For the best restaurants in town, check out here and here. Matt recommends STACK in The Mirage for the steak dinner.
Most hotels have an "˜All You Can Eat' Buffet. They vary in price, but usually the cheaper the hotel, the cheaper the buffet. Harrah's was ok! My mate Charlotte said the MGM Grand one wasn't great. The Bellagio is meant to be awesome.
For breakfast (or lunch or dinner) try The Peppermill, a restaurant near to The Riviera hotel or Matt says to have the Giant Pancakes at Hash House a go go in The Quad. If all else fails you can always trust Denny's for a good start to the day!
Where To Drink and Party:
This could be a very long list, so I'll just leave this to the places I liked, and you can always check out  Thrillist to find exactly what you want!
If you are gambling, you'll probably get a free drink or two, even if it's just a few bucks in a slot machine and every hotel has a number of bars to choose from.
We basically, just wandered and popped into the ones we liked the look, and sound of. I really liked: Gilley's in Treasure Island for Country, Margaritaville  at The Flamingo for Latin, Rhumbar at The Mirage for chart music, Rock of Ages at The Venetian for classic rock, and Zefferino at The Venetian for elegant piano. One thing that I didn't do, but wish I had, is go to one of the Duelling Piano bars at either New York, New York or Harrah's.
We also visited The View at The Palms, which was really nice. Matt's been to Moon, Ghostbar and Rain previously and thinks they're great.
Many of the hotels have afternoon pool parties, and if I went again, I'd definitely go to one. The Hard Rock Café and Encore parties are apparently awesome!
Recommended clubs are; Marquee at The Cosmopolitan, Hakkazan at the MGM GranD, XS at Encore and Pure at Caesar's Palace. Next time Vegas!
Look out for the big name DJ's coming to town, that's often where the party is. Just arrive early unless unless you're on the VIP list.
Sometimes tipping the doormen will get you in quicker, but not guaranteed.
Girls get in free at many of the clubs or drinks are included in the entry fee.
What To Do:
See a show. I can recommend Cirque du Soleil and we booked our trip through Viator.
I definitely recommend spending a day just touring the Strip to get a feel for the place, especially if it's your first time.
Go and see the Bellagio Fountains, show times are here.
Drive along the Strip, see the Vegas sign and visit the Little White Chapel.
Scare yourself silly on the Stratosphere rides. There's also a ride at New York, New York.
Visit the Mob Museum.
I'm not a massive fan of gambling, but I did have a little go, it is Vegas after all. But only gamble what you can afford to lose.
You can take day trips to The Grand Canyon, Red Rock Canyon and the Hoover Dam amongst other places. Perhaps take a helicopter ride with a Champagne breakfast!
Where To Stay:
We loved staying at The Mirage due to its central location on the Strip. The prices vary, but you can get deals on the more expensive hotels. As I said, you don't spend that much time in your room, so it all depends on what you want. If you have a room overlooking the Strip, you'll generally pay more than a room facing the other way or in a hotel than is set back from the Strip. But for your money, you'll get a much better hotel in Vegas, than you would in somewhere like London. For the record, my ideal room, would be in the Paris hotel, with a view over the Bellagio Fountains or maybe one at the very cool Encore.
Central Strip: The Bellagio, Caesar's Palace, Paris, Planet Hollywood, The Mirage, Bally's, Harrah's, The Flamingo, The Venetian, Cosmopolitan, Aria or Treasure Island.
South Strip: Monte Carlo, New York New York, Excalibur, The MGM Grand, Tropicana, Luxor or Mandalay Bay.
North Strip: Wynn and Encore (joined together), The Riviera, Circus Circus.
Other places to consider: the hotels in Fremont Street, The Stratosphere (which is on the Strip, but a bit of a trek), The Palms and Rio.
If there's a particular club or pool party you want to go to, consider staying in that hotel as you often get in free or they may be able to sort you a special deal. Speak to the Concierge when you get there.
General:
You do a lot of walking, so bring comfy shoes, or you can get a monorail between some hotels.
Your hotel Concierge is a great source of info!
Vegas is in the middle of the desert, and gets really hot in summer, so drink lots of water (especially if you're drinking alcohol), and it gets cold in the winter, so take some warm clothes.
Drinking age in the States is 21, and you'll need your ID with you.
You can drink on the street as long as it's in a plastic cup
Don't forget to tip! It's expected in the States.
There are no clocks or windows in Vegas casinos (accept the doors). You would never know what time it is.
Let your hair down, you're in Vegas Baby!!!!!!!!!!!!
Pin It For Later