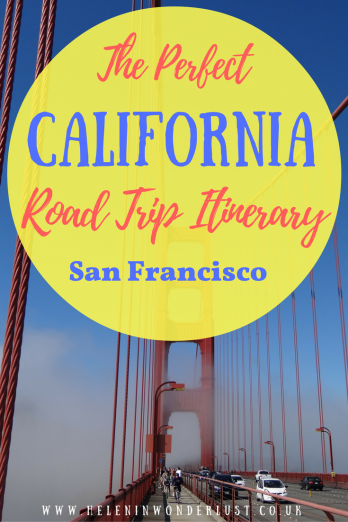 Last week I brought you Part 1 of my California road trip itinerary where I talked about San Diego, LA and the Pacific Coast Highway.
Now it's time for Part 2 and the cosmopolitan, quirky city of San Francisco. I've previously written about my favourite things to do in San Francisco, but here's how you could squeeze them in to a few short days.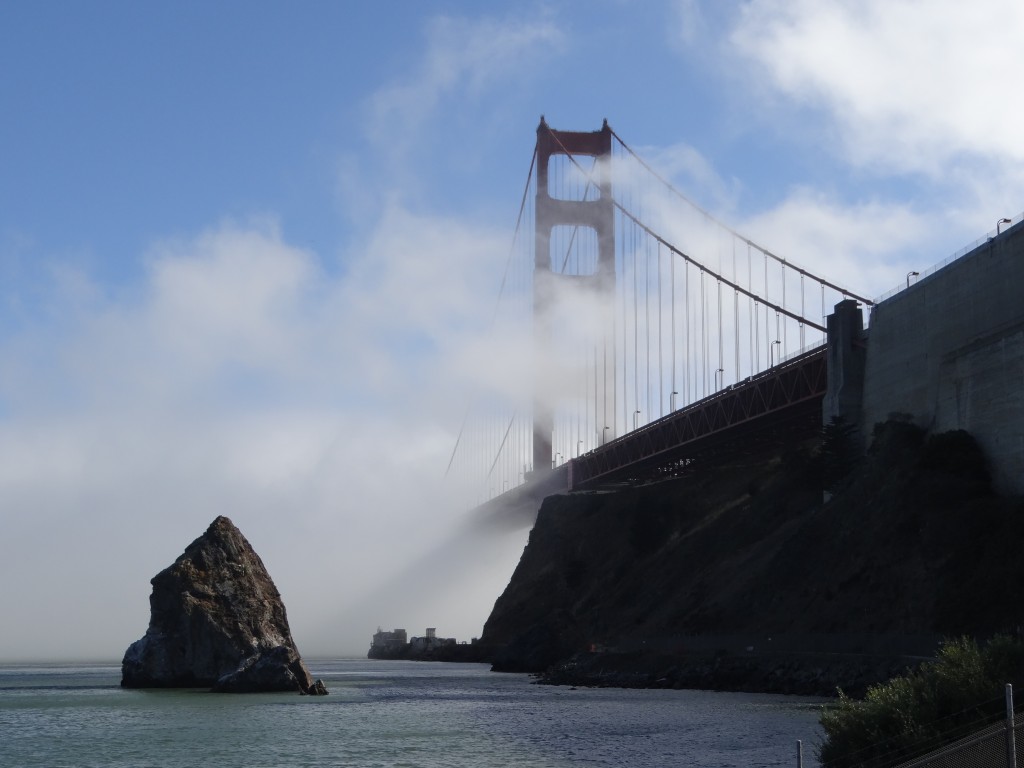 We'd arrived into San Francisco the evening before and once we'd dumped our stuff in the apartment, we headed out for a quick meal before bed – chatting with the staff at the restaurant to get local insider knowledge of the best places to go in the city! We had 4 days…
Day Seven: San Francisco
Head to Pier 39 and rent some bikes from Blazing Saddles to go on a self-guided cycle tour across the Golden Gate Bridge. They give you a map which has a few trails, of varying lengths to choose from. … but you can go at your leisure which is great as there's plenty to stop and see. Another good thing about this route is that it's mostly on a cycle path so it's really safe.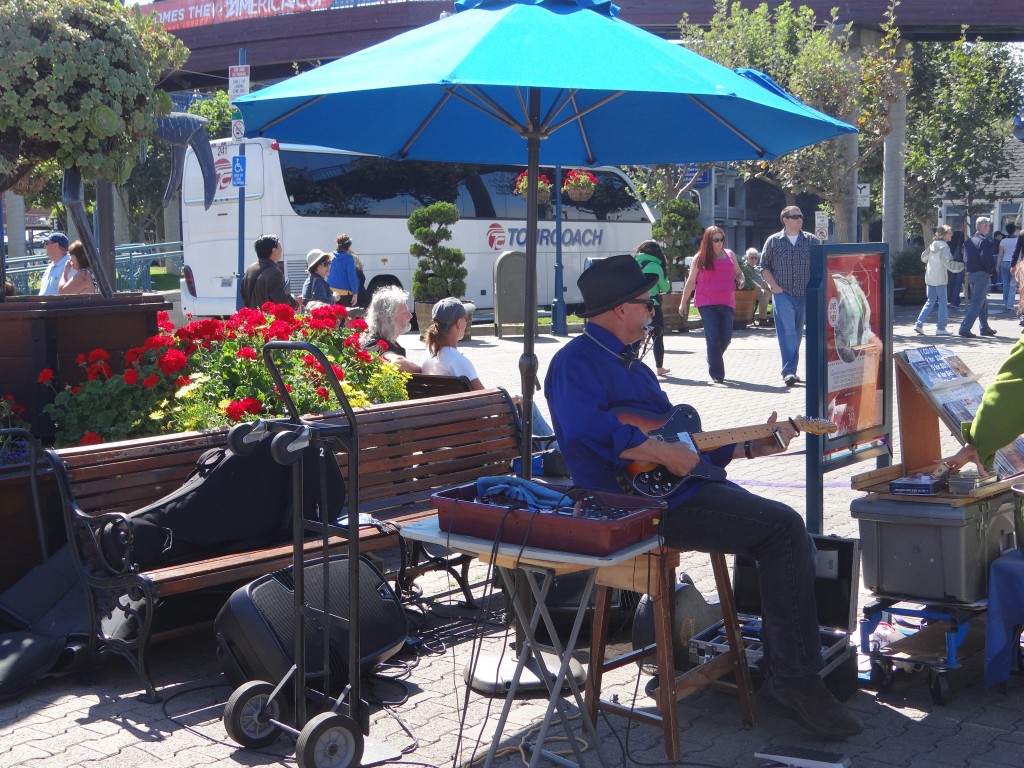 From Pier 39, head towards the Palace of Fine Arts to look around, before making your way onto the bridge – watch out for a few hills here.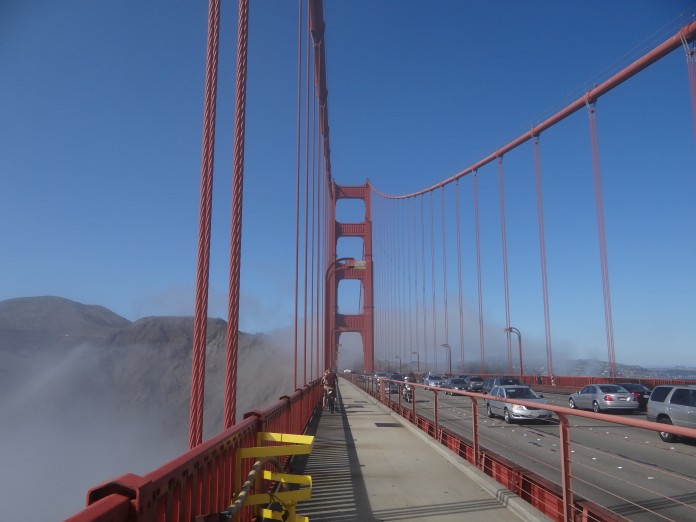 Ride across the brige marvelling at the view and the drop below, or as we did, ride through the fog and freeze your ass off! What was really strange, was that  it was really sunny and warm either side of the bridge!
Next you'll arrive in the pretty town of Sausalito, a great spot for lunch, or brunch – depending on how early you are.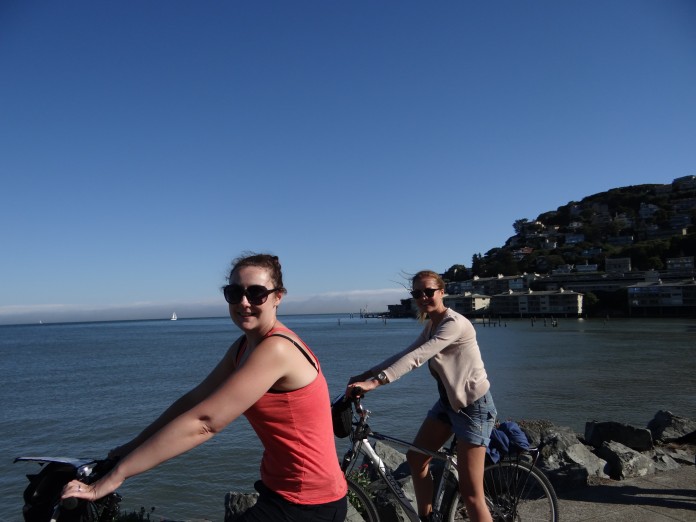 You can either get the ferry back to San Francisco from Sausalito, or continue on to see one of the oldest trees in Old Mill Park and then on to Tiburon and get the ferry from there (your ferry ticket is included in the cycle hire).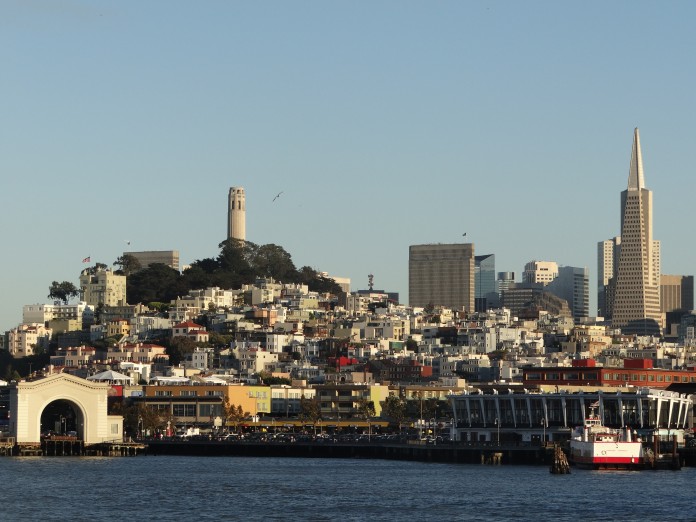 In the evening, grab dinner at The Stinking Rose: A Garlic Restaurant, followed by an eveing in North Beach! Try not to breathe on anyone… but you should be safe from Vampires.
Top Tips:
Take a warm jumper for your cycle as it can get cold across the bridge, especially if the fof descends.
If you can pick a day when there's no fog across the bridge, I would try to do that, but it does make for some cool pictures.
There are a few hills though – so make sure you know how to use the gears on your bike to your advantage. I was rubbish at this.
Carry on to Tiburon, we started our cycle later in the day and had to get the ferry back from Sausalito but I wish we'd had much longer.
Blazing Saddles were great, but they put a deposit hold on your credit or debit card. It took a couple of phone calls and over a week to get this back to us, which was a lttle annoying.
Day Eight: San Francisco
We decided to get a two-day pass for an open top bus which I'd highly recommend. Touristy, yes, but also a great way to get around the city and there are stops all over town. Where you get on and off will probably depend on where you're staying, but I'll tell you what we did, and you can always adjust to suit your base.
In the morning head first to Alamo Square, which was near to our apartment, to see the Painted Ladies on Steiner Street.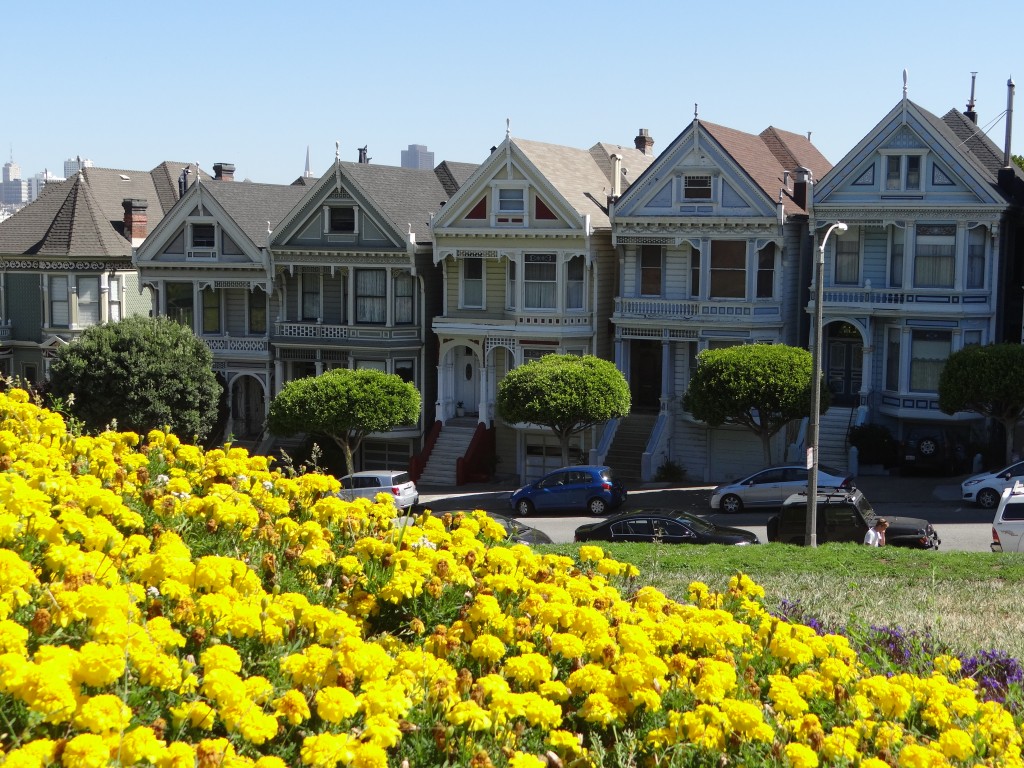 We'd picked up a route map for the Grayline Sightseeing Tours (the blue buses) the previous day, so we knew there was a pickup point nearby on Divisedero Steet so we headed that way. Our driver was Dave, amazingly entertaining and charming!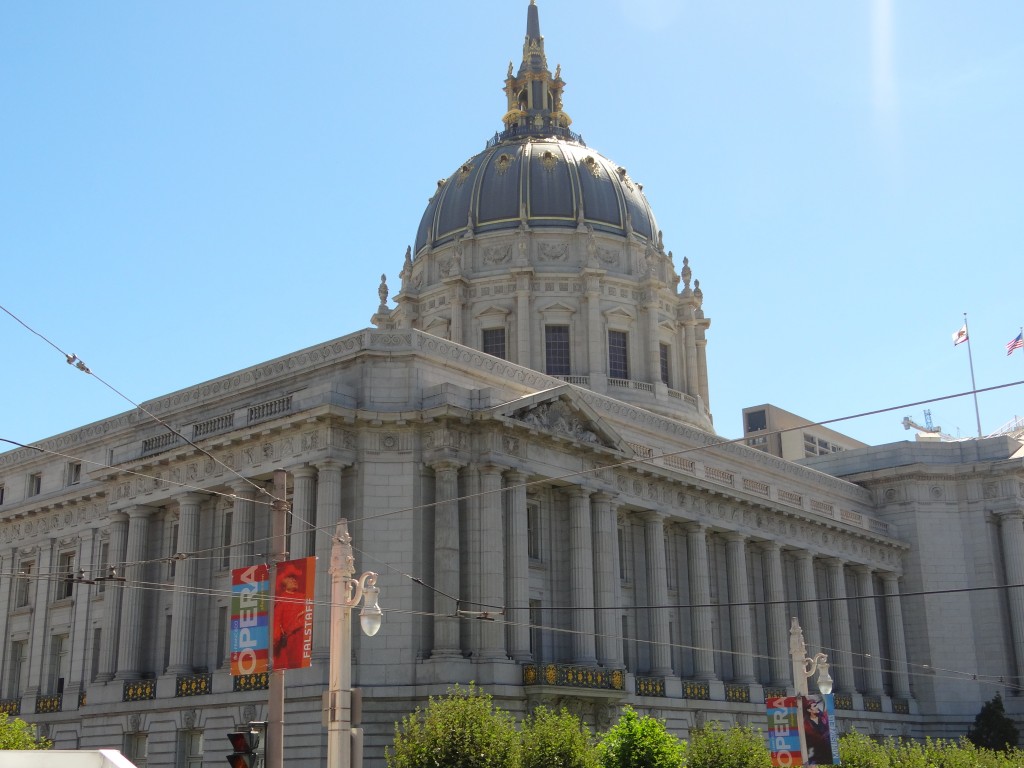 Ride the bus all around until you reach City Hall, you'll find the magnificent Asian Art Museum. Get off here and have a look around. Next stop, Chinatown, a great place to walk, take in the sights and smells and colours. I was blown away by all of of the street art!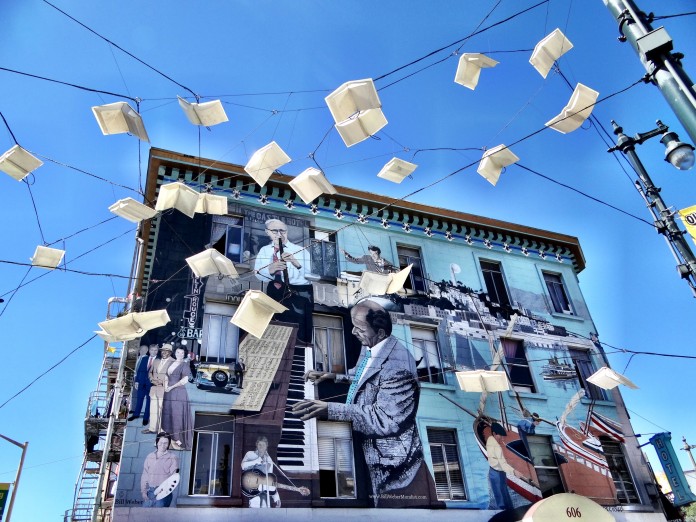 You can either hop back on the bus where you got off, or it's just a short walk up to North Beach, San Francisco's Italian neighbourhood which has a great cafe culture. All that walking is hard work, so treat yourself to some gelato!!!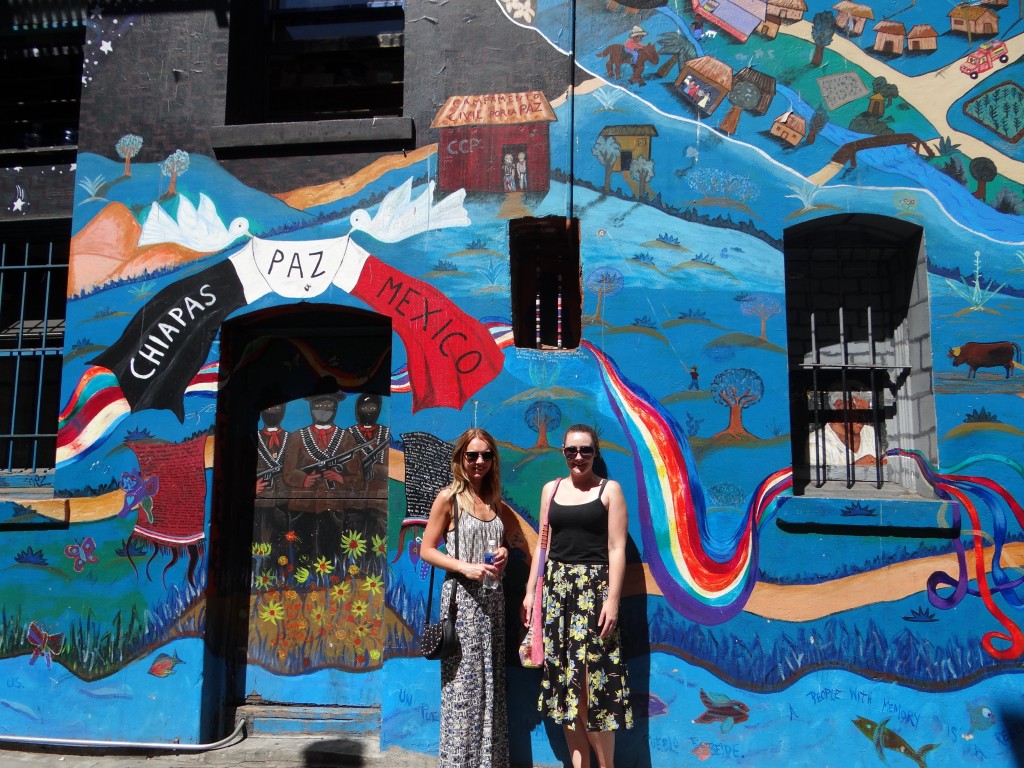 Head to Vesuvio, on the corner of Jack Kerouac Alley and Columbus Street and have a drink in this historic bar, which judging by the pictures on the wall, has seen some action in its time! Situated next to the City Lights Bookstore, it was once the local hangout of the Jack Kerouac and the Beatnik crowd as well as Dylan Thomas, Francis Ford Coppola and Bob Dylan. Vesuvio doesn't serve food, but you can take your own in!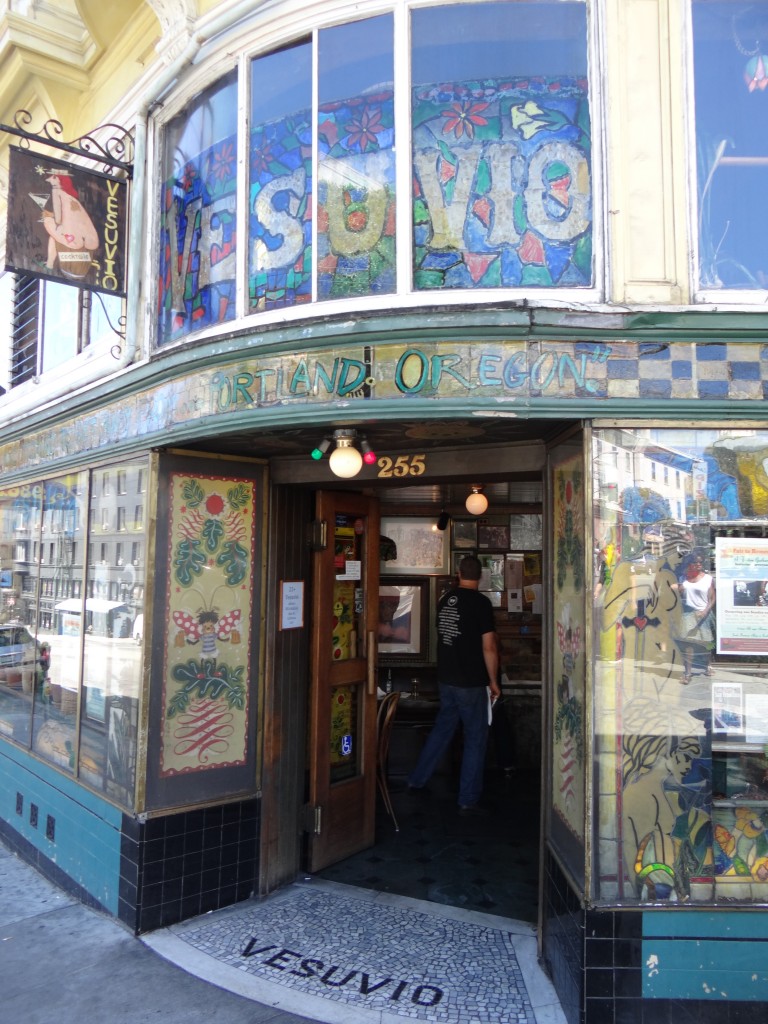 Carry on up towards Washington Square Park and Saints Peter and Paul Church where Joe DiMaggio and Marilyn Monroe were photographed after their wedding. Hop back on the bus  and continue on to Cow Street. From there, walk to Lombard Street to see one of the windiest roads in the world and watch cars snake down the 'windy road'. Next head to Telegraph Hill and walk up to Coit Tower to get the best views of the city! After all those steps, it's time to head back to rest before the evening ahead.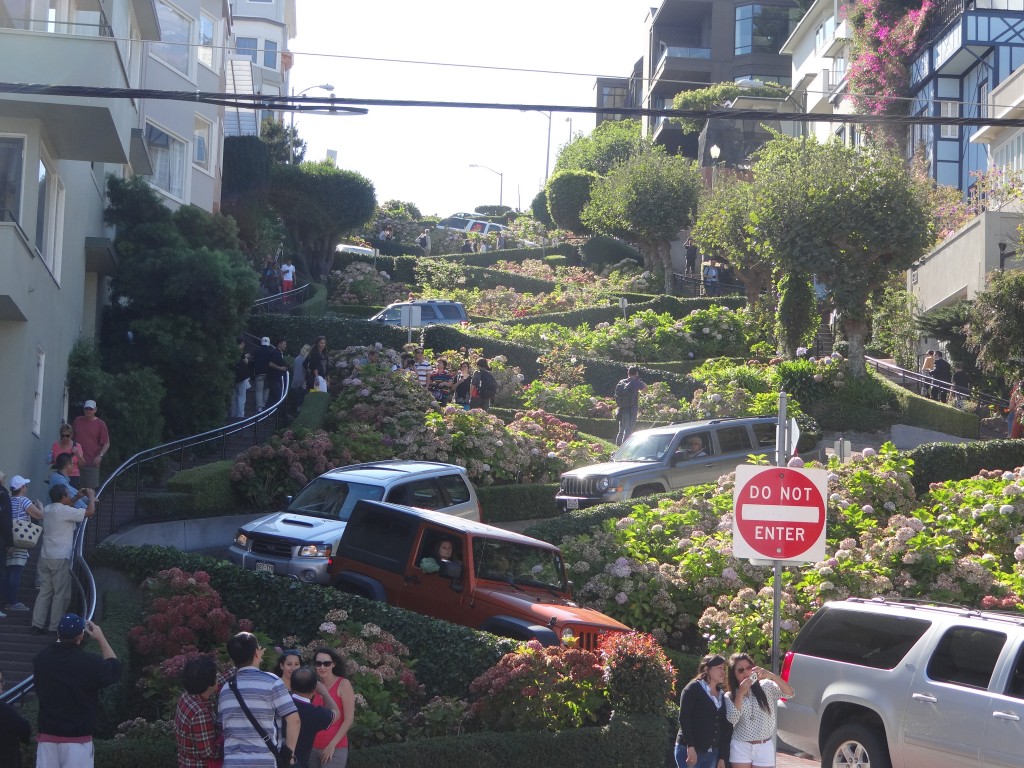 For dinner, I recommend that you head back to Chinatown/North Beach area to sample some of San Francisco's famous Chinese cuisine. We went to the AMAZING Brandy Ho's Chinese Restaurant which is just down the street from Vesuvio, and recommended by one of their friendly staff, who actually called them to check they were still open for us and booked us a table. Brandy Ho's Chinese food is different from any I've had before as it is food from the Hunan Province of China. The food was fresh and delicious, probably the best Chinese food I've ever had.
Then head over to the Castro, San Francisco's gay neighbourhood for drinks! We went to Harvey's and Blackbird.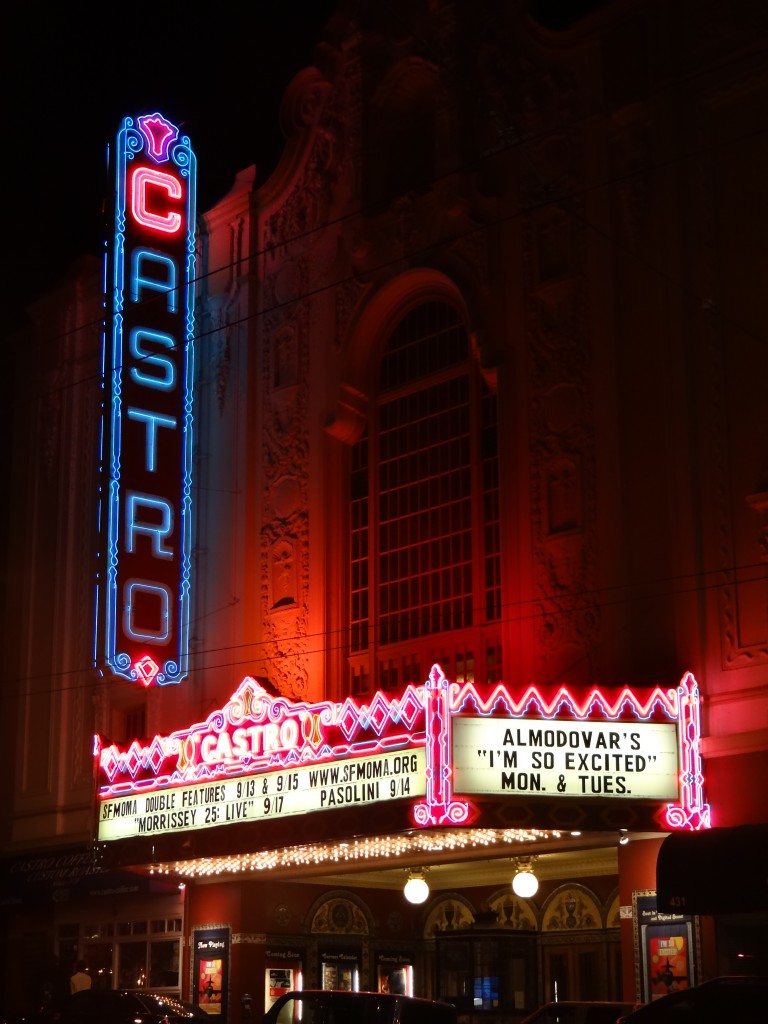 Top Tips:
If you don't want to go back to Chinatown and then to the Castro, you're in luck – Brandy Ho's has opened another restaurant there too!
Pick up a map for the open top bus tours on your first day and weigh up the options and the price. It will make things easier if you know where to get on!
Busses come around about every half an hour.
I've also heard good reports about Mission Chinese and the House of Nanking if you want to try somewhere else.
Day Nine: San Francisco
We hopped on the bus again in the morning on Divisedero Street and took alomost the entire cicuit, passing the Golden Gate Bridge heading to Golden Gate Park to spend the morning. The park has many different attractions including the Japanese Tea Garden, Strawberry Hill, the California Academy of Sciences and even a herd of buffalo. Yes, really! You can also hire bikes, surreys and segways in the park – if you want a laugh… please do this.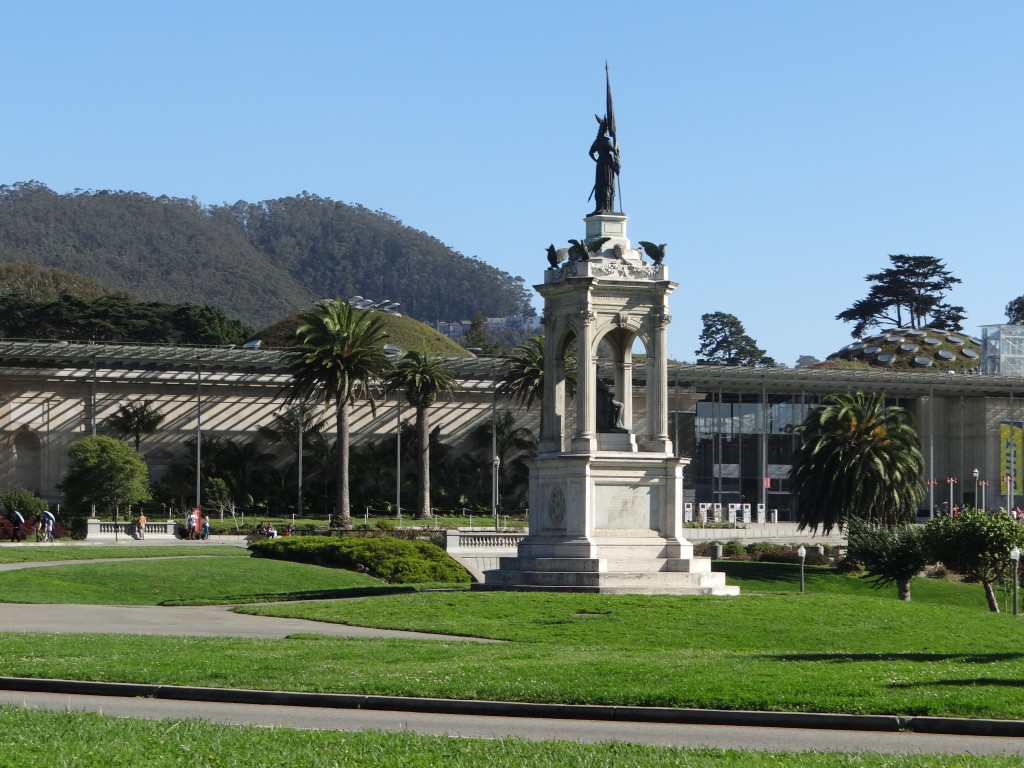 After you've had your fill of the park, walk to the nearby Haight-Ashbury to grab a late lunch, visit Hippie Hill, pick up some cool, unique souvenirs in the shops and take in more of the amazing San Francisco architecture.
For the evening, head out to the Mission District early whilst there's still plenty of daylight so you can see the Mission Delores, have a relax in Delores Park and take in some of the amazing steet art, especially the Women's Building Mural. When the sun goes down, head to Valencia Street for dinner. There are tons of cool  bars and restaurants, as well as Four Barrel Coffee, rumour has it, the best coffee in San Francisco – as I don't drink the stuff I wouldn't know, but that's what my sources tell me!
We ate at Thai House 530 which I'd highly recommend, but if Thai food isn't your thing, head to one of the other hundreds of restaurants in the area – with practically every cuisine you can imagine on offer. We then visted a couple of nice bars called Elbo Room and Skylark. The Mission District was my favourite area as far as nightlife goes.
Day Ten: San Francisco
Today, go and see Alcatraz aka 'The Rock'. Head down to Pier 33, if you have time, catch a Cable Car (I loved doing this and we rode them a couple of times during the trip – but if you're worried about time, grab a cab so you don't miss it) from Union Square all the way down to Pier 39, and then it's just a few minutes walk to Pier 33, where the ferry leaves from.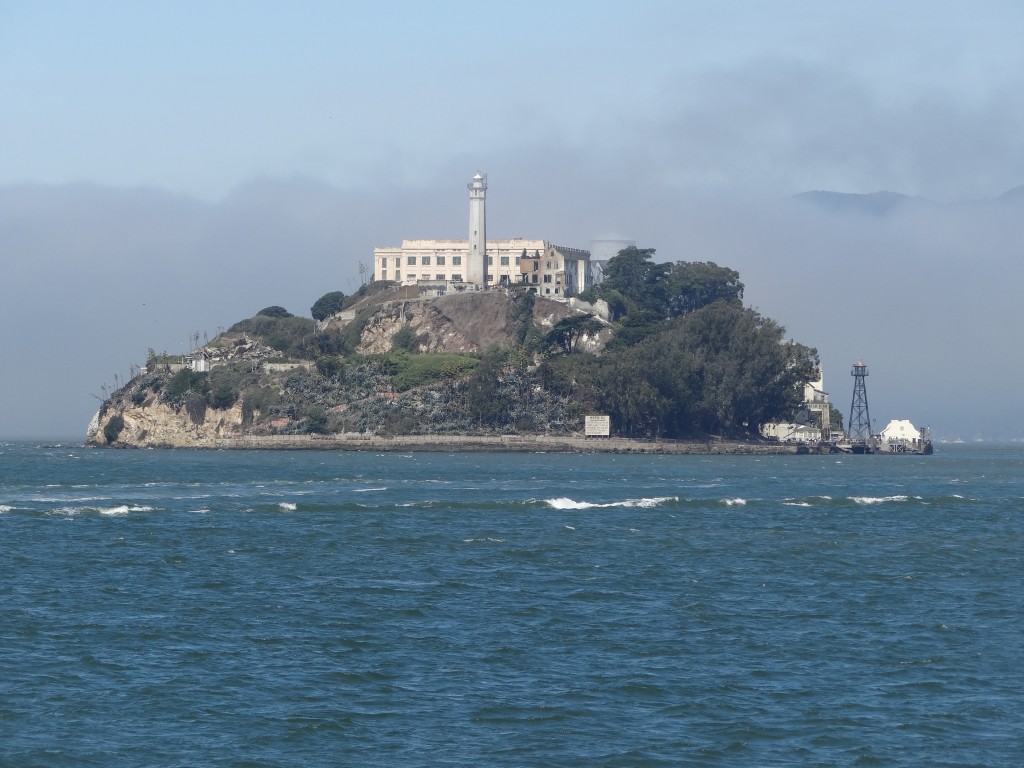 You'll probably spend at least a couple of hours on Alcatraz. They have a great audio tour that guides you through the various rooms and cell blocks of the prison, with commentary from ex-prisoners and guards. Alcatraz is a crazy, haunting place, with remarkable history, having homed some of the worlds most notorious crimals including Al Capone and the Robert Stroud – the 'Birdman of Alcatraz' (who actually didn't keep any birds in this particular prison).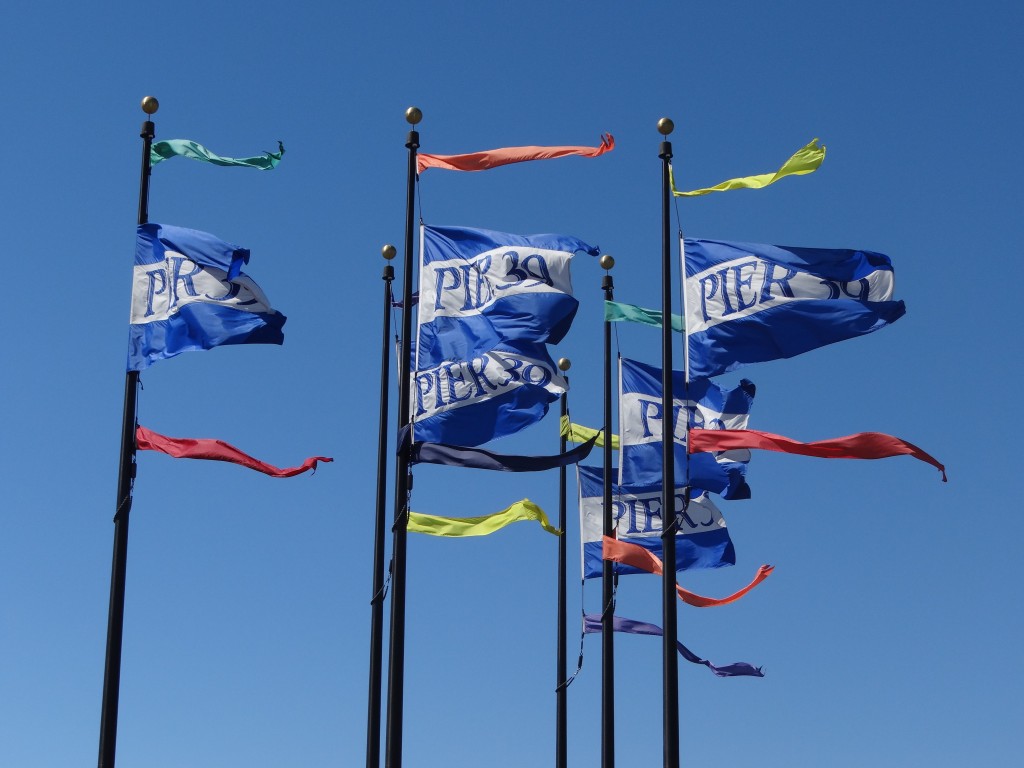 Back on the mainland, stroll towards Pier 39 and Fisherman's Wharf for lunch. Walk past Pier 39 for now, and take your pick from famous In N Out Burger (they have a 'secret' menu with animal fries – yum) or Boudin (the famous bakery). On the walk down, you may come across the 'World Famous Bushman' – very funny… that is all I'm saying.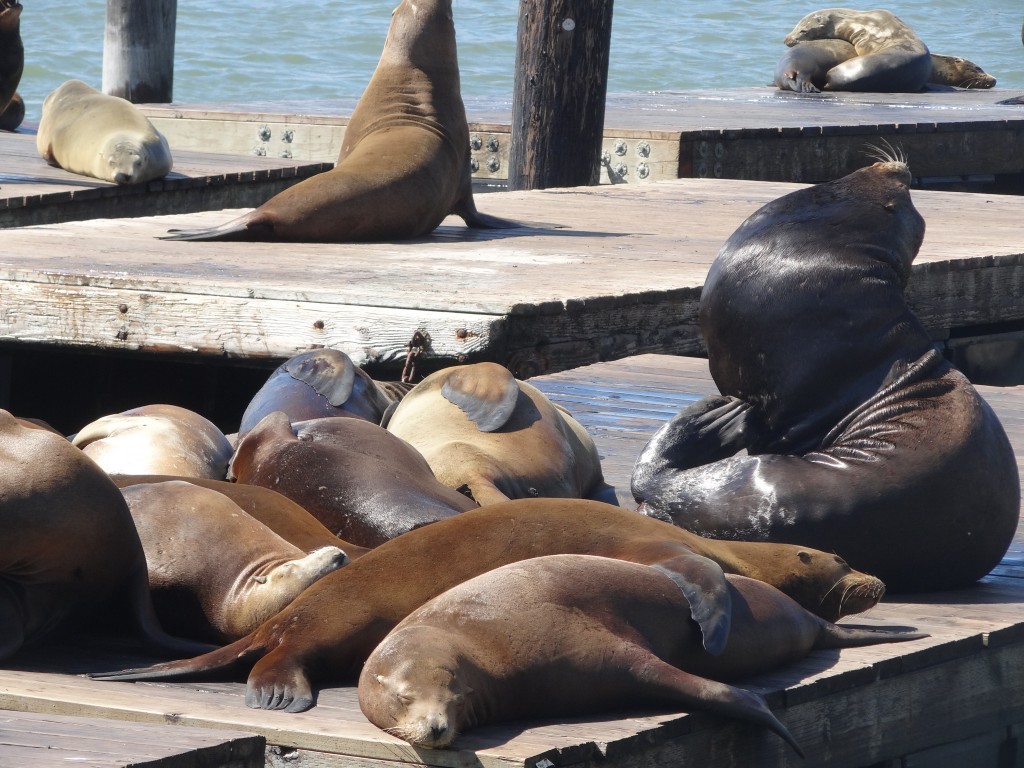 Once fed, stroll back along toward Pier 39, and take a look around. It's really pretty and there's lots to do, great for families and you can spot sea lions being lazy near the end of the pier.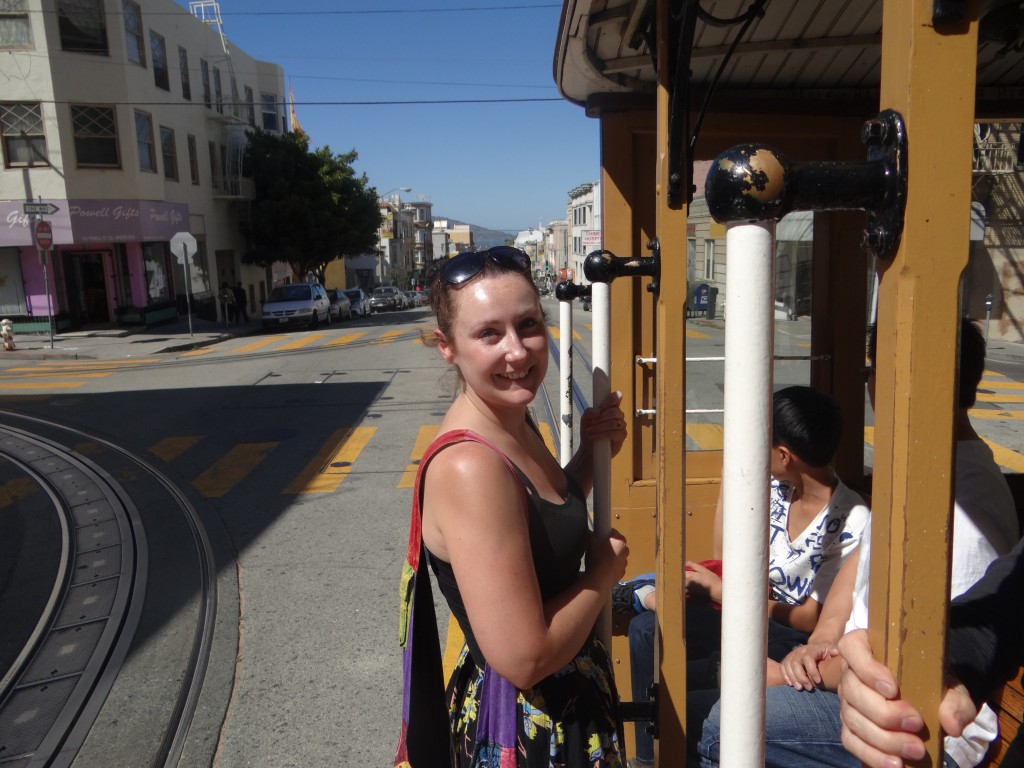 Catch the cable car back to Union Square, take a walk around, soak in the atmosphere and see the gorgeous Hearts in San Francisco art installation. The sculptures are auctioned off for charity each year and then replaced by new ones.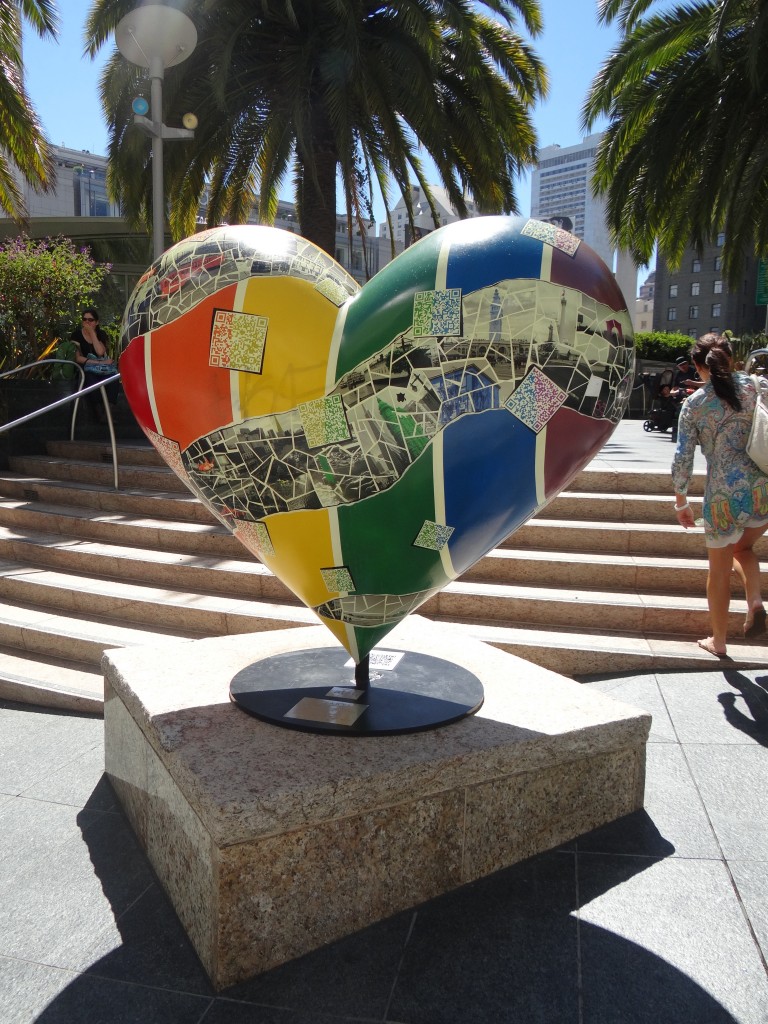 Union Square has some of the best boutique and department store shopping in San Francisco (maybe even the world), so if that's your thing – you can knock yourself out! I'm not really into shopping, but I did head into Macy's with a very specific mission. To have a piece of cheesecake in The Cheesecake Factory as recommended by bus driver Dave, who even though there were a few blue bus drivers, randomly picked us up every time. He felt like an old friend by the end of it.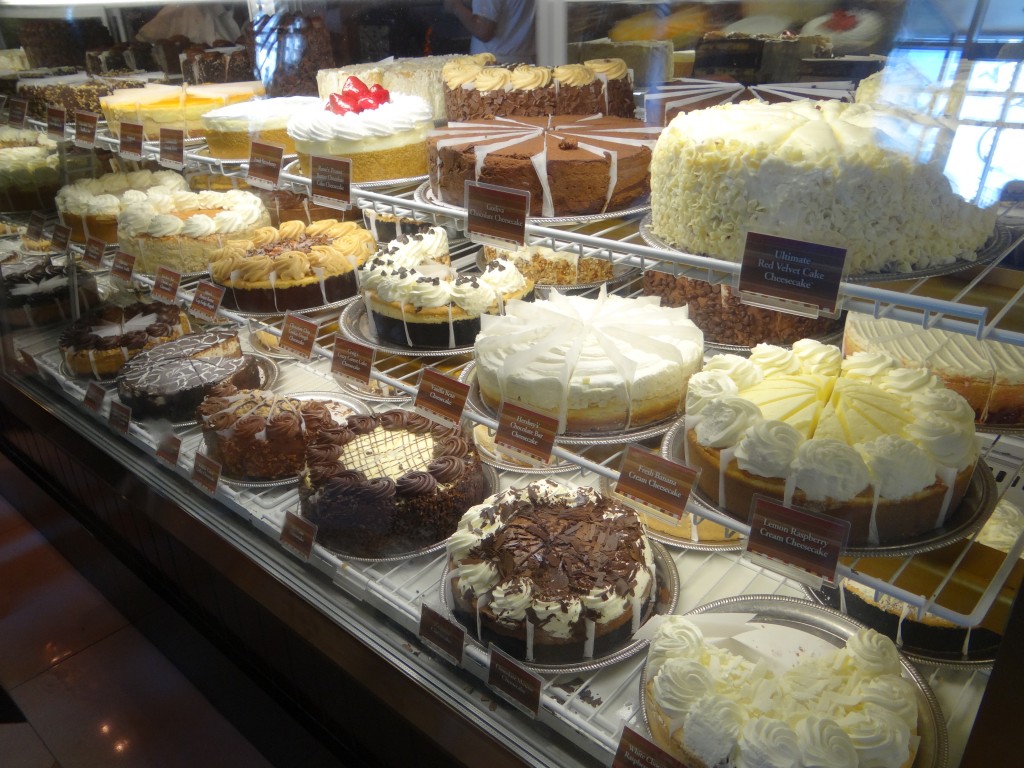 We don't have these in the UK, so I was very excited. There are so many to choose from, but whichever you go for, I don't think you'll be disappointed. Bus driver Dave recommends the Vanilla Cream Pie. They also have an outdoor seating area overlooking Union Square.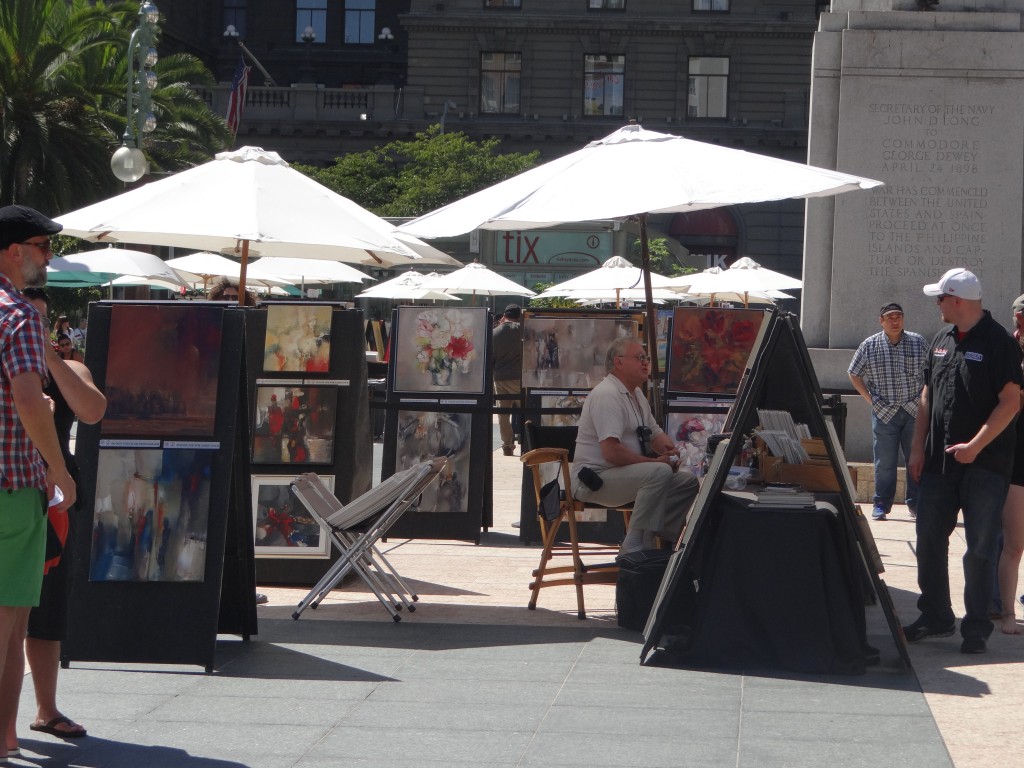 With a long drive the following day, we made it a quiet one and visited Bourban and Branch a secret, speakeasy bar in the Tenderloin District. You ring the buzzer next to the unnamed door. The glamorous hostess answers and asks you the passwod. You answer: BOOKS. She, lets you in and leads you through the dimly lit bar to a bookcase. The bookcase opens and you walk through a secret passageway and into the secret bar… you'll feel as though you've travelled back in time. ENJOY!
Top Tips:
Tickets for Alcatraz sell out in advance, so buy them a week or two in advance if you can and I'd recommend going early(ish) in the morning.
Cable cars can get busy in the middle of the day, so many went past us because they were full, so it's best to get on at the beginning or the end of a journey route, or early in the morning when they're less busy.
The conductors allow you to hang off the outside of the cable cars – this was a lot of fun!
4 days was a good amount of time for a taster of San Francisco, but I definitely want to go back for more.
As we weren't staying in the city centre, we found it really hard to grab cabs on the street on the weekdays. If you need to get cabs, as your apartment provider for a list of reliable ones. If in a hotel, they should be able to call for one.
Pin It For Later